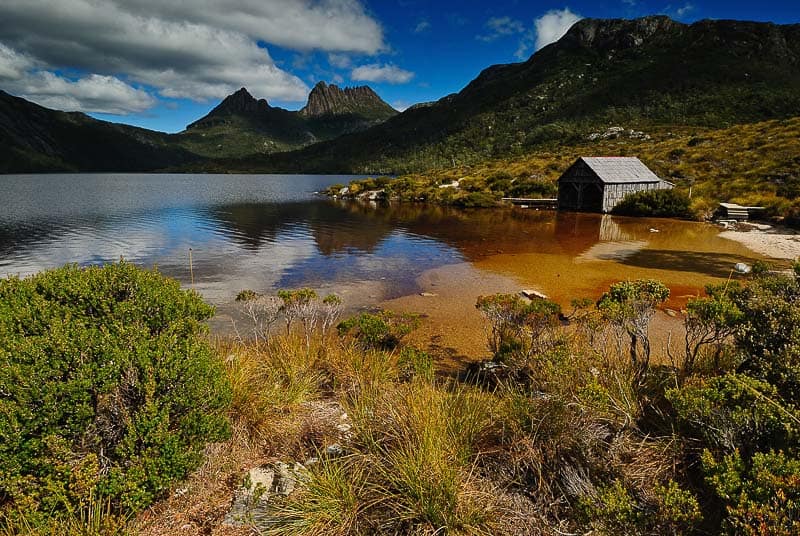 Tasmania is a beautiful part of Australia, with many people coming to see its vast, rugged wilderness areas. Australia's most southern point is home to some of the world's most stunning national parks and World Heritage Sites and is a popular holiday destination for families who love the great outdoors. You will love the adventure activities Tasmania has to offer.
With Tasmania being such a small area, it is an ideal place for a family road trip or even a quick getaway. Family things to do in Tasmania include exploring old colonials buildings rich with Australian history, lush vineyards, admiring picturesque beaches, hiking through stunning landscapes or dining at some fabulous cafes. There are endless activities and things to do in Tasmania with kids.
There are also some wonderful Tasmania day trips where you can see a variety of Australian native animals. Tasmania is home to the Tasmania Devil, seals, dolphins, penguins and heaps more.
In this post bloggers share with us some of the best places in Tasmania to visit. We look at the best things to do in Tasmania on a family holiday, including the most popular Tasmania tourist attractions as well as where to stay in Tasmania.
Talk to other families about their tips on visiting Tasmania and join our Thrifty Family Travel Facebook Group or get inspired by our Instagram.
This post may contain compensated links. Please refer to my disclaimer here for more information.
15 of the Best Things to do in Tasmania
Stanley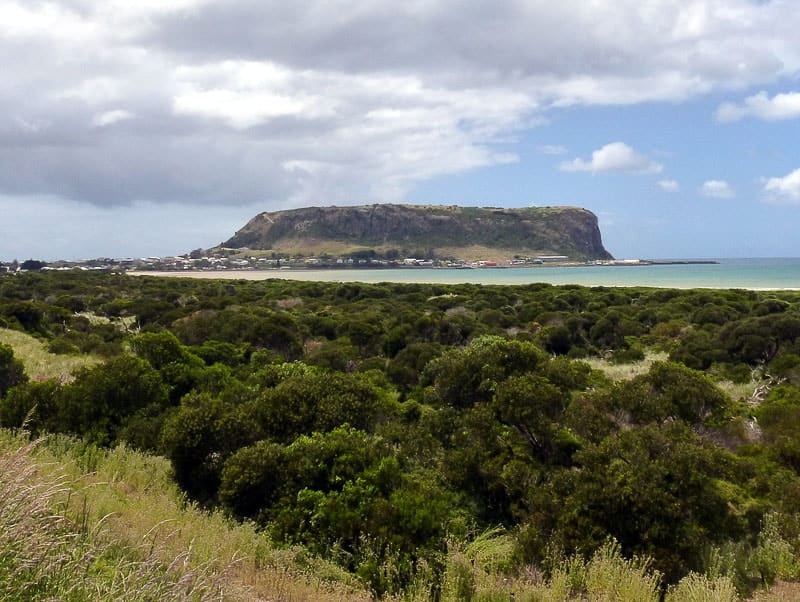 If you are looking for things to do in Northern Tasmania, then head to Stanley. Stanley is a small town in the North West of Tasmania which is well worth a couple of days on your next family vacation. There are some great things to do in Stanley, Tasmania.
The town itself is a lovely place to walk around. There are many old buildings and it's a quiet but stunning location, one of the most beautiful places in Tasmania.
People don't come to Stanley for the town itself but for The Nut. The Nut is a sheer sided bluff which was once an ancient volcanic plug. You can climb The Nut or take the easy option and get a chair lift to the summit. Once on top, there are nice walks with great views in all directions. Great for families looking for outdoor places to go in Tasmania.
Other things to do in Stanley include seal cruises, visit the small aquarium and Joe Lyon's Cottage (a former Prime Minister of Australia).
It's also worth going on a short drive to the Tarkine, the largest area of Gondwanan cool-temperate rainforest in Australia with a high concentration of Aboriginal sites. Here you have the opportunity to go down a massive, 100 metre long slide in to the Dismal Swamp – one of the fun things to do in Tasmania that the kids will love!
I recommend staying at the Stanley Hotel and Apartments. They have self contained units and cottages around town which are perfect and spacious for families which also give you the option to self cater.
Click here for family friendly accommodation in Stanley.
On Board the Spirit of Tasmania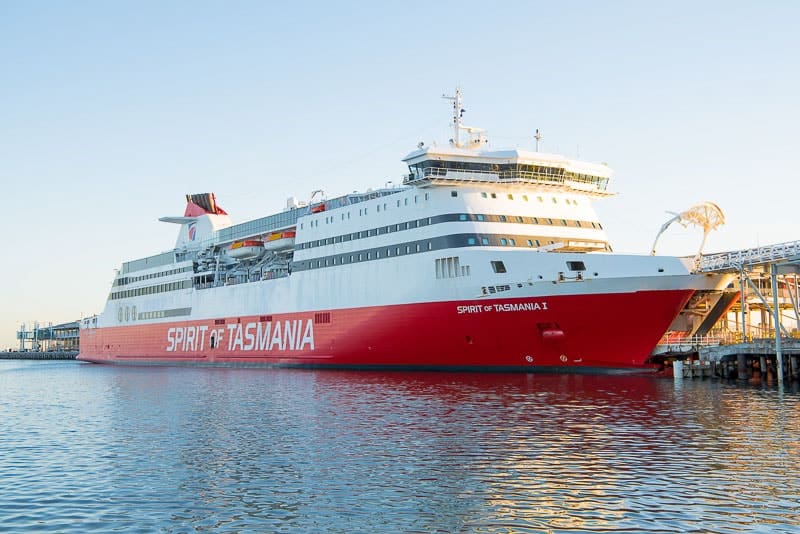 Thanks to Nicole from Bitten by the Travel Bug
Travelling is all about the journey, right? So why not embark on your Tasmanian trip in the most iconic way – on board the Spirit of Tasmania.
The trip to Tasmania from Melbourne leaves daily – and twice daily during the warmer months – between Melbourne, Victoria and Devonport in northern Tasmania, the ship is a scenic and comfortable one. You can even travel with your car, camper or pets!
The ship is well equipped to relax in a comfy recliner, socialise at the café or bar or to dine on fine Tasmanian produce. You'll find dining options to suit every budget on board, though I highly recommend a two- or three-course meal at the ships restaurant TMK (Tasmanian Market Kitchen).
To keep you entertained during the 9-11 hour crossing, there's an on board cinema showing two movies per crossing (one family friendly and one PG or M for the adults!), a games room with pinball machines and car racing games, and even a store to pick up some Tasmanian goodies or items you may have left at home.
If you are traveling to Tasmania overnight, consider upgrading your experience by booking into one of the cabins. With comfortable rooms suitable for couples or families, complete with ensuite, you'll disembark feeling fresh and ready to explore! Certainly a fun way of getting to Tasmania.
Click here to check prices or to make a booking on the Spirit of Tasmania.
Trowunna Wildlife Park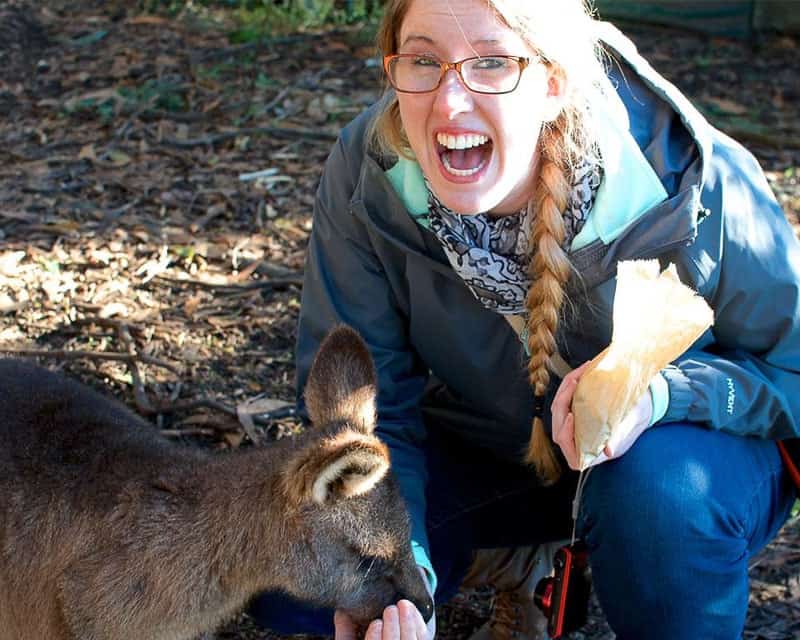 Thanks to Nicole from Bitten by the Travel Bug
Located in northeast Tasmania, not far from the Spirit of Tasmania you'll find Trowunna Wildlife Park. The park is a sanctuary for Tasmanian devils and other animals who have been found sick or injured. While some animals are released back into the wild, some will not be able to be and will be rehabilitated and housed at the sanctuary.
One of my favourite experiences at Trowunna Wildlife Park was seeing my best friend, an American, hand feed kangaroos and wallabies for the first time! You can buy a bag or two of pellets and feed the animals, and if they are okay with it, even pat them! One of the top places to visit in Tasmania for animal lovers!
They rangers are very hands on and will help you learn more about the animals. You might even get to hold a wombat or ring-tailed possum, or touch a Tasmanian Devils back (just don't go near their mouth!)
Tasmania is home to one animal that is sure to arouse your curiosity: the Tasmanian Devil. These marsupials may be small in stature but they pack a mean bite! Seriously, they eat everything, including bones. Eww!
Trowunna Wildlife Park is a sanctuary for these misunderstood little guys. Most of the wild population of Tasmanian Devils have contracted a facial tumour that affects their face and mouth, leading to issues eating, eventually leading to death. Currently, there is no known cure for the tumours.
Their hope is by protecting animals free of the disease at sanctuaries and in disease-free conservation projects around the state, they can save these endangered animals from being eradicated.
The park is around an hours drive from Launceston, so many families choose to visit the park as a day trip from there.
Click here for accommodation in Launceston.
Cradle Mountain National Park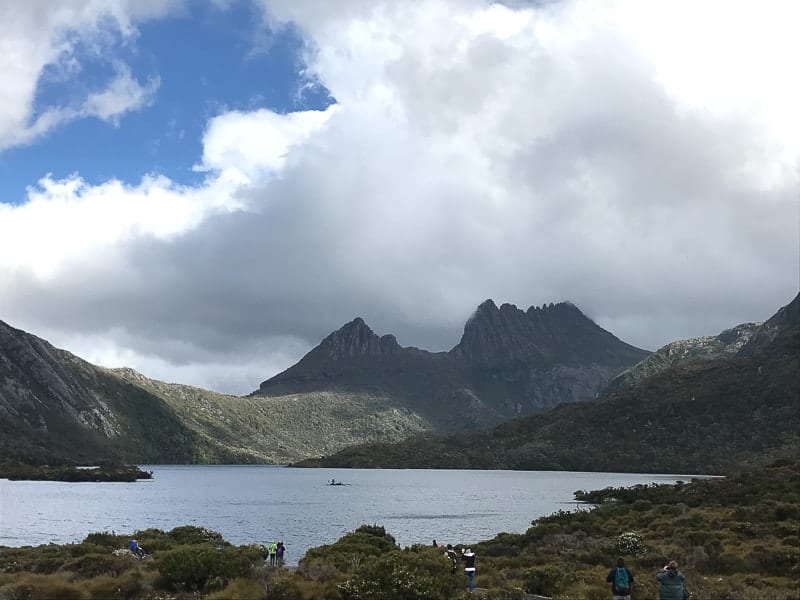 Thanks to Dawn from 5 Lost Together
One of my favourite places we visited in Tasmania was Cradle Mountain National Park. This towering mountain over the picturesque Dove Lake is one of Tasmania's iconic images and one of the must see places in Tasmania. As you ascend into the National Park, the terrain changes and you feel like you are entering a Lord of the Rings set. You are greeted with lush forest, boggy grasslands, and everything covered in a layer of moss.
There are numerous wonderful hiking trails for all abilities in the park from short day hikes to multi-day hikes. The Dove Lake circuit (6 km, 2 hrs) is the classic trail that most visitors will want to experience and considered to be a must do in Tasmania. As you walk around the Lake, you are greeted with glimpses of Cradle Mountain shrouded in clouds. The weather is known to be gray and rainy and even in summer, temperatures drop low. Come prepared with warm clothes and be prepared for rain.
The National Park is a great place to view wombats, especially at dusk. While you can visit on a day trip, spend a night or two in the Park to really enjoy its pristine wilderness. If you're super keen you can do the 82 kilometre Overland Track from Cradle Valley to Lake St Clair.
There are a variety of activities and day trips you book for Cradle Mountain – click here to see whats on offer.
Click here for family friendly accommodation in Cradle Mountain.
Bridestowe Lavender Estate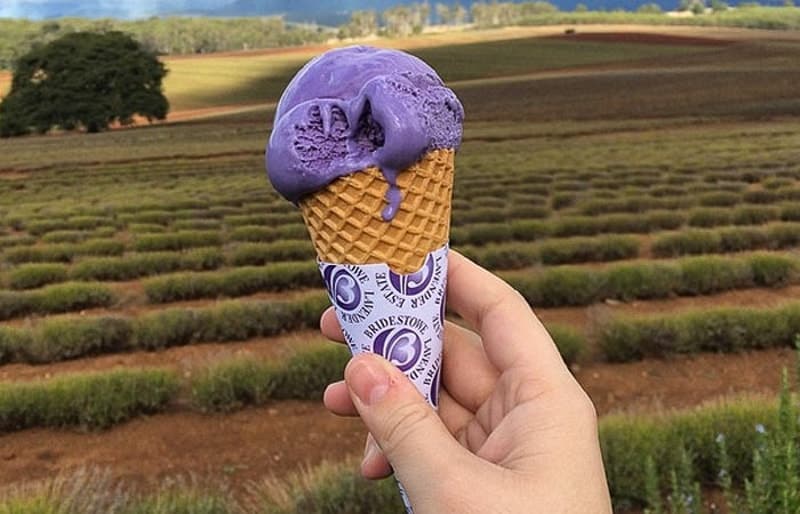 Thanks to Nicole from Bitten by the travel Bug
There's a reason that Bridestowe Lavender Estate has become so Insta-famous. Come December through February the lavender fields are in full bloom. Then you'll find a sea of brilliant purple carpeting the area and if it weren't for the incredible mountains surrounding, you might think you were in France! Definitely one of the best things to see in Tasmania when it is in full bloom.
While you are there, you can frolic through the fields, taste lavender inspired foods at the on-site café (I highly recommend the lavender ice cream!), or pick up lavender infused products.
During flowering season it costs $10 to walk through the fields, which includes a complimentary tour of the Estate. Outside of the flowering period, entry is free. While it's not quite as stunning, the rows of dark green plants still make for interesting photos and give you an idea of what is to come.
One of the most popular selling item at Bridestowe Lavender Estate is Bobbie the lavender heat pack bear. Bobbie was Instagrammed by a hugely popular Chinese actress and now he's an Internet sensation! I will say, having bought my own Bobbie, that he is the perfect snuggly treat to keep you warm during winter, so do consider taking him home with you!
The estate is around an hours drive from Launceston, so many families choose to visit the estate as a day trip from there. While you are in Launceston check out the Cataract Gorge too.
Click here for accommodation in Launceston.
Bay of Fires
Thanks to Sally from Our 3 Kids V the World
I know this is a big statement but the Bay of Fires on Tasmania east coast would have to be Australia's most overlooked beach. The beach is pristine with sand as fine and white as Whitehaven Beach but with much, much less people and somewhat colder all year round. The bright burnt orange rocks which give it its name just add to the allure of a very ascetically pleasing sight. This is without one of the best places to see in Tasmania.
Now I do have to warn you, the Bay of Fires is a little tricky to find, I had to pull over and ask a local for some help. We visited in winter and it was a balmy winters day, bright blue sky and while the weather was telling you one thing but sight was picture perfect. The kids still managed to play in the beach and make sandcastles and if I hadn't had told you it was winter, you would never have known! How clear is that water, beautiful and turquoise.
The Bay of Fires is one of the best places to go in Tasmania, I suggest you factor in a couple of days and explore the area. Great bases are in St Helens or Binalong Bay
Click here for family friendly accommodation close to Bay of Fires
Gordon River – Strahan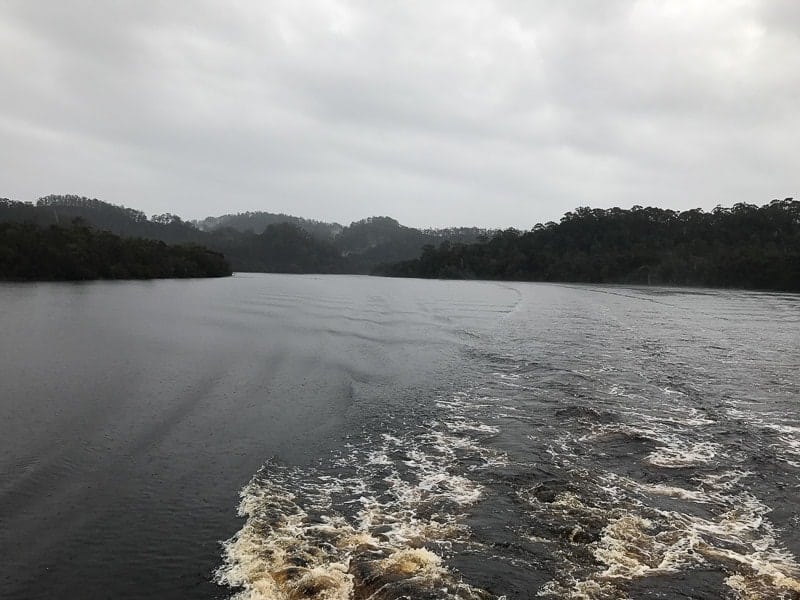 Thanks to Barbara from Let's Go Mum
Due to its remote location on the West Coast of Tasmania, Strahan, and the Gordon River is often overlooked on the usual Tasmanian tourist route – but it really shouldn't be! This World Heritage Wilderness area is one of the top things to see in Tasmania and is a unique destination the whole family will love.
West Coast Tasmania Attractions – The main attraction is of course a cruise down the mirror-like Gordon River on one of the luxurious Gordon River Cruises cruise boats. Be sure to book the full day cruise to visit such amazing sights such as the ex-convict Maria Island, and of course the spectacular Heritage Landing – a raised boardwalk stroll through an ancient Huon Pine forest.
More things to do – A Gordon River cruise is the must do, but it isn't the only experience for the family to enjoy at Strahan. You'll also find the West Coast Wilderness Railway, stunning Huon Pine galleries to wander through, or perhaps take a ten-minute drive to the spectacular Ocean Beach – one of the wildest beaches in the world. The kids will love exploring it's shell-strewn sands.
Where to stay – For a great family hotel, you can't go past Strahan Village, which offers elevated views across the town and river port, a large restaurant and family-friendly staff.
Strahan and the Gordon River is a must-see on any family trip to Tasmania!
Click here for family friendly accommodation in Strahan.
Bicheno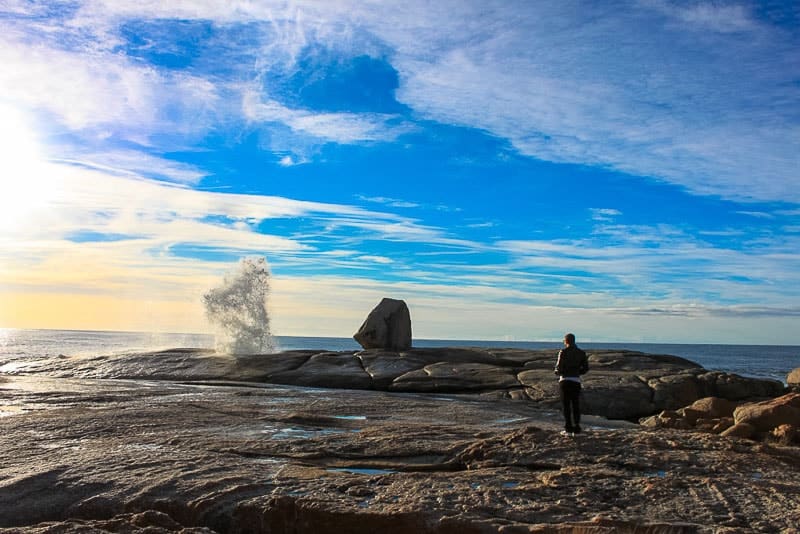 Thanks to Cristal from Tofu Traveler
Bicheno is a worthwhile stop between Hobart and Launceston. A cute seaside town with white sandy beaches, the main attraction is just outside of town. The Bicheno Blowhole is a hole located in the granite rocks jutting out into the ocean that turns even the smallest of waves into powerful jets of water.
You could spend hours watching the waves splashing against the rock and gushing out into the air. Be careful of any wet rock surfaces which can be slippery and don't stand too close to the spray to avoid getting wet. After having fun trying to time the perfect shot, it's a treat to watch other families accidentally get soaked for getting too close.
One suggestion is to get something to eat in town and have a little picnic right near the blowhole. There is a cute bakery and also a yummy fish and chip shop right near the local grocery.
If you have the time and stay in town overnight, you'll get treated to a penguin sighting! Bicheno Penguin Tours takes you to see fairy penguins at dusk where you can get up close without disturbing their nightly routine.
Two great options for a stay in town are the luxurious Windows on Bicheno or the popular Wintersun Gardens Motel.
Click here for family friendly accommodation in Bicheno.
Wine Glass Bay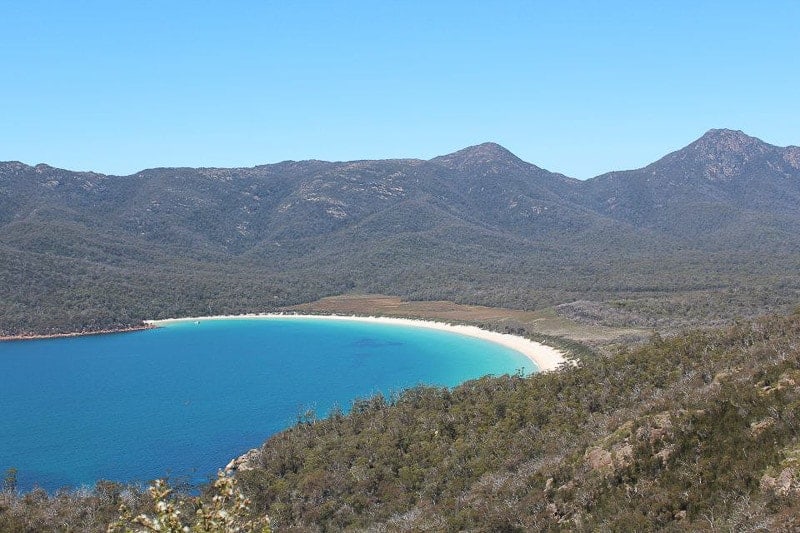 Thanks to Soumya from Travel Books Food
Tasmania is one of my favorite places in the world and hiking the Wine Glass Bay is an activity I will never forget.
Our initial plan was to park the car and then hike 1 km to the lookout point and then return. But when we saw the gorgeous wine glass bay from the lookout point, we knew we had to hike down to the beach. It was difficult for us since we were totally unprepared and overdressed for the hot Australian summer. The entire circuit is an 11km hike, starting from the parking lot to the lookout point to Wineglass beach and then to Hazards beach and finally back to the parking lot of Freycint National park. It takes 4-5 hours based on your pace.
Some people skip Hazards beach and do only the Wineglass beach. We did not do this since the climb back is quite steep. But this is definitely a must do hike in Tasmania and you shouldn't miss this hike if you are in the vicinity.
There are a variety of ways to visit Wine Glass Bay including day tours from both Hobart and Launceston as well as scenic flights. Click here to see whats on offer.
Tip: Carry lots of water and apply lots of sunscreen.
Click here for family friendly accommodation near Wine Glass Bay.
Bonorong Wildlife Sancturay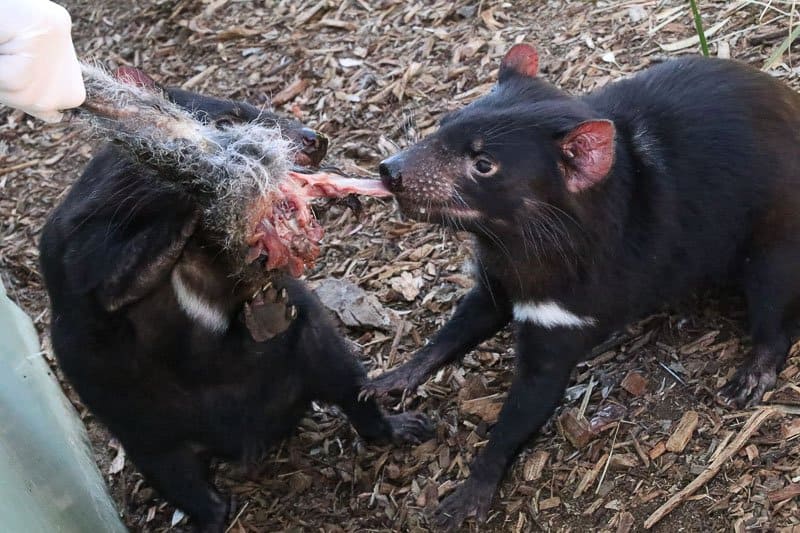 Thanks to Nicky from Go Live Young
Time for an animal encounter at the Bonorong Wildlife Sanctuary in Tasmania. Located half an hour north of Hobart, the sanctuary is home to many Australian animal species that are on the endangered list. Kangaroos, wombats, echidnas and Tasmanian Devils can all be found here.
We joined a Feeding Frenzy tour for a behind the scenes look at this wildlife sanctuary. As part of this tour you get up close to the animals, often being able to feed them. For two and a half hours we feed and interacted with kangaroos, koalas, Tasmanian Devils, echidnas, wombats and possums, at the same time learning all about these native species.
Our experience at Bonorong Wildlife Sanctuary was brilliant. We would highly recommend it as one of the best tourist places in Tasmania, especially for families, as it is very educational but fun at the same time.
The Sanctuary is best visited as a day trip from Hobart.
Click here for our guide to family friendly accommodation in Hobart.
Hobart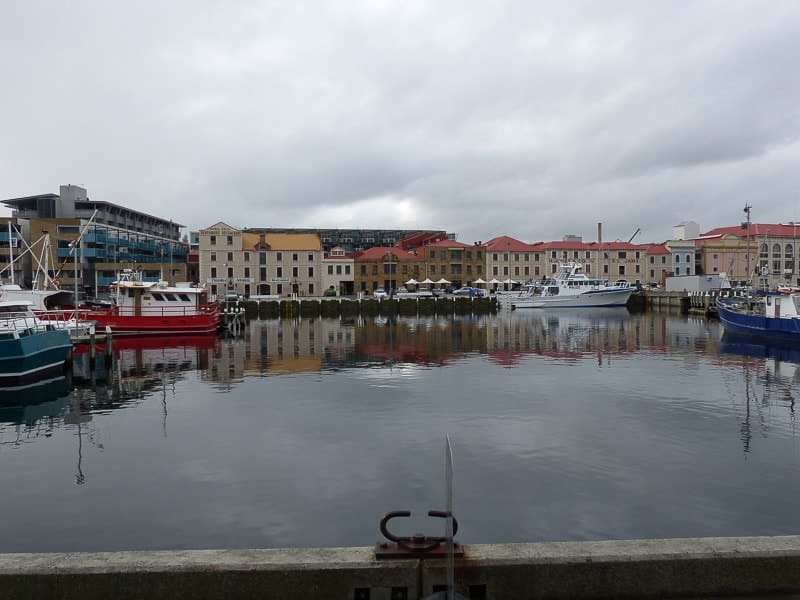 Thanks to Sharon from Work Home Life
Hobart is not just the capital of Tasmania but the place that should come first on your list of places to visit. The capital is small compared to many others in Australia, but it is very scenic with its share of some of the best attractions in Tasmania.
Your visit should start with a trip to MONA. This art museum is like no other and it's interesting for kids as well. If nothing else, it will get you talking (see below for more information about MONA).
Next up is a trip up Mt Wellington (or just "the Mountain" to locals). Make sure you rug up warm and check that the road is safe if you are visiting in winter. It's best on a clear day where you can get views all over Hobart and beyond.
Other places worth visiting are the wharf area (make sure you eat plenty of seafood), the historic town of Richmond, Salamanca Market and the Air Walk at Tahune. You also shouldn't miss the opportunity to see a Tasmanian Devil at one of the wildlife parks such as Bonorong WIldlife Sanctuary.
There are a variety of day trips you can do from Hobart to see both attractions within Hobart and the surrounding areas. Click here for our guide on the best trips from Hobart.
Our favourite place to stay is the Sullivans Cove Apartments. These are spacious and luxurious and very well located. They are perfect for families.
Click here for our full guide on Hobart.
Museum of Old and New Art

Thanks to Talek from Travels with Talek
There are many fine museums in Hobart. One of the best is the Museum of Old and New Art, more commonly know as MONA. This is the brainchild of Australian businessman and art collector, David Walsh.
One fun way to get there, is taking a half-hour ferry ride from the docks in downtown Hobart directly to the museum which is built into the side of cliffs on the Berriedale Peninsula on the Derwent Riverside. Imagine that!
One could classify the exhibits as "modern art"…but it's more than that. The museum brochure is refreshingly candid when it states, "But we must be honest with you: our goal is no more, nor less, than to ask what art is, and what makes us look at it with ceaseless curiosity. We don't have the answer yet."
At the gift shop/cafeteria a sign encourages the patrons to "eat, drink and cough up the cash." The exhibits are unusual and, some may consider irreverent…but always interesting with a strong emphasis on sex.
Another innovation, there are no labels to describe the art. Instead you are given an IPhone-like device called an "O" which you point at the art, listen to the explanation with headphones and leave your opinion of the art.
I've never seen anything like this place and loved that its bizarre aspects surprised and delighted me at every turn. Rest assured, if you go, don't expect a typical museum visit.
Click here for our full guide on Hobart.
Cascades Female Factory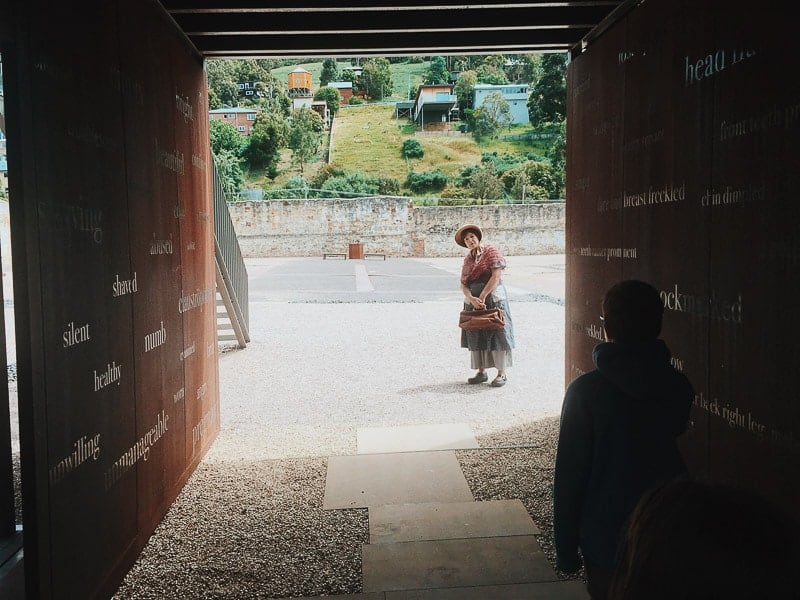 Thanks to Leah from Kid Bucket List
The history of women during the convict era is rarely explored without first focusing on the men. This is not the case at the Cascades Female Factory in Hobart, Tasmania which focuses on the experience of convict women, the only site to do so.
Specifically established to house and reform the thousands of women convicts arriving from the UK, the site was reputed to be a horrendous place where the institutions philosophy of "silence" was enforced. Even the babies born within its walls were silent – its not hard to believe that there was a very high rate of infant mortality.
There were 25,566 women transported from 1788 to 1853. Life was hard and conditions were appalling.
The Cascades Female Factory is a short 10 minute drive from the city of Hobart and should be on your Hobart itinerary. Make sure you include the Her Story dramatised tour which will lead you through the experience of a real female convict Mary and her life at the factory. It's fascinating and will give you goosebumps.
Click here for our full guide on Hobart.
Bruny Island Cruises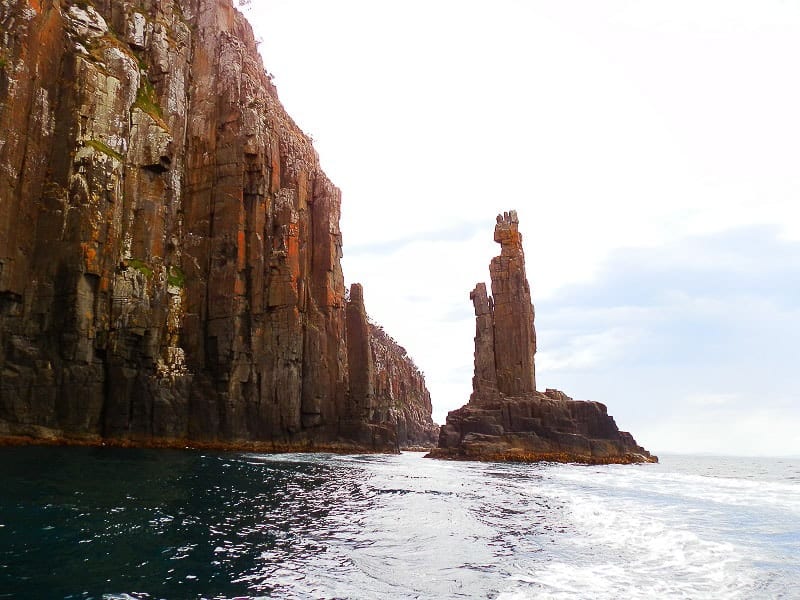 Thanks to Marion from Red Nomad Oz
You're already offshore from mainland Australia when you get to Tasmania, so why not keep going offshore to the amazing Bruny Island? Catch the ferry across the D'Entrecasteax Channel from Kettering, just a few kilometres south of Hobart to this small island around 100 km long, with a permanent population of only 600 AND and a whole heap of natural attractions to keep you busy.
If you've only got time for a day trip, get to Kettering early – it's first come, first served on the ferry, and you won't want to miss the nail-biting action of going offshore AGAIN on a 2 ½ hour Bruny Island cruise from the appropriately named Adventure Bay!
You'll be glad you're dressed in a tasteful waterproof onesie as the cruise whips through the narrow channel separating the Monument from the second highest cliffs in the Southern Hemisphere before exploring sea caves, then heading into the Great Southern Ocean.
The offshore islands are full of Australian Fur Seals and you get to see AND smell them up close before heading back via dolphin and albatross sightings in the open sea.
Other Bruny highlights include the 'Neck' Lookout, walks and lighthouses in South Bruny National Park, beaches, more lighthouses, and recreation areas. If you decide to stay more than a day, there's a full range of accommodation on Bruny.
There are a variety of day trips on offer to Bruny Island – click here to check out whats on offer.
Click here for family friendly accommodation on Bruny Island.
Port Arthur Historic Site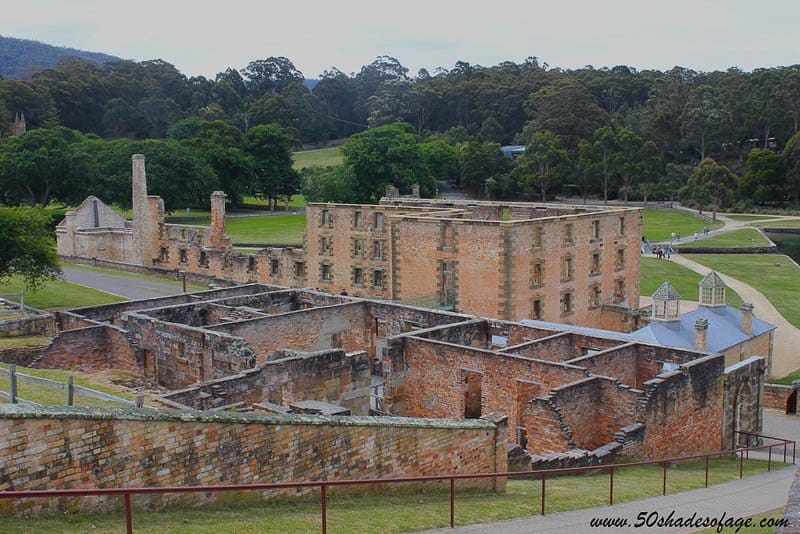 Thanks to Kathy from 50 Shades of Age
What's cool about Port Arthur Historic Site on the Tasman Peninsula, apart from the picturesque setting and the abundance of well-preserved historical buildings, is that there is something for everyone here. It's not only a history lesson of the hardships that our convict transportees endured under their harsh Port Arthur incarceration, but it is an interactive experience that the kids will find fascinating.
Port Arthur penitentiary was purpose built to incarcerate, punish and rehabilitate the harshest of Australia's transportees that since arriving on our shores had committed a further crime. It is situated at the most southern tip of Tasmania on the Tasman Peninsula where the only method of escape was by swimming south in the hazardous Southern Ocean or to the north through densely vegetated bushland and a neck of land known as Eaglehawk Neck.
On entry to Port Arthur historic site you're issued with a playing card with a convict's identity, that you take with you to the Lottery of Life gallery in the Visitor Centre to find out your convict's story.
Apart from general entry to the site, that includes a guide and a boat cruise, there are also additional tours that you can take, including Isle of The Dead Tour, Night Ghost Tour, Point Puer Boys' Prison Tour and Museum House Talks. It is the perfect history lesson for kids of all ages and is sure to entertain them for hours.
There are a variety of day trips you can book to see Port Arthur – click here to check out whats on offer.
Click here for our full guide on Port Arthur.
If you're planning a visit to Tasmania, here are some more articles that you may find helpful: