Rochester is a gorgeous city in upstate New York, absolutely jammed packed full of fantastic attractions for the family. There are so many fun things to do in Rochester with kids that you'll will need to stay a month here or come back for multiple trips.
Rochester is the third largest city in New York (with New York City being the largest) and is situated on the shores of Lake Ontario. With over 100 family friendly attractions including numerous interactive museums, sporting events, amusement parks, historic sites, festivals and over 12,000 acres of parklands just waiting for you to explore, there is plenty of things to do with kids in Rochester NY.
Whilst Rochester is a destination unto itself, its also makes for a perfect stop if you're road tripping from New York City to Niagara Falls. Located a 5.50 hour drive from NYC and 90 minutes drive from Niagara Falls (click here for some tips on Canada), it's a fantastic spot for a few days break. Click here to read my guide on visiting NYC with kids.
I recently had the the absolute privilege of visiting the city of Rochester for a few days and experiencing first hand just some of these fantastic attractions around Rochester NY. In this blog post I share some of the family friendly attractions I visited during my time in Rochester as well as list some other suggestions for the best things to do in Rochester for kids.
Fun Things to do in Rochester with Kids
1. The High Falls
As you can see pictured above, one of the most unique Rochester NY attractions would have to be High Falls. High Falls is a 96 foot waterfall located in the heart of the city. The falls are best viewed from the Pont De Rennes pedestrian bridge or whilst having a few drinks at the Genesee Brew House. There is also a museum across the bridge if you're interested in learning more about the local history. Entry to the museum is free.
The High Falls Water Fall is located at the end of Cataract Street and is only a short 10 minute walk from the downtown area.
2. Strong Museum of Play
There are so many museums in Rochester NY perfect for kids, but the Strong would probably have to be the number one Rochester kids museum. The Strong Museum houses books, magazines, dolls, toys, old carousels, board games and much more, to promote the theory that kids learn best when they're at play. Being the only collections-based museum in the world dedicated and known for activities that centre around learning, playing and inspiration, a visit here should be high on your itinerary.
This Rochester children's museum is also home to the only indoor butterfly garden in New York where you can see tropical and native butterflies. There are also obstacle courses, dress up opportunities, carousel, an enormous miniature grocery store, retro arcade games, a giant Etch-a-Sketches, replica sets from Sesame Street and much more that the kids will no doubt love. I just loved seeing some of the old toys I played with as a child, it brought back some great memories.I visited the museum with a group of adults (no children) and we had an absolute ball!! So I can only image how much fun this place would be for the kids. The Strong Museum is certainly one of the best places to go in Rochester NY with kids. Honestly I think you would need to put aside at least half a day for the kids to really get to experience every inch of the museum.
The museum is located at 1 Manhattan Square and is open daily. General entry is $15 USD or $20 USD including entry into the butterfly garden, with children under 2 being free. Click here to buy your tickets online
3. Rochester Museum & Science Centre
The Rochester Museum & Science Centre (RMSC) is a museum dedicated to education in science, technology and local history. With more than 200 shows and displays that highlight how science is used in our everyday lives with everyday objects, the natural environment and the regions cultural heritage.
I didn't make it here during my recent trip, but I think this place looks great for families looking for things to do in Rochester NY. From virtual ride simulations, robot building, laser zapping, catapult launching, rock climbing to an interactive map where a projection changes in real time as you move sand to form new mountains and valleys.
The museum is located at 657 East Ave and is open daily. Admission is $15 USD per adult and children 3–18 $13 USD with under 3's being Free.
If you'e family loves to hike – head on over to Watkins Glen – only 90 minutes from Rochester. Check here for all the details for hiking in Watkins Glen.
4. Seneca Park Zoo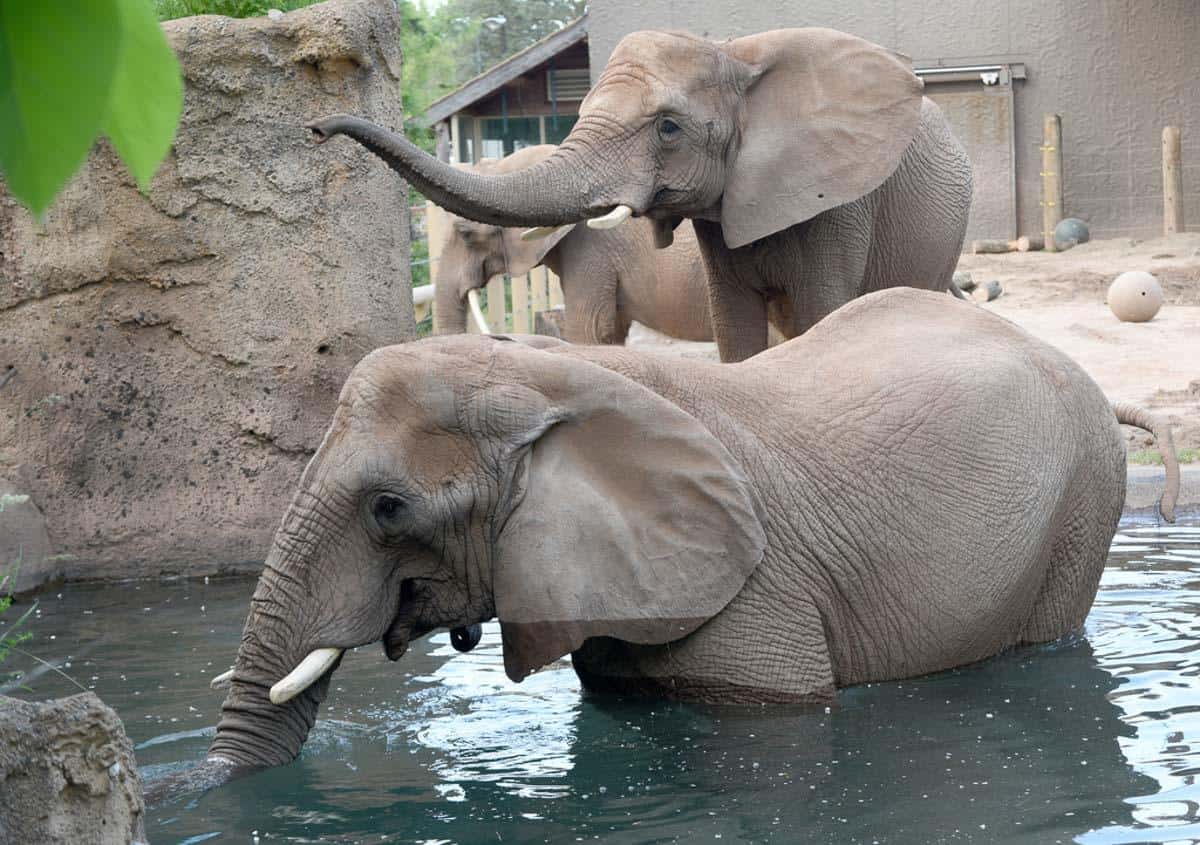 Image Credit: Visit Rochester
The Seneca Park Zoo is one of the popular Rochester attractions. The zoo is set on more than 15 acres of land and home to various species of animals that belong to different regions of the world. Here you will find African Elephants, White Rhinos, Sea lions, Giraffes plus much more.
As the name suggest this zoo is not as large as some zoos so little legs shouldn't get too tired whilst roaming from one animal enclosure to the next. But when you do need a pit stop there are play areas and picnic benches to rest and replenish at, before moving onto the next exhibit. The shape of the park is also perfect for families as its long and thin. You basically walk in one direction all the way to the bottom of the zoo and at the end you can catch a shuttle back to the zoo entry.
The zoo is located at 2222 St Paul Street and open daily except for public holidays. General admission is $12 USD per adult, $9 USD per child, with children under 2 being free.
5. Strasenburgh Planetarium
For my next visit I'd love to visit the Strasenburgh Planetarium. I'm sure all families will love the laser shows, star shows, and films in its four-story dome. The Planetarium's website says that shows change regularly and that most shows are recommended for kids 5-8 years of age. Click here for the show schedule.
Shows at the Planetarium cost $7 USD for adults and $6 USD for children. You can also purchase combined Rochester Museum and Science Center / Planetarium tickets for $18 USD per adult and $15 USD per child 3–18 with under 3's Free.
Operating hours are dependent on show times, check out the shows schedule to find out more. The Planetarium is located at 663 East Avenue.
6. Susan B Anthony House
Susan B Anthony was a national figure in the women's rights movement, who was arrested after attempting to vote in the 1872 presidential election. And as the name suggests this house was the home of this legendary American civil rights leader as well as the headquarters of the National American Woman Suffrage Association when she was its president. She also died at this abode in 1906 following her very famous speech 'Failure is Impossible' in Baltimore.
Her home which is now a frequently visited museum has many original artifacts on display. The house and the museum shop next door are both steeped in the lifestyle and history of the 1800's.
I think a visit for families to Susan B Anthony House is a fantastic opportunity to teach children about women's rights and that significant change really does start with just one individual that's willing to stand up against the norm.
The Susan B Anthony house is located at 17 Madison St and is open Tuesdays-Sundays 11 am- 5 pm. Entry is $15 USD per adult and $5 USD per child.
7. Take the Sam Patches Cruise down the Erie Canal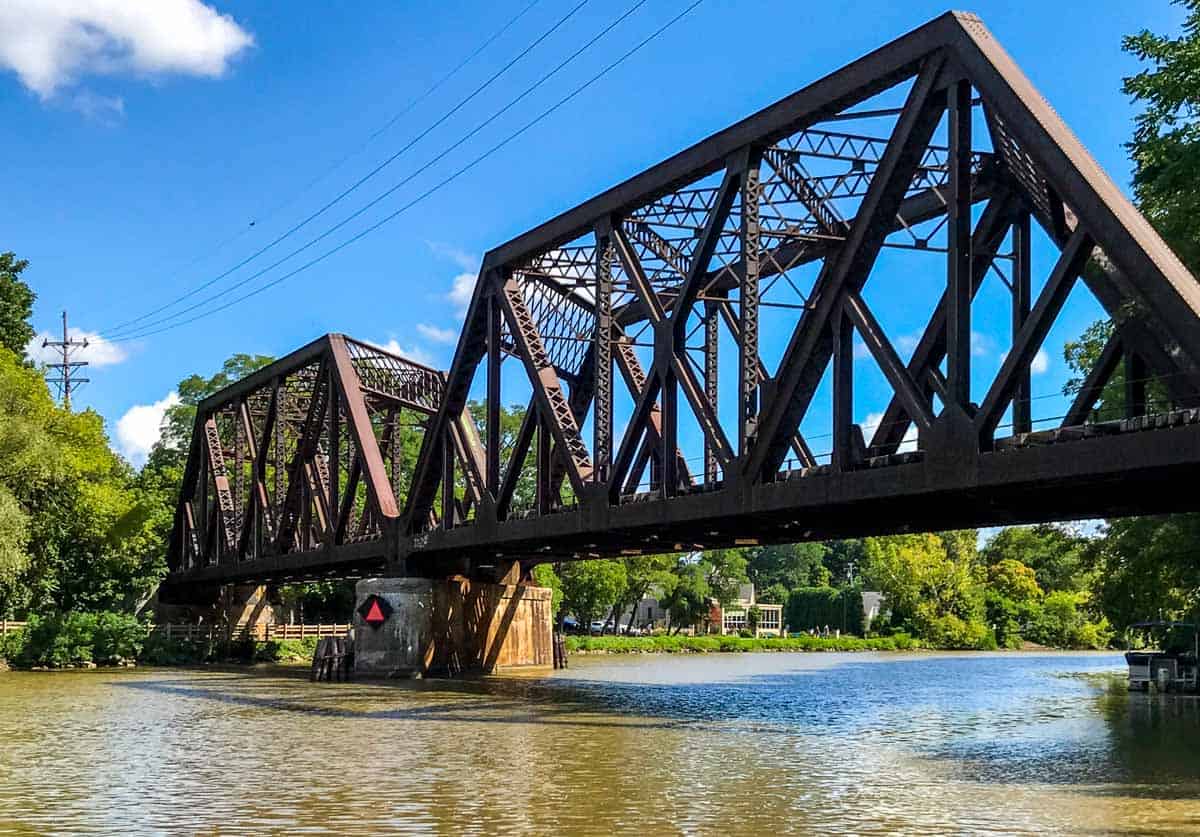 The Sam Patch Cruise is on board a replica of an 1800 packet boat, and the 90 minute cruise takes you on the route of early settlers, showcasing the canals beauty, environment and historical worth in making Rochester one of the first 'boomtowns' in the region. Enjoy a leisurely journey whilst listening to the on board narrative, filling you in on the historical facts and events along the route.
You will be in awe as you pass through a beautifully restored and redeveloped historic canal town after traveling through Lock 32 a century old lock. I'd never seen anything like this and was amazed at how the canal filled up with water so we could pass through. I also just loved observing the life along the canal, seeing stunning homes and gorgeous parklands.
The Sam Patches cruise operates several times a day throughout the week. Adult (13+) prices are $16 USD, child are $8 USD and children 2 are free. There is also the option of purchasing lunch on board the noon cruise which is an additional $10.50 per person. You can purchase your online ticket here. This 90 minute cruise departs from 12 Schoen Place in Pittsford.
8. Watch a Sports Game
I didn't get time to see a sports game whilst I was in Rochester, but if you love sports there appears to be plenty of opportunity in Rochester to take the kids to see a baseball, soccer, hockey or basketball game. A ball game would have to be one of the fun things to do in Rochester NY for kids.
Rochester Red Wings (Baseball): Frontier Field is where this professional minor league baseball team play their home games. Ticket prices usually range from $8 – $12 depending on the seats you want. Click here to select your game, seats and get your tickets online. Look out for $1 Wednesday game days – when they serve $1 hot dogs, $1 peanuts and $1 Cracker Jacks (caramel-coated popcorn and peanuts).
Rochester Rhino (Soccer): This professional soccer team play at the Marina Auto Stadium, 460 Oak Street. The men play from early May through mid-September, whilst the women's team typically plays from late May through late July. Click here to learn more and buy tickets
Rochester Americans (Amerks) (Ice Hockey): One of the oldest hockey franchises in the American Hockey League, playing at Blue Cross Arena at 100 Exchange Blvd. Their season runs from October through April. Click here to learn more and buy tickets.
9. Ontario Beach Park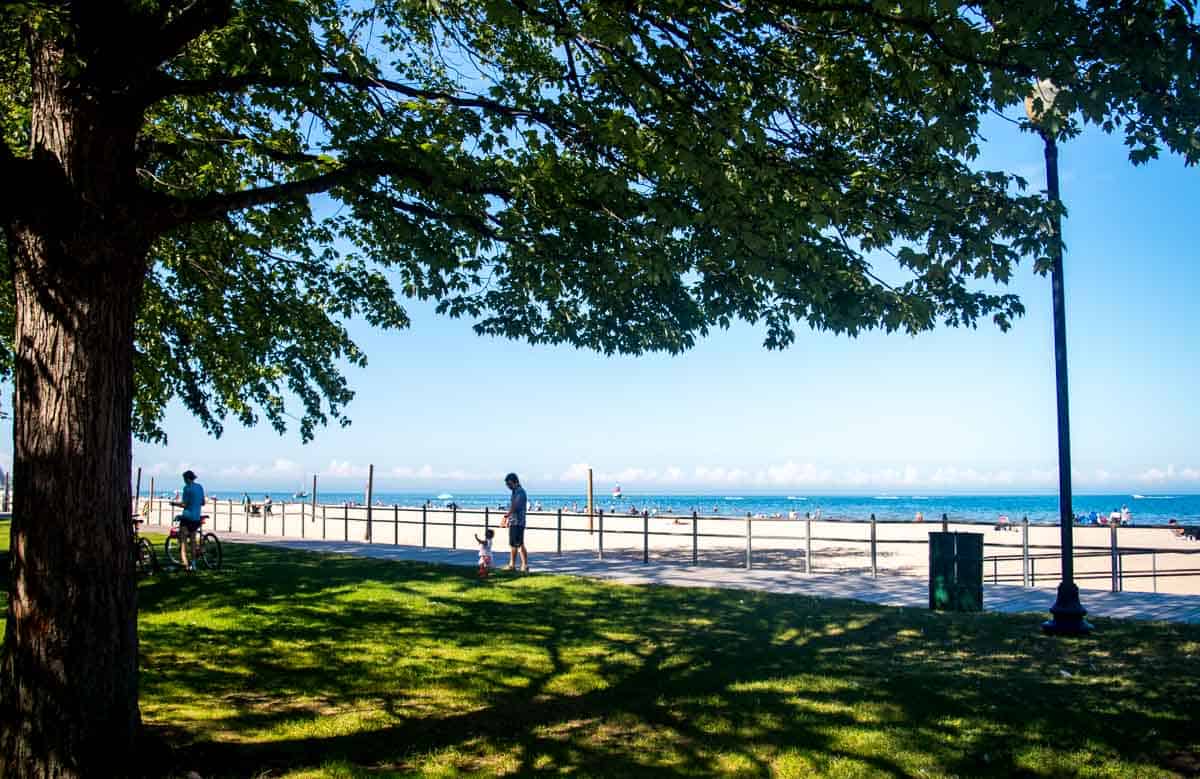 If you're looking for some free things to do in Rochester NY, take the kids down to Ontario Beach Park where you can experience this huge park with its beautiful stretch of Lake Ontario's natural sand beach, perfect for summer fun or a winter stroll.
This 39-acre park also has BBQs and picnic benches, a playground, a boardwalk, a food stand, toilets and the Dentzel Menagerie Carousel. Whilst the carousel is not free, for just $1, the kids get a ride on this vintage attraction, which certainly makes it one of the cheap things to do in Rochester NY.
The is also a nearby marina which has many waterfront restaurants to grab a spot of lunch whilst checking out the boats in the marina.
Ontario Beach Park is located at 4799 Lake Ave, Rochester.
10. Rochester and Genesee Valley Railroad Museum
The Rochester and Genesee Valley Railroad Museum looks fantastic for any families with train obsessed kids. This is an operating railroad museum which has the largest collection of historic trains in New York.
Here you will find several preserved railroad structures and equipment as well as the restored 1909 train station Industry Depot. Families can take a ride on an old freight train for a 1.5 mile trip around the museum grounds.
Tickets include admission to the museum and the train ride are $10 USD per adult and $8 USD per child, with under 4s free. For an additional $5.00 you can ride with the engineer upfront! Tickets are provided on a first serve basis or you can purchase them online here.
The Museum is located at 282 Rush-Scottsville Road and is open on certain weekends from June through October. Click here for the operational calendar.
11. New York Museum of Transportation (NYMT)
This museum looks like yet another fantastic place for families with train buffs. Here kids can experience old-fashioned train travel and see other travel artifacts from the past with most items being able to be touched, climbed on/in, or otherwise used. It is also home to a rail line which connects the New York Museum of Transportation with the Rochester and Genesee Valley Railroad Museum, over a two mile track. The museum includes historic vehicles, photographs, research library, trolley rides, track car rides and model railroad displays. There is also a room dedicated to miniature trains with an elaborate mini city with various model trains running.
Located at 6393 East River Road, this museum is only open on Sundays from 11 am to 5 pm from May- through to late December. Admission, which includes the electric trolley ride, is $8 US for Adults (12+) and $6 for children.
12. The George Eastman Museum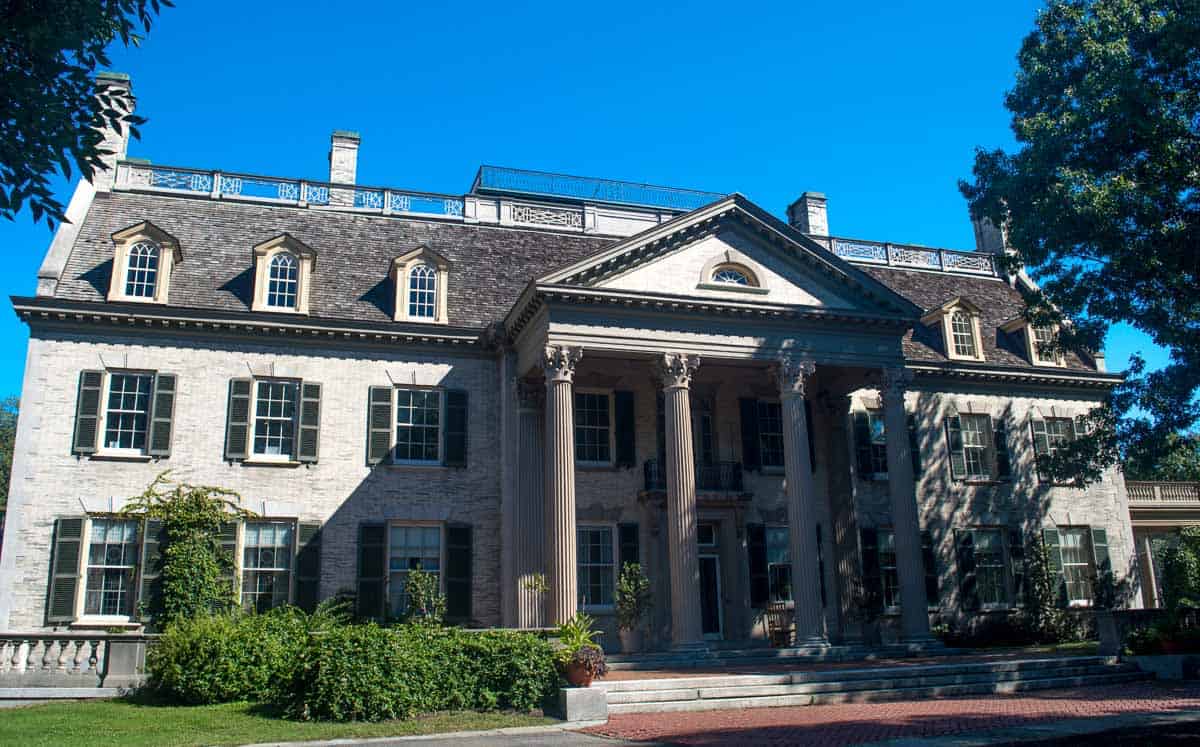 This museum is located inside the magnificent mansion that was once the home of the late George Eastman- the innovator of popular photography and the founder of the Eastman Kodak Company. This museum is known to be the oldest museum that is dedicated to all things photography with one of the world's oldest archives of movies and films telling the story and the fascinating tale of, George Eastman. Kids will love the hands on Discovery Room, designed especially for them, where they can play with old cameras from across a range of decades. Here they can also try their hand at various image making activities that change depending upon the exhibitions showing in the main part of the museum. I personally was most intrigued about exploring the corridors and rooms of the massive mansion. This place is absolutely gigantic and it was fantastic seeing how the rooms have been maintained to look just as they would when Eastman lived there with his family up until he died in 1932. The George Eastman Museum is located at 900 East Avenue and is open Tuesday to Sunday. General admission, which does not include film screenings, costs $15 USD for adults (17+) and $5 US for children (5-17). Children 5 and under are free. Film Screenings cost an additional $10 US with children under 17 being free. Click here to purchase tickets online.
13. Tinker Nature Park
If you're looking for some kid friendly activities in Rochester NY to get the kids out and about in nature, take them to the Tinker Nature Park. This park is set on 68 acres of land which features the Tinker homestead, hiking trails and a nature centre which includes a few small exhibits. Across the parklands you'll find wildlife , an outdoor meditation area, a maze, a boardwalk with seating, picnic areas and a playground. However what kids will most love is searching for the fairy homes which are hidden high and low in the trees. Also located in the park is the Tinker homestead also known as Tinker Cobblestone Farmstead. This is a historic federal style cobblestone farmhouse built between 1828-1830 from the cobblestones collected from the surrounding fields and constructed by the same stone masons who worked on the Erie Canal. The house now serves as a museum where visitors can get a glimpse into the pastimes of the Tinkler family. Located at 1525 Calkins Rd Henrietta, the Tinker Nature Park is open daily 7:00 am until Sundown and the Nature Canter is open Tuesday- Saturday 9 am-4 pm.
14. Wickham Farms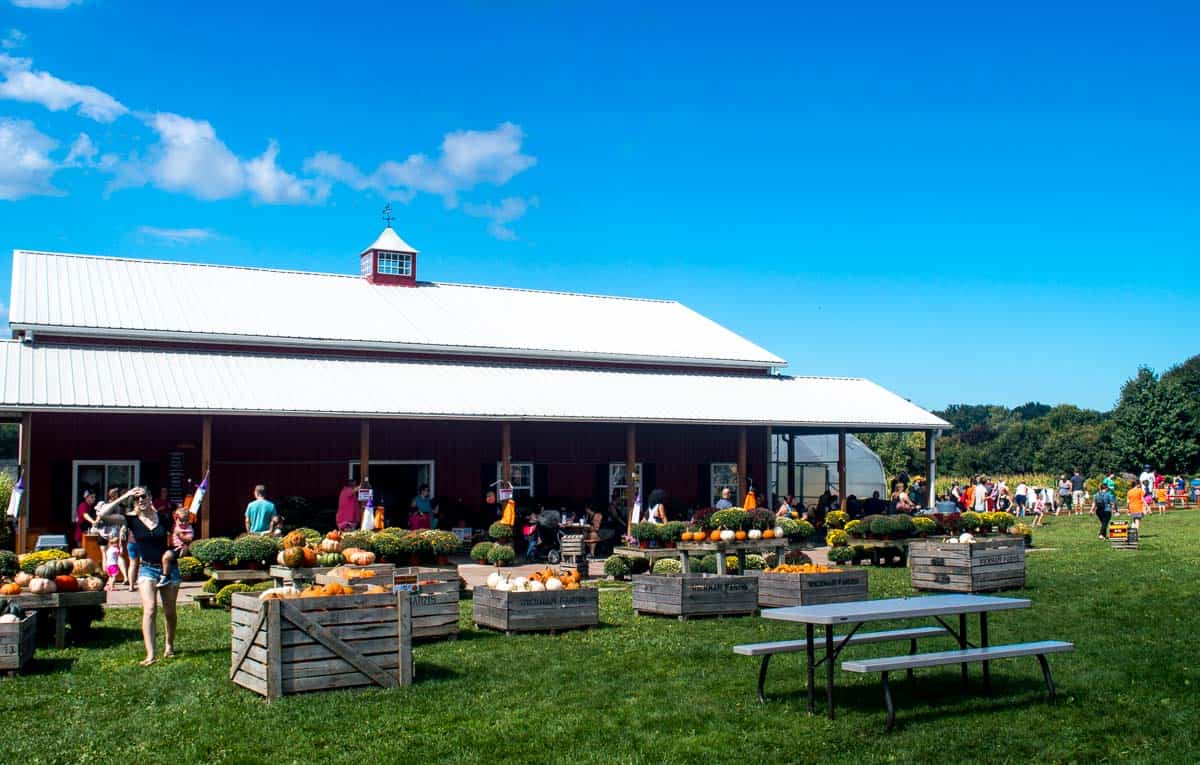 There are so many different family friendly farms in the area. that you won't have time to wonder what to do in Rochester NY. At Wickham Farms there is loads of fun to be had for kids of all ages. Activities include apple picking, jumping pillow, apple canyons, hay rides, mini golf, toddler train, animals to feed like goats and seasonal activities like a giant corn maze and pumpkin picking. Wickham farm is well known for its apple orchard with a several different apple varieties and over 5000 apple trees, which visitors can pick themselves on Saturdays and Sundays. Just simply pay for the bag you fill. Single bags are $15 or 2 for $25, if you pick their premium Honey Crisp apple variety there is a $5 addition per bag. All apple pickers get a complimentary hayride also. Orchard picking typically begins late August or early September and lasts until mid to late October. They also sell flowers in the summer and fall which you can pick yourself. Picking your own sunflowers is an event in itself called the Sunflower Spectacular, which is really popular, so you must buy date specific tickets in advance.
Tickets are 5 flowers for $5 USD or 12 flowers for $10 USD. Entry to the farm is free, but everything comes with a very reasonable cost- $5 USD or less for most things. However, if the kids want to go on a majority of the activities it may be cheaper to purchase a fun pass which range from $13-$18 USD. If you purchase them online, you also save a few extra dollars. The farm is open daily from 10 am-9 pm but in the colder seasons can be closed which is weather dependent, check out the website here before traveling out there to make sure its open. Wickham farm is located at 1821 Fairport Nine Mile Point Road Penfield.
15. Guided Tour of Mt Hope Cemetery
Even though a cemetery is not normally on my list of things to do, I may well make an exception for Mt Hope Cemetery and add it to my Rochester NY to do list. There are several tours available that will highlight particular grave-sites, providing historical information about the individual, the type of stone, where it's from as well as happenings at that time, basically a history lesson of Rochester. Tours range from $5-$10 USD per person, children under 16 are free. Click here for more information on the tours Even without a tour I think it would still be rather interesting to walk around as here you'll find many grave stones of well-known Americans including Nathaniel Rochester and Susan B Anthony's, plus many other inventors, athletes, musicians and artistes. The cemetery is located at 1133 Mount Hope Avenue and is open daily, however the times are seasonal, click here for precise times.
16. Visit Rochester Public Market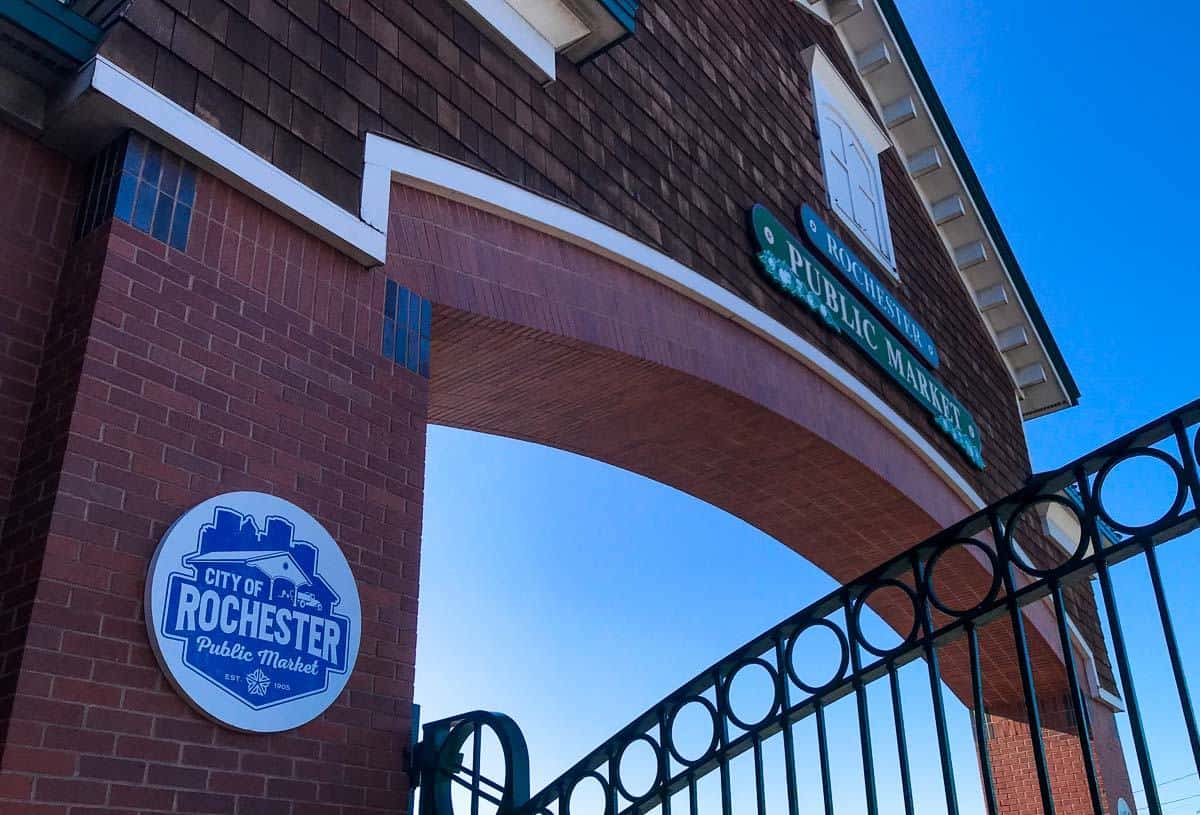 Rochester's Public Market has served the community since 1905. Operating 52 weeks a year, 3 days a week- Tuesdays, Thursdays and Saturdays. It is the place to go for bargains, fresh produce, ethnic delicacies, specialty items, and so much more from local vendors. There are also several shops and cafes that line the market, which offer coffee, pastries, local crafts etc. The markets are located at 280 N Union Street and are open from 6 am- 1 pm on Tuesdays and Thursdays and 5 am-3 pm on Saturdays.
17. Rochester Winter Activities in the Snow
Whilst when I visited Rochester it was super hot; but I continually heard from the locals how long the winters in Rochester were. This means there are plenty of opportunities for Rochester winter activities in the snow if your family is visiting during the colder months. I for one am definitely keen to come back during winter to check out some of these fun snow activities. Nearby resorts Swain Ski Resort and Bristol Mountain Ski Resort offer plenty of winter activities for all ages and abilities. You can choose to stay a few nights at either resorts or just make day trips from Rochester NY.
18. Aerial Adventures Park
If you're looking for adventurous Rochester activities for the family, then head to the Aerial Adventures Park at Bristol Mountain Resort. This adventure park operates during off season, and consists of a high ropes course, zip line and kids adventure park. Details are as follows:
High Ropes: $52 USD for ages 7+ for 3 hours which includes 7 courses of varying difficulty and 2 zip lines.
Kids Adventure Park: For 4-7 year old's and is $25 USD for 1 hour.
Zipe Line: 7 ziplines with over 5,000 ft of zips, 4 bridges, 2 hikes, and a final leap of faith! This tour cost $109 US per person
19. Wine Tasting at Casa Larga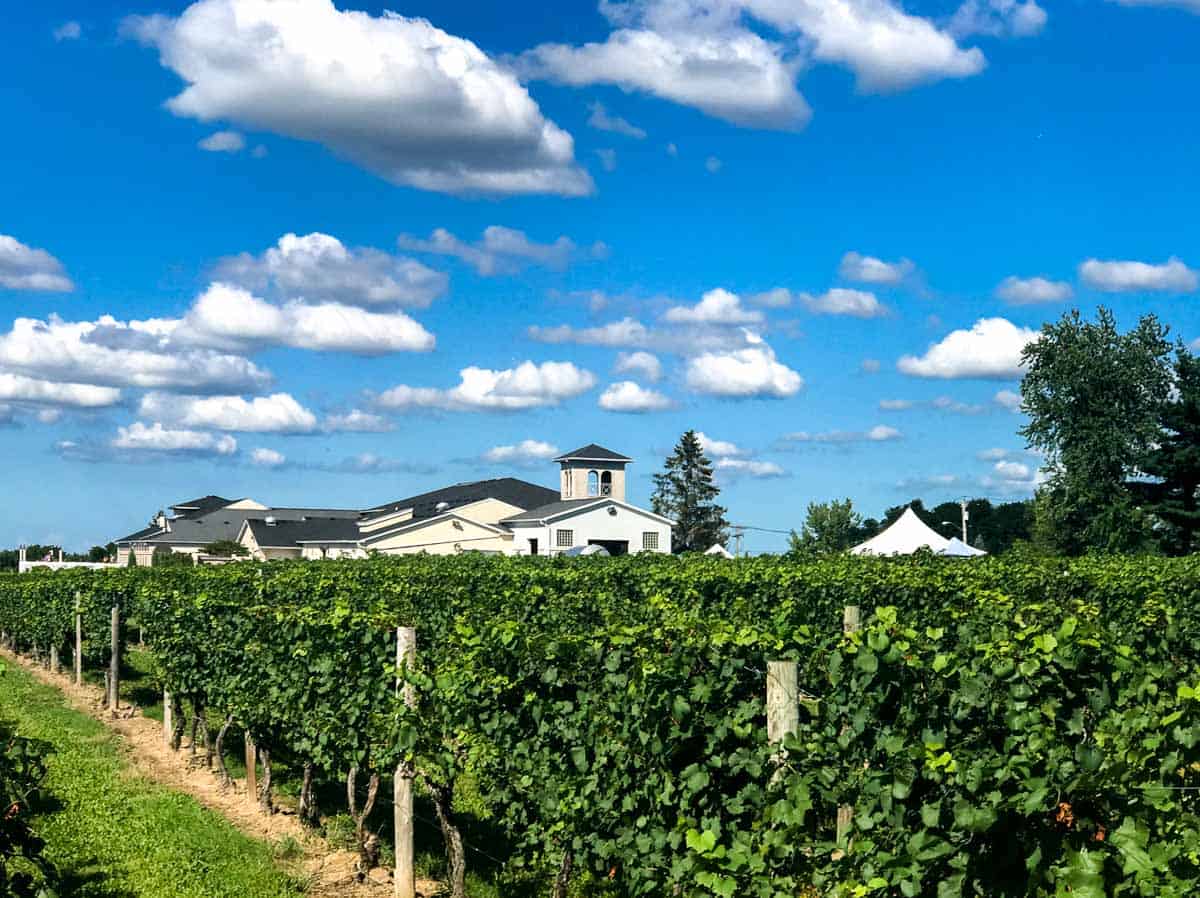 Andy and I are absolutely wine obsessed, so we just love it when we can find a family friendly winery and Casa Larga is certainly a winery that welcomes families. I was lucky enough to visit Casa Larga during their Purple Grape festival. The festival is the annual celebration of harvest and the kids will love joining in with the old world tradition of stomping grapes. The festival is full of awesome Rochester kids activities including face painting, wagon rides around the vineyard, live music, market stalls, kid's craft activities, face painting and more. Of course there is plenty of wine tasting to be had by Mum and Dad too. The Summer Patio Parties also look fantastic for families. These Patio parties have good music, good food from local food trucks and of course delicious wine to add to beautiful summer evening. The parties run from 5:30-8:30 PM and are a great place to spend a leisurely evening outside with the family. Tickets are $10 USD per adult which includes a glass of wine and kids are free.
Click here to learn more and buy tickets. The wine was sooooo good here, easily the best I had during my time in the USA. If you are a wine love I suggest you visit some of the wineries in Finger Lakes which is not too far from Rochester.
Casa Larga Winery is located at 2287 Turk hill Rd, Fairport.
20. Roseland Waterpark
If you're looking for somewhere to take the kids to cool off, than Roseland Waterpark looks like one of the best places to visit in Rochester NY. Roseland Waterpark is the main waterpark in the Finger Lakes Region and it is massive! With 56 acres of water adventure and 9 attractions including a gigantic 27,000 ft wave pool, a mammoth white water rafting ride spanning the length of over 2 football fields, many terrifying water slides and a few tamer ones, in addition to 'The splash factory' filled with lots of water fun for the little ones as well as heated pools.
Roseland Waterpark is located at 250 Eastern Blvd, Canandaigua and is only open during the warmer months from approximately late June to early September. Admission price is dependent on season, with kids under 2 free.
Click here for more information and to book online.
21. Roseland Wake Park
Right next to the Roseland Waterpark is the Roseland Wake Park, the only full-sized cable wake boarding park in New York State. The wake boarding cable system pulls riders in a continuous loop which is 2100 ft long. This Wake board park ensure riders of all levels can participate, with obstacles such as rails and ramps, for all levels and abilities positioned on the side for riders to use if they wish. There are even lessons for beginners too. Pricing depends on how long you wish to visit and ranges from $35 USD per person for 2 hours to $45 USD for the whole day and so on. They also have family days which are $125 USD for a family of 3 and $42 US for each additional family member. This family pass includes equipment rental and 2 hours of ride time.
Roseland Wake Park is located right in front of Roseland Water Park at 250 Eastern Boulevard, Canandaigua and operates seasonally so click here for exact times.
22. Genesee Country Village & Museum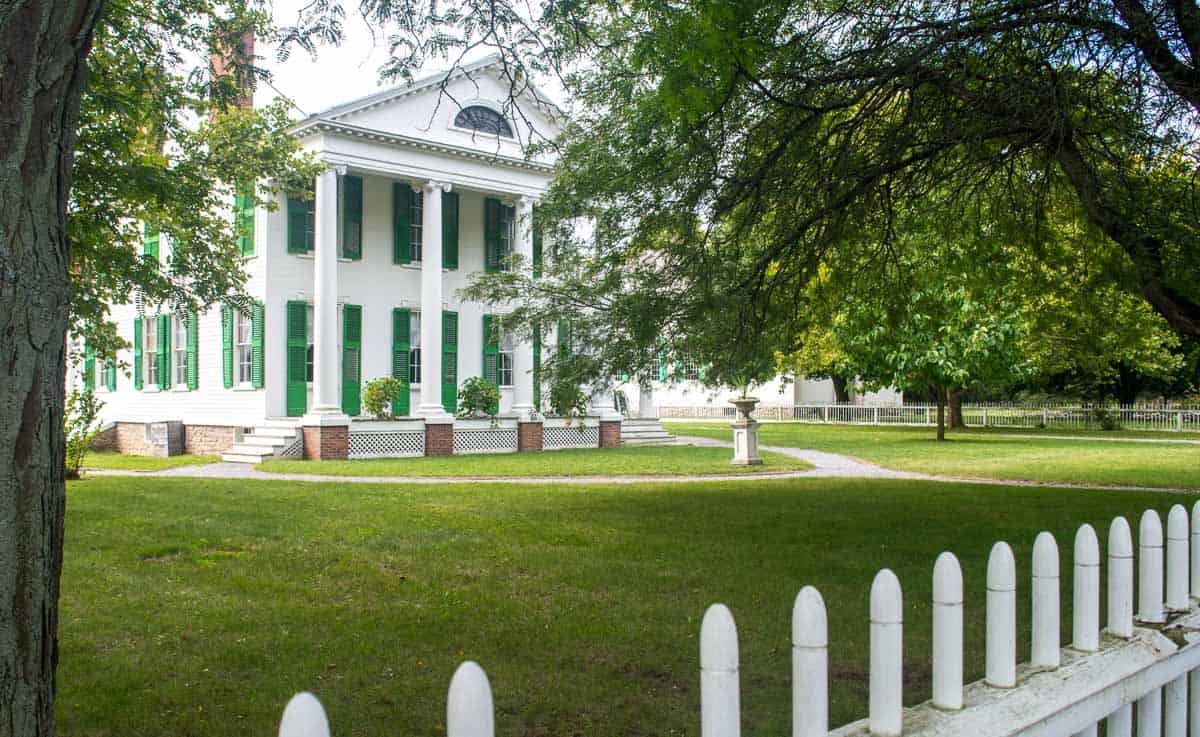 The Genesee Country Village and Museum is a 19th-century living history museum situated on more than 600 acres. Here you can tour the 68 buildings and interact with costumed interpretive actors as they tend to real gardens and livestock, bake fresh breads and pies, basically everything you would expect locals to do in a village from the 19th century. My visit here was one of my highlights in Rochester. I thought it was a great concept and absolutely fascinating seeing the level of detail to make the village as authentic as possible. A visit here is a great way to educate the kids in how life used to be. The kids will have fun playing old games, visiting the one-room schoolhouse, and making their own crafts. I personally recommend a visit to this museum as one of the top Rochester NY things to do.
The Genesee Country Village & Museum is at 1410 Flint Hill Rd, Mumford and entry is $18 USD for adults, $10 USD for children with 3 and younger being free.
Click here to purchase tickets online.
23. Hidden Valley Animal Adventure
Located around an hours drive from Rochester is Hidden Valley Animal Adventure. This looks like a fantastic attraction offering families a chance to get up close and personal with various animals whilst also having the opportunity to learn more about these wonderful creatures. The younger kids will love the small animal adventure enclosure where they can feed and pet goats, donkeys, turkeys, pigs and many other farm animals. Whilst kids of all ages will enjoy the safari that takes passengers on a ride through a section where the animals roam fairly freely. On this safari you are given a cup of food to feed the friendly animals that you encounter such as, the zebras, camels, antelope, yaks and more. Wild Safari tour tickets are $19.50 USD per adult, $15.50 USD per child (3-10) with children 2 and under being free. Tours run Friday- Sunday starting at 10 am. If you're around Rochester in the winter months, normally between November and March, you can have a sleigh ride in the snow. Each ride takes you through parts of the animal park via a horse drawn sleigh, a cup of hot chocolate once the ride has ended is also included in the cost. A 30-minute ride is $20 per person and reservations are required as all rides are weather permitting. Hidden Valley Animal Adventure is located at 2887 Royce Road, and park hours are seasonal and weather dependent.
24. Rochester Pedal Tours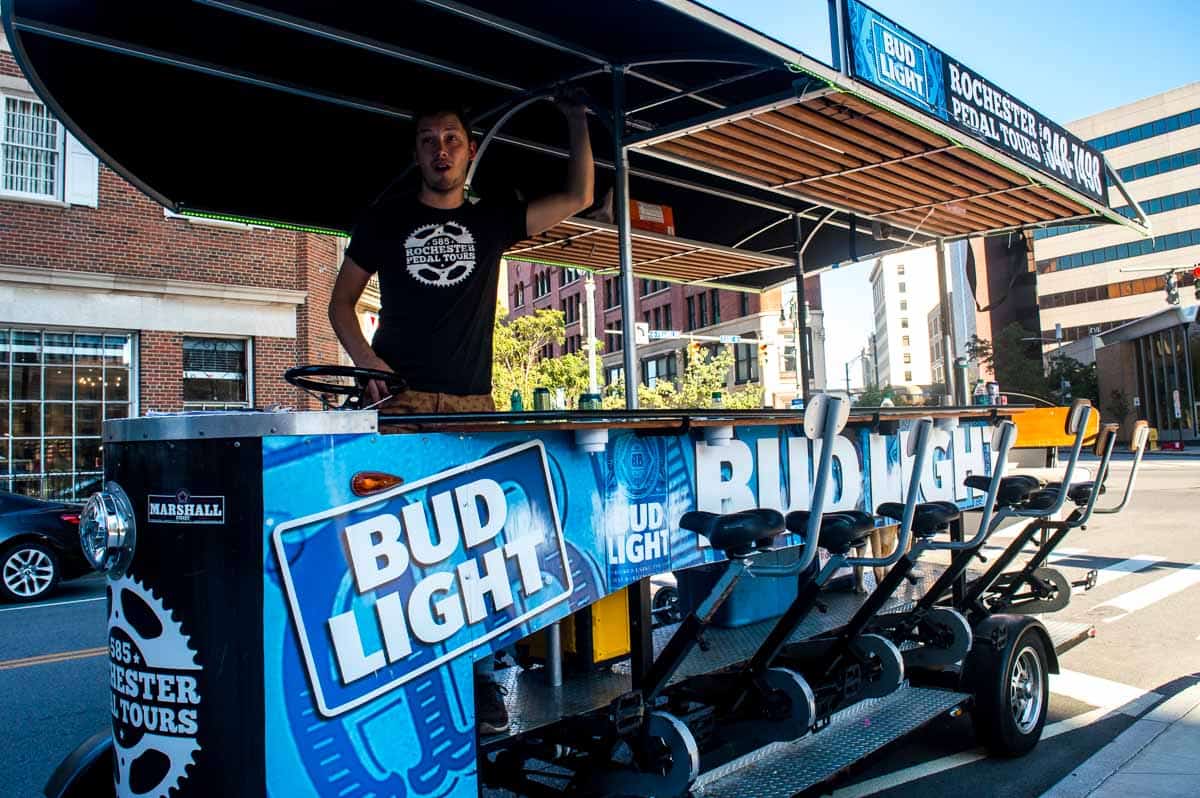 Probably the most fun I had whilst in Rochester was on board this funny looking contraption above. Basically this is a bike for around 15 people, where you pedal your way around the streets of Rochester whilst your guide provides some interesting facts. If you have older children, this would definitely be one of the best family things to do in Rochester NY. It's BYO music and drinks, so we had the iPhone plugged in with all our favourite tunes blaring whilst we had a few drinks along the way. Along the way we made plenty of stops for photo opportunities as well as to rest our legs, although I really didn't find it that hard to pedal, honestly I thought it would be way harder! For anyone who can't pedal, there are around 5 seats where no pedaling is required. There are various tours to choose from, from dinner tours, bar crawls etc and can all be tailored to the preferences of the group. However, as a family on holiday the city tour which we did would be ideal.
All tours are 2 hours long. The price of the tour starts at $285 USD for the entire bike. If you only have a small group there are a few tour times where you can be placed iwith other smaller groups. These tours are $30 per person.
All tours begin at Marshall street bar and grill at 81 Marshall Street.
25. Stokoe Farms
There's plenty of farm fun to be had around Rochester and Stokoe Farm here is another one. This is a year-round attraction with over 35 unique farm attractions scattered over the farm. Attractions include a giant slide, corn pits, a gigantic bouncing pillow, a hay wagon ride, pedal karts, feeding baby goats and so much more providing some great outdoor family fun time!
Stokoe Farms is located at 656 South Road Scottsville, with varying open hours. General admission is $15 USD per person.
26. Long Acre Farms
Long Acre Farms is yet another Rochester farm filled with great family activities, as well as an onsite wine cellar. Activities for the kids include a jumping pillow, gemstone panning, animals to feed and pet, hayrides and a kid trains. In the autumn (Aug-Oct) there is also a giant corn maze for the family to get lost in together. For the parents, visit the JD Wine Cellars and partake in some wine tasting. Also, on site is an ice cream shop, farm market, gift shop and bakery. Entry to the farm is free which includes visiting the goats, playing on the pirate ship, and other playground like attractions, however some attractions have an entry fee. Long Acre Farm's season runs from the first weekend of May through the last weekend of October. During the season Long Acre Farm is open daily from 10 am-8 pm, however some attractions are only open on weekends.
Long Acre Farm is located at 1342 Eddy Rd, Macedon. Click here for more information.
27. Seabreeze Amusement Park
This is Rochester's oldest amusement park and has more than 70 attractions. With rides of varying speeds and heights there's something for everyone and promises to be a great day out for the family. There is also a water park on sight for the warmer months which has a wave pool, lazy river, many water slides plus mini water activities for the little ones. There are various one day passes to choose from with prices varying from $13.99- $31.99 USD with children under 2 free. The park is open during mid May to early September and is located at 4600 Culver Road. C
lick here for more information.
28. Attend a Festival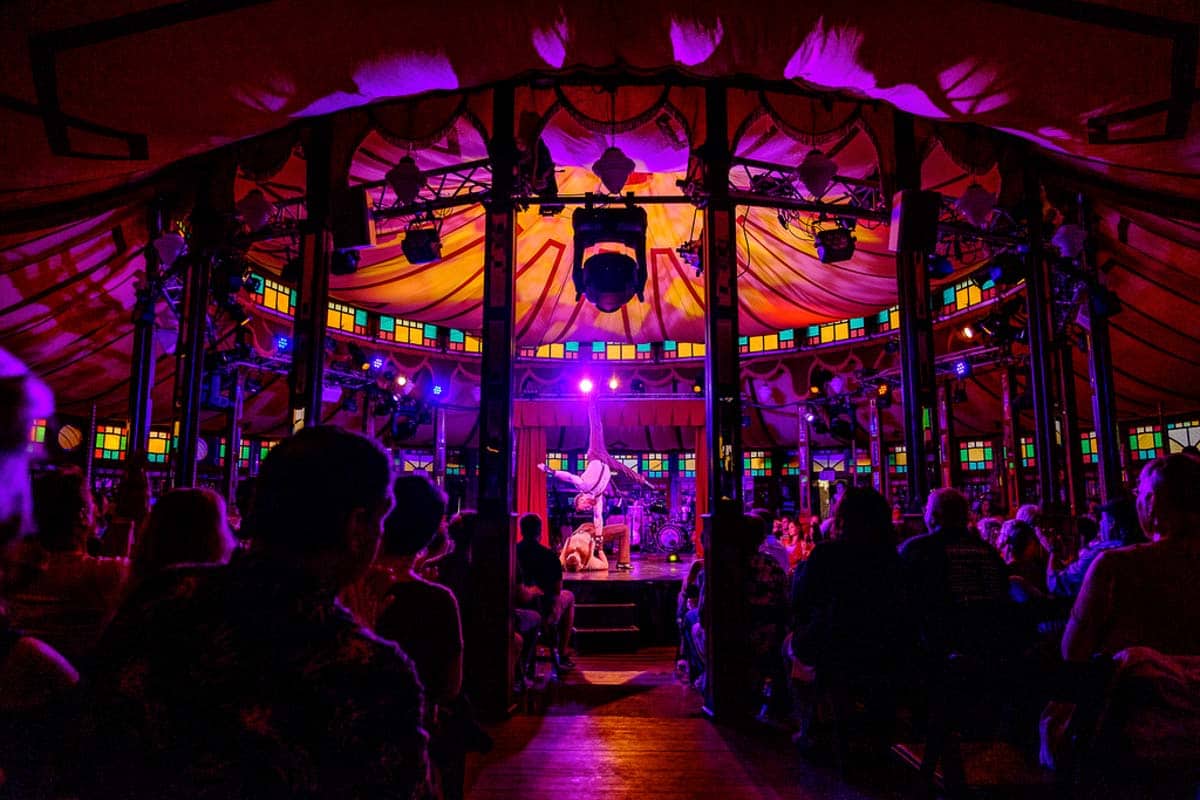 Image Credit: Visit Rochester
Rochester has over 100 festivals throughout the year focused on food, music, the arts and culture. Before heading to Rochester check out whats on and see if you can arrange to go to one of the Rochester family events. Here are a few festivals to check out:
The Lilac Festival: Held in May is at Highland Park, with over 10 days of brilliant floral colours, entertainment, food and fragrance. To find out more click here.
Corn Hill Arts Festival: Held in July is a two day weekend festival that consists of parades, floats music and entertainment bringing together the local community and showcasing products from the consumer & carnivals industry. Click here for more information.
Park Avenue Festival: Held in August is a two day weekend festival which brings together the best artists and vendors of the area. To find out more click here.
Clothesline Festival: Held in September this is an annual fundraising event, where you can purchase local art and crafts whilst experiencing live entertainment, sampling food from some of Rochester's favourite vendors as well as enjoying free family art activities throughout the day and of course visit the museum. To find out more click here.
Fringe Festival: Held in September, the third largest fringe festivals in the country and largest multi genre art festival in New York state. This festival offers more than 500 performances and events in more than 20 venues in downtown Rochester, from comedy to theatre, music to dance, visual art and film, to children's entertainment plus much more- many of which are free. I was lucky enough to be Rochester during this festival and got to attend to events Massaoke and Cirque du Fringe, both which were absolutely fantastic! To find out more click here.
Where to Stay – Hyatt Regency Rochester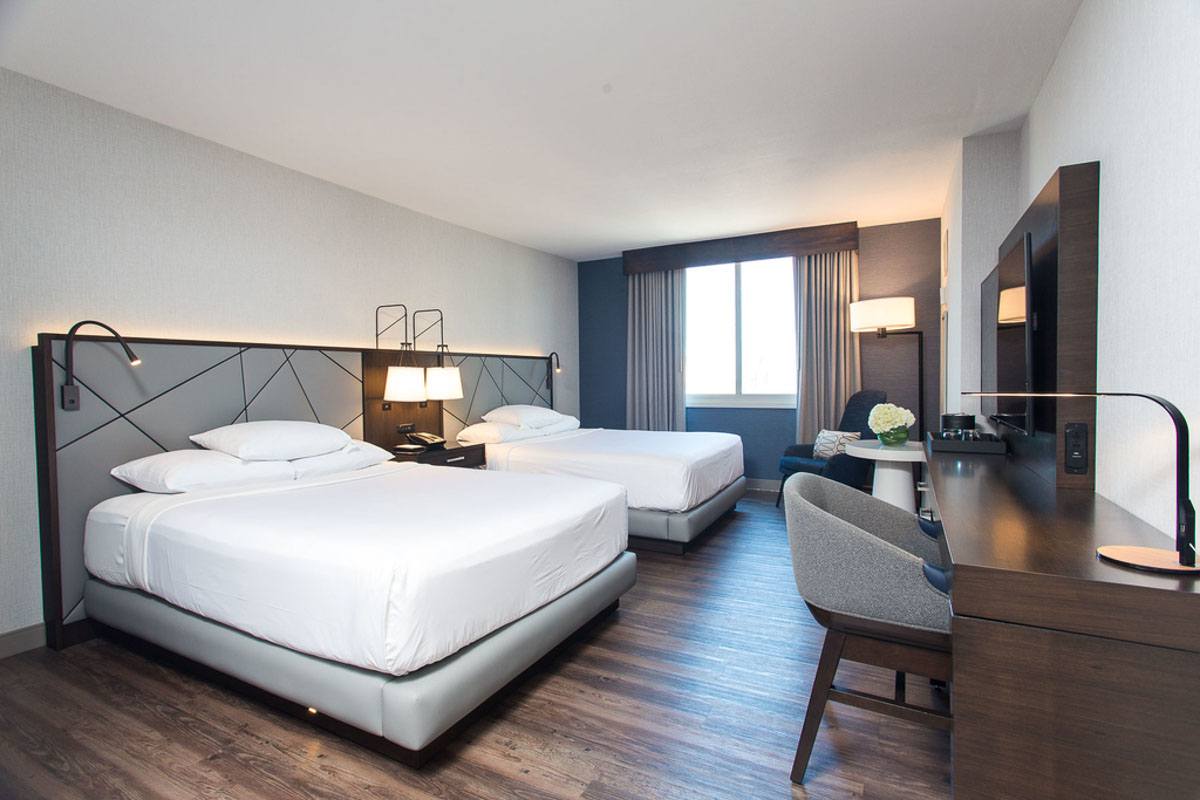 Image Credit: Visit Rochester
During my stay in Rochester I was a guest at the Hyatt Regency, a lovely modern hotel in downtown Rochester.
This 4 star hotel's on site facilities include a heated indoor swimming pool, a gym and an onsite restaurant, bar as well as my favourite – the roof top terrace which has a tapas style menu, drinks, live music and great views of the Rochester skyline. They hotel also provides a shuttle service, free of charge to the airport and train station which I think is a fantastic service.
The rooms are just lovely with various room options including King or Queen rooms and suites. All rooms include a flat screen TV, free WI-FI air conditioning/heating, tea/coffee making facilities, safety deposit box, and iron facilities.
At the time of publishing the best rate for 2 adults and 2 children was $231 AUD per night in a Queen room with 2 Queen beds on Booking.com.
Click here to check pricing and / or to make a booking at the Hyatt Regency Hotel.
Thank you to Visit Rochester for hosting my time Rochester. Of course all opinions expressed are my own and have not been influenced in anyway.
Please note that this post contains affiliate links, which means that should make any bookings using my links, I may be paid a small commission at no extra cost to you. This allows me to provide this information free of charge – thank you for supporting our website.