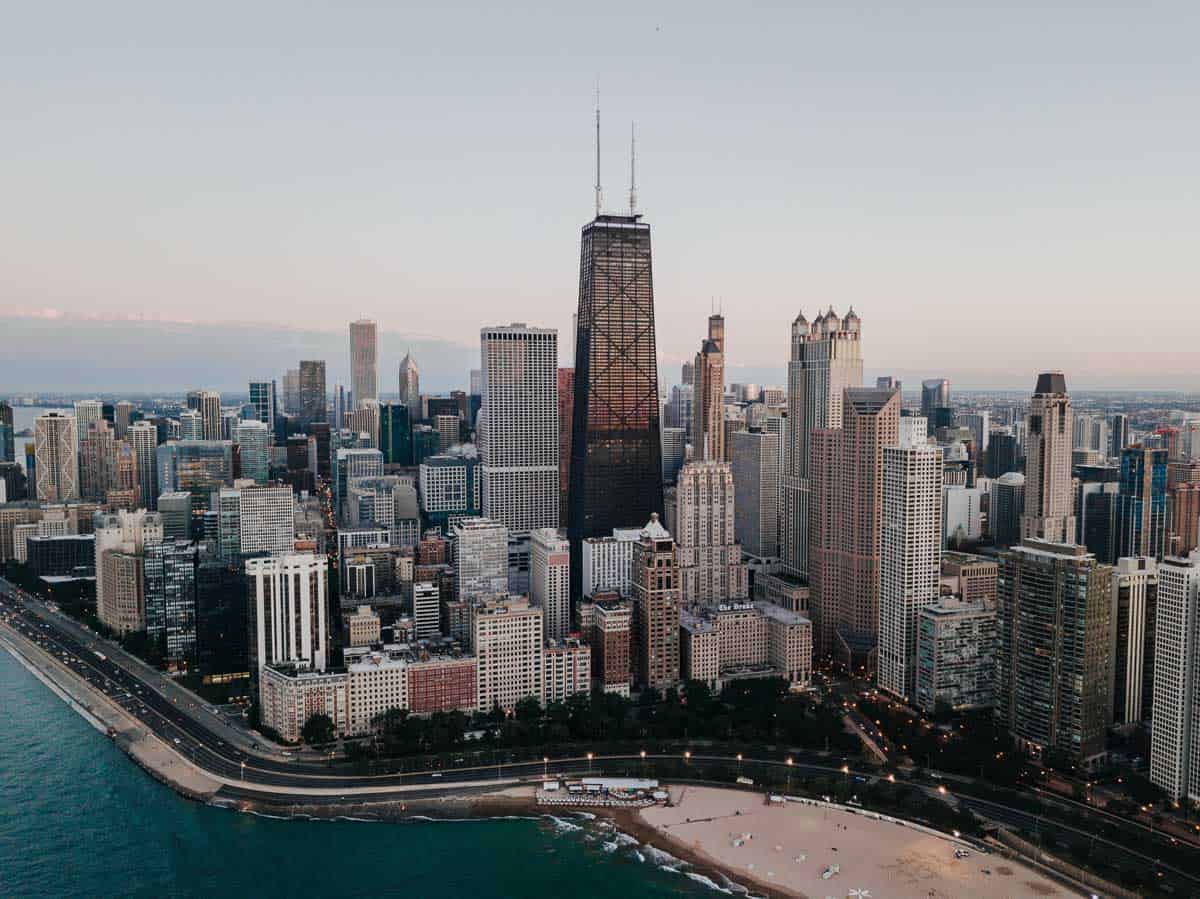 With its sprawling parks and never ending food scene, Chicago is one of the best cities to visit in the US with kids.  There is plenty to do, plenty to see, and something for kids of all ages and interests. If you need help planning an itinerary for visiting Chicago with kids, here is a list of the top 10 family friendly attractions in Chicago!
Thanks to Montoya from The Spring Break Family for this guest post on the best things to do in Chicago with Kids.
Best Things to do in Chicago with Kids
1. Navy Pier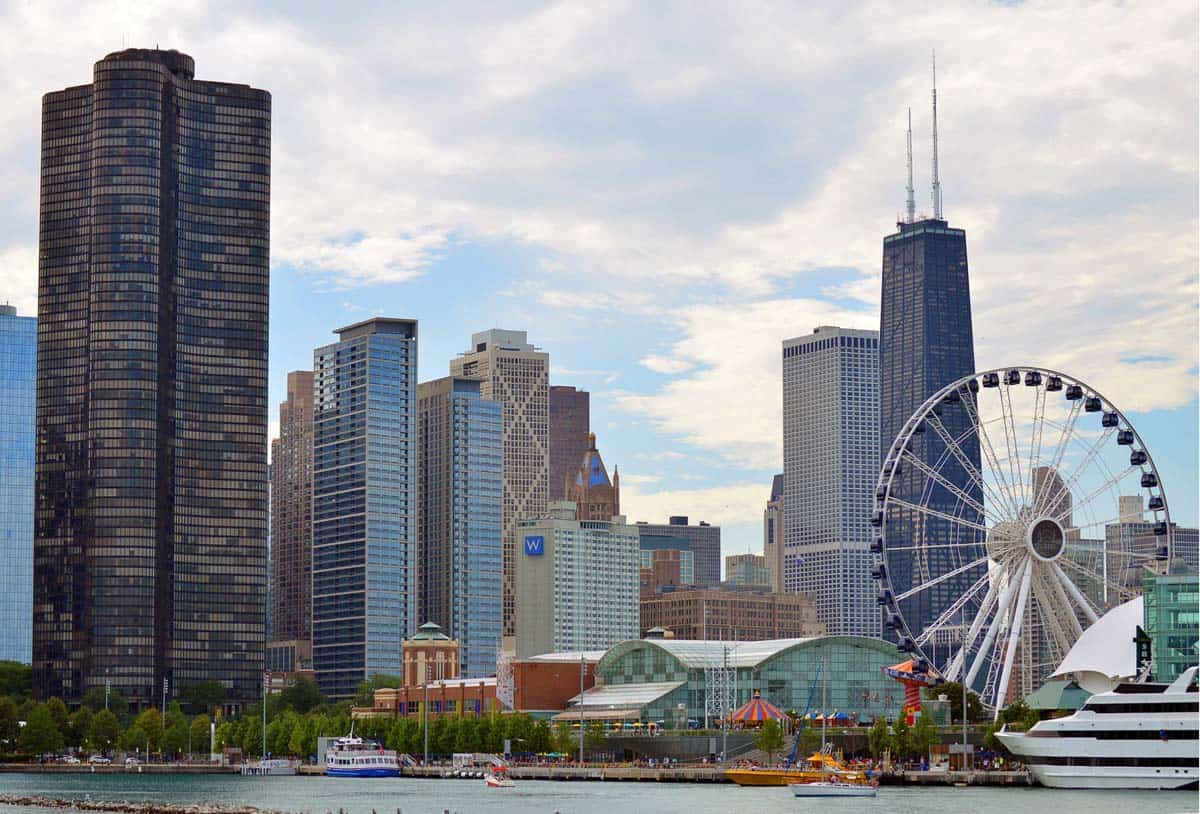 Arguably the highlight of Chicago tourism, Navy Pier is one of the top attractions in Chicago.  There is so much to do in this waterfront wonderland that it might feel like an urban playground.  It is home to Chicago Children's Museum with three floors of interactive exhibits for kids 10 and under.  Kids of all ages can enjoy the Navy Pier's Pier Park with its Ferris Wheel, carousel, mini golf course, old fashioned swing ride, and more!  If that wasn't enough, the Navy Pier also has a roof top natatorium, IMAX Theater, Shakespeare Theater, splash pad, and offers waterfront boat rides.  Navy Pier is a must see and must do when visiting Chicago with kids.
2. 360 Chicago and Willis Tower Skydeck
Formerly known as the John Hancock Observatory, 360 Chicago offers 360 degree views of Chicago from 1000 feet in the air.  You and the kids can see jaw dropping views of the city, the lakefront, and on a clear day you can see Illinois, Indiana, Wisconsin, and Michigan.  They also recently revealed their new TILT ride which offers visitors that literally puts you over the building at a tilt.  Gauge the fear factor for this one with your kiddos but if they're up for the thrill they will be rewarded with a one of a kind experience.
Willis Tower offers a similar experience.  As the second tallest building in America, you can get a bird's eye view of the city from 1,353 feet high.  They go through special efforts to make Willis Tower especially kid friendly by offering coloring pages, scavenger hunts, quizzes, and more.  They also feature The Skydeck Ledge – an enclosed glass balcony situated on the 103rd floor.  The Ledge is stationary so might feel safer for the kids.
Lines for both attractions can be very long so purchase your tickets here online and in advance.  No print out of the ticket is needed so if you forget, purchase the ticket from your phone while in line.
3. Legoland Discovery Center
If your kiddos are legos fans (and even if they aren't), you absolutely must visit Legolond Discovery Center Chicago.  While technically situated in Schaumburg, IL, Legoland is one of the top attractions in Chicago and was the first of its kind in North America.  This indoor family entertainment center features Lego-theme rides, a soft play area, a 4D theater, and (of course) a gift shop with over 900 products for sale.  If you're visiting from downtown Chicago, you can easily reach Legoland using public transit.
4. Shedd Aquarium
The Shedd Aquarium is one of the largest aquariums in the world with over 5,000,000 gallons of water and approximately 32,000 animals.  Shedd has 1,500 species of fish, marine mammals, birds, snakes, amphibians, and insects — some of which the kids are able to touch!  If the family prefers to be a little more hands off, they also have a 4D Theater with 3D screens and interactive seats showcasing films relating to aquatic life.  There is so much to see and do at Shedd Aqarium that it is sure to entertain kids of all ages!
This is truly one of the most popular attractions for kids in Chicago so they highly recommend you come early and have your ticket pre-purchased.
5. Adler Planetarium
If you have any kids interested in astronomy or astrophysics, then you absolutely must visit The Adler Planetarium in Chicago.  It is a history staple as the very first planetarium in the United States and contains three levels of informative and interactive displays for kids of all ages.  There are also three full sized theaters, a sky at night show, an observatory, a community design lab, and so much more.  Families are sure to leave feeling inspired and ready to explore and understand our Universe.   Purchase your tickets online in advance here.
6. The Field Museum of Natural History
With its diverse exhibit offerings, wide array of specimens and dizzying collection of artifacts it is easy to see why the Field Museum of Natural History attracts over 2 million visitors a year.  Kids can see, touch, and experience over 24 million specimens and objects related to natural history including gems, fossils, and meteorites.  If that isn't enough to impress the kiddos, The Field Museum of Natural History is also home to the largest and most complete Tyrannosaurus Rex ever discovered.
7. Peggy Notebaert Nature Museum
Peggy Notebaert Nature Museum is one of the most family friendly museums in the world.  After visiting the exhibits to learn about the ecology of Chicago or the water system, families can also participate in one of over 100 their children and family programs.  From story time to interactive animal exhibits, there is something for everyone.  There is even a live butterfly house with over 200 species of butterflies.
8. Millennium Park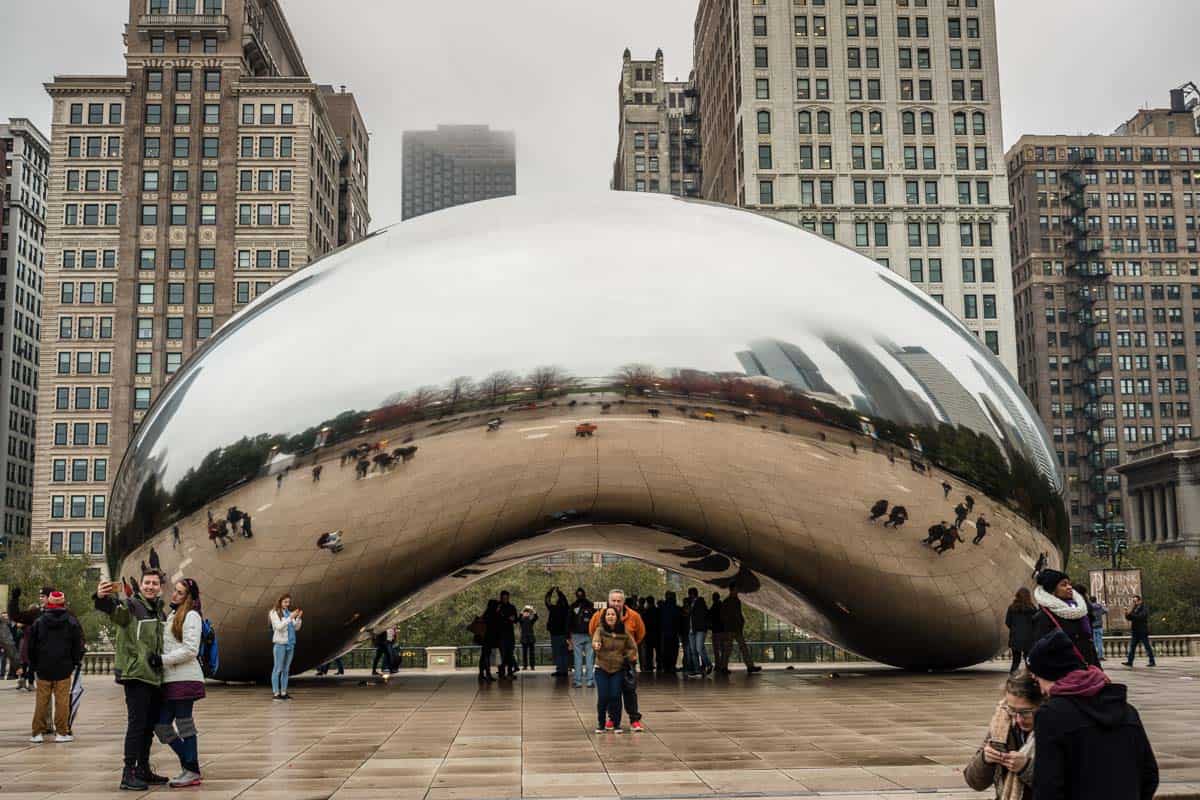 Millennium Park can easily be considered the most iconic and well known site in Chicago.  Kids will love Crown Fountain, a splash pad of sorts with glass brick sculptures that hilariously display faces of people shooting water from their mouths.  Cloud Gate, the reflective bean shaped sculpture, is also a family favorite.  If those weren't enough, Millennium Park also offers free concerts, free walking tours, a plethora of city festivals throughout the year, and Lurie Garden.
9. Maggie Daley Park
Maggie Daley Park, Chicago's newest park, is literally an urban oasis for kids in Chicago!  This 20 acre park features attractions for kids of all ages including a climbing wall, playground, bike trail, miniature golf course, skating ribbon, several tennis courts, and a garden.  It even connects to Millennium Park via the BP Pedestrian Bridge.   Between the two it is a full afternoon of fun with the family!
10. Lincoln Park Zoo
Visiting the zoo is sure to please kids visiting any city and Chicago is no exception!  Lions, tigers, and bears – oh my!  Lincoln Park Zoo is one of the oldest zoos in North America and is absolutely free to visit.  With over 1,100 animals, 200 species, and 25 acres to explore, Lincoln Park Zoo is a full day of entertainment for the family.
BONUS: Wrigley Field
Have any baseball fans in your crew? Then a stop by Wrigley Field is a must! Families can, of course, take in a Chicago Cubs game.  If you visit on Kids Sundays, free gifts are given to the first 5000 kids 13 and under to visit.  Families can also take a tour of the ballpark to get an inside look at how things work behind the scenes.  Be sure to get a picture with the statue of the infamous Ernie Banks on your way in!
Click here for even more things to do in Chicago!
Getting Around Chicago
Chicago has a wonderful public transport system that is inexpensive and easy to use.  Visitors have the option of utilizing the city's comprehensive train system or riding the bus.  The train system is divided into a color coded structure that can take you from edge to edge of Chicago.  If you're only planning to visit the main tourist attractions downtown, the Chicago Transit Authority took the liberty of creating a special transit guide just for you!  You can find that here.  More than likely, the train goes to all of the places you want to visit but if you're interested in riding the bus you can find their schedule here.
If public transportation isn't your thing, there is also an extensive taxi system in most areas of Chicago.  You can simply walk out onto the street and hail a cab.  You can also use ride share applications like Uber and Lyft as they both operate in Chicago as well.
Where to Stay in Chicago
If you plan to visit the main tourist areas of Chicago, staying Downtown or near Lincoln Park will put you in the middle of the action and make your trip much easier.
If you'd like the family to experience a more social side of Chicago, staying at the Getaway Hostel is highly recommended.  Located in the heart of Lincoln Park, it is only a short walk to attractions like the Lincoln Park Zoo.  They offer private (or shared) accommodations for groups up to 8 and all linen, towels, pillows, and blankets are provided.  As they say, it's not your typical hostel.  It's great for families on a budget, offers a ton of shared and private accommodation options and is perfectly kid friendly.  Read more about staying in hostels with kids here.
If traditional hotels are more your speed, the Club Quarters Hotels in downtown Chicago have consistently been the cheapest lodging option for families.  There are two Club Quarter hotels in downtown Chicago: Central Loop and Wacker at Michigan.  Both offer basic amenities and are wonderfully located only a few minutes away from public transportation options and popular attractions like the Skydeck and Millennium Park. The rooms can feel particularly small but they are clean, comfortable, and affordable.
Click here for more information best area to stay in Chicago.
Whatever you decide to do and wherever you decide to stay in Chicago, you're guaranteed to have a wonderful time!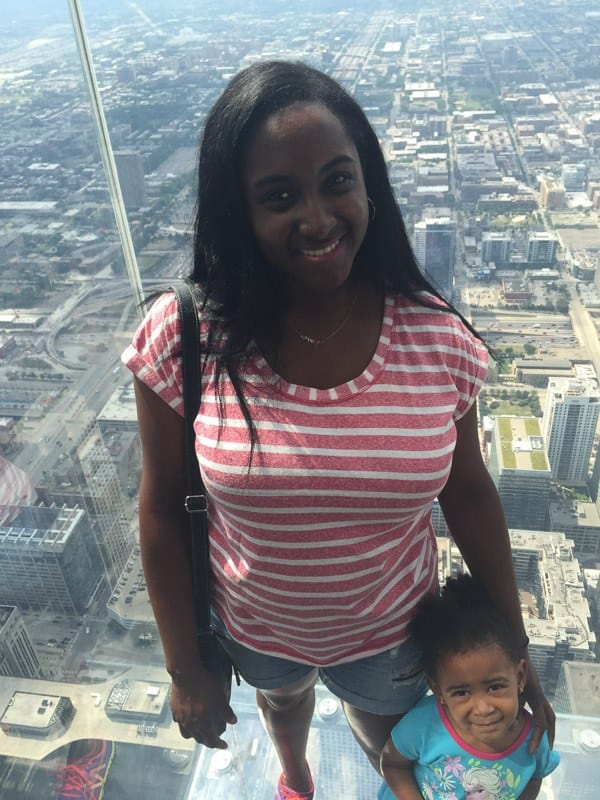 Thanks again to Montoya, the primary writer for her family's blog The Spring Break Family.  They are an American family that applies the concept of  "18 Summers" to Spring Break with their kids and travel around the world together.  They aim to empower average working families like themselves to make time to travel with their kids by providing REAL information families can use and practicing transparent traveling.  The Spring Break Family site has everything from their mistakes, things they loved, things they didn't like so much, and even down to their budget.  Follow her on Instagram, Facebook and Twitter. 
Please note that this post contains affiliate links, which means that should make any bookings using my links, I may be paid a small commission at no extra cost to you.  This allows me to provide this information free of charge – thank you for supporting our website.
Want to save this information for later?
Click on one of the images below and save it to Pinterest