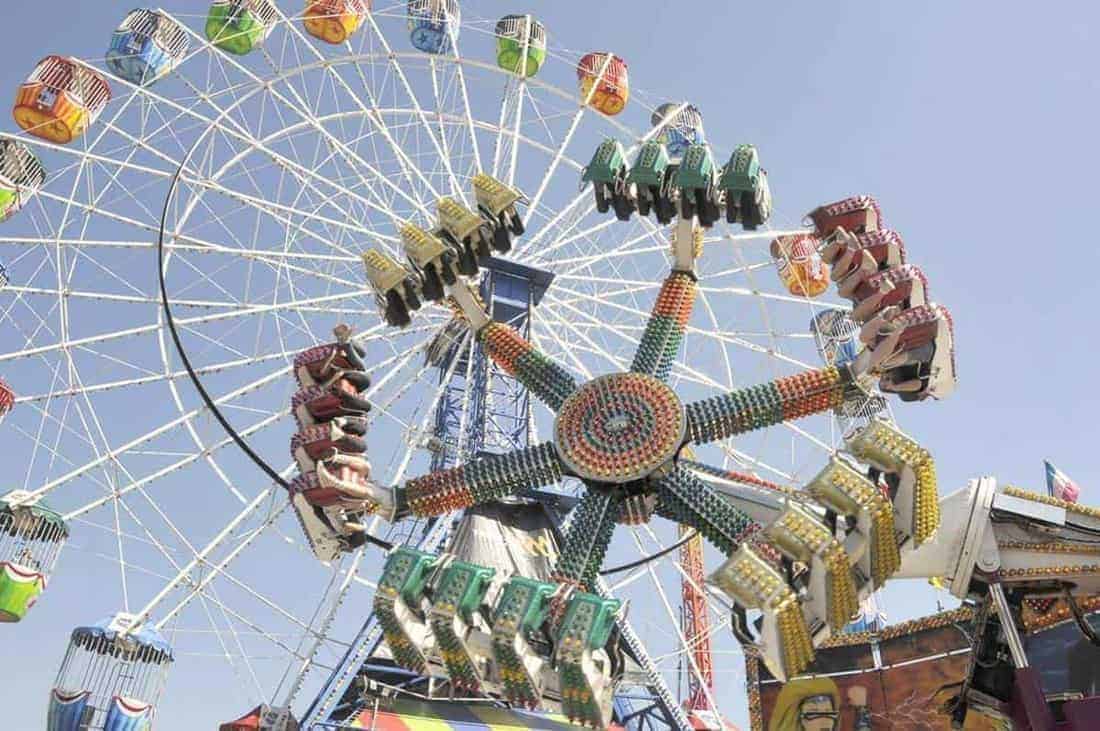 Between Friday 9 August to Sunday 18 August 2019, thousands of local families will visit the annual Brisbane Ekka!
While we all know the Ekka prices tend to be a little on the expensive side, there is a stack of great family-friendly ekka activities that are entirely FREE!!  In this guide, check out the top 20 FREE activities to do with your kids at the 2019 Brisbane Ekka.  Plus I tell you how to get discounted Ekka tickets!
Keep reading to see how you can get cheap Ekka tickets!  Can't wait?  Click here for your discount Ekka tickets.
The Best Ekka Activitites 2019
1. Watch the Racing Pigs Dive into a Pool of Water
Kids of all ages will love watching the Heritage Bank Racing Pigs!  Watch these pigs fly through the sky and dive right into a pool of water.  These little pigs even hold the Guinness Book of Records for the longest dive by a pig!
See the Heritage Bank Racking Pigs daily at 11 am, 12 pm, 1.30pm, 2.30pm, 3.30pm at the Stockman's Rest.
2. Get a Selfie with your Favourite Farmyard Friends 
The little tots will love seeing their farmyard favourites and getting a selfie with them.  See Barbara the sheep, Daisy the cow, Hayden the horse and Milo the sheepdog.
See the Farmyard Friends daily around Gregory Terrace at 2.30pm, 3.30pm and 6.15pm.
3. Cuddle Your Favourite Animals at the RACQ Animal Nursery
No visit to the Ekka with kids is complete without spending some time in the RACQ animal nursery.  Here the kids can pat, feed and cuddle super cute baby farm animals including calves, lambs, ducklings, chooks and goats.
The RACQ Animal nursery is open between 9 am to 5 pm.
4. Learn about Farming at Little Backyard Farmers
Kids will love learning about farming at this interactive stand where there are six different activities for them to get involved in.  Let the kids get their hands dirty as they dig through the farmer's patch looking for a variety of vegetables, plant seeds as well as get to learn about composting.  They can even collect eggs from the chicken coop.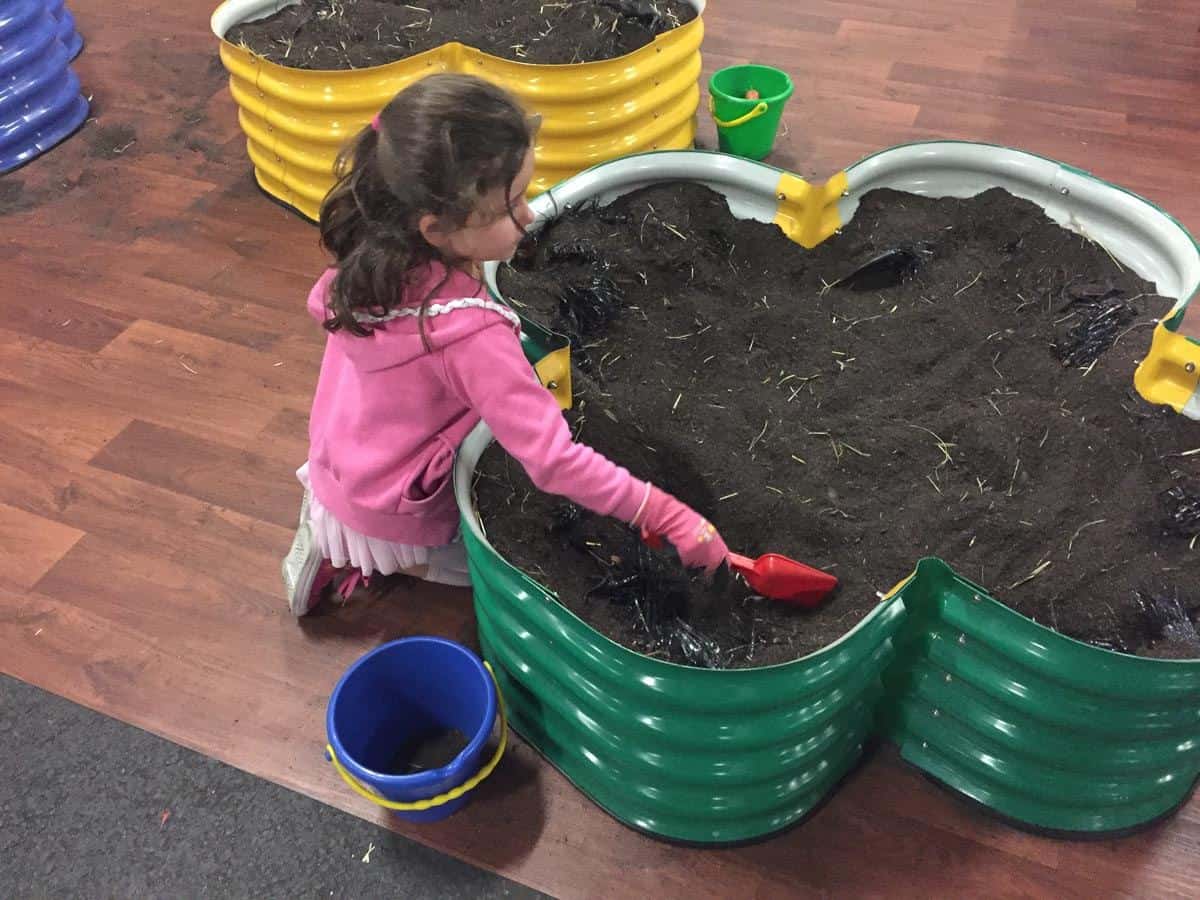 To join in the fun at Little Backyard Farmers, visit the Old Museum daily between 9 am to 5 pm.
5. Learn How Food Gets from the Field to the Fork
Kids will love learning how food gets from the field to their fork at this interactive exhibit.  All stages of the agricultural cycle are covered, including compositng, growing, planting, harvesting and processing.  They can even take part in a cooking class!
To join in the fun at Field to Fork, visit the Agricultural hall daily between 9 am to 6 pm.
6. Discover all things Water
At the Seqwater stand, kids can learn ways to conserve water through interactive activities.  Kids can also play in the unique sandpits which use sensor detecting changes which allow you to build hills, valleys, lakes and even simulate rainfall.
You can even try some drinks made with desalinated water such as the "Iced Tesal" or the "Saltless Sparking Sewater", as well as fill up your water bottles for free.
Visit the Seqwater stand in the Agriculture hall daily.
7. PJ Masks – Live Stage Show
All those little PJ Masks fans out there won't want to miss the PJ Masks live stage show.  The PJ superheroes will take the kids through an interactive superhero training session through song and dance.
The PJ Masks Live Stage Show is on daily at 11.30am, 12.30pm and 1.30pm on the Brisbane Airport Community Stage.
8. Be Amazed by the Butterfly Stilt Walkers
Check out the brightly coloured and amazing Butterfly Stilt Walkers as they flutter around the Ekka.  You may even be lucky enough to get a picture with one of them!
You can see the Stilt Walkers at the Old Museum daily, from 11 am, 12 pm, 2 pm and 3.30pm.
9. See the Dogs on Show
See the puppies parade, run and jump as they show off their talents in the Canine Competition.  There will be over 200 different breeds to admire.
Check out these cute canines at the Dog Pavilion between 9 am to 5 pm.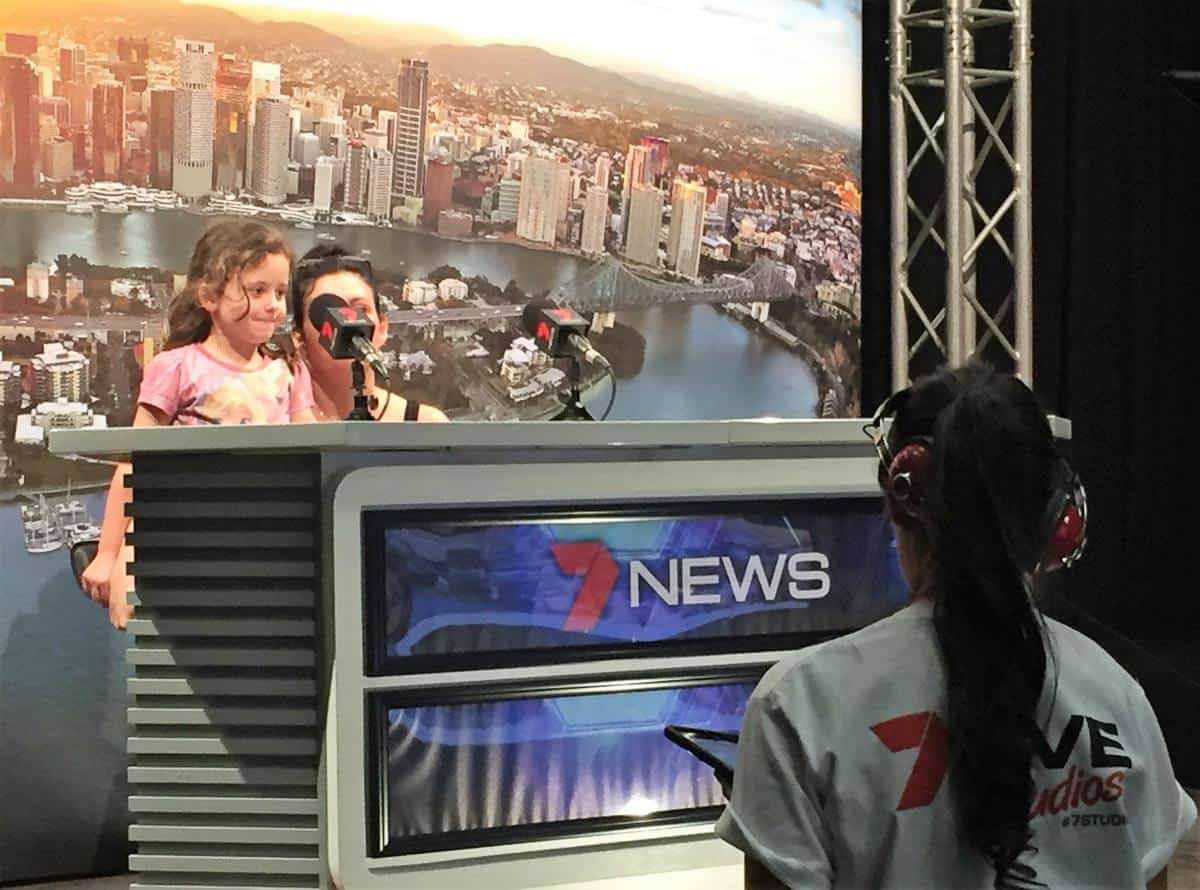 10. Go Behind the Scenes at Channel 7 Studios
The kids, as well as Mum and Dad, will love getting behind the scenes of the 7 LIVE Studios at the Ekka.  You might even be lucky enough to meet a celebrity!
Visit the 7 LIVE Studios daily between 9 am and 6 pm.
11. Watch Strong Men and Women Arm Wrestle
The whole family will love watching these strong men and women battle it out to be the Australian Arm-wrestling Champion.  There are over 40 competitors in three different weight classes in this seat gripping competition.
Catch all the excitement down at the XXX Stockmen's Bar & Grill on 10th August between 12 to 6 pm.
Click here to save up to $5 per Ekka ticket!  
12. Join the Ekka Learning Trail
Kids will love using Augmented Reality Technology and the Ekka App to get involved with the Ekka Learning Trail.  There are 5 locations (check the app for details) the kids need to visit, and at each location, they will be given a letter.  Collect all the letters to spell a code word and go in the draw to win a prize.
13. Make a Flower Crown
Everyone loves flower crowns, so why not make your own at the Old Museum.  With the help of florists, with fresh flowers, the kids can make a beautiful flower crown that they can wear for the entire day.
To make a flower crown, head on down to the Old Museum between 9 am and 5 pm daily.
14. Join in for some Boot Scooting Fun
Families who love a bit of boot scooting, need to head down to the Line Dancing Hoedown.  Whether you want to join in or just watch on you will no doubt be toe-tapping along to some great country tunes.
The Line Dancing Hoedown is on 14 August from 12 pm to 6 pm at the XXXX Stockmen's Bar & Grill.
15. Watch the Little Pony Roller Race
The kids will just love watching the guys on rollerblades, glide along with little ponies.  This is a race that needs to be seen to be believed, and there is sure to be some great laughs along the way.
You can see the Little Pony Roller Race daily in the Mail Arena between 6.15pm.
16. Watch the Dagwood Eating Competition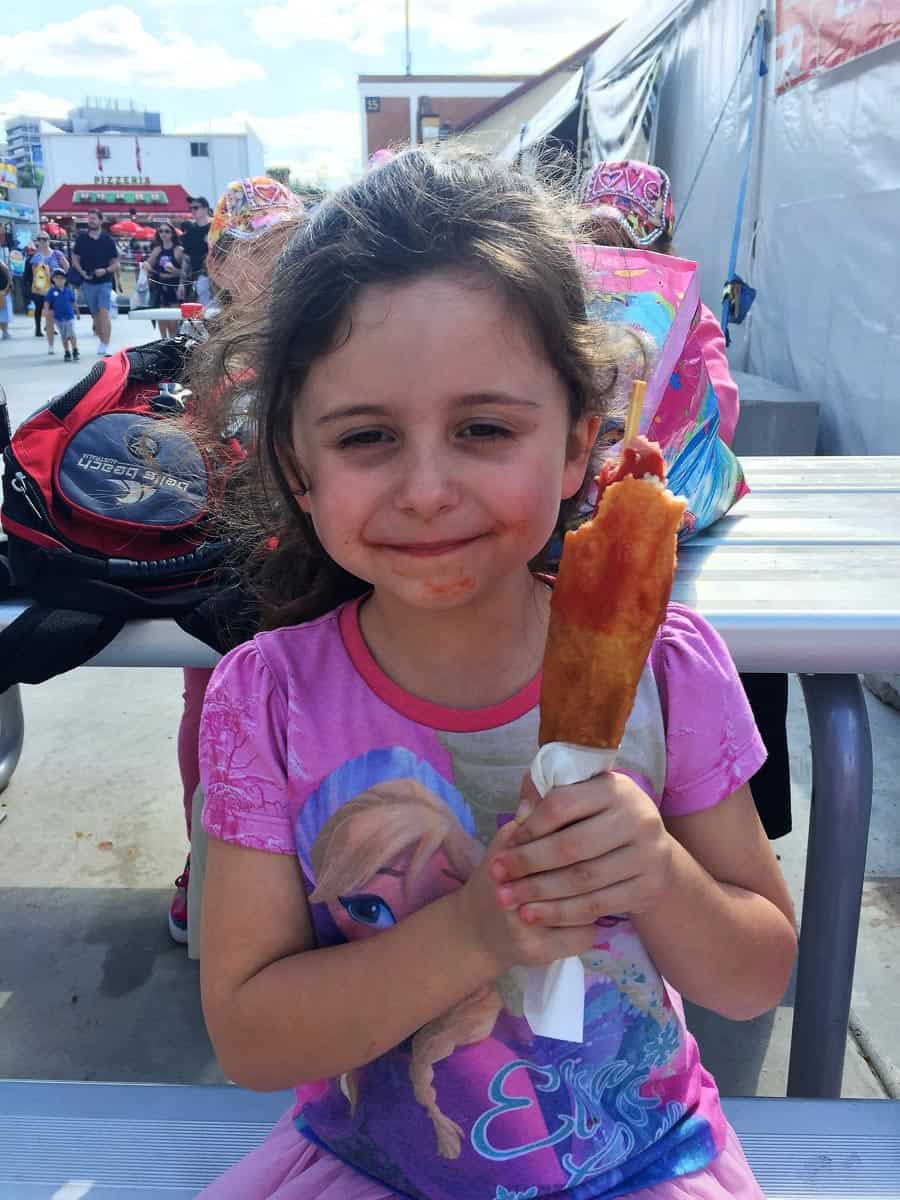 I'm pretty it's a rule that you must eat a Dagwood dog at the Ekka, but how about entering the Dagwood Dog eating competition?  The competition will include both Professionals and Amateurs – so perhaps now is your chance to see just how many you can eat.
The Dagwood dog competition is on 18 August at the XXXX Stockmen's Bar and Grill between 12 pm to 2 pm.
17. Watch the Wool Shearing Championships
If you love a bit of Australiana get down to see the best sheep shearers in Queensland, New South Wales and Tasmania battle it out at the Tri-State Shearing Championships.
The Tri-State Shearing Championships is being held 17 August at the Expo Place between 9.30am to 4 pm.
18. Watch the Adam Miller Sheep Dog Show
After you have seen the sheep sheared, check out the Sheep being rounded up at the sheepdog show.  Here you will see these clever canines muster up the sheep in the Main Arena.
The Sheep Dog Show is on in the Main Arena on 11, 13, 14, 15 and 18 of August at 12 pm.
19. Visit the RSPCA Qld Education Unit
Animal-loving kids will love the chance to visit the RSPA mobile unit where kids can learn about animal welfare.  The guys from the RSCPA will give daily talks on reptiles as well as general pet care.
The RSCPA unit will be at the Old Museum Precinct daily between the hours of 9 am and 5 pm.
20. See the Spectacular Fireworks Display
Of course, the main event at the Ekka is the speculator fireworks display.  This year the theme is 'A Celebration of the Human Spirit" with this years show featuring more flames, fireworks, lasers, lights, streamers and special effects than ever before!
I love how they have an earlier fireworks display on for the kids at 6.05 pm, with this year's kids fireworks being set around the theme "Fairy Tales and Fantasy".  Expect to see colourful fireworks, lasers as well as a 3-metre high dragon breathing flames of more than 10 metres long!  You'll also love seeing the Goldie Clown attempt to tame the dragon.
Ekka Tips
If you're heading into the Ekka this year, here are a few tips to make your day a bit easier.
Download an Ekka map here, and have a bit of plan as to where you are going to go and make a note of the times of any shows you want to see.
When you first arrive take the kids to the Ekka Police Station at the marquee on Gregory Terrace and the Police will give you a wrist band where you can write your details on and put the band on your kids so in the case that you get separated you can find each other again. If you don't want to do this, just write your phone number on your kid's arm in Nicko pen.
To save even more money, bring in your own lunch and drinks – this is allowed and will save you heaps of money!
Take a big backpack, even if you don't intend on buying show bags, there are heaps of freebies at the Ekka, and you will be soon carrying a stack of stuff. Much easier to be able to store it all in your backpack.
Getting to the Ekka
First up I highly recommend you take public transport to the Ekka, preferably a train.  There is a train station right in the middle of the Ekka.
Plan your journey here on the Translink website.  If you have your Ekka tickets already, you can get discounted travel tickets – $6 for adults and $3 for children return.
Get Discount Tickets
Don't pay full price for your Ekka tickets!!!  Use my link below and purchase your tickets from the attraction website Klook where you will save up to $5 per ticket.  Check out the savings:
| | Ekka Ticket Price | Klook Ticket Price | Save | |
| --- | --- | --- | --- | --- |
| Adults | $35 | $30 | $5 | Buy Now |
| Children | $20 | $18 | $2 | Buy Now |
| Family Pass (2 adults & 2 children) | $80 | $70 | $10 | Buy Now |
| 1 Adult & 1 Child | $45 | $40 | $5 | Buy Now |
Click here to buy your discounted 2019 Ekka tickets now!
Please note that this post contains affiliate links, which means that should make any bookings using my links, I may be paid a small commission at no extra cost to you.  This allows me to provide this information free of charge – thank you for supporting our website.