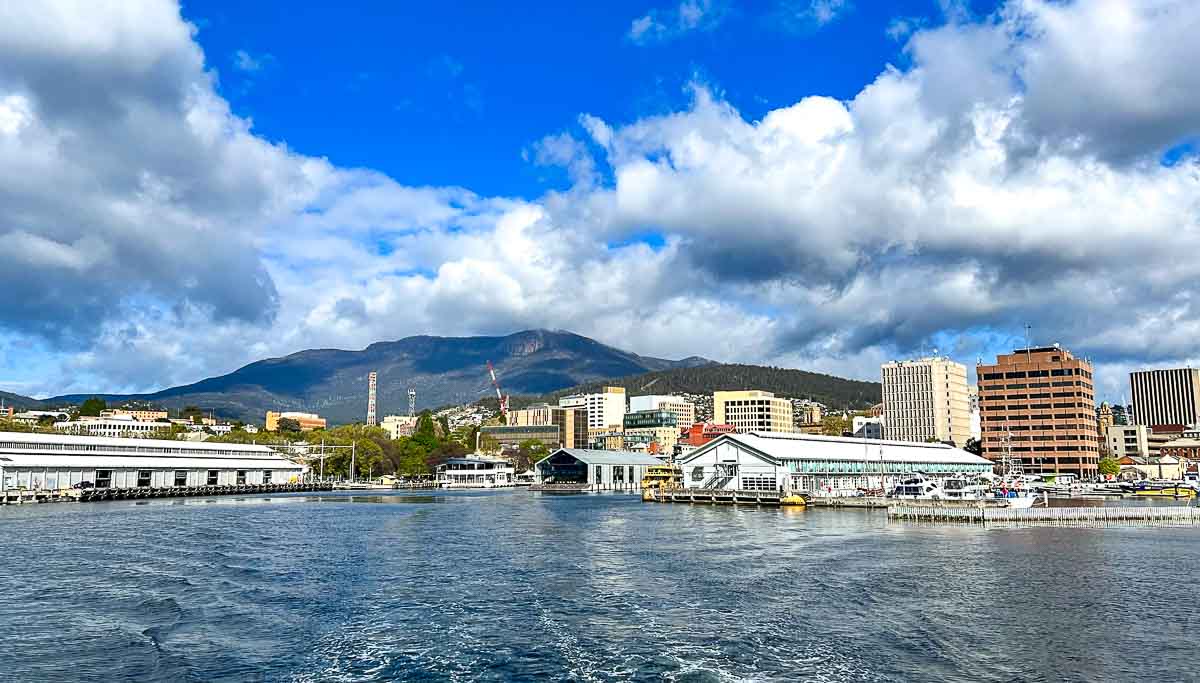 Hobart is a fabulous place to take the kids, whether for a weekend or a week. There is plenty to do and overall, getting around Hobart is relatively easy.
To help you plan how best to get around to all the tourist attractions in Hobart, we've put together this guide. The guide details all the ways of getting around Hobart, including how to get to and from Hobart airport.
Talk to other families about their tips on visiting Hobart and join our Thrifty Family Travel Facebook Group or get inspired by our Instagram.
This post may contain compensated links. Please refer to my disclaimer here for more information.
Getting Around Hobart
Let's jump straight into it and help you decide the best way to travel around Hobart with the kids.
Walking around Hobart
The good news is within the city centre, walking around Hobart is easy! Most tourist attractions are no more than a 10 to 15 minute walk away from each other.
If you've got the time and don't mind walking, you can even walk to attractions outside the city centre like the Cascades Female Factory or the Botanical Gardens.
Of course, when travelling with young children, sometimes walking 30 to 40 minutes is not feasible. Or if you're limited on time, you may need to find a quicker mode of transport.
Using the Bus
Hobart has a reasonably decent bus network that will get you around most city attractions. This is a good way for getting around Hobart without a car when walking is not an option.
How to pay?
You can either pay cash onboard or purchase a Greencard to use the bus.
You can buy a Greencard from the Metro Shop (40 Elizabeth Street), the Elizabeth Mall News (53 Elizabeth Street) or the Tasmanian Travel & Information Centre (Davey Street). A Greencard costs $25 and comes with a credit of $20. With your Greencard, you get 20% off fares, daily caps and free 90 minute transfers.
How much?
Most bus rides around the city will cost you $3.50 with cash or $2.80 with the Greencard. Children are $1.90 with cash or $1.52 with the Greencard – kids under five are free.
With a Greencard, on a weekday there is a daily cap of $9.60 if the first boarding is before 9 am or $4.80 if the first boarding is after 9 am. On any other day, the most you'll pay is $4.80. The children's daily cap is $3.80 regardless of the day.
So before buying a Greencard, it's probably worth considering how often you'll use the bus. However, remember you won't get the daily travel cap without it.
How to plan?
To plan your bus route, you can either use Google Maps or the Metro Trip Planner. You can even download the App to your phone and get real time updates.
Rideshare and Taxis
If you're only visiting a few attractions you can't walk to; you may well find using Uber and taxis the best method of transport. This is also a great option if you're only in Hobart for a day or two and don't have time to wait for buses.
If you're buying bus tickets for two adults and two kids, an Uber probably won't be that much more expensive anyway – and much more convenient.
You can always check an Uber's price before deciding whether to catch the bus or not. To do this, go into your Uber App and enter the details as if you were making a booking. Before you finalise your booking, an estimated price will come up – you can then compare this price to the cost of the bus.
Renting a Car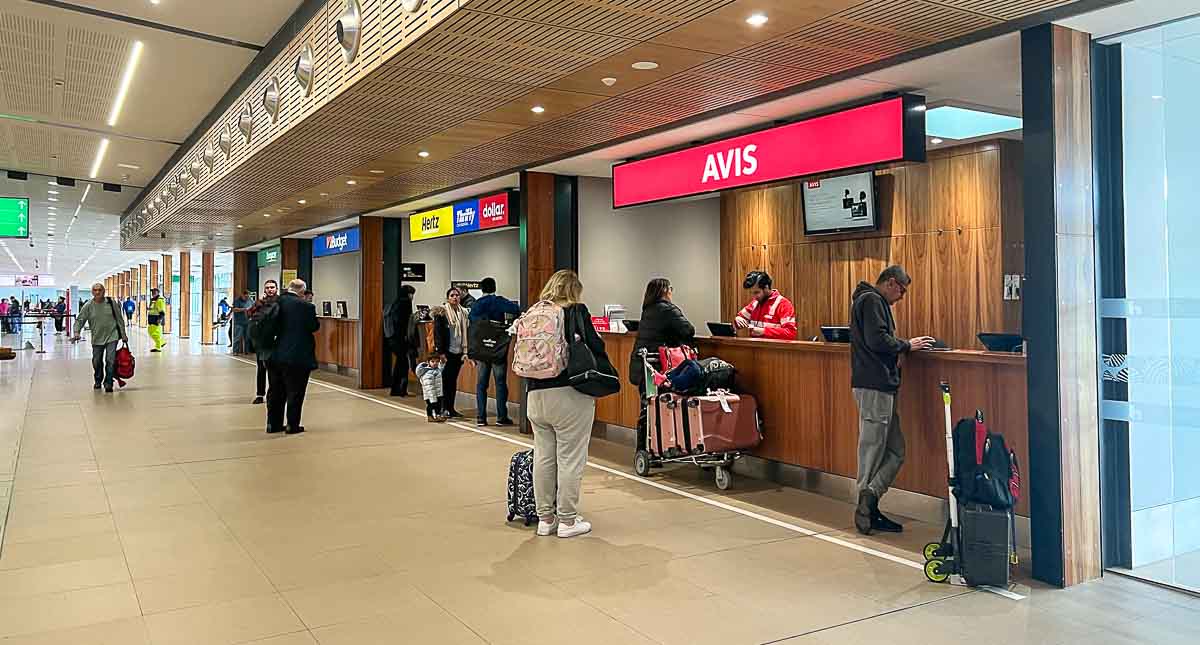 If you plan to visit places further afield from Hobart, it may be worth considering hiring a car for a few days. To save money, just hire the car for the days you need to travel further afield.
Parking in the city centre can be expensive. By the time you paid for car rental, petrol and parking, you could have saved some cash by using rideshare to get around the city. So do consider both options before making a decision.
Hop on Hop off Buses
Another option for getting around some of the Hobart attractions is the Hop on Hop off buses.
I'm not usually a huge fan of these buses, as the routes are fairly limited, buses are few and far between, and passes are not cheap. However, this Hobart sightseeing bus certainly removes the stress from planning how to get between attractions. You also get commentary along the way.
You can buy Hop on Hop off bus passes here.
Getting from Hobart Airport to the City Centre
The distance from Hobart Airport to the city centre is around 20 km, depending on the location of your hotel. The journey takes about 15 to 25 minutes by car, depending on traffic.
We've provided all the different transport options below to help you decide the best way to travel from Hobart Airport to the City.
Click here for our more detailed guide on getting from Hobart Airport to the City Centre.
Rideshare or Taxi
Often the best way to get from the airport to your hotel is to use a rideshare app such as Uber. You can expect to pay around $35 with Uber depending on the location of your hotel, time of day and traffic.
For those taking an Uber, you will need to meet your driver at the Rideshare Pick Up Point, which is just a short walk from the terminal. Just look for the signs as you exit from the baggage claim area.
If you prefer, you can also take a taxi from outside the terminal's arrival hall. However, expect to pay a little more for a taxi at around $35 to $50, depending on the location of your hotel, time of day and traffic.
The benefit of taking an Uber or a taxi is you'll be taken straight to your hotel, and there is no messing about with getting luggage and kids on and off public transport.
Skybus
With a couple of kids and all your luggage, it's really not worth getting the Skybus to or from the airport to Hobart. If you're buying tickets for two adults, there won't be much difference in the cost of an Uber. However, the Skybus is affordable and convenient, particularly if you're a large group.
If you wish to take the Skybus, it takes around 30 minutes, and buses come every 30 minutes or so between 8 am and 10.10 pm (9.10 pm on Saturdays). In town, there are six stops to choose from. Pop in your hotel address here, and it will tell you where the nearest stop is.
The Skybus costs for adults $19.50 one way or $36 return if purchasing online (otherwise, $39 return if purchasing in person). If travelling with children, the return fare is $39 for each adult and up to four children. If you have more than four children (sorry!!!), the fare is $5 per child each way (these can only be purchased in person, not online)—children under four travel free.
You can either purchase your tickets in advance online here, at the ticket booth opposite the car rental desk in arrivals or even onboard the bus. Return tickets can also be purchased from the Visitor Information Centre on Davey Street or at the Mona Ferry terminal.
Rent a Car
If you plan on renting a car while in Hobart, then another option would be to pick up your rental car at the Airport and drive to the hotel.
There are several car rental companies at the Airport; follow the signs to your preferred car rental on arrival.
____________________________________________________________
Hopefully you've found this guide on getting around Hobart helpful. We have other guides to help plan your trip to Hobart, including things to do in Hobart and where to stay in Hobart with kids.