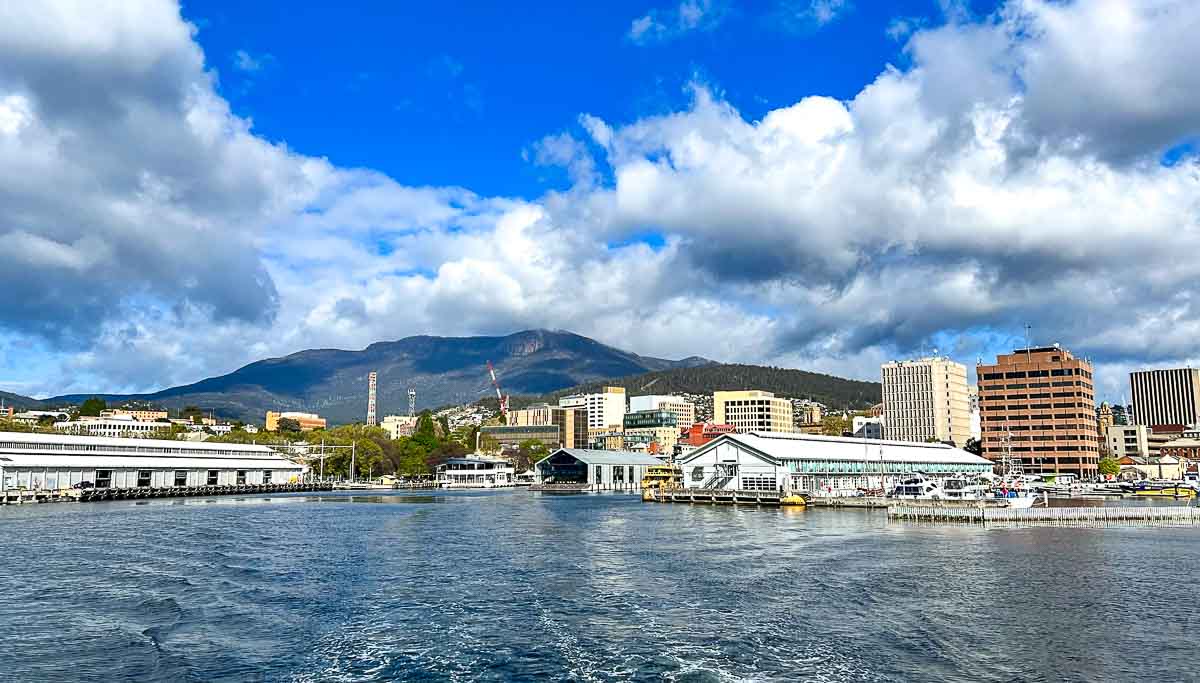 If you're taking the kids to Hobart, you're probably wondering how to get from Hobart Airport to Hobart CBD. Well, the good news is it's not that hard getting from Hobart Airport to the city centre, and there are a couple of options, depending on your budget and how much time you have.
To help plan for your trip, this guide covers the different options for getting from Hobart Airport to Hobart CBD. The guide includes how to get:
The

Skybus Hobart Airport shuttle to City;

A taxi or Uber from

Hobart Airport to CBD;

and

How to rent a car from the Airport.
After reading each option, you can then choose how to get from Hobart Airport to Hobart city centre that best suits your budget and family needs.
So let's get into it and find you the best transport from Hobart Airport to Hobart city centre.
Talk to other families about their tips on visiting Hobart and join our Thrifty Family Travel Facebook Group or get inspired by our Instagram.
This post may contain compensated links. Please refer to my disclaimer here for more information.
Getting from Hobart Airport to City Centre
The Hobart Airport to city distance is around 20km depending on the location of your hotel. By car, getting from Hobart Airport to the City takes about 15 to 25 minutes, depending on traffic.
Unfortunately, unlike other Australian capital cities, transport options are limited to and from the Airport. There is no public transport from Hobart Airport to City, so you'll need to take a private bus, taxi/Uber or rent a car.
As to which method of travel from Hobart Airport to City is best, it really depends on a range of factors – such as your budget, how many are travelling in your group, how much luggage you have and whether or not you're short on time.
To help you decide how to get from Hobart airport to city centre, below we've provided in detail the different transport options.
Hobart Skybus
In terms of Hobart Airport bus services, the only real option is the Hobart Skybus. The good news is that in most cases this Hobart airport shuttle bus to City is the cheapest way to and from the Airport and is relatively easy to do.
The Skybus runs from the Airport to the City daily, with the first bus leaving the Airport at 8 am and the last bus leaving at 10.10 pm. On Saturday, though, the last Hobart airport transfers to City is at 9.10 pm. Between these times, a bus leaves every 30 minutes. So no matter when you arrive in Hobart, a bus into town is never far away.
The Skybus leaves from right outside the terminal, on the other side of the yellow bus shelter. Simply leave the terminal, and you'll see the signs for the bus right outside.
The Hobart airport shuttle bus price is for adults, $19.50 one way or $36 return if purchasing online (otherwise, $39 return if purchasing in person).
If travelling with children, the return fare is $39 for each adult and up to four children. If you have more than four children (sorry!!!), the fare is $5 per child each way (these can only be purchased in person, not online)—children under four travel free.
You can either purchase your tickets for the shuttle bus from Hobart airport to City in advance online here, at the ticket booth opposite the car rental desk in arrivals or even onboard the bus. Return tickets can also be purchased from the Visitor Information Centre on Davey Street or at the Mona Ferry terminal.
The journey into town is around 30 minutes, with six stops to choose from. So no matter where you're staying in town, there's bound to be a stop nearby. Pop in your hotel address here; it will tell you where the nearest stop is.
Uber – Hobart Airport to City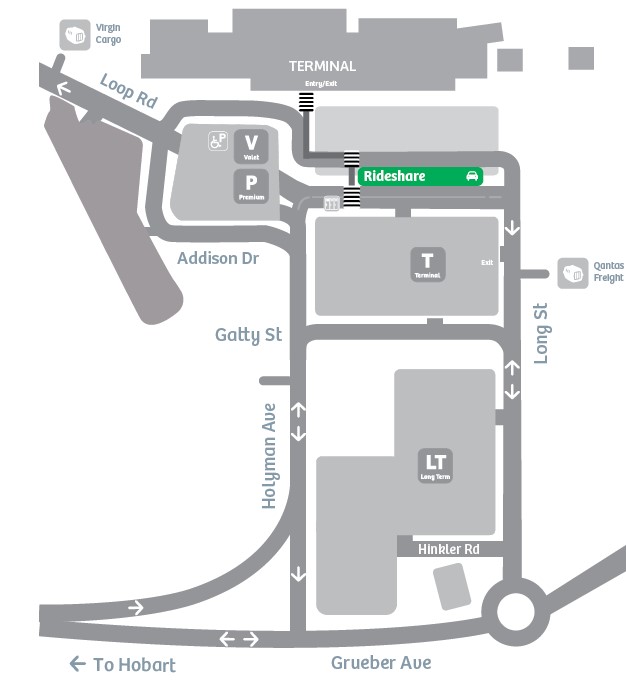 For families of 4 or fewer, in most cases, your best option will be a rideshare, such as Uber. You can expect to pay around $35 to get an Uber from Hobart Airport to city centre, depending on the location of your hotel, time of day and traffic.
An Uber for Hobart Airport to City transport is one of the most direct ways to travel, given you'll be dropped off at the door of your hotel. This makes it easy when travelling with kids and luggage.
An Uber is also, in most cases, the cheapest way from Hobart Airport to City for a family. If you're travelling with at least two adults, it will generally be more affordable than the Skybus.
The only time I wouldn't recommend an Uber is when more than four people are travelling or if you require car seats. You'll be best to take the Skybus in either of these situations.
For those taking an Uber, you will need to meet your driver at the Rideshare Pick Up Point – which is just a short walk from the terminal. Just look for the signs as you exit from the baggage claim area and see the map below.
Taxi – Hobart Airport to City
If for whatever reason, you're not comfortable with using rideshare, you can also take a taxi. Hobart airport to City by taxi is similar to rideshare, although it will cost you a little more in most cases.
The cost of taxi from Hobart airport to city centre is around $35 to $50, depending on the location of your hotel, time of day and traffic.
The advantage of taking a taxi is you don't need to book one, as generally there are plenty of taxis waiting at the Airport's taxi rank, just outside the terminal.
It's also possible to arrange a taxi for large groups and even taxis with car seats for the kids. There usually is a kerbside supervisor at the taxi rank, so just see them when you arrive and explain what you need assistance with.
Rent a Car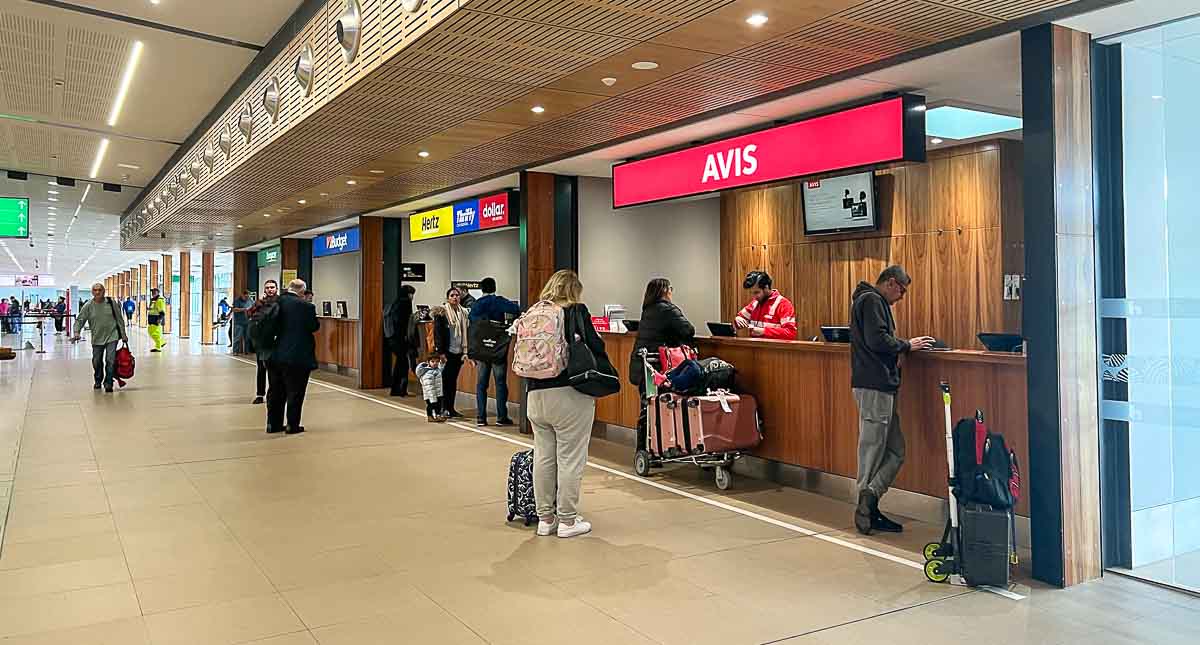 If you plan on renting a car while in Hobart, then another option would be to pick up your rental car at the Airport and drive yourself to the hotel.
As you can see above, several car rental companies are at the Airport. Just follow the signs once you leave the terminal for your preferred car rental.
However, consider if you need a car the entire time you are in Hobart. Parking can be expensive, and it is relatively easy to walk around to most of the city centre attractions or take public transport to attractions further afield.
If you want a car to travel to places outside of the city centre, it may pay to hire a vehicle for these days, rather than the entire time. This will most definitely be the cheaper option.
Getting from
Hobart to the Airport
In terms of how to get from Hobart to Airport, it is much the same as the options above but in reverse. So you can either take the Skybus, rideshare or taxi.
Just like travelling from the Airport to the City, our recommendation for travelling from Hobart to Hobart Airport is to take an Uber as it is fast and offers the best value for money.
____________________________________________________________
Hopefully you've found this guide on travelling to and from Hobart Airport helpful. We have other guides to help plan your trip to Hobart, including things to do in Hobart and where to stay in Hobart with kids.