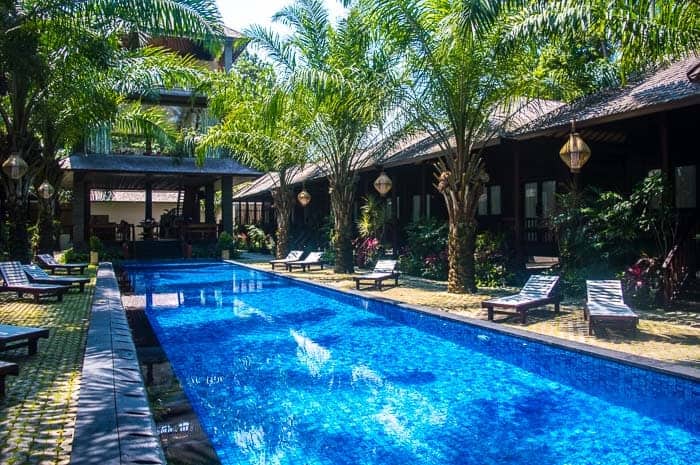 Looking for a gorgeous Lombok bungalow?  Than the Coconut Resort may just be the place you have been looking for.  The Coconut Resort is one of the newest Lombok Boutique hotels which offers a great alternative to a Lombok Villa.
The Coconut Boutique Resort is a gorgeous oasis, hidden away from the hustle and bustle of Senggigi.  It is a small resort and perfect for couples or families wanting a holiday away from the crowds of other travellers.
Guests stay in a gorgeous Lombok bungalow – there are only 16 individual bungalows within the resort, which are built around the two sides of the swimming pool and the open dining area.
Surrounding the pool are giant palm trees and every bungalow has a beautiful tropical garden.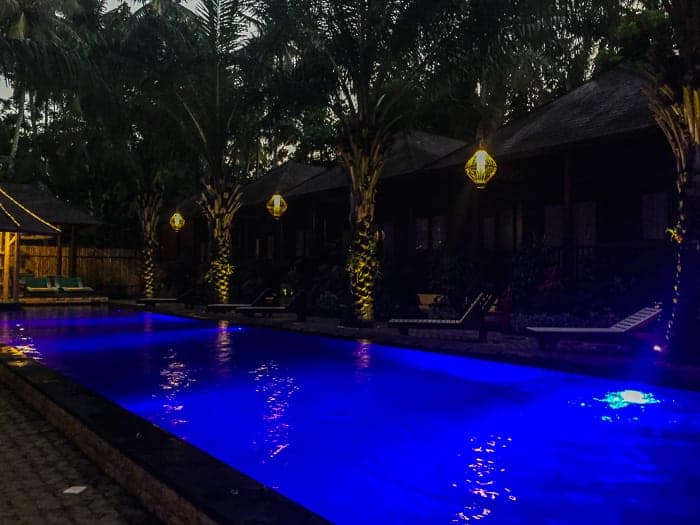 At night there is a beautiful outdoor ambiance with lanterns hanging between the palm trees and the pool lit up.
Rooms
The 18 individual bungalows are rather luxurious for flashpackers like us!  The rooms are a spacious 45 square metres and are fully made out of the wooden base of palm trees.
Each individual bungalow includes a huge bed, desk, flat screen TV, wardrobe, small fridge and tea and coffee making facilities.
Each Lombok bungalow has a gorgeous outdoor bathroom with a privacy screen separating the toilet from the rest of the bathroom.  The bathroom also has a lovely tropical garden.
There is a great size balcony out the front of each bungalow with a table and chairs.
Guests also have access to free wifi both in the bungalows and around the resort.  I found the wifi super-fast and very reliable during our stay.
Swimming Pool
There is a large swimming that is the centre of the Coconut Resort Lombok.  The pool is sectioned off into two separate areas.  The main area has a depth of 1.5 metres and the smaller area is perfect for children at a depth of 0.9 metres.
At one end of the pool is a swim up pool bar, unfortunately this was not in operation during our stay.
There is plenty of sun loungers surrounding the pool for relaxing.
Pack Lightly with our Packing Checklist
Never over pack again!!

This is the EXACT checklist we use when we travel with everything fitting into carry on bags.
Plus get all our top tips including must see family friendly destinations, where to stay, budget guides and much more!
Massages
At one end of the pool is a hut for massages.  The massage area has room to do 3 massages at the one time.  You can book massages between the hours of 9 am to 9 pm and the price for an hour massage is 175,000 IRD (approximately $17.50 AUD) for 1 hour.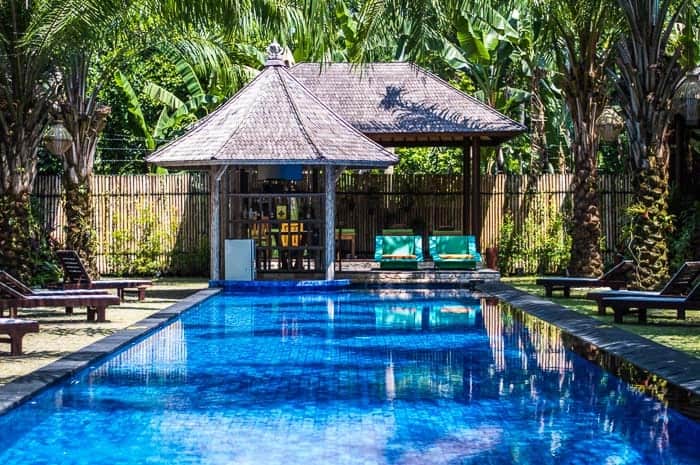 All three of us had massages here with Andy and I having a traditional hour massage and Myla had a 30-minute foot massage.  We all enjoyed the massages, the ladies were particularly friendly with Myla.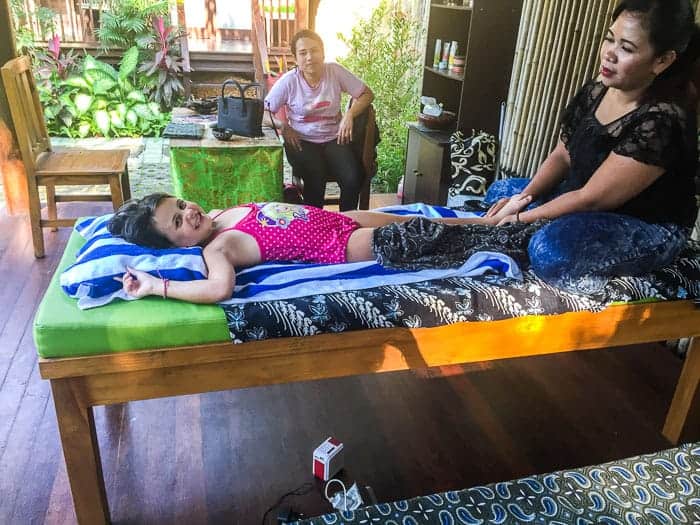 Kenyamen Restaurant
At the other end of the swimming pool is a lovely open area restaurant.
The Kenyamen Restaurant serves a variety of Indonesian food, as well as a few western dishes.  The prices are really affordable ranging between 39,000 IRD to 65,000 IRD (approximately $4 to $6.50 AUD).
For breakfast guests have a choice between sausages / bacon, nasi goreng or danishes.  In addition, each breakfast comes with fresh fruit, fruit juice, your choice of eggs, toast and tea or coffee.
We had quite a few meals here including 2 lunches, 1 dinner and 2 breakfasts.  All the food we had was delicious, however the service really lets the resort down.  Everything takes far too long to be served.  Breakfast both mornings took about 45 minutes to arrive.  The restaurant also was out of wine and ice cream and the bar was not operational.  However, the actual staff here are so lovely and friendly when taking orders and serving food, nothing is too much trouble.
In addition to the restaurant guests can also order from the same menu and have it delivered to bungalows between the hours of 7 am to 11 pm.
There is also a rooftop bar which has a fantastic view but it was not opened during our stay.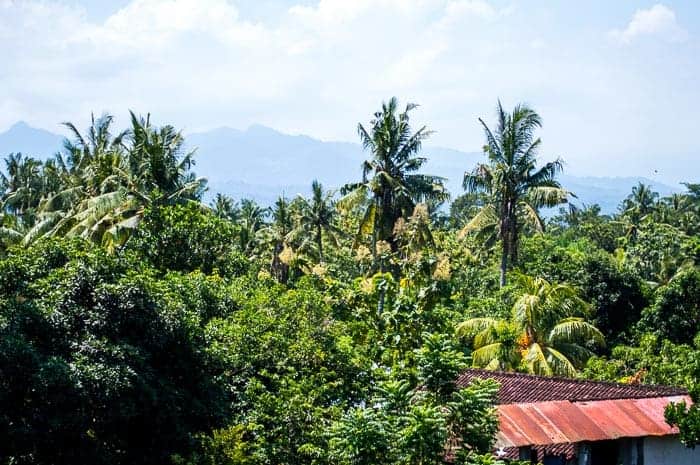 Tours
The Coconut Boutique Hotel Lombok offers guests some fantastic private tours of all the Lombok attractions you might like to see during your holiday in Lombok.
We booked the Gili Nanggu snorkelling trip and were thoroughly impressed.  The full day tour cost the 3 of us 1,600,000 IRD (approximately $160 AUD).  It is an additional 350,000 IRD (approximately $35 AUD) per person.
The tour was fantastic and I highly recommend it to anyone who loves snorkelling and swimming in crystal clear sea water.  We were completely surrounded by a variety of fish whilst snorkelling, it was my most favourite experience of my whole trip to Lombok!
The swimming on Nanggu is spectacular, the beaches and water is straight off a postcard for paradise!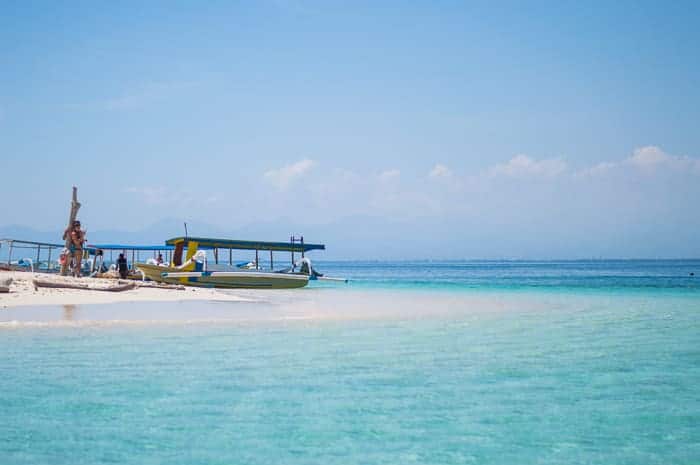 Other tours that the Coconut Resort Lombok offer are:
Visit Gili Trawangan, Gili Meno and Gili Air – 1, 500,000 IRD (approximately $150 AUD) for 2 people.
Mataram City Tour – 900,000 IRD (approximately $90 AUD) for 2 people, additional people cost 250,000 IRD (approximately $25 AUD).
Visit Benang Stokel & Rice Terrace – 1,600,000 for 2 people (approximately $160 AUD) additional people cost 200,000 IRD (approximately $20 AUD).
Visit Kuta Beach & South Lombok tour – includes Tanjung Aan Beach – 1,100,000 IRD (approximately $110 AUD) for 2 people – additional people cost 250,000 IRD (approximately $25 AUD).
Visit Sendang Gila & Tiu Kelep Waterfall Tour – 1,160,000 IRD (approximately $116 AUD) for 2 people, additional people cost 250,000 IRD (approximately $25 AUD).
Location / Getting There
The Coconut Resort Lombok is located just south of the main beach area of Senggigi on Lombok's west coast.  It's about a 10-minute drive out of Central Sengiggi, around a 30,000 IRD (approximately $3 AUD) taxi fare.
The resort is located up a side alley way off the main road.  Outside the resort there is no main areas of interest.  There is however a mini market so you can stock up on snacks, drinks and ice-creams.
If you are coming from the Gili Islands, you will arrive in Lombok at the Bangsal Harbour.  From here you can grab a taxi, it cost us 100,000 IRD (approximately $10 AUD) to get to Central Senggigi.
If you are coming from the Lombok airport, the resort is about a 45-minute drive away and costs around 170,000 IRD (approximately $17 AUD) in a taxi.
Price
As far as Lombok Boutique Hotels go, the price for a night is pretty affordable given the luxurious standard of this resort.  At the time of publishing the best price was on Agoda for $116 per night.    This rate is for 1 bungalow which can accommodate 2 adults and 1 child all sleeping in the same bed and includes breakfast.
The resort's website does say they can provide additional bedding in the same bungalow for a fee, but they do not state what the cost is.
Click here for the latest prices.
Our Verdict
As we found all across Indonesia, the staff here at the Coconut Resort are super friendly and extremely attentive.  They were all so eager to please us.
Unfortunately, one evening I had a serious fall and had to go to the emergency room. The staff at the Coconut Resort carried me to the car and drove my family and I to the hospital, waited with us and drove us back to the resort.  I felt this was above and beyond what a hotel would usually do for its guest and was super impressed.
Putting that aside, we thoroughly enjoyed our time here – we felt like we had the place to ourselves most of the time.  Most days there was no one else around but us.  Other days there were 1-2 other groups and that's it.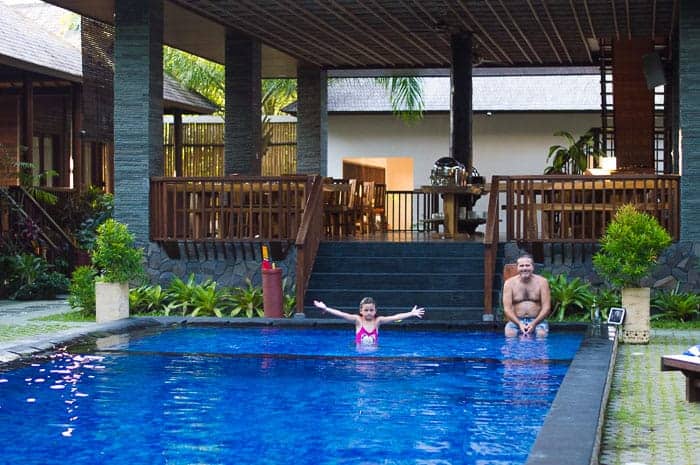 The Coconut Resort is a lovely resort if you prefer luxurious accommodation away from the masses of other tourists.  If you prefer being in the heart of the action you would be better suited to stay elsewhere.
Want to save this for later? 
Click on the image below and pin it to Pinterest.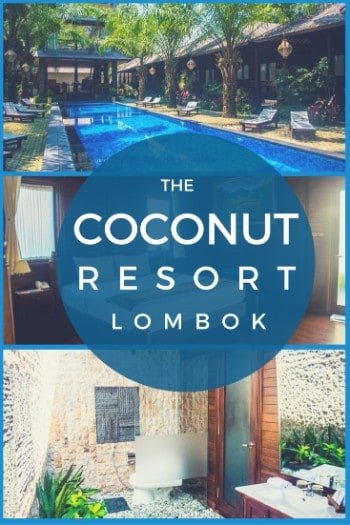 This post may contain affiliate links.  This mean if you book accommodation using links above I will receive a small commission at no extra cost to you.  This allows me to provide you with practical travel information completely FREE.  Thank you for supporting our website.