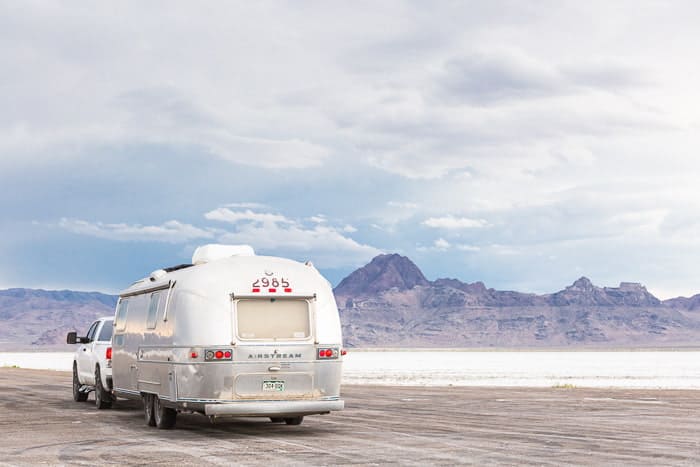 I totally love the idea of a road trip in an RV for a few weeks, gosh even a few months to a year sounds exciting to me.  Stopping wherever you like, surrounded by spectacular landscapes.  
However, whenever I look at a trip in an RV, it always seems a bit too expensive for my thrifty budget.  So I was thrilled when the guys at RV Share asked if the could come share with us their top thrifty trips for RVing
Thrifty RV Travel Tips for Your Next Family Road Trip
RVing is a beloved pastime for many families. With more than 9 million RV owners in the United States alone, it's easy to see why the highways and campgrounds are packed with RVs each summer.  Pack the RV with the essentials and grab a few fun games to play in the car and away you go.
Unfortunately, RVing has also become an expensive hobby (making sure you have all the RV essentials), forcing many families to store their RVs or consign them to dealerships. But there's still hope. RVing is still possible – and even quite affordable (some people even build their own camper van) – if you know where to cut back on your expenses. We'll talk about a few ways to save money in this article, so hopefully, you can get back outside and start exploring the country!
Are you new to RVing?  Check out more RV tips here.
Renting vs. Buying an RV – Where to Find Cheap Rentals
Buying an RV is a huge investment. In some cases, RVs can cost just as much as a two-bedroom house! Aside from the expense of financing an RV, you also have to pay for maintenance, storage, insurance, and more. So, for many, buying simply just isn't an option. Renting an RV is an alternative with a much lower price tag and far less of a commitment. But how do you know where to rent? Let's take a look:
One of the most common ways to rent is from one of those big RV rental dealerships – you know, the ones with the murals on all their RVs? If you can snag a one-way deal or factory delivery special from them, you'll make out like a bandit. Some of their promotional specials rent for as little as $1 per day! However, keep in mind that you'll have to pick up and drop off in a specific location, and that these rentals book up extremely fast. You'll need a watchful eye and a credit card at the ready.
Peer-to-peer rental sites like RVshare approach the RV rental business from a different angle. Instead of renting through a big-name company, you'll rent the RV directly from its owner. Most of the owners are people who are trying to make supplemental income to help pay for their RV, or simply families that don't have as much time to use it. So, it's always nice to know you're helping out an individual. Furthermore, P2P rentals offer a much more diverse inventory, which means you can find an RV rental for any budget.
Coming Up With a Budget for Your Trip
Of course, there are still plenty of costs associated with renting an RV, though they won't hit your bank account as hard as owning an RV would. When traveling in an RV, it's imperative that you make a budget beforehand. There are just too many little things here and there, that, if unaccounted for, can throw you for a loop. Make room in your budget spreadsheet for things like:
The daily base rate of the RV rental, which can be anywhere from $30 per day to $300 per day or more, depending on the type of RV you rent.
Security and damage deposits, which you'll need to lock in your rental. The security deposit goes toward the overall cost of the rental; while the damage deposit is refundable.
Mileage and generator usage fees, which will vary depending on the rental. Some RVshare owners might offer free, unlimited miles. Most include a daily limit, and you'll pay extra if you go over it.
Insurance costs for the RV rental. Usually, this costs around $20 per day.
Optional rental extras, like kitchen and linen kits, which can cost $50 per person or more.
Campground stays, which can be anywhere from a couple of bucks a night to almost $100 per night.
Gas, which you'll need to calculate based on your itinerary.
Food costs will vary based on how you eat and where you eat.
Emergency fund money for hotel stays or unexpected issues – just in case.

Tips to Extend Your Budget Even Further
Now that we've gotten the boring budget stuff out of the way, let's talk about ways to travel in a more frugal manner. RV travel is highly personal, and your budget depends heavily on where you go and how you like to camp. Obviously, you're not going to save money by camping at luxury RV resorts. You'll need to get thrifty if you want to see substantial savings. Consider the following:
If you do end up renting an RV, look for older, smaller RVs. Anything older than five or six years is going to cost less than a brand-new rental. Try to find a balance between how much space you need versus how much you want. If you plan to spend most of your trip outside exploring, you don't need a lot of room inside the RV, anyways!
As you're planning your itinerary, use Roadtrippers to help you find the shortest, least stressful routes. It'll show you an estimate of how much you'll spend on gas and how many miles you'll drive, which is handy if you're dealing with mileage limitations. You can also use GasBuddy to find the cheapest gas along your route.
One of the most impactful things you can do to save money is to boondock as often as possible. Campground fees add up fast, so try to plan a few nights for drycamping. Of course, when boondocking, you'll need to keep an eye on your water and electricity usage – maybe you can find a rental with solar panels?
If you can't stand the thought of camping out in the wilds, look for affordable campgrounds instead. Allstays is a database of over 29,000 campgrounds that lists things like rates, amenities, discounts, and more. You can quickly find nearby Good Sam campgrounds, KOAs, Passport America sites, and other discounted camping.
Cooking your own food will save you money whether you're on the road or at home! Stock up on lightweight, nonperishable foods and dry goods like rice, pasta, and nuts. Buy your proteins and produce fresh from local farmer's markets for cheap. Then, make several meals ahead of time and freeze portions to defrost over the campfire later.
An Epic RV Trip Without the Epic Price Tag
An RV trip might be complicated to plan, but it doesn't mean it has to be outlandishly expensive. After all, camping is about getting back to nature and enjoying the outdoors; not about spending money on luxuries! If you budget correctly and follow the tips in this article, you might be pleasantly surprised to find that your trip costs a lot less than you initially thought! Happy camping!
Thanks again RV Share for these great thrifty tips – click here if you want to find out more about RV Share.