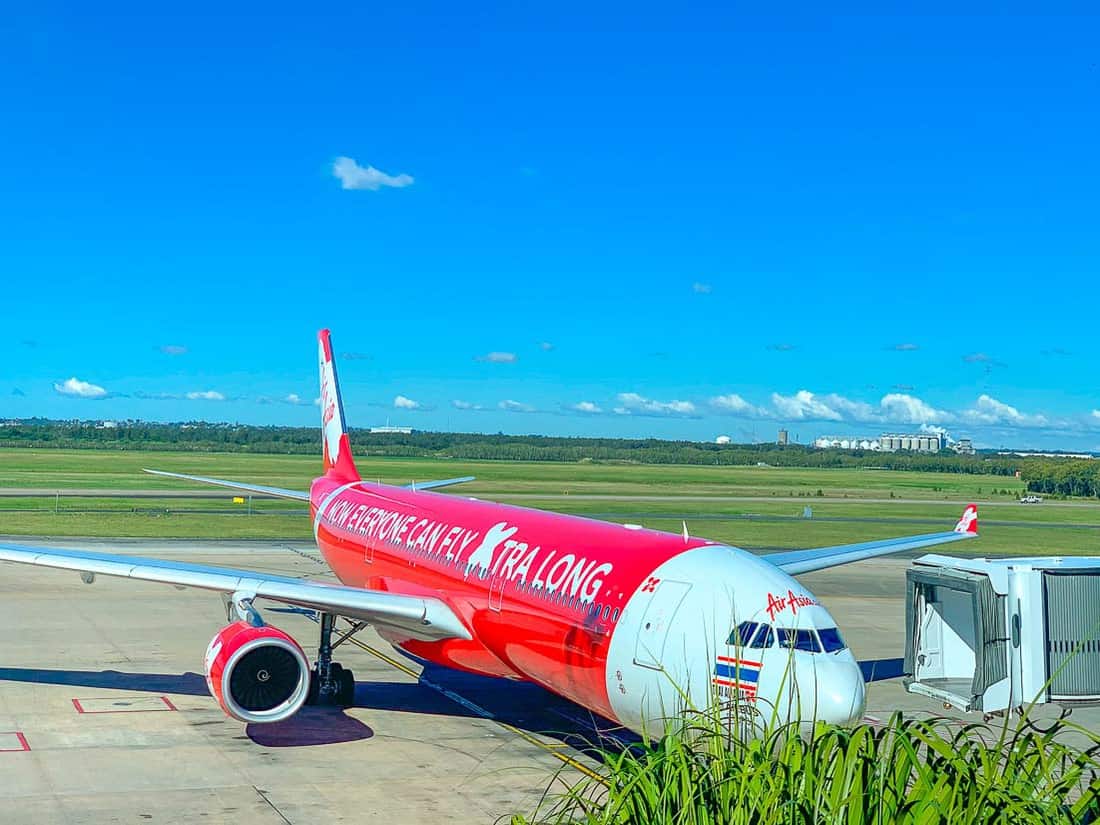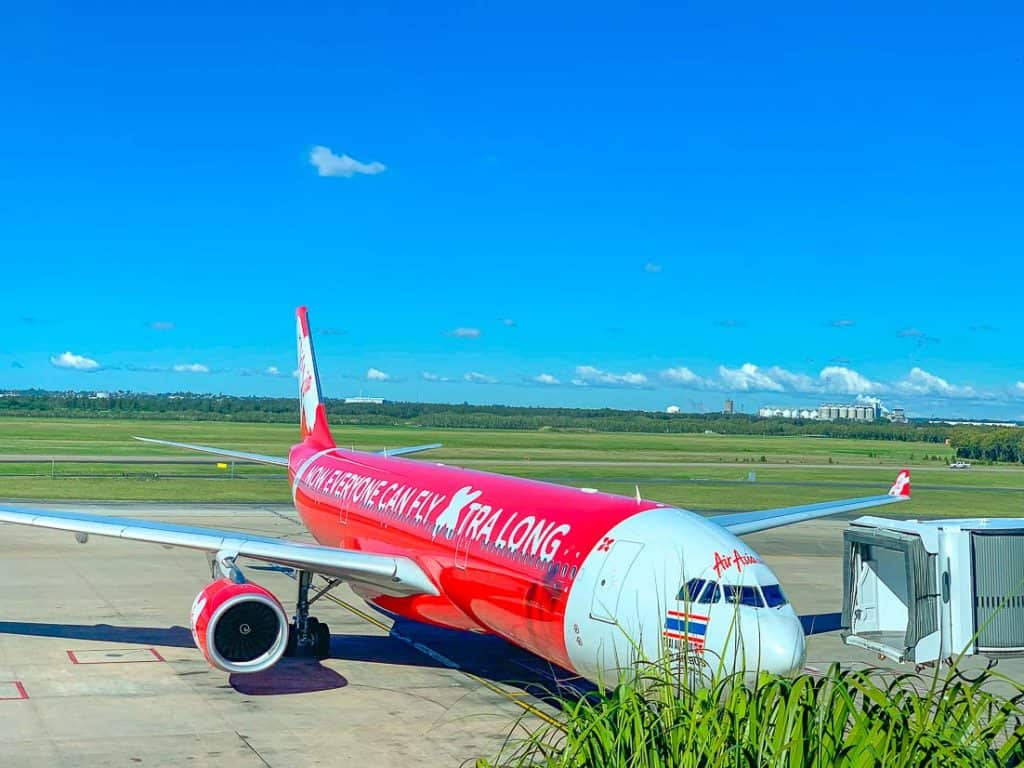 As you all know, we are budget travellers, which means we are no strangers to budget airlines. In fact, we absolutely love budget airlines because it means we get to travel far more than what we could if they weren't around.
So you can imagine how excited we were when we heard about the new Air Asia flight flying direct from Brisbane to Bangkok. We've been flying with Air Asia for a while now; however this involves driving down to the Gold Coast to fly direct to Kuala Lumpur. From KL you can pretty much get anywhere in the world – which is even more true for Bangkok.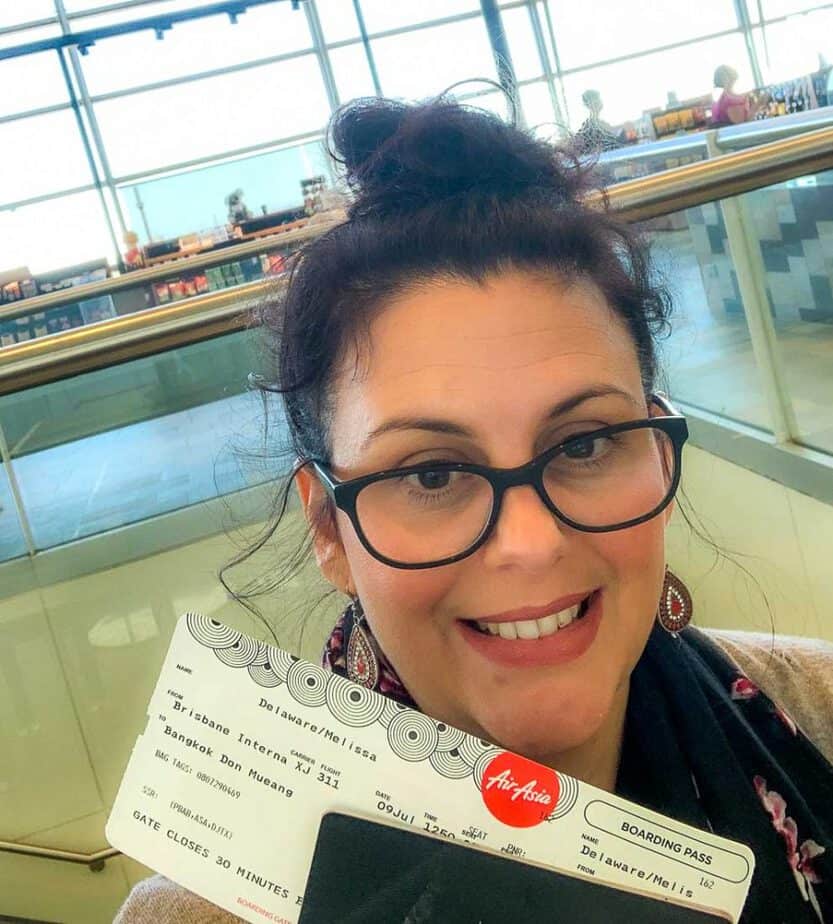 I recently tried out the new flight (as a guest of Air Asia), so If you're considering flying to Bangkok or just considering flying with Air Asia in general, then you really need to check out this post. In this post, I'll cover everything you need to know about flying with Air Asia (in particularly flying to Bangkok) as well as give you some insight into my recent flight with them.
No doubt, after reading this post, you will be hanging out for the next Air Asia sale you can book yourself a flight.
This post may contain compensated links. Please refer to my disclaimer here for more information.
Heading to Bangkok with the family? Click here to read our complete guide on Bangkok with kids.
When does Air Asia fly from Brisbane to Bangkok?
Air Asia flys from Brisbane to Bangkok four times a week on Tuesdays, Wednesdays, Saturdays and Sundays. Flights leave Brisbane at 12.50pm and arrive in Bangkok at 7.10pm. The flight takes 9.5 hours.
Return flights leave Don Mueang Airport in Bangkok on Mondays, Tuesdays, Fridays and Saturdays. The flights depart at 11.40 pm and arrives in Brisbane at 11.35 am the following day.
How much are Air Asia flights from Brisbane to Bangkok?
You can grab yourself a bargain with flights starting from as low as around $200 AUD. Having a bit of a browse at a few different flights on their website it seems that flights go up to around $400 depending upon when you travel.
The only other airlines that fly direct from Brisbane to Bangkok are Thai Airways. Thai Airways flights are around double the price of the Air Asia flight, so you really can make some significant savings. You can check on Skyscanner and see the savings to be made.
What are the seat options?
There is a range of seat options on the Air Asia Brisbane to Bangkok flight including standard seats, hot seats, quiet seats and premium flatbed seats. Here's a brief overview of each seating category.
Standard Seats: This is where you seat to get the best bang for your buck. These are the no-frill seats. If you want to choose where you sit and not leave it up to the airline it will cost, you between $19.90 to $28.90 to choose your seat.
Hot Seats: These are the seats located at the front of each section, so you have extra legroom. People in hot seats also get to board first. Hot seats cost an additional $58.90 to $68.90 depending upon where in the plane they are located.
Quiet Zone: If you're travelling with kids under 10 I'm afraid you can't sit here. This area is for people who want to be surrounded by other quiet travellers.
Premium Flatbed: This seat fully reclines to a flatbed and comes with a privacy screen, adjustable head and footrest, pillow and blanket. With this seat you also get checked baggage, meals, pick a seat and a range of other extras included.
I rarely pay to pick a seat and generally leave it up to the airline to choose it for me. While I have my preferences of where I sit, at the end of the day, I'm more about getting the cheapest flight.
On my recent flight over to Bangkok with Air Asia, I sat in the standard economy seats in both directions. I found the seats fine and really no different from any other flight. I don't know, maybe I'm not that fussy, but for me, no plane seat is that comfortable on a long-haul flight anyway. Plus I'm relatively short, so extra leg room is lost on me.
How much luggage can I bring with me?
Again like most budget airlines, your base ticket only comes with 7kg of cabin baggage included. If you want to check any luggage this will cost extra. Below are the additional checked baggage costs:
Brisbane to Bangkok:
20 kg = $52.50
25 kg = $60.00
30 kg = $73.50
40 kg = $105.00
Bangkok to Brisbane:
20 kg = $55.13
25 kg = $63.25
30 kg = $77.18
40 kg = $105.00
It is best to purchase your baggage at the time of purchasing your ticket, as it is more expensive to buy later. My tip is don't purchase baggage for every person travelling. Just buy one lot of baggage for your group. We are light travellers so usually only purchase one 20kg baggage if necessary, other times we make do with the included 7kg per person cabin luggage.
So even if you do have to purchase checked baggage, it's only going to add a total of $107 or so dollars to the total cost. Still way cheaper than a full fare flight.
If you are travelling with tiny children, it's good to know that you can bring a stroller free of charge. Strollers will need to be checked at the gate and are made available to you on landing. Car seats can also be brought on the plane.
You can also use flight beds for children provided you only use them in the window seat or middle seat between the aisles.
What's the inflight food like?
Air Asia has a huge inflight menu and all reasonably priced. The only problem is they only have a limited supply of food, and on my flight, the food quickly ran out.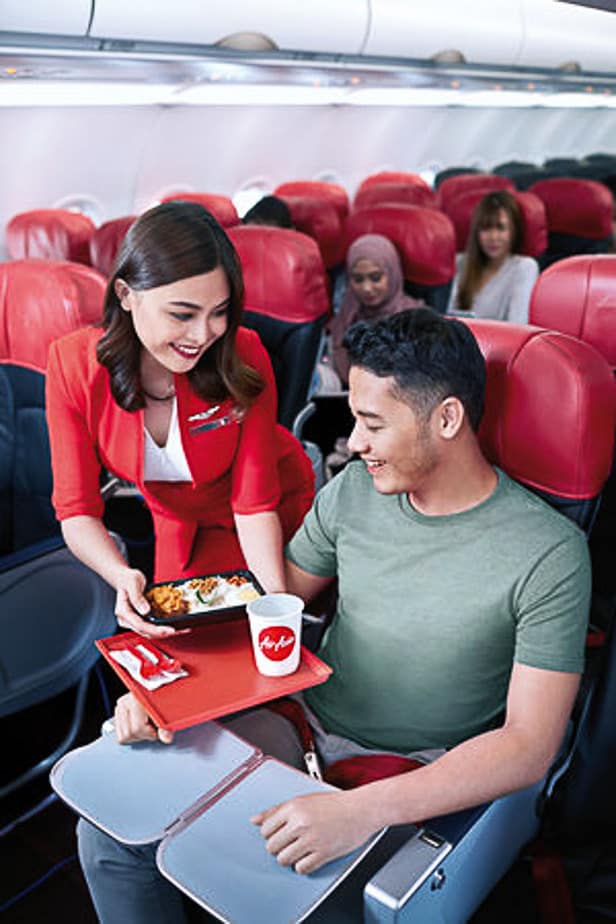 I'd highly recommend that you book a meal when purchasing your ticket. Meals start at $7 and include a bottle of water. You can see the meal range here.
Although the meal I had was quite good (I had the Korean Sweet and Spicy Chicken) it was somewhat tiny, so I also recommend you bring additional snacks with you. While you can't take food OFF the plane, you can certainly take food ON the plane. Bring sandwiches, chips, lollies etc., so you don't get hungry on the flight.
Also, water is limited onboard, so bring your own water with you. Make sure to fill up your water bottles AFTER you go through airport security; otherwise, they will make you tip it out.
On my two flights, I was provided with a bottle of water when I boarded and another bottle of water with my pre-ordered meal. I went through this pretty quickly and was glad to have my own large bottle of water.
I would recommend you have a full meal at the airport before boarding the flight. Unfortunately for me, I did get hungry and thirsty towards the end of the flight, and both meals and the drink I wanted had run out by then.
If you do purchase anything during the flight, know that while they do accept Australian dollars, all change is given in Thai Baht. That's fine when you are flying over, but not ideal when coming back to Australia. So ensure on your flight home you still have some Thai Baht on you for snacks and drinks.
What's the inflight entertainment like?
At the time of my flight, there was no inflight entertainment at all. However, I understand Air Asia will be introducing an entertainment app soon so that you can access a range of movies and tv shows. The app will be free.
In the meantime, download your favourite Netflix shows on your device. Having your own shows to watch means that you get to view exactly what you want. Plus if there is an issue with the app, it doesn't matter because you're all set with Netflix anyway. Plus you'll want this for waiting at the airport too anyway.
Are there any additional comforts provided?
Nope! So if you do plan on trying to get some rest; be sure to bring your travel pillow, travel blanket and eye mask. This is a budget airline afterall, and they won't be handing out these comfort items.

Additional Air Asia Travel Tips
Ok yes, Air Asia is a budget airline, and no you don't get all the bells and whistles that other full-fare airlines offer. But with a little planning and preparation on your behalf, you can have a comfortable flight and reach your destination at a fraction of the cost of a full-fare airline.
If you book Air Asia expecting first class service, you're going to be disappointed, but if you take note of the things I've said above and follow my tips below you will have a hassle-free flight and have more money in your pocket to spend on your holiday.
Pre-order your meal online. Meals onboard are limited, and they likely won't have what you want, or even worse will run out of meals altogether.
Stock up on snacks beforehand and bring them onboard. While you can't take food off the plane, you can certainly take food onto the plane. Bring sandwiches, chips, lollies etc., so you don't get hungry on the flight.
Ensure you fill up your water bottle after airport security but before you get on the plane. Water is limited on the flight, and you should be keeping well hydrated during the flight.
Bring your travel pillow, travel blanket and eye mask. This is a budget airline, and they won't be handing out these comfort items.
Download your favourite Netflix shows on your device. Currently, there is no inflight entertainment; however this is due to change with Air Asia having their own entertainment app. However, even so, having your own shows on your device means that you get to watch what you want to watch. Plus if there is an issue with the app, it doesn't matter because you're all set with Netflix anyway.
Lastly, download the Air Asia app and sign up to their newsletter, so you never miss a sale. You will be totally jealous when you hear a friend has got a bargain deal and you didn't. Air Asia will always let you know about a sale in advance so you can get your leave approved in advance and be ready to book.
I was a guest on the Air Asia flight but as always the opinions expressed in this post are completely my own.