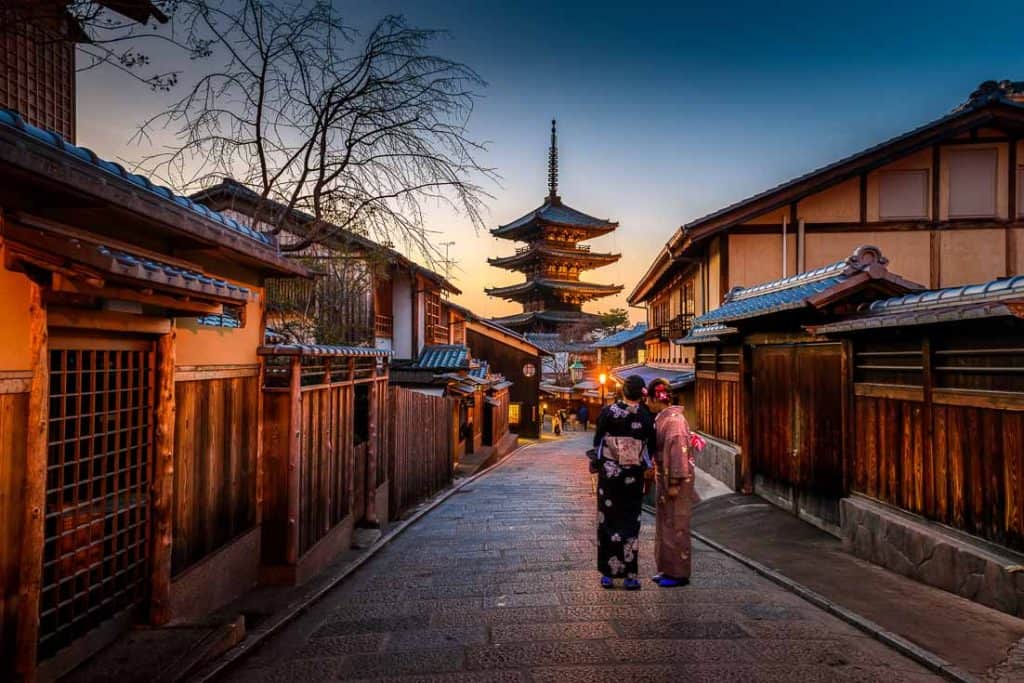 Kyoto is a beautiful city, with many of the family friendly Kyoto attractions being gorgeous temples, palaces, gardens and old traditional wooden houses. If you're planning your Kyoto itinerary and wondering what the best things to do in Kyoto with kids are, then you're going to love this Kyoto with children guide.
In this visit Kyoto guide, I cover everything you need to know about what to do in Kyoto with kids. The guide also includes essential information such as location, opening hours and ticket prices – even tips on where to get discounted tickets. As well as listing all the top things to do in Kyoto, this guide will provide tips on getting to Kyoto, getting around the city and tips on where to stay in Kyoto with kids.
This post may contain compensated links. Please refer to my disclaimer here for more information.
If you're taking the kids to Japan – click here to see our super-detailed Japan Itinerary with Kids.
The Best Things to do in Kyoto with Kids
Throughout this section, I have provided a comprehensive guide to all the main Kyoto tourist spots. I have tried to provide as much information as possible to make your planning easier, including locations, opening hours and ticket prices.
You will note that for many of the Kyoto tourist attractions, I often suggest that you purchase your tickets in advance from Klook. Yes, I will receive a small commission if you do purchase from these sites – but as you will see in most cases, you will save yourself a bit of cash in doing so. Other times the price may be the same, but you will save time by not having to line up at the for tickets. Plus with Klook you earn credit points that you can cash in for even bigger discounts. I regularly use Klook myself to book tickets for our travels around the world.
Please note that all prices mentioned were correct at the time of writing and may fluctuate depending upon changes to currency conversion and rate increases. To check the rate in your local currency, click here.
Also given the places to go in Kyoto are well spread out, I've split this article into the following sections: Downtown, Kyoto Station, Higashiyama, Fushimi, Arashiyama, North West Kyoto and outside Kyoto. By having the Kyoto places of interest split by these areas it will also make it easier when planning your Kyoto trip itinerary.
Downtown Kyoto
1. Nijo Castle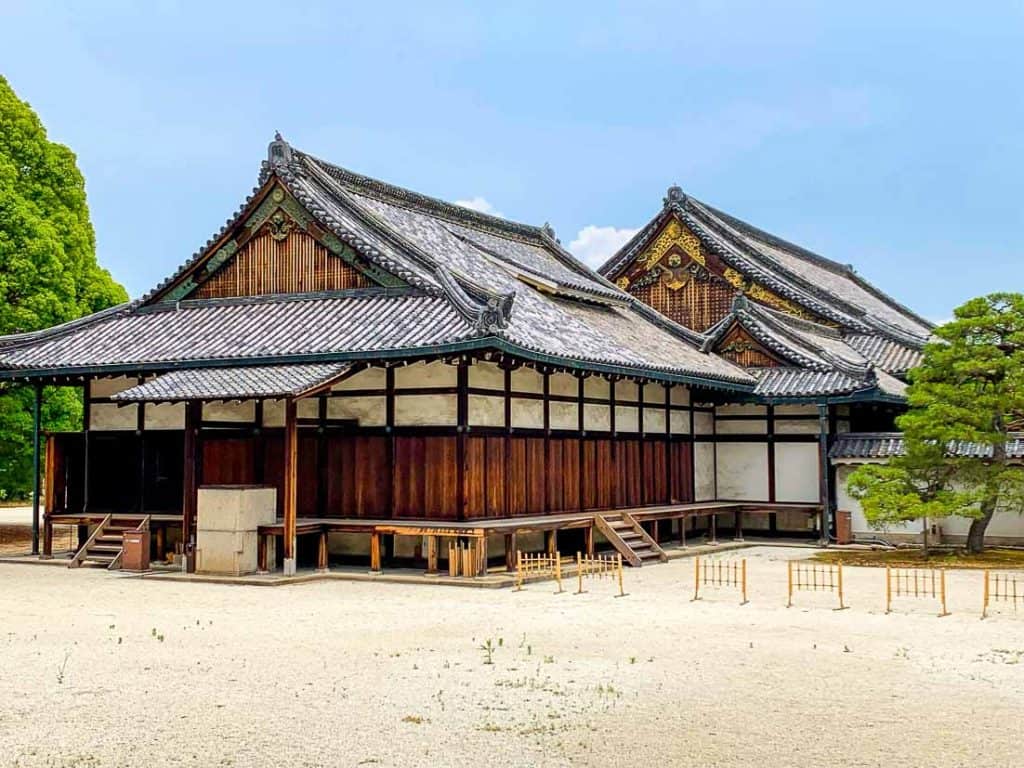 One of the most popular Kyoto places to go is Nijo Castle. Built in 1603, the Nijo Castle was once the residence of Tokugawa leyasu, the very first shogun of the Edo Period. After the end of the Tokugawa Shogunate in 1867, the Nijo Castle was used as an imperial palace before being opened to the public as a historical site. The castle is now a UNESCO World Heritage site and is a great place to take the family to learn what life was like during this period.
There are many buildings and gardens to explore within the castle grounds. The main attraction is the Ninomaru Palace, which was the residence of the shogun whenever he visited Kyoto. The palace is made up of multiple rooms, which are joined by long corridors and the rooms are decorated with paintings as well as some statues set up to depict life in the castle.
It's also worth exploring the gardens too. You can walk over the bridge through the inner moat to the Honmaru Palace. This palace was destroyed by fire and never rebuilt, but it's still cool to climb up the stone wall and see the view across the castle grounds.
If you happen to visit during Cherry Blossom season through late March and April – this is a great place to come as there are over 400 cherry trees here.
Allow a few hours here and if you're going during the Summer months, come either early or later in the day as it does get really hot wandering around.
Location: 541 Nijojocho, Nakagyo Ward
Opening Hours: Hours vary depending on the season but are generally around 8 am to 5 pm daily.
Price: Adults ¥1030 (A$14)|Student (13-18) ¥350 (A$4.75) | Child (6-12) ¥200 (A$2.70). Click here to book online via Klook.
2. Kyoto International Manga Museum
For any Manga fans, one of the best places to visit in Kyoto is the Manga Museum. More like a library then a museum, this place is spread out over four levels, which are mostly lined with shelves of manga.
The museum also showcases how manga has reached international success and features works from a range of manga artists from all over the world. The museum also often holds special manga events as well as temporary exhibits – so be sure to check what's on when you're in town.
The Manga Museum is also the perfect activity if you're after some inspiration for Kyoto indoor activities if the weather is poor.
If you have a manga fan in the family, the Manga Museum is not to be missed.
Location: Kinbuki cho 452, Nakagyo-ku, Kyoto City
Opening Hours: Thursday to Tuesday 10 am to 6 pm
Price: Adults ¥800 (A$11)|High school students ¥300 (A$4)|Primary students ¥100 (A$1.35)
3. Nishiki Markets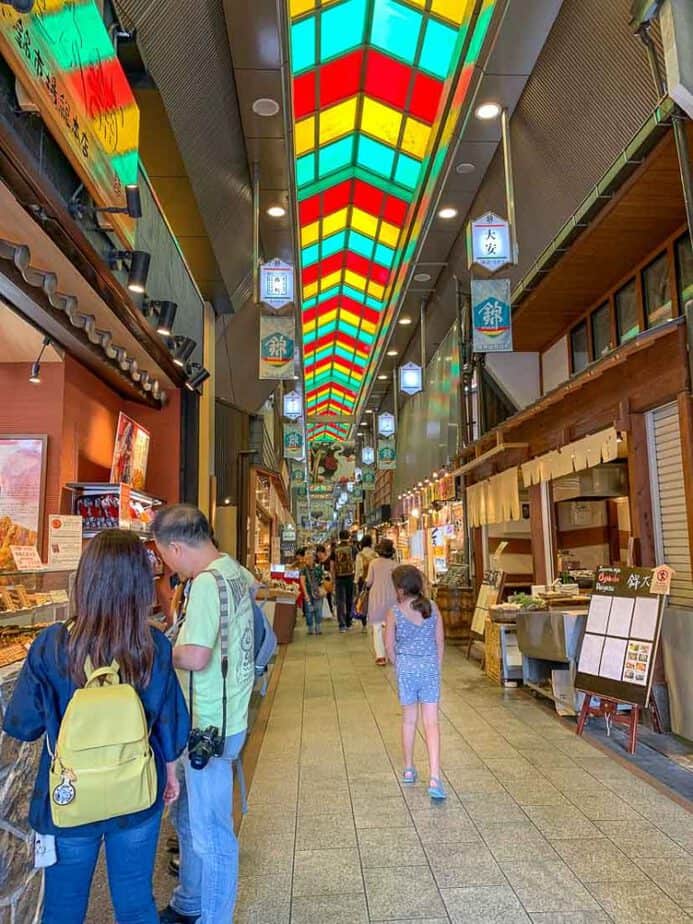 Nishiki Markets is one of the Kyoto top attractions and is not to be missed, especially for foodies ready to try some local specialties or just those wanting to do a bit of shopping. The Nishiki markets, known as Kyoto's Kitchen, is a vibrant, long shopping street lined by over one hundred shops and restaurants.
I recommend coming here when you are hungry and simply purchasing small samples from each store to try as you stroll down the markets. However keep in mind that most of the food is seafood, but there is still plenty for the non-seafood eaters too. None of us are seafood eaters but we still all left with full tummies!
Location: Parallel to Shijo Avenue
Opening Hours: 9:30 am-6 pm
Price: Free
4. Pontocho Alley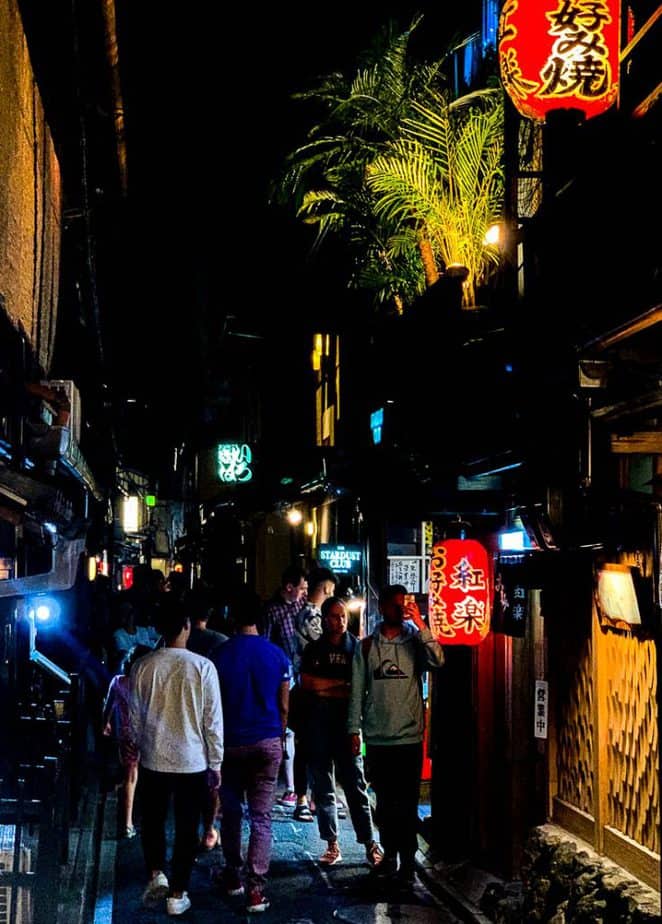 If you need tips on things to do in Kyoto at night – I suggest a nice stroll through the area called Pontocho Alley. Pontocho Alley is between Shijo Street and just south of Sanjo Street, just a block back from the Kamogawa River. It is a gorgeous little narrow alleyway with other small alleyways leading off it. The entire is lined with traditional machiya style houses that are filled with restaurants and bars. It's beautiful day or night, but during the night it's particularly lovely with all the brightly lit colourful lanterns.
I highly recommend that you come to Pontocho Alleyway at least once during your stay in Kyoto for a meal. We came one evening for a delicious Shabu Shabu and could have easily come back again to try out another restaurant or two.
Just keep in mind that you will most likely need a booking for dinner. I recommend looking a few up on TripAdvisor and making a booking from there.
Location: 604-8016 Kyoto, Nakagyo Ward
Opening Hours: 24 hours / 7 Days – most places open from around 5 pm.
Price: Free
5. Imperial Palace
A popular place for history buffs is to see is the Imperial Palace, which used to be the residence of Japan's Imperial Family until 1868, when the emperor was moved from Kyoto to Tokyo.
The Palace is located within the Kyoto Imperial Park, which is an impressive park in the centre of the city, which also includes the Sento Imperial Palace as well as a few other attractions such as the Kanninnomiya Mansion. The kids will love the park's lawns, paths and cherry trees; it is a popular spot to bike ride or walk.
Location: 3 Kyotogyoen, Kamigyo Ward, Kyoto
Opening Hours: Daily from 9 am to 5 pm
Price: Free admission
Kyoto Station Area
6. Kyoto Tower
See Kyoto from a bird's eye view from the top of Kyoto Tower. At 131 metres, this observation tower is the tallest structure in Kyoto. The observation deck is situated at 100 metres and provides fantastic 360-degree views of Kyoto and even Osaka on a clear day.
Location: 721-1 Higashishiokojicho, Shimogyo Ward,
Opening Hours: Daily from 9 am to 9.20 pm
Price: ¥800 (A$11) per adult, ¥650 (A$9) per high school student and ¥550 (A$7.45) for children over 6 – under 6 are free. For a small discount, book your tickets online via Klook. Click here to purchase your discounted tickets.
Higashiyama
Read any Kyoto travel guide and you'll no doubt read about the Higashiyama District which is home to the largest number of temples and shrines in Kyoto. If you only have one day in Kyoto, this is the area to explore as you can see many of Kyoto must see attractions easily.
I will just say – there are a lot of temples in this area and you might find you and the kids get a bit "over" temples after a while – so I recommend you just choose a few to see. Some of the temples are great with lots of interactive stuff for the kids to get involved, while others are just lovely buildings and gardens to explore.
7. Kiyomizu-dera Temple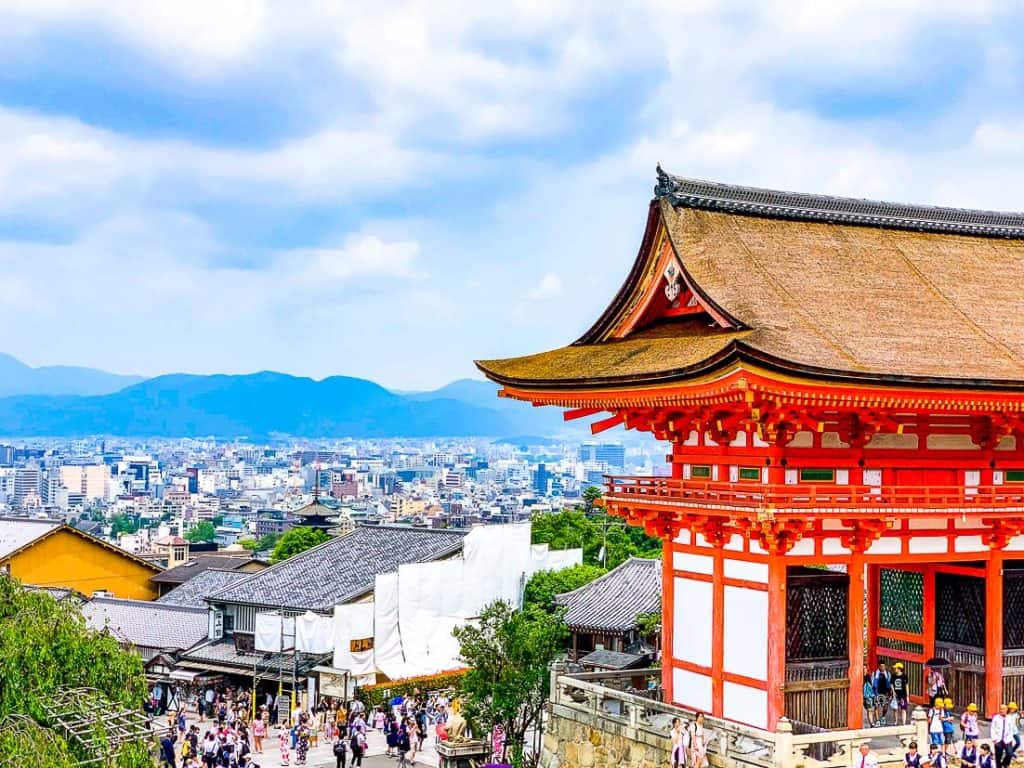 In terms of the best temples in Kyoto, one of the most popular Kyoto places to visit is the Kiyomizu dera Temple. As you head up the mountain to view this incredible temple (founded in 780!) you will be amazed at the beauty but also the sheer number of tourists!
This UNESCO world heritage site is a Buddhist temple with fantastic views across Kyoto. The temple is well known for its main hall, which juts out over the hillside with some great views across the Gion district. ⠀
There is a rather interesting shrine behind the temple – the Jishu Shrine. This is a shrine dedicated to the deity of love and matchmaking. At the base of the temple, there is also the Otowa Waterfall which you are encouraged to drink from for good luck as well as to ensure a great love life. ⠀The temple also has some gorgeous gardens that you walk around and explore too.
Like most temples in Japan, there are plenty of rituals that the kids are encouraged to get involved with, which keeps them focused and interested.
This temple is huge and you could easily spend at least half a day here exploring all the buildings and gardens. We spent around an hour or so which was enough for us.
Location: 294 Kiyomizu, Higashiyama Ward, Kyoto
Opening Hours: 6 am to 6 pm
Price: Adults ¥400 (A $5.40) | Children ¥200 (A $2.70)
8. Wander the Streets in the Gion District.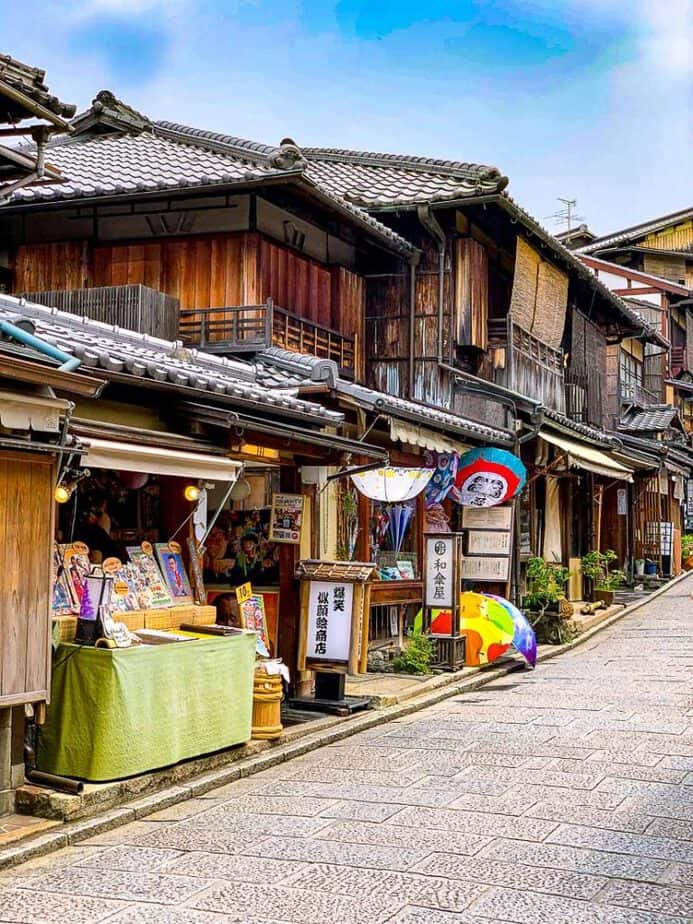 One of the best places to go in Kyoto would have to be the historic streets around Kiyomizu dera, where you can buy Japanese sweets, matcha products and much more.
As you wander down the hill from the Kiyomizu dera Temple, you'll be strolling down Matsubara Street which is a pedestrian street filled with traditional narrow wooden Japanese houses. These buildings are full of loads and loads of tourist shops — great place to buy some souvenirs for home.
Not to far down the street, I recommend you take the stairs on the right into Sanneizaka Street. This street is filled with more tourist shops and restaurants. Continue down this street until you get to Nineizaka Street on the right where you will see some lovely quaint traditional homes. If it's lunchtime, stop anywhere that takes your fancy – but be warned – you won't find cheap food here – nevertheless the food is still good.
Another gorgeous little alleyway is Ishibei-koji Street, which is a little bit further than Nineizaka Street. The entry to this tiny laneway is off Nene-no-Michi Lane and it's a bit tricky to find as it's only marked in Japanese. The laneway is only 200 metres long and is lined with lovely traditional inns, restaurants and bars.
Just be on the lookout for signs saying whether you can't take photos. I've heard that since we have visited, you can now actually get fined in some of these areas for taking photos of private homes. So keep a look out for these signs before taking any happy snaps.
Also expect the area to be super busy with tourists. If you have ideas of casually strolling the streets with few people around, go early in the morning or late in the day.
There are also varying Gion walking tours you can join if you prefer.
Location: Start at the base of the Kiyomizu dera Temple
Price: Free
9. Ryozen Kannon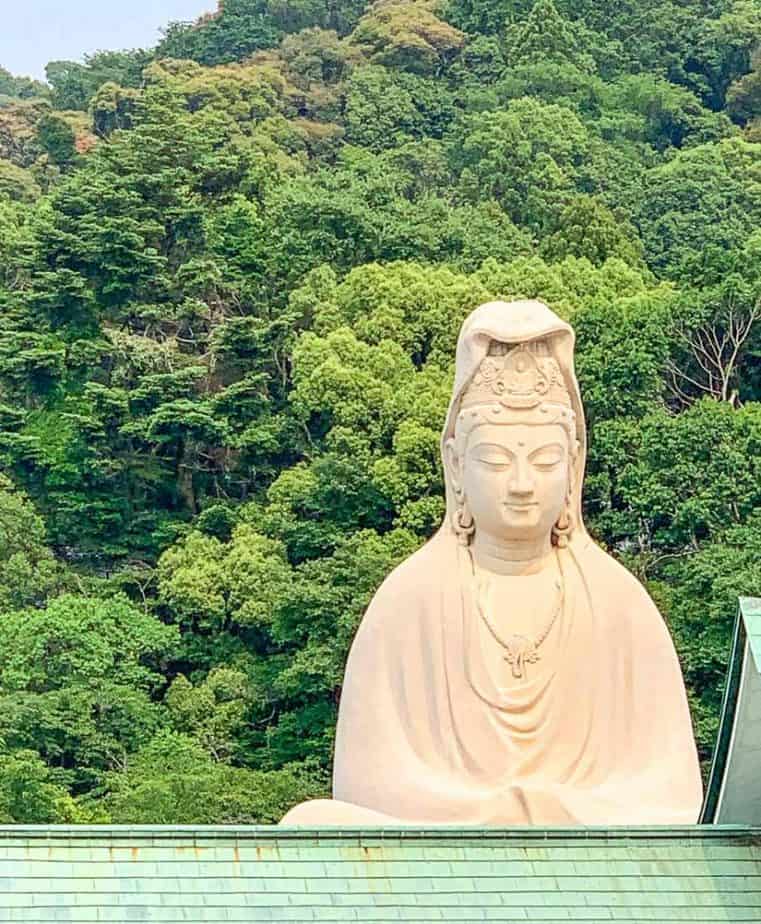 The super impressive 24 metre high concrete statue of the Goddess of Mercy was built in 1955 as a memorial to honour the victims of World War II. Within the grounds of the Ryozen Kannon is an alter containing soil from every Allied cemetery from the war.
You can easily see the statue from outside the temple, so it's not necessary to go inside if you just wish to view it. I wanted to go in, but for the life of me had difficulty finding the entrance – so I only got to take the photo from outside.
Location: 526-2 Shimokawaracho, Higashiyama Ward, Kyoto
Opening Hours: 8.40 am to 4.20 pm
Price: Adults ¥300 (A$4.05) | Children ¥100 (A$1.35)
10. Kodai-ji Temple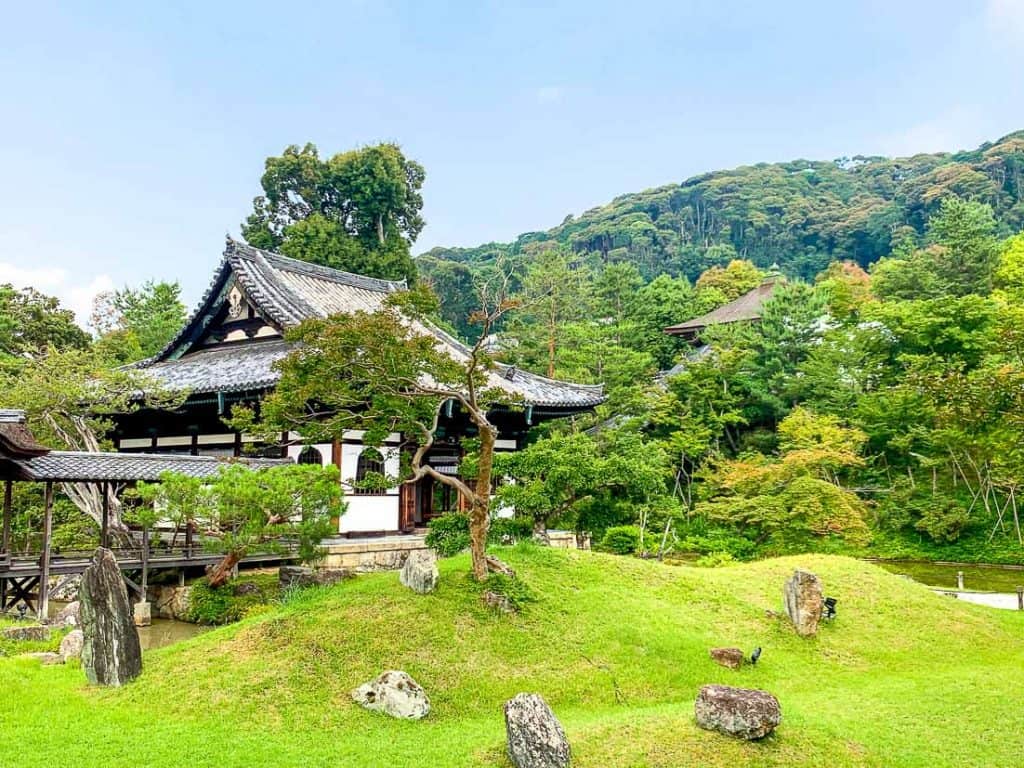 Another one of the top sites in Kyoto – Gion District is the Kodaiji Temple. This temple was established in 1605 by the noblewomen Kita-no-Mandokoro in memory of her husband Toyotomi Hideyoshi. This is certainly one of the more peaceful and beautiful temples we visited.
Inside the temple, there is a range of buildings to explore, including the main hall, a mausoleum for Hideyoshi and Nene and two tea houses. Surrounding the buildings is a range of beautiful zen gardens, including a rock garden, a pond, manmade hills and pathways lined with bamboo.
I visited this temple alone – I think everyone was a bit templed out by this time. I was quite surprised to find that there were not many people visiting the temple, despite being in the middle of the day. This made the temple a peaceful and relaxing place to visit, unlike the other temples, which were swarming with tourists. The Kodai-ji Temple is a beautiful temple and well worth visiting.
Location: 526 Shimokawaracho, Higashiyama Ward
Opening Hours: Friday to Monday 9 am to 5 pm and Tuesday to Thursday from 9 am-9:30 pm
Price: Adults ¥600 (A$8) | Children ¥250 (A$3.40)
Fushimi
11. Fushimi Inari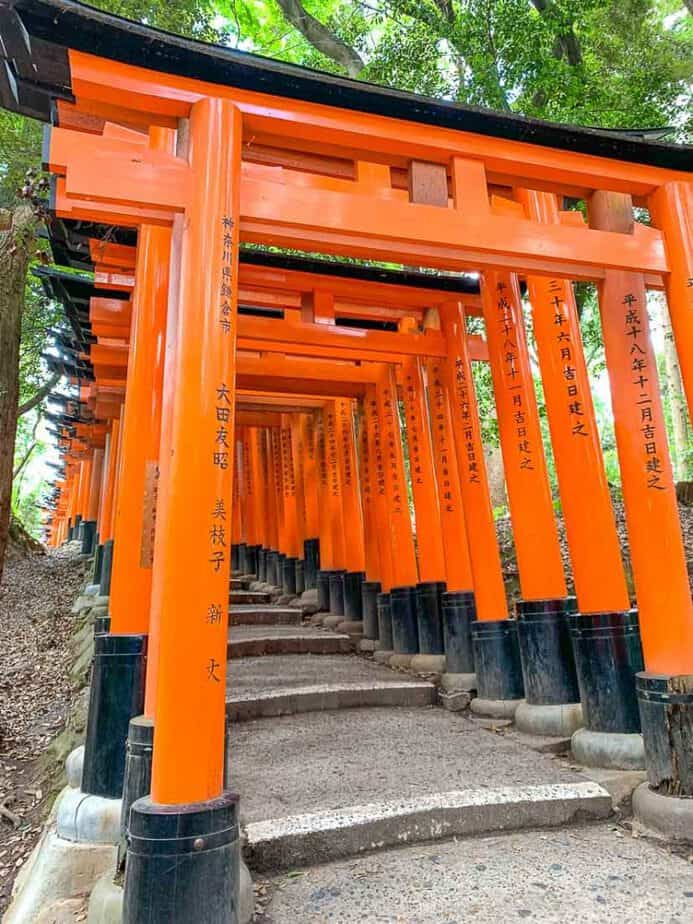 Fushimi Inari is one of the most famous Kyoto main attractions. And and one of the reasons I know this was because when we visited the place, it was absolutely packed!!! ⠀Don't let the above image fool you – this place was like being in a can of sardines!! This image is taken much further up the trail where less tourists tend to be – yet I still waited and waited for this image.
The Shinto shrine is very beautiful, with thousands of red torii gates lined up, taking you through a series of mountain trails in the wooded forest of Mount Inari. You could easily spend the good part of a day here if you were keen to do the various walks. And the good thing about doing the walks is the further you get away from the entrance, the fewer tourists. To hike to the very top takes around 2-3 hours. ⠀If we had more time, I would have loved to have done this – the area is very lovely.
⠀
Like most Shinto shrines, there are various rituals you can take part in, such as cleansing, prayer, and writing a prayer or wish on a wooden plaque which you leave there on display. Myla just loved getting involved in all these rituals, which was great to see. ⠀
⠀
If you have some flexibility, I highly recommend visiting Fushimi Inari Shrine either early in the morning or late in the afternoon. We were there around 9 am – as was everyone else in Kyoto it seemed! ⠀
Also allow time to check out the little stalls in the area – there is some delicious food here to try. We came just after breakfast and weren't particularly hungry but I really wished we were because the food they had at the little street stalls looked amazing. My tip is to come super early, have your breakfast here and enjoy the shrine with fewer people.
Location: Southern Kyoto, located just outside JR Inari Station
Opening Hours: Always open
Price: Free
Arashiyama
Arashiyama is a popular tourist area in Kyoto and was my personal favourite place we visited in Kyoto. There is a range of different tourist attractions in the area, which makes it an excellent place for a Kyoto day trip, or even in half a day, you can see most of the highlights of the area. This is also the perfect place to see the cherry blossoms when they are in full bloom, which is a bucket list item for many travellers.
12. Visit Saga-Toriimoto Preserved Street
A visit to Arashiyama is not complete without a quick stroll down Saga-Toriimoto Preserved Street. Here you can see the old machiya houses which are in the style of the Meiji Period (1868-1912). Many of these buildings have now been converted into shops and restaurants.
While you are here, check out Adashino Nembutsu-ji temple which is at the end of the street. From here, take the path at the back of the temple into the Bamboo Forest.
Location: Saga-Toriimoto Preserved Street
Opening Hours: 24 hours
Price: Free
13. Arashiyama Bamboo Forest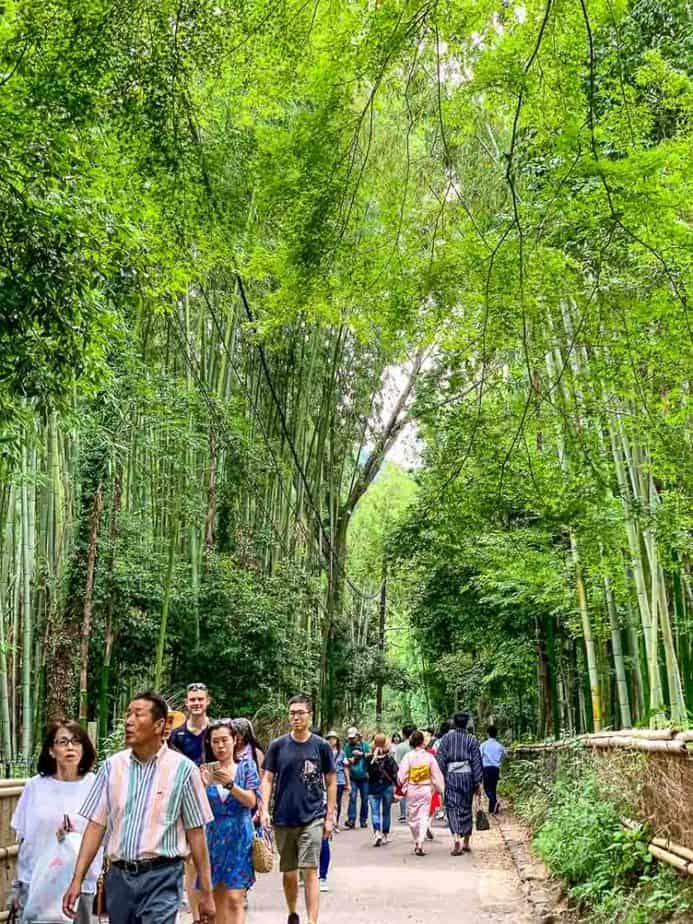 The Arashiyama Bamboo Forest is a popular place to visit in Arashiyama. The entrance to the forest is too not far from the main street of town and doesn't take you long to be surrounded by these amazing tall bamboo stalks, making you feel as though you've stepped in another world.
Inside the Bamboo Grove, there is the Nonomiya-jinha Shrine as well as a train line that runs right through it which makes for a great photo. ⠀
⠀
Like most attractions in Kyoto, if you can, come early in the day or late afternoon to avoid the greatest number of people.
Location: Arashiyama, Ukyo-Ku
Opening Hours: 24 hours
Price: Free
14. Arashiyama Rickshaw Tour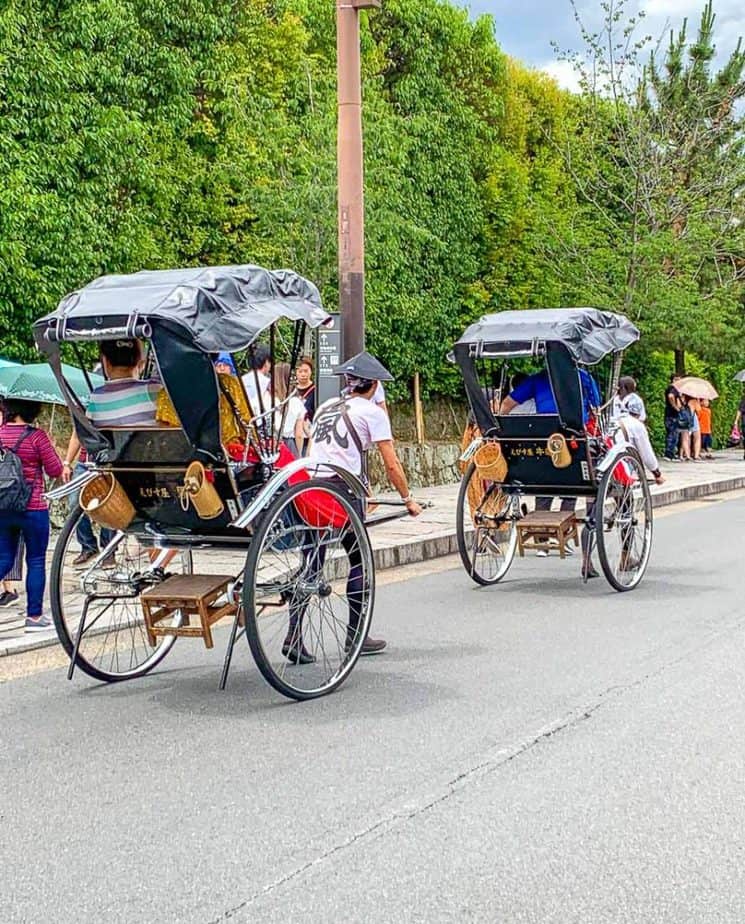 If little ones are too tired to walk around Arashiyama, a fun way to see all the sights is on a rickshaw tour. You can view all the sights mentioned here, but from the comfort of the rickshaw and while someone else is doing all the walking!
Rides are super expensive though – choose from a 30-minute, 1 hour, or 2 hour tour.
Location: North Side of the Togetsukyo Bridge
Opening Hours: Daily
Price: Per person tours are – ¥4360 (A$59) for 30 minutes | ¥8495 (A$115) for 1 hour | ¥15680 (A$211.50) for 2 hours
15. Togetsukyo Bridge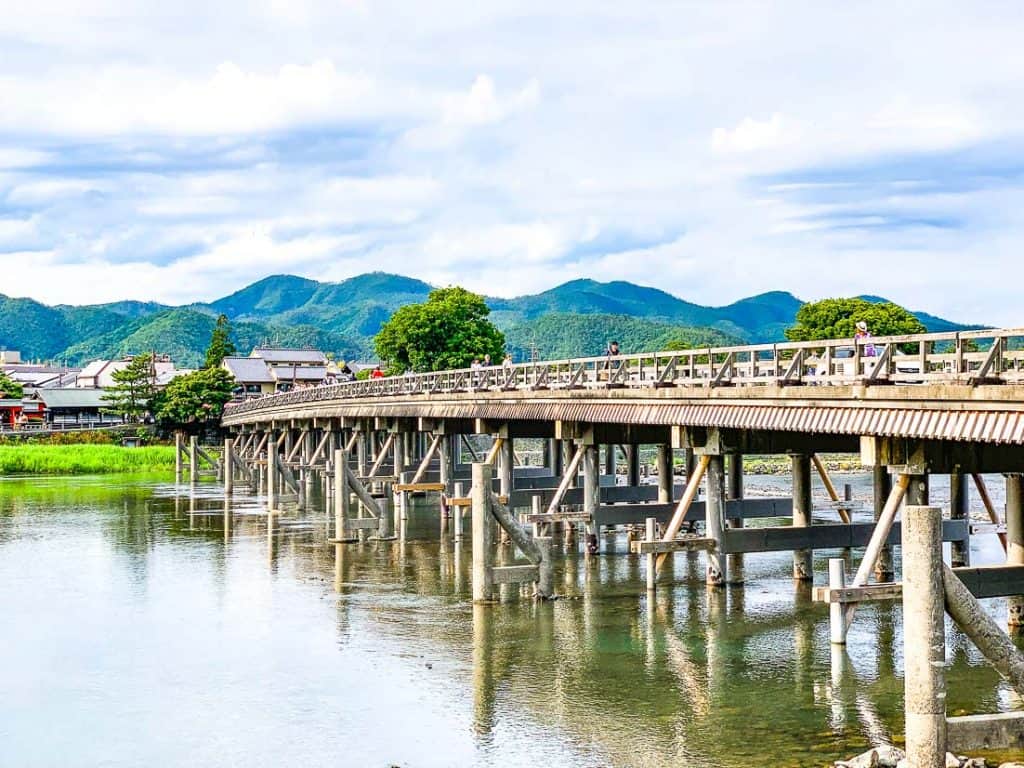 In my view, the most beautiful area of Arashiyama is by the river. Here you will see the old Togetsukyo Bridge, a wooden bridge dating back over 400 years ago. The bridge crosses the Katsura River, right in front of the Arashiyama Mountains and offers incredible views. ⠀
On the other side of the bridge, there are a few little cafes lining the street, which are perfect for soaking up the scenery. If you happen to be in Arashiyama while the cherry blossoms are in full bloom, this area is even more beautiful, with thousands of pink cherry blossom trees lining the river.
Location: Arashiyama, Ukyo-Ku
Opening Hours: 24 hours
Price: Free
16. Take a Boat Ride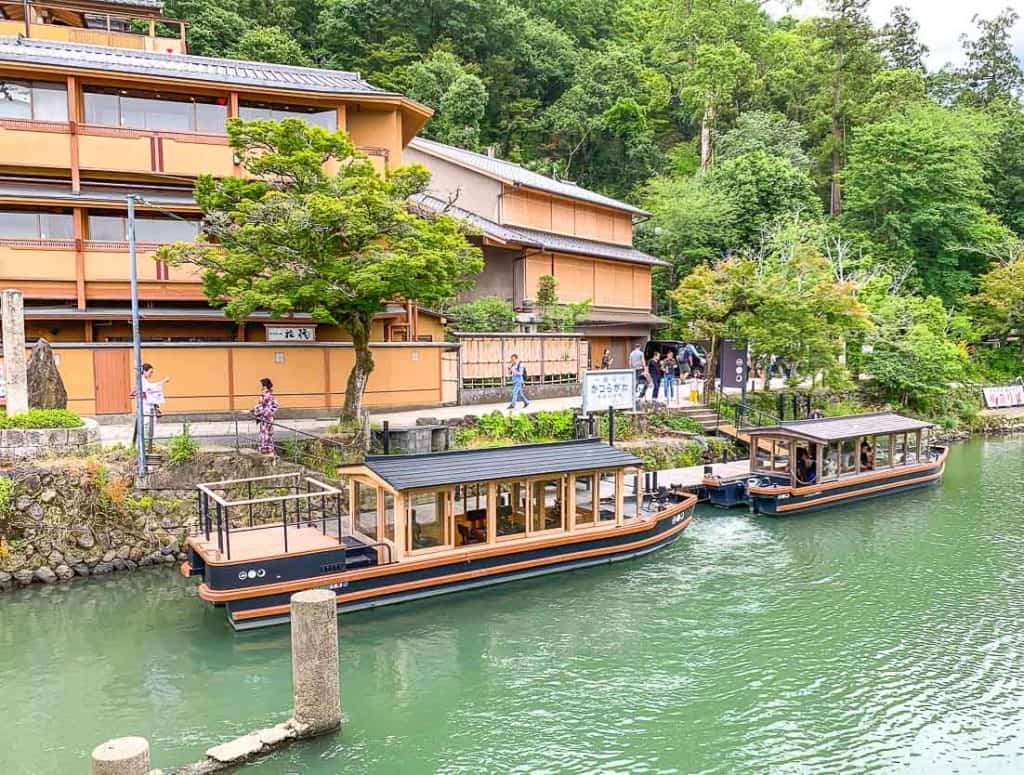 One thing I would have loved to have done in Arashiyama was take a boat cruise in the river. You can charter a boat for a short 35-minute cruise. This costs ¥3500 (A$47.20) for 1-2 people, ¥4600 (A$62) for three people, ¥5700 (A$77) for four people and ¥6800 (A$91.75) for five people. These boat cruises are located just on the other side of the Togetsukyo Bridge, away from the city side.
Another option is to take a cruise from Kameoka up the Hozugawa River to Arashiyama. This boat cruise takes around 2 hours and is the perfect way to take into areas beautiful scenery. These cruises cost ¥4100 (A$55.31) per adult and ¥2700 (A$36.45) per child and depart from the Hozugawa-Kudari boarding site, which is just a short walk or bus ride from Kameoka Station.
17. Tenryuji Temple
There is a range of different temples to see in Arashiyama, but arguably the best is the Tenryuji Temple. Considered one of the top 5 temples in Kyoto, Tenryuji Temple is a UNESCO World Heritage site which was built in 1339 during the Muromachi period
Other temples in Arashiyama include Daikakuji Temple, Jojakkoji Temple, Nisonin Temple, Gio-ji Temple, Adashino Nembutsu-ji Temple and Otagi Nenbutsuji Temple.
Location: 616-8385 Kyoto, Ukyo Ward
Opening Hours: Daily from 8.30 am to 5 pm
Price: ¥800 (A$11) per adult and ¥600 (A$8) per child
18. Arashiyama Monkey Park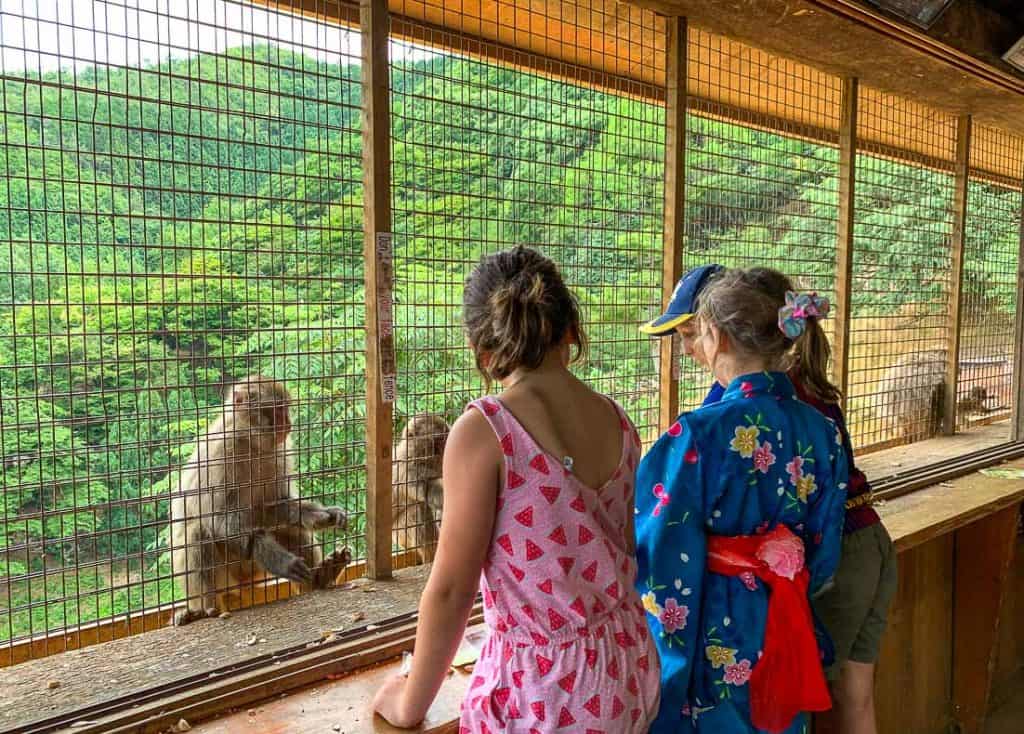 A climb to the top of Monkey Park is a must when traveling with kids. The walk to the stop is relatively steep though, taking around 45 minutes, and our kids complained a lot! But once you're up the top, you will find the home to over 170 wild Japanese macaque monkeys. These little guys a super cute and great to watch. There are also fantastic views across Kyoto from here too.
I also liked that the monkeys are free to roam and not in a cage, despite what this photo looks like. The kids are actually in the cage!! It's a great little area for the kids to get up close to the monkeys.
Up the top is also a small playground (not a very good one) as well as a little shop selling snacks and drinks.
It can be super-hot climbing to the top so ensure you have plenty of water with you.
Location: 61 Arashiyama Nakaoshitacho, Nishikyo Ward, Kyoto
Opening Hours: 9 am to 4.30 pm
Price: Adults ¥550 (A $7.45) | Children ¥250 (A $3.40)
19. Sagano Scenic Train
Another way to experience the beauty of Arashiyama is onboard the Sagano Romantic scenic train tour. This 25-minute train trip is regarded as one of the most beautiful railway journeys in Japan. Your train ride will take you through stunning natural scenery, including views of the Hozugawa Ravine. If you are travelling in winter, you will get to see amazing snowy views, in Spring the iconic cherry blossom trees and leafy, green landscape in Summer.
Location: Depart from Kameoka or Saga Station
Opening Hours: Daily 9 am to 4.30 pm
Price: ¥630 (A$8.50) per adult and ¥320 (A$4.32) per child.
Northwest Kyoto
20. Kinkaku Golden Pavilion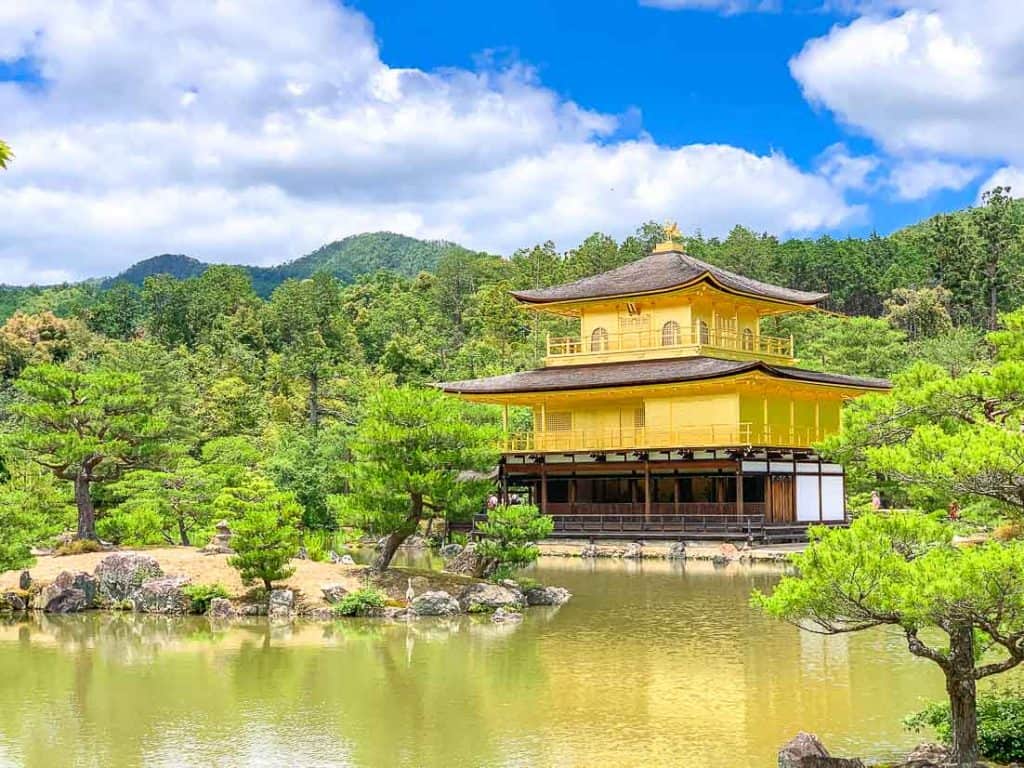 Another one of the popular places to see in Kyoto is Kinkakuji or otherwise known as the Golden Pavilion. This pavilion is a Buddhist hall which contains a relic of Buddha and is set in gorgeous gardens, overlooking a pond.
The temple is very picturesque, and the top two layers are completely covered by gold leaf. You can't enter the building though; you can just look at it – so it's not overly interesting, particularly for children.
The area was also very busy with loads of tourist buses when we arrived and the staff at the temple were hurrying us along very quickly. All up, it wasn't a great experience and I think this is one you could probably skip if you were short on time. We were probably in and out within an hour.
Location: 1 Kinkaku-ji-cho, Kita-ku, North West Kyoto
Opening Hours: 9 am to 5 pm
Price: Adults ¥400 (A $7.63) |Children 6 & over ¥300 (A$3.82)|Under 6 free
Day Trips from Kyoto
21. Nara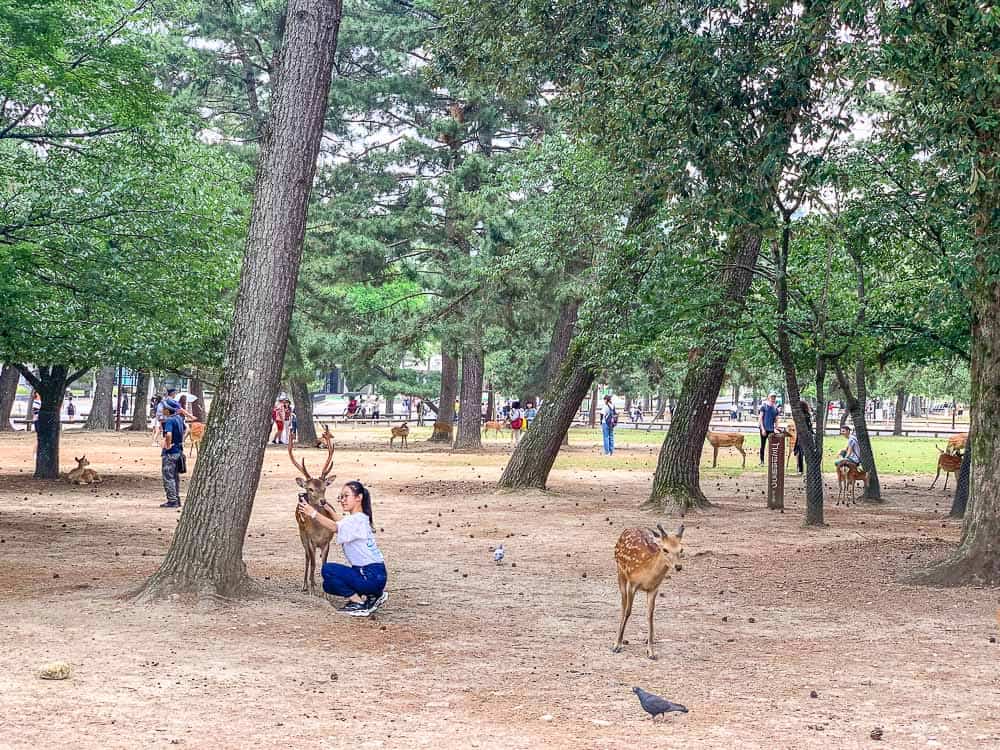 Nara is just under an hour's train ride from Kyoto Station and so makes for one of the best day trips from Kyoto. It is easy to reach on your own – simply take the JR Nara line to Nara Station and from here, the deer park is a 20-minute walk away or you can take a bus right from the station to the park.
Nara Park is home to over 1000 deer, which are considered by the Shinto religion as messengers from God and have been in the area since 1177. Today you can still see the wild deer and families can purchase deer crackers and feed the deer around the park. However just a word of warning, we found the deer fairly aggressive and would do whatever it took to get the crackers. It was a little frightening for our little one – even I found it a bit confronting.
I'd recommend when going to Nara with kids NOT buying the crackers and walking further into the park, where I'm guessing the deer go after a good feed. These deer were calmly lying around and happy for a little pat or a selife as you can see in the above picture.
Other attractions near the park include:
Todai-ji Temple: The Great Buddha Hall is the world's largest wooden structure and houses the Great Buddha Statue. Here there is also the Todai-ji Museum.
Kohfuku-ji Temple: An old temple known for its 50-metre-high five-story Pagoda and Ashura-zo sculpture. Here there is also the Kohfuku-ji Golden Hall and the National Treasure Museum.
Nara National Museum: This building was the second national museum in Japan in 1895, however now it is open to the public as Nara Buddhist Sculpture Hall.
Kasuga Taisha Shrine: This shrine was founded in 1300 and is to pray for the prosperity of the nation's people and their happiness.
Once you have visited all the attractions in the park, head on to the area of Nakatanidou for some shopping or something to eat. I also highly recommend you stop by to see the guys pound the mochi (Japanese rice cakes) – in fact, if you want to see the Mochi pounding (check out the video here – so cool!) – go here first before Nara park, as they do finish up early. Unfortunately we missed them during our visit.
If you are headed to Osaka after Kyoto, or vice versa – like we did – you can easily visit Nara on your way. We popped our luggage into one of the lockers at Nara Station – did our sightseeing, then grabbed our bags and continued on our way to Osaka.
22. Universal Studios Osaka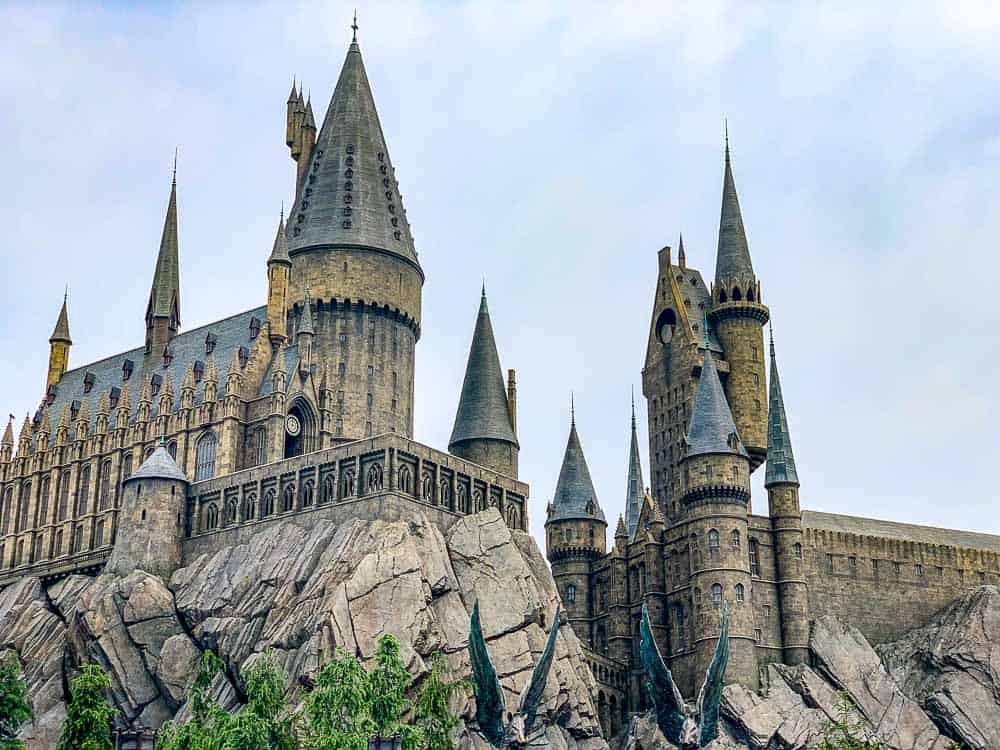 If you're not staying in Osaka on this trip, one of the awesome side trips from Kyoto is a day at Universal Studios. Universal Studios is only an hour on the train and is not just great for the kids, but something the whole family will love.
Every person I talk to just raves about Universal Studios Japan and now I am one of those people too! Honestly we just had so much fun here. Seriously I think Andy and I might have had just as much fun as Myla did!! The Wizarding World of Harry Potter being the highlight, even for us that aren't Harry Potter fans just loved this ride!! There is just so much attention to detail; I can only imagine how much Harry Potter fans would enjoy this ride.
There are many more awesome attractions too. There's Universal wonderland which includes Hello Kitty fashion avenue, Sesame Street fun world for those younger kids, Jurassic Park the ride is a fan favourite, some wicked rollercoasters and fantastic shows. One of our favourite shows was Sing – absolutely not to be missed for any fans of the movie, all the characters are there and you will no doubt be up dancing in your seats.
If you're considering a day out at Universal Studios – stop considering and just do it – you won't regret it.
Location: 2 Chome-1-33 Sakurajima, Konohana Ward
Opening Hours: Daily from 9:30 am to 7 pm
Price: One day passes are Adults ¥7,600 (A$102.50) |Child 4-11 ¥5,200 (A$70). Click here to book your advance tickets with Klook.
23. Osaka Day Trip from Kyoto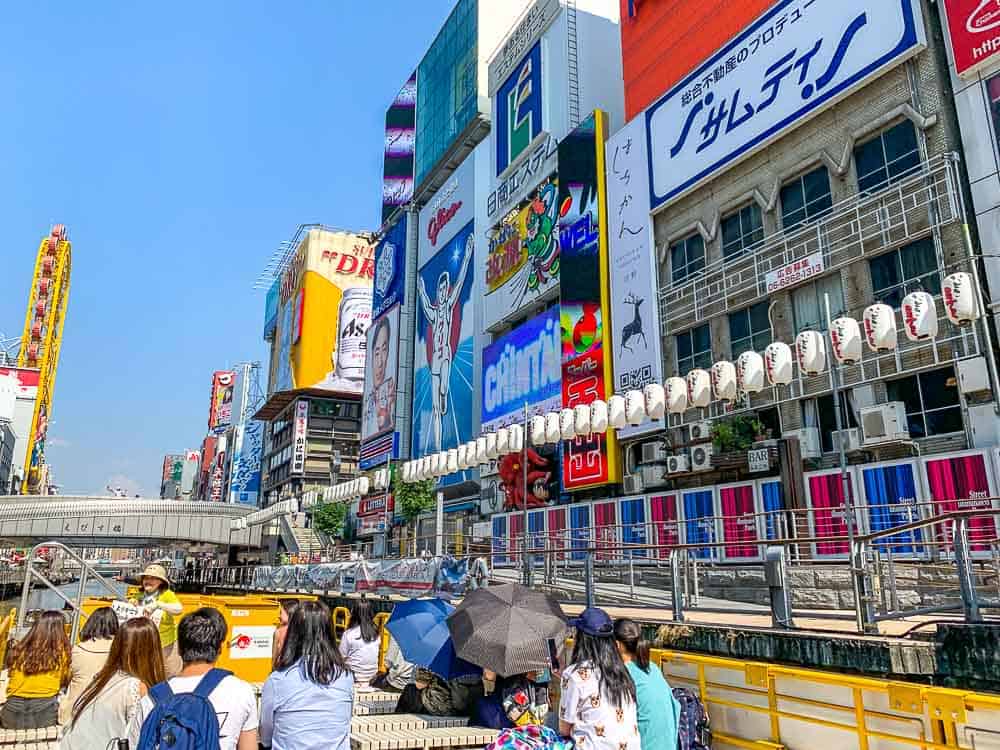 With Osaka being only 30 minutes away on the fast train, you can easily see some of the sites of Osaka on a day trip from Kyoto. Check out our guide here on things to do in Osaka with kids and pick out your must see attractions and plan a great Osaka day trip from Kyoto.
24. Hiroshima Day Trip from Kyoto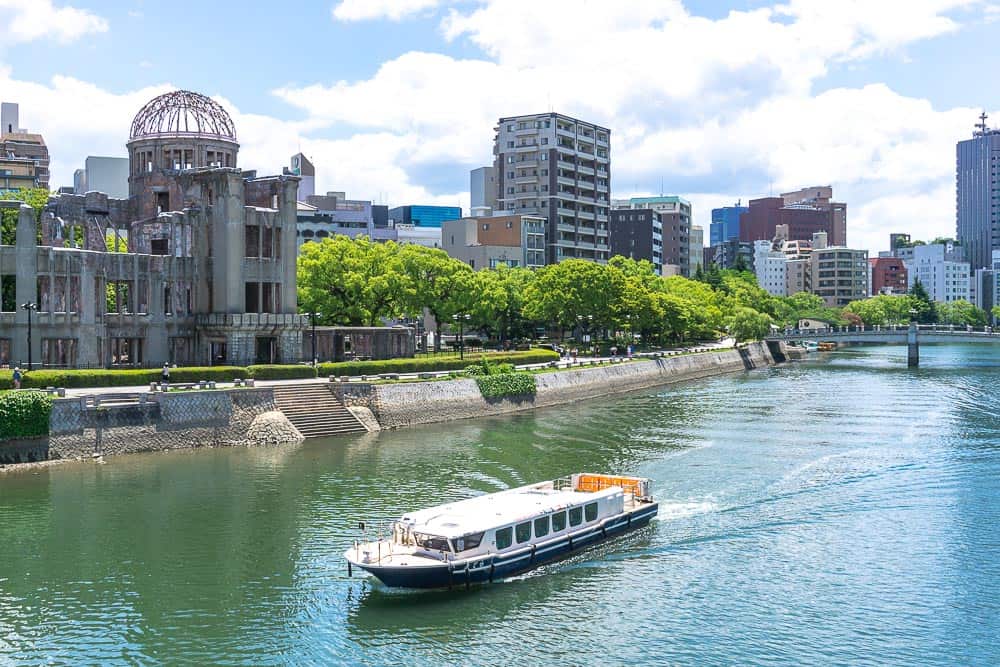 You really should spend at least two days in Hiroshima, but if you don't have the time, it is possible to do a day trip from Kyoto, but it does make for a super long day.
From Kyoto Station, it is only 1.5 hours to Hiroshima via the bullet train. But just remember you need to add on time to get to Kyoto Station as well as from Hiroshima to the attractions. The bullet train will cost around ¥11620 (A$157) each way per person.
The main place of interest in Hiroshima is the Hiroshima Peace Memorial Park and Museum which is easy to reach from the main station. Simply take a bus from outside the station to the Museum. The bus ride is about 15 minutes.
You could easily spend an entire day at the Museum and Park, but if you're just here on a day trip, allow a few hours before moving on. Usually tourists would then head to the Hiroshima Castle which is a short bus ride away.
For a super big day – many people visit Miyajima Island as well. This in itself is a full-day trip from Hiroshima – but it is possible to get a glimpse of the highlights of the island. To reach the island, you will need to head back to Hiroshima Station and take a 45-50 minute train ride to Miyajimaguchi Station and from here take a 10-minute ferry ride across to the island. The train will cost around ¥450-510 (A$6 to $7) each way depending on whether you take the JR or not as well as ¥180 (A$2.40) each way for the ferry ride.
For a day trip and to save time – you are probably best to take the Aqua Net Ferry from the Memorial Peace Park directly to Miyajima, which takes 45 minutes. The boat costs ¥4000 (A$54) per adult and ¥2000 (A$27) per child return. The boats regularly leave around every 30 minutes.
If you want to see both the Peace Memorial Museum and park as well as Miyajima Island – I'd skip the Hiroshima Castle.
If you prefer you can take an organized tour which pretty much covers the above route. Tours are ¥37,000 (A$499) per adult and ¥29,000 (A$391.20) per child. Click here for more information.
Where to Stay in Kyoto with Kids
When it comes to the best place to stay in Kyoto, you should know that Kyoto is fairly spread out, so I recommend you choose an area that is convenient to most of the places you plan on visiting. But most importantly, when it comes to where to stay in Kyoto with family, I recommend you stay somewhere within easy walking distance to local transportation so you can easily get around.
When it comes to where to stay in Kyoto, Japan, many people would say that the best location for tourists is around Downtown Kawaramachi. This area is close to lots of affordable places to eat, both buses and trains as well as being walking distance to historical Gion. Other great convenient areas include Gion and around Kyoto Station.
It's essential to be realistic about your budget when it comes to the best accommodation in Kyoto – even the cheap places to stay in Kyoto are likely to be around $200 AUD per night. It's also important to note that when it comes to family size rooms, the best value is a traditional Japanese room which includes futon mattresses rather than standard beds – but don't panic these beds are surprisingly comfy.
Below I have listed some suggestions for Kyoto accommodation, family suitable based on the hotel's ability to accommodate a family of 4 in the one room, have private bathroom facilitates and be within walking distance to a train station.
For cheaper rooms than what I have suggested below, you may want to consider staying somewhere that has shared bathroom facilitates. For accommodation close to the main train stations, you will need to be prepared to increase your budget significantly.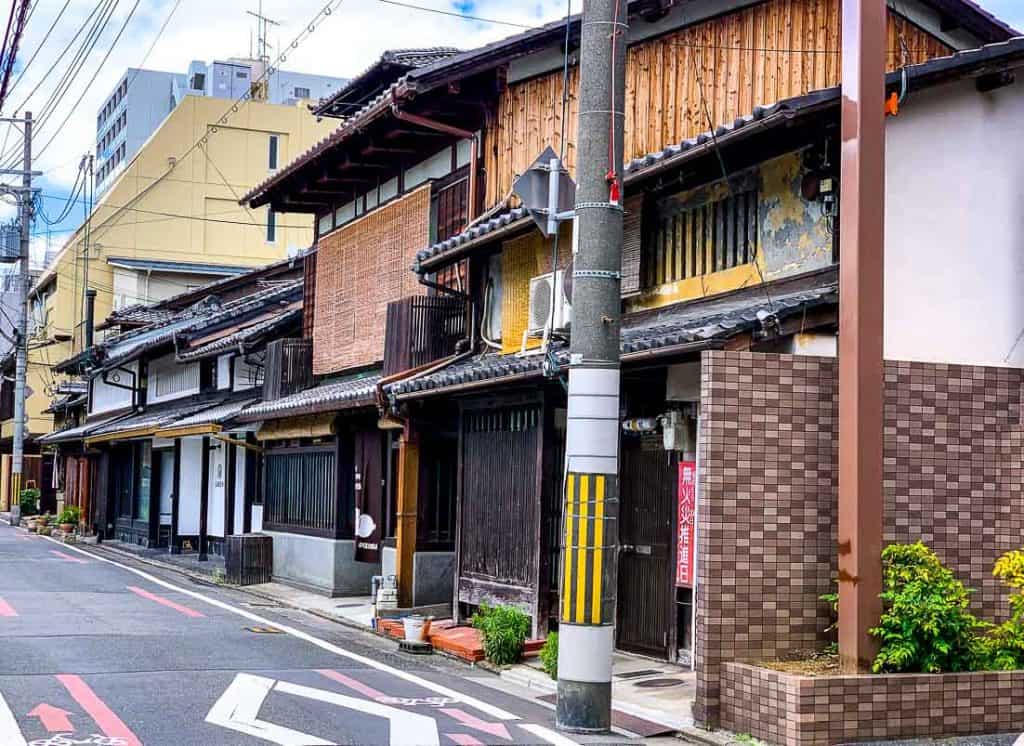 This is accommodation is in a private home which is a traditional Japanese machiya. A machiya is a narrow wooden house and makes for a great family experience. The home has three bedrooms and has Japanese futons as beds. It also comes with a kitchen and washing machine which is great for families.
Kyoumachiya Inn is just a 10-minute walk from the heart of downtown Kyoto, but even closer there is a supermarket and small restaurants. This is a great place to stay; we stayed here during our recent visit to Kyoto and highly recommend it.
Just be sure to book the entire house – they also rent it out room by room and given it's a small home I don't think I'd recommend that for families.
Click here to check current pricing and availability.
If you're after super cheap accommodation in a super central location, this is the hotel to book. The Shares Hotel is in fact a backpackers, but it makes for great family accommodation. Family rooms come with a double bed and two single beds as well as a private bathroom, TV, and air conditioning – not those dirty old dorm rooms you were expecting!
The location is so convenient with loads of places to eat close by. Plus the hotel also has a shared kitchen, lounge and dining room so great for preparing meals for the family.
Click here to check current pricing and availability.
If you prefer to stay in the Gion District of Kyoto, then consider M's Inn. Rooms here come with two single beds and two futons as well as a kitchenette, private bathroom and a washing machine which is great for families.
M's Inn is in a good location close to bus stops, metro, train stations, temples, the river, the Gion area and good local restaurants and convenience stores. Kawaramachi station is just 700m away and Gion-Shijo is even closer at just 500m away. If you want to do some Geisha spotting or experience a more traditional area of Kyoto, Poncho Alley and Ishibe Alley are both just a 10 minute walk from the hotel.
Click here to check current pricing and availability.
If you're after our full detailed guide on where to stay in Kyoto with kids – click here.
Getting to Kyoto
If Kyoto is your first port in Japan, you will reach Kyoto by arriving at either Osaka (domestic) or Kansai (international) Airports. Alternatively you may come by fast train from another city into Kyoto – so I will cover both below.
From Kansai International Airport
The two main ways people get to Kyoto from Kansai Airport is either by train or bus.
JR Airport Express Haruka
For those with a JR Pass (see more in the getting around section), the Haruka train is the best option for you as your tickets are covered with your pass. The train station is in Terminal 2 building and there is a free shuttle bus outside terminal 1 to take you to terminal 2 if need be.
The train takes 1 hour and 20 minutes to reach Kyoto Station and departs from the airport every 30 minutes. Ticket prices are ¥3430 (A$46.27) to Kyoto. Tickets can be purchased at JR stations.
Kansai Airport Rapid
Another good option for JR Pass holders is the Kansai Airport Rapid. This train service is like the Haruka train – however it makes more stops on route and does not go Kyoto – but you could take alternative transport from Osaka into Kyoto. The train station is in Terminal 2 building and there is a free shuttle bus outside terminal 1 to take you to terminal 2 if need be.
The train takes 1 hour and 5 minutes to reach Osaka. From here, you will need to take a local train onto Kyoto. Tickets are ¥1210 (A$16.35) to Osaka. Tickets can be purchased at JR stations.
It is important to note that if you take the Kansai Airport Rapid from Osaka TO the airport – the train splits at Hineno Station and only the first four carriages continue to the Airport, so please ensure you board on one of the first four carriages. The train departs from the airport multiple times each hour.
Limousine Bus
The Limousine Bus stops at both terminal 1 and 2 at the airport and takes passengers to a range of drop off points in Kyoto. Note that the bus doesn't stop at all hotels and so you may need to take additional transportation from drop off to reach your hotel. Click here to find out more about departure time and drop off points.
The bus to Kyoto takes around 90 minutes (depending upon the drop off location) and costs ¥2600 per adult and ¥1300 per child.
You can buy tickets at the airport or at the ticket desks near the airport – click here for more information. Alternatively, you can purchase online via Klook. Click here to buy tickets via Klook.
From Osaka Airport
The two main ways people get to Kyoto from Osaka Airport is either by train or bus.
Monorail and Train
The cheapest option to reach Kyoto from Osaka Airport is to take the Monorail and then train.
From the airport, take the monorail to Minami-Ibaraki Station and from here change to the Hankyu-Kyoto Line. Get off at Karasuma Station and then take a taxi or another train to your accommodation. The entire trip only takes around 70 minutes (depending on the location of your accommodation) and costs around ¥980 (A$13.25) per person depending on where you depart the train.
Limousine Bus
The Limousine Bus stops at both terminal 1 and 2 at the airport and takes passengers to a range of drop off points in Kyoto. Note that the bus doesn't stop at all hotels and so you may need to take additional transportation from drop off to reach your hotel. Click here to find out more about departure time and drop off points.
The bus to Kyoto takes around 55 minutes (depending upon the drop off location) and costs ¥1340 per adult and ¥670 per child. You can buy tickets at the bus stop from a ticket machine or ticket attendant.
Fast Train to Kyoto
If you have not started your Japan trip in Kyoto, then the best way to reach the city is via the Shinkansen – Japan's fast bullet trains.
A ticket on the Shinkansen trains must be booked in Japan at one of the JR offices – lookout for the green signs or online using the SmartEX App. We used this App to book all our Shinkansen trains. The APP is great because you can see exactly how much each train is and what seats are available. For the most part, we just booked trains the day before or sometimes the same day – but just keep an eye on how busy the trains are to avoid not getting tickets on the train of your choice. You will still need to pick up your tickets at the train station – either from the ticket machines or by going inside a ticket office.
Alternatively, many people travel around Japan with a JR pass. These passes provide unlimited travel on JR operated buses and trains as well as the Miyajima Ferry. There is a range of JR travel pass options, with the most popular choice being the 7 day pass. However while the pass is designed to save you money – this may not always be the case. Its recommended that you sit down and plan out your itinerary and compare the cost of the individual trips to the cost of the pass and see what provides you better value. You can check the price of individual trips here.
Click here to review the range of JR Passes available.
Klook also sells fast train tickets from Tokyo to Kyoto for ¥14,350 per adult. This train ride is only 2.25 hours from Tokyo Station to Kyoto Station. Click here to book tickets from Klook.
Getting Around Kyoto
The best way to get around Kyoto is by making use of the JR trains, subway and bus. It's important to note that one train station may have both a subway train and a JR train. So when arriving at a station, be aware of whether you are looking for the JR or subway part of the station. Also note that if you are changing from a subway train to a JR train at the one station, you will need to exit the ticket gates before getting on your next train.
To use the JR trains, subway and bus, you will need a prepaid ICOCA card – but if you already have a Suica or Pasmo card from Tokyo, that works just fine too. These cards can be used on either the subway or JR. You can purchase the cards from vending machines at the station. To add value to your cards, simply insert your card into any ticket machine (it doesn't matter if it's the ICOCA, Suica or Pasmo machine).
If you are on a family trip to Japan, you will need to have your children's passports handy to be able to purchase the kid's cards. It's quite funny actually as you push a button to say you're buying kids' cards and almost immediately a little man pops his head out just above the ticket machine to see the passports.
Once you have your cards and loaded some cash on them, you are ready to get on the train!
If you prefer to organise your card before you go, you can pre-purchase on Klook. Click here to purchase an ICOCA Card online with 1500 yen pre-loaded.
The trains may seem a little daunting at first – but once you get the hang of them, they are straightforward. Google Maps is your best friend here as it will tell you what entrance to use and platform number. Everything is super organised in Japan – I just loved it! Plus there are heaps of signs at the stations and they are in English. If all else fails, just ask someone – everyone is super friendly and helpful in Japan.
If you have a JR pass (see above section) you can travel for free on the JR trains just by showing your pass.
If the thought of the subway system scares the pants off you (and it really shouldn't) another option is to purchase a 1 or 2 day pass on the Kyoto Hop On Hop Off. Click here for more information.
Stay Connected with Pocket Wi-Fi
I recommend you ensure you are always connected to the internet in Kyoto to help you navigate your way around the city. The best way to do this is by arranging pocket Wi-Fi. We pretty much lived on Google Maps to get around the city as well as navigate the trains and buses. Pocket Wi-Fi is also great of course for things like using social media, and if you travel with kids, it's great to let the little ones play games and stream Netflix when you're on the long train rides between cities.
With the pocket Wi-Fi you just pick it up from the airport when you arrive and then pop it in the post when you arrive at the airport for your return flight home – easy! You can purchase pocket Wi-Fi from Klook here.
Our Verdict
Kyoto is so different from the big cities of Tokyo and Osaka; I just loved the quiet narrow laneways with the old traditional homes. I could have spent my whole time just exploring the little laneways.
Kyoto is all about the temples and shrines and I'd recommend choosing wisely before carting the kids off to them all. Break the days up with some other activities too so its not all about temples and shrines.
Kyoto is also a little harder to get around in that you most likely will need to take a train and a bus or multiple buses to each attraction – but don't let this worry you – use Google Maps to get around and you will be fine.
I hope you enjoy your time in Kyoto as much as we did.
Please note that this post contains affiliate links, which means that if you make any bookings using the links I may receive a small commission at no extra charge to you. This helps me provide this helpful information to you at no charge.
Want to keep this handy?
Click on one of the images below and pin it to Pinterest.