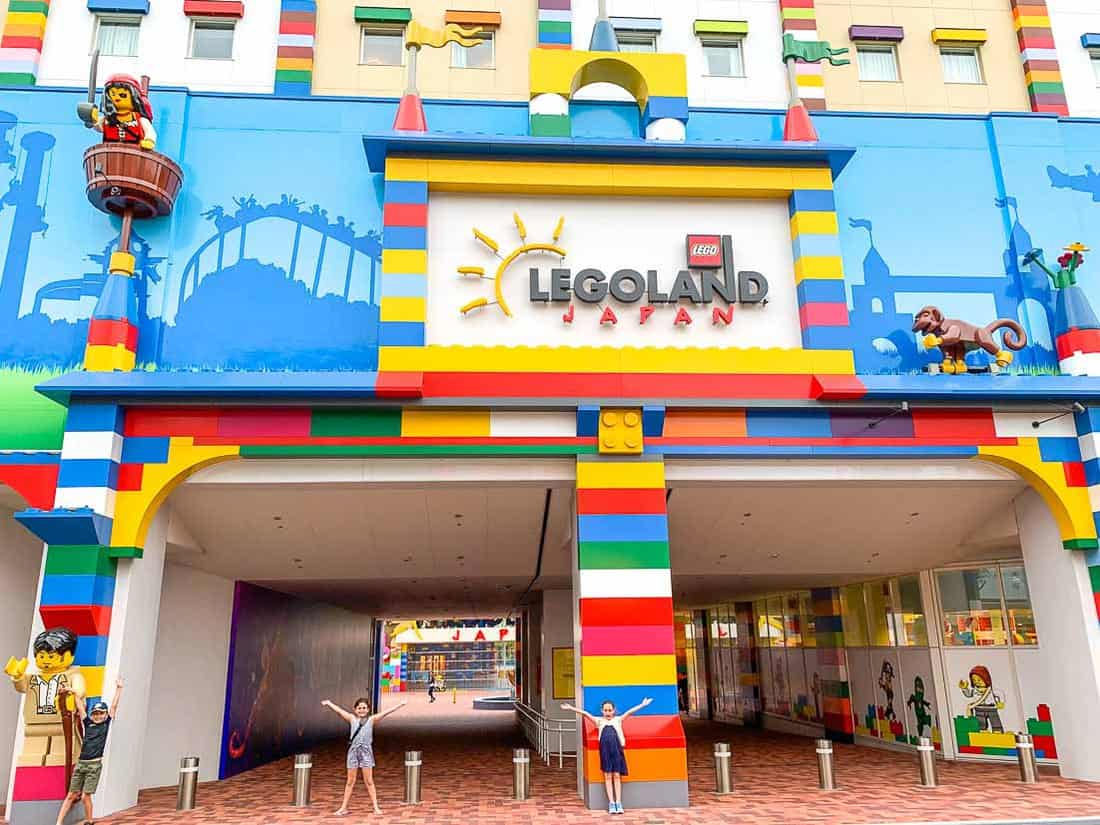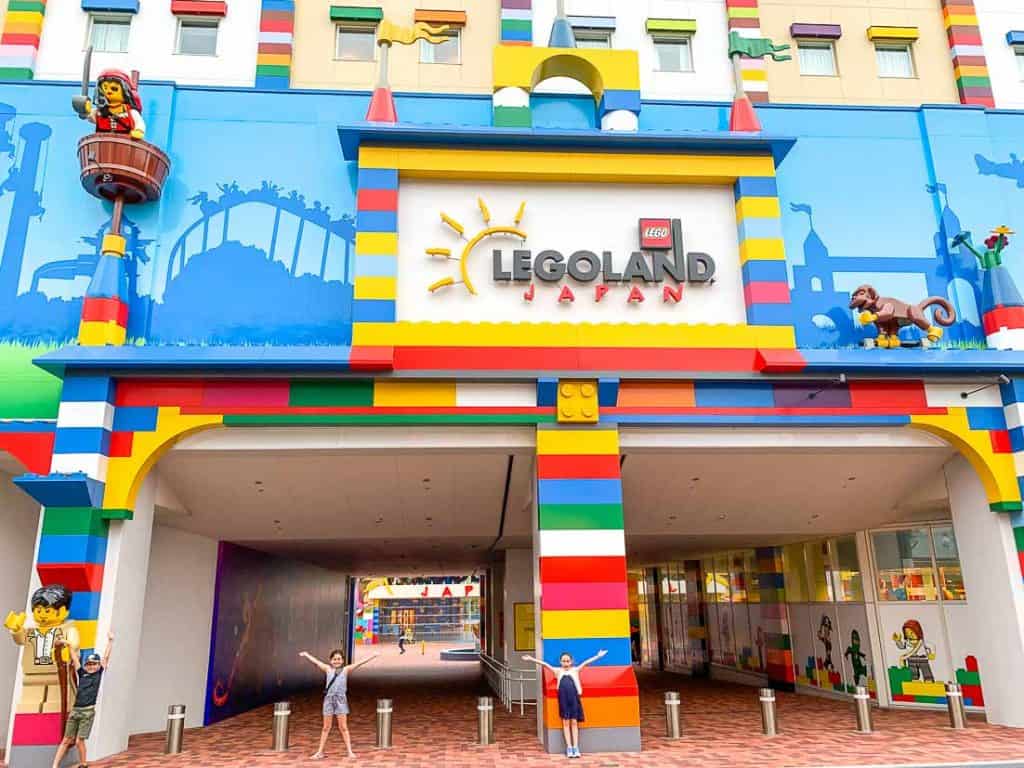 Opening in 2017, Legoland Japan is the newest theme park in Japan and is the 8th Legoland to open worldwide. The park is based of course on the super popular Lego brand and features a miniature Legoland town, a Lego factory and various zones with attractions and rides aimed mostly at younger children.
If you're considering a visit to Japan Legoland but not sure if it's worth it or what to expect then you need to read my Legoland Japan review (Spoiler alert – its totally worth it!!!). In this guide I basically give you everything you need to plan the best trip ever to Legoland in Japan. I'll share with you everything you need to know about the park as well as tips for visiting including when to visit, how many days, where to stay and how best to get there.
This post may contain compensated links. Please refer to my disclaimer here for more information.
Just want the cheapest Legoland Tickets? We recommend buying online from Klook – click here and buy now.
Where is Legoland Japan?
So, where is Legoland Japan? Well, unfortunately, the Legoland Japan location is not anywhere super convenient for tourists travelling to popular destinations in Japan like Tokyo or Osaka. The Legoland theme park Japan is in Nagoya which is a manufacturing and shipping hub in central Honshu. Nagoya is about 230 kilometres from Tokyo or just 94 kilometres from Kyoto.
Nagoya is not usually a popular destination for tourists visiting Japan, which makes it a little inconvenient. However, it is possible to visit Legoland Nagoya, Japan as a day trip from Kyoto or even Tokyo if you're super keen (see detailed below) or better yet stay at the onsite Legoland Japan Hotel (see detailed below).
What are the Legoland Nagoya – Japan Opening Hours?
Generally Legoland is open every day of the year, daily from 10 am to 6 pm. However, there is the odd day here and there where Legoland Japan, Nagoya is closed or the hours differ. I'd recommend checking their calendar first to ensure it's open the day you wish to visit. You can check here.
When visiting Legoland, I recommend you aim to arrive by 9.45am to make sure you're in the park right at 10 am and get a full day inside.
What is the Best Way to Get to Japan Legoland?
If you're not staying at the Legoland Nagoya Hotel, the best way of reaching this Nagoya theme park is via train. The nearest train station to the Nagoya amusement park is Kinjofuto Station which is on the Aonami line. From Kinjofuto Station it is only 800 metres to Legoland.
For more precise directions, I recommend you plug your hotel into Google and follow the directions provided. However, below I have provided some brief further directions.
Getting to Legoland from Nagoya
From Nagoya you will need to make your way to Nagoya Station and take a train on the Aonami line to Kinjofuto Station. From here it's just a short walk to the Legoland amusement park in Nagoya.
The entire journey from Nagoya station to Legoland takes around 30 minutes.
Getting to Legoland from Tokyo
If you're visiting from Tokyo to Legoland the journey by train will take around 2.5 hours, depending upon where in Tokyo you're coming from.
From Tokyo you will need to make your way to a station on the Tokaido-Sanyo Shinkansen line and take a fast train (shinkansen) to Nagoya Station.
From Nagoya Station you take a train on the Aonami line to Kinjofuto Station and from here it's just a short walk to Legoland.
Getting to Legoland from Kyoto
If you're coming from Kyoto to Legoland the journey by train will take around 1.75 hours, depending upon where in Kyoto you are coming from.
From Kyoto you will need to make your way to a station on the Tokaido-Sanyo Shinkansen line and take a fast train (shinkansen) to Nagoya Station.
From Nagoya Station you take a train on the Aonami line to Kinjofuto Station and from here it's just a short walk to Legoland.
Getting to Legoland from Osaka
If you are coming from Osaka to Legoland the journey by train will take around 1.75 hours, depending upon where in Osaka you are coming from.
From Osaka you will need to make your way to a station on the Tokaido-Sanyo Shinkansen line and take a fast train (shinkansen) to Nagoya Station.
From Nagoya Station you take a train on the Aonami line to Kinjofuto Station and from here it's just a short walk to Lego world Japan.
Read how we got to Legoland from Hakone here in our 3-week itinerary in Japan guide.
Where is the Best Place to get Legoland Tickets?
You can, of course, buy Legoland tickets at the gate but if you want to get yourself some discount Legoland tickets (and who doesn't!) then I suggest you buy them online in advance with Klook.
Entry at the gate is 7400 yen ($103 AUD) per adult and 5000 yen ($70 AUD) per child (3-18). However, with Klook, tickets are 5100 yen ($71 AUD) per adult and 3800 yen ($52.66 AUD) per child (3-18), so a HUGE saving!!! You can also buy combined tickets with Legoland and Sea Life which is right by the hotel. Click here to book your discounted Legoland tickets.
So think about this – Mum, Dad and two kids would usually cost $346 AUD if you bought tickets at the gate – but buy them online at Klook and it will be $247.32 AUD – which is a massive saving of over $100! That's a HUGE difference.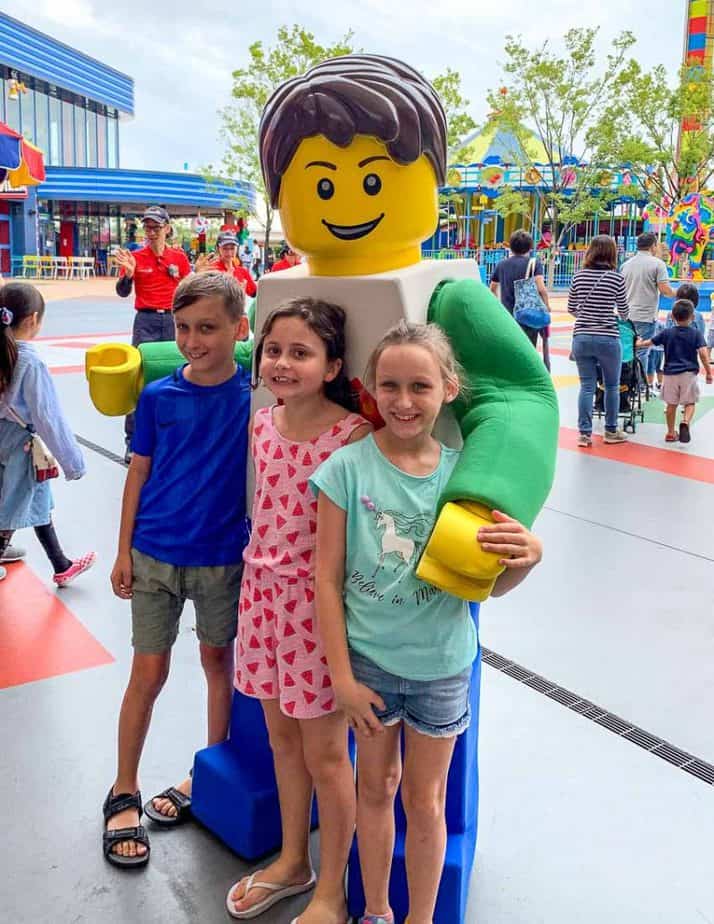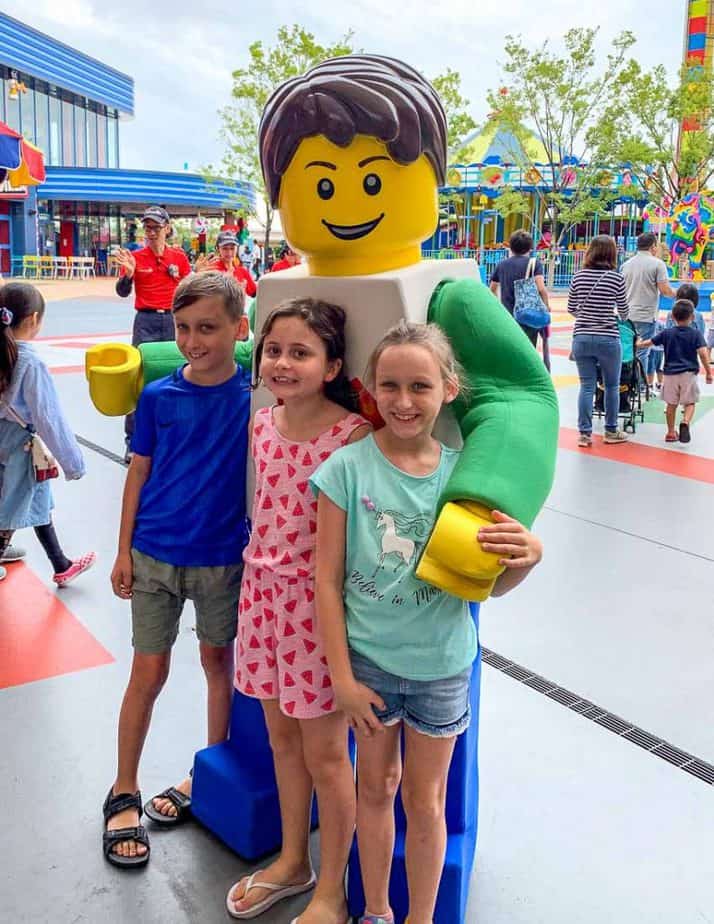 How Many Days to Spend at Legoland?
Honestly for us one was absolutely plenty, we certainly didn't need to come back a second day. However there is Sea Life right outside Legoland as well and I certainly don't think you could do both in the same day. So, if you want to do Legoland and Sea Life, you will need to allow at least two days.
Legoland Japan Review
Ok, so enough with all the boring bits, you want to know what Legoland is really like right????? I've broken my review up into sections based on the eight different zones there are at Legoland.
Before I get into, I will just say that Legoland is not HUGE like Disneyland or Disneysea – I actually found it a great size for younger children. It's super easy to walk around and get to all the attractions in one day.
Factory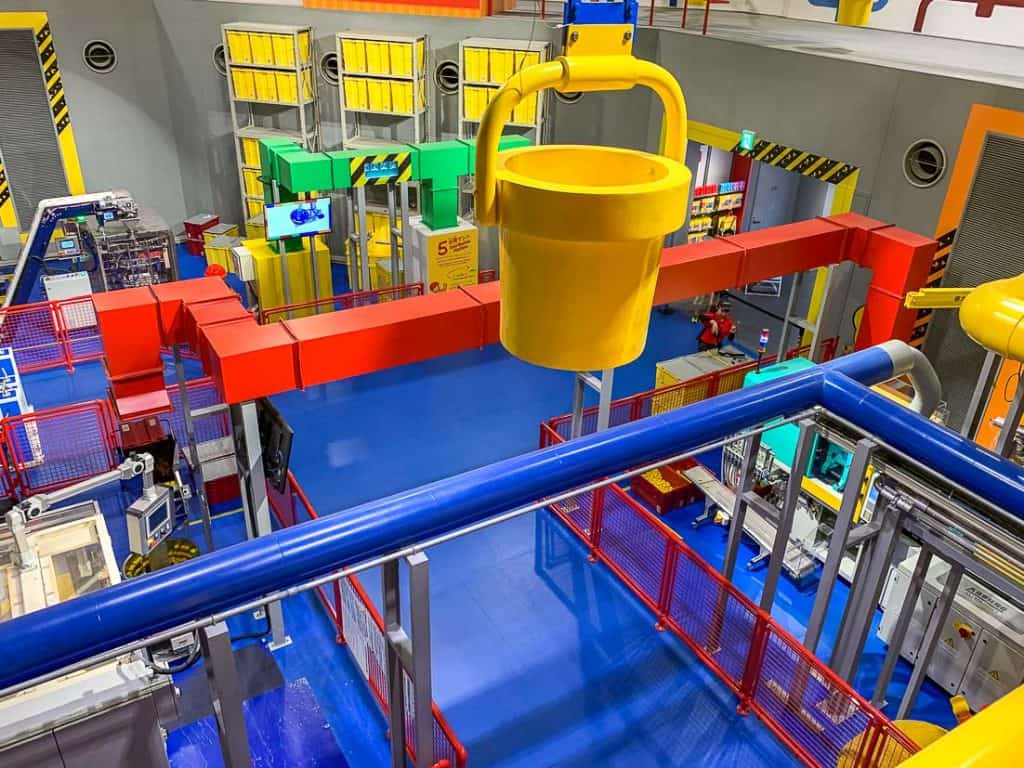 This is the place to see how LEGO is actually made! Join a tour around the factory and learn all about the Lego story and see the machines in action as they make Lego. The best bit is at the very end of the factory tour you will also get a fresh Lego brick from the production line.
Bricktopia
There are so many great activities and rides in Bricktopia, here are some of the attractions on offer:
1. Observation Tower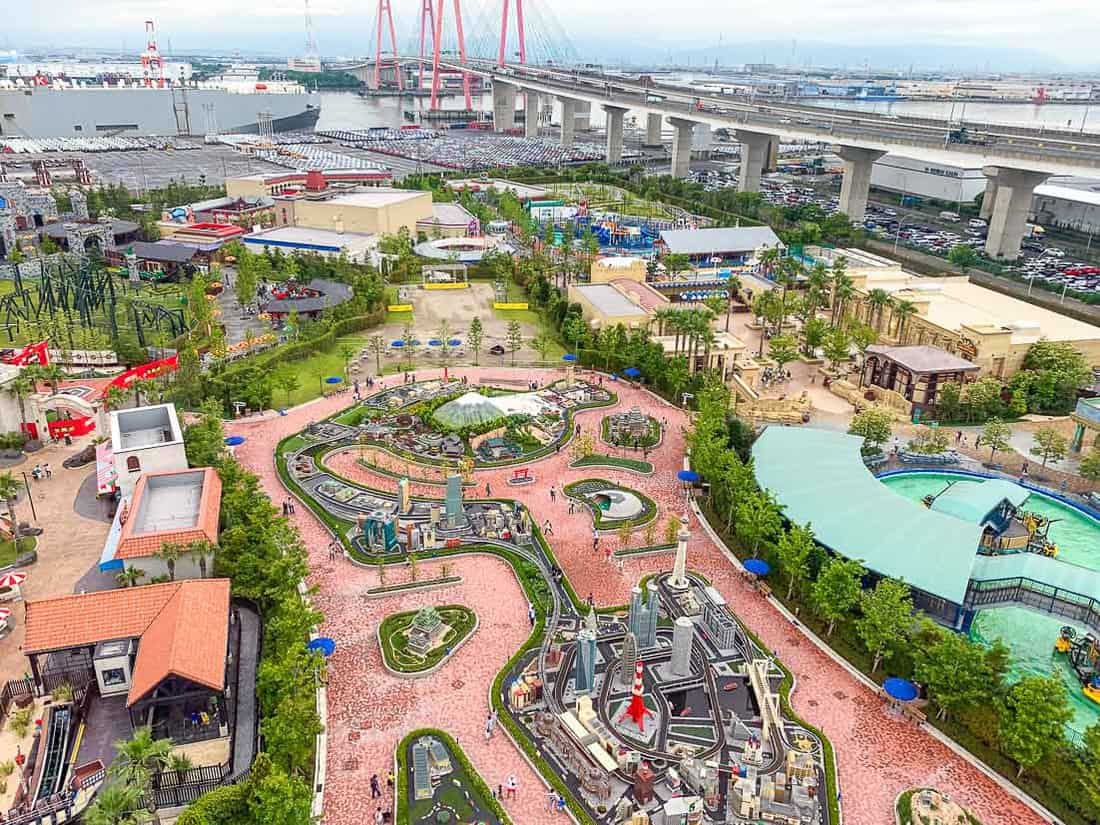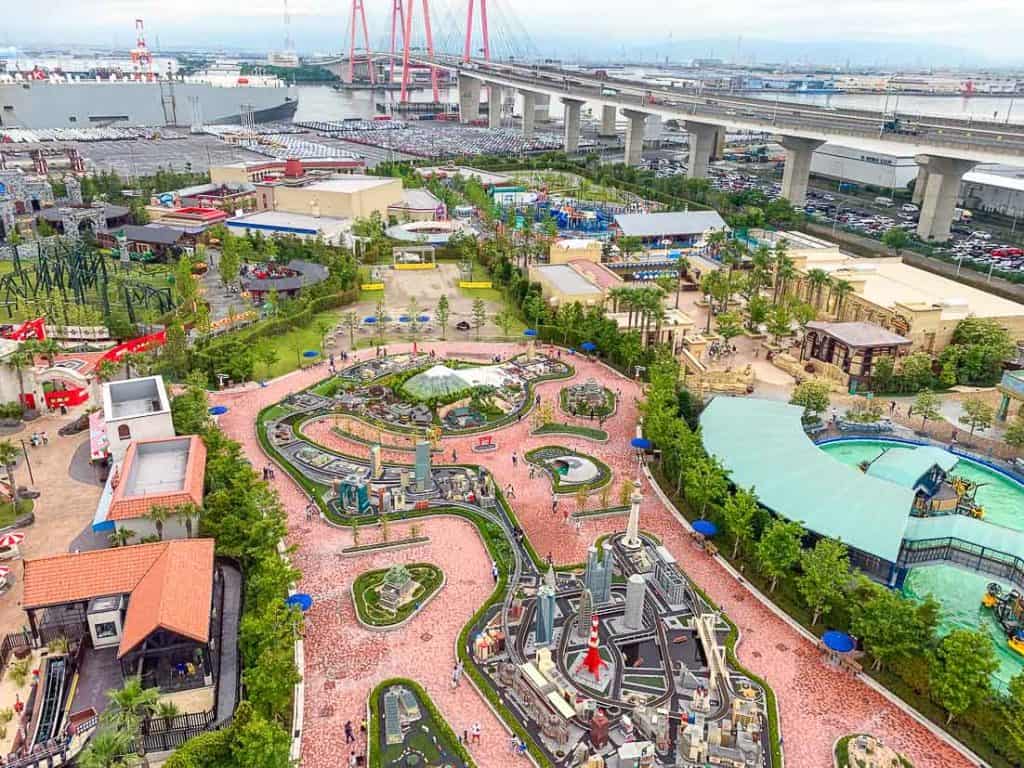 The Observation Tower is a cool way to get a view across the entire park and the surrounding area. Basically, you go inside a room, take a seat and as it goes up the 50m tower it slowly rotates so you have 360 degree views.
2. Brick Party
No theme park is complete without a carousel, which is exactly what Brick Party is. Kids can ride various animals made from giant look a like Lego pieces.
3. Imagination Celebration
A Lego themed version of the classic fairground teacups ride, Imagination Celebration is a wonderful ride for the whole family to enjoy together. Kids will love trying to spin the wheel and rotate the pod as fast as possible.
4. LEGO Ninjago Live
Ninjago Live is an interactive Bunraki style (traditional Japanese puppet theatre) show, combining 4D special effects, puppetry and video mapping. It's fun-filled and sure to entertain kids who love a bit of action.
5. DUPLO Express
Any young train lover will enjoy puttering around the countryside on the child sized DUPLO express. They can even sit in the drivers seat and imagine they're taking everyone on an adventure.
6. DUPLO Play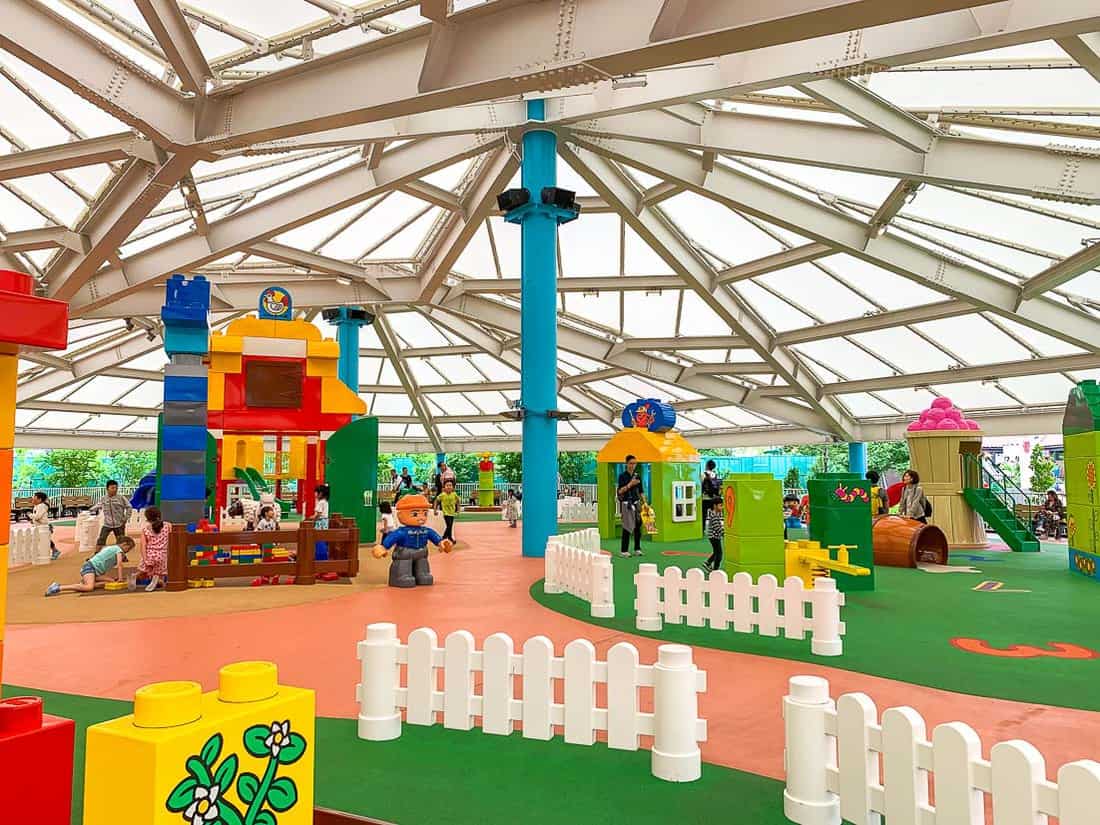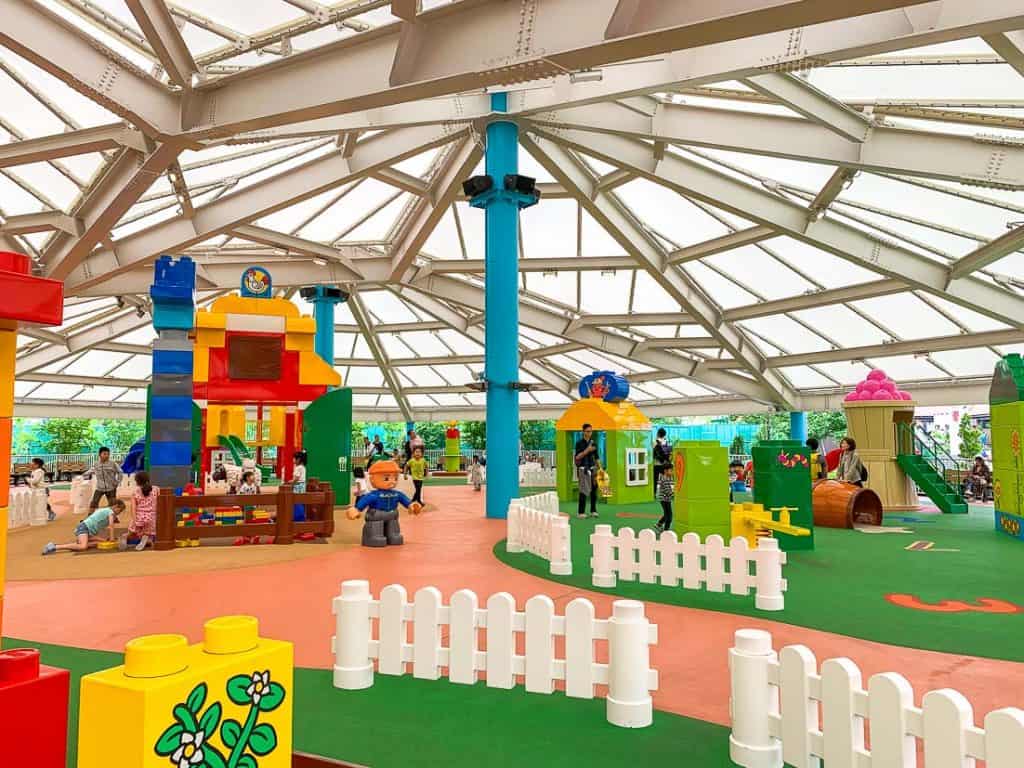 If you're visiting the park with younger children, DUPLO play is a fully enclosed space with the larger style Duplo Lego bricks where kids can build to their hearts content. With a cubby house and slide to explore and a seating area for parents who need to rest their feet, everyone wins.If you're visiting Legoland with toddlers – expect to spend a while in here.
7. Cat Cloud Busters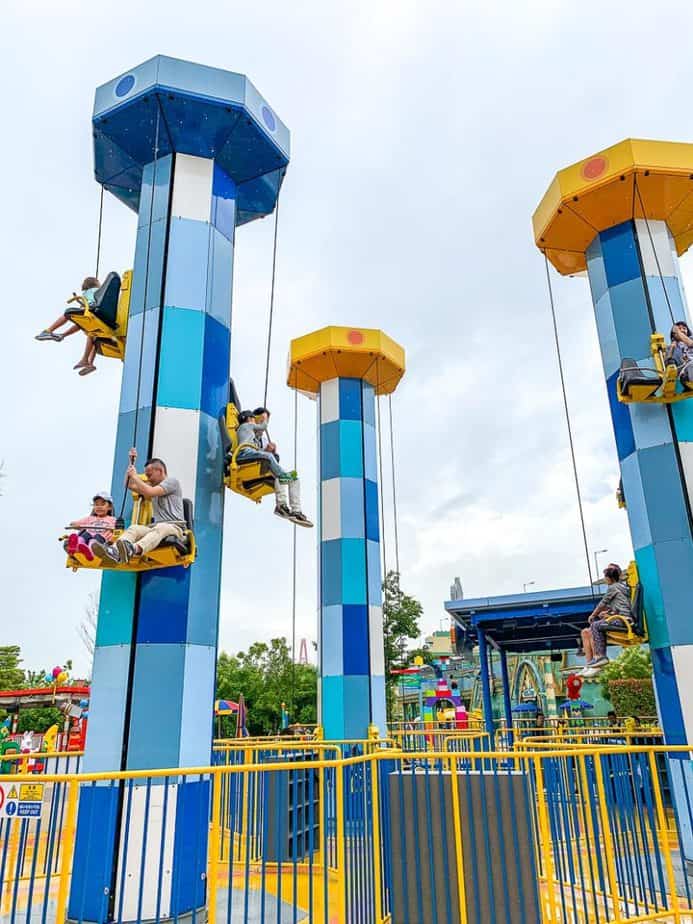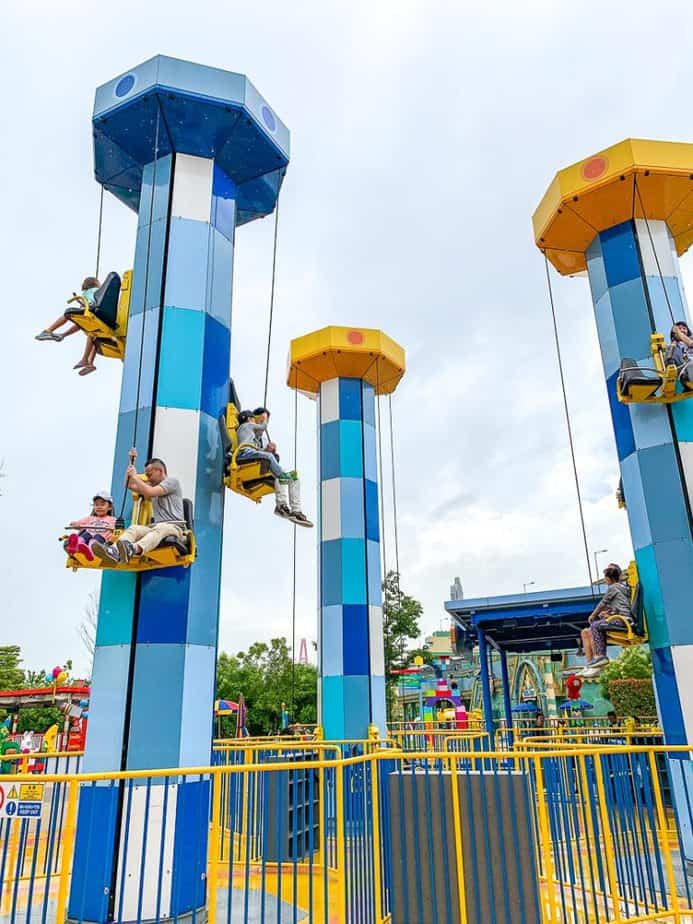 Miniature adventurers will enjoy pulling themselves up 5 metres up into the air and getting spun around for a great view of the park.
8. Build and Test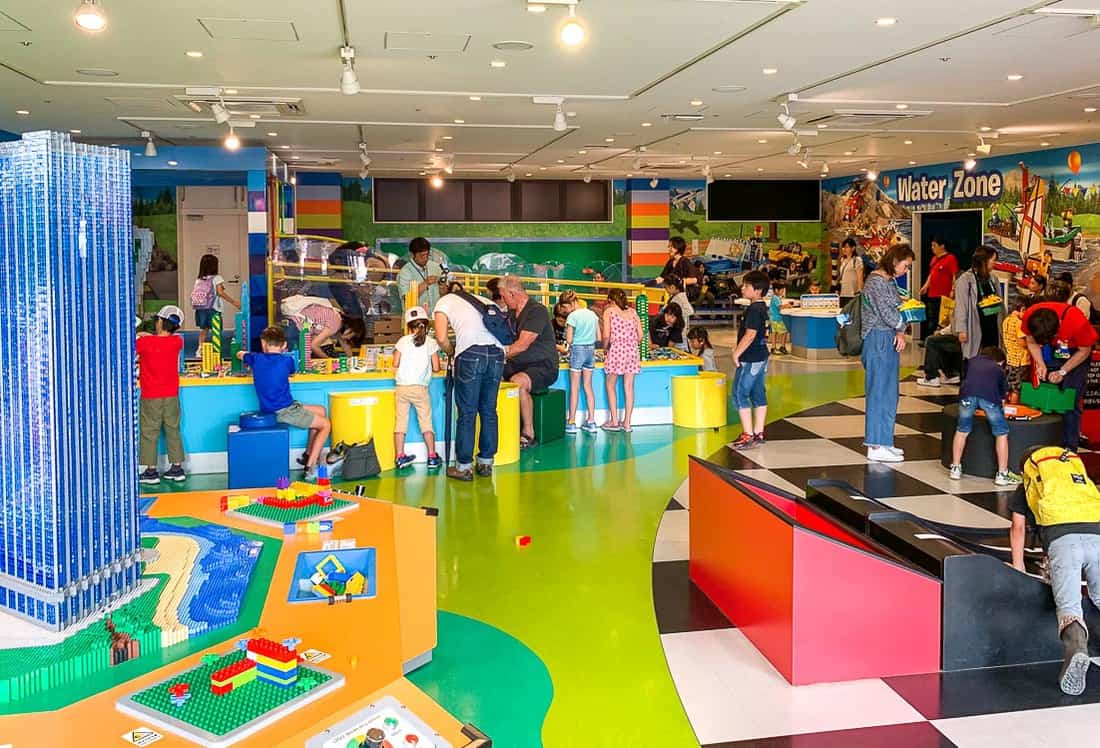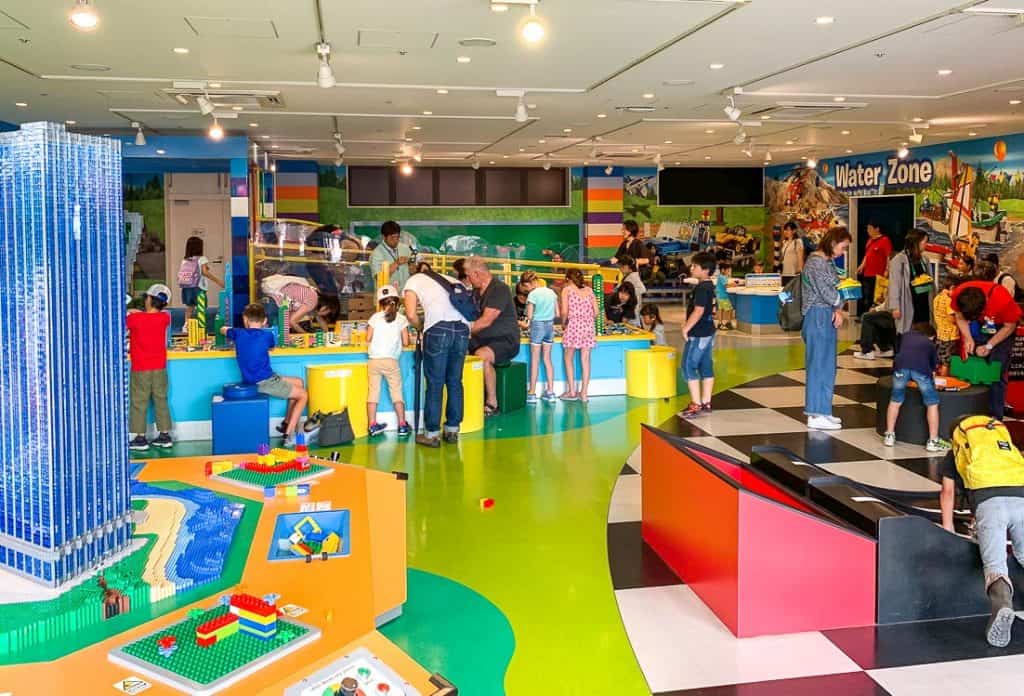 Build Lego race cars or flying Lego planes and then race them against other peoples inventions on the tracks at build and test. It's a great place for families to have some friendly competition. And there's also chance to create a digital Lego sea monster.The kids loved this area and we basically had to drag them out of the place – perfect place to escape poor weather though such as rain or the sun.
9. Robotic Play Centre
Take part in a 45 minute young beginner robotics workshop designed to teach kids about programming. In the Robotic Play Centre kids get a chance to use the latest Lego technology to build, program and control their very own robot. Make sure to reserve your slot in advance as places do book up.
10. LEGO Creative Workshop
Once kids have completed the beginners workshop they can take part in one of the six creative workshops on offer. There are suitable classes for ages 3 to 12 years covering subjects like simple machines right through to advanced car building. Be aware that classes are not in English.
Adventure
This zone is all about adventure rides, check out the great attractions on offer:
1. Submarine Adventure
Take an adventure the whole family can enjoy to search for ancient ruins under the ocean and see how many animals and Lego structures you spot along the way.
2. Lost Kingdom Adventure
Take a family friendly adventure ride where you can compete against each othe. Board the ride car and use your laser gun to shoot the targets and earn points while traveling around. Just watch out for the mummies that are sure to jump out.
3. SQUID Surfer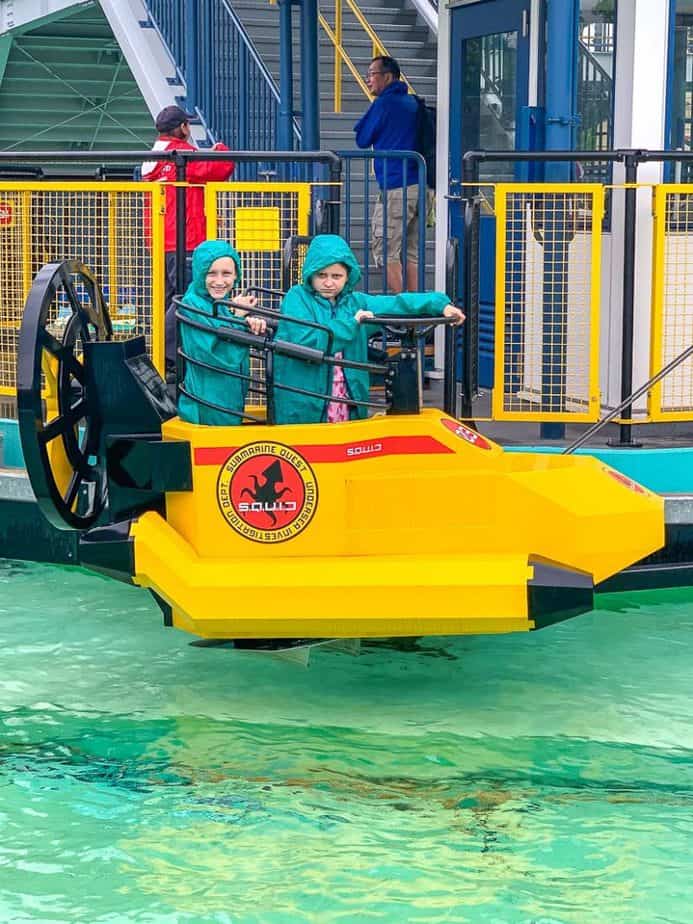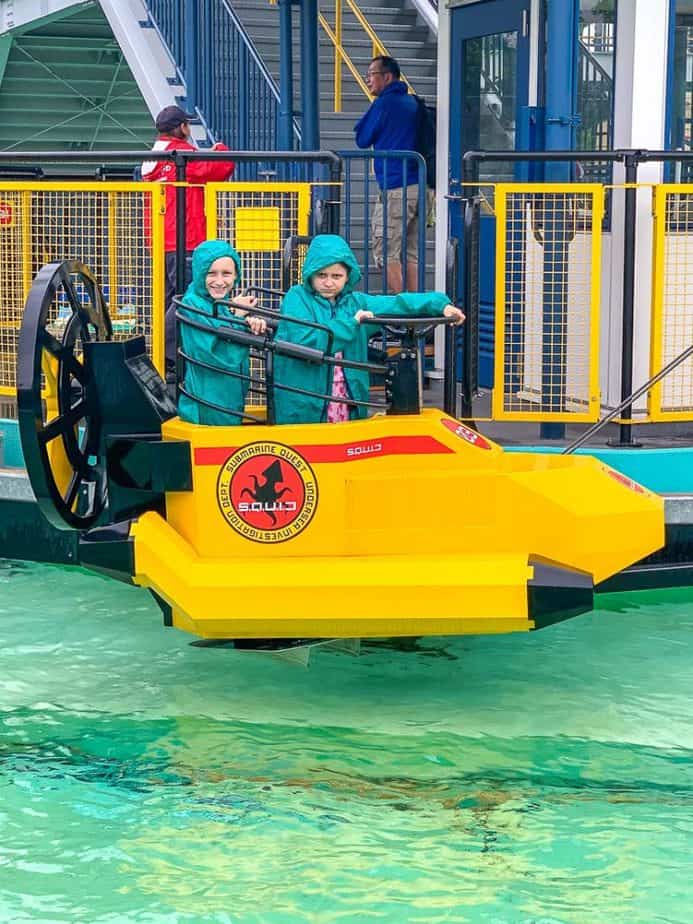 Prepare to get wet on the Squid Surfer ride as you ride a jet boat around the roundabout and use your steering wheel to avoid water bombs set off by spectators. Don't worry if the kids get soaked, there are human sized dryers nearby.This ride was an absolute favourite for both the kids and adults in our group – I think at one stage we rode it 3 times in a row!
4. Cargo Ace
Young children will love this mini flying roundabout style ride as they pretend they're soaring through the air in a miniature airplane.
5. Beetle Bounce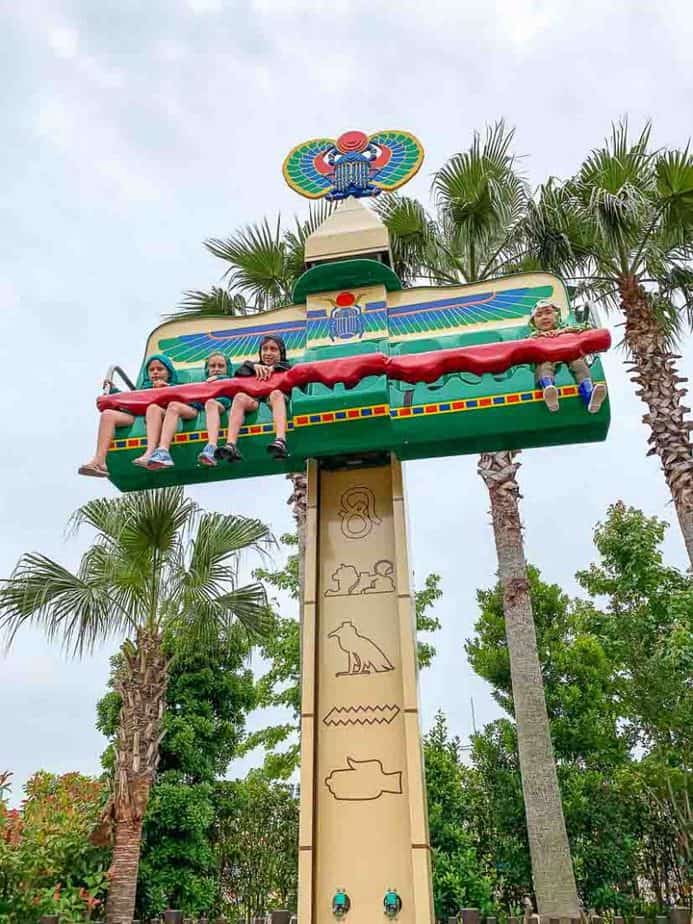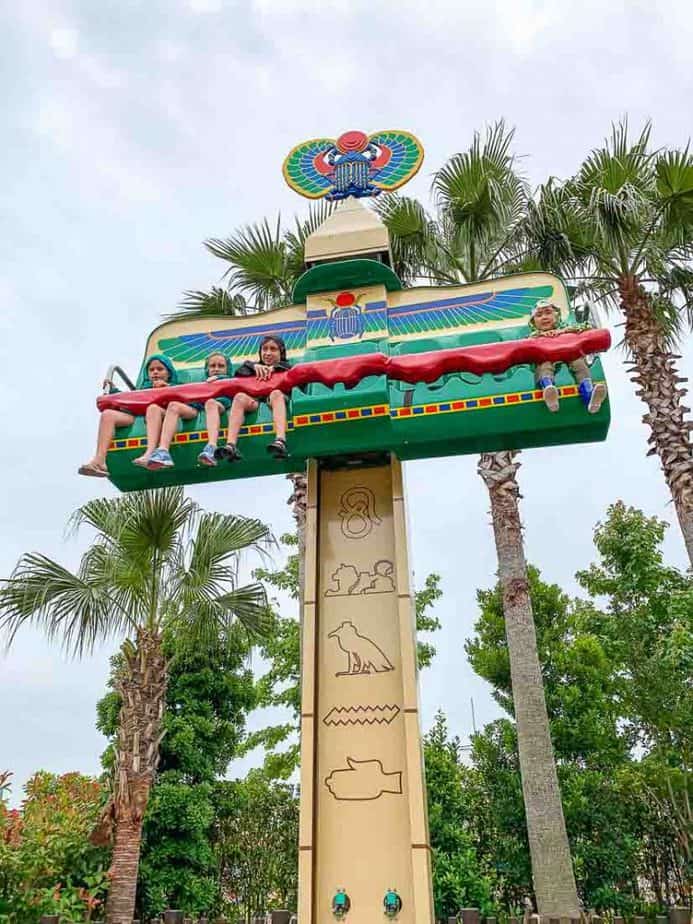 Mini thrill seekers can board the Beetle Bounce and be lifted and bounced 15 feet in the air on the ancient Egypt themed vertical ride, before returning safely back to the ground. Another favourite among the kids in our group – the couldn't get enough of it.
6. Pharaoh's Revenge
A great indoor play area for little kids who can't go on the adventure rides. They can have plenty of fun using the canons to shoot foam balls at their friends and targets dotted around or just simply explore the two-storey building.
7. The Secret Chamber of Amset-ra
The Secret Chamber is an Ancient Egypt themed free build area where kids can let their imaginations run wild and parents can take a load off in the seating area.
Knights Kingdom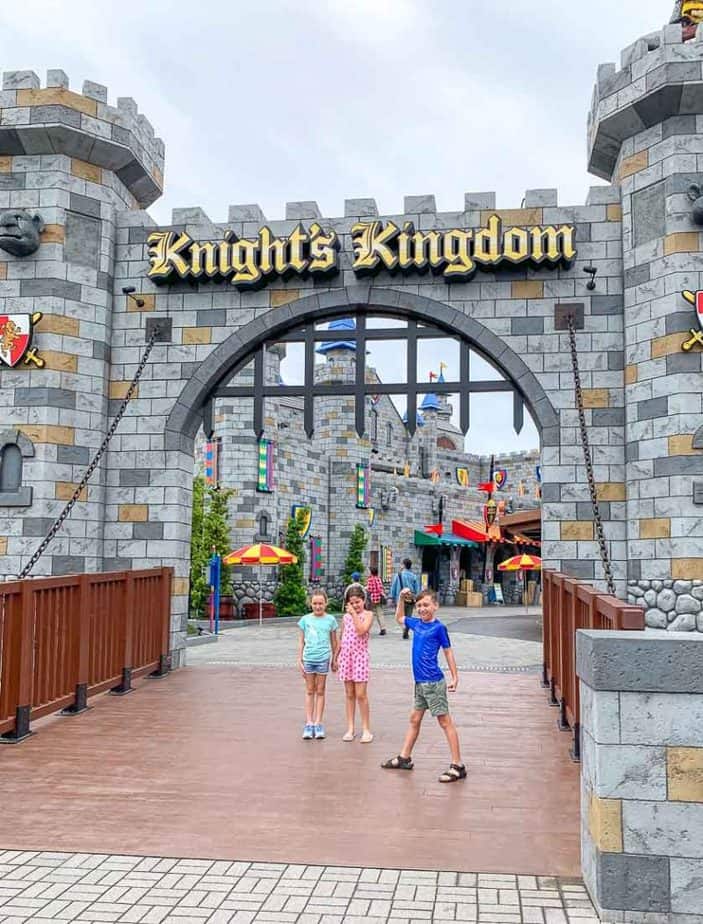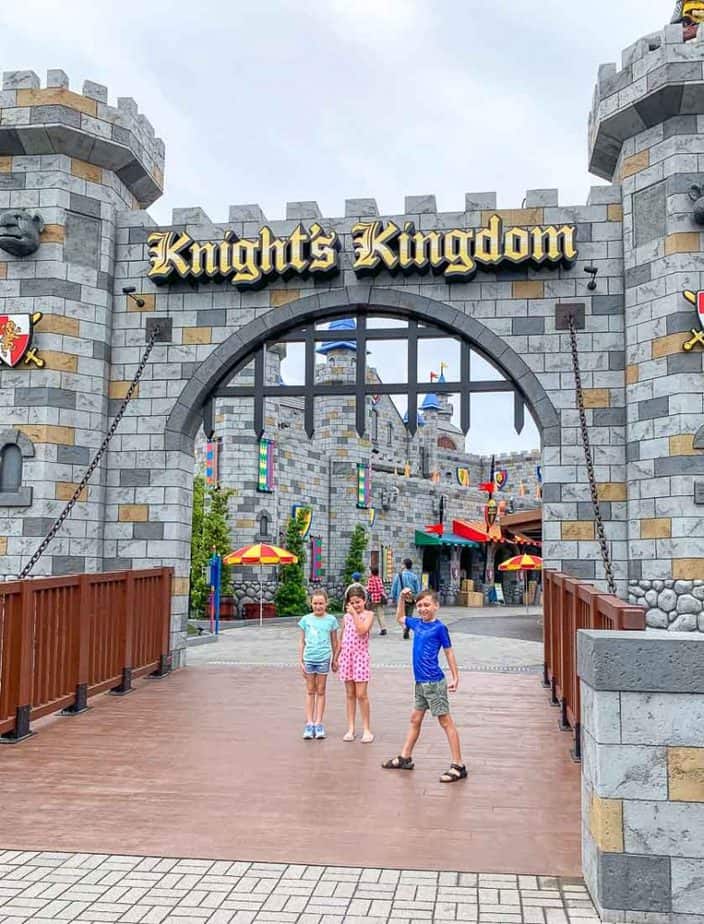 For rides and adventures with a medieval theme, head to the Knights Kingdom and try some of these great rides:
1. The Dragon
This is the park's only full sized rollercoaster. It's suitable for slightly older kids who want to experience some thrills and will enjoy twisting and turning along the track and past numerous animated Lego models, including a giant red dragon. This is certainly not a scary roller coaster and is a great introduction for kids just starting to want to give roller coasts a go.
2. Merlin's Flying Machines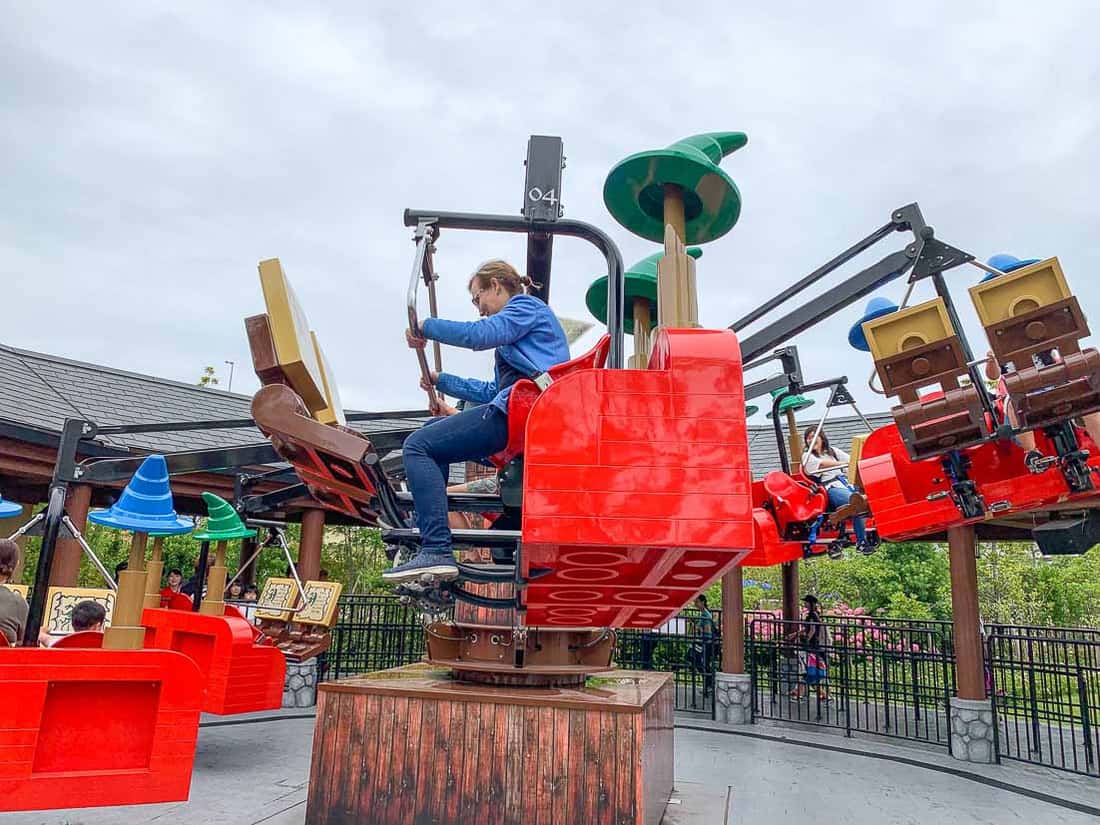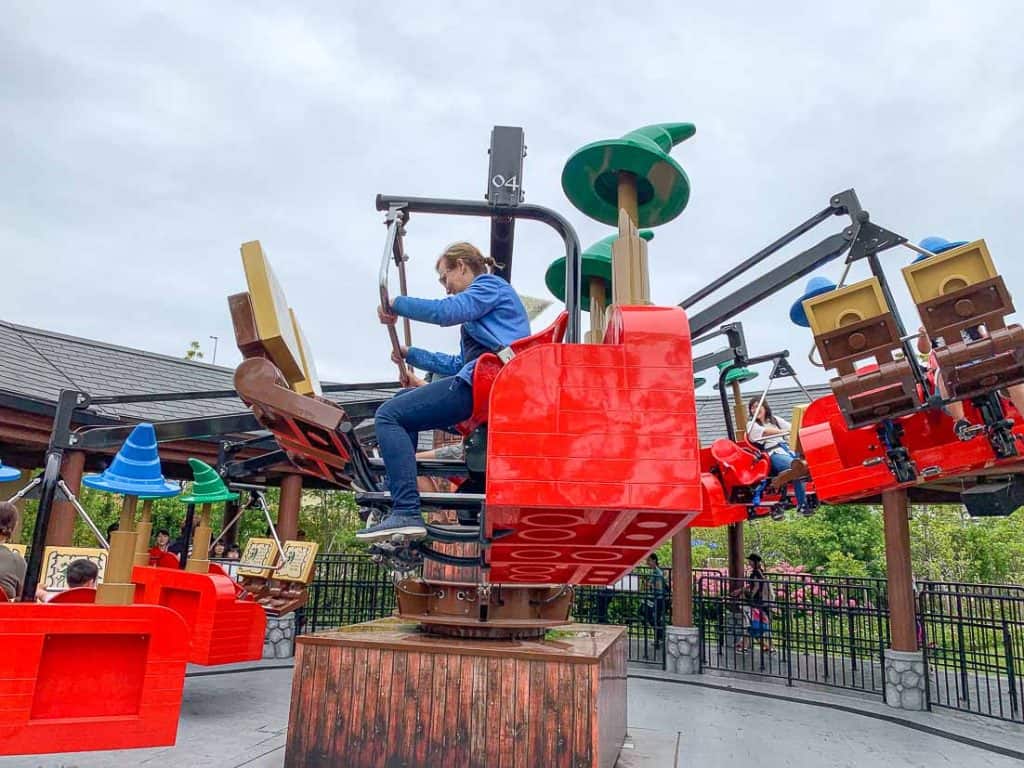 As this carousel spins, riders need to use pedal power to shoot themselves up into the air. If you stop pedaling you'll sink back down to the ground so it's a great way to burn some energy.
3. Merlin's Challenge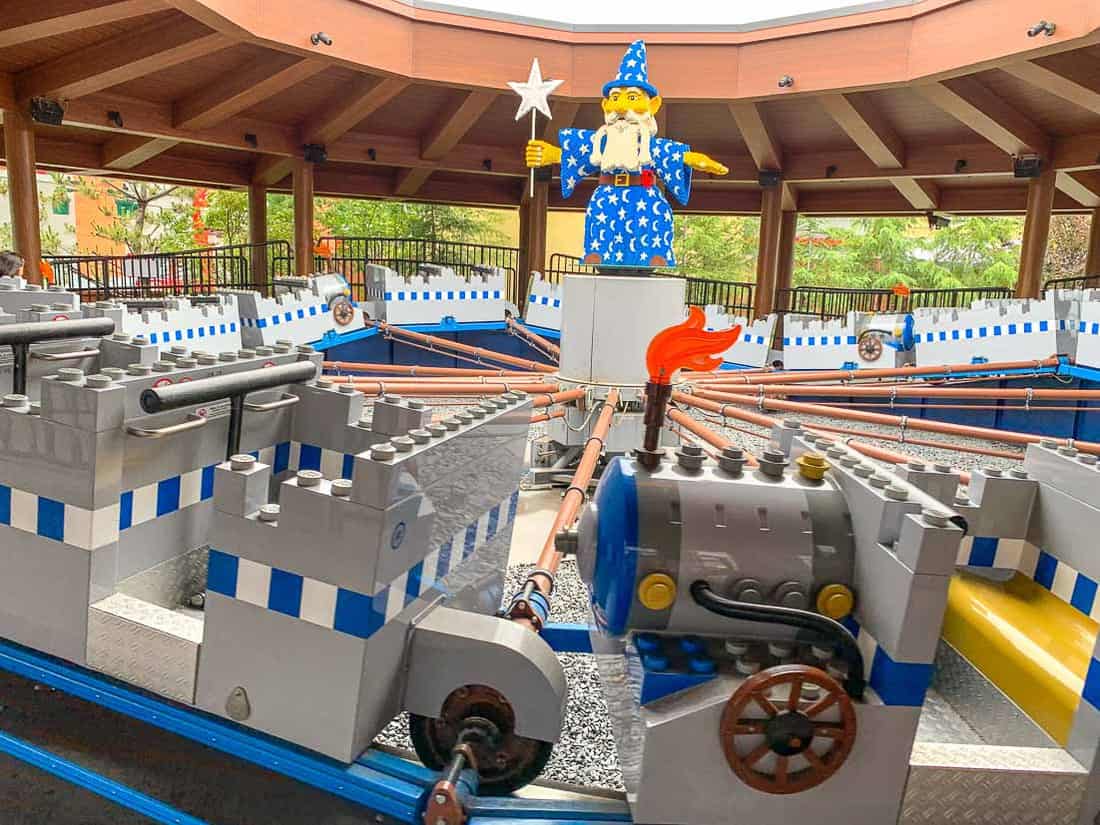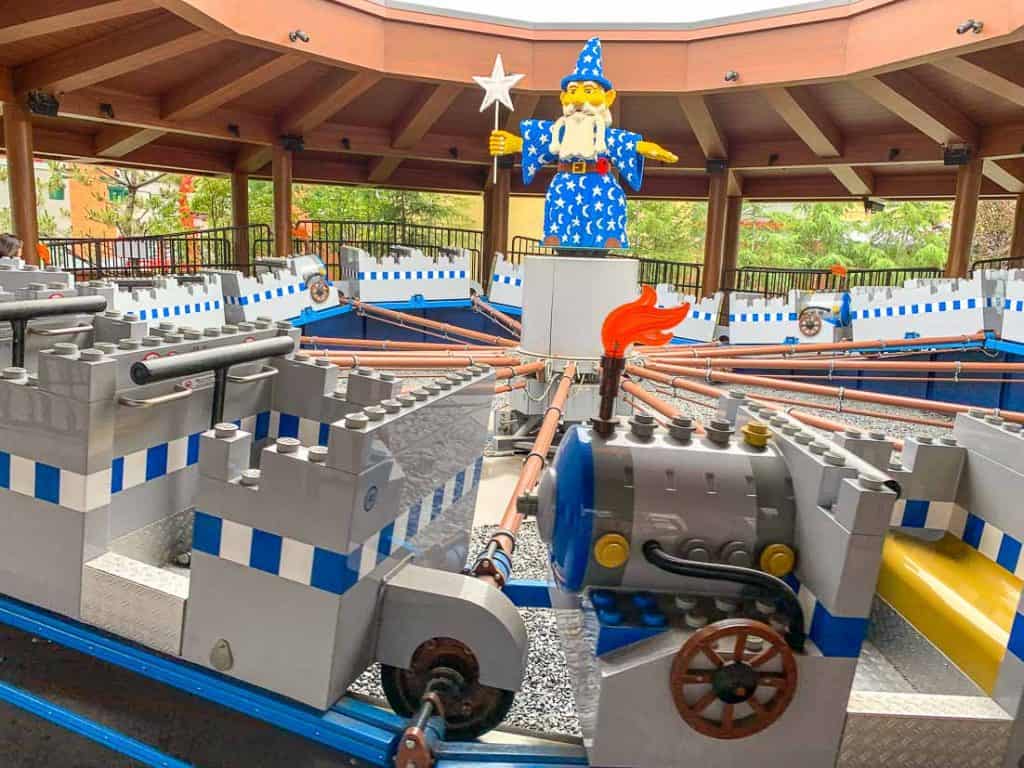 Certainly not for those that get dizzy – this ride goes round and around. The kids loved this one – but once was too much for me!
4. Dragon's Apprentice
Dragon's apprentice is the smaller version of the main rollercoaster and is much better suited to little kids. Travel around the track twice in the cute dragon car as you climb the castle and spiral back down to earth.
Pirate Shores
Little kids just seem to love getting wet and Pirate Shores offers water-themed attractions to keep them entertained.
1. Splash Battle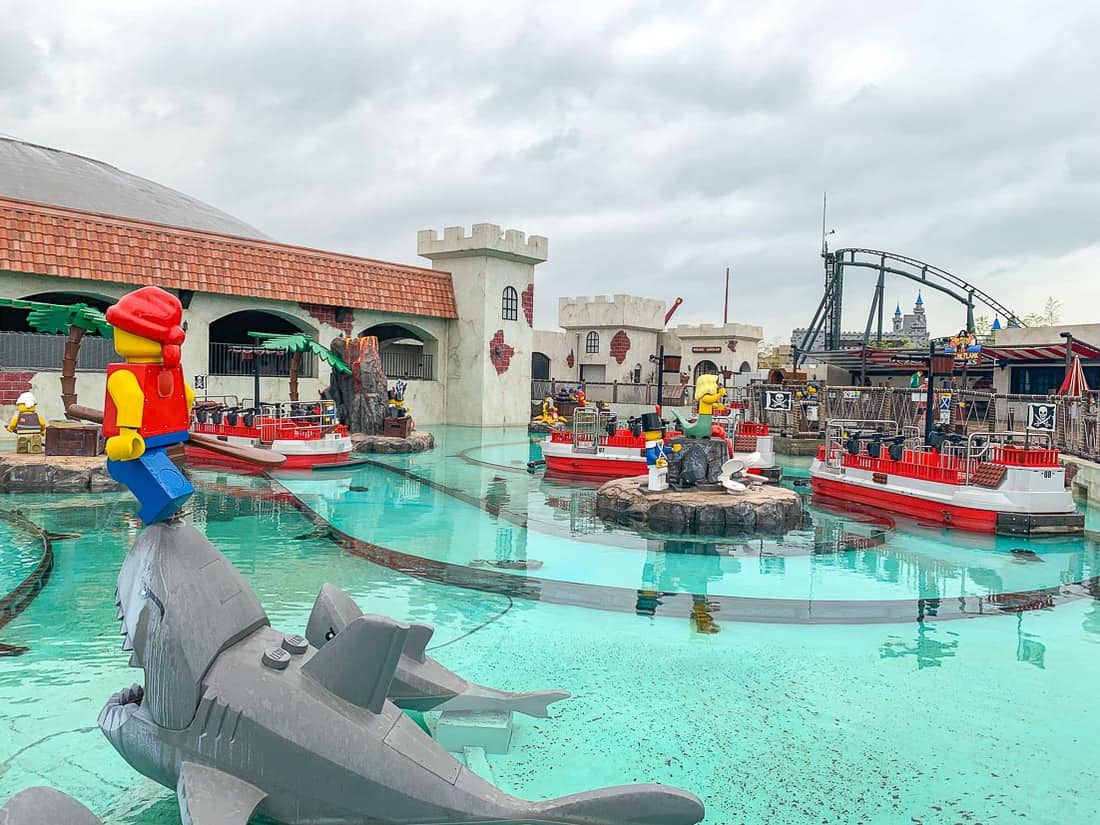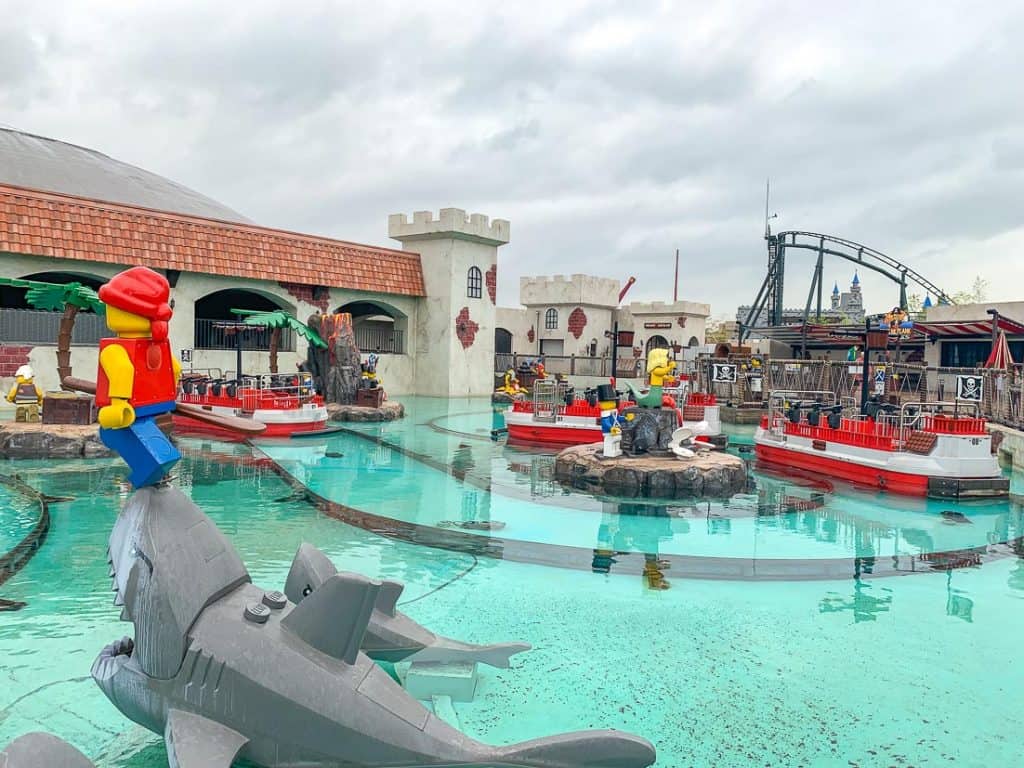 Hop onboard a pirate ship and have fun shooting your canon at interactive targets while trying to avoid the canons from other boats and spectators on shore.
2. Anchors Away!
This pirate ship might be on dry land but it's no less fun as it sways back and forth on a U shaped track, as well as rotating in two directions.
3. Castaway Camp
Castaway Camp is a pirate ship themed adventure playground, complete with desert island Lego palm trees. With slides, nets and high rope walks there is plenty to challenge adventurous kids.
Miniland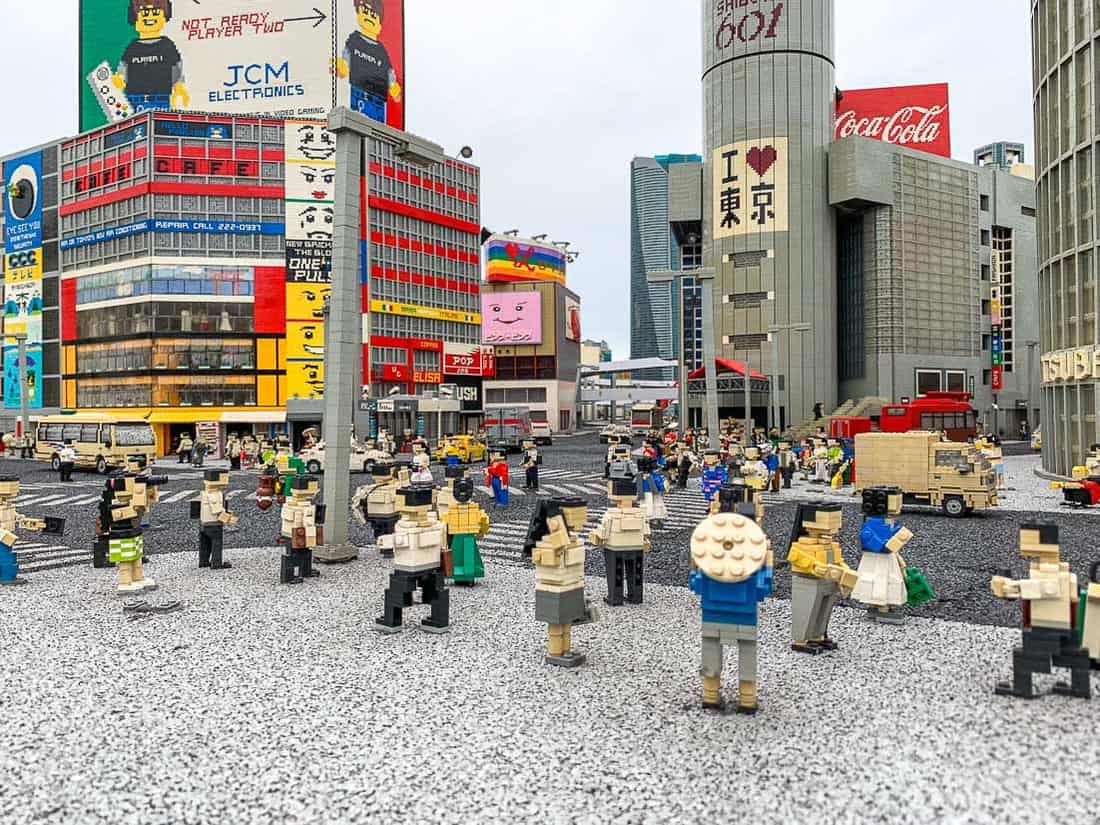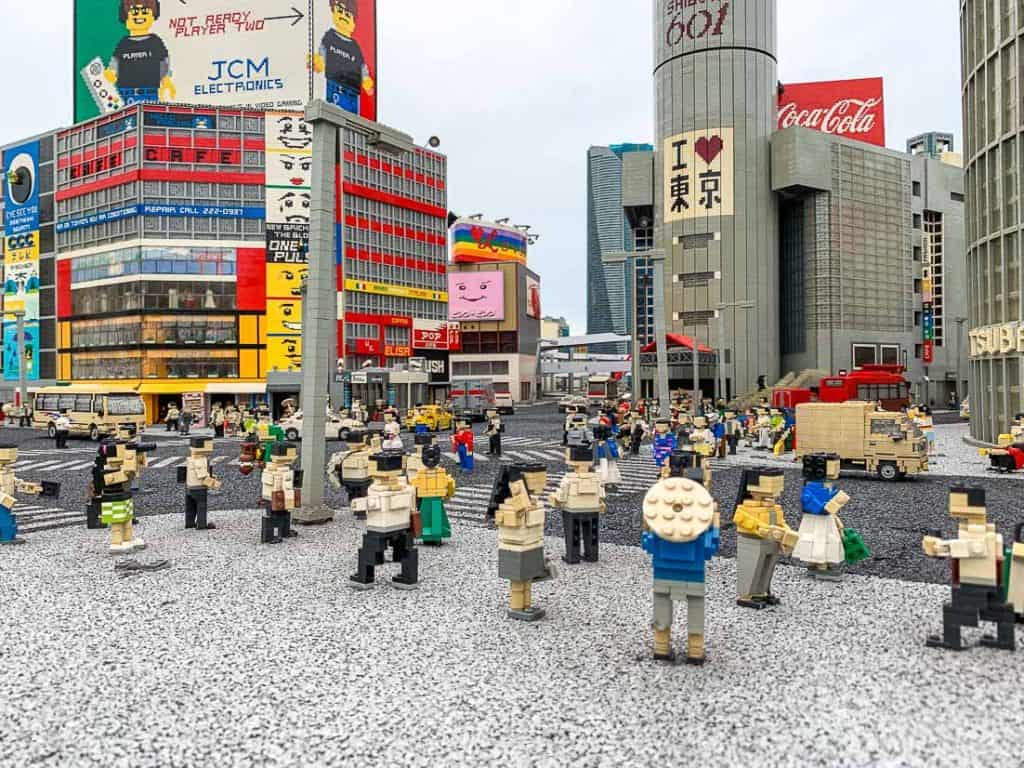 This zone is full of amazing Japanese landmark destinations created solely from Lego bricks, in fact there are nearly 10.5 millions pieces making up the various locations!! We all just loved visiting miniland so great for the kids and adults alike to spot the attractions we had already visited around Japan and ones were yet to see.
LEGO City
The LEGO City zone is the place to head for kids obsessed with cars, planes and boats. Drive vehicles and explore buildings all throughout the zone.
1. Build a Boat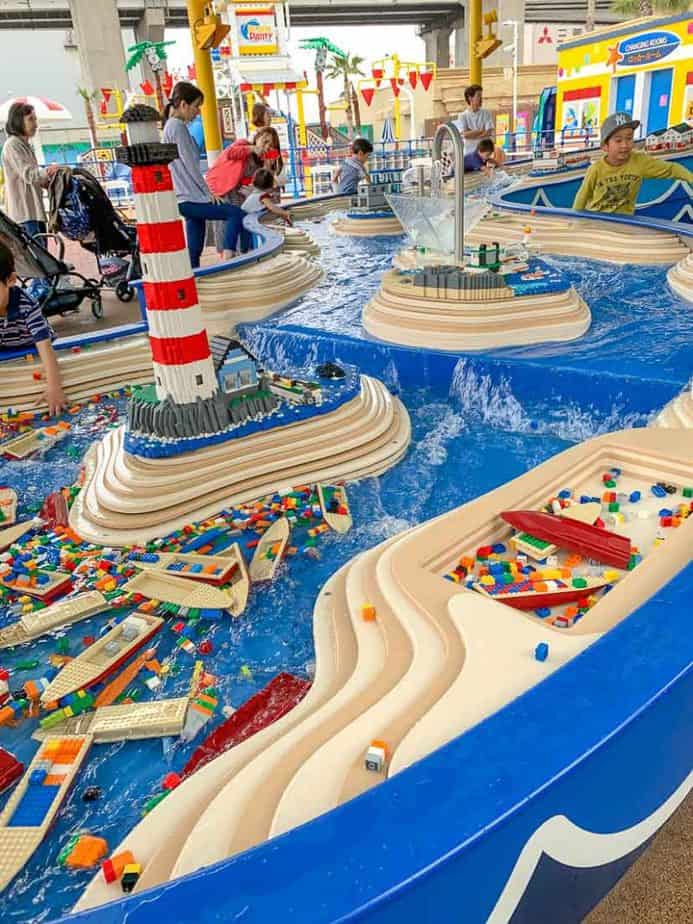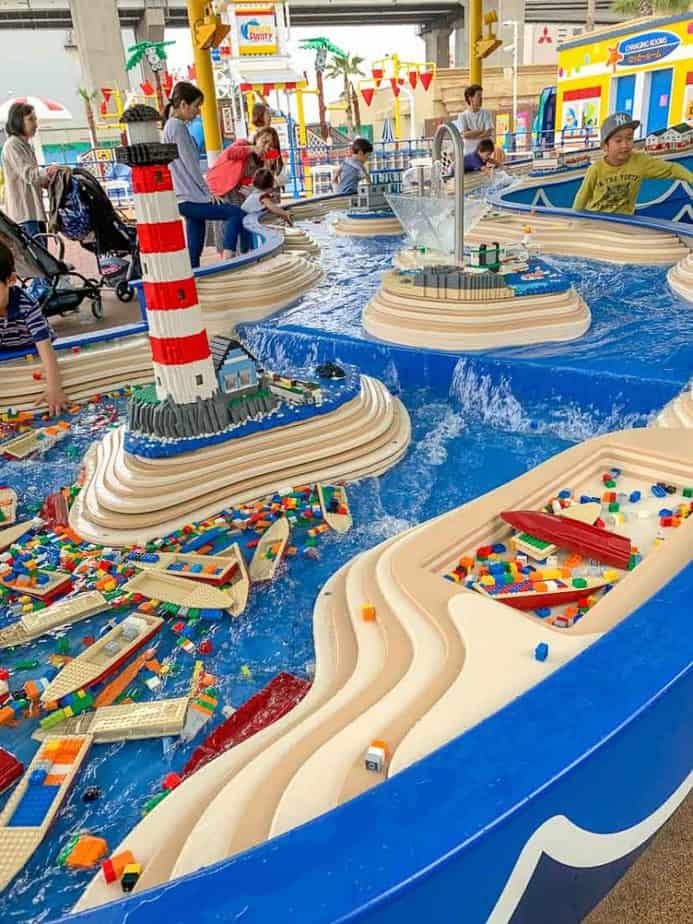 In the Build a Boat area you can build your very own unique Lego boat that will actually float! Then use the interactive pool to race your friends and family through the currents and dam breaks.
2. Splash Pad
During the summer season, Splash Pad provides a welcome escape from the heat. The shallow water is safe for little kids but also fun for older ones to run around and make use of the spray pads, slides, fountains and overflowing giant buckets.
3. Rescue Academy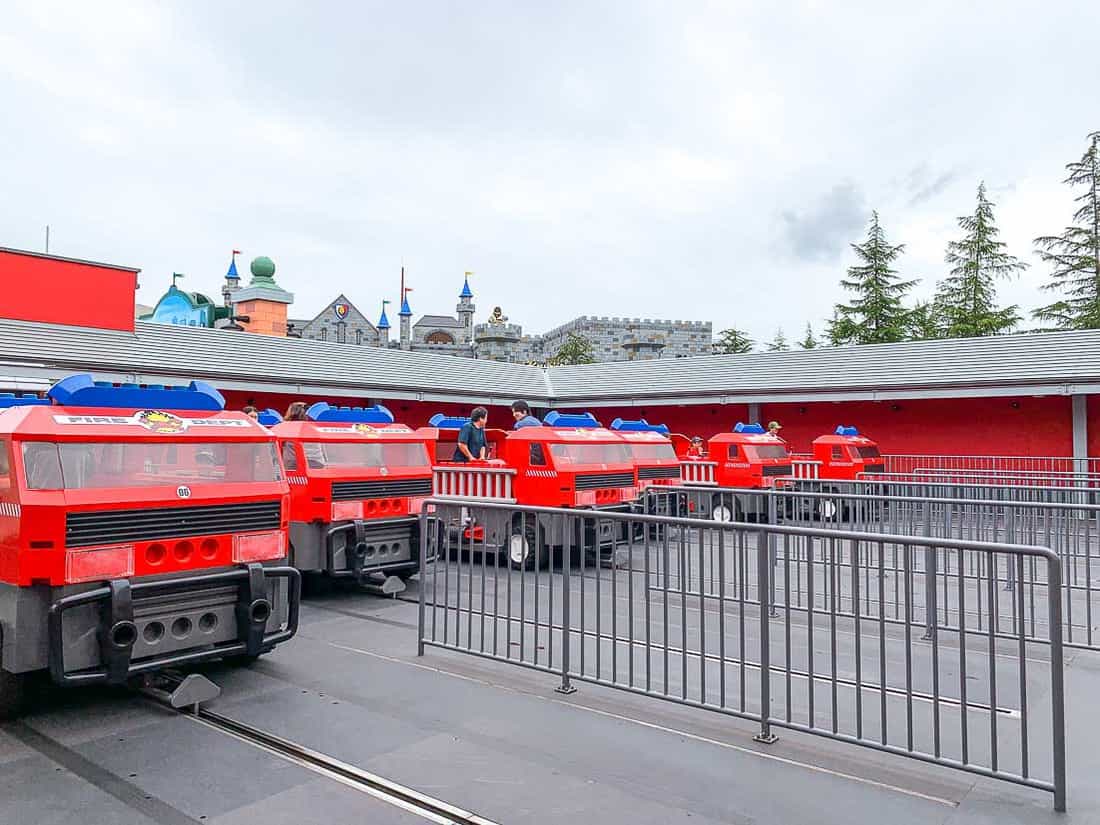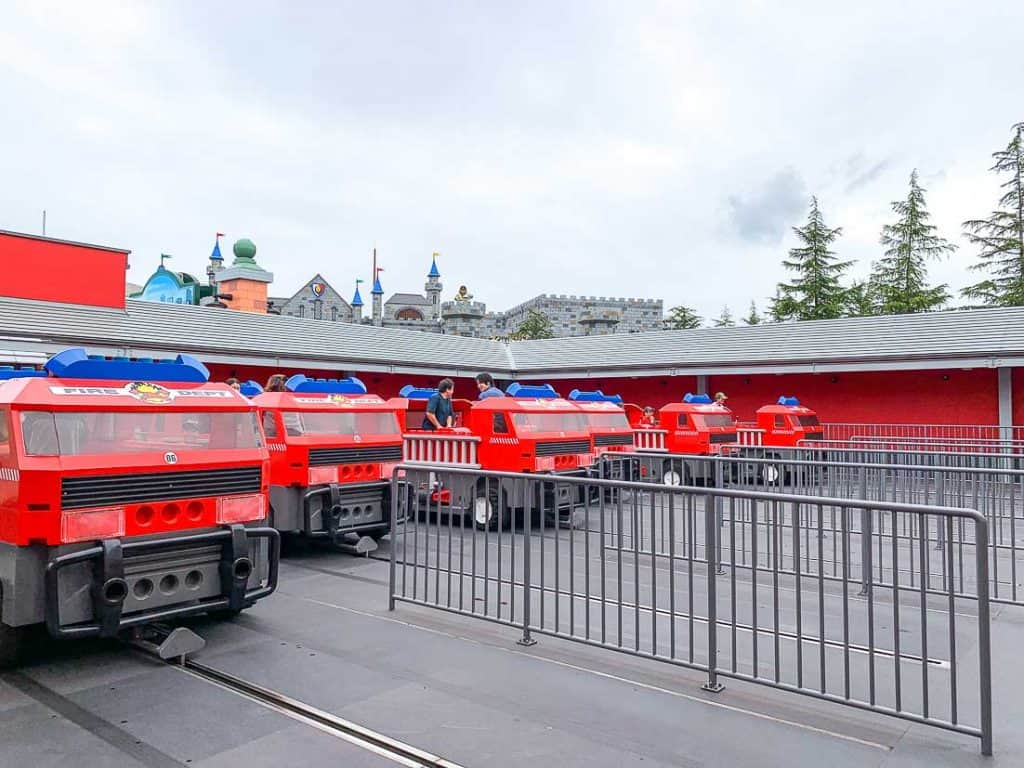 A bit of healthy competition is on offer at Rescue Academy, where you'll have to work together as a team to first power and run your fire engine and then power the water canons. Race against the other teams to put out your fire and be named winner.
4. Driving School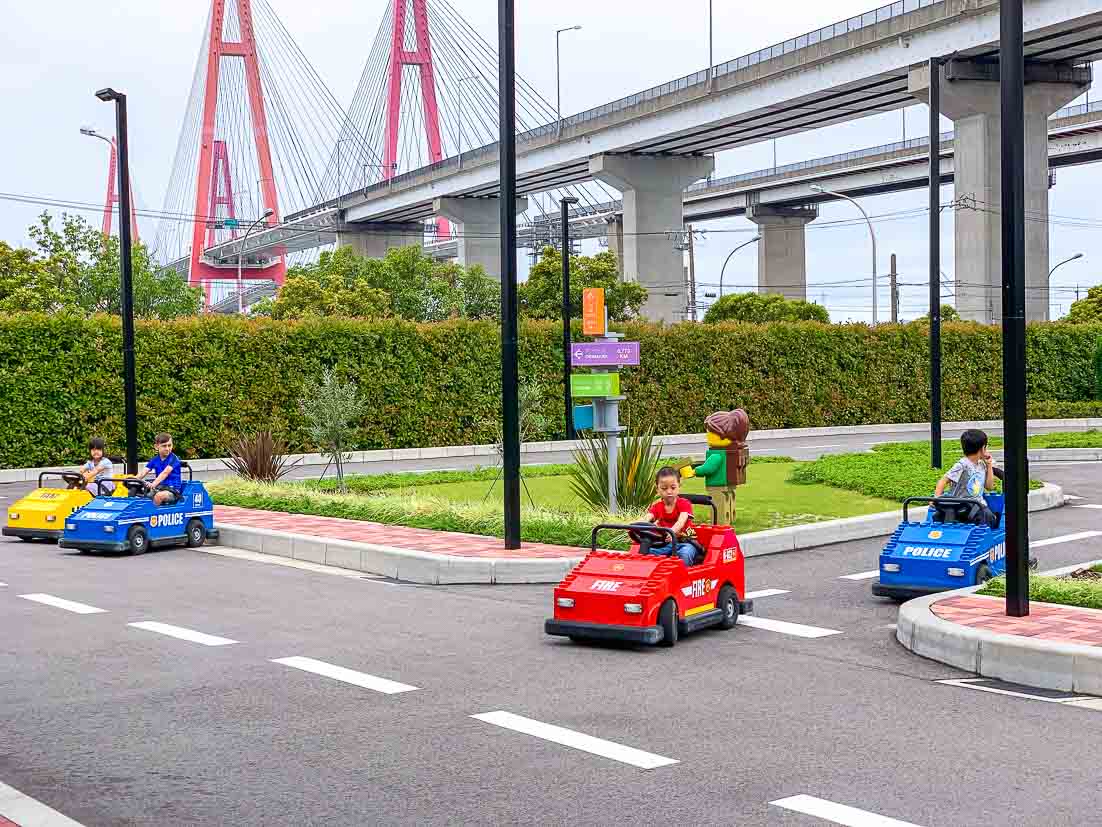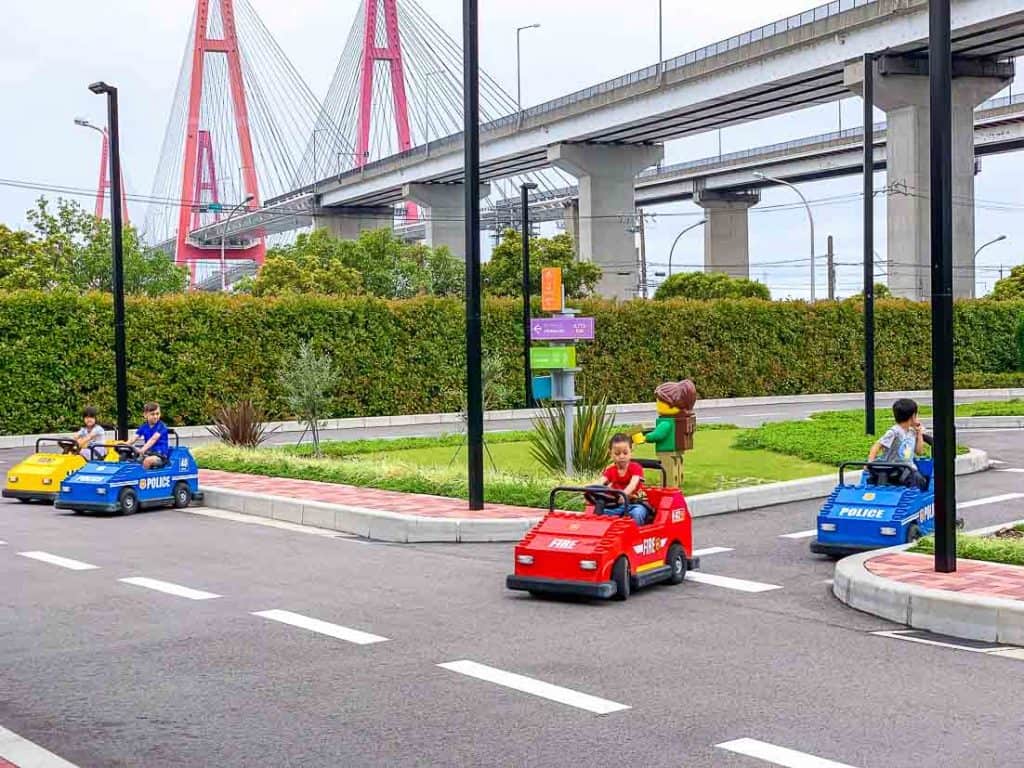 Here, 6 to 13 year olds can actually get their own Legoland driving license. Kids will get the chance to drive an electric car around the track designed with realistic roads in mind to include roundabouts, traffic lights and even pedestrians. Your kids won't even realize they're learning road safety in the process.
5. Jr Driving School
If you have younger kids, children as young as 3 can get their driving license at the Junior Driving School! Similar to the older driving school but much simpler for little ones, electric cars are operated by a single pedal and are safe and easy to control.
6. City Airport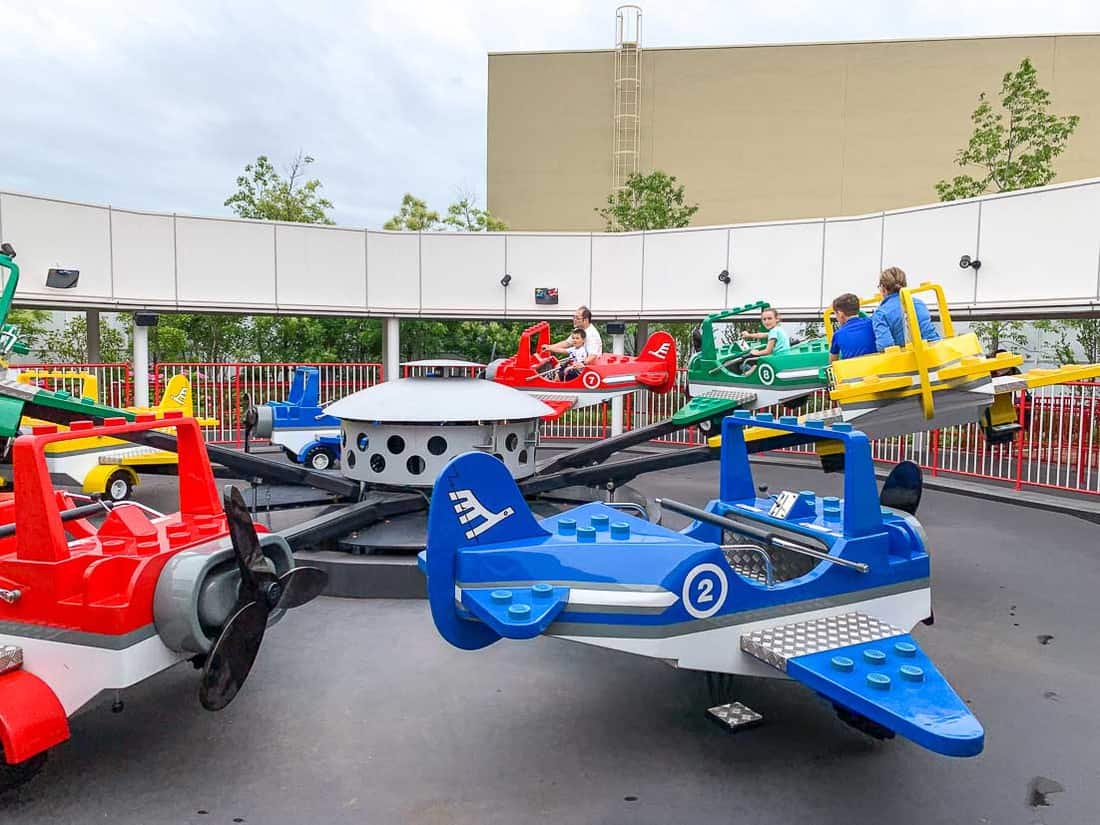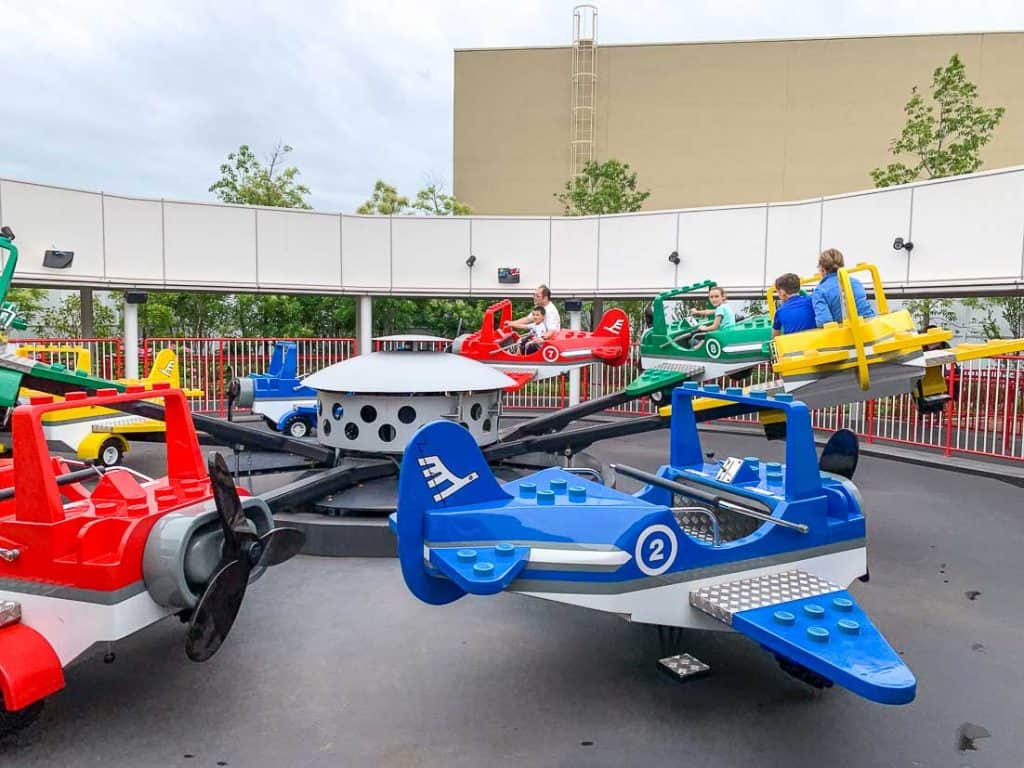 Little kids will love controlling the height of their very own brightly coloured plane as they spin round and round on this carousel ride.
7. Coast Guard HQ
Coast Guard HQ lets kids get behind the wheel of a self-drive, electric boat, that seats up to three, to steer their way around the track. There are obstacles to avoid and Lego animals to see dotted around the attraction.
8. Palace Cinema
The Palace Cinema is an indoor 4D theatre where you can watch movies throughout the day including LEGO Movie, LEGO City 4D Movie and LEGO NINJAGO. Kids will be thrilled and surprised by the special effects during the films.Another great spot to go if the weather turns bad.
9. The Wharf
Parents can relax in the seating area whilst kids explore this adventure playground in the shape of a boat, complete with slides and a fireman's pole.
10. Police Building Experience
A large indoor play zone and free build Lego area with a police and Lego City theme, sure to capture the imagination of your little one.
LEGO Ninjago World
Don't miss out on LEGO Ninjago World as there is an attraction for almost any age in this fun filled zone! Unfortunately this area wasn't opened when we visited so the below information is not from our own personal experiences.
1. Flying Ninjago
Older kids will love the more grown up flying Ninjago where they have control of their own wings and can spin 360 degrees while flying 22 meters above the ground at speeds of up to 50 kilometers per hour.
2. Llyod's Spinjitzu Spinner
The Spinner is essentially a spinning carousel ride except your cart is shaped like a wheel and at the push of a button you can spin yourself a full 360 degrees. Do you dare to the press the button?
3. Kai's Sky Masters
On this carousel ride you can work with your family in a car that seats up to 4 to steer the vehicle and shoot at targets and other cars. The better you work together, the more points you will earn.
4. Cole's Rock Climbing Wall
This small climbing area is great for toddlers and little kids, with a lot of energy to burn, who can't help but climb on everything.
5. Jay's Lightning Drill
Build ninja skills like reflex and concentration at Jay's lightning drill by pressing each button within 30 seconds of it lighting up. The faster you are, the more ninja points you'll get!
Legoland Food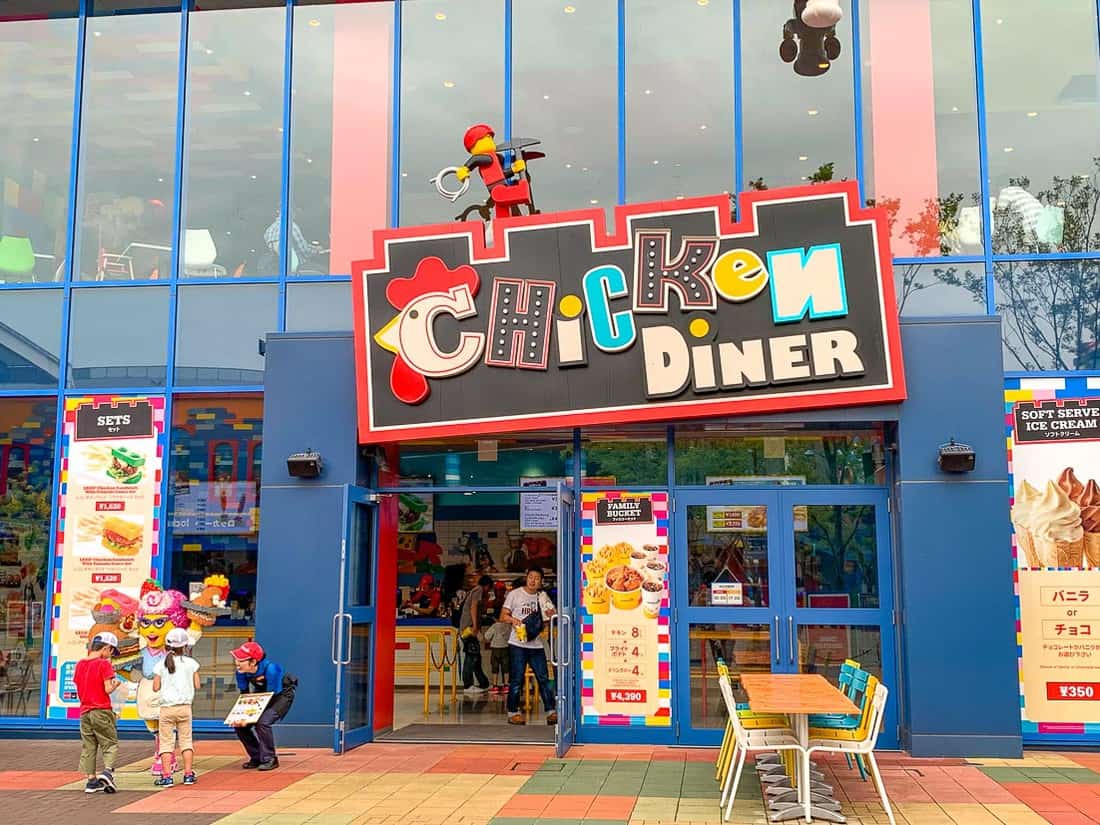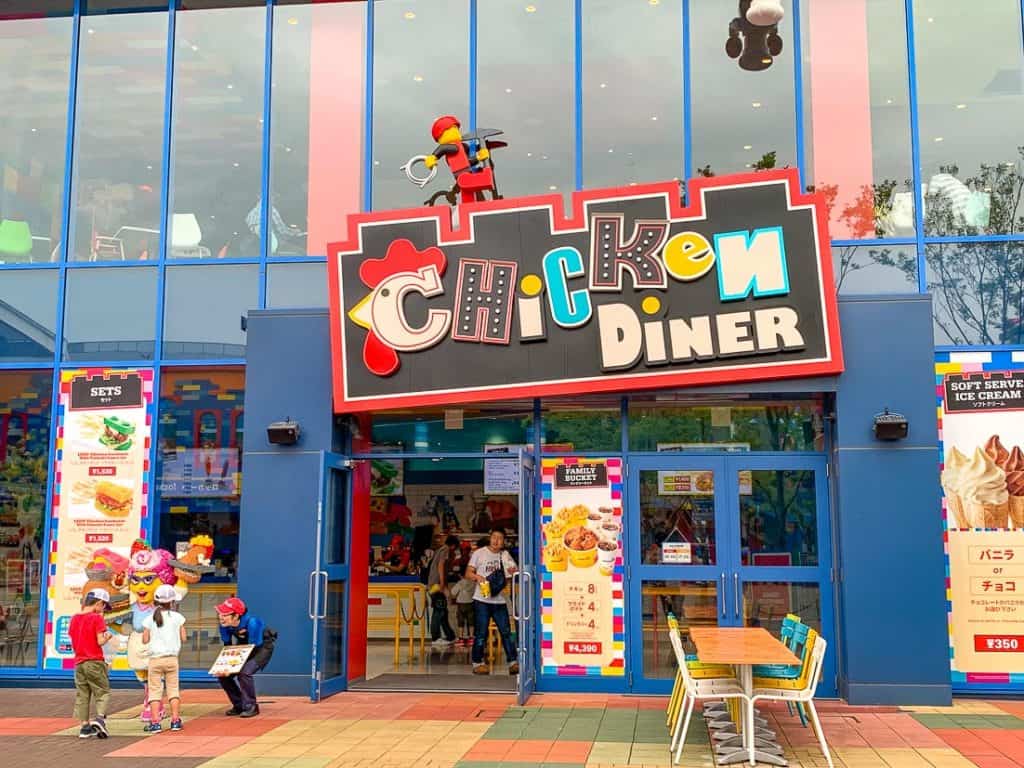 Like any theme park, there are plenty of places to eat at Legoland, but it's fairly expensive. Most of the food options are things like burgers, hot dogs, chips and pizza, and you will find a food outlet in pretty much every zone. There are also plenty of snacks like ice cream and popcorn too.
We had lunch at Chicken Diner which is located at the entrance to the park. As you can see from the image below, meals for kids are around 800 yen ($11 AUD) and adult meals are around 1500 yen ($20 AUD).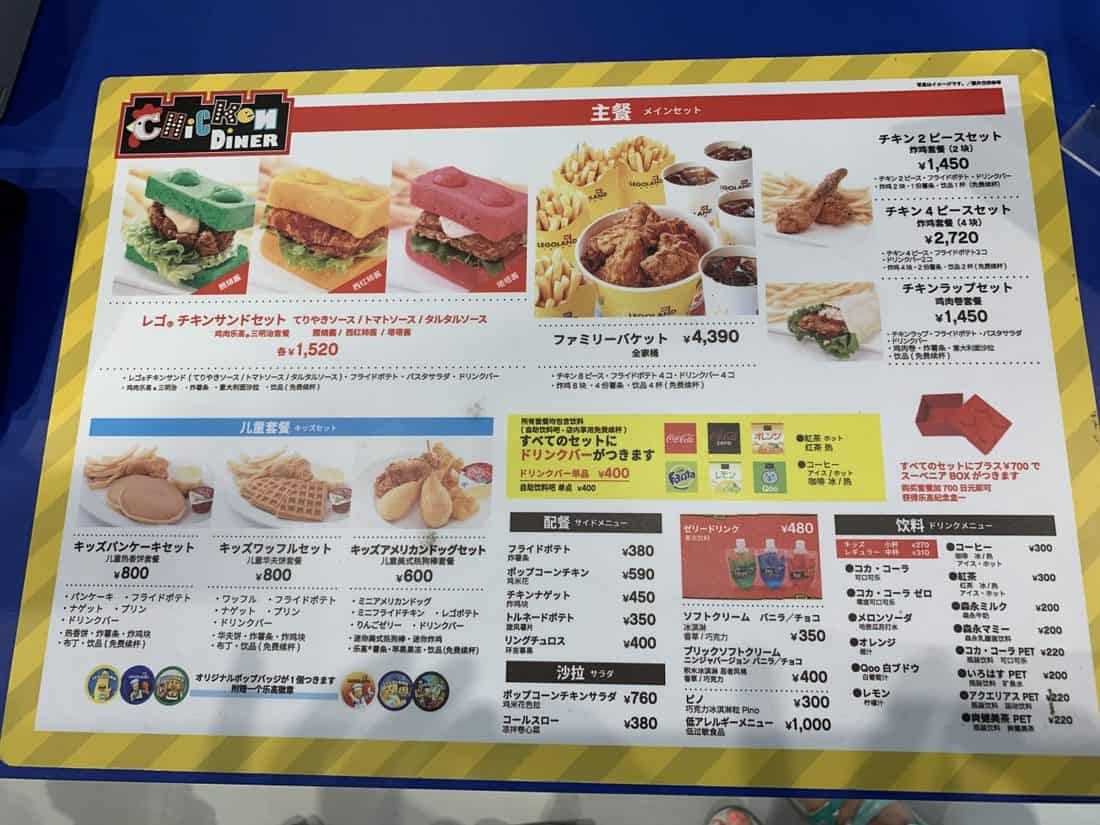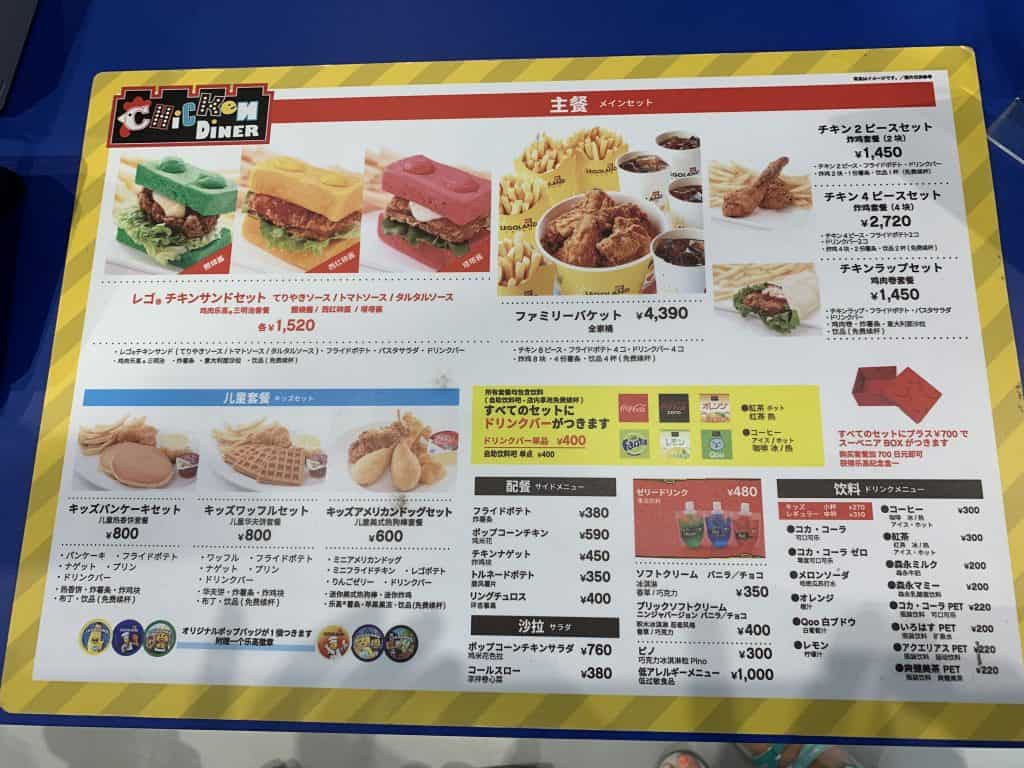 Legoland Shopping
Again, like any theme park, there are also plenty of places to shop and buy a souvenir or two. Of course the main thing for sale is Lego! We had a look and didn't find the Lego any cheaper than home, in fact we thought it was more expensive. However, if you're the shopping type, pretty much every zone has a range of stores so you can purchase little trinkets.
Other Legoland Tips
Here are a few more tips on how to make the most out of your visit to Legoland Japan.
If you can go on a weekday AND outside of school holidays, this will ensure you avoid the biggest crowds. However, we visited on a Saturday and it was not overly crowded at all. When we left on the Sunday, the crowds seemed to be much bigger.
Be sure you are there around 9.45am, 15 minutes before opening time. Unlike other theme parks around the world, Legoland has relatively short opening hours – between 10 am to 6 pm. You will need pretty much every minute of that time to see the park.
Be sure to pick up a map on arrival so you have an idea where everything is. There are no shows or anything here, so at least that's one less thing you need to factor in.
Dress and prepare for the weather. During rainy season make sure you have packable rain jackets and, when it's hot, don't forget sunscreen, a hat and lots of water!
Staying at the Legoland Japan Hotel

One of the downsides with Legoland Japan is that it's kind of out in the middle of nowhere. While you can visit as a super long day trip from Kyoto, Osaka or Tokyo, I personally wouldn't recommend it – which means your only option is to stay at the Legoland Hotel Japan.
Let's just say up front – the Legoland Resort is expensive and certainly doesn't fit in my usual low budget for a hotel room. But…… it is a lot of fun and no doubt the kids are just going to love it. There certainly has been a lot of thought and effort put into the Legoland Hotel Nagoya.
So, here is an overview of what you can expect staying at the Legoland Hotel.
Location
The Legoland Hotel is literally right in front of Legoland – like a two-minute walk and you're inside the park. This makes it fantastic for families with little ones or even for those with kids who might need to return to the room during the day for a nap.
However, do keep in mind that the Lego Hotel Japan is pretty much in the middle of nowhere. While there are a few other shops and places to eat right by Legoland – I think they have been placed here just for the park, as everything appears to be touristy and overpriced.
Having said that, the eating options outside the resort are still cheaper than the hotel itself – but they do all close reasonably early so factor this in if you wish to eat dinner there. Otherwise you can walk to the train station where there is a small convenience store – this also sells alcohol for parents.
Rooms
The rooms at Legoland are great for families. They are all themed around Lego characters such as Lego Friends, Lego Ninjago or there are also pirate, kingdom and adventure themed rooms. Everything, and I do mean everything, is created around this theme – its pretty full on!!! There are plenty of things in the room made out of Lego and even a Lego set for the kids to keep, which is a nice touch.
What I do like about the rooms is that the kids sleeping area and the parent's bed are separated. Both areas have a TV too – so both the kids and the parents get their own space.
The rooms are super spacious and come with everything you need such as fridge, tv, air conditioning, Wi-Fi and coffee making facilities, and there is a bathtub too.
Most rooms can accommodate a family of four, but there are also rooms that can accommodate families of 5. Some of the family rooms also come with a playroom.
All rooms include a buffet breakfast too – which has plenty of Lego themed food and one morning there was even a Lego chef character there too, which the kids just loved!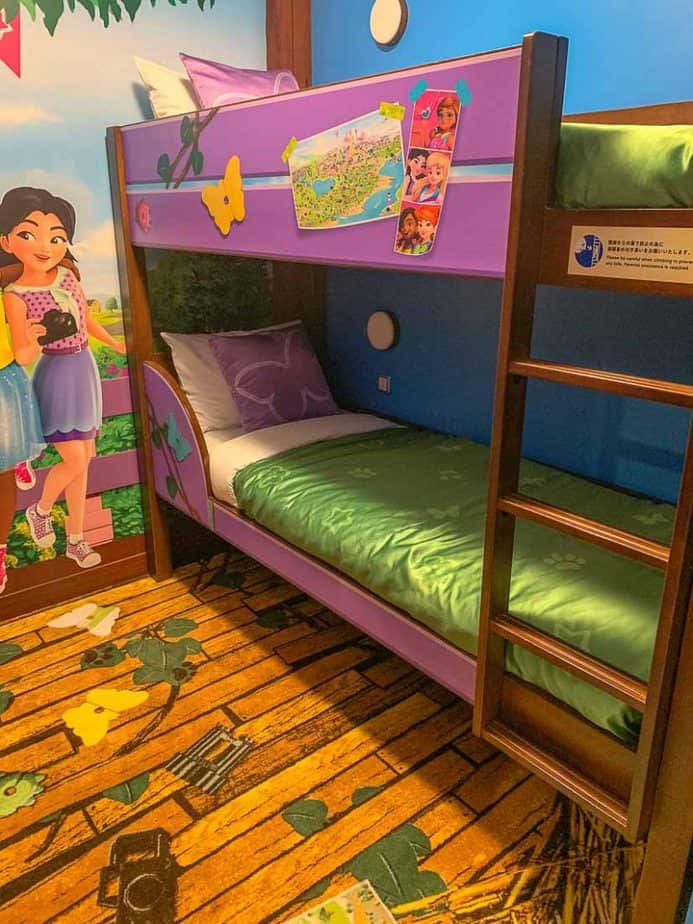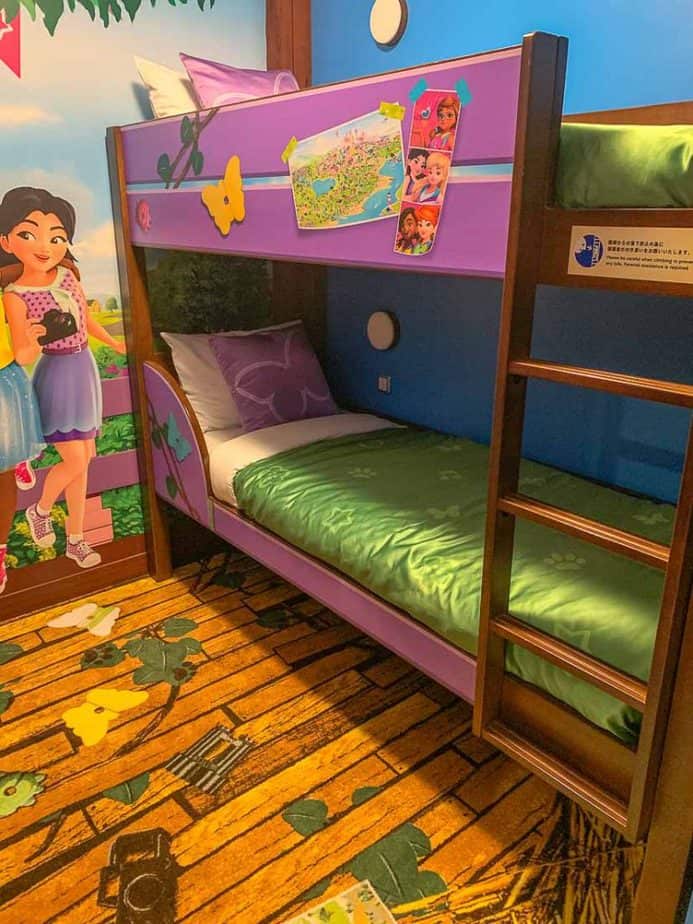 Facilities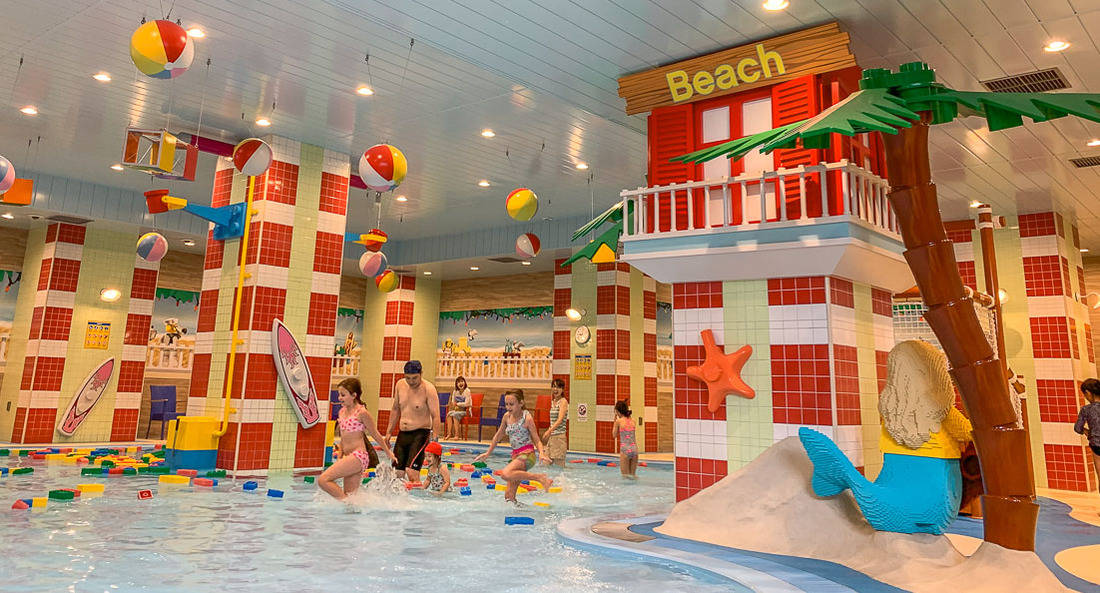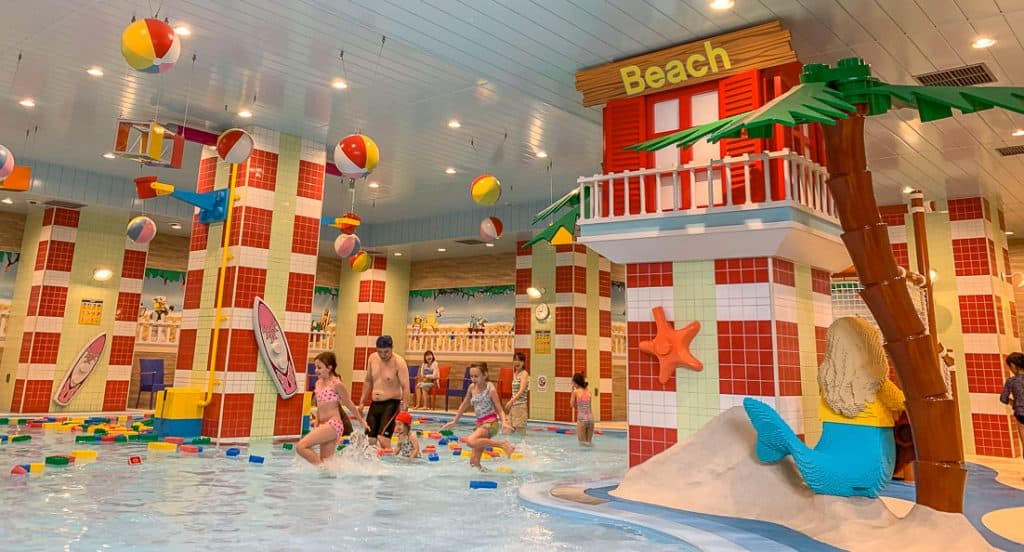 The facilities at Legoland Hotel are fantastic for kids – here is a brief overview of what's on offer:
Inside water play area: There is a small pool area at the hotel, nothing special – but if you do go, you need to reserve a time to ensure it doesn't get too crowded. Times book out super fast, so I recommend you go down as soon as bookings open – in fact go early as there is a line up!!
Lego Workshop: Each day there is a cool workshop where the kids build a creation – again you will need to book a space for this. Book when you book in for your swimming time or you will miss out!
Lego Characters: There are loads of opportunities to see Lego characters around the hotel – so keep an eye out.
Disco Lifts – yes, you heard right – every time you get in the lift there is dance music complete with a disco ball. It was actually wonderful to see everyone dancing around in the disco and smiling at each other – loved it – more hotels need disco lifts I think!
Huge Lego Tub: in the foyer of the hotel is a gigantic tub of Lego, which the kids can play with anytime they like.
Birthday Party: Is it your birthday month? Each day there is a free party for the kids to attend if its their birthday.
Lego Playground: There is a massive Lego themed playground complete with Lego pirate ship and castle – it's also right by the bar, which is great for families with older children. Mum and dad can relax over a few drinks while the kids play at the playground.
Video Games Room: Located right by the Skyline Bar, kids can play video games.
Dining: Onsite is the Bricks Restaurant which is open for a buffet breakfast and dinner each day and the Skyline Bar which serves drinks and a la carte menu options.
Click here to check for availability and the latest prices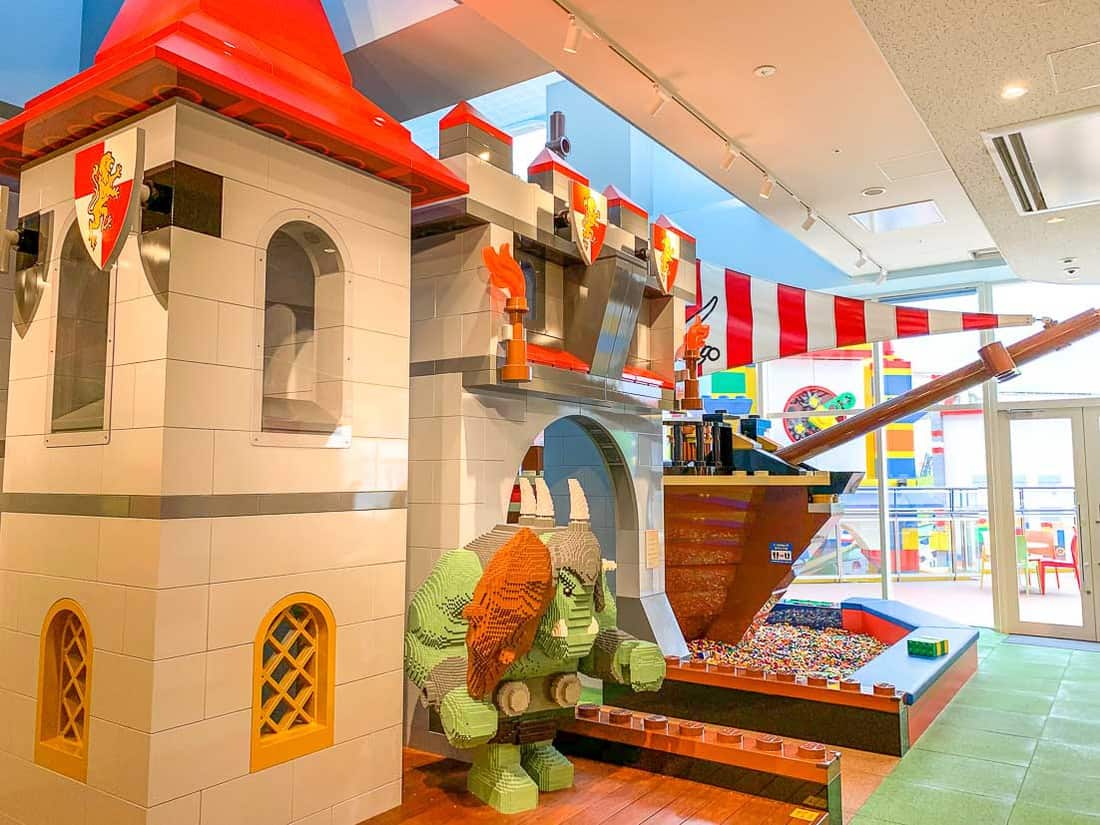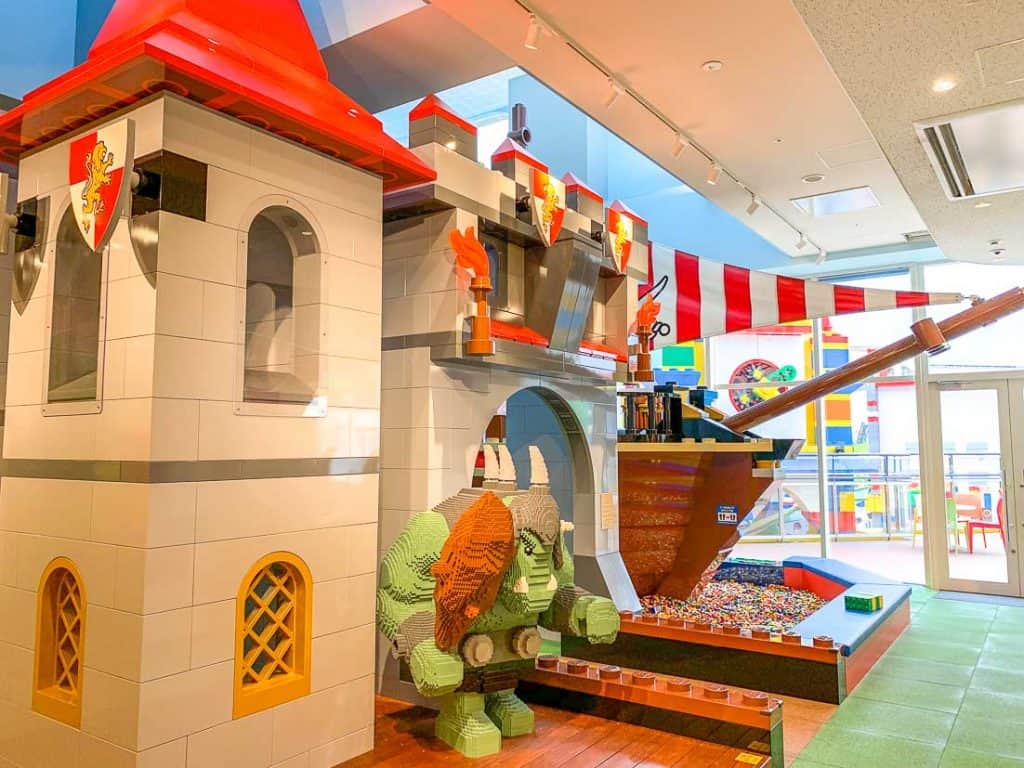 Legoland the Verdict
We visited Legoland Japan with a few kids in our group aging from 8 to 10 and every single one of the kids just loved it. Unlike other theme parks, its relatively small, and rides are rather tame, so it's absolutely perfect for younger children.
I also really loved how within the lines for most of the rides there was often a big tub of Lego so the kids could play without getting too bored waiting their turn. Mind you, we never waited more than 5 to 10 minutes for rides and there were certainly no 1 hour waits like Disneyland or Universal Studios.
So, if you are coming to Japan with little kids, or children not keen on thrill rides – then yes absolutely make the effort to go to Legoland – its great!
Book your LEGOLAND tickets NOW!!!
Read all our Japan content here.
Affiliate advertising is used throughout this site. These affiliate ads allow me to earn a small commission on any bookings you may make, but they do not incur any extra cost to you.