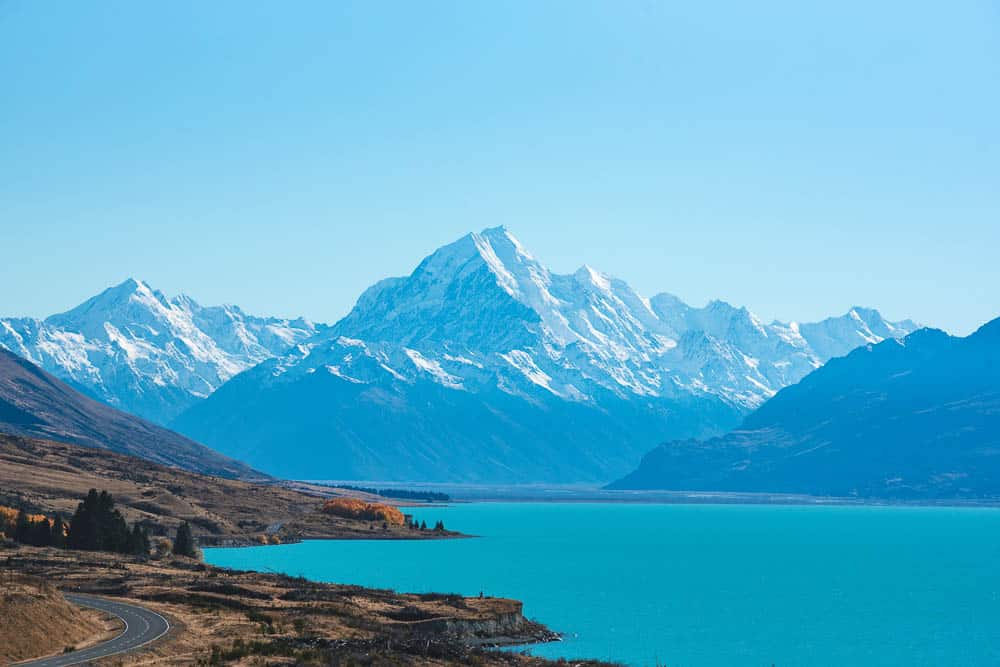 There are so many awesome places to go in New Zealand with the kids making it the perfect family holiday destination. With family in New Zealand, we've visited many times and are super excited that we will get to take another family trip to New Zealand soon.
There are so many awesome things to do in New Zealand with kids, making it the perfect place for a family trip. So if you need some inspiration for places to go on your New Zealand holiday with kids, then read on!
In this guide, my travel blogger friends share with you their favourite destinations to travel New Zealand with kids. They've covered some of the best things to do in New Zealand for kids in some of the best family holiday destinations NZ offers on both the north and south islands.
So if New Zealand travel with kids is on the cards for your family, read on and get planning an awesome family trip!
Talk to other families about their tips on visiting NZ and join our Thrifty Family Travels Facebook group or be inspired on our Thrifty Family Travel Instagram Feed.
This post may contain compensated links. Please refer to my disclaimer here for more information.
26 Places to go on a New Zealand Family Holiday
To make it easier for you to plan your New Zealand family itinerary, I've split this post into the north and south destinations. I've also added all the destinations to the below map so you can work out which destinations fit into your New Zealand with kids itinerary. You can zoom in and out to check out all the destinations.
Please note that all prices mentioned in this what to see in New Zealand family guide are in New Zealand Dollar and were correct at the time of writing. Prices may fluctuate depending upon changes to currency conversion and rate increases. To check the rate in your local currency, click here.
Places to Visit: North Island, New Zealand with Kids
In no particular order, here are some of the best things to do in North Island New Zealand and of course the best places to visit on the North Island, New Zealand with kids.
Bay of Islands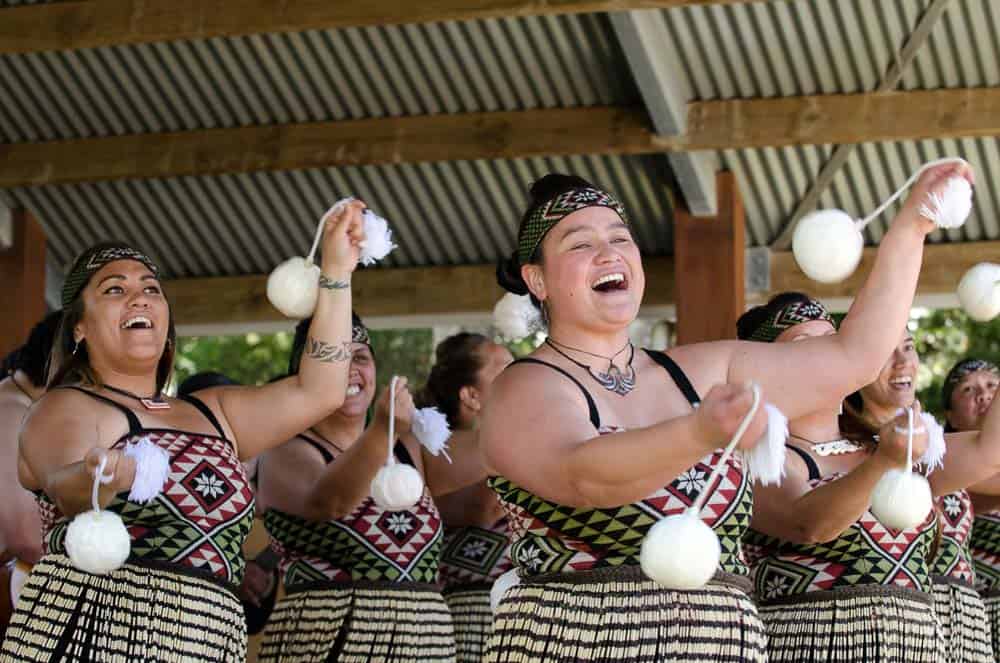 The Bay of Islands is a fabulous place to visit during your New Zealand holiday with children. It's also the perfect mid-way point if you're taking an Auckland to Cape Reinga road trip.
First on your list should be a trip to the Waitangi Treaty Grounds, the birthplace of modern-day New Zealand. The family friendly New Zealand museum tells the story of the founding document of the nation – the Treaty of Waitangi. Then outside, you can walk through beautiful native bush to a huge waka (war canoe) which at 35 metres long is the world's largest. To complete your visit, you can participate in a traditional Maori powhiri (welcome) ceremony onto the marae to learn more about Maori culture and history.
You can't visit the Bay of Islands without heading out onto the water, and there are numerous options for day trips to the various islands. A firm favourite is the Cream Trip, which takes you cruising out on the water and through the famous 'Hole in the Rock'. If you're lucky, you may spot dolphins out in the Bay during your trip.
Finally, don't miss the gorgeous seaside town of Russell, a short ferry ride from the mainland at Paihia. It was the original capital of New Zealand and still has several quaint buildings from that time. Grab a meal or drink at New Zealand's oldest pub, the waterside Duke of Marlborough hotel, which has a fabulous adults and kids menu – the ice-cream sundaes are a must!
As you can see, there are some unique things to do in Bay of Islands New Zealand, making it one of the perfect places to visit in New Zealand with kids.
Click here for accommodation options and pricing in the Bay of Islands.
Thanks to Kylie from Our Overseas Adventures
Te Paki Sand Dunes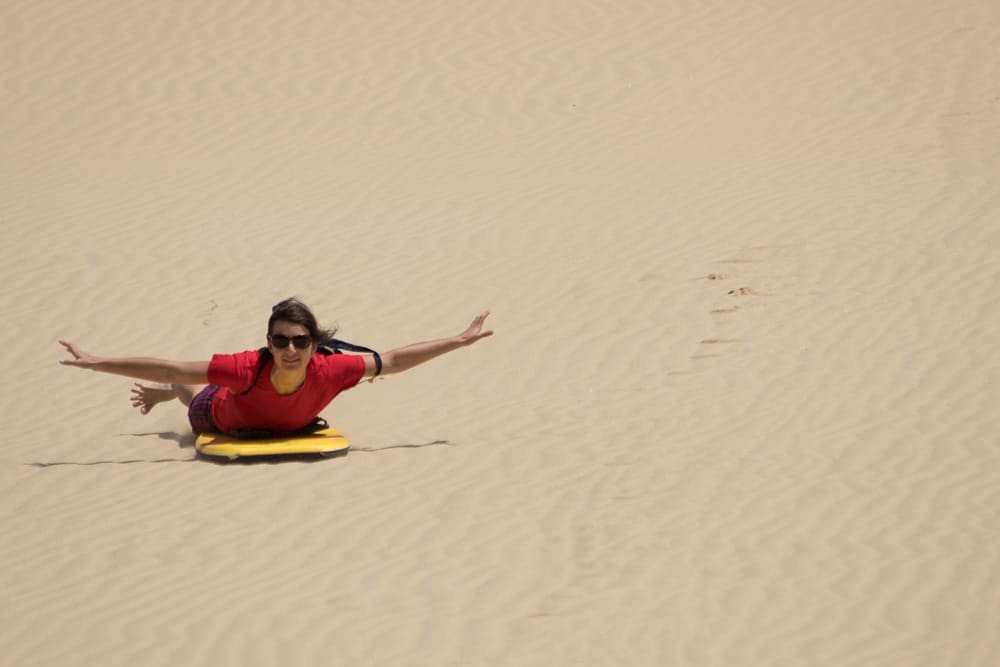 For the best family holidays NZ has, take the kids to Te Paki Giant Sand Dunes, in the far North of New Zealand's Northland. Here you'll find beautiful views of the Tasman Sea combined with a nice dose of adrenaline waiting for everyone. Your kids will love this place on your NZ holiday!
Te Paki Dunes are a perfect sandboarding playground for the whole family. You don't need to bring your own sandboard – you can rent it for $15/day directly at the car park. There is no entrance fee to Sand Dunes. You can leave your car either in the car park, or (if you have 4WD) you can follow the stream and drive through the river (sand dunes will be on your right-hand side).
Be prepared to have sand everywhere and bring sunglasses (but not your favourite ones, because the sand could scratch them). Te Paki Sand Dunes definitely belong among the best things to do in North Island.
Other nearby places worth visiting are Cape Reinga or 90 Miles Beach. Cape Regina is a sealed road, but for 90 Miles Beach, you'll need a 4WD and be sure to drive to conditions.
Click here for accommodation options and pricing in Te Paki.
Thanks to Adriana from Czech the World
Auckland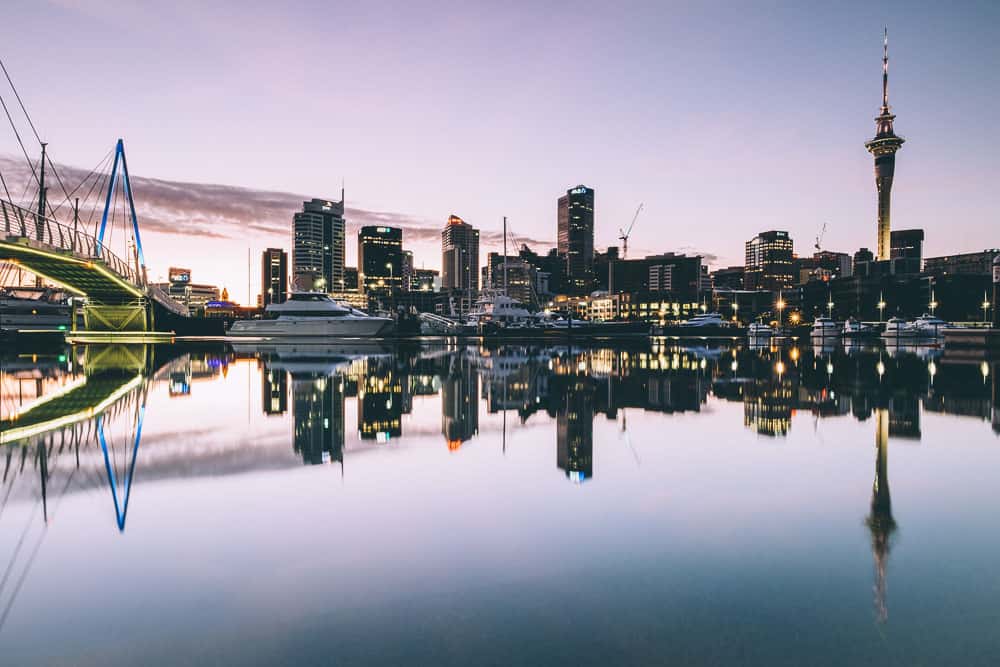 A family holiday to New Zealand will often start with arriving in Auckland, on New Zealand's North Island. Auckland is one of the best places to visit in New Zealand with kids as there is a bounty of kid friendly activities across the city. As the country's largest city, Auckland boasts quite an array of places to stay, eat and explore, and with a great public transport system in place, it's a breeze to get around.
Love the outdoors? Then the best things to do in Auckland with kids include a visit to the Auckland Botanic Gardens or Butterfly Creek. If you have an adrenaline junkie in the family but are travelling outside the ski season, Snowplanet has your name all over it with 8,000 square metres of indoor snow fun, including ski lifts! Or if you love animals, you have both the Auckland zoo or SEA LIFE Kelly Tarlton's Aquarium to visit on your trip.
Food is plentiful in Auckland, but our hot tip is to head to Amano opposite Waitemata Harbour, our favourite place to eat in the city. It always has something to tantalise the taste buds of everyone in our family. And where to stay? We adored the attention to detail at the Movenpick Hotel Auckland, where the kids were spoilt with Easter Eggs, and I found chocolate or macarons on our bed each night!
For most Australians, Auckland is the start of their family travel in New Zealand as it has the largest airport in the country. If you're considering an NZ family trip, watch out for sale fares throughout the year to snag yourself a bargain flight for your family holiday New Zealand.
Click here for accommodation options and pricing in Auckland.
Thanks to Leah from Kid Bucket List
Rangitoto Island
If you are spending some days in Auckland with the family, a great day trip from Auckland for kids is Rangitoto Island. This can be a fun way to leave the hustle and bustle of the capital for a day. Rangitoto is the youngest island in the Hauraki Gulf and its 259 m volcanic cone is a distinctive landmark just off the Auckland coast.
Rangitoto erupted from the sea in a series of dramatic explosions around 600 years ago, becoming the last and largest volcano formed in the Auckland volcanic field.
Rangitoto is one of the best places to go in New Zealand for nature lovers. People usually go to Rangitoto to see the world's largest pohutukawa forest and explore its fascinating landscapes of rugged lava crops and lush native bush.
Also, it is possible to climb up to the island's famous cone. The hike up to the volcano is only 5 km (one way), very easy and it usually takes one hour. On the summit, the views are amazing: the Hauraki Gulf and Auckland's beautiful skyline.
Rangitoto was in the past a summer destination for the beautiful families of Auckland, who built elegant "baches" (small holiday houses) in the 1920s and 1930s. Visitors can still see some of these baches, usually located not far from the beach.
A day trip from Auckland to Rangitoto Island is very easy to organise. The island is connected to the mainline by ferry (30 min ride, one way). Currently, nobody is living on the island so if you want to spend the full day, be sure to pack food and drinks for the family.
So if you're looking for something a little different and out of the hustle and bustle of Auckland, add Rangitoto Island as one of the places to visit New Zealand.
Thanks to Elisa from World in Paris
Waiheke Island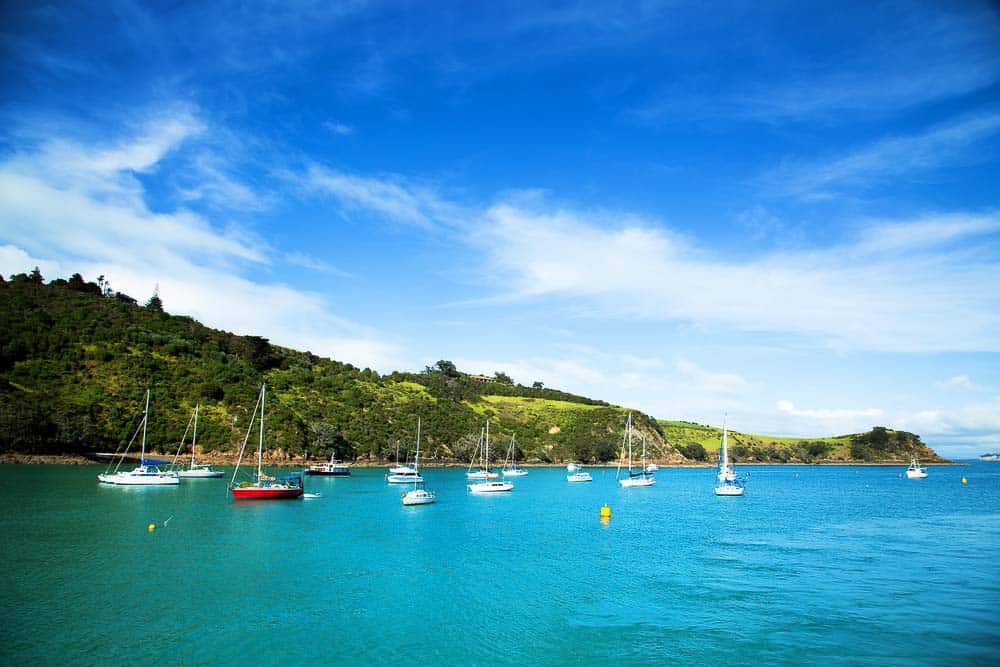 For families visiting Auckland, another one of the New Zealand places to visit is Waiheke Island. The island is constantly voted as one of the best island escapes in the world by Lonely Planet, Travel and Leisure Magazine, and other international experts and the kids will love it too.
The kids will love hopping on the Fullers ferry at downtown Auckland and taking a 40-minute scenic boat trip through the sparkling Hauraki Gulf waters to Waiheke and passing islands like the huge, dormant volcano that is Rangitoto Island (see above).
If you have the time, you can even stay for a week or two, in which case you may want to rent a car when you arrive or you can take a car on the separate Sea Link Car Ferry from Auckland. Rent a classic New Zealand bach (beach house) for family accommodation through one of the booking agencies like Airbnb, bookabach.co.nz, or holidayhouses.co.nz. If you don't have a car, try to find accommodation close to one of the Waiheke Explorer hop-on hop-off bus stops. They have a wide variety of interesting itineraries on offer.
Summer (October/ November to April/ March) is the most popular time to visit to enjoy the miles of gorgeous beaches and boating, kayaking and paddleboard activities. There are plenty of interesting walks and hikes, showcasing New Zealand's unique flora and fauna and wildlife, and biking and mountain bike tracks. There is lots of activities to keep the family busy and some great ice cream shops too! Waiheke is famous for its vineyards and most of them have children play facilities and family restaurants or cafes.
If you get time, another amazing island to visit on New Zealand North Island with kids is the Great Barrier Island with its Dark Sky Sanctuary.
Click here for accommodation options and pricing in Waiheke Island.
Thanks to Maureen from So Many Places! So Little Time!
Coromandel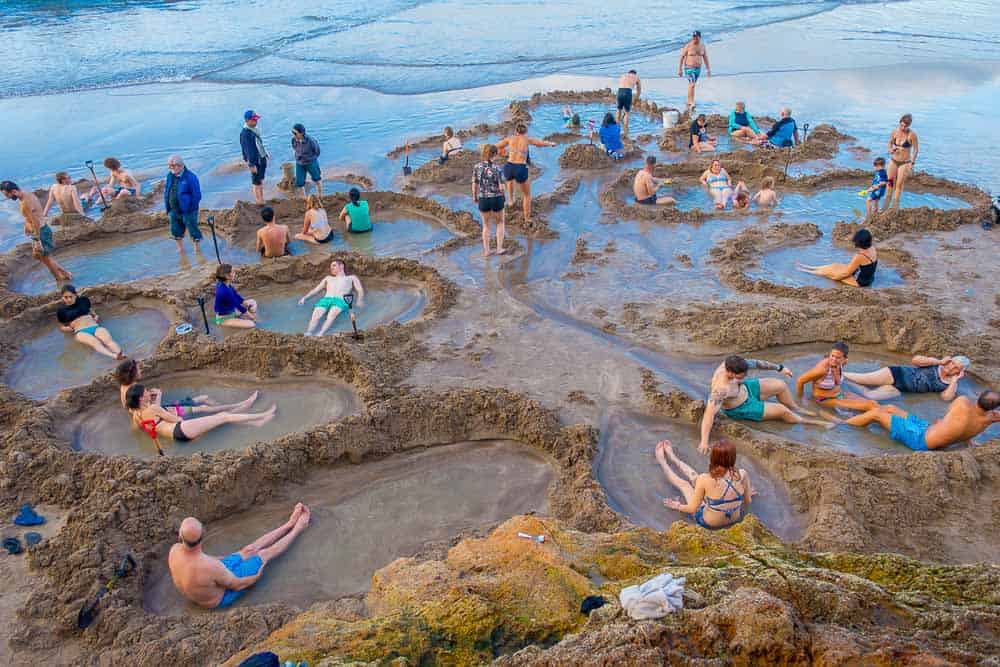 One of the best places to visit for family travel, New Zealand offers is The Coromandel. This beautiful peninsula in New Zealand is popular with locals and tourists, with a range of things to do and see for the whole family.
Located on the East Coast of the North Island, the area is full of amazing trails, secret islands, gorges, waterfalls, misty rainforests and magical beaches. There are many hiking and biking trails throughout the area, including the famous Hauraki Rail Trail – an awesome family trail to walk or ride, as it's fairly flat and set along old railroad tracks. Get out and explore, it's free!
One of the best things to do in NZ with kids is to visit 'Hot Water Beach', where (you guessed it) hot water bubbles up through the sand due to natural, underground hot springs. Visitors can head to the beach two hours on either side of low tide, see the steam rising and then dig their very own 'beach spa'. Be careful; the water can get hot, so make sure you have a steady supply of fresh ocean water coming in – and bring a spade. It's a really unique experience that is fun for the whole family and one of the top things to do in New Zealand North Island.
A great place to stay is the nearby 'Hot Water Beach TOP 10 Holiday Park'. Set on beautiful grounds along a river, they have campsites, funky cabins, villas and multi-bedroom apartments, as well as a grocery store, laundry, takeaway and a really cool playground (including a giant bouncy pillow) for kids. It suits any budget or group size. And it's only walking distance to Hot Water Beach!
From Auckland, Coromandel is around two hours drive (with a car). Visitors can also take the bus, which takes a little longer, or the (very scenic) ferry! A car is the best option, as there are so many great spots to explore that can be difficult to reach otherwise, and trust us – you will want to see them all!
Click here for accommodation options and pricing in Coromandel.
Thanks to Jenna from I Know the Pilot
Hahei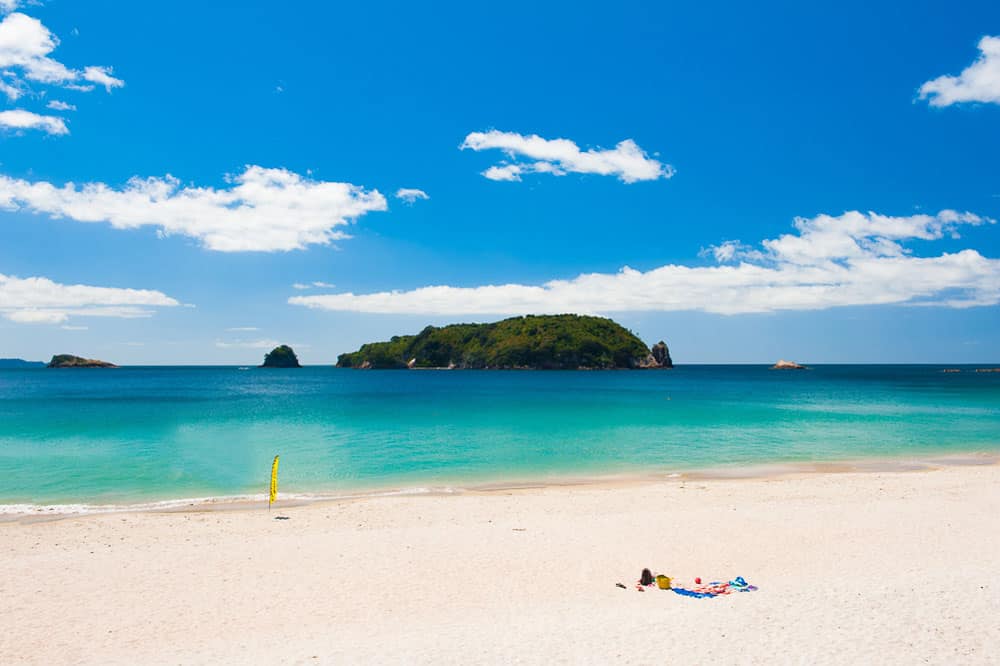 Hahei is yet another one of the awesome holiday places in NZ on the North Island. Hahei is a small coastal town located in the Coromandel, is popular during the summer months. It's between Cooks Beach and Hot Water Beach and is around 2 and a half hours from either Auckland or Mount Maunganui. Hahei has one of the best white sand beaches in the Coromandel; it's great for swimming, boogie boarding and surfing. There is also plenty of space to build a sandcastle too.
The most popular attraction is Cathedral Cove. The paved walk mixed with stairs takes around 30-40 minutes; many families walk this trail at the own pace. There are two other bays to visit along the way, both great for snorkelling and swimming. Arriving at Cathedral Cove, you immediately notice its landmark. Here you can swim either side of the cove, but the waves here can be stronger, so keep an eye on your little ones.
Make sure to check out The Hahei Explorer; it's perfect for families to experience the marine reserve. You might even get up close with some dolphins or a whale.
The best place to stay is the Hahei Holiday Resort campground; this place has all the accommodation options amenities you need for the perfect family stay.
So if you're looking for New Zealand places to visit in Summer with the kids, definitely consider Hahei as one of your holiday destinations, New Zealand has on offer.
Click here for accommodation options and pricing in Hahei.
Thanks to Scott from 4 Degrees of Destination
Hobbiton
One of the best family holiday destinations in New Zealand is Hobbiton. Hobbiton is about an hour and a half outside of Auckland and is the actual set where "The Shire" from Lord of the Rings was filmed! You will have to either drive yourself or hop on a guided tour from Auckland to get there.
Hobbiton is the perfect place to visit while touring New Zealand with kids as you really feel like you have stepped into the Lord of the Rings movies themselves. Plus, being on a movie set is a really cool experience for the whole family. The "hobbit holes" in the Shire are still standing and the perfect size for your kids to go in and feel at home.
The tour allows you to walk the set and even go inside some of the hobbit holes. The tour guides can answer any question about Lord of the Rings, so it can be fun to test them. With your Hobbiton experience, you get a guided tour of the Shire, an experience at "Dragon's Inn," and time to explore the grounds! It is truly magical.
Be sure to book in advance as these tours fill up quickly. I would highly recommend also including the lunch buffet in your tour package as well. When in Hobbiton, eat like a hobbit.
If you're looking for super fun places to visit in New Zealand with kids, then Hobbiton is definitely one to consider, particularly for Lord of the Rings fans.
Click here for accommodation options and pricing in Hobbiton.
Thanks to Shannon from Adventuring with Shannon
Taupo
During your North Island, New Zealand family vacation, be sure to stop in at Taupo for a few days – there is plenty to do here. There are so many great Taupo family activities, with most things to do in Taupo with kids revolving around its gorgeous natural setting.
Start your day with a stroll around the gorgeous lake and get a few photos taken by the "#Love Taupo" sign. You could also take a scenic cruise out on Lake Taupo to see the famous Maori rock carvings. Then depending on the time of day, have morning tea or lunch at one of the lakefront restaurants or cafes.
Then head out to see the gorgeous cascades of Huka Falls and maybe even take a river cruise or for the more adventurous families, you can even take a jet boat ride. While you're in the area, be sure to visit Aratiatia Rapids. Make sure you're there when the dam wall opens so you can see the thousands of litres of water flow through, creating the amazing rapids.
I highly recommend you check out some of the geothermal hot spots and volcanic terrain valleys. There are a few spots to check out, including Orakei Korako, which Lonely Planet describes as "arguably the best thermal area left in New Zealand". You could also enjoy a relaxing dip in one of the many hot springs in the area.
Other places to visit and things to do for kids in Taupo include Huka Prawn, Huka Honey, sky diving, hiking, mini golf and more – these are all fun things to do in New Zealand that kids will love (besides the sky diving)!
Lake Taupo is around 3.5 hours drive from Auckland, 4.5 hours from Wellington and 1 hour from Rotorua. I recommend while you visit that you stay at the Lake Taupo Holiday Resort – this place is brilliant for families and even has its own thermally heated pools.
Click here for accommodation options and pricing in Taupo.
Thanks to Andy from Queensland Camping
Rotorua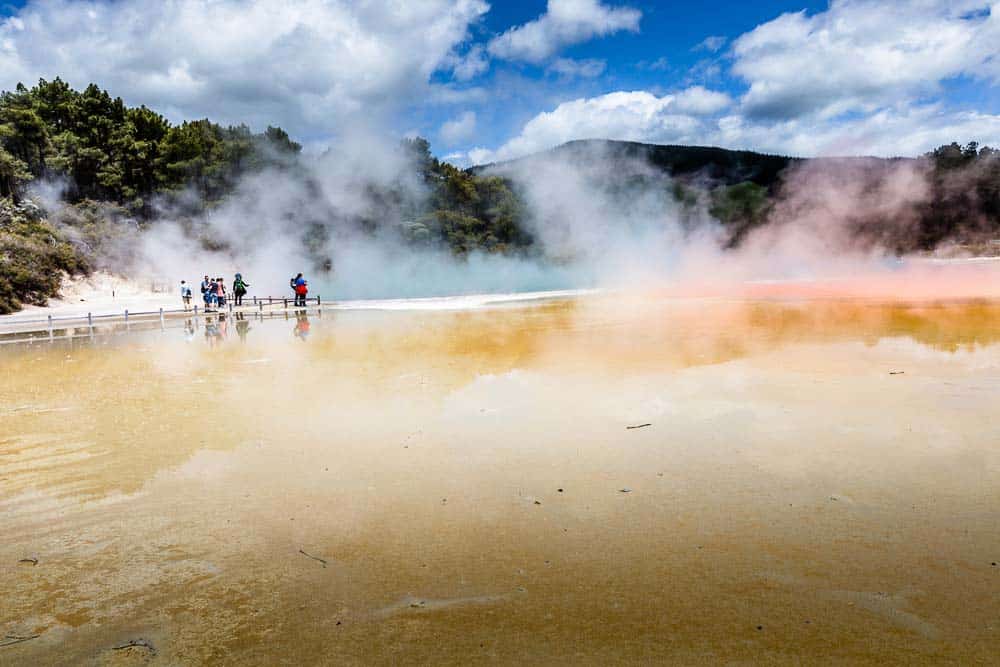 While you visit New Zealand with kids, make sure to go to Rotorua, one of the coolest cities in New Zealand. There are heaps of Rotorua things to do with kids, especially for adventurous families because of all the awesome activities like zip lining, white water rafting, and riding on a gondola.
Rotorua is located on the North Island, about 3 hours from Auckland and it's most famous for its geothermal activity. To see geothermal mud pools, hot springs and geysers, you'll want to head to Whakarewarewa. It smells like Sulphur, but it will leave your whole family breathless on your New Zealand holidays.
Another one of the cool kid's activities Rotorua has is the Redwoods Tree Walk. Here, your family can walk 20 meters high up in a Redwoods forest across 28 swinging bridges. It's not scary at all and they even have activities for the kids when you've completed it.
You can visit Maori villages all over New Zealand, but the most popular ones are in Rotorua. One of our favourite things to do in Rotorua with kids is to explore the Tamaki Maori Village. It's where families can participate in cultural activities, watch Maori dancing, and enjoy an authentic Hangi feast.
The best way to get to Rotorua is to drive from Auckland, although they do have a small airport you can fly into. I recommend renting an Airbnb in Rotorua, so you have plenty of space for the whole family.
Click here for accommodation options and pricing in Rotorua.
Thanks to Marice from Marcie in Mommy Land
Wellington
Many Australian families fly into Wellington when they visit New Zealand with kids, making it the perfect place to start your family holidays to New Zealand. There are plenty of things to do in Wellington with kids, including some great free activities – making for some cheap Wellington holidays.
Start your time in Wellington with a walk along the scenic waterfront. There are some great cafes here for a bite to eat and a range of playgrounds like the popular Frank Kitts Park. Other things to do on the waterfront include visiting the Wellington Museum and the Te Papa Museum. From here, for those who enjoy shopping, I'd recommend wandering around the city as I find the shopping in Wellington particularly good.
One of the best things for kids to do in Wellington is to ride on the little red Wellington cable car. The cable car runs between Lambton Quay and Kelburn and at the top, you can take a stroll around the Wellington Botanic Gardens. Depending on the time of your visit, you may also be able to take in a show at the Space Place planetarium.
For animal lovers, there is a range of places to check out some wildlife. There is the Wellington Zoo as well as Zealandia, where you can see a kiwi – which let's be honest, seeing a kiwi is one of the top 10 things to do in New Zealand!
There are plenty of other fun things to do in Wellington for kids, including cruises, hiking and during the warmer months, some stunning beaches.
So for those starting their family holidays in New Zealand with a flight into Wellington, definitely plan on spending a few days here.
Click here for accommodation options and pricing in Wellington.
Thanks to Melissa from Queensland Camping
Places to Visit: South Island, New Zealand with Kids
In no particular order, here are some of the best places to visit on the South Island, New Zealand with kids.
Marlborough Wine Region
Of course, New Zealand is famous for its incredible wine regions, and if you're a lover of wine, I would certainly visit at least one of the wine regions during your New Zealand family holidays. People don't often think of wine tasting as one of the family activities NZ offers, but visiting the wineries of Marlborough is very manageable with kids. And if you love wine, you can't miss a visit to this special wine region!
You don't need to be a wine expert to know that Marlborough in New Zealand is one of the world's premium wine regions. The region produces 75% of New Zealand's total wine production and within that, 85% of this wine is sauvignon blanc. So if you are a fan of white wine, you won't want to miss a visit to Marlborough.
Luckily the wineries in Marlborough are generally family-friendly, with plenty of space for the kids to run around while parents do a wine tasting, and some even having toy boxes and garden games to keep the kids entertained.
Some of the best wineries to visit with kids include Wairau River, which has a large outdoor lawn and garden games; the famous Cloudy Bay, with its huge garden with croquet and petanque; and Forrest Wines and Wither Hills, which both have toy boxes in the tasting rooms for younger kids as well as plenty of lawn space.
So for parents who love their New Zealand wine, consider visiting Marlborough during your NZ family holidays.
Click here for accommodation options and pricing in Marlborough.
Thanks to Marianne from Mum on the Move
Kaikoura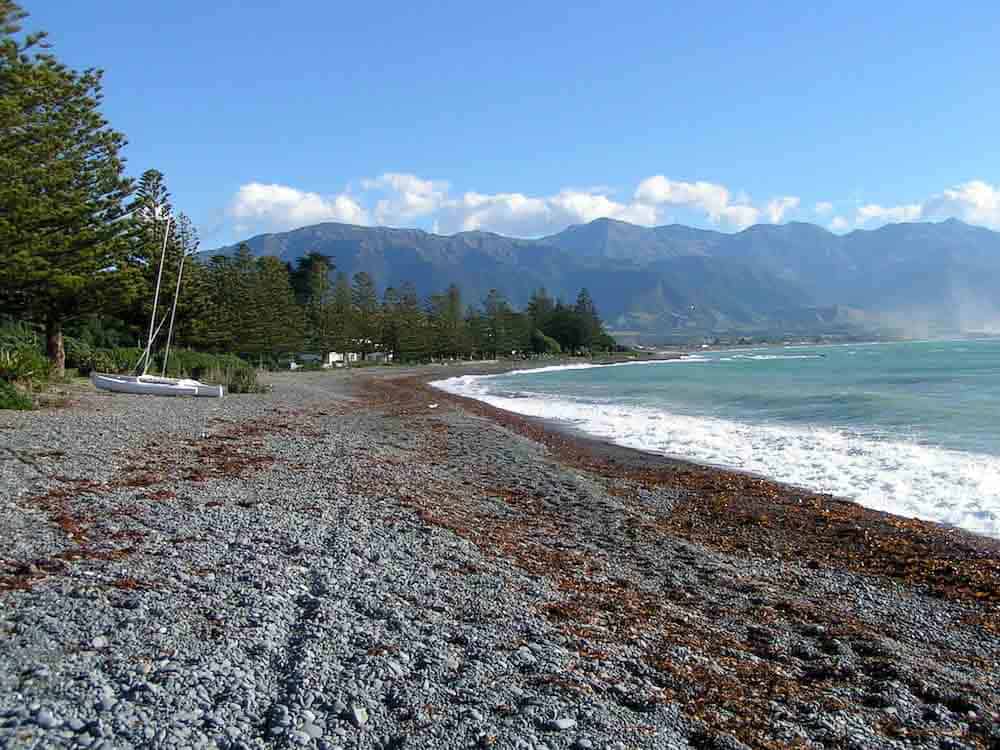 Kaikoura lies on the East Coast of the South Island. From the mountains to the abundance of marine life, the natural beauty of the area makes it a perfect place to visit on New Zealand South Island with kids.
A 2-hour drive from Picton – the gateway to the South Island – will find you arriving in a seaside gem where morning beach walks, shell collecting, and animal encounters will all feature highly on your activity "to-do" list on your holiday in New Zealand.
Book onto a whale watching cruise and be delighted by the sight of a Sperm Whale mounting from the water or an Orca or Humpback popping up to say hello. After all, this is the whale watching capital of the world.
Enjoy the look on your child's face as they see the pods of dolphins leaping and spinning from the water as your cruise makes its way around the waters. Look to the skies as the Albatross glide above you, a wildlife lovers paradise.
Kayaking is another great way to get all the family participating in a water-based activity, allowing interaction with the playful New Zealand fur seal pups that call this ocean their home. As you can see, for families who love their marine life, Kaikoura is one of the best places to visit in New Zealand South Island.
Of course, not all children like the water and that's not a worry as the Kaikoura Peninsula Walkway offers a chance to see seals in their natural habitat and has different level walks so all ages can take part. Or perhaps cuddling a baby lamb at the Point Sheep Shearing Farm would be something your child would enjoy.
Accommodation is plentiful in Kaikoura, and the main town offers a small selection of restaurants, cafes and delicious ice-cream parlours where your little ones can enjoy a sweet treat.
Before you leave, don't forget to check out the Kaikoura museum, which highlights artefacts from past and present times in Kaikoura, fascinating and educational for both you and your children.
For families who love animals, it's easy to see why Kaikoura is recommended as one of the best places to visit in New Zealand with family.
Click here for accommodation options and pricing in Kaikoura.
Thanks to Angela from Where Angie Wanders
Hanmer Springs
If you've heard of Hanmer Springs, situated on New Zealand's South Island, you'll maybe associate it with the famous thermal springs and a relaxing break for adults. So why include a stop here while you visit New Zealand with kids? Well, despite being known as an adults destination, Hanmer Springs is very child-friendly, with a lovely relaxed vibe, the air crisp and clear and the sunsets absolutely immense.
The Hanmer Springs thermal springs themselves are fabulous for kids and are reason enough to visit. There's a small selection of (very) hot pools they can't go in, but there's several other pools, a lazy river, slides and waterfalls to amuse all ages on your holiday in NZ.
The time of year guides the activities. In winter, there's snow, with winter sports available should your kids be snow bunnies, and in summer, take them jet-boating, rafting, horse-trekking, bungy jumping (12yrs+), biking and hiking. If you and your family love outdoor activities, this is the place to be year-round.
Regarding accommodation, no area is better than any other if you're mobile, as the town is quite small. Everything in the town is within walking distance; you'll just need to drive to activities such as jet-boating.
Hanmer is fairly central to the South Island, but if you're visiting Christchurch, Hanmer is only approximately two hour's drive, so it is great for a couple of nights away from the city. If you have time, don't miss out on taking the kids as they'll love it – it's one of the great places to go on holidays in NZ.
Click here for accommodation options and pricing in Hanmer Springs.
Thanks to Kerri from Adventures in Family Land
Christchurch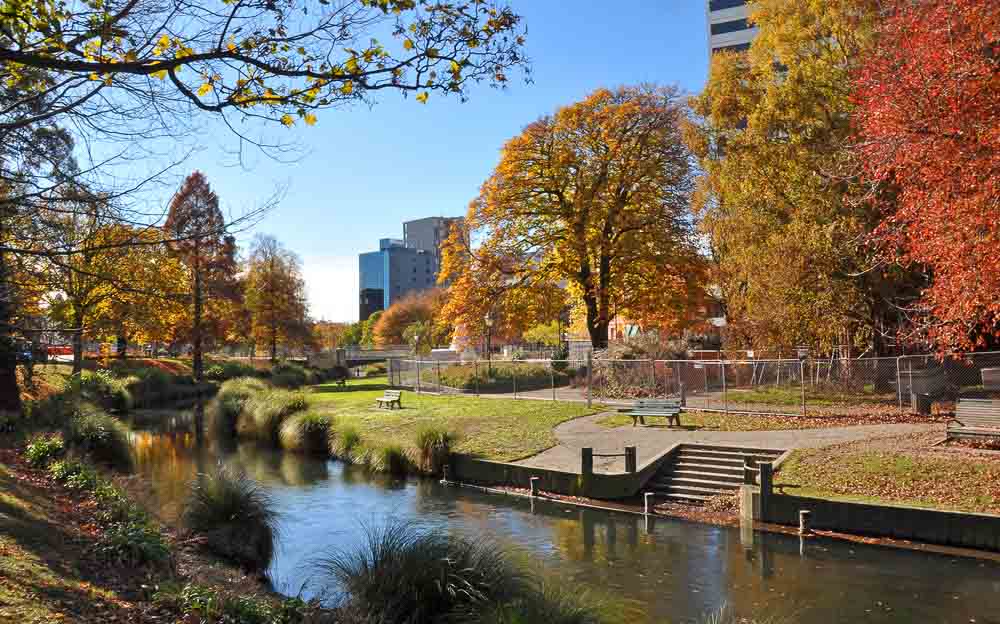 The South Island's largest city has undergone a reinvention since the devastating earthquakes of 2010 & 2011. It is now more family-friendly than ever, with new pools, playgrounds and attractions opening up around the city.
Christchurch is a fantastic place for adventurous families, as the city is blessed with stunning beaches for swimming and surfing, hills for hiking and biking, and flat roads for cycling. And if you're on a cheap family holidays NZ budget, you'll find plenty of free things to do in Christchurch also.
Some of the best things to do with children in Christchurch include visiting the famous Margaret Mahy playground that provides hours of fun, the gondola up Mt Cavendish, which has a fun interactive show at the top, the iconic Christchurch Tramway ride through the city, the International Antarctic Centre with its rides & fun educational activities, and the Willowbank Wildlife Reserve for a lovely day out with the animals.
Eating out is easy, too, as the general atmosphere is laidback and friendly, and there are many family-friendly restaurants to choose from.
When choosing when to visit Christchurch, summer or early autumn are ideal, as spring can be fairly wet and winter very cold! Of course, if you choose to visit in winter, the ski slopes are an easy day trip away! Be sure to stay central to enjoy the parks, gardens, and family-friendly attractions on offer.
Click here for accommodation options and pricing in Christchurch.
Thanks to Nadine from Le Long Weekend
Timaru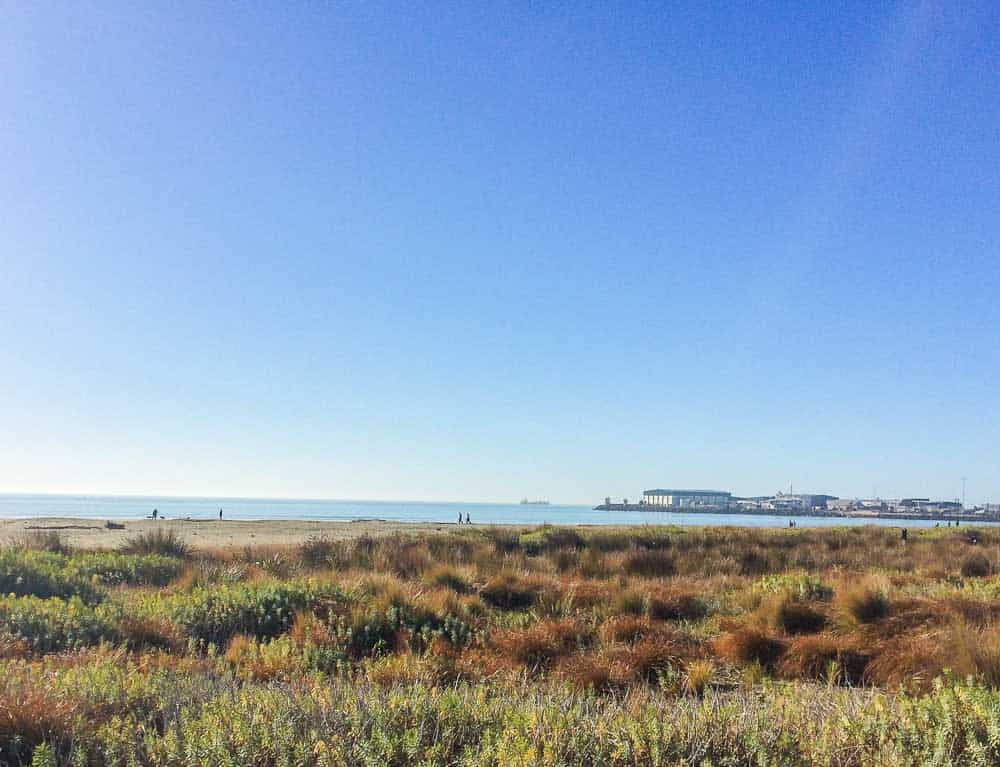 Timaru is in a picture-perfect location nestled between the foothills of the Southern Alps and the East Coast, just a 2-hour drive south of Christchurch. It is a great place for a family holiday NZ getaway or stopover.
The most popular family friendly attraction in town is the infamous Caroline Bay – a stunning beach with calm waters (that now has a swimming pontoon!) It is a large beach with lots of sand to play in and is home to little blue Penguins that can be viewed at night. Besides enjoying the beach at Caroline Bay, there is a playground with a range of activities, including disc golf, a paddling pool, playground, tennis court, mini-golf, the rollerblading club, a small train and more!
The best time of year to visit Timaru is during the Caroline Bay Carnival from 26 December – around mid January – the perfect New Zealand summer holiday. The carnival is a highlight of the town and has been running for over 100 years and includes fun activities and an assortment of rides, carnival games and concerts. Besides Caroline Bay, Timaru has over 40 parks to keep the kids entertained!
Click here for accommodation options and pricing in Timaru.
Thanks to Lee from Be Free With Lee
Oamaru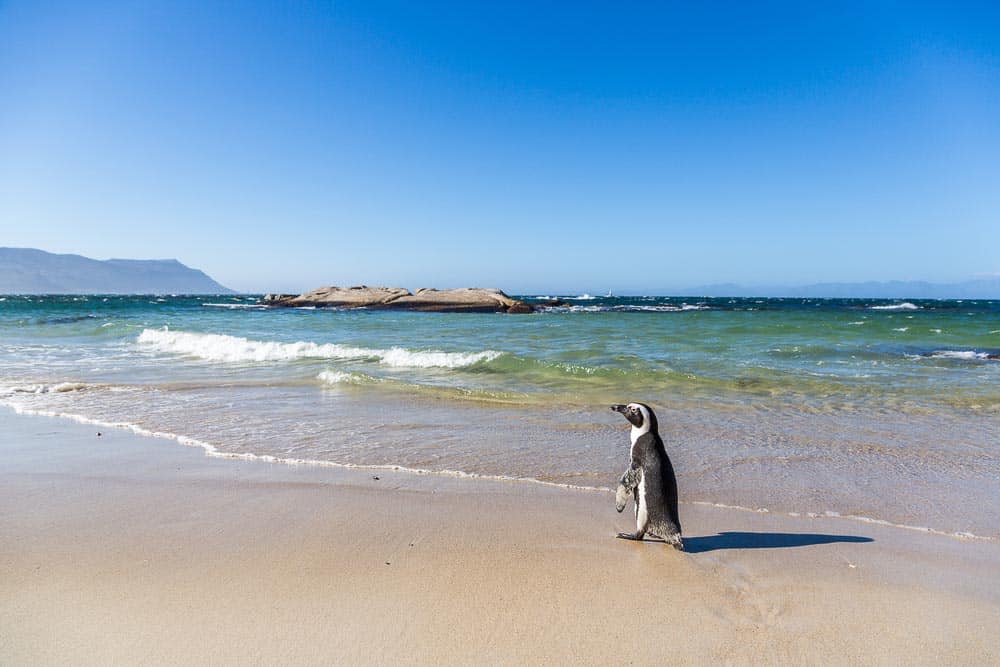 Another one of the wonderful New Zealand holiday destinations is Oamaru. The town of Oamaru is 112 km north of Dunedin and 250 km south of Christchurch on the South Island of New Zealand. This charming little farming town by the sea has some interesting attractions in town and the surrounding countryside.
You might have heard of Moeraki, half an hour south of Oamaru. Koekohe Beach near Moeraki is famous for its huge spherical beach boulders. Time your visit there for low tide. But another popular thing to do is to visit the Blue Penguin Colony. These little guys reside just 5 minutes from downtown, where you can take a tour at night or visit by day to learn more about these cuties.
For the cheese lovers, head to Whitestone Cheeses, situated right in town and offer some tantalising choices like Moeraki Bay Blue Cheese. Pick up some cheese and then head to the Oamaru Public Gardens. These gardens are quite impressive and definitely worth a visit. Look for the red Japanese Bridge, fanciful statues, tropical plant hot-house, walks and the decent kid's playground.
Steampunk is a weird and wonderful attraction, albeit not at all natural. It's pretty hard to miss, heralded as it is by a tilted steam engine at the front of a workshop building near the railway. Inside and out are the imaginings of what a Victorian era inventor might have built today. Sounds whacky doesn't it? Think unique and divisive, strange and wonderful creations. Certainly there are other Steampunks around the world, but Oamaru's is the largest.
You might also like to try a Bacon Buttie at Oamaru's Sunday farmers market held in a grassy park in the Port/ Victorian District. Scott's Brewery is across the street and nearby a penny-farthing bike to pose with. The Victorian District is full of original old buildings built from local stone, including an Opera House. You might even find people strolling through the streets in period costume – definitely one of the unique places to see in New Zealand with family.
Click here for accommodation options and pricing in Oamaru.
Thanks to Jan from Budget Travel Talk
Dunedin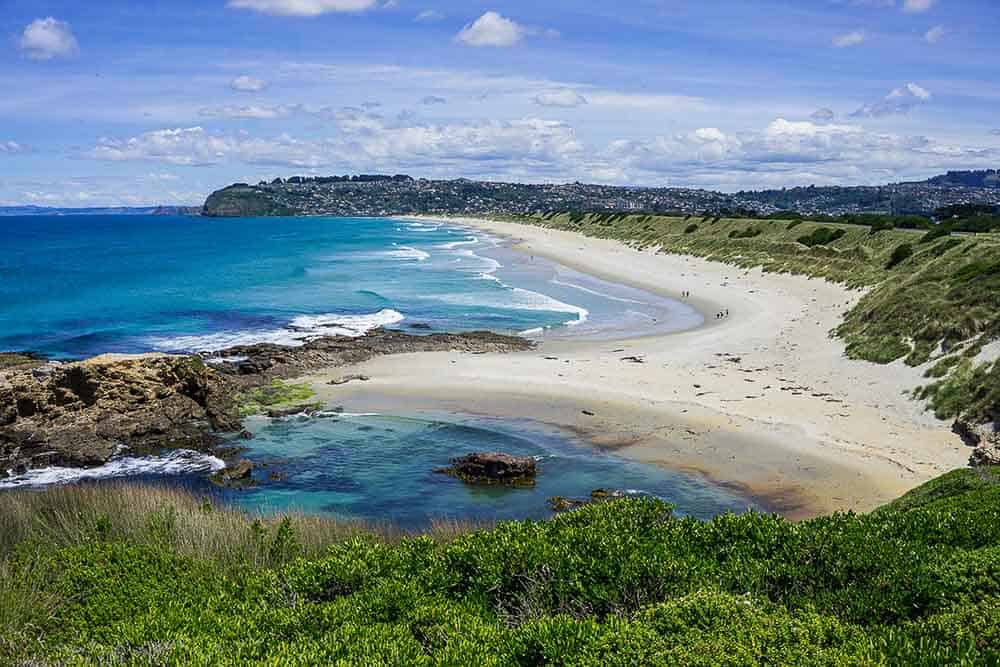 Dunedin is the perfect city to add to your New Zealand family holiday itinerary, mostly due to its small size (you won't get caught in traffic when moving around the city) and a huge number of things to see and do.
If you're a family who loves to hike, you'll be well catered to. There are many beautiful walks in Dunedin, and some of the best ones take less than an hour. Some of the walks I'd recommend doing with kids include Tunnel Beach, Sandymount and Nicols Falls (if you don't mind getting a bit muddy).
Other things to do in Dunedin include some cool museums and art galleries, the steepest street in the world, dozens of viewpoints (some of which you can drive straight to), lots of beaches and some of the best street art you'll find anywhere in the world. Throw in some beautiful architecture (Dunedin was a boomtown in the late 1800s / early 1900s and has kept many of its grand old buildings) and you have one of the most appealing and family friendly cities in New Zealand.
Dunedin is also a good place to base yourself for day trips. You could explore the Catlins, with their wild waterfalls and rugged coastal views, in a day and you could head north to Oamaru (surely the cutest old town in New Zealand – see above) and the Moeraki Boulders.
Click here for accommodation options and pricing in Dunedin.
Thanks to Jon from See the South Island
Franz Josef Glacier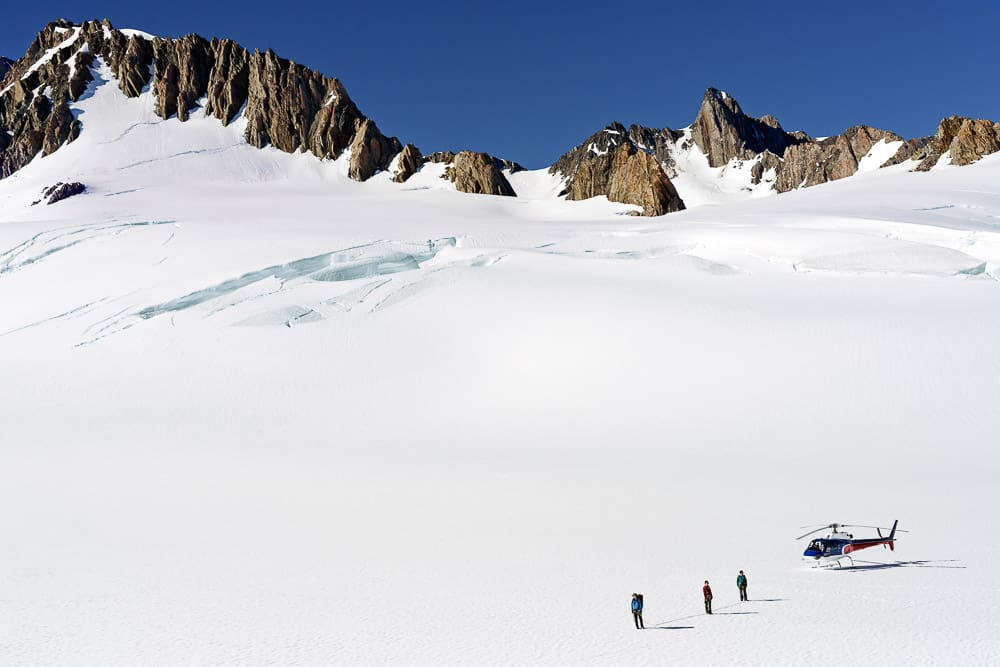 Photo Credit – Fraser Clements
Franz Josef Glacier is one of the most amazing destinations in New Zealand and a visit here is without a doubt one of the best things to do in New Zealand South Island with kids.
The easiest way to see the glacier is on a hike from the car park. The hike is about 5 km in total, and it will take about 90 minutes. The hike is on rocky terrain, but children can navigate it. Note that strollers are not going to work on the path, so you will need to carry the little ones. You won't be able to go all the way to the glacier but will be able to see it from about 750 m away.
The most dramatic way to see the glacier is with a helicopter tour. Not all tour companies will take children (and some have age limits), so it is important to look at websites and contact the companies in advance. You will wear crampons to walk on the glacier itself, and the tour guides will take you through a unique ice world with crevasses and caves.
Be warned that this bucket-list adventure is not cheap. If you're travelling to New Zealand with toddlers, ensure the tour operator can deliver a tour that children can handle to make it worth the large expense. And be warned that the weather is highly variable in this part of New Zealand, so your flight might be cancelled for fog or rain – so it's best if you've got some time up your sleeve.
If you're looking for totally unique things to do in New Zealand for families, then a visit to Franz Josef Glacier is definitely one to consider.
Click here for accommodation options and pricing in Franz Josef.
Thanks to Derek from Robe Trotting
Fox Glacier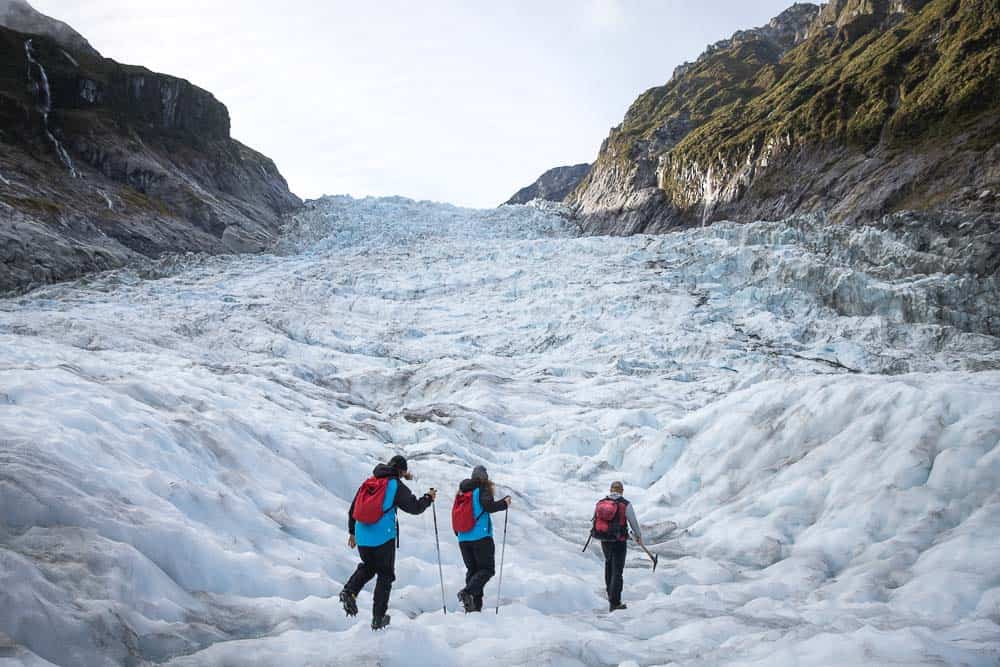 A small town in New Zealand with a fantastic glacier, Fox Glacier got its name from one of the country's Prime Ministers (Sir William Fox). Visiting Fox Glacier will be the highlight of your South Island family holiday.
Located at the foot of the beautiful Southern Alps of New Zealand, Fox Glacier is a natural gateway for adventure activities suitable for families. These include hiking on the glacier, going on scenic flights and leisurely walks around the region. The main attraction at Fox Glacier is the glacier itself and is a natural landmark in New Zealand that will take your breath away. The best view is on Cook Flat road on the way to Lake Matheson.
Teens and adventurous families might like to try ice-hiking and ice climbing, and heli hiking is an experience for your family adventure bucket list. Imagine landing by helicopter on the glacier to explore ice caves. Younger kids will love getting out of the helicopter and playing in the snow – making this one of their most memorable family holidays, New Zealand.
Other attractions near Fox Glacier include exploring glow worm caves and taking a trip out to enjoy a picnic at Lake Matheson, where you can gaze at the stunning reflection of Mount Cook in the lake. There are some easy walks around Lake Matheson suitable for kids, and the gold mining area of Gillespies Beach is an excellent place to spot fur seals.
Click here for accommodation options and pricing in Fox Glacier.
Thanks to Christina from Travel2Next.com
Lake Tekapo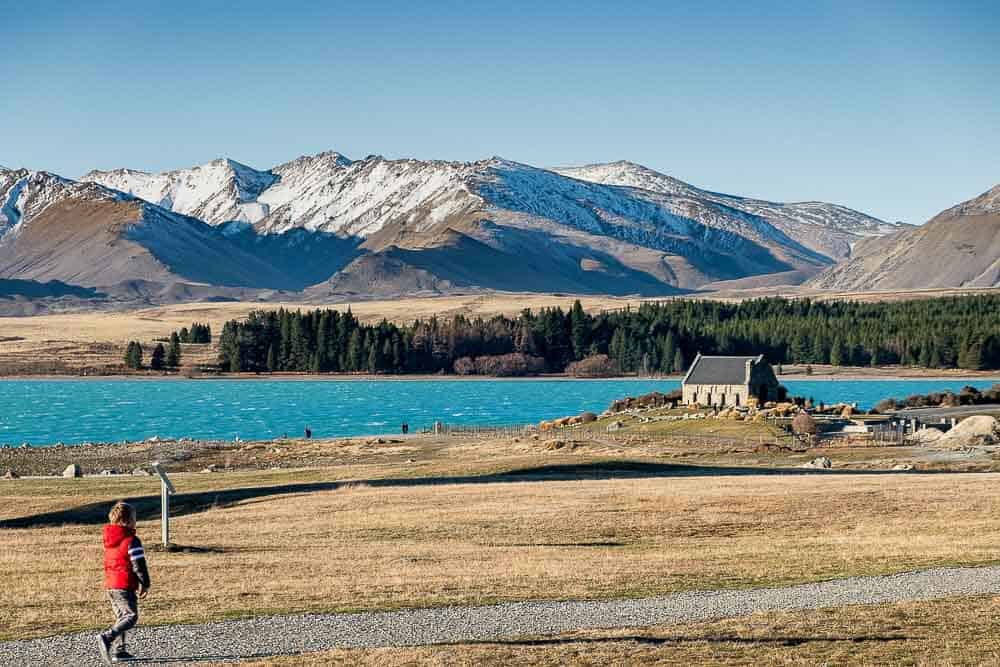 One of the first and most memorable things you will notice about Tekapo is the amazing colour of the lake as you drive down the hill. If you are driving south from Christchurch, it will be that "oh my gosh" moment. Lake Tekapo is a small township surrounded by the beautiful Southern Alps and sits lakeside. The lake itself is the biggest attraction, but there are many more things to explore.
Kids will love the Tekapo Springs hot pools, which also has an ice rink and snow tubing slide in winter and an enormous bouncy castle and water slide in the summer. I prefer visiting in winter as it is a little quieter and the snowy mountains are just stunning when reflected in the lake. Lake Tekapo has some great walks, such as the Mt John Summit walk, which is a must do if you want to see these beautiful views from above.
The Mackenzie Region, where Tekapo is its hub, is also one of the few Dark Sky Reserve in the world. This means it has very little light pollution and is one of the best places in the world to see the stars. You can visit the Mt John Observatory or take a Dark sky tour with a guide to show you how to spot the best constellations and see the Milky Way in all its glory.
I highly recommend staying overnight, as Lake Tekapo is often a busy tourist stop, yet once the tour buses are gone, it is calm and beautiful once more. For family accommodation New Zealand has on offer for those in campervans, you will find the Lake Tekapo Holiday Park on the lakeside an ideal stop, or for a bit more room for the family, the Peppers Bluewater Resort has large apartment style rooms.
Click here for accommodation options and pricing in Lake Tekapo.
Thanks to Jennifer from Backyard Travel Family
Mt Cook

Photo Credit – Miles Holden
For outdoor-loving families, the Mount Cook area of New Zealand is a must-visit! Like much of the South Island, it's very remote. It's a great place to get a sense for the majesty of New Zealand's mountain ranges and open spaces, with plenty of hikes to keep a family busy for several days.
The centrepiece for most visits to the region is the world-famous Hooker Valley Track. It's only 5 km long and almost completely flat but filled with stunning views as you walk from the village, along the Hooker River and all the way to the refreshing waters of the glacial lake at the base of Mount Cook. Our 6 year old was able to complete the entire walk with ease, while our 3 year old did part of it on her own and part of it in a carrier. Once at the glacial lake, you can choose to do a cruise if you like to get a closer view of the glacier and floating icebergs.
One of the biggest challenges of visiting Mount Cook is that it's one of the most popular tourist destinations, New Zealand. The trails can get packed during school holidays in December and January, when the weather is at its warmest and families from all over the world are on vacation. If your schedule allows, spring and autumn are less crowded and no less beautiful; in fact during these months, you'll be able to see the larger icebergs floating in the lake. If you visit in summer, beware that it can get quite sunny on the trail at midday, so be sure to bring protection. If you run out of water (as we did), kids will enjoy refilling their bottles from the pure, refreshing water. It's the best we've ever tasted!
Once in Mount Cook village, it's not necessary to drive anywhere unless you want to. Nearly all of the lodges and trailheads are accessible on foot. That said, we did find it helpful to bring our own groceries in our cooler from our previous, more developed stop. The restaurant and grocery options in town are very limited and their hours may not line up with your schedule, so come prepared.
Click here for accommodation options and pricing in Mt Cook.
Thanks to Melissa from The Family Voyage
Wanaka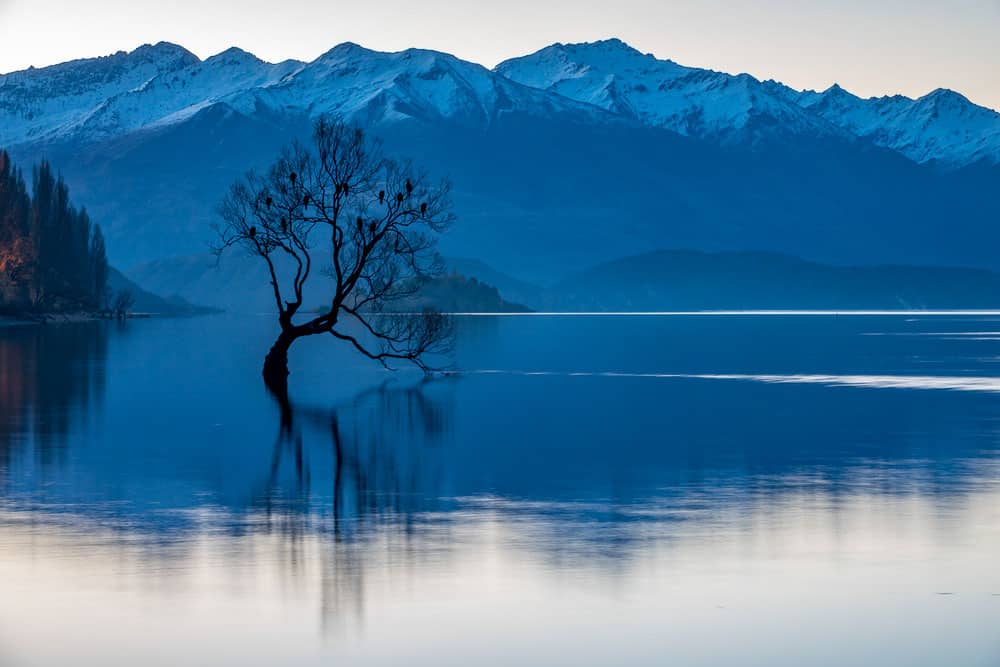 We never expected that Wanaka would be so much fun to visit! What attracted us to the town is the famous Puzzling World – a place where you can bend your mind with different games and puzzles, immerse yourself in illusion rooms, or test your problem-solving skills. If it's not raining, we recommend trying to figure out the maze – the world's first 3D Great Maze and taking some creative photos with the Leaning Tower of Wanaka. Puzzling World is a great attraction and one of the best things to do in Wanaka with kids.
While picnics in New Zealand are a must, you can enjoy those with a view of the famous #ThatWanakaTree – one of the top things to do in New Zealand. It's one of the most photographed trees in New Zealand and the hike to is just as beautiful. Start from the west end of town and walk along the Lake Wanaka shore to get there.
Another amazing outdoor activity takes place at the Lismore Park at the disc golf course. You can rent a disc golf disc from town and enjoy the sport with views of the lake and the mountains. If the weather is not so supportive, you can head to the Warbirds and Wheels – a complex displaying more than 30 classic cars and motorcycles, 5 warbirds, wearable creations, and the Sir Tim Wallis Story.
Click here for accommodation options and pricing in Wanaka.
Thanks to Bistra from The Magic of Traveling
Queenstown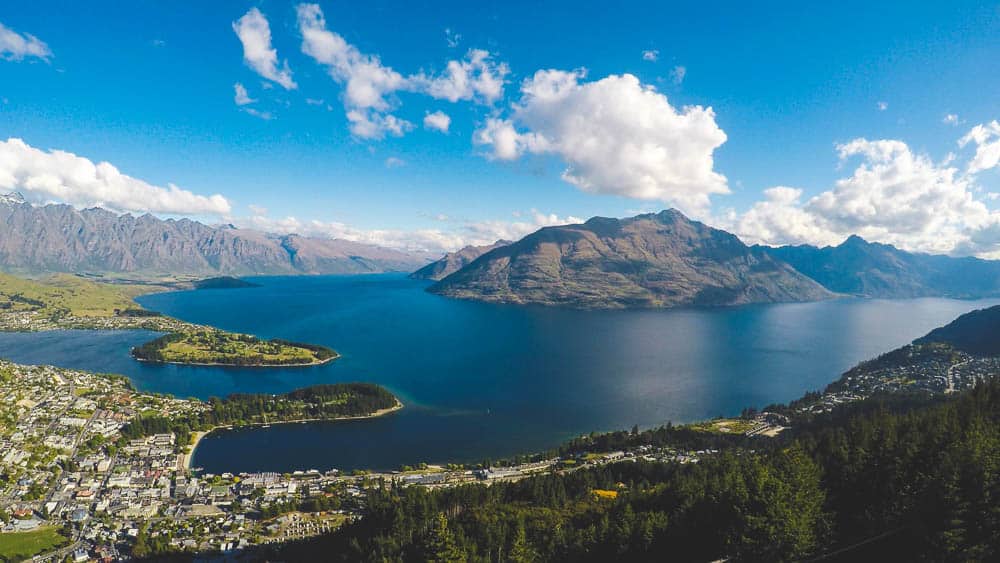 Queenstown sits on the shores of the stunning Lake Wakatipu in the South Island of New Zealand. Known as an alpine town for its close proximities to the ski slopes, it is a wonderful place to visit with the kids during the summer and perfect during the winter if you're after the best place to ski in New Zealand with kids. Queenstown is truly picturesque with glorious mountains as backdrops, deep emerald coloured waters in the canyons and the freshest air you'll ever breathe in.
There are so many kid friendly things to do in Queenstown. Take a trip up the gondola for some luging fun, horseback riding in Glenorchy where they filmed Lord of the Rings, paragliding, fruit picking in the summer or going on a ride on the TSS Earnslaw, an old steamship on Lake Wakatipu. If you're coming to Queenstown in the winter, you'll have to go for some snow fun in the Remarkables or Coronet Peak. For you adrenaline junkie teens, there's the famous AJ Hackett bungy jump, Shotover Jet Boat Ride and Canyon Swing, Skydiving and white water rafting.
You can fly direct to Queenstown from some major cities in Australia. Quite a few people like to fly into a major city in the South Island, hire a car and drive around. You will need a set of wheels in Queenstown to get around and you would want to anyway as the drives are like no other place in the world.
Queenstown, however, is notoriously expensive. Some great ways to save some money is to get a Motorhome, which is an incredibly popular option or get an Air Bnb with a fully equipped kitchen to have all your meals at home.
Click here for accommodation options and pricing in Queenstown.
Thanks to Amy from Family Globetrotters
Milford Sound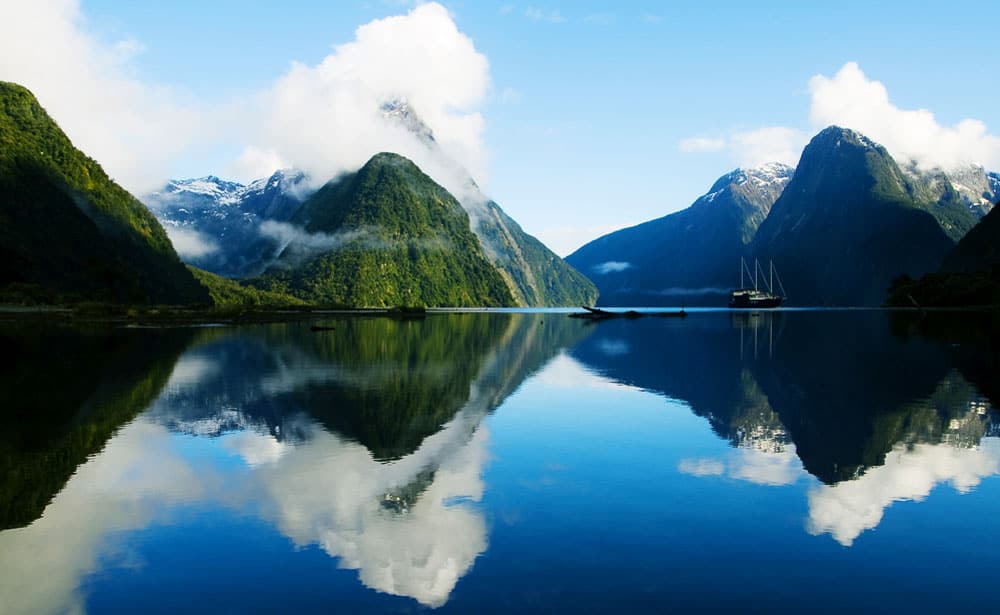 Milford Sound is a stunning fiord in the southwest of New Zealand's South Island. This area has incredibly dramatic landscapes, ranging from waterfalls to mountains and even glaciers! It's also home to seal colonies and many dolphins. If you only have time to do one thing while in the South Island of New Zealand – Milford Sound should be it!
Getting to Milford Sound is a bit of a journey. It's about a 4-hour drive from Queenstown or a 2-hour drive from Te Anau. Many different tour companies will also take you to Milford Sound if you are not interested in driving this route yourself.
Once you get to Milford Sound, there are a couple of different ways you can experience it. You can take a plane ride over it, go sea kayaking or the most popular option is to take a boat cruise. (The boat cruise is the best option if your kiddos are young.)
After your cruise, you can head to the Milford Sound Underwater Observatory! You'll descend 64 steps underwater into a big viewing area where you can observe the underwater life of Milford Sound.
Milford Sound is also home to some incredible hikes. The Key Summit hike is the most family-friendly hike. And while the Lake Marian hike is steep and rocky, it does offer some great views. (Each takes about 3 hours to do.)
If you don't want to drive all the way back to Queenstown or Te Anau, you can spend the night in Milford Sound at the Milford Sound Lodge! Be sure to book your stay well in advance of your trip, though, as they do sell out fast. You can also do an overnight cruise on the Milford Sound – one of the best places to stay in New Zealand.
Click here for accommodation options and pricing in Milford Sound.
Thanks to Lindsey from Have Clothes, Will Travel
Stewart Island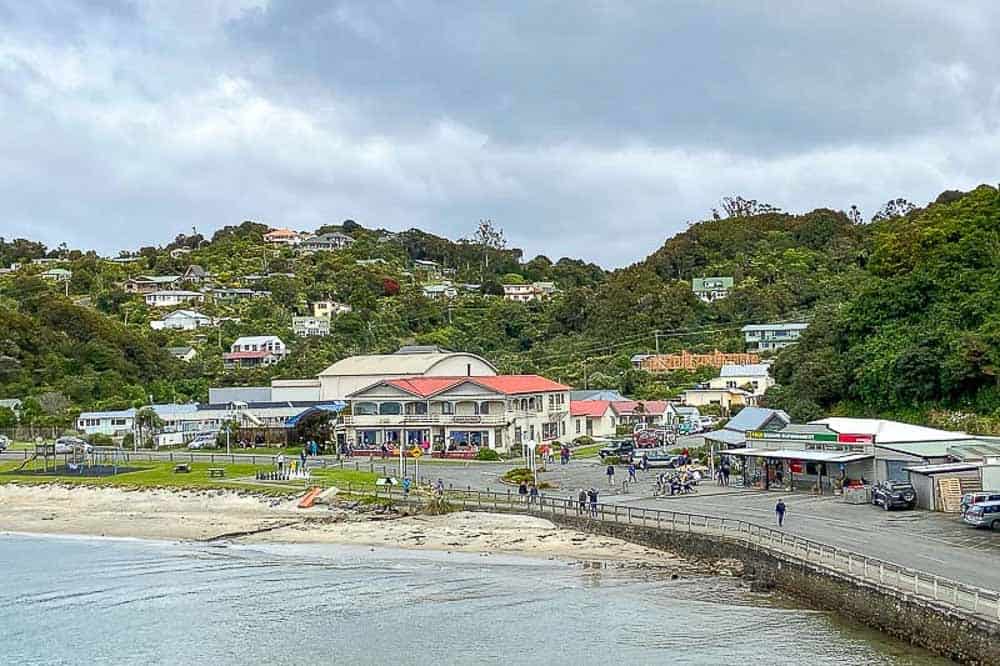 If you visit New Zealand in summer, you should include the lesser known third island on your itinerary – Stewart Island – as one of the places to stay in New Zealand.
Just getting to Stewart Island is an adventure with the 30 minute ferry trip over from the town of Bluff, offering opportunities to see the spectacular scenery and spot some of the unique seabirds that only live in this area.
Stewart Island is a relaxed nature destination. There is no rushing around or crowds here, so it is the perfect location to give kids some space to explore and be active. Nature walks are abundant, with plenty of wildlife to be seen. This is the best place in New Zealand to see the elusive kiwi in the wild, as there are over 20,000 of them on this small island.
The beaches are beautiful with calm water, perfect for wading with the younger children and water sports like kayaking for older kids. E-Bikes are a great way to get around the island and see the many beaches.
To learn more about Stewart Island, its history and nature, take the kids to the small Raikura Museum.
If luck is with you, Stewart Island is a great place to spot the Aurora Australis. Children of all ages with be absolutely awed by the southern lights dancing across the sky. This would be a great addition to your perfect family holiday in New Zealand.
Click here for accommodation options and pricing in Stewart Island.
Thanks to Josie from Josie Wanders
____________________________________________________________________________________
Hopefully you're not still wondering where to go in New Zealand… as you found this list of awesome places to visit in New Zealand helpful and now have some great ideas for your New Zealand itinerary with kids. You can find more of our New Zealand articles here or if you want to visit other South Pacific countries, you can read all about the Best things to do in Vanuatu with kids or the Best Fiji resorts for families.