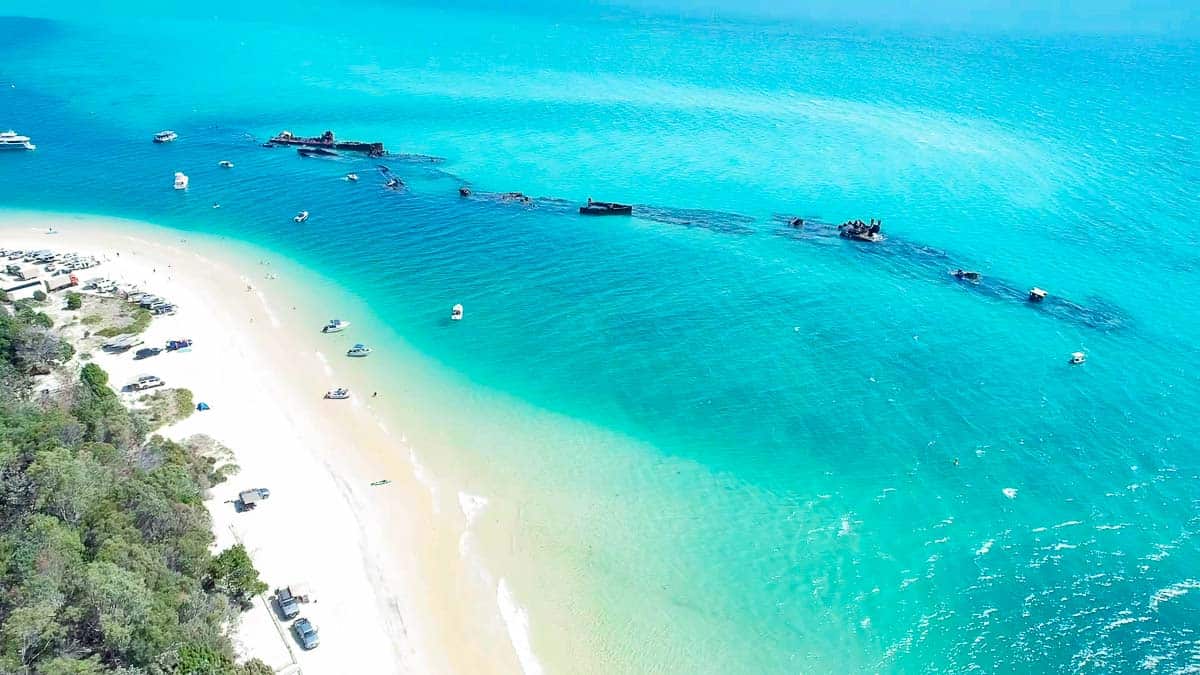 If you're a family that loves the great outdoors, then you're going to love Moreton. There are so many awesome Moreton Island things to do with kids! The family will love swimming and snorkelling in warm crystal clear water, relaxing on stunning beaches, climbing towering sand dunes, spotting wildlife and so much more.
Whether you plan on a camping trip with the kids, staying in a holiday home and exploring the island on your own or flop and drop at Tangalooma and explore the island on a day tour – there is something for everyone to enjoy on Moreton Island. Whether you have a weekend or a week or more, there are plenty of Moreton Island activities to keep you all busy.
We've put this guide together to help you decide the best things to do on Moreton Island during your family trip. It covers all of the most popular Moreton Island attractions and activities. As well as all the best things to do and see, this Visit Moreton Island guide covers how to get to Moreton Island, information on the various island's villages, island tours, driving on the island and tips on where to stay.
After reading this detailed guide, you'll be well on your way to planning your Moreton Island holidays with the kids.
Are you planning a trip to Queensland? Have any questions? Join our Queensland Travel Planning Facebook group here now! It's the perfect place to ask any questions and to be inspired!
This post may contain compensated links. Please refer to my disclaimer here for more information.
Things to do Moreton Island Map
To help you plan what to do on Moreton Island, below is a map that shows where all the things to do and see are. Zoom in and out for a closer view.
Best Things to do on Moreton Island
Below we've provided details on all the best things to do Moreton Island has. We've covered attractions and activities on Moreton Island as well as some places to visit.
You can also check out our video on YouTube here, which shows you all of the gorgeous island highlights.
Snorkel the
Tangalooma Wrecks on Moreton Island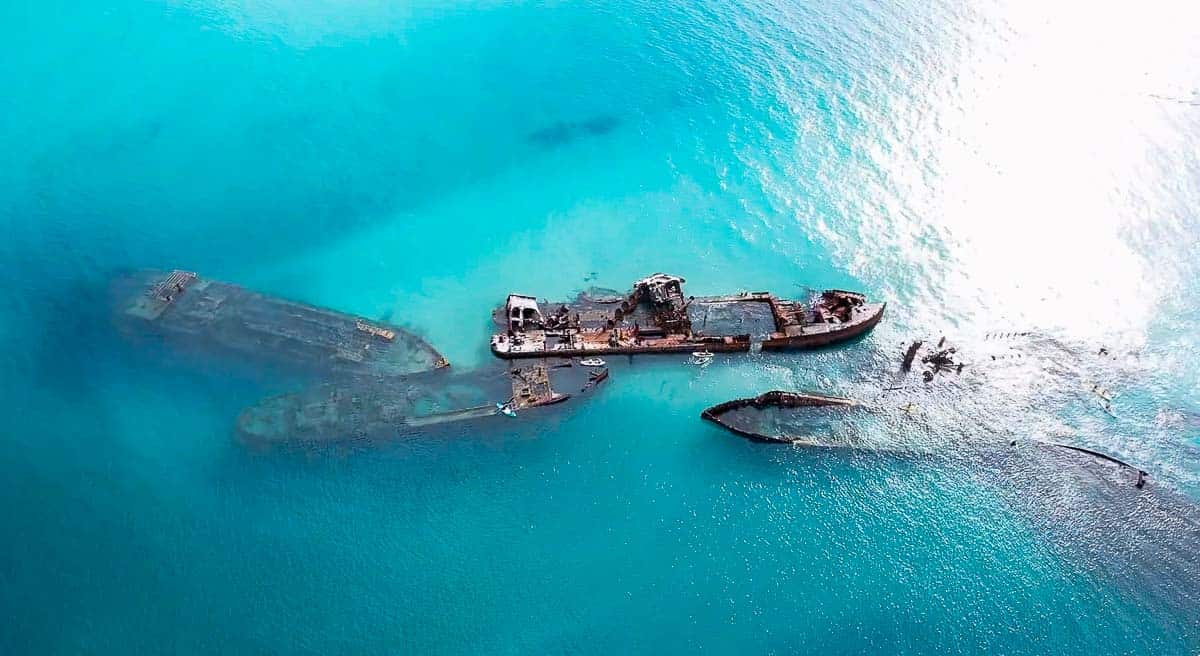 One of the most popular things to do on Moreton Island would have to be snorkelling around the Moreton Island Wrecks. In 1963, 15 ships were deliberately sunk here to create a break wall for the small boats visiting the island. Today these rusty old ships have created an artificial reef and have become a haven for marine life, including coral and even the odd turtle or two.
Various operators run guided snorkelling tours around the wrecks, but if you have your own gear, you're more than welcome to go yourself. The wrecks are just a few hundred metres from the beach, so they are easy to reach. However, at times, the current can be strong, so you do need to take care. For snorkelling on your own, it would be best to go out at low tide so you don't have to swim as far. You might also like to have someone in a kayak to keep an eye on the snorkelers in your group.
There are other wreck sites around the island worth exploring too – more on those below.
Climb Mt Tempest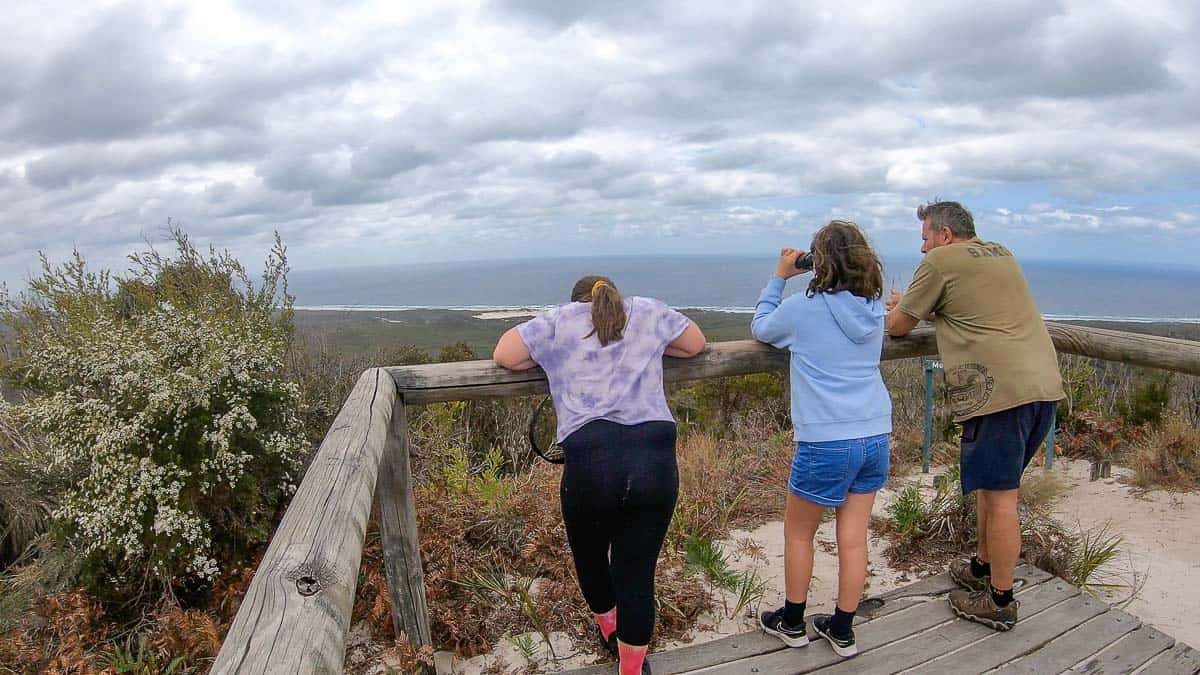 Inland from the Tangalooma Wrecks, take Middle Road and turn left just before reaching the eastern side of the island (if you miss the turn off – like we did – just drive out to the beach and then go back and take the first right). This is where you'll find Mt Tempest – considered the king of Moreton Island's sand dunes.
At 285 metres above sea level, it's not the easiest climb, but its very doable even for kids or beginner hikers. Once you reach the top, you're rewarded with 360 degree views where you can see all the way from the Sunshine Coast to the Gold Coast.
The walk to the top is 2.5km and it took us one hour to do the return hike. The start is around a 30 minute drive from Tangalooma.
Visit the Bulwer Township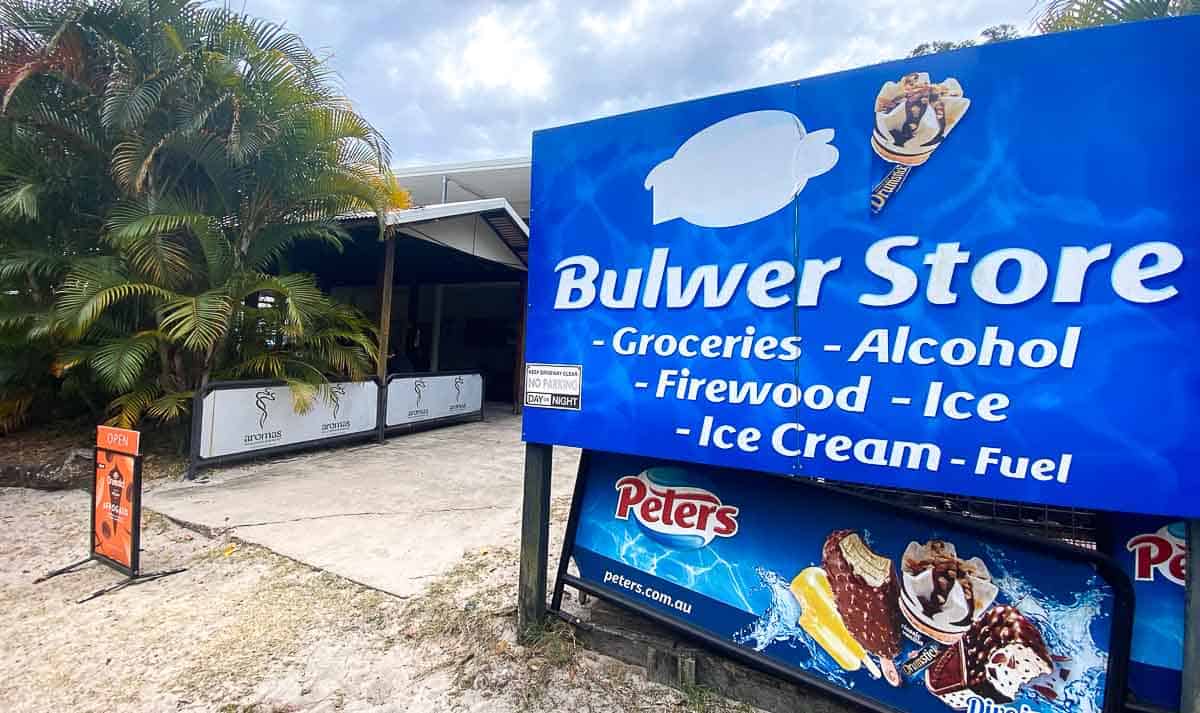 Just 12kms north of the Tangalooma Resort is the small town of Bulwer. This is the main place on the island to stock up on supplies like groceries, alcohol and petrol.
Bulwer has a lovely beachfront with crystal clear blue waters making it ideal for swimming. There are also a few wrecks here (more on that below) where you can go snorkelling to see a range of marine life.
The Castaways Store and Cafe is here, which is your local convenience store and a great place to come for a meal. Castaways is open daily for breakfast and lunch from 9 am to 3 pm, and during peak times, it is also open for dinner Thursday through to Sunday. You can see their menu here. As for prices on things, I didn't find it too bad given its location – but their supply is fairly limited. You're best to go right after the barge has come in and the shelves are fully stocked.
Bulwer is a beautiful spot to come for some fantastic sunsets, with spectacular views across Moreton Bay and out to the mainland mountain ranges.
Walk to the Five Hills Lookout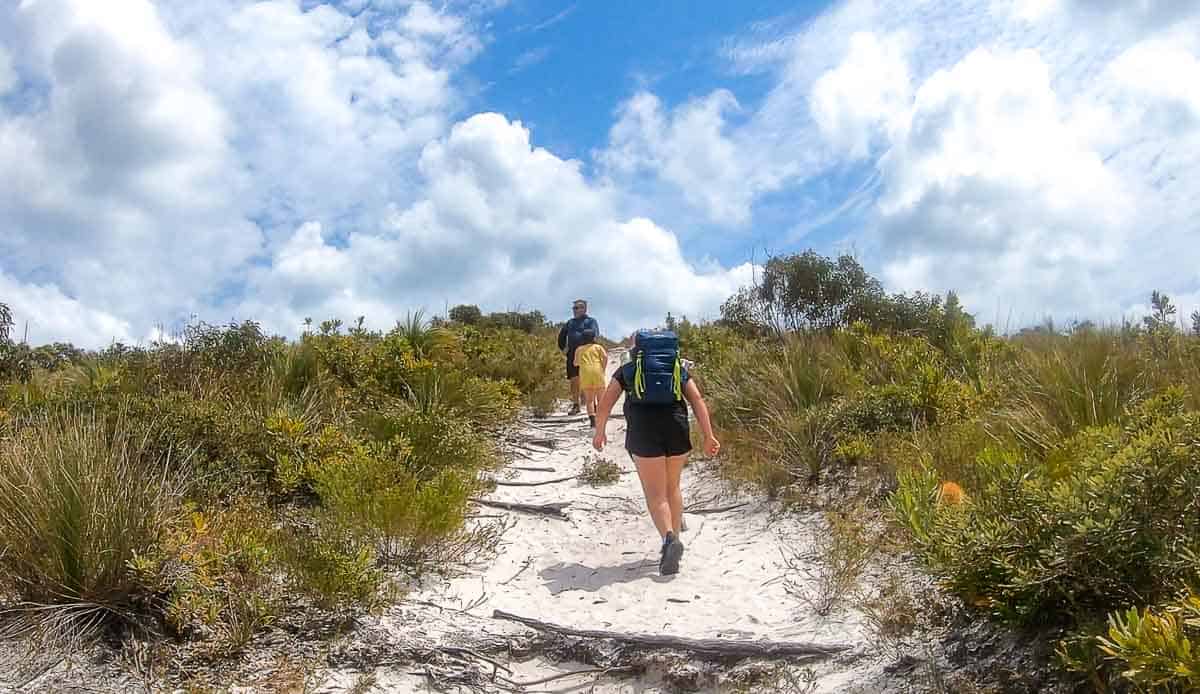 You'll find Five Hills Lookout by continuing north from Bulwer along the Bulwer North Point Road around to Cape Moreton. It's an easy 1 km return walk to the lookout and from the top, you'll have fantastic 360-degree views of the northern end of Moreton Island.
It took us around 15 minutes for the return walk.
Take a Dip in the Champagne Pools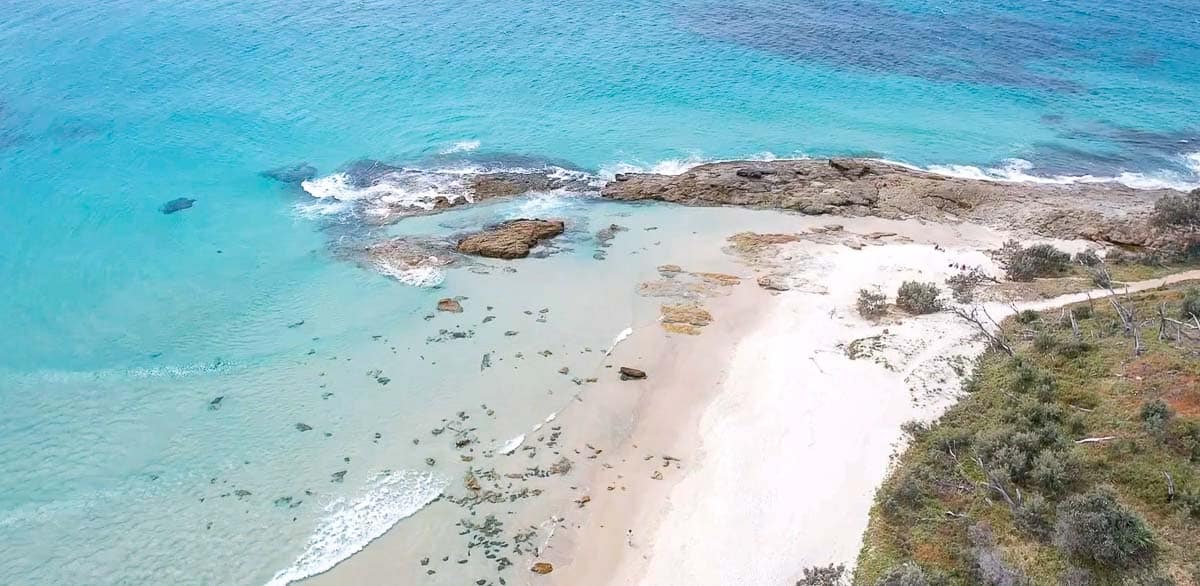 As you continue east along Bulwer North Point Road, along the sand towards North Point, you'll come across the fabulous Champagne Pools. Just like K'gari's Champagne Pools, these pools get their name due to the waves crashing over the volcanic rock, creating shallow bubbly pools as the water cascades down.
The pools are crystal clear and the perfect place for a swim. Many suggest the best time to visit is mid afternoon when the sun rays beam down, creating a lovely glow. Although you'll need to ensure you check the tides – mid tide is best.
The girls just loved it here and we visited frequently during our stay on Moreton Island.
Honeymoon Bay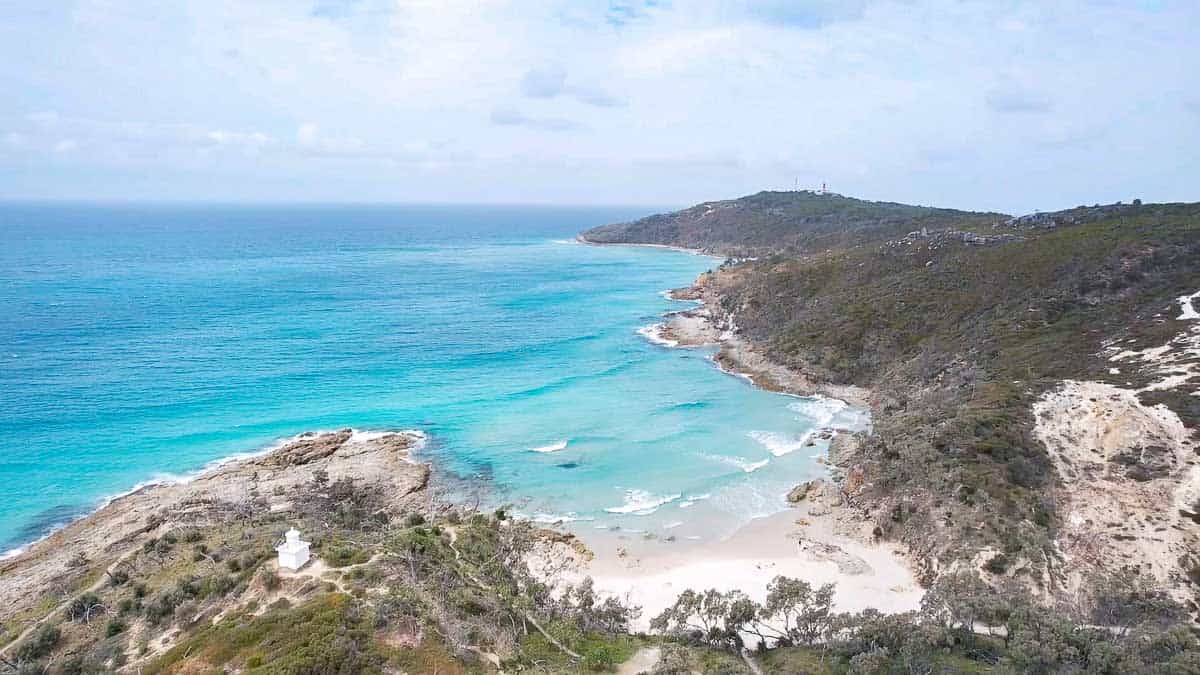 Just behind the Chamgpange Pools at North Point, there is a short path across to Honeymoon Bay. This is the northern tip of Moreton Island and the area consists of a 1.5km section of rocky outcrops from North Point to Cape Moreton, with the area in between featuring various little beaches, including Honeymoon Bay.
Honeymoon Bay is a gorgeous crescent shaped 50 metre long sandy beach and is considered one of the most beautiful beaches on the entire island. Although swimming is not recommended due to strong currents and big waves, so the beach is best for exploring on foot.
Cape Moreton Lighthouse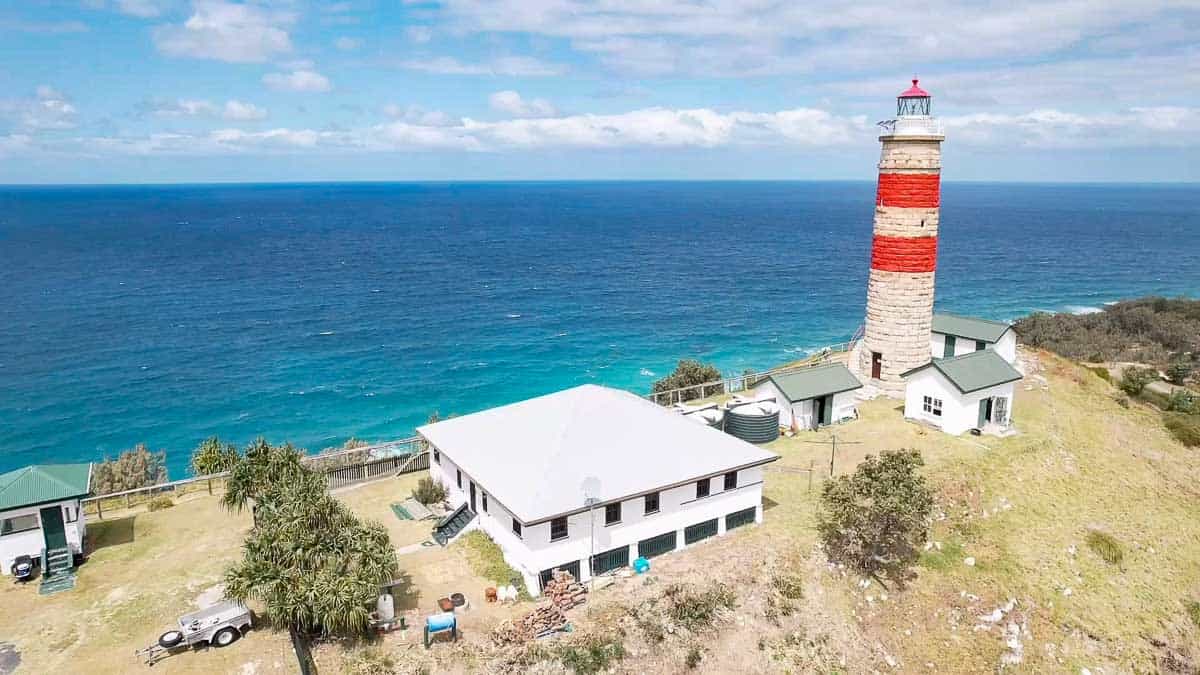 Continuing on from North Point and Honeymoon Bay, you'll come to Cape Moreton, where you'll find the Cape Moreton Lighthouse. Built in 1857, this was actually the very first lighthouse ever built in Queensland.
The lighthouse stands at 23 metres tall and has red stripes giving it a bit of a candy cane look. At the lighthouse, there is a visitor information centre, where you'll be able to learn about the island and its history.
While the lighthouse is well worth a visit, the area of Cape Moreton is also a great place to explore, thanks to its views across the ocean. Here is a great spot for seeing migrating whales, dolphins, manta rays, turtles, sharks and dugongs.
You can reach the lighthouse either by taking the 4WD track from the back of the North Point campground or by coming up the beach from the eastern side of the island. There is a car park right at the lighthouse.
Harpers Rock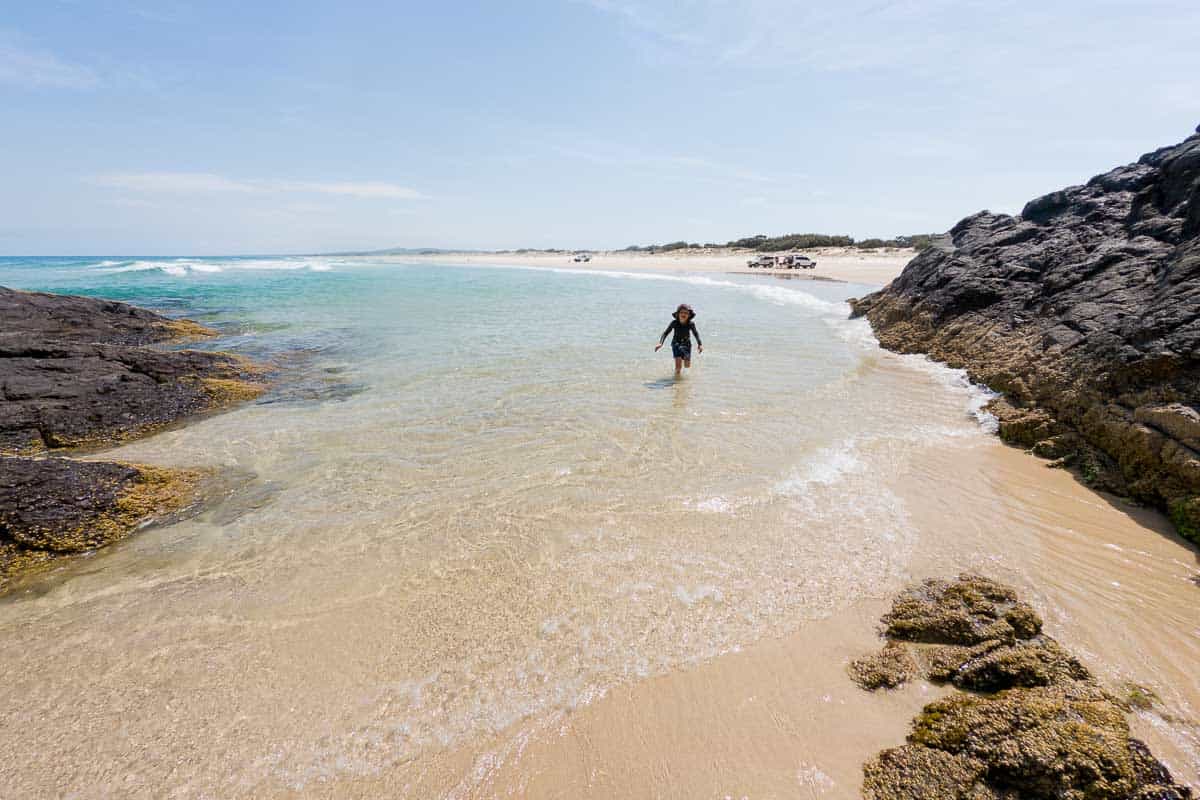 Image Credit: Thanks to Tourism and Events Queensland
At the base of Cape Moreton, you'll find Harpers Rock, an interesting cluster of bright red sand formations. Visitors to Harpers Rock say it reminds them of something from a sci-fi movie because it's as if you're walking on a different planet. It's a super cool place to take the kids to explore for a bit.
Blue Lagoon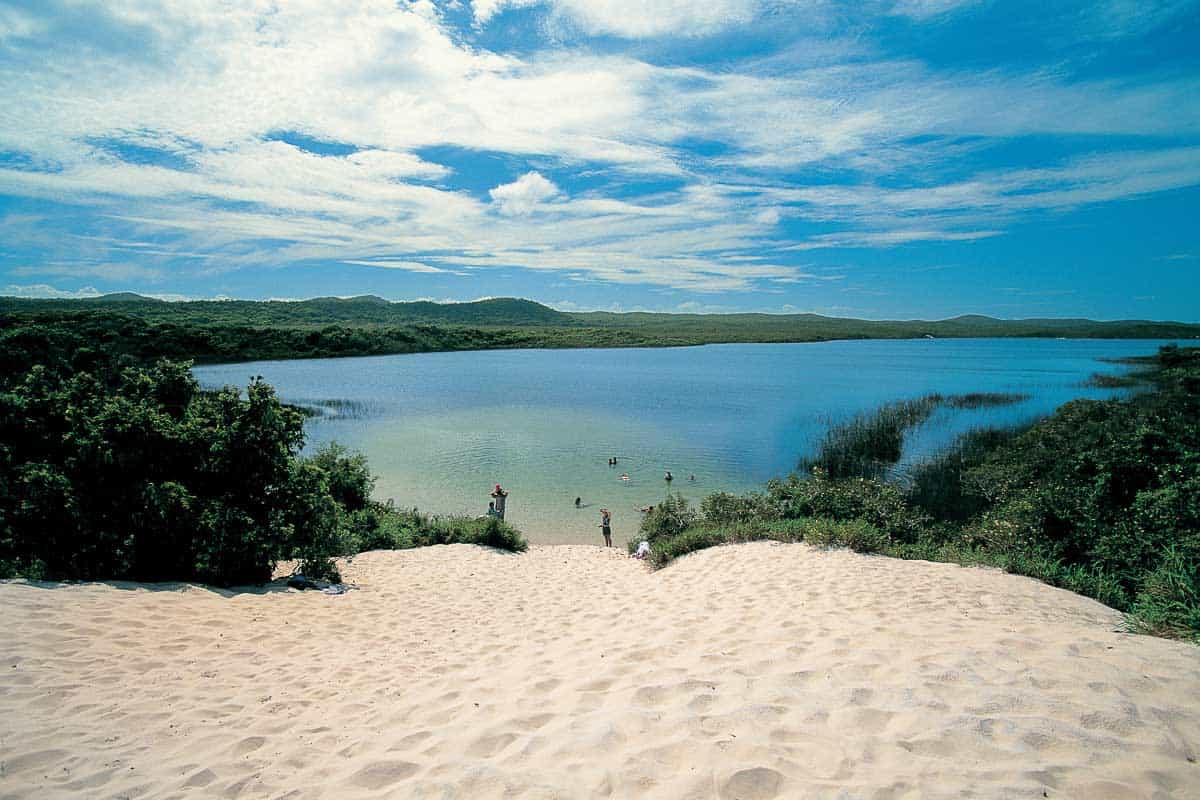 Image Credit: Thanks to Tourism and Events Queensland
Located on the island's eastern side, the Blue Lagoon is a huge 42 hectares freshwater lake. Blue Lagoon is the islands largest and most popular lake. The lake is filled by an underground water source and has a brown tinge to it due to being naturally infused with natural tea tree oils. Despite the brown tinge, the water is crystal clear and makes for a great place to swim.
Blue Lagoon is reached by driving to the eastern side of the island and then taking an inland track. It's super soft sand here and pretty much every vehicle we saw got stuck – including us – so ensure you have your recovery gear with you. From the car park, it's just a short 10 minute return walk down to the lake.
Honeyeater Lake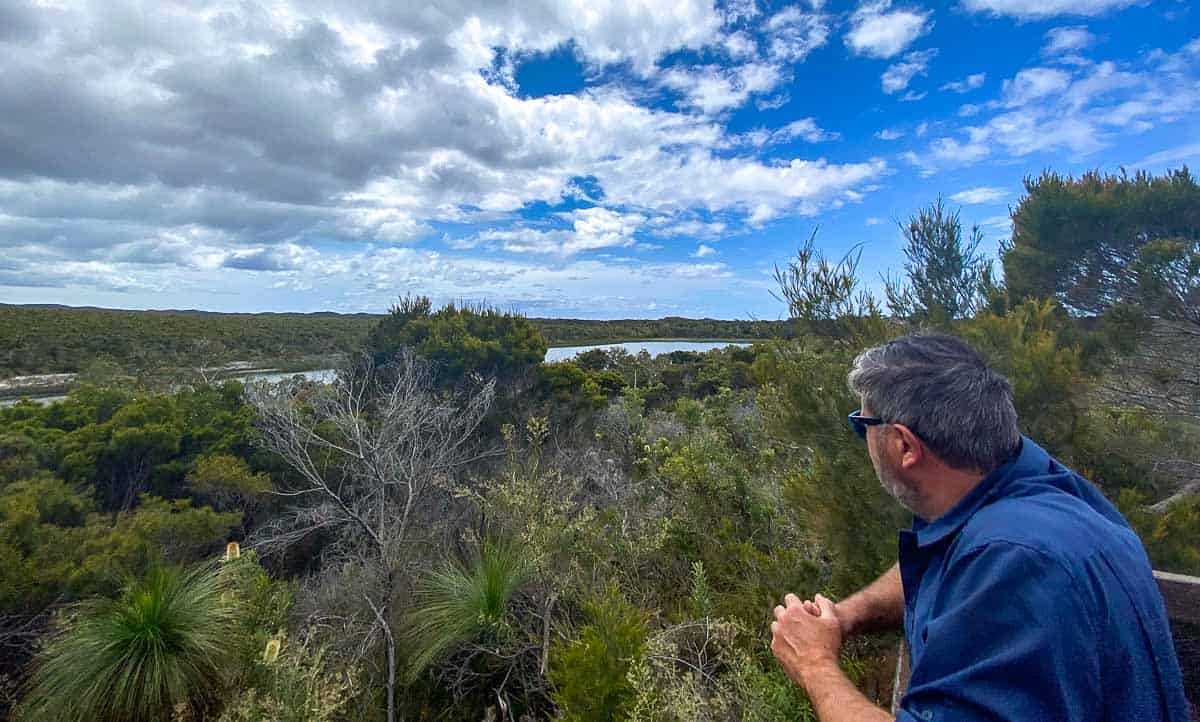 Close to Blue Lagoon is Honeywater Lake, one of the island's perched lakes. This lake is home to a variety of waterbirds and is surrounded by banksias that attract honeyeaters. There is a viewing platform close to the car park, which is a great place to view the lake and the honeyeaters.
Honeyeater Lake is located just off the Bulwer Blue lagoon Road and then you'll need to walk an easy 60m return track – allow around 5 minutes for the return walk.
Eastern Beaches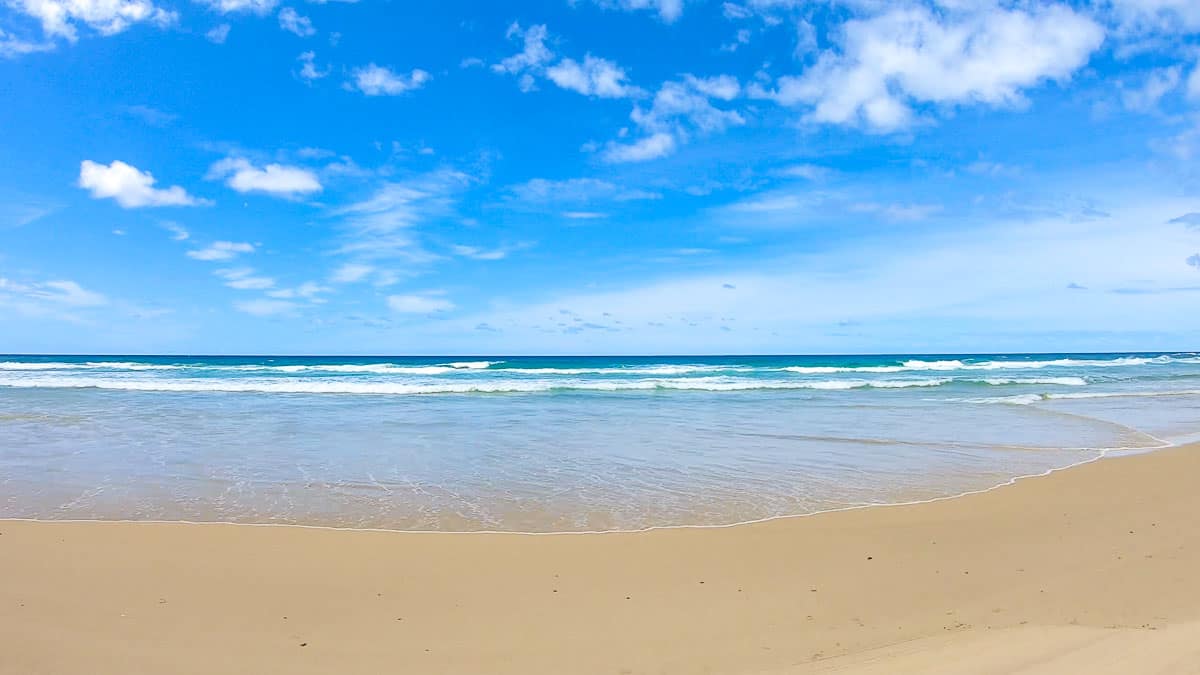 The eastern side of the beach comprises of almost six continuous beaches, which stretches some 27km. This is the surf side of the island and where you'd head if you enjoy surfing.
You can reach the eastern beaches by taking any of the inland roads from the island's western side.
Tangalooma Beach and Resort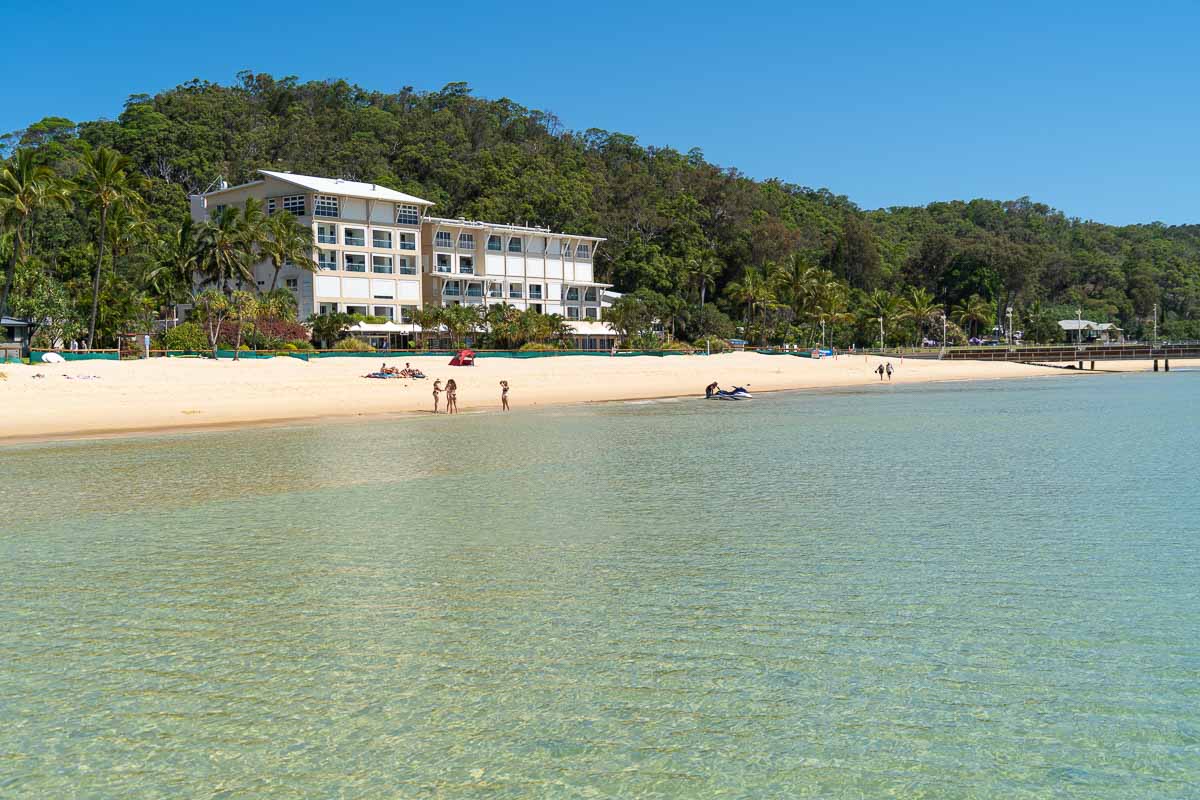 Image Credit: Thanks to Tourism and Events Queensland
The beach out the front of the Tangalooma Resort is just beautiful. Stretching for some 8km, this west facing beach is a great spot for swimming, water sports and relaxing.
The resort consists of various accommodation options, swimming pools, shops, tours and places to eat. However, currently, only those staying (including day trippers to the resort) at the Tangalooma Resort have access to these.
You can read our full guide on staying at Tangalooma Island Resort here.
The Desert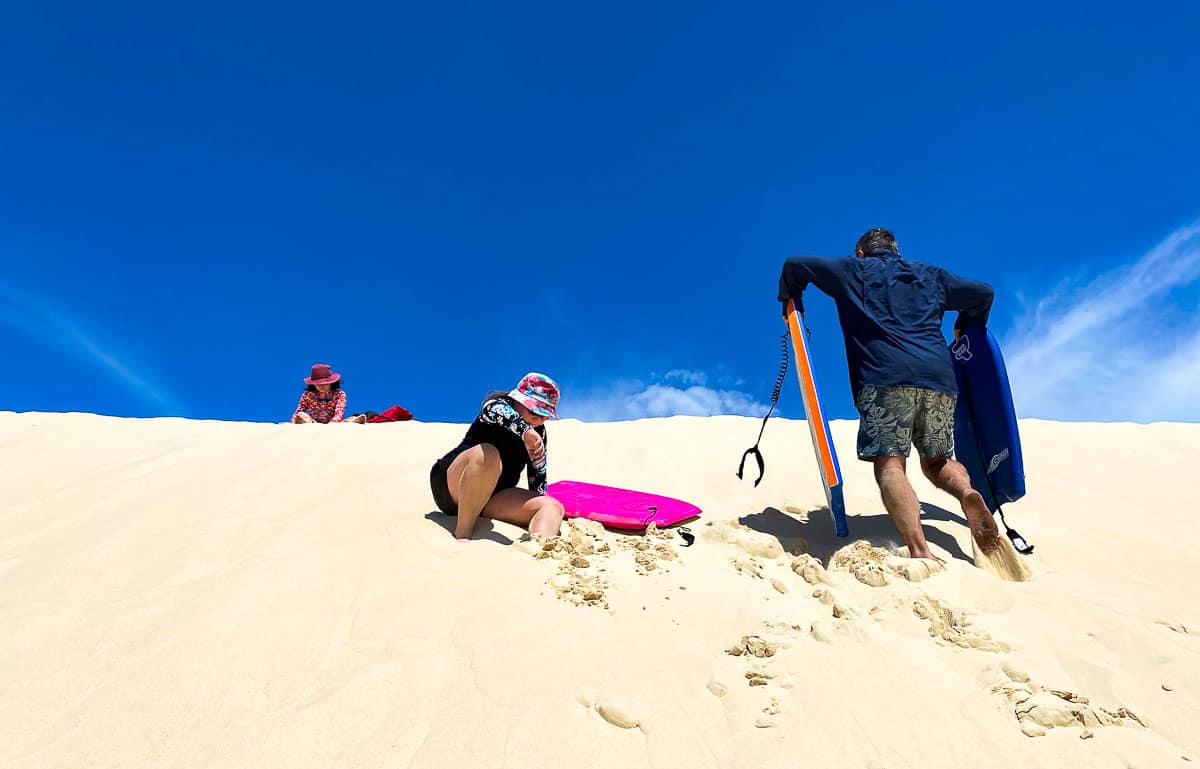 Just 1km south of the Tangalooma Resort is the Desert – a huge area of 42 hectares, where you'll find some of the islands biggest sand dunes. Once you climb to the top, you'll have awesome views all the way to Brisbane. But what's even more fun is if you bring a wooden board with you, you can sand toboggan down to the bottom – it's so much fun!
To reach the Desert, take Middle Road just pass the Tangalooma Wrecks and follow the signs to the Desert.
The Big and Little Sandhills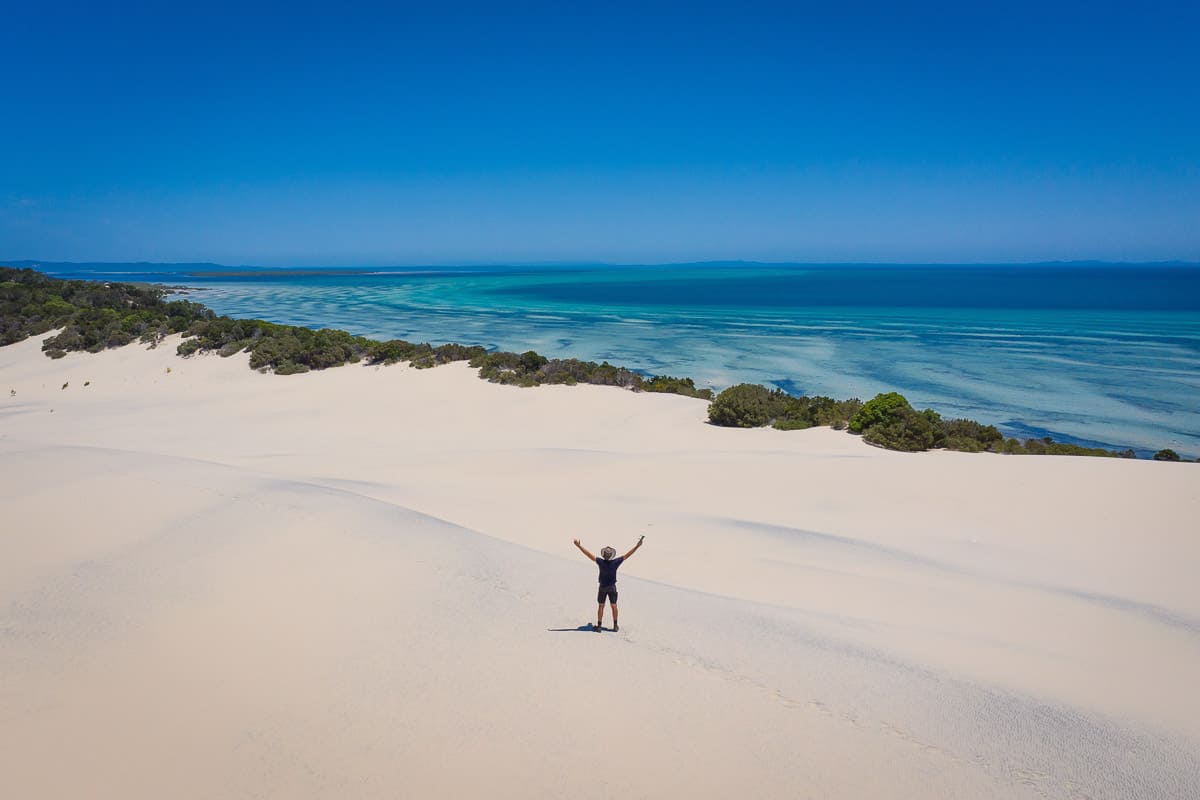 Image Credit: Thanks to Tourism and Events Queensland
Further south of the Tangalooma Resort, towards the southern end of the island, are more sand dunes, with the first area named Big Sandhills (with sand dunes rising up to 60 metres) and further south is Little Sandhills. These sandhills are a series of beautiful dunes of white sand that spread across the island's southern tip. You can hike to the top of the various sand dunes for fantastic views across Moreton Bay and all the way out to Brisbane. These dunes are also another great option for tobogganing down.
The Little Sandhills are reached from the eastern side of the island, while the Big Sandhills are reached from the island's western side.
Mirapool Lagoon
Another beautiful lake on Moreton Island is Mirapool Lagoon – located on the southern end of Moreton Island. While the lagoon is very close to the ocean, it is actually cut off by a long narrow sandbank.
The lagoon offers crystal clear water, making it ideal for a swim. It is also home to a variety of wildlife including water birds.
Mirapool Lagoon is best reached by crossing one of the inland roads and heading south along the island's eastern side. It's very soft down this end of the island, so ensure you have all your recovery gear with you and you drive to conditions.
The Gutter Bar- Kooringal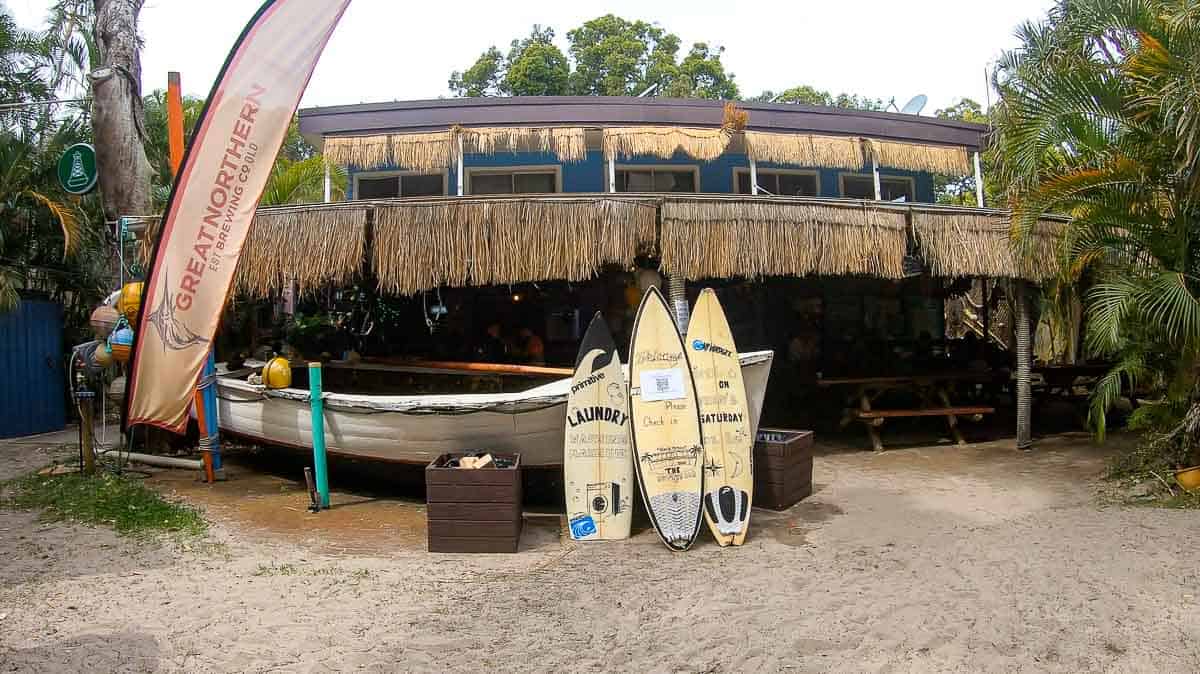 Located in Kooringal at the very southern tip of Moreton Island is where you'll find the Gutter Bar. A great place to enjoy a meal or cold drink. It's a particularly good place for fresh seafood as the seafood is sourced directly from the trawlers. Check out their menu here.
The Gutter Bar also has a convenience store when you can stock up on all the essentials.
The best way to reach the Gutter Bar is by travelling down the eastern side of the beach and taking the inland track from north of Mirapool Lagoon across to Kooringal.
The Gutter Bar is open daily from 8.30 am, closing at 6 pm Sunday to Thursday and 9 pm Friday to Saturday.
Diving and Snorkelling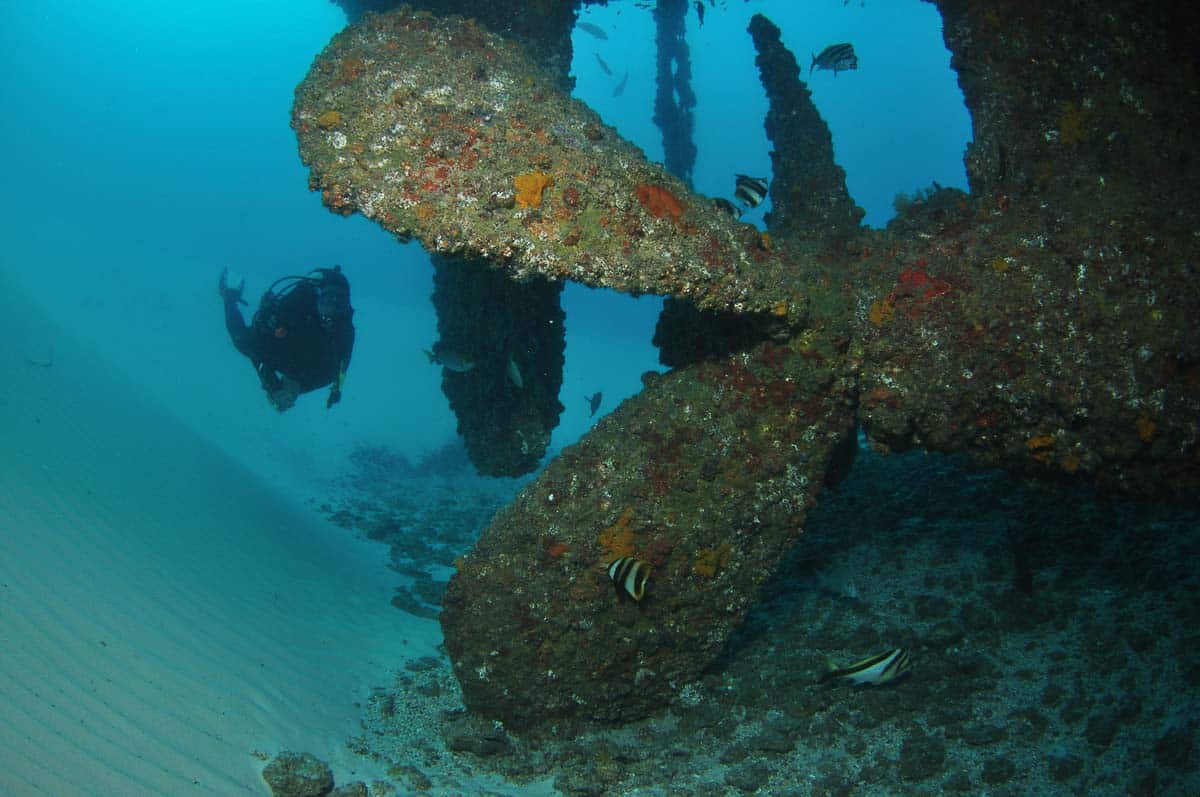 Image Credit: Thanks to Tourism and Events Queensland
The beautiful calm and crystal clear water off Moreton Island makes it ideal for both diving and snorkelling. We've mentioned above the famous Tangalooma Wrecks sites, which are great to explore, but there are also a few reefs and wreck sites that are also great for spotting local marine life.
Flinders Reef

: Located 5kms off the shore of Cape Moreton and is a great place for diving. Here you'll find some 175 species of fish, stingrays, turtles and even migrating whales from July to November.
Curtin Artificial Reef

: Located just off Cowan Cowan on the western side of the island, this site is marked with white signs at either end of the reef. Since 1968 a group of ships and other large pieces of equipment have been sunk here to create an artificial reef. At this site, you'll find lots of tropical fish, turtles, stingrays, wobbegong sharks and more.
The Car Bodies

: Located at the southern end of Bulwer, just 80m from the beach, are a few old car bodies that were dumped here in the 1980s. It is now an artificial reef and home to a range of marine life.
Bulwer Shipwrecks:

This is a great place to go snorkelling as they are protected from the waves and offer a safe place for families to snorkel and swim. There are three ships here that were deliberately sunk in the 1930s to provide a sheltered area for smaller boats to be loaded and unloaded.
Fishing
Fishing is a favourite pastime for many on Moreton Island. The beautiful, clean and unpolluted waters around the island provide some of the best fishing in the world!
While we're not fishermen ourselves, some recommendations we've heard include fishing for whiting along the western beach, tailor along Ocean Beach and North Point and flathead in the gutters along Ocean Beach and in the tide eddies and submerged logs near Tangalooma Point and Comboyuro Point. Ocean fishing is meant to be best for snapper, kingfish, tuna, mackerel and marlin.
However, it's important to note that the area surrounding the island, including certain beaches, is the Moreton Bay Marine Park and so it's important to be aware of any restrictions that apply before fishing. Freshwater fishing of any kind is not permitted.
World War Relics
You might be surprised to learn that Moreton Island played a part during both world wars. In fact, during its peak in World War II, some 900 soldiers called the island home. Today you can still see some old World War relics, including concrete bunkers, shelters and gun batteries.
During World War II, two large battery complexes were built – one at Cowan Cowan and the Rous Battery on the eastern side of the island. There was also a concrete bunker built behind the sand dunes at Bulwer. The remains of the bunker and batteries can still be seen today.
Whale Watching
If you happen to be on the island between June and November, be sure to keep a lookout for migrating whales. During this period, some 1400 to 1600 humpback whales swim past the island as they make their way to and from the southern Antarctic waters to feed and give birth to their calves.
One of the best places to spot the whales from the land is around Cape Moreton. As well as whales, from here you can see dolphins, sharks and turtles.
Best Moreton Island Tours
If you are short on time and only have a day, then there are many good day trips to Moreton Island. Or, if you don't have your own 4WD, you can even join guided multi day camping trips so you can still enjoy all the wonderful attractions the island has on offer.
Check out our guide to all the best Moreton Island Tours here.
How to Get to Moreton Island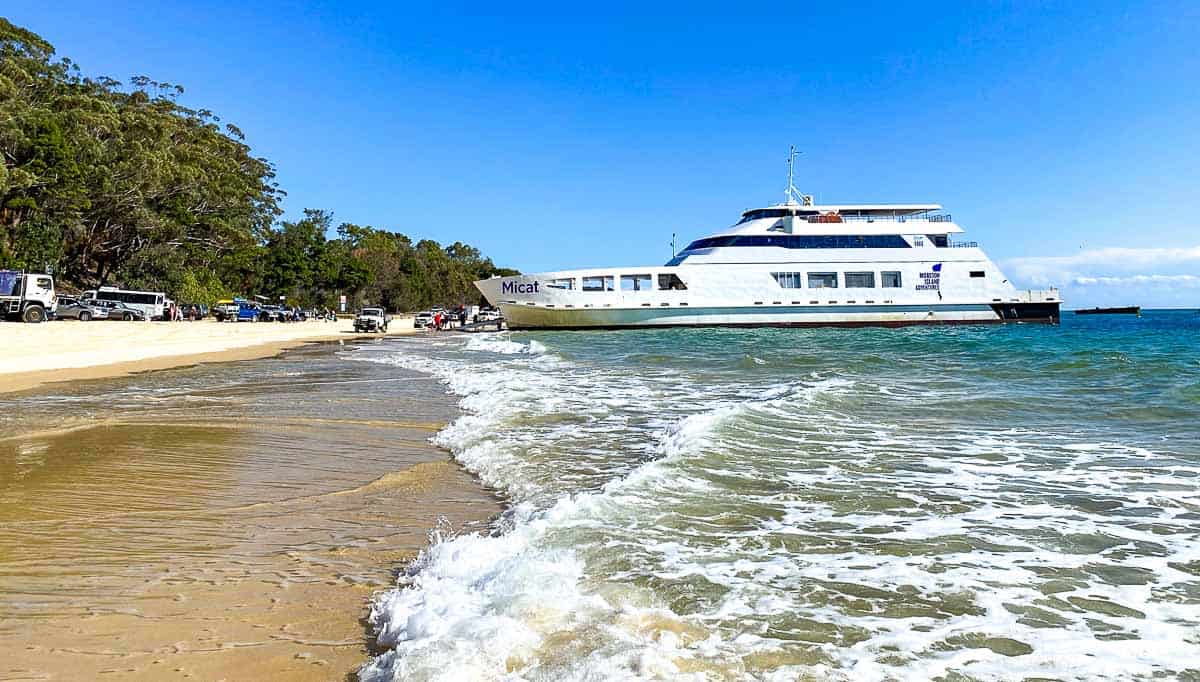 There are only two ways you can get to Moreton Island, either via the Tangalooma Passenger Ferry or the Micat passenger and vehicle ferry. The Tangalooma Ferry is for guests of the Tangalooma Resort only, so if you stay anywhere else on the island, you'll need to take the Micat Ferry.
Below is a brief overview of both ways of getting to Moreton Island. Click here for a detailed guide on how to get to Moreton Island.
Micat to Moreton Island
The Micat Moreton Island barge schedule varies throughout the year depending on demand. So during peak times, the Micat can be running up to five times a day, whereas during quiet times, it may run only once or twice a day. The barge to Moreton Island takes around 90 minutes.
It is not cheap to get yourself, your family and your vehicle over to Moreton Island. The ferry cost to Moreton Island starts at around $70 for a small vehicle (no trailer or van) and prices go up from there. If you're towing anything, you'll then need to add on whatever you're towing, which also starts at a similar price – and these prices are just one way!
The ferry to Moreton Island price includes the driver, but you'll also need to pay for each additional passenger over the age of 3. Kids are $18.50 and adults are $28.50 – again, one way. These are also the prices for walk on passengers without a vehicle.
If you're a walk on passenger on the Micat, you're able to take three pieces of luggage with you. So you could bring an esky, chair and backpack – for example. So it might take some planning on what each member of your group brings to stay within this luggage allowance. Any oversized items such as kayaks or surfboards are charged an additional fee.
The Micat departs Brisbane from the Port of Brisbane and lands on the beach at Moreton Island, just by the Tangalooma Wrecks. Vehicles will therefore need to be 4WD with high clearance and drivers will need to be ready to drive straight from the barge onto the sand.
Tangalooma to Moreton Island
If you're heading to the Tangalooma Resort for the day or a few days, then you can take the Tangalooma Ferry.
The Tangalooma boat to Moreton Island departs Brisbane daily at 8 am, 10 am, 12 pm and 5 pm, whilst ferries depart Tangalooma daily at 10 am, 2 pm, 4 pm and 7 pm. In Brisbane, the ferry departs from Holt Street Wharf and the journey takes just 75 minutes.
Tangalooma ferry prices are $84 per adult and $46 per child return. Children 2 and under are free.
If you stay overnight at Tangalooma, the boat to Tangalooma fare includes luggage porters to and from your accommodation.
Here are some things worth noting for the ferry:
Each guest is permitted one carry on bag not exceeding 23cm x 34cmx48 cm;

Beach trolleys and prams must be collapsed before boarding;

Guests staying in accommodation can bring one checked in bag with a maximum weight of 20kg plus one esky with a maximum weight per accommodation booking; and

Surfboards, bicycles and other large items can be brought over at an additional cost.
Parking at the Holt Street Wharf is $15 per day or $60 per week.
Getting around Moreton Island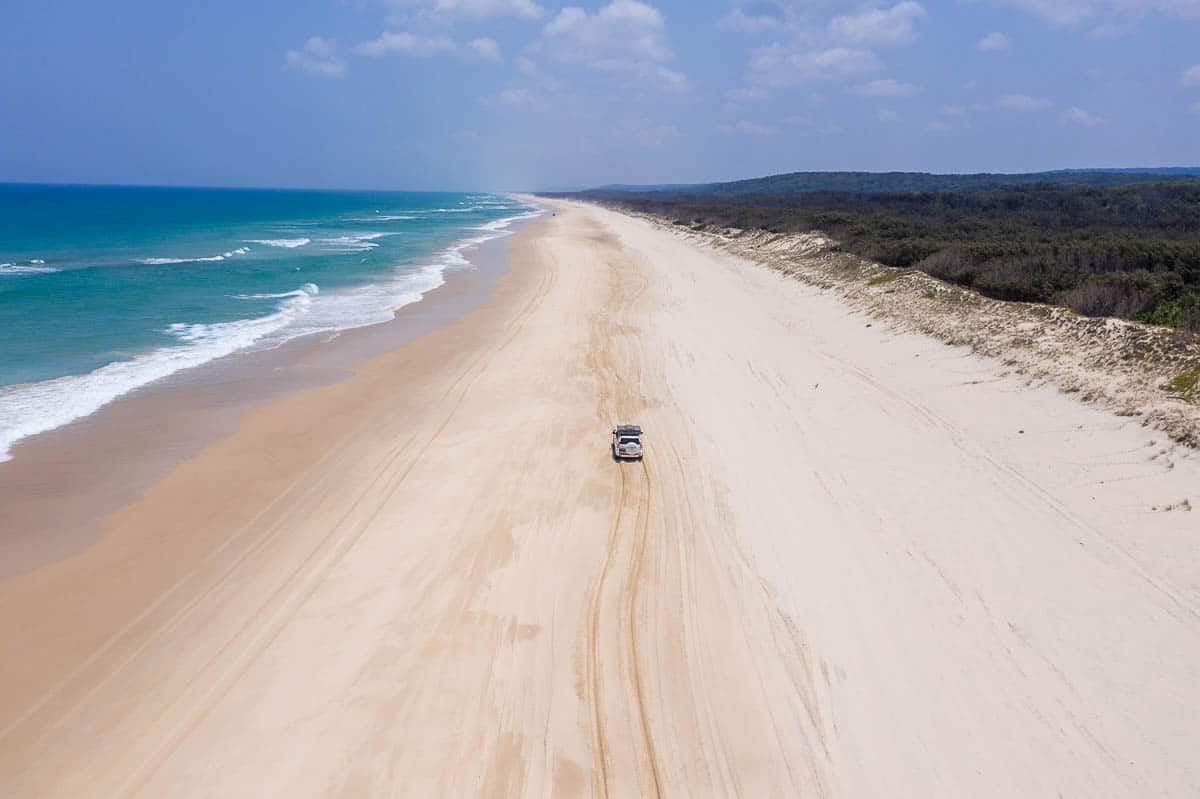 Image Credit: Thanks to Tourism and Events Queensland
If you're planning on driving while on Moreton Island, you will need to purchase a vehicle permit. A 1 month or less permit costs $53.65 or a yearly permit is $270.00. Click here to book your vehicle permits.
Driving on Moreton Island is not overly difficult, provided you have some 4WD knowledge. Tyres should be deflated to around 16 psi and you should ensure you have a basic recovery kit with you at all times.
While driving along the beach, it is important to be aware of high tide times. It is best to drive as close to low tide as you can – this will ensure you have plenty of hard sand to drive along. Although the beach is, for the most part, wide on Moreton Island – which means you can generally drive at all times. The closer you are to high tide, the more soft sand you will need to drive on, making for a bumpy ride. There are some creeks across the beach too – so you will need to consider these too. Wait out the tide if you're ever unsure.
All the major attractions and roads on Moreton Island are well signposted. While having a paper map with you is ideal (as the internet is not available in many areas) it's not necessary as you'll find signs everywhere.
Lastly, never ever drive on the sand dunes!
Where to Stay on Moreton Island
Most people tend to camp when coming to Moreton, but there is also a great resort, some low key accommodation, and a few gorgeous holiday homes.
You can read our full guide to camping on Moreton Island here on our Queensland Camping site or read our full guide to Moreton Island accommodation here. Otherwise, keep reading below for our top three places to stay with kids on Moreton Island.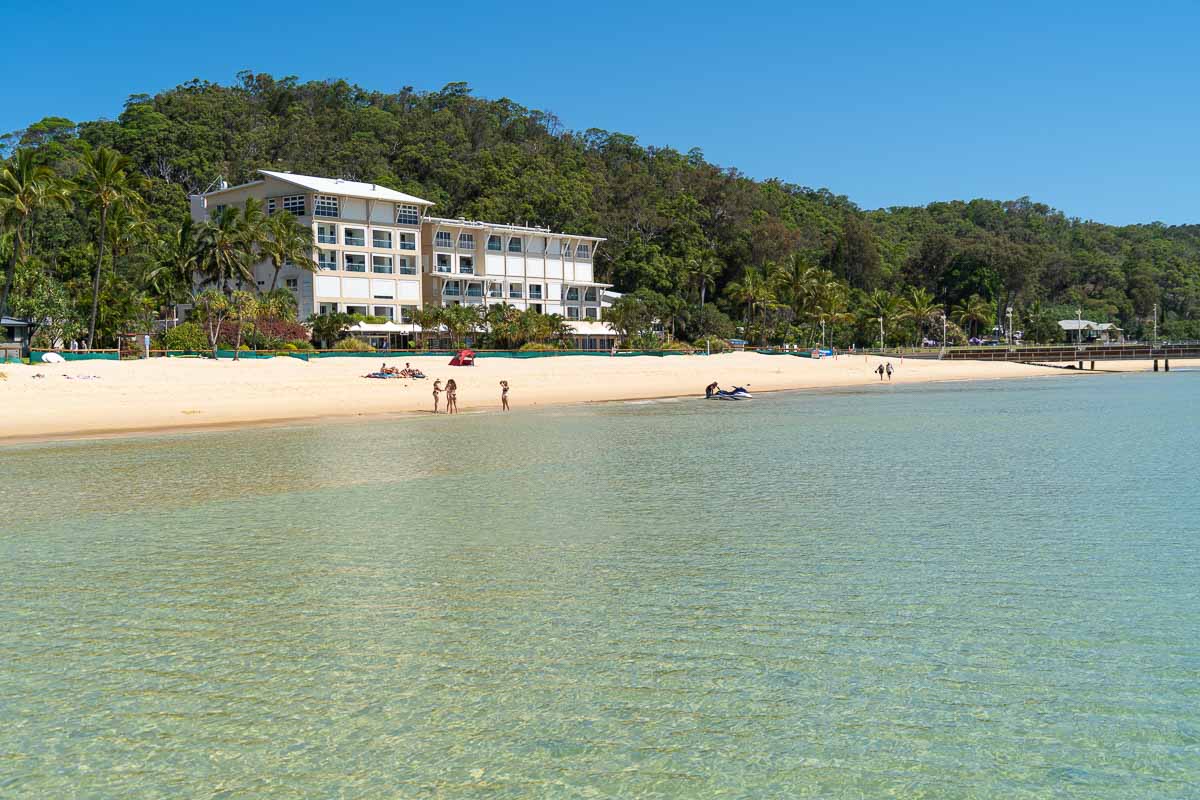 Image Credit: Thanks to Tourism and Events Queensland
Many people choose to stay at Tangalooma Island Resort because of all the great facilities on offer. There are two great swimming pools, a playground, tennis courts, wildlife talks and entertainment – all free. There are also multiple restaurants and cafes and a convenience store.
There are also plenty of optional extras that you can do while staying at the resort. This makes it really easy to experience all the island offers if you haven't got your own vehicle on the island. There are guided snorkelling tours, dolphin feeding, island tours, quad bike tours, segway tours and more. Honestly, you won't get bored here even after a week!
In terms of accommodation, you can choose from budget style apartments, beachfront villas and even large holiday homes. Most options are fully self contained, have air conditioning and balconies with ocean views. There is accommodation for small families right up to large families of 10 people.
Click here to check availability and pricing.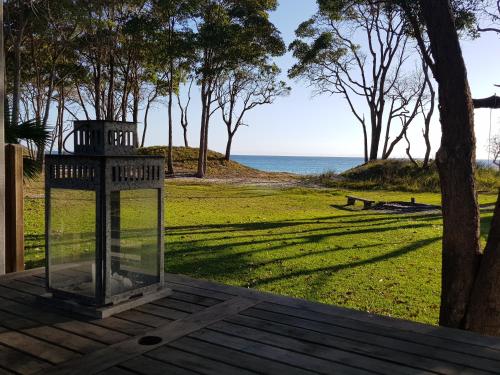 Located along the beachfront at Cowan Cowan is the Jetty holiday home – the family will love sitting out on the verandah here watching the sunset over Moreton Island.
The Jetty holiday home is a small property, featuring two bedrooms. Both bedrooms have a queen bed to accommodate up to four people. In addition, this beautiful beach holiday home has a fully equipped kitchen, bathroom, BBQ and a balcony looking across Moreton Bay. The highlight, of course, is the property backs straight onto the beautiful Cowan Cowan beach.
Just keep in mind that there is no air conditioning here, just a few fans provided, so it may get hot during the peak of summer.
Click here to check availability and current pricing.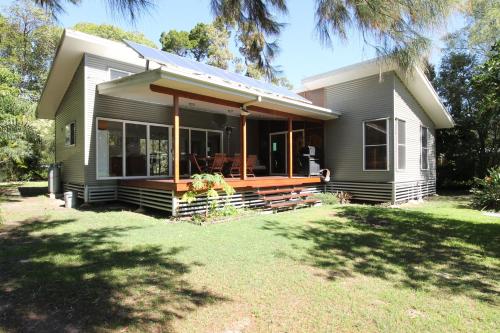 Just 500 metres from the Castaway Cafe is the Boarding House, a lovely modern little holiday home. This is an excellent property for the family that wants to be close to the beach, prepare their own meals and be within walking distance to supplies when needed.
The Boarding House has three bedrooms and can accommodate up to eight people – so perfect for a large family or even two smaller families travelling together. Two bedrooms have queen beds, while the last room has two sets of bunk beds – so the kids can all bunk in together.
This holiday home has a lovely modern kitchen with all the appliances needed for preparing meals while away. There is a huge open plan living area where you'll find the kitchen and lounge area. In addition, there are two bathrooms, a laundry and a lovely veranda with an outdoor dining area and a BBQ.
This holiday home does not have any air conditioning or fans.
For families after a spacious holiday home on Moreton Island, close to a shop, cafe and the gorgeous beach – you can't go wrong with the Boarding House.
Click here to check availability and current pricing.
_____________________________________________________________________
Hopefully you found this guide on things to do on Moreton Island helpful. If you're short on time, see our guide on the best Moreton Island tours here and check out our accommodation guide here.