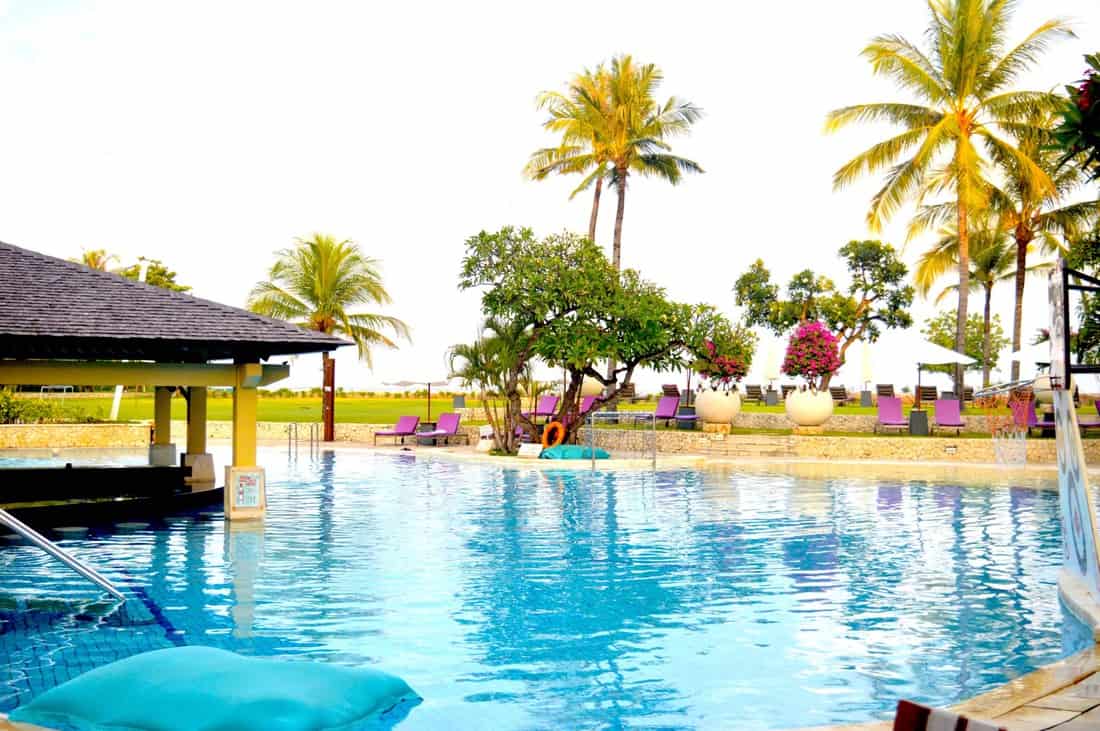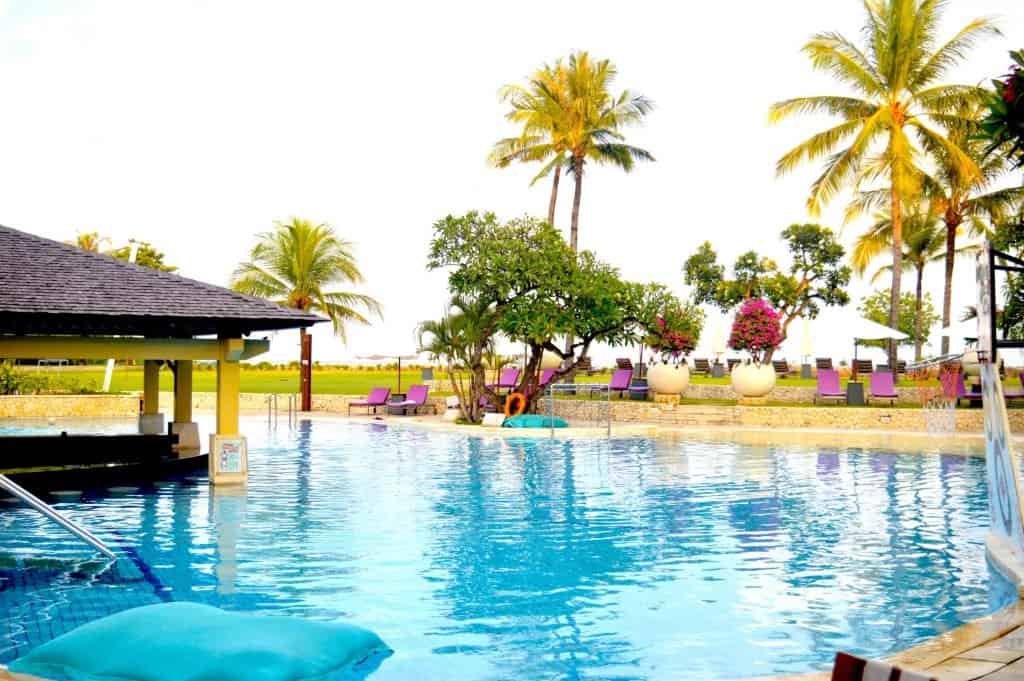 Holiday Inn Resort Baruna Bali really lives up to its name of being one of the best family resorts in Bali. As a family we loved our stay here and so in this post I am going to tell you why you should consider the Holiday Inn Bali for your next family trip to Bali.
Read our full guide here on the best family friendly resorts in Bali.
Holiday Inn Bali – Location
The Holiday Inn Bali is located right on the Seagara beach in the quiet area of Tuban which is just south of Kuta.
The location is peaceful and quiet but a quick 15 minute stroll along the beach will see you in the heart of Kuta – the main shopping and entertainment district of Bali.
There are a few shops and restaurants immediately outside of the hotel. Your other option is to turn right on the beach front and walk through the next resort (which is the Ramada) until you hit the street.  There are plenty of shops and restaurants here.
Hotel Grounds & Facilities
Grounds
The Holiday Inn Resort Baruna Bali is set among beautifully manicured tropical gardens.  The grounds are extremely spacious, with all the facilities spread out.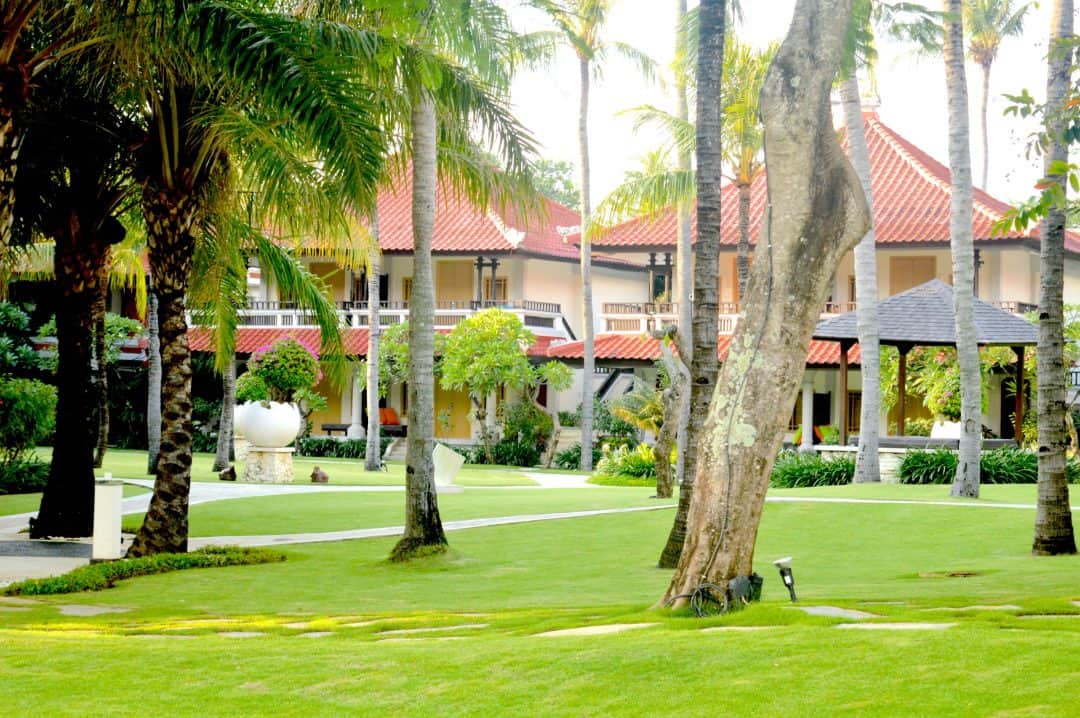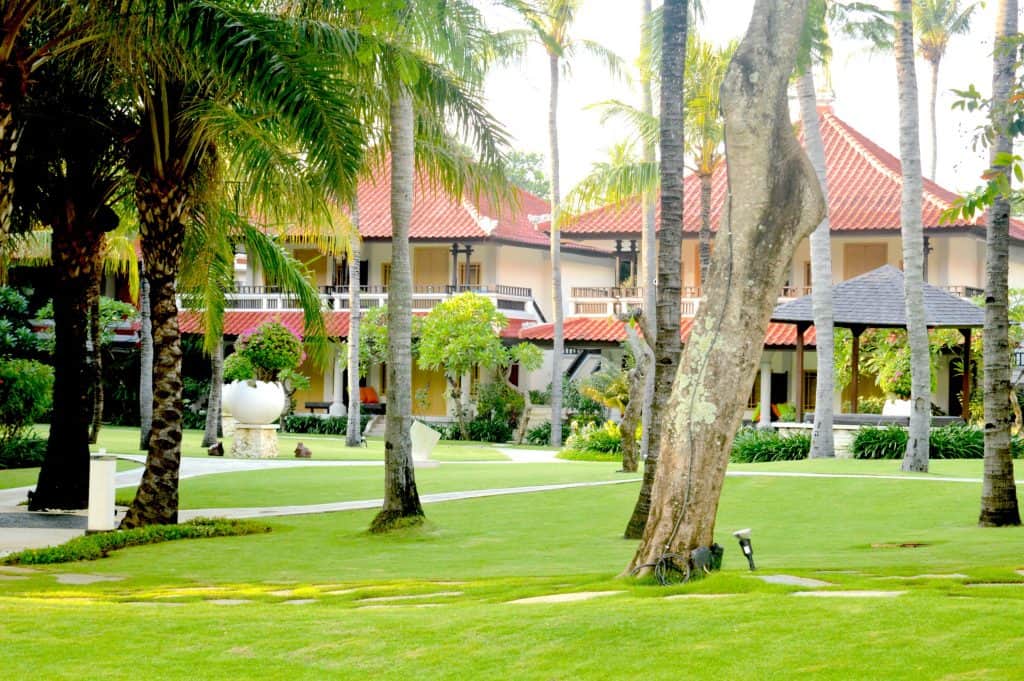 Unlike some other resorts, the Holiday Inn Kuta is not massive, which means it does not take you 10 minutes to walk from your room to the pool.  All facilities are within easy reach of each other.
Throughout the gardens are numerous day beds, sun lounges and tables and chairs for guests to lounge around in.  During our stay there was no shortage of places to relax.
Pool
The Holiday Inn Kuta has a large lagoon style pool with a smaller children's pool right next to it.  The pools are not the biggest pools, but they are perfect for this size resort.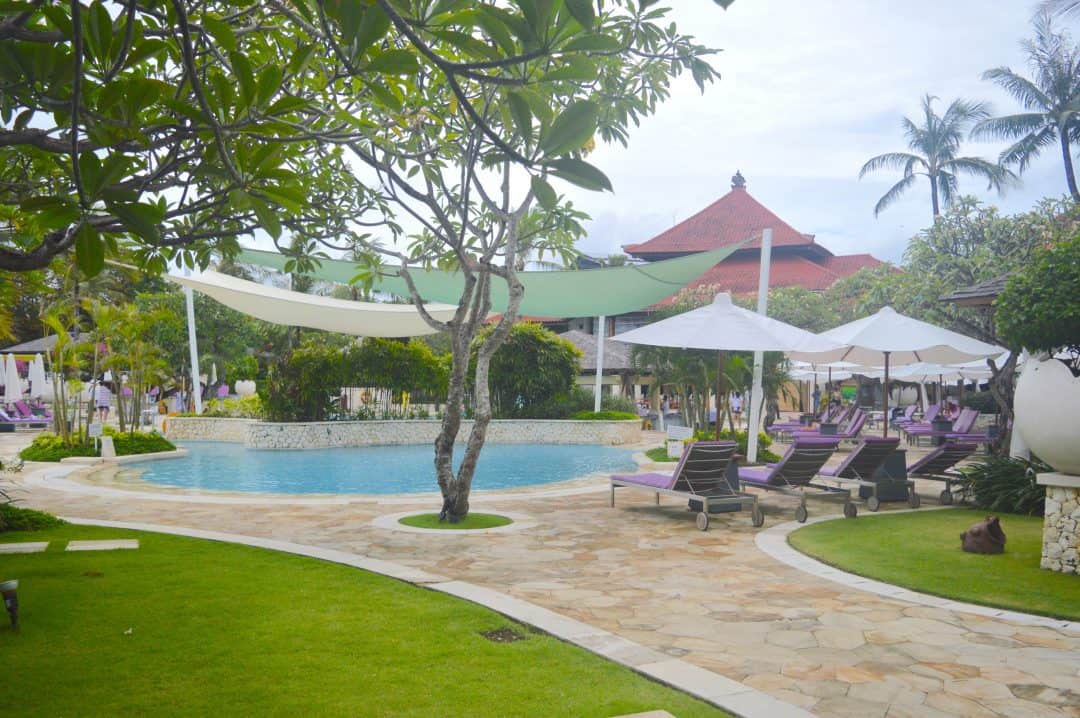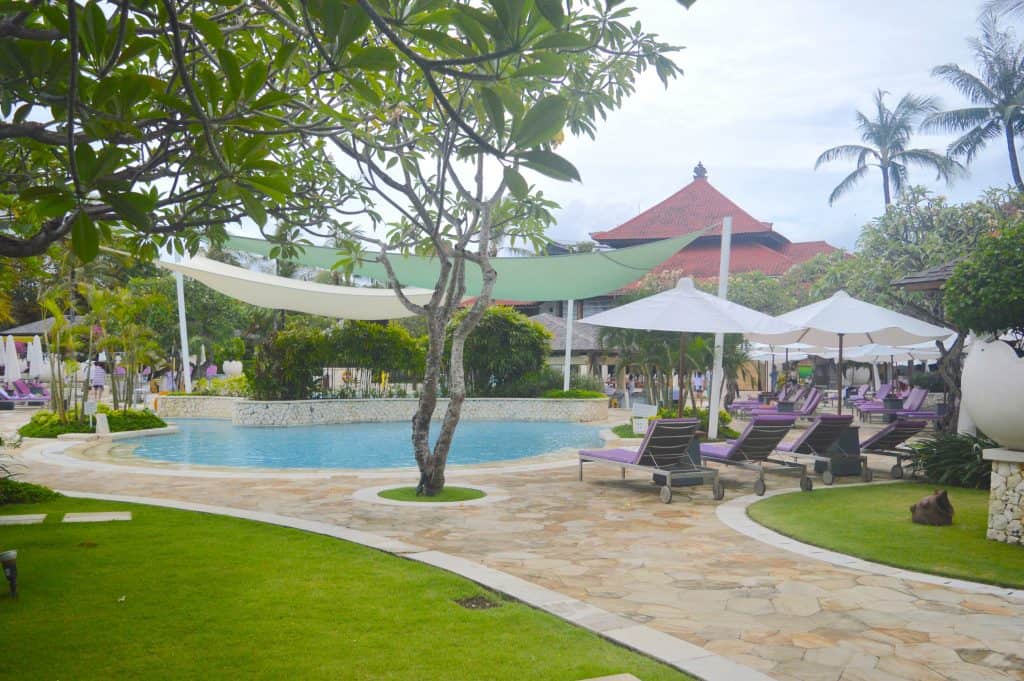 In the pool is also a swim up bar with stools in the water for those afternoon cocktails.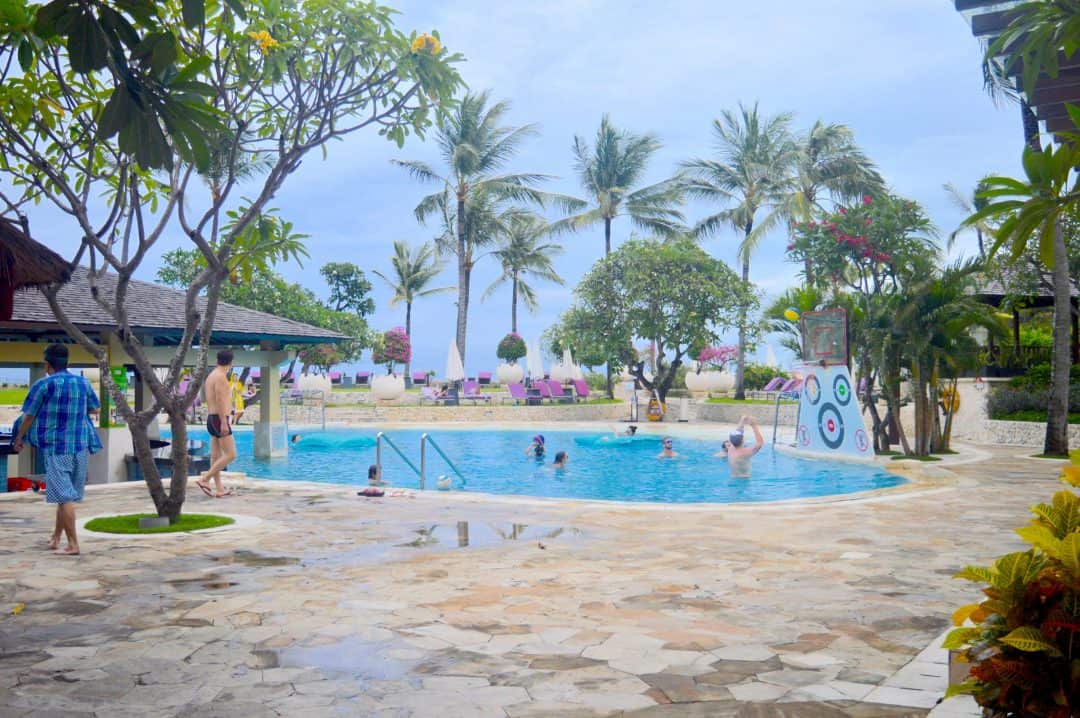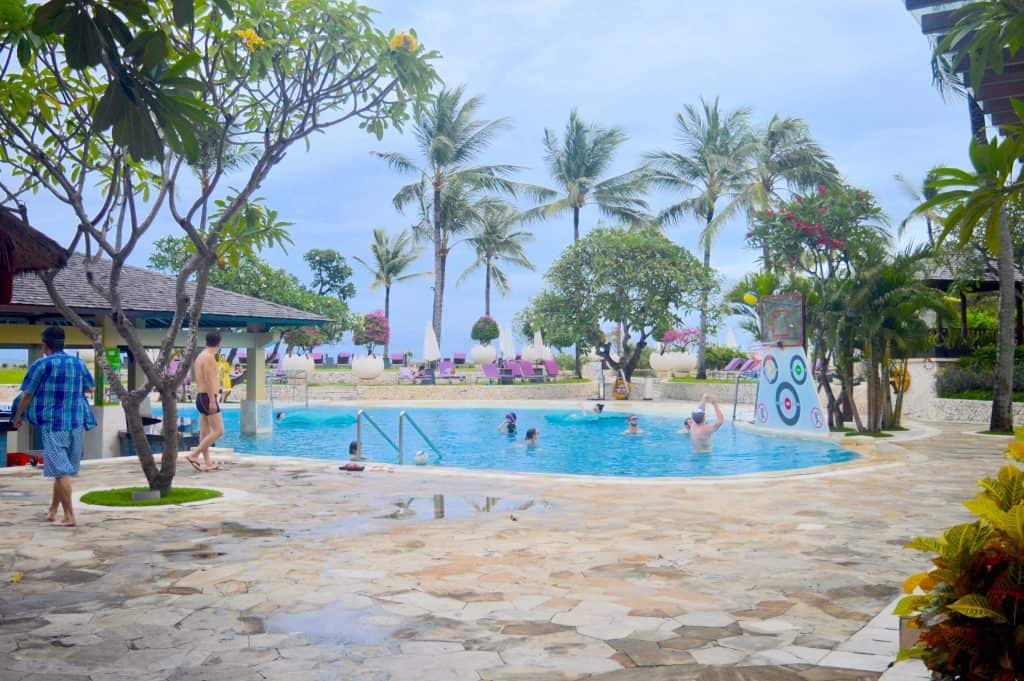 Restaurants / Cafes
The Holiday Inn Resort Baruna Bali has 2 restaurants in the resort, a café/ice cream parlour, pool bar and 24 hour room service.  There is even a minimart on site if you need some snacks and drinks.
The pool bar serves all your usual resort meals likes burgers and sandwiches and of course 2 for 1 cocktails during happy hour.
The Envy Restaurant is rather swanky and located right on the beach where you can enjoy the sunset.  You can eat at tables and chairs or relax in their garden on comfy lunges.
Palm Restaurant is the largest restaurant, where you eat on the terrace poolside or in the air-conditioned dining room.  The Palm is right by the pool and where a fantastic buffet breakfast is served each morning between 6.30 am to 10.30 am.  There is even a kid's area where kids can serve themselves and eat with other child guests.
We had dinner twice at the Palm restaurant during our stay and the food here was delicious!  They have a fantastic Asian Tapas menu, which I ordered from both nights.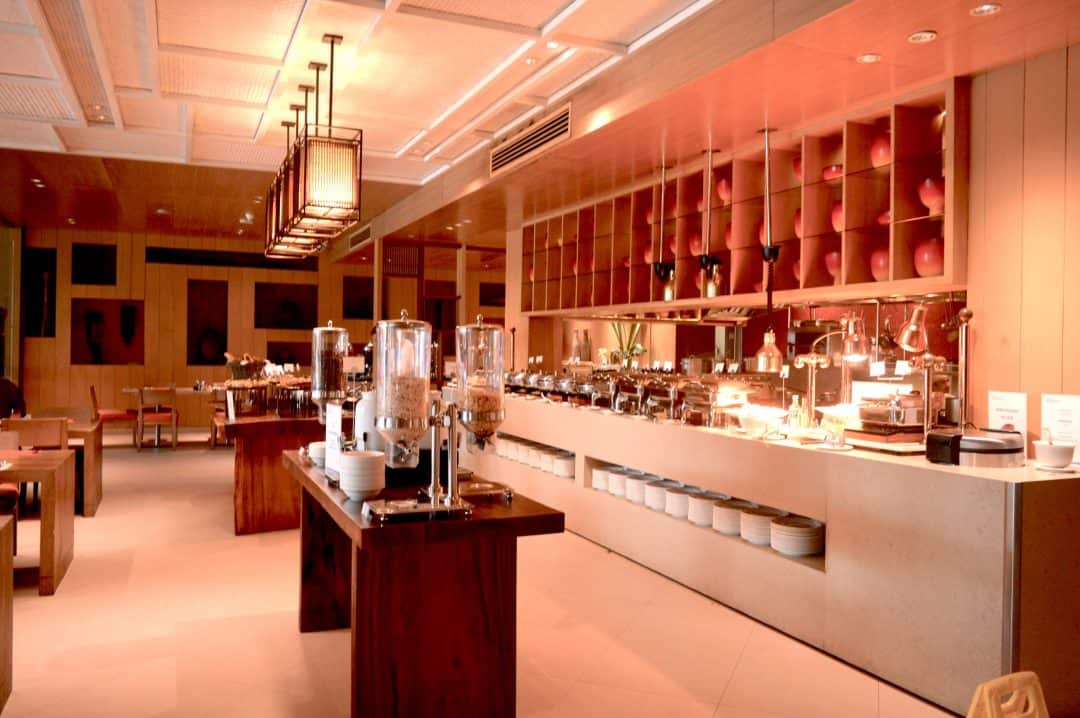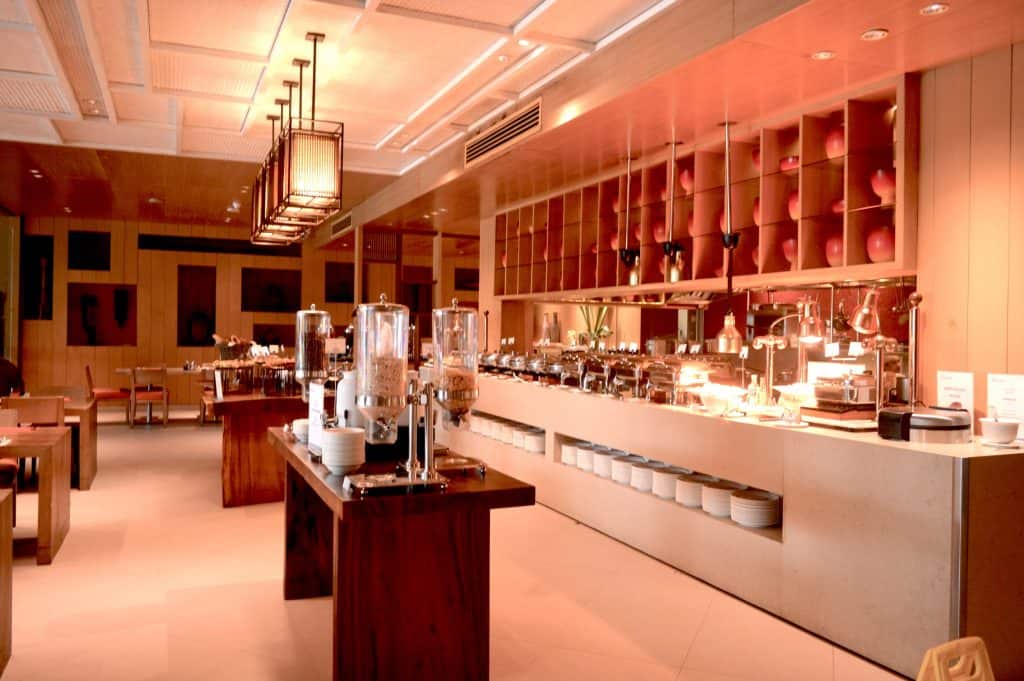 Another great thing about staying at the Holiday Inn Baruna Bali is that children under the age of 12 year of age eat free when an adult orders a main course from the Palms Restaurant.
Tea Tree Day Spa
We did not use the day spa at the Holiday Inn Bali but I did go and take a quick peak and it looks gorgeous.
The spa includes all your usual treatments including massages, manicures, facials, scrubs and wraps.  1 hour body massages start at approximately $45 AUD.
Rascals Kids Club
The main reason we booked the Holiday Inn Kuta was I heard it had one of the best Bali kids club.  I have to say when I first set eyes on the kids club I was quite disappointed.  It is nothing more than a small room with toys and computer games.  However, Myla loved it and never wanted to leave!!!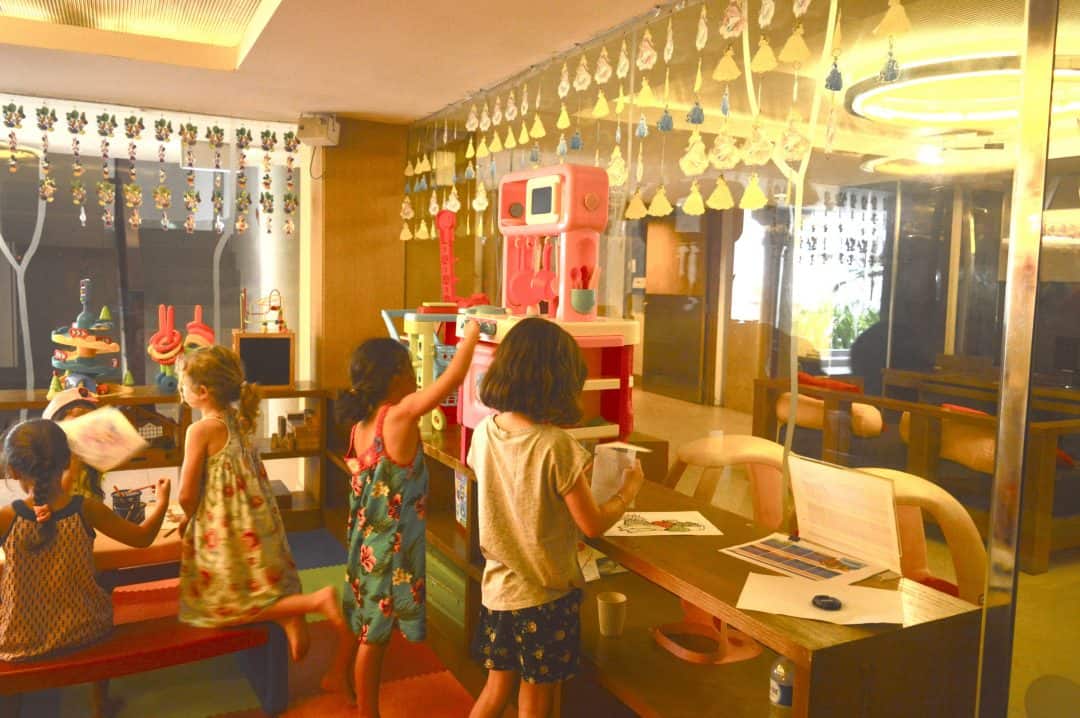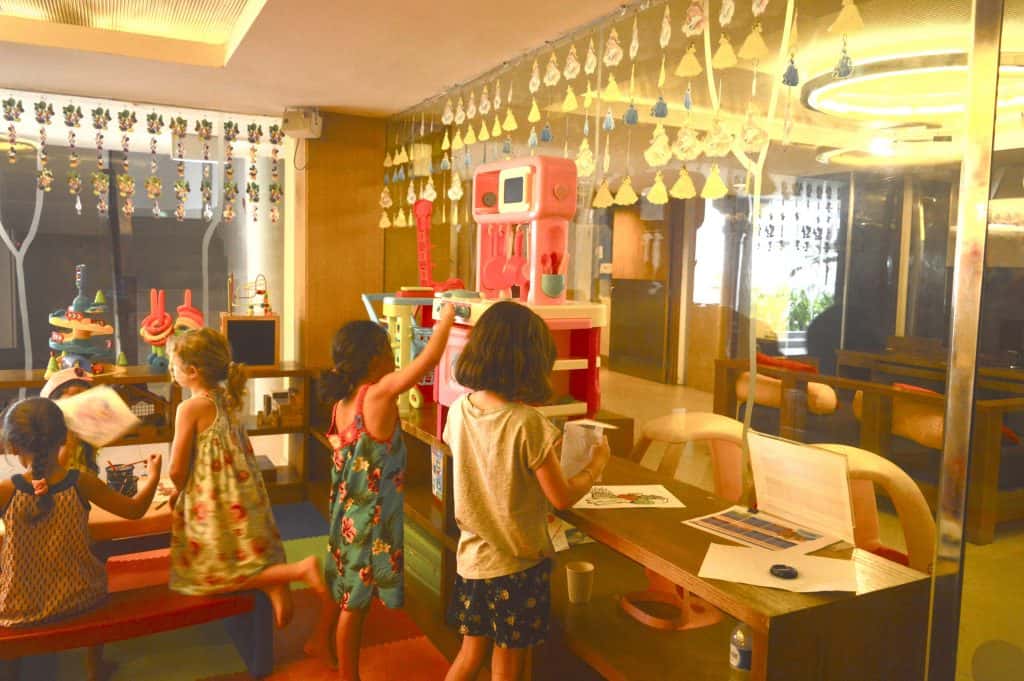 The kids club does have organised activities each hour including fish feeding, Indonesian language lessons, movies, Balinese dress ups,
Parents are provided with a mobile phone when they drop off their kids to kid's club.  A staff member will call you if your child wants to leave.  I love this idea – no more worrying if your kids are ok.
They will even provide lunch for the kids (at the parent's costs) which I thought was great.  We took a walk up to Kuta, ate a great lunch on our own, all while Myla was being fully entertained and fed.  When we came to pick her up she did not want to leave.
So it appears the Holiday Inn Kuta does live up to its name of being of the best Bali hotels with kid's club.
Beach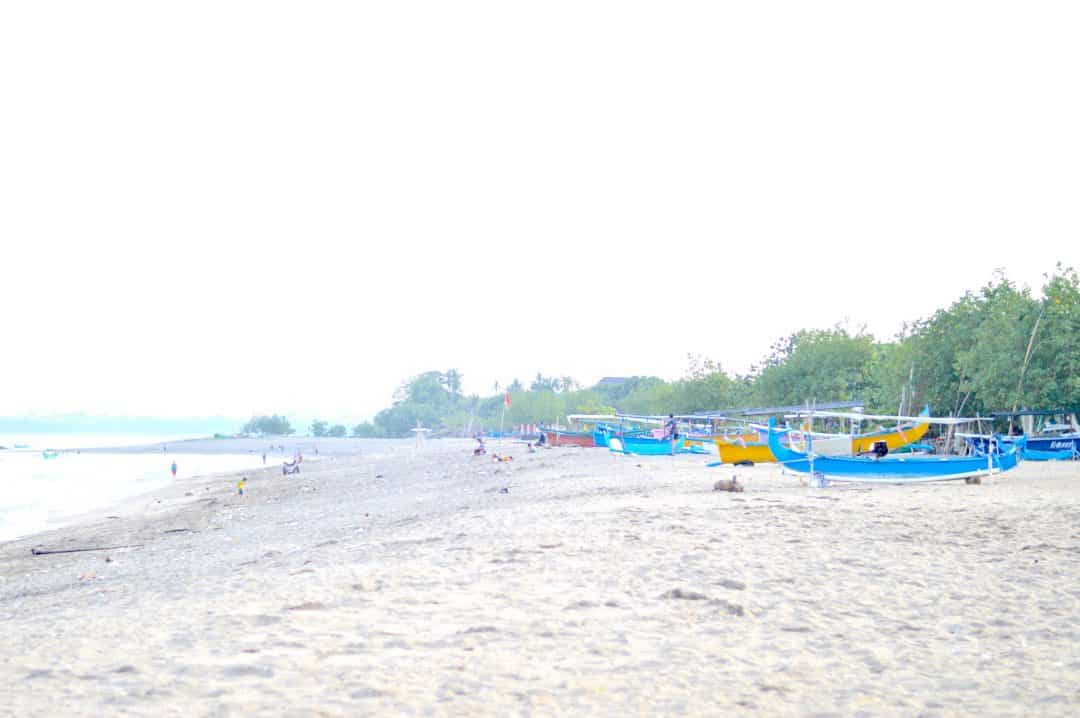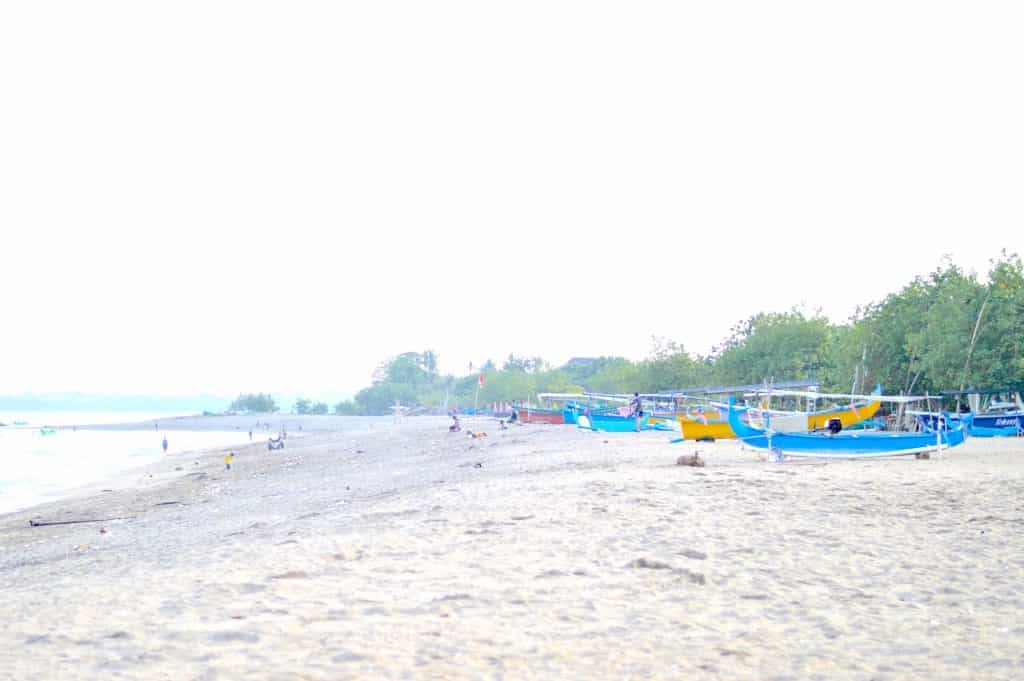 Ok this will be short – the beach in front of the Holiday Inn Bali is horrible.  The sand is yuk; the beach is dirty – there is nothing more to say.  You will not want to swim here.  Don't stay at the Holiday Inn resort if a gorgeous beach is a must for you.
Rooms & Price
There are 193 guest rooms throughout the Holiday Inn Resort Baruna Bali, each with private balconies looking across the tropical gardens or to the Indian Ocean.
The rooms at the Holiday Inn Bali are very modern and have been perfectly designed with families in mind.  There are a variety of room types catering for small to large families.
I highly recommend one of the pool access rooms – which is where we stayed.  These rooms are located on the ground floor, with verandas looking out to the gardens and only metres away from the pool. Perfect for coming back and forth from the pool with little kids, specially ones that need a day time nap.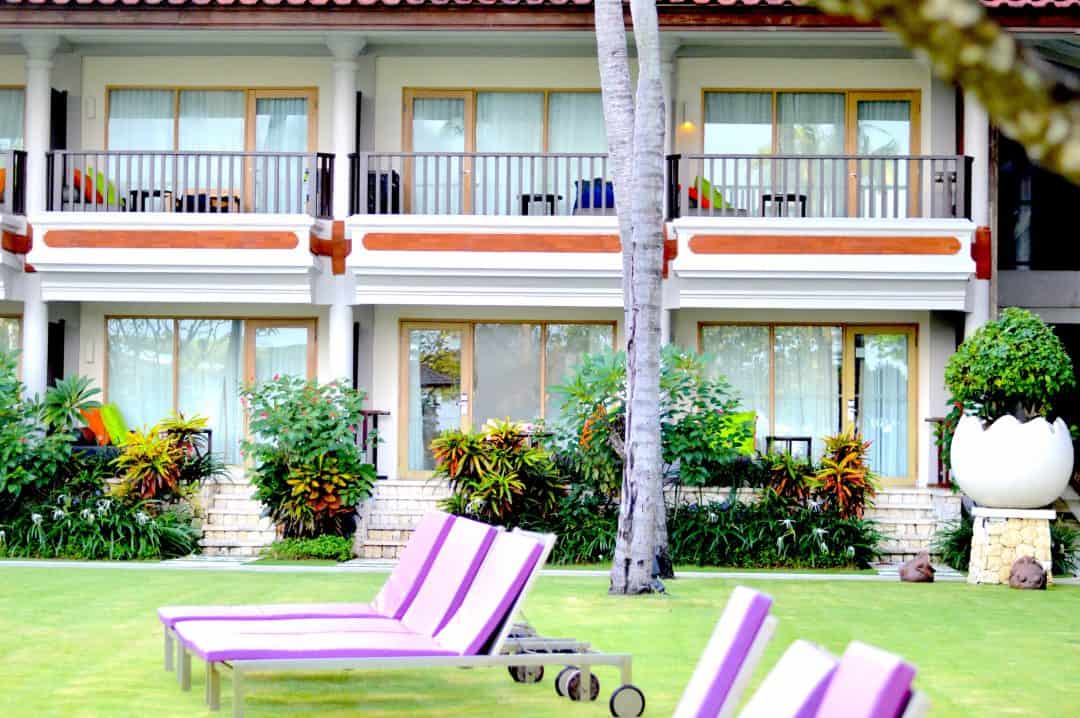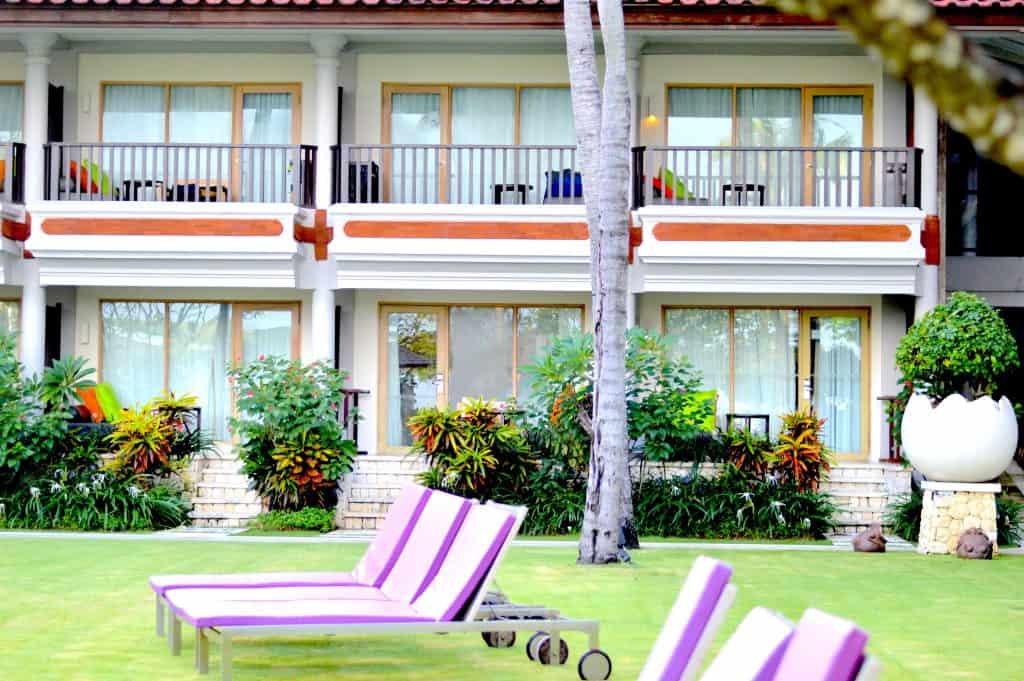 The rooms are oversized and easily hold a king bed and a rollaway bed for a child.
There is plenty of bench space, drawers and basically areas to put your stuff which being the organised person I am just love!  The bathrooms are super modern too.
At the time of publishing this article the cheapest place to book a room was direct with the Holiday Inn and joining up to their IHG rewards programmes which is free to join.  For 2 adults and 2 children prices for a garden view room start at around $188 AUD per night including breakfast for a 5 night stay.  For a garden access room similar to what we had (we don't need a family size room though with only the 3 of us) prices start at $197 per night – I highly recommended paying the extra to have a garden access room.
Service
We found the service here amazing! There was a mishap with our booking, which was promptly resolved.
When we arrived for check in we were warmly greeted with drinks and cold towels.
Once we checked in our room, the rollaway bed which we requested for Myla was not there. I called them and within minutes they brought the bed and quickly made it up for her. I was impressed.
At breakfast and whilst walking around the grounds we were always greeted with fantastic smiles from the staff.
I could not fault the service we received throughout our stay at the Holiday Inn.
Where to book your stay
As always do your research on sites like TripAdvisor or Trivago to see where you can get the cheapest rates for your stay at the Holiday Inn Bali.  I have stayed at Holiday Inns in various countries, and surprisingly the cheapest place to book is usually direct on their website.
Even better join up for free to their rewards programme and get a further discount. Not only will your room be cheaper but you will also earn points and after one stay you usually have enough points to cash in for a $50 shopping voucher.  Members also get free internet and 20% off the day spa and 15% off at the restaurants.
Verdict
For a family I would highly recommend the Holiday Inn Baruna Bali for a short stay as it one of the best Bali family resorts.
Its strengths are fantastic rooms, great grounds and awesome kids club. You can get all this for a great price too.
The downside of the Holiday Inn Bali is that it is out of the way and you will need to walk or get a cab if you want to go anywhere.
Myla loved it here!!  And for us if Myla is happy and entertained then we are happy!!!
For the price of the Holiday Inn Bali – I would highly recommend it to families with children.
Please note we were paying guests of the Holiday Inn Kuta and did not receive any benefits whatsoever from them in writing this post.  All views and opinions expressed in this post are as always honest and entirely my own.
Want to save this for later?  Click on the image below and pin it to Pinterest.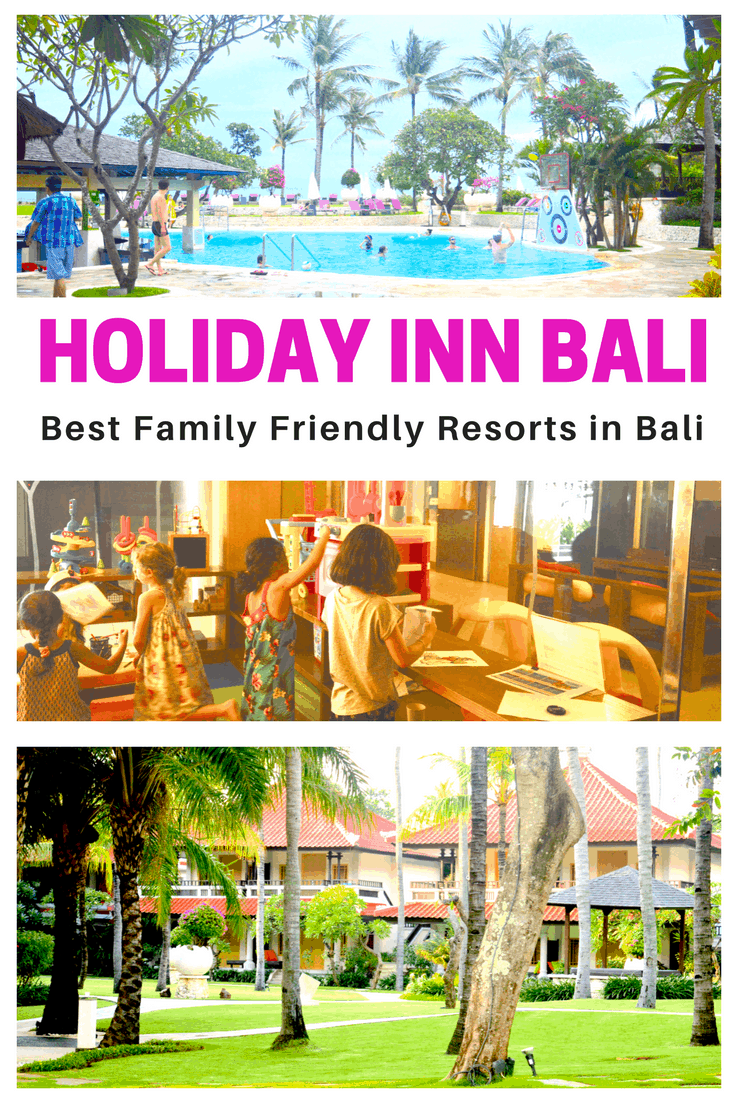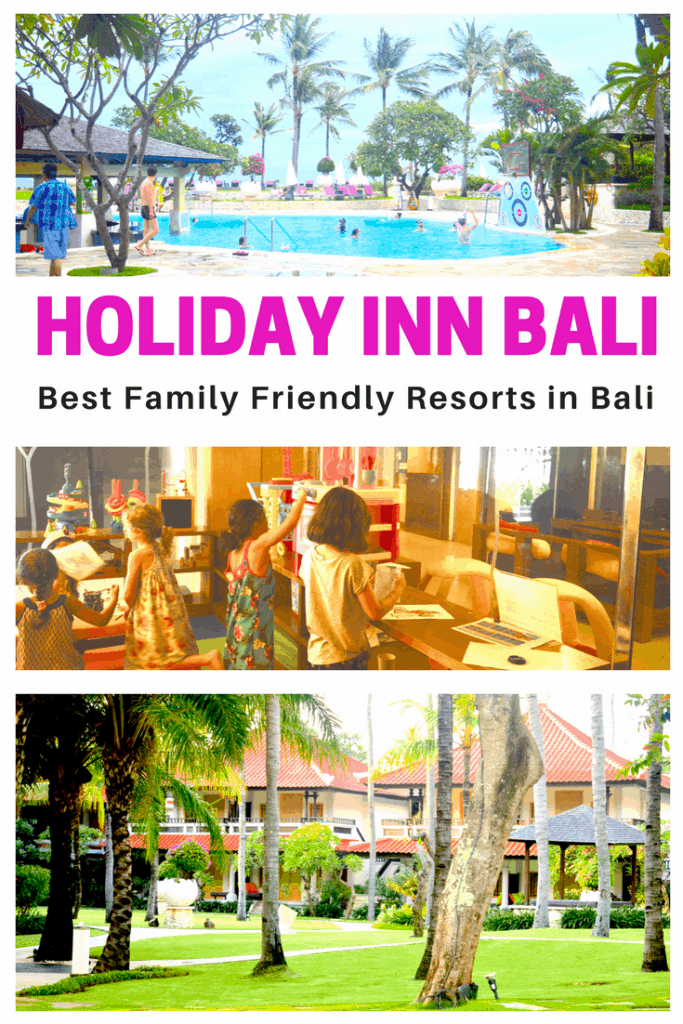 This post may contain affiliate links.  This mean if you book accommodation using links above I will receive a small commission at no extra cost to you.  This allows me to provide you with practical travel information completely FREE.  Thank you for supporting our website.