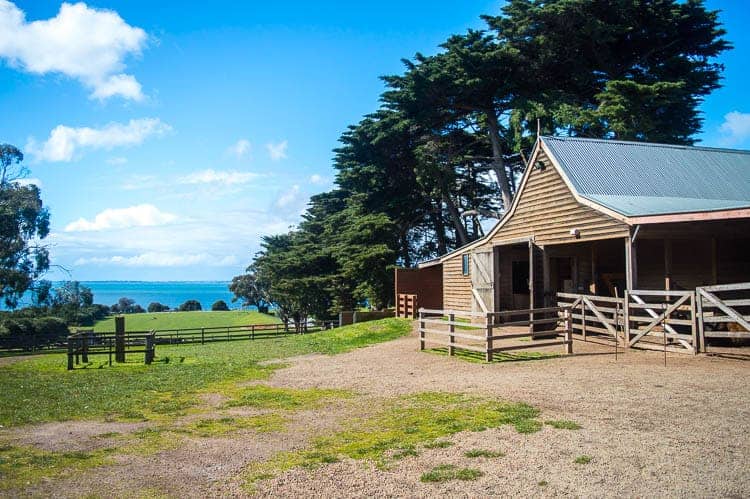 Phillip Island is located around a 2-hour drive from Melbourne. It is a quiet, laid back beachy town with fantastic family friendly attractions mainly around Australian wildlife and the beautiful landscape.
The landscape both coming into Phillip Island and on Phillip Island is absolutely breathtaking. In the foreground, there are lush rolling green farmlands with a background of dramatic seaside cliffs and idyllic beaches.
Whilst famous for its 16,000 breeding pairs of penguins, there are plenty of other great family friendly activities in Phillip Island for a weekend to an entire week.
In this post, I will cover all the fantastic Phillip Island attractions for families, including the best Phillip Island accommodation for families, places to eat in Phillip Island and the best way to get from Melbourne to Phillip Island.
Phillip Island Attractions for Families
Penguins Phillip Island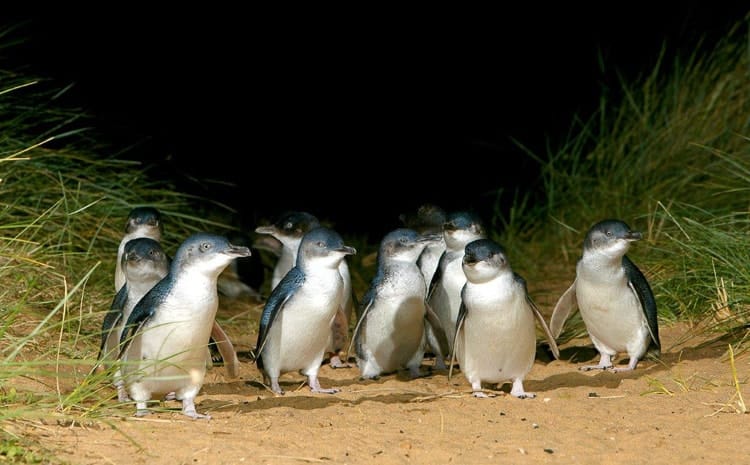 One of the most popular things to do in Phillip Island is to watch the Penguin Parade.
Each night tourists come to watch the gorgeous little penguins return home after a big day of catching fish at sea.
Tourists take their seats along the beach and just after sunset the little guys start returning home. It is an absolute gorgeous site watching these little guys waddle up the beach towards their burrows.
Whilst you are waiting for the penguins, the local rangers provide information about the penguins including educating the tourists on how to care for our environment which in turn ensures the wellbeing of not just the penguins but all sea life.
As well as watching the penguins return home, the centre contains various interactive displays about penguins, so either get their early or hang about later to check this out.
Many people recommend you get to Penguin Parade early to secure a good spot for penguin viewing. However, I don't necessarily recommend this. There are so many penguins coming to shore that after seeing a few, people tend to get up and follow the penguins up along the boardwalks. So even if you come on time or a little later you can still make your way down to the beach and get an excellent view of the penguins once other tourists have moved up along the boardwalks. It's also likely going to be very cold waiting for the penguins and little kids may get bored waiting.
This is an extremely popular attraction so I highly recommend you book your tickets in advance. If you intend on seeing some of the other Philip Island Nature Parks then I recommend buying a combined ticket to save some money. You can book discounted tickets online here.
If you are not staying locally you can join a Phillip Island tour from Melbourne to see the Phillip Island penguins. You can book discounted day tours online here. This does work out to be a long day, particularly if you are travelling with children and I highly recommend you spend at least 1 night at Phillip Island but ideally 2 to 3 nights.
Whilst you visit Phillip Island I highly recommend a visit to the Penguins Parade, it is one of the most loved Phillip Island tourist attractions and will most likely be the highlight of your trip.
Churchill Island Heritage Farm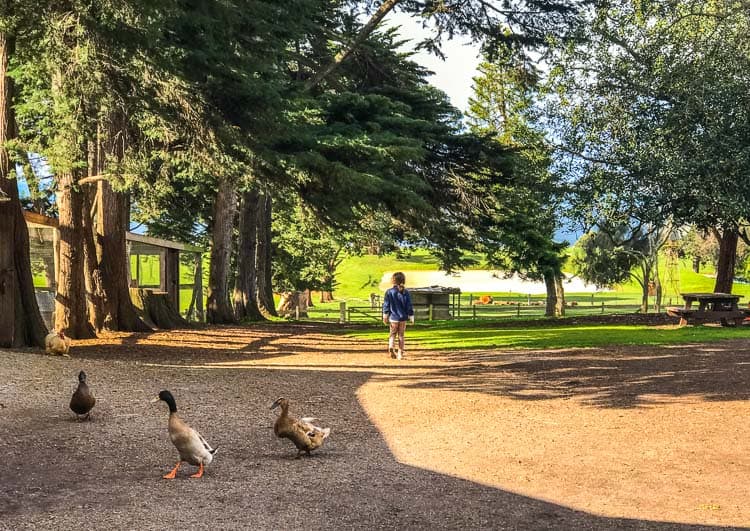 When considering what to do in Phillip Island, make sure you spend a few hours at Churchill Island Heritage farm.
To reach the Churchill Heritage farm you drive over a long bridge, because as the name suggests this farm is on an island off Phillip Island. As you drive up to the farm the views are breath-taking, with the rolling green farmlands among the sea. It would have to be one of the most beautiful farms I have ever seen.
Whilst the Phillip Island farm is open all day, I recommend you visit the farm just after lunch as this is when the daily farm activities take place. The kids can milk cows, take a wagon ride, watch a sheep being sheared, learn to crack a whip, pat friendly farm animals and watch a working dog round up sheep.
The farm is huge and Myla absolutely loved wandering around patting various animals and simply observing others. The staff on hand are super friendly and really encourage everyone to get involved. I loved that no matter how long the lines where they ensured that everyone who wanted to have a turn at something got a go.
There is also a lovely big café on site which is like an oasis after walking around the farm, particularly in the colder months.
If you are only visiting Phillip Island for a day or two, I'd recommend visiting the Churchill Island Farm as soon as you reach the island. Make sure you are there no later than 1.30 pm to participate in all the farm activities.
If you are visiting Phillip Island you are most likely going to see the Penguin Parade as well, so when purchasing your Churchill Island ticket, it is best to book a combined ticket to the various Philip Island Nature Parks to save money. You can book discounted tickets online here.
Nobbies Phillip Island

One of the great free things to do in Phillip Island is at the Nobbies Centre. The centre is located at Point Grant on the very western tip of Phillip Island, the opposite end to the entrance of the island. The views here are worth the visit alone!
Outside the centre is a variety of boardwalks which cut around the cliff to get a closer look at the spectacular rock formations and views across Bass Strait, the Nobbies and Seal Rocks. As the name suggests, around seal rocks is home to a variety of seals, however they are tricky to view from the land. There are coin operated fixed binoculars to get a better view.
As you wander down the boardwalks lookout for all the hidey holes on the land, these are little penguin homes and there may well be baby penguins in there waiting for their parents to come home from sea. If you are super lucky you may see a few inside.
If you visit during the winter months, you can escape the cold and sit inside the Nobbies Centre Café where you can still enjoy the stunning views through the ceiling to floor glass windows as you warm up with a hot tea or coffee.
Nobbies Phillip Island is located a few minutes from the Penguin Parade, so I recommend you visit the Nobbies Centre just before you go to the parade. If you do this, take the signed back road where you will have the privilege of more stunning views and you might even see some wallabies that come out to feast on the grass.
The centre is open daily from 10 am and closes around an hour before sunset to protect the animals that live in the area and return home at night. Entry to the centre is free.
The Antarctic Journey Phillip Island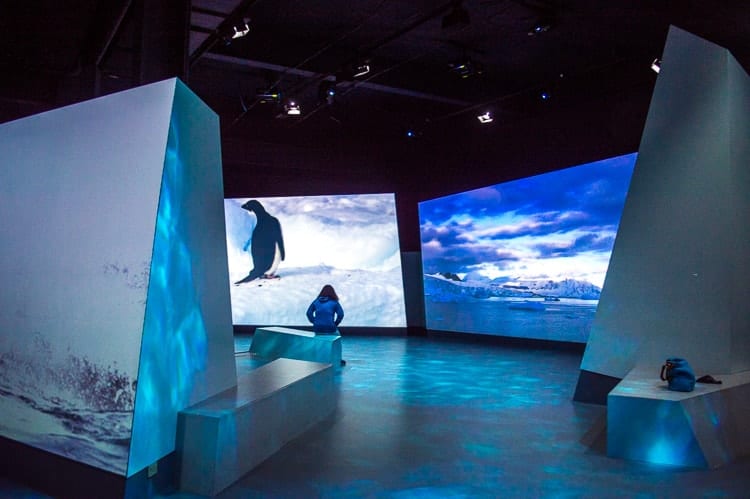 Located within the Nobbies Centre is the Antarctic Journey. This is an interactive learning experience with information about Antarctica and its various wildlife.
Displays include checking out various sea particles through a microscope, touching various wildlife fur, watching documentaries and listening to different animal sounds. There is also lots of information in a format easy for the kids to understand about the importance of caring for our environment to ensure that the various sea life flourish. Myla asked a lot of questions about the photographs showing sea life tangled up in rubbish and it was a great opportunity for me to talk to her about this.
One of Myla's favourite things was the Antarctica Chill Zone. Myla and many other kids there loved running in and out of this freezing cold room showing what the weather was like in the Antarctica. After being in the chill zone you can come out and compare your thermal image to that of a penguin.
However, by far the most popular display at the centre is the large screen which allows the kids to virtually hang out with penguins, seals and whales on an ice shelf in the middle of Antarctica. The kids were loving this, trying to pat the animals, swim on the sea and jump around with the penguins. Myla probably spent about the same amount of time here as she did going through the entire centre.
Whilst Myla was virtually playing with penguins, I sat nearby watching the massive oversized screens which surround the room, showing various sea life in a way that felt like I was right there with them.
To get the most out of the Antarctic Journey Phillip Island I would allow at least 2 hours, however it is possible to see the highlights in an hour.
If you are visiting Phillip Island you are most likely going to see the Penguin Parade as well, so when purchasing your Antarctic Journey ticket, it is best to book a combined ticket to the various Philip Island Nature Parks to save money. You can book discounted tickets online here.
The Antarctic Journey is open daily from 10 am and closes around 1 hour before sunset to ensure the safety of the wildlife that live in the area and return home at night.
Phillip Island Beaches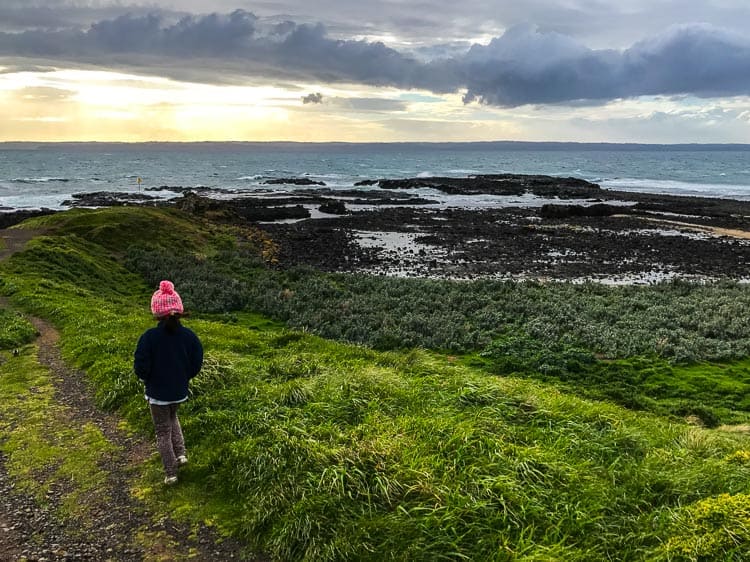 Another one of the free things to do at Phillip Island is to visit the stunning beaches.
In my view, it does not get hot enough to swim in the Phillip Island beaches with Summer temperatures only reaching the low 20's, however many people do. Some of the best swimming beaches can be found on the northern side of the island such as Shelly Beach, Cat Bay Beach, Flynns Reef, Ventnor Beach, Anchorage Beach, Red Rocks Beach and Cowes Beach. Please note that many of these beaches are not patrolled so please consider this before entering the water.
During our visit, we loved exploring the beaches from the land and simply soaking up the stunning views. The views are amazing particularly on the western side of the island around the Nobbies Centre.
We spent a little while enjoying the views at Cowrie Beach and were lucky enough to see some Geese walking along with their babies. They were very friendly and let us get reasonably close, although we of course maintained a good distance from them. At Cowrie Beach, we could also see numerous wallabies feeding on the grasses along the beach and plenty of little penguin burrows.
A Maze'N Things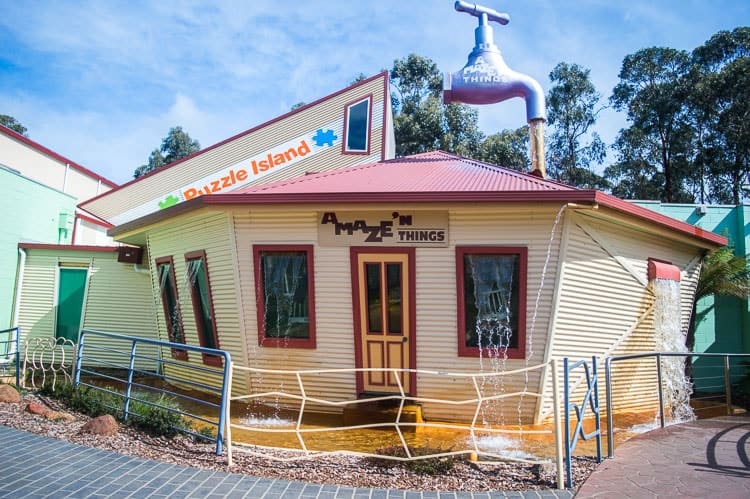 A Maze'N Things has 3 different areas to explore including Puzzle Island, Magic Manor and the outdoors maze.
I am not usually very fond of these gimmicky sorts of places but I was pleasantly surprised with A Maze'N Things. I loved seeing Myla use her problem-solving skills to work through various puzzles and it provided a great opportunity for the 2 of us to work together on many of the games.
The first part of A Maze'N Things you walk through various interactive illusions, like chairs that defy gravity and balls that appear to roll uphill. There is also this crazy mirror maze that you have to work your way through which completely freaked me out but Myla though it was hilarious – you have no idea if you are walking into a mirror or through an entrance.
Then you go into this large room full of a variety of different puzzles. You walk into a dungeon type room and need to work out how to get through a variety of obstacles to reach the treasure before being able to escape. There are various displays which mess with your mind like how can you have your head on a platter without seeing your body, various games that work on the kids motor skills whilst getting them to problem solve like the wheelchair you need to move through a hospital and boogie boards that fly over Phillip Island.
Next you enter Magic Manor which is a room based around the amazing Karel who was a magician at the beginning of the 1900's who magically disappeared, never to be heard from again during one of his shows in Melbourne in 1907. Here there are various interactive magic tricks some which are easy to work out, others will keep you guessing like the handkerchief you lock in a box only for it to magically appear floating over your head after you say the magic words.
Both the puzzle room and magic manor are extremely well done and could easily entertain the kids for hours alone. There is a great variety of activities for kids of all ages.
Once you finish in the puzzle room and magic manor you can go into the outdoor maze which has 2 kilometres of passage ways. For those who can't make their way out there is emergency exits.
We spent 1.5 hours here – but we were rushing through, if your kids want to do everything and perhaps some things multiple times I would allow 3 hours. I am sure this will be on of your kids favourite Phillip Island activities.
Family passes to A Maze'N Things are around $100 AUD which include 2 adults and 2 children – click here to purchase tickets online. The park is open daily from 10 am to 5 pm
Mini Golf Phillip Island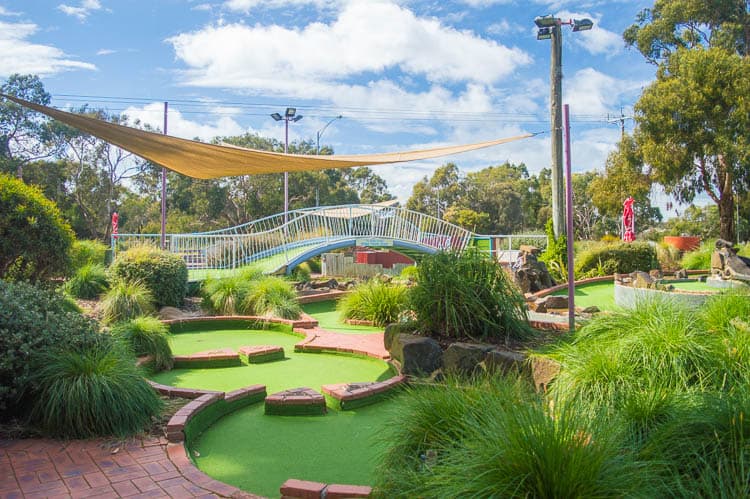 Located at Amaze'N Things, the family can have a round of not 18 holes but 19 holes of mini golf. The course is set on artificial turf with a variety of levels for beginners to experienced golfers.
You can combine a round a golf with entry to A Maze'N Things or on its own. Family passes for golf is $50 AUD or with entry to A Maze'N Things $130 – click here to purchase tickets online.
Maxi Mini Golf is open daily 10 am to 5pm
Hire a Bike
With the limited traffic on Phillip Island, exploring the island by bike is a great option. If you like the idea of riding a bike but not the effort, then you can try an electric bike.
Recommended bike trails include:
The 18 kms round trip from Cowes to Rhyll where along the way you see a network of waterways and wetlands; or
The 32 kms round trip Bass Coast Rail Trail which has great views of Bass Strait and the rural surrounds.
Electric bikes hire starts at $20 per hour or $60 per 24 hours.
Sky Trail Phillip Island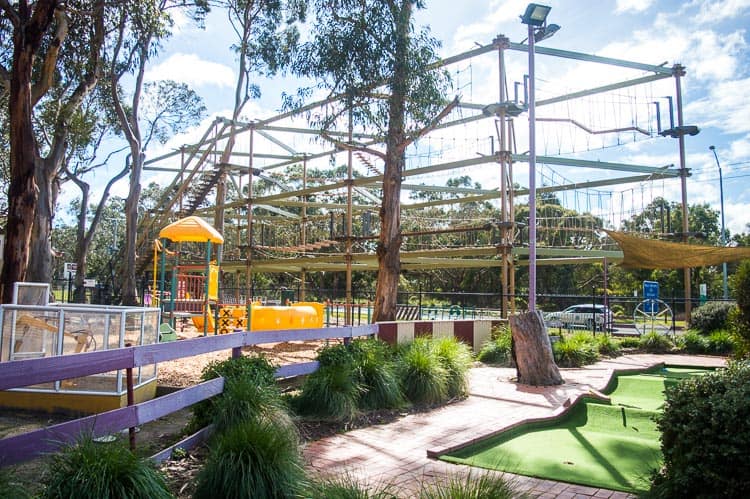 One of the more adventurous things to do on Phillip Island is to complete the high ropes at SkyTrail. Challenges include swinging bridges, clambering ropes, dangling obstacles and narrow bridges.
Children of all ages can participate but they must be over 1.2 metres and all children between 1.2 and 1.4 metres must have an adult climb with them.
Skytrail Phillip Island is open on weekends and school holidays from 11 am. Tickets are $20 per person per hour or $68 per hour for 4 people – click here to purchase tickets online.
Pelican Feeding San Remo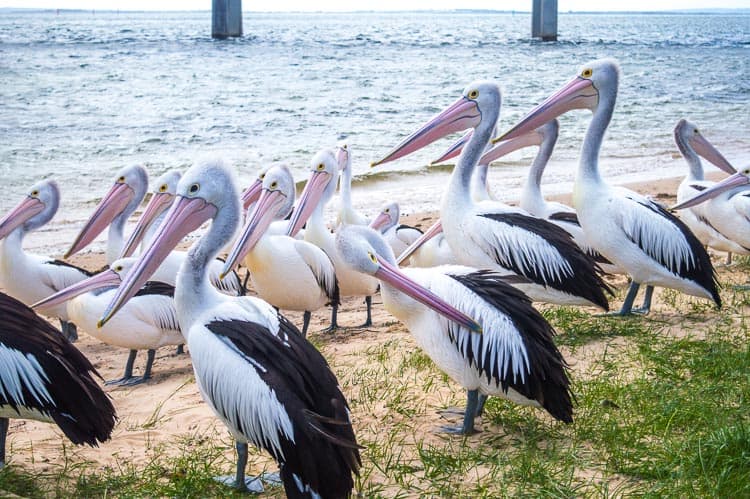 Whilst technically feeding the San Remo pelicans is not on Phillip Island, it is just on the other side of the bridge to Phillip Island and well worth a visit.
Each day at around 12 pm along the beach, just in front of the San Remo Co-op you will find a stack of very hungry pelicans waiting to be fed. These pelicans are not shy either and you can easily get within centimetres of the birds. However, once the local ranger comes to feed the pelicans I would highly recommend taking a huge step back as these pelicans are feisty!
As the pelicans are being fed the ranger provides some commentary about the pelicans, however with all the squeals of delight from the children watching it is almost impossible to hear.
This appears to be a very popular activity. We visited on a Monday and it was absolutely packed. After 10 minutes or so we decided to move on as it was difficult for Myla to see the pelicans with various of people pushing in front of her to get a closer view. However, she got a great view of the pelicans before feeding time when the birds are a little more spread out across the beach.
After you have had enough of watching the pelican feeding, be sure to head across to the San Remo Co-op for some delicious and generous servings of fish and chips.
Go Kayaking
I think this would be a wonderful way to explore Phillip Island's coastline and something I would do if Myla was a little older.
Pioneer Kayaking offers a variety of guided kayak tours around Phillip Island including the Cape Woolamai Coastal Tour, Rhyll Wetlands Tour, Churchill Island Tour and Cowes Foreshore Tour.
Tours range from $30 per person for a 1-hour tour to $80 per person for a 3-hour tour. Check their website for more information.
Koala Conservation Centre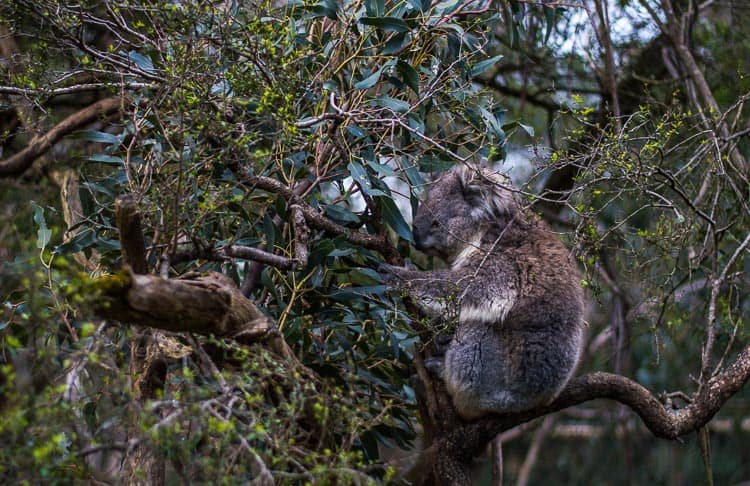 There are several wildlife attractions in Phillip Island and the Koala Conservation Centre Phillip Island is one of them. This is not a zoo, rather it is a centre that is built around the koala's natural habitat. Basically, rather than bringing koalas to a zoo, the conservation centre has come to them!
As you enter the centre there are various walks around the bushland. I recommend taking the walks that go along the boardwalks. These boardwalks are built a little higher into the trees so it is a little easier to spot the koalas. Given the koalas are not living in captivity, you do need to do some searching for the koalas. But knowing they are living in their own natural habitat makes it so rewarding when you do finally spot one.
At first, it was very hard to spot any koalas, any that we did see were very high up in the trees. Myla started to get rather bored but I convinced her to come on the second boardwalk. So glad we did as we were rewarded with seeing about 5 koalas right at eye level and only a metre or so in front of us. All the koalas were sleeping, except for one little guy who was well and truly awake and ripping away at eucalyptus leaves and eating them. This was such a privilege to see as we learned that koalas sleep around 22 hours a day!
We also saw a few wallabies at the bottom of the boardwalks.
The centre has some interactive displays where you can learn a little more about koalas including what they eat, how they grow and caring for their environment.
I would recommend an hour to wander around the centre, maybe a bit longer if your kids don't get easily bored like Myla did.
If you are visiting Phillip Island you are most likely going to see the Penguin Parade as well, so when purchasing your Koala Conservation Centre ticket, it is best to book a combined ticket to the various Philip Island Nature Parks to save money. You can book discounted tickets online here.
The centre is open daily from 10 am.
Phillip Island Chocolate Factory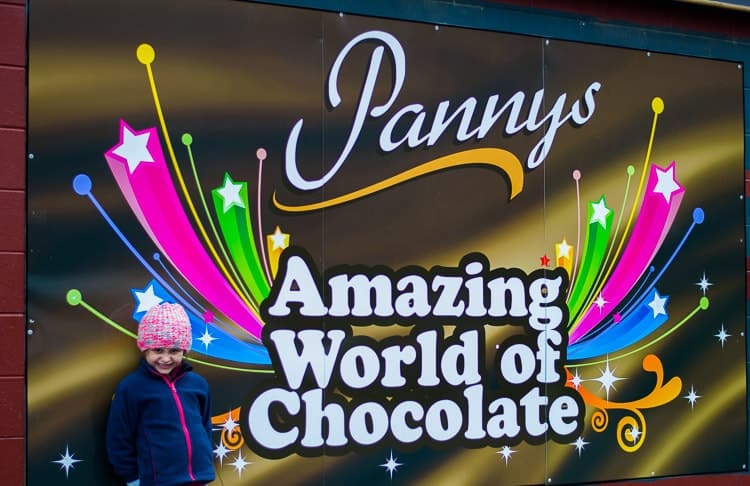 Anyone who loves chocolate and is looking for places to visit in Phillip Island won't be able to pass up a trip to the Phillip Island chocolate factory. Panny's chocolate factory (named after its owner Panny) is one of the first places you pass as you enter the Island.
Either grab some delicious chocolate to enjoy in the café or take the self-paced chocolate tour which includes some yummy chocolate to eat as well.
The tour describes the process of making chocolate in a fun and interactive way that the kids will just love. There is various equipment on display that is used in the chocolate making process that the kids can try out. There are also large windows that look directly into the factory where you can see the workers making chocolate.
There are a few window displays (think Myer Christmas windows) that talk about how the local penguins help Panny make chocolate each night with various displays made from chocolate.
There is also a mini arcade where you can try your luck at carnival style games and if win you can exchange your token for some chocolate treats. You get quite a few goes each and its not too hard to win. Both Myla and I won about half of the games we played.
Other chocolate eating opportunities include having a penguin deliver you a chocolate token, making your own chocolate art or making your own flavoured chocolate from the chocolate machine.
If it wasn't for Myla I probably would have skipped the tour and used my money for buying chocolate, but the tour is great for the kids, interactive and a fun way to spend 45 minutes or so.
I highly recommend grabbing a cup of tea or coffee in the café after the tour and eat all your chocolate winnings including the chocolate ticket you get on entry. You can book discounted tickets online here with Klook.
Wildlife Cruises
There are a variety of wildlife cruises where you can see seals, dolphins, whales and birds whilst exploring Phillip Island's unique coastline.
The most popular tour is the 2-hour seal watching cruise. The cruise takes you close to Seal Rocks to get up close and personal to see the 8000 plus fur seals. You can book discounted online tickets with Klook here.
Phillip Island Circuit
Of course, as well as being famous for the Penguin Parade, Phillip Island is also famous for holding various massive motorsport events each year, including the MotoGP, Superbike World Championships and the V8s.
You can visit the Grand Prix Centre and look at the famous circuit as well as look at the history of motorsport display. Other activities include taking a lap with an experienced race car driver, go karts, racing simulators and slot car racing.
General admission is $17.50 per adult and $8.50 per child or a family pass is $42. General admission includes entry to the viewing platform and motorsport display, all other activities are an additional cost. Click here for more information.
National Vietnam Veterans Museum
For those who have an interest in war museums or kids who love planes, helicopters and heavy vehicles then a visit to the National Vietnam Veterans Museum is worthwhile.
The museum contains various artefacts from the Vietnam War and entry to the centre commences with the Holographic Light and Sound show detailing what happened during the war including Australia's involvement. There are a variety of interactive displays through both imagery and audio devices.
The National Vietnam Veterans Museum is open daily between 10 am and 5 pm. Tickets are $15 per adult and $10 per child. Family passes are $40.
Rhyll Trout Farm Phillip Island and Bush Tucker Farm
If you love fishing, visit the Rhyll trout farm Phillip Island and you can catch rainbow trout. You can have your catch cooked up for you or take it with you.
There are also 1.2 kms of walking tracks showcasing a variety of bush tucker food.
Entry costs $9.90 per adult or $8.50 per child, family passes are $36. You do need to pay extra to hire a fishing rod, the trout you catch and for them to cook it for you.
Visit a Phillip Island Winery
Lovers of wine can visit a Phillip Winery. There are 2 wineries on Phillip Island – Purple Hen and Phillip Island Winery. Both wineries have varying opening hours, so best to check their websites before coming (see the links above).
Unfortunately for me I have not visited either of these wineries, but I hear Purple Hen Winery is particularly family friendly providing toys for the kids to play with whilst the parents enjoy wine and cheese tasting.
Click here if you are interested in a Wine and Beer tasting tour.
Surfing
Surfing is a popular pastime around Phillip Island and you will spot various learn to surf schools.
The best surf beaches can be found on the south coast and include beaches such as Cape Woolamai, Smiths Beach (ideal for beginners), YCW Beach, Surf Beach, Surfies Point and Summerland Beach. Please note that many of these beaches are not patrolled, so please keep that in consideration when surfing at these beaches.
Visit Cowes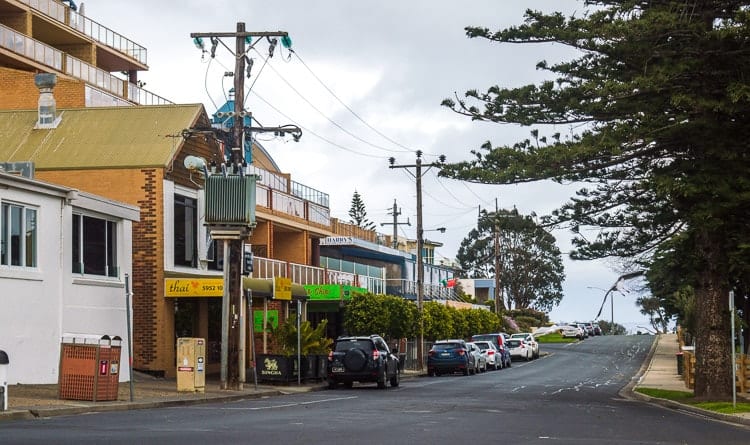 Whilst there is not a lot of things to do in Cowes, it is a good place to base yourself, with some great accommodation choices, supermarkets to purchase food, family friendly cafes and restaurants, playgrounds and a beach.
Cowes is also located in a central part of Phillip Island and so easy to reach all the attractions from.
Where to Stay – Phillip Island Hotels
There are a variety of accommodation options for families coming to Phillip Island from holiday parks, camping and self-contained apartments. Many of the Phillip Island hotels are in the town of Cowes.
The Wave Apartments Phillip Island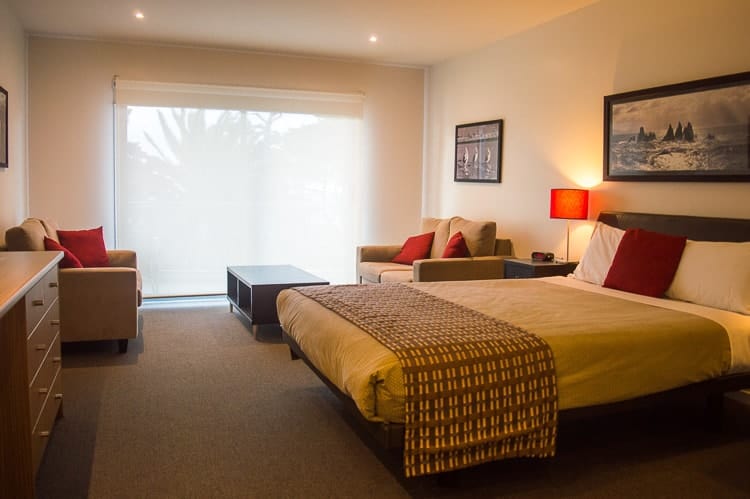 The Waves Apartments Phillip Island is located along the Esplanade in Cowes and is where we stayed during our recent visit.
The Waves Apartments are perfect for families, particularly families staying a few nights and wanting to prepare their own meals as they are self-contained. As well as a kitchen with a full-size fridge, there is a small dining area as well.
The family apartments are basically 3 rooms. As you enter the apartment you walk into the kitchen / dining area which also has 2 single beds for the kids. There is also a small TV. The second room is the main bedroom which contains a living area off to the side and a large flat screen TV. Between the 2 rooms is a spacious bathroom.
I like how the kids can have their own space separate to the parents and even their own TV unlike other self contained apartments which are jammed into a single room.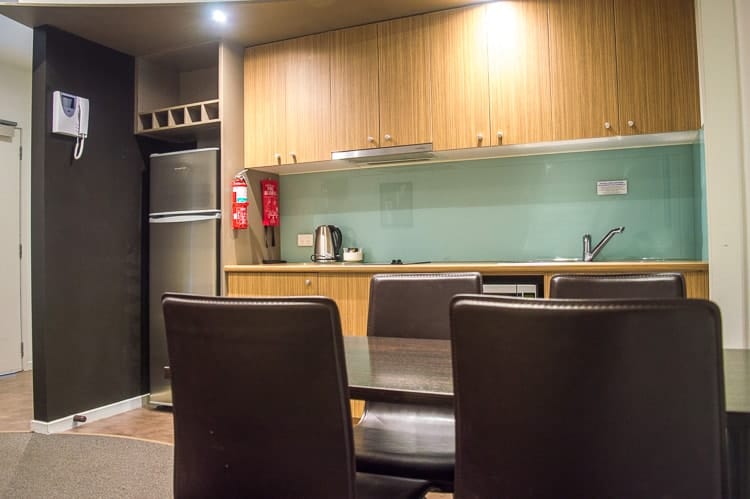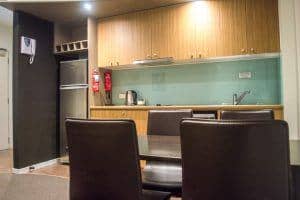 The Waves Apartments is in a great central location, being directly across the road from Cowes Beach where there is also a great kid's playground. It is also only a 5-minute walk into the main shopping and dining area of Cowes, although there are a few cafes within a 1 or 2 walk as well.
The Waves Apartments are well recommended and is a great choice for families looking for one of the best Phillip Island apartments.
Click here for the latest prices and availability for the Waves Apartments.
Other Phillip Island Accommodation Options:
If you are wanting some cheaper Phillip Island accommodation options, consider the following places:
Tropicana Motor Inn

The Tropicana Motor Inn is one of the best Phillip Island motels, located in the heart of Cowes with a short walk to the beach and main street. The motel facilities include a heated pool and the family rooms include cooking facilities, double bed and 2 singles.
Click here for the latest prices and availability.
Kaloha Holiday Resort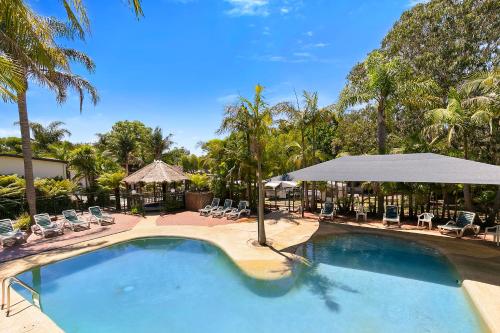 This Phillip Island resort is in the heart of Cowes with a short walk to the beach and main street. The Kaloha Holiday Resort facilities include spa, heated pool, playground and BBQ. The family rooms include cooking facilities, double bed and 2 singles.
Click here for the latest prices and availability.
Big 4 Phillip Island Caravan Park
The Big 4 Phillip Island Caravan Park is a 1-minute walk from Newhaven Beach. The caravan park includes a games room, playground, jumping pillow and an outdoor cinema. The rooms include cooking facilities, double bed and 2 singles.
Click here for the latest prices and availability.
Where to Eat – Phillip Island Cafes & Restaurants
There are many places to eat in Phillip Island, following is information regarding some of the Phillip Island cafes and restaurants that we ate at during our stay and which we recommend.
Pino's Trattoria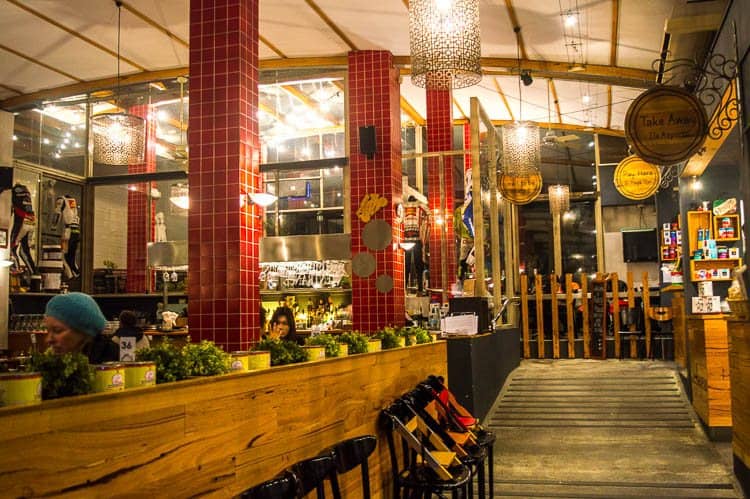 Pino's is one of our favourite Phillip Island restaurants which we dined at during our recent trip. It is a casual, modern style restaurant that offers a fantastic range of Italian food including pizza, pasta and other main dishes.
Pizza's start at $9, pasta dishes are around $20 and mains such as cotoletta, calamari, fish and saltimbocca are around $25. Kids meals are $11 and include an activity sheet and crayons.
Our meals were delicious and the servings were very generous. I can personally recommend the cotoletta (chicken) and the chocolate pie.
The staff are super friendly and great with the kids. Our waiter even did a magic trick for Myla which she was completely mesmerised with and kept telling me it was one of her favourite things on our entire trip!
You can really tell this is one of the great family friendly restaurants in Phillip Island. On the night, we visited it was filled with families with children of all ages. I even noticed there was a baby change table in the toilets.
Located in the main street of Cowes, Pino's Trattoria is a fantastic family friendly Italian restaurant and I highly recommend it.
San Remo Fisherman's Co-op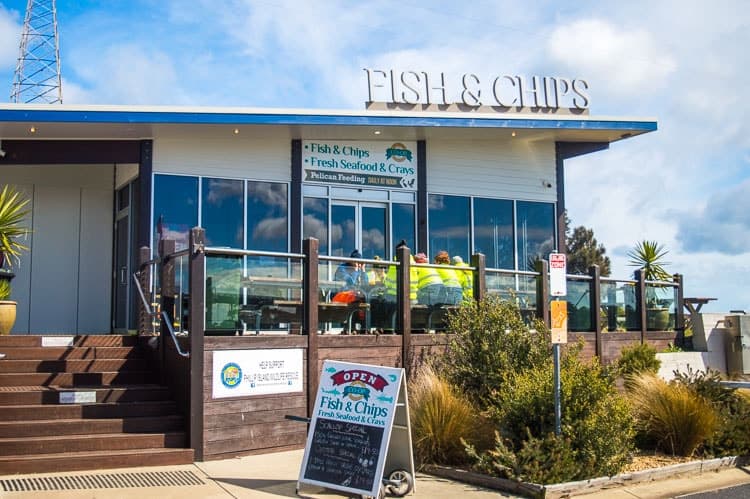 For delicious fresh fish and chips you must check out San Remo Fisherman's Co-op.
This fish and chip shop is in a gorgeous spot with great views out across Phillip Island. The location is also very convenient because it is right by the pelican feeding which is one of my recommended things to do with the kids.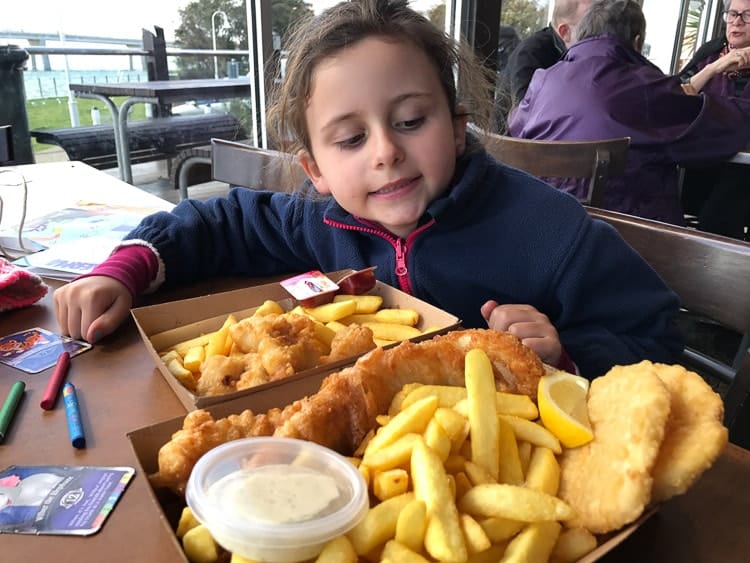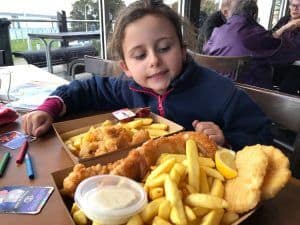 During our visit to San Remo Fisherman's Co-op, we ordered a single pack and a kid's pack. The kids pack is $7.50 and includes fish bites and chips. The single serve is $14.50 and includes 2 pieces of fish, calamari ring, 2 potato cakes, chips and tartare sauce. The serves are massive and the single serve could easily feed 2 adults, whilst the kids meals could easily feed 2 young children.
The food was so good, I recommend lunch here and be sure to combine it with the pelican feeding.
Getting to there – Melbourne to Phillip Island
In my view, there really is no other option in getting to Phillip Island than hiring a car. You will need a car to get around Phillip Island once you are there anywhere.
Getting from Melbourne to Phillip Island is very simple, with signs at regular intervals.
Once you arrive on Phillip Island, all the attractions are well signed posted so again it is super easy to get around. Mind you don't underestimate the size of this island, it is large and it can take between 15 to 30 minutes to reach various attractions. So, allow yourself plenty of time to get between attractions.
There are plenty of great places to stop on your way from Melbourne to Philip Island, like the 1000 steps walking track.
Our Verdict
I think anyone heading to Melbourne with kids must fit in a few days to Phillip Island. Phillip Island is such a perfect getaway for families with so many great attractions to visit. I have visited Phillip Island twice now and I am still keen to return someday.
I recommend spending at least 2 to 3 days on Phillip Island to enjoy all the attractions at a relaxed pace. However, if you are short on time and really want to visit Phillip Island, most likely to see the Penguin Parade, then it is possible to enjoy many of the best attractions over 2 days and 1 night at a quicker pace. A 2 day / 1-night itinerary may be as follows:
Day 1
11.45 am Pelican Feeding at San Remo
12.15 pm fish and chips at Co-op
1.15 pm Churchill Island
3.30 pm Check into your accommodation
4.15 pm Nobbies Centre / Antarctic Journey
5.30 pm Penguin Parade (check the time as this changes throughout the year)
7pm Dinner
Day 2
10 am A Mazen things
12 pm Koala Conservation Centre
1 pm lunch
2pm Panny's Chocolate Factory
Please note that the above post contains affiliate links, which means that if you make any booking via these links I may receive a small commission. This allows me to bring this information to you free of charge, thanks so much for supporting our website.
Want to keep this handy for later?
Click on one of the images below and save to Pinterest.