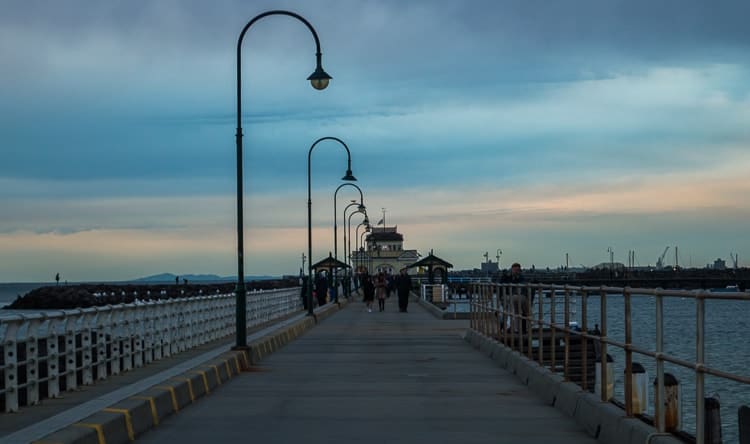 St Kilda has a funky, trendy feel to it and is home to some of Melbourne's best food, shopping and entertainment.  Along the beach you will find a variety of eateries and bars perfect for people watching and lazing the afternoon away, whilst one block back you will find the energetic and eclectic streetscape which is home to the famous Acland Street cakes, theatres, galleries and cafes.
A few days in St Kilda is a perfect escape for any family visiting Melbourne.  St Kilda is located just a few kilometres outside the Melbourne CBD and is easy to access via the trams.
In this post we share with you all the best things to do in St Kilda with kids including St Kilda attractions, free activities, the best family friendly St Kilda accommodation as well as some great family St Kilda restaurants.
Taking the family to Melbourne?  Check out our other related posts here.
Things to do in St Kilda with Kids
1. Luna Park St Kilda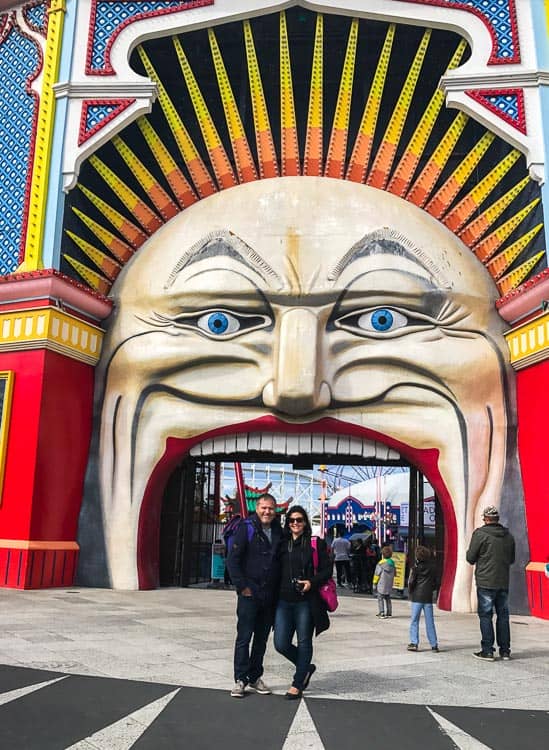 If you are looking for a Melbourne amusement park close to the CBD, then Luna Park St Kilda is the place for you.  Luna Park is one of the world's oldest existing amusement parks with it being in operation for over 100 years.
Before entering the park, be sure to stop at the famous giant smiling face entry for the required family selfie.  Entry is free, so even if you don't intend to go on any rides you can go in for a look around.
The park has 18 different rides, with various rides aimed at different age groups.  There are slow rides for the little munchkins right up to the crazy rides for the adrenaline junkies and all kinds of rides in between.  As well as the rides, there are various games and places to eat.
The rides do have height restrictions with some of the rides requiring children to be accompanied by an adult.  The adult also requires a ticket.  On the day we went we were a little disappointed to see 4 rides closed for maintenance so it might pay to check out what rides are open and their respective height restrictions before purchasing tickets, to ensure you purchase passes which are right for you.
Myla absolutely loved Luna Park so I can highly recommend it for the little ones.  She was just the right height for all the rides she wanted to go on which was perfect.  She would have easily stayed here all day if we didn't drag her away.  Myla told me Luna Park "was amaze balls because it had really really really fun rides".
What I do love about Luna Park is because entry to the park is free, you can come and go as you please.  We had an unlimited ride pass which meant we had a wrist band on each – so we visited the park twice during the day and Myla went on her favourite rides over and over throughout the day.
Whilst Luna Park is not massive like most theme parks, I actually loved how it is small and so it is easy to get from ride to ride in a short period of time.  There was no real line ups either which meant we could go on multiple rides in a short time span.
If you want to take the kids to Luna Park be sure to line up your trip with their opening times.  Luna Park is only open on weekends, school holidays and public holidays from 11 am to 6pm.
There are a variety of ticket options to suit your family including the family unlimited ride pass which starts at $149.95 AUD.  Individual ride tickets start at $4.95 AUD.  Find all the latest prices here.
Luna Park is located between Jacka Boulevard, Shakespeare Grove and the Esplanade.  If you are coming from outside of St Kilda you can easily catch a tram from Melbourne CBD or there is plenty of metred parking around the park.
Luna Park is one of the most popular St Kilda activities for families and I have no doubt your kids will love it.
2. See the St Kilda Penguins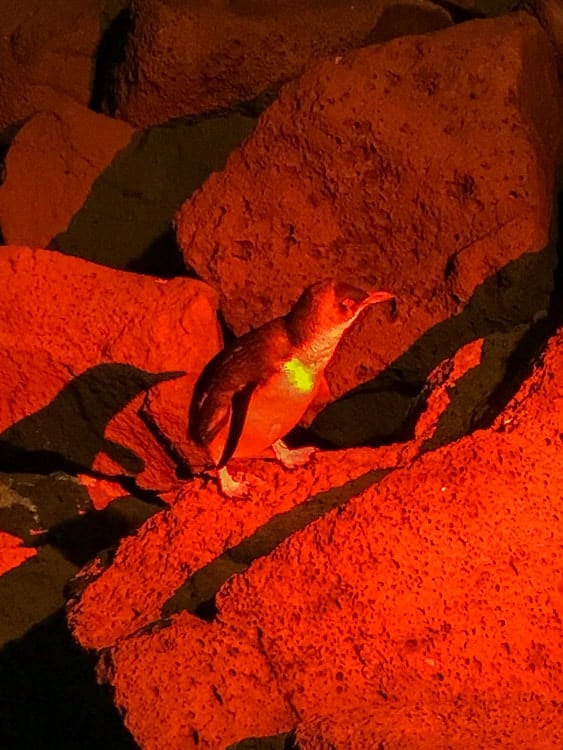 If you are wondering what to do in St Kilda for free, than take the family to see the little St Kilda penguins.
Located at the very end of the St Kilda pier past the pavilion, you will find the St Kilda beach penguins returning home each night just after sunset. Find out what time sunset is on the day you intend to visit and arrive just beforehand.  Then sit tight and and keep your eyes peeled for these adorable little animals as they arrive home from a busy day at sea.
Once we arrived it did not take long to see the little guys coming home.  We were very lucky in that there were many chicks around and we were privileged enough to see one of the penguins feeding its feisty baby.  These little dudes are full on, pretty much the same size as their parents and full on hassling them for food – just like human babies!!
Earthcare volunteers are on hand to provide information about the penguins at St Kilda and are available to answer any of your questions.  Not only is this a great way to get up close to the penguins, but it is also a great opportunity for adults and kids alike to learn about the importance of looking after our environment so the animals that live around us can flourish.
We saw the penguins in early September which meant they came ashore around 6pm.  The weather was freezing and windy.  For ideal weather conditions Neil suggested it is best to see the penguins in April when the weather is warmer and day light saving has finished meaning it is not too late for the kids.
Whilst Andy and I loved watching the St Kilda pier penguins come home, Myla did get bored.  There is a little bit of waiting around and you do need to spot the penguins in the dark which can be difficult unless you are lucky enough to have a penguin walk by you.  I think given the poor weather on the night we went we were lucky as there were not too many people there (although there were still quite a lot); however Neil said that during the summer months when the weather is perfect the place is packed with people and viewing the penguins at St Kilda beach is rather difficult through the masses of people.
My tip if visiting with kids is not go too early, people start leaving after spotting a few penguins despite more penguins still coming in.  So if you come whilst the penguins are coming in you won't have to wait around for too long with the kids.
3. The Esplanade Markets St Kilda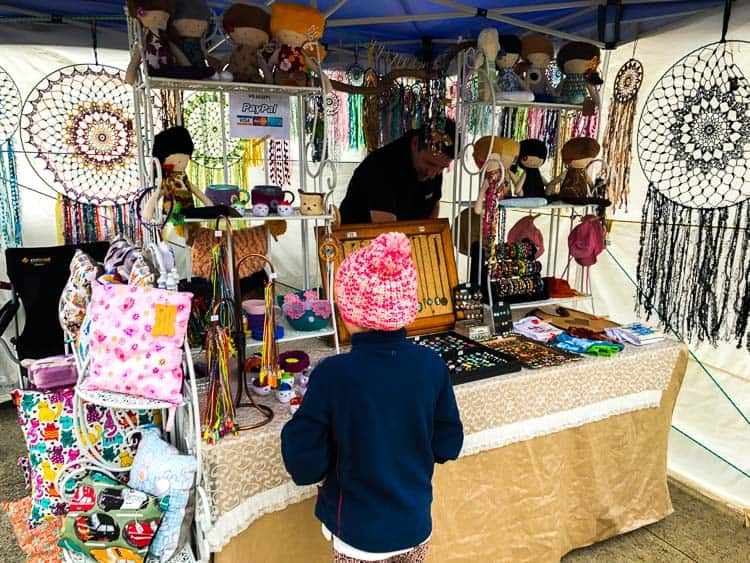 If you are after some great Melbourne Sunday markets, than be sure to check out St Kilda's Esplanade Markets which operate every Sunday from 10 am to 5 pm along the Esplanade.
These Melbourne craft markets have over 150 handmade artisian and craft stalls.  Items on offer include handmade soaps, funky t-shirts, jewellery, kid's toys and clothes, coffee, food, treats and heaps more.
Unfortunately, on the day we visited the weather was not so good and it appeared not all the stalls where open.  However, we loved strolling past all the stalls and stopping when something caught our eye.  I couldn't go past some lovely handmade soaps.  So if you are after some Sunday markets in Melbourne be sure to check out the markets along the Esplanade.
You read my tips for Melbourne CBD attractions for kids here.
4. St Kilda Adventure Playground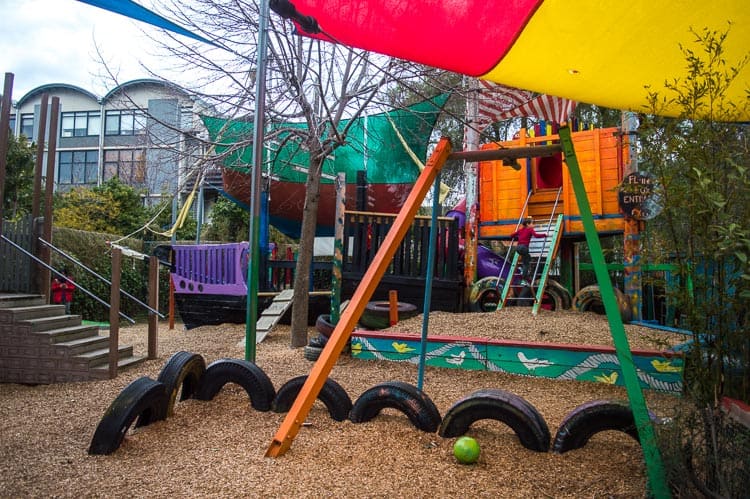 A must do for families visiting St Kilda is a visit to the St Kilda Adventure Playground.
This St Kilda park is like no other playground I have seen.  It's not all flashy, it doesn't have a great paint job nor does it appear to contain the most modern playground equipment, but it is the most fantastic playground that I have ever visited.  If I had to describe it, I would say it appears to be something you would find in your friend's backyard who has a super awesome Dad who builds the best cubby houses and play equipment from things he finds lying around the place including a mish mash paint job.
The St Kilda playground includes climbing structures, trampolines, flying foxes, numerous cubby houses of varying sizes and stacks of hidey holes perfect for a game of hide and seek.
Within the playground there is even a kitchen and parents are encouraged to make themselves a cup of tea or coffee for free of charge (although donations are accepted).  There is plenty of tables and chairs, a community notice board as well as an area with fruit and vegetables which visitors are encouraged to help themselves too.
Unlike your average playground, the St Kilda Adventure Playground is staffed and has set open hours being 12 pm to 4 pm on weekends, public holidays and school holidays.  On school days, the playground is open from 3.30 pm to 5.30 pm.
The St Kilda Adventure Playground is located off Neptune Street.
Click here to check out more of Melbourne's hidden gem neighborhoods.
5. Pony Rides
If you are in St Kilda on a Sunday, take the kids down to Catani Gardens for a pony ride.  The ponies are gentle and suitable for young children.
Rides cost $10 each or purchase a 10 ride card for $80.  Find the latest information about the pony rides here.
 6. Acland Street St Kilda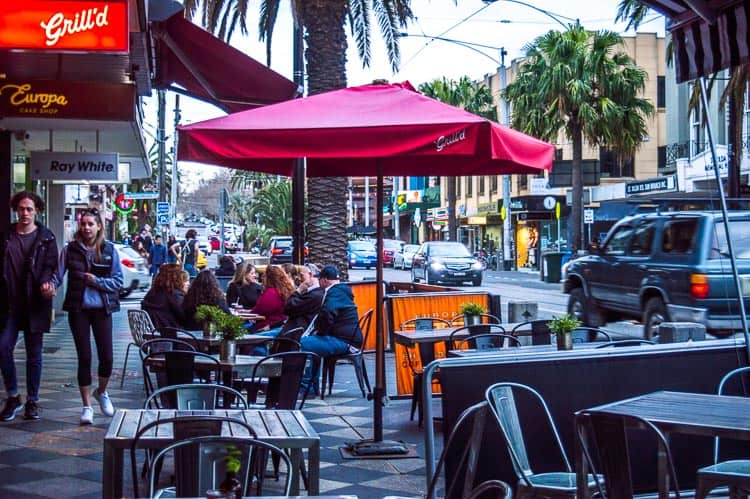 Whilst famous for the Acland Street cake shops you will also find some of the best cafes along Acland Street St Kilda as well as some great quirky, bohemian style shops.
Acland Street restaurants, cafes and bars showcase both local and international food including Mediterranean, Mexican, Asian, vegetarian and vegan being some of the favourites.  Many places also have live entertainment, or you can sit along the side walk and people watch whilst soaking up the cool St Kilda atmosphere.
Of course you must stop to have one of Acland Streets famous cakes.  The cake shop windows are lined with irresistible looking cakes and desserts that even the strongest willed person will have difficulty resisting.  With so many to choose from I guarantee you are going to struggle with choosing just one to try!
7. Stroll along St Kilda Beach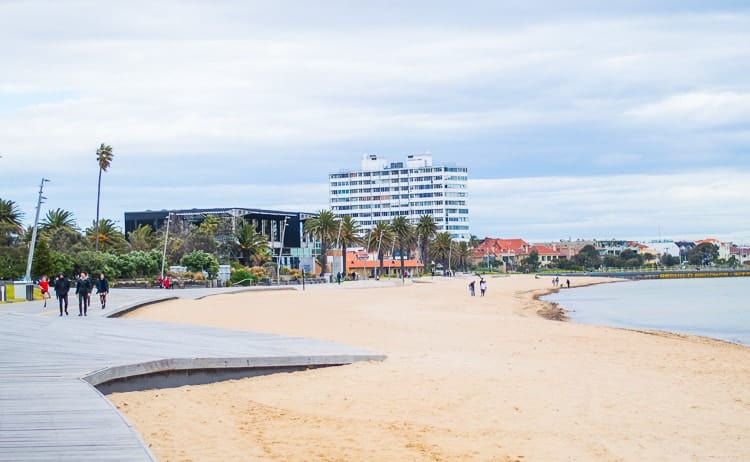 Everyone visiting St Kilda must visit the St Kilda Beach.  The foreshore stretches over 6 kilometres, so there is plenty to see as you stroll along the beach.
At the southern end of St Kilda Beach you will find the skate park where most days you will be able to watch the skateboarders show off their amazing skills.
As you continue your walk the kids might like to jump on the beach, search for sea shells or build a sand castle.  If the weather is warm maybe even take a dip.
A little bit further on there is an array of cafes and bars.  Grab a coffee or perhaps a glass of wine as you sit by the beach and watch the people go by.  Some of my favourites cafes in St Kilda are located here like Republica, Captain Baxter and Beachcomber Café which are in the perfect location right by the beach.
8.  St Kilda Farmers Markets
If you are in St Kilda on the first Saturday of the month you can visit the Farmers Markets which is located behind Acland Street at the Peanut Farm Reserve.  Here you can buy fresh farmer's produce and groceries from all over Victoria.
 9. Explore the Quiet Back Streets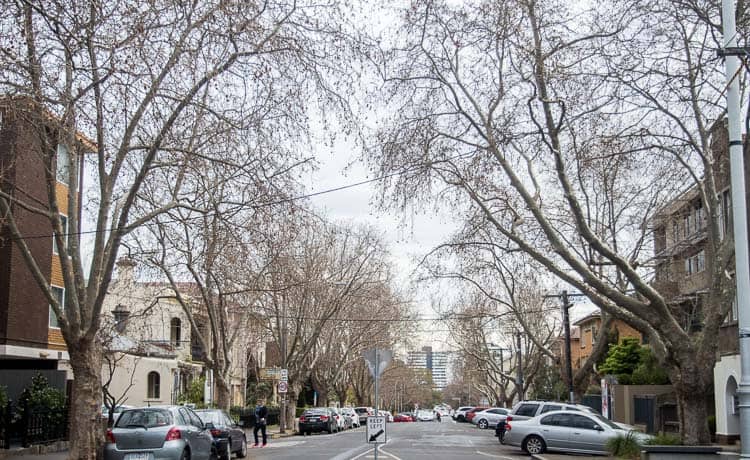 Whilst it's all happening along St Kilda Beach and Acland Street, just a block back from the action you will enter an entire different world.  I just loved roaming St Kilda's back streets, admiring large old traditional stone churches with elaborate gardens, gorgeous old terrace houses and streets lined with lovely huge old trees.  The streets are all relatively flat so it is easy to wonder around.
10. St Kilda Botanical Gardens
The heritage listed gardens contains gorgeous flower beds, a nursey, wide open lawns and an ornamental pond with the "Rain Man" foundation.
The gardens also has a kids playground, giant chessboard and the Eco-Centre which facilitates lessons on sustainable living practices.
The St Kilda Botanical Gardens are located between Herbert and Blessington Streets.
11. Kite Boarding
Go kite boarding with Kite Republic.  Kite Republic offer a range of kiteboarding activites from basic through to advanced lessons.  Lessons start from $170 AUD.
Kite Republic is located within the St Kilda Sea Baths and is open from 10 am.  Find out more about Kite Boarding here.
12. Stand Up Paddle Boarding
In the warmer months go stand up paddle boarding with Stand Up Paddle Board HQ.  Stand Up Paddle Board HQ have a variety of times for lessons which start at $60 AUD per person or for you can just hire the equipment from $30 AUD per hour.  Find further information here.
13. St Kilda Sea Baths
The St Kilda Sea Baths has been in operation since 1860.  The water for the 25 metre seawater pool is sourced directly from the sea and heated to an ideal temperature.
The centre also contains a large spa bath with a large window looking out across Port Phillip Bay and St Kilda beach.
The St Kilda Sea Baths are open daily and entry is $13 per adult and $6 per child.  Click here for more information.
14. Skydive
For those seeking a little more of an adrenaline thrill –  jump out of a plane with Skydive Melbourne, Melbourne's only beach skydive.
Tandem skydive from 15,000 feet above St Kilda before floating for around 5 minutes to the ground, all whilst enjoying 360-degree views of Melbourne's Port Phillip Bay.
Skydive Melbourne are open daily between 7 am and 9 pm and sky dives start at $299 AUD.  Children must be 12 year of age or older to skydive.  You can book online here.
St Kilda Accommodation for Families
Quest St Kilda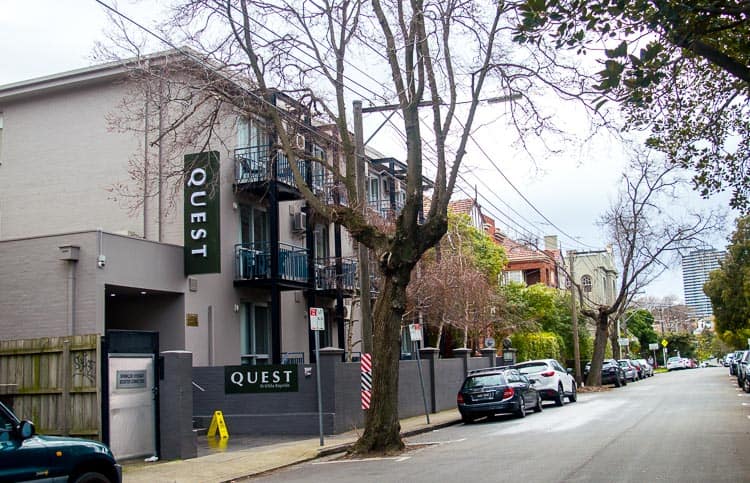 We stayed at Quest St Kilda during our recent stay and just loved it.  Quest Apartments is located in a quiet residential street of St Kilda only a short walk away from all the main activities in St Kilda including Fitzroy Street, Acland Street and the Esplanade.
Quest offers the ideal St Kilda accommodation for families as being an apartment there is a kitchen with cooking facilities and full size refrigerator and laundry which is perfect for longer stays.  Its great letting the kids have their own space too.  Both 2 bedroom studios and apartments also come with 2 single beds rather than another double bed as many other hotels provide, so the kids don't have to share a bed.
Quest St Kilda Bayside have studios, 1 bedroom or 2 bedroom apartments and hotel facilities include a pool, car parking, gym and BBQ area.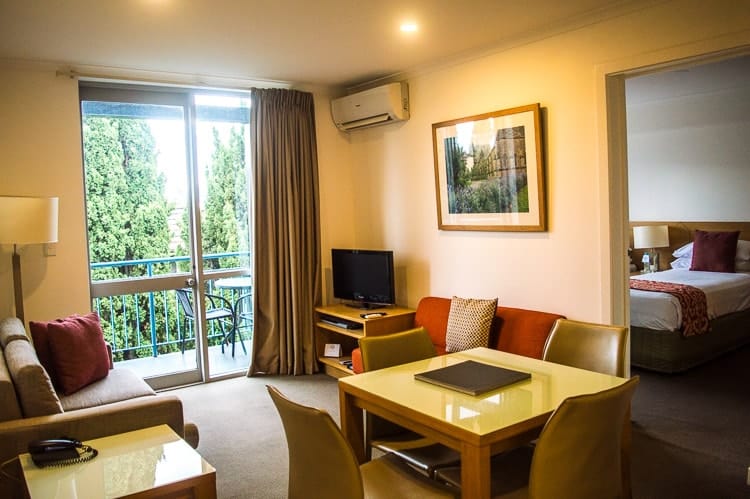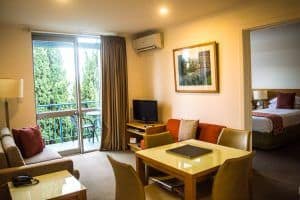 The apartments are located in such a convenient location with everything in easy walking distance.  Here are some approximate walking distances to the main St Kilda Attractions:
St Kilda Beach – 5 minutes
Acland Street – 4 minutes
Luna Park – 8 minutes
Fitzroy Street – 3 minutes
Nearest tram stop (Acland / Fitzroy Street) – 3 minutes
In my view the Quest Apartments is the best accommodation you will find for families  in terms of its location, price and due to having the convenience of being able to prepare your own meals in your room.  The hotel is also highly rated on TripAdvisor with 85% of people rating it as either excellent or very good.
At the time of publishing the best price for a 2-bedroom studio was $172 AUD per night or $174 AUD per night for 2 adults and 2 children – both on Expedia.
Click here to view current availability and pricing for Quest Apartments.
Other Family Accommodation Options
If you would like to consider other St Kilda accommodation check out these options below:
1. Rydges St Kilda
Located on Fitzroy Street – approximately 5 minute walk to St Kilda beach and close to shops and cafes.
Family Rooms include 2 double beds.
No kitchen facilities – only mini bar.
Hotel features a café, fitness centre free WiFi and guest receive complimentary entry into the St Kilda sea baths.
At the time of publishing the best rate available for 2 adults and 2 children was $149 on Booking.com.
2. Tolarno Hotel
Located on Fitzroy Street – approximately 8 minute walk from St Kilda beach and close to shops and cafes.
Rooms include 2 bedrooms, each room with a double bed.
Rooms include a kitchen and laundry.
At the time of publishing the best rate available for 2 adults and 2 children was $189 on Booking.com.
3. Adina Apartments
Located on Fitzroy Street, approximately 10 minute walk from St Kilda beach and close to shops and cafes.
Apartments include 2 & 3 bedrooms.
Apartments contain full kitchen facilities.
Hotel contains indoor heated pool, sauna and fitness centre.
Unlimited free WiFi.
At the time of publishing the best rate available for 2 adults and 2 children was $215 on Booking.com.
Where to Eat – St Kilda Restaurants & Cafes
1. Republica St Kilda Beach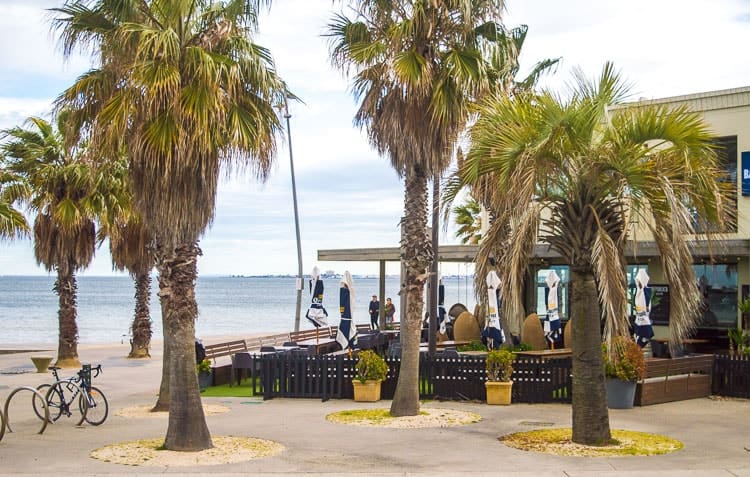 Republica St Kilda Beach is a fantastic laid-back cafe / bar situated within the St Kilda Sea Baths complex and right alongside St Kilda beach.
I absolutely loved the grassy courtyard setting right along the beach path and even though the day we visited it was windy and cold, it was so inviting to sit out here and soak in the view whilst having a glass of wine.
If the outdoors is a little too cold for you, inside there is lovely warm fire place and large windows still providing great views of the beach.
They have a great menu with the quality of food being above average compared to your usual pub food.  Check out Andy's grilled beef rib, kohlrabi, smoked yoghurt and whiskey bbq sauce – it was amazing!!!!  Yes I insisted he share it with me.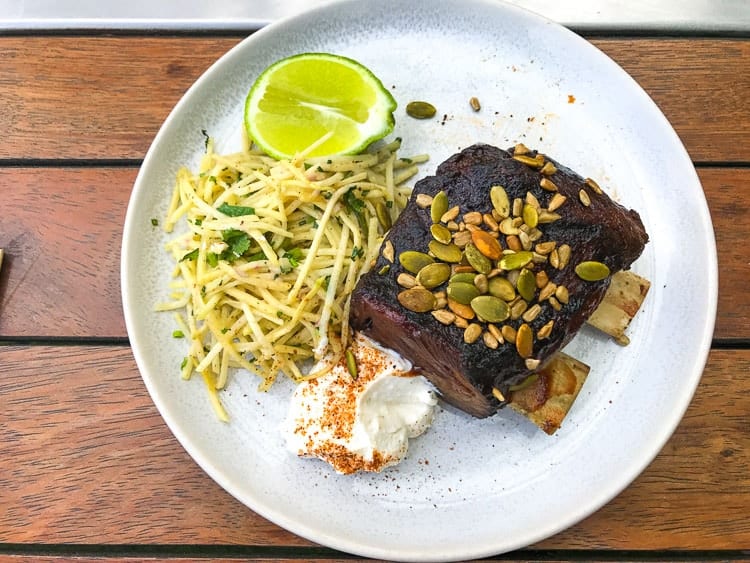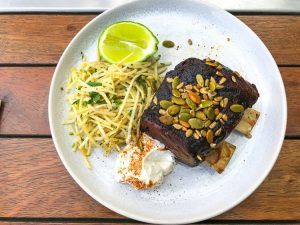 They also have a great kids menu including fish and chips, pasta and pizza with all meals priced at $8 each and comes with an activity sheet and coloured pencils.
Given the amazing location right on the famous St Kilda beach I was pleasantly surprised with the price of the meals.  Meal prices ranged from $20 to $30 for mains.
I highly recommend at least one meal out on St Kilda beach and I think Republica is just the place to have it.
Republica is from 11.30 am on weekdays and from 9 am on the weekends.  Click here for more information.
2. Beachcomber St Kilda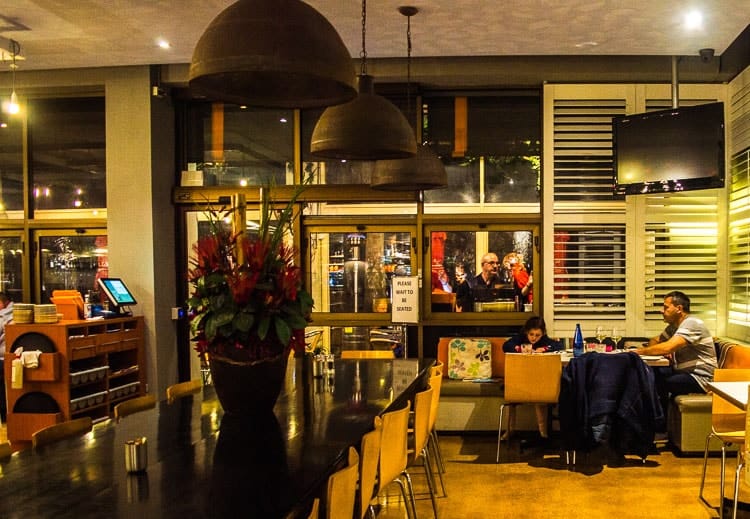 Also located within the St Kilda Sea Baths complex and along the beach is the Beachcomber Café.
The Beachcomber Café is an ideal dinner spot for those visiting the St Kilda penguins as it is located right at the end of the St Kilda pier.  After an hour or so standing out in a freezing cold and windy Melbourne night, the Beachcomber Cafe was like a warm oasis!
If the weather is warm or you visit during the day, they have a great outdoor courtyard with fantastic views across the bay.  It is the perfect spot to relax for the afternoon whilst having a few glasses of wine.
The staff at Beachcomber are super friendly and family friendly too.  As soon as we arrived they gave Myla an activity pack to keep her busy whilst we were waiting for our food.  Most restaurants provide a single activity sheet, but a whole pack was pretty cool.  The pack contained a box of crayons, sheet of stickers, colouring in book and puzzles.They have a good kids menu too including pizza, pasta and fish with meals $10 each.
Now I am not much of a food connoisseur, I just know what I like and my meal here was amazing!  There is a huge variety on the menu, including quite a few Greek dishes.  Meals are a little pricey though at around $30 to $40 for a main, so I'd definitely dine here if you are after a bit of a splurge. However the quality of the food and service is second to none.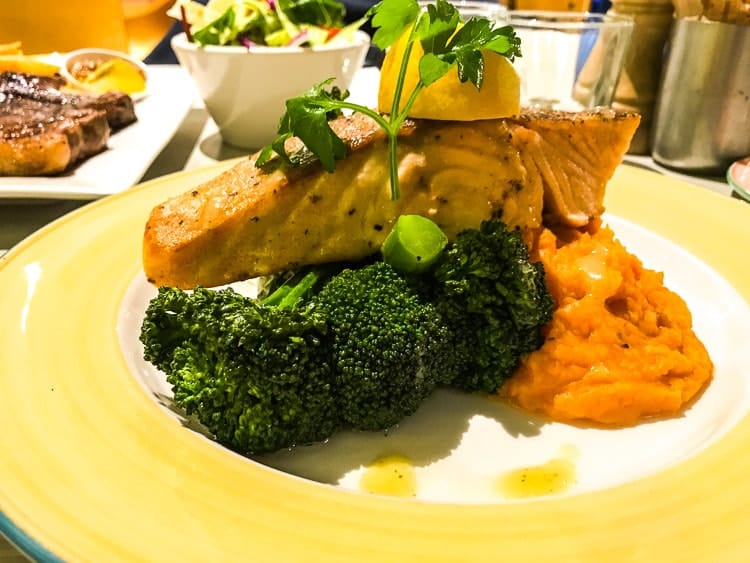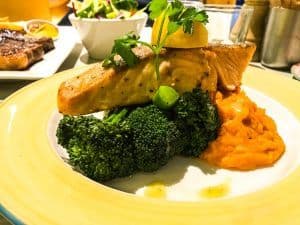 As I mentioned we came here right after seeing the penguins so it was a little late for Myla. However where we sat the chairs were long lounge type chairs which was perfect as she could stretch out and she eventually went to sleep.  The staff seemed to be more than happy to accommodate tired little children.
Beachcomber café is open 7 days a week for breakfast, lunch and dinner.  Click here for more information.
Getting Around St Kilda
Getting to St Kilda from Melbourne
With Melbourne's fantastic public transport system, it could not be easier to get to St Kilda.  The easiest way is to jump on either the number 96, 16 or 2 trams from the city to St Kilda.  Find any tram stop within the CBD and have a look at the map.  You may need to make a stop along the way to change trams but rest assured catching the trams within Melbourne are so simple and no need for a timetable as trams come every 10 minutes or so.
A tram ride to St Kilda from Melbourne CBD takes around 15 minutes.
Getting to St Kilda from the Airport
Catch a cab, Uber or Skybus.  Skybus is a great inexpensive way to get to and from St Kilda from the airport.
Adults cost $19 one way or $37 return.  What I absolutely love about Skybus is that up to 4 children travel free with each adult.  Tickets can be purchased online or onboard the Skybus.
From the airport, the St Kilda express departs from terminal 4.  There are 4 drop off and pick up points from St Kilda – Barkly Street, Carlisle Street, Alfred Square (the closest stop for the Quest Apartments) and Fitzroy Street (across from the Adina Apartments).
Monday to Friday the service runs every 30 minutes between 6 am to 7pm and weekends and public holidays the service runs every hour.  Click here to check the timetable.
Within St Kilda
Just walk!  We found it easy enough to just walk wherever we went.  The other option is to just jump on one of the trams around St Kilda.  The trams run along Fitzroy Street, The Esplanade and down Acland Street – see above on how easy it is to get around on trams in Melbourne.
There are also are a variety of buses that go along the tram route as well as through other areas where there are no trams.
Car Hire
If you are looking at basing yourself in St Kilda and want to get out of town for a day trip then your best bet is to hire a car.  There are plenty of hire car places in the area, so no need to go back into the city.
Our Verdict
We all absolutely loved our time in St Kilda.  I visited many years ago as a young single girl and thought it was pretty trendy then, so I wondered how I would feel about it from a family perspective.  Well I can easily say that St Kilda caters for all types and has plenty to do for families.
Unlike Melbourne CBD (which I also love), St Kilda is much more quieter and things seem to go at a slower pace.  It is relatively small so it is easy to walk around with the kids, although there are trams as well if you are going from one end of St Kilda to the other.  There are heaps of green outdoor spaces and parks for the kids to run around in, great family friendly cafes and good value family accommodation.
I highly recommend spending a few days in St Kilda with the kids whilst holidaying in Melbourne.
Thanks to St Kilda tourism for hosting our visit to St Kilda.  As usual all opinions are my own.
Please note that if you make any bookings using the links above that I may receive a small commission at no extra cost to you.  This allows me to bring this information to you free of charge.  Thanks for supporting our website.
Want to save this for later?  
Click on one of the images below and save it to Pinterest.