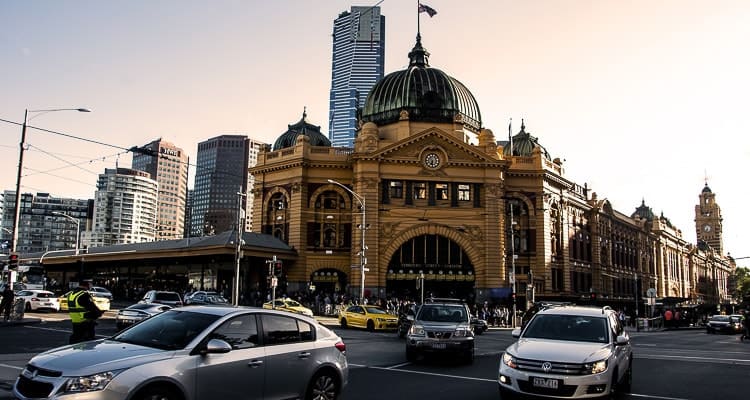 Heading to Melbourne with the family and wondering what are the best things to do in Melbourne with kids? Well you have come to the right place because I absolutely love spending time in Melbourne and with so many great family things to do in Melbourne I put them all in this handy guide to visiting Melbourne.
The kids activities Melbourne offers are endless, and not just in the CBD but the surrounding areas too. Things to do with kids in Melbourne include discovering the colourful murals down Melbourne's lane ways, soaring above the Melbourne skyline, cruising down the Yarra River and will even being entertained riding the free trams around the city.
This guide shows you 30 of the best things to do in Melbourne for kids, including everything you need to know about ticket prices , where to save money booking online and opening times. As well as all the family activities Melbourne has to offer, this guide will cover getting to the Melbourne CBD from the airport, getting around the CBD and where to stay in Melbourne on a budget.
There are so many great things to do in the surrounding areas of the Melbourne that in this post I am just going to focus on the attractions within the CBD. I also have some great tips for St Kilda with kids and all the Phillip Island attractions for families.
Best Things to do in Melbourne with Kids
1. Melbourne Star Observation Wheel
One of the fun things to do in Melbourne for kids is taking them soaring above the Melbourne skyline on board the Melbourne Star Observation Wheel. This is 30 minute journey is a great introduction to the city and one of the popular Melbourne family activities.
As well as fantastic views across the entire Melbourne CBD skyline and beyond; you will receive commentary about the various sites around Melbourne. With your ticket you receive a free map so you can follow along with the commentary identifying the various landmarks.
The Melbourne Star Observation Wheel has 21 individual air conditioned fully enclosed cabins. Each cabin can fit up to 20 people, although the day we were there, there were only a handful of people so pretty much everyone had an entire cabin to themselves. There is plenty of room to walkabout and take some fantastic photos of the city skyline.
We went during the day, but I would be keen to ride the Wheel during the evening or just on dusk to see the city lights. At night the Melbourne Star Observation Wheel even has a dazzling LED light show.
Not sure what to do in Melbourne with kids? Be sure to ride the Melbourne Star. The Melbourne Star Observation Wheel is open daily from 11 am.
Prices at the gate are $36 per adult and $22 per child. Id' recommend you buy online via Klook as tickets are $28 per adult and $20 per child – which is a massive saving. Click here for discounted online tickets.
2. Harbour Town Docklands
Looking for a one stop shop for multiple fun things for kids to do in Melbourne? Then head down to Harbour Town Docklands as there are multiple Melbourne family attractions here (keep reading below for more details about these family attractions Melbourne offers).
Harbour Town Docklands is an outdoors shopping centre which is also a great dining and entertainment precinct. Here you will find plenty of great Melbourne attractions for kids including the Melbourne Star, Wonderland Junior, Glow Golf and plenty more.
There is over 80 specialty retail stores, cafes and various attractions within Harbour Town, so you could easily spend the entire day here. This is ideal place to check out if you are wondering what to do with kids in Melbourne.
3. Wonderland Junior
If you have small children and are looking for things to do in Melbourne with toddlers, head down to Wonderland Junior the ideal location for some Melbourne fun for kids. Wonderland Junior is located in Harbour Town right next to the Melbourne Star Observation Wheel and is a small fun park perfect for the younger children. Rides include Dodgem Cars, Carousel, Mini Swing Ride, Rockin' tug, Circus train, Tea Cups and more.
Wonderland is open on weekends, school holidays and public holidays. You will need either an unlimited ride wrist band or tokens to to enjoy the rides. An unlimited ride pass is $29.50 whilst a 10 pack of tokens is $25 (each ride takes 2 – 3 tokens).
We went on a Friday so Wonderland Junior wasn't operating, but even Myla seemed pretty keen to get on some of the rides, so it's got plenty for tiny kids as well as kids around Myla's age which at the time we visited was 6. This is great spot if you are looking for a family day out in Melbourne.
Click here for more information.
4. Ice Skating at Docklands
Looking for the active things to for kids in Melbourne? Then head down to the O'Brien Group Arena for some ice skating at Docklands. This is quite literally one of the cool things to do in Melbourne.
I have never been ice skating beforehand and Myla had only done so once, so I was a bit nervous how our visit here was going to go. I was actually really surprised how easy it was to walk with the skates on and whilst I by no means was any good, I managed to skate (very slowly) a few times around the rink.
With the aid of a seal, Myla skated around and around the rink many times. With every round, she became better and better. She absolutely loved it and I was super impressed how well she did. Perhaps being closer to the ground its a bit easier for the little ones.
Ice skating is a great opportunity for some family bonding time and I just love any activity that gets the kids physical. In fact it was difficult to drag Myla away! Whilst I recommend bringing warm clothes, once you get going you really warm up, so make sure you wear layers that you can take off.
If you go on a weekend or school holidays you can join one of the free skate lessons before you get started.
Over school holidays this is certainly one of the fun places to gin in Melbourne as the arena has a variety of fun family activities including games, face paintings, circus performers, skating performances and a craft zone.
Ice skating is $27 per adult and $23 for kids, including skate hire. Families can save with a family pass for $82.
Click here to find out what's on at the O'Brien Group Arena and for more information.
5. Tunza Fun
Another great place for kids things to do in Melbourne is Tunza Fun, also located in Dockland. Tunza Fun has a variety of activities for kids in Melbourne including:
XD Theatre – a motion simulated ride with real time 3D graphis and visual effects for the ultimate multi-sensory experience;
Balladium – Shoot foam balls from cannons at your friends in this backlight arena;
Hillbillys – Interactive shooting game;
Remote Control Cars – race your friends around the track; and
Value packs start at $11 per person. Click here for more information.
6. ArtVo
If you have kids of varying ages and are looking for Melbourne things to do with kids, than you will love ArtVo! ArtVo is an art gallery with interactive 3D art where you are encouraged to touch and interact with the artworks. The art is painted on both the floor and walls with various other sculptural elements so you can get among the various scenes, photographing yourself and becoming part of the artworks. In each piece of art there is a photo point marked on the ground, stand here and follow the directions on the best way to take the photograph.
There are a variety of gallery zones including Australiana, Jungle Safari, Aquatic Adventure and Dimensional Dreams just to name a few. I haven't been here but it looks like one of the fun places to go in Melbourne for kids and definitely on my list for next time.
Entry is $28 per adult and $18 per child. Family passes are available for $78. ArtVo is open daily from 10 am and is one of the great family attractions in Melbourne.
Click here for more information.
8. Glow Golf
Glow Golf is one of the fun things to do in Melbourne for families. Play 18 holes of golf in the smallest mini golf course in Australia. This is an indoor mini golf which is played under ultraviolet lighting.
Glow Golf is $15 for adults and $10 for children. A family pass $45. Glow Golf is no doubt one of the fun things to do with kids in Melbourne, that the entire family will love.
Open daily – operating hours differ day to day so check here before arriving.
9. Explore the Laneways
One of the best family activities in Melbourne is exploring the murals down the little lane ways. These lane ways are home to boutiques, restaurants and hole in the wall type cafes and bars; not to mention fantastic art work and over sized murals.
I just love finding a cozy cafe in one of these lane ways and treating Myla to something sweet whilst I have a cuppa and watch the Melbourne life pass me by. Click here for information about the best Melbourne cafes.
You can find out more about the various laneways in Melbourne here.
10. Street Art
Melbourne's Impressive Street Art is internationally renowned and one of my favorite kid friendly things to do in Melbourne City. The kids will love the bright colours and huge murals that feature in the hidden lane ways.
During our recent stay in Melbourne we went to see a few different streets. My favourites were:
AC/DC Lane and Duckboard Place (large man and tree),
Hosier and Rutledge Lanes (Melbourne sign) and
Presgrave Place (photo frames).
Others that we checked which I did not think were much more than graffiti and I wouldn't' bother going to were:
Union Lane,
Russell Place;
Queen and Franklin Streets; and
Blender Lane.
Others which were recommended to me which I did not get a chance to see were:
Centre Place;
Flinders Court;
Croft Alley;
Stevenson and Tattersalls Lanes;
Drewery and Sniders Lanes;
Caledonian Lane;
Corner 361 Little Bourke Street and Rankins Lane; and
Finaly Lane.
This is the map we used which I found really helpful – just take note of my comments above. If you explore any of the streets I haven't mentioned above, let me know your thoughts so I can update this post.
11. Federation Square
Looking for some of the free things to do in Melbourne with family? Then head down to Federation Square, just opposite Flinders Street Station, the ultimate meeting place in Melbourne's CBD.
Throughout the year Federation Square hosts around 2000 special events, many are free. During our recent visit there was some kind of pop up games convention going on with kids on stage competing in Just Dance games and various other tables around the square had people playing a variety of board games including the old favourite connect four. Anyone could join in and it was all completely free. Whilst we didn't participate it was still heaps of fun watching the kids dancing on stage.
In the square you will find the Melbourne Visitors Centre, the Edge Theatre, the National Gallery of Victoria, the Australian Centre for the Moving Image, SBS headquarters and various cafes and bars.
I recommend you visit Federation Square during lunch hour as this is when you will it really see the square come alive.
Check out these 8 other places to visit in Victoria.
12. The Australian Centre for the Moving Image (ACMI)
Want more free children's activities Melbourne CBD has? Then within Federation Square check out the ACMI. This is a free museum showcasing Australia's film, TV, video games, digital culture and art. This is another one of the free and fun things to do in Melbourne CBD with the kids.
I found it quite interesting to be able to show Myla how I use to watch TV when I was a kid. I had to explain to Myla that back in my day you had to get up off the couch to change the TV channel and yes TV's really were that small! It was cool seeing all the old school video games we use to place and how far technology has come in a relatively small time frame.
Throughout the year the ACMI hosts various exhibitions. Whilst we were there we went to the Wallace and Gromit and Friends: The Magic of Aardman exhibition. This was a great exhibition learning about how the amazing Aardman Studios make Claymation. We got to meet Shaun the Sheep and see various movie and TV sets. We even had a go at making our own Claymation film.
The centre is located within Federation Square and is an interesting way to spend an hour or so. The centre is only daily from 10 am and entry is free. Ticket prices to the various special events, like the Wallace and Gromit exhibition vary and it is best to check directly with ACMI.
13. Tourist Tram
I have mentioned a few times in this post how much I loved getting around Melbourne on the trams. It is just so easy, and another one of the great free kids activities Melbourne offers. Yep free!
A great way to get your bearing in the CBD is to jump on board the free City Circle Tram (number 35). Along the way this tram provides audio commentary about the various sights around Melbourne and you can simply get off when you see something that interests you, once you are done, get back on and continue the route.
Although there really is no need to get on the City Circle Tram, unless you want to hear the commentary, as all the trams within the CBD are free. Yes that's right completely free!!! So just jump on any tram and take a ride around the city for some family fun Melbourne time!
For the bigger kids get them a map and let them help you identify the various things to see in Melbourne and figure out the best route to take. Myla just loved doing this!
Just a quick note that this is not a tourist tram pictured above, just an average city tram. The tourist ones are green and traditional looking – you can't miss them.
14. Yarra River Cruise
I often hear from friends that one of their favourite things to in Melbourne with family is to take a river cruise down the Yarra River. Whilst enjoying gorgeous views of the Melbourne CBD you will receive commentary regarding the many city sights.
Various cruise types are available such as day time cruises, night time cruises, dinner cruises. Tours run every day with multiple departure times throughout the day.
Click here to see various cruises on the Yarra River.
15. SEA LIFE Melbourne
Another one of the great Melbourne kids attractions is Sea Life. Sea Life Melbourne is located on the banks of the Yarra River and show cases more than 10,000 marine creatures over 4 different levels. Animals on display include penguins, sharks, fish, rays and one of the biggest saltwater crocodiles in captivity.
Gate entry is $42 for adults and $28 for children. Click here to book tickets online.However, I recommend that grab yourself a combined Legoland Discovery Centre (which is outside the CBD and so not in this post) and Sea Life ticket which if bought here online, is only $45 per person.
SEA LIFE is open daily from 9.30 am to 6 pm.
16. State Library Victoria
At the State Library of Victoria you can take free tours and hear stories about the state of Victoria and it's people. You can even see the armor of Australia's infamous bush ranger Ned Kelly and artifacts from the expedition of explorers' Burke and Wills.
There are guided tours or various free programs and exhibitions all year round. Jump online to see whats going on during your visit to Melbourne and what Melbourne kids activities they have on.
The State Library Victoria is open daily from 10 am and entry is free.
Free walking tours of Melbourne start here too.
17. Eureka Skydeck
Another one of the cool activities for kids Melbourne has is the Eureka Skydeck. Get a bird's eye view of the city from the southern hemisphere's highest viewing platform. Travel up to floor 88 in less than 40 seconds and enjoy fantastic views of Melbourne. You can see all Melbourne's landmarks with view finders and binoculars available to help pinpoint attractions.
If you are game you can try the Edge Experience where you are suspended over 300 metres over the city in a glass box.
The Eureka Skydeck is open daily from 10 am to 10 pm. Entry at the gate is $23 per adult and $15 per child, with under 4s free. I recommend you purchase online with Klook where tickets are $18 per adults and $11.50 per child. Click here to book online tickets.
18. Melbourne Zoo
If you are want to see some animals during your visit to Melbourne with kids, then go to the Melbourne Zoo where kids get free entry! Only 10 minutes from the city centre you can see over 320 exotic species from around the world at Melbourne's Zoo. Animals include tigers, orangutans, penguins, seals and elephants as well as Australian animals such as Koalas and Kangaroos.
Entry to the Melbourne Zoo is $37 per adult whilst children are free on weekends and holidays but $19 all other times. Under 4s are free. Click here to book tickets online.
The zoo is open daily between the hours of 9 am to 5 pm and one of the best attractions for kids in Melbourne.
19. Melbourne Gaol
Built in the 1800s the Melbourne Gaol is one of Melbourne's oldest buildings and an interesting historical attraction. During its operation as a gaol between 1842 and 1929 it held and executed some of Australia's most notorious prisoners, including the infamous bush ranger Ned Kelly. The museum displays various information and memorabilia of the prisoners and staff.
Just be mindful that the museum is a little dark and may be one of the things to do in Melbourne for families with older children. Although the Melbourne Gaol was right across from our accommodation, I chose not to take Myla there, but I have been before myself and found it really interesting.
The Melbourne Gaol is open daily from 9.30 am to 5pm and entry is $28 per child and $15 per child. Family passes are available for $65.
20. Luna Park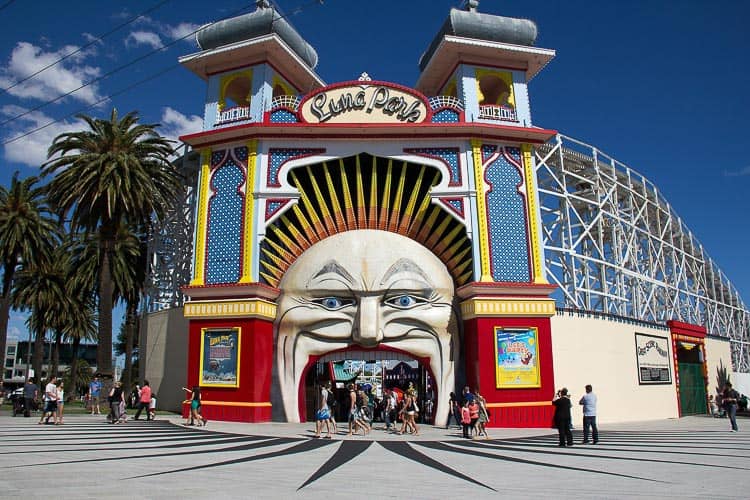 No doubt one of the fun family things to do in Melbourne is to visit Luna Park. Luna Park is one of the world's oldest existing amusement parks with it being in operation for over 100 years.
Of course one of the more famous Melbourne attractions for family is the huge giant smiling face entry for the required family selfie. Entry is free, so even if you don't intend to go on any rides you can go in for a look around and still get your photo at the entrance.
The park has 18 different rides, with various rides aimed at different age groups. There are slow rides for the little munchkins right up to the crazy rides for the adrenaline junkies and all kinds of rides in between. As well as the rides, there are various games and places to eat.
The rides do have height restrictions with some of the rides requiring children to be accompanied by an adult. The adult also requires a ticket. On the day we went we were a little disappointed to see 4 rides closed for maintenance so it might pay to check out what rides are open and their respective height restrictions before purchasing tickets, to ensure you purchase passes which are right for you.
Myla absolutely loved Luna Park so I can highly recommend it as one of the fun things to do in Melbourne kids will love. She was just the right height for all the rides she wanted to go on which was perfect. She would have easily stayed here all day if we didn't drag her away. Myla told me Luna Park "was amaze balls because it had really really really fun rides".
What I do love about Luna Park is because entry to the park is free, you can come and go as you please. We had an unlimited ride pass which meant we had a wrist band on each – so we visited the park twice during the day and Myla went on her favourite rides over and over throughout the day.
Whilst Luna Park is not massive like most theme parks, I actually loved how it is small and so it is easy to get from ride to ride in a short period of time. There was no real line ups either which meant we could go on multiple rides in a short time span.
If you want to take the kids to Luna Park be sure to line up your trip with their opening times. Luna Park is only open on weekends, school holidays and public holidays from 11 am to 6pm.
There are a variety of ticket options to suit your family including the family unlimited ride pass which starts at $149.95 AUD. Individual ride tickets start at $4.95 AUD. Find all the latest prices here.
Luna Park is located between Jacka Boulevard, Shakespeare Grove and the Esplanade. If you are coming from outside of St Kilda you can easily catch a tram from Melbourne CBD or there is plenty of metred parking around the park.
Luna Park is one of the most popular St Kilda activities for families and I have no doubt your kids will love it.
21. IceBar
How about some fun family activities in Melbourne where everything is made from ice? At the IceBar, everything is made from ice including the walls, tables chairs and bar.
No need to bring your own warm clothes, IceBar provide you with everything you need including snow cape and gloves to keep you toasty.
The IceBar is open Thursday to Monday from 11 am and children are welcome until 7 pm. Entry to the IceBar starts at $39 per adult and $19 per child. This includes all the snow gear and a drink. Family passes are $99. Click here to book tickets online.
22. Melbourne Museum
The Melbourne Museum is a great attraction if you are looking for educational things to do with kids Melbourne has. At the Melbourne Museum they can learn about Victoria's natural environment, cultures and history through various displays and interactive technology.
The kids will love the Children's Gallery where kids can become archeologists digging for fossils or become stripey or spotty in the 'camouflage disco'.
Other highlights include the stories from Victoria's first peoples at the Bunjilaka Abooirginal Cultural Centre, get to know the city in the Melbourne Story and a rainforest in the Forest Gallery.
The Museum hosts various exhibitions throughout the year so be sure to check out what's on during your visit to Melbourne.
The Melbourne Museum is open daily from 10 am to 5 pm and tickets are $14 per adult and kids are free. Click here for more information.
23. IMAX Melbourne
Another one of the Melbourne attractions kids will love is the IMAX. This is the world's second biggest IMAX, featuring IMAX laser the world's most advanced cinema technology where you can see various documentaries or the latest movies.
The IMAX cinema is located within the Melbourne Museum Complex.
If you are visiting both the IMAX you can get half price tickets into the museum with your IMAX ticket. Otherwise adult tickets are $18 and children are $12. A family is $55. Click here for daily session times.
24. National Sports Museum
Wondering what to do in Melbourne for kids who are sports mad? Then take them to the National Sports Museum located inside Gate 3 of the Melbourne Cricket Ground, also known as the MCG.
The sporty family will love the National Sports Museum with it is interactive displays and Australia's largest collection of sporting memorabilia. On display you will find items associated with Australian football, cricket, Olympics, horse racing. Cricket fans can even face a spinning delivery from a 3D hologram of Warnie.
The National Sports Museum is open daily from 10 am to 5 pm. Entry is $25 per adult and $14 per child. Family passes are $60. For an additional fee you can also join a guided tour of the Melbourne Cricket Grounds. Click here to book the guided tour.
25. Immigration Museum
Another one of the educational things to do for families in Melbourne is a visit to the Immigration Museum. The Immigration Museum is located in the Old Customs House which was the former administrative centre for Melbourne's immigration and customs. Over 2 floors the museum documents the history of immigration in Australia, the various policies in place over time and the various reasons certain people have immigrated to Australia.
Whilst I found the museum very interesting, it may not be overly interesting for younger children. Although they will probably like visiting the replica boat cabins showing how families travelled to Australia many years ago.
The Immigration Museum is open daily between the hours of 10 am and 5pm. Entry for adults is $14 and children are free.
26. Royal Botanic Gardens Victoria
Located in the heart of the Melbourne CBD is the Royal Botanic Gardens Victoria which spans over 94 acres and is home to over 10,000 species of native and exotic plants.
Various activities are available within the gardens including a guided tour of the land of the Wurundjeri people where you taste Indigenous food straight from the garden on the Aboriginal Heritage Walk. You can experience a traditional punt on the Ornamental Lake or take a scenic drive on the Garden Explorer bus.
During the Summer months a trip to the Moonlight Cinema is great for families, where you can watch a movie under the stars.
The Royal Botanic Gardens Victoria is open daily from 7.30 am. Click here for more information.
27. Phillip Island Penguin Parade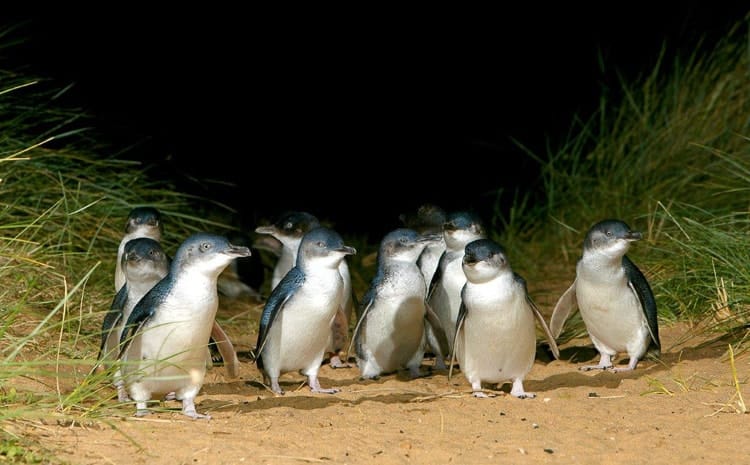 OK this activity is not actually in the Melbourne CBD, but it is possible do in a day trip from the city to see the Phillip Island Penguin Parade. Phillip Island is amazing for families and I highly recommend it as offering some of the best kids activities in Melbourne.
I actually recommend you spend a few days in Phillip Island to see the Penguin Parade you can read my tips here, but if you just want to do a day trip from Melbourne keep reading below.
Each night at the Penguin parade, tourists come to watch the gorgeous little penguins return home after a big day of catching fish at sea.
Tourists take their seats along the beach and just after sunset the little guys start returning home. It is an absolute gorgeous site watching these little guys waddle up the beach towards their burrows.
Whilst you are waiting for the penguins, the local rangers provide information about the penguins including educating the tourists on how to care for our environment which in turn ensures the wellbeing of not just the penguins but all sea life.
As well as watching the penguins return home, the centre contains various interactive displays about penguins, so either get their early or hang about later to check this out.
If you are not staying locally you can join a Phillip Island tour from Melbourne to see the Phillip Island penguins. This does work out to be a long day, particularly if you are travelling with children and I highly recommend you spend at least 1 night at Phillip Island but ideally 2 to 3 nights.
Click here to book discounted day tours online.
28. Scienceworks
The kids will absolutely love Scienceworks with its hands on experiments, demonstrations and tours. Another one of the great educational things to do with children in Melbourne.
Visit the lightning room and watch a demonstration about electricity, visit the Melbourne and learn about constellations, stars and the sun or test your sporting skills out against various Australian sports people such as Cathy Freeman.
There are various areas to visit and Scienceworks also hosts various temporary exhibitions throughout the year.
Scienceworks is open daily between the hours of 10 am and 4.30 pm. Entry for adults is $14 and children are free. Click here for more information.
29. Queen Victoria Markets
The Queen Victorian Markets are the largest open-air markets in the Southern Hemisphere. Here you will find a variety of fresh produce including fruit, vegetables, meat seafood, cheese and various small goods.
As well as fresh produce, the market also has a variety of handmade crafts from local artisans and designers as well as a range of other items such as clothing, jewelry, footwear and leather goods for sale.
This is a great place in Melbourne families. The kids will love all the treats on offer, Myla loved watching the donuts being freshly made right before here eyes. She loved eating them even more! I'd recommend combing a visit to the markets around a meal time so you have a good excuse to try out the various good on other.
For the ultimate foodies, join a Foodie Tour where during the course of 90 minutes you will be taken on a guided tour of the various food halls, meet stall holders, try fresh produce and learn about the history of the market. Click here for more information about the food tours.
The markets are open every day with the exception of Mondays, Wednesdays and most public holidays. The markets open each day from 6 am, expect Sundays where they open from 9 am.
Click here for tips on where to eat in Melbourne and it you want to know where kids can eat free in Melbourne – click here.
30. St Kilda Penguins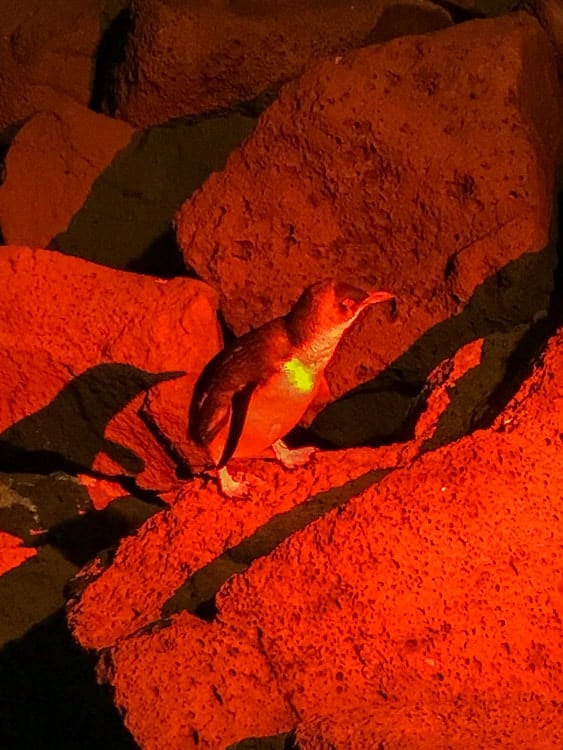 Our last tip for things to do in Melbourne with children is to see the little St Kilda Penguins return each night.
Located at the very end of the St Kilda pier past the pavilion, you will find the St Kilda beach penguins returning home each night just after sunset. Find out what time sunset is on the day you intend to visit and arrive just beforehand. Then sit tight and and keep your eyes peeled for these adorable little animals as they arrive home from a busy day at sea.
Once we arrived it did not take long to see the little guys coming home. We were very lucky in that there were many chicks around and we were privileged enough to see one of the penguins feeding its feisty baby. These little dudes are full on, pretty much the same size as their parents and full on hassling them for food – just like human babies!!
Earthcare volunteers are on hand to provide information about the penguins at St Kilda and are available to answer any of your questions. Not only is this a great way to get up close to the penguins, but it is also a great opportunity for adults and kids alike to learn about the importance of looking after our environment so the animals that live around us can flourish.
We saw the penguins in early September which meant they came ashore around 6pm. The weather was freezing and windy. For ideal weather conditions Neil suggested it is best to see the penguins in April when the weather is warmer and day light saving has finished meaning it is not too late for the kids.
Whilst Andy and I loved watching the St Kilda pier penguins come home, Myla did get bored. There is a little bit of waiting around and you do need to spot the penguins in the dark which can be difficult unless you are lucky enough to have a penguin walk by you. I think given the poor weather on the night we went we were lucky as there were not too many people there (although there were still quite a lot); however Neil said that during the summer months when the weather is perfect the place is packed with people and viewing the penguins at St Kilda beach is rather difficult through the masses of people.
My tip if visiting with kids is not go too early, people start leaving after spotting a few penguins despite more penguins still coming in. So if you come whilst the penguins are coming in you won't have to wait around for too long with the kids.
Click here for a few more things to do to in Melbourne.
Day Trips from Melbourne
Of course there are plenty more great activities and attractions in the surrounding area of the Melbourne CBD. See below a few more tips for things to do with the kids whilst you are in Melbourne.
Great Ocean Road Day Trip: Whilst a few days is the perfect amount of time to explore the Great Ocean Road, if you only have a day, then jump on this day tour. You will pass through the coastal towns of Lorne, Apollo Bay and Port Campbell, see the 12 Apostles, Loch Ard Gorge and drive through the Otway Rainforest. Tour price includes an Aussie BBQ lunch. Click here for more information and to check the tour price.
Sovereign Hill: Go back to the 1850's during the Gold Rush era. At this authentically recreated town you will craftsmen work, a variety of demonstrations such as musket firing, boiled lollies being made as well as a variety of other goods being made the old fashion way. You can even pan for real gold! Click here for more information and to check the tour price.
Mt Buller Snow Day Trip: If you are visiting Melbourne during June to September, why not take the opportunity to visit the snow on this Mt Buller day trip. Spend the day skiing or snow boarding on various terrains suitable for beginners through to advance levels. Even if skiing isn't your thing, the kids can play in the snow and then you can browse the gorgeous alpine village of Mt Buller. Click here for more information and to check the tour price.
Where to Stay in Melbourne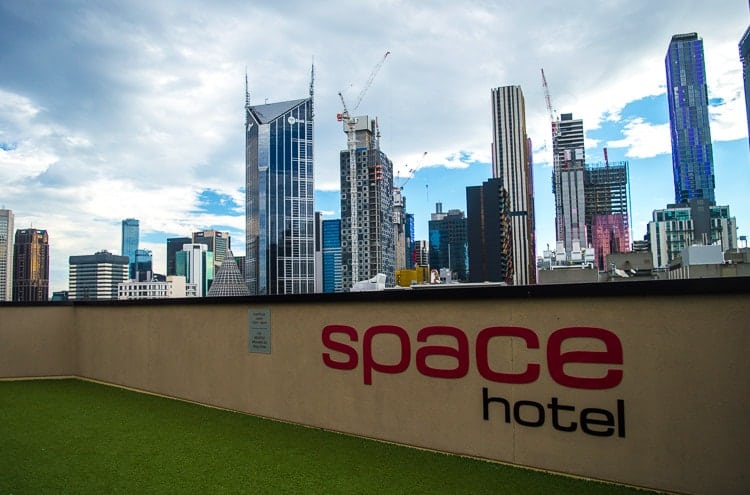 When looking for where to stay in Melbourne, make sure you consider the Space Hotel. We stayed here during our recent trip to Melbourne and seriously this would have to be the best place to stay in Melbourne if you are on a budget.
The Space Hotel is both a hostel and a great Melbourne budget hotel with a variety of family rooms.
Some of the Melbourne budget accommodation is so far out of the action, but not Space Hotel, it is located at the top of Russel Street, only a few minutes to the nearest tram stop (which is in the free tram zone) and within minutes you are in the heart of the city. There are even a few attractions within walking distance, for example the Melbourne Gaol is right across the road and the Queen Victoria Markets are a 5 minute walk away.
The family rooms are massive, which is great when you are travelling with a few kids. The room contains 1 double bed and a set of bunk beds. Also in the room is a TV, tea and coffee making facilities, small fridge and large storage cupboard. The bathroom was nice and modern, although the shower was pretty tiny.
Although the Space Hotel is a budget hotel it has a plenty of awesome facilities, check them out:
Reception Desk
Located on the ground floor is the reception which is open 24 hours / 7 days week. So it is perfect for those arriving late at night or early in the morning, no matter what time there is always someone to greet you.
Just a quick note about the guys at reception. After I had checked out of the hotel I soon realized that I had left my hair straightener there. I called reception up and told them my dilemma. The lady at the time on the reception went and checked if it was there which it was and then helped me arrange an Uber driver to pick it up from reception and deliver it to me at my new hotel in St Kilda. From the time, I had realized my mistake to having the hair straightener back in my hands was around 45 minutes. I was super impressed which this excellent customer service.
Cinema
On level 2 you will find a movie cinema – for real!!! We had to go check this out.
As you get out of the lift there is a TV screen which shows what is playing in the cinema. We took a quick peek inside the cinema where we saw quite a few people looking pretty comfy watching a movie on the big screen.
The cinema is open 24 hours a day and as well a range of movies it has a range of Foxtel channels you can watch.
Gym
If you need to work out, on level 3 you will find the gym. There is a range of great equipment and towels can be provided by reception.
The gym is open daily between the hours of 7 am to 9 pm.
Lounge
If you are staying in a dorm room and need some extra space then head to level 4 where you will find the lounge. This is a great place to relax, read a book, catch up on some emails, whatever it is you need to do.
There is also a range of books here that guests of the hotel are welcome to borrow. It works on a swap basis you can take a book and leave behind a book in its place.
You can even pick up some board games from reception if you need pass some time.
The lounge space is open between the hours of 7 am to 9 pm.
Kitchen
If you are staying for a while at the Space Hotel you can even cook your own meals in the kitchen on level 5.
I was super impressed with the kitchen space. I have stayed in a few hostels in my time and never have I seen a communal kitchen quite like this – it was amazing!!
There are massive cook tops, stoves, microwaves, loads of bench space, pots, pans, cooking utensils – whatever you need to whip up a gourmet dinner or just have a bowl of cereal it is here.
There is heaps of dining space too including indoors and outdoors with some great views of the city. There is even a BBQ outside if you feel like whipping up some steak and snags during your stay.
Within the kitchen area there are massive fridges for you to store your cold items as well as lockers to store your pantry items – everything has been considered.
One thing I usually hate about communal kitchens is when people take the cutlery and plates etc to their rooms and don't return it. When we were in a backpackers in Alice Springs we had to eat our dinner with great big serving spoons because there was no cutlery! Well at the Space Hotel they have a fantastic system to overcome this. Simply provide a deposit of $10 to reception and they will give you your own set of cutlery, bowl, plate and mug to use during your stay. On check out simply return your set and you get your money back. I love it!
When travelling as a family, I often look for a kitchen to save money on food. Whilst there is no kitchen in the rooms, I would be more than comfortable using this communal kitchen to prepare meals for the kids. We only stayed a few nights and ate all our meals out, but if I had a few extra nights here I would have definitely used this area.
The kitchen is open 24 hours a day.
Laundry
If you need to do some washing during your stay, no need to go find a laundry because there is one right here! On level 5 as well as the fantastic kitchen you will find the laundry. A wash will cost you $5 and $3 to use the dryer. The machines are coin operated and there is a coin machine to help you out. Washing powder can be purchased from reception for $2.
The laundry is open 24 hours a day.
Roof Top
Our favourite space at the Space Hotel was hands down the roof top. The roof top is located on level 8 and here you will find long benches, deck chairs and even a Jacuzzi with fantastic views of the Melbourne Skyline. You will think you are in a 5 star hotel!
The roof top is open between the hours of 7 am to 9 pm.
Other Facilities
Yep there is still more! On the ground floor there is a bar and café, an internet café and you can store your luggage with reception on your check in or check out day
The Verdict
In case you can't tell, I absolutely loved the Space Hotel and its not just me, people are raving about it on TripAdvisor too with 78% rating it as excellent or very good.
At the time of publishing the best rate for a family of 2 adults and 2 kids was $165 on Booking.com.
Click here for the latest prices and availability for the Space Hotel.
Other Budget Accommodation Melbourne
For me there really is no best area to stay in Melbourne, just as long as you are within the free tram zone. That way you are withing minutes of everything. Check out the below places to stay in Melbourne if the Space Hotel is not available on your dates or you want some other options.
If you prefer a little more luxury than budget, click to see the top Boutique Hotels in Melbourne.
Pegasus Apart'Hotel
Located close to the Queen Victoria Markets and within the free tram zone.
The hotel facilities include a heated pool and gym;
Family rooms include kitchenette with stove microwave and refrigerator, tea and coffee making facilities, free WIFI, 2 double beds;
89% of people on TripAdvisor rate it as excellent or very good;
Punthill Little Bourke
Located in Chinatown in the heart of the Melbourne CBD and within the free tram zone;
The apartment facilities include a heated pool, gym and WiFi;
The 2-bedroom apartments include 1 queen bed and 2 singles, 2 bathrooms and fully equipped kitchen;
86% of people on TripAdvisor rate it as excellent or very good;
Punthill Northbank

Located in the heart of the Melbourne CBD, close to the SEA LIFE Aquarium and in the free tram zone;
The apartment facilities include free wifi;
2 bedroom apartment with queen bed and 2 singles and fully equipped kitchen;
88% of people on TripAdvisor rate it as excellent or very good;
Airbnb
Airbnb has some great family apartments available on Airbnb. Click here if you are new to Airbnb and wish to receive a $55 AUD credit when you take your first trip over $100 AUD.
Getting Around
Melbourne Airport to Melbourne City
One of the cheapest and easiest way to get from the Melbourne Airport to Melbourne City is via Skybus. Skybus operates 24 hours 7 days a week with a bus leaving the airport every 10 minutes directly to the Southern Cross Station.
Tickets are $19.50 per adult or $39 round trip or purchase here online for discounted tickets – $18/$36. What I absolutely love about Skybus is that up to 4 children travel free with each adult. Tickets can be purchased online or on board the Skybus.
There is a Skybus desk and drop off point at Terminal 4 at the airport, whereas in Terminal 1 and 3 there are both pick up and drop off points
From the Southern Cross Station, you can take a free shuttle to your Melbourne CBD, Docklands or Southbank hotel. It is worth noting that whilst the Skybus runs 24 hours a day, the hotel shuttle only runs between 6 am to 10.30 pm weekdays and 6 am to 7 pm on the weekends. So in my view for a family reaching the airport after this time, you are better off taking a taxi directly from the airport as you will have to get a taxi from the Southern Cross Station anyway unless your hotel is closer enough to walk. A taxi from the airport to the city will cost around $60
Click here to purchase your Skybus tickets in advance.
Getting around the CBD
I just love how easy it is to get around Melbourne on the city trams. With their frequent services and multiple stops, there is no need for a timetable or a map just turn up to the nearest tram stop, read the colour coded map to work out which tram number you need to get and your tram will be along in no time at all.
You may have to change trams to reach your destinations, but trams come so often that you will most likely jump off one tram and the next will be no more than 5-10 minutes away.
Don't even worry if like us, you occasionally jump on the wrong tram, as I said above, jump off at the next stop and the correct tram will be close behind.
The best news is that trams within the Melbourne CBD are free. Yes completely free, so no need to purchase a tram card, just jump on.
Thanks to the Space Hotel, O'Brien Group Arena and Melbourne Star Observation Wheel for hosting our visit. All opinions expressed in this post remain my own.
Please note that this post contains affiliate links, which means that if you make any bookings using the links I may receive a small commission at no extra charge to you. This helps me provide this helpful information to you at no charge.
Want to keep this handy?
Click on the image below and pin it to Pinterest.