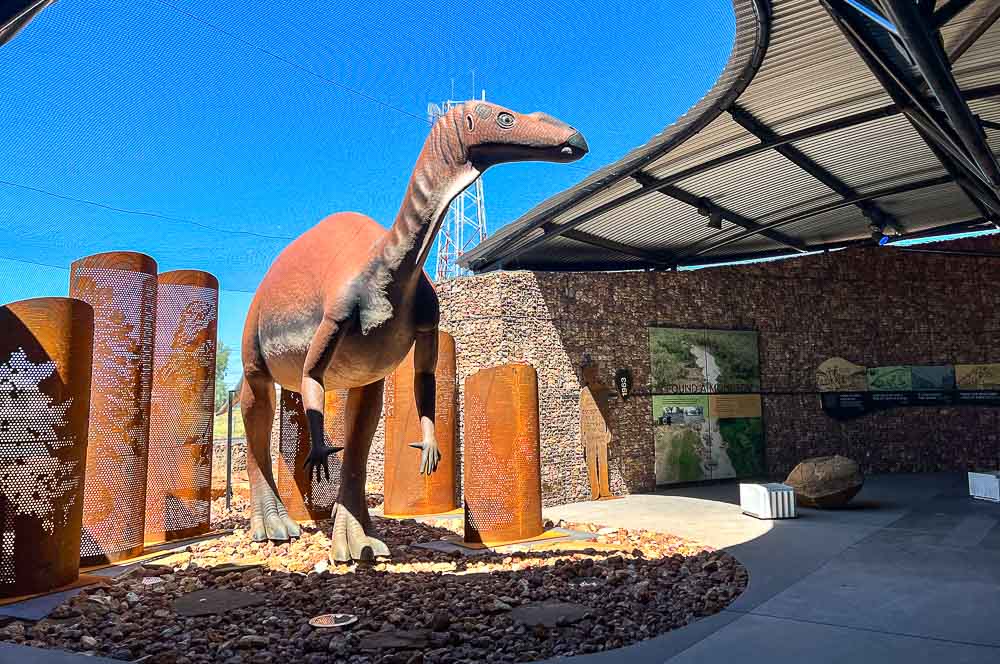 While travelling out west, the town of Muttaburra isn't often on the radar of tourists, but for those on the Queensland Dinosaur trail, it's well worth a stop. Despite being a town of only 100 people, there are a few interesting things to do in Muttaburra, making it worth a day stop or even for a few hours while on your way from Longreach to Hughenden.
While Muttaburra is the closest town to the centre of Queensland, what it's most famous for is the discovery of a Muttaburrasaurus Langdoni fossil. The Muttaburrasaurus Langdoni was a land living, plant eating dinosaur that roamed the earth 100 million years ago. You can get an idea of what this dinosaur looked like out the front of the Muttaburra Interpretation Centre (often referred to as the Muttaburra Dinosaur Museum), where a huge replica proudly stands.
As well as learning about the Muttaburrasaurus Langdoni, there are some great places to visit around town where you'll learn more about Muttaburra's history and an epic photo opportunity where the kids can stand in the very centre of Queensland.
Planning a trip to Queensland? Have any questions? Join our Queensland Travel Planning Facebook group here now! It's the perfect place to ask any questions and to be inspired!
This post may contain compensated links. Please refer to my disclaimer here for more information.
Things to do in Muttaburra,
Queensland
Keep reading below for details on the best things to do and see in Muttaburra. I've also included a map below with the location of all the attractions. Zoom in and out for a closer look.
Please note that the opening hours and prices quoted below were correct at publishing.
Click here to see exactly how we spent our time in Muttaburra. This provides a detailed overview of our Queensland dinosaur trail itinerary.
You can also check out the short video we made of the Muttaburra highlights here or see our full FB album with all our photos from Muttaburra here.
Muttaburrasaurus Interpretation Centre
The Muttaburrasaurus Interpretation Centre (pictured above) is a family friendly exhibit – open 24/7 and free!
The main attraction is the large life-size Muttaburrasaurus dinosaur on display, a replica of the fossilised skeleton found near the Thomson River in Muttaburra. At the time of its discovery in 1963 by local grazier Doug Langdon, this was the most complete dinosaur skeleton to be found in Australia. Its discovery was the first of its kind and so the dinosaur wasn't officially named Muttaburrasaurus until 1981. You will love discovering more about this plant-eating, land-living dinosaur that roamed the Earth around 100 million years ago!
The centre also features a range of interpretive displays showcasing replicas of the original dinosaur bones found in the region, the history of dinosaurs, as well as information about exactly how the Muttaburrasaurs was discovered.
It's not an overly large centre, so you'll only need 20-30 minutes to check it out.
Location: 9 Bruford St, Muttaburra QLD 4732
Opening Hours: 24/7
Price: FREE
Centre of Qld Monument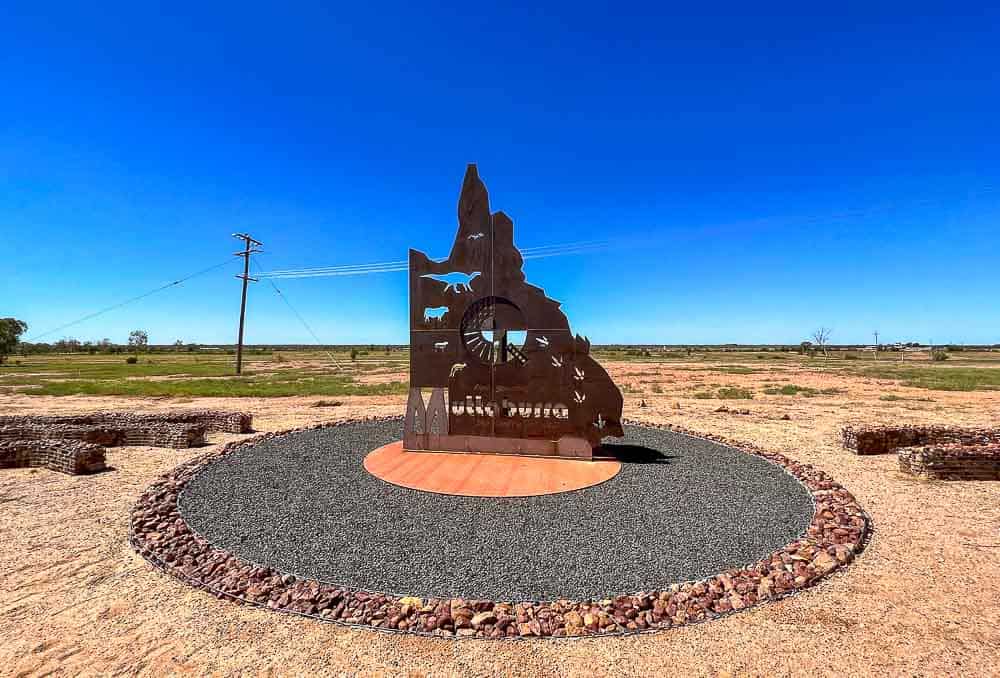 As well as dinosaurs, another interesting fact about Muttaburra is that it is geographically the very centre of Queensland. So don't miss the chance for a photo at the Centre of Queensland Monument.
The Monument is created from various elements representing Muttaburra and the pathway ties in the annual rainfall since 1885. There is also a path with various plaques outlining the town's history.
If you want to check that the Monument really is the centre of Queensland, the coordinates are 22ᵒ 29′ 13″ South 144ᵒ 25′ 54″ East.
Location: Nev Bullen Drive, Muttaburra, Barcaldine Area
Opening Hours: 24/7
Price: FREE
Dr Arratta Memorial Museum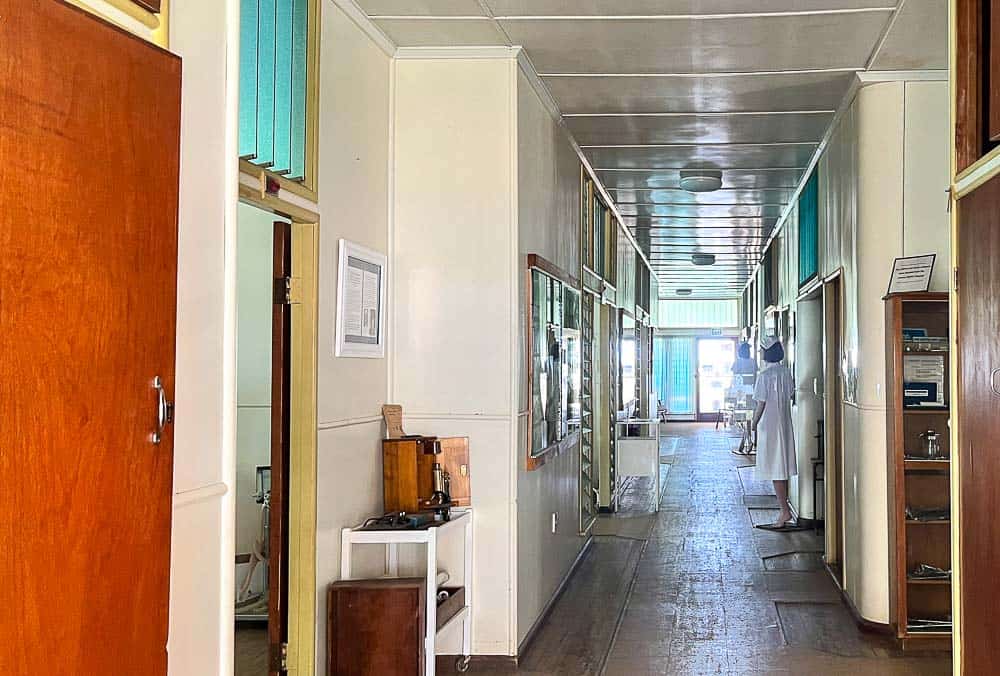 Take a step back in time and discover a perfectly preserved country hospital. Children will be awed at how medical procedures were performed in the past, compared to the technological hospitals of today.
The Dr Arratta Memorial Museum was previously the Muttaburra Hospital from 1884 to 1989. The Museum is named in honour of Dr Joseph Andrew Arratta, who worked 35 years as Muttaburra's Government Medical Officer. Dr Arratta was renowned throughout Central Western Queensland for his pioneering techniques in performing operations in isolated areas under clinically demanding conditions.
The Museum displays an array of both medical artifacts and historical memorabilia and is kept in pristine condition by local volunteers.
Location: 1 Neville Bullen Drive, Muttaburra
Opening Hours: By appointment only – contact the Muttaburra Visitor Centre on 4658 7147 before you arrive
Price: Donation
A.A. Cassimatis General Store and Cottage Museum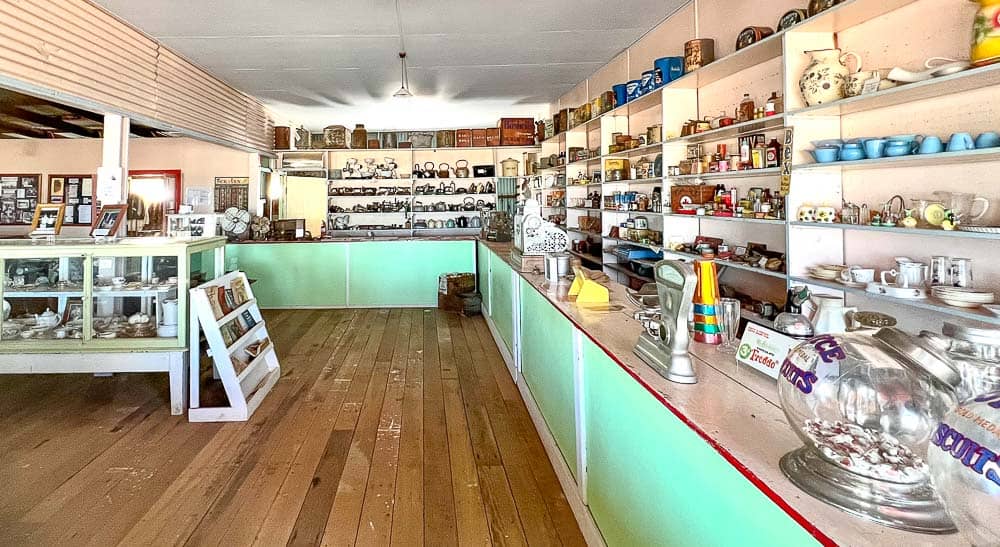 Families will be mesmerised by the Cassimatis Store Museum, with its collection of lolly jars and soft drink machines from a bygone era. The General Store was built in 1918 by Andrew Andrew (A.A) Cassimatis, who emigrated to Muttaburra from Greece with his son, George, in 1914. While the store ceased operation in 1978, it went on to be a bank, greengrocer, cafe and more. It has been restored to showcase what a general store in the early 1900s was like.
The Cottage Museum, next door to the General Store, is where George Cassimatis raised his five children with his wife. Built in the early 1900s, the home has been well preserved with original furniture and personal possessions, including iron beds, a wood stove, and a kerosene fridge… the tour will make us all grateful for today's modern amenities!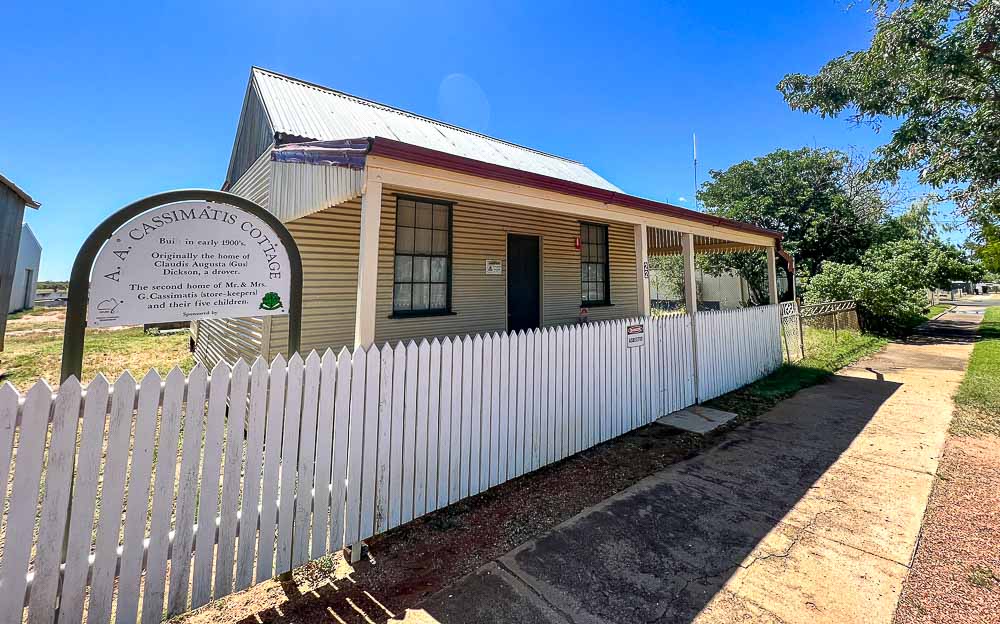 Location: 22-26 Bruford St, Muttaburra
Opening Hours: By appointment only – contact the Muttaburra Visitor Centre on 4658 7147 before you arrive
Price: Donation
Public Art Trail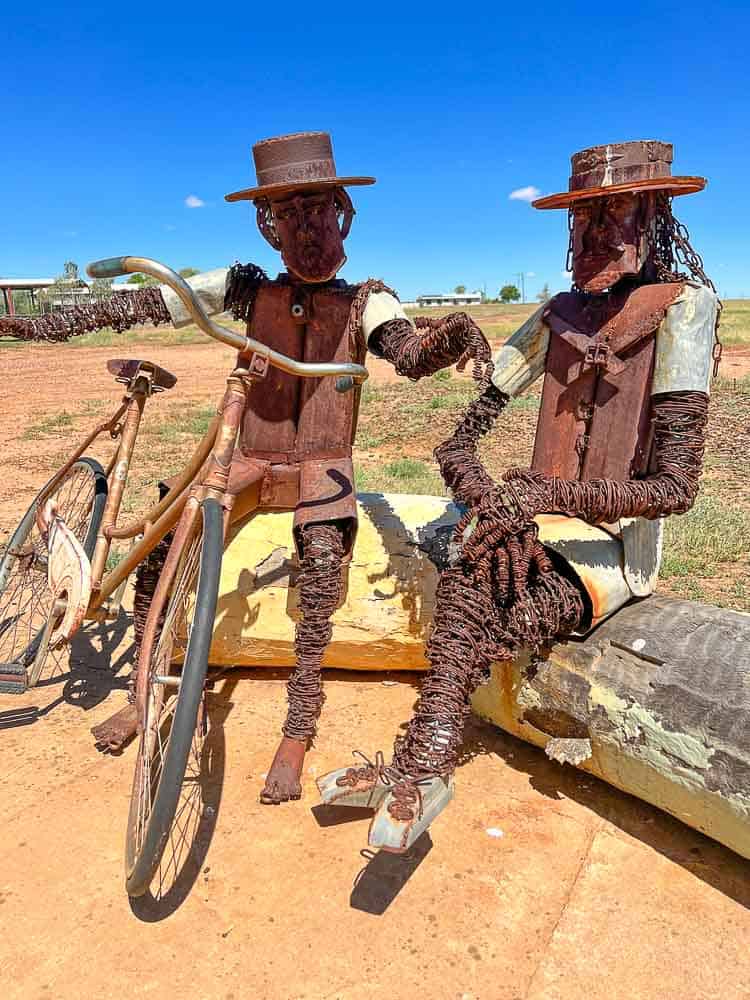 There is no need to head to an art gallery in Muttaburra; just open your eyes as you wander the town. Local artists have created a significant collection of public art capturing historical events, lifestyle, environment and the landscape of Muttaburra.
These eclectic artworks add to the unique culture of Muttaburra and ensure you take home distinctive memories of the town.
Location: Throughout Muttaburra
Opening Hours: 24/7
Price: FREE
All Saints Church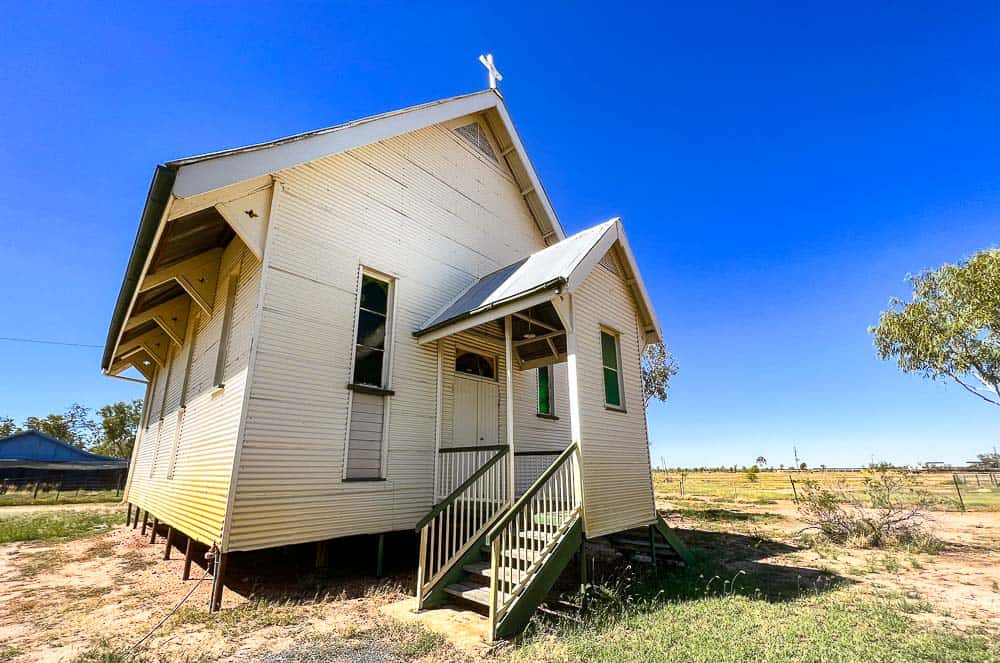 For those that love old buildings, the little corrugated iron All Saints Church is worth a look. Built in 1903, this is a great example of a typical bush church where the clergy, known as "Bush Brothers", travelled throughout the parish on foot, horseback or bicycle.
One of the Bush Brothers was popularly known as the "fighting parson" as he would carry a bible in one hand a pair of boxing gloves in the other. After a service, he would box with the best opponent available and the wagers placed on his bouts resulted in windfalls for the Bush Brothers – once winning a horse and buggy for the Brothers to use on the long journeys between towns.
Location: 25 Sword St, Muttaburra
Opening Hours: First Sunday at 6 pm of every second month
Price: Donation
Union Camp & Union Hole
If you've been to Barcaldine, you'll be well across the Shearers Strike – where in 1891, wool prices were falling and pastoral companies intended to reduce shearers' wages. So shearers revolted and approximately 200 of them set up camp here, carting water from Union Hole back to the camp.
If you visit the camp, you will be able to see remains leftover from the very campsite that set into motion political representation for workers.
Location: Watch out for the signs out past Nev Bullen Drive
Opening Hours: 24/7
Price: FREE
Muttaburra Cemetry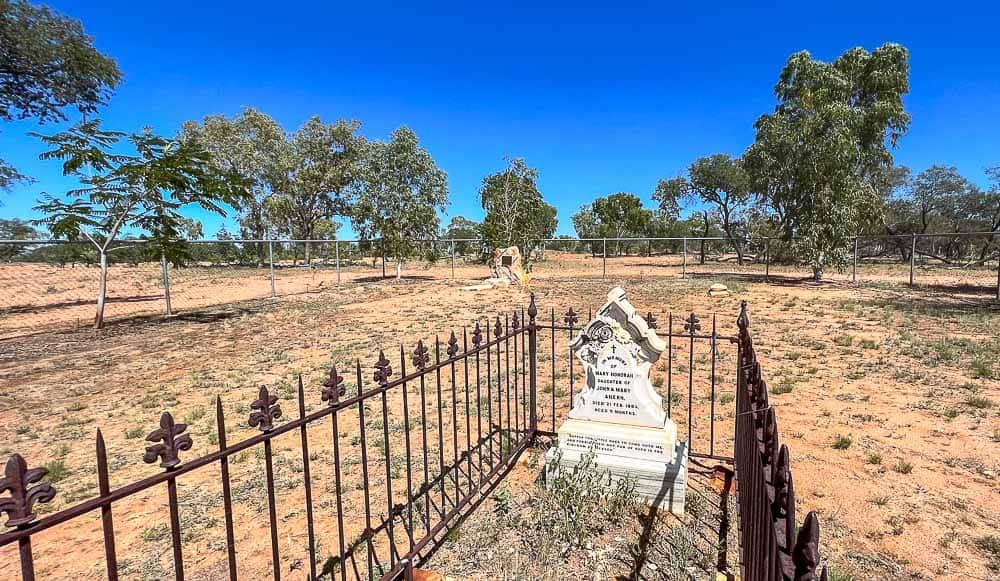 If you've read any of our other guides, you'll know by now that we find strolling through an old cemetery rather interesting. I think it's fascinating reading the old headstones, some of which date back to 1878 here, and imagining the hardships these pioneers had to overcome.
There are two old cemeteries in Muttaburra, a small one pictured above and the main cemetery further up. The original cemetery dates back to 1879, whereas the new cemetery dates back to 1885.
Location: Out past Nev Bullen Drive
Opening Hours: 24/7
Price: FREE
Broadwater Waterhole
The Broadwater Waterhole is a 3.5km stretch of water along the Thomson River – perfect for swimming, water skiing, kayaking and fishing. Surrounded by mulga and gidgee woodlands, once dried off, you can do some bird watching and bushwalking.
On a side note, Broadwater is historically significant as a place where the explorer Landsborough stopped to drink.
Location: Thomson River, Cornish Creek – approx 6km from town
Opening Hours: 24/7
Price: FREE
Pump Hole
Fancy a spot of fishing? Then head to the nearby Pump Hole for the famous Yellowbelly, or Golden Perch, which is a native of the region.
And then enjoy your catch (if you're lucky enough to wrangle any fish) with a family barbecue, finishing off the day with a refreshing dip under the shade of gums – which are estimated to be over 100 years old!
Location: Thomson River – drive 3.8kms east on Aramac Road, turn left, drive 1.8kms on a dirt road to the Pump Hole
Opening Hours: 24/7
Price: FREE
Muttaburra Aquatic Centre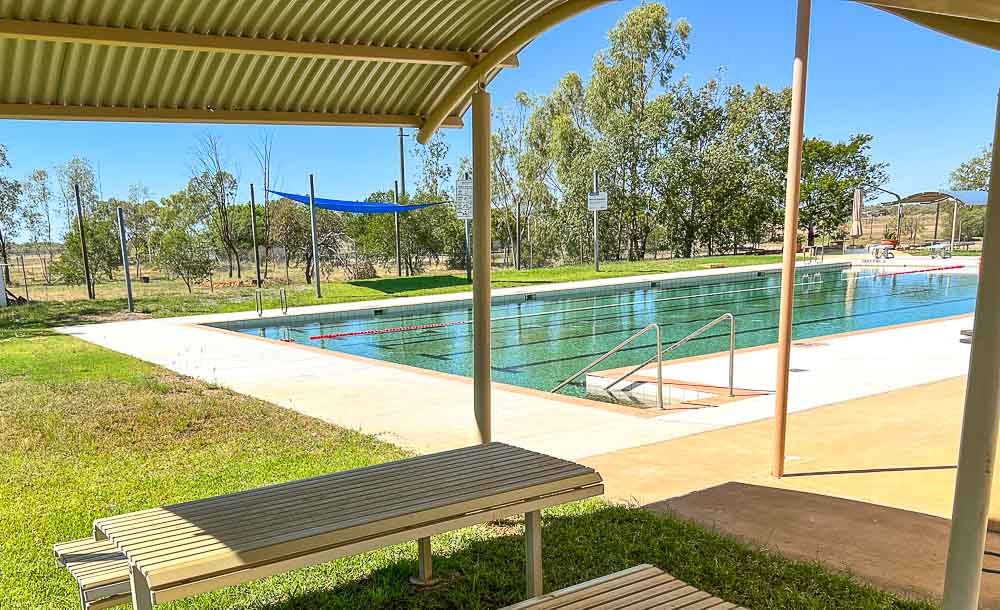 It gets hot in the outback, so if you're looking for a place for the kids to cool off, head to the Muttaburra Aquatic Centre. The centre has a 25 metre swimming pool perfect for laps or just having a splash around with the family. And the heated spa will ease any of those achy travel muscles you have.
Other facilities on site are change rooms, showers, toilets and a kiosk.
Location: Jubilee Park, Edkins Street, Muttaburra
Opening Hours: Weekdays 7 am to 7.30 am and 3 pm to5 pm | Weekends 3 pm to 5 pm
Price: $2 Adults | $1 Kids
Muttaburra – Our Verdict
Muttaburra is a small town, yet well worth a stop for those on route between Longreach and Hughenden (or vice versa) while driving the dinosaur trail. While it's not officially part of the dinosaur trail – it really should be given this is where the Muttaburrasaurus was first discovered. There is probably no need to spend the night in town, although there certainly is enough to keep you occupied if you're travelling with young kids and need a place to let them stretch their legs. We spent a few hours here checking out the main attractions and had lunch at the Exchange Hotel.
To see how we spent a few hours in Muttaburra – click here. This will take you to our detailed itinerary, which shows you day by day how we spent just over two weeks exploring the dinosaur trail in outback Queensland.
___________________________________________________________________
Hopefully you found this guide to Muttaburra helpful. You might also be interested in our guide on things to do in Winton here or our things to do in Hughenden here.