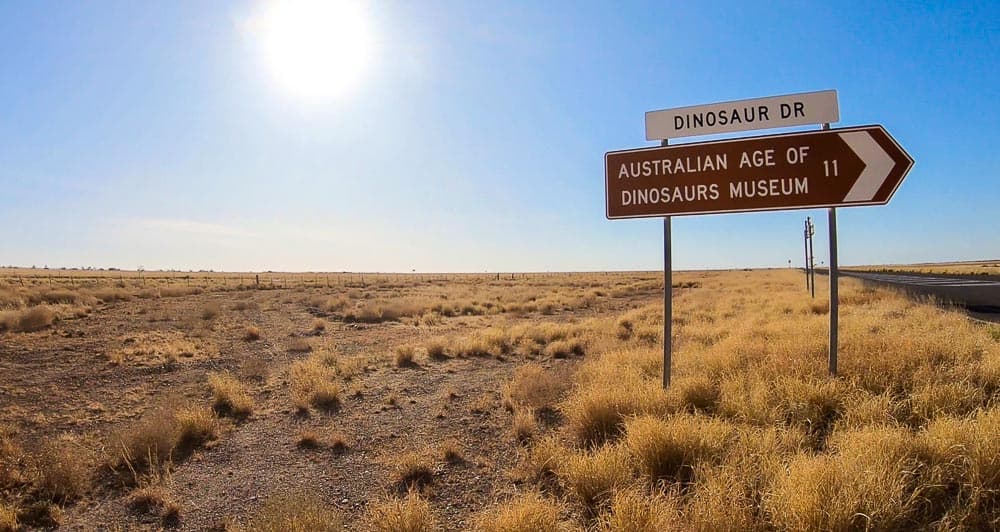 Most families head out this way to see the dinosaurs Winton is so famous for. Without a doubt, the Australian Age of Dinosaurs Winton Museum is the number one attraction in this Queensland Outback town; however for those families hanging around for a few days, there are a few other Winton attractions worth checking out.
We recently did a Brisbane to Winton road trip and had a fabulous time visiting the Age of the Dinosaurs Winton Museum and the Dinosaur Stampede Winton is so famous for. We also visited places such as the Waltzing Matilda Centre, Musical Fence and more.
To help you discover all there is to do in town, we've put together this guide on all the best family friendly things to do in Winton, Qld. As well as including all the best Winton things to do, we've also provided some tips on the top family friendly Winton accommodation.
This post may contain compensated links. Please refer to my disclaimer here for more information.
Planning a trip to Queensland? Have any questions? Join our Queensland Travel Planning Facebook group here now! It's the perfect place to ask any questions and to be inspired!.
Best
Things to do in Winton, QLD
This section covers all the excellent Winton tourist attractions. But, of course, which Winton Qld attractions you visit will entirely depend on how long you have in town and your family's interests.
Whatever you decide to do, to help plan your trip, I've included the below map, which shows where all the things to see in Winton are. Zoom in and out for a closer look.
Please note that the opening hours and prices quoted below were correct at publishing.
Australian Age of Dinosaurs, Winton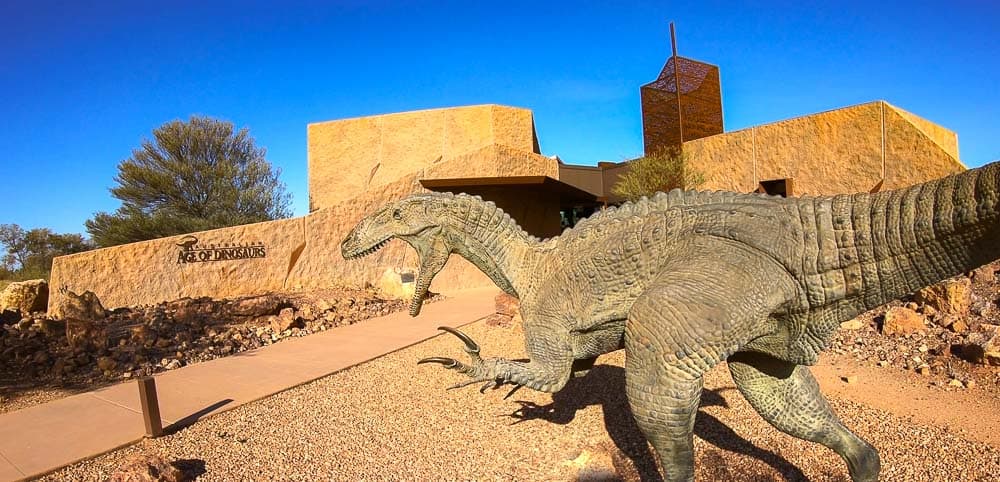 For a roaring good time, one of the most popular things to do in Winton Queensland is discover the largest collection of Australian dinosaur fossils in the world – at the Australian Age of Dinosaur Museum.
The Museum is split into four different tours:
The Fossil Preparation Laboratory: peek behind the scenes of the

Australian dinosaur museum Winton QLD

to discover how dinosaurs are found and recovered.

Collection Room: See Australia's largest carnivorous dinosaur, nicknamed "Banjo", along with Australia's most complete sauropod, nicknamed "Matilda".

March of the Titanosaurs: This 54 metre long exhibit displays real life dinosaur footprints discovered on a property near Winton.

Dinosaur Canyon Winton

:

Walk along the 30 metre path and check out the exhibits which recreate life as it would have been for the dinosaurs some 100 million years ago.
Each section is a guided 30 minute tour, except for Dinosaur Canyon, which is a self guided tour. The museum is well spread out, so you do need to allow time to walk between the different locations, although there is a shuttle bus for one of the locations. On arrival at the museum, the staff will provide you with each of your tour times.
To experience all the Australian national dinosaur museum offers, we would allow 3-4 hours, and remember a hat and sunscreen, as the Dinosaur Canyon can get quite hot!
There is a small cafe on site that sells coffee, drinks, ice cream and snacks.
Click here for our detailed guide on visiting the Australian Age of Dinosaur Musuem.
Location: Lot 1 Dinosaur Dr, Winton QLD
Opening Hours: Summer (1Dec-31Mar) Mon-Sat 8am to 5pm | Winter (1Apr-30Nov) Mon-Sun 8.30am to 5pm
Price: $75 Adults | $45 Kids | $200 Family Pass (2A+C)
Dinosaur Stampede, Winton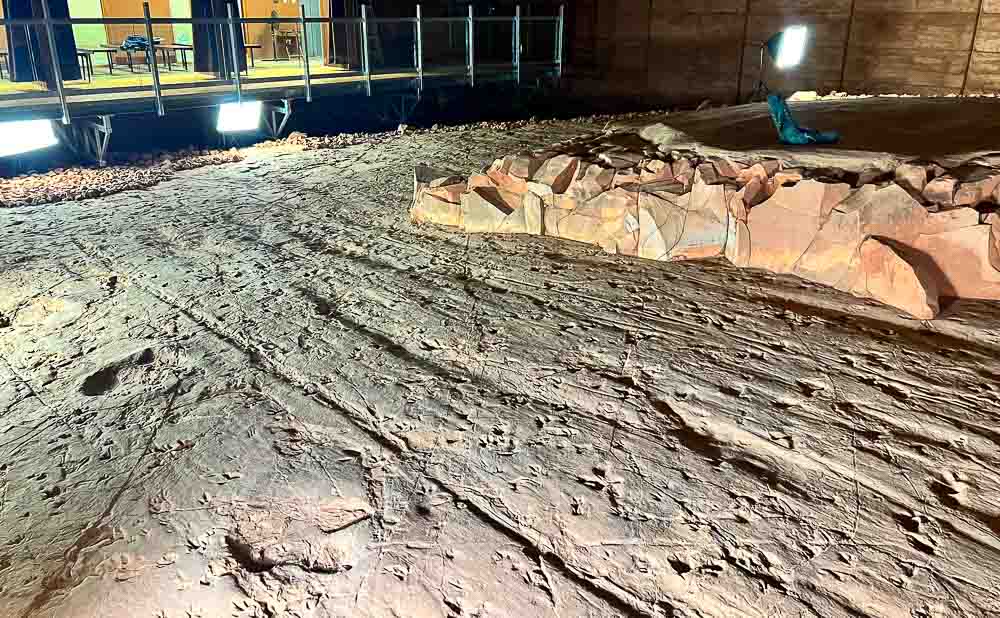 Dinosaurs running for their lives over 95million years ago would have no idea their footprints would be forever immortalised in the mud for humans to discover… or that they would inspire the dinosaur stampede in Stephen Spielberg's movie 'Jurassic Park'. But that's exactly what happened when herds of at least 150 dinosaurs were drinking at the Lark Quarry river plain. A huge carnivorous theropod saw its prey slurping at the banks, stalked, and then charged, with the herds leaving a chaotic mass of over 3,300 footprints scattered over the rockface.
If you're looking for dinosaur tours Winton offers, this 45-minute guided tour discovers the only known dinosaur stampede on the planet… so if you need to know what to see in Winton QLD, this is it!
The tour starts with a short film that really sets the scene, so you know exactly what you're about to see. Then your guide takes you through to see the footprints, pointing out the various prints and answering any questions you might have.
Located around a 3 hour return trip from Winton, and with no fuel available on the way, ensure you fill your tank before you leave! It might seem like a long journey – but it is so worth it. Honestly, these real life dinosaur prints need to be seen to be believed – they are just incredible! And while some of the road is unsealed, don't worry; it's doable for anyone.
Location: Lark Quarry Conservation Park
Opening Hours: Summer (1Dec-31Mar) Mon-Sat 8.30am to 5pm | Winter (1Apr-30Nov) Mon-Sun 8.30am to 5pm
Price: $30 Adults | $18 Kids | $70 Family Pass (2A+C) – discount tickets are available if you plan to visit the Australian Age of Dinosaur Museum or the Richmond and Hughenden museums as well.
Spinifex Circuit Walk and the Jump Up Walk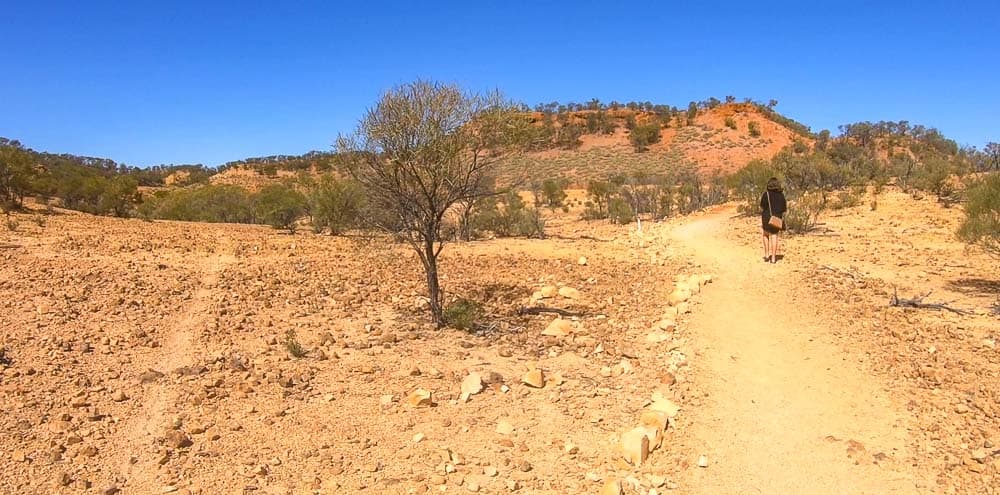 If you're looking for free things to do in Winton and are already at the Dinosaur Stampede, why not increase your step count and discover the outback, along with the local wildlife.
The Spinifex Circuit is graded as an easy to moderate 500 metre self-guided walking circuit around the Dinosaur Stampede National Monument. You will have excellent views of the Mitchell grass downs and channel country at the lookout. We would allow around 15-30 minutes to complete the entire circuit; however it depends on how captivated you are by the view!
The Jump Up Loop track is graded difficult and will take approx 90 minutes to complete the 3.5km walk. It branches off the Spinifex Circuit and skirts several gullies before climbing the western escarpment, where you will encounter spectacular views across the rugged landscape and then rejoin the Spinifex Circuit.
Whilst on either track, keep an eye (and an ear) out for local wildlife, including spinifex pigeons, singing honeyeaters, ring-tailed dragons and wallaroos. The views are incredible, making either walk well worth it.
And always remember, we are in outback Australia – so lather up the sunscreen, pop on a hat and bring plenty of water!
Location: Lark Quarry Conservation Park
Opening Hours: Anytime
Price: FREE
Waltzing Matilda Centre, Winton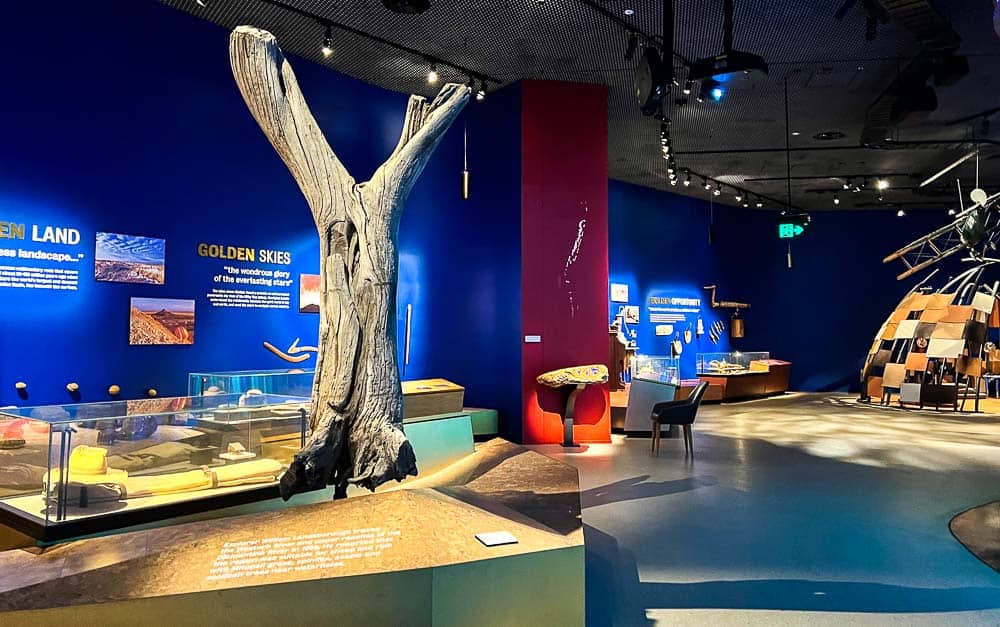 Banjo Paterson's song "Waltzing Matilda" is revered in Australia, so much so Winton has dedicated the first museum in the world… to a song! Paterson first wrote the song while staying at Dagworth Station near Winton in 1895 and this well loved song is now forever enshrined at the Waltzing Matilda Centre.
The Waltzing Matilda Centre Winton is an award winning architecturally designed building, replacing the previous centre, which was destroyed by fire in 2015. The centre comprises the following for you to explore:
Museum detailing the story of Waltzing Matilda

Exhibition space covering WW1

Art Gallery with a revolving display of exhibitions

Qantilda Museum outlining the Winton history and the birth of Qantas
So if you're wondering what to do in Winton Queensland, the Waltzing Matilda Centre covers quite a few attractions under the one (architecturally designed) roof.
The centre also has a cafe on site, so another good option for those families after a bite to eat.
Location: 50 Elderslie St, Winton QLD 4735
Opening Hours: Summer (1Oct-31Mar) Mon-Fri 9am to 5pm | Winter (1Apr-30Sep) Mon-Sun 9am to 5pm
Price: $32 Adults | $12 Kids | $67 Family Pass (2A+4C)
Musical Fence, Winton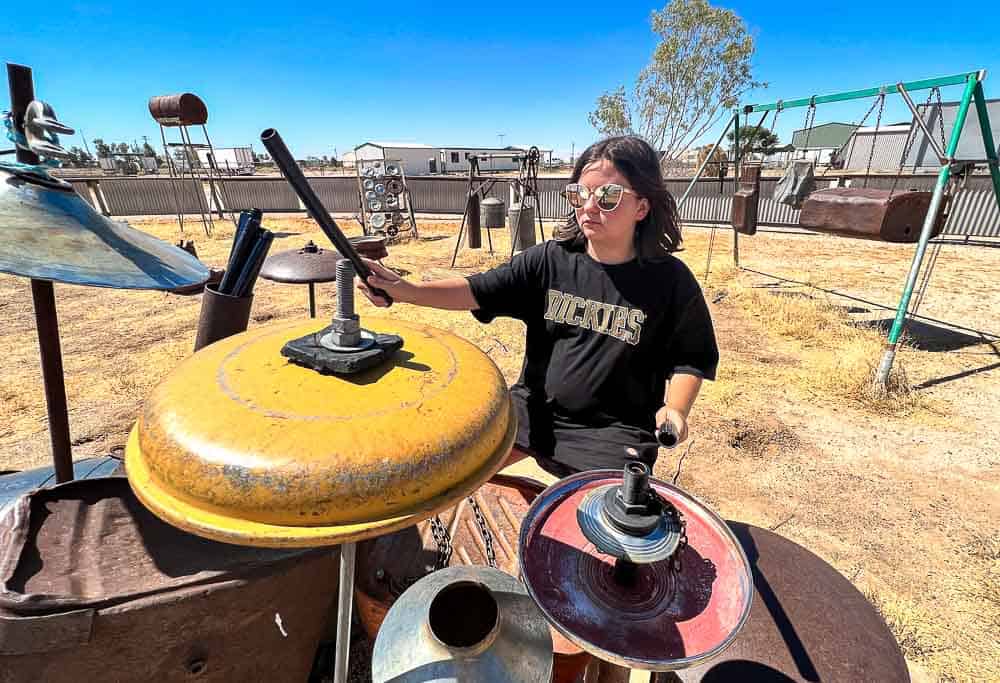 What to do in Winton QLD when you've just got a short window to fill? Why not bring the family along to create music on a wire fence!
This unique installation was created in 2003 by percussionist and composer Graeme Leak and is the first permanent musical fence installation in the world.
As it is the only one in the world, the Musical Fence Winton has been visited and played by people from around the globe. It caught worldwide attention when sounds from the Fence were used on a track in Gotye's 2013 Grammy Award winning album.
It is free to use and available for all Winton visitors to have a strum… so get playing!
Location: Behind the Diamantina Heritage Truck and Machinery Museum at Lot 2, Hughenden Road, Winton
Opening Hours: Anytime
Price: FREE
Arnos Wall, Winton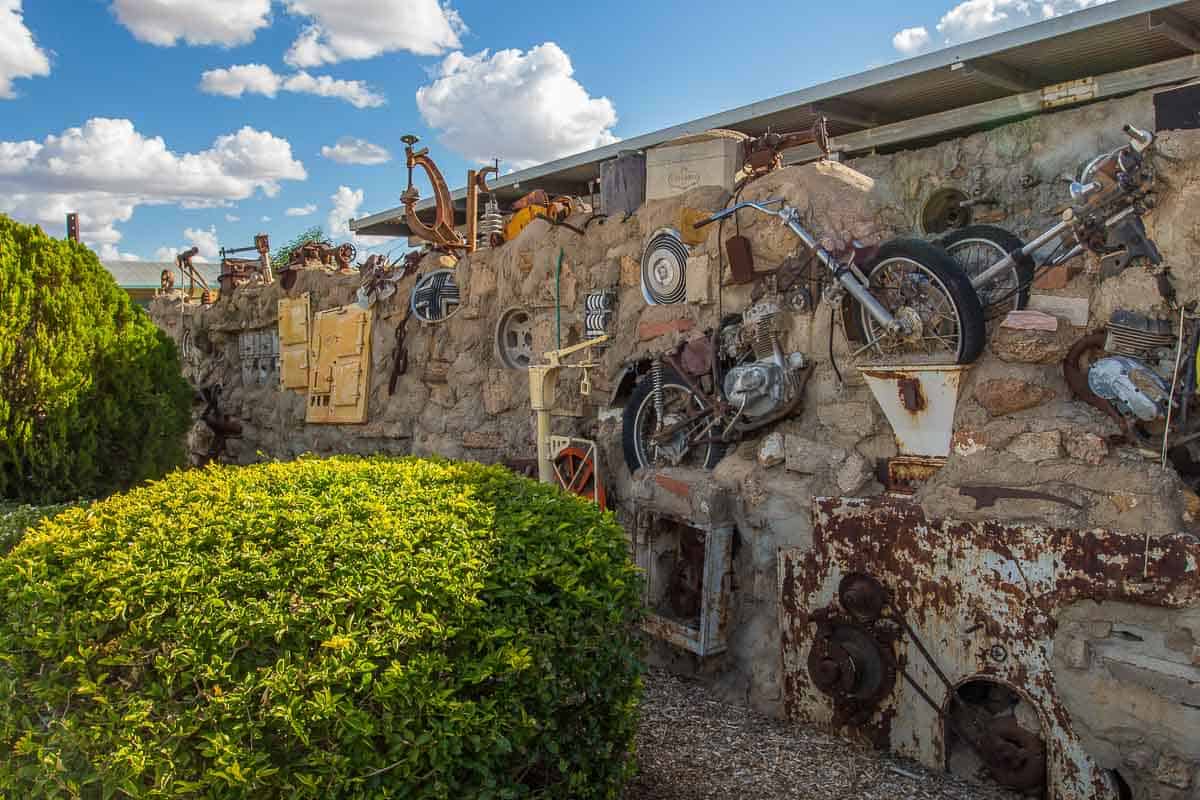 Image Credit – Tourism and Events Queensland
The saying, "One man's trash is another man's treasure", – has never been more accurate than when you come across Arno's Wall Winton.
This wall is created from anything, and everything, including; motorbikes, typewriters, ovens, wheels, televisions, boat propellers, sewing machines… basically any industrial or household item, including the kitchen sink!
The items are 'glued' together by concrete and rock from Arno's opal mine at Opalton and stretch approximately 70 metres long (and growing) and 2 metres high.
These wonderful pieces of history are available for the whole family to discover in the heart of town… what will you find?
Location: 19 Oondooroo St, Winton QLD 4735
Opening Hours: Anytime
Price: FREE
Royal Winton
Open Air Theatre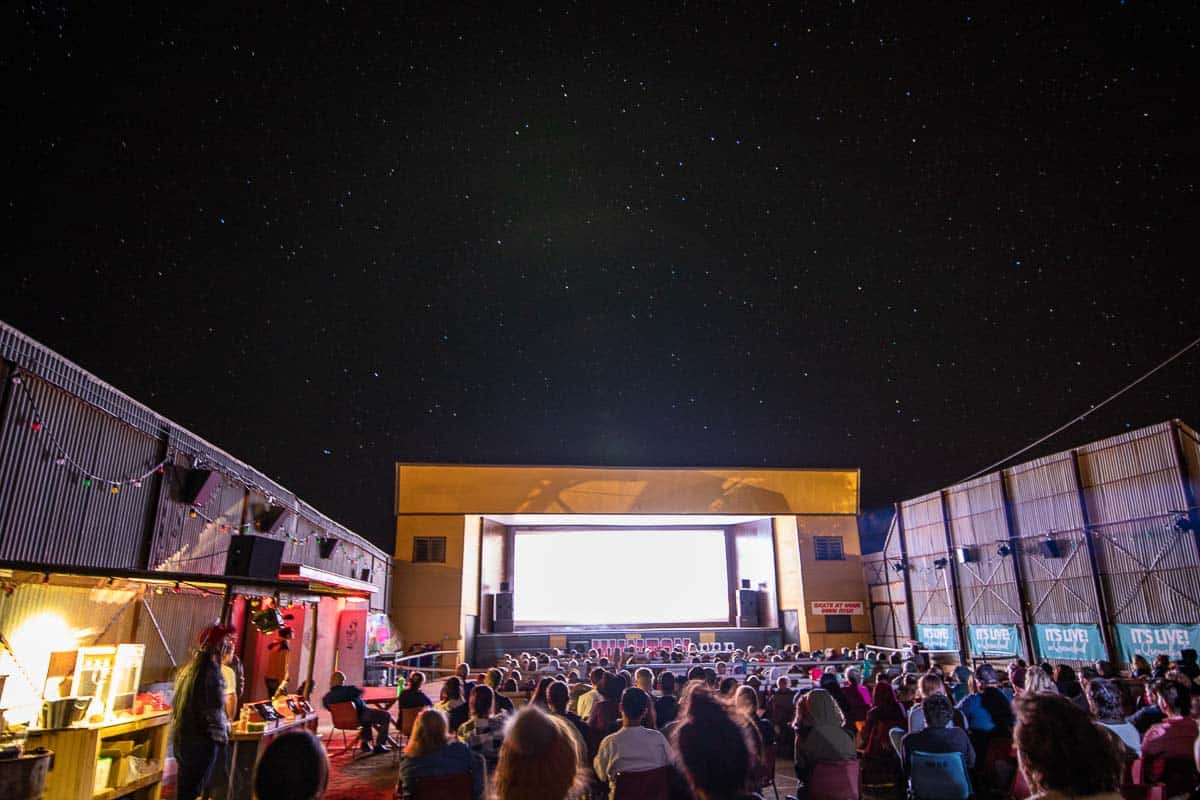 Image Credit – Tourism and Events Queensland
See your favourite stars… under the stars whilst reclining in your canvas sling chair at the Royal Winton. This outdoor theatre is one of only two open-air picture theatres still operating in Australia, and definitely not to be missed! Originally built in 1918 (although like many old buildings, it was rebuilt after being destroyed by fire), the theatre showed silent films until 1939, when their first talking pictures were shown.
The Royal Open Air Theatre Winton offers three styles of movie experiences:
The Royal Feature: enjoy a Friday evening watching a feature film under the outback Queensland sky.

Sunday Classic: the name says it all! Enjoy a timeless classic on a Sunday evening.

Nostalgia Night: relive what it would be like to go to the movies in the 1960s with this guided presentation, reliving moments from the golden age of cinema.
If you don't have time for a movie, you can pop in during the day to wander through the museum.
Location: 69 Elderslie Street, Winton Qld 4735
Opening Hours: Closes over Summer | Movie sessions are on Wed/Fri/Sun at 7 pm on selected dates
Price: From $10 Adults | From $5 Kids (some sessions FREE)
Opal Walk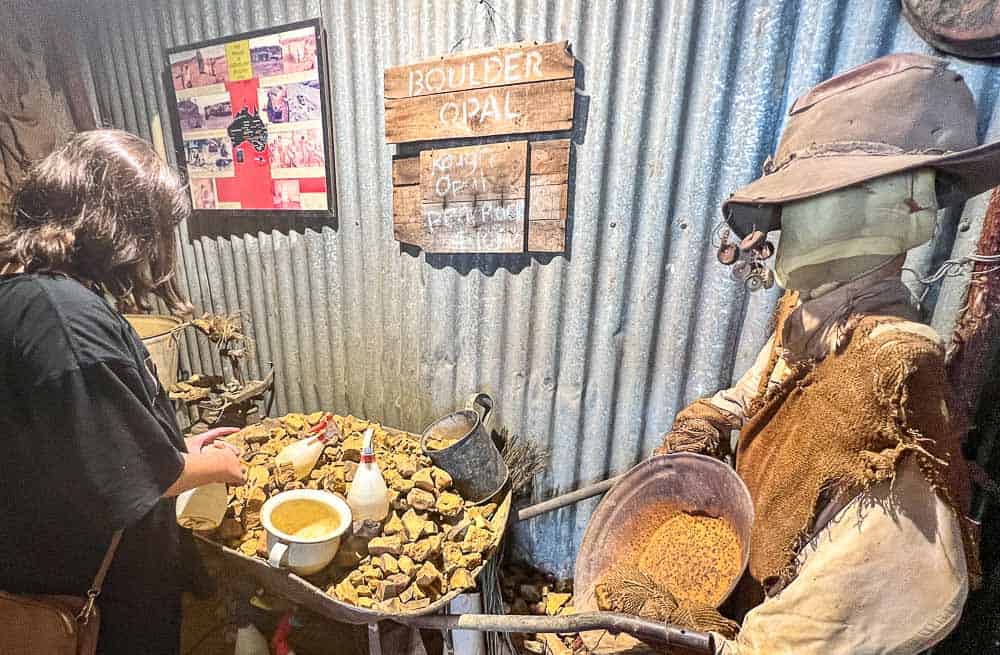 Did you know Australia produces 95% of the world's precious opal? And it is Australia's official national gemstone? If you want to get a glimpse of an opal mine and learn how Opal was mined at Opaltown (approx 120km from Winton), then take a stroll through the Opal Walk. You will also discover the fascinating life of the opal miners!
The Opal Walk also has a small wheelbarrow filled with rocks, where the kids can go fossicking and find rocks with glimpses of opal. Myla loved this and kept wanting to go back for more! Inside is also a shop where you can buy some gorgeous opal jewellery.
Location: Corner of Werna Street and Elderslie Street, Winton
Opening Hours: Varies depending on the season
Price: Free – $10 to go opal fossicking
Corfield and Fitzmaurice Building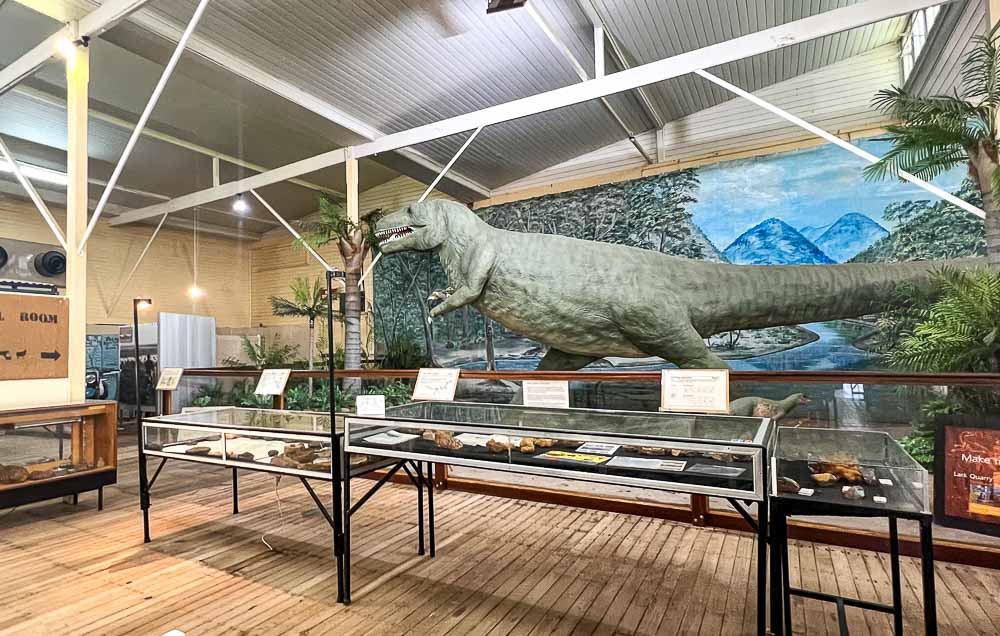 If the kids haven't quite had their fill of dinosaurs just yet – or perhaps your budget doesn't stretch to the Age of Dinosaur Musuem, then stop by the old Corfield and Fitzmaurice building. Here you'll find a small yet fairly extensive display of dinosaur fossils, including a few life size replicas. You'll also find plenty of opals on display and information regarding the local wool industry.
The old building itself dates back to 1878 and is now heritage listed. The building was used for a general store, owned and run by Corfield and Fitzmaurice. Business was booming during the 1890s and so the business was expanded to include a hotel – the North Gregory Hotel. These days as well as the mini museum, the building houses a store selling arts and crafts.
Location: Next to the North Gregory Hotel – Elderslie Street, Winton
Opening Hours: Hours vary depending on the season
Price: Gold coin donation per person
Heritage Truck and
Machinery Museum, Winton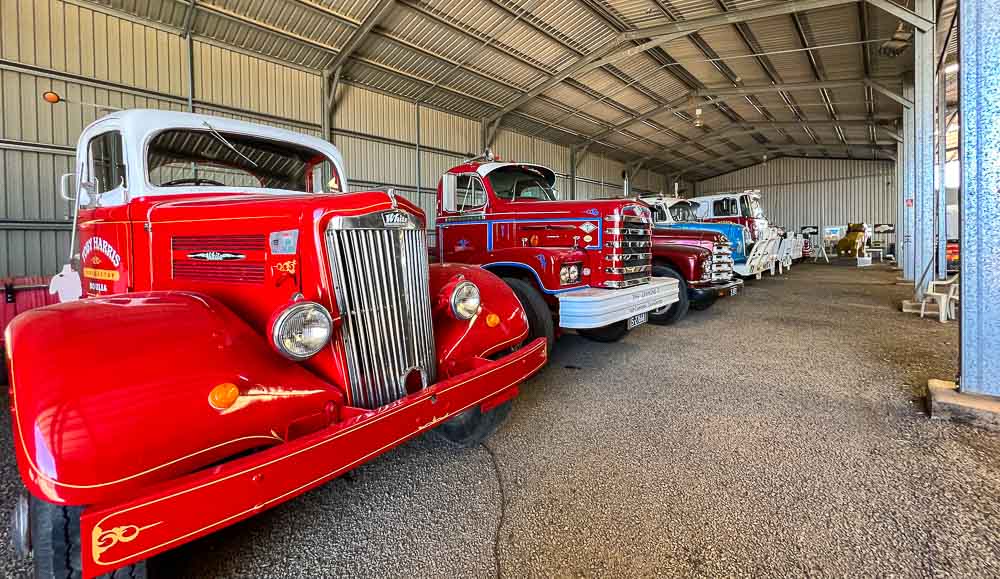 If anyone in the family loves their trucks – then you'll need to stop by the Diamantina Heritage Truck and Machinery Museum Winton. The museum features fully restored beasts of the road, including heritage trucks, tractors and machinery; while they may no longer have any grunt, the volunteers ensure they do have their gleam. You'll enjoy a nostalgic trip into transport history as you wander through the shed.
While the truck museum wasn't really of much interest to Myla and I, while there, we got talking to a family with a couple of young boys and it was clear they were having the time of their lives! Mum said they'd been there for hours and she'd have to drag them out!
So if big trucks are your family's thing – the Truck and Machinery Musuem in Winton is well worth a visit.
Location: Lot 2, Hughenden Road, Winton
Opening Hours: Daily from 9 am to 4 pm
Price: $10 Adults | $5 Kids
Winton Aquatic Centre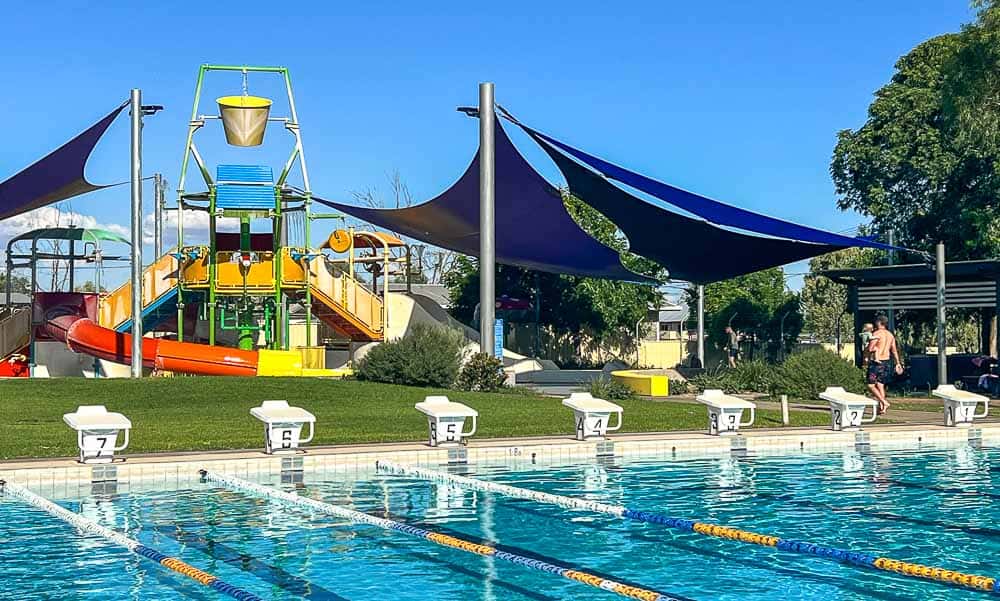 It gets super hot in Winton, so the Winton Aquatic Centre is the best place to be after a long day of sightseeing or travel. There is a great swimming pool here, as well as a small wading pool for the little ones. The kids will also love the waterslides and interactive water equipment, including the huge tipping bucket.
Location: Corner of Oondooroo Street and Elderslie Street, Winton
Opening Hours: Monday to Saturday – 2 pm to 6 pm
Price: Gold coin donation per person
Winton Historic Cemetery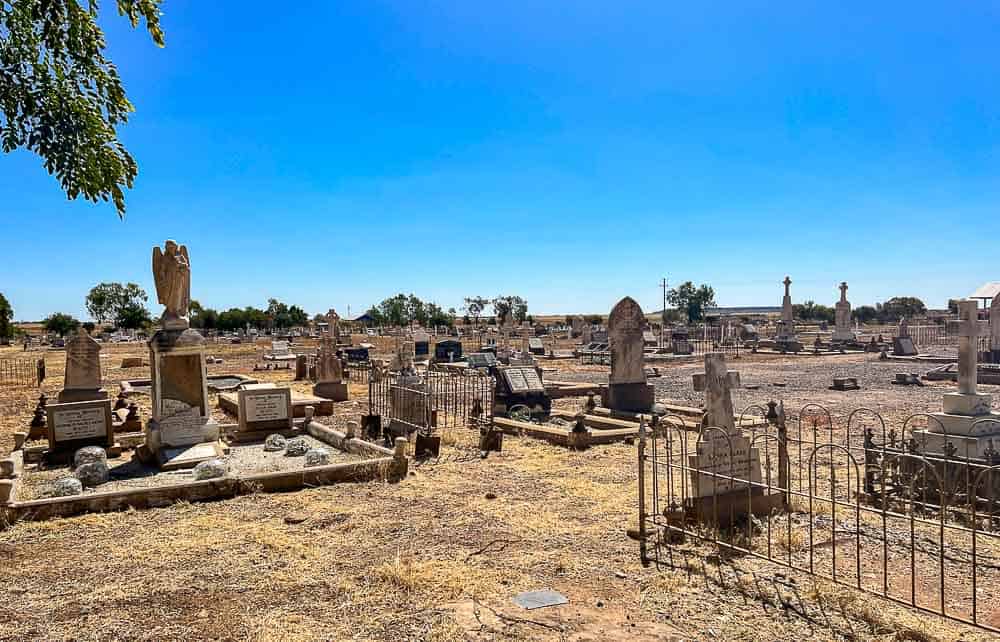 Established in 1876, the Winton Historic Cemetery is the final resting place for some of the town's pioneers. I always enjoy walking through old cemeteries and paying my respects to the people buried there by taking a minute or two to read the various headstones and imagine what life must have been like for them all those years ago. The Winton Cemetery makes that a little easier by providing a booklet with a self guided walk.
Just outside the cemetery, you'll find a box where you can grab the booklet. The walk is a work in progress and is continually being updated as more information is discovered about the various people buried here. Currently, the booklet provides information on more than 30 people. The self-guided walk allows you to learn more about the individuals buried here and what life was like all those decades ago.
Location: 75 Vindex Street Winton
Opening Hours: Always
Price: Free
Winton Accommodation
There isn't a huge amount in terms of accommodation Winton offers, but you will find budget pub rooms, spacious motel rooms, and places to pitch a tent.
Click here for our full guide to accommodation in Winton. Alternatively, if you're looking for somewhere to camp, check out this guide here.
If you're after motels in Winton QLD based on: comfort, service and value – then the Outback Motel Winton is for you! Plus, it is located just a 2-minute leisurely stroll to local eateries and pubs.
Accommodation consists of 25 rooms with a mixture of Queen, King and Family rooms, with the option to choose standard or upgrade to premium. The Family rooms have a large double bed, two single beds, and a private kitchen.
Onsite, there is free parking, free WiFi… and the owners – to assist with any needs you may have.
If you're after family friendly accommodation Winton QLD offers, the Outback Motel could be just the place!
Click here to check availability and pricing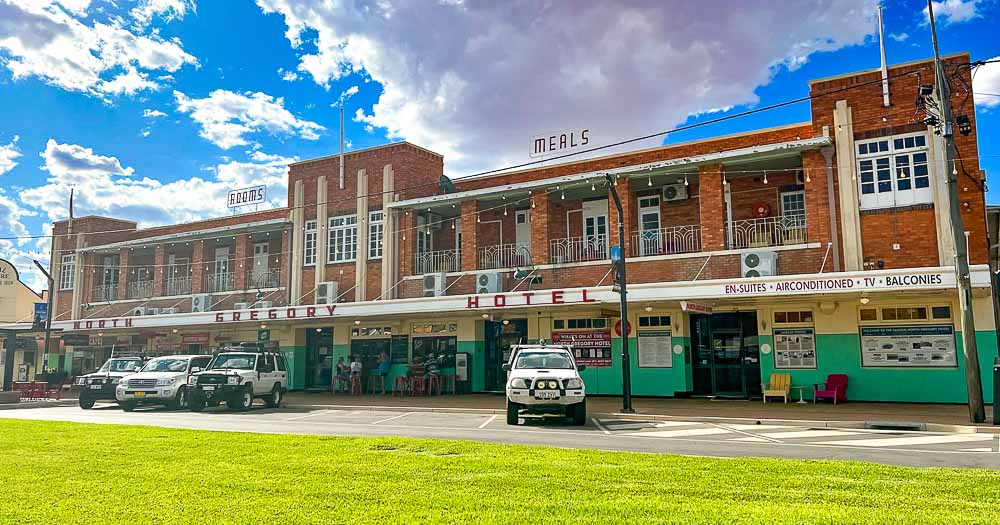 First built in 1879, the historic North Gregory Hotel is famous for being the location of the first live performance of Banjo Paterson's Waltzing Matilda. The grand old hotel takes pride of place, smack bang in the centre of the Winton township, next to the Royal Open Air Theatre Museum. However, location is not the only convenience; the hotel offers a restaurant, cafe, and bottle shop onsite, making dining out a breeze!
Families can be accommodated in rooms with a double/queen bed along with a single bed and rollaway. All rooms are air-conditioned and are equipped with tea/coffee making facilities and a bar fridge.
And after a dusty day exploring, the whole family can take advantage of the complimentary open air Artesian Spa – the only one of its kind in the west!
This is a stunning old hotel and well worth a visit, even if you don't end up staying here. However, if you're after hotels in Winton QLD with country hospitality at its finest, then the North Gregory Hotel Winton is the place you're after!
Click here to check availability and pricing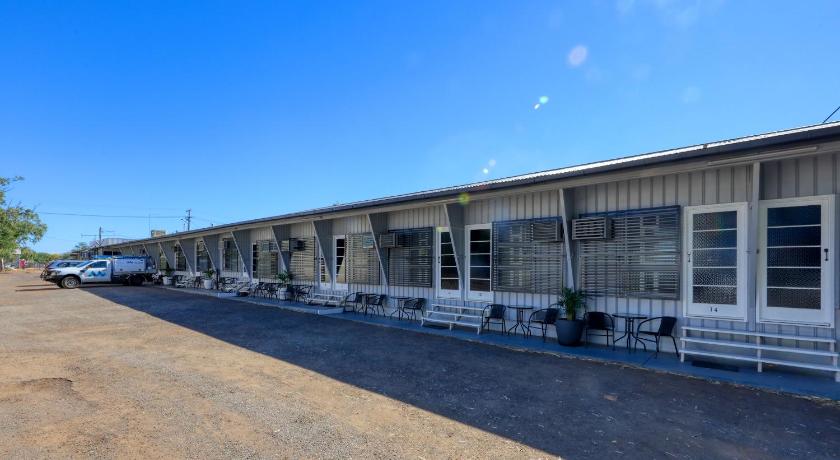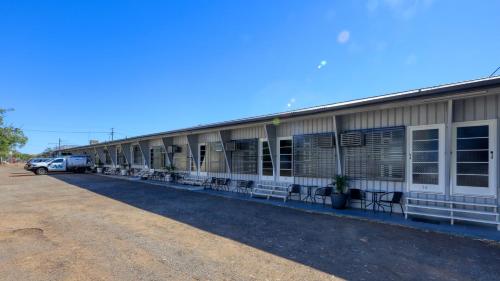 Matilda Motel Winton offers clean and comfortable family accommodation within walking distance to shops, restaurants and local attractions.
The air-conditioned rooms offer families of up to 4 accommodation in one room in double/single bedding configurations. Rooms also include basic breakfast facilities such as a microwave, toaster and kettle.
We stayed here during our time in town, and while it's certainly nothing fancy, it provided everything we needed – plus it's right behind the pool where we spent a few hours each afternoon. The Matilda Motel provides the perfect budget family friendly accommodation in Winton, Queensland.
Click here to check availability and pricing
Winton – Our Verdict
For those little dinosaurs lovers, Winton is an absolute must! The kids will be absolutely enthralled by all the different dinosaur activities around town. I mean, where else in the world can you see real life dinosaur footprints!
To see all that Winton has to offer, you really need to spend a few days here – even more if you want to have time to take it easy as well as sightseeing. We spent three nights in Winton and found it a great amount of time for sightseeing, with a little bit of downtime as well. You could probably squeeze it into two days if you're short on time, minus the downtime.
To see how we spent our few days in Winton – click here. This will take you to our detailed itinerary, which shows you day by day how we spent just over two weeks exploring the dinosaur trail in outback Queensland.
Click here for an excellent 7 day Longreach to Winton itinerary.
___________________________________________________________________
Hopefully, you found this guide to Winton helpful. If you're doing the dinosaurs trail with the kids, then check out our guide to Richmond here and Hughenden here.