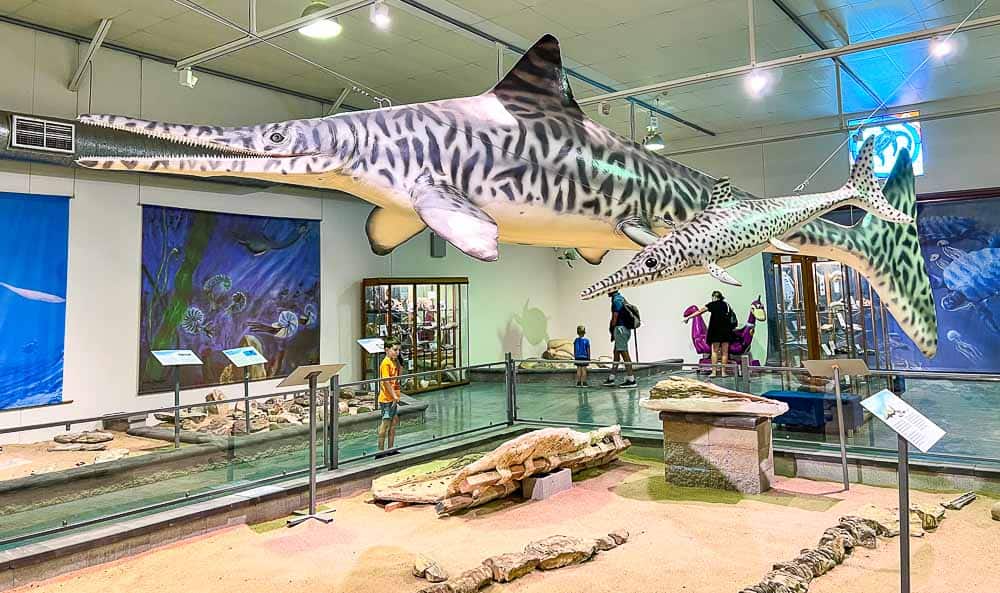 Along with Winton and Hughenden, Richmond is one of the stops on the Queensland dinosaur trail and is a must see for families with dinosaur lovers.  Once part of the Australian inland sea, Richmond is famous for its marine fossil discoveries.  Families can see some of these fossils on display in the museum, as well as go digging for them at one of the nearby dig sites.
As well as dinosaur related activities, other things to do in Richmond, Qld include exploring historic buildings or enjoying water sports on Lake Fred Trittin.  You can find out more in the Richmond QLD things to do guide below.
Planning a trip to Queensland? Have any questions? Join our Queensland Travel Planning Facebook group here now! It's the perfect place to ask any questions and to be inspired!
This post may contain compensated links.  Please refer to my disclaimer here for more information.
Things to do in Richmond, QLD
Keep reading below for all the details on what to see and do in Richmond. I've also included a map below, which shows the location of all the Richmond QLD attractions.  Zoom in and out for a closer look.  
Please note that the opening hours and prices quoted below were correct at publishing.
Click here to see exactly how we spent our time in Richmond.  This provides a detailed overview of our Queensland dinosaur trail itinerary.
Kronosaurus Korner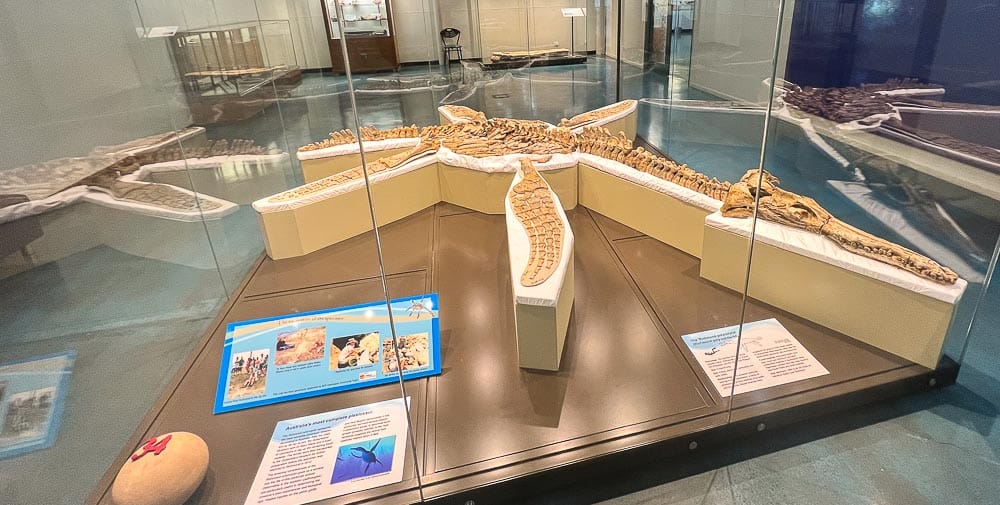 The dinosaur trail continues in Richmond, with the main attraction being Kronosaurus Korner. However, this is where Richmond has a point of difference over Winton and Hughenden (the other two towns on the dinosaur trail)… as Richmond is focused on dinosaurs of the aquatic variety.  This is because over 110 million years ago, this area was once an inland sea, teeming with giant sea creatures. As a result, the area now has an abundance of fossils to be found and in fact, Richmond has a reputation of being one of the world's most significant fossil regions.
The Kronosaurus Korner has some of these fossils on display.  There are over 1,150 fossil specimens to discover, including the giant predator 'Kronosaurus queenslandicus' with enormous fang-like teeth measuring up to 30cm to the 'Protostegid Sea Turtles' and a variety of 'Osteichthyans' – which are fish… the inland sea was overflowing with marine life.  Another awesome display is the long necked Eromangasaurus Minmi – Australia's best preserved dinosaur.
It's not all marine fossils though… they did sneak in the most complete dinosaur skeleton in Australia, a land dinosaur called Ankylosaur!  You can see it pictured above – how amazing is this!
And to keep things entertaining, this Richmond dinosaur museum also includes theatre presentations, hand-held audio guides and best of all; there is insider information on how you can find your own fossils!  And don't forget to get a photo in the mouth of the giant Kronosaurus out the front of the musuem.
It takes around an hour or so to take a good look around the museum – longer if you have an obsessed dinosaur lover who wants to read all the information!  There's also a cafe on site where you can grab a cuppa, snacks or something for lunch.
Location: 91-93 Goldring Street, Richmond
Opening Hours: Apr-Oct Mon-Sun 8.30am to 4pm | Nov-Mar Mon-Fri 8.30am to 4pm Sat/Sun 8.30am – 3pm
Price: $30 Adults | $20 Kids | $80 Family Pass (2A+4C) 
Fossil Hunting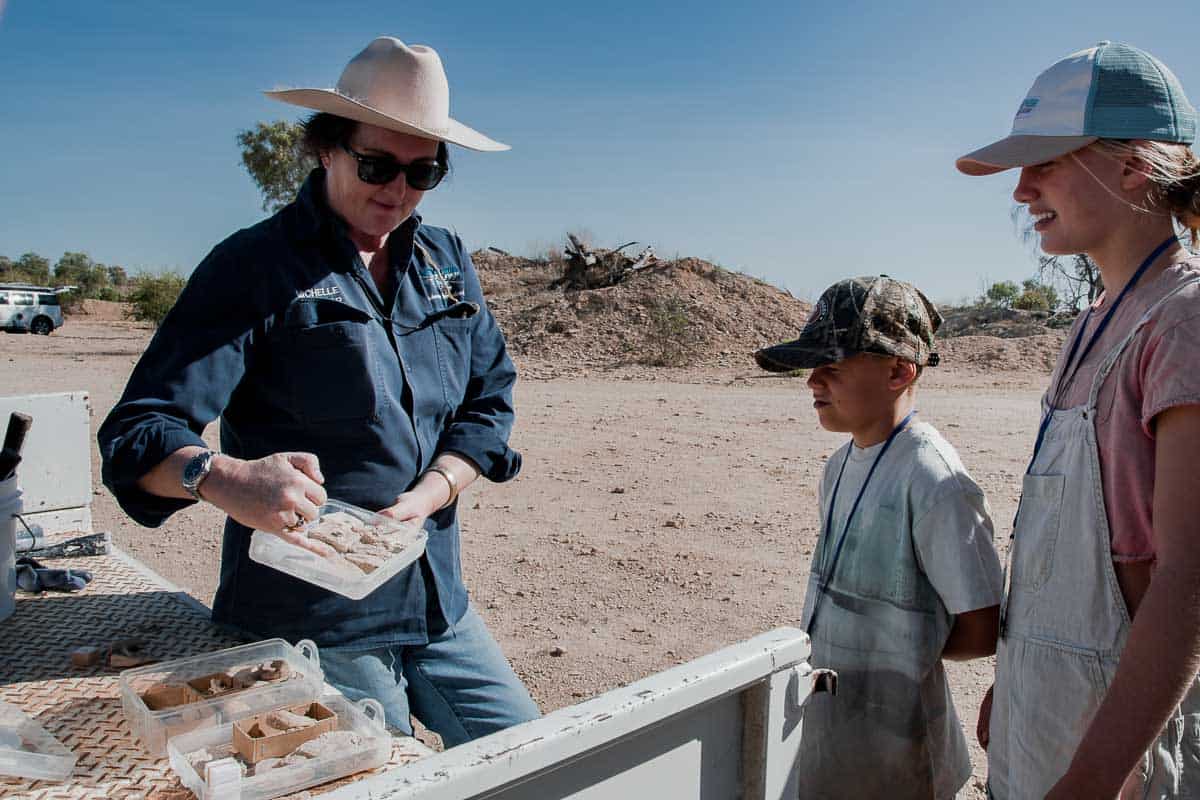 Image Credit – Tourism and Events Queensland
If looking at dinosaur fossils someone else discovered doesn't satisfy those dinosaur lovers –  how about taking the kids hunting to unearth their very own dinosaurs fossils… if they're lucky!  There are two ways you can go about this, the first is DIY and the second is a guided dig.
Let's look at DIY. An easy 12km North of Richmond on fully sealed roads are two fossil hunting sites. By turning over a few stones, your child could discover a fossilised fish, shark tooth or giant marine reptile… hands on education they will enjoy!  Remember to bring loads of water, food, sunscreen, along with all the fossil hunting paraphernalia such as containers, brushes, geology hammers and chisels. And a fossil hunting permit will be required, which you can pick up from the Kronosaurus Korner.
Alternatively, the museum offers 2-hour guided digs called 'Digging @ Dawn'. They will teach the kids (and yourselves) how to find, identify, and excavate fossils and provide the fossil hunting tools.
So get your paleontology groove on and start fossicking.
Location: SITE 1 is positioned on the right side of Richmond Woolgar Road. SITE 2 is on the left side of Richmond Woolgar Road
Opening Hours: DIY = Anytime | TOUR = Apr-Oct Wed & Fri 8am
Price: DIY = $5/vehicle permit | TOUR = $60 Adults | $40 Kids | $150 Family Pass (2A+4C) 
Richmond Water Park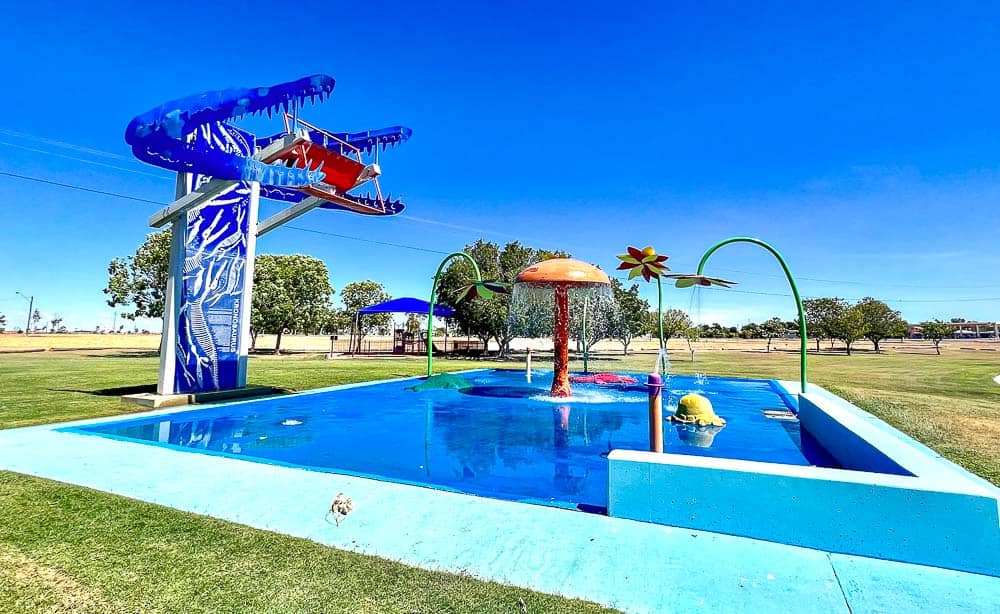 It's not only the dinosaurs that were wet in Richmond… your kids can be too… at the Richmond Water Park.
The uniqueness of this water park is the one-of-a-kind dinosaur dumper. Modelled on the Kronosaurus, it is 6 metres high and 6 metres wide – holding a drenching 280 litres of water to cascade onto those who dare to splash in the vicinity.
The fierceness of the dinosaur dumper is offset by dainty flower showers and an interactive leaf spillway.
If you need to cool off, head over to the Richmond Water Park for a splashing good time!
Location: Lake Fred Tritton, Richmond
Opening Hours: 24/7
Price: FREE
Cambridge Downs Heritage Display Centre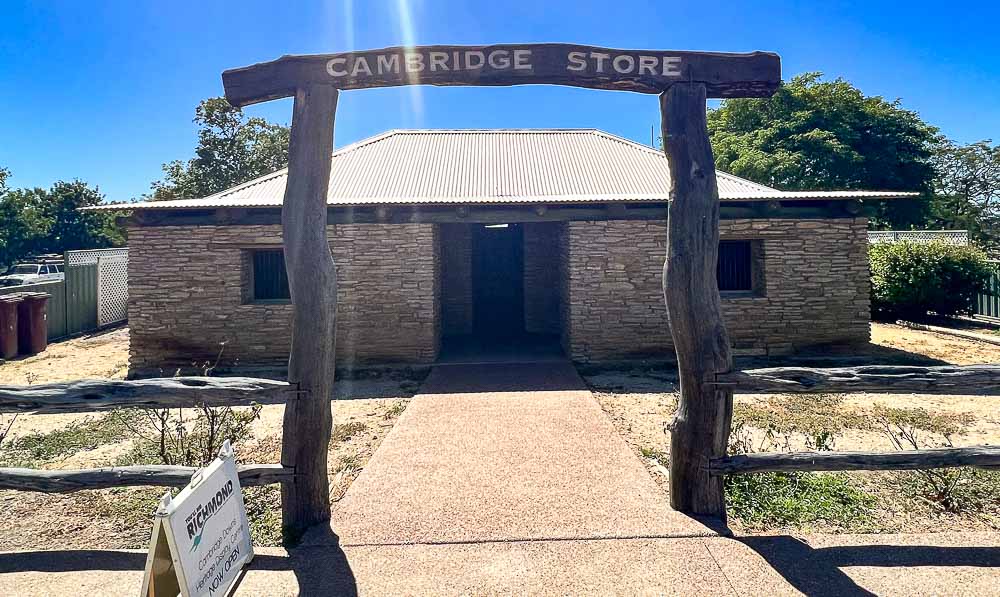 What was life like in Richmond 150 years ago? Very different! You can see it for yourself at the Cambridge Downs Heritage Display Centre.  Built from local flagstone, the Display Centre is a replica of the Cambridge Downs Homestead, built in the 1860s.  
The Cambridge Downs Homestead was once a fine example of the architectural resourcefulness of the pioneers.  Built by crude building blocks found nearby and with a thatched roof (later replaced with galvanised iron).  Cooking would have been done in a separate building and water would have been carted from the nearby creek.
Today the replica homestead houses a collection of local artefacts and records, and ensure you don't miss the bright red Cobb & Co Coach out the back.
It doesn't take too long to go through the Cambridge Downs Heritage Display Centre – allow 15  to 30 minutes.
Location: Goldring Street, Richmond
Opening Hours: 9 am to 4 pm
Price: FREE
Heritage Walk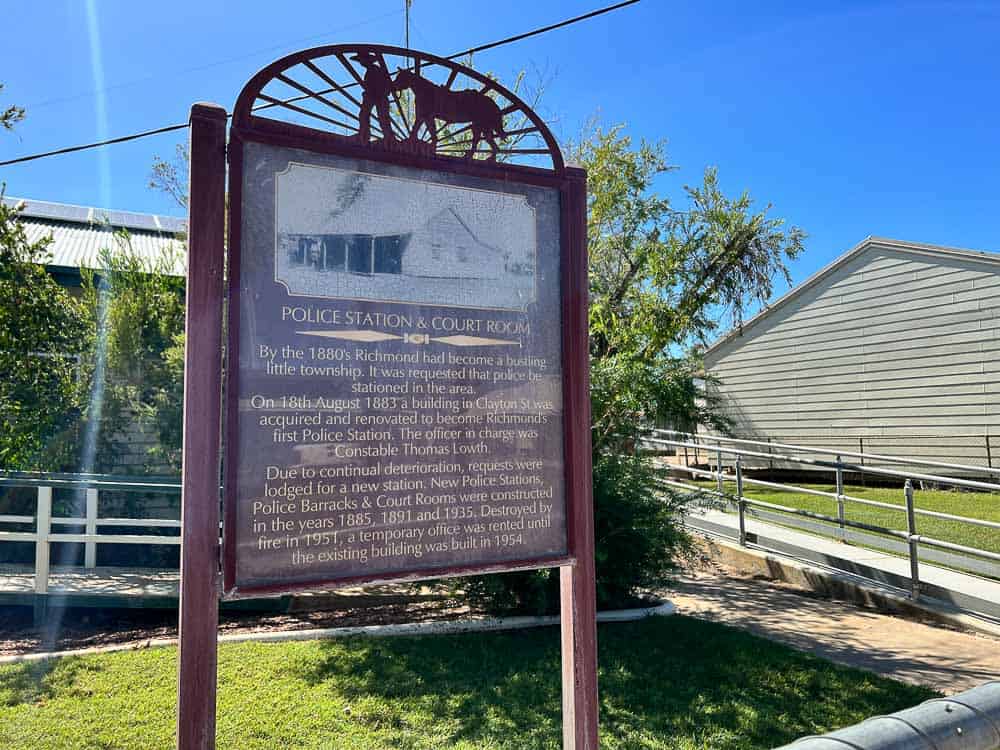 For those interested in finding out more about Richmond's history, grab a map from Kronosaurus Korner and take the self guided Heritage Walk around town.
This five block stroll along Goldring Street identifies 20 historical places of interest – some are still standing, others are but a distant memory.  Some sites you will come across are the Cordial Factory, Newspaper Printers and Open Air Theatre.   There are storyboards along the way to help bring these historical places to life.
The Heritage Walk starts at the Caravan Park and continues the full length of Goldring Street, finishing at the Cambridge Downs Heritage Display Centre (see above).
Location: Goldring Street, Richmond
Opening Hours: 24/7
Price: FREE
Lake Fred Tritton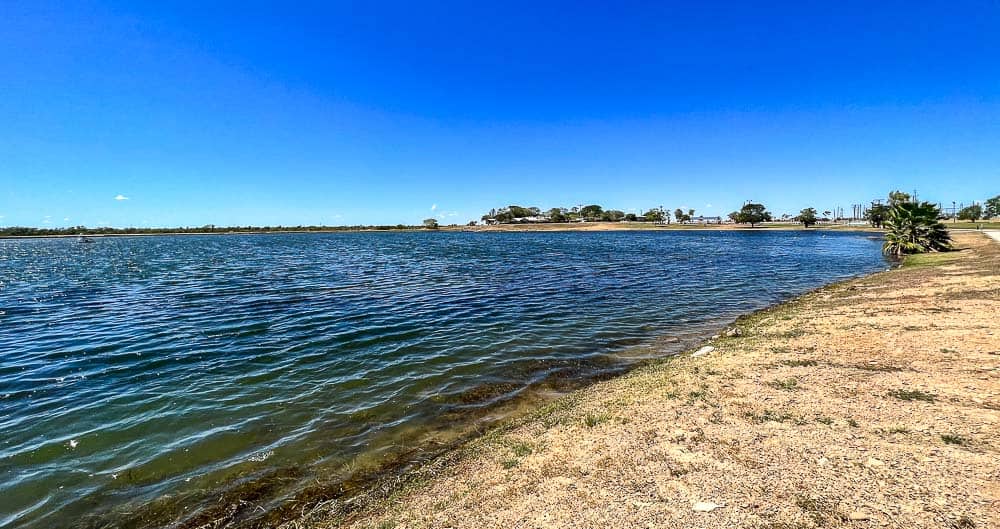 It's not a mirage; it's an outback oasis at Lake Fred Tritton! 
Bursting with activities to excite everyone in the family… there are sandy beaches, shaded playgrounds, the splash-tastic water park (see above), paths around the 1.2km lake circumference perfect for scootering/skating/biking, BBQs and an indigenous bush tucker garden for family dinners, plus loads of water sports such as water skiing, kayaking, jet skiing and fishing.
In fact, fishing is so popular due to the 18 species available to hook, including barramundi, sooty grunter, sleepy cod, and archerfish. You can cast a line from the jetty or launch a boat at the ramp.
Location: Off Goldring Street, Richmond – behind the Lakeview Caravan Park
Opening Hours: 24/7
Price: FREE
Richmond's Pioneer Cemetery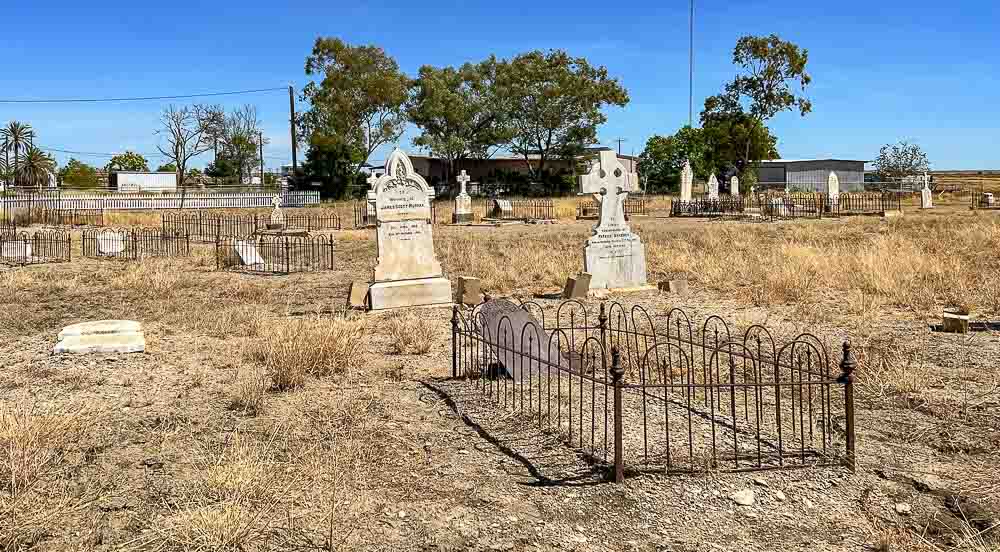 I know a cemetery isn't for everyone, but we love exploring the old cemeteries in these outback towns.  It's the perfect place to understand the harsh conditions that the pioneers had to overcome.  The cemetery contains graves dating back to 1886 and is the burial place for people who lost their lives through mining accidents, fires, murders and childbirth.
Location: Just west out of town, along the Flinders Highway
Opening Hours: 24/7
Price: FREE
Accommodation Richmond
In terms of accommodation, Richmond offers you'll find pub rooms, spacious motel rooms and places to pitch a tent.
Click here for our full guide on where to stay in Richmond with kids.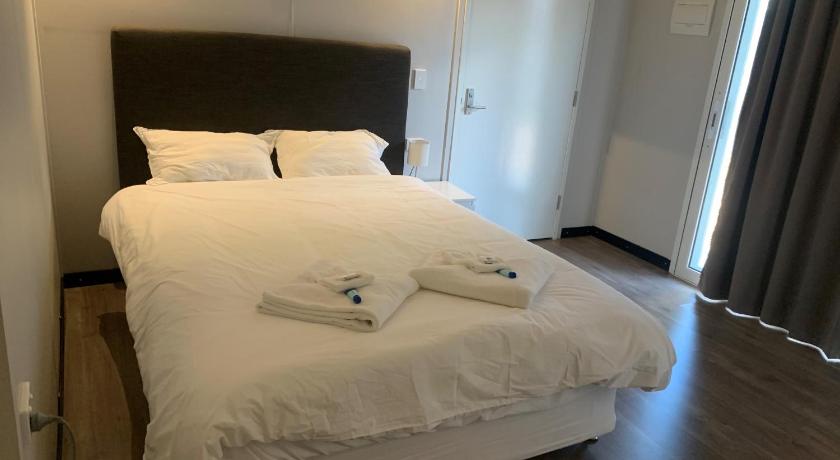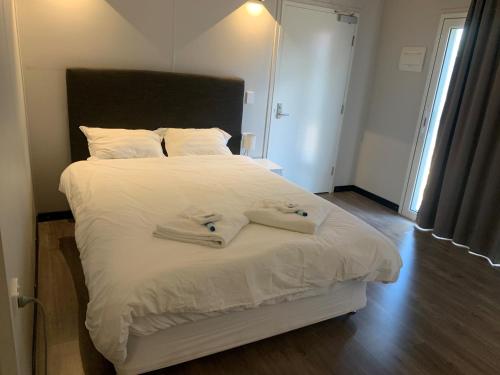 Take in views of Lake Fred Tritton at the Midway Motel Richmond. Rooms are either double or twin, with an extra bed available on request.  All rooms feature air conditioning, a TV, and a small fridge. There is also a restaurant onsite, free WiFi and a 24-hour front desk for assistance.
If you're after a good all-around motel close to all the activities Lake Fred Tritton offers, the Midway Motel is recommended.
Click here for availability and to check pricing
Lakeview Caravan Park
For outback hospitality at its finest, the friendly Lakeview Caravan Park is where it's at! The caravan park overlooks Lake Fred Tritton and has a range of accommodation to suit all budgets.
The two bedroom villas can fit up to 4 people (there is one that can fit up to 5 people), in double and twin bedding with full kitchen facilities. The ensuite cabins can also sleep up to 4 people in an open plan capacity with basic kitchen facilities.
Onsite, there are BBQs, a coin operated washing machine and dryer and free WiFi.
For a clean and easy caravan park with spacious accommodation, Lakeview Caravan Park is worth a look.
Click here for more information
Ammonite Inn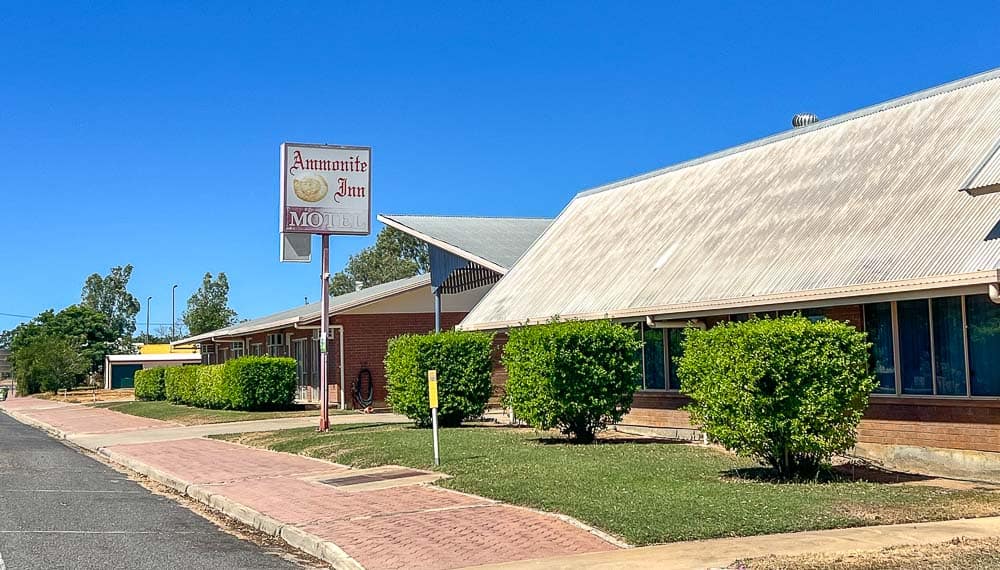 Get your bearings in Richmond at the centrally located Ammonite Inn, located a couple of blocks from Kronosaurus Korner.
Accommodation is standard motel rooms with various bedding configurations to suit families of up to 5 people. In addition, each of the 25 rooms includes a fridge and air conditioning.
Refresh yourselves after a day of fossicking in the Ammonite Inn pool, and enjoy the convenience of room service for breakfast and dinner.
The Ammonite Inn also has a guest laundry and licensed restaurant on site.
Click here for more information
Richmond – Our Verdict
While there's not a great deal to see in Richmond – the Kronosaurus Korner is well worth visiting dinosaur fanatics.  It really is impressive how well preserved some of these dinosaur remains are.  We stayed in Hughenden and just drove into Richmond for the day. 
We were planning to spend the entire day in Richmond; however most of the sites can easily be seen in a few hours.  Although if you plan on spending time at the lake or waterpark (which we didn't), then you certainly could make an entire day out of it.  I don't think it's necessary to stay at both Richmond and Hughenden though – stay at one or the other and simply drive the 1 hour between the towns.
To see how we spent our time in Richmond– click here.  This will take you to our detailed itinerary, which shows you day by day how we spent just over two weeks exploring the dinosaur trail in outback Queensland.
___________________________________________________________________
Hopefully you found this guide to Richmond helpful.  Don't forget to check out our other dinosaur trail guides, including things to do in Winton here and things to do in Hughenden here.