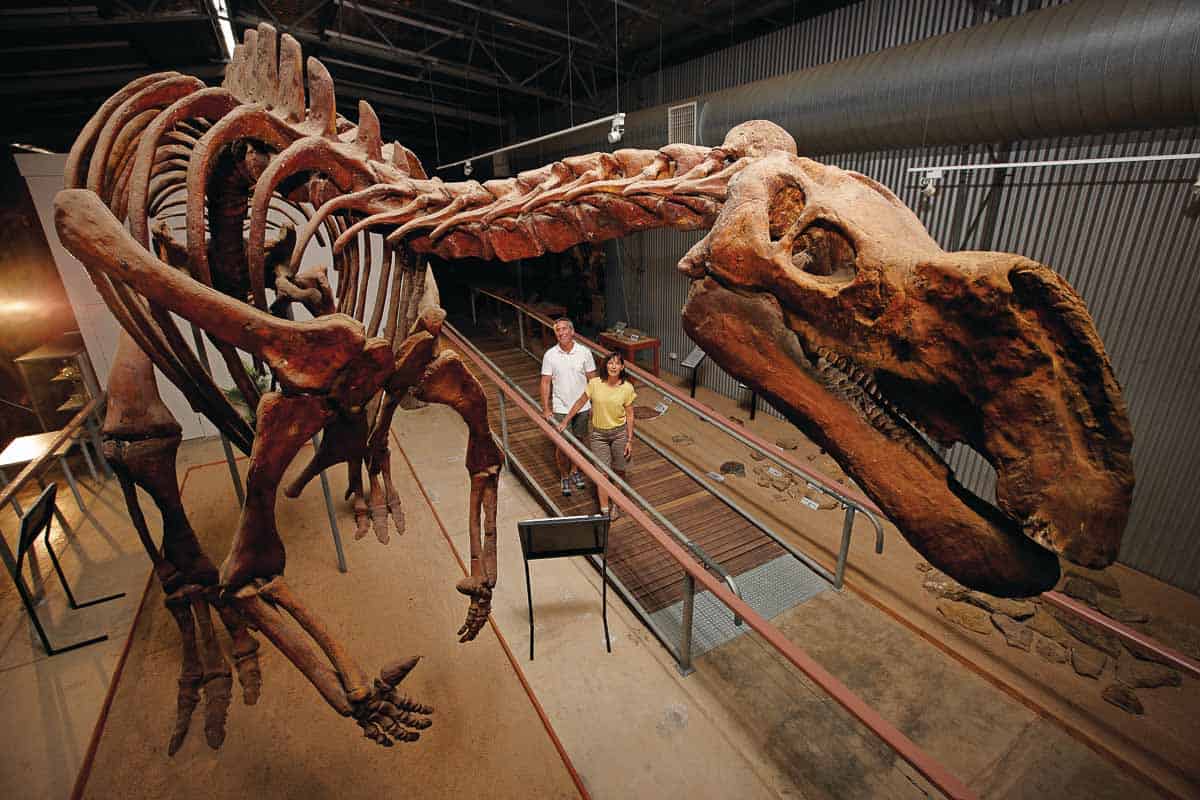 If you're taking the kids on the Queensland dinosaur trail, then a visit to Hughenden is a must! In addition to dinosaurs, there are a few other interesting things to do in Hughenden, Queensland. The area is home to four stunning national parks and a range of historic locations, including the Coolabah Tree, famous for its part in the Burke and Wills expedition. It's also a great base for a day trip out to Richmond, which is another location on the dinosaur trail.
For those families unsure of exactly what to do in Hughenden QLD, this guide is a great place to start. This Hughenden things to do guide covers all the best things to see and do around town as well as our top recommendations for family friendly accommodation Hughenden has.
Planning a trip to Queensland? Have any questions? Join our Queensland Travel Planning Facebook group here now! It's the perfect place to ask any questions and to be inspired!
This post may contain compensated links. Please refer to my disclaimer here for more information.
Main Image Credit – Tourism and Events Queensland
Things to do in Hughenden, Queensland
This section covers all the excellent Hughenden tourist attractions. Which Hughenden attractions you add to your itinerary really depends on how long you have in town and your family's interests.
To help plan your trip, I've included the below map, which shows the location of all the things to see in Hughenden. Zoom in and out for a closer look.
When you visit Hughenden, please note that the opening hours and prices quoted below were correct at publishing.
Flinders Discovery Centre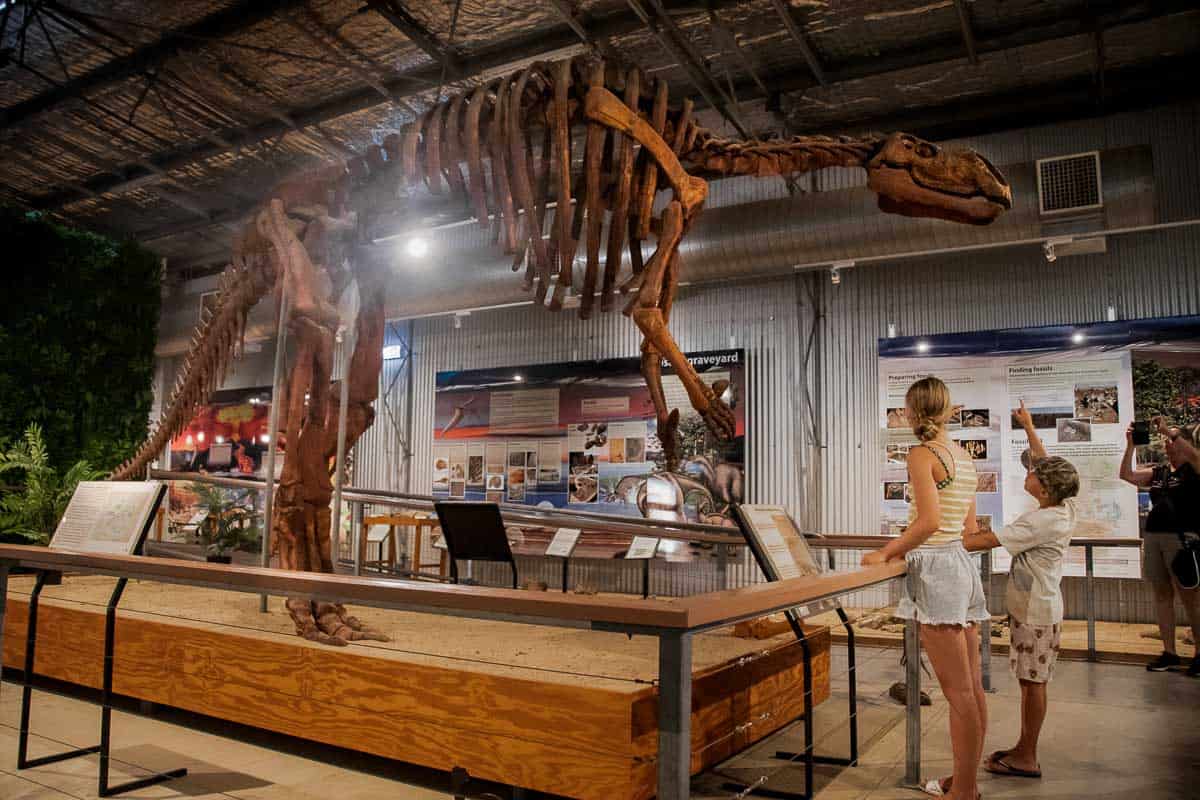 Image Credit – Tourism and Events Queensland
Wondering what things to do in Hughenden? Why not start at the Flinders Discovery Centre! This accredited Information Centre is also home to a museum with a growing display of dinosaur fossils from around the world… and the local area. The whole family will love meeting 'Hughie', the seven metre Muttaburrasaurus, and reliving the glory days of sheep production and its subsequent demise in the "Shearing the Straggler" exhibit. Other interesting exhibits include the sound and light show, demonstrating how the Porcupine Gorge was formed and there is a great kids corner which is sure to please the little ones.
Location: 37 Gray Street, Hughenden
Opening Hours: Oct-Mar: weekdays 9 am to 5 pm | Saturdays 9 am to 1 pm | Closed Sundays Apr-Sept: weekdays 9 am to 5 pm | weekends 9 am to 5 pm
Price: $5.50 Adults | $2.50 Kids
Coolabah Tree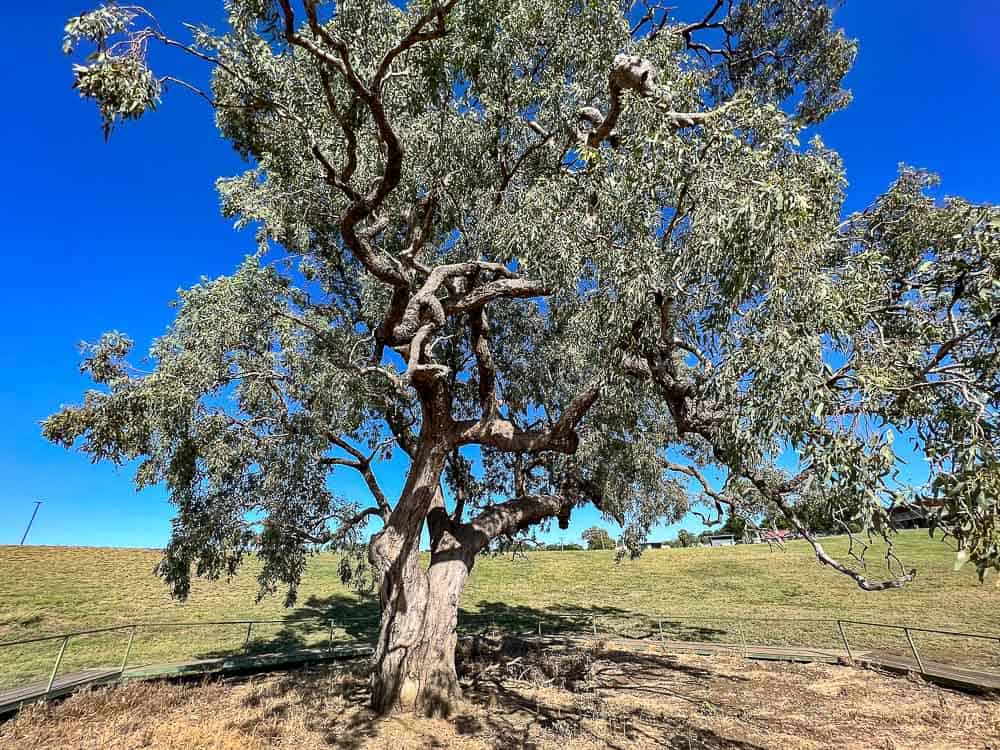 For all the Burke and Wills fans out there, the Coolabah Tree is not to be missed! This tree is of immense historical importance as it is linked to two relief expeditions searching for Burke and Wills.
Both expeditions blazed the tree, marking their passage and identifying their route. The expeditions were led by Fredrick Walker in 1861 and the following year by Landsborough's team, searching in vain for the missing explorers. These relief expeditions made people aware of the fertility and wealth of the plains adjacent to the Flinders River.
You can find the Coolabah Tree on the banks of what is now Station Creek, where you will also find two plaques erected near the tree as a tribute.
Location: Stansfield Street, Hughenden
Opening Hours: 24/7
Price: FREE
Mutt the Muttaburrasaurus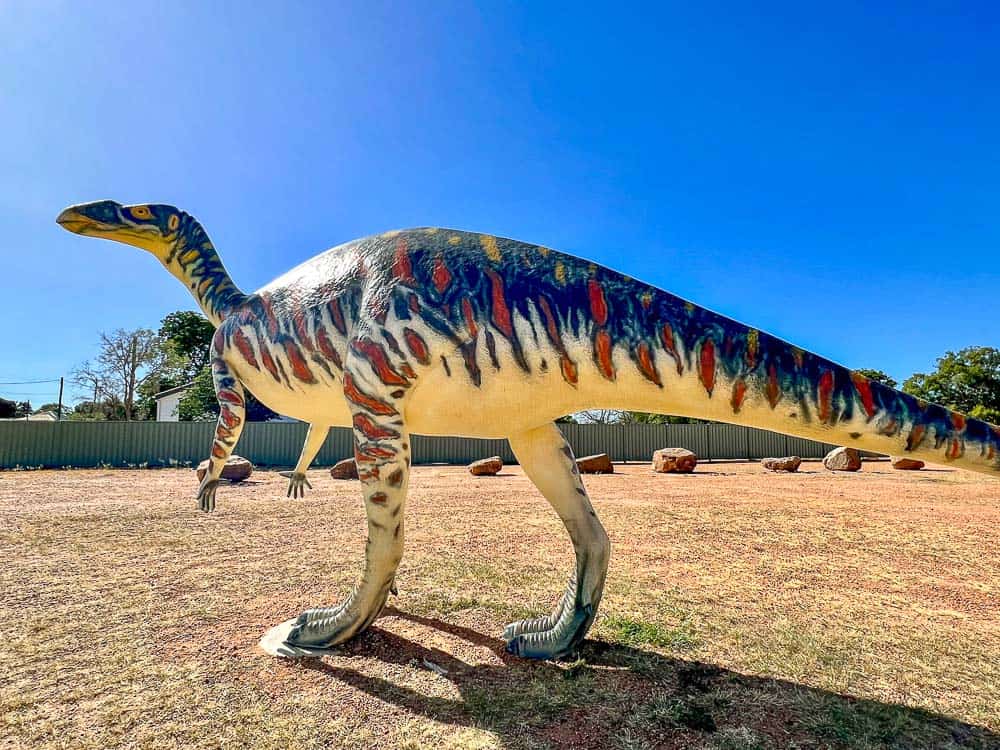 You will know you are on track on the dinosaur trail Hughenden offers when you drive down Stansfield Street and encounter the imposing "Mutt". Mutt is an eight by four metre fibreglass replica of the Muttaburrasaurus, which roamed the shores of the inland sea around 100 million years ago. Mutt is in honour of the numerous Muttaburrasaurus fossils found around the Hughenden region.
Location: Corner of Gray and Stansfield Streets
Opening Hours: 24/7
Price: FREE
Mount Walker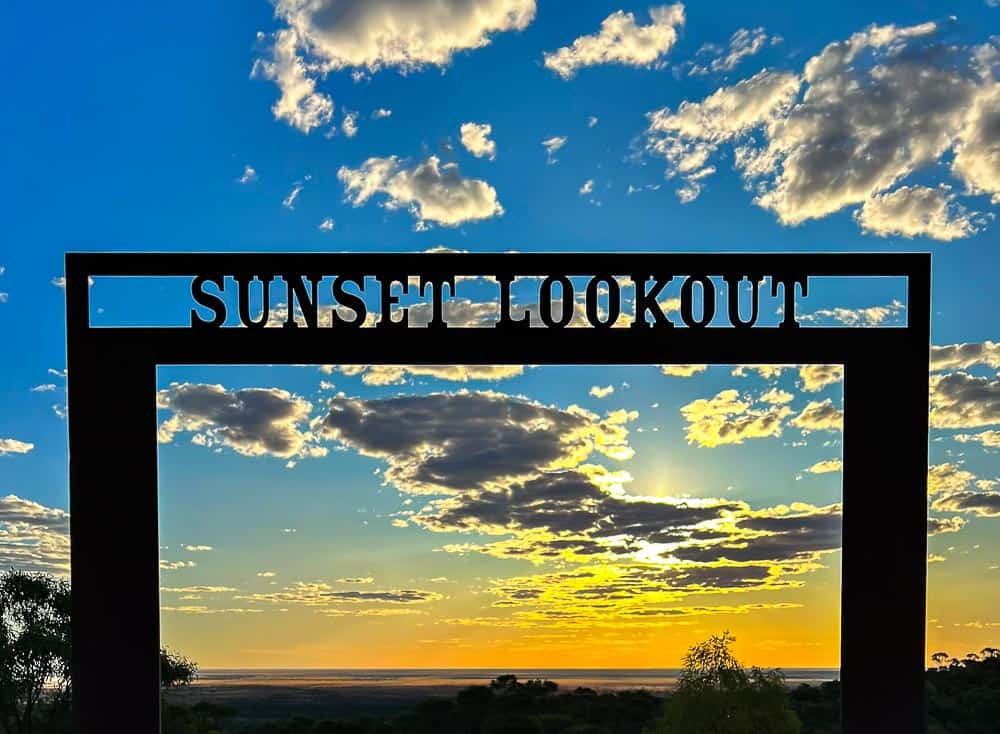 Mount Walker is a sandstone tabletop formation around 10kms south of Hughenden. This is the perfect spot for 360 degree views of Hughenden and the most stunning sunsets. And there is no climbing involved – you can drive right to the top and park the car just metres from the various lookouts.
There are six lookouts, all providing different vantage points:
Reay Lookout: views of sparse Mitchell downs with Reay Station homestead

Jardine Lookout: overlooking Jardine Valley, between Hughenden and Prairie

Etna Lookout: sights of the open plains southwest of Hughenden where Hughenden-Winton road runs

Ironbark Lookout: similar view to Etna, along with Ironbark trees directly in front of the lookout mound

Hughenden Lookout: best for nighttime viewing as the lights of Hughenden come to life with a twinkling sprawl across the horizon

Sunset Lookout: spectacular sunsets! In Winter, the skies are painted a purple/pink haze and a blazing red/orange in summer.
Whatever you do, don't forget your camera… or if you do… remember there's that nifty camera on your phone… trust us, you won't want to miss this photo op!
Mount Walker is super popular for sunset and I think it's the perfect spot for a family BBQ. Here you'll find picnic tables, BBQs and toilets. Maybe even a BBQ breakfast if you can get the kids up early for sunrise.
Location: access is 10km south of Hughenden (head towards Townsville, turn onto Muttaburra Road, travel 8km to signs which will direct you to the right taking you up the side of the Mountain)
Opening Hours: Anytime
Price: FREE
Flinders River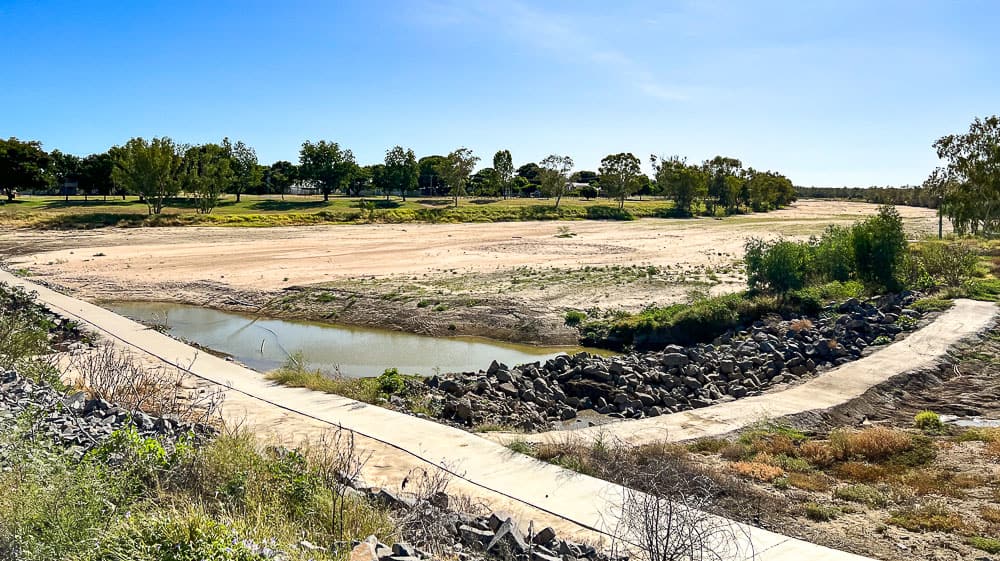 At 1004km long, the Flinders River is the longest in Queensland and the sixth largest in Australia! The river runs alongside Hughenden and up into the Gulf of Carpentaria.
Named in honour of explorer Matthew Flinders, the Flinders River is ripe for exploration. If you're visiting in the Dry Season (approx Jun – Oct), there will be no water in the river and you can wander the sandy riverbed. However, if travelling during the Wet Season (approx Oct – May), you'll be able to swim and splash to your heart's content.
If you're up for a bit of a walk, you can take the "Eco Walk on Flinders", situated on the northern banks of the river. Over the course of 1.5 km of walking tracks, you'll wander through various natural ecosystems which have been replicated to showcase the local bioregions of the Flinders Shire.
Location: A couple of blocks from the Flinders Discovery Centre
Opening Hours: 24/7
Price: FREE
Fossicking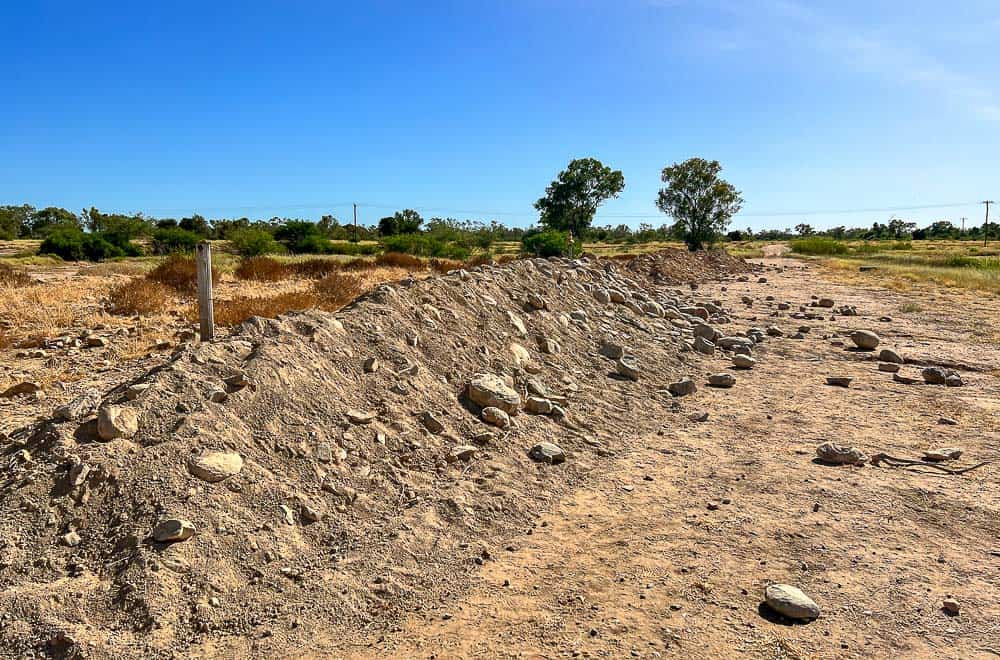 Just south of the Flinders River, tucked in behind the Hughenden Showgrounds, is an area where you can take the kids fossicking for free – no licence required. With so many dinosaur fossils found in the region, this is the perfect place to see if the kids can discover their own dinosaur bones. Unfortunately, there is no equipment available, so bring your own. Or stop by and pick up a few rocks to take home and continue discovering long after the holiday is over.
Location: Just behind the Hughenden Showgrounds
Opening Hours: 24/7
Price: FREE
Hughenden Recreational Lake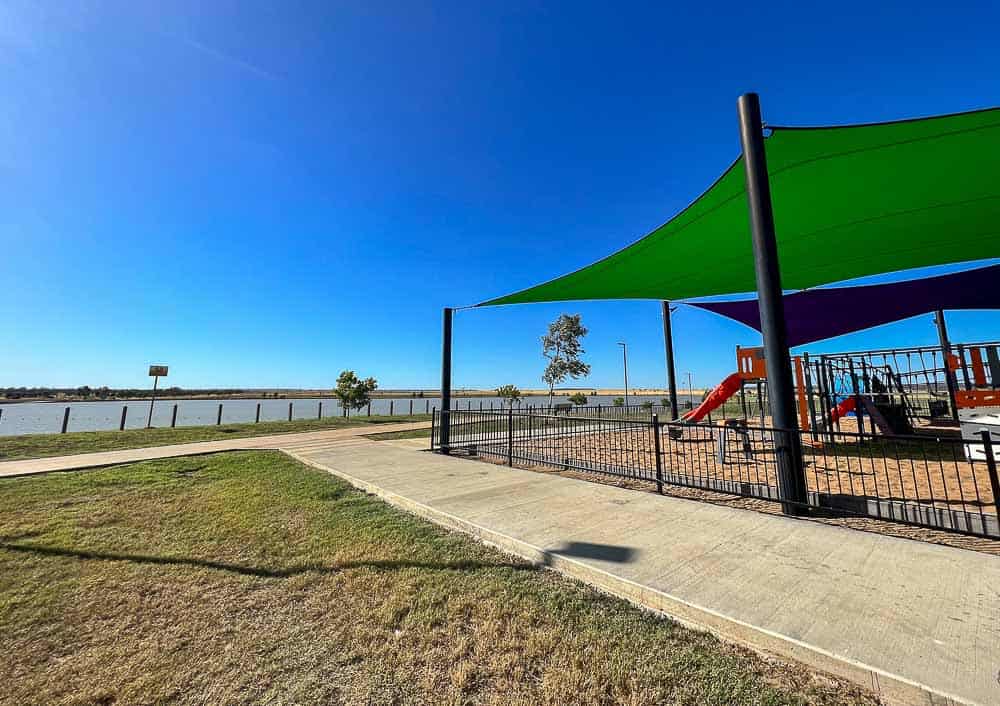 After a hot day of sightseeing, head on down to the Hughenden Recreational Lake. As well as swimming (in designated swimming spots only), this lake is also popular for water sports, including boating, skiing, kayaking and fishing.
Around the lake is a 2.7km walking trail, BBQ facilities, and an excellent kids playground that is fully shaded.
Location: End of Moran Street
Opening Hours: 24/7
Price: FREE
Hughenden Cemetery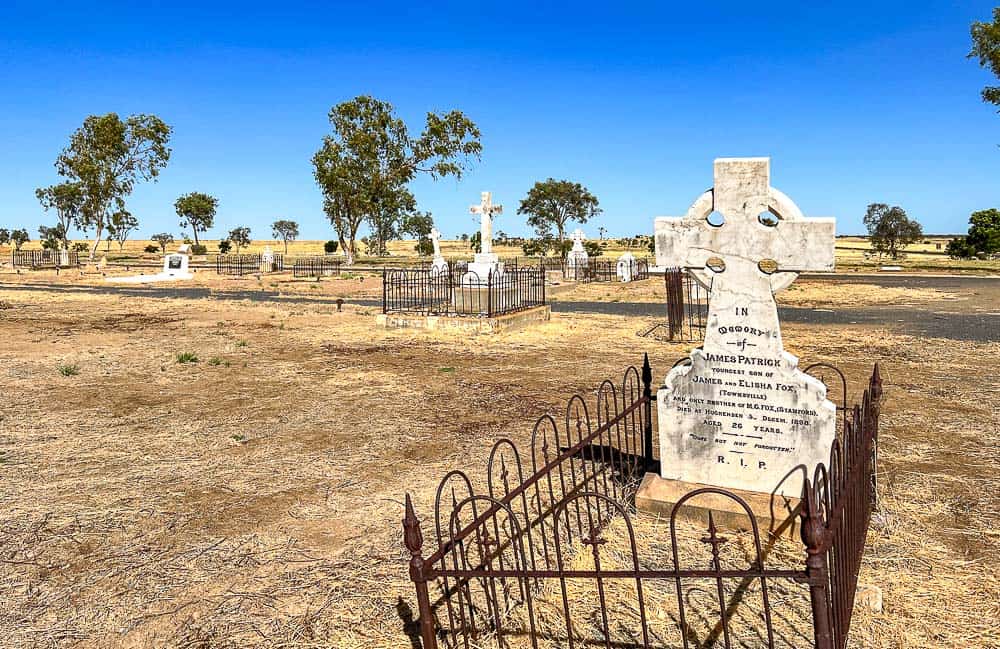 While visiting a cemetery may not be everyone's cup of tea – we always love visiting the old cemeteries as we find it can tell you so much about the people that once lived here. It's a great way for the kids to use their imagination to consider what these people's lives were like all those hundreds of years ago.
The Hughenden Cemetery has some amazing headstones, with some dating back to 1886. You can take a self guided tour of the cemetery – just grab a map at the Flinders Discovery Centre.
Location: A few km west out of town along the Flinders Highway
Opening Hours: 24/7
Price: FREE
Hebrew Grave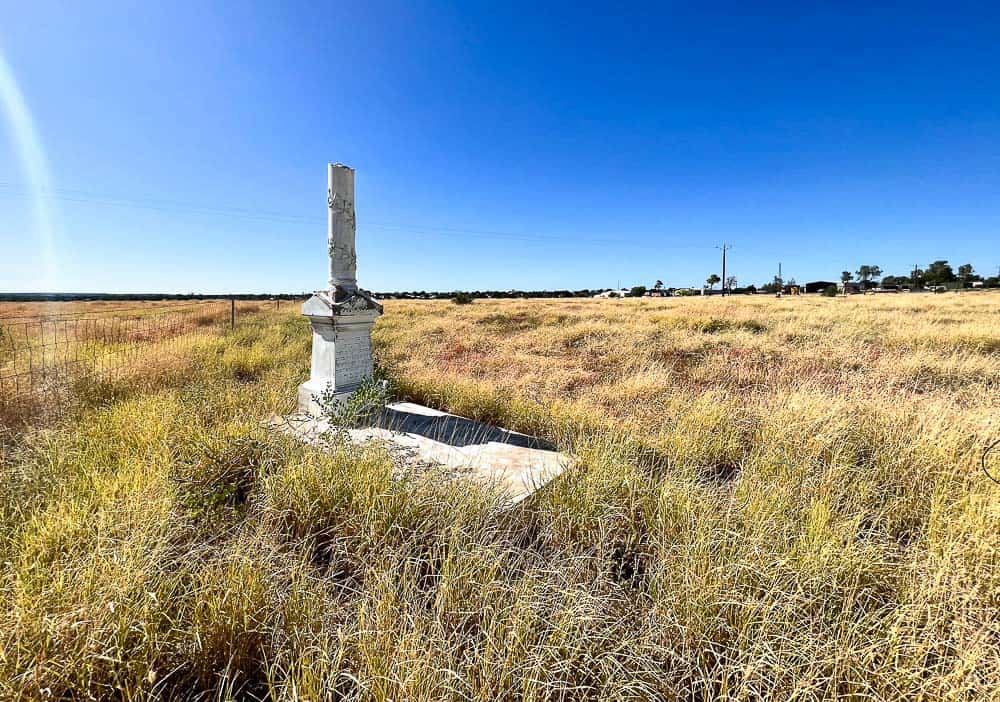 If you find old cemeteries interesting, then you'll want to stop by the Hebrew Grave. This single grave belongs to Jeanette Tolan, an only child with a Hebrew background. She died in 1883 during childbirth when she was just 24 years old. She was buried in what was at the time the Hughenden Cemetry. However, the cemetery was later moved, but Jeanette's grave was never moved and remains here today due to religious beliefs.
Location: Corney Street
Opening Hours: 24/7
Price: FREE
Porcupine Gorge, Hughenden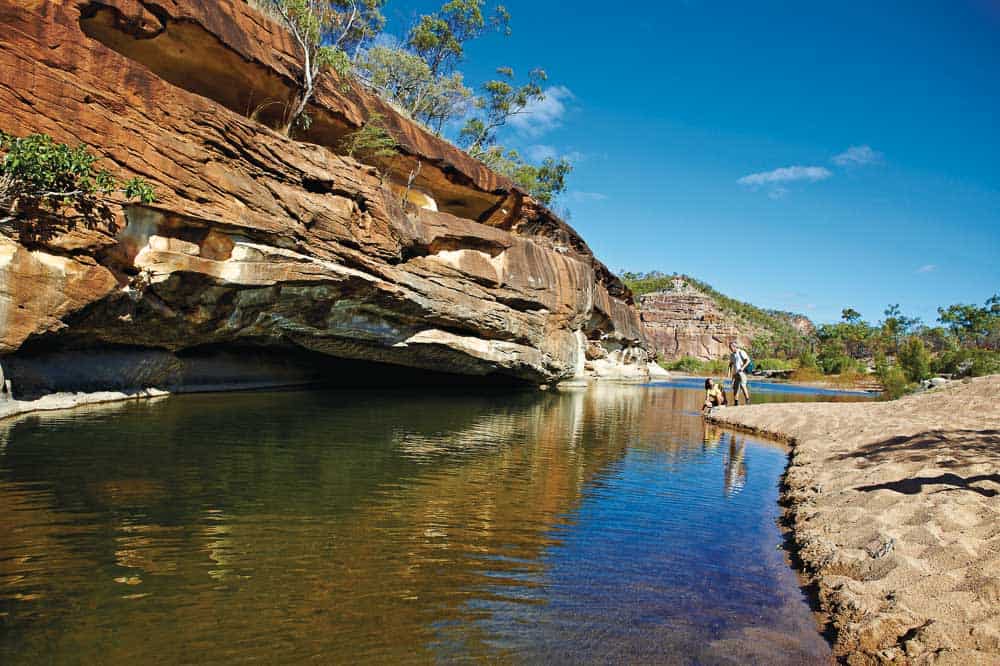 Image Credit – Tourism and Events Queensland
We've all heard of the Grand Canyon… but have you heard of "Australia's Little Grand Canyon"? Well, if not, we're here to boast all about it! Because it's spectacular and well worth a visit!
Porcupine Gorge Hughenden is an impressive 2.7km long canyon carved into the landscape by the eroding action of Porcupine Creek. The erosion reveals sedimentary rocks from hundreds of millions of years ago – with the erosion creating the 'Pyramid' – a multi-coloured sandstone monolith rising from the gorge's floor. The gorge is in stark contrast to the arid surroundings, with its flowing creeks, dense vegetation and towering cliffs.
There are a couple of lookout points where you can admire the gorge. The first lookout allows you to see deep into the gorge below, while the second lookout gives another great view and allows you to walk down into the gorge. Depending on recent rainfall, you can also swim in the gorge. However, keep in mind that you will need to take the return 2.4km track (approximately 1.5 hours). It's important to note that the track is steep and has unstable surfaces. Ensure you have proper footwear and plenty of water while doing the walk.
The second lookout is at the Porcupine Gorge campsite and there is a day area here with picnic tables and toilets – so it's a great place to stop for some lunch.
While you're in the area, keep your eyes and ears open for the local wildlife, including birds, echidnas, wallaroos and red kangaroos.
Location: 74km North of Hughenden, access via The Kennedy Development Road
Opening Hours: 24/7
Price: FREE
Accommodation Hughenden QLD
There are not many options in terms of accommodation Hughenden QLD offers. However, you will find budget pub rooms, spacious motel rooms and places to pitch a tent. So if you're looking for Hughenden QLD accommodation, check out our top picks below.
Click here for our full guide to accommodation in Hughenden. Alternatively, if you're looking for somewhere to camp, check out this guide here.
The Royal Hotel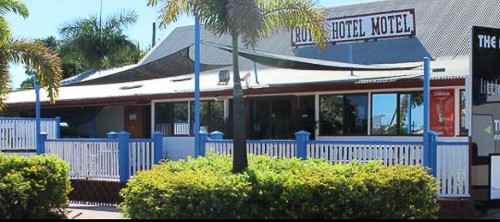 If you're looking for accommodation in Hughenden QLD, The Royal Hotel offers 45 comfortable units, including ones geared towards families. Located close to supermarkets and only 2 minutes to the centre of town, everything is at your fingertips… or should we say footsteps.
Semi self-contained rooms include a queen bed and single bed (or bunks), along with a kitchenette. If you don't need kitchen facilities, the family rooms containing a queen and two single beds will be fine. Alternatively, for larger families, there is a three bedroom cottage with the ability to sleep 8, including a kitchenette.
Great onsite facilities add to the convenience of the Royal Hotel, including a restaurant and bar, swimming pool, BBQ area and self-serve laundry.
We stayed here while in Hughenden, and while certainly nothing fancy, it's a good place to stay – the swimming pool was much appreciated at the end of each day.
Click here for more information.
Hughenden Allen Terry Caravan Park

Hughenden Caravan Park is on a spacious 5 acres next door to the town pool and skate park nearby… pretty enticing for kids.
With standard cabins containing a double bed and set of bunks, kitchenettes, air conditioning and verandas – they are ideal for families. Alternatively, there is the option to upgrade to a deluxe two bedroom cabin for extra space and privacy.
Additional facilities at the park include a laundry, BBQ's and a vehicle wash-down bay – to rinse off all that outback dust.
Click here for more information.
The Great Western Hotel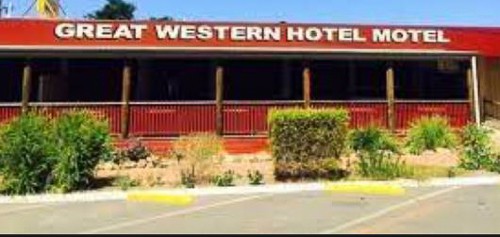 To experience true Australian hospitality in the outback, The Great Western Hotel is the place to stay! Centrally located, with great family friendly rooms and reasonably priced.
The hotel is boutique with one family room available with a queen and two single beds. However, five rooms accommodate up to three people with a queen and single bed. All rooms come with tea and coffee making facilities.
A restaurant onsite is open for lunch and dinner and there is a fully licensed bar and bottleshop.
Click here for more information.
Hughenden – Our Verdict
For those families doing the dinosaur trail, a stop in Hughenden is a must. While there isn't a great deal to do in town, it's an easy place to stop and relax for a few days or just stay a night and visit the main sights. If you're short on time, you could easily see all the main sites in the one day.
To see how we spent our few days in Hughenden – click here. This will take you to our detailed itinerary, which shows you day by day how we spent just over two weeks exploring the dinosaur trail in outback Queensland.
___________________________________________________________________
Hopefully you found this guide to Hughenden helpful. If you've come for the dinosaurs, then be sure to check out our guide to Winton here and our guide to Richmond here.