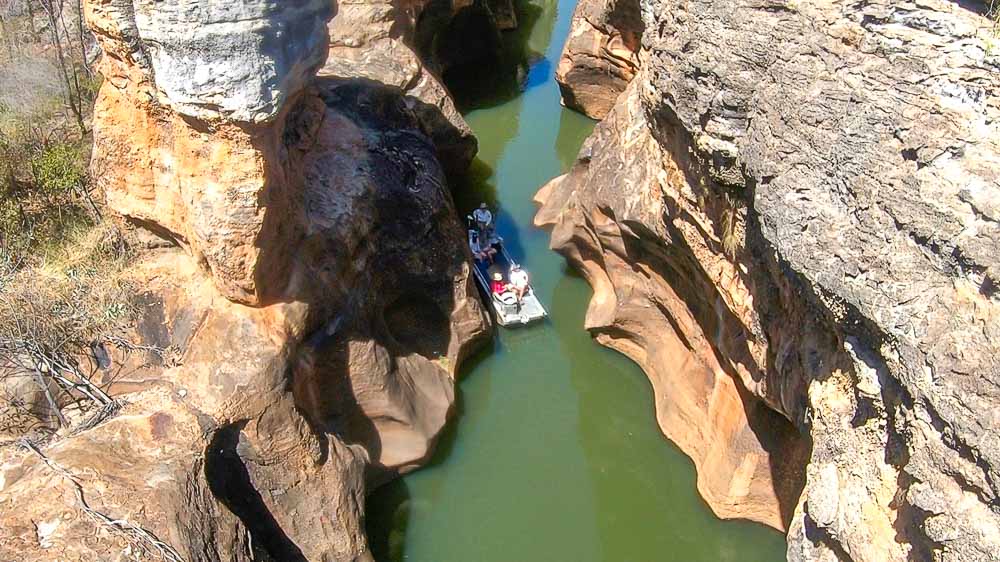 A stay at the Cobbold Gorge Village has long been on my bucket list and I'm pleased to say I've recently ticked it off! Located in North Queensland's outback – this natural wonder is just stunning! Of course, the star out here is the Cobbold Gorge itself – a rugged sandstone formation home to amazing wildlife and spectacular scenery and an array of activities, including bushwalking, birdwatching, and kayaking.
The only way to visit Cobbold Gorge QLD is via the village, which is privately owned and run. So to help you plan your own trip to this stunning location, I've put together this guide which contains all the Cobbold Gorge information you'll need.
As well as covering all the necessary Cobbold Village information, I'll also cover how to get to Cobbold Gorge, information on the Cobbold Gorge accommodation (as well as a few alternative options) and of course, all the details on the Cobbold Gorge tours available.
So let's get started and plan your epic Cobbold Gorge Queensland trip!
Planning a trip to Queensland? Have any questions? Join our Queensland Travel Planning Facebook group here now! It's the perfect place to ask any questions and to be inspired! Or follow us on Instagram and be inspired to travel Australia and the world!
This post may contain compensated links. Please refer to my disclaimer here for more information.
How to get to Cobbold Gorge Village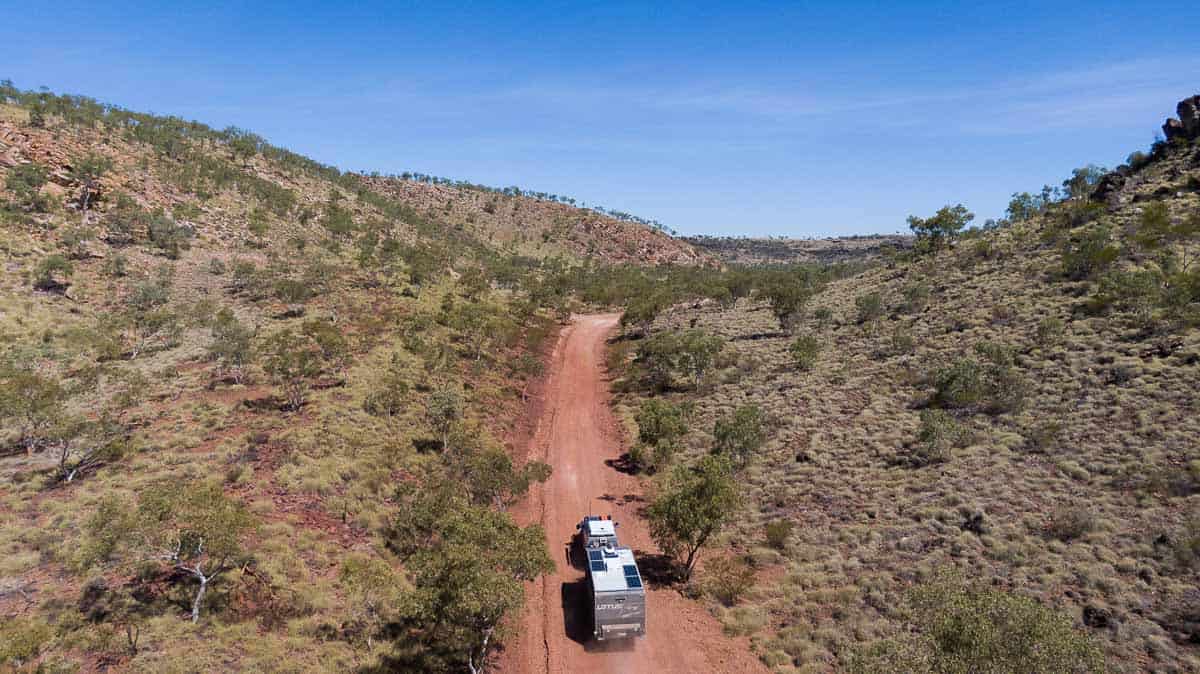 Image Credit – Tourism and Events Queensland
The Cobbold Gorge is an outback wonder, and it makes you work hard to see just how amazing it is… whilst it's not the easiest place to get to, it is definitely worth it!
If driving, it will be around 6 hours from Cairns to Cobbold Gorge heading South-West, or 6 hours from Townsville heading North-West. From either location, most highways and roads are sealed; however there are some large sections of fairly rough unsealed roads. It wasn't too bad when we went through, and any vehicle (and caravan) could easily do it – however, it does depend on how much traffic has recently been through and the time of year. So it may well be worth touching base with Etheridge Shire Council for up to date conditions before heading out if you're concerned. And note, Cobbold Gorge is closed during the wet season between November and March, due to access.
If you are concerned about driving this unsealed road, you can stay in Forsayth and book a tour bus – there is more on this option in the tour section below.
Cobbold Gorge Accommodation
There is a range of accommodation options at the Cobbold Gorge Village and in Forsayth to suit every family on any budget. Below we briefly cover the different family friendly options.
Cobbold Gorge Cabins
and Rooms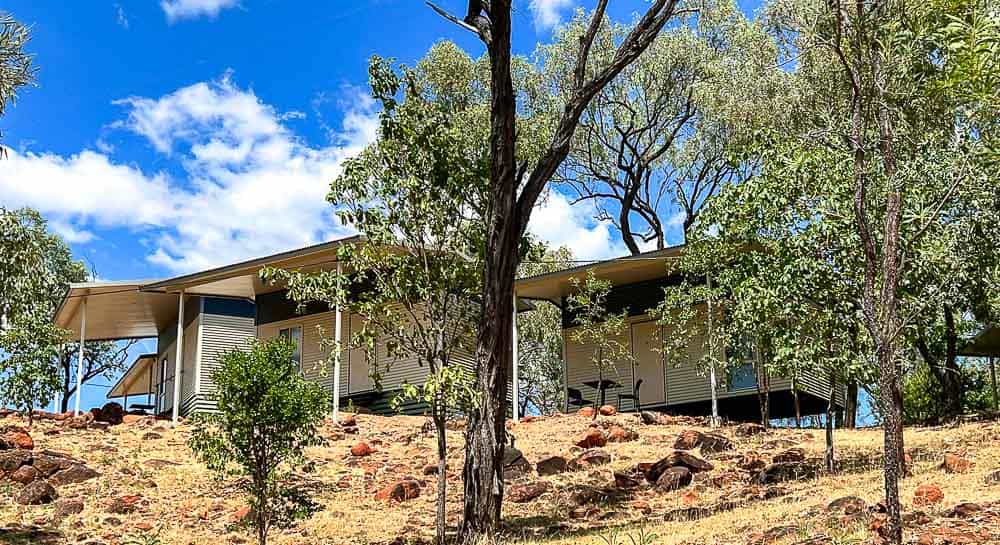 There is a range of accommodation options at Cobbold Gorge; cabins, suites and rooms. Although for families the best option would be the 'Station Suites' which are semi self-contained and can accommodate two adults and up to 3 children in adjoining rooms. The Station Suites also include a small bar fridge, microwave, toaster and sink. There are shady timber verandahs to enjoy meals al fresco and air-con for those extra hot days.
If you are after economical accommodation and travelling with only three guests, the 'Rouseabout' motel-style rooms might be what you're after. These rooms include a small bar fridge and tea/coffee making facilities and a super close to BBQ facilities for cooking meals.
Cobbold Gorge Camping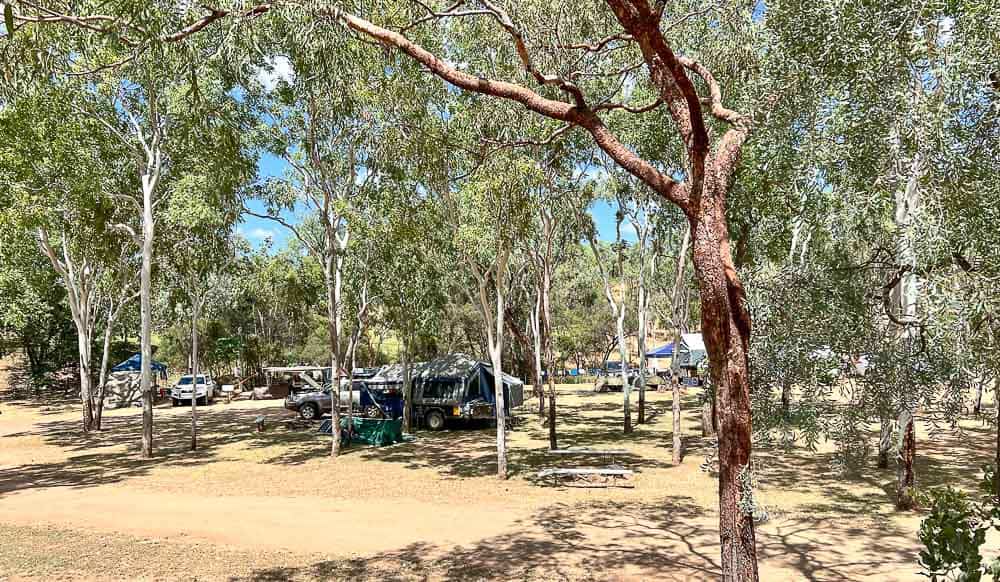 For families on the road with their van, tent or swags, you'll be pleased to know there are also Cobbold Gorge camping options. There are three options to choose from as follows:
Powered Sites: available in 3 styles – powered, terraced drive-thru and ensuite. Located close to the camp facilities; kitchen, bathrooms, laundry and BBQs.

Powered Sites with Ensuite: spacious sites located further from camp facilities.

Unpowered Sites (pictured above): loads of trees to provide plenty of shade, communal fire pits and a short walk to all the village amenities and facilities. Located further away from the campground amenities block are the 'self contained camp sites'. These sites are best for families who have their own power and water.
Alternative Accommodation Options
If your preference is to stay at Forsayth, particularly if you don't feel comfortable driving on the unsealed road to Cobbold Gorge, there are a couple of accommodation options to choose from.
The Goldfields Hotel
Named the 'Best Outback Pub' in the Outback Queensland Tourism Awards, The Goldfields Hotel is a historic landmark building. With hearty country meals available, along with fuel and supplies – it is the hub of the outback. Accommodation is in twin or double rooms, so families will need to book a couple of rooms, pending how many children you have.
Finnigan's Rest
Adjacent to the Goldfields Hotel is Finnigan's Rest. Again, rooms are set up as twin or double, so a couple of rooms may need to be booked. Rooms are comfortable and come with tea/coffee making facilities and a bar fridge.
Cobbold Gorge Tours
If you're coming all the way to Cobbold Gorge, then a gorge tour is an absolute must! This natural wonder is on private property, so access is via a guided tour only. Tours are led by a professional Savannah Guide, where you will learn about the history and evolution of the gorge and the surrounding landscape. There are a few different ways to tour the Gorge, as outlined below.
Gorge Tour from Cobbold Village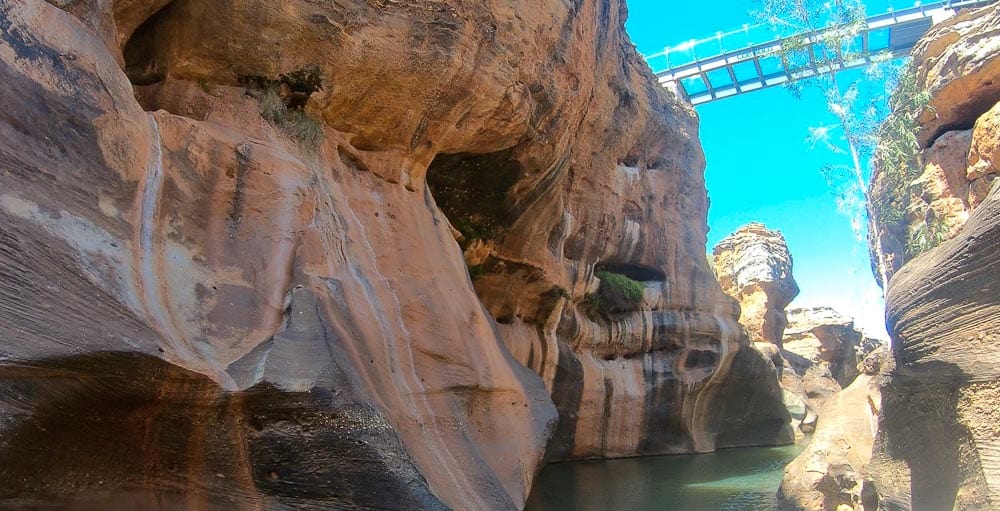 Adventurous kids will love the Glass Bridge! This is Australia's first fully glass bridge, spanning a 13-metre gap and 19-metre drop… make sure to leave your fear of heights at home. While the glass bridge sure is a highlight, this 3-hour tour also encompasses a circular escarpment walk (approx 1.5 hours) led by your Savannah Guide and a boat cruise (approx 45mins) where you glide on custom-made, electric powered boats. The kids will just love cruising down the narrow gorge, which is just 2 metres wide in some places, plus tell them to keep an eye out for the freshwater crocodiles!
Departing Times: Apr – Sept Daily 10am and 1.30pm | October 8am | Closed Nov – Mar
Price: $104 Adults | $52 Kids | $265 Family Pass (2A+4C)
This tour is for guests staying at Cobbold Gorge only
Gorge Tour from Forsayth
If you are staying in Forsayth yet want to experience all that Cobbold Gorge offers, you can simply book a tour, either self-drive or including transfers from Forsayth. However, the 3-hour tour will be the same as above with updated pricing and transfer times.
Self-Drive Travellers
Departing Times: Apr – Sept Daily 10am and 1.30pm | October 8am | Closed Nov – Mar
Price: $116 Adults | $58 Kids | $296 Family Pass (2A+4C)
Travellers with transfers provided ex Forsayth
Departing Times: April – October: Departs from Goldfields Hotel Tuesdays 9.40 am and Thursday 9.20 am – includes the 1.30 pm Cobbold Gorge Tour – returns to Forsayth 5.30 pm.
Price: $177 Adults | $91 Kids | $464 Family Pass (2A+4C)
This tour is for guests NOT staying at Cobbold Gorge only
SUP Tour
Image Credit – Tourism and Events Queensland
For a truly serene stand up paddleboarding experience, give it a go at Cobbold Gorge. With no waves or wind, beginners and kids will take to the SUP friendly conditions. Tours include transfers to and from Cobbold Village to the gorge, all equipment, tuition and a 1-hour tour of the gorge.
Location: Cobbold Gorge
Opening Hours: 8 am and 4.30 pm
Price: $58 Adults | $29 Kids
Scenic Helicopter Flights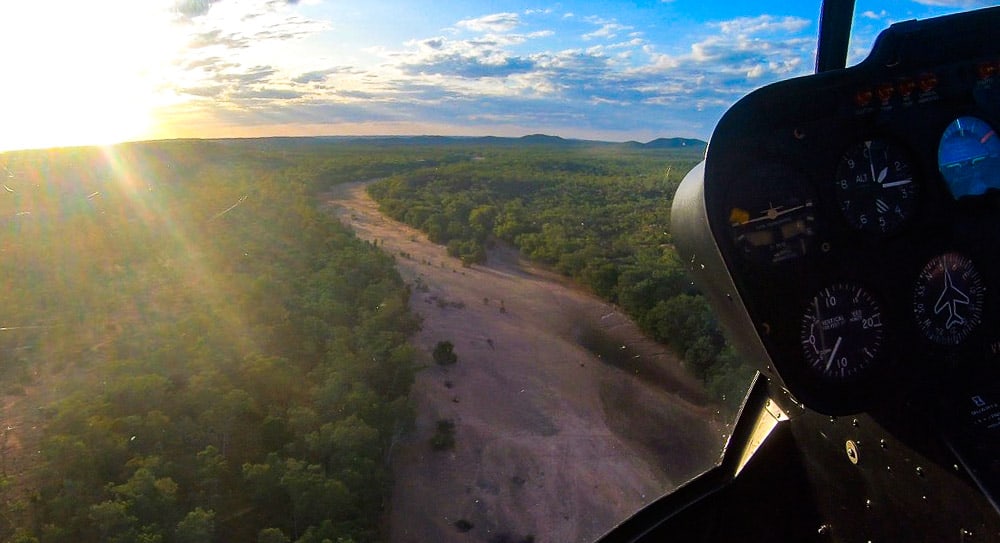 If you want a real bird's eye view of Cobbold Gorge, why not do so in a helicopter! You will be able to experience the true scale of the gorge in all its glory in this thrilling experience.
There is a range of helicopter flights to choose from. From set 15 to 30 minutes flights to sunset or heli-fishing. However, the sky really is the limit when deciding on a flight – you can choose where you want to go and what you want to do, from gem fossicking at Agate Creek to an extended charter exploring hidden gorges – and the team at Cobbold Gorge will price it up and make it happen. If you can get someone to mind the kids, we highly recommend the sunset picnic tour – where else in the world do you get the chance to fly to a secluded spot and watch the sunset over the sandstone cliffs while enjoying wine and cheese!
Location: Cobbold Gorge
Opening Hours: Daily
Price: 15 minute flights start from $330 for 1 person | $175pp for 2 – 3 people in the chopper
Cobbold Gorge Village
Facilities and Activities
Even though Cobbold Gorge is far removed from the hustle and bustle of a modern town… this doesn't mean they don't cater to travellers with modern facilities. From a swim up bar to a licensed bistro – both with sweeping views over the billabong and grasslands – modern facilities in an outback setting, you can definitely feel the serenity.
Infinity Swimming Pool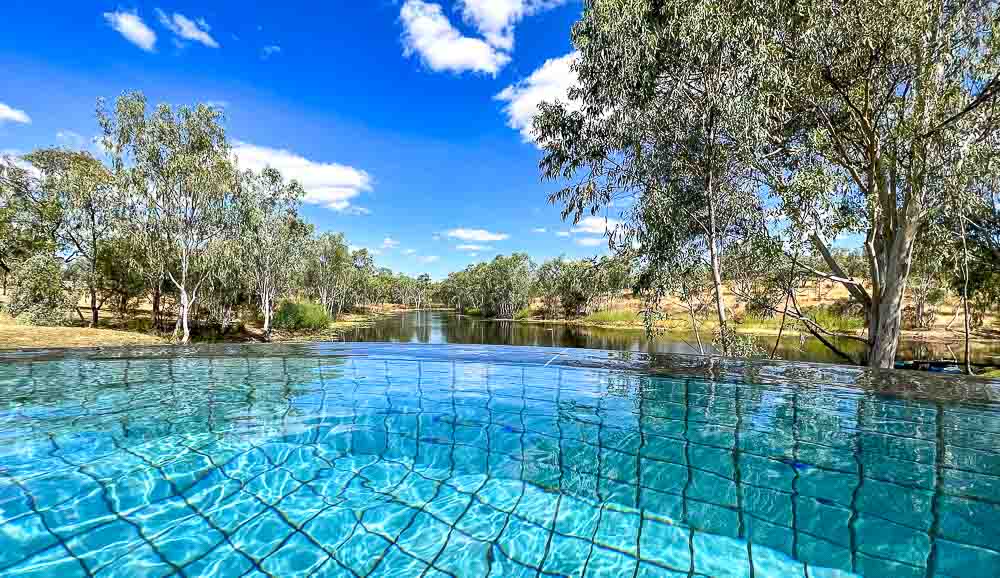 The award-winning infinity swimming pool takes pride of place at Cobbold Gorge. Enjoy the sweeping views over the freshwater billabong and golden savannah grasslands while you sip on your beverage of choice from the swim-up Boomerang Bar… probably instruct the kids to keep their water 'bombs' for when the pool is empty! There is also a shallow kids wading pool and spa too.
MacDonalds Deck Bar and Bistro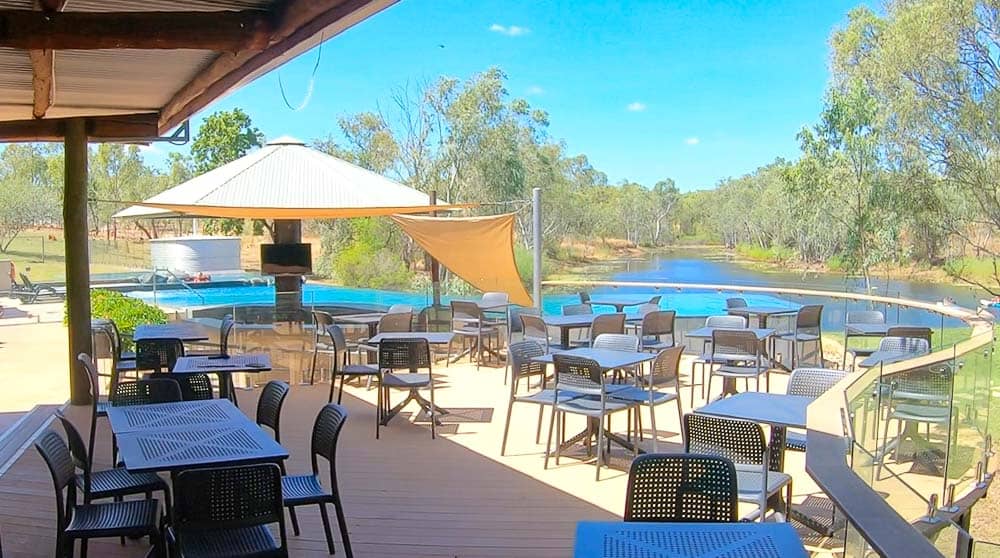 For all your meals and snacks, Macdonald's Deck Bar and Bistro is where it's at. Overlooking the Infinity Pool with stunning views of the Eucalyptus trees lining the freshwater billabong, you will enjoy hearty outback meals tailored to both adults and the kids – delivered in a relaxed and friendly setting.
Pricing is fairly standard pub prices and servings generous. However, if you've got a particularly big appetite, you may want to take advantage of the Cobbold Gorge 'Meal Deal'; you can lock this in and let them do the cooking. It includes a 3-course dinner (2-courses for kids), a continental cooked breakfast and a barista coffee. Cost is $78 per adult and $42 per child.
The bistro is open 7 am to 8.30 am for breakfast, 12 pm to 2 pm for lunch and 6 pm to 8.30 pm for dinner. Light snacks and drinks are available from 9 am.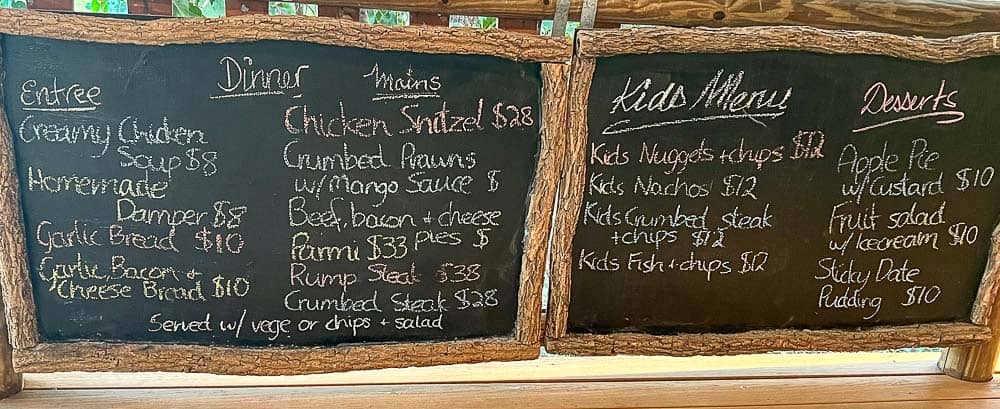 Activities on the Billabong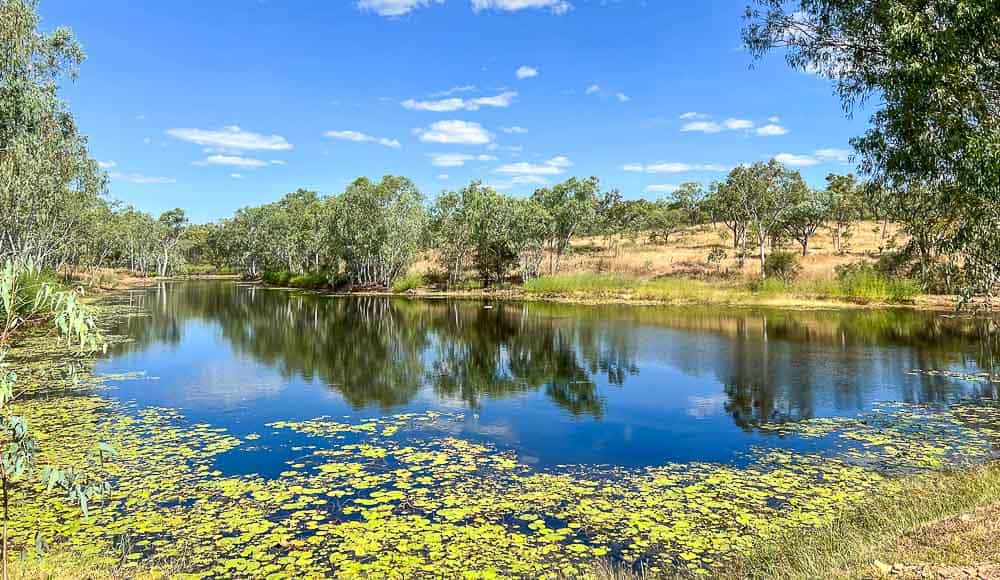 The freshwater Billabong is stunning to look at… it is also a wonderful water playground! Cobbold Gorge provides both aqua golf and kayaking on the billabong. Get your swing into gear as you try to hit the floating target; once you've hit all your balls, paddle out on a kayak to retrieve the floating balls… you will want to collect all of them to get your $5 deposit per ball returned. Kids' safety is taken care of with small life jackets available.
Bushwalking and Bike Tracks
There are four bushwalking tracks, three of which are suitable for mountain biking.
The two shortest and easiest tracks are graded level 1 and most suitable for families with young children. They are Dell's Lookout (2km return – bushwalking only, no biking) and Diggers Track (2.5km return – both bushwalking and biking). On these tracks, you will pass through some typical Savannah bushland and have the opportunity for some bird watching.
The Loop (5km return – both bushwalking and biking) is a Grade 1 difficulty and relatively easy to traverse; you just need to ensure if you have younger kids, their legs can hack the distance. There's loads of wildlife and birds to distract from 'tired legs'.
The other longer track is Russell's Lookout which is the most challenging; graded 3, its 4.5km return suitable for bushwalking and biking. The track does have a steep incline to reach the summit, but once there, you will have stunning views over Cobbold Village and the sandstone outcrops and escarpments that mark the territory.
Please note that Cobbold Gorge does not provide mountain bikes or helmets.
Corbett's Store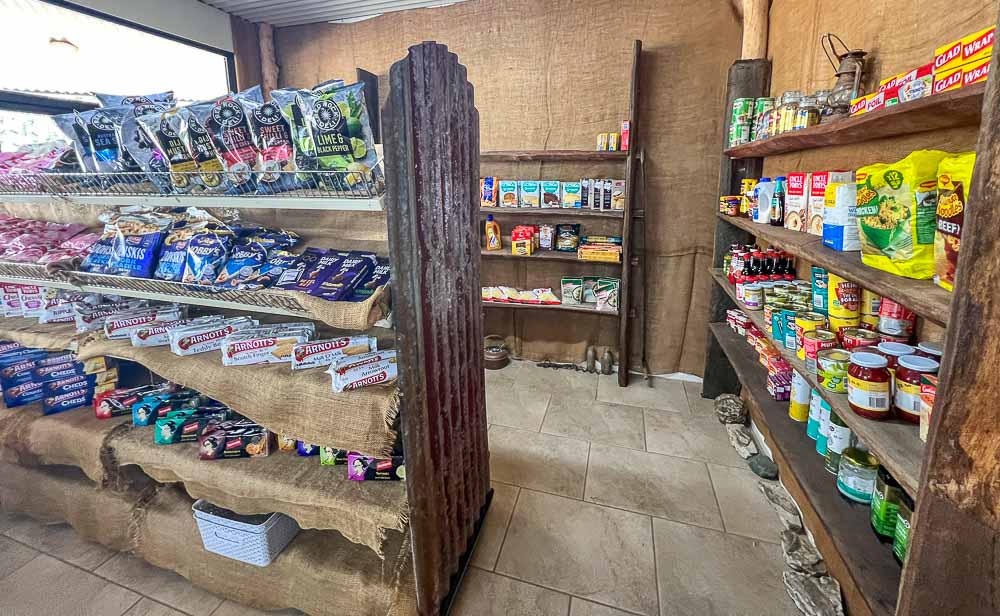 Corbett's Store is here to help you out with all the necessities. Located at reception, it stocks basic grocery items, some gifts and souvenirs. If you intend to do some laundry at the on-site washing machines, Corbett's Store stocks some laundry powder as well.
Camp Cooking Facilities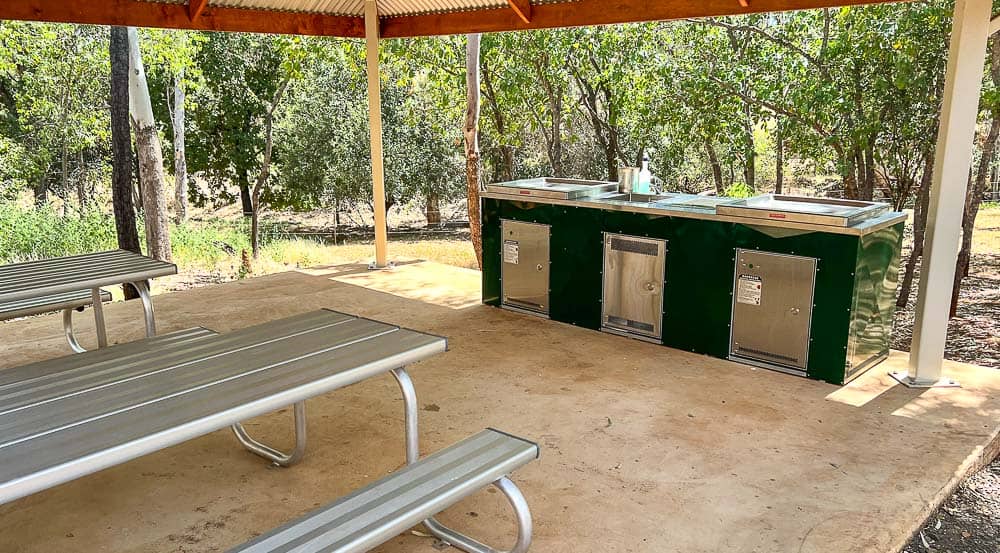 There are a couple of ways you can cook at Cobbold Gorge. There are two free gas BBQ areas to cook a snag; numerous campfire rings throughout the campground and a small camp kitchen in the amenities block for fancier meals. The camp kitchen is fairly small, so I wouldn't be relying on it to cook all your meals – but it does come with a microwave, toaster, kettle, oven and small fridge.
Guest Laundry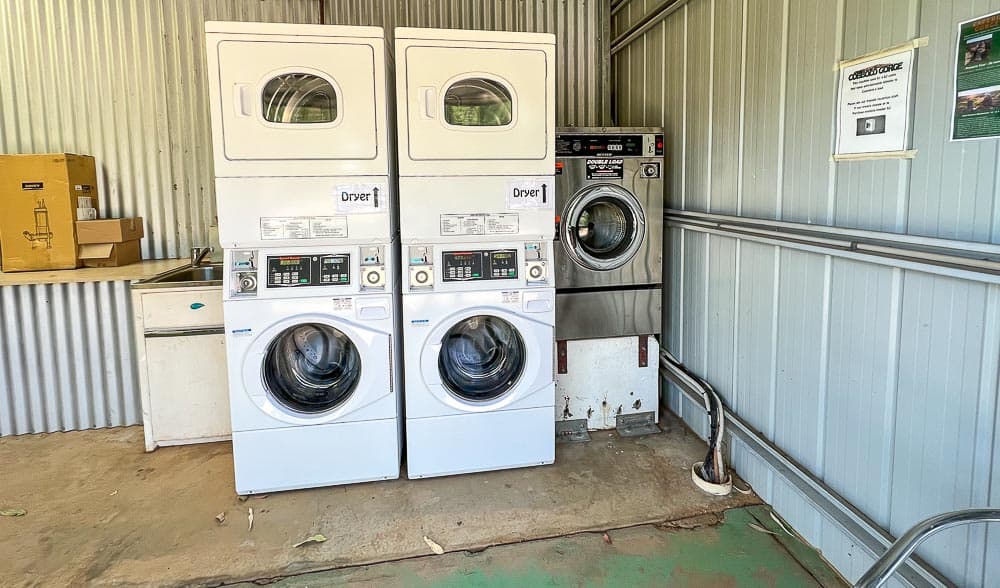 There are two laundries within the village, one behind the reception near the cabins and another in the bathroom block between the unpowered and powered campsites. The one pictured above is in the bathroom block. Washing powder is available to purchase from Corbett's Store at reception.
Cobbold Gorge to Undara Lava Tubes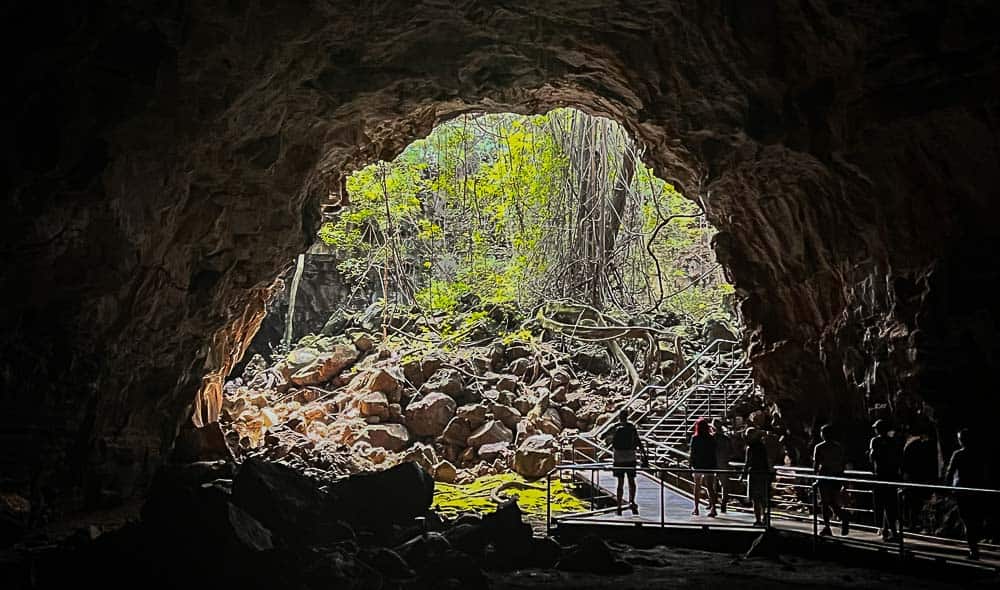 While visiting Cobbold Gorge, I highly recommend heading to the Undara Lava Tubes before or after your stay. It's only a 3 hour drive from Cobbold Gorge to Undara Lava Tubes and it's well worth the effort.
Click here for more information about staying at the Undra Experience.
Cobbold Gorge QLD
– Our Verdict
Cobbold Gorge is one of those places you need to see to believe; the photos look amazing; however when you're there in person and experience the eerie silence in the gorge, the whistle of the birds, the swaying of the savannah grasslands… it is all so mesmerising. We highly recommend visiting Cobbold Gorge for the whole family. As the internet is pretty non-existent it is the place you can disconnect to reconnect with the kids… and they won't even mind not having screen time, as the view is much better!
To see how we spent our few days in Cobbold Gorge– click here. This will take you to our detailed itinerary, which shows you day by day how we spent just over two weeks exploring the dinosaur trail in outback Queensland.
___________________________________________________________________
Hopefully you found this guide to Cobbold Gorge helpful. We also have other Tropical North Queensland guides here or Outback Queensland guides here. You can also read this guide to camping at Cobbold Gorge here.