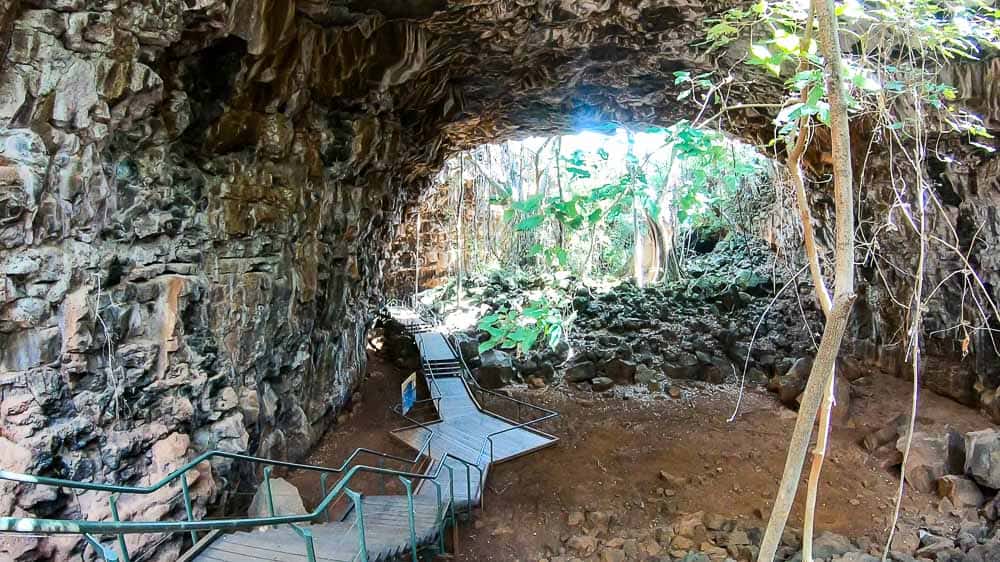 For families travelling around Tropical North Queensland, a few days exploring the Undara Lava Tubes is an absolute must!  Located in the Undara Volcanic National Park, this unique natural wonder will have you walking in the path of an ancient volcano, through lava caves, now hidden under the remnants of a dry rainforest.
The best way to experience the Undara caves is by staying at least two nights at the Undara Experience.  This amazing property has a range of accommodation options and is also where the various Undara lava tube tours commence. So to help you plan your own family trip to this exciting part of Queensland I've put together this guide which contains all the information you'll need.
As well as covering all the information about the Undara lava caves, this guide also covers how to get to Undara, information on the Undara accommodation options and of course all the details on the different Undara lava tubes tour options.
So let's get started and plan your family trip to Undara National Park!
You can also check out our video on YouTube here, which shows you all of the highlights from our recent stay.
Planning a trip to Queensland? Have any questions? Join our Queensland Travel Planning Facebook group here now! It's the perfect place to ask any questions and to be inspired!
This post may contain compensated links.  Please refer to my disclaimer here for more information.
How to get to the
Undara Volcanic National Park Queensland
Tropical North Queensland brings us another outback wonder – Undara Queensland, set in the Gulf Savannah country.
The good news – Undara is easily accessible by vehicles, whether that be car, 4WD or Motorhome. The great news is that all the roads are sealed. Whilst some stretches of road are narrow or single line and you will have to pull off the road if a Road Train is coming (these can be up to 50 metres long) – all in all, it is a relatively painless drive with kids.
Driving, it will take between 3.5 to 4 hours from Cairns to Undara Lava Tubes and from 4 to 5.5 hours from Townsville to Undara Lava Tubes.
Undara Accommodation
If you want to experience the Undara Lava Tubes, accommodation is available at the gateway to the National Park, ensuring you have maximum time to explore this fascinating natural wonder with a trained Savannah Guide.
With accommodation catering to various lifestyles and budgets, you will find something to suit your family. Then all you have to do is sit back and enjoy the friendly hospitality of both the staff and the native Australian animals – including kangaroos, wallabies and kookaburras right on your doorstep.
Cabins and Rooms
If you prefer to sleep indoors, with the comforts from home, then the following cabins and rooms accommodation near Undara Lava tubes, could be right for you and your family.
Pioneer Huts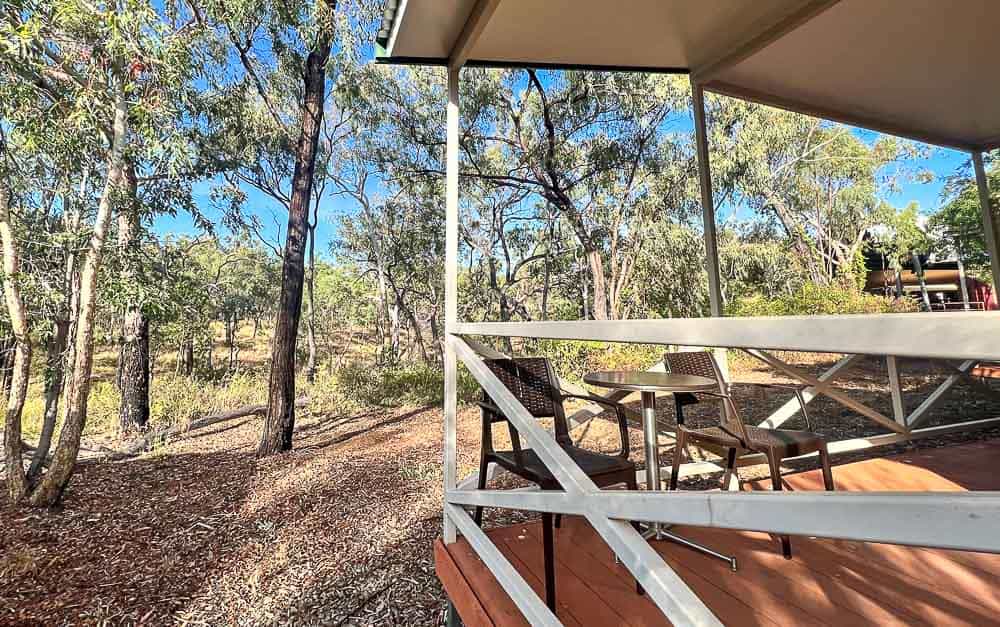 For premium accommodation, you can't go past the Pioneer Huts. Sleeping up to 3 people in King/Twin bedding and sofa bed, these are for the smaller families out there. 
Amenities include air-con, tea & coffee facilities and a small fridge. Whilst the private verandah is the perfect setting to relax and enjoy an alfresco meal whilst you spot the wildlife amongst the Savannah Woodlands.  
Railway Carriage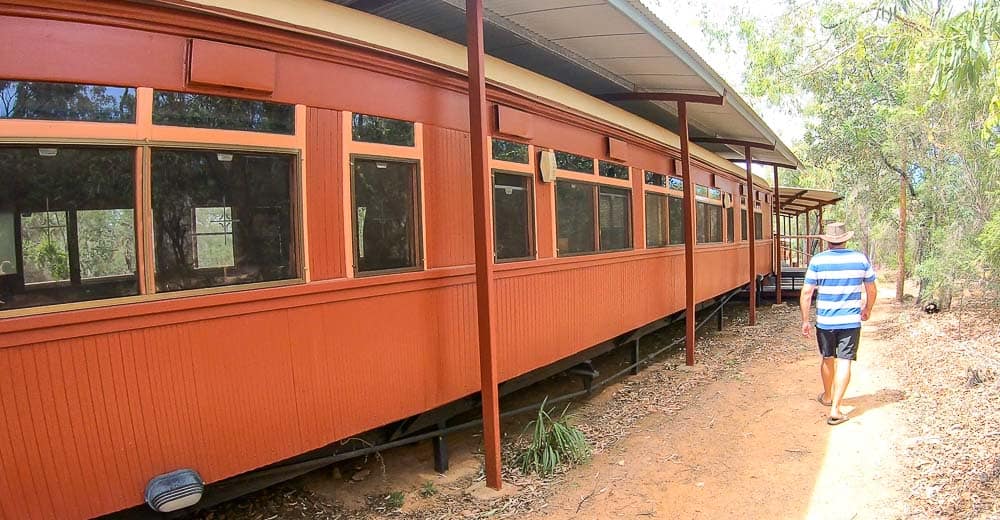 Want to sleep in award-winning accommodation? The Undara train accommodation has won both Australian and Queensland Tourism Awards for 'Unique Accommodation'!
These railway carriages aren't all squishy and graffiti-ridden like the carriages on your morning commute may be. No, these beautifully resorted carriages can accommodate up to 4 guests in Queen/Twin bedding and sofa bed. There is also tea & coffee making facilities and a small fridge for convenience. Shaded by tall trees and surrounded by native wildlife, this sure is a unique place to stay, that both kids and adults will enjoy!
Homesteads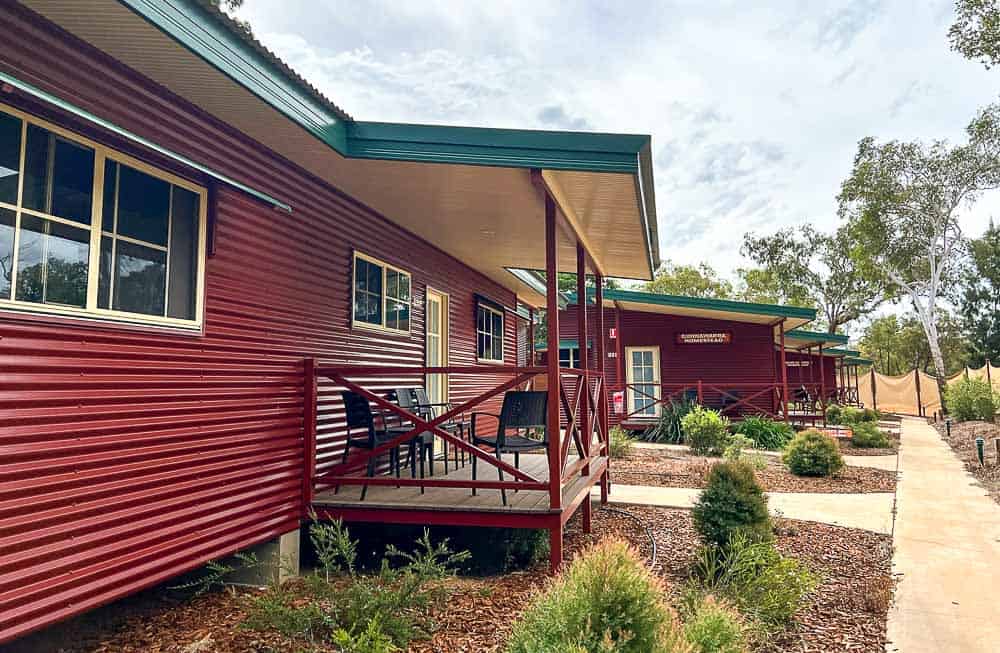 The Homesteads are the latest addition to the accommodation options at Undara. With King/Twin bedding and sofa bed, tea & coffee making facilities and a small fridge – this is really all the basic necessities any family needs.
The Homesteads got their name as they are dedicated to six of the original pioneering homesteads in the Undara region, the name is another way history is brought to life at the Undara National Park accommodation.
Undara Camping
If your family's accommodation preference is more of the outdoorsy style, Undara Lava Tubes camping has you covered. Whether you want to roll out a swag, pitch a tent, pop your camper top or something in between… where your tent is already set up #glamping – then have a read below for all your options.
Swags Tent Village (Glamping)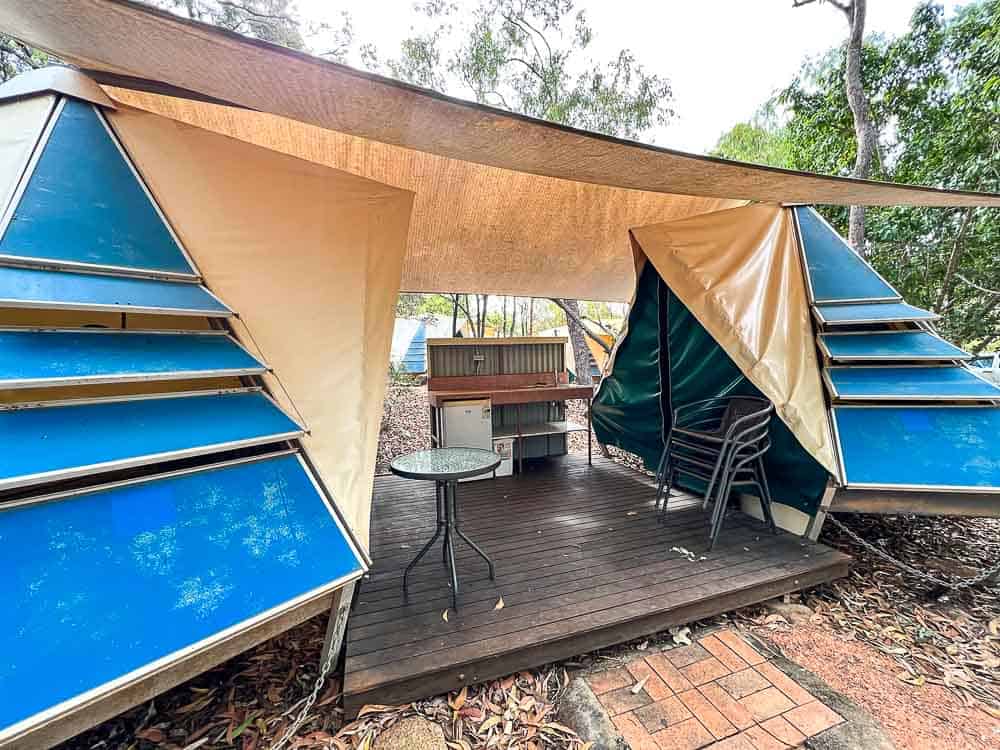 If you want a taste of Undara camping, but don't want to rough it… then the Swags Tent Village could be what you're after. These permanent tents are set up with the comforts of home, such as beds (4 singles in the Quad Tent | double and 2 singles in the Family Tent), all linen, electric light, window screens, fridge, sink and powerpoint. Close to the amenities block and camp kitchen, families can gather after a day of exploring the Undara Lava Tubes QLD and swap stories as the kids play with their new friends. Quad and Family Swags start from $131 per night.
Camping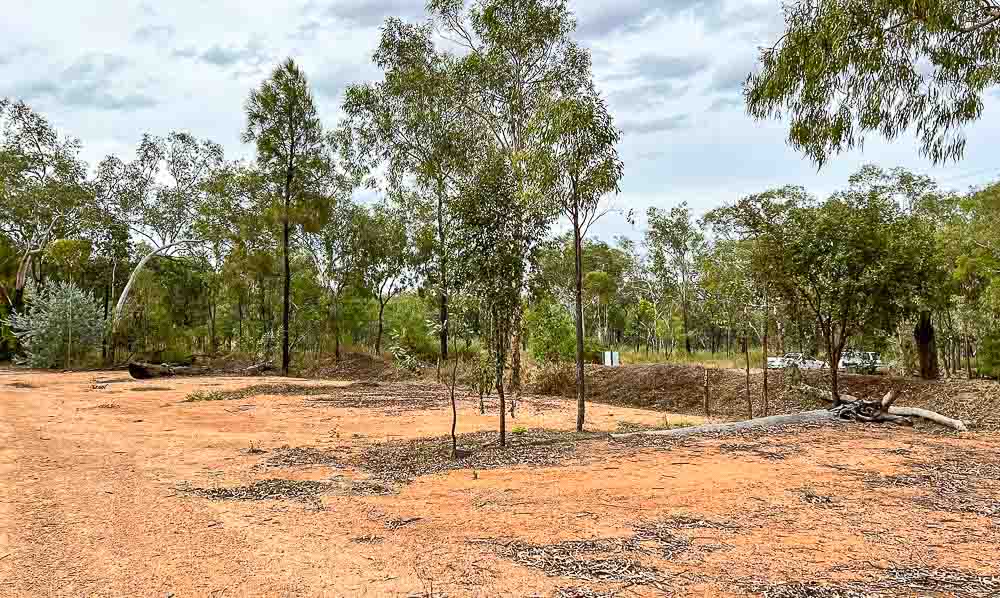 If your family is keen for camping near Undara Lava Tubes, the Undara campsite has 15 drive-up sites to fit tents, small vehicles and camper trailers. The Undara camping sites are located beneath shady trees, so you'll enjoy the cool breeze as you spot abundant wildlife. And conveniently located close to the amenities block, meaning middle of the night toilet trips are as painless as possible. Undara camping prices start from $17.50 per adult and $8.75 per child.
Undara Caravan Park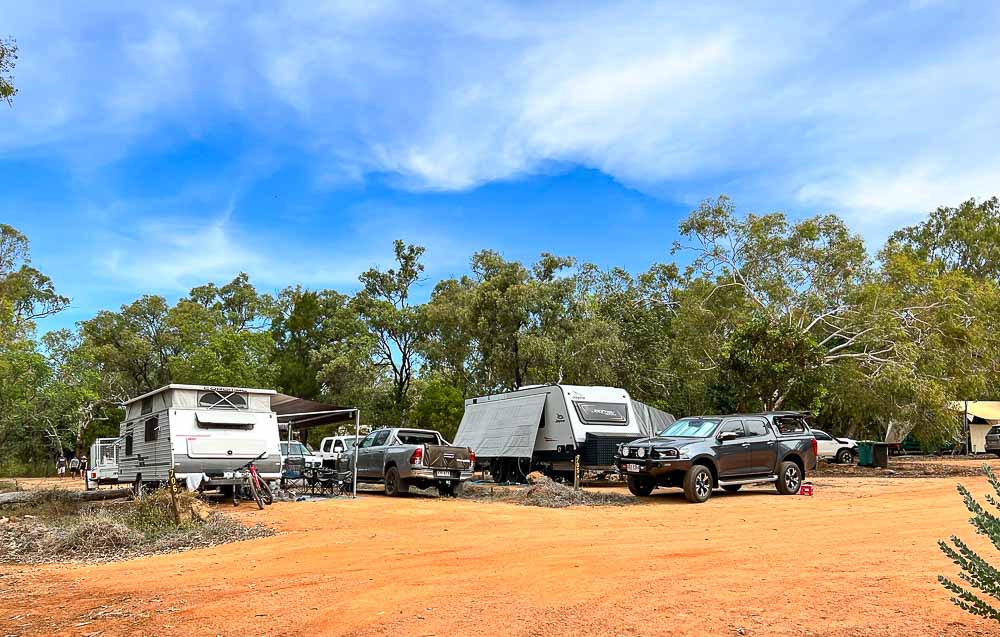 The Undara caravan park has 58 powered van sites and 25 unpowered van sites. Settle in amongst the other travellers where you can rejuvenate in the peace and quiet, surrounded by natural bush. For anything your motorhome is not equipped with, the amenities block is located close by at the Undara resort caravan park. Powered sites start from $19.95 per adult and $10.50 per child (unpowered sites pricing is the same as camping pricing).
Undara Lava Tubes Tours
The Undara Lava Tubes Queensland are believed to be the longest of their kind out of the 23 countries in the world who also have Lava Tubes. The tubes were created when the Undara Volcano erupted over 190,000 years ago. The flowing lava lasted a long time, which allowed the outer edge to cool, whilst the interior kept flowing – which is how the tubes were formed. There are a few Undara tours to discover the tubes, we've highlighted the top 3 below.
Archway Explorer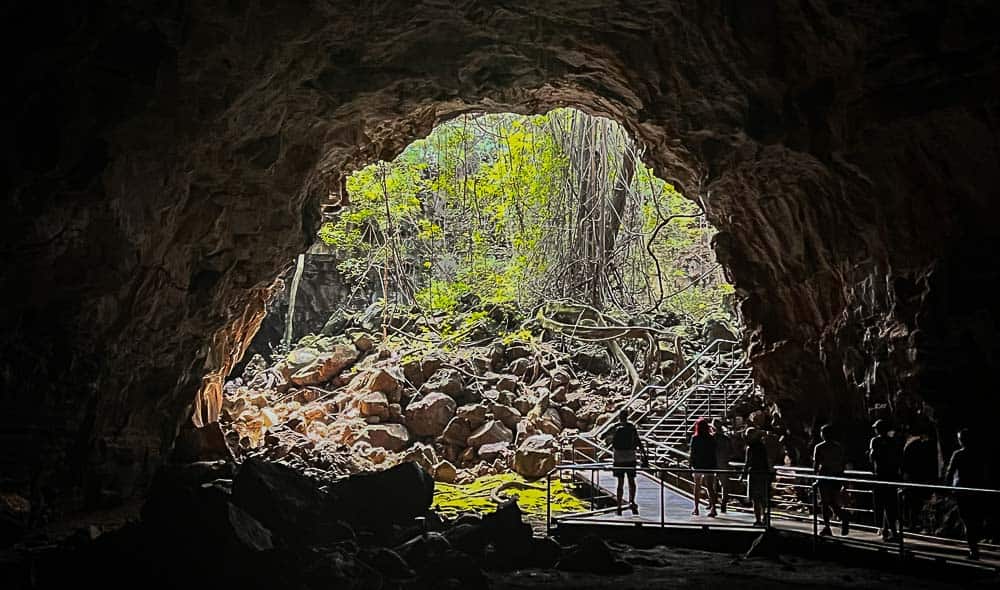 To give you a taste of the Lava Tubes Undara, the Archway Explorer is a great introduction. This 2-hour tour by your experienced Savannah guide takes in the Lava Tubes along with other interesting environmental, geological and historical features of the region. The walk is on boardwalks and stairs with handrails, and an easy fitness level is required – meaning most kids should be capable… let's be honest, they'll probably be running ahead of everyone. Remember to bring, hat, suncream, torch, water, and wear enclosed shoes. 
Location: Undara Lava Tubes
Opening Hours: Tours depart 10.30 am daily
Price: $63 Adults | $30 Kids 
Wind Tunnel Explorer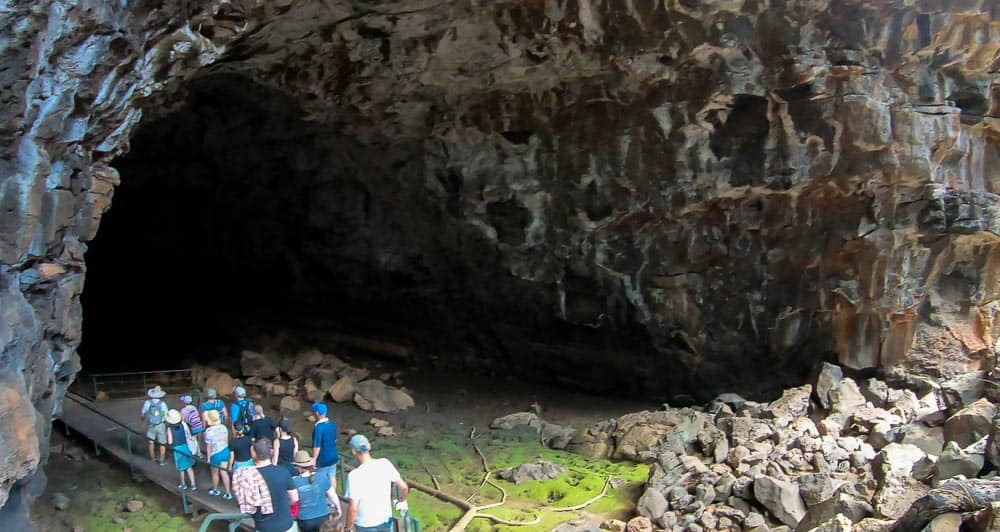 If you're after a bit of adventure, the Wind Tunnel Explorer tour is what you're after. You will be visiting up to 3 sections of the Lava Tube where you will be scrambling over rocks with no boardwalks and limited handrails – so you will need a moderate fitness level. And think about whether your kids will be able to manage, as a guide, the tour is not recommended for kids under 5 years. Allow 2-hours to complete.
Location: Undara Lava Tubes
Opening Hours: Tours depart 8am, 10.30am, 1pm daily (between April – September) 
Price: $63 Adults | $30 Kids 
Wildlife at Sunset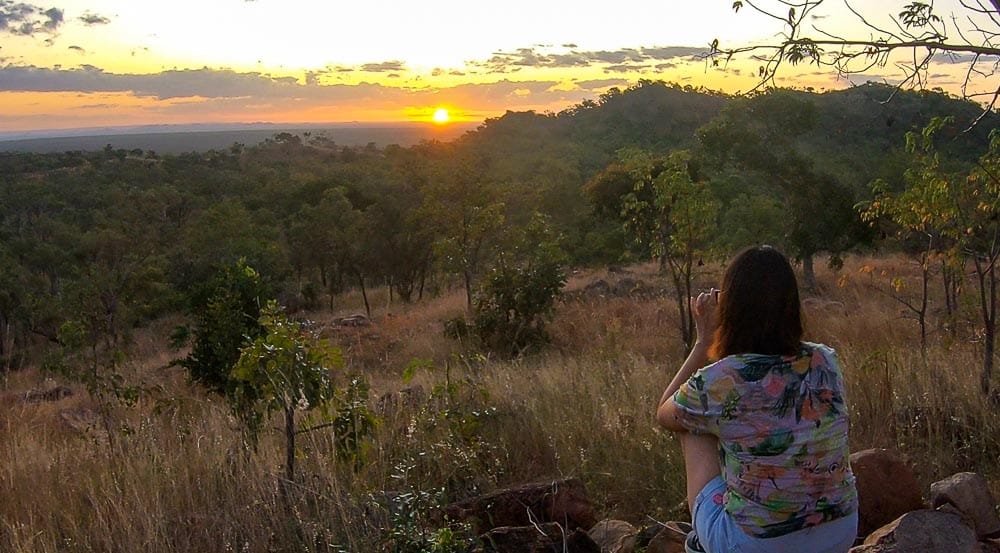 There are so many parts to this tour – from the wildlife, to the wine, to the bats… let's start from the, start. Enjoy a big sky sunset as you experience iconic Australian wildlife such as kangaroos, wallabies, cockatoos, lorikeets and other wild creatures in their natural environment. You will be sipping on sparkling wine (kids can have the juice) and indulging in cheese, as your Savannah Guide unlocks the secrets of this timeless land.
At dusk, you'll head over to the entrance of a Lava Tube where your eyes will bulge at the thousands of microbats as they emerge from the darkness to eat, attracting pythons and brown tree snakes that hang from the trees and strike out, trying to catch the bats… this is a nature experience the whole family will never forget! Moderate fitness level is required with boardwalks, steps and a short uneven climb.
Location: Undara Lava Tubes
Opening Hours: Tours depart between 5pm to 6pm 
Price: $63 Adults | $30 Kids 
Undara Experience
Facilities and Activities
Whilst the Lava Tubes are the main attractions, the Undara resort facilities and activities are certainly worth a mention. With a sparkling billabong pool, scrumptious dining options, communal campfires and walking/biking tracks to experience the Savannah country – check them out below.
Swimming Pool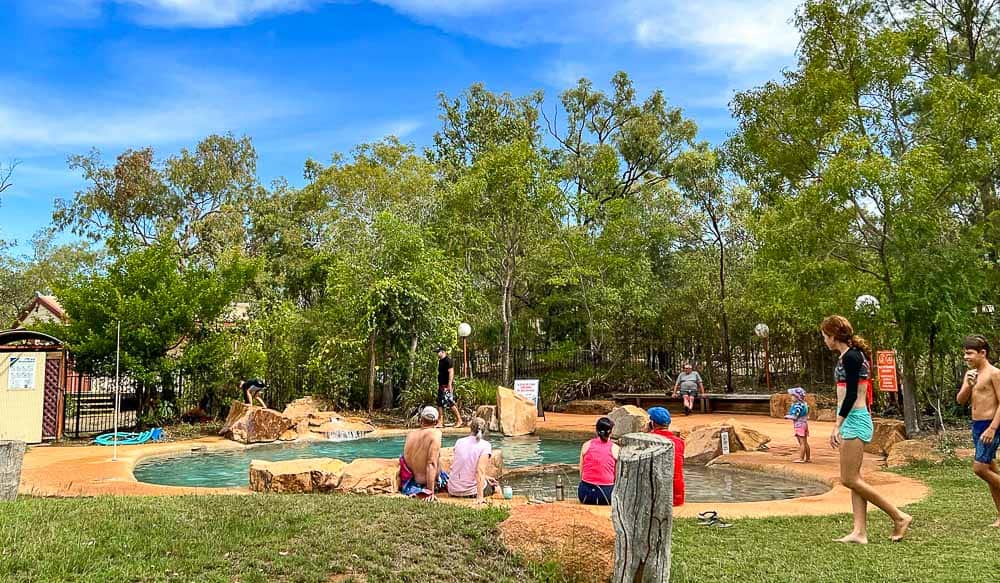 The pool is in harmony with the outback natural surrounds…being a billabong style with a waterfall cascading feature. This freshwater pool allows you to cool off, as you take a dip and then relax on the chairs and lounges. Kids will enjoy the shallow paddle area.
Bushwalking and Bike Tracks
Walking or biking the tracks at Undara will let you experience nature in its purest form, as well as stunning vistas over the volcanic landscape. You will be supplied with a trail map which pinpoints where to spot wildflowers and birds… a bit of 'eye-spy' for the family.
There are 9 tracks at Undara, ranging from 1.5km to 12km with the majority graded easy. We've listed the top 3 below, which are also suitable for biking.
Bluff Lookout: Walk to the Bluff for amazing views of the lava plains and volcanoes at sunset.
1.5 km | 25 minutes return | Easy.
Bluff Circuit: Keep following the Bluff trail and you'll pass through forest and skirt a swamp, meeting wildlife as you go.
2.3 km | 40 mins return | Easy
Flat Rock Circle View: Skirts the 100 mile Swamp to Flat Rock – a flat granite rock that has small water holes on top. Along the swamp are many small pools of water that attract lots of birds. Circle View is a granite knoll that gives you 360 degree views across the lava plains to distant volcanic cones.
8.6 km | 2.5 hrs return | Easy
Dining Options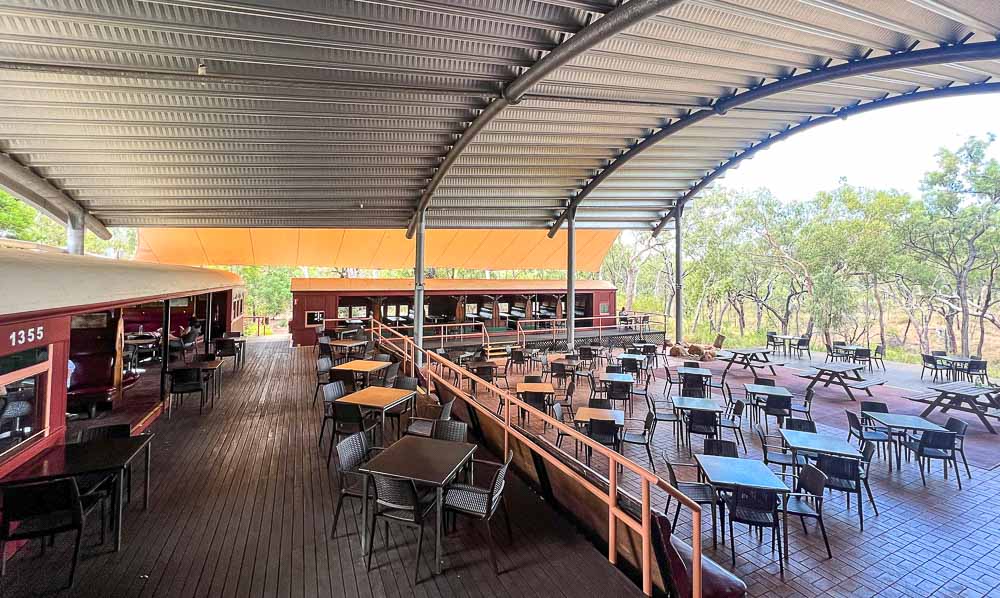 Breakfast, lunch and dinner are taken care of, all offered with that warm outback hospitality. 'Bush Breakfast' is at the Ringers' Camp where you will find billy tea, freshly brewed coffee and toast cooked on the coals of the campfire… how Aussie is that?! The 'Fettlers's Iron Pot Bistro' is a licensed bistro offering authentic country cooking for lunch and dinner. And the 'Saloon Car Bar' will get you caffeinated with freshly ground espresso coffee and relaxed with a range of Australian and imported beers, wines and spirits – open for lunch and dinner.
Nightly Campfire
Get to know your fellow travellers with a truly outback experience, at a nightly campfire. All guests and visitors to Undara are welcome each evening at 7.30 pm to the communal campfire. This free experience allows you to enjoy some country serenity as the kids make new friends and spin their own yarns.
Kiosk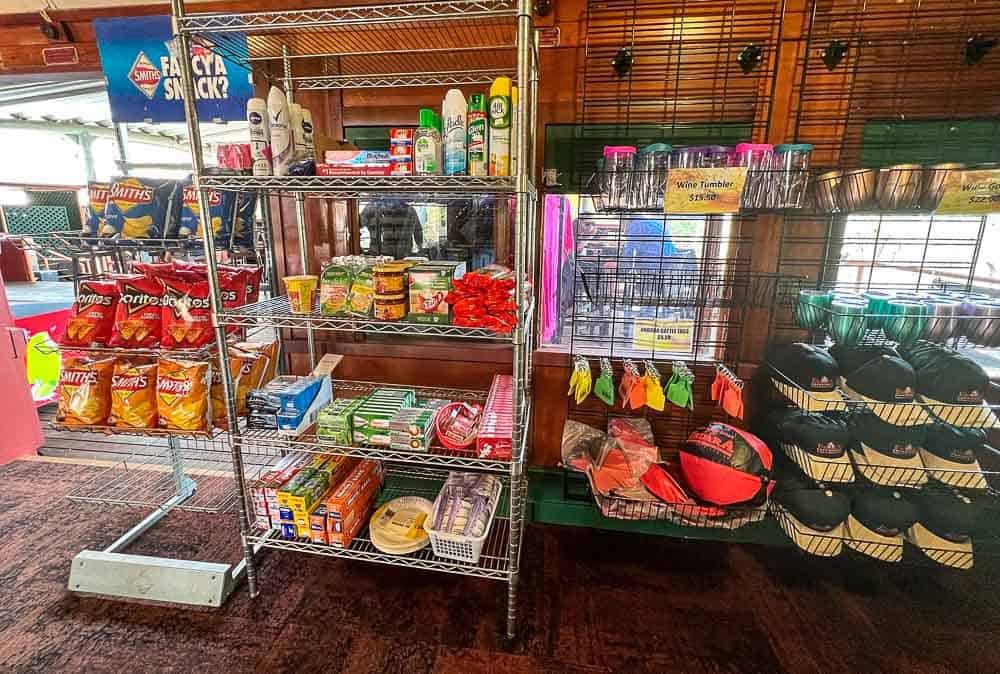 Feeling peckish? In need of a snack? The small onsite shop has a range of basic food suppliers and snacks, including cold drinks. It's open 7 days a week.
Undara Lava Tubes to Cobbold Gorge
While visiting Undara I highly recommend heading to the Cobbold Gorge before or after your stay.  It's only a 3 hour drive from the Undara Lava Tubes to Cobbold Gorge and it's well worth the effort.
Click here for more information about staying at the Cobbold Gorge Village.
Undara Experience – Our Verdict
This is a truly one of a kind experience. The ancient Lava Tubes were the highlight, of course, and they were spectacular! Such a rare phenomenon to be walking along tubes that were created by an erupting volcano, we absolutely loved it!
Undara itself is pretty magical. The rolling Savannah plains, the variety (and abundance) of the native flora, the inquisitive native wildlife… and then of course the friendly outback hospitality, and the facilities themselves were top notch. 
If you're looking to travel somewhere off the beaten path, literally, we would highly recommend Undara.
To see how we spent our few days in Undara Gorge– click here.  This will take you to our detailed itinerary which shows you day by day how we spent just over 2 weeks exploring the dinosaur trail in outback Queensland.
___________________________________________________________________
Hopefully you found this guide to Undara helpful. We also have other Tropical North Queensland guides here or Outback Queensland guides here.  You can also read this guide to camping at Undara here.