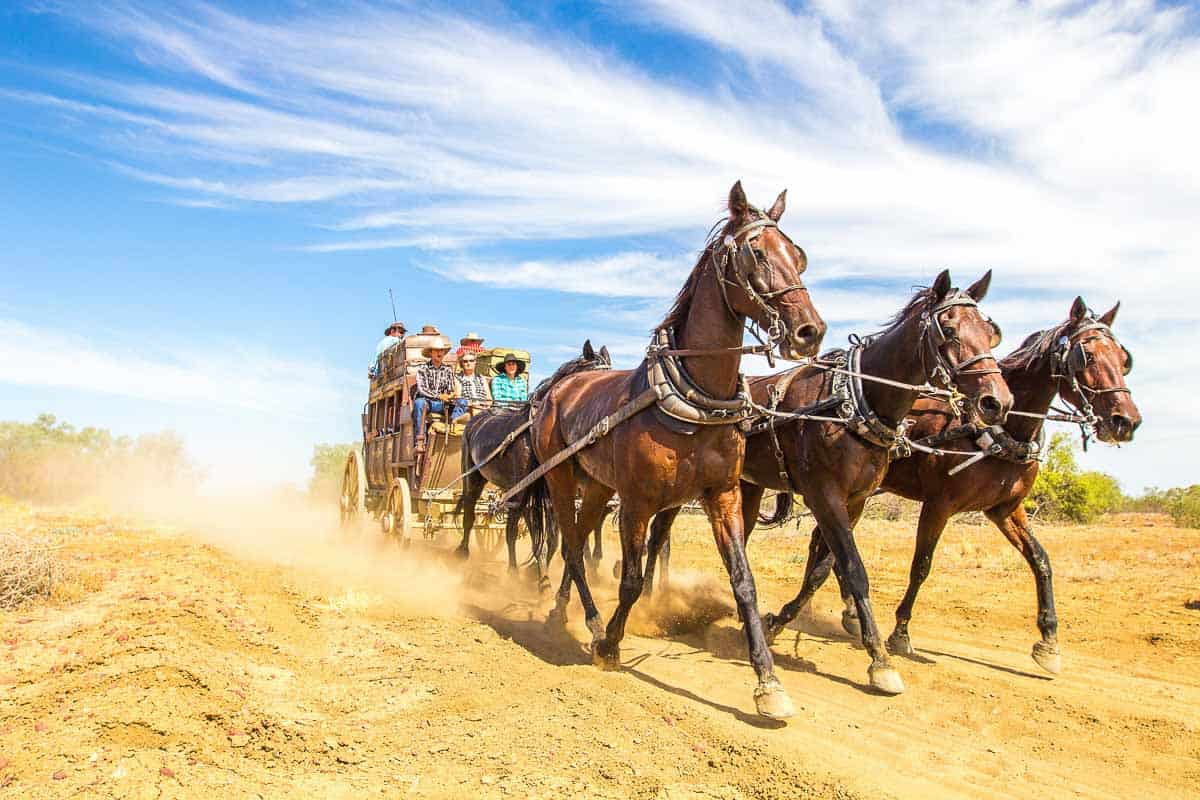 If you're taking the kids to Longreach, allow plenty of time as they are some great things to do in Longreach, QLD. We spent four days in Longreach and could have easily spent longer given all the fabulous tourist attractions Longreach offers.
There are some truly amazing experiences to be had here, from Cobb and Co Stagecoach rides, outback station visits, cruises down the Thompson River and good old fashioned outback hospitality. Not to mention the amazing landscape with spectacular sunsets and endless skies. There really is no shortage of amazing tourist attractions in Longreach.
If you're unsure what to do in Longreach, Queensland, then this guide is the perfect place to start. In this guide, as well as including all the very best Longreach attractions and experiences, we've also included our top recommendations for family-friendly accommodation in Longreach.
Main Image Credit – Tourism and Events Queensland
Planning a trip to Queensland? Have any questions? Join our Queensland Travel Planning Facebook group here now! It's the perfect place to ask any questions and to be inspired!
This post may contain compensated links. Please refer to my disclaimer here for more information.
Things to do in Longreach, QLD
This section covers all the excellent Longreach tourist attractions. Which Longreach things to see and do you add to your itinerary really depends on how long you have in town and your family's interests.
Whatever you decide to do, to help plan your trip, I've included the below map, which shows the location of all the things to do Longreach offers. Zoom in and out for a closer look.
Please note that the opening hours and prices quoted below were correct at publishing.
Stockman's Hall of Fame – Longreach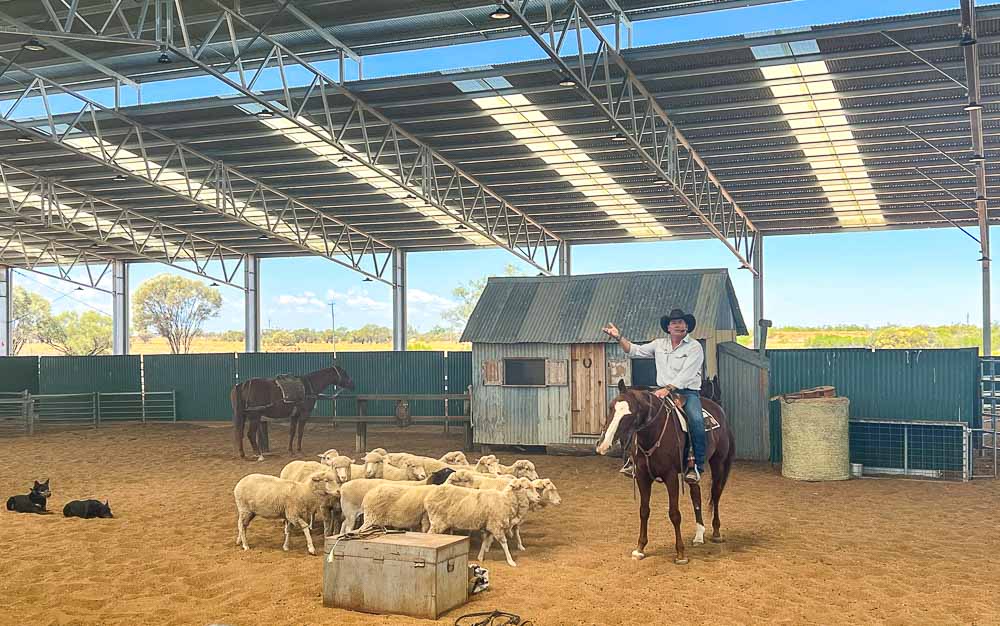 The Stockman's Hall of Fame, Longreach is generally considered one of the best tourist attractions in Longreach, QLD. Opened in 1988, it delves into Australia's history of exploration, stockmen and Aboriginal culture in a range of galleries, exhibits and various other shows. The attraction is split into three sections, the cinematic experience, the stockman show and the museum. You can purchase a ticket to all three sections or a ticket just to the museum. However, on your holidays in Longreach, we recommend you opt for all three to get the full experience.
We started our tour with the cinematic experience which was perfect as it really sets the scene. This show goes for 20 minutes and provides a good overview of the history of Australia through the eyes of the stockman. Next up we watched the Stockman show, which will no doubt be the highlight for the entire family. It's great watching how the horses, dogs and sheep work together – a few of the dogs even come up into the audience for a cuddle – we were lucky enough to have one sit right between my legs for a few minutes.
Lastly, there are various galleries in the museum. To help you make the most of the museum, you're given an audio set, where your virtual guide "Hugh" helps you learn about Australia's history and understand aspects of pioneer life. There are plenty of interactive exhibits to keep the kids entertained – even a cinema where they can sit back and watch a few outback stories and movies if they don't fancy wandering through the galleries.
How long you need at the Stockman Hall of Fame, really depends on how long you spend in the museum. You could spend hours here if you look at every exhibit and read all the information. While some families might whiz through it in an hour. We spent about three hours here and really enjoyed every minute of it – it is really well done.
The Stockman Hall of Fame also has a cafe on site, so perfect if you need lunch, snacks or a cup of coffee.
Location: Landsborough Hwy, Longreach
Opening Hours: 10 am – 3 pm Tuesday to Saturday
Price: $35 Adults | $20 Children (5-12) | $100 Family (2A + 2C) | Kids under 5 are free.
The Stockmans Experience Tour Prices: $68 Adults | $40 Children (5-12) | $195 Family (2A + 2C) | Kids under 5 are free.
Cobb and Co – Longreach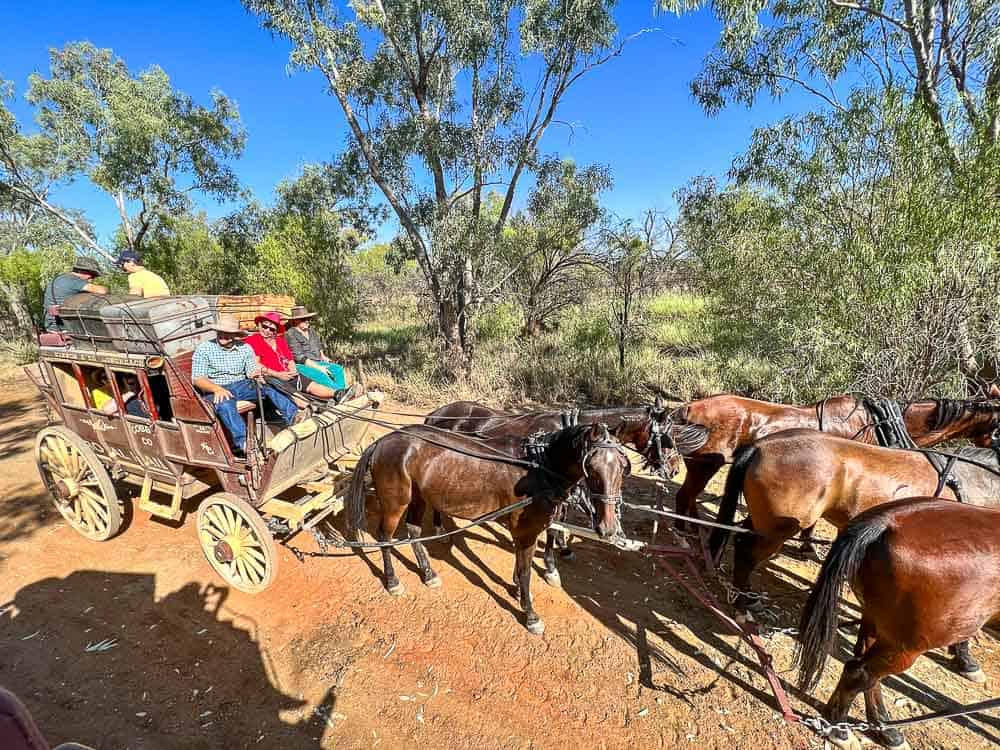 I think for us, the highlight of our sightseeing in Longreach was our Cobb and Co tour! This four hour tour is so well done, and despite being covered in red dust from sitting up on top – we were absolutely in stitches most of the time, from the bush yarns told by our guides.
The 4-hour Cobb and Co Longreach tour is run by the Kinnon family who operate various tours in town. While all their tours a top notch, it really is the guides that make these tours so good. If you get one of the Kinnon sons as your guide – you're in for a super fun time!
Our tour started with a ride in the Cobb and Co wagon. Myla and I sat right up the top at the back which was super fun – even though we were covered in red dust by the time we got back. You're given headsets for the ride, so you can hear your guide provide commentary about the ride. The tour takes you through town and then along a small part of a real life Cobb & Co track. It's just fascinating as your guide tells you stories about what travel was like back in the day.
After the wagon ride, we were served a lovely morning tea with freshly brewed coffee and tea and some delicious homemade scones with cream and jam. Then it was time for a classic Australian bush movie in the retro cinema, complete with popcorn. We watched Smiley Gets a Gun, which is a good family movie made in 1958 with some of the film shot at nearby Camden Park. Myla absolutely loved the movie – it's a great classic old movie and really gives you another insight into what life was like out in the bush back in the 1950s.
After the film, it was time for the Harry Redford Old Time Tent Show. This show is to give you a feel for what bush entertainment was like back in the day. It includes silly jokes, skits and a few different farm animals make a couple of appearances. Most of the humour may go over the kid's heads, but no doubt they'll have a few laughs. While watching the show you can grab yourself a Billy-Can lunch for $15
Meeting Location: Kinnon & Co's The Station Store, 126 Eagle St, Longreach
Opening Hours: Monday to Friday from 8:30 am
Price: $125 Adults | $45 Children (5-14) | $396 Family (2A + 2C) | Kids under 5 are free – click here to book online.
Qantas Longreach
Founders Museum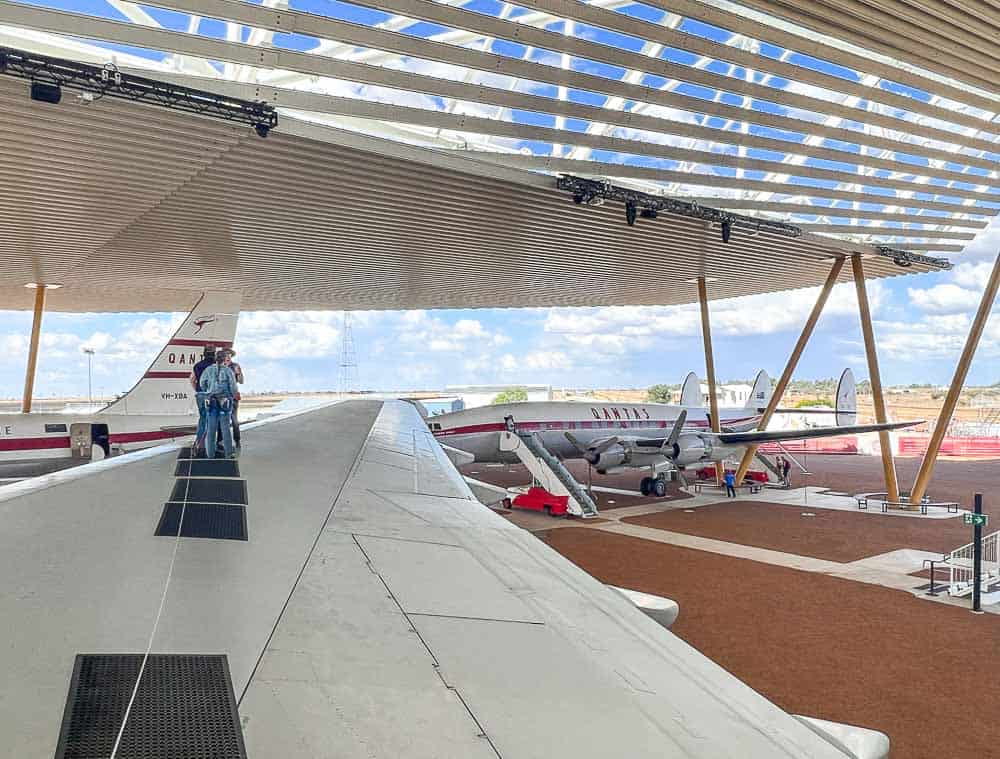 Easily on the top 10 things to do in Longreach is a visit to the Qantas Museum – here you'll fly back into the history of Australia's national airline. The Qantas Longreach Founders Museum offers an insight into the company that took its first flight from Longreach. There are a couple of ways you can explore the museum including the Jet Tour, 747 Wing Walk Tour and the exploring the musuem.
The Qantas museum in Longreach is great for parents and kids alike with a range of genuine QANTAS memorabilia and interactive activities, including full-scale replicas of the airline's first-ever aircraft and other models. No visit to the musuem is complete without the kids having a go at the flight simulator. Here the kids can jump in the world's only Bristol Fighter simulator and take off, fly and then land the plane. Through a range of multi media the musuem tells the story of Qantas from when it was first founded to today.
If you have a little more time one of the tours is well worth it. The Jet Tour is a 90 minute guided tour that takes you through a Boeing 747 and 707. On the tour, you visit parts of the plane you could never see as a passenger including the cockpit, the black-box, the undercarriage and more. The tour through the 707 is pretty awesome as this plane was converted to a luxury charter jet and was even once used by the Jackson 5 in the 1980s while on tour.
For those aviation buffs wanting even more – and for kids over 12 – then the 747 Wing Walk is a must. On this tour, you'll not only get the chance to walk along the wing of a Boeing 747, but you'll get to sit inside the cockpit.
When looking for fun and educational Longreach tourist attractions, the Qantas Museum is the perfect mix. While the musuem itself is well worth it alone, if you can stretch the budget, I'd recommend at least also doing the Jet Tour.
The Qantas Musuem also has a cafe on site, so perfect for those needing to grab a bite to eat. It's also worth noting that you can do the musuem and tours over different days.
Location: 1 Hudson Fysh Drive, Longreach Airport, Longreach
Opening Hours: Daily from 9 am to 4 pm
Price: $30 Adults | $20 Children (5-16) | $85 Family (2A + 2C) | Children under 5 are free – Other costs apply for additional activities.
Thomson River Longreach Cruise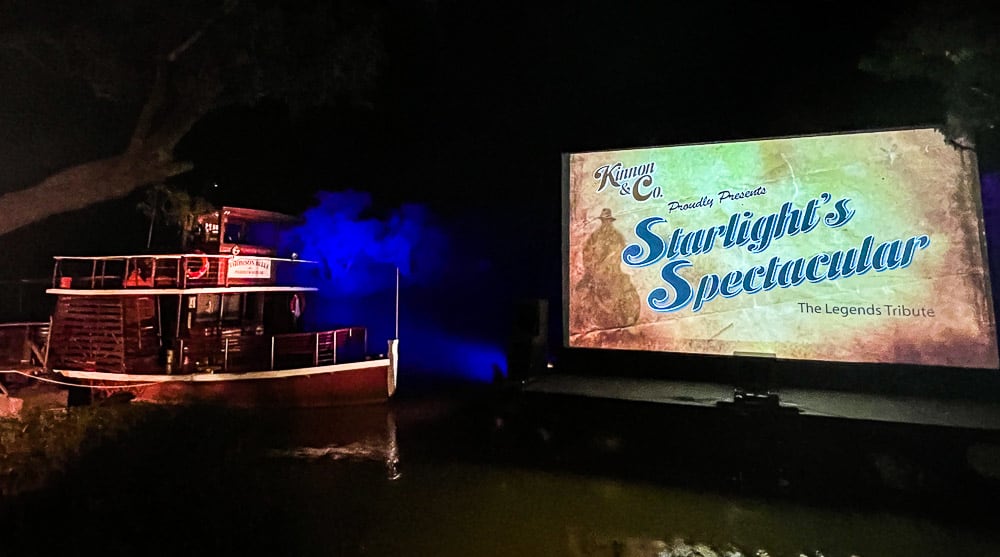 When deciding on what to do in Longreach QLD, a Thomson River Longreach cruise is highly recommended. Either jump onboard the Thomson Belle Paddlewheeler with the Kinnon family from Outback Pioneers, Longreach or Longreach Explorer with Outback Aussie Tours, Longreach to see the sunset from the Thomson River. Both experiences include a cruise down the river at sunset, nibbles, dinner and an outback show on the boat or onshore.
We opted for the cruise with the Kinnon family and as expected had a fabulous evening. Right from pick up the entertainment begins, as our tour guide Jeremy provided some local history and of course a few bush yarns. On arrival at the Thompson River, we were loaded on one of two boats for a nice relaxing cruise down the river. You're encouraged to bring along your own drinks (alcoholic drinks included) although soft drinks are sold on board. Cheese, dips and crackers are provided as you enjoy the scenery. As the boat returned to the dock, we enjoyed a gorgeous sunset.
After the cruise, it was time for dinner which is a traditional stockman dinner of stew and damper (which was cooked in the hot coals during the boat cruise) around the campfire. There is plenty to go around and seconds and thrids were available the night we went. Dessert then follows which was a delicious apple pie and custard. We were absolutely stuffed by the end!
After dinner, we went down to the river's edge where there is stadium style seating on the bank to see the Starlight's Spectacular. This short film is about the infamous Captain Starlight (Harry Redford), an Australian bushranger who is best known for stealing 1000 cattle from Bowen Downs Station near Longreach and walking them down to South Australia where he sold them all. Later caught and brought to trial in Roma, however the jury was so impressed with his crime that they found him not guilty.
After the film, it was time for some bush poetry from Scotty the Barefoot Bush Poet, before we were taken home.
Our evening finished around 9 am, and after a big day of sightseeing, it does make for a long day. So if you do have younger kids it may be worth having an afternoon nap before heading out.
Outback Pioneers Starlight's Cruise Experience
Location: Hotel pickup and dropoff available from Longreach accommodation.
Cruise Times: Monday to Saturday from 4:30 pm
Price: $125 Adults | $95 Children (5-14) | $396 Family (2A + 2C) | Children under 5 are free.
Outback Aussie Tours Drovers Sunset Cruise
Location: Traveller pickup is offered.
Cruise Times: Daily from 4 pm, depending on the time of year.
Price: $130 Adults | $90 Children (4-14) | Children aged 0-3 are free.
No Go Station – Longreach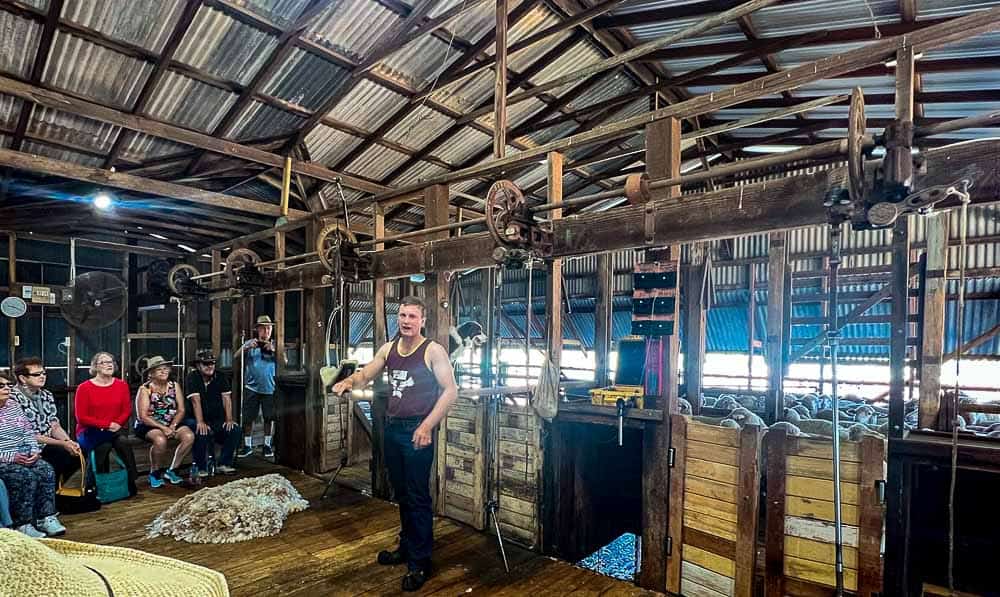 For an insight into station life, the Nogo Station is yet another one of the not to be missed things to do in Longreach, QLD. Built in the 1880s; this property has been a working cattle and sheep station ever since and is now owned and operated by the Kinnon family.
We had Jeremy Kinnon once again for this tour – such a funny guy – Myla just loved him – he had the whole bus in stitches! The tour starts with a little drive around town, where Jeremey gave us a bit of history, even pointing out the home where the pioneers dreamed up the concept of Qantas.
Then it's on to the Nogo Station, where the first stop was the shearing sheds. Here Jeremy gave us a run down of what life is like as a shearer, as well as a shearing demonstration. Next, we transferred to an open air double decker bus for a tour of the No Go Station Longreach property. You're given headsets to wear, so you can hear Jeremey's commentary along the way. During our tour of the property, we even saw feral camels, donkeys and kangaroos. Along the way Jeremey told us lots of stories about what life was like growing up on a station and a few of the cheeky adventures he and his brother got up.
The tour ends with typical stockman lunch at a recreation of Captain Starlight's camp.
Location: Nogo Station, Longreach.
Opening Hours: Tuesdays and Fridays from 7:45 am.
Price: $125 Adults | $95 Children (5-14) | $396 Family (2A + 2C) | Children under 5 are free – click here to book tickets online.
School of Distance Education – Longreach
While going to school might not be on your radar when considering what things to do around Longreach, this isn't your typical school. The School of Distance Education Longreach is one of the largest classrooms in the world, with subjects taught to kids all across the outback using the wonders of technology. Here you can tour the school and get an insight into how kids in remote areas connect with their teachers and fellow remote students every day to get an in-depth education via technology "in the bush".
We've taken a few school of distance tours now and we're always fascinated by how well these kids learn and participate in pretty much everything kids do at a 'normal' school. As one of the things to do in Longreach Queensland, the School of Distance Education is definitely a must do, particularly for school aged kids, so they can see how children learn remotely.
Location: 10349 Landsborough Highway, Longreach
Opening Hours: Tours run at 9 am and 10:30 am Monday to Friday.
Price: $15 Adults | $10 Children (4-16) | $30 Family (2A + 2C) | Children under 4 are free.
Captain Starlight's Lookout
If you're after free things to do in Longreach, make sure the Captain Starlight Lookout is on your list. We've talked quite a bit about Captain Starlight above and this rock formation named after him has amazing views of the town.
Located about 55km outside of town, Captain Starlight's Lookout is a 20 minute hike from the bottom and offers unrivalled views of the town from the top. It's a super popular spot for a spectacular outback sunset.
Keep in mind that you need to travel along an unsealed road that does become muddy in the rain. However, if you're after things to see in Longreach, a visit to Captain Starlights Lookout is well worth it.
Location: Longreach-Muttaburra Road, Longreach
Opening Hours: Always
Camden Park Station
Another way to visit a working sheep and cattle station when you visit Longreach is with a tour of Camden Park Station. The Walker family has worked the 18,000-acre property for three generations and it was one of the Queen and Prince Philip's favourite things to see Longreach has when they visited in 1970.
Your host Outback Dan will take you through the shearing sheds and show you how life on a station in the outback works day-to-day. You'll tour the 100-year-old homestead, see the 360 views without a man-made object in sight and enjoy a tasty ploughman's lunch.
Location: Tours offer pickup from Longreach accommodation.
Opening Hours: Tours are at 11 am on select dates.
Price: $99 Adults | $69 Children (4-14) | $302 Family (2A + 2C) | Children under 4 are free.
Family Friendly
Accommodation in Longreach, QLD
In terms of accommodation Longreach offers, you can get budget pub rooms, spacious motel rooms or places to pitch your tent. There may not be a lot of options, but there's something to suit everyone and every budget.
Click here for our full Longreach Accommodation guide. Alternatively, if you're looking for somewhere to camp, check out this guide here.

Saltbush Retreat Longreach is rustic but has a beautiful charm you'd only find in outback Queensland. All the top things to do in Longreach are within walking distance, including the Australian Stockman's Hall of Fame and the Qantas Musuem.
Families are going to absolutely love this accommodation in Longreach QLD. Having a swimming pool is super awesome, particularly after those hot sightseeing days. There are also BBQ facilities which is nice for families wanting to enjoy the great outdoors while having a meal.
Families are best accommodated in either the Homestead Stables or the Outback cabins. Both rooms are fully self contained and can accommodate up to four people. Both room types also come with air conditioning, free wifi and a TV.
When wondering where to stay in Longreach with the kids – Saltbush Retreat really is a top pick! Here you've got a beautiful property that gives you a rustic experience without losing the modern amenities we're used to.
Click here to check availability and pricing

For families looking for motels Longreach offers, stay in the town centre in the family owned and operated Longreach Motor Inn., This property offers 57 rooms, including ones with two bedrooms or interconnected room options perfect for families.
The kids will love to splash around in the saltwater swimming pool after a long day of sightseeing and the in house wi-fi to watch their favourite shows. Breakfast is available daily at Harry's restaurant, which is also open for dinner on Wednesdays to Saturdays. If you feel like staying in, room service is available or just enjoy a nightcap at The Redford Bar.
Family rooms come with a double bed and three singles, while the two bedroom family suite has a queen in one room and two singles in the other. All rooms have air conditioning, TV and tea and coffee making facilities.
As far as motels and hotels in Longreach go, the Longreach Motor Inn is a great choice for families wanting to stay in the centre of town.
Click here to check availability and pricing

The Albert Park Motor Inn Longreach is another good option for families looking for motels in Longreach, Queensland. With all rooms on ground level, the Albert Park Motor Inn is set in an idyllic bush setting while still close to all the tourist attractions in Longreach.
Each room includes a TV, free WiFi, private yards and refrigerators. The poolside bar and snack bar mean you can lounge by the pool while you watch the kids splashing around in the pool or spa. There's also a BBQ area so you can prepare some snags for dinner.
There are two family room types to choose from: a room with a queen, single and bunk beds, or a queen and two singles. All rooms come with a TV, free wifi, air conditioning and tea and coffee making facilities.
With spacious family rooms, a pool and BBQ facilities, the Albert Park Motor Inn is one of the perfect options for those after family friendly motels in Longreach QLD.
Click here to check availability and pricing
Longreach- Our Verdict
Longreach was easily one of the highlights of our trip. The various tours we did with the Kinnon family, were not only educational but they were so entertaining – these guys really know how to keep an audience interested! With all the tours and attractions in Longreach, it doesn't work out to be the cheapest holiday for families, but it's so well worth it. We only stayed in town for four days and they were four days absolutely jammed packed. If you have more time, I'd actually recommend staying in town for a week. This allows you to do things at a more leisurely pace and to do everything – because some tours only run on certain days of the week.
To see how we spent our four days in Longreach – click here. This will take you to our detailed itinerary, which shows you day by day how we spent just over two weeks exploring the dinosaur trail in outback Queensland.
Click here for an excellent 7 day Longreach to Winton itinerary.
___________________________________________________________________
Hopefully, you found this guide to Longreach helpful. You might also be interested in our things to do guide on Barcaldine, which you can read here or our things to do guide on Winton, which you can read here.