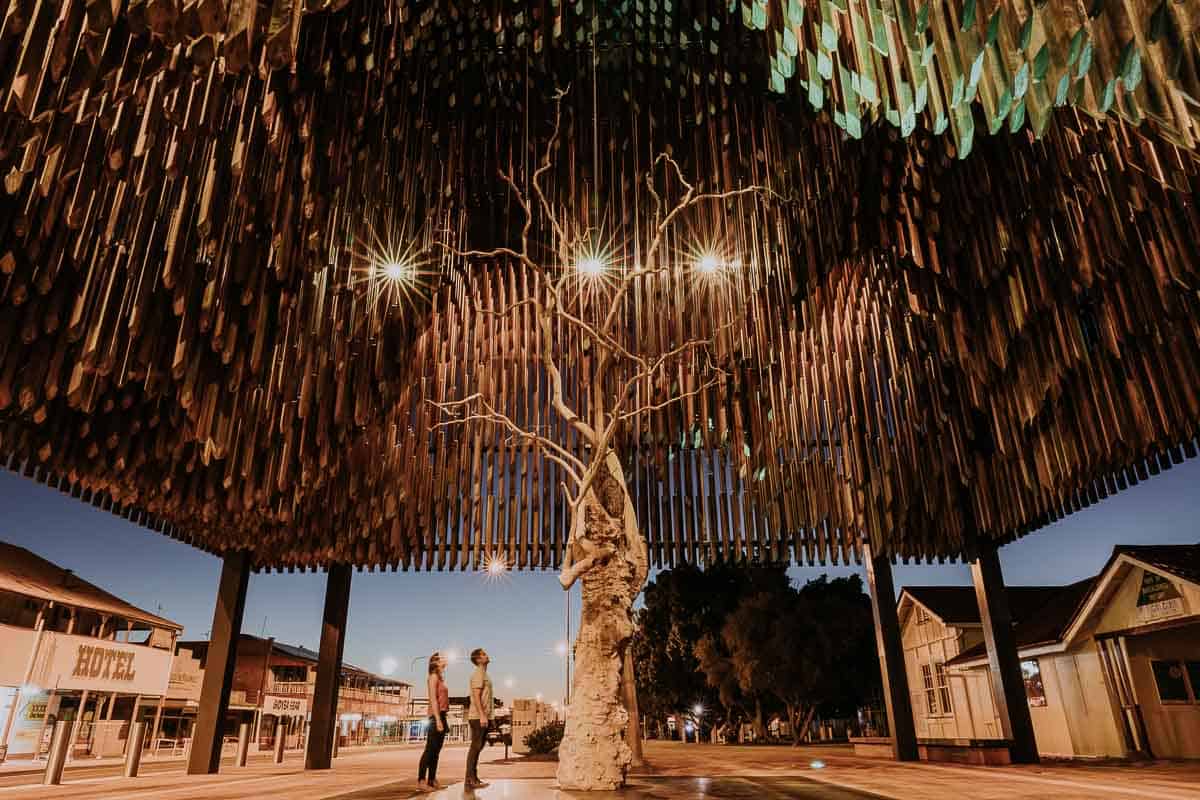 Barcaldine, or Barcy as the locals like to call it, is an outback town with an interesting history. It might be hard to believe today, but back in 1891, Barcaldine was where the great shearers' strike was held, which led to the formation of the Australian Labor Party and essentially changed the course of the nation's working history.
Today Barcaldine is a sleepy town with around 3000 people and is well worth a stop for those on route to Longreach – particularly for those interested in the Australian Labour movement. Family friendly things to do in Barcaldine, Queensland, include a range of museums, fabulous old buildings, important historical sites and beautiful locations to explore the great outdoors.
If you're planning a stopover in Barcaldine, then this guide will be super helpful. This guide will cover everything you need to know about Barcaldine things to do and provide suggestions for accommodation Barcladine offers families.
Main Image Credit: Tourism and Events Queensland
Planning a trip to Queensland? Have any questions? Join our Queensland Travel Planning Facebook group here now! It's the perfect place to ask any questions and to be inspired!
This post may contain compensated links. Please refer to my disclaimer here for more information.
Things to do in Barcaldine, Queensland
In this section, I include all the interesting things to see in Barcaldine. Of course, which Barcaldine tourist attractions you visit will entirely depend on how long you have in town and your family's interests.
Whatever you decide to do, to help plan your trip, I've included the below map, which shows where all the Barcaldine attractions are. Zoom in and out for a closer look.
Please note that the opening hours and prices quoted below were correct at publishing.
Click here to see exactly how we spent our time in Barcaldine. This provides a detailed overview of our Queensland dinosaur trail itinerary.
You can also check out the short video we made of the Barcaldine highlights here or see our full FB album with all our photos from Barcaldine here.
The Tree of Knowledge – Barcaldine
In terms of what to do in Barcalaidne for those interested in Australian politics, a visit to the Tree of Knowledge is a must! It is said that in 1891, under this famous tree, the striking shearers held their meetings, which led to the formation of the Australian Labor Party. Today the tree serves as a place for people to meet and remember those who fought for better working conditions.
Unfortunately, this historical gum was deliberately positioned in 2006, which led to it being persevered in its current form today. Today the Tree of Knowledge, Barcaldine, sits under an amazing sculpture of 4913 different timbers made from recycled telephone poles, which recreates the size of the tree's canopy back in its prime. Also, if you look down, you can see the tree's original root ball through thick non reflective glass.
Its recommended that you visit the Tree of Knowledge either early morning or late afternoon when the sun rays are reflected across the timber. Although come night, the tree is all lit up, offering a completely different perspective.
Location: 103 Oak Street, Barcaldine
Opening Hours: Always
Australian Workers Heritage Centre
Image Credit: Tourism and Events Queensland
One of the best things to do in Barcaldine, Qld with the kids is to take them to the Australian Workers Heritage Centre. This centre is the only attraction in Australia dedicated to Australian working men and women and celebrates their contributions which have reformed and shaped our history.
Across 14 buildings, you'll find 22 displays, with exhibits dedicated to various workers, including power workers, teachers, railway workers and a hall dedicated to the Great Shearer's Strike. The worker's stories are told via interactive displays, film, photos, artefacts and more.
The centre is situated on landscaped grounds surrounding a billabong. The grounds include a cafe, picnic and barbecue facilities, as well as a playground, making it a great base for families simply passing through town or looking for somewhere to have lunch.
Location: 127 Oak Street, Barcaldine
Operating Hours: Daily 8.30 am to 4 pm
Price: Adults $20 | Kids (6-15) $11.50 | Family $52.50 (2A+2C)
Lara Wetlands – Barcaldine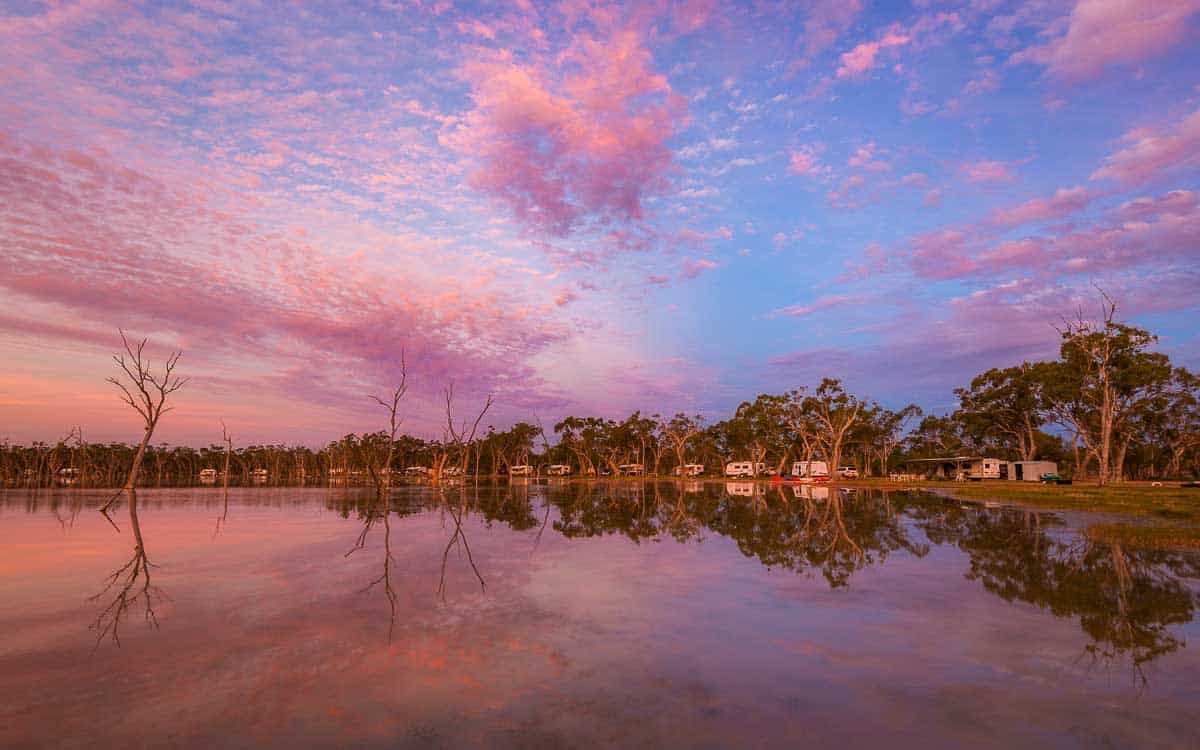 Image Credit: Tourism and Events Queensland
The Lara Wetlands is a gorgeous cattle station just south of Barcaldine and is the perfect place to visit for the day or stay for the night. Spread out across 15,000 acres; the station has a huge wetlands area that is fed by a century old artesian bore. The water is knee depth and full of dead ghost gums, making it the perfect place for a range of birds.
Visitors can explore the wetlands with the free kayaks, take a dip in the thermal Artesian mineral hot pool or sit back and relax while watching the abundance of birds and wildlife. There is also an undercover playground for the little ones to enjoy.
If you are set up for camping, the Lara Wetlands, Barcaldine is well worth staying the night, as its the perfect for a campfire while enjoying some star gazing. You'll also see the most magical sunrises and sunsets out here.
While the Lara Wetlands is accessible by conventional vehicle, keep in mind that you will need to drive along some unsealed roads and cattle grids.
Location: 39052 Landsborough Highway, Patrick
Opening Hours: Open April to September
Price: Day visitors are $10 per person or $40 for a family (2A+4C)
Barcaldine and District Historical Museum
For local history, visit the Barcaldine and District Historical Museum. On display is a range of items from the pioneering days, including archival records, photographs, war memorabilia, household furniture, horse drawn vehicles, medical and nursing equipment and more.
The building which houses the museum was built in 1906 and operated as a bank for nearly 70 years until it was relocated to where it sits today. Other buildings at the museum include a wagon shed and a furnished man's railway quarters.
If you happen to visit on the last Sunday of the month from March to October, then you're in luck because miniature train rides are available.
Location: 75 Gidyea Street, Barcaldine
Operating Hours: Daily 7 am to 5 pm
Price: $3 per person, under 16s are free
Between the Bougainvilleas Heritage Trail
A great way to explore the town of Barcaldine is by following the award winning Between the Bougainvilleas Heritage Trail. The walk showcases some of the town's colourful history as well as past some iconic buildings, including:
Radio Picture Theatre

: Built in 1926, this theatre originally showed silent movies. After a long period of being closed, the theatre was reopened in 1995 and now enables guests to see modern blockbusters in the comfort of an old school movie theatre. Open Friday and Saturday nights | Located Beech Street.
Railways Goods Shed

: Once a place for meetings during the Great Shearer's Strike.
Masonic Lodge:

Built in 1901, this National heritage listed building has an iron and timber facade, painted with three shades to appear like stonework. This unusual looking building is still used today as a Masonic Temple for their monthly meetings. A tour with a local mason can be arranged through the Visitor Information Centre.
Old National Bank

: Located in the Barcaldine and District Historical Museum, this old building was built in 1906 and operated as a bank for nearly 70 years until it was relocated to where it sits today and is now used as a museum.
St Peter's Anglican Church:

Built in 1898, this beautiful National heritage listed building is topped with a Gothic style spire and contains gorgeous stained glass windows.
Grab a walking map from the Visitor Information Centre and either walk or drive the trail at your convenience. Each site is easy to find; simply look for the maroon sign with the windmill logo.
Lloyd Jones Weir
Built in 1952, the Lloyd Jones Weir is located 14kms outside Barcaldine. It's the perfect place for the family to stop and enjoy a picnic under the shade of a eucalypt tree. The peaceful surroundings make for the perfect respite from modern-day life.
The kids can have a splash in the water whilst mum enjoys a book on the sand, and dad can throw in a line and catch dinner at one of the best fishing spots in town. So with BBQ facilities, undercover seating and camping all available, sit back, relax and take in some of the native wildlife when you visit Lloyd Jones Weir.
Location: 5km along the highway towards Blackall, turn right and travel for another 9km.
Opening Hours: Always
Lagoon Creek and Frazer Way Walking Path
If you're looking for fun and family-friendly things to do in Barcaldine, then take a bushwalk down the Lagoon Creek and Frazer Way Walking Path. The 2km track is fully sealed, making it great for strollers.
The track is nestled amongst native vegetation and is a popular watering hole for emus and kangaroos. If you walk the track in the early morning or evening, you're more likely to spot some wildlife along the walk.
Lagoon Creek is also home to a Disc Golf Course. If you don't have a frisbee to toss, you can purchase one from the Barcaldine Visitor Information Centre or the Barcaldine Administration Office for $20.
There is also a traffic course or exercise equipment that the kids might enjoy playing on.
Location: Landsborough Highway, Barcaldine
Opening Hours: Always
Barcaldine Botanical Walk
If the kids need to burn off some excess energy, take them for a walk through the Barcaldine Botanical Park. Located just 9km outside of Barcaldine, the area is full of beautiful local flora and fauna.
As you enjoy your walk, you'll see the uniqueness of outback Australia's native vegetation. Not only will you learn the botanical and common names of the plants, each plant's tag includes how the local Aboriginal community uses it.
Location: Landsborough Highway
Opening Hours: Always
Barcaldine Tag Along Tours
Experience the life of an outback family who has owned and operated Dunraven, a working sheep and cattle station, for over 100 years. The whole family will love the Tag Along Tour of Dunraven, which covers 30km and offers something different on every tour.
Kids will love to see the property's activities, from sheep shearing to mustering and fencing and even may get to feed the lambs. You'll enjoy Roberta's famous 'smoko' in the shearing shed and be able to check out the working Artesian bore.
Beyond learning about life on the property, you'll also learn about the unique bush and landscape and maybe see rooms, emus and some of the hundreds of bird species that call Dunraven home.
Location: 1362 Isisford Road, Barcaldine
Operating Hours: Tuesdays and Fridays at 9 am during the winter months or by appointment.
Prices: $25.00 per person
Barcaldine Recreation Park
Looking for somewhere to cool off with the kids? Then head to the Barcaldine Recreation Park man-made lake, which is 1,100m long, 250m wide, and has a maximum depth of 3.2m, perfect for water skiing! If that's a bit fast for your family, you can take a dip, go fishing, go sailing or rowing or any other family-friendly fun water activities to keep cool.
Location: 1 Kurrajong Drive, Barcaldine
Opening Hours: Weekdays: 12 pm – 6 pm motorised boats, before 12 pm non-motorised boats only | Weekends and public holidays: 7 am – 6 pm motorised and non-motorised boats | Non-powered activities are allowed during seasonal daylight hours.
Family Friendly

Accommodation – Barcaldine
In terms of the accommodation Barcaldine offers, you'll find budget pub rooms, spacious motel rooms and places to pitch a tent.
Click here for our full guide on where to stay with kids in Barcaldine.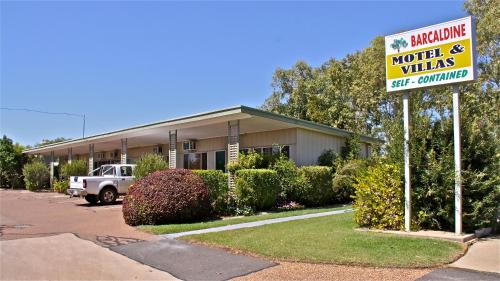 For families, the Country Motor Inn Barcaldine is a fantastic choice for accommodation in Barcaldine, QLD. You and the family will be within 10 mins of all the local attractions and activities.
The Country Motor Inn Barcaldine offers has a range of room types that can accommodate families of up to six people. The property offers basic motel style rooms as well as two bedroom apartments. Family rooms are available with a double bed and two singles and all rooms have air conditioning, a TV with Foxtel, wifi, a fridge, a toaster and a microwave.
The kids will appreciate the swimming pool, while the BBQ facilities are handy for mealtimes. Plus, the kids will love that there is a park across the road. There is also a restaurant on site and laundry facilities.
For a good all round motel style accommodation, the Country Motor Inn is hard to bead.
Click here to check availability and pricing

The fully self contained Kenilworth Cottage is a great alternative to one of the hotels in Barcaldine. Plus, the cottage has some interesting history, being located on the site of the former historic Kenilworth Nursing Home, which was established in 1923, a year before Barcaldine's first hospital.
The cottage has an open plan living area and two bedrooms, one with a double bed and the other with two singles. There is also a pull-out sofa which makes the property able to sleep up to 6 guests. You can also add extra beds for $20 upon request.
As the Kenilworth Cottage is self-contained, unlike most motels in Barcaldine, you're able to prepare your meals in the full kitchen, as well as have plenty of space with the whole family. In addition, the cottage comes with a separate living room complete with a TV and also has a washing machine.
The kids will enjoy the fully-fenced yard, including play equipment or the toys and books inside, while the parents relax on the gorgeous front verandah. Plus, the yard offers plenty of parking for those travelling with a camper or motorhome.
Keep in mind that Kenilworth Cottage is connected to the main house by a verandah, but it still offers families plenty of privacy and is a great base while exploring Barcaldine.
Click here to check availability and pricing
Barcaldine – Our Verdict
For families travelling through Outback Queensland, Barcaldine is well worth a stop. Particularly for families who enjoy their politics. The Australian Workers Heritage Centre is brilliant for the kids to learn a little more about how workers of the past have shaped the society we live in today and of course, the Lara Wetlands are just brilliant, particularly for families that are to camp there for the night.
To see how we spent our few days in Barcaldine – click here. This will take you to our detailed itinerary, which shows you day by day how we spent just over two weeks exploring the dinosaur trail in outback Queensland.
___________________________________________________________________
Hopefully you found this guide to Barcaldine helpful. We also have other outback Queensland guides, including things to do in Longreach and things to do in Winton.