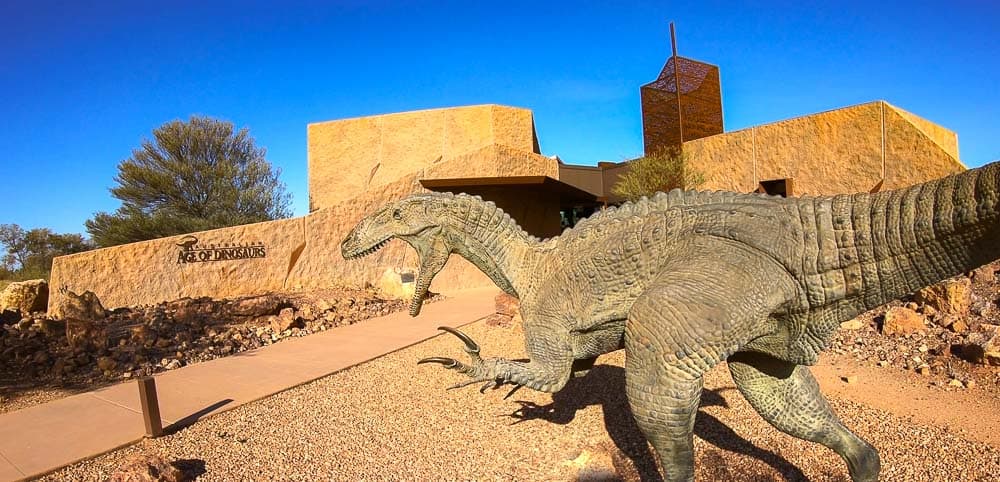 Whether you have dinosaur obsessed children or not – the entire family will absolutely love the Australian Age of Dinosaurs, Winton QLD offers. This is not your boring old stuffy city museum. Not at all – this Winton dinosaur museum is like nothing you've ever experienced before.
At the Australian Age of Dinosaurs Musuem Winton, you'll be visiting a working museum, where through various guided tours, you'll not only get the opportunity to see the world's largest collection of Australian dinosaur fossils, but you'll also hear some amazing stories about how dinosaurs lived here 100 million years ago, as well as walk among life, sized dinosaurs.
If you've been considering taking the kids to see the Winton dinosaurs but wondering if it's worth the trip – then this is the right place. In this guide, I'll take you through everything you'll need to know about the Australian Dinosaur Musuem Winton has, including what you can expect to see, how long you should allow to spend there, and practical information such as ticket pricing and opening hours.
This post may contain compensated links. Please refer to my disclaimer here for more information.
Planning a trip to Queensland? Have any questions? Join our Queensland Travel Planning Facebook group here now! It's the perfect place to ask any questions and to be inspired!.
The Australian Age of Dinosaurs – Winton, QLD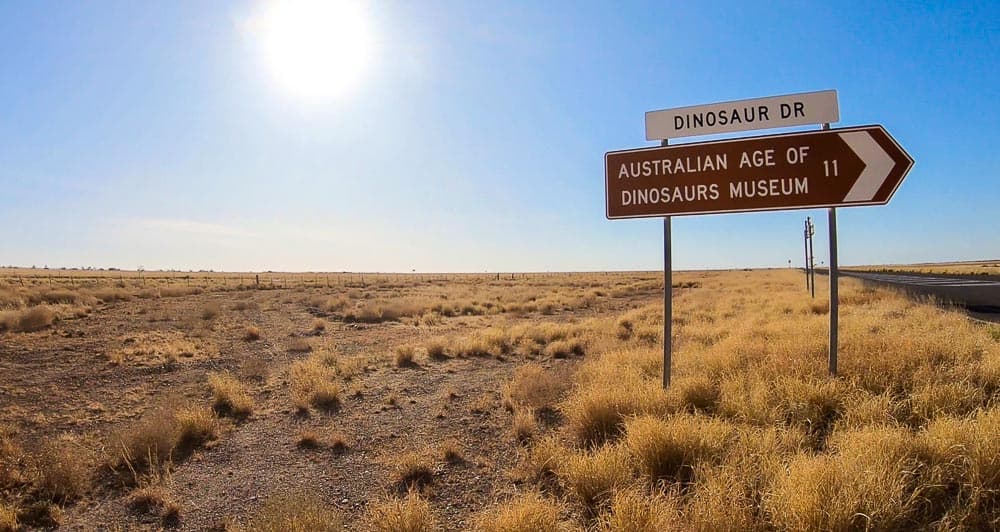 Keep reading below to find out all the information you need for planning a trip to see the Winton QLD dinosaurs.
Location
Spread across a whopping 1800 hectares, the Age of the Dinosaurs Winton is about 22km southeast of Winton. Most of the way is by sealed road, except for the last 1 km, which is a gravel road. From the centre of Winton, it takes about 30 minutes to drive there.
Attractions
Given this is a working museum and to ensure you really get the most out of your visit, you experience the Australian Age of Dinosaur Museum via three guided tours and one self-guided tour. The different tours depart regularly throughout the day, with the first tour starting at 9 am. You'll be given tour times for the three guided tours when you arrive.
If booking online, you just book the first tour time; all other times are provided on arrival.
More on each of the Winton dinosaur tours are below.
Fossil Preparation Laboratory Collection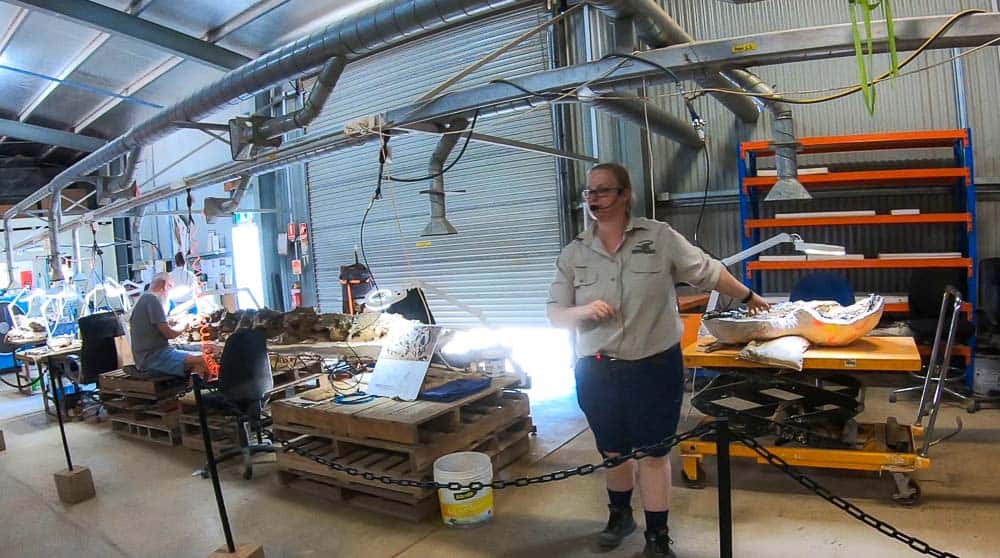 On this 30 minute guided tour, you'll get a very special behind the scenes look into what is said to be the most productive Fossil Preparation Laboratory in the Southern Hemisphere. As well as watching fossil technicians at work, your guide will tell you stories about how dinosaurs are found and recovered and show you some of the amazing real life dinosaurs fossils on display.
The Fossil Preparation Laboratory is located about 500 metres from the reception area, around a 10 minute walk, so allow plenty of time to walk here before your tour time.
Reception Centre Collection Room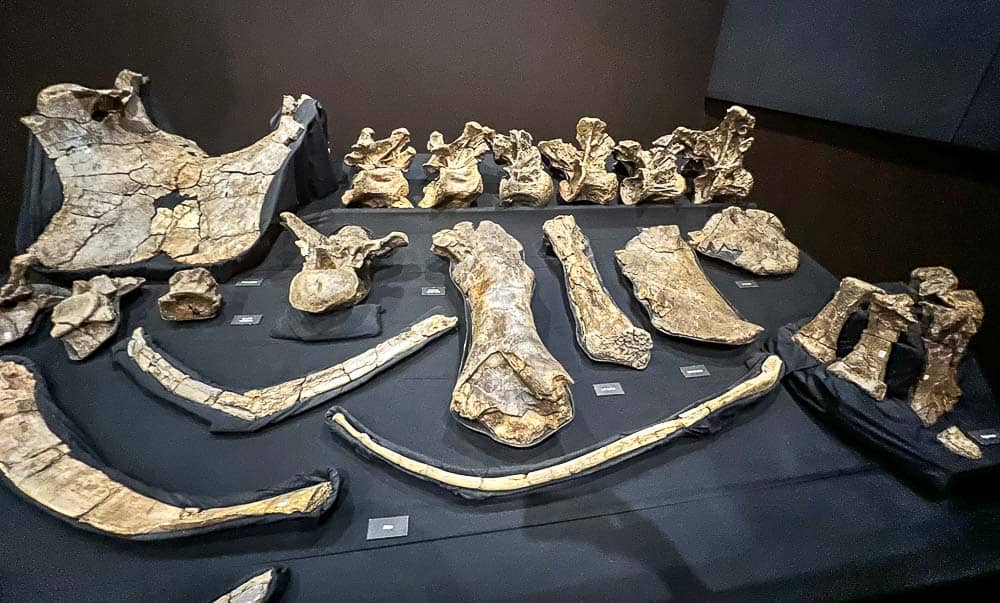 The Collection Room is super special as it houses Australia's largest AND most complete dinosaur, the Australovenator wintonensis, otherwise known as "Banjo". Other dinosaurs on display here include a Diamantinasaurus matildae, called "Matilda", and a Savannasaurus elliottorum called "Wade".
Across the 30 minute guided dinosaur tour Winton offers, your guide will tell you stories about these dinosaurs and you'll learn more about these gigantic creatures that once roamed the earth while watching the "Monsters in the Outback" documentary.
Dinosaur Canyon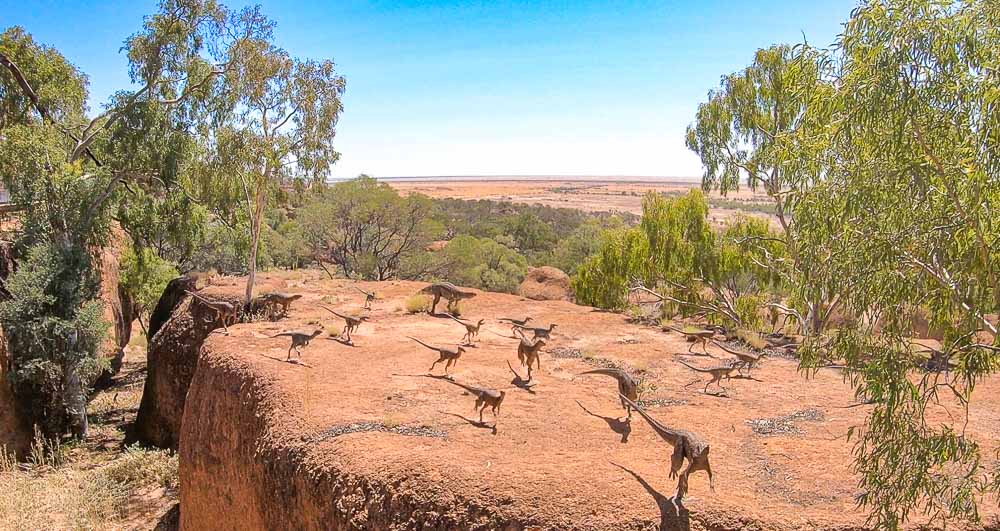 Jump on board the shuttle bus from the reception area and head down to Dinosaur Canyon Winton has, where across four outdoor galleries, you'll see life sized bronze dinosaurs. The dinosaurs are set up in life like situations so you can experience what it would have been really like to walk among these huge creatures some 100 million years ago.
While wandering through these galleries on a self-guided Winton dinosaur tour, you'll learn about Australian natural history via various interpretation boards, including both dinosaurs and biodiversity.
March of the Titanosaurs Exhibition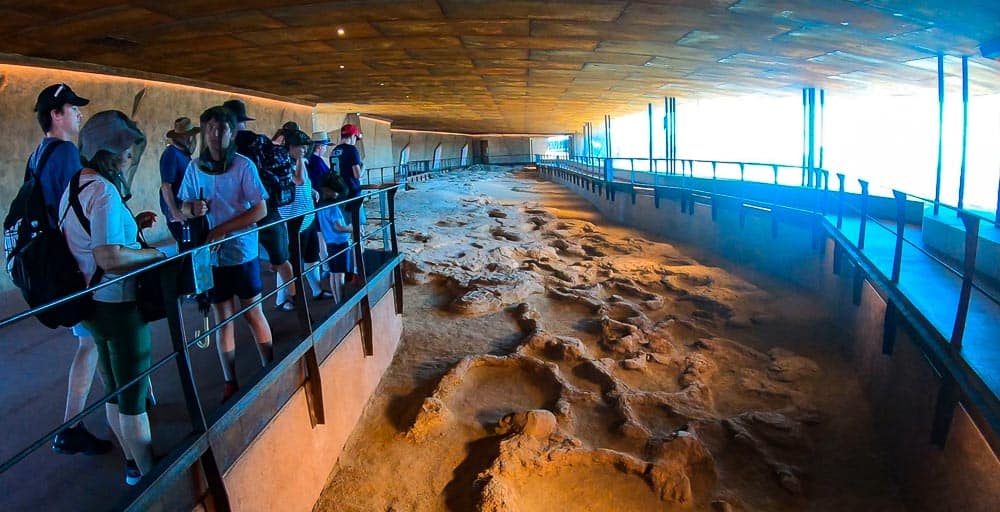 Located within Dinosaur Canyon, the March of the Titanosaurs Exhibition is one of the very special guided Winton dinosaurs tours, as on this tour, you'll get to see a recently discovered 54 m sauropod track site. This exhibit really is amazing, as the dinosaur tracks were found at a nearby property. Then very carefully, the tracks were transported to Dinosaur Canyon and repositioned exactly as they were found.
Your guide takes you through the tracks and tells you how a herd of sauropods roamed the land, which was then covered in rainforest and muddy billabongs. As well as sauropods, your guide will point out tracks of pterosaurs, lungfish, small mammals, turtles and more.
Gondwana Stars Observatory
The Gondwana Stars Observatory wasn't open during our visit – but it will be soon, so I thought it worth mentioning here. The Jump Up – where the Australian Age of Dinosaurs is located, is Australia's first International Dark Sky Sanctuary. This means that the area has been internationally recognised as having an exceptional quality of starry nights and a nocturnal environment that is protected for its scientific, natural, or educational value.
If you're visiting Winton, it's worth checking to see if they're running any night tours here while you're in town.
Cretaceous Cafe
The Cretaceous Cafe is a great place onsite to grab breakfast, lunch or a snack. The cafe is open between 9 am and 4.30 pm and serves sandwiches, pies, muffins, coffee and cold drinks.
How much does the Australian
Age of Dinosaurs Winton cost
?
There are three levels of pricing for the Age of Dinosaurs Musuem. You can purchase a ticket just for the museum, a ticket that includes entry to the Dinosaur Stampede or a ticket that also includes entry into the dinosaur museums in Richmond and Hughenden.
All three ticket prices are listed below:
Ultimate Dinosaur Tour: Includes entry into the Australian Age of Dinosaurs only – Adults $75 | Child $45 | Family Pass (2A +All Children) $200 | Kids under 5 are free
WDCOA VIP Pass: Includes entry into the Australian Age of Dinosaurs and Dinosaur Stampede – Adults $100 | Child $60 | Family Pass (2A +All Children) $260 | Kids under 5 are free
Australia Dinosaur Trail Pass: Includes entry into the Australian Age of Dinosaurs and Dinosaur Stampede, Kronosaurus Korner and Flinders Discovery Centre – Adults $115 | Child $65 | Family Pass (2A +4C) $300 | Kids under 5 are free
Opening Hours
The Winton Age of Dinosaurs Museum is open year round from 8.30 am to 5 pm. From April to November, the museum is open daily and for the remainder of the year, the museum is open each day except Sunday when the museum is closed.
Winton Dinosaur Stampede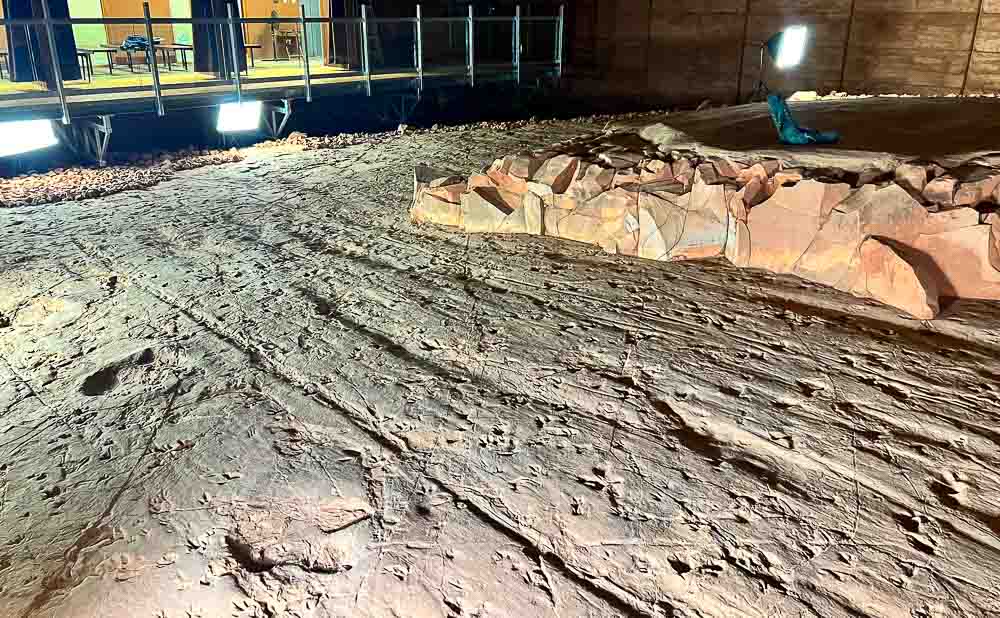 While you're in Winton, make sure you put another day aside to visit the Winton Dinosaur Stampede at Lark Quarry Conservation. This is where you'll get to see with your own two eyes – the only evidence of a dinosaur's stampede in the world! There are over 3000 actual Winton dinosaur stampede footprints that have forever been immortalised in stone. And unlike the March of the Titanosaurs Exhibition – these tracks are exactly where they were found. So you are actually standing where dinosaurs once roamed – it's just mind blowing!
The story goes that around 95 million years ago, the area was very different from what it is today, with the region covered with creeks and rivers from the inland sea. It's thought that a group of several hundred chicken sized dinosaurs – called coelurosaurs and emu sized dinosaurs called ornithopods were peacefully grazing in the area along a creek. Then along comes a huge dinosaur preying on the smaller dinosaurs. This caused the smaller dinosaurs to panic and run in all kinds of directions in order to escape. This story really comes to life as you see all the different footprints on display.
The only way to see the dinosaur stampede Winton offers is via a 45 minute guided tour. The tour starts with an excellent film, showing what scientists think actually took place all those millions of years ago. It really helps the kids get a good understanding of what they're about to see. The film also talks a bit about how the tracks were first discovered – even that story in itself is amazing.
The Dinosaur Stampede is a three to hour return trip from Winton, so you will want to put aside at least half a day. Also, keep in mind that some of the road is unsealed – but it is doable in a conventional vehicle. Don't let the long bumpy journey put you off; you've come this far, so it really is worth the effort.
There are some fantastic walks around the musuem, so if you're interested, plan in advance by bringing good walking shoes and plenty of water. The landscape is spectacular out here, making the walks well worthwhile.
Winton Dinosaur Trail Accommodation
There isn't a huge amount in terms of accommodation Winton offers, but you will find budget pub rooms, spacious motel rooms, and places to pitch a tent.
Click here for our full guide to accommodation in Winton. Alternatively, if you're looking for somewhere to camp, check out this guide here.
If you're after motels in Winton QLD based on: comfort, service and value – then the Outback Motel Winton is for you! Plus, it is located just a 2-minute leisurely stroll to local eateries and pubs.
Accommodation consists of 25 rooms with a mixture of Queen, King and Family rooms, with the option to choose standard or upgrade to premium. The Family rooms have a large double bed, two single beds, and a private kitchen.
Onsite, there is free parking, free WiFi… and the owners – to assist with any needs you may have.
If you're after family friendly accommodation Winton QLD offers, the Outback Motel could be just the place!
Click here to check availability and pricing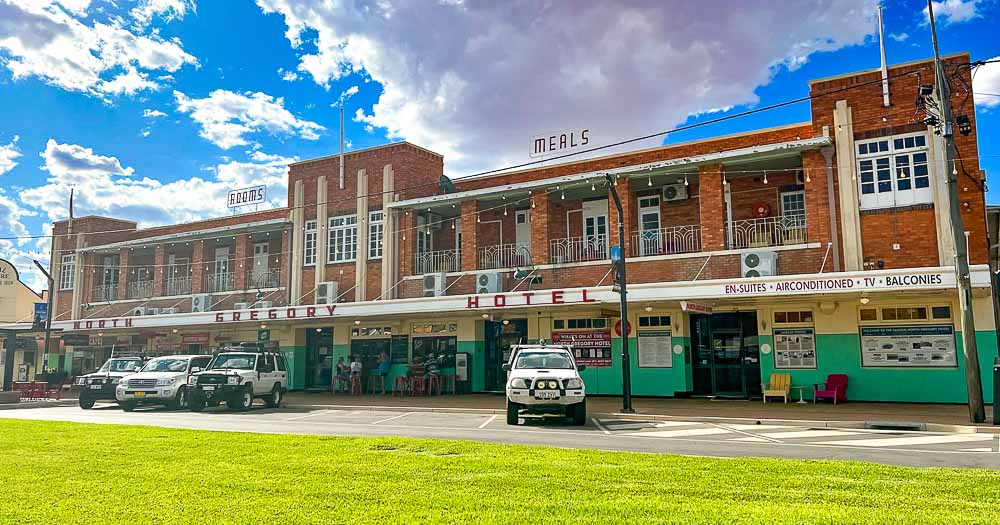 First built in 1879, the historic North Gregory Hotel is famous for being the location of the first live performance of Banjo Paterson's Waltzing Matilda. The grand old hotel takes pride of place, smack bang in the centre of the Winton township, next to the Royal Open Air Theatre Museum. However, location is not the only convenience; the hotel offers a restaurant, cafe, and bottle shop onsite, making dining out a breeze!
Families can be accommodated in rooms with a double/queen bed along with a single bed and rollaway. All rooms are air-conditioned and are equipped with tea/coffee making facilities and a bar fridge.
And after a dusty day exploring, the whole family can take advantage of the complimentary open air Artesian Spa – the only one of its kind in the west!
This is a stunning old hotel and well worth a visit, even if you don't end up staying here. However, if you're after hotels in Winton QLD, with country hospitality at its finest, then the North Gregory Hotel Winton is the place you're after!
Click here to check availability and pricing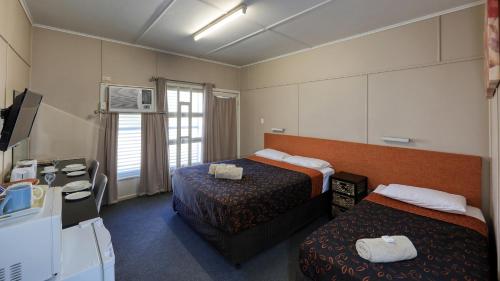 Matilda Motel Winton offers clean and comfortable family accommodation within walking distance to shops, restaurants and local attractions.
The air-conditioned rooms offer families of up to 4 accommodation in one room in double/single bedding configurations. Rooms also include basic breakfast facilities such as a microwave, toaster and kettle.
We stayed here during our time in town, and while it's certainly nothing fancy, it provided everything we needed – plus it's right behind the pool where we spent a few hours each afternoon. The Matilda Motel provides the perfect budget family friendly accommodation in Winton, Queensland.
Click here to check availability and pricing
The Australian Age of Dinosaurs Museum Winton – Our Verdict
Whether your kids are into dinosaurs or not – they will be after visiting the Age of Dinosaurs. This place is absolutely amazing and we all just loved it!
To see how we spent our few days in Winton – click here. This will take you to our detailed itinerary, which shows you day by day how we spent just over two weeks exploring the dinosaur trail in outback Queensland.
Click here for an excellent 7 day Longreach to Winton itinerary.
___________________________________________________________________
Hopefully you found this guide to the Australian Age of dinosaurs helpful. You can also read our guide on things to Winton here or if you're doing the complete dinosaurs trail, then check out our guide to Richmond here and Hughenden here.