Being an Australian family living in sunny Queensland we have travelled quite a lot to the beautiful Gold Coast. Whether you're an international or interstate visitor, then the Gold Coast is a perfect destination for toddler friendly holidays. Also if you do your research you can get some great deals and so there are plenty of options for cheap family holidays.
What's great about the Gold Coast is you can easily find great priced self-contained accommodation everywhere! This is great news for families with small children as you can have extra space as well as a kitchen to prepare your own meals. If you are staying in the off-season you can get great deals on more upmarket hotels which would usually cost you a small fortune. So do your research and check these out too.
This post may contain compensated links. Please refer to my disclaimer here for more information.
Talk to other families about their tips on visiting the Gold Coast and join our Queensland Travel Facebook Group.
Toddler Friendly Holidays on the Gold Coast
With regards to locations on the Gold Coast, my top picks for awesome toddler friendly holidays are Broadbeach, Burleigh Heads, Palm Beach and Southport. To be honest, despite the bad rap Surfers Paradise sometimes gets for its party scene, I think it can also be great for a family holiday.
Following is a list of activities great for small children at each location as well as recommended accommodation:
Southport:
Whilst in my view Southport is not a very exciting destination, there are several great attractions perfect for a toddler friendly holiday.
Broadwater: The beaches at Southport are calm water beaches which is perfect for toddler friendly holidays.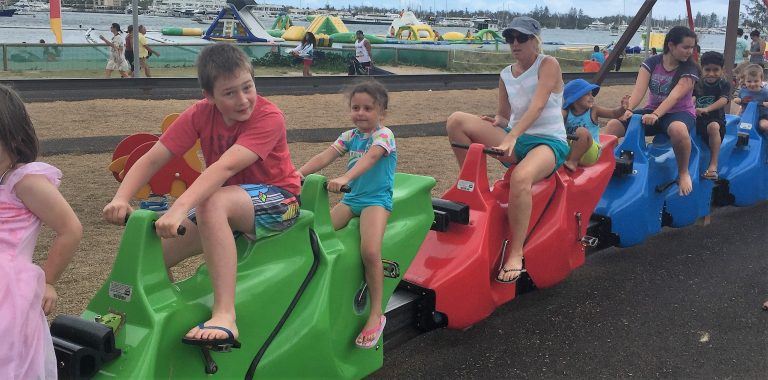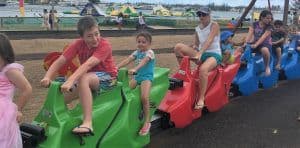 Southport Broadwater Parklands – this is the best attraction of Southport for kids. The parklands include the most innovative and imaginative kid's playground that you have ever seen and the Rockpools which is a great water park for small children and the number one thing to do in Southport on TripAdvisor. The parklands are completely free. If you have small children, you could easily visit this park everyday whilst on holidays.
Australia Fair Shopping Centre is the main shopping centre for Southport. It doesn't have a huge variety of shops, but everything you need for a family trip. There are also movies here too.
Tram: there are several stations in Southport which take you into other parts of the Gold Coast.
Everything is within walking distance at Southport so no need for a car. You will need a car though if you wish to go further a field. Check out my post about saving money on car hire.
Accommodation:
Meriton Serviced Apartments: beautiful modern apartments, nice pool, walking distance to the monorail, Southport Broadwater Parklands and supermarket for supplies. If you would like to book this hotel for your next trip, you can do so here.
Palm Beach: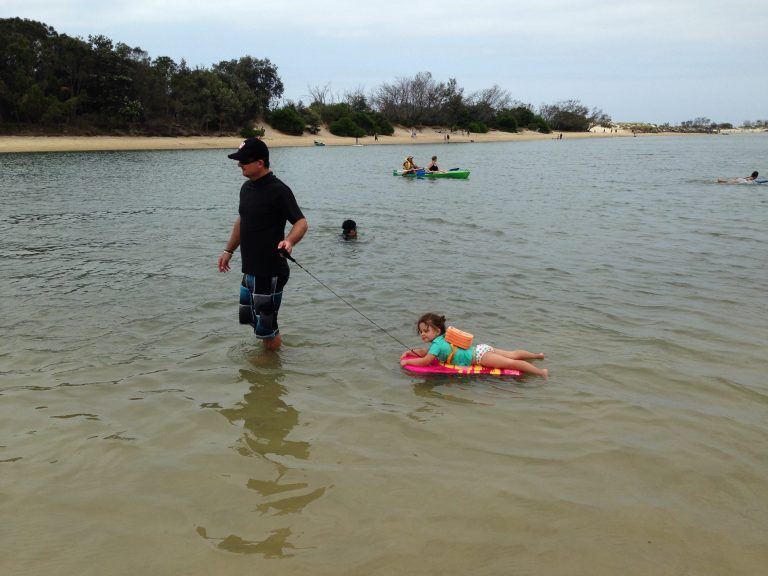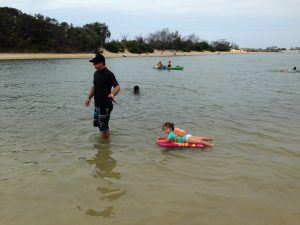 Palm Beach is a lovey quiet and picturesque location. Things I love about Palm Beach include:
The option of the surf beach or the calm waters of the Currumbin Creek which is perfect for small children.
Pirate inspired playground which kids will love! And nearby the parents will love the food at the Dune Café.
You will definitely need a car if you wish to get out and about whilst staying in Palm Beach, unless you are happy just hanging around the hotel and beach – which also makes for perfect toddler friendly holidays.
Accommodation:
Royal Palm Resort: This is my all time favourite resort on the Gold Coast! Great self-contained apartments with gorgeous views of Palm Beach, has the best pool area complete with small water slide perfect for the little kids and walking distance to Currumbin Creek and the Pirate Treasure Island Playground. If you would like to book this hotel for your next trip, you can do so here.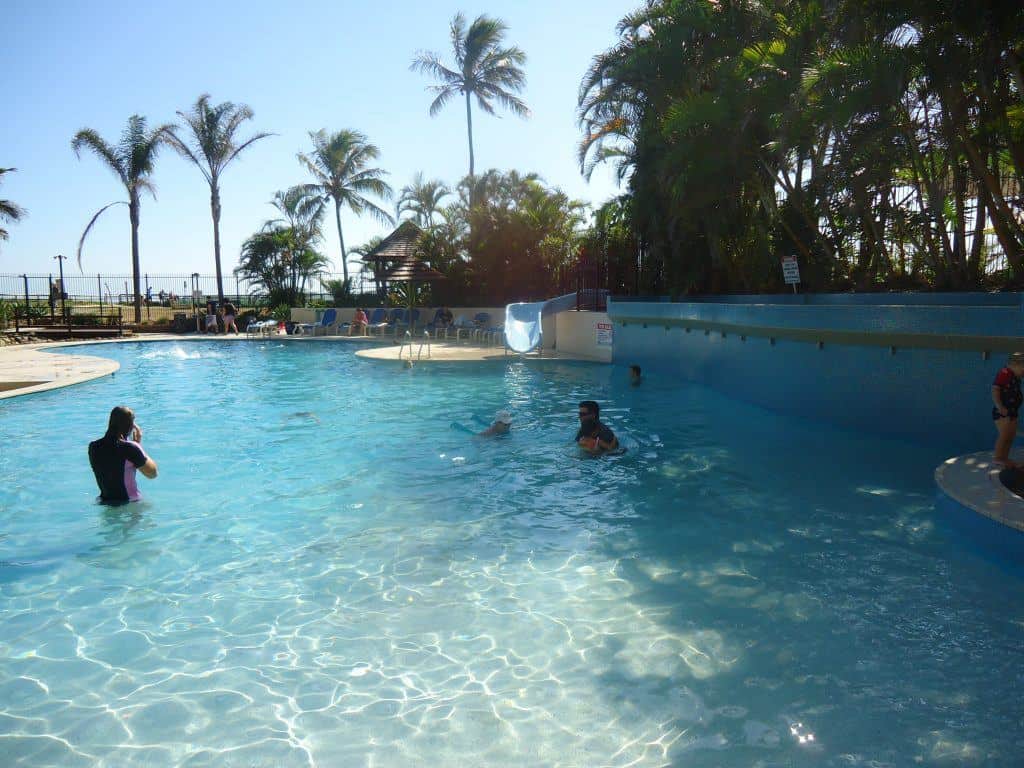 Broadbeach:
Broadbeach is a bit trendier than the other destinations above, but still makes for a great family location. The main attractions for Broadbeach are:
Oasis Shopping mall at Broadbeach for shopping and great restaurants. There is even a carousel in the mall which is sure to delight small children.
There is a surf beach at Broadbeach which also has a fantastic playground for kids.
Pacific Fair shopping centre is the main shopping centre on the Gold Coast and is located at Broadbeach. The centre is huge and has every shop you could ask for. It also has movies if you get a spot of bad weather and need some indoor activities.
The Star Casino. – is also located in Broadbeach which is a great night out for Mum and Dad if they can get a babysitter one night.
Accommodation:
Phoenician Resort: A great resort located in the heart of Broadbeach. This resort has self-contained rooms and a lovely pool area great for families. If you would like to book for your next family holiday at this hotel, you can do so here.
Sofitel: although this hotel is not-self contained it is a great hotel for short stays on the Gold Coast. The hotel is located within the Oasis Shopping Centre so has easy access to shops and supermarkets. If you would like to book your next family holiday at this hotel, you can do so here.
Peppers: Peppers is priced way above what I call great value, but I have stayed here before on a fantastic deal, so if you can get yourself a great deal I also recommend this hotel. Peppers is a lovely hotel with all the mod cons. The rooms are self-contained, offer amazing views of Broadbeach and has a lovely modern pool area. If you would like to book this hotel for your next family holiday you can do so here.
Surfers Paradise: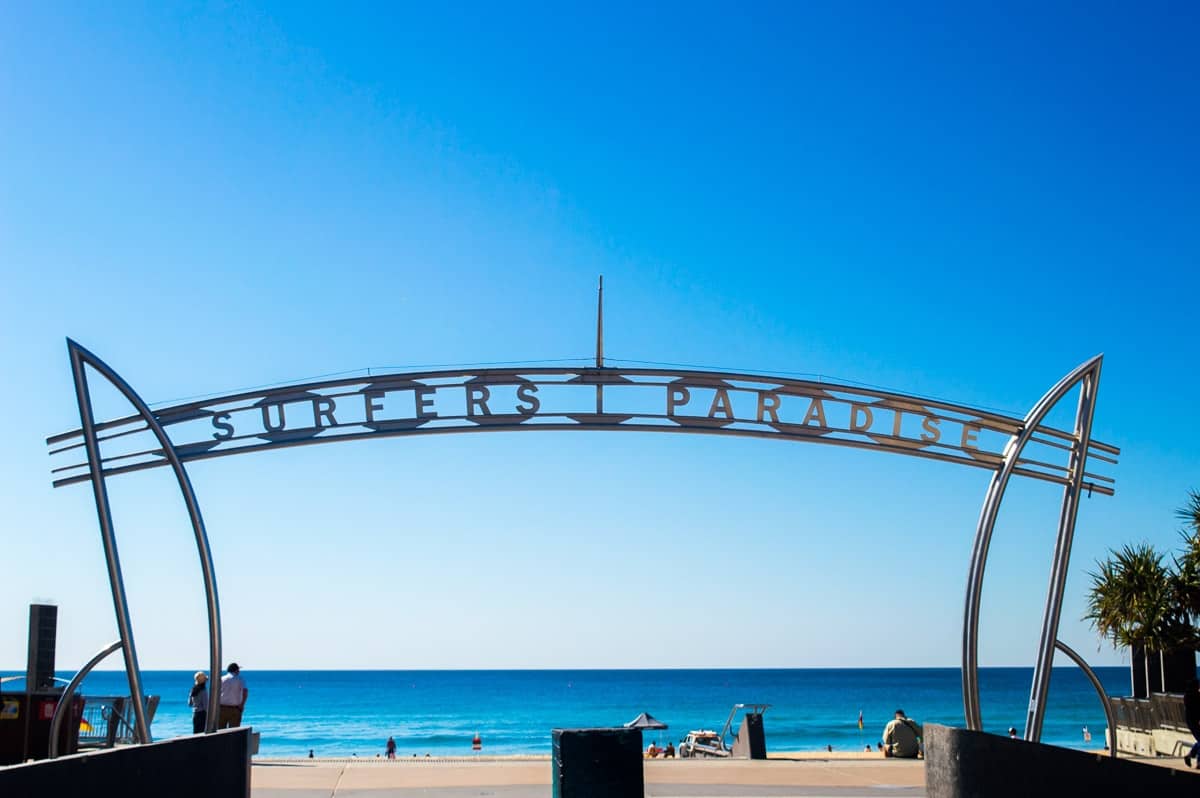 Whilst Surfers Paradise often gets a bad rap for its party scene, it also has some great family hotels. There are several great activities here for families but I won't mention them here given this article's focus is on toddler friendly holidays. But if you are after a short getaway where you mostly stay in your resort with your small children – Surfers Paradise does house some of the best family resorts on the Gold Coast.
Accommodation:
Mantra Crown Towers: great for families with small children, self-contained rooms, great lagoon area for kids. If you would like to book this hotel for your next trip, you can do so here.
Paradise Resort: Kids club included even for babies, heaps of kids activities all day, great kids playground – maybe better suited for older toddlers though, we found Myla did not want to participate in the activities. If you would like to book this hotel for your next trip, you can do so here.
Other Locations
Of course there are several other great locations on the Gold Coast too like Burleigh and Coolangatta but I have just focused on places I believe are best for toddler friendly holidays or a holiday with a baby.
Gold Coast Theme Parks
Apart from making the most of the wonderful pools, beaches and playground of course the Gold Coast is famous for its theme parks including SeaWorld, Dreamworld, White Water World, Movie World and Wet and Wild. All of the theme parks often offer great deals, so do your research before you go and try not to pay full price on entry. I also highly recommend packing your own lunch when going to the theme parks or at least snacks and drinks as food is ridiculously priced at the parks!