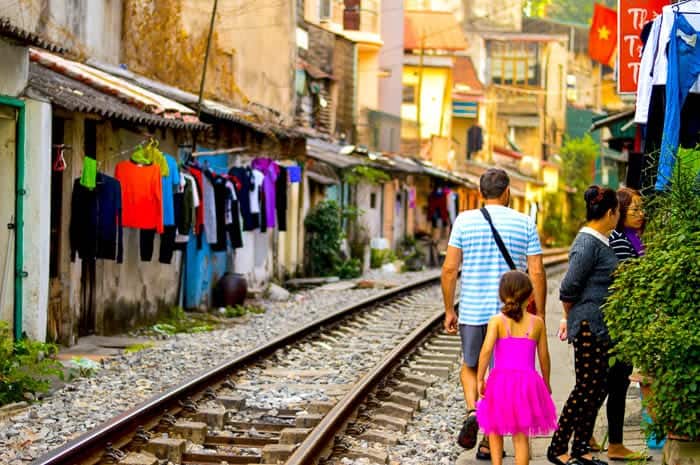 .
3 weeks in Vietnam is the ideal amount of time to cover all the best things to do in Vietnam. Our 3 week Vietnam itinerary gives you plenty of time to see all the wonder places in Vietnam without being too rushed. Although by cutting out 1 – 2 cities a Vietnam 2 week itinerary could work also.
In this article I am going to share with you the Vietnam route we recently took for our family holiday. This is the ultimate Vietnam trip planner as I am going to tell you all the places we stayed, how we got between cities, the best places to visit as well as a general budget to help you plan. Even if you are not a family and looking for tips on a backpacking Vietnam trip – you will find plenty of great tips here too.
This kind of research takes hours and hours of work over many weeks! I read numerous blog posts and TripAdvisor reviews to ensure I was booking great hotels in great locations and had a list of must do activities in each location. Below I will tell you exactly where we stayed and what we did, including the costs. I will also let know you what to skip and why. So save yourself the hassle and read on! I promise you this will be a great budget family vacation in Vietnam.
Do you want to chat with other families who have travelled to Vietnam? Join our Vietnam Facebook group where you can ask other families who have travelled to Vietnam for their expert tips and advice.
Click here for more information about planning a trip to Vietnam.
3 Week Vietnam Itinerary
We started our 3 week Vietnam itinerary by flying into the north of Vietnam – in Hanoi. We had a 9 hour stop over in Singapore Airport so checked into the Ambassador Transit Hotel which is actually located right inside the Singapore airport terminal. I highly recommend this for any stop overs around 4 or more hours when you are travelling with small children.
The Ambassador Transit Hotel cost $205 AUD for a triple room for the latest prices check out the
Ambassador Transit Hotel on booking.com.
As always check Skyscanner to see whether its better value for money to fly in to the north of Vietnam or the south of Vietnam. This may change depending upon where you are flying in from and the time of year.
Hanoi Itinerary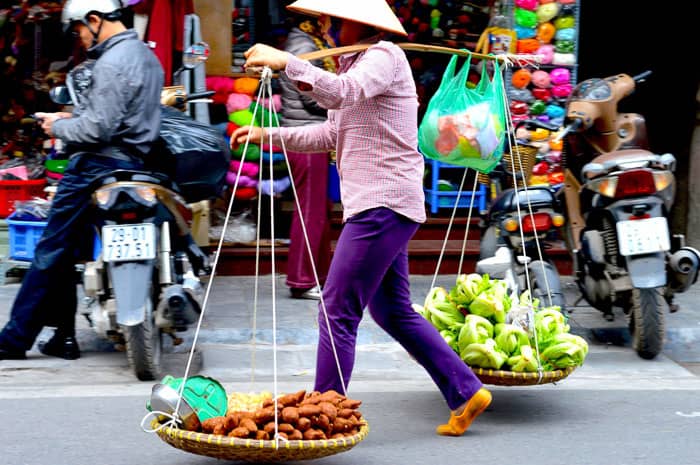 Our first stop was Hanoi. We arrived in Hanoi at their local time of 11.40am and obtained our Visas on Arrival.
We used Hanoi Transfer Service to get from the airport to the city – in hindsight it would have been just as easy to get one of the several taxis waiting at the airport. As long as they put on their metre – which most do – this will be a cheaper option than arranging private transfers.
Where to stay in Hanoi
The best place to stay in Hanoi is in the Old Quarter. An Hanoi Old Quarter Hotel such as the Real Hanoi Hotel is an ideal location. This is where we stayed for 4 nights at the cost of $100 AUD. You can check out the latest prices and book the Real Hanoi Hotel on Agoda or click on the image above to see the latest prices on Expedia (compare and book with the cheapest!). Check out our review about the Real Hanoi Hotel.
There are plenty of great places to stay in Hanoi if you want something a little more upmarket or even cheaper. Click here for our guide on where to stay in Hanoi with kids.
Places to Visit in Hanoi
Which places to visit in Hanoi, really depend upon your interests. We did the following tours:
A food tour with Hanoi Street Food Tour which costs $25 US per person (or around $30 AUD per person). The tour last for 3 hours and has amazing views on TripAdvisor. Tours leave at 11 am, 5 pm or 630 pm, No need to book just turn up a few minutes before the scheduled time. See our review on Hanoi Street Food Tour.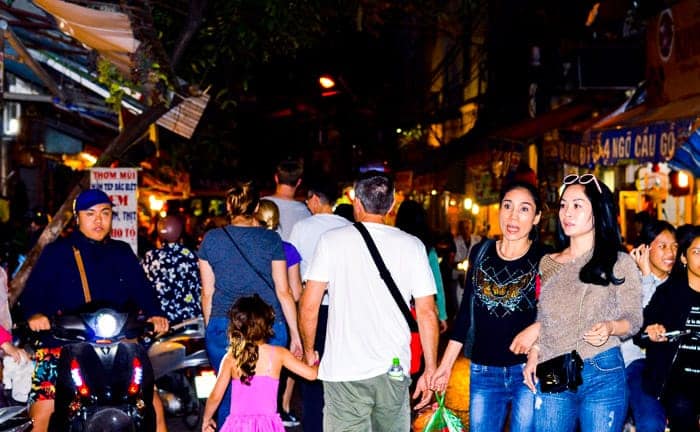 A tour of the city of Hanoi with Hanoi Kids Tour. This tour is listed as the number 1 activity on TripAdviser out of 750 listed activities!!!
We also did heaps of exploring on our own. We explored the Old Quarter, spent a bit of time in Beer Street, had massages, explored the Hanoi Railway village and went for a cyclo ride.
Other great Hanoi day trips and tourist attractions include:
Ho Chi Minh Complex
Ho Chi Minh's Mausoleum
The Temple of Literature and Museum of Ethnology
Hoan Kiem Lake
French Quarter
Click here for a complete list of tours available in Hanoi.
You can do most of the above activities on your own which will be cheaper or take the stress free option and book a tour.
How long to spend in Hanoi?
We spent 4 days in Hanoi, however for a 2 week Vietnam itinerary I would shorten this and spend 2 days in Hanoi.
For more details (including a price guide) about what we got up to in Hanoi, check out our 4 day family friendly itinerary in Hanoi.
Cruise Halong Bay
Whilst many people say Halong Bay is now just one big tourist trap, I just don't think a trip to Vietnam is complete without a night on a boat in Halong Bay. I visited Halong Bay in 2007 and have such fond memories of a magical place, it was like nothing I had ever seen before. I certainly did not feel it was a tourist trap then and whilst there is no doubt it has got busier over the 10 years, I still don't feel it is a tourist trap now.
There are a variety of cruises to choose from to explore Halong Bay. For those short on time you can take a Halong Bay Day Tour, although I recommend taking a 2 day Halong Bay cruise.
Choosing which boat to book with can be a little daunting with so many to choose from. I suggest doing some research and read some Halong Bay cruise recommendations before making a decision that is right for you.
There are some very cheap options and very expensive options. We decided to go somewhere in the middle and booked a 1 night cruise on the Halong Royal Palace Cruise for $527 AUD. The price included all meals and activities whilst on board. Activities include cruising among the amazing limestone islands emerging from emerald water, exploring the Halong Bay caves, kayaking and swimming.
Click to read our review on the Royal Palace Cruise
Click here to see the latest pricing for the Royal Palace cruise or click here for a complete list of Halong Bay Cruises available including pricing.
Ninh Binh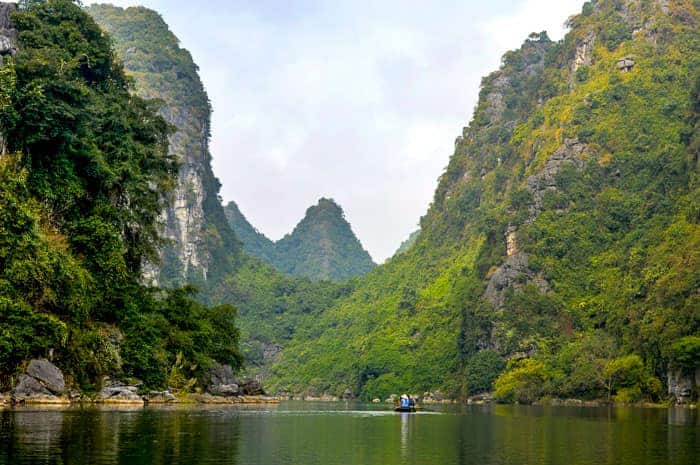 From Halong Bay we headed to Ninh Binh for 1 night. The main reason for visiting Ninh Bin was to see the gorgeous water ways of Trang An (see above)- also known as the inland Halong Bay. You can visit Trang An by doing a day trip from Hanoi but we decided it would be nice to spend the night and do the trip ourselves .
The 3 hour Trang An Boat tour costs $7 US or approximately $9 AUD per person. The other option is to visit Tam Coc which is very similar to Trang An and was only a few minute work from our hotel. I visited Tam Coc many years ago and now after seeing both – I think they are both equally beautiful. So just go with whatever one fits with your itinerary best.
To reach Trang An we hired a motor bike and had a fantastic time exploring the local villages. If motorbikes aren't your thing, then hire yourself a bicycle – riding around the villages is well worth it. Check out our video of the geese traffic jam we encountered – its hilarious!!!
Accommodation
We stayed at La Belle Vie Tam Coc Homestay for 1 night for $40 AUD. This was a fantastic hotel and we highly recommend it for anyone staying in the area. You can check out the latest prices and book the La Belle Vie Tam Coc Homestay on booking.com.
Read our review about our stay at La Belle Vie Tam Coc Homestay
Click here for a complete range of accommodation in Ninh Binh
Getting to Ninh Binh
La Belle Vie Tam Coc Homestay organised a driver to pick us up from Halong Bay and drive us to the hotel. The drive was 4.5 hours and cost $100 AUD. You can of course catch a bus which is much cheaper if you do not have time restraints.
La Belle Vie Tam Coc Homestay also arranged for a driver to take us to the Hanoi airport which is a 2.5 hour drive and costs $85 AUD.
If you want the hotel to arrange transfers for you, just email them directly.
We then flew from Hanoi (6.35 pm) to Danang (7.55 pm) with Vietnam Airlines. You can check out the latest prices and book your flights on the Vietnam Airlines website.
Click here to read about how we spent 24 hours in Ninh Binh
Hoi An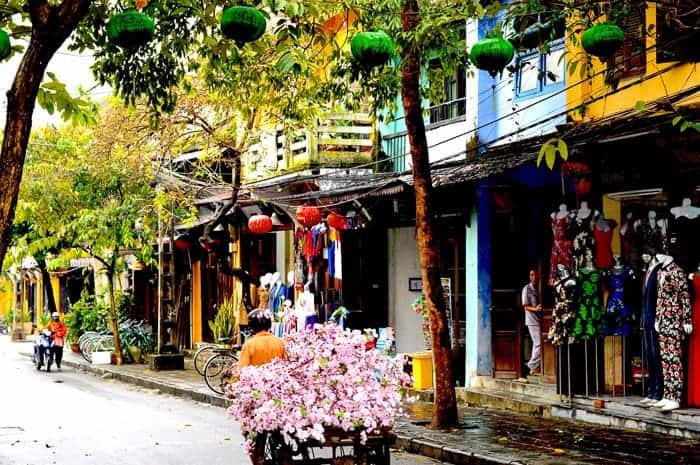 To reach Hoi An we flew into the airport at Danang and then drove 45 minutes to the city. Once again we had pre arranged private transfers with Hanoi Transfer Service. In hindsight there is no need to arrange private transfers – there are plenty of taxis waiting at the airport happy to take you into Hoi An.
Accommodation
We stayed in Hoi An for 4 nights at the An Hoi Hotel – $183 AUD. This hotel is located very close to the Ancient City – only a few minutes walk away – which is one of the reasons I chose the hotel. This hotel is fantastic – it has ok reviews on TripAdvisor which concerned me – but I need not be – we highly recommend this hotel. Click here for the latest prices at An Hoi Hotel.
Click here for a full range of hotels available in Hoi An.
Sightseeing
This is what we got up to in Hoi An:
We hired a motorbike and checked out An Bang Beach – pretty deserted – but little cafes along the beach. You can also hire bicycles and ride to An Bang Beach – although it will take longer of course. We checked out some other beaches too, but I'd give them a miss, they are not that great.
Took a day tour with a private tour guide Billy Tuan ( contact him via email – tuanbk11591@gmail.com) and visited the Cam Thanh Water Coconut Village, rowed traditional bamboo basket boats, visited Tra Que a traditional Vietnamese farm and the local orphanage where we delivered milk and candy to the kids.We rode bicycles to get from place to place which was pretty cool – a great way to see the countryside The tour cost $35 AUD per adult and kid are $20 from 6 years.
Lots of wandering around the ancient town of Hoi An, checking out the beautiful old buildings and a bit of shopping – this place is paradise for shoppers!
After our visit in Hoi An we fly to Ho Chi Minh City with Vietnam Airlines. You can check out the latest prices and book your flights on the Vietnam Airlines website.
Click here to find our more about things to do in Hoi An and where to stay
Ho Chi Minh City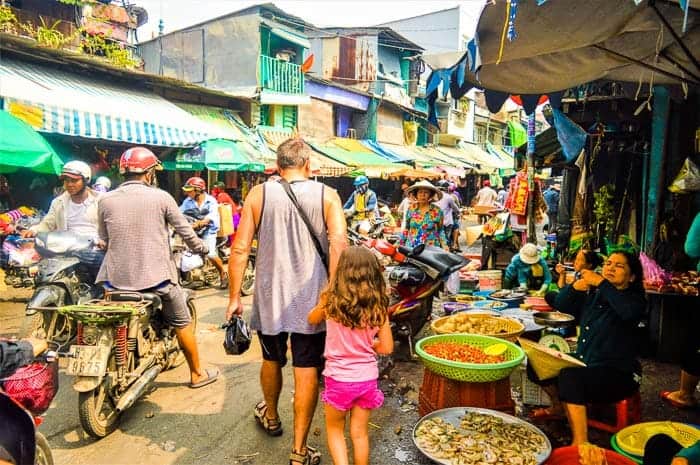 We flew to Ho Chi Minh City from Danang. Once again we had private transfers through Hanoi Transfer Service to take us to our hotel in Ho Chi Minh City. Again, skip the private transfers and just jump into one of the many taxis at the airport – just ensure they put on the metre.
Accommodation
In Ho Chi Minh City we stayed at Graceful Saigon Boutique Hotel for 3 nights – $152 AUD. Click here for the latest prices for the Graceful Saigon Boutique Hotel or click on the image to the left to see what prices are like Expedia (compare prices and go with the cheapest!!) The Graceful Hotel is linked up with the Beautiful Hotel and so you can use their pool – its only just a few minutes walk away.
The Graceful Hotel is located in the Backpackers District which is an ideal location for travellers. There are plenty of bars and restaurants to choose from and an easy walk to the Ben Thanh markets. There is plenty happening here, so if you prefer something a bit quieter you might like to look for somewhere else where.
Click here for a full list of hotels available in Ho Chi Minh City
Sightseeing
Looking for things to do in Ho Chi Minh City Vietnam, check out what we got up to:
Ben Thanh Markets – very very busy, great tourist market for cheap souvenirs.
War Museum – Whilst I highly recommend this museum, it is not very kid friendly . Some photos and videos are gruesome and if your kids are anything like Myla they will ask a lot of questions. Andy and I took it in turns looking at the exhibits whilst the other entertained Myla.
Checked out a few of the bars within the backpacker district. All the bars have tables and chairs on the street so its great for people watching. Great dance music which the kids will love.
We didn't make it to the Cu Chi Tunnels this trip, as I went 10 years and Andy wasn't that keen (he just wanted to check out all the cooking stuff at the local markets!!). I personally highly recommend you visit them though. Given the Cu Chi Tunnels are located a fair way out of town, there is no real good value DIY option unless you take the bus – but then this makes it a very long day. Your best option is to check out a tour – here's a few I looked at and would have booked with if we visited them this trip:
Friends Travel Vietnam: approximately $26 AUD per adult. Tours run between 8am to 2pm.
Vietnam Awesome Travel: approximately $34 AUD per adult. Tour runs between 8am to 12.30pm.
Click here for a full list of tours available in Ho Chi Minh City.
Click here for information about things to do in Ho Chi Minh City and where to stay.
Can Tho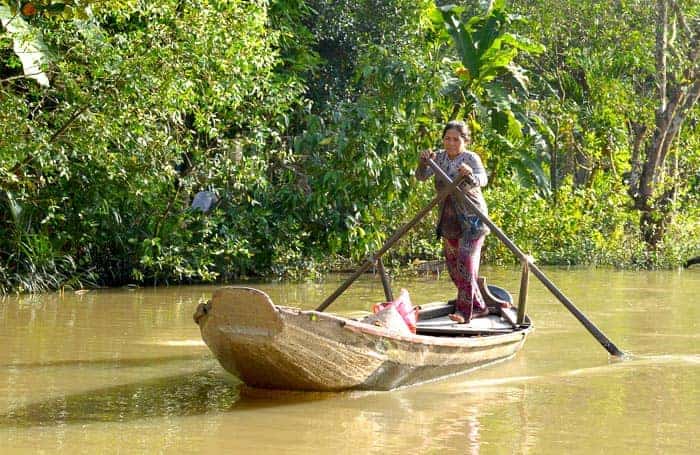 After Ho Chi Minh City we were off to check out the Mekong Delta. We decided to stay at a homestay in Can Tho on the waterways of the Mekong Delta.
From Ho Chi Minh City we arranged for Hanoi Transfer Service to drive us to Can Tho. You can catch a bus, but after you pay for a taxi to the bus station in Ho Chi Minh City, the bus tickets for you all and then another taxi from the bus station in Can Tho to your hotel – you might as well pay the money for the private transport. Its quicker too.
Accommodation
In Can Tho we stayed 2 nights at the Nguyen Shack – $128 AUD.You can check out the latest prices and book the Nguyen Shack on booking.com. This place is absolutely amazing and highly recommended!!! The kids are going to love it here – the place is super family friendly.
For more information about our awesome stay at the Nguyen Shack check out our full review.
Sightseeing
The Nguyen Shack offers various activities as follows:
Local food trek – Go to Can Tho City by boat and eat some local specialty as snake, crocodile, frog, rats and pork rolls with a tour guide talking about Vietnamese food culture. The tour includes drinks (alcoholic & non-alcoholic) – $20 US per person. Tour runs 430 pm to 930 pm.
Floating Markets of Cai Rang– approximately $40 AUD for 2 adults and 1 child – 530 am to 8 am.
Bike Tour

– approximately $31 AUD for 2 adults and 1 child – 9 am to 12 pm.
Boat Trip

– Ride on the small river of Mekong Delta to discover the natural landscape and to see the local people way of life on the river. Approximately $20 AUD for 2 adults and 1 child – 4 pm to 530 pm.
Cooking class

– $12 US per person – classes run 1 pm to 3 pm.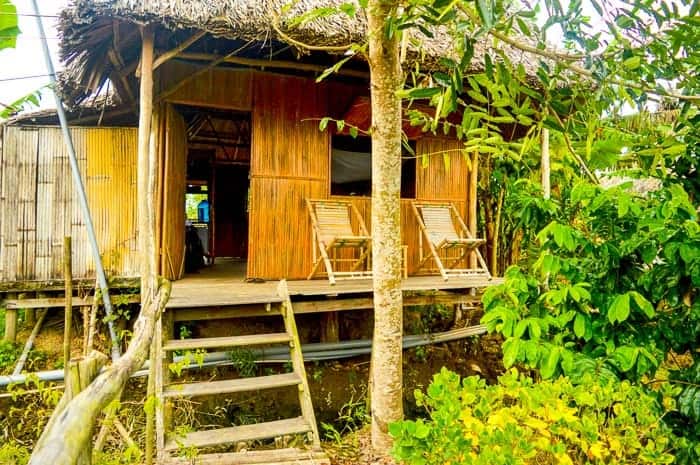 Click here to read more about our stay at the Nguyen Shack and how to explore the Mekong Delta Region
Phu Quoc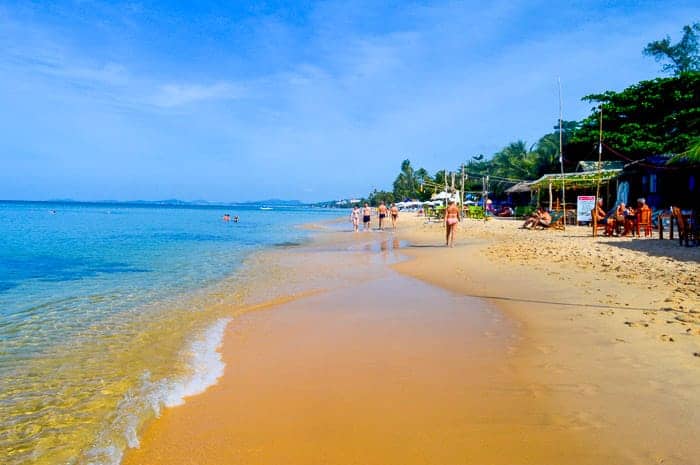 The last part of our trip was 5 days in absolute paradise in Phu Quoc – seriously how come it took me so long to visit this paradise on earth!
Transfers
Phu Quoc is only a 45 minutes flight from Ho Chi Minh City. You can also fly from Can Tho. Flights are relatively cheap We did have a flight booked from Can Tho to Phu Quoc but it was cancelled so we were forced to catch the Superdong ferry from Rach Gia. The cost is $55 AUD for 2 adults and 1 child.
To make a booking you will need to send them an email as they don't have an online booking system. You need to pick up your tickets at least a day before the date of your booking or they cancel the tickets. We picked up our tickets in Ho Chi Minh City – we had to take a taxi from our hotel. I do recommend booking in advance – the ferry was jammed packed when we went.
Rach Gia is about a 3 hour drive from Can Tho. The staff at the Nguyen Shack arranged a driver for us at a cost of $70 US. You can catch a bus, but given you would need a taxi to Can Tho bus station, then a taxi from Rach Gia bus station to the ferry and the fact that it takes quite a lot longer – it makes sense to just take a private car.
Our ferry left at 1pm and arrived at Phu Quoc at 3.20pm. The ferry is very comfortable and they played movies during the ride across to the island.
Once we arrived at Phu Quoc – its chaos at the other end – with heaps of transport operators trying to our business. We basically went with the first guy who approached us after he advised it would be $10 US for the 3 of us to Long Beach. It ended up being a mini van and we had to wait for another family. They jammed us in there – but we made without drama to our resort,
Accommodation
We stayed for 5 nights at the Viet Thanh Resort – $801 AUD. You can check out the latest prices and book the Viet Thanh Resort on booking.com or click on the image to the left for the latest prices on Expedia.
This place is so beautiful – we stayed in one of the little bungalows right on the beach. We could sit on the deck and see Myla play in the sand only a few metres away. The bungalows are super basic – but absolutely perfect for a simple family friendly holiday by the beach.
There is no pool here, but the resort has an agreement with the resort across the road so you can use their pool if you need a swim in the pool. Believe me you won't need the pool though – the beach here is absolutely spectacular. I seriously have never seen a beach so beautiful! The water is clear, calm and warm. Way better than a pool!
There is not the best service at this hotel, you wait quite a while for food and drinks – but just eat some where else! You will find it hard to find a better value resort this close to the beach front on Long Beach.
Sightseeing
Following are some of the sights and / or tours you might like to do when visiting Phu Quoc:
Ham Ninh Village – a picturesque fishing village, according to Vietnam Online, it is known for its "breathtaking natural scenery and peaceful daily life of local fishermen". Ideal spot if you are into fresh seafood.
Bach Dang Street Night Market – is an open air night market operating from 5pm to 10pm. We went to the night markets a couple of times – there is not really souvenirs here – its a great place for fresh seafood though at bargain prices!
Hire a driver and take a DIY tour of the south of the island – According to TripAdvisor forums, you can hire a driver for approximately $42 AUD. On the south of the island attractions include Pepper Farm, Fish Sauce Factory and Sao Beach. We hired a motorbike and checked out quite a few beautiful beaches like Sao Beach and other villages across the island.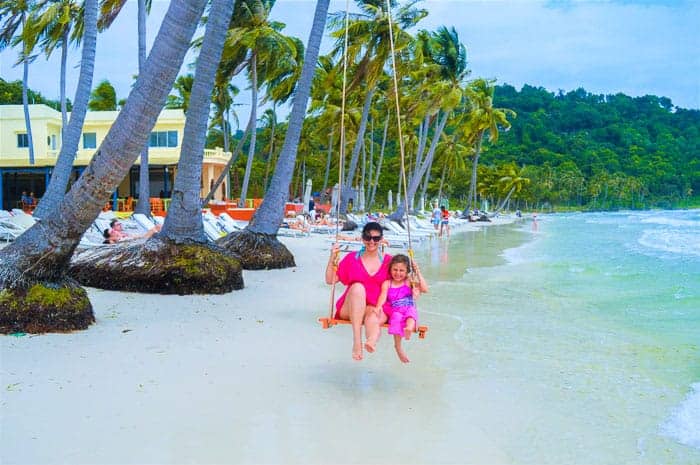 Take a snorkelling trip – it is recommended to snorkel around the An Thoi Islands to the south or Turtle Island to the north. Book in advance!!!! We were not able to get onto any trips during our stay!!!
Hire a boat to Fingernail Island located in An Thoi Islands. Fingernail Island is a gorgeous small island with small beach in the south of Phu Quoc. Don't get confused though there is another island with the same name in the North. A private boat costs about 800,000 VD. We really wanted to do this – but simply ran out of time.
Sunny Boat Tours

– day trips boat to the south or north of Phu Quoc. The tours include snorkelling, swimming, fishing and eating around the An Thoi Islands. The tour Cost is approximately $60 AUD for 2 adults and 1 child or $200 AUD for a private trip. As above – book in advance!!! They were booked out during our time in Phu Quoc.
Click here for a full list of tours available on Phu Quoc Island.
Click here to find about more about the beaches in Phu Quoc and some recommendations of where to stay
Last night in Ho Chi Minh City and return to Brisbane
After our 5 nights in Phu Quoc we fly back to Ho Chi Minh City with Vietnam Airlines for our last night in Vietnam. You could technically fly to the Ho Chi Minh City airport and fly straight back to Australia from here. However everyone recommends to NOT take a domestic flight and international flight in the same day due to the several cancellations made by Vietnam Airlines which may cause you to miss your international flight. Given we had one domestic flight cancelled by Vietnam Airlines I am glad we followed this rule. Although as it turned out we had no issues returning to the mainland from Phu Quoc and could have easily got our international flight the same day – lots of tourists were doing it.. I guess it is up to you whether you want to risk it or not?
For our final night we stayed at the Graceful Hotel again and once again used Hanoi Transfer Service for private transfers to and from the airport. As I have said throughout this post – skip this – just get taxis.
We had an absolute fantastic family holiday in Vietnam and we would totally recommend it for any families wanting to travel around Asia and experience a little bit of culture , fun and adventure.
If you are arranging your own family friendly vacation in Vietnam, and need any assistance whatsoever with making arrangements, or recommendations on where to stay and what to do, please contact us by any of our social media accounts or drop us a line in the comments below. We would LOVE to help you plan your awesome family trip to Vietnam.
If you're heading to Vietnam here are some more articles you may find useful:
Please note that I do receive a small commission from the links within this post if you choose to make a booking or purchase. This commission allows me to provide you with the best budget advice for your next trip completely free of charge. As always, all opinions within this post remain my own.
Want to save this for later? Click on the picture below and pin to Pinterest.