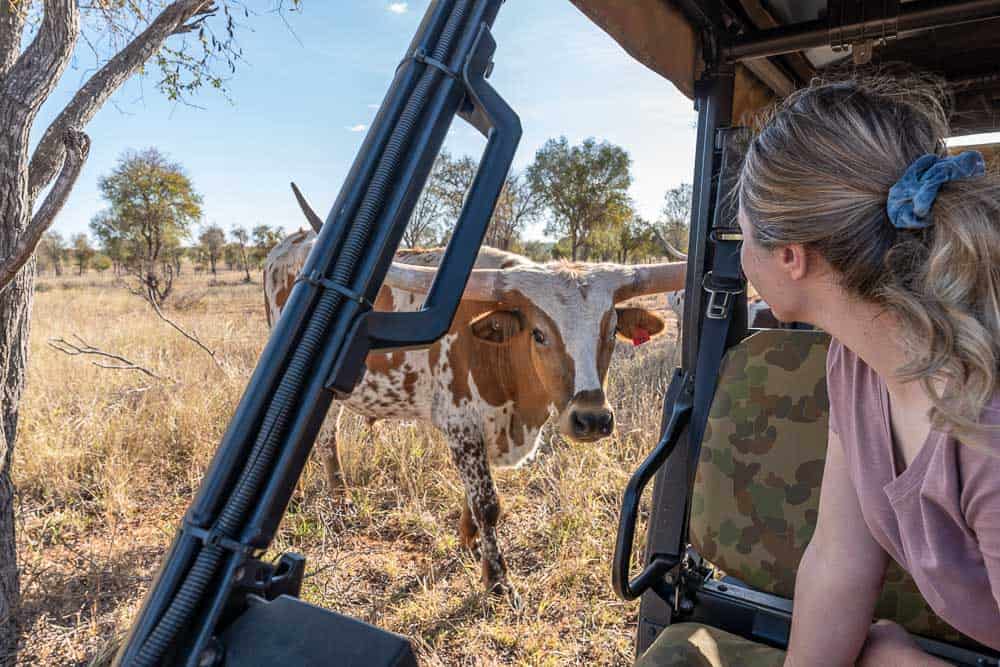 Image Credit: Tourism and Events Queensland
Gold was discovered in Charters Towers during the 1880s, which led to the town becoming a booming metropolis. During the peak of the gold rush, there was so much wealth in Charters Towers that you could pretty much get anything your heart desired – which is why it affectionately became known as "The World".
While not such a bustling metropolis today, Charters Towers is nevertheless a great place to take the family – particularly for those interested in learning more about the gold rush. Things to do in Charters Towers include visiting one of the many great parks, exploring stunning grand historical buildings, watching the sunset from the top of Towers Hill or do something a little more unique like visiting the Texas Longhorns.
If you plan to visit Charters Towers, this guide is a great place to start. This guide covers all the best Charters Towers things to do and provides all the practical information such as location, opening hours, and where applicable, entry prices. It also includes tips on the best accommodation Charters Towers has for families. Also, check out our YouTube video here showing all the highlights from our recent trip.
Are you planning a trip to Queensland? Have any questions? Join our Queensland Travel Planning Facebook group here now! It's the perfect place to ask any questions and to be inspired!
This post may contain compensated links. Please refer to my disclaimer here for more information.
Where is Charter Towers
and how to get there?
Located just 130km (90 minutes drive) west of Townsville, it is said Charters Towers is where the outback meets the tropics. Its central location at the crossroads of the Flinders Highway (Overlander's Way) and the Gregory Developmental Road make it easy to reach whether you're coming from the east, west, south or north.
If you're already visiting Townsville, it is well worth making the trip west for a few days to explore Charters Towers. Alternatively, it is a great place to stop over for a few days while on a road trip through north Queensland.
It's best to drive in your own vehicle or hire a car when coming to Charters Towers. This will make it easier to get around to see all the various attractions in town. However, there are a few public transport options as well. You can get to Charters Towers by taking the Inlander train, which travels between Townsville and Mount Isa twice a week. There is also a bus that regularly travels from either Mount Isa or Townsville. Lastly, you can fly by light aircraft from Townsville too.
Charters Towers Things to do
Map
To help plan your trip and decide what to do in Charters Towers, I've provided this handy Charter Towers map. This map shows you where all the different Charters Towers attractions and things to do are located to help plan your itinerary. Zoom in and out for a better view.
Best
Things to do in Charters Towers
with Kids
This guide covers the very best Charters Towers tourist attractions. Please note that information, including pricing, location and opening hours was correct at publishing and are subject to change at any time – I've prepared them just as a guide for planning your trip.
Charters Towers Visitor Information Centre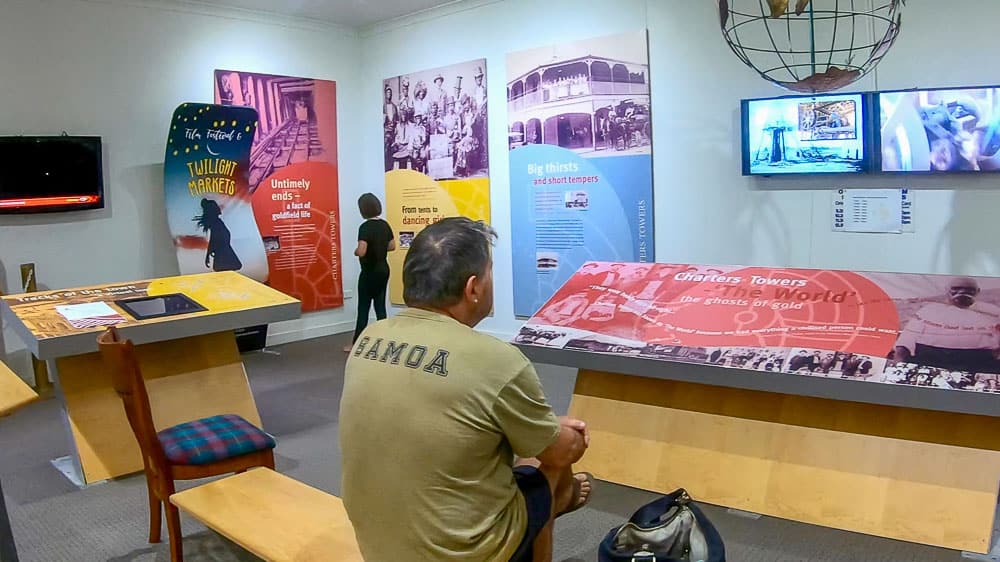 The best place to start your sightseeing in Charters Towers is at the Visitor Information Centre. Here you can pick up all the information you need to plan your stay in Charters Towers and watch the Oretination Film, which gives you a good introduction to Charters Towers. This short film is shown every 30 minutes on the hour and half past the hour, starting at 9.30 am daily.
Location: 74 Mossman Street, Charters Towers
Opening Hours: Weekdays 8.30 am to 4 pm | Weekends 9 am to 4 pm
Price: Gold coin donation
Texas Longhorn Tour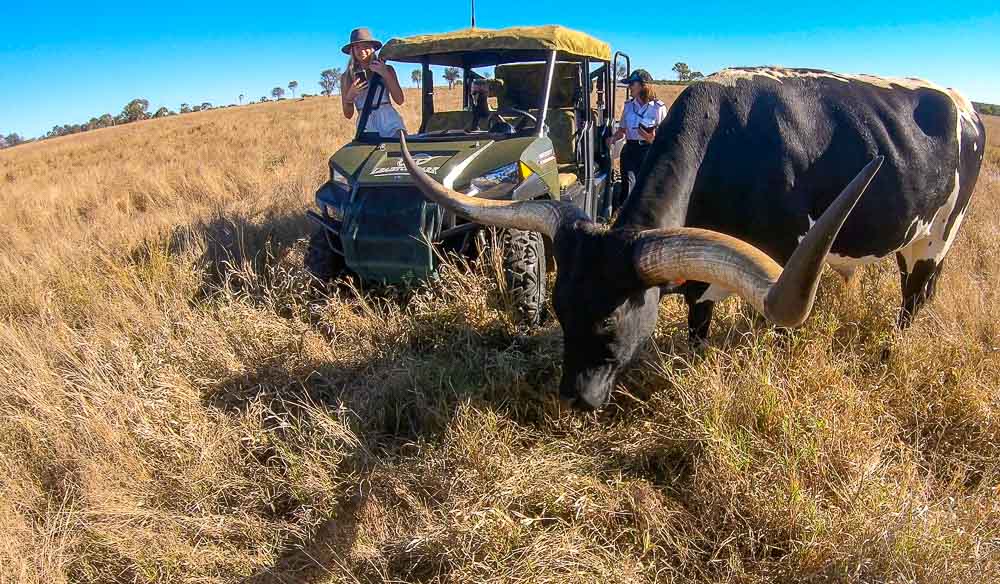 Without a doubt, the highlight for us while visiting Charters Towers was the Texas Longhorn Tour. In fact, Myla announced it was one of her all time favourite tours!
The Texas Longhorn Tours has guests visiting the property of Lynda and Michael, where they have been running tours since 2009. On their 1100 acre property "Leahton Park", they take guests around and share with them their love for breeding Texas Longhorns.
From the minute you step foot on their property, it's clear that Lynda and Michael absolutely love what they do! Their passion for the unique Texas Longhorns is absolutely infectious and it's just brilliant how they've come up with such a fun and informative tour for people visiting Charters Towers.
Tours commence with an introductory video, where you'll learn a little more about Lynda and Michael as well as the history of the Texas Longhorn dating back to the late 1800s in Texas. Everyone then gets whisked away either onboard a horse drawn wagon or passenger quad bikes for a tour of the property.
First up is a stop at "The Love Shack", where you'll learn all about the process of artificial insemination. Then you'll be taken around the property, where you'll get up close to a range of gorgeous Texas Longhorns. Other animals on the property you'll see include buffalo, bison, Scottish highland cattle and more.
The tour ends with some morning tea and you'll visit the brand new JR Gallery of Horns, where you'll see their beloved JR on display who is a Guniesses World Record holder for having the longest horns at 3.15 metres from tip to tip.
There are two tours on offer at the property: the Horse Drawn Wagon Ride or the Safari Experience. Both tours cover most of the same things, with the main difference being your transportation around the property. The safari tours are done with quad style bikes, making it quicker and easier to get around the property, with tours going for 2.5 hours, while the horse drawn tours are 3.5 hours.
A visit to Charters Towers is definitely not complete without doing the Texas Longhorn tour – it will easily be your families favourite thing they do in town. Check out our YouTube here showing the highlights from our tour.
Location: 441 Urdera Road, Charters Towers
Opening Hours: Wagon Tours: Wednesdays and Sundays at 9 am | Safari Tours: Mondays, Tuesdays, Thursdays, Fridays, and Saturdays at 8.30 am
Price: Wagon Tours: $105 per adult, $75 per child (5-14), $48 per child (2-4) | Safari Tours: $75 per adult, $55 per child (5-14), $35 per child (2-4)
Zara Clark Museum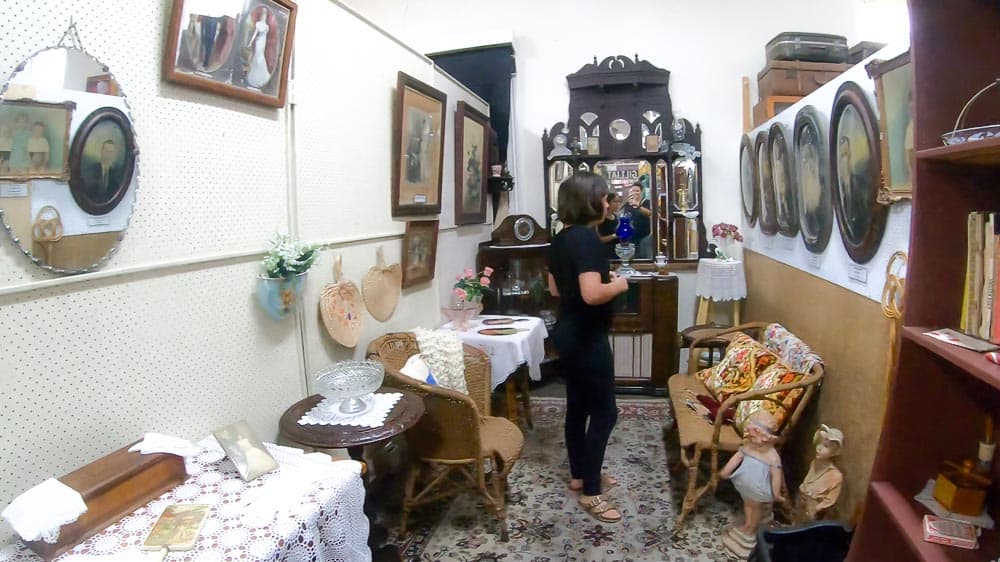 At the Zara Clark Museum, you'll be transported back to the past and get to see a range of nick knacks from a bygone era. Across various rooms, this Charters Towers museum houses a range of items, photographs, clothing, equipment and more showcasing the history of Charters Towers.
We've visited a few of these little museums now as we travel throughout Queensland, and we always have a great time showing Myla old things from the past and learning a few things ourselves.
There is quite a lot to see at the Zara Clark Museum and you could spend hours here if you looked at absolutely every item on display. We spent around 90 minutes here, which was enough time for us.
Location: 36 Mosman Street, Charters Towers
Opening Hours:10 am to 2 pm daily
Price: $10 per adult | $5 per child (5-17) | Family $25
Self Guided Heritage Walk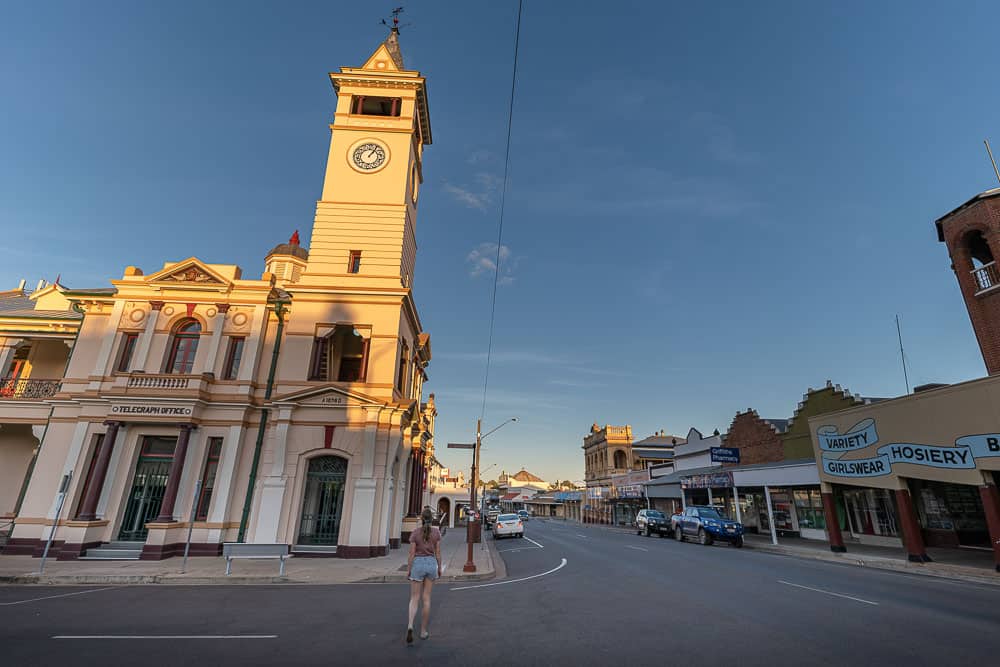 Image Credit: Tourism and Events Queensland
They say the streets were once lined with gold in Charters Towers, which is why you'll find some truly impressive old buildings throughout town. One of the best ways to explore all these grand historical buildings is via a self guided heritage walk.
Start your walk by popping into the Visitor Centre to grab a map, which also provides some general information about the different buildings. There are 10 buildings to discover along the heritage walk, with some of the highlights including:
Stock Exchange Arcade

: Built in 1888, this building was home to the first Stock Exchange in the Southern Hemisphere, which once dictated the world price of gold.

Post Office

: Built in 1892, this is a grand old building featuring an impressive clock tower that was added in 1898.

Zara Clark Museum

: See separate listing for this building.

The Miners Cottage

: See separate listing for this building.

Excelsior Library

: This stunning old building which was once the Excelsior Hotel, has now been restored as a library.
All the buildings are located fairly close together and we had Myla direct us with the map and read out the information about each building. This helped keep her engaged along the walk.
Location: Start at the Visitor Centre (74 Mossman Street) and then walk through the centre of Charters Towers.
Hours: The walk is best down during daylight hours, although the Visitor Centre is open on weekdays 8.30 am to 4 pm and weekends from 9 am to 4 pm
Price: Free
City Murals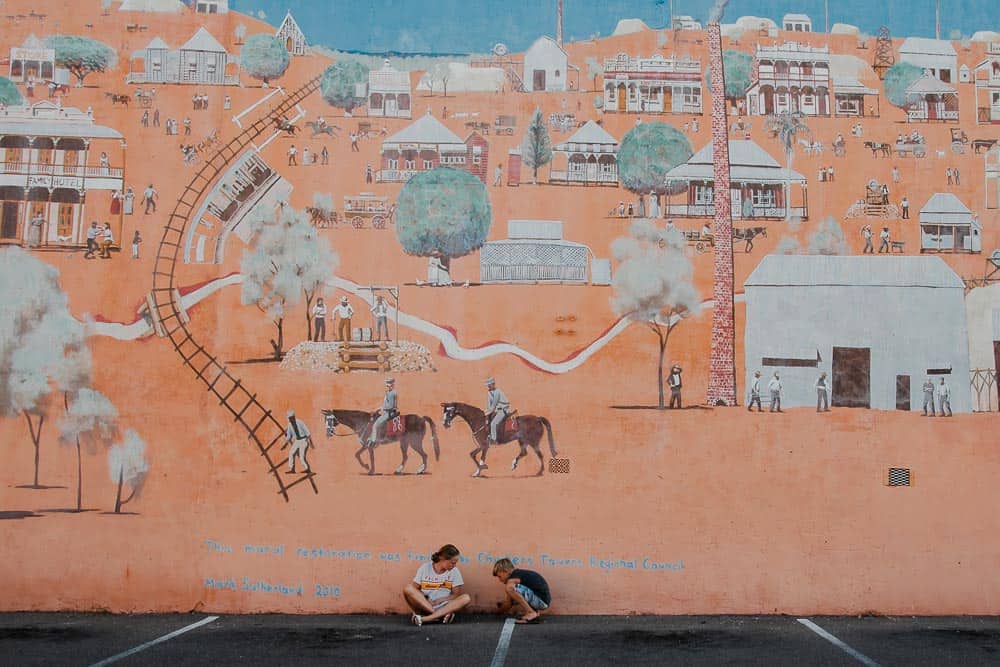 Image Credit: Tourism and Events Queensland
We're always big fans of locating the various street art in the towns and cities we visit, and Charters Towers has a few great ones to seek out. I recommend looking out for them while you're doing the self guided heritage tour mentioned above.
The largest mural can be found on the car park side of the Arthur Titley Centre. This is a great mural, showing what life was like during the gold rush era. There is also a good indigenous mural on the laneway by Sweet Lips Cafe.
Other murals can be found at the Civic Centre, Centenary Park and the Westpac Bank Buildings.
Ghosts of Gold Self Drive Audio Tour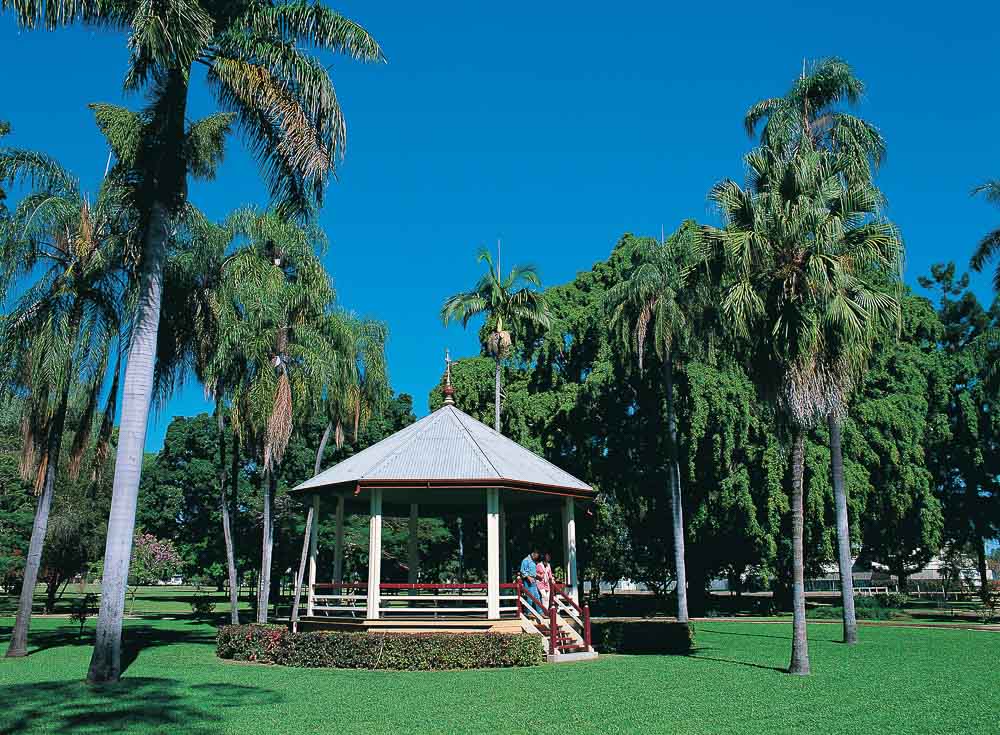 Image Credit: Tourism and Events Queensland
In addition to the self guided heritage tour, there is a self guided driving tour that will take you to additional places throughout town. The audio tour can be done via USB or CD – we don't have the capability to play either in our car, but we had a laptop in our car so that we could listen to the commentary via a USB.
Some of the highlights on the tour include:
Pioneer Cemetery

: This is a fascinating old cemetery with graves from 1872 to 1895. Here you'll get a glimpse into the hardships faced by those who were around during the gold rush period.

Charters Towers Cemetery

: Opened in 1895, this cemetery is the burial place for some of the town's more well known residents, including Jupiter Mossman, who first discovered gold here in 1872.

Lissner Park

: This 7 hectares of parkland is a heritage listed space that includes structures dating back to the early 1900s, as well as a playground and a bird enclosure. There is also an interesting World War digital trail, where with the use of your smartphone, you can learn more about Charters Towers involvement in WWI.

Columbia Poppet Head

: This is a replica poppet head, which shows the equipment used to mine gold in the 19th century.
Location: Start at the Visitor Centre (74 Mossman Street)
Opening Hours: The self guided driving tour is best done during daylight hours, although the Visitor Centre is open on weekdays 8.30 am to 4 pm and weekends 9 am to 4 pm
Price: $15 for the USB or CD with $10 refunded when you return the USB or CD
Venus Gold Battery Tour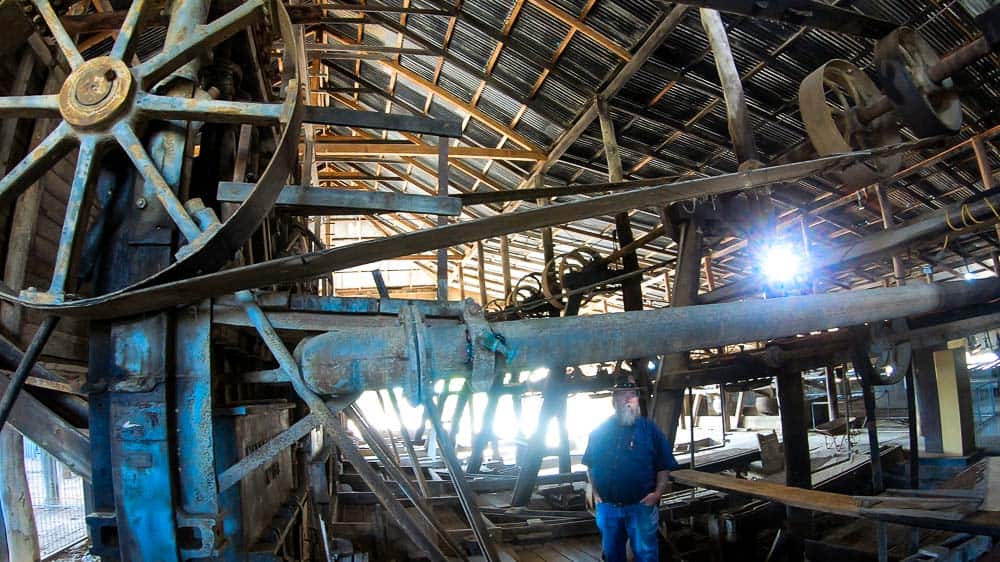 The Venus Gold Battery was the first mill set up in Charters Towers during the gold rush. This is where the gold was processed, crushing it and returning it to the miners in a gold bar. Today, the Venus Gold Battery is the largest surviving battery relic in Australia!
To see the Venus Gold Battery, you'll need to join one of their tours. Tours go for 75 minutes and take you through the Battery, where you're shown the various stages of processing the gold. Along the way, your guide will also share with you some interesting facts and fascinating stories from the gold rush period.
For young children, this may well not be the most interesting of tours, which is why they recommend it for kids at least 10 years and over. Although Myla was learning about the gold rush at school this year, some kids might enjoy how this ties into what they've been learning about at school. The adults will no doubt find it fascinating.
Location: 200 Jardine Street, Millchester
Opening Hours: Tours 10 am (daily), 11.45 am (Monday, Wednesday, Friday and Saturday) and 2.30 pm (Monday, Wednesday and Friday)
Price: $25 per adult | $15 per child (5-17) | $55 per family
Towers Hill and the Amphitheatre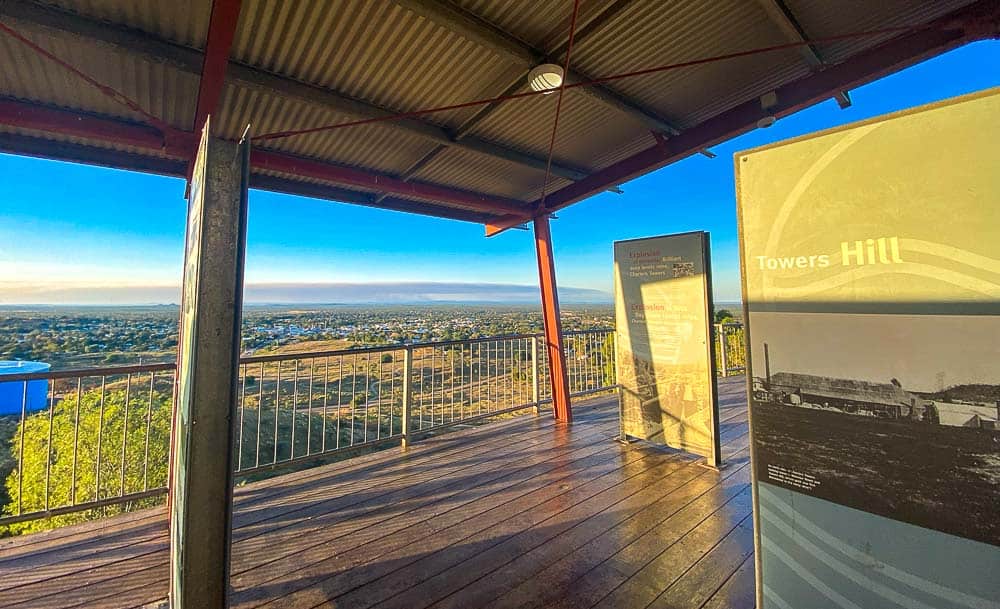 At the bottom of Towers Hill is where young Jupiter Mossman first stumbled across gold. Since that discovery, Towers Hill has been heavily mined for gold, as well as being home to numerous bunkers during WWII.
Today at Towers Hill, you can see a monument that acknowledges where gold was first found, Clark's Gold Mine, as well as real life concrete bunkers from WWII, which you're welcome to visit. Inside some of the bunkers are various information boards, and via an App on your phone, you can read further interesting facts about Charters Towers in WWII.
The perfect time to visit Towers Hill is just before sunset. This way, you can explore the area and read all the interpretive boards and then enjoy a spectacular sunset over the city of Charters Towers. Be sure to keep your eyes peeled, as most evenings, you'll spot gorgeous little rock wallabies among the boulders. Other wildlife you might see include kangaroos and wedge tailed eagles.
For those guests staying at Charters Towers Tourist Park, consider booking their Sunset at Towers Hill tour. This tour includes transportation to and from Towers Hill, as well as a delicious grazing platter and a bottle of wine to enjoy while watching the gorgeous sunset. These tours are $80 for two adults, although we brought Myla along and weren't charged anything extra for her. We just brought our own drinks for her. Book at reception by 12 pm.
If you can hang around after sunset, it's well worth it because each night at 7 pm, there is a screening of the Ghosts After Dark Film. There is a mini outdoor movie theatre set up here where you can watch the film, which includes stories about Charters Towers history, as well as tales of fortune and loss from some of its residents. Unfortunately, the film wasn't showing while we were in town.
If you intend to stay on for the Ghosts After Dark Film – you must book at the Visitor Centre before 4 pm. Tickets are $10 per adult, $6 per child and $22 per family.
Unfortunately, some of the interactive stuff at Towers Hill wasn't working while we visited. Nevertheless, we still found it all fairly interesting. We all enjoyed the sunset over the city and particularly the platter put together by Charters Towers Tourist Park. We were lucky enough to even see a few rock wallabies up quite close while here.
Location: Black Jack Road, Charters Towers
Price: Entry to Towers Hill is free
Charters Towers Ghost Tours
With Charters Towers once being one of the most populated towns in Queensland, thanks to the gold rush, the town is full of fascinating stories about the people that once worked and lived here. Although the gold rush brought a lot of wealth into the town, workers struggled through many hardships and the discovery of gold came with much greed.
With such a colourful history, it's really no surprise that it's said that Charters Towers is home to several ghosts as well as haunted sites. A great way to learn about these haunted sites is by joining the 90 minute ghost tour.
Unfortunately, we weren't in town while the tours were running, so we missed the ghost tour. However, I've heard from friends that these tours are fantastic! I have done some tours by this company in Brisbane and found them absolutely fascinating (Myla too loved them), so I highly recommend you consider one of these tours if you're in town on a Friday or Saturday night.
Of course, whether you take the kids will depend on the age and whether or not they can handle spooky stories.
Location: Tours commence at the Post Office – 17 Gill Street, Charters Towers
Opening Hours: Friday and Saturday at 7.30 pm
Price: $25 per adult | $15 per child | $55 per family
Historic Ambulance Museum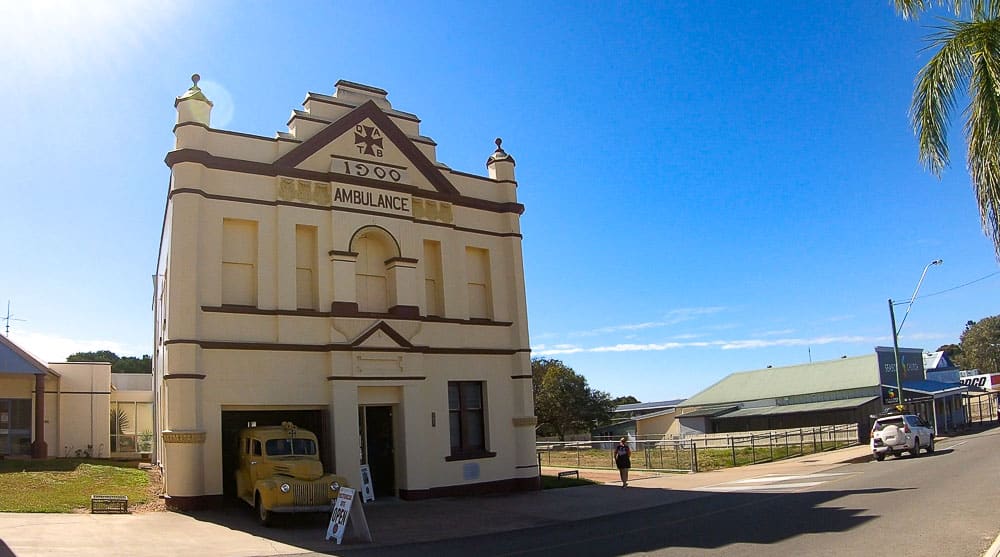 The Historic Ambulance Museum is a small but interesting museum showcasing various items associated with the Charters Towers ambulance. On display includes old ambulances, medical gear, uniforms and even log books spanning over 100 years where you can read all about the various medical conditions people were treated for.
This is only a small museum and you'll only need to allow 30 to 60 minutes to see the items on display.
Location: 157 Gill Street, Charters Towers
Opening Hours: Monday, Wednesday and Friday 10 am to 2 pm | Sundays 9 am to 12 pm
Price: $5 per adult; kids are free
Fossicking at Youngs Block
If you have time, why not take the kids fossicking for their own gold down at Youngs Block? You will need a licence for fossicking here, which can be purchased at Towers Gas and Camping shop in town at 168 Gill Street.
We ran out of time and didn't get to go fossicking while in town. However, we have done it in the past and Myla always found it good fun. Just be sure to come prepared with buckets, spades and water.
Location: Mafeking Road – click here for more information about how to get here.
Price: A licence is $9.68 per person or $13.86 per family
Try Whitbread Softdrinks and Cordial
Established in 1896, Whitbread is Charters Towers very own manufacturer of soft drinks and cordials. You'll find their products in most of the stores around town, which includes some old fashion flavours you'll remember from your childhood, such as sarsaparilla, yellow creaming soda, lime and pineapple.
The Miners Cottage, Charters Towers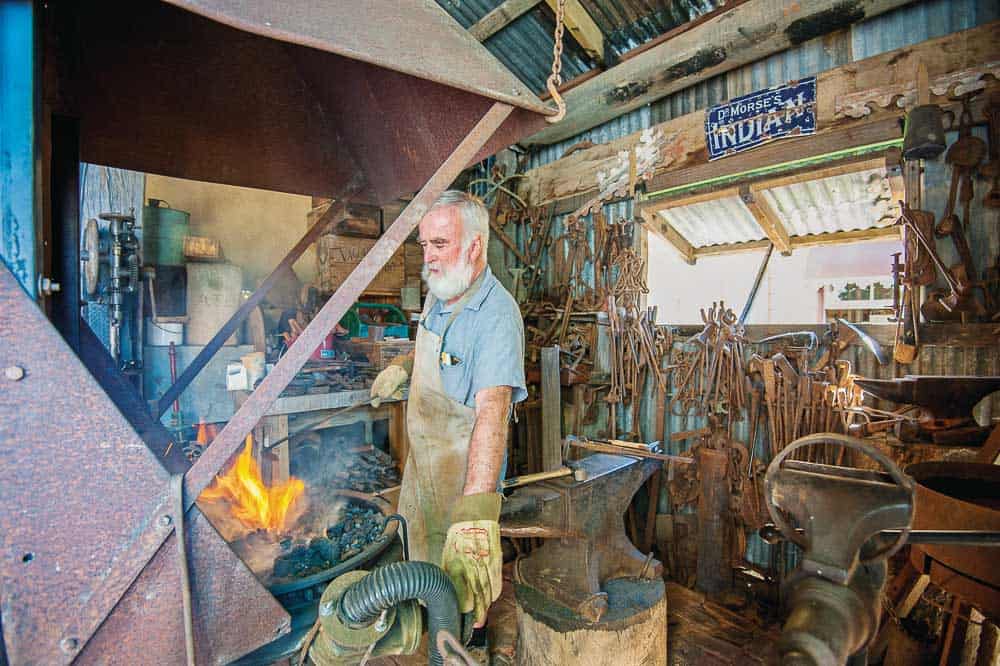 Image Credit: Tourism and Events Queensland
The Miners Cottage, Charters Towers is a great place for the family to take a guided tour of a restored workers cottage. The cottage has been restored and decorated to show you how these houses would have looked at the start of the 20th century.
Here you can browse the private collection of items on display, as well as get the opportunity to pan for old, just as they did during the gold rush period.
Location: 26 Deane Street. Charters Towers
Opening Hours: On appointment – contact Alan on 0414 967 369
Price: $10 per adult | $5 per child | $20 per family | $5 per person for gold panning experience
Tors
Charters Towers Drive In
If you're looking for something to do in the evenings with the kids while in Charters Towers, why not take them to an old fashioned drive-in movie! The Tors Charters Towers Drive In – is one of the few remaining drive-in theatres in Australia where you can see all of the latest movies.
There is a cafe on site as well where you can buy hot meals, snacks and drinks.
Location: 120 New Queen Road, Charters Towers
Opening Hours: Thursday to Sunday evenings
Price: $9.50 per adult | $7.50 per child – 3 and under free
Where to Stay in Charters Towers
Charters Towers has a range of family friendly accommodation to suit all kinds of travellers. There are some great low priced motel rooms and excellent tourist parks that offer families spacious self-contained cabins and kid-friendly facilities to boot!
Here are our top picks on where to stay in Charters Towers with kids.
Located directly across from the Centenary Park (a great park for young families) and a short drive to the centre of town, the Charters Towers Motel offers family traditional motel style accommodation.
Families are best to stay in their family suite, which comes with a queen bed and three single beds. These rooms come with a TV, tea and coffee making facilities as well as a microwave and fridge so basic meals could be prepared. These rooms start at $140 per night.
The motel has a swimming pool and an undercover BBQ area with plenty of seating, so it is a great area for families to have their evening meals.
For families looking for well priced motels Charters Towers offers, this motel is well worth considering.
Click here for the latest prices or to make a booking.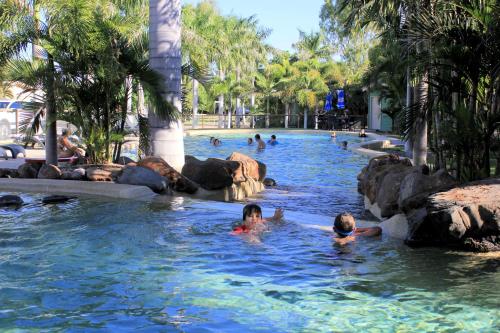 You don't need to be camping to stay at one of the tourist parks in town. Places like the Big4 Charters Towers offer families excellent, spacious, self contained cabins as well as plenty of on site amenities to keep the kids busy after a day of sightseeing.
There are plenty of great cabins to choose from at the Big4. There are studio cabins suitable for up to three people, right up to large two bedroom family chalets able to accommodate up to eight people. All cabins come with air conditioning and cooking facilities. Cabins start at $135 per night.
There is heaps to keep the kids busy here too. You've got a giant jumping pillow, a small playground and a beautiful 21 metre lagoon style swimming pool. Other amenities on site include a guest laundry, lending library and a cafe.
This holiday park is located northeast of the town, off the Gregory Highway, and is a short 5 minute drive to the centre of town. It's also just 1 km from the famous Tors Drive In.
So for excellent family accommodation in Charters Towers – why not consider a stay at the Big4.
Click here for the latest prices or to make a booking.
Located on the north side of town, just off the Gregory Highway, is the Affordable Gold City Motel, a nice little cheap spot to stay with the kids while visiting Charters Towers.
Family rooms at the Affordable Gold City Motel can accommodate up to five people coming with a queen bed, single bed and a set of bunk beds. There are also rooms able to accommodate families of up to four people coming with a queen and two single beds. Each of the rooms come with basic kitchen gear such as a fridge, microwave, kettle and toaster so you can prepare basic meals.
The property has a lovely swimming pool, which is great for the kids after a busy day of sightseeing. There is also a shared kitchen area and BBQ on site for guests to enjoy – so you can save money and prepare all your meals while away if you prefer.
Family rooms are well priced at the Affordable Gold City Motel, starting at just $140 per night.
Click here for the latest prices or to make a booking.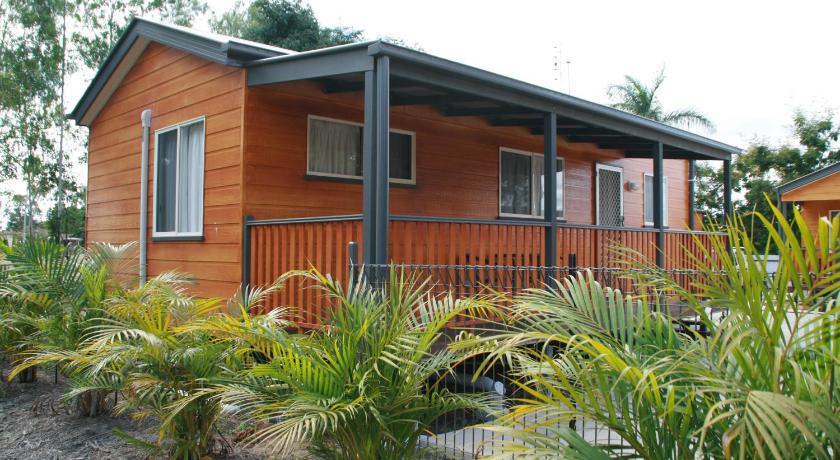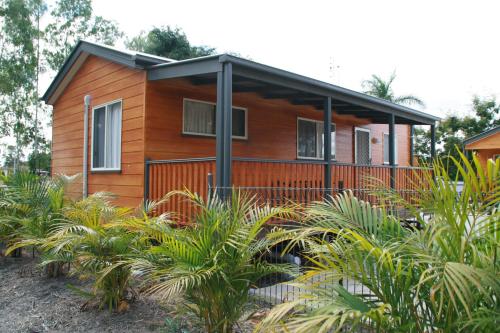 Another great tourist park that makes a great place for a family stay is the Charters Towers Tourist Park. The Charters Towers Tourist Park is located south of the town, off the main highway in Mosman Park, which is a quiet area. It's around 2.5 km from the centre of town where you'll find plenty of shops and many attractions. For those who enjoy walking; it's just a 30 minute walk from the park to the top of the popular Towers Hill.
Charters Towers Tourist Park also offers a great range of cabins for all kinds of travellers. All cabins are self contained and feature air conditioning and full size fridges. They have cabins suitable for one or two people, right up to large cabins which can accommodate families.
While there's not a stack of things to do for the kids here, there is a lovely swimming pool complete with a BBQ area. There is also a guest laundry that parents will appreciate and at certain times of the year, there are also meals available and entertainment.
We stayed here during our recent visit to Charters Towers and had a lovely stay. You can also read our full detailed review of the park here and check out our YouTube video about the park here.
Click here for the latest prices or to make a booking.
Charters Towers with Kids – Our Verdict
Our stop in Charters Towers was a little last minute – as we were visiting Cape York and wanted a place to stay for a few days on the way home to break up the long road trip. When looking for somewhere to stay, I kind of stumbled on Charters Towers and was quite blown away at the number of things there were to do in town.
I personally found Charters Towers a real surprise! The history of this town is just fascinating, given it was once a bustling little gold rush town. The buildings in town are glorious and full of such wonderful stories. But that's just in the town centre; we didn't even make it further afield to any of the surrounding National Parks. It's certainly one place I'd like to return to and explore more.
If you find yourself travelling around North Queensland or even in Townsville – a detour to Charters Towers is well worth it. There is plenty to do to keep the family occupied for a few days as well as being a great place for those interested in learning more about the gold rush era.
______________________________________________________________________
Hopefully you found this guide to all the best things to do in Charters Towers with kids helpful. You can read more of our North Queensland content here, with guides to places such as the Atherton Tablelands and Cairns.