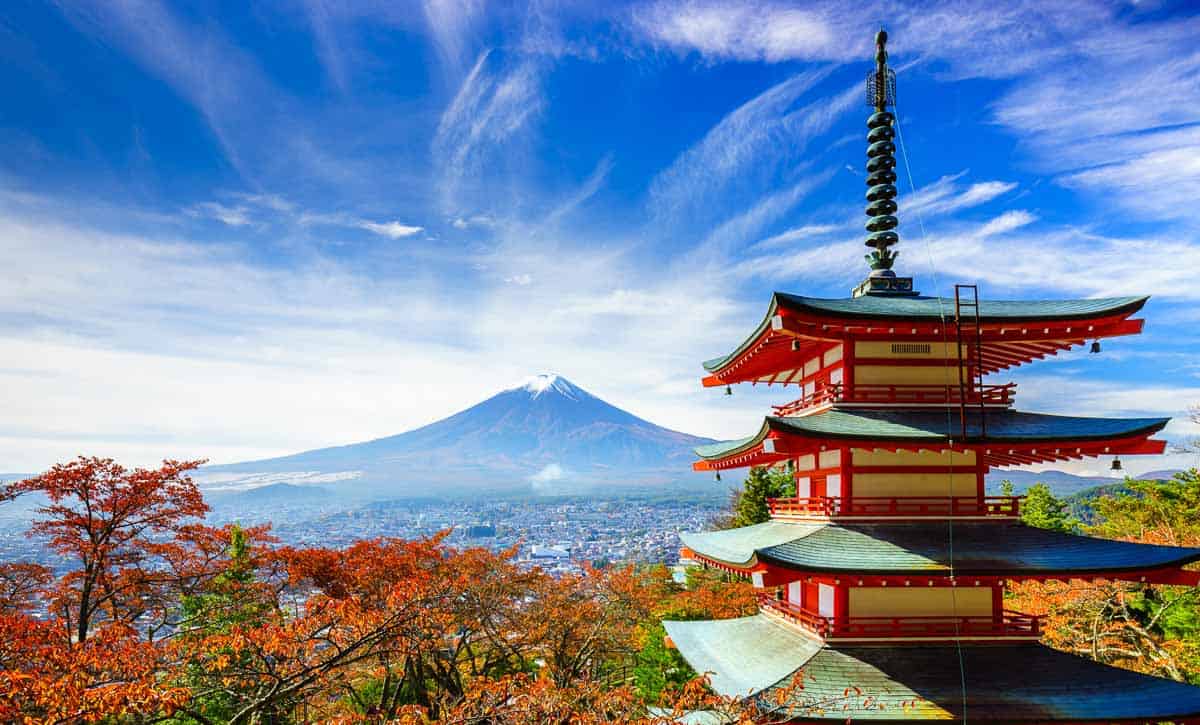 In anticipation of our Japan family holiday, we asked fellow travel bloggers for their thoughts on the best things to do in Japan with kids. Given we visited Tokyo, Osaka, Kyoto and Hiroshima, we specifically asked for tips on things to do in Japan for kids around these areas.
If you're planning on visiting Japan with kids as well, you will no doubt find this article super helpful in your own itinerary planning.
Click here to read our super-detailed 3 week Japan itinerary.
Talk to other families about their tips on Japan with kids and join our Thrifty Family Travel Facebook Group or be inspired by our Instagram.
This post may contain compensated links. Please refer to my disclaimer here for more information.
Map of the Things to with Kids in Japan
To help you plan out an itinerary of all the great things to do with kids in Japan, we've prepared the map below. This map shows the location of all the places to visit and Japan attractions for families covered in this guide.
Click on the map for a better view – you can zoom in and out.
21 of The Best Things to do in Japan with Kids
There are so many great things for kids to do in Japan, that we can't name them all – but here are 21 suggestions from my fellow travel bloggers.
Click here to plan your budget for Japan.
The Best Things to do in Tokyo with Kids
Check out some of the best things to do in Tokyo with kids, as well as in the surrounding areas.
Sanrio Purland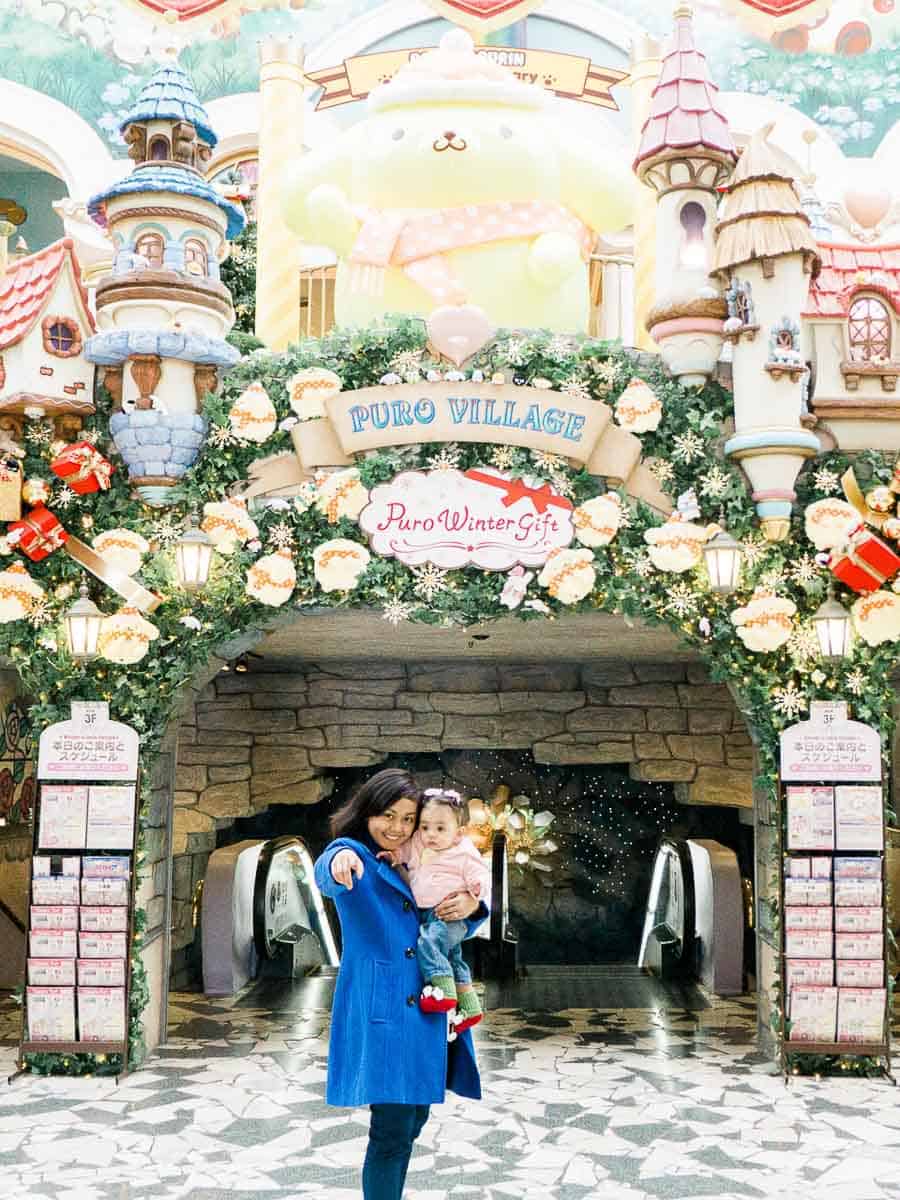 Thanks to Ada from Sight See and Sushi
When it comes to Tokyo attractions with kids – Sanrio Puroland has to be high on the list! Located closer to Kanagawa Prefecture than Tokyo itself, it's only a 30-minute train ride from the Shinjuku Station. It's one of the perfect places to visit in Japan with toddlers and younger children.
Sanrio Puroland is a great indoor attraction if you're visiting Tokyo with kids during rainy days, and Sanrio fans of all ages will undoubtedly find something to love! The most popular attraction here is the Sanrio Character boat ride. It has upbeat music and moving Hello Kitty characters the little ones will love. Although being the most popular attraction, do expect long lines.
For lunch head to the restaurant on the 3rd floor. The food, although pricey, is all Hello Kitty themed, and is ridiculously cute and surprisingly good; which is pretty rare for themed restaurants.
Sanrio Puroland is also very baby friendly. There are nursing facilities on the basement floor, and diaper changing rooms are in most bathrooms, which makes things a bit easier. Unfortunately, strollers are not allowed inside, so you'll need to leave them at the information centre on the 1st floor. So, a baby carrier is highly recommended.
The easiest and simplest way to get there is to take the Keio Line from Shinjuku Station to Keio Tama Center Station. It's a 30-minute train ride if you take the "Semi-Express" train bound for Hashimoto, and it costs about 320 yen one-way. From Keio Tama Center Station, Sanrio Puroland is about an 8-10-minute walk. You can also take the Odakyu Line but it's slightly more expensive at 370 yen, and the ride takes longer.
If you're wondering what to do in Japan with kids that are super young – definitely consider a few hours at Sanrio Puroland – they'll love it!
Location: 1-31 Ochiai, Tama-shi, 206-8588
Opening Hours: Monday to Friday 10am to 5pm | Saturday & Sunday 9am to 5pm | Closed some Wednesdays and Thursdays – check the calendar to see if your travel dates are open
Price: 4,900 yen per adult (approx. AUD $53) | 3,800 per child (3-17) (approx. AUD $41) | Under 3's are free – Click here to book discounted tickets online.
Tokyo Disneyland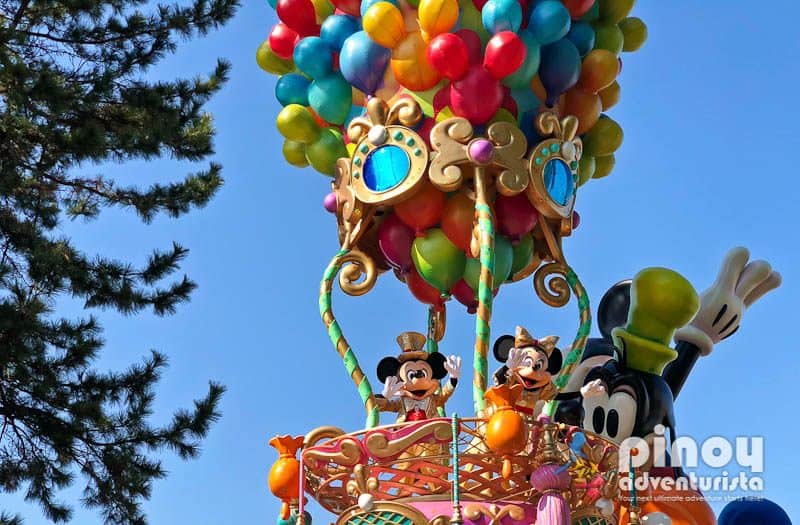 Thanks to Mervin from Pinoy Adventurista
Of course one of the top 10 things to do in Japan with kids would be a day at Disneyland! Dubbed as "the happiest place on earth," Tokyo Disneyland is a must-visit when travelling to Japan's capital city. This 115-acre (47 ha) theme park is located at the Tokyo Disney Resort in Urayasu, Chiba Prefecture. It was opened in 1983 as the first Disney theme park outside of the United States.
Tokyo Disneyland is made up of seven themed lands that include Adventureland, Westernland, Critter Country, Mickey's Toontown, Tomorrowland, World Bazaar, and Fantasy Land. It also features seasonal decorations, events and parades. There are lots of rides that you can choose from. They have rides that are kid-friendly, and there are also rides for people who like extreme experiences. It's definitely an awesome place that the kids, "kids-at-heart," and the whole family will surely enjoy!
To maximize your time, l highly suggest that you arrive at the park at least 30 minutes to an hour before the park's opening time. Also, avoid weekends and holidays. The park may be overly crowded during weekends and holidays.
How to get to Tokyo Disneyland? You can easily reach it by taking the train to Maihama Station.
There is such a variety of things to do at Disneyland that it's really one of the fun things to do in Japan with family no matter how old your kids are!
Location: 1-1 Maihama, Urayasu, Chiba 279-0031
Opening Hours: Daily 9am to 9pm
Price: 9,400 yen per adult (approx. AUD $101) | 7,800 per junior (12-17) (approx. AUD $84) | 5,600 per child (4-11) (approx. AUD $60) | Under 4's are free – Click here to book discounted tickets online.
Legoland is also another great theme park in Japan for kids – read out complete guide here.
Karaoke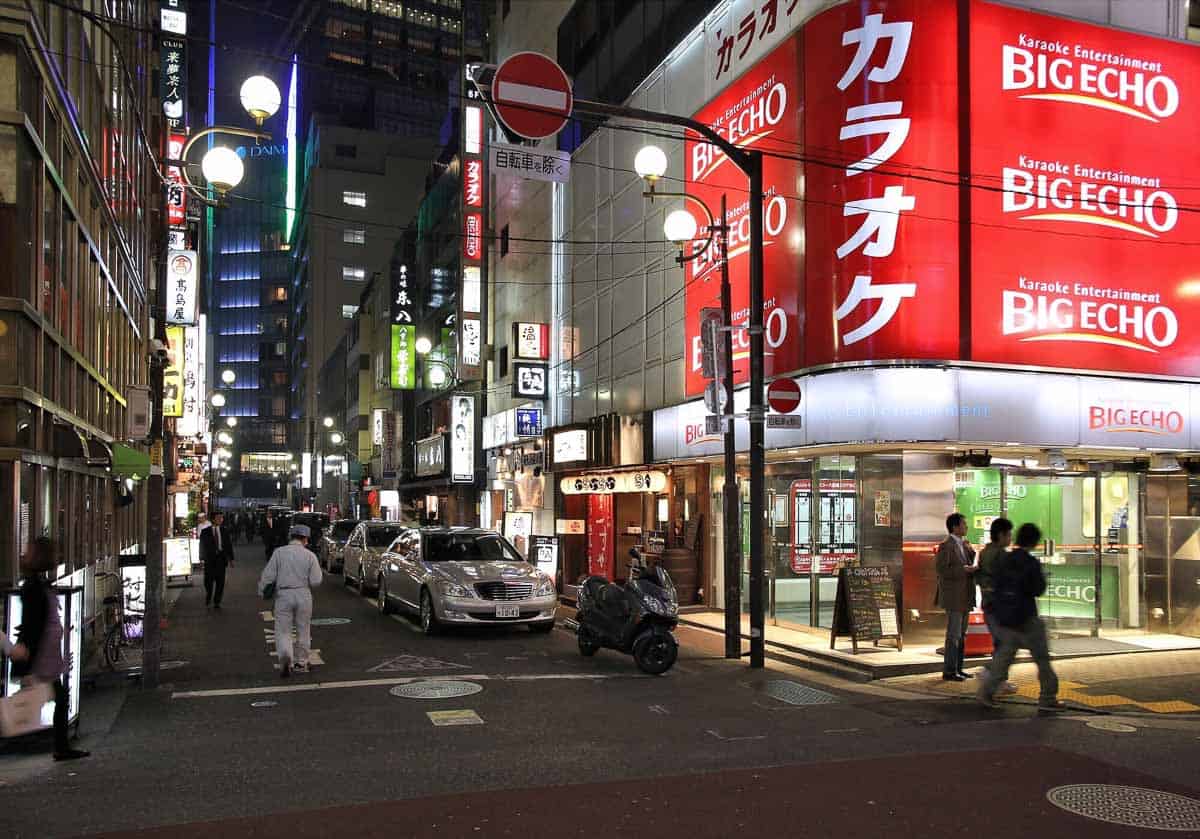 Thanks to Anisa from Two Traveling Texas
What to do with kids in Japan that love music and to sing – Karaoke of course!
Japan is the birthplace of karaoke, so it is only fitting that you visit a karaoke box while you are there. It's called a karaoke box because each group gets a private room. You can let loose without worrying about what strangers will think. Even in Japan, you can find a wide selection of English songs. Most places have kids' songs too.
Big Echo and Karaoke Kan are some of the popular chains of karaoke boxes in Tokyo. When you arrive, check in at the front desk to get a room. The rooms are rented by the hour and the rate varies depending on the number of people and the place. Most places have multiple floors, so pay attention when they take you to your room.
Inside the rooms, the kids can dance and be as loud as they want. Most rooms come with two microphones and some will have musical instruments like a tambourine. If you have any issues with the karaoke equipment, you can reach the front desk using the phone inside the room. Drinks and food can be ordered on the phone too.
A few hours in a karaoke box is a guaranteed fun time and certainly one of the Japan must do things for families who love their music!
Ghibli Museum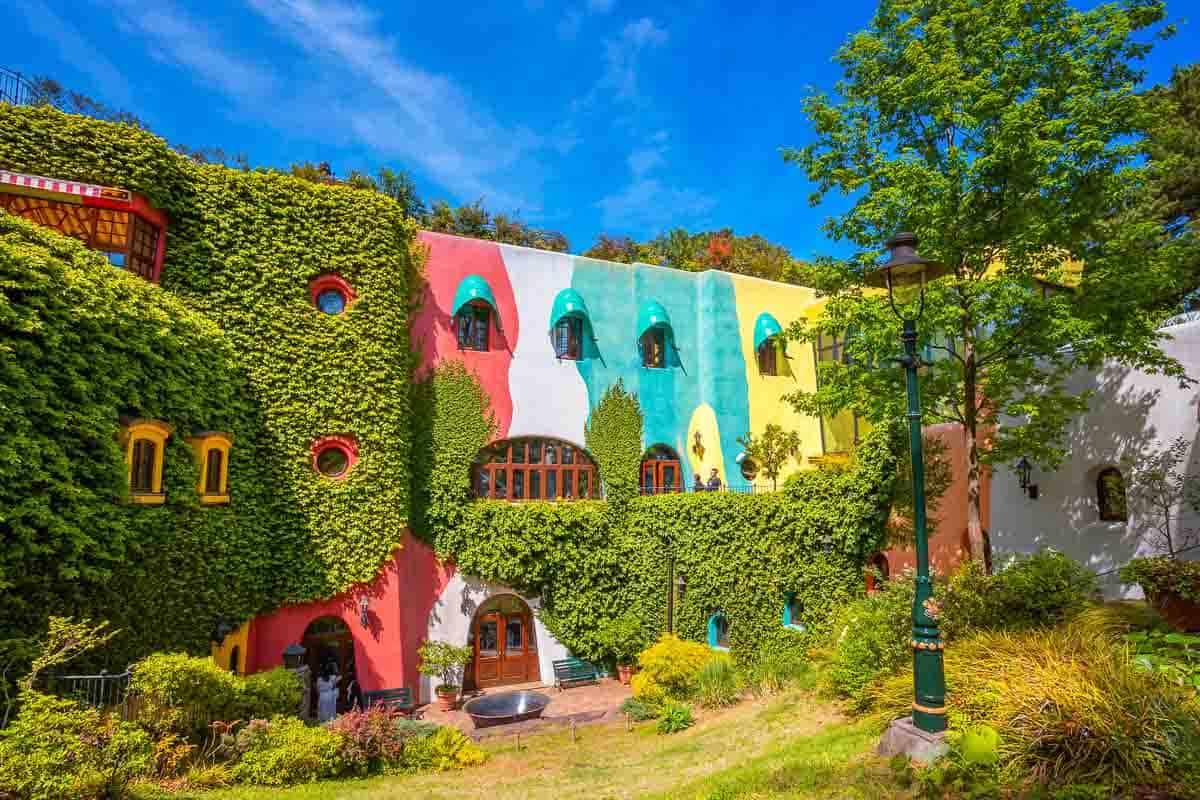 Emily from Kids and Compass
Have you ever watched any Studio Ghibli movies? They're the brainchild of Hayao Miyazaki who has often been called the Japanese Walt Disney. The Ghibli Museum is dedicated to the creation of these beautiful, timeless films, and you can get to it easily from central Tokyo.
At the museum, you can explore exhibits on the animation process and look at props from the movies. There's an animated short to watch in the on-site cinema, and best of all for the kids, there's a life size Cat Bus to play on!
The building is just as beautiful as the films and it's filled with hundreds of tiny details which will delight any fans of the movies. Don't forget to go up on the roof to meet a robot guardian and look out for a huge Totoro figure by the entrance.
The Ghibli Museum is in the Mitaka area of Greater Tokyo. It's an easy journey on the train to get there. While reaching the museum is easy, don't just turn up on the day without tickets. You must buy tickets for the Ghibli Museum well in advance of travelling to Japan – this is something you'll have to plan about 3 months before you go!
For families that love their anima, the Ghibli Musuem is one of the things to see in Japan.
Location: 1 Chome-1-83 Shimorenjaku, Mitaka, Tokyo 181-0013
Opening Hours: Weekdays 10am to 5pm | Weekends 10am to 7pm | Closed Tuesday
Price: 1,000 yen per adult (approx. AUD $11) | 700 yen per high school age (13-18) (approx. AUD $8) | 400 yen per junior (7-12) (approx. AUD $5) | 100 yen per pre schooler (4-6) (approx. AUD $2) | Under 4's are free
Robot Restaurant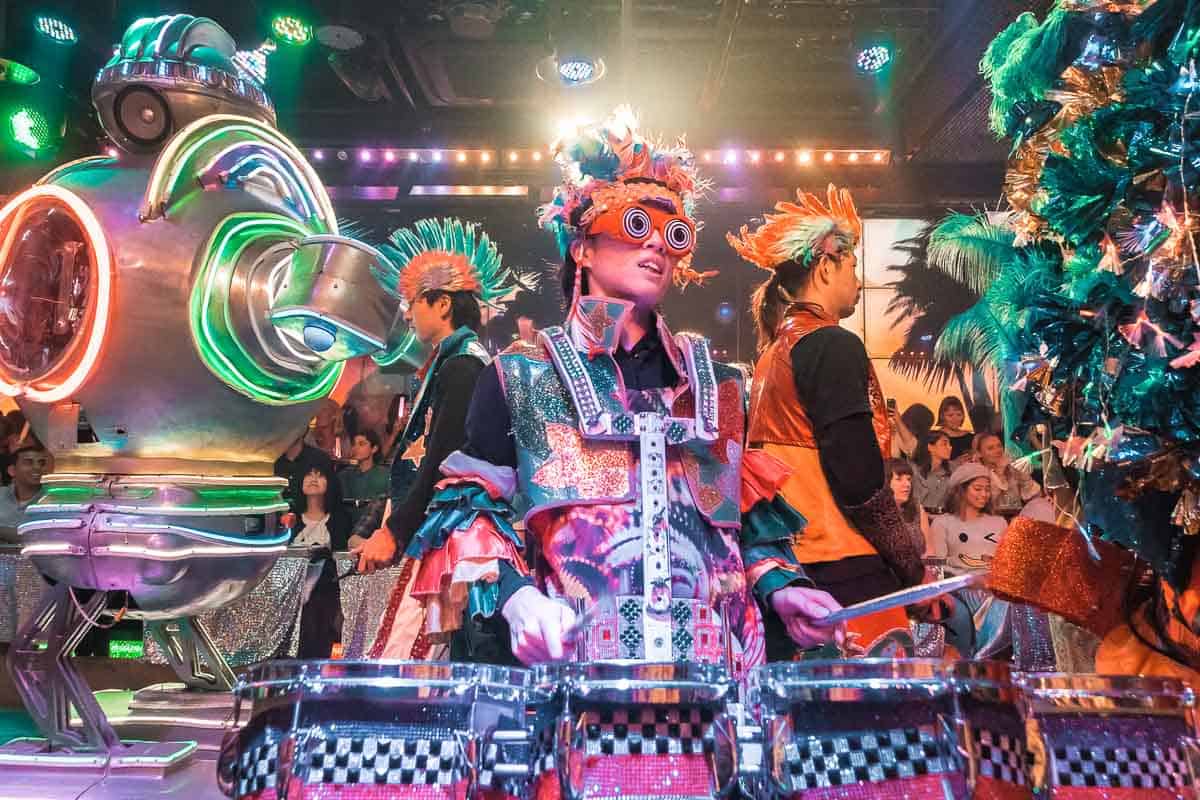 Thanks to Alexander from Destinavo
For those that love the weird and whacky, the Robot Restaurant in Tokyo is one of the Japan top 10 things to do. While considered a Tourist trap by many, don't worry; you won't be disappointed if you're looking for a bit of fun entertainment.
The Robot Restaurant is not really a restaurant per se; you can order food to eat during the show, but I wouldn't come here for the food. It's all about the Robot show and the performing actors.
During the show, you can expect glowsticks, neon lights, dancing robots, and roleplaying actors who will fight each other. Giant robot turtles and dragons that will blast out fire and much more. It's a surreal experience, and for the first 10 minutes you will have no clue what to look at, but you will definitely enjoy it. It's certainly one of the more unique things to do Japan offers tourists.
The Robot Restaurant Show is basically not something you can explain properly with words, you need to experience it yourself. Come with an open mind and just be blown away by the crazy things you will see during the show!
The Robot Restaurant is easy to get to from Shinjuku Station since it's located in the Kabukicho area, about 5 minutes walking from the station.
Unfortunately the Robot Restaurant is temporarily closed due to Covid, but we hope it opens again soon!
Make Plastic Japanese Food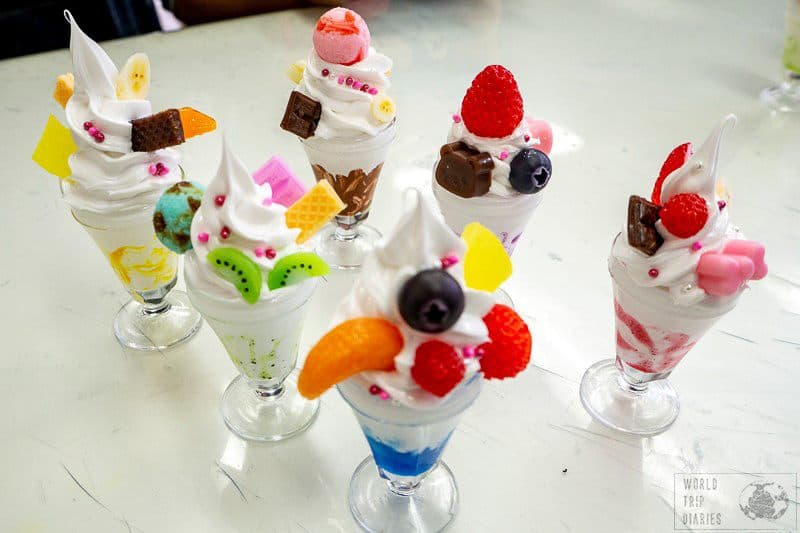 Thanks to Thais from World Trip Diaries
The restaurants in Japan almost always have plastic food replicas so people can see what they'll get before ordering. They're so realistic and beautiful and there are actually classes on offer where you can make them yourself.
Yamato Sample Seisakusho is one of those places – it's a factory in Ikebukuro (Tokyo). Classes are light, fun, and challenging, and the instructors are nice and encouraging. Its a great way to spend time in Japan with kids!
Workshops last around an hour and you'll each go home with something, like the lovely parfait sundae above!
They offer various different workshops, with different difficulties age limits and prices, but they start from 1,750 yen per person (approx. AUD $19), and it's something you can only find in Japan!
To reach Yamato Sample Seisakusho, train to Ikebukuro Station and walk the 10 minutes to the space. It's a lovely walk through a less touristy and more authentic Japanese neighbourhood.
Location: No. 3 Studio 4-18-2 Kamiikebukuro, Toshima-ku, Tokyo
Opening Hours: Friday – Tuesday 10am to 5pm | Closed Wednesday and Thursday
Price: Workshops start at 1,750 yen per person (approx. AUD $19)
View the

Cherry Blossoms from Edo Castle Moat
Thanks to Wisterian from Safe Travel with Kids in Asia
One of the best Japan things to do is to see the Cherry Blossoms. If you happen to be in Tokyo during the season (approx. end-Mar to mid-Apr), there are hundreds of places where you can go to see the cherry blossoms. However one of the popular places among Tokyoites and visitors is to see the cherry blossoms from the boats on the Edo castle moat.
The northwest part of the moat is known as Chidorigafuchi since it looks like a small bird. The area surrounding the moat is planted with cherry trees, and a great way to see the trees is from a boat on the moat. The boats are not something you want to do with active toddlers as you don't want them capsizing the boat, infants tend to stay still and are more suited for this activity.
The impressive walls of the Imperial Palace, combined with the steep slopes into the wide moat, must have been forbidding to any would-be attacker. But age has been kind to them and the cherry trees that hang out over the water release their petals to create a pink mat on the water.
Boating on the moat is a favourite dating spot for young Japanese couples, but the lines can be long and you may have to wait until evening. If this happens for you, the evening is lovely during the sakura season as the cherry blossoms are lit up after sunset until 10pm.
If you don't jump on a boat, the area is equally amazing from the shore, and the sight of the boaters under the hanging cherry tree branches is likely to fascinate your toddler for several minutes.
This is a public park but toilets are not that easy to find. You can find them in the boathouse and the subway stations (Hanzomon or Kudanshita are the closest) so if your child needs an urgent diaper change, the best option may be to find a café near the subway stations.
Location: 1 Kitanomarukoen, Chiyoda City, Tokyo 102-0091
Opening Hours: The moat is open 24/7, however boat rental is open daily 9am to 8.30pm
Price: 500 yen (approx. AUD $6) to rent a boat for 30 minutes
Another cool place to visit from Tokyo is Okunikko – it makes a great day trip.
The Best Things to do in Osaka with Kids
Check out some of the best things to do in Osaka with kids, as well as in the surrounding areas.
Universal Studios Japan
Thanks to Erin from Never Ending Voyage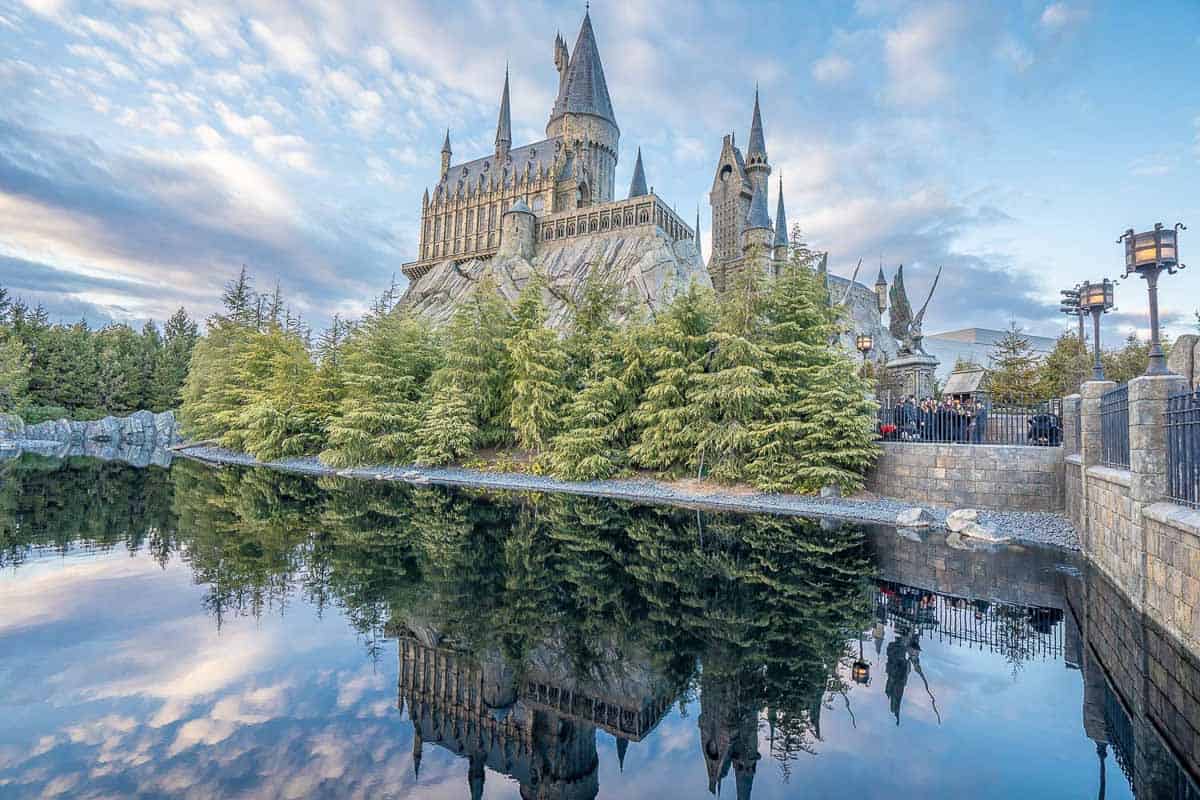 Universal Studios Japan is a theme park in Osaka that's fantastic for kids, especially those over age seven. A day at Universal Studios is definitely one of the best things to do for kids in Japan – even parents will love it!
Harry Potter fans will love the Wizarding World of Harry Potter—even if they aren't tall enough to go on the intense Forbidden Journey ride, there is plenty to explore in this magical world of snowy cobbled streets including shopping for sweets in Honeydukes and jokes in Zonkos, and drinking a pint of butterbeer. If you buy a magic wand, you can also create your own spells and light up chimneys or make it snow.
Elsewhere in the park, thrill-seeking older kids will love The Flying Dinosaur and Hollywood Dream rollercoasters and the Minion ride. Toddlers will enjoy the Snoopy and Elmo themed rides in the Wonderland area.
Universal Studios is easy to reach from the centre of Osaka and shouldn't take more than 30 minutes—Universal City Station on the JR Sakurajima train line is only a 5 minute walk from the park.
You definitely want to arrive at least 30 minutes before the park opens (usually 8.30am or 9am) and head straight to one of the popular rides. Park opening times vary but it's usually open until 7pm or 8pm. Avoid weekends and national holidays as queues will be insanely long.
Location: 2 Chome-1-33 Sakurajima, Konohana Ward, Osaka, 554-0031
Opening Hours: Varies, generally 9am to 7pm daily
Price: 8,400 yen per adult (approx. AUD $91) | 5,400 per child (4-11) (approx. AUD $59) | Under 4's are free – Click here to book tickets online.
Osaka Castle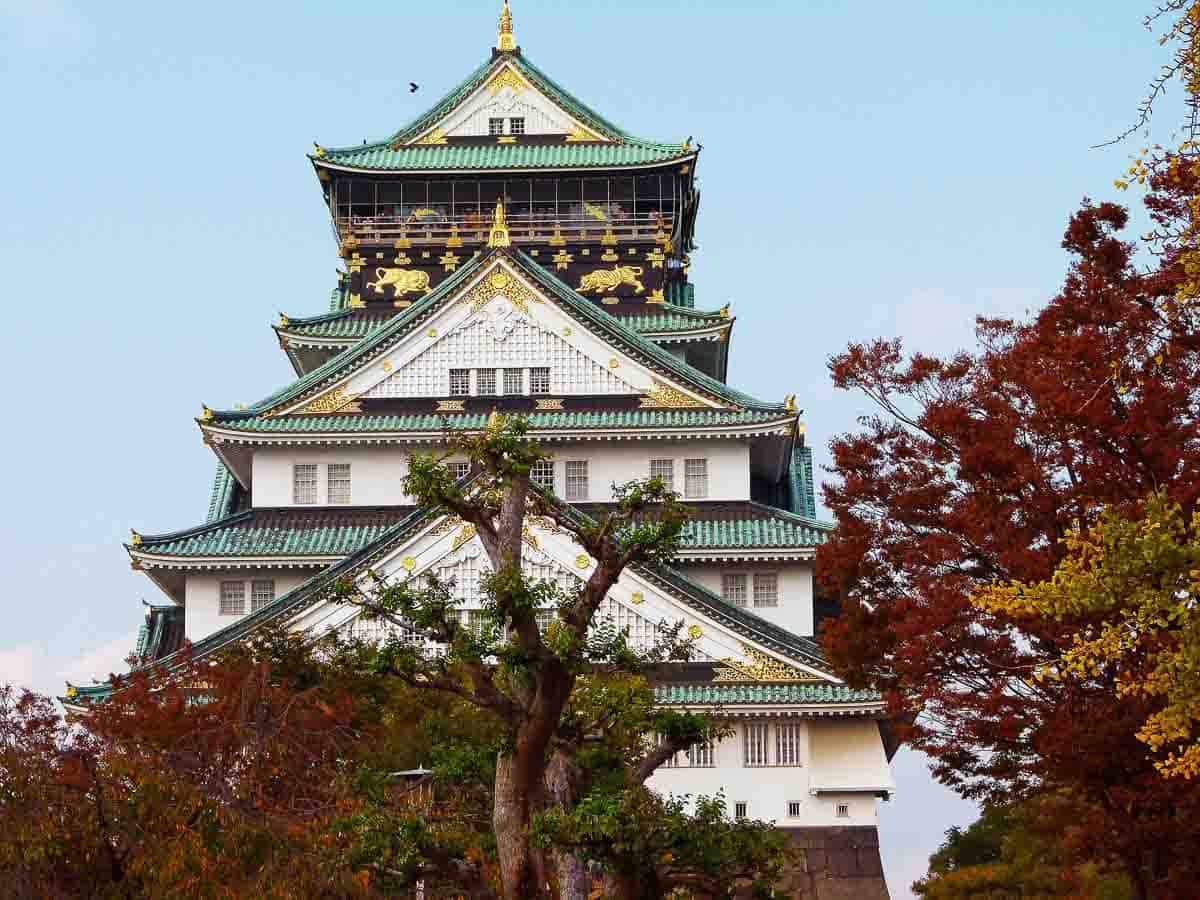 Thanks to Christina from Travel2next
Your kids will have fun channelling their inner "Shogun" at Osaka Castle, which is an impressive landmark in Osaka (one of the famous things to do in Japan). The castle is an attraction that should definitely be part of your Osaka itinerary when visiting Japan with kids, as it's a great place to learn all about Japan's fascinating Samurai history.
Osaka castle was built in 1583 by one of the most famous Samurais in Japan, Toyotomi Hideyoshi, and burnt down in 1615. Although the current castle is a reconstruction of the original, it's still a symbol of the golden days of Japan's Samurai.
The Samurai were warriors who were expert swordsman and during the Edo Period (1603-1867), they became the ruling class.
Inside Osaka Castle is a modern museum with interactive displays and galleries where you can see Samurai armour, helmets and kimonos. There's also an observation deck on the top floor where you'll get a pretty good view back towards Osaka.
One of the fun things to do in Osaka Castle is to dress up as a Samurai (500 yen each person), which might be a special treat for teenagers.
Osaka Castle Park, the grounds around Osaka Castle, is a green space for kids to run around outdoors even if you don't intend to enter the castle. The sight of the castle from the grounds, especially during Cherry Blossom season, is fantastic.
Getting to Osaka Castle: Take the JR Loop Line train to Osakajokoen. The castle is about a 20-minute walk from the station. Alternatively, take the subway to Tanimachi 4-Chome Station on the Osaka Metro Tanimachi and Chuo Lines. The castle is a 17-minute walk from exit 1-B.
There is a variety of things to do at Osaka Castle making it one of the top things to do at Japan with kids of all ages.
Location: 1-1 Osakajo, Chuo Ward, Osaka, 540-0002, Japan
Opening Hours: 9am to 5pm (last entry 4:30pm)
Price: 600 yen per adult (approx. AUD $7) | Under 16's are free – Osaka Castle entry is included in the Osaka Amazing Pass – Click here to book tickets online.
Cup Noodle Museum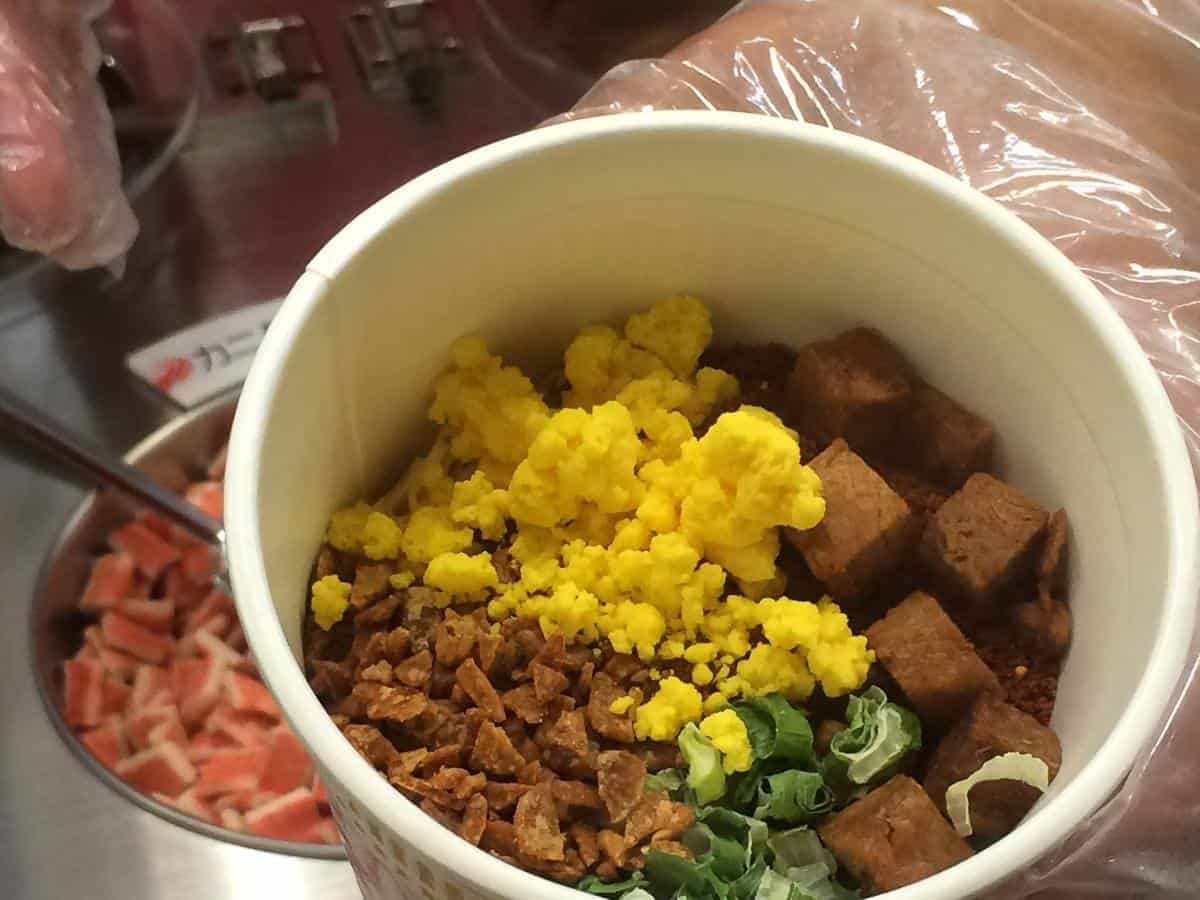 Thanks to Sarah from A Social Nomad
The Cup Noodle Museum and Factory is located at the birthplace of instant noodles, Ikeda, near Osaka. It's easy to get to and just a few minute's walk from the Ikeda JR Station.
This museum lets you walk through a time tunnel of instant and cup noodles and takes you through the process of how and when instant noodles were invented.
The piece de resistance is the fact that you can then pay 500 yen per person (approx. AUD $6) and step into the cup noodle "factory" and not just design your own pot but also design your own flavour of noodles! You start by designing your cup, then walk around the "factory" and decide what you're going to put in your cup noodle. Big and small kids alike will love being able to pull the handle to put the noodles into your pot.
Once your cup noodle is complete, you'll carefully put it into the packaging and you get to take it home with you. Your own design cup noodle tastes more delicious than you can ever imagine!
Creating your own instant noodles – certainly one of the more unique things to do in Japan with the kids.
Location: 8-25 Masumicho, Ikeda, Osaka 563-0041
Opening Hours: Daily 9.30am to 4.30pm (last entry 3.30pm) | Closed Tuesdays
Price: Free entry
Nara Deer Park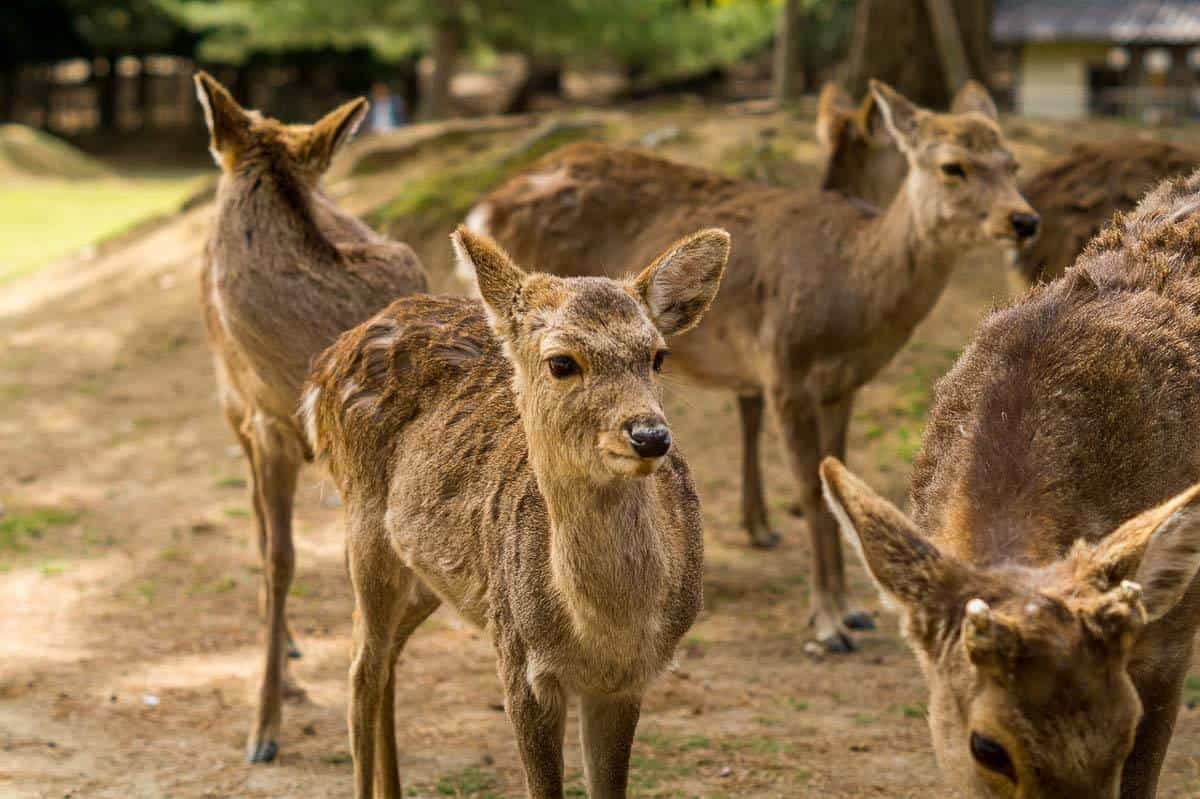 Thanks to Talek from Travels with Talek
Nara Deer Park is another one of the perfect things to do and see in Japan with the kids. It's really something to see a park with hundreds of tame deer roaming about. It also has free entry, although you may want to purchase some crackers for the deer.
Built in the 1300s – this park is a perfect day trip from Kyoto or Osaka. As Nara was once the capital of Japan, it is full of history, culture and museums worthy of its historical status. The city also has beautiful temples and one of the world's largest Buddhas. These are surrounded by acres of manicured gardens and landscaped ponds filled with large koi and turtles.
The tame deer in Japan's Nara Deer Park are cute, but they are not shy at all. These beautiful animals have grown accustomed to humans feeding them and they will demand a treat if not immediately forthcoming.
When you visit, make sure to also take the time to sample the wonderful assortment of ice creams in unusual flavours like seaweed, whisky, jasmine and more. It's remarkable how close the ice cream flavours come to the real thing!
Nara Deer Park is very easy to get to from either the Kyoto or Osaka train stations. The park is just a pleasant 10-minute walk from the Nara Train Station. Make sure to get your map at the station and take the opportunity to use the free WiFi.
Location: 469 Zoshicho, Nara 630-8501 Nara Prefecture
Opening Hours: 24/7
Price: Free entry
The Best Things to do in Kyoto with Kids
Check out some of the best things to do in Kyoto with kids, as well as in the surrounding areas.
Arashiyama Bamboo Forest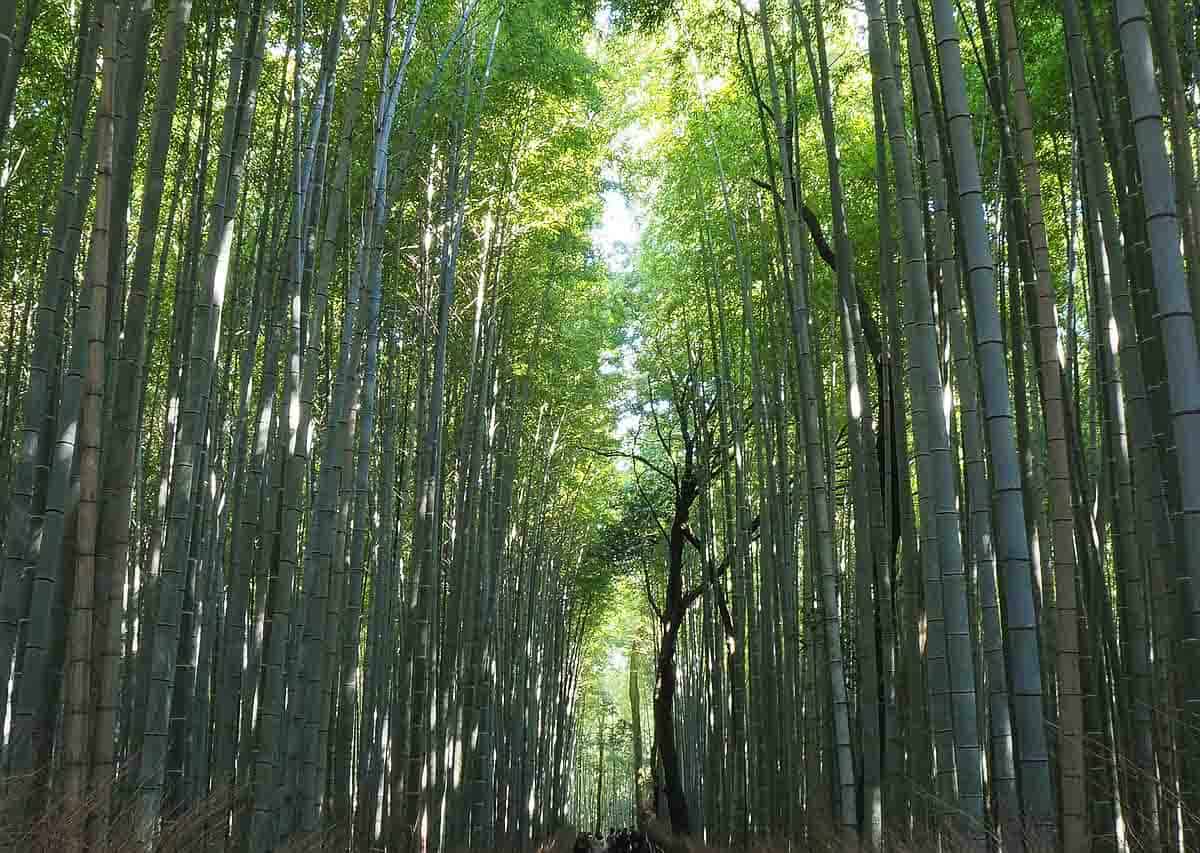 Thanks to Rachel from Adventure and Sunshine
A stroll through the Arashiyama Bamboo Forest is a unique experience in Japan and one of many free things to do in Kyoto with kids.
A single short path weaves from the main street of town through the forest to the base of the hills. The sound of the bamboo creaking and the leaves rustling in the wind is eerie yet peaceful. Take your time meandering through the forest before exploring some of the other highlights close by.
Near the entrance to the bamboo forest is Tenryu-ji Temple, with one of the best examples of Zen gardens in Kyoto. There is a small entrance fee to stroll through the garden.
At the top of the grove there are two options. Turn left to walk through the park and down to the river where the kids will enjoy watching the small traditional boats on the river. Or turn right and walk a little further up the hill to Okochi-Sanso Villa. With spectacular grounds, a tea house and one of the best examples of Japanese architecture, it is worth the 1,000 yen entry fee (approx. AUD $11).
Note that the Arashiyama Forest is one of the most popular destinations for visitors to Kyoto and can get very busy. Like so many attractions in Japan it is best to go early to avoid the crowds.
Getting to the Bamboo Forest is an easy 30 minute train ride from Kyoto. If you have a JR Pass take the JR train on the Sagano line from Kyoto station. The forest is a 10 minute walk from the station past a dizzying array of souvenir stores that you (and the kids) won't be able to resist browsing through!
Location: Sagaogurayama Tabuchiyamacho, Ukyo-Ku, Kyoto 616-8394 Kyoto Prefecture
Opening Hours: 24/7
Price: Free entry
Kodaiji Temple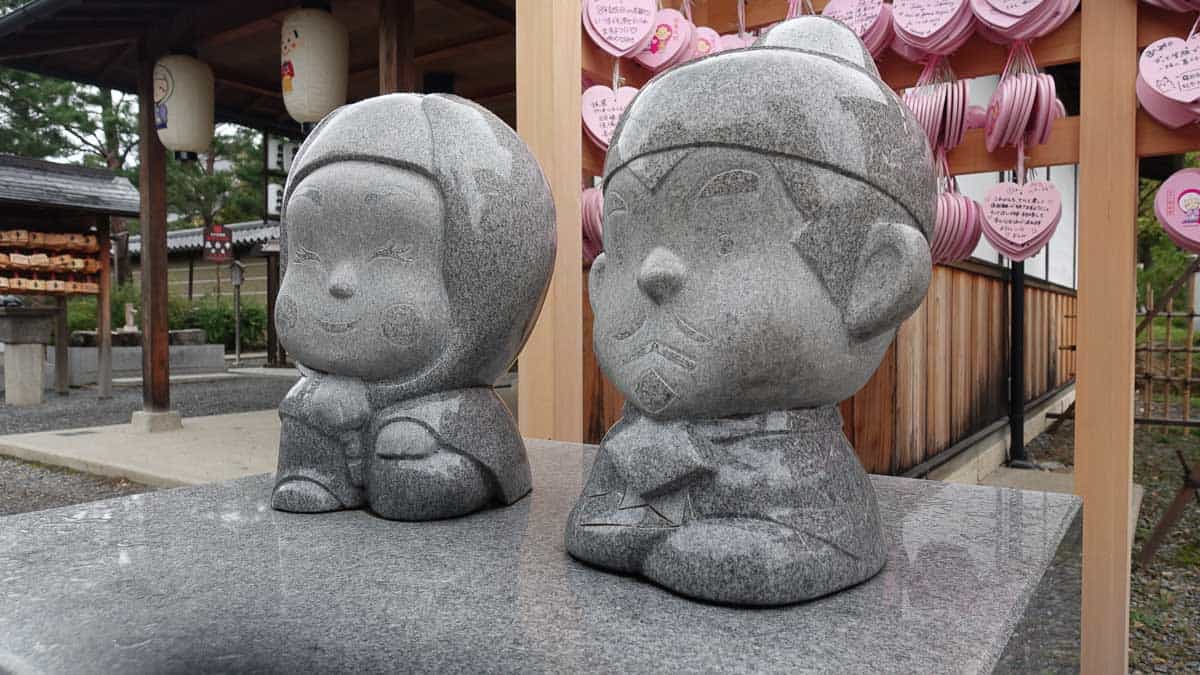 Thanks to Melissa from Parenthood and Passports
Kodaiji Temple may not be one of the most popular sites in Kyoto, but it is still one of the most unique and fun places to visit in the entire city. The temple grounds are beautiful and serene to simply wander through and pause for a moment of stillness. With its impressive zen gardens and bamboo lined pathways, you can't help but feel at peace at Kodaiji Temple.
But if visiting Kyoto with kids, the real joy of Kodaiji Temple is the hands-on cultural lessons that you and your kids will be able to experience. Throughout the temple complex, you'll find various Japanese rituals that you can participate in. These traditional rituals are believed to bring good fortune, luck, love, and even healing to those who follow the simple steps. It is an interactive, educational look at the religion and practice of Zen Buddhism.
Although often missed by tourists, Kodaiji Temple is considered one of the most recognised temples in Kyoto and has a beautiful backstory, as well. The temple was built in the early 1600s by a grieving widow to honour her husband, an ancient Japanese warrior. You can find wooden images of the warrior and his loyal wife forever enshrined together in the temple's memorial hall. It doesn't take a lot of time to tour Kodaiji Temple and its grounds, and you and your kids will be glad you did.
Location: 526 Shimokawaracho, Higashiyama Ward, Kyoto, 605-0825
Opening Hours: Daily 9am to 5.30pm (last entry 5pm)
Price: 600 yen per adult (approx. AUD $7) | 250 yen for high school students (approx. AUD $3) | Elementary school students are free
Spot a Geisha
Thanks to Sylvia from Wapiti Travel
The streets in the Gion district are lined with beautiful wooden facades that often hide expensive teahouses and fancy restaurants. These establishments attract a high-heeled clientele, exactly the clientele that can afford the services of a Geisha.
The existence of these posh establishments explains why the Gion district today is one of the last remaining real geisha districts.
This makes it also one of the best places in Japan to spot a Geisha. Geishas are remarkable appearances. Their richly decorated kimonos and perfect white faces with fierce red lips ensure a stunning appearance.
If your budget allows it, you could book a guided Geisha Districts Tour and learn in depth about this respectable profession, or alternatively you could just take a walk around the Gion district at night, it's the perfect thing to do in Kyoto at night.
Fushimi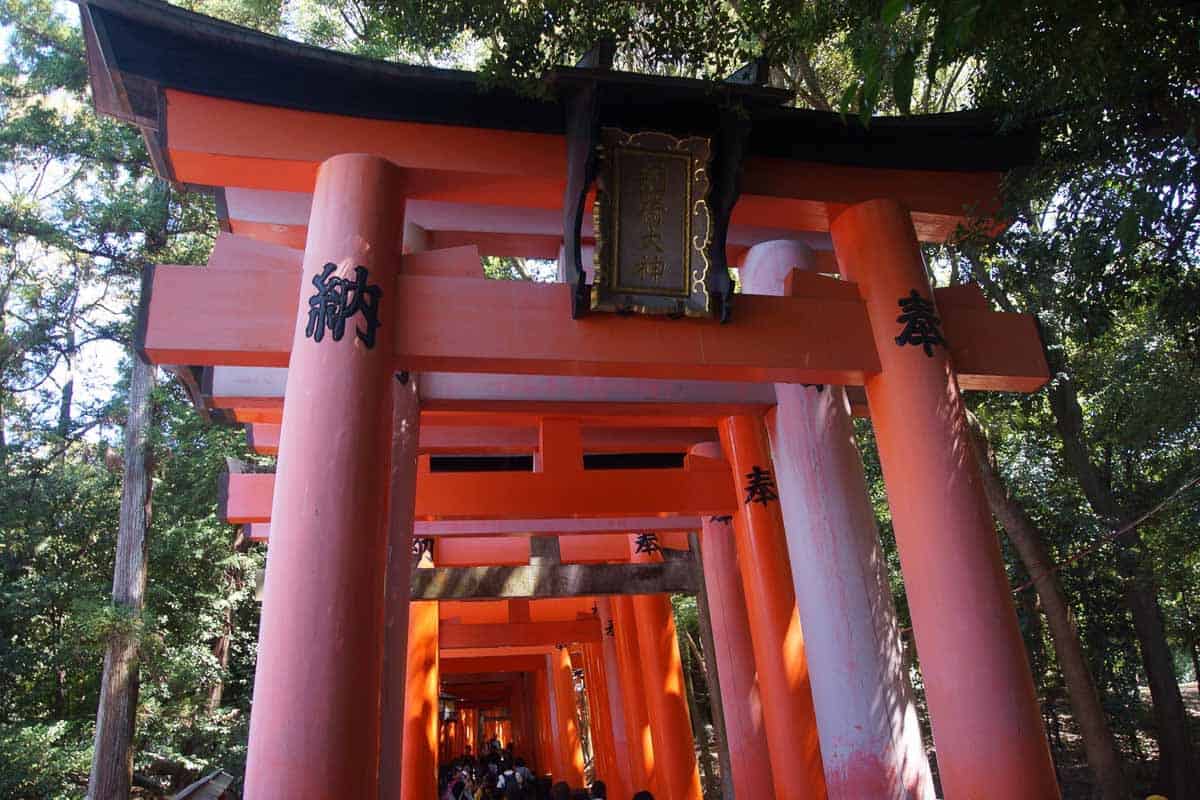 Thanks to Leona from Wandermust Family
One of the more popular family friendly things to do when visiting japan is to visit the beautiful and iconic red Tori gates of the Fushimi Inari Shrine! While shrines may not seem like the most child friendly place, there is plenty for the little ones to do here.
The shrine is very easy to get to from Kyoto as there are train and metro stations nearby. The shrine is located just outside JR Inari Station. If travelling with very small children, it's recommended to take a carrier rather than a stroller because of the path you take up the shrine. To experience it at its best you should try to get as high as you can up the mount as you will find the crowds disperse more and more as you ascend – it takes approx. 2 hours.
Top Tip for families visiting in summer: be sure to go early and pack plenty of water as the climb is long and the Kyoto summers get very hot and humid and can be very uncomfortable for littlies!
Entrance to the shrine is free and there are no closing hours at the shrine
Location: 68 Fukakusa Yabunouchicho, Fushimi Ward, Kyoto, 612-0882
Opening Hours: 24/7
Price: Free entry
Sagano Scenic Train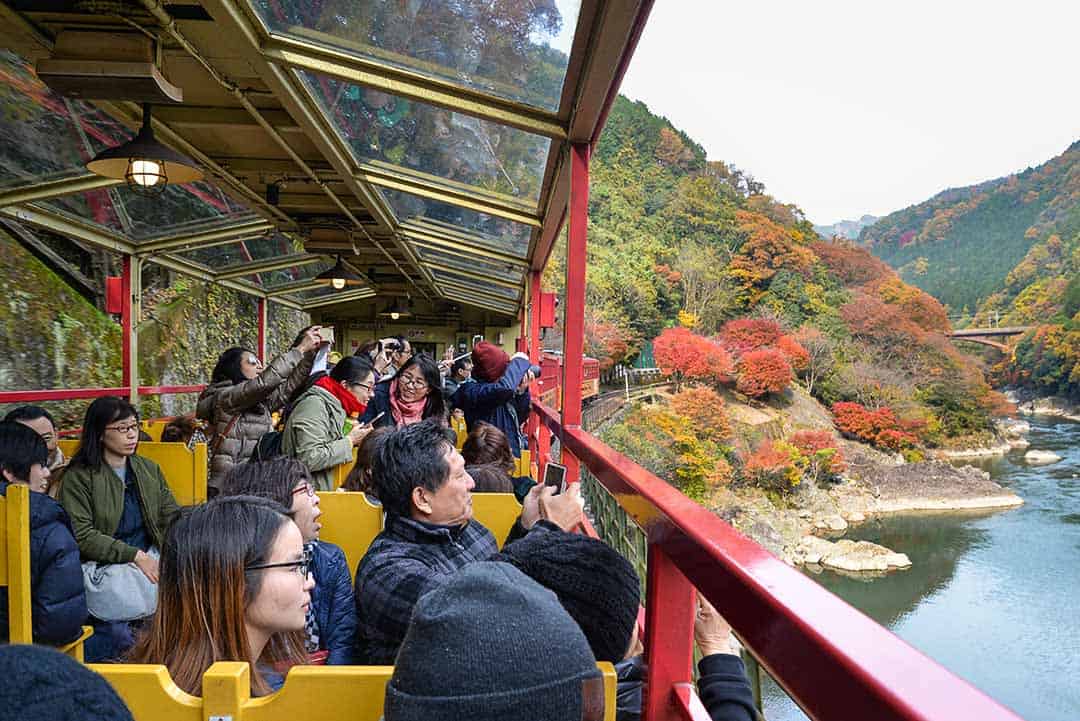 Thanks to Paul from Journey Compass
Kyoto's old-fashioned Sagano Train travels between Saga and Kameoka Station. It's one of the best things to do in Kyoto if you enjoy being around nature since the train passes through the beautiful forested Hozugawa Ravine where you also have a view of the Hozu River down below.
The 7-kilometre ride takes about 25 minutes, as it travels along at a slow pace to give you plenty of time to take in the surrounding scenery.
The views are stunning when you travel at the right time of year. In autumn the change in leave colours spruces up the surrounding forest, and in spring there are the cherry blossoms.
The train does get crowded, and it's important to pay attention to what seat you reserve because the seat you're in can make or break your view. Make sure you get an even numbered seat on the right side of the car – that's where the best views are. You can also ask to reserve a seat in the open rail car for the most unobstructed view, assuming the weather is good.
Tip: you can combine this activity with a visit to the Arashiyama bamboo forest and a Hozugawa river cruise.
Location: Sagatenryuji Kurumamichicho, Ukyo Ward, Kyoto, 616-8373
Opening Hours: Departs Saga Station at 9.02am daily
Price: 880 yen per adult (approx. AUD $10) | 440 yen for children (6-11) (approx. AUD $5) | Toddlers are free, if you have more than one toddler, they will be charged at the child fare (1-5) (approx. AUD $5) | Infants (under 1) are free – Click here to book your tickets online
Randen Line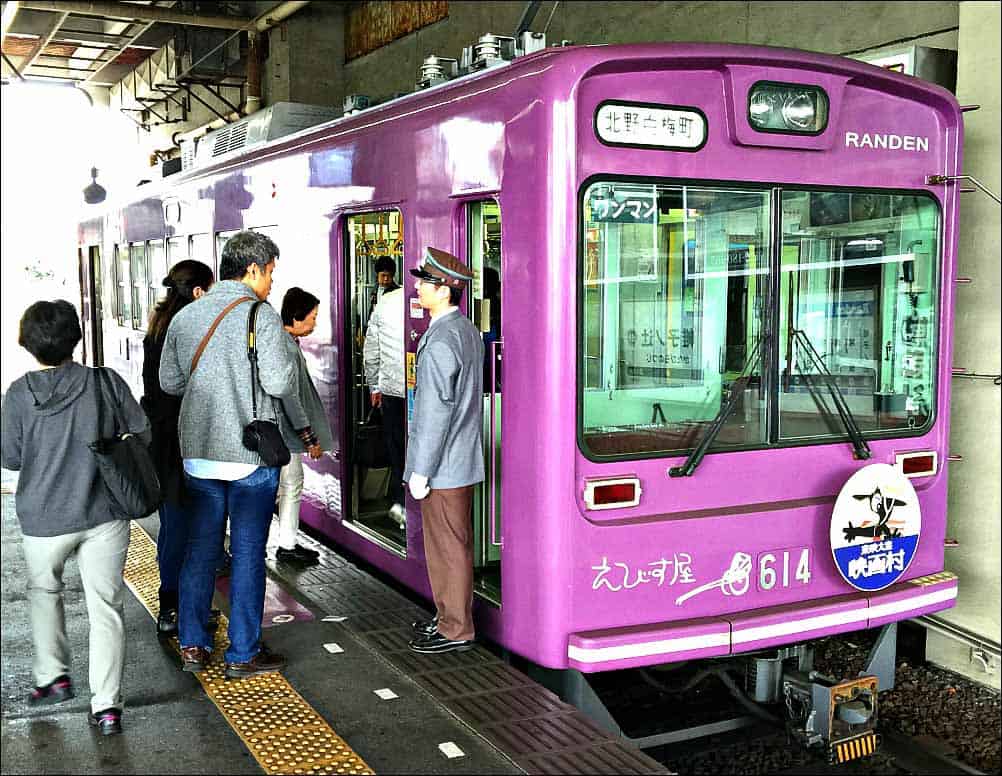 Thanks to Jan from Budget Travel Talk
Once Kyoto was crisscrossed with tram lines, but today only the privately owned Keifuku Randen Line remains. Randen trams run on the East-West Arashiyama line and the connecting northern Kitano Line.
Kids will love the jaunty shape and colour of the trams and with such cute conductor uniforms, you'll be humming "Thomas the Tank Engine" tune before you know it. Speaking of catchy tunes – listen for the stylised announcement jingles onboard.
Starting at Shijo-Omiya Station and finishing at Keifuku Arashiyama Station there are fourteen stops on the Arashiyama line.
If you love Ninjas, Samuaris, Geishas or dressing up, be sure to leave the tram at Tenjingawa Station for TOEI Kyoto Studios.
Meanwhile at Keifuku Arashiyama Terminus, you can soak your weary feet in a hot spring footbath.
Joining the Arashiyama Line at Katabiranotsuji station, the Kitano Line heads north and east to it's ninth and final station at Kitano Hakubaicho. Here you will find Kitano Tenamngu Shrine, quirkily known for it's giant monthly flea market.
In Spring the Kitano line tram slows as it passes beneath track-side cherry blossoms before stopping at the must-see temples of Ninnaji and Ryoanji.
Location: Shijoomiyacho, Shimogyo Ward, Kyoto, 600-8389
Opening Hours: Departs Shijoomiyacho Station at 6.01am daily and then approx. every 10 minutes
Price: 220 yen per adult (approx. AUD $3) | 110 yen for children (6-11) (approx. AUD $2) | Under 6's are free – Click here to book a food and train experience
The Best Things to do in Hiroshima with Kids
Check out some of the best things to do in Hiroshima with kids, as well as in the surrounding areas.
Hiroshima Peace Memorial Park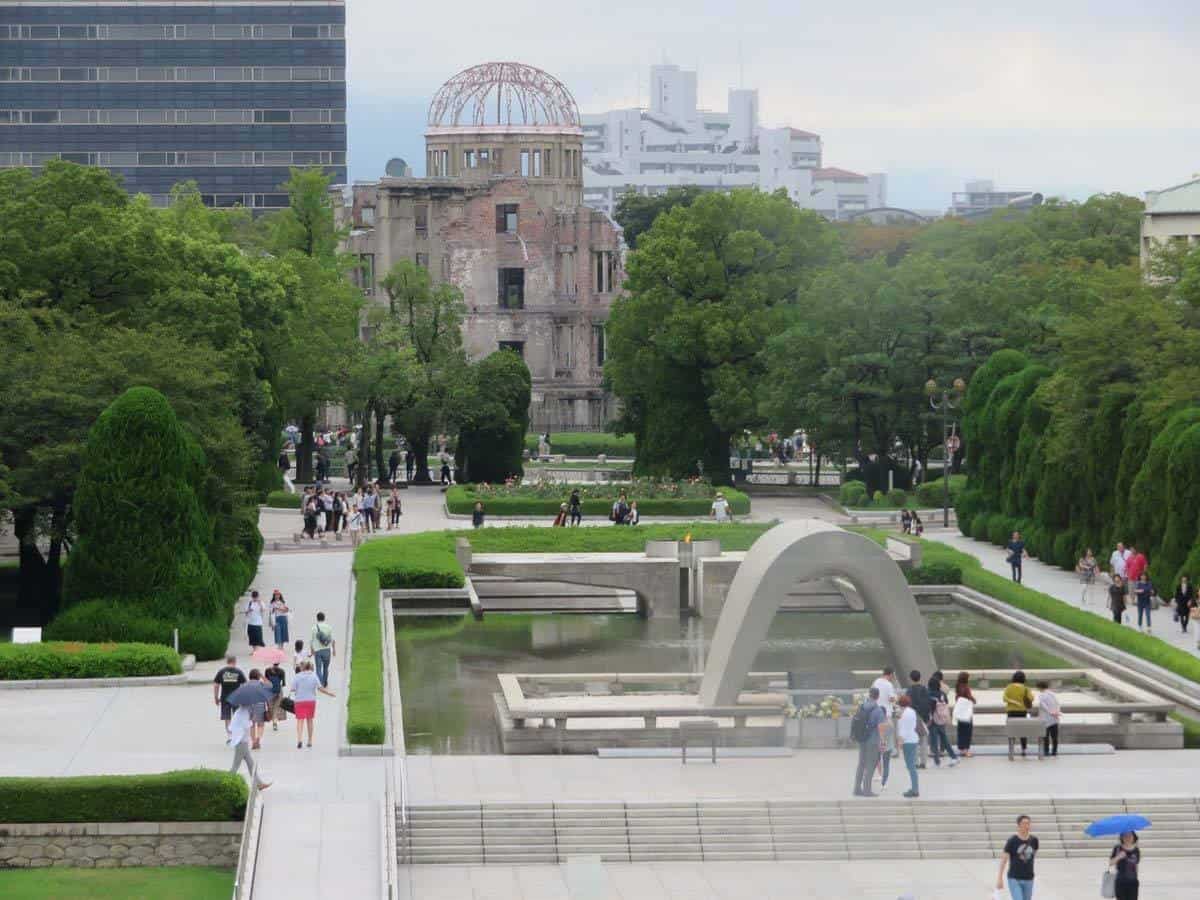 Thanks to Sally from Our 3 Kids V the World
Hiroshima Peace Memorial Park is a deeply moving experience, located right in the centre of Hiroshima city the memorial is dedicated to those who suffered and lost their lives in the first ever nuclear attack. It is reported that up to 140,000 people perished on that faithful day, the 6th August 1945. However, this is not only here as a memorial for those lives lost but also to advocate for world peace.
The Hiroshima Peace Memorial consists of the A-Bomb Dome, Children's Peace Monument, Flame of Peace, Cenotaph for the A-Bomb Victims, Peace Bell, Atomic Memorial Mound and the Hiroshima Peace Memorial Museum.
No doubt visitors will be moved by many parts of the Hiroshima Peace Memorial Park, from the story of Sadako and the Children's Peace Monument that commemorates her life and all other children that lost their lives that day. The significant A-Bomb Dome is the exact spot the bomb was detonated and the Flame of Peace that will continue to burn until the world's last nuclear bomb is destroyed. This is definitely a place that we can all learn from, the importance that we never see a memorial of this kind again.
You can travel to Hiroshima on the Shinkansen from Osaka, the travel time is about 2 hours. When you get off the Shinkansen, you'll be greeted by station staff that will guide you on how to get to Hiroshima Peace Memorial Park.
Location: 1 Nakajima-cho, Naka-ku, Hiroshima and 1-10 Otemachi
Opening Hours: 24/7
Price: Free entry
Miyajima Island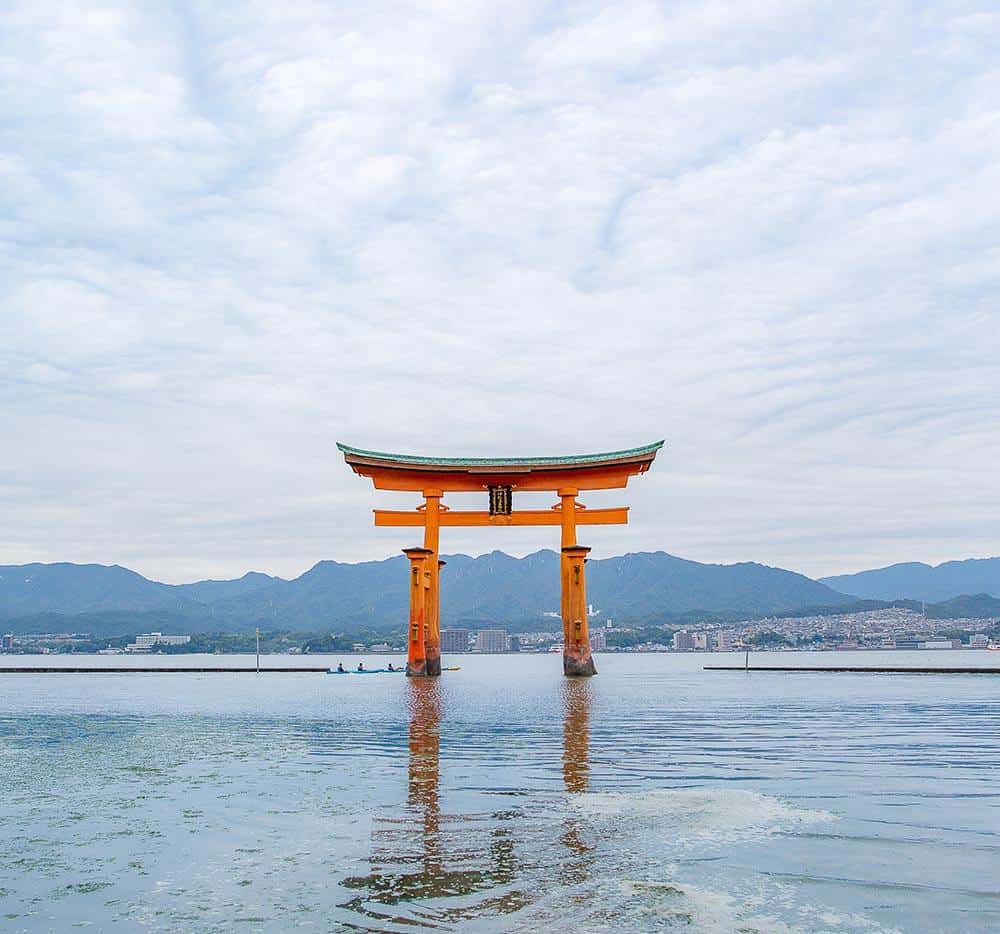 Thanks to Vanessa from Wanderlust Crew
One of the popular destinations to go to in Japan as a family is Miyajima island. You've probably seen pictures of this island with its famous floating gate known as a Torii. A Torii is a Japanese gate between the normal every-day world and a sacred place.
Miyajima island is located just a few miles from Hiroshima, so it's a great idea to combine the two into several days. It's a great place to escape the crowds in Tokyo or Kyoto. You can access the island easily by using your JR Pass to take the train to the ferry. Your JR pass also covers the ferry ride. Click here to purchase a 7 day Japan Rail (JR) pass.
Once you arrive on Miyajima island, you'll be greeted by the cutest sika deer who will want to eat all your food, but please don't feed them. On the island, you can explore the Torii gate and view it while the tide is in (when it looks like it's floating) and when the tide is out (watch for hundreds of hermit crabs).
The island is also home to several shrines that you can visit and a tram that will take you to the top of the mountain. You can also hike to the top of the island as well.
Be sure to try some classic Japanese food, as well as some more unique ones, like deer poop ice cream! Miyajima is famous for its maple shaped, cream-filled pastries called momoji, which are super tasty!
Location: 1-1 Miyajimacho, Hatsukaichi City, Hiroshima Prefecture
Opening Hours: Daily 6.30am to 5pm
Price: Entry to Itsukushima Shrine – 300 yen per adult (approx. AUD $4) | 200 yen for high school students (approx. AUD $3) | 100 yen for junior school students (approx. AUD $2)
Other Places in Japan
Tomamu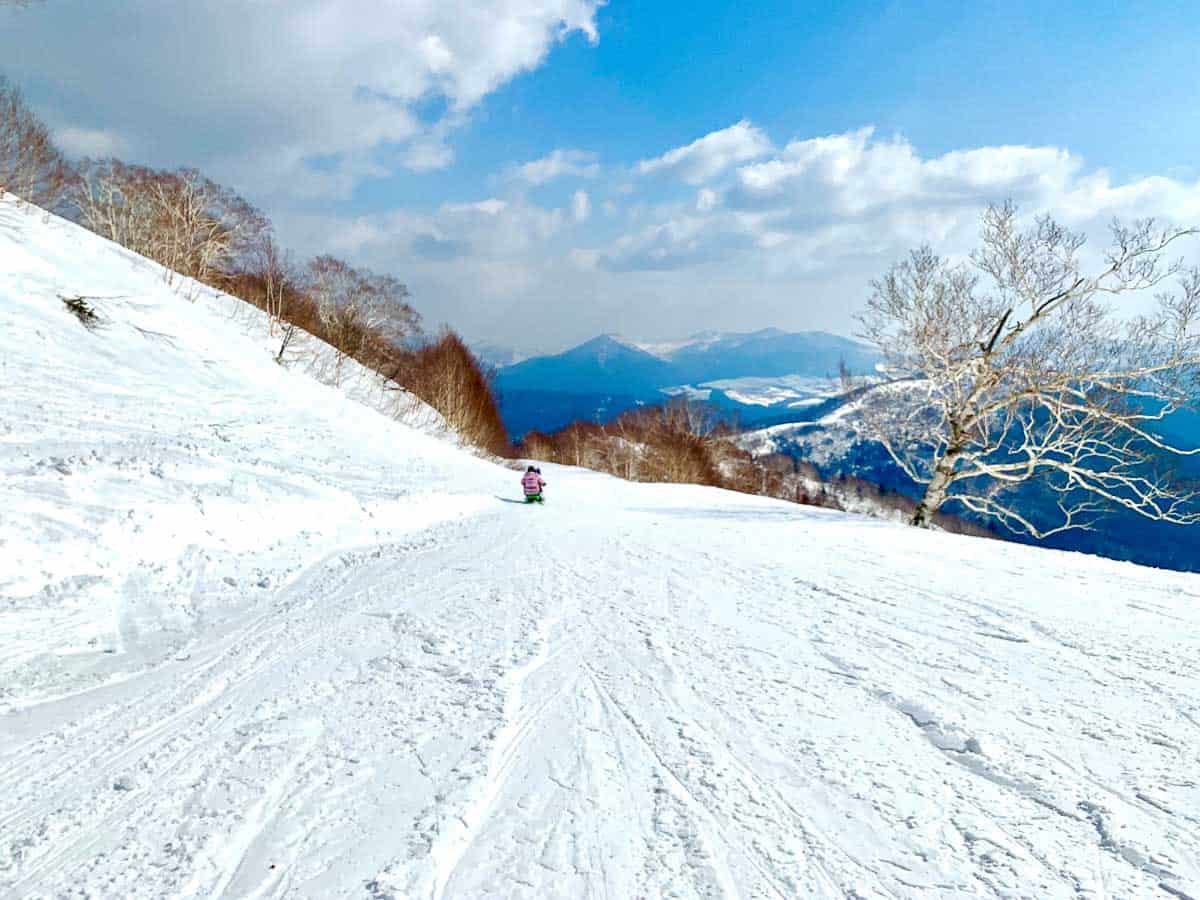 Thanks to Barbara from Let's Go Mum
Hoshino Resorts Tomamu is a fantastic place to take the kids in Japan. Located on the second largest Japanese Island of Hokkaido, Tomamu is a winter wonderland, and popular family ski resort, but there is so much more to do there.
Mina Mina Beach is one of the largest indoor wave pools in Japan, and kids love playing on the big inflatables on the waves. The Gao Outdoor Activity Centre has inflatable banana rides for the family, snow mobile hire and snow buggy tours of the back country, where the kids can make powder snow angels and spot local wildlife.
Take a Unkai Gondola ride up the mountain to the Terrace of Frost Tree where you can see the snowy white trees, walk amongst the clouds and even ride sleds all the way back down the mountain!
Perhaps the most spectacular place to take the kids in Tomamu is the world-famous Ice Village, where the kids can have ice chute rides, ice skate and explore the solid-ice village which includes a hotel room, shops and a church – amazing! Tomamu is a great family-friendly place to take the kids in Japan.
To get to Tomamu is a brief flight from Tokyo to New Chitose Airport, then a coach ride.
Chureito Pagoda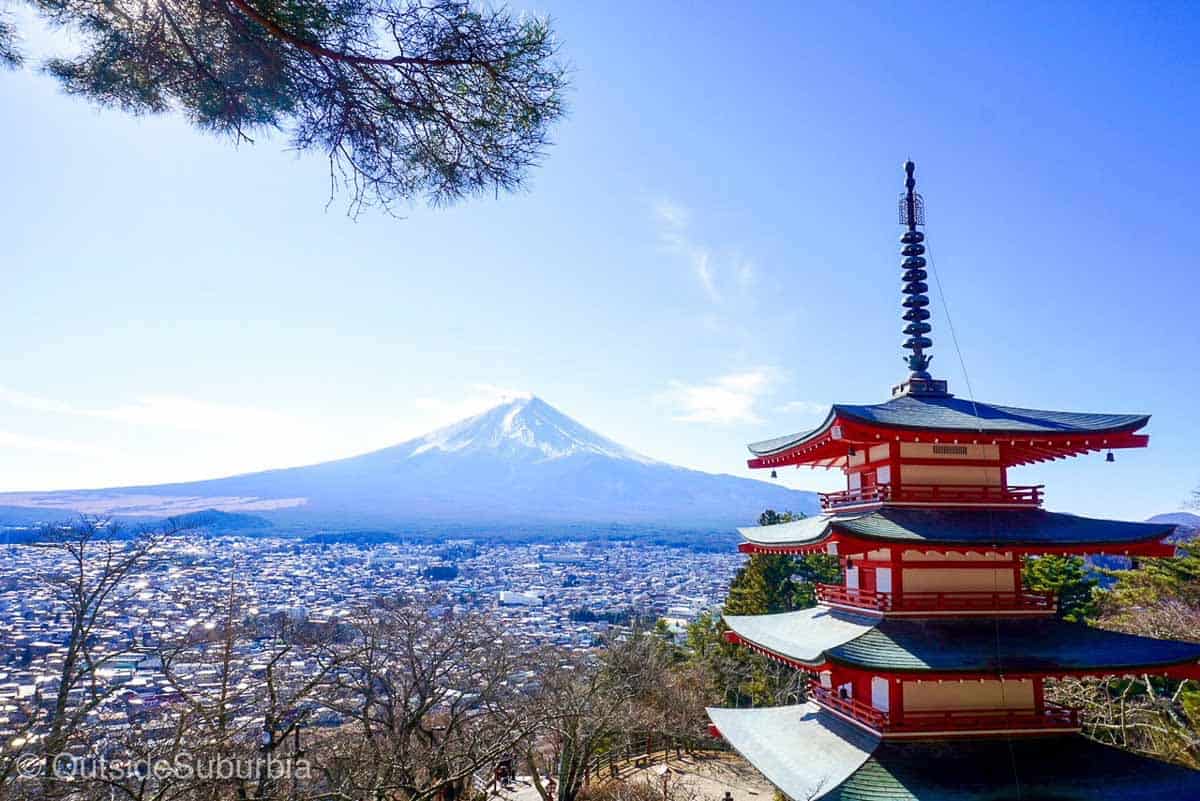 Thanks to Priya from Outside Suburbia
The Chureito Pagoda is a five storied pagoda on the mountainside overlooking Fujiyoshida City. This pagoda is one of Fujigoko's most popular cherry blossom spots where you can get beautiful views of Mount Fuji rising up through a sea of cherry blossoms. It is part of the Arakura Sengen Shrine and was built as a peace memorial in 1963.
You will have to climb 400 steps up the mountain from the shrine's main buildings, but the view is totally worth it. Buses are available or you can hire a private car to get there.
Mount Fuji is often shy and shows her face only on clear days. Some days the white capped peak may be visible from hundreds of kilometres away but more often the mountaintop is hidden by low hanging clouds. Early mornings or late afternoons, especially during the colder winter months tend to be better than during the summer months.
The mountain's famous snow cap is typically visible from around November to around May. Seeing it from the famous Chureito Pagoda is certainly something you need to add to your list when visiting Japan.
Location: 2-4-1 Asama, Fujiyoshida City, Yamanashi Prefecture (3353-1 Niikura)
Opening Hours: 24/7
Price: Free entry – If you would prefer to join a guided tour, check out this Mt. Fuji Day Tour
____________________________________________________________________________________
We hope this Best Things to do in Japan with Kids article has been helpful. For some of the best things to do in Kyoto with kids click here and if you plan to stay in Kyoto, here are some of the best places to stay with kids.