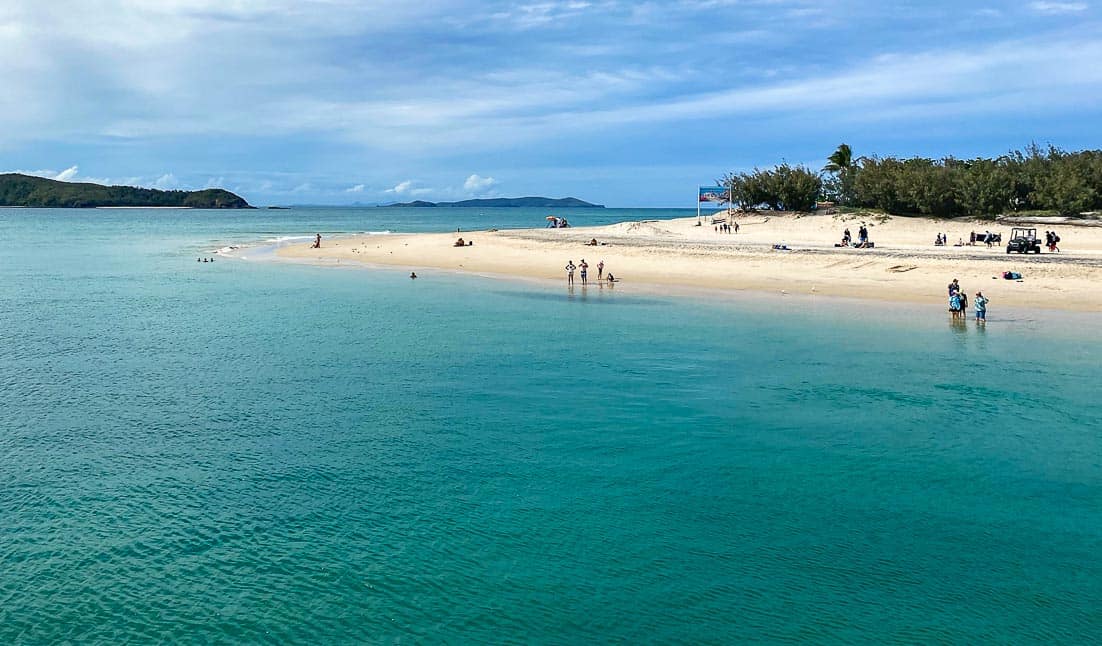 If you're taking the kids over to Great Keppel Island, the most popular place to stay is Great Keppel Island Hideaway Resort. The resort is the largest on the island and is conveniently located to enjoy all the main island sights. Plus you'll be pleased to know that there are some super affordable accommodation options, making it one of the cheapest places to stay for families after a tropical island getaway.
If you're considering staying at Great Keppel Hideaway Resort but wanting to know more before you make the booking, then this is a great article to read. In this article, we cover all the important stuff like where the resort is located on the island, what facilities are available as well as the different accommodation options for families.
If you want information about all the different accommodation options on Great Keppel Island, then click here for our GKI accommodation guide.
Are you planning a trip to Queensland? Have any questions? Join our Queensland Travel Planning Facebook group here now! It's the perfect place to ask any questions and to be inspired!
This post may contain compensated links. Please refer to my disclaimer here for more information.
Where is Great Keppel Island Hideaway Resort?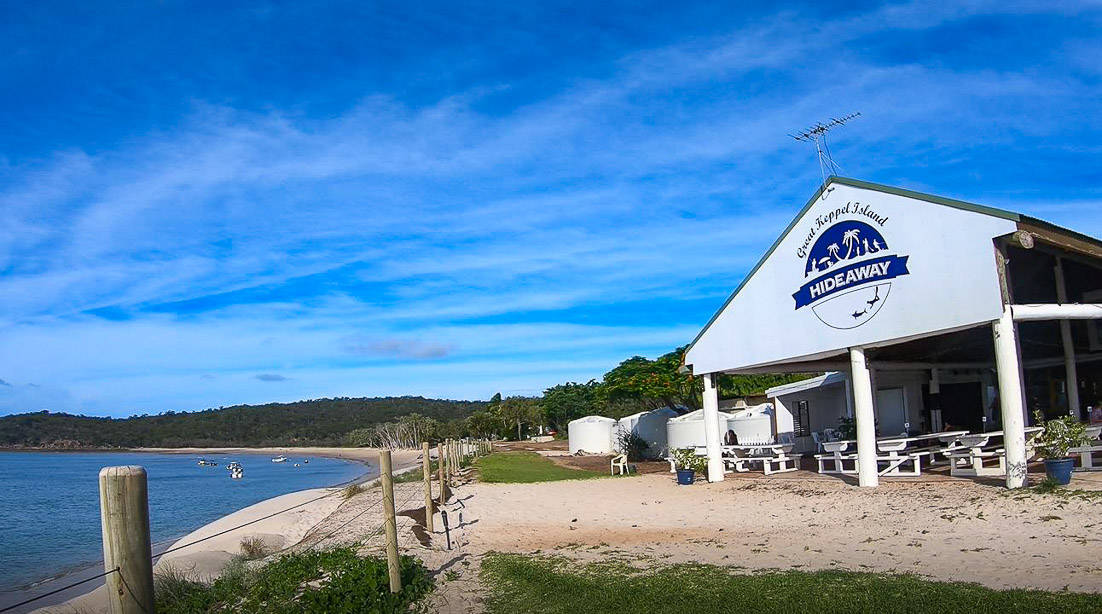 Great Keppel Island Hideaway Resort is sprawled out across three of the island's main beaches – Fisherman's Beach, The Spit and Putney Beach.
The ferries land directly onto Fisherman's Beach, and you'll spot a sign to Hideaway just to the left. You can see the sign in the main picture above; I took this photo as the ferry was pulling away. The Spit is just around the corner from this sign, which is where you'll find a pathway leading up to the Hideaway bistro and reception.
Most of the Hideaway Resort faces out over Putney Beach – but either Fisherman Beach, The Spit or Putney Beach is easy to access.
Along the Spit, just around the corner from the Hideaway sign is where you'll find GKI Watersports so easy to hire out equipment or organise dives.
Also just a short walk away from Hideaway you'll find a cafes Tropical Vibe and Island Pizza, along Fisherman Beach.
Facilities at Great Keppel Island Hideaway Resort
You won't find any fancy facilities at Hideaway Resort – the island itself is the main attraction. But here is a brief overview of what you can expect while staying at the resort.
Click here to read our guide on all there is to do on Great Keppel Island.
The Beaches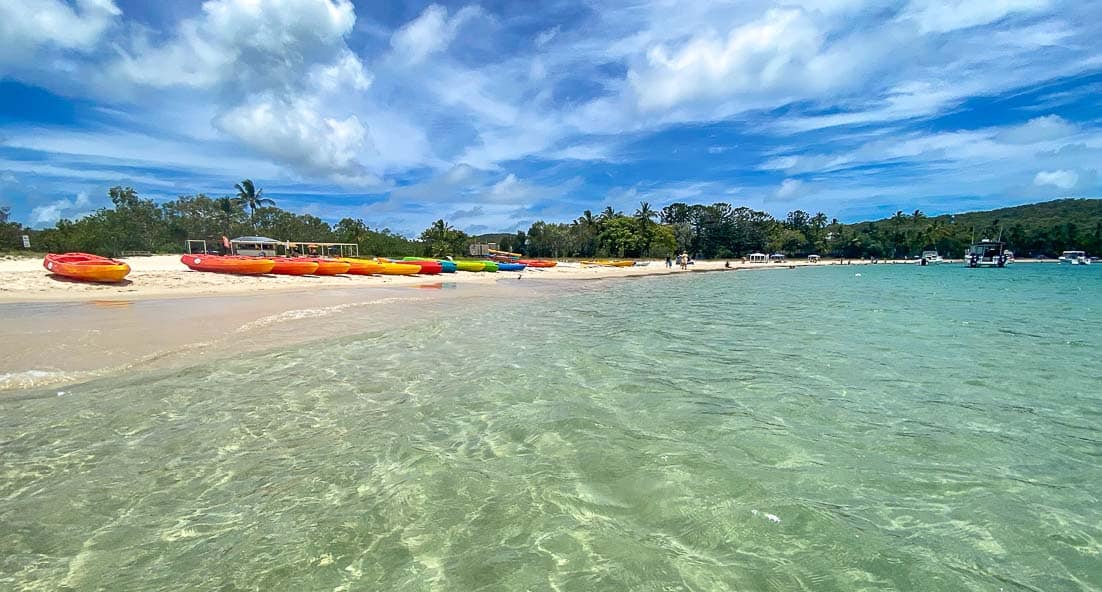 The main thing you'll no doubt be doing while at Hideaway Resort is enjoying the stunning surrounding beaches. As mentioned above, Hideaway is sprawled out across three beaches – Fisherman, The Spit and Poutney Beach – all just gorgeous beaches and perfect for swimming.
Fishermans Beach (pictured above) is the largest out of the three beaches and is where you'll find other accommodation options and two of the islands three places to eat. It is also home to Keppel Water Sports – so perfect for grabbing a kayak or SUP or arranging a jet ski tour. The beach itself is absolutely stunning with soft powdery white sand and crystal clear calm water, just perfect for swimming. Out of the three beaches around Hideaway – this is my favourite. We spent hours and hours just floating around the water.
Putney Beach is where most of the resort is located and in fact, some bungalows are perched along the dunes here looking out across the ocean. The beach again has powdery soft sand and crystal clear water. Down the very end of the beach, you'll find a little creek going inland with a few mangroves – the perfect place to explore either on foot or via a kayak.
Between Fisherman and Putney Beach is The Spit – a small beach area where you'll find GKI Watersports. Again the water here is crystal clear and just perfect for floating around for hours on end. You will also find some massive sandbags that are popular to jump from during high tide when the surrounding water is quite deep.
GKI Watersports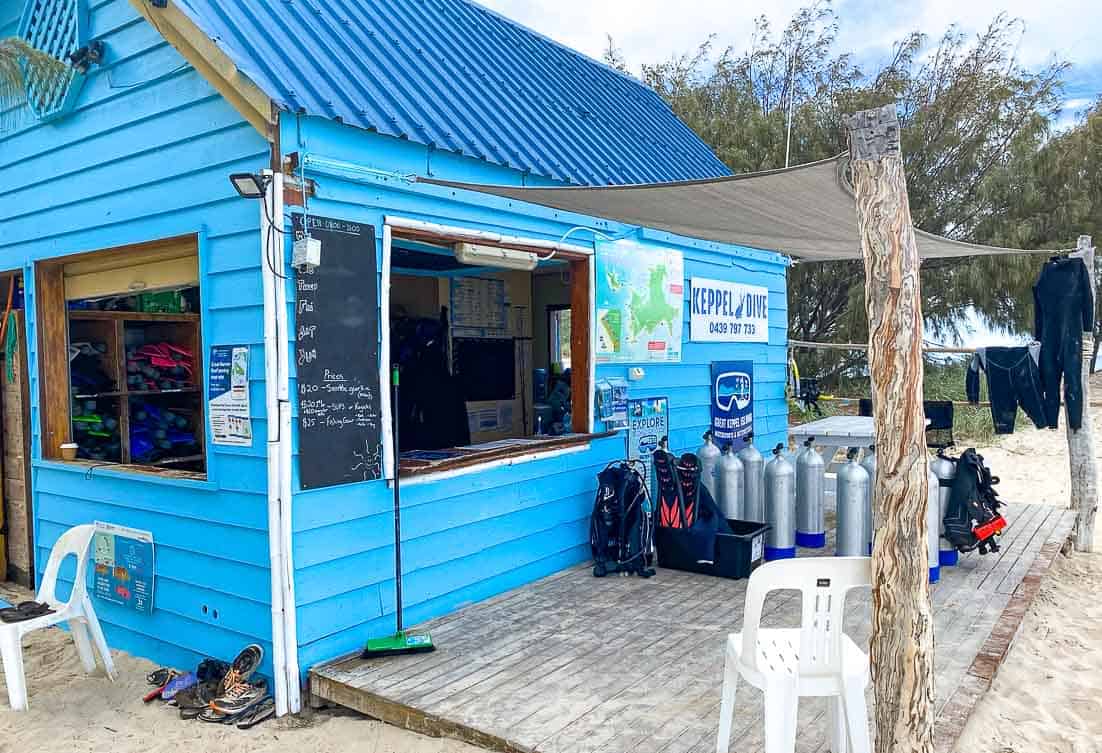 There are two places on the island where you can arrange various water activities – either GKI Watersports or Keppel Watersports. GKI Watersports is located at the Hideaway along the Spit and is great for those staying at the Hideaway as you can charge everything to your room.
We arranged a few different things with the guys from GKI Watersports and found them absolutely brilliant! They were so accommodating to us and just fantastic helping Myla participate in various water sports – can't recommend them enough.
Here are some things GKI Watersports can help you with as well as pricing (which was correct at the time of publishing):
Snorkel Gear: $20 per day for mask, fins, snorkel and floatation device
Guided snorkel tour: $50 per adult and $40 per child – we did this and saw turtles and dolphins!
Beach drop offs – if you want to check out some of the other island beaches these guys will drop you off and pick you up – prices start at $60 for the return boat trip (not per person)
Kayaks – $20 per hour
SUP – $20 per hour
Diving – beginner course $140, dives start at $75 per person
Fishing Rod and Tackle – $25 per day
The Bistro & Bar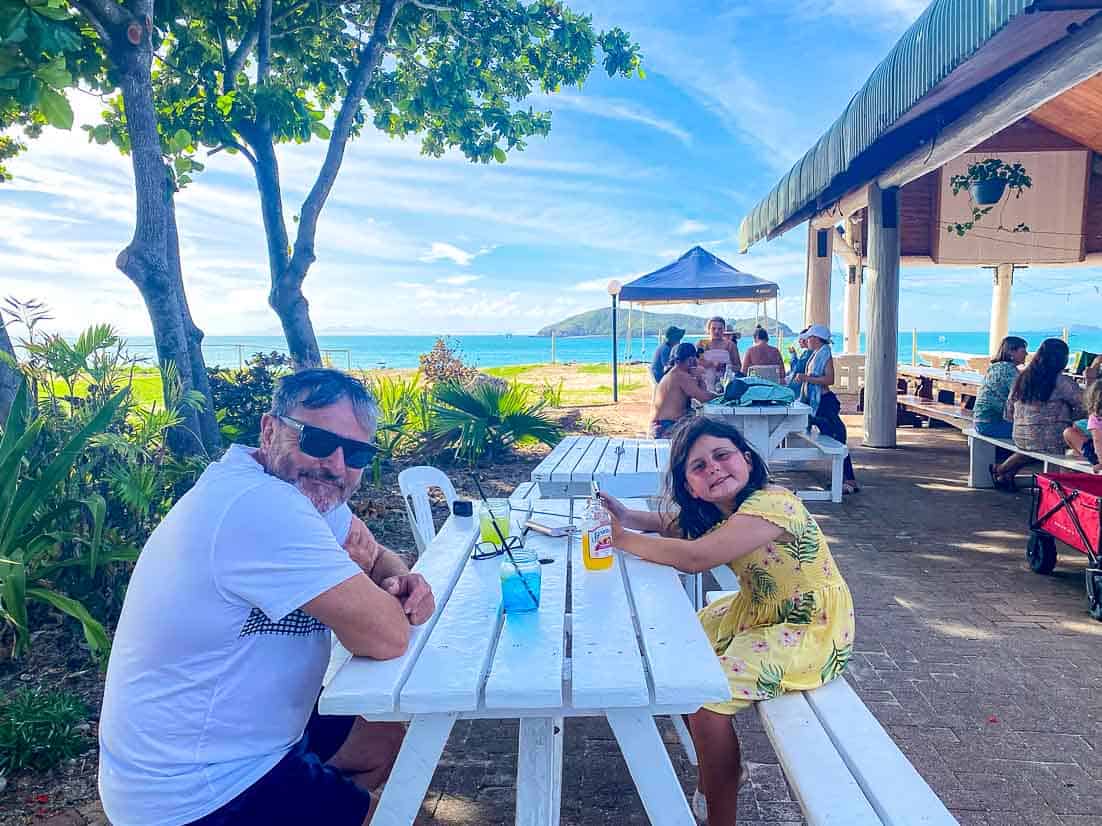 Hideaway Resort has a great casual, laid back bistro and bar, which is open daily for breakfast, lunch and dinner. For a tropical island resort, I was pleasantly surprised by the pricing of the meals and drinks. Basically, the prices are what you'd expect to pay at your local pub, rather than what I'm used to paying at a resort. The quality of the meals was great too and the service was excellent.
During our stay we found lunchtimes super busy – this is because as well as the guests staying on the island, you have lots of day trippers. So if you want to eat lunch at a certain time, I'd recommend getting there super early to allow for any delays. Breakfast and dinner were fine though.
For families, you may also want to consider the meal package they offer, which is $75 per adult per day. This includes a meal at breakfast and lunch and for dinner a starter and a meal. No drinks are included, but one child under 12 eats free from the kid's menu per paying adult. So depending on how much you plan on eating at the bistro, this could work out to be great value for money.
Don't miss happy hour, which is 4 pm to 5 pm each day where most cocktails are $10. Although they always have a cocktail of the day for $10 all day.
The bistro also sells snacks like chips and ice creams as well as cans of soft drink and juices.
Accommodation Options at Great Keppel Hideaway Resort
Hideaway offers a range of accommodation options from gorgeous beachfront cabins to motel style rooms and budget dorm options.
Here is an overview of the different accommodation options at Great Keppel Hideaway:
Island Cabins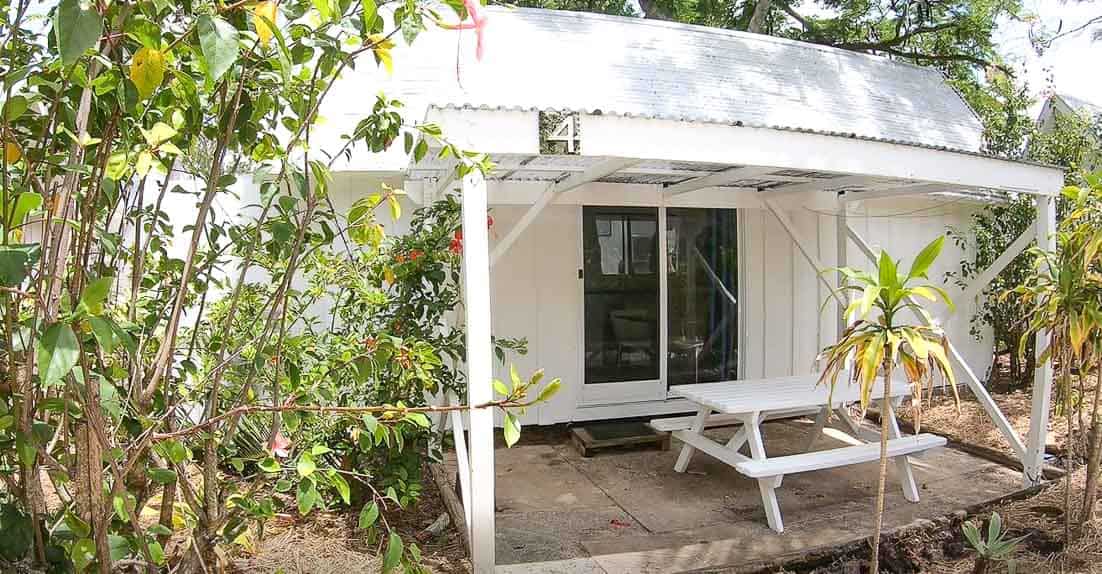 The island cabins can accommodate from 4 to 6 guests and are fully self contained. Each cabin comes with a basic kitchenette (toaster, kettle, microwave, electric frypan), full size fridge, dining table and chairs, ensuite and AC. All of the cabins have an outdoor area.
For those that want the ultimate holiday – then you're going to want to book into one of the 3 beachfront cabins which are perched on the dunes looking right across Putney Beach. One of these cabins has one bedroom with a queen bed then two singles in the kitchenette area. The other two cabins have two bedrooms with a queen bedroom and a bunk bed in the second bedroom. These 3 cabins also have access to a shared BBQ.
The other 9 cabins are scattered around the subtropical gardens. These 9 cabins come with a queen bedroom and either two single beds or a bunk bed in the kitchenette area.
Prices start from $200 per night. Click here to check availability and current pricing.
Garden Rooms
On the other side of the garden from the island cabins are the garden rooms. There are 22 garden rooms, which are motel style rooms with an ensuite, bar fridge, tea and coffee making facilities and AC.
These rooms come in a range of configurations, including queen rooms and rooms that sleep 3 or 4 people.
Prices start from $140 per night. Click here to check availability and current pricing.
Family Rooms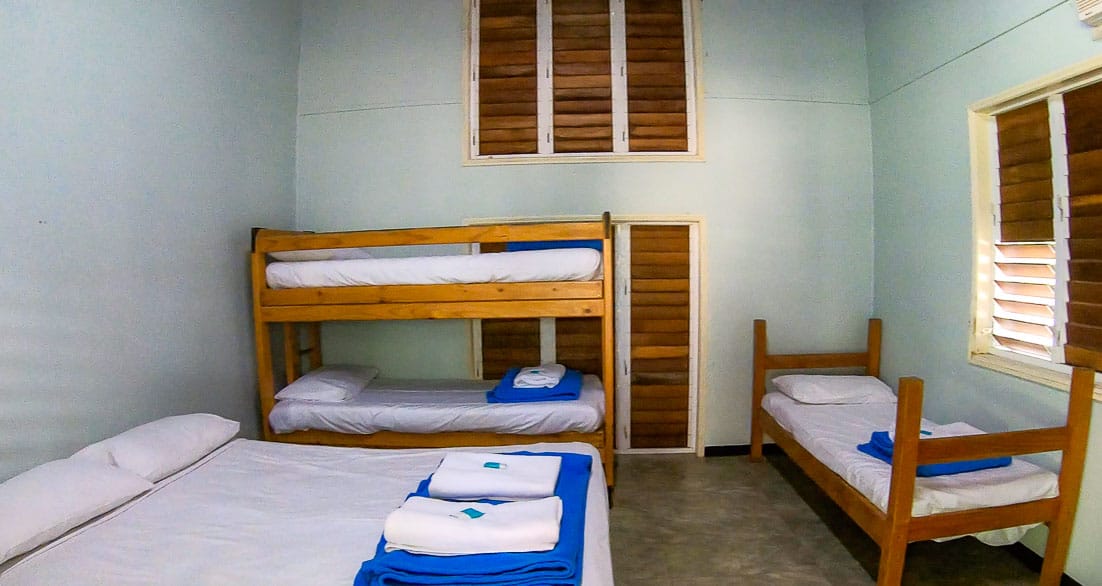 During our recent visit to Hideaway, we stayed in the Family Rooms. These are great for families on a tight budget and want the option of being able to self cater during their holiday.
There are 12 family rooms, spilt across 6 buildings. Each building contains two family rooms, which have a bathroom in between. So the bathroom is shared between 2 rooms.
These budget style rooms can accommodate up to 5 coming with a queen bed, a bunk bed, and a single bed. The rooms feature AC, ceiling fan, a storage area and an outdoor sitting area.
The family rooms also come with their very own communal kitchen, BBQ facilities and outdoor dining area. This area is excellent for families. The kitchen is huge and is perfect for preparing meals during your stay.
Prices start from $130 per night. Click here to check availability and current pricing.
A Frame and Hideaway House
Hideaway also has two holiday homes on site which is perfect for larger families or small groups holidaying together.
The A Frame House can accommodate up to 6 guests coming with 3 queen beds and 3 single beds. The house also comes with a dining area, seating for 6, lounge, bathroom, BBQ area and kitchen. This house is not air conditioned but does feature ceiling fans.
Hideaway House can also accommodate up to 6 guests with two queen bedrooms and a bunk bed in the lounge area. It also features a fully equipped kitchen, dining area, lounge, AC and bathroom.
Prices start from $275 per night. Click here to check availability and current pricing.
Getting to GKI Hideaway Resort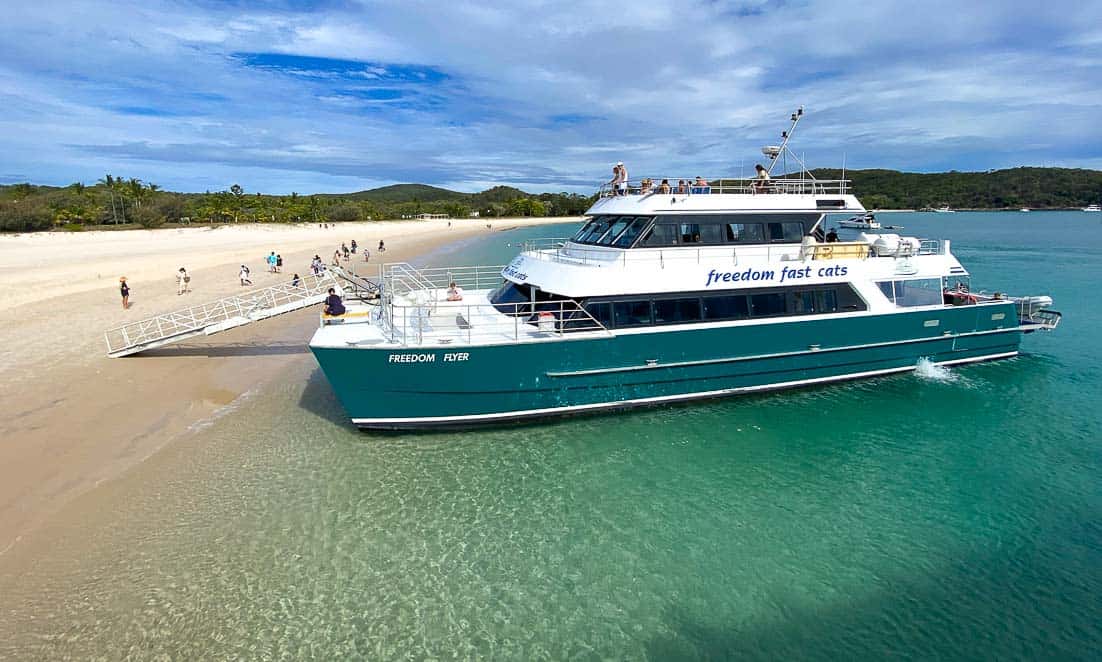 It's just a short 30 minute ferry ride from Yeppoon to get the Great Keppel Island. Once you arrive on the island, it's just a couple of hundred metres to the resort itself. You can read our full guide on getting to Great Keppel Island here. We took the Freedom Fast Cat over when we recently visited the island and found the service really easy.
Your Luggage
You can pretty much take whatever beach gear over that you like (they'll just charge you a fee for excess baggage). You'll need to be able to take your own gear on and off the boat – but once you hit the beach, just look for the Hideaway Resort cart and they'll take your baggage up to the resort for you. Otherwise, you'll need to drag it all through the sand.
The Hideaway staff will then take your bags to the baggage shed, located at the back of the resort. You can leave your gear here until your room is available. You're able to access your stuff all day, so easy to come and get what you need throughout the day.
Just a note about check in. We arrived on the island around 8 am – well before the 2 pm check in. However, the staff did there best to get us into our rooms asap and we were super surprised when we were able to get into our room at 10.30 am! However, keep in mind that normal check in is 2 pm and just come prepared to spend the day on the beach while your room is being cleaned.
On departure, you'll need to get your baggage to the reception area where they will store it for you until your ferry time. Again you can access your gear here throughout the day. The staff will get your gear down to the beach; you'll just have to load it back on to the boat.
I highly recommend you bring with you a beach cart – one with good wheels. While there are some paths around the place, mostly you'll be carrying your stuff through the sand. I also recommend bringing a good beach shelter, beach chairs, an esky or cooler bag and some floaties. It is a bit of stuff to lug over with you, but it will make your trip that much better. We even took over our inflatable kayak and snorkels, so we didn't have to hire any while there.
Where to Book your Stay
I recommend booking through Booking.com for the best flexibility (you can always cancel and book elsewhere if you find a better deal).
Great Keppel Island Hideaway Resort – Our Verdict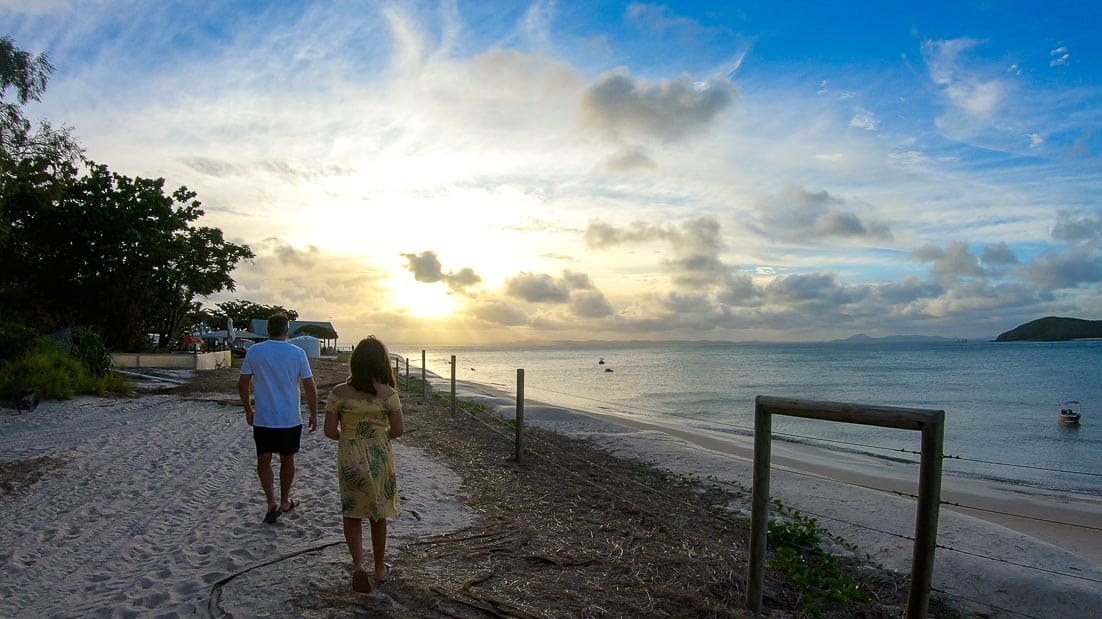 We ABSOLUTELY loved our stay at Great Keppel Island and the Hideaway Resort!!!
Yes, the resort isn't 5 star, some parts of the resort are looking a little tired and there are certainly things that could be improved and fixed up to make it better. BUT – for families like us, that are pretty casual and don't have a huge budget to spend, this resort was absolutely perfect for us. I mean where else can you get accommodation over the new year period for $155 a night – let alone on a gorgeous tropical island in the Southern Great Barrier Reef!!???!!!
Overall it is the setting that really makes Hideaway Resort – Great Keppel Island is beautiful! But I loved the casual vibe of Hideaway too. It was lovely hanging around the bistro, with a drink in hand, watching the sunset over the ocean while listening to live music—the staff where all lovely, they all provided great service and always up for a chat.
I would love to see a few things improved around the resort like broken pathways fixed and perhaps some screens covering the rubbish areas etc. But what I wouldn't like to see is the resort turned into a 5 star flash place that we could no longer afford and no longer feel welcome.
I for one, can't wait to return to the Hideaway Resort and I highly recommend it for any families out there looking for an affordable tropical island getaway.
Click here to check availability and current pricing.
___________________________________________________________________
Hopefully, you found this guide to getting to Great Keppel Island helpful. You can read all our other guides for Great Keppel Island here.