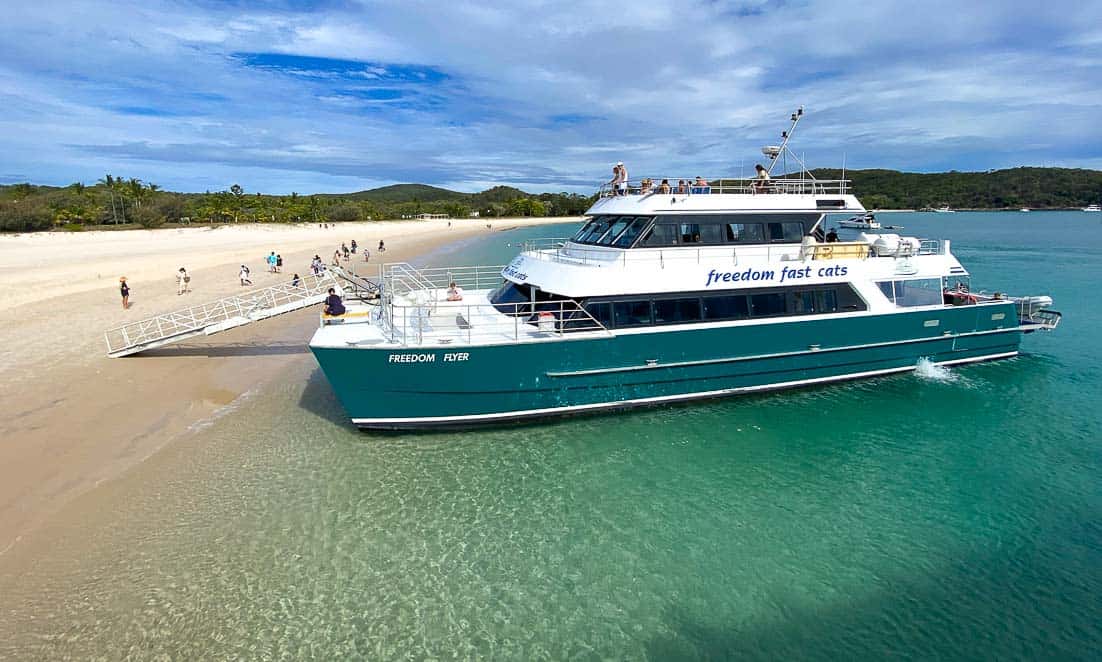 So you've decided to head on over to gorgeous Great Keppel Island, but now you're wondering exactly how to get to Great Keppel Island. Well, you're in the right place, because this guide is going to cover exactly how to get across to the island by taking the Great Keppel Island ferry.
It's straight forward to take the boat to Great Keppel Island from Yeppoon, but this guide will cover everything you need to know such as the different boats to Great Keppel Island, the ferry time and ticket price.
Also, this guide will cover things such as where you can leave your car securely parked while spending time on the island and how to get to Yeppoon from various places so you can catch the ferry to Great Keppel Island.
After reading this guide, you'll know exactly how to get to Yeppoon and then how to get from Yeppoon to Great Keppel Island so you can spend more time dreaming about your upcoming tropical island holiday.
Are you planning a trip to Queensland? Have any questions? Join our Queensland Travel Planning Facebook group here now! It's the perfect place to ask any questions and to be inspired!
This post may contain compensated links. Please refer to my disclaimer here for more information.
How to Get to Great Keppel Island
Map
Getting to Great Keppel Island is really quick and easy. When it comes to how to get to Keppel Island by boat – there are two ferries to choose from – either the Freedom Fast Cats or Keppel Konnections.
Both ferries depart from the Rosslyn Bay Harbour, with Keppel Konnections departing from Keppel Bay Marina and the Freedom Fast Cats from Pier One. From the island, both ferries depart from Fishermans Beach.
As you can see from the map below, the island is not too far from the mainland. I've also shown the Great Keppel Island security car park location, which is where you can securely leave your car while over on the island. More about the car park below.
I will just note here that we found the ferry ride over relatively smooth and easy, although since publishing this article I've been told that at times it can be very rough. So if you're prone to sea sickness, might be best to take some medication beforehand just in case.
Taking the
Great Keppel Island Ferry
from Yeppoon
Below I've provided further detailed information about the ferry transfers to Great Keppel Island.
Great Keppel Island Ferry Times
Between the two ferry companies, there are multiple Great Keppel Island ferry times between the mainland and the island each day, so there is sure to be the perfect departure time for your trip.
Freedom Fast Cats run two ferries each day leaving the mainland at 9 am and 10.30 am Mondays and Tuesdays and 7.30 and 9.15 am every other day. Ferries leave the island at 9.30 am and 3.45 pm Mondays and Tuesdays and 8 am and 3.45 pm every other day.
Keppel Konnections runs a ferry between the mainland and the island multiple times per day every day. Generally, ferries leave the mainland at 7.30 am, 9 am and 3 pm and return from the island at 10 am and 2 pm. Fridays through to Sunday there are additional services with four return journeys across the day.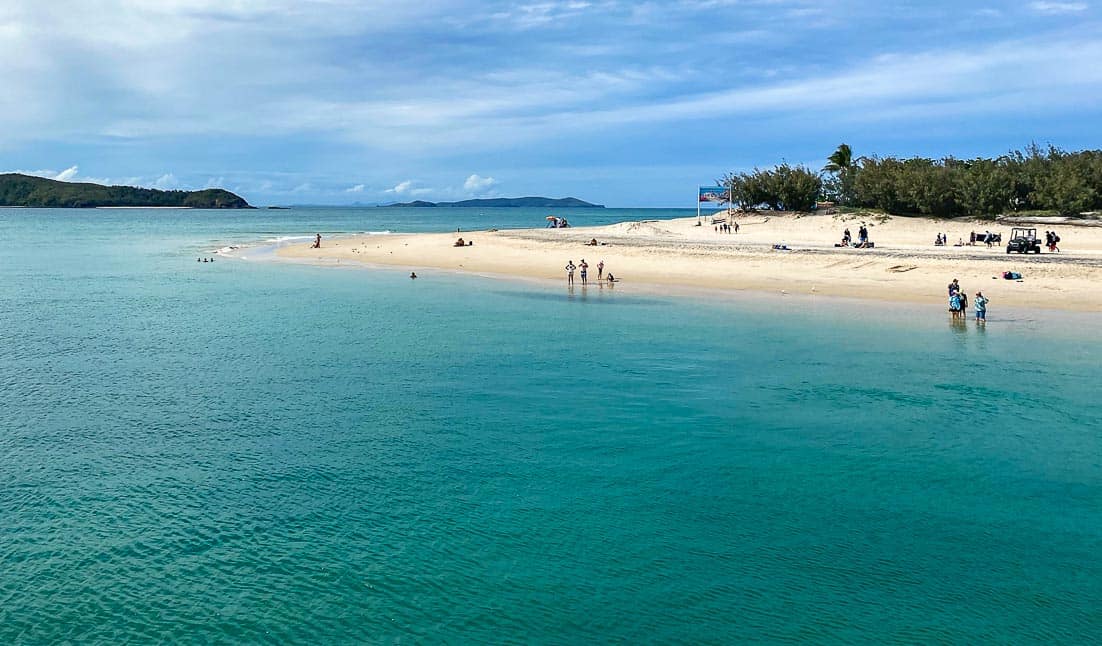 Great Keppel Island Ferry Price
Regardless of which Yeppoon to Great Keppel Island ferry you decide to go with the ferry price is pretty much the same. The return journey with Keppel Konnections being $45 per adult, $30 per child (5-14yrs) and children under 5 are free. A family pass is $135. Freedom Fast Cats charge the same, except children a considered to be 4-14 years and so children under 4 are free as opposed to under 5.
Baggage Allowance on the
Boats to Great Keppel Island
It is recommended to pack light while you get the ferry from Yeppoon to Great Keppel Island – I mean let's face it you'll be spending most of your time in the water anyway – so you're not going to need much in terms of clothes.
However, with not a lot of options when it comes to food on the island, you'll probably find that the main luggage you'll have is food.
Both ferry companies allow one suitcase or backpack (maximum of 23 kgs) plus a small bag per person. Keppel Konnections also allow a small esky (maximum 40l) per person – whereas Freedom Fast Cats charge extra for this.
What is good about Freedom Fast Cats though, is unlike Keppel Konnections you can take additional items (like a large esky or kayak) for a fee. You can even bring your pet for a fee! A few things that you may want to take across on the ferry to Keppel Island and their return fee is:
Esky – 50l $12.50

Single Kayak – $50

Beer Carton – $4

Shopping Crate – $6
Check-in Time
You must arrive at the ferry at least 30 minutes before the departure time for your Great Keppel Island transfers – this is for departures both from the mainland and the island.
Getting to Great Keppel Island
from ….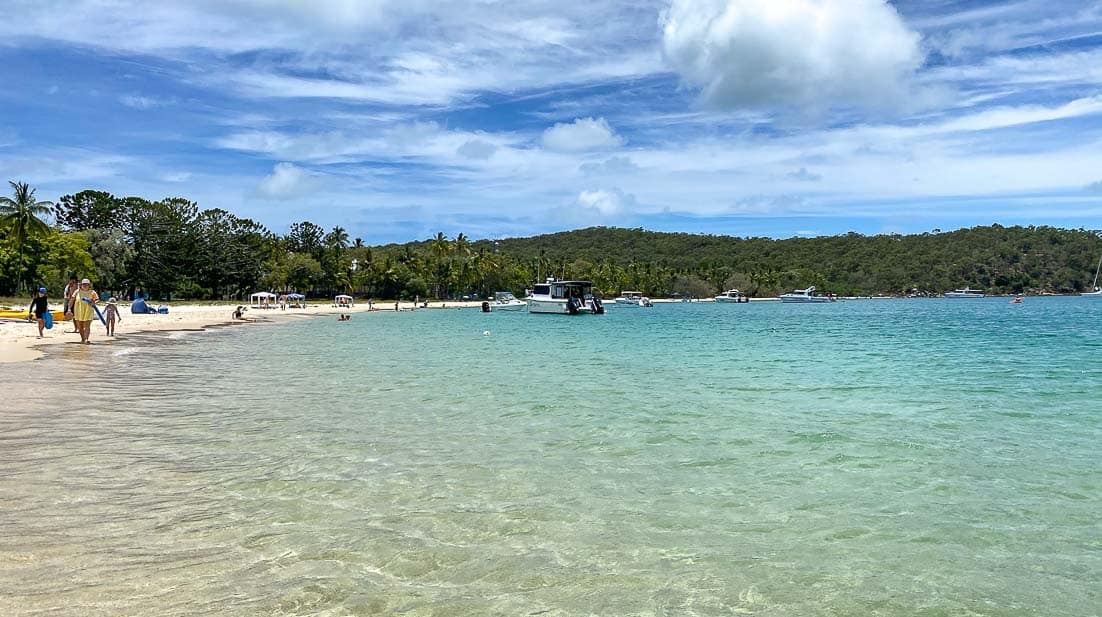 Now we know how to get from the mainland to the island; let's look how to get to marina to catch the ferry to Great Keppel Island from Yeppoon.
Yeppoon to Great Keppel Island Ferry
The ferries leave from Rosslyn Bay which is located about 8kms from the main centre of Yeppoon. If you have your own car, this is an easy 10 to 15-minute drive.
If you don't have a car, your other option is to take a taxi (around $25-$30) or take the Line 20 bus. The bus leaves Yeppon regularly throughout the day (at least once per hour) from 6 am to 7 pm although less frequently on weekends. The trip takes around 20 minutes and costs around $2 per person. The bus also runs in the reverse direction. Click here to check the timetable.
Rockhampton to Great Keppel Islan
d Ferry
Rockhampton has an airport, and so if you don't have a car, this is the nearest airport if you are flying in for your trip to Great Keppel Island. Qantas or Virgin both operate flights to Rockhampton or take a Greyhound bus into town or via train with Queensland Rail.
From Rockhampton Airport it's just a 50-minute drive from Rockhampton to Rosslyn Bay to meet your ferry to the island. A taxi will cost you around $150.
If you prefer you can also take a bus from the airport to Rosslyn Bay which will take around 90 minutes and cost $12 per adult and $6 per child. Click here to check the timetable.
Brisbane to Great Keppel Island
Ferry
If you're coming from Brisbane to Great Keppel Island, your best bet is to either make it a road trip and drive into town or fly into Rockhampton and follow the directions provided above.
If you decide to drive from Brisbane, the trip will take you around 8 hours – so fairly easy to do in a single day. If you leave super early in the morning, you could even be in Great Keppel Island by late afternoon!
Great Keppel Island Security Car Park
If you have a car that you need to leave on the mainland, your best bet is to leave it securely parked at the Great Keppel Island Security Car Park. This car park is located on the right (if coming from Yeppoon) just before entering into the Rosslyn Bay Harbour (422 Scenic Highway).
There is no need to make any bookings, however if you need to contact them prior, their email is gkistorageyard@gmail.com and phone number is 07 4933 6670 or mobile 0488 004 785. They'll also drive you between the car park to the marina. If you require a ride, call them the day before to let them know you're coming.
The car park is $15 per day and payment is cash only.
Flights to Great Keppel Island
While there is no Great Keppel Island Airport and no direct commercial flights to Great Keppel Island, it is possible to arrive by air to the island. Flights can be arranged with light aircraft as well as helicopter. This is a spectacular way to arrive on the island and you'll also get to admire the Great Barrier Reef from the air.
Peace Aviation departs from the General Aviation section of the Rockhampton Airport and the flight from Rockhampton to Great Keppel Island takes about 30 minutes. Another option is to charter a helicopter from Heli-Central or Stirling Helicopters.
___________________________________________________________________
Hopefully, you found this guide to getting to Great Keppel Island helpful. You can also check out our guide on where to stay on Great Keppel Island here and things to do on Great Keppel Island here.