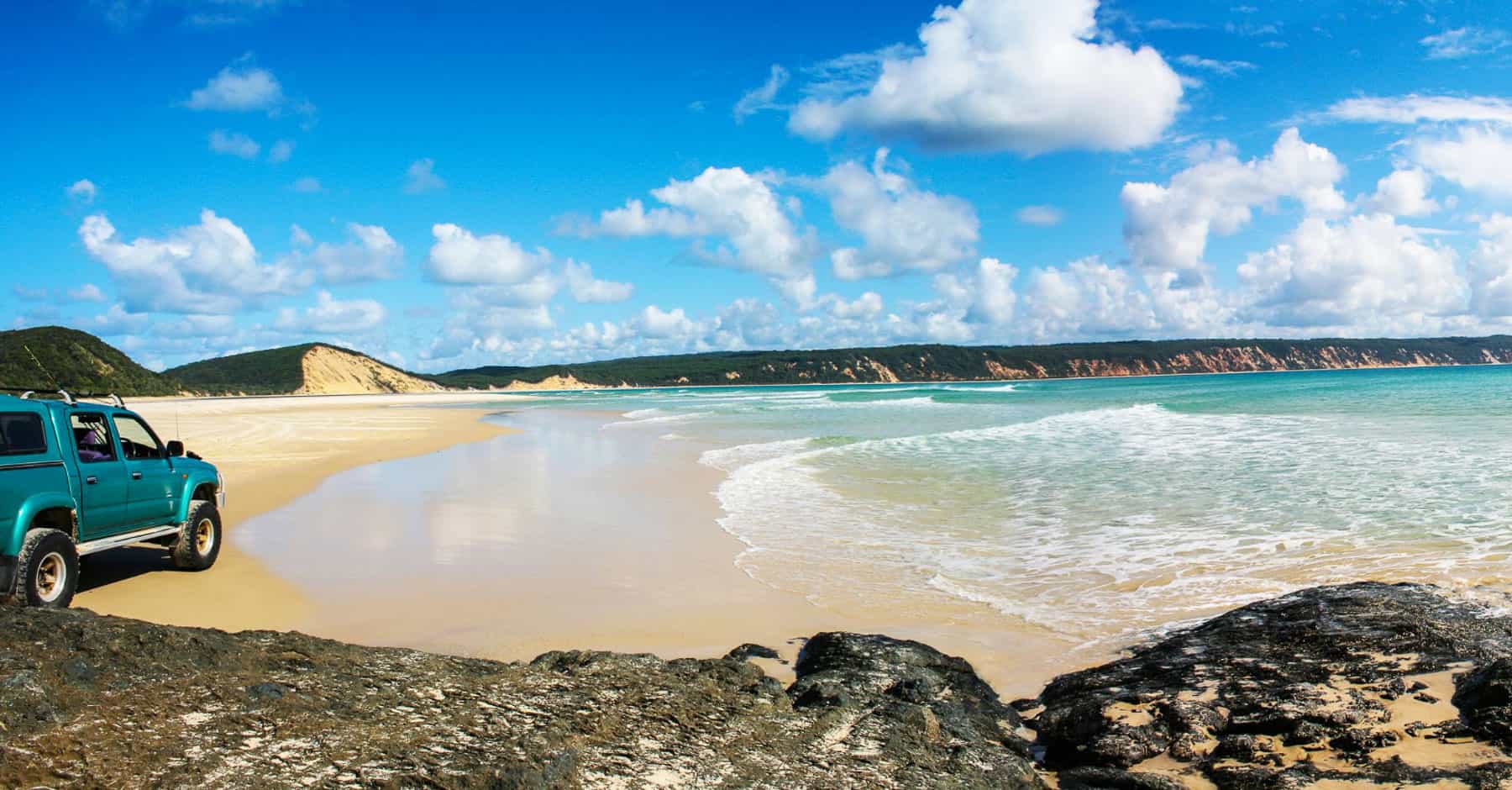 If you're looking for a coastal location for your next family holiday, then I can highly recommend Rainbow Beach. Rainbow Beach is a small, stunning beach town which has plenty to offers families with children of all ages.
Located between the Sunshine Coast and Hervey Bay and being right across from Fraser Island, Rainbow Beach is a great base for exploring the surrounding area. Alternatively, with such a great beach for swimming which is patrolled year round, it is also the perfect place to stay put for your entire family beach holiday.
There is plenty of things to do in Rainbow Beach with kids. The kids will love admiring the famous coloured sands, checking out the massive Carlo sand blow as well as swimming in crystal clear creeks, lakes and of course swimming in the ocean. It's the perfect place for families that love the outdoors, particularly water based activities.
Other Rainbow Beach things to do include exploring nearby areas, such as Double Island Point, World Heritage listed Fraser Island and seeing the dolphins at Tin Can Bay. All of these nearby destinations make for great family day trips.
If you're planning a trip to Rainbow Beach and wondering exactly what to do in Rainbow Beach with the kids, then, this is the perfect guide for you. In this things to do Rainbow Beach guide, we cover all the awesome Rainbow Beach activities, as well as some tips on the best family friendly Rainbow Beach accommodation.
Are you planning a trip to Queensland? Have any questions? Join our Queensland Travel Planning Facebook group here now! It's the perfect place to ask any questions and to be inspired!
This post may contain compensated links. Please refer to my disclaimer here for more information.
The Best
Things to do in Rainbow Beach with Kids
In this section, I've included all the things to do around Rainbow Beach with kids. As to which things you do really depends on how long you have in town and what your family's interests are.
Whichever Rainbow Beach activities you decide to do, the below map shows you where all the tourist attractions are, which will make planning your trip easy. Zoom in and out for a closer look.
You can also check out our full FB album with all our photos from Rainbow Beach here.
Please note that any opening hours and prices quoted below were correct at the time of publishing.
Coloured Sands – Rainbow Beach
One of the most popular Rainbow Beach attractions is the coloured sands. These magnificent colours are actually an effect the minerals in the rock have created over thousands of years in the beachside cliffs. Here you can spot colours such as white, black, yellow, pink, orange and brown.
Undoubtedly, the kids will love hearing the Aboriginal legend, which describes how the coloured sands were formed. According to Aboriginal legend, a beautiful Aboriginal girl named Murrawar fell in love with the Rainbow. The Rainbow tired to protect Murrawar from an evil man who stole her for his slave wife and during the fight, the Rainbow shattered and his colourful spirits were spread across the cliffs.
Location: The coloured sands are located about 2kms south of the Rainbow Beach Surf Club. You can either walk here or drive if you have a 4WD – take the beach access from Griffin Esplanade.
Opening Hours: Always – but best during daylight.
Price: Free
Carlo Sand Blow, Rainbow Beach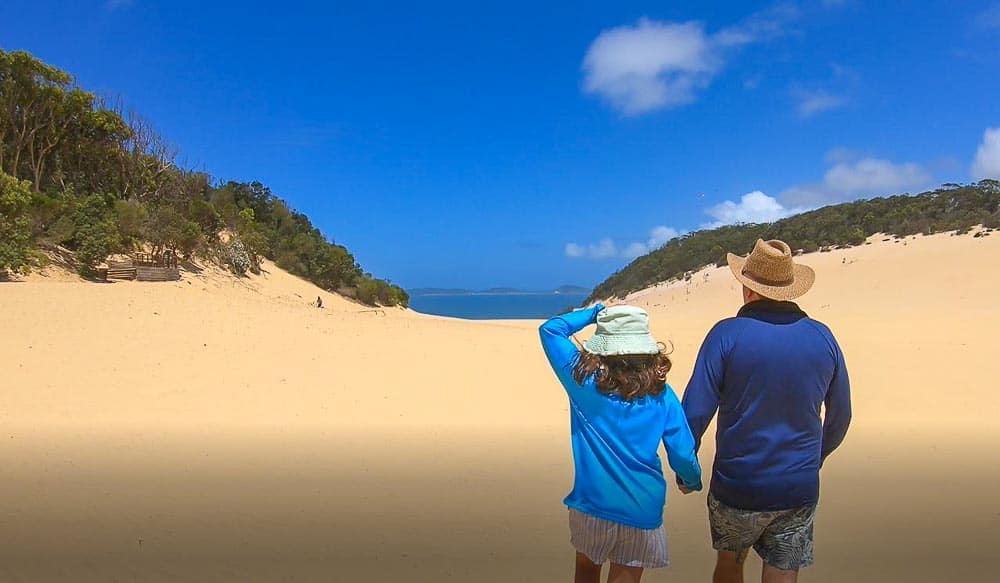 When you're wondering what to do at Rainbow Beach, you can't miss a visit to the magnificent Carlo Sand Blow – this place is going to blow the kids mind!.
The Carlo Sand Blow is a huge sand mass covering over 15 hectares, which overlooks the towering coloured sands and the coastline from Double Island Point to Inskip Peninsula and the southern tip of Fraser Island. The sand blow is a result of sand being driven inland by strong winds over thousands and thousands of years. You'll notice tree stumps across the dunes, which is an indication of the vegetation that once grew here, now buried under huge masses of sand.
While you can simply view the sand blow from the viewing platform, I'd recommend you take the kids for a walk across the dunes. From one end you can see across the Rainbow Beach town out to the Tin Can Bay inlet, and from the other side, you can see out across the ocean and across to Double Island Point. Here you might also see the paragliders who fly from the edge of the sand blow.
The best way to get to Carlo Sand Blow is to drive into the car park located at the end of Cooloola Drive. From here there is a 600m track to the sand blow. It is all uphill with numerous steps, so it's not pram friendly. It is pretty steep going up, but the good news is its an easy downhill walk on the way back.
Location: End of Cooloola Drive, Rainbow Beach
Opening Hours: Always – but best during daylight hours.
Price: Free
The Rainbow Stairs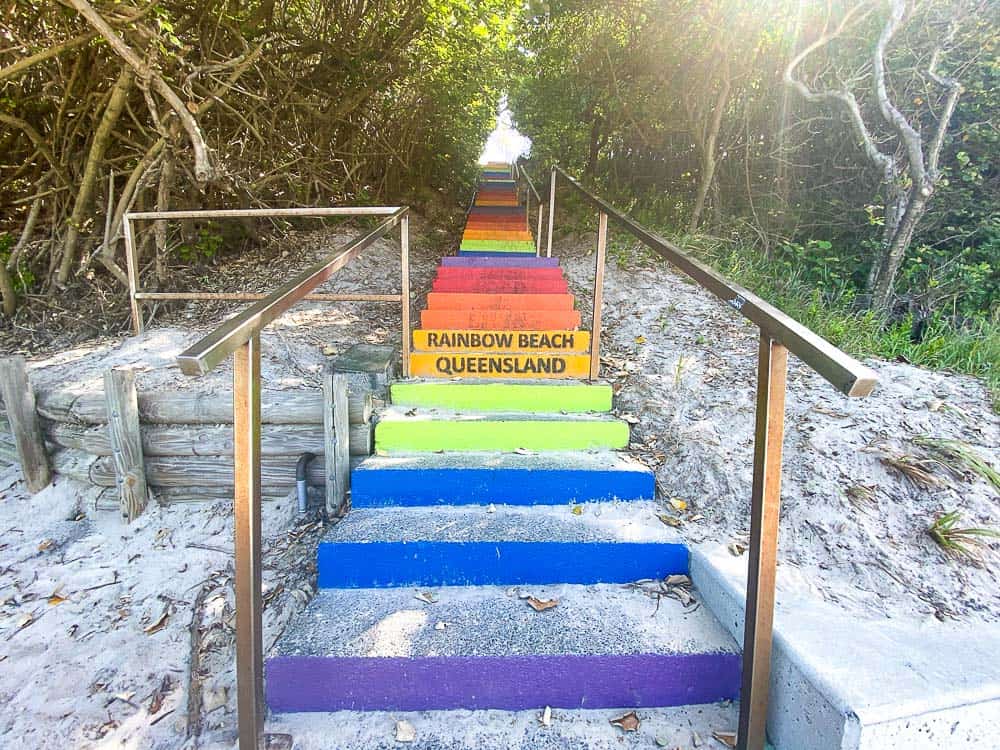 The kids will love having their photo taken on the vibrant Rainbow Stairs. These stairs were painted the LGBTIQ pride rainbow colours as part of the 2018 Pride House Commonwealth Games.
Combine a trip to the Rainbow Stairs with a play in the playground at the top of the stairs.
Location: The bottom of the Rainbow Stairs are located in the beach car park, just by the amenities block.
Opening Hours: Always
Price: Free
Boogie Boarding, Swimming and
Snorkeling – Rainbow Beach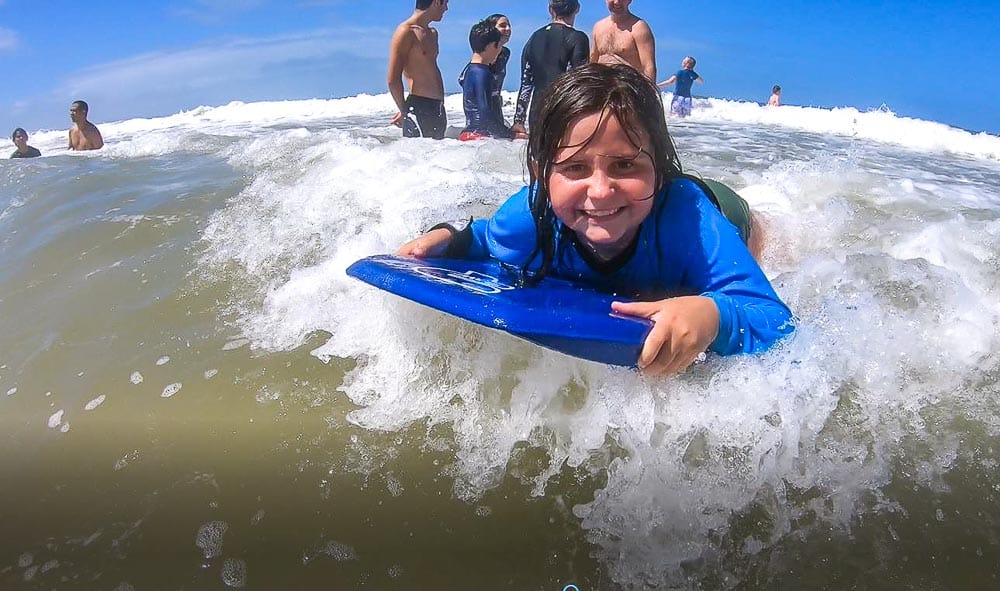 For kids who love the water, no doubt you'll be spending quite a bit of time down at Rainbow Beach. Located in the centre of town and right by the Surf Life Saving Club, Rainbow Beach is patrolled year round and is also netted for peace of mind. The beach is perfect for swimming or boogie boarding.
For those wanting to snorkel, there isn't a lot to see off Rainbow Beach, but the kids might enjoy snorkelling and spotting small fish around Inskip Point or at Double Island Point.
Location: Rainbow Beach – to the left of the Surf Club
Opening Hours: Always but only swim while the beach is patrolled
Price: Free
Surfing or
Learn to Surf – Rainbow Beach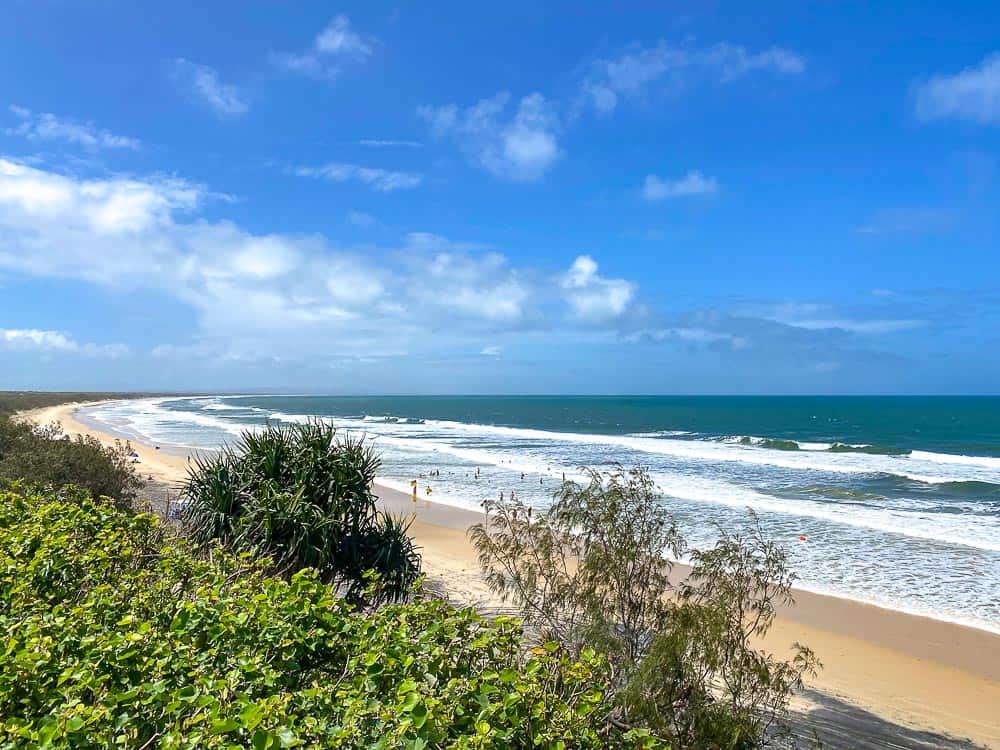 If you're looking for the best place to go surfing near Rainbow Beach, it doesn't get any better then at Double Island Point. Said to be one of Australia's longest waves, Double Island Point is popular among locals and visitors due to its long right hand point break. It's also in an absolutely stunning location which is only accessible by 4WD.
If you need to brush up on your surf skills or figure it's about time to learn, then you're in luck as there are two surf schools in Rainbow Beach – either the Rainbow Beach Learn to Surf or Rainbow Beach Surf School. Both schools offer lessons down at Rainbow Beach, while Rainbow Beach Surf School also offers surf lessons at Double Island Point – transportation is included.
Location: Double Island Point or Rainbow Beach
Opening Hours: Surf lessons available most days
Price: From $69 per person – click here to book
Horse Riding – Rainbow Beach
If you're looking for a splurge, then a nice way for the family to explore Rainbow Beach is on horseback! Rainbow Beach Horse Rides offer a range of different riding options, including beach rides, country rides and even full moon rides.
Anyone can go horse riding, from complete beginners to those more experienced. The horses are calm and gentle so perfect for complete novices and the guides are professionally trained and experienced riders, so you are in safe hands.
Generally, children need to be aged 10 for the horse riding, however if they are experienced riders, then any age is fine. If you want to take little inexperienced children for a ride, they offer short rides from their yards.
Location: 23 Clarkson Drive, Rainbow Beach
Opening Hours: Ride availability differs day to day
Price: From $200 per person – click here to book.
Searys Creek – Rainbow Beach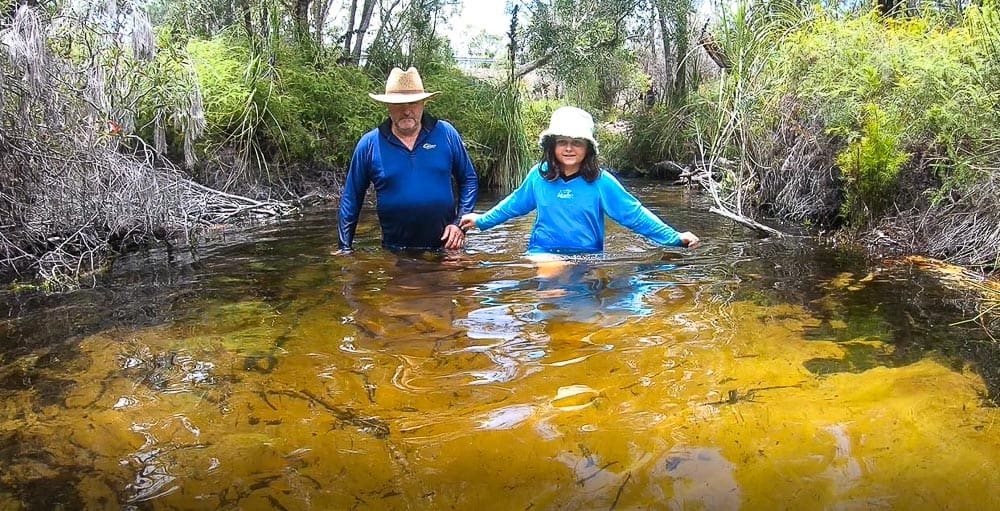 An absolute must for families is a visit to Searys Creek. It's just a short 7.5kms drive from the township of Rainbow Beach and it is an easy 100m walk from the car park to the creek making it accessible for everyone – even strollers!
Seary's Creek is a gorgeous swimming hole with crystal clear water and a soft sandy bottom. The creek is fed from rainwater which seeps through the old Cooloola sand mass and although clear, has a subtle orange, tea-tree stain. The creek is very shallow, making it perfect for little ones to wade through or even have a bit of a swim.
The creek winds its way inland from the roadside, so for those a little more adventurous they may like to wade through the water exploring. There is a gentle current in the water, so great if you have some inflatables on hand for the kids to float with.
Unlike other lakes or creek which require a long walk to reach – Seary Creek just requires you to wander down the 100m boardwalk. This makes it super accessible for families with little ones and even prams or wheelchairs. The boardwalk – breaks off into two directions – one a little further inland and the other side goes to the roadside. I recommend checking out both as each offer something a little different.
The area has toilets and picnic tables, so it's the perfect place to spend a few hours. I do recommend coming early though as it can get hectic.
Location: Off Rainbow Beach Road, Rainbow Beach – the car park is clearly signed posted on the right hand side as you leave the township.
Opening Hours: Anytime but best during daylight
Price: Free
Inskip Point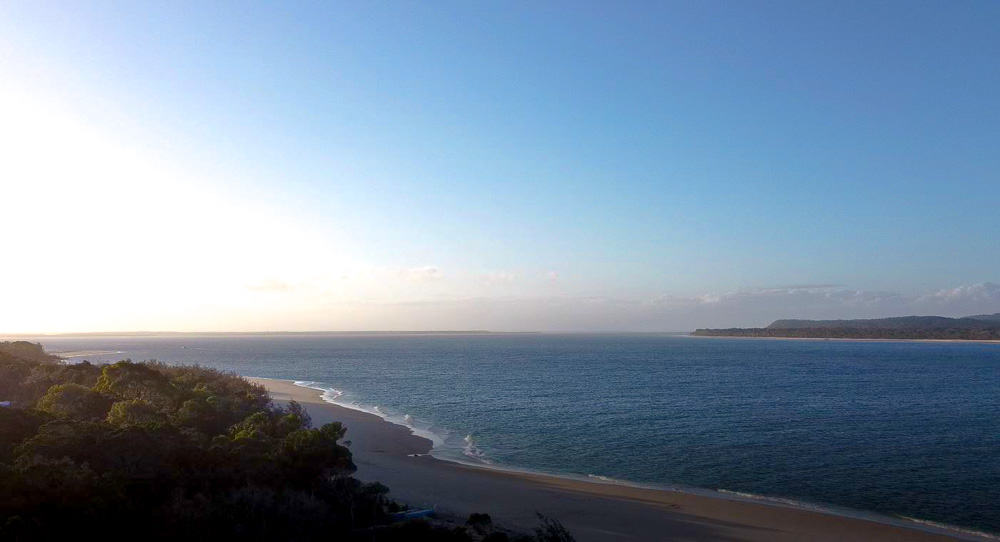 The perfect place to spend a few hours is down at Inskip Point. Located just a 10 minute drive from the Rainbow Beach township, Inskip Point is a long narrow sandy strip of land built up by wind and waves over time. It forms a natural break with the Great Sandy Strait on one side and Tin Can Inlet on the other side. It's the perfect place to bring the kids for a splash and perhaps a picnic.
Inskip Point is a popular place for those who enjoy beach fishing and water activities such as kayaking and swimming. Although if swimming here, keep in mind that the beach is not patrolled and the area is known for its strong tidal currents so be sure that the kids stay close to the shore.
I recommend heading out to the very tip – if you have a 4WD even better, as you can set up for the day with ease right on the beach. Otherwise, you can wander through any of the campsites there and find a section of beach that you like.
Inskip Point is a very popular place for families to camp. If you're interested in camping at Inskip, you can read our full guide on our Queensland Camping site here.
Location: Inskip Point Road, Inskip
Opening Hours: Always
Price: Free
Poona Lake – Rainbow Beach
Another great place to take the kids for a swim close to Rainbow Beach is at Poona Lake. The lake is a tea coloured freshwater lake with a sandy white beach and nothing short of a gorgeous hidden oasis. There are no facilities at the lake itself; however there are toilets and picnic tables at the Bymien picnic area.
To reach the lake, you'll need to drive to the Bymien picnic area via Freshwater Track – no permit is required for this section of the track and any vehicle can drive it. From here it's a 4.2 km return trip to the lake which takes around 1.5 hours.
Location: Off the Freshwater Track, Rainbow Beach
Opening Hours: Always but best during daylight
Price: Free
Freshwater Lake
Another lake you might like to take the kids to is Freshwater Lake. The lake is located a short walk from Teewah Beach or the Freshwater Camping Area.
You can start the walk from the day use car park on the opposite side of Freshwater Road from the Freshwater camping area. The walk is 2.4km return and it is recommended to allow around an hour. If you'd like to walk the lake's full circuit, it's an additional 2.3km return and you'll need to allow an additional hour.
Swimming at Freshwater Lake is not recommended; however it is a great place to spot local birds such as kingfishers, brahminy kites and the eastern yellow robin. You'll also most likely see goannas around the day use area.
To reach Freshwater Lake, you will need to take the Freshwater Track which requires a 4WD and you will also require a permit.
Location: Off Freshwater Track
Opening Hours: Always but best during daylight
Price: Free
Day Trip to Double Island Point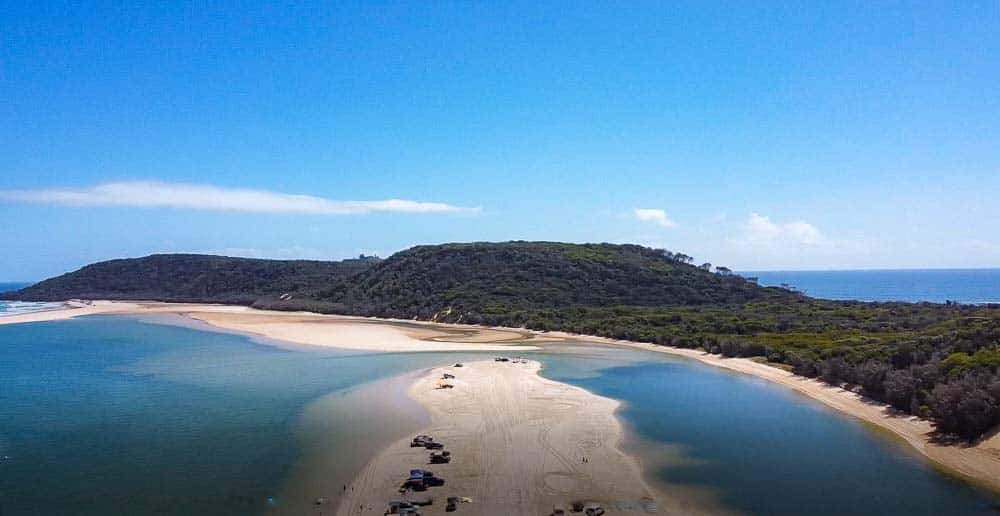 An absolute must for families staying at Rainbow Beach is to take a day trip or two down to Double Island Point. Double Island Point is one of the most beautiful beaches in Queensland, if not Australia! Double Island Point is actually not an island at all; rather it's a long sandy spit with huge dunes. However some say from a distance the point appears to be separated by the sea – hence the name.
The kids will just love swimming in the calm crystal clear waters around Honeymoon Bay – which is the northern side of the point. They can choose from the ocean or the massive tidal lagoons which offer a safe and sheltered area for the kids to swim. Either spot is also perfect for a range of water sports such as kayaking or SUPing. Just note that either area is not patrolled so do keep a close eye on little ones.
If you have any surfers in the family, you'll be pleased to know that here you'll find Australia's longest right hand breaks – so it's the perfect place for surfing or bodyboarding too.
Another popular thing to do while down at Double Island Point is to take the Lighthouse walk. From the lighthouse, you'll enjoy spectacular 360 degree views. On a clear day, you can see all the way to Noosa in the south and Rainbow Beach and Fraser Island in the north. Depending on the time of the year, you should also see dolphins, turtles, manta rays, and whales during the migration season.
To access the lighthouse walk, you'll need to make your way to the southern side of the Double Island Point Headland. So if you're coming from Rainbow Beach, you'll need to drive onto the Leisha Track and then turn left on the southern beach. Then drive a further 2km north up the beach to the walk entrance. The walk is 2.2km return and it is recommended that you allow 1 hour for the return journey.
Double Island Point is only accessible by 4WD and you will need a permit to drive there (permits can be purchased here) – but the effort is well worth it. You'll need to check the tides before coming and only travel two to three hours either side of high tide. If you don't have a 4WD, a few different tour groups will take you out there from Rainbow Beach, like this one. Another option is to hire a 4WD for the day – there are a few different places in town that offer 4WD hire.
If spending the day at Double Island Point, keep in mind that the only toilets are located in Honeymoon Bay, just to the right as you come out of Leisha Track towards Rainbow Beach. So if coming with children, it may pay to set up somewhere within walking distance to here. There are no other facilities at Double Island Point, so you'll need to bring everything with you.
Visit Fraser Island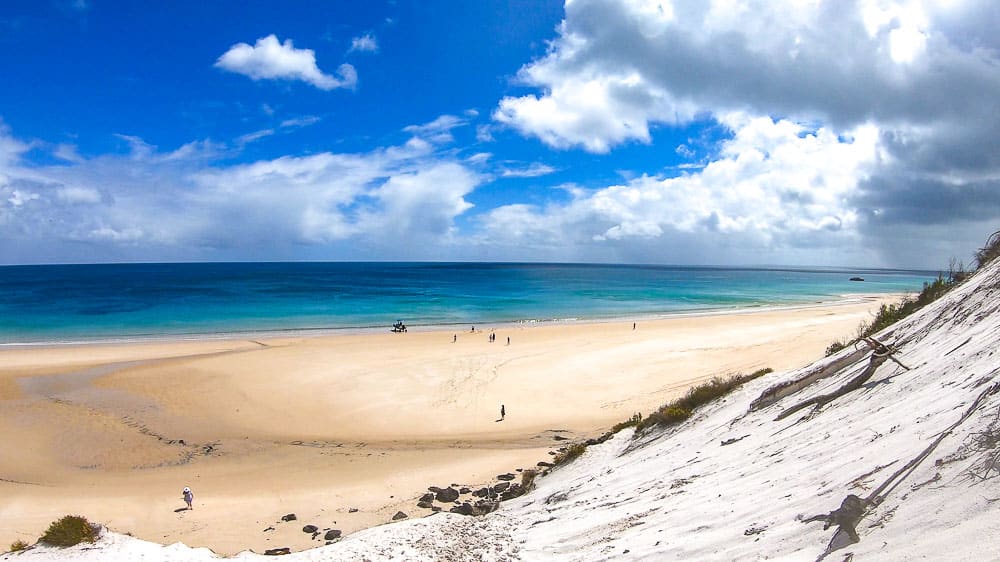 While it's highly recommended to spend a few days over on Fraser Island, you can take a day trip there if you're short on time. If you have a 4WD you can take the barge over from Inskip Point otherwise you can join an organised day tour.
If taking your own 4WD or renting one, be sure to purchase the appropriate vehicle permits in advance (permits can be purchased here) – and you'll also need to pay for the return barge journey. This can work out to be expensive and depending on how many people are in your family; it may well be cheaper and easier to join a day tour. Click here for more information about getting to Fraser Island.
Of course, there is plenty to do and see over on Fraser Island, too many things to mention in this guide. So if you're keen to go over to Fraser Island, I recommend you check out this guide we wrote on things to do on Fraser Island.
If you decide to join one of the Fraser Island day tours from Rainbow Beach, consider this one arranged by The Discovery Group, which includes all the highlights and lunch.
If you have a few days to spend on Fraser Island, then check out these guides – camping on Fraser Island.
Things to do in Tin Can Bay
Located a 30 minute drive from the Rainbow Township, Tin Can Bay is another great little area for families to explore while you're staying in town. I've given it its own section in this post because there are a few things to do in the area.
Tin Can Bay: Barnacles Dolphin Centre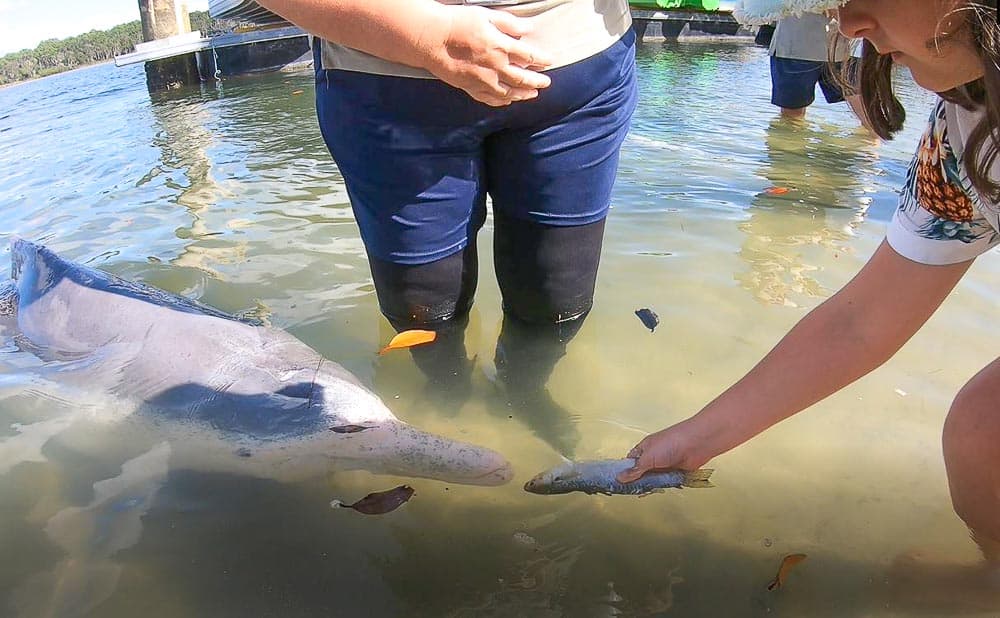 A favourite activity for families visiting Tin Can Bay is feeding the dolphins at Barnacles Cafe. Barnacles Cafe is located on Snapper Creek and here each morning a range of resident humpback dolphins come into Snapper Creek for a feed from the local volunteers.
The centre opens each morning from 7 am and there is a dolphin viewing session between 7 am and 8 am. During this time, the volunteers provide information about the dolphins and answer any questions visitors may have. The feeding session then commences at 8 am. For a $10 per person, visitors are welcome to join the volunteers in the water and assist with feeding the volunteers.
It is recommended to arrive well before 8 am for the feeding session. Remember these are wild animals so they can arrive at any time. The dolphin feeding is also fairly popular and there is a quota of 3kg of fish which can be fed to each dolphin. So if only a few dolphins turn up that day, only a few visitors will be able to take part. On the day we visited, only one person from our group was able to feed the dolphins, as there were lots of people visiting.
The Barnacles Cafe is open each day from 7 am to 3 pm, so it's the perfect place to enjoy breakfast before or after the dolphin feeding or for a meal during the day.
Location: Norman Point, Tin Can Bay
Opening Hours: Daily at 7 am
Price: $10 per person.
Tin Can Bay: Wildflower Walk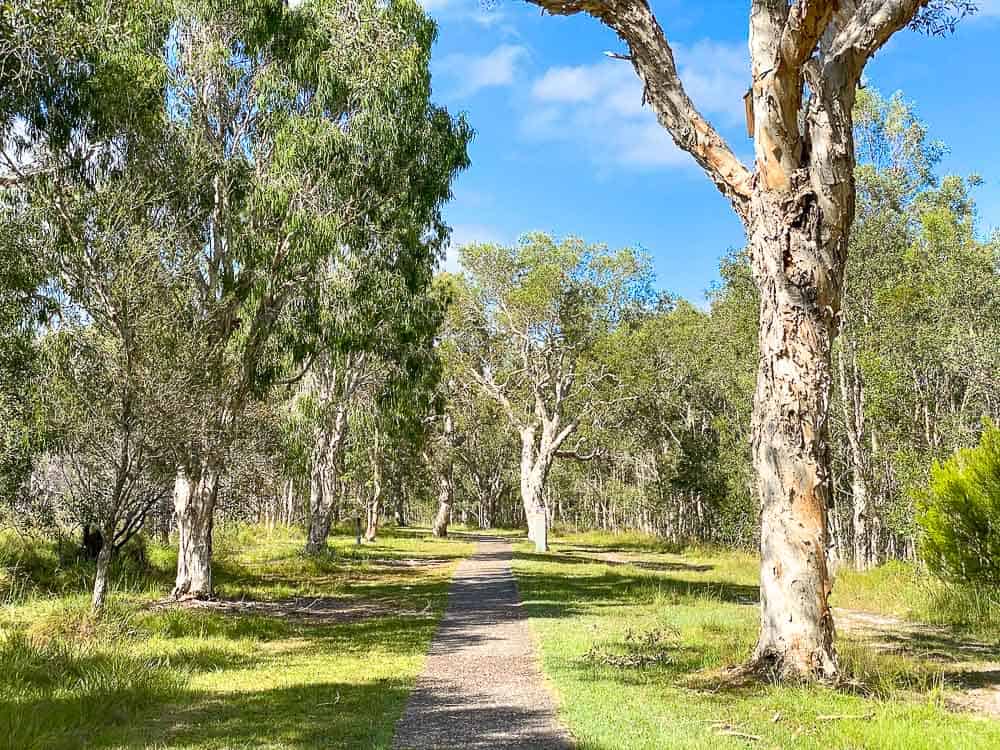 You can find a unique collection of wildflower around Tin Can Bay, which can be seen most of the year. Although to see the flowers really come alive with their bright colours, the best time to see the wildflowers is in spring.
The best way to see the wildflowers is to take the Tin Can Bay Wildflower Walk.
Location: Corner of Emperor and Bass Street.
Opening Hours: Always but best done during daylight hours.
Price: Free
Tin Can Bay Foreshore Bird Walk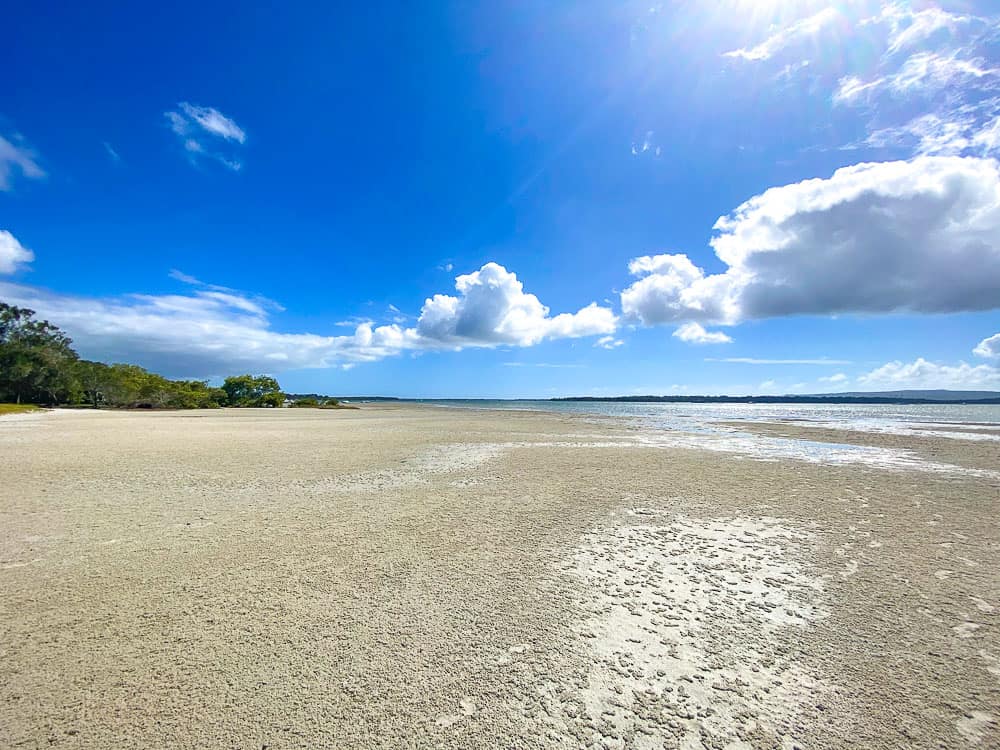 Another great activity for families while in Tin Can Bay is to take the Foreshore Bird Walk. The Foreshore is home to some 143 species of birds and along the walk, there are various signs indicating the type of birds that you may see along the way. If you're keen on knowing more about some of the birds in the area, you can click here.
As well as the birdlife, along the way, you'll cross some lovely bridges, wander through the mangroves and past a few playgrounds – which make the perfect place for the kids to release some energy.
The entire walk along the Foreshore is 4kms.
Location: From Crab Creek Park to Norman Point
Opening Hours: Always but best during daylight
Price: Free
Family Rainbow Beach Holiday Accommodation
There are plenty of great places for family's to stay while in Rainbow Beach. There are awesome family homes available for short term rent on Airbnb, a few great family friendly resorts as well as some lovely caravan parks with excellent facilities for the kids.
You can read our full guide on where to stay in Rainbow Beach with kids here, or see below our top three picks. You might also be interested in our Rainbow Beach camping guide or Inskip camping guide over on our Queensland Camping site.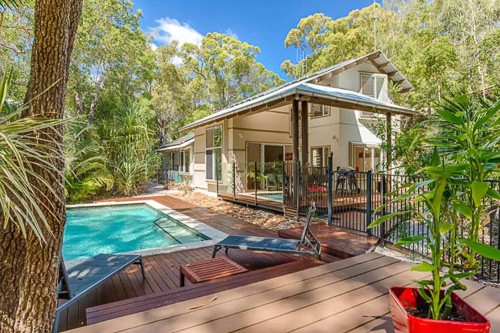 When it comes to where to stay in Rainbow Beach for a family getaway, your best option is probably looking for a Rainbow Beach holiday house or one of the Rainbow Beach holiday apartments via Airbnb. These offer the best value for money and come packed with some great facilities for families. This huge holiday home at 7 Naiad Court is a perfect example of this.
This is such a stunning home, coming with three bedrooms and two bathrooms. The master bedroom is upstairs and comes with an ensuite. Downstairs are the other two bedrooms with one bedroom containing a queen bed and the third bedroom containing two sets of bunk beds. All bedrooms and living areas have aircon, and the home also includes wifi.
The pool is stunning and its all yours! The pool is surrounded by a lovely tropical garden and a deck with an outdoor setting. The property is fully fenced and small pets are welcomed to come provided they stay outside throughout your stay.
The back deck leads to a bush pathway which is just 300 metres away from Rainbow Beach.
For large families looking for their own space without blowing the budget, this is the house for you. This place is cheaper than most of the resorts and you get triple the space! If you want a stunning property with a gorgeous pool just a couple hundred metres from the beach – you can't beat this place.
Click here to check availability and current pricing.
The Pippies beachside apartment is fantastic value for money for a family just wanting the cheapest self contained accommodation in town. The apartment is super centrally located across from Lawrie Hanson Park (where the famous Rainbow steps are as well as a great playground), leading to the patrolled beach and just 200m down the road from the local supermarket and other places to eat.
The apartments are two story and sleep up to 5 people. Upstairs is the master bedroom which has a queen bed, while the other bedroom has a set of bunk beds and a single bed. All rooms have fans but are not air-conditioned. The apartments are fully self contained, with the lower level featuring a fully equipped kitchen and living area.
While there is no pool at the apartments, guests are welcome to head over to the Pippies Backpackers and use the pool and other facilities there.
For families looking for cheap accommodation, yet still wanting to be in the town centre and close to the patrolled beach, Pippies is a perfect choice.
Click here to check availability and current pricing.
If you'd like to stay centrally within the Rainbow Beach township but not keen on paying top dollar for it – then the Rainbow Getaway Holiday Apartments are worth checking out. These holiday apartments are just a 2 minute walk to the local supermarket and other shops and places to eat and only 650m from the beach.
Families can choose between 1, 2 or 3 bedroom fully self contained apartments. The apartments are multi level with the bedrooms upstairs and the living areas downstairs. Each apartment comes with a fully equipped kitchen as well as laundry facilities. Other features include air conditioning, wifi, small balcony with outdoor seating and most apartments come with a spa bath.
There are some great facilities on site for families, including a spacious swimming pool, gym, BBQ area and even a children's playground. Secure undercover parking is also provided.
The Rainbow Getaway Holiday Apartments are the perfect place for a family wanting to be within close proximity to the patrolled beach, supermarket and all the shops in the Rainbow Beach township. It offers good value self contained accommodation with great family friendly facilities on site.
Click here to check availability and current pricing.
___________________________________________________________________
Hopefully you found this guide to things to do in Rainbow Bay with kids helpful and it has inspired you to take your kids for a visit.
We have a few other guides on Fraser Coast including things to do in Hervey Bay here and where to stay in Hervey Bay here.
Want to keep this handy for later? Click on one of the images below and save it to Pinterest.