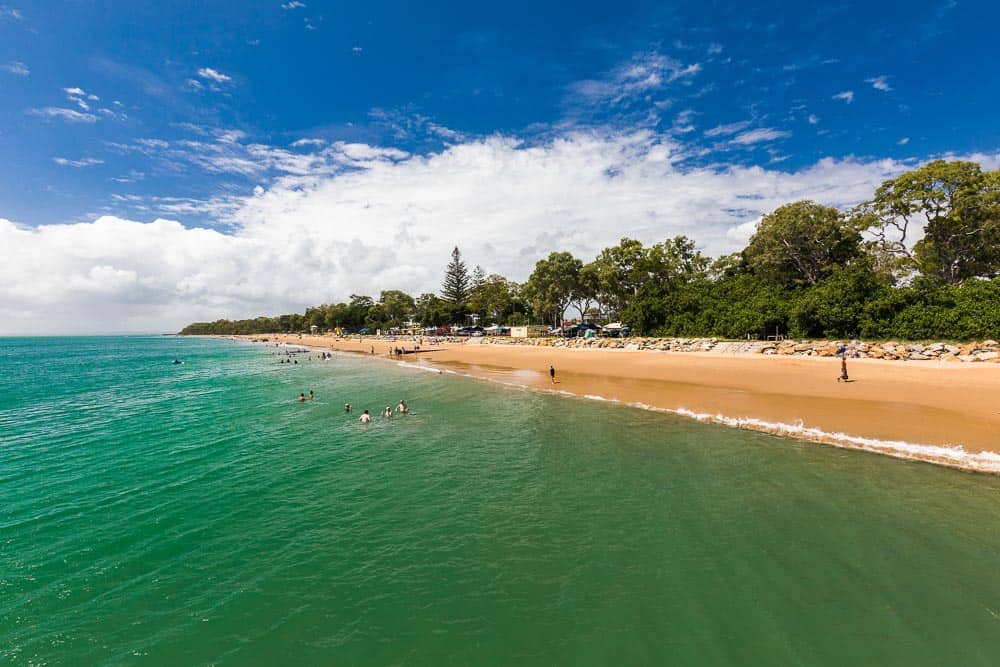 Known as Queensland's whale watching capital, Hervey Bay makes a great family holiday destination. Of course among the best things to do in Hervey Bay with kids is to see the whales, but there is also a stack of other great activities that shouldn't be missed. And the great thing is many of the best things to do, Hervey Bay offers are completely free!
If you've been considering taking the kids to Hervey Bay, then this is going to be a super handy guide for you to check out. In this Hervey Bay things to do guide, I'll cover everything you need to know in terms of the very best Hervey Bay attractions, including all the essential information such as location, opening hours, and where applicable entry prices.
I'll also include some tips on the best time to visit Hervey Bay – particularly if you're interested in the Hervey Bay whale watching tours. Plus I'll cover some of the best family friendly accommodation in Hervey Bay as well as some great family friendly Hervey Bay restaurants.
Are you planning a trip to Queensland? Have any questions? Join our Queensland Travel Planning Facebook group here now! It's the perfect place to ask any questions and to be inspired!
This post may contain compensated links. Please refer to my disclaimer here for more information.
Quick Overview of the Hervey Bay Area
Hervey Bay is a relatively large area and so to help you get your bearings, I thought I'd first begin with a quick overview of the main Hervey Bay tourist areas. This might help you decide which area is best for you to stay, as well as help you plan your itinerary when visiting the area.
The main tourist area is between the Marina at Urangan to Point Vernon and the area is made up of five main precincts as follows:
Urangan: The southern end of Hervey Bay – this is where you'll find the Marina, where the whale watching boats leave from, the start of the Esplanade, Reef World and the iconic Urangan Pier. There are plenty of places to stay and eat in this area and the beach is quite lovely too.
Torquay: Is a popular area for those wanting to go swimming at the beach or do water sports. It also has a range of cafes, shops and places to stay.
Scarness: While Scarness is much quieter then Urangan and Torquay, there are still plenty of places to stay here as well as a few cafes and shops dotted around the place.
Pialba: On the northern end, Pialba is where you'll find the Wetside Water Park and the excellent All Abilities Adventure Playground. This is a much quieter area and there are not too many places to stay or shops here. However just a few blocks back from the beach you'll find the main shopping area of Hervey Bay.
Point Veron: For the most part, Point Vernon is a residential area, however there is a caravan park here and a few cafes.
Best Things to do in Hervey Bay with Kids
In this section, I include all the Hervey Bay things to do and see. As to which of these things you do really depends on how long you have in town and what your family's interests are.
Whichever Hervey Bay activities you decide to do, to help plan your trip, I've included the below map which shows you where all the Hervey tourist attractions are located. Zoom in and out for a closer look.
You can also check out our full FB album with all our photos from Hervey Bay here and our YouTube video showing the area's highlights here (coming soon).
Please note that the opening hours and prices quoted below were correct at the time of publishing.
Hervey Bay Whale Watching Tours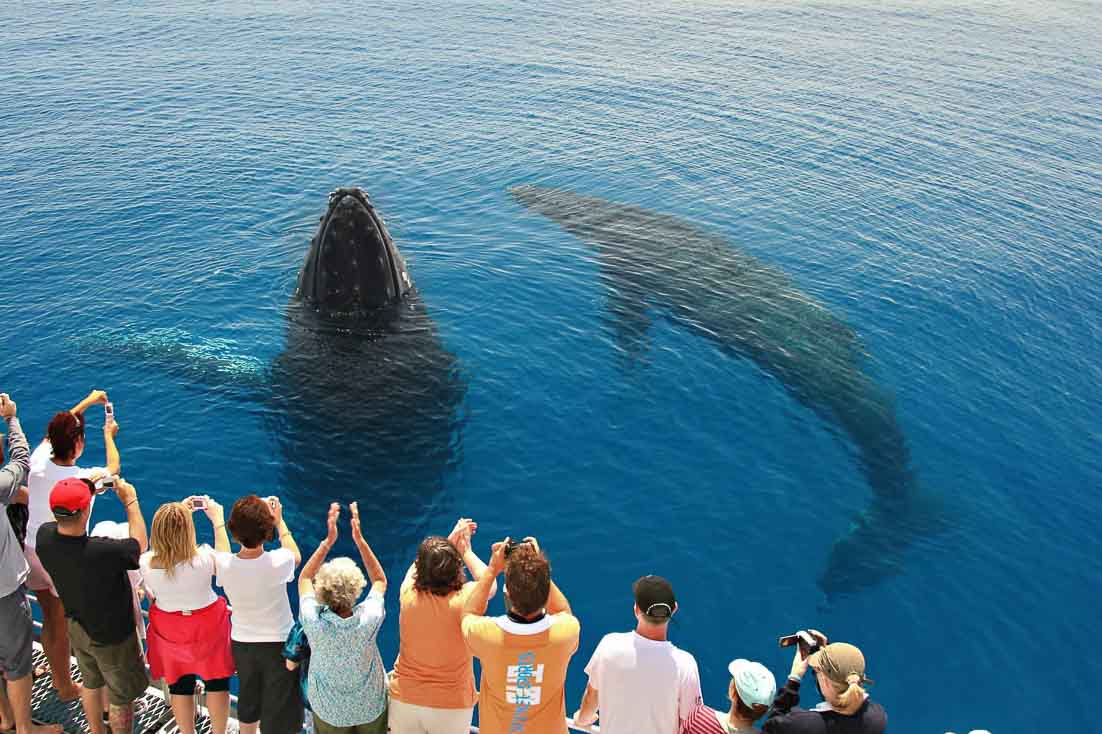 Of course one of the most popular things to do at Hervey Bay is to see the whales. Many families come to do one of the whale watching tours Hervey Bay offers, but it is also possible to see them from around the coastline from time to time.
The Hervey Bay whale watching season is between July and October each year when the humpback whales migrate over 5000km from the north to the Antarctic. Unlike other areas of Australia's east coast, in Hervey Bay, the whales don't just pass through, rather they make a stopover to rest and play in the warm, calm waters. This is what gives Hervey Bay the title of being Australia's whale watching capital.
There is a wide range of different Hervey Bay whale tours, all offering something slightly different. The most popular whale watching Hervey Bay tour is a half day tour offered in the morning or afternoon and is great for families with little ones. This is also a great tour for families only in town for a short time, as it gives them the chance to see more of the region.
Tasman Venture Whale Watching Tours
However another awesome option is to do a full day whale watching tour which also combines a trip to the World Heritage Fraser Island. This is what we did with the guys from Tasman Venture. While they do also offer the standard half day whale watching in Hervey Bay, if you've got the full day to spare I highly recommend you do the full day option. Plus these guys are one of the few tour operators in Hervey Bay that have permits to allow you to swim with the whales if the conditions are right (there are of course strict rules about when people are allowed in the water with whales).
The tour departs from the Marina bright and early at 7.30 am. We started our day cruising through the Great Sandy Strait and after the safety briefing were served morning tea. Then before we knew it, we were all noticing little black dots jumping out of the water on the horizon. Everyone was soon out on the deck, waiting for these little black dots to come closer. It wasn't too long before we got our first close up view of whales.
Given we visited late in the whale watching season, the majority of whales we saw where mums with their baby's. They were super cute – but unfortunately, this also meant we didn't get the opportunity to swim with the whales because you're not allowed to swim with baby whales. So if this is super important to you, best go early in the season.
Regardless we were super lucky on our tour and saw a stack of whales. We got to see all the typical whale behaviour including breaching, tail lifts, pec slapping, body rolls, spy hopping and water blowing. It was absolutely amazing; we were all totally mesmerised by these gigantic creatures. It truly is a sight to behold.
These little guys, I mean HUGE guys, are super hard to get a photo off though. The main photo above is not one of mine, but these three below are. Also check out our YouTube video linked below for some video action.
The great thing about the Tasman Venture is the boat is spacious enough for all passengers to have plenty of room to move about. There are two levels and both levels have multiple areas where you can view the ocean. In fact, pretty much everywhere you are, you'll have a great view.
As well as whale watching we made two stops to Fraser Island and a stop for some snorkelling. We went in early September and the water was freezing, but this wasn't going to stop Myla getting in the water and so I had to go with her. Mind you after you move around you don't notice the coldness anyway. We saw lots of fish and a turtle. It certainly wasn't the best snorkelling we've done, the water wasn't very clear – possibly due to it raining. Nevertheless, it was great to see the marine life around Fraser. Everything you need for snorkelling is provided too, including wet suits.
Next up we stopped at Bowarrady Creek where we climbed to the top of a sand dune for stunning 360 degree views across the island and Platypus Bay. As you can see from below – this place is just incredible! The water is crystal clear with lovely different shades of blue and green and the sand is so white. I honestly felt like I was in heaven on earth. Just stunning.
After a quick walk along the beach, we were ferried back to the main boat and then spotted a few more whales as we headed to our next stop on Fraser Island. First though we were served a great lunch of cold meats and salads. There was plenty to go around too with everyone in my group having seconds.
Next up we were ferried back to Fraser Island where we went kayaking at Awinya Creek. And WOW – I thought the first stop was stunning – but somehow Awinya Creek was even more beautiful then Bowarrady Creek. Unfortunately, my GoPro decided to stop working at this point, so I have no photos to share with you, but let me just say the spot was absolutely paradise.
At Awinya Creek we jumped into some kayaks and paddled down a freshwater creek. Then we headed back to the beach where we took turns being hauled around the ocean at high speeds in a floating device with 3 seats. This was soooooo much fun!!!!!
After this, sadly the day had come to an end and so we cruised back to the Marina.
I think you can tell that we had an absolutely fantastic day out with the guys from Tasman Venture and I highly recommend it if you're looking for one of the best whale watching Hervey Bay tours! The full day tour, including Fraser Island, costs $195 per adult, $115 per child (4-14) or $575 for a family pass (2A+2C) – click here to book your tickets online. If you just want to do the half day whale watching Hervey Bay tour, tickets are $125 per adult, $65 per child (4-14) or $325 for a family pass (2A+2C) – click here to book your tickets online.
See our Tasman Venture YouTube Video here or check out more of our photos from the day here.
If Tasman Venture is fully booked during your stay, below are some other tour operators to consider.
Click here to check out our full guide (coming soon) on the various whale tours Hervey Bay offers so you can choose the perfect one for your family.
The Great Sandy Straits Marina and Boat Club
All of the Hervey Bay whale watching boats leave from the Great Sandy Straits Marina, so after your tour have a little bit of a wander around. It's a great place to have drinks, lunch or dinner after your tour. Right next to the Marina is the Boat Club which also has a range of restaurants and cafes, you'll also find a cinema and numerous shops – so great if you're looking for things to do in Hervey Bay in the rain.
Location: Buccaneer Drive, Urangan
Opening Hours: Daily with different venues having different opening hours.
Reef World Aquarium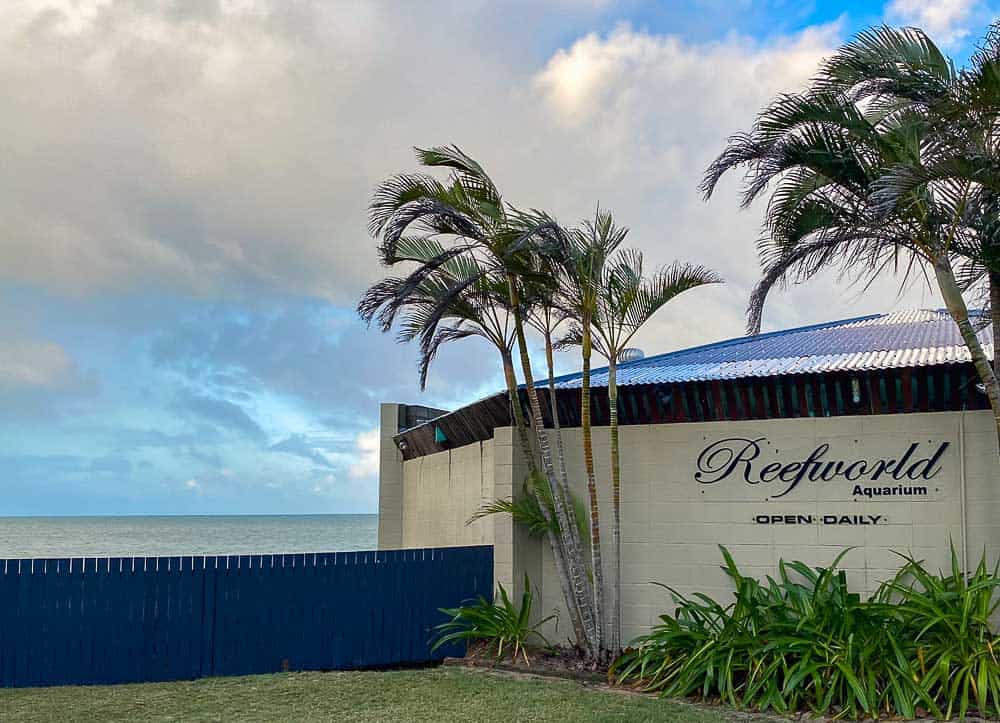 Just a short walk from the Marina is the Reef World Aquarium which is another one of the fun things for kids to do in Hervey Bay. This is an all natural aquarium and so unlike many other aquariums you've probably visited, Reef World only uses sand filtered seawater and natural sunlight.
Reef World is home to a range of marine life including sharks, green sea turtles, large reed fish, crabs and more. The green sea turtles feeding session is at 11 am and shark feeding session is at 2.30 pm both which are fairly popular as is the touch tank. Also if you're super keen, you can even swim with the sharks!
Location: Corner of Kent and Pulgul Street, Hervey Bay
Opening Hours: Daily from 9.30 am to 4 pm
Cost: $20 per adult and $10 for children 3-14 years
Urangan Pier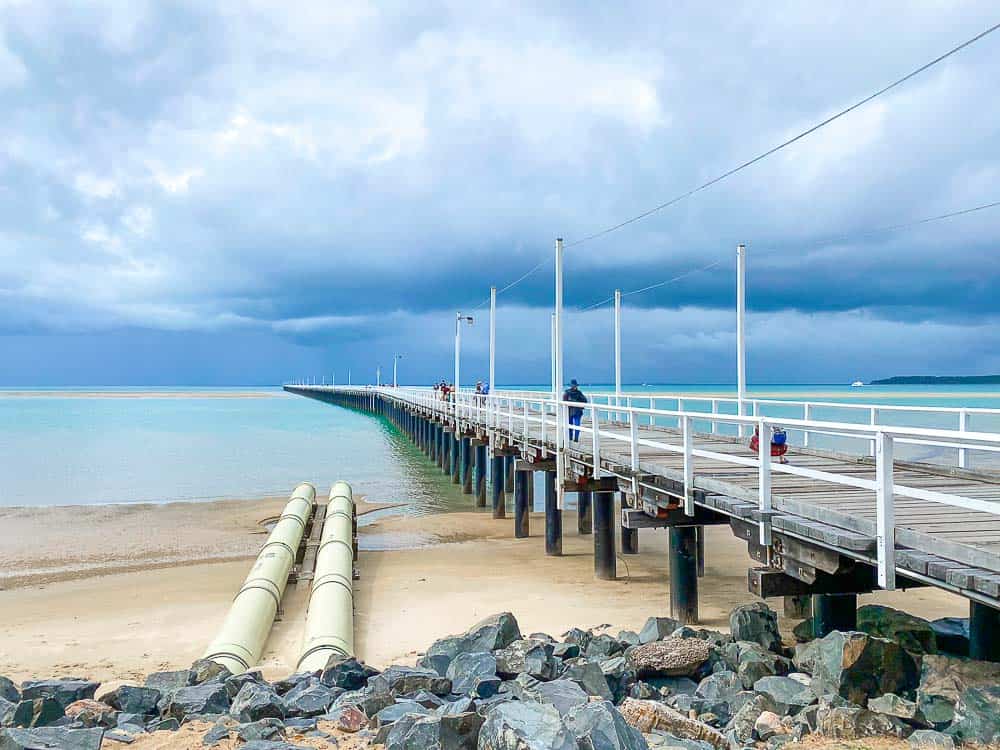 Built in 1913, the Urangan Pier is one of the popular places to visit in Hervey Bay. The pier is one of the longest piers in Australia, stretching out almost one kilometre to sea! It was initially built as a way to transport cargo from the ships to the railway.
Today the pier is the perfect place to take a stroll while admiring the stunning ocean views across the bay. During the Hervey Bay whale season, you may even be lucky enough to spot a whale or two.
Another popular past activity along the Urangan Pier is fishing. So if your family is after the best fishing spots in Hervey Bay, bring your rod down to the pier.
Fishing in Hervey Bay
For the families wanting to go fishing in Hervey Bay, there are plenty of places where you can drop a line in. As mentioned above, off the end of the Urangan Pier is one of the most popular fishing spots Hervey Bay offers, or even from any of the little jetties that line the Esplanade.
If you prefer to try your hand at beach fishing, popular spots include Torquay and Coonarr. Or you can hire a boat and try your luck in deeper waters.
Fish that you can expect to catch around Hervey Bay include Golden Trevally, Giant, Trevally, Whiting, Bream, Flathead, Reds, Snapper and Coral Trout – just to name a few.
Walk along the Esplanade
One of the top things to do in Hervey Bay is to take a stroll along the Esplanade (also called Charlton Esplanade). The Esplanade runs for around 17km with the beaches on one side and the road on the other.
The Esplanade commences down near the Boat Club at the Urangan Boat Harbour and then goes through Urangan, Shelly Beach, Torquay, Scarness, Pialba and Point Vernon and then finishing in Gatakers Bay. While you probably won't have the time (or energy) to walk the entire length of the Esplanade during your visit – pick a few different sections to do while you're in town.
Either explore the Esplanade on foot or even ride your bike. If you didn't bring one with you, you could even rent one. Then decide where to stop along the way, have a swim, grab a coffee, enjoy the views or stop at one of the many playgrounds that line the pathway. There are also plenty of BBQ facilities around or grab the family some fish and chips.
Weekend Beachside Markets
There are also some great beachside weekend markets in Hervey Bay at Urangan and Torquay. These markets have a range of different stalls with products on offer, including local craft, clothes, produce and yummy treats.
The Urangan markets are on Wednesdays and Saturdays from 7 am to 1 pm, at Pier Park, Urangan, while the Torquay markets are along the Esplanade on Saturdays from 7 am to 1 pm.
Beaches at Hervey Bay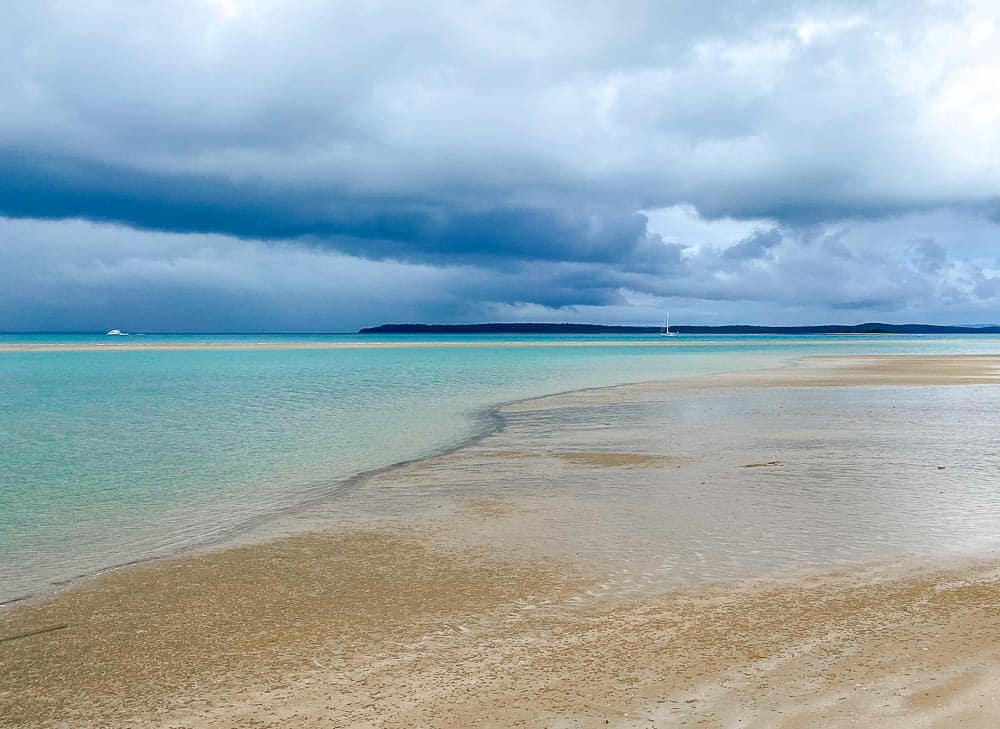 Along the Esplanade you'll find some 13 kilometres of gorgeous beaches between Point Vernon to Urangan. There is a range of different beaches at Hervey Bay to choose from and thanks to having protection from World Heritage listed K'gari Fraser Island you'll find the beaches in Hervey Bay are calm making them perfect for swimming and water sports.
This photo above was taken just by the Urangan Pier, one of the prettier beach areas in my view.
Water Sports at Aquavue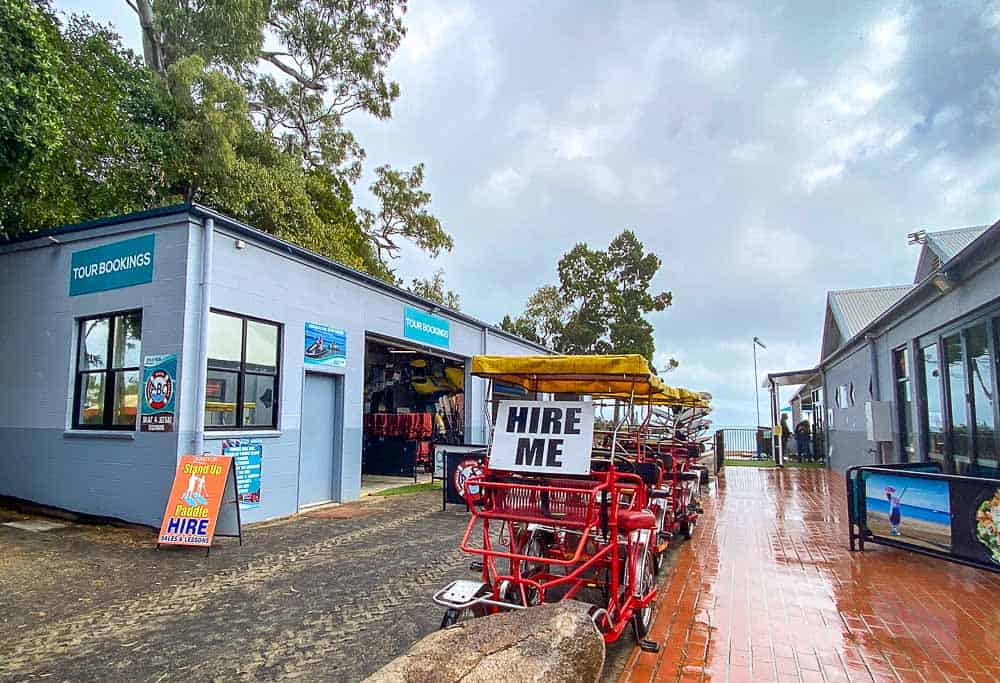 As mentioned above, a great way to experience the calm waters of Hervey Bay is to try one of the various water sports on offer. One of the best places to hire your water sports gear is from Aquavue, which is along the Esplanade on Torquay Beach. Everything is on offer here from stand up paddleboards ($20 per hour), jet skiing ($90 for 30 minutes), kayaking ($20 per hour), banana boat rides ($15 per person) and more.
Location: 415A Esplanade, Hervey Bay
Opening Hours: Daily 10 am to 4 pm
Hervey Bay Historical Village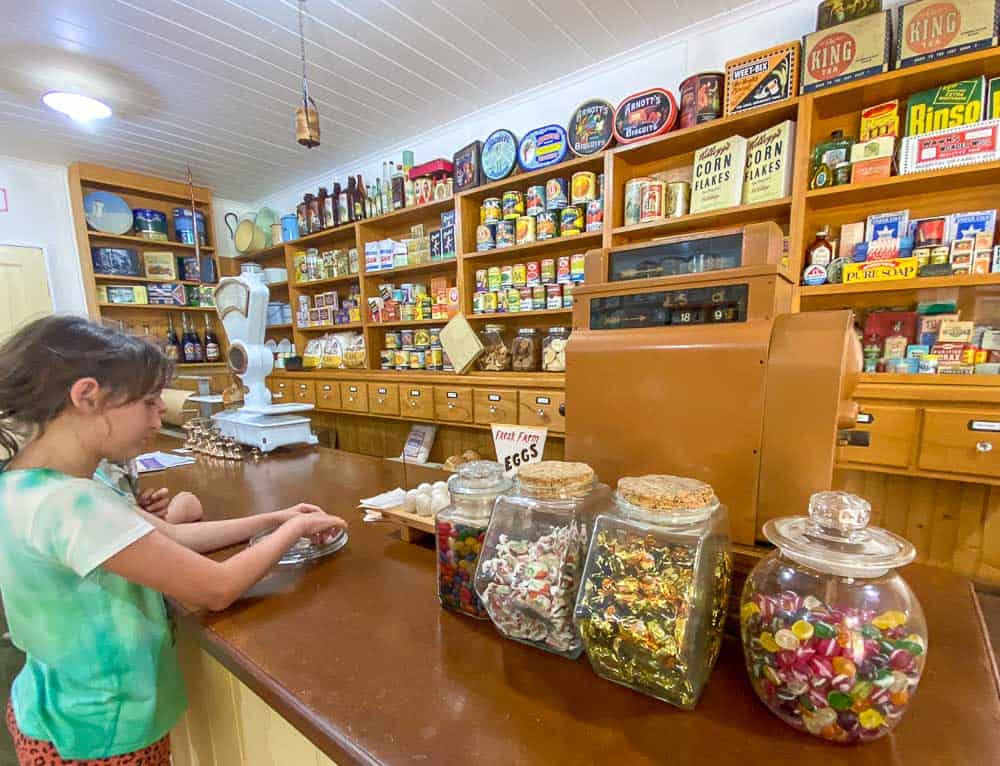 Another one of the fun things to do in Hervey Bay for kids is to visit the Historical Village. Across 3 acres, there are 27 historical buildings including a slab house built in 1898, the original Dundowran State School, the Goodwood Railway Station, horse-drawn buggies shed, the Hervey Bay's original Methodist Church built in 1901 and more.
The buildings house over 12,000 different items, where visitors can get a glimpse into what life was like in the 19th century and early 20 century. While there are many fragile items on display not to be touched, there are plenty of things for the kids to play with and some great photo opportunities as well.
If you can visit the village on Sundays when between 1 pm to 3 pm their volunteers dress up in period clothes and provide various interactive demonstrations. You can see things such as a blacksmith make a horseshoe, woodturning and log sawing.
Allow at least 1-2 hours to really explore all that the village has to offer.
Location: 13 Zephyr Street, Hervey Bay
Opening Hours: Fridays and Saturdays from 1 pm to 4.30 pm and Sundays 10.30 am to 4.30 pm
Cost: $10 per adult $4 per child (14-3) and children under 3 are free.
Selfie with Nala at the Fraser Coast Discovery Centre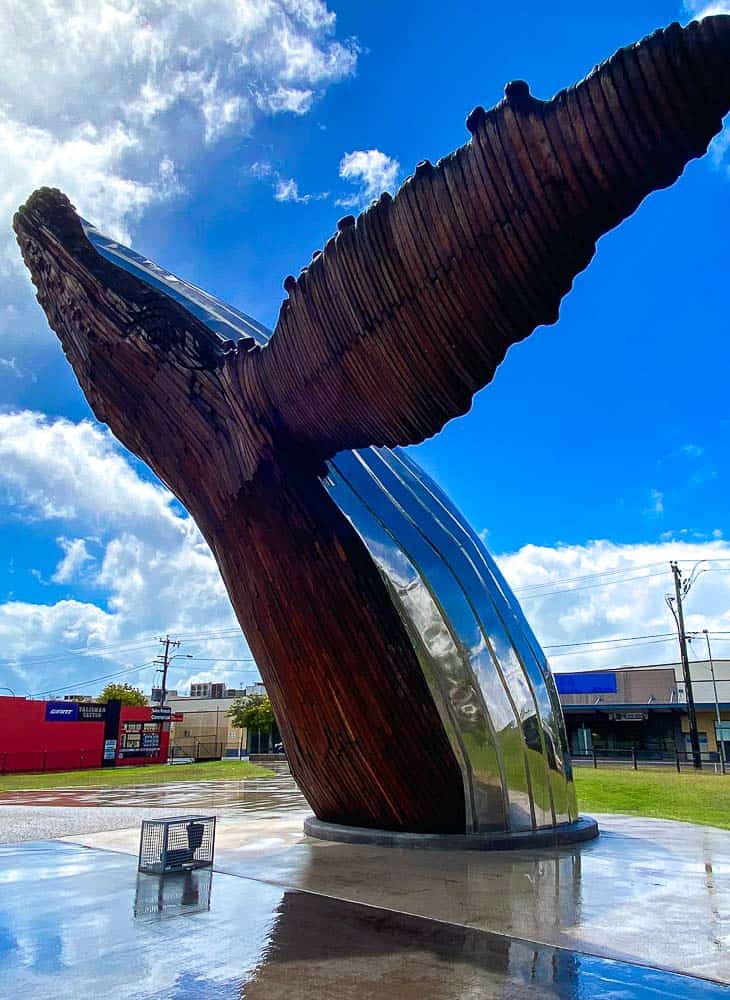 Unfortunately the Fraser Coast Discovery Centre is currently closed, but that doesn't mean you can't go and get your obligatory family selfie with Nala – the giant 11.5 metre high wooden breaching whale out the front! This huge sculpture weighs 22 tonnes and is made of wood and stainless steel.
Location:166 Old Maryborough Road, Pilaba
Opening Hours: Always!
Wetside Water Park
If you're after some of the best free things to do in Hervey Bay for families, then head on down to Wetside Water Park. This is a place where not only will the kids have a ball playing in the water, but it's also a great place for them to learn all about water sustainability.
This is a zero depth water park which features things like foundations, interactive play equipment, tipping buckets and a giant water screen. For little ones under 5, there is the Totside area, while the bigger kids will love the Flipside BoardRiver and waterslides, which are an additional cost. For the parents, there is a great cafe, restaurant and fish and chip shop as well.
Between the various water activities and boardwalks, you'll find a stack of displays about water safety and sustainability. There's even a foundation light show on Saturday nights at 7 pm.
Unfortuantely the water park was closed for maintenance while we were there – so we didn't get to have a play, but it looks amazing.
Location: Corner of Main Street and the Esplanade
Opening Hours: Wednesday through to Saturday from 10 am to 5 pm, although daily during school holiday – except during the winter months.
Cost: Entry is free, however the waterslides are $6.50 for 10 slides and the FlipSide Board Rider is $7.50.
Adventure Side Playground, Skate Side Park and All Abilities Playground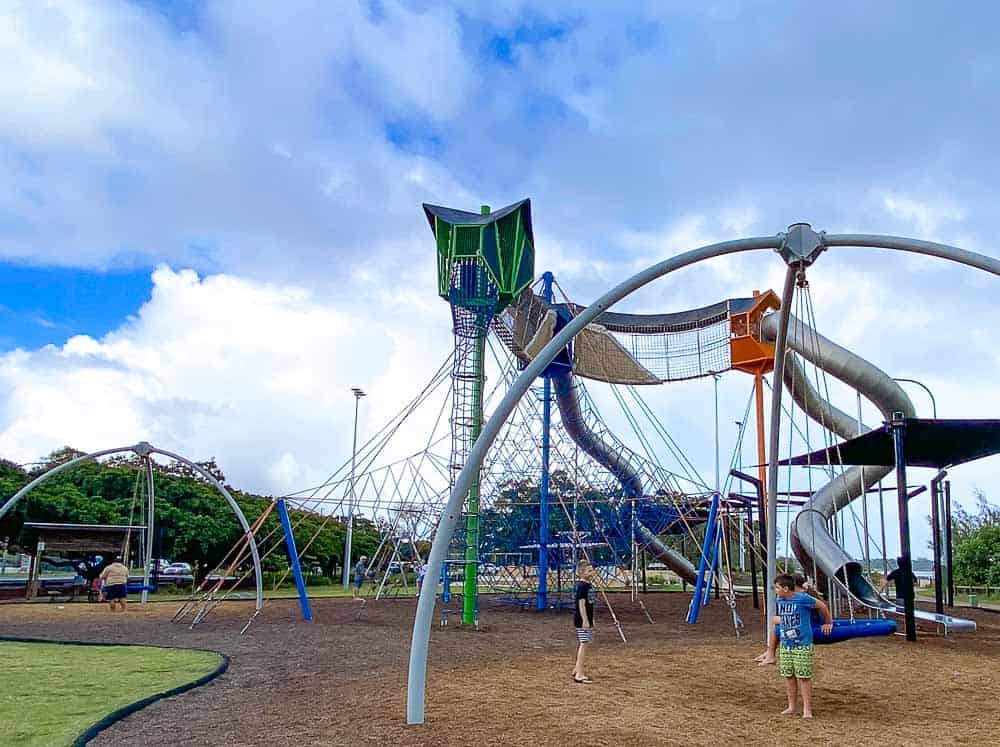 Just a short walk from the water park is kid heaven! This area includes a huge skate park, massive adventure playground and an all abilities playground as well. So no matter how old your children, there is sure to be something here they will just love.
Pictured above is the Adventure Playground, which you can see is perfect for older children. Just behind this is where you will find the skate park and then on the other side is a smaller playground suitable for younger children and includes a wheelchair accessible carousel and swirling maze.
Location: Esplanade, Pialba
Hervey Bay Go Kart Track
The Hervey Bay Go Kart Track is great for families. There are both single and tandem go karts, so no matter how old your kids are, no one misses out! To drive a single go kart, you need to be over the age of 9 years old and 145 cm tall; otherwise anyone from the age of 2 years old can be a passenger in a tandem kart with an adult.
Location: Corner Scrub Hill Rd & Maryborough Hervey Bay Rd, Nikenbah
Opening Hours: Daily during school holidays from 9.30 am to 5 pm; otherwise Thursday to Monday 9.30 am to 5 pm.
Cost: Go karts are from $25 for 10 minutes
Susan River Homestead
As well as being an excellent place to stay, Susan River Homestead is a great place for families to visit. The property offers a range of different activities such as skiing and tubing on their private lake, although they are most popular for their horse riding.
Children over the age of 4 can go horse riding here, across their 1660 acre property. There are over 60 gentle horses to choose from so that all levels and experiences are catered for.
Each day there are two different horse rides, which go over pastures and bushland where you'll see cattle and other local wildlife. They even have a few night rides a couple of times a month which includes a 3 course BBQ dinner.
The rides go for 2.5 hours, which also includes dinner or refreshments.
Location: Lot 56 Noble Road, Susan River
Opening Hours: Horse rides are daily at 9.30 am and 2 pm. Check directly for night ride times.
Cost: Horse riding is $100 per person
Hervey Bay Botanical Gardens
While you'll no doubt spend a fair amount of your time in Hervey Bay close to the beach, the Botanical Gardens is also a nice place to visit for a change of scenery. Plus it's just a short walk from the beach!
Across 26 hectares, the Botanical Gardens has a lovely lagoon, foundation and a range of tranquil garden walkways to explore. There is also an Orchid House here which has an entrance fee of $2.50 – but this includes a cup of tea or coffee so well worth it for Mum and Dad!
The plant lover of the family will enjoy seeing the various plants on display from the region. You'll find all types of gardens including manicured gardens, bush tucker gardens, oriental gardens and more. You'll also be able to see a range of birds and wildlife here that make the gardens their home.
Location: 62-105 Elizabeth St, Urangan
Opening Hours: Daily from 6.30 am to 8 pm
Cost: Free
Fraser Island Tours from Hervey Bay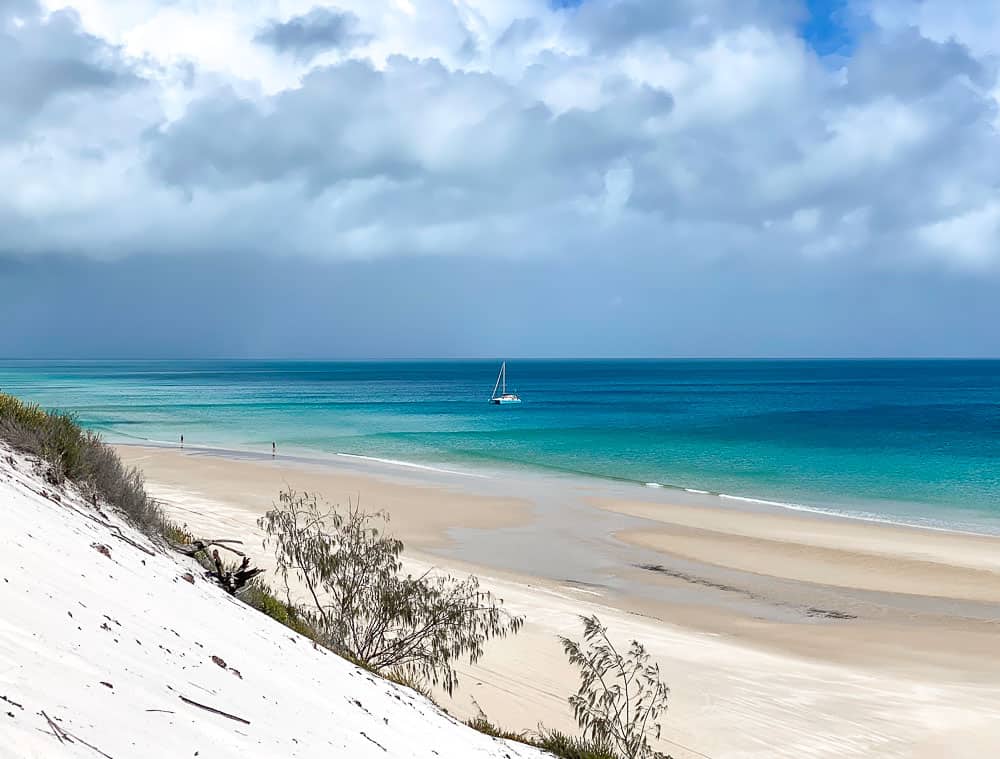 One of the best day trips from Hervey Bay is to visit the world heritage listed Fraser Island. It is super easy to reach Fraser Island as it's just a short 45 minute ferry ride away, plus there are plenty of tour operators that run day trips to Fraser Island from Hervey Bay too.
While Fraser Island is much better experienced over a few days, a day trip is still a brilliant option for those short on time and well worth the time and money. There is a range of different tour options, and what you decide on will really come down to your family's interest and probably budget.
As mentioned above, while we were in Hervey Bay, we took a combined Fraser Island and whale watching tour with Tasman Ventures which was just brilliant. This trip focused on the west, more remote side of Fraser Island, but other tours take you to all the more popular Fraser Island tourist attractions as well.
If you have your own 4WD, you could also take the barge across for the day. But the barge prices are extremely expensive and so depending on how many people are in your family; you may find it much more economical to join a day tour.
A few Fraser Island day tours from Hervey Bay you may like to consider include:
Tasman Venture's Remote Fraser Island: A full day exploring the more remote locations on the west coast of Fraser Island. During whale season, the tour also spends some time whale watching. This is the tour we did and we highly recommend it.
Fraser Explorer Tours: A full day tour visiting some of the islands most iconic spots like Lake McKenzie, Eli Creek, Seventy-Five Mile Beach, Central Station, Wanggoolba Creek, the Maheno shipwreck, and the Pinnacles.
Whalesong Cruises: Half day trip to the west coast of Fraser Island for 2 hours of beach activities.
Arkarra Lagoons and Wetlands Reserve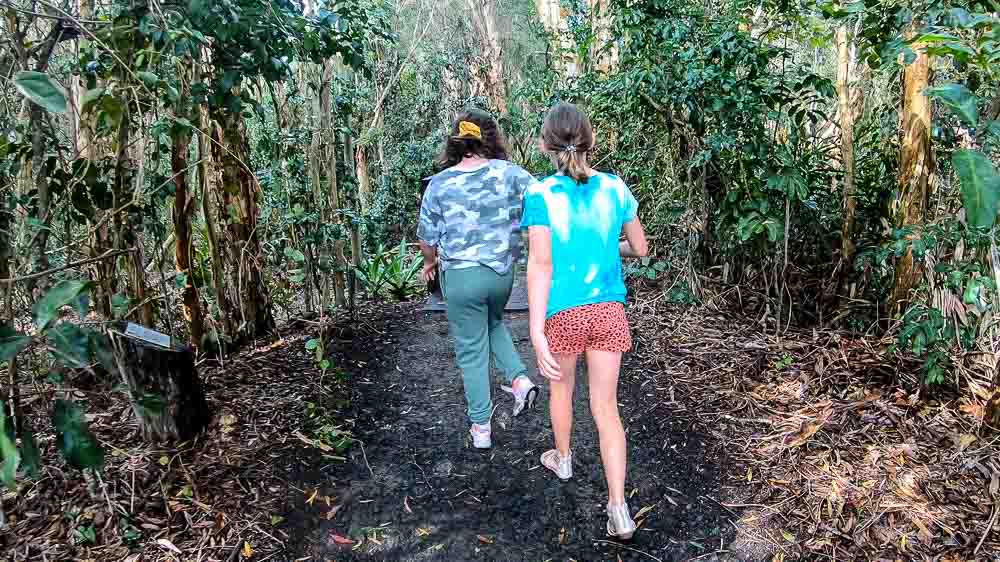 Just north of Hervey Bay, you'll find the Arkarra Lagoons and Wetlands Reserve – a great place for a walk or even some lunch as the Arkarra Tea Gardens is on site.
Arkarra is one of the few remaining wetlands in the area and is made up of both naturally occurring lagoons as well as man made lagoons. Arkarra is an aboriginal word which means "place of many ducks" and while you will find some ducks here, you'll also find plenty of birds, reptiles, wallabies, turtles, echidnas and of course fish. While we were there, we saw a crazy amount of turtles, including some tiny little baby ones too.
Around the lagoons, there are two walking trails including the Wetlands Circuit which is 600m and the Lagoons Circuit which is 840m. Be sure to take insect repellent if you're prone to mossie bites.
I'd recommend timing your visit around breakfast or lunchtime as the Arkarra Tea Gardens is gorgeous.
Location: 28-32 Panorama Road, Hervey Bay
Other Cruises from Hervey Bay
As well as the whale watching and Fraser Island cruises mentioned above, there is a range of other cruises that you can take from Hervey Bay. Below I've listed some that might be fun for your family.
Hervey Bay Eco Marine Tours: Turtle Discovery Cruises
This is a 4 hour cruise through the Great Sandy Marine Park onboard one of Australia's largest glass bottom boats. The tour includes snorkelling where you'll have the opportunity to see a range of marine life as well as a stop at Round Island. Here you'll have lunch, visit Pelican Banks (famous for its crystal clear waters) and have time for swimming.
Tours depart at 10.30 am and return at 2.30 pm. Cost is $115 per adult, $70 per child (4-14) or $320 for a family pass (2A+2C).
Boat Club Adventure: Sandy Straits Scenic Cruise
If you're looking for a cheaper option, then the Sandy Straits Scenic Cruise might be a good choice for your family. This 5 hour cruise takes you through the pristine waters of the Great Sandy Straits. Places you'll visit throughout the day include visit cultural and historic destinations such as Woody Island, North White Cliffs, Ungowa and Garry's Anchorage.
A light lunch is served on board.
Tours depart at 9.30 am and return at 2.30 pm. Cost is $80 per adult, $40 per child (4-14) or $200 for a family pass (2A+2C).
This tour is only available between November to June.
Whalesong Sunset Cruise
For families with older children, why not enjoy a beautiful sunset cruise that includes delicious food as well as a glass of wine or beer for the parents. This 90 minute cruise will take you through the waters between Hervey Bay and Fraser Island in search of wildlife while you watch the gorgeous colours of the sunset.
Onboard hot and cold food platters are served, which also include seafood.
Tours depart at 10.30 am and return at 2.30 pm. Cost is $115 per adult, $70 per child (4-14) or $320 for a family pass (2A+2C).
This tour is only available between November to June.
The Best Things to do Around Hervey Bay
For those families that have a bit more time, here are a few more suggestions on things to do around Hervey Bay in Maryborough which is just a 40 minute drive away.
Visit the Mary Poppins Story Bank Museum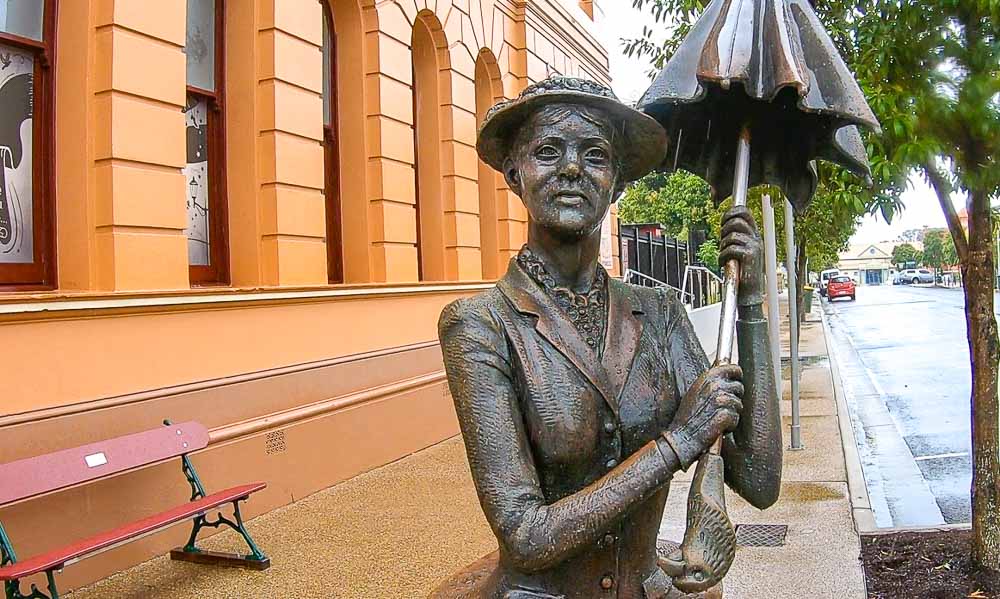 You may not realise, but the author of the Mary Poppins, P.L Travers was actually born in Maryborough in 1899. So something a bit exciting for the whole family is to go and visit the heritage listed bank building where she was actually born, which has now been turned in the Story Bank Museum.
At the museum, you'll learn more about PL Travers life as well as interact with characters and settings from the movie and take part in a range of activities. It is an enchanting place to visit, particularly for families who are fans of the movie. As visitors explore each room, they are encouraged to practice the art of story writing and create their own story as they make their way through the museum. Myla was perhaps a little too young for this; she was much more interested in touching the various interactive exhibits on display.
The Story Bank is spread out across two levels, with 17 rooms in total to explore. Rooms include the Hallway (where you'll find Mary Poppins, Jane and Michael sliding down the bannister), the Portico (where you'll see the Bird Woman feeding the pigeons), the Bedroom (where PL Travers was actually born) and heaps more.
I found the museum a wonderful place. There is plenty for the kids to play with and be reminded of various scenes from the movie, but I also enjoyed learning more about the life of PL Travers herself.
As well as visiting the museum you can also take a photo with the life sized bronze statue of Mary Poppins just outside. And don't leave before checking out the traffic lights here which have little images of the famous nanny herself. Allow around 1 hour to explore the Story Bank.
Location: Corner of Kent and Richmond Streets, Maryborough
Opening Hours: 10 am to 2 pm Monday to Saturdays
Cost: $10 per adult, $5 per child and a family pass is $25
Fraser Coast Wildlife Sanctuary
As you'll no doubt be aware, Fraser Island is home to the Australian dingo, and while the island is not a great place to get up close to these wild animals, the Fraser Coast Wildlife Sanctuary is!
As well as dingos though, here you can also see wallabies, kangaroos, echidnas, birds, reptiles and more. You'll be able to pat some of the animals, and feed others. There is a large free flight bird aviary too.
On site is a cafe where you can buy food from, or you can bring a picnic lunch as well as make use of the BBQ facilities.
The Sanctuary is just 30 minutes south of Hervey Bay, so is a great place to stop on your way in or out of town.
Location: 31 Mungar Rd, Oakhurst
Opening Hours: Daily from 10 am to 4 pm
Cost: $15 per adult, $12 per child (13-18), $8 per child (3-12) and under 2s are free. A family pass is from $40.
Mary Ann Steam Engine
Who doesn't love a good old steam engine train! The Mary Ann is a replica of the first steam engine built in Queensland in 1873 at the nearby Walker's Foundry. Families will love travelling on the steam train which travels along lower Kent Street to the Hyne timber yards, along the Mary River and through the gorgeous Queens Park.
Location: Queens Park, Maryborough
Opening Hours: 9 am to 12.30 pm on Thursdays and the last Sunday of the month when the Maryborough Heritage Markets are on.
Cost: Thursday: $5 per adult, $3 per child and a family pass is $10, Sundays: $6 per adult, $4 per child and a family pass is $15
Where to Stay: Best Family Accommodation Hervey Bay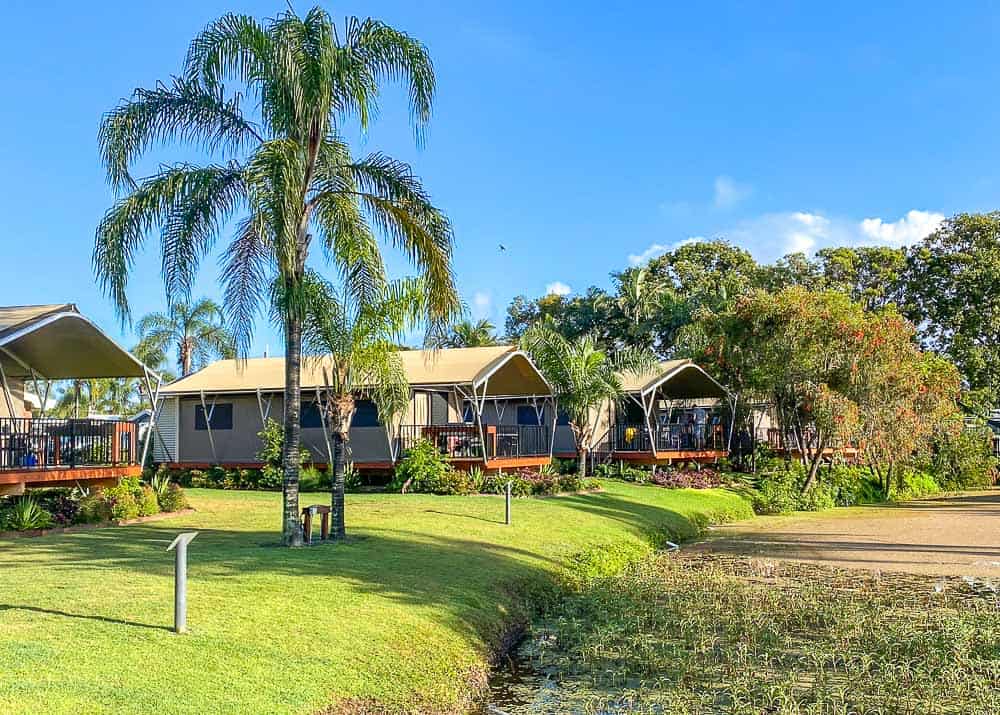 There is a stack of excellent Hervey Bay family accommodation. During our recent trip to Hervey Bay, we stayed at the wonderful family-friendly Discovery Parks Hervey Bay.
Click here to read our full Discovery Parks Hervey Bay review.
This Hervey Bay caravan park has a stack of different accommodation options, from basic campsites to self contained cabins as well as luxurious safari tents. We stayed in a brilliant safari tent which was completely self contained, so we were able to prepare all of our own meals. It also has an ensuite and huge deck that overlooks the lake which is full of wildlife.
Perhaps the best thing about this Hervey Bay accommodation is all the great facilities for kids. There are two awesome swimming pools, as well as a jumping pillow and a small playground. Other facilities for the kids include go-karts and a game arcade.
You can see our YouTube video from our stay here.
The park is just a short walk from the beach as well as cafes and restaurants.
Click here for our complete and comprehensive guide on where to stay in Hervey Bay with kids.
Hervey Bay Restaurants: Where to Eat in Hervey Bay with Kids
There are some great places to eat in Hervey Bay from fish and chips to family-friendly pubs to fancy restaurants. Some of the bigger venues even provide courtesy shuttle buses which are great if you don't have your own transport, or both Mum and Dad want to have a few drinks.
Here's our guide on some of the best value for money places to take the family during your stay in Hervey Bay
Bayswater Bar & Grill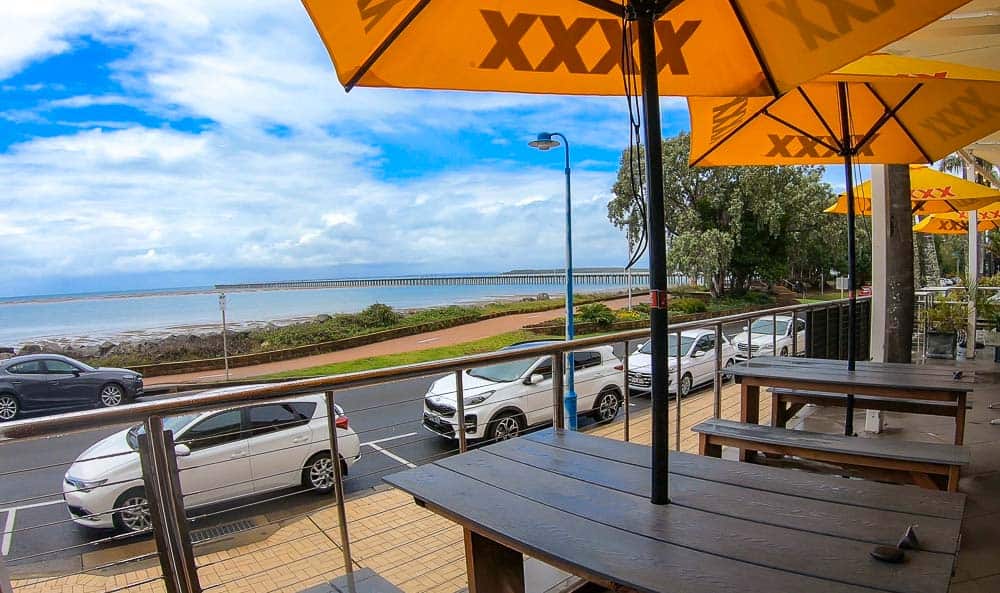 Located just across the road from the Urangan Pier is the Bayswater Bar and Grill. The is a great venue for a meal during the day as you can see right out across the ocean here all the way to Fraser Island.
Bayswater Bar and Grill is a large venue with the option to sit inside, or my recommendation is to sit out on the verandah for the stunning ocean views. There is also a bar area where you can order drinks and snacks.
There is a wide range of meal options on the menu including steaks, seafood, pizzas, pasta, burgers, salads and more. As is the norm in most bistro type settings, serving sizes are generous and more than enough for one person. I found the meal prices excellent value for money with most meals around the $20 mark. Drinks are also really good value with a glass of wine between $6 and $9.
While there is no kids area or anything, families are made to feel welcome here at the casual dining venue. There is a great kids menu including all the usual suspects such as burgers, pizza, nuggets, pasta and calamari. All kids meals are $9.90 an include a serve of ice cream. Plus on Wednesday nights the kids eat free.
I ordered the Beer Battered Barramundi, which was beautiful, but Andy's meal was really amazing. He had the Bayswater Signature Brisket which is a 24 hour low and slow cooked brisket with an amazing smoky BBQ bourbon glaze – OMG to die for! We also shared a really yummy passionfruit cheesecake with cream. Desserts are only $8.90 each, which is great value.
The bistro has a range of specials too, which at the time of publishing included:
Monday nights: $17.90 schnitzels
Tuesday nights: $12.90 pizza and pasta – choose from 3 pizzas and 3 pasta dishes
Wednesday nights: Kids eat free with every main meal purchased
Thursday nights: $17.90 steak night – 300g steak with chips and salad
Weekday lunches: $12 each
Monday to Saturday: Happy Hour 3 pm to 5 pm – schooners $4 and house wine $4.50
If you want to have a few drinks, Bayswater Bar and Grill also have a courtesy bus for Friday and Saturday nights. Just give them a call to arrange pick up from your accommodation. Also on Friday and Saturday nights, they have live music from 5 pm and 1 pm Sundays.
Location:569 Esplanade, Hervey Bay
Opening Hours: Lunch 11.30 to 2.30 pm | Dinner 5.30 pm to 8.30 pm | Breakfast – weekends only 7 am to 10 am
Main Meal Prices: $18 to $27
Hervey Bay RSL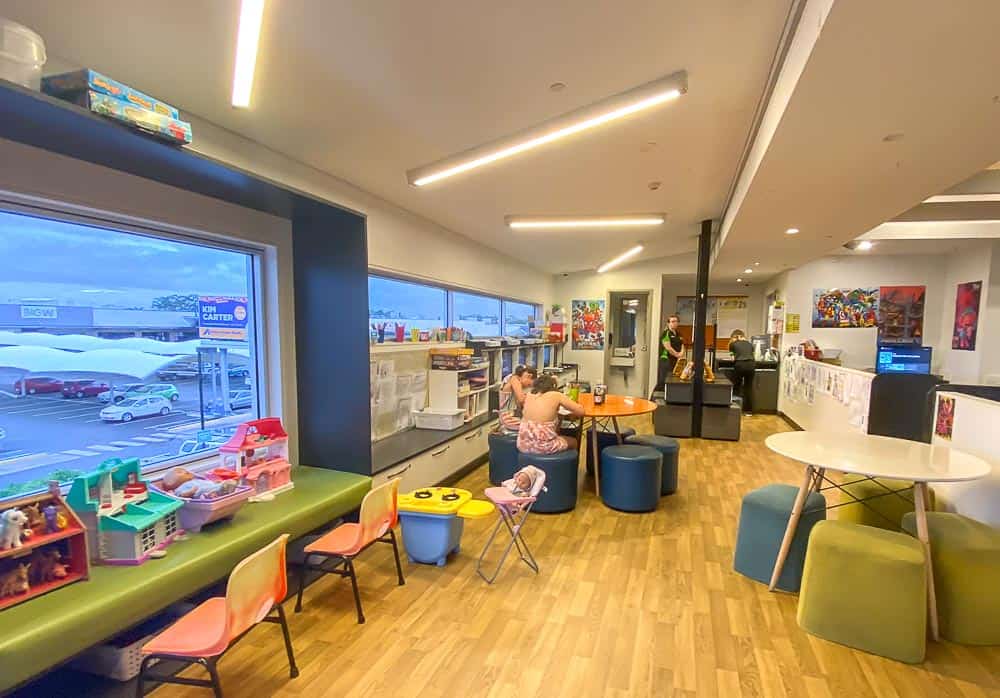 If you're looking for somewhere that the kids are entertained and you can kick back then head on down to the Hervey Bay RSL. The RSL has two different options for meals at either the Sandy Bay Restaurant or the Poppies Lounge & Cafe. There is also a range of different bars throughout the venue.
Let's start by talking about the Kids Club here – because it is excellent! Children between the ages of 3-17 are welcome and are fully supervised by trained staff. This would have to be one of the best kids clubs I've seen. Firstly the area is huge, but there is so much here for the kids to do. There is activity sheets, colouring-in, video games, ipads, TVs, books, games, dolls and loads more. The kids club is opened daily – nights during the week and during the day also on the weekend. During school holidays though the kids club is also open during the day. Check the exact hours here.
We had dinner at the Sandy Bay Restaurant, which is open for lunch and dinner daily. The variety on the menu is huge! No doubt you'll find something here that you'll just love. I'm a sucker for a pub parmi, so I was in heaven when I saw I had 5 different toppers to choose from. There is also plenty of steaks, seafood, burgers, salads, pizza, pasta – you name it – it's on the menu. I also noticed that there was quite an extensive vegan menu – not that I am vegan – but this surprised me quite a bit – it looked terrific too.
There is also an extensive kids menu including your standard options such as burgers, nuggets, fish and pizza etc. All kids meals are $14.90 (non member prices) and come with a glass of soft drink. Plus if you happen to be in town on Monday or Tuesday night or Sunday lunchtime- kids eat free! Up to two children can eat free with every main meal purchased, which is great value for money.
While the meals were great and the serving sizes were huge – I did find the standard pricing a little high – that is for the non member price anyway. Meals are $4 extra for non members and most are around the $30 mark. You can join up as a temporary member for $5 per person, so it's worthwhile joining upon arrival to get the discounted meal prices because you'll also get the discounted drink prices too.
Poppies Lounge & Cafe is open daily for breakfast, lunch and dinner and is great if you're looking for a lighter option. Again the menu is extensive with options including all day breakfasts, wraps, burgers, salads, seafood, pizzas and more. Meals are around $12 to $25 (non member prices).
The RSL has a range of specials too, which at the time of publishing included:
Monday nights: 3 course roast dinner $18.90 (non member price) and kids eat free
Tuesday nights: 2 mains for $33 (non member price) and kids eat free
Wednesday nights: Pizz and pasta for $18.90 (non member price) choice of 2 pizzas and 2 pasta dishes
Thursday nights: Meals for $17.90 (non member price)
Friday nights: Free bottle of wine with every 2 meals purchased
If you want to have a few drinks, the RSL also has a courtesy bus. Just give them a call to arrange pick up from your accommodation. Also on Friday and Saturday nights, they have live music from 6 pm in the restaurant.
Location: 11 Torquay Road, Hervey Bay
Opening Hours: Restaurant times vary, but the RSL is open daily from 9.30 am
Main Meal Prices: $20 to $37
Enzos on the Beach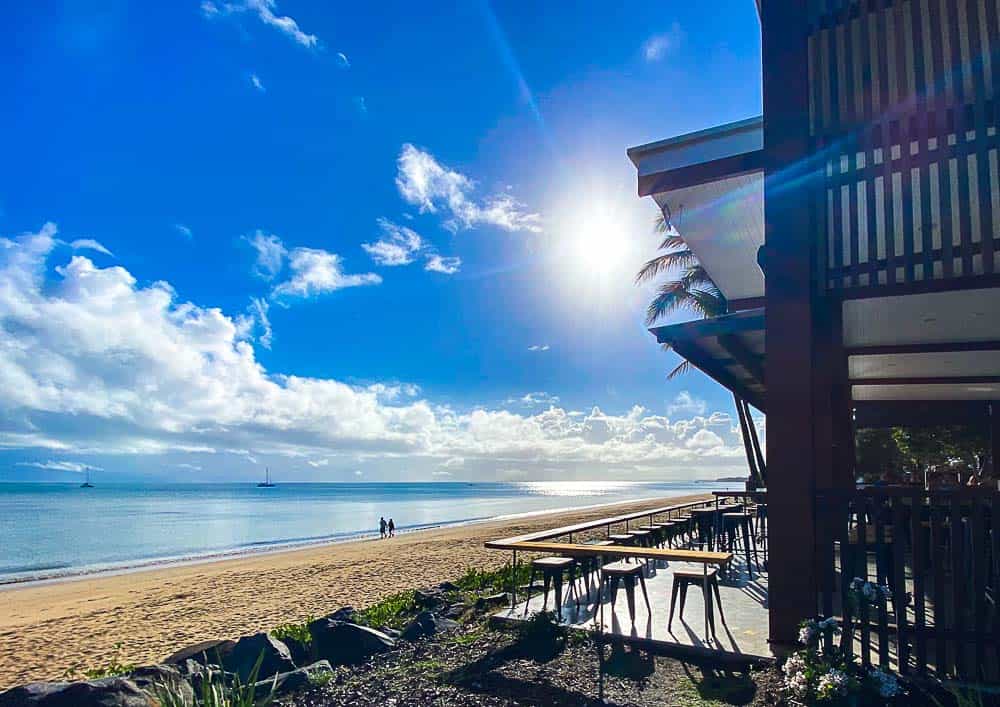 One place you must have a meal at while in town is Enzo's on the Beach. This cafe is located directly on a stunning stretch of beach, making it the perfect spot for breakfast, lunch or drinks as the sun sets. They also offer take out as well.
Enzo's on the Beach serves a range of great food including traditional and healthy breakfasts, delicious salads, grazing platters, burgers, steak, seafood and a great range of tapas too. Most meals are around the $25 mark. They also have a good kid's menu with all meals being $12-$15.
Whatever you do – make sure you book well in advance so you don't miss out!
Location: 351A Esplanade, Scarness
Opening Hours: Daily from 6.30 am – closing at 3 pm Monday to Wednesday, 9 pm Thursday and Sunday and 11 pm Friday and Saturday
Main Meal Prices: 20-25
Aquavue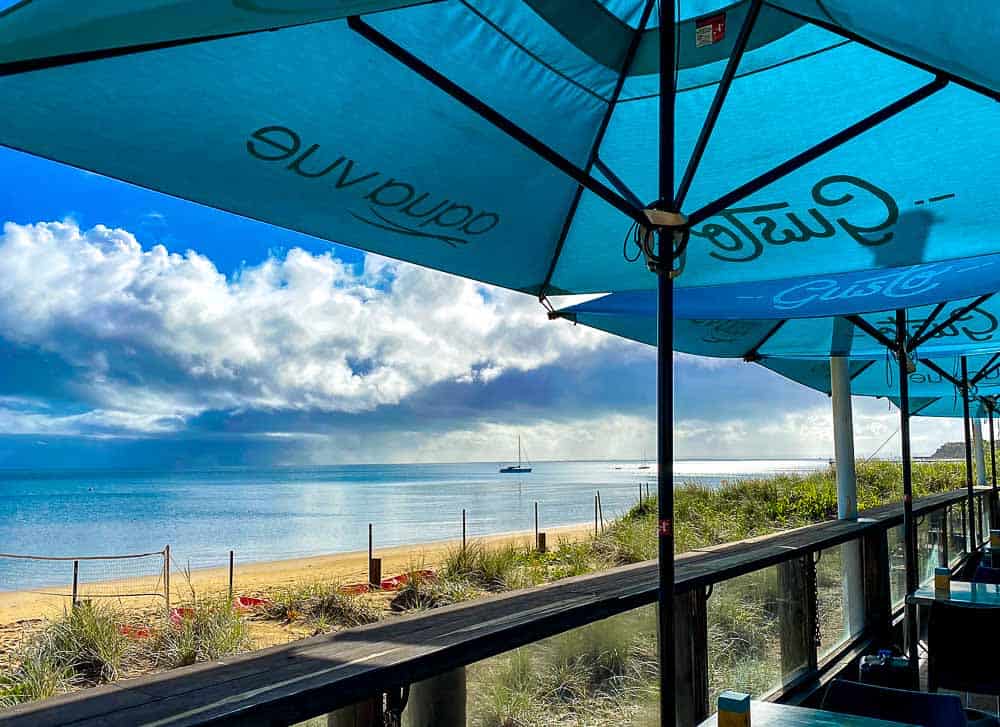 Another great spot for dining on the beach is Aquavue. Aquavue is open for breakfast and lunch daily as well as dinner Friday to Sunday. Plus not only is this a family friendly cafe – it is also dog friendly too!
The menu is extensive with a typical breakfast menu, lots of seafood options, steak, pizza, pasta, salads, burgers and sandwiches. Meal prices range quite a bit from around $15 for something light right up to around $30 plus for a seafood platter. On average, though, expect to pay around $20 to $25 per meal.
Just like Enzo's on the Beach, I highly recommend booking well in advance, especially if you want prime position by the beach – this is a popular little cafe which is easy to see why.
Location: 415A Esplanade, Hervey Bay
Opening Hours: Daily from 6 am to 6 pm Monday to Thursday and until 9 pm Friday to Sunday
Main Meal Prices: $15 to $30
Best Time to Visit Hervey Bay
The best time to visit Hervey Bay is anytime! With its warm subtropical climate, the great thing about Hervey Bay is that the weather is perfect year-round to visit. Although most people want to come to Hervey Bay during whale watching season, which is from July to October.
Keep in mind though that July and August is winter, so water temperatures are cold if you also want to enjoy some swimming. Although for people from colder climates, the winter temperatures may still be quite warm for you. During the winter months, you can expect temperatures between 12 to 22 degrees.
The Summer months of December to February can be super hot and humid and a challenge for anyone not use to the heat. Although for many locals this is a great time for a family summer holiday.
The wet season is between January to March and is known for being hot and humid with more chance of rain. However don't let this put you off, as the rain tends to come in short bursts either first thing in the morning or late afternoon.
Keep in mind that during Australian school holidays, the area will tend to be busier. So if you have the choice – be sure to come outside of these periods.
Hervey Bay – Our Verdict
One word – Awesome! We just loved Hervey Bay and can't believe it's taken this long to go there for a family holiday. It is the perfect place for a relaxing family beach holiday. The beaches are calm, there are great playgrounds, a few family friendly attractions and of course you have Fraser Island right there! The cafes and restaurants are really laid back and welcoming to families – it's just the perfect all round holiday destination.
The other thing about Hervey Bay is that its not overly expensive either – apart from the island day trips that is – but most other activities are free, and accommodation is pretty reasonable too.
So there you have it – in our view, Hervey Bay is well and truly an excellent family destination, and I have no doubt you and your family will have a blast.
___________________________________________________________________
Hopefully you found this guide to Hervey Bay helpful and it has inspired you to take your kids for a visit. If you like family beach destinations why not check out our guide to Airlie Beach here or Rainbow Beach here.
Want to keep this handy for later? Click on one of the images below and save it to Pinterest.