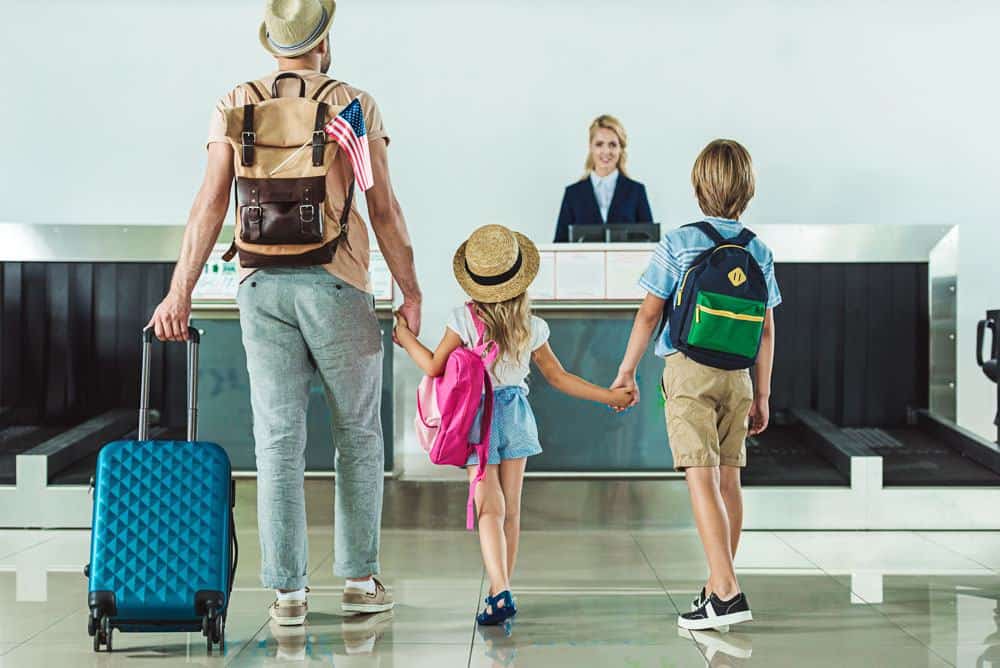 Are you trying to figure out what present to buy a child who loves traveling?  Maybe they are your niece or nephew or perhaps even your own child.  Well luckily you found our travel kids gift guide 2020, because here we have 21 of the best travel gifts for kids this year.  Whether you are looking for gifts under $10 of over $100 or various points in between, gifts for toddlers, school aged or teenagers, we have got the perfect unique travel gift ideas for kids.
I personally recommend all these travel gifts for kids and in many cases we have these items ourselves so can speak from personal experiences.
This post may contain compensated links.  Please refer to my disclaimer here for more information.
21 of the Best Travel Gifts for Kids 2019
If you're looking for kid travel gift ideas for kids that are tiny, consider the super popular Trunki Ride on Suitcase.  The Trunki is designed for kids to ride through the airport either by skooting along or having their parents pull them.  The Trunki comes in a stack of super cute designs too like a tiger, bumble bee or pretty little unicorn, so there is the perfect ride on design for your little traveler. 
As well as your little one being able to skoot along through the airport instead of walking, it's also the perfect place for them to store all thier belongings in. It's a great size for carry on luggage or you can choose to check it.  It also comes with a strap for parents to pull the child along or for easy carrying when your child is not using it.
You can read our full guide on kid's ride on luggage options here or see other options here.
Click here to find out more about the Trunki and to see the latest price. | Click here to check price in Australia
The VTech Kidizoom camera is one of the best kids travel gifts for those wanna be travel photographers.  This is perfect for the little photographers as it is durable camera that's built to handle drops and tumbles, plus its easy to use with both rear and front cameras (perfect for selfies).  Some other great features that I love about this camera include:
Photo Optimization – when a photo is taken the camera actually takes multiple photos, chooses the best and saves that one;
Movie recording;
Creative options to enhance photos such as frames, stickers and effects;
Built in MP3 Player and speaker as well included headphones; 
Games and Parent control – parents can limit the play time for the games as well as disable the game setting; and
256 MB of memory or a SD card can be used.
This camera is recommend for kids over the age of 3.
Click here to find out more about the VTech Kidizoom Camera and to check the latest price.
Looking for a gift for the Mum who loves to travel?  Click here for 21 ideas for the female traveler.
One of the good travel gifts for children going on a long haul flight is a footrest pillow.  These are fantastic for toddlers, but we still use one for Myla on long haul flights, plus I often rest my feet on it too.
We like to travel light, so we just have one like this ZIQIAN one which packs down nice and small and doesn't take up much room in your baggage.  It also has a removable washable cover and comes with a hand pump too – or you can easily blow it up by mouth in seconds.
Just keep in mind that not all airlines allow you to use these – so consider this first.  But so far we've never been asked to put ours away on any flight.
Click here to find out more about this travel foot rest pillow and to check the current price.
4. Tickets for Experiences around the World
If you know where the young traveler is headed, why not talk to their parents (or maybe you are the parent) and purchase them tickets for a fabulous experience.  Tickets could include theme parks, water parks, zoos, the options are endless.
Klook sells vouchers for some great attractions and tours from all over the world and quite often their tickets are cheaper than going direct with the attraction.   Klook sells tickets to attractions in destinations such as Tokyo, the Gold Coast, Los Angeles, Singapore, London, Melbourne and many more.
Vouchers to the childs favourite attraction or an attraction on their bucket list makes a great travel gift for kids or even one of the best family travel gifts if you decide to buy a family pass.
I highly recommend checking out Klook to compare attraction prices.
A friend of ours gave Myla this atlas years ago and it's still one of her favourite books – in fact she often uses it for book week and dresses up in traditional dress from places around the world.  She just loves looking at all the different countries in the world, learning about them and deciding where she wants to explore next.  I think an atlas is a must for all traveling kids.
The National Geographic My First Atlas of the World is packed with information about the world, people, cultures, languages, plants and animal.  The pages a filled with vibrant colours and engaging photography to keep kids entertained for hours.
This particualr book is designed for pre-schoolers, but if you have kids at school consider getting them the National Georgraphic Student World Atlas.
You can check out our full guide to the best travel books for kids here.
Click here to find out more about the National Geographic My First Atlas of the World and to find out the current price.
Keep the kids writing throughout their travels and gift them with this Lonely Planet kids travel journal.  The journal comes with writing topic suggestions, lists to complete and heaps of ideas for the kids on how best to record their travel memories.  There is heaps of space for writing, drawing and collage keep children entertained for hours.
The Lonely Planet travel journal is recommend for children from the ages of 5.
Click here to find out more about the Lonely Planet travel journal and to check the current price.
It's great for kids to keep track of the countries they visit in a visual way.  Myla has this very Scratch Off World Map one in her bedroom and loves scratching off a country after every trip.
As well as being able to scratch of countries you have visited, countries like the USA, Canada and Australia allow you to scratch off states and you can scratch off flags too.  The map also comes with a scratching tool, memory stickers, eraser for scratch smudges and a magnifying strip.
This map would look fantastic in any child traveler's bedroom and is one of the great gifts for kids that travel.  
Click here to find out more about this Scratch Off World Map and to check the current price.
For long haul flights or road trips, neck support is a must for everyone in the family including the kids.  These cute character neck pillows are specially designed for children and come in a range of designs including bear, alligator, catand heaps more.
Even if you don't think your little one is keen on the neck shaped pillow they also have cute little standard sized pillows too.
These are a great idea if you're looking for travel gifts for toddlers.
Click here to find out more about these Cloudz Plush Animal Pillows and to check the current price.
One of the best travel items for kids is wireless headphones so they can to listen to their own devices whilst traveling.  I just love the wireless headphones, no more tangled cords to worry about.  There is so much to love about the LilGadgets headphones:
Another child can plug their headphones into these so both children can watch the same device;
Comes with a microfiber carry pouch and micro-USB charging cable;
Volume control;
12 hour battery life and 180 hours standby;
Specially desgined in sized and durability for children; and
Compatibale with most bluetooth devices.
Another great aspect of purchasing from LilGadgets is that a proportion of every sale goes towards bullying prevention in schools.
These wireless headphones come in a range of bright and funky colours for kids and are suitable for children from the age of 4.
Click here to find out more about the LilGadgets Wireless Headphones and to check the current price.
Kids of all ages are going to love having their very own super cute passport holder. Having a unique cover on their passport makes it easy to work out who's is who's as well when you're about to board.  
There are so many different options available – here a few I think are cute: Dinosaurs, Lamas, Dragons & Unicorns, Pugsand Lipstick.
Click here to find out more about these Vegan Leather Passport Holders and to check the current price.
One of the best travel gifts for tweens, or even slightly younger children is a stylish yet durable over the body sling bag – in fact Myla's been using a cross body bag like this since she was around 6.  It's great for them on the plane to be able to easily access their own things, as well as to encourage the kids to be resonsbile for their own items like their water bottle, camera, sunglasses etc while you are out and about sightseeing.
The Mosiso Sling Bag is made from water repellent polyester with good quality zippers.  It is a fantastic size as a kids travelling bag with a variety of different compartments such as:
Large compartment to carry devices such as a camera, kindle or iPad;
Mesh compartments on both sides for water bottles;
Separate compartment for phone, power bank and wallet or purse; and
Section for keeping power cords and documents.
The Mosiso Sling Bag comes in a range of great colours including grey, black, blue, purple and red and is one of the best travel bags for kids.
Click here to find out more about the Mosiso Sling Bag and to check the current price.
Its fantastic when the kids can start to carry their own packs.  From the ages of around 7-8 years of age, I recommend getting your child fitted for their own pack.  I recommend something like this Osprey Porter 30L.  Whilst at a young age I don't recommend jamming it full, pack it to a weight they can safely carry – this way you have a pack that the child can grow into.
  Here are some of its great features:
Compression with padded wings and lower panels secures and protects your items;
Shoulder harness and hip belt is full adjustable and can be stowed away inside the bag when not in use;
Lockable rear panel zip for laptop or tablet for easy access during security checks at airports; and
Small front pocket for quick access to small items.
The Osprey Porter 30L comes in a range of colors including teal, black, grey or red.
I perosnally use the Osprey Porter for travel – except I have the big 46L and just love it.
Click here to find out more about the Osprey Port and to check the current price.
This one is for the child traveler who loves to read.  Kids can preload all their favourite books to read whilst travelling.  It doesn't have to be just for the older kids either, there are plenty of picture books you can load onto the kindle for the younger travelers.
The Kindle Paperwhite is one of the most popular kindles.  Here are some of its features:
Highest Resolution e-reader display for crisp, laser quality text;
No glare in bright sunlight;
Waterproof, so great to withstand any accident spills;
Lightweight so can easily hold with one hand – perfect for little children; and
1 charge can last up to 6 weeks.
Click here to find out more about the Kindle Paperwhite and to check the current price.
For the budding adventure travel photographer, the Go Pro Hero 7 would be a dream gift – perhaps their Christmas and birthday present all in one! 
Andy recently got the GoPro Hero 7 Black and it is brilliant!  I just love how clear the video is and the special effects that come with the App are amazing.
Here are some super cool features of the GoPro Hero 7:
Automatically sends footage to your phone for upload to social media;
High quality footage – with vastly improved image quality from previous models;
Video stabilization;
Waterproof to 33 feet (10 metres);
Touch zoom; and
Wi-fi to make it simple for sending images and videos to your phone.
Of course there are also endless of GoPro accessories that you can use with the Hero 7 – so you will be set with gift ideas for future birthdays and Christmases.
Click here to find out more about the GoPro Hero 7 and to check the current price.
All kids love taking photographs of themselves, and a selfie stick allows them to take greats photograph of themself while travelling.  We just love this selfie stick, as not only is it a selfie stick, but you can also use it as a tripod and it has a remote which connects to your phone via blue tooth so no need for messing around with timers.
With this gift, you'll be able to get some great families pictures of your trip.
Click here to find out more about this Selfie Stick and to check the current price.
Ok yes some drone's can be crazy expensive, but here I am only talking about a cheaper type drone as a great gift idea for travelling kids.  Drone's can be tricky to master, so even if you have the cash, I highly recommend you start out with something cheap.  The budding videographer will absolutely love this as a gift and be able to capture some smashing footage of your family trips.
The Dwi Dowellin Drone is a great priced entry level drone for the kids.  Some if its features include:
Real time viewing, via an app on your phone you can see what your drone sees in real time and can take photos and videos whenever you like;
23 minutes flight time;
This drone can perform flips and rolls;
3 speed which allows you to practice your flying skills; and
One key return – no matter where the drone is, with the press of one button it will return to where to took off from.
Click here to find out more about this Drone and to check the current price.
I don't know how many trips we have been on, where the guide has handed out binoculars for the adults to get a better view of the crocodile or bird or whatever it may be we are looking at and the binoculars are to heavy or big for Myla to use.  So a specially designed set of binoculars would be a great gift for a child who was off on a wildlife adventure.
TheLuwint Kid's Binoculars are great for kids as they have been specially designed with kids in mind and so have the following features:
Rubber surrounded eyepieces to protect little one's eyes and face;
Fantastic magnification and easy to focus;
Rubber grib so easy for little hands to hold;
Neck strap to prevent dropping; and
includes carry bag, cleaning cloth and neck strap.
Check here for the latest prices for the Luwint Kid's Binoculars.
With all the devices kids carry these days, it is essential for them to have their own portable charger.  Whilst Mum and Dad might have their own, for older children its great for them to have their own and be responsible for charging their own devices whilst travelling.
Depending upon how many devices the child has to charge or perhaps the portable charger is a joint gift for multiple children will depend upon what sort of charger you should buy.
More more than 1 device I would recommend getting a portable charger with a high capacity like the Anker PowerCore+.  This charger can charge multiple devices at once multiple times over before going flat.  Plus it's nice and compact too.
Click here for more information the Anker PowerCore portable charger and to check the current price.
Kids just love playing with torches and will love having one of their very own.  We find headlamps great for travelling as they free your hands up for whatever it is your doing and don't take up a lot of space in your bag.
The Blitzu Headlight is great for kids as it claims to be indestructible!  It can withstand drops of up to 1.5 meters as well as being water resistant.  Some other great features include:
Lightweight and adjustable so perfect for growing heads;
The headlamp tilts so you can aim the light where you need it; and
Comes in a range of funky colours so you can get each child a different colour to know whose is whose.
Click here to find out more about the BLITZU Head Lamp and to check the current price.
We love to have music wherever we go, so a small portable speaker for us is an essential travel item.  Kids of all ages will just love being able to listen to their own music whilst traveling.
I love the JAM XT for travelling kids as it is nice and compact at only 3 inches in diameter and 3 inches high, but with a great sound quality.  Kids will love the range of funky colours it comes in, and you can buy different colours for different children so everyone knows who's speaker is whose.
Some other great features include:
Bluetooth and wireless so no tangling cords;
Splash proof, drop proof and dirt proof;
Comes with a fold out carabiner so you can attach it to your backpack, tree branch or even tent;
Rechargeable batteries which provide up to 8 hours of play;
You can connect non Bluetooth devices to the speaker; and
Comes with a USB charger so you can easily recharge it.
Click here to find out more about the JAM XT portable speaker and to check the current price.
For the little water lover, a snorkel set is a great idea for a present.  We got Myla her very own set a few years ago now, as that way she can familiar with her own equipment.  Plus it can get expensive if you have to hire it when you travel – not all resorts provide them for free.
A lot of people get the full face masks these days, but I still prefer the standard masks – and they are much safer too.  This set by Elementex includes everything your child needs to snorkel.   It comes with a tempered glass dive mask which is scratch and shatter resistant and has a silisone skirt to ensure a wateright seal.  The set also includes a dry top snorkel which is great for preventing water coming into the top, so kid's can breath easily.  The included fins are adjustable and the straps can be completely removed too making them easy to get in and out.
The set also comes with a drawstring mesh bag so you can easily carry the set around.
This set is suitable for children between the ages of 5 to 11. 
Click here to find out more about this snorkel set and to check the current price.
I hope you found this guide on the best travel themed board games useful.  If you're looking for more things for kids that love to travel, check out guide on travel themed games here or our kids travel books guide here.  
Disclaimer: Disclaimer: As an Amazon Associate I earn from qualifying purchases.
Click here for some gift ideas for the child who loves snorkeling or scuba diving.
Click here if you need tips on how to save money this Christmas.
If you want to keep this handy for later, click on one of the images below and save it to Pinterest.