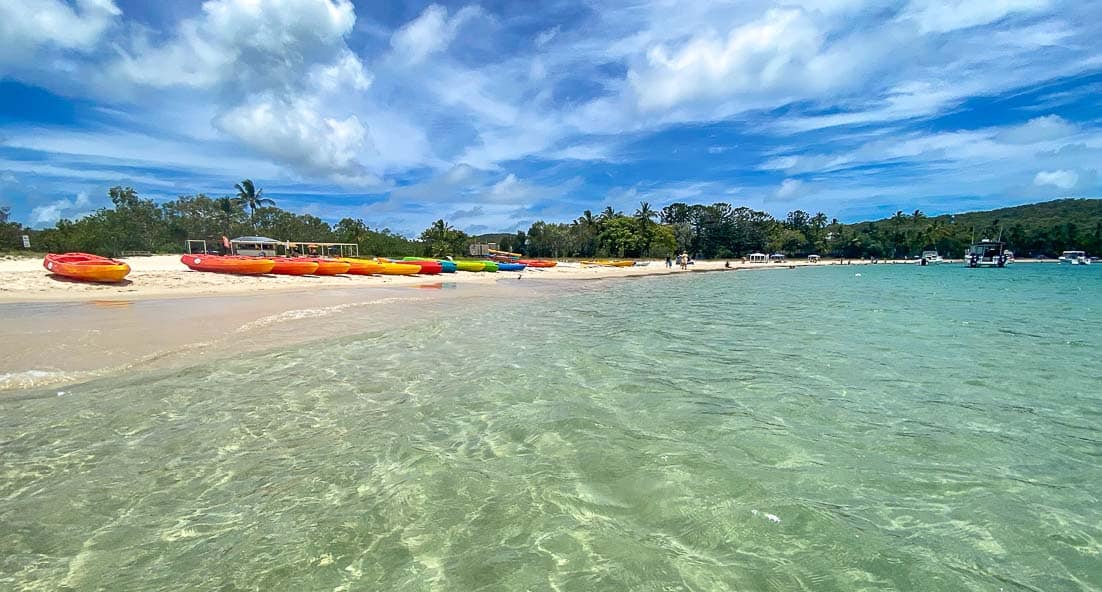 Great Keppel Island is one of several little stunning islands located just a short ferry ride off the Capricorn Coast. Home to 17 pristine white sandy beaches and full of walking tracks there are plenty of Great Keppel Island activities to keep a family busy for a few days to even a week or more.
When it comes to things to do on Great Keppel Island, families can do as little or as much as they like. If you're a family that's into water sports, there is snorkelling, scuba diving, kayaking and stand up paddleboarding to enjoy. You can even get dropped off by boat to your own private swimming cove and enjoy a picnic on the beach.
While those who love to go bushwalking, you're in luck as the island is over 90% bushland. There are numerous treks you can explore which allow you to enjoy the island's native flora and fauna and get spectacular views across the various lookouts.
However if you're more the type to lay around on the beach and soak in the gorgeous tropical island vibes – then you're in luck as a Great Keppel Island holiday is absolutely perfect for that too!
If you're planning your Great Keppel Island holidays and wondering exactly what there is to do there – then this guide is the perfect read for you. In this guide, we cover exactly what to do on Great Keppel Island – no matter what sort of getaway you're after. We also cover some practical information such as the best Great Keppel Island accommodation, how to get there and some of the best Great Keppel Island day trips for those short on time.
So let's get into it and check out all the awesome things to do Great Keppel Island offers.
Are you planning a trip to Queensland? Have any questions? Join our Queensland Travel Planning Facebook group here now! It's the perfect place to ask any questions and to be inspired!
This post may contain compensated links. Please refer to my disclaimer here for more information.
Great Keppel Island Activities
Map
Below is a map of all the things to do in Great Keppel Island which are covered in this guide. This map will assist you while planning what you're going to get up to on your Great Keppel Island getaway.
Best
Things to do on Great Keppel Island
Below is a list of some of the best Great Keppel Island things to do. To help with your planning, we've also included information about location and prices where applicable (these were correct at publishing).
Snorkelling – Great Keppel Island
The number one thing to do on your Great Keppel island adventures is to explore what's under the water! So make sure on your holidays you allow some time to snorkel Great Keppel Island!
Keppel Island is said to have some of the healthiest reefs around, so this is the perfect place to spot colourful coral and plenty of marine life such as tropical fish, starfish, and turtles. If you're lucky, you may even see stingrays and dolphins.
The most popular beaches for snorkelling Great Keppel Island are Shelving Beach, Monkey Point and Clam Bay. Monkey Beach is easy to access by foot, but you'll need either GKI Watersports or Keppel Water Sports (KWS) to drop you off at the other two sites. While the beaches close to the resort area offer absolutely crystal clear water, there isn't much marine life apart from a few fish.
If you can, bring your own snorkelling gear, but you can hire some on the island if you don't have any. There are two places on the island where you can hire a range of equipment or join various guided tours – GKI Watersports or Keppel Water Sports (KWS). GKI charges $20 per day for snorkel gear while KWS charges $15 per day (including mask, fins, snorkel and a portable flotation device).
Of course, you can go exploring on your own – but if you're short on time, I recommend joining one of the Great Keppel Island snorkeling tours where your guide will take you to some of the very best snorkel spots around the island. GKI charges $50 per adult and $40 per child for a 1.5 hour guided tour, including all your snorkel gear, boat ride and guide.
We did a snorkelling tour with GKI Watersports. They took us to Secret Cove and while the visibility wasn't great (it has been raining quite a bit before our visit) we did see a turtle as well as a few dolphins so a huge success in our eyes!
Check out the
Great Keppel Island Beaches
Once you've explored what's under the water, you'll no doubt be keen to explore some of those stunning Great Keppel Island beaches! With no less than 17 stunning beaches to explore, the problem is which ones will you choose??
The main beach on the island is Fishermans Beach – this is where you will find the majority of the accommodation and KWS. To one side of Fishermans Beach is Putney Beach, which is also a very popular and accessible beach to check out. Also between Fishermans Beach and Putney Beach is the Spit which is another popular spot for swimming.
Other beaches are accessible via one of the various Great Keppel Island walking tracks while some are only accessible by boat. Both GKI and KWS offer beach drops off and I highly recommend you do this at least once during your trip. Beach drops off start at $60 for Leekes, Monkey and Shelving Beach, $80 for Long, Svendsensm Butterfish Bay and Secret Cove or $100 for Wreck and Red Beach. This price is per return boat trip and is for up to 12 people.
Below is a brief overview of some of the more popular beaches on Great Keppel Island.
Fishermans Beach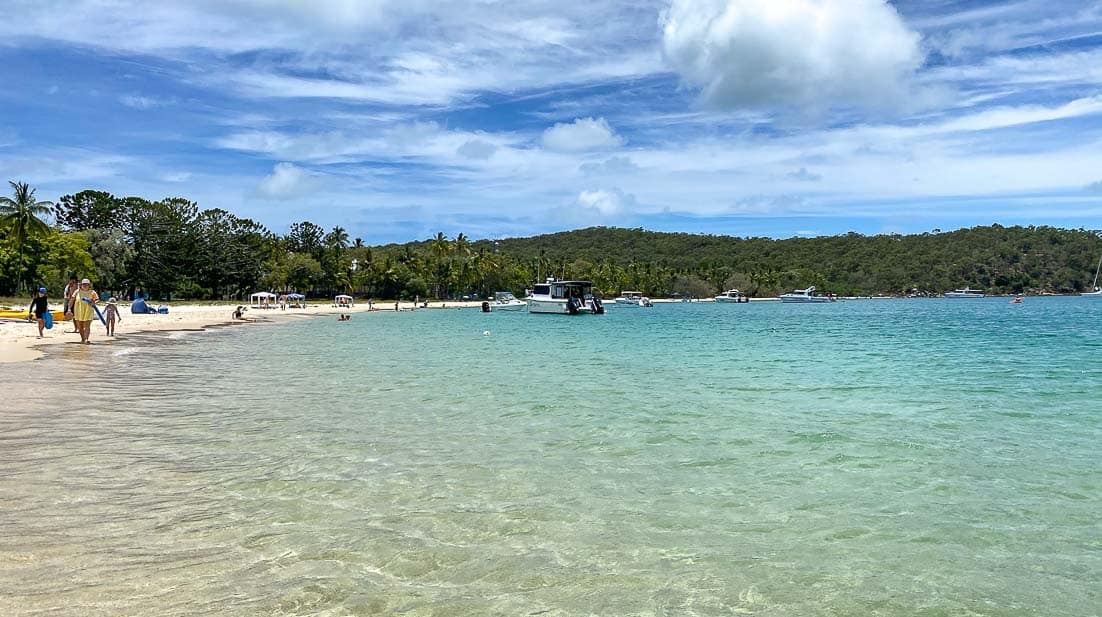 As mentioned above, this is the main beach on the island where you'll find all the accommodation and facilities – it's also where the ferry docks. Fishermans Beach is an absolutely stunning beach with soft sand and crystal clear waters, making it ideal for swimming and a range of water activities. Out of all the beaches we visited during our stay – this was by far our favourite!
If you're short on time or have super little kids – then this is the only beach you need while on Great Keppel Island.
The Spit
Nestled between Fisherman's Beach and Putney Beach is a small area of beach called the Spit. This is where you'll find the entrance to GKI Hideaway as well as a beautiful stretch of water for swimming.
Huge sandbags surround the Spit, and during high tide, this is a popular place for jumping from into the crystal clear water.
The Spit is also the perfect location to watch the sunset each evening.
Putney Beach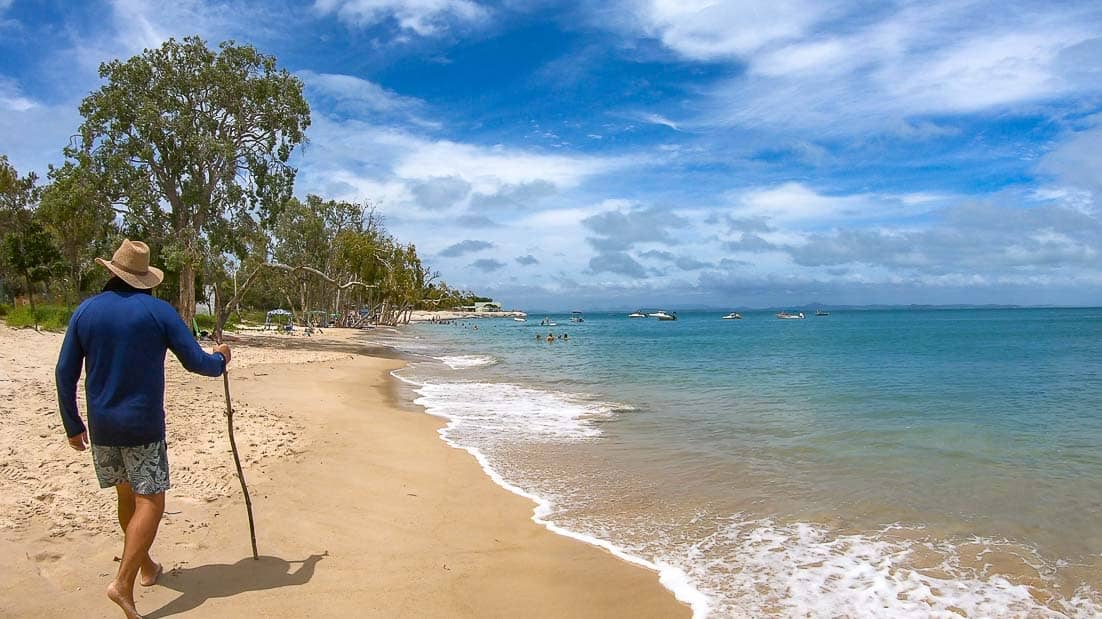 Just around the corner from Fishermans Beach is Putney Beach, another stunning little beach which is easy to access. If you're staying at Hideaway (read our full review on Hideaway here) while on Great Keppel Island, this is the closest beach to you. In fact, some of the little bungalows are perched on top of the dunes here offering spectacular views across the ocean.
While visiting Putney Beach, I highly recommend taking a stroll to the end of the beach, away from the crowds. Here you'll find a little inland creek with a few mangroves, the perfect place to explore – particularly if you have a kayak.
Shelving Beach
To the south of Fishermans Beach is Shelving Beach which is a bit trickier to reach, but well worth it if your family loves to snorkel. This is said to be one of the best places on the island for marine life. As well as snorkelling, the beach is lovely with soft sand and beautiful clear water.
It's a 15 minute walk to Shelving Beach via a walking track which is relatively tricky due to its steep descent. To reach the track, walk all the way down the end of Fishermans Beach where you will find the access to the walking track. Turn right at the Shelving Beach sign and take care down the steep descent.
The best way to get to Shelving Beach is by asking GKI or KWS to take you by boat.
Monkey Beach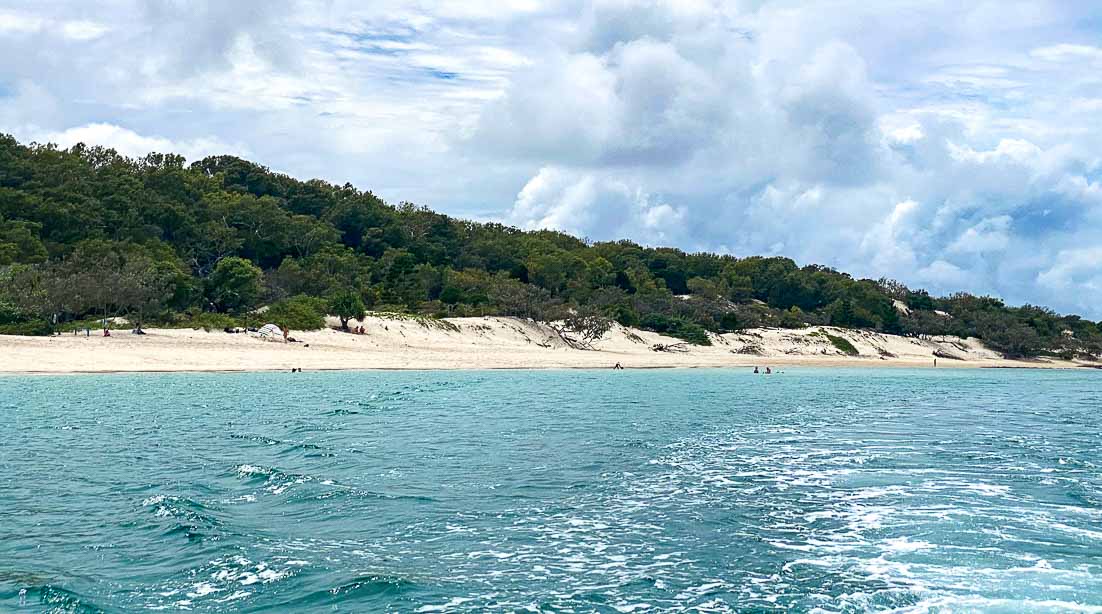 Just south of Shelving Beach is Monkey Beach – another awesome beach for those that love to snorkel. It's not the easiest beach to reach – but if your family is up for the hike, it will take around 35 minutes each way. Take the same track as for Shelving Beach, walking past the Shelving Beach sign. You'll then descent down the track to Monkey Beach. Altnertiavely you can reach the beach by a short 5 minute boat ride.
We didn't spend any time at this beach during our recent visit. However, while doing an island tour by boat, we stopped to drop a few people off and it is absolutely stunning! Definitely worth the effort.
Long Beach
Accessible via an inland track from Fisherman's Beach, Long Beach is a great beach to take the family. This 2km stretch of beach is just stunning – one of the most beautiful on the entire island making it worth the trip. If you're visiting Monkey Beach, it is relatively easy to walk here.
While visiting the beach, be sure to check out the ancient Aboriginal shell middens located on the western end of the beach. Middens are mounds of shellfish remains which were eaten by the Woppaburra people. The Woppaburra people are the traditional owners of the Keppel Island Group.
To reach Long Beach by foot, you can take the same walking track as detailed above for Shelving and Monkey Beach. Once you reach Monkey Beach, simply walk to the southern end of the beach and take the timber boardwalk (where you'll see the Aboriginal shell middens) which takes you to Long Beach. An easier, although less picturesque track, is to take the back service track from the Hideaway Boardwalk. This will take you to a bitumen road – then turn right and then left through the refuse dump, and the track will eventually take you to the eastern end of Long Beach.
Leeke's Beach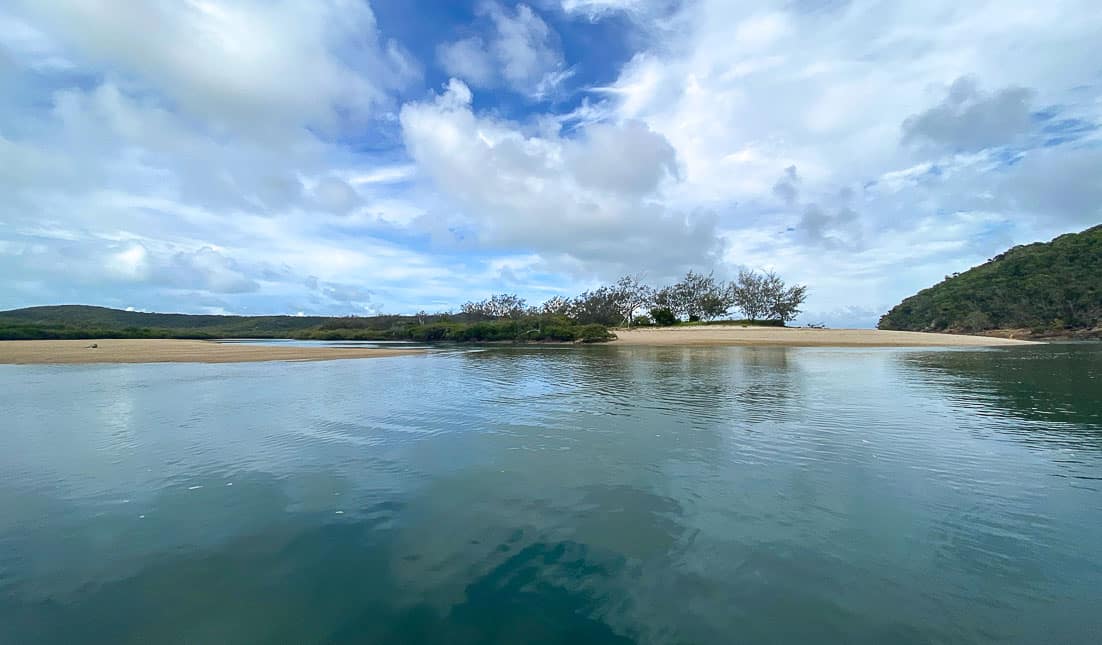 Moving around now to some of the more remote beaches on the island – next we have Leek's beach. Leeke's Beach is northeast from Fisherman's Beach, just north of the island's wetlands area. This is one of the largest beaches on the island and is a favourite among those who enjoy fishing. This is also where you'll find the homestead.
During high tide, you can go inland via the creek and explore the mangrove area behind the beach.
Svendsen's Beach
If you decide to stay at Svendsen Beach Retreat, then this is your beach. A stunning beach and a favourite spot for those looking for somewhere to anchor their yachts.
Secret Cove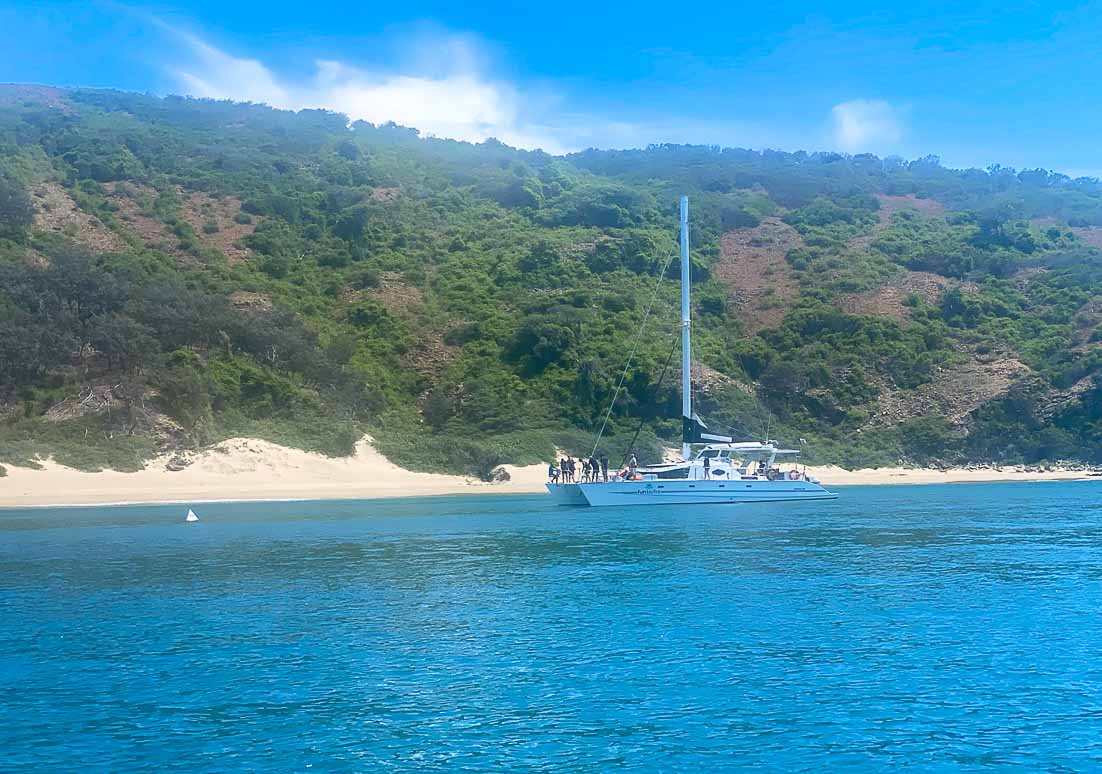 Access in and out is by boat only. This beach is renowned for nesting turtles and is a great spot for those wanting to go snorkelling – we even spotted a few turtles and dolphins while snorkelling here.
Wreck Beach
This beach is on the far side of the island and sometimes you may see dolphins, turtles and other marine life around the beach. It's also considered to be a good surfing beach when the wind is up.
Red Beach
Access is only by boat on a calm day; otherwise, the water is too choppy to access. On a calm day, the water is so flat it's like swimming in a lake.
Kayaking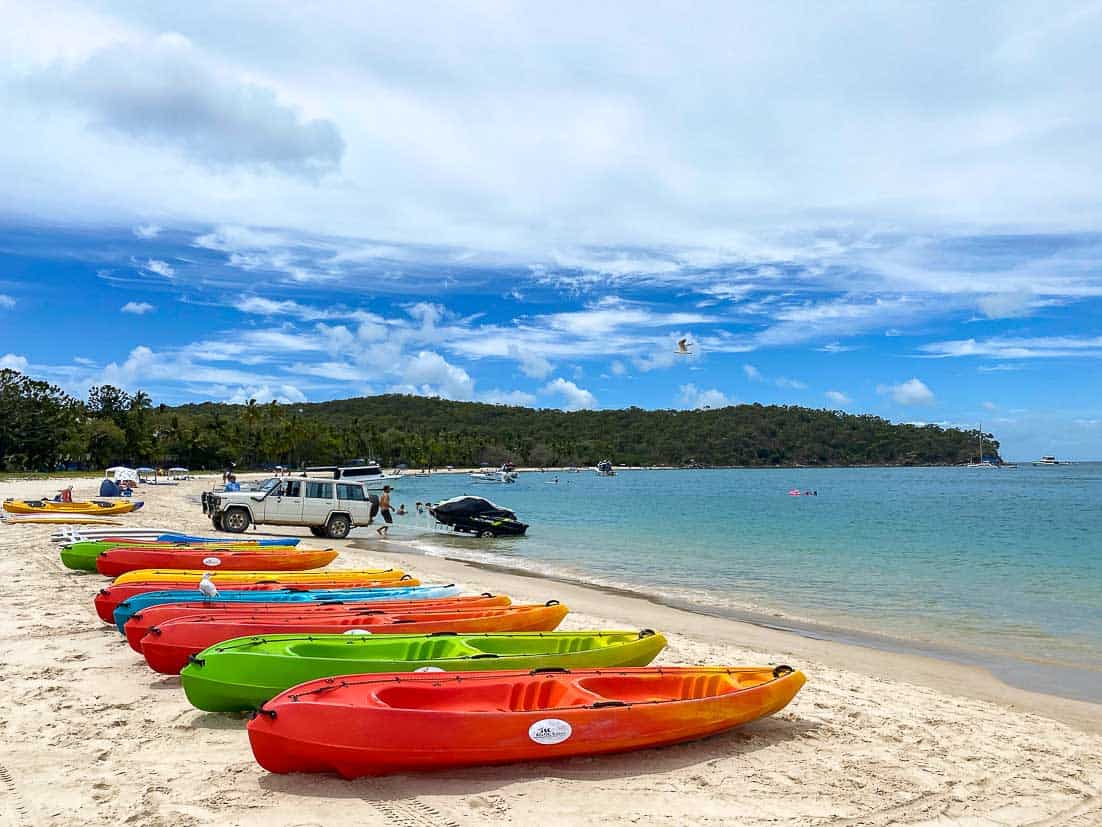 There is no better way to explore the stunning waters surrounding the island, then going off in a kayak. If you want to save some cash – bring your own (we have this inflatable kayak which packs down so compactly and even comes with its own pump and oars – highly recommend!) otherwise you can hire one while you're over there.
GKI hire single and double kayaks out from $20 per hour and KWS hire out kayaks from $20 for a single kayak and $25 for a double kayak for 1 hour. Kayak hire includes life jackets as well.
GKI also offers guided kayak tours where you can explore the island.
Stand Up Paddle Boarding
Another great alternative to kayaking is to explore the island on a stand up paddleboard (that's if you're not totally uncoordinated like me!). Both GKI and KWS hire SUPs from $20 per hour.
Jet Ski Tour
If you want to feel the wind in your hair as you zoom around the stunning Great Keppel Island, then a Jet Ski tour is a must for you. These tours go the full way around the entire 28kms of the island and are a great way to see its beauty.
Tours are run by KWS and are $280 for 2 people on one jet ski or $240 for 1 person on a jetski. Tours go for around 1 hour.
Great Keppel Island Diving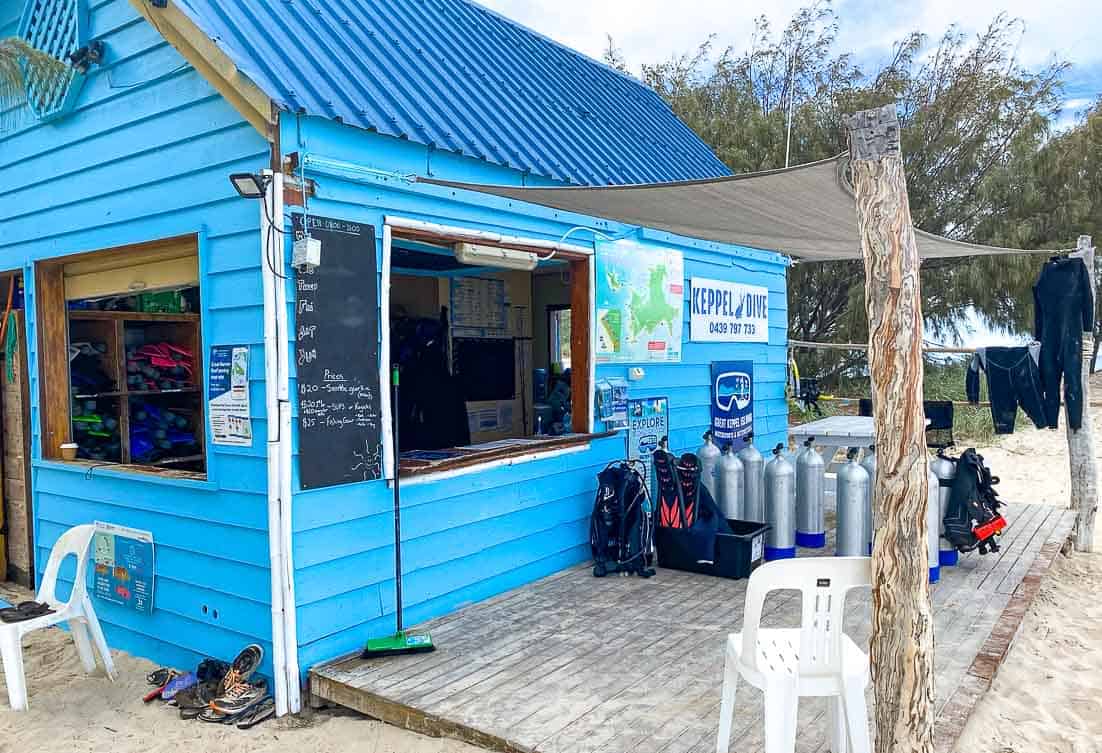 If you enjoy diving or have always dreamt of trying – perhaps now is the time? Keppel Dive is the only PADI dive resort on the island and can offer both beginners and experienced divers an underwater experience in the waters off the island.
For Great Keppel Island diving, a beginner dive course is $140 per person, while for experienced divers you can do a single dive for $75 per person, double dive for $120 per person or beach dives for $100 per person. All equipment is provided.
Great Keppel Island Walking Tracks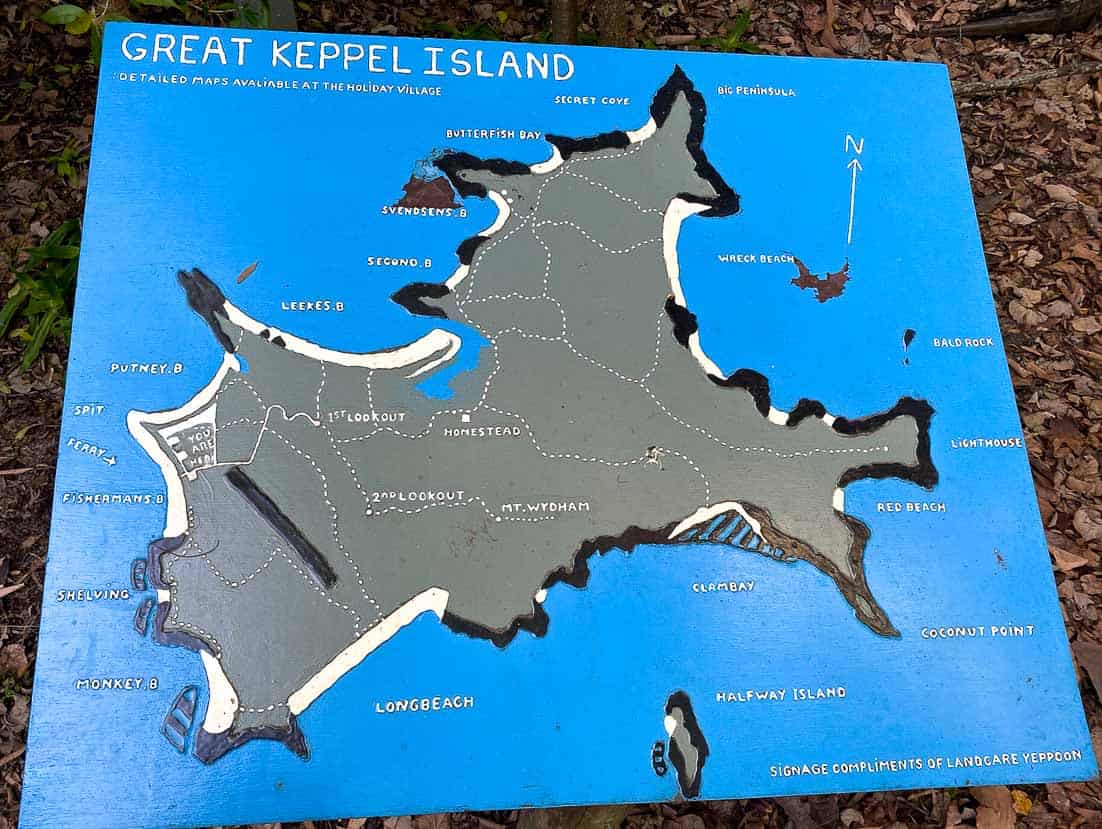 Apart from all the wonderful activities you can enjoy in the tropical water surrounding Great Keppel Island, there is plenty to see inland as well via the various bushwalking tracks. The bushwalking tracks are a great way to access the various beaches across the island and see the island's flora and fauna.
While walking through the tracks, keep your eye peeled for goanna and lizards. You'll no doubt see an array of birdlife. Great Keppel Island is home to more than 90 species of birds including sea eagles, brahminy kites, ospreys, pied oystercatchers, curlews, honeyeaters, rainbow bee-eaters, friarbirds, kookaburras and rainbow lorikeets.
There are 6 different bushwalking tracks on Great Keppel Island ranging from fairly easy 1-2 hour walks to pretty steep all day walks. However, you can do parts of these or combine different tracks to make your own walks as well.
Below we briefly go through each of the 6 formal walks – also click here to see a map of the different walks.
The Lookout Trail
This walk starts at Fisherman's Beach just behind the Keppel Watersports. It is a relatively easy (yet steep in spots) 2.6km return walk which takes around 1 hour. From the top, you'll be rewarded with some great views of Great Keppel Island.
To reach the lookout, from the Hideaway Boardwalk, take the back service road, where a track will wind through the bush to a bitumen road. From here turn left at the 1st Lookout sign.
From the lookout, you can continue to do a range of other walks.
Monkey Point (including Long Beach)
If you plan on spending some time at either Monkey or Long Beach, then this is one walk you'll no doubt be doing on your trip. This walk starts at the southern end of Fisherman's Beach and goes across the headland.
There is a track down to Shelving Beach – but it is not recommended to take this track as it's very steep. Rather continue and take the track down to Monkey Beach. After a swimming and snorkelling break at Monkey Beach, continue to Long Beach – making sure you stop at the historic aboriginal shell midden.
Have another swimming break at Long Beach and follow the track inland back down to Fisherman's Beach.
The entire return track is 3.8kms and takes around 2 hours (not including swimming breaks).
Leeke's Beach Circuit
While making the Lookout Trail from Fisherman's Beach, you can continue and do the Leeke's Beach Circuit. To reach the Leeke's Beach Circuit once you have reached the lookout, backtrack around 70ms where you will see a trail down through the bushland and onto Leeke's Beach.
Have a swimming break at the beach and then if you're keen, walk up to Leeke's Creek at the eastern end of the beach and see the mangroves.
When you're ready to return, walk to the other end of the beach and follow the tracks over the rocky outcrops to Putney Beach. There are two trails to choose from here – the first is the shorter yet steeper trail or keep walking and take the second trail that is longer but not steep. The other option is during low tide where you can walk around the headland via the sand.
This return trip is 3.8kms (including the Lookout Trail). Allow 2 hours (not including swimming breaks).
Mount Wyndham Circuit
Another option while doing the Lookout Trail or the Leeke's Beach Circuit is to add on and do the Mount Wyndham Circuit. This is a great option for those chasing spectacular 360 degree views across the island.
Once you've reached the lookout, continue for 320 metres when you come to a junction of the ridge trail and a descending road. Follow the ridge trail and past two additional lookouts; then you will continue to the summit. Once you reach the top, you will be rewarded with the most amazing views across the island. This is the highest point on the entire island.
From here you can go back the way you came from or continue down the eastern ridge trail towards Clam Bay. Once you reach a junction, you can go down to Claim Bay if you like a swimming break. Otherwise, turn left and make your way to the Old Homestead and Shearing Shed.
After the Old Homestead, you can continue on either down to Leeke's Beach or onwards to the first lookout and down to Fisherman's Beach.
This is a long walk taking around 3.5 to 4 hours to complete the circuit. You do also have a lot of options to make this longer by adding on the other tracks.
Clam Bay Trail
As mentioned above – if doing the Mount Wyndham Circuit you may like to add on the Clam Bay Trail before heading back. This is a long walk through at a total of 10.6 km return, so you will need plenty of water and daylight to complete this walk.
The descent down to Clam Bay is said to be quite steep, but the views are stunning.
The Lighthouse, Wreck Beach and Butterfish Bay
This is the longest and the most challenging out of all the hikes on Great Keppel Island. This trail takes in the various beaches on the northeast of the island and it is recommended that you allow an entire day to complete this hike.
Like most of the hikes, this one starts with hiking up the Lookout trail. Continue to the Old Homestead and along the road until you reach the second junction (past the Clam Bay Track). Once you reach the junction you can decide how you wish to proceed – either take the Lighthouse Trail (15.4km return ) or the Butterfish Bay Trail (13km return).
Turn left for the Lighthouse Trail, and take the one way track down to the Lighthouse near Red Beach. On your way back you can decide to take the first right and head down to Wreck Beach for a swim and snorkel. From here you can continue to Buttersfish Bay for another swim and snorkel before making your way back via Svendsen's Beach, towards the Old Homestead and then back to Fisherman's Beach.
If you decide to skip the Lighthouse Trail, continue straight at the second junction after the Old Homestead. From here you'll continue along past Svendsen's Beach (stop for a swim if you like) and then on to Butterfish Bay. You can then cross over to Wreck Beach if you like before heading back.
Old Homestead
As you'll note from above, there was mention of the Old Homestead. Now a heritage listed site, this was the old home of Lizzie Leek and her husband who lived here from 1922 to 1945 where they grazed sheep. The house was built in 1922 and is now a lovely old building to check out while on the island.
Aboriginal Midden
Aboriginal people have lived on the island for over 700 years and even more than 5000 years on the surrounding Keppel islands. You can see evidence of the aboriginal inhabitants through the middens which can be found around the island.
Middens are small mounds of shells that build up over hundreds and hundreds of years due to numerous meals of shellfish. The best preserved midden can be found at the western end of Long Beach.
Great Keppel Island Fishing Spots
If your family enjoys a bit of fishing, then there are plenty of great Great Keppel Island fishing spots to enjoy. Just be sure to only fish in the fishing zones as there are some zones where fishing is not allowed. Some of the best fishing spots are Fishermans, Putney and Leekes Beaches.
Apparently, Great Keppel Island is home to some of the best fishing on the east coast. Expect to catch flathead, whiting, queenfish, trevally and coral trout here.
If you didn't bring your fishing gear with you, don't worry as the guys at GKI will fix you up. For $25 they'll hire you all the gear you need for 24 hours including rod, reel, wader bag, pliers, knife, spare tackle, fishing zone map and fish ruler.
Great Keppel Island Accommodation
There are some great options for families to choose from in terms of accommodation Great Keppel Island offers. Read our full guide on where to stay on Great Keppel Island here, or check out our top picks below.
Great Keppel Island Hideaway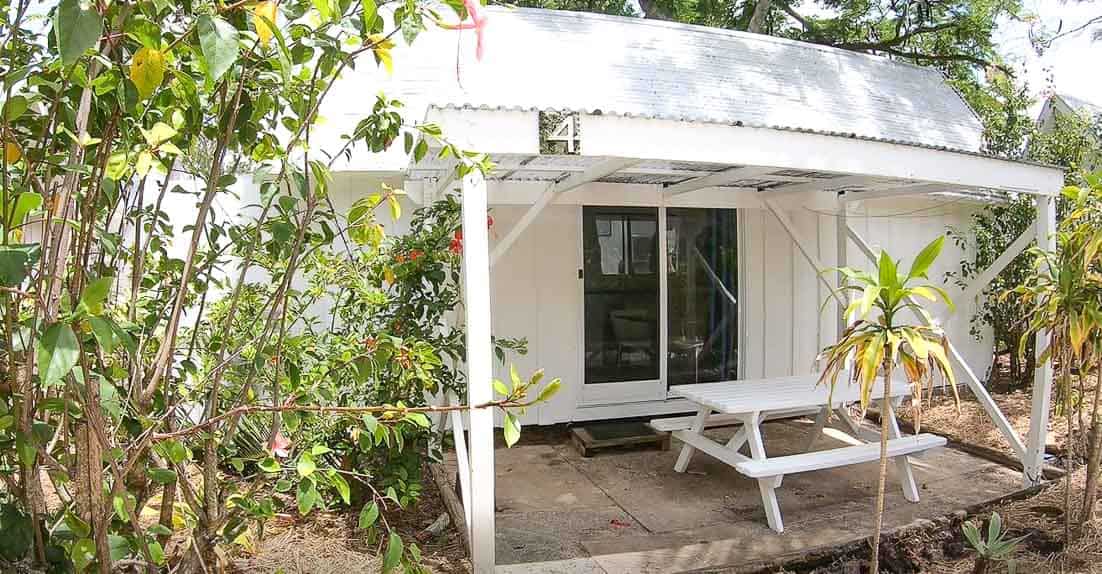 Great Keppel Island Hideaway is the largest resort on the island and is a great option for families. The resort offers a range of accommodation options from gorgeous beachfront cabins to motel style rooms and budget room options.
Here is a quick overview of the different accommodation options at Great Keppel Hideaway:
Island Cabins: Can accommodate from 4 to 6 guests and are fully self contained with a basic kitchenette, full size fridge, ensuite and AC. Some cabins are beachfront. Prices start from $200 per night.
Garden Rooms: These are motel style rooms with an ensuite, bar fridge, tea and coffee making facilities and AC. Can sleep up to 2 adults and 2 children. Prices start from $140 per night.
Family Rooms: These budget style rooms can accommodate up to 5 and come with AC and shared facilities, including a shared bathroom, kitchen and BBQ facilities. Prices start from $130 per night.
A Frame and Hideaway House: Both these houses can accommodate up to 6 guests and come completely self contained with a kitchen, dining, lounge, bathroom and outdoor BBQ area. Only Hideaway House has AC while the A Frame House has ceiling fans. Prices start from $275 per night.
Facilities at the Hideaway Great Keppel Island include a fully licenced restaurant with fabulous views across the beach. There is free wifi for guests staying at the Great Keppel resort (not in the rooms though).
Click here to read our full review on the Great Keppel Island Hideaway or click here to check availability and current pricing.
Great Keppel Island Holiday Village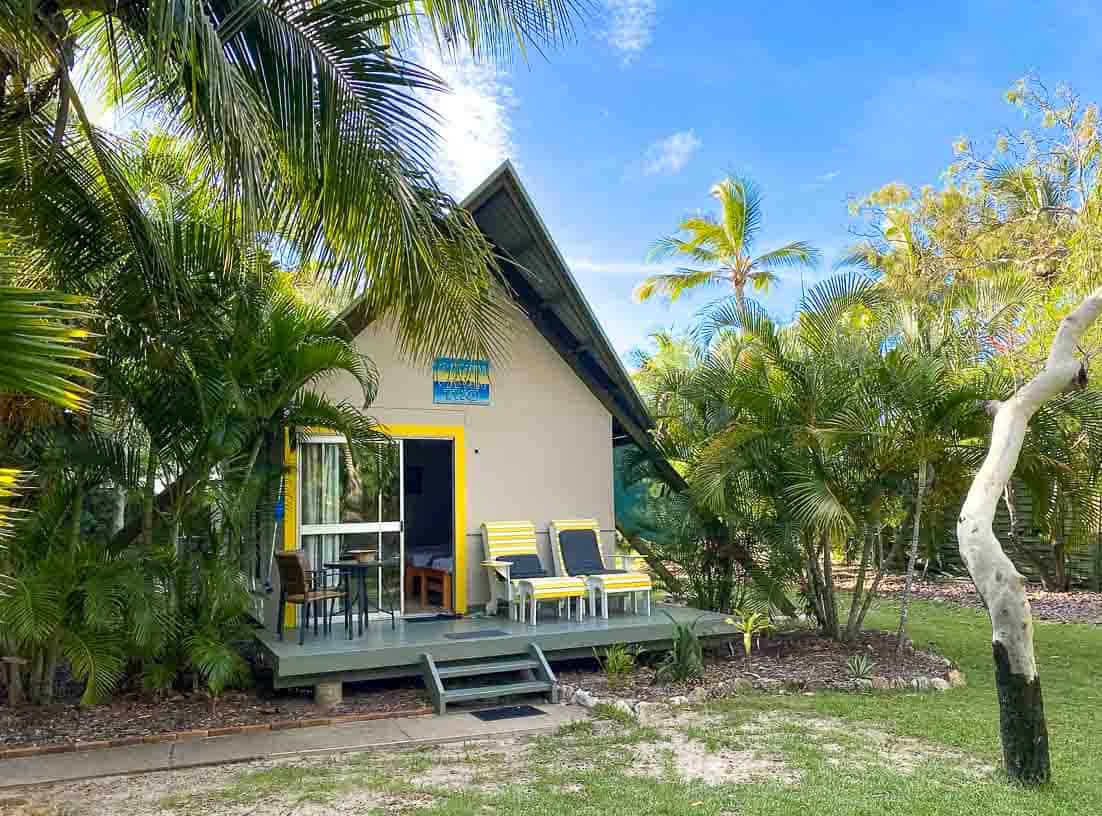 Right next door to Great Keppel Island Hideaway Resort is Great Keppel Island Holiday Village. The Holiday Village offers laid back, basic style accommodation in a stunning setting on Great Keppel Island.
Accommodation at Great Keppel Holiday Village is varied from cabins with ensuites, to family homes and even campsites. Here is a quick overview of the different accommodation options:
Keppel House: This is perfect for families as across it's two stories it can accommodate up to 6 people in a queen bed and 2 single beds. This

Great Keppel Island holiday house

is fully self contained with a kitchen, two bathrooms, verandas and more. Prices start at $210 per night.

Dolphin Cottage: Another great option for families being able to accommodate 5 people in 1 queen, a double and a single bed across two bedrooms. The cottage is fully self contained. Prices start at $170 per night.
Cabins: These

Great Keppel Island cabins

are great for those on a budget; they can accommodate up to 4 guests in a 1 queen and two single beds. The cabins also provide a fridge, fan, private bathroom, lounge and indoor and outdoor tables and chairs. Prices start at $160 per night.

Glamping Tents: No need to bring your own gear, because these tents are already set up for you. These tents are suitable for two people in either a double bed or two singles and include linen, lights, fans and a small outdoor deck. Prices start at $120 per night.
Twin Rooms: For a dorm style room, there are twin rooms which come with two single beds, lamps, fans and outdoor chairs on the patio. Prices start at $100 per night.
Multi Share Rooms: These rooms come with a double bed and two singles. Prices start at $40 per night.
Camping Sites: If you bring your own tent, you can even camp here at one of the six different sites available. Prices start at $25 per night.
There are some great facilities at the Great Keppel Island Village designed to enable you to fully self cater as much or as little as you like. There is a fully equipped communal kitchen and BBQ area available, including everything you could possibly need to cook your meals while on the island.
Click here to check availability and current pricing.
Airbnb Great Keppel Island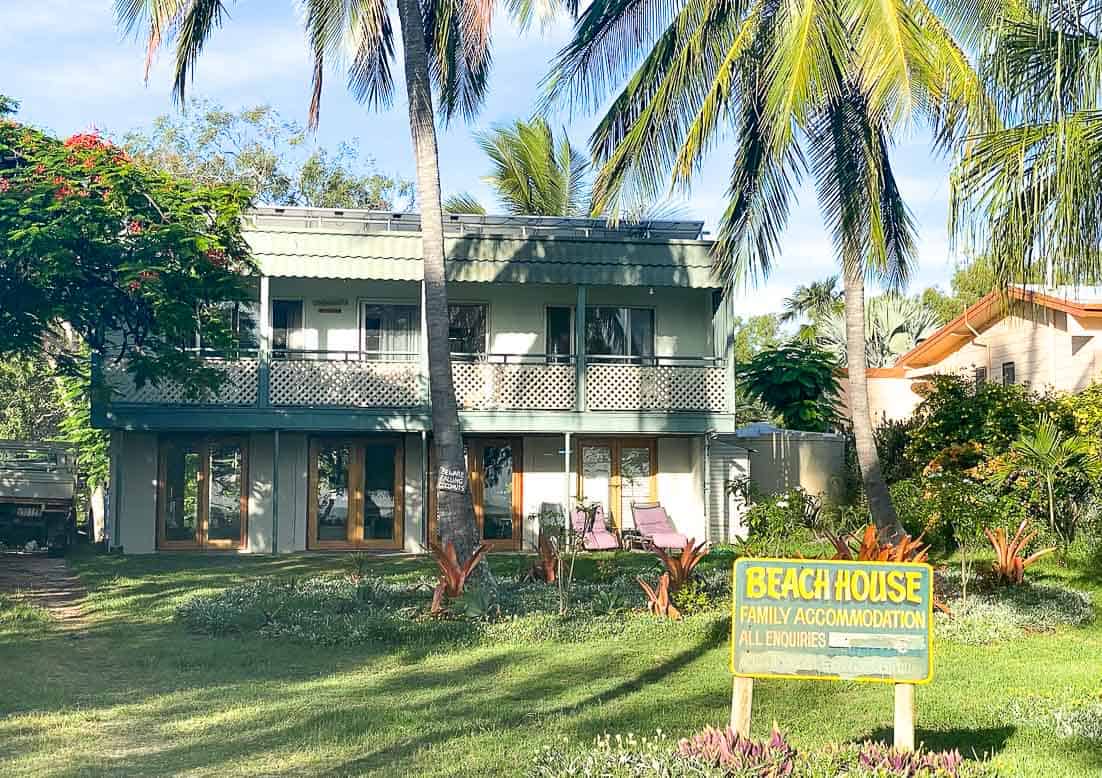 Another excellent option to consider is this holiday house Airbnb Great Keppel Island option. This is a spacious three bedroom home which can accommodate up to 8 people and located just metres from Fishermans Beach (right by the other two previous resorts).
This is a two storey home which has three bedrooms. Each of the bedrooms has a queen bed and in the living room is a set of bunk beds – so this place is great for a big family or even a group of friends travelling together.
The house has a large fully equipped kitchen to prepare all your own meals and the living room opens up to a large deck with great views across Fisherman Beach.
Downstairs there is plenty of space for entertaining the kids, with a pool table, lounge area and an outdoor BBQ area. The house also comes with two bathrooms, a washing machine and even has a private mooring where you can keep your boat!
This is also the only place on the entire island, which is dog friendly!
Prices start at $275 per night.
Click here to check availability and current pricing.
Great Keppel Island Camping
We mentioned above that there are even camping Great Keppel Island options available at the Great Keppel Island Holiday Village. However, if you prefer to absolutely get away from it all have your very own slice of paradise, as well as camping on Great Keppel Island, you can camp at the various islands surrounding the island – with pretty much no one else around.
What's even better than camping on your very own tropical island, is that the other Keppel Islands are all part of the Keppel Bay Islands National Park, so they come with cheap National Park camping rates too!
If this sounds like something you want to know more about – then click here to read our guide we wrote on our sister site Queensland Camping, all about camping on the Keppel Islands.
Great Keppel Island Restaurants
Being a small island, there aren't many places when it comes to Great Keppel Island restaurants and in fact, if your accommodation has catering facilities, you'll find it cheaper of course to prepare your own meals. However, you will need to bring all your food with you as there are no supermarkets on the island.
If you decide to treat the family to a meal out, here are the options available for Great Keppel Island food.
Tropical Vibes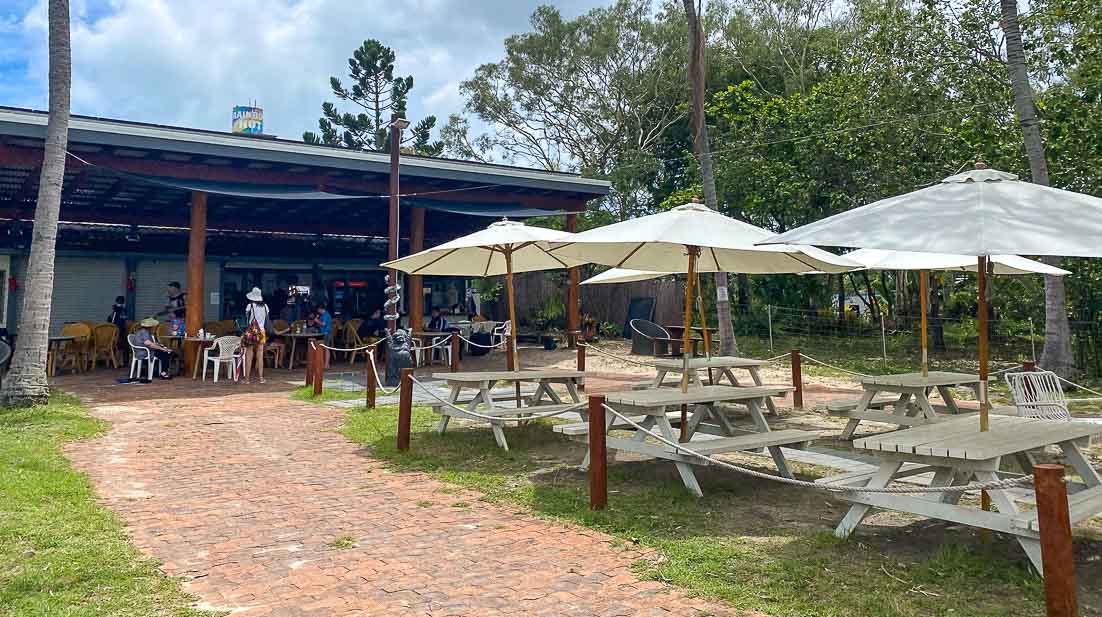 This cafe, licensed bar come basic convenience store sells a range of great food options and things such as beachwear and souvenirs. It's a great relaxed place to come for a beer, coffee or a burger. There is a great outdoor casual dining setting, just a short walk from the beach and has plenty of space for the kids to run amuck.
Tropical Vibes is located on the beachfront at Fisherman's Beach and is open daily from 9 am to 4 pm.
Great Keppel Island Hideaway Bar & Bistro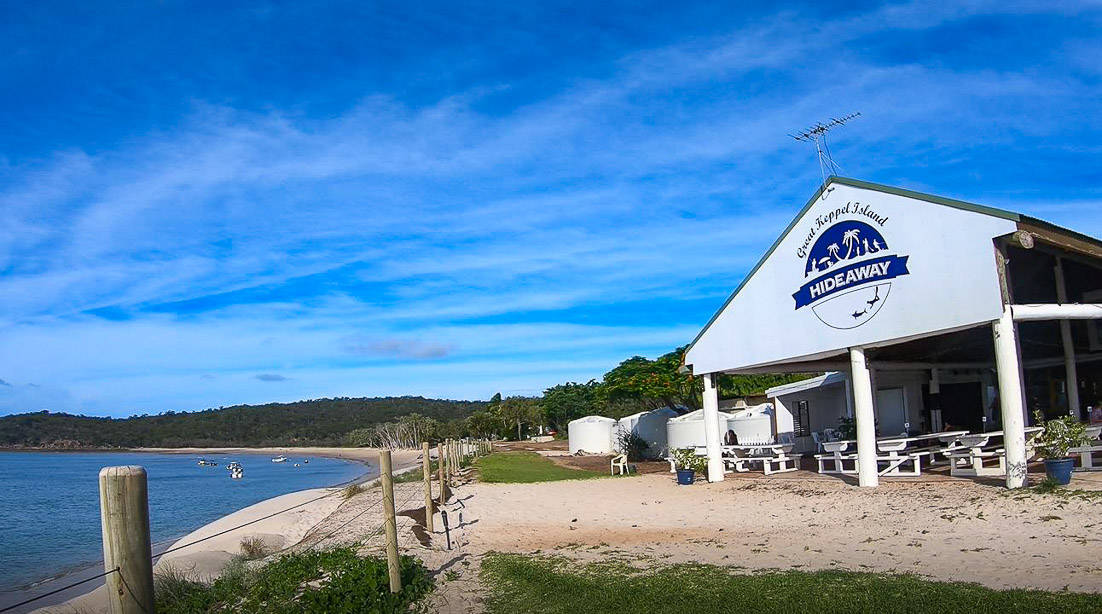 Located on Putney Beach is Great Keppel Island Hideaway Bar & Bistro. The laid back bistro offers a simple setting with fantastic views across to Middle Island.
Great Keppel Island Hideaway Bar & Bistro is open daily for breakfast (7.30 am to 10.30 am), lunch (11.30 am to 2.30 pm) and dinner (5.30 pm to 8 pm).
We found the food reasonably priced here and great serving sizes. For families who are staying here and plan to eat here for most of their meals, you're best to purchase a meal plan which is $75 per adult per night – kids eat free from the kid's menu.
Great Keppel Island Pizza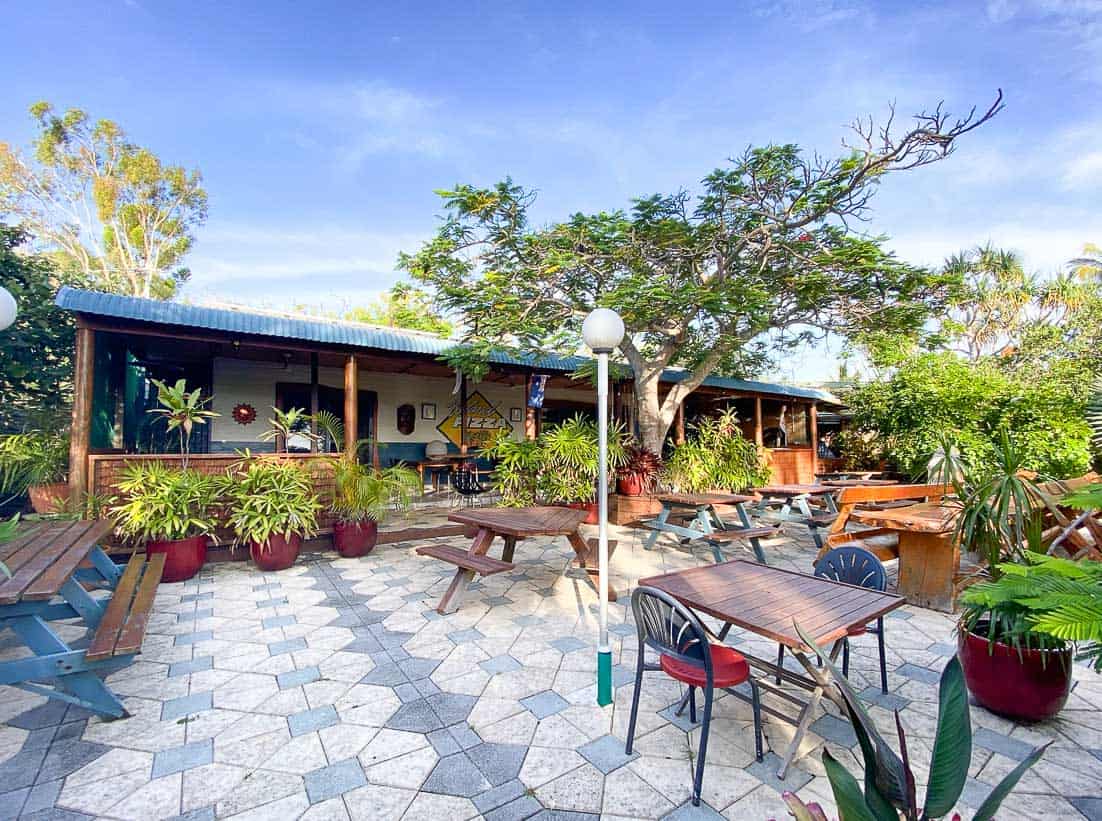 Located right by the Great Keppel Island Holiday Village, Great Keppel Island Pizza has been run by the same people since 1993. We didn't eat here during our stay and I've heard mixed reviews about dining here – so if you go – let me know your thoughts.
How to Get to Great Keppel Island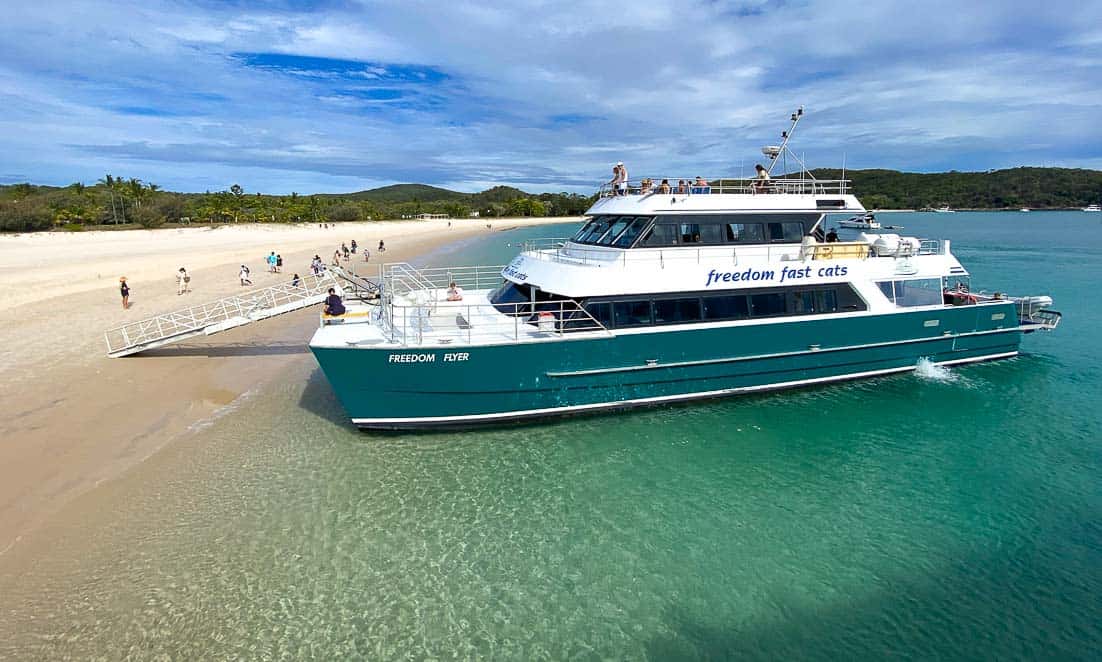 It's super easy to get to Greak Keppel Island with two ferry companies offering multiple services each day from the mainland across to the island. It only takes 30 minutes to get across and a return journey for a family only costs $135.
To find out exactly everything you need to know about the Keppel Island ferry times, where the boats depart, baggage allowances, where you can leave your car etc etc – click here and read our detailed guide on catching the Great Keppel Island ferry.
Great Keppel Island Day Trips
If you're short on time – don't panic as you can still explore this stunning island on a Great Keppel Island day trip.
Keppel Konnections offer one day Great Keppel Island tours which include return ferry transfers and lunch including a glass of beer, wine or softdrink. These tours are $85 per adult and $50 per child (up to 14).
Given ferry transfers for a family are just $135, you're probably better off just purchasing island transfers yourself and making your own arrangements for lunch. I recommend you get yourself a beach cart, pack it with a beach shelter, floaties, eksi and chairs and you're set for a great day!
___________________________________________________________________
Hopefully, you found this guide to things to do on Great Keppel Island family helpful and it has inspired you to take your kids for a visit. You might also be interested in our guides on things to do in Yeppoon with kids here, or where to stay with kids in Yeppoon here.
Want to keep this handy for later? Click on one of the images below and save it to Pinterest.