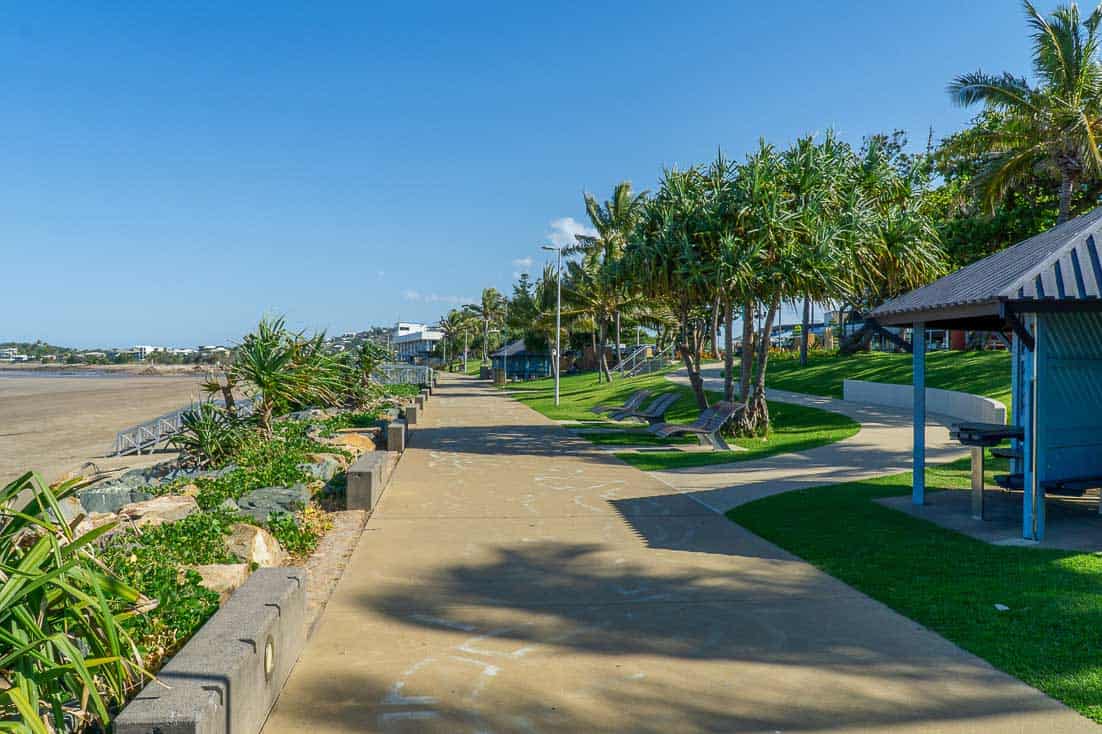 Located along the Capricorn Coast, just east of Rockhampton, Yeppoon is a hidden oasis and a great spot for a family holiday. There are plenty of things to do in Yeppoon with kids, including swimming in the beaches, exploring the local national parks, sailing around some of Queensland's most stunning islands and loads more.
If you're planning your Yeppoon holidays and wondering exactly what to do in Yeppoon, then, this is the perfect guide for you. In this Yeppoon things to do guide, we cover all the awesome Yeppoon attractions as well as provide suggestions for the best family friendly accommodation Yeppoon offers.
So let's get into it and check out all the awesome things to do Yeppoon, QLD offers.
Are you planning a trip to Queensland? Have any questions? Join our Queensland Travel Planning Facebook group here now! It's the perfect place to ask any questions and to be inspired!
This post may contain compensated links. Please refer to my disclaimer here for more information.
Yeppoon Things to do
Map
Below is a map of all the places to visit and activities in Yeppoon covered in this guide. This map will help you plan your itinerary and decide which order to do the Yeppoon activities you decide to do.
Best
Things to do in Yeppoon with Kids
In no particular order, below is a list of some of the best things to do in Yeppoon, Qld. To help with your planning, we've also included information about location, opening hours and entry prices where applicable (accurate at the time of publishing)
Yeppoon Lagoon
For families, the number one thing to do around Yeppoon is to swim in the Yeppoon Lagoon. The lagoon is a huge resort style infinity swimming pool with fantastic views across the ocean and out to the Keppel Islands.
The lagoon has varying depths, so it is great for kids of all ages and all different swimming abilities. There is also a shaded, shallow wading section which is perfect for babies and toddlers.
I really love the Yeppoon Lagoon. I have been to quite a few of these manmade lagoons now and I think the design of the Yeppoon one is spot on. It has loads of points where parents can sit close to the water to supervise little ones and overall just has a nice feel to it. It also has a cafe at the lagoon edge so perfect for grabbing a coffee or something to eat.
As well as the lagoon, there is a huge playground nearby, skate park and of course the beach. There are also plenty of picnic benches and BBQ facilities too. You could easily spend a good part of the day here.
The lagoon is open until late in the evening each day, so it's also the perfect place to enjoy a sunset.
Address: 3 Lagoon Place, Yeppoon
Opening Hours: Daily 6 am to 9 pm
Entry Prices: Free
Keppel Kraken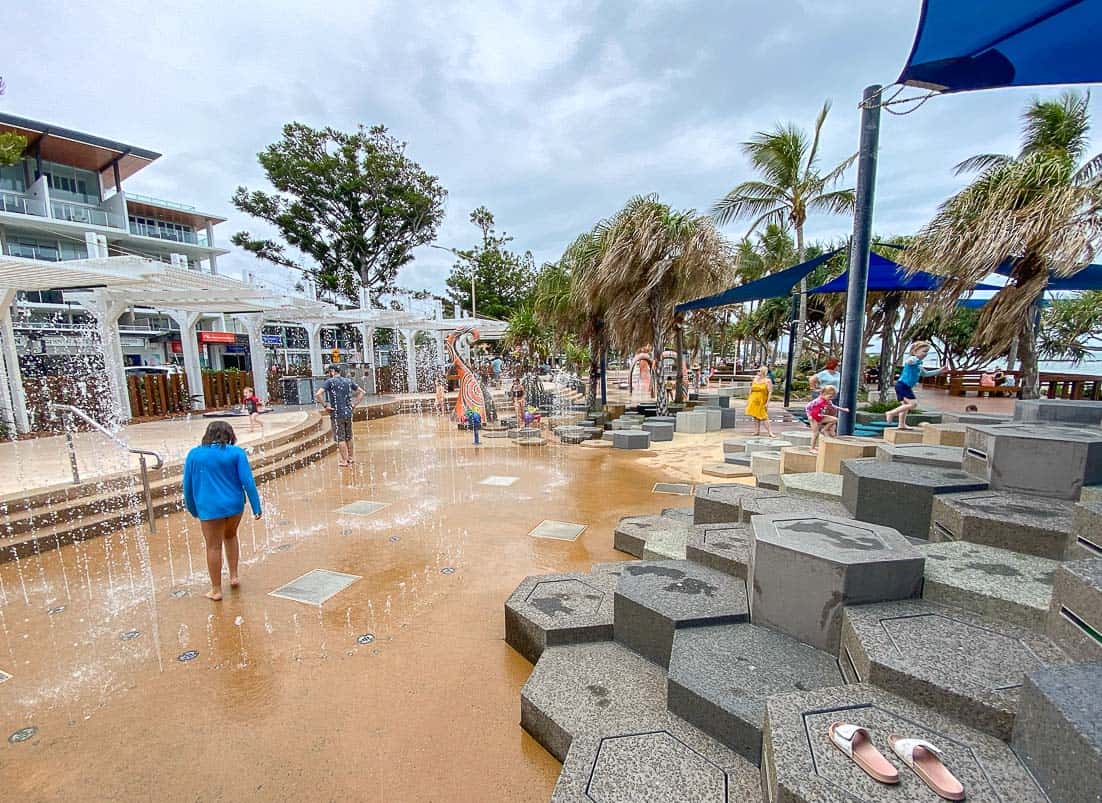 Another one of the tourist attractions in Yeppoon that the kids will love is Keppel Kraken. Keppel Kraken is a 500m walk from the Lagoon and is a brilliant place for families with little ones. Basically, this is a zero depth water playground where the kids can run around. Surrounding the water park, there is also various other playground equipment which is suited to younger children.
The area has stunning views across to the islands as well as plenty of picnic tables and seating areas for families to enjoy a bite to eat. There is a fish and chip shop across the road, which we highly recommend!
Address: Anzac Parade
Opening: Daily (except Tuesdays, although this doesn't apply during school holidays) from 9 am to 7 pm
Price: Free
Shell World Yeppoon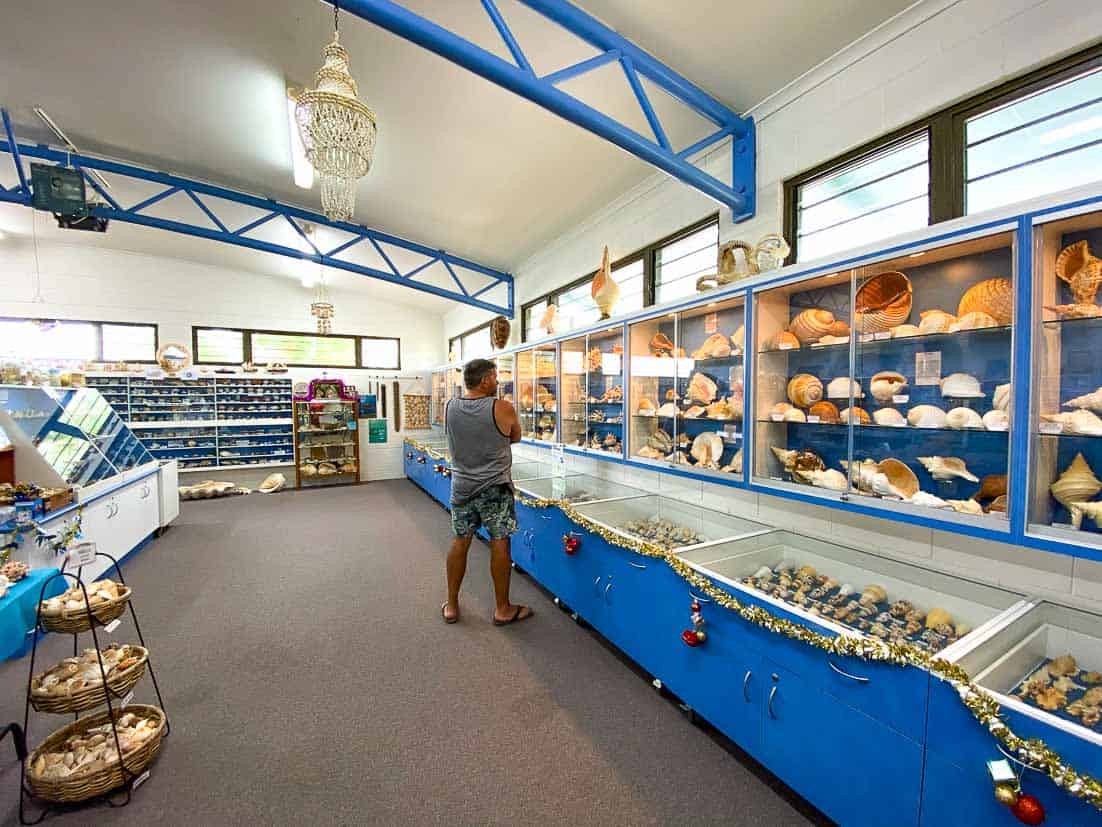 If you're looking for things to do in Yeppoon area, then drop into Shell World – a small museum with more than 20,000 shells on display. The shells on display come from all over the world belonging to molluscs from the sea, land as well as fossils. Other items on display include marine life, coral as well as some lovely shell craft.
It's easy to explore the museum with all items on display clearly labelled, so you'll know exactly what you are looking at. I have to say when we first walked in here; I thought we'd be in and out in 5 minutes. But Myla really loved it and wanted to look at pretty much every single shell. So well worth a look.
Address: 1 Scenic Highway Yeppoon – inside the tourist information centre.
Opening Hours: Daily from 9 am to 5 pm
Entry Price: Gold coin donation
Browse the Local Markets
If you're the sort of person that loves browsing the local markets, then be sure to head on down to the Yeppoon Community Market which is on each Saturday from 6 am to 10 am. It's the perfect place to come to buy some local produce and a range of locally made arts and crafts.
Location: Stevenson Park / Showgrounds Morris Street
Opening Hours: Saturdays from 6 am to 10 am
Another great local market is the Fig Tree Markets which are held on the first Sunday of each month from 8 am to 12 pm in Merv Anderson Park. Again it's the perfect place to come for some delicious local treats, produce as well as being a great place to pick up some souvenirs.
Location: Merv Anderson Park – 1 Scenic Highway
Opening Hours: First Sunday of each month from 8 am to 12 pm
Street Art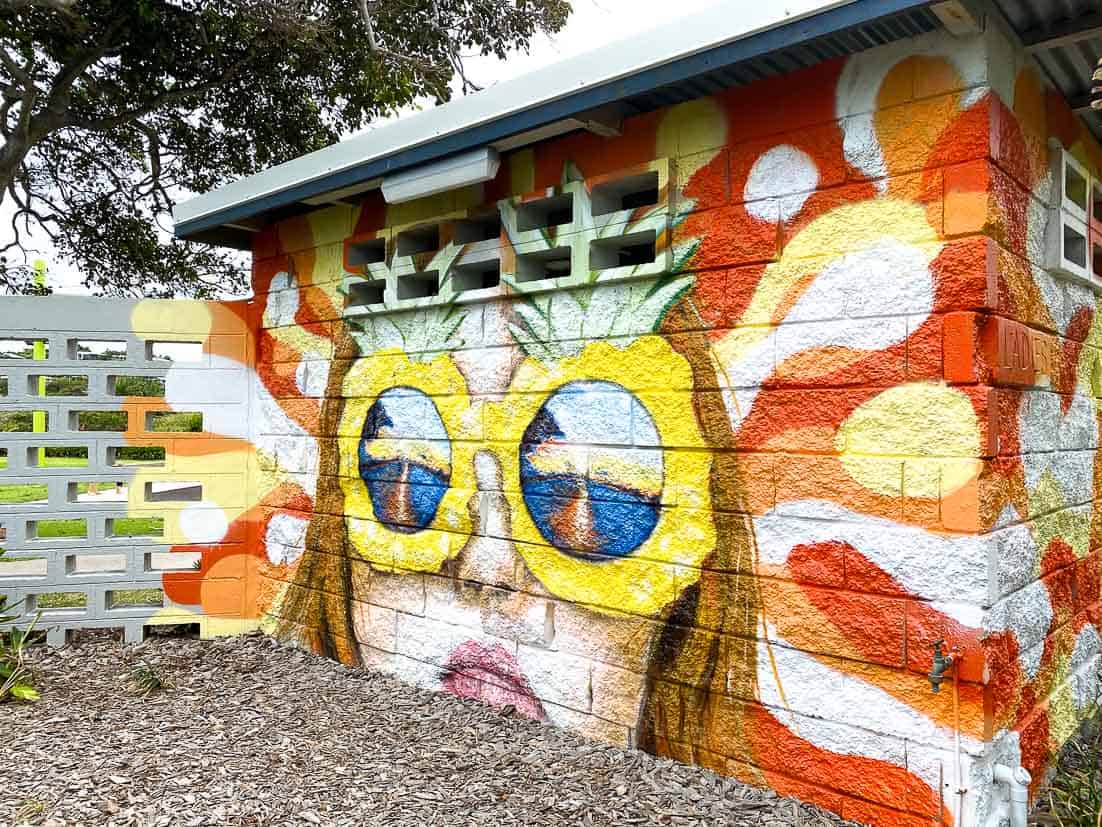 For street art lovers, one of the fun things to do in Yeppoon is to stroll the streets looking for the bright and colourful murals around the place. We love checking out street art when we visit a new place and luckily for us Yeppoon has some great vibrant art.
The street art is scattered all about town – you can either grab a map and go on a DIY street art tour, or simply keep your eyes peeled as you visit the local attractions.
If you're into street art, here are some of our favourites:
Yeppoon Lagoon

: While you're at the lagoon, you can't miss the pink turtles.

Yeppoon Skate Park

: See the fun and vibrant faces on the toilet block (pictured above).

Barry Street Wall

: Here you'll find a huge octopus attempting to smash through the walls creating an awesome 3D like image.

Keppel Bay Sailing Club

: Here you'll find a few different vintage inspired murals including an old kombi, stand up paddle boarder and a woman in her retro bathers.

Yeppoon Surf Life Saving Club

: See a range of colourful images representing the lifesaving community.

Queen Street Multi Storey Car Park

: On the corner of Hill and Queen Street, you won't mind wandering through this car park in search of your vehicle, as behind every corner is a new bright, colourful mural on the wall. Some of the favourites include the little dog being pushed in a child's stroller, local musical duo Busby Marou, classic cars, local birdlife and more.

Chapter Laneway

: In Hill Street, you'll find an amphitheatre-style seating underneath a staircase that overlooks some of the hidden alleyway street art.

Pie Alley

: Just off Normanby Street, take a stroll down pie alley and you'll see a few different pieces of artwork including a tribute to the history of Pie Alley which was once home to the town bakery as well as other vibrant pieces.

Livingstone Shire Library

: On the side of the library at John Street, see the huge face of Groucho Marx, which also has several Marx quotes.

Two Sisters Coffee Bar

: See the gorgeous flamingos under the heading "Another day in Paradise" as well as the set of wings at the back of the coffee shop.

Emu Park Main Beach Bathing Pavilion

: See the quirky characters representing the halcyon days of beach bathing.

Emu Park Post Office

: Vibrant and colourful cockatoos.

Emu Park Skate Park

: Skating tribute.
Enjoy one of the Many Yeppoon Beaches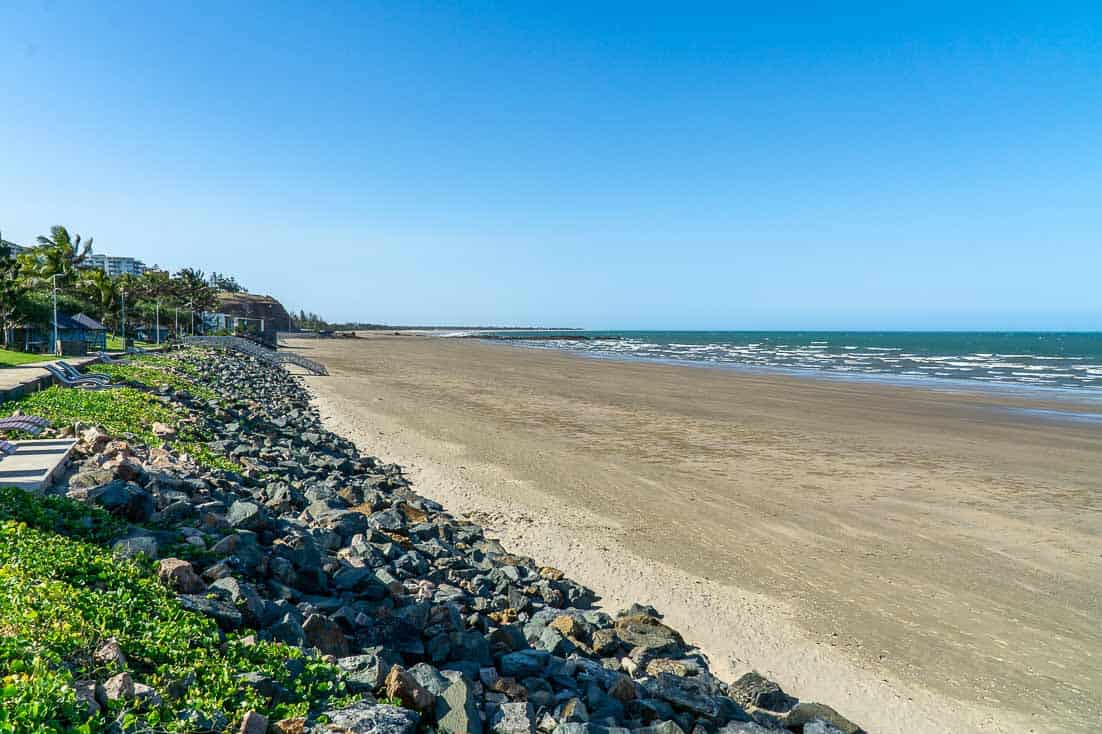 Of course, when it comes to what to do in Yeppoon, Qld, spending a day or two at the beach should be high on the list. In fact, there are so many lovely beaches in Yeppoon, that your entire holiday could be spent just visiting a different one every day!
Here is a brief overview of some of the more popular Yeppoon beaches:
Farnborough Beach:

Take your 4WD down to Farnborough Beach – entry is at Bangalee. At 17kms long, this is one of the longest beaches in the region.

Yeppoon Main Beach (pictured above)

: This is one of the most convenient beaches to visit with the lagoon and water park along its shores as well as plenty of places to grab a bite to eat.

Lammermoor Beach

: With over 2 kilometres of beach, Lammermoor Beach is one of the favourite beaches in the area.

Kemp Beach

: If you take the Bluff Point Track to the Turtle Lookout on the way back stop at Kemp Beach to cool off.

Mulambin Beach

: If you're looking for an untouched location, then this is the perfect beach.

Kinka Beach

: Kinka Beach is a family favourite thanks to the wide open beaches and the calm, gentle waters.

Emu Park Main Beach

: A great beach for swimming, surfing as well as fishing off the rocks at either end.
Wreck Point Lookout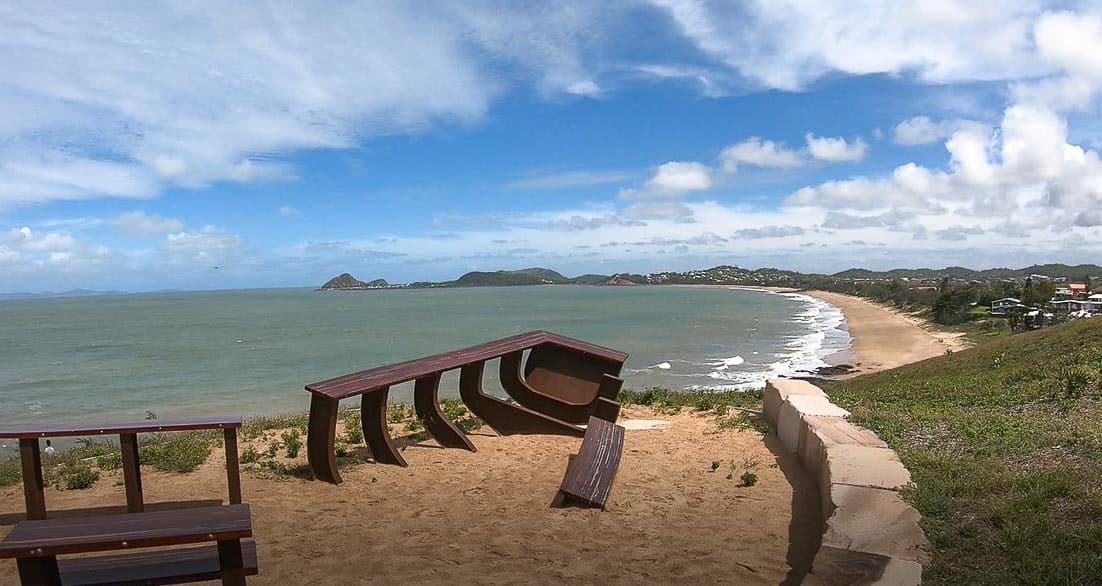 In terms of what to see in Yeppoon, I recommend you stop in at Wreck Point. From the top of Wreck Point, you'll enjoy 360 degree panoramic views across the Capricorn Coast including out to the Keppel Bay Islands. As well as awesome views you'll find a short scenic trail and an interpretive panel where you'll learn about the shipwreck which was found here.
At this very point in 1848, a 62 ton transport schooner named Selina was found waterlogged and without any crew on board. Some 15 months prior the ship had left Pine River, north of Brisbane for Sydney, but wasn't seen again until it was found here. Unfortunately, the crew were never seen again and it is assumed the ship had been in a terrible storm and capsized, before righting itself and making its way to the Capricorn Coast.
Location: Matthew Flinders Drive, Cooee Bay
Sail Capricornia
One of the best ways to explore the stunning calm waters around Yeppoon and the Keppel Islands is via a cruise. The guys at Sail Capricornia offer various tour options including a day trip or a sunset option.
The full day tour will have you snorkelling and swimming around coral reefs and some of the Keppel Islands' gorgeous secluded beaches. While the sunset cruise will have you enjoying a wonderful sailing experience as you enjoy a glass of wine while watching the sunset across the islands.
Whatever cruise you choose, you're sure to have a fabulous time.
Location: Keppel Bay Marina, Rosslyn Bay
Price: Day cruise: $130 per adult and $85 per child | Sunset Cruise $55 per person
Double Head Track in Capricorn Coast National Park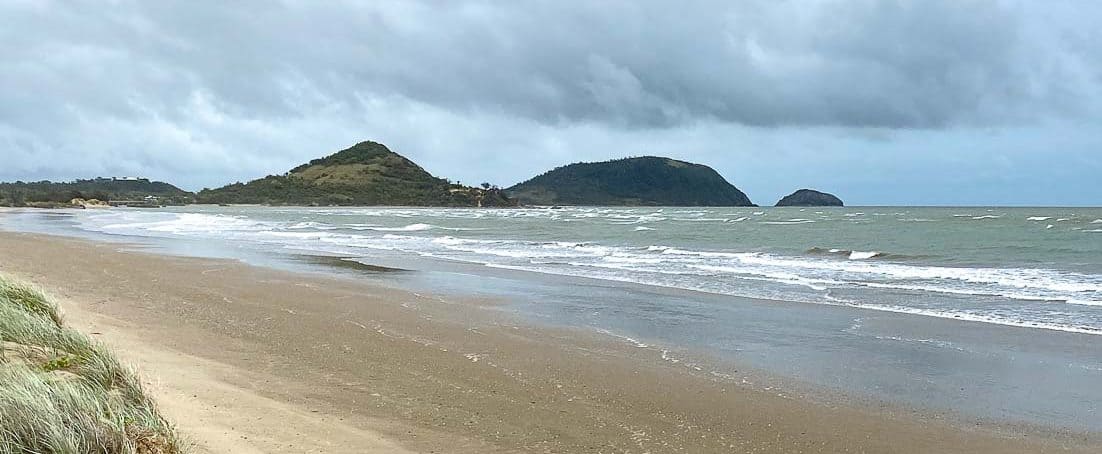 Located in the Double Head Track section of the Capricorn Coast National Park, Double Head Track is a 700m return walk which takes around 40 minutes. It is a steep track which takes you to two lookouts – Fan Rock and Rosslyn Bay. From Fan Rock, you'll enjoy views of the Keppel Bay Islands and from Rosslyn Bay, you'll have excellent views north to Yeppoon and the Byfield Ranges.
The start of the Double Head Track is from the small car park off Shoreline Close, near Rosslyn Bay Marina.
Location: Rosslyn Bay Marina
Bluff Point Track in Capricorn Coast National Park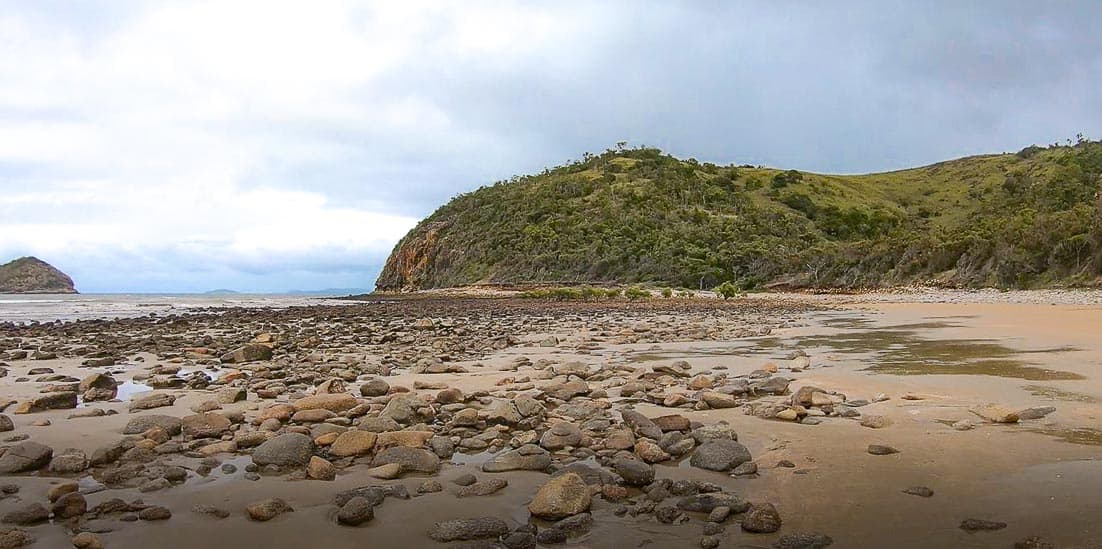 A popular walking track in Yeppoon is the Bluff Point Track in the Bluff Point section of the Capricorn Coast National Park. The area is a rugged headland and is in fact the largest trachyte plug on the Capricorn Coast.
The Bluff Point Track is a 2.3km return and takes around 1.5 hours to complete. At the point, you'll enjoy panoramic views of the Capricorn coastline as well as right across to the Keppel Bay Islands. It is a steep 600m climb to Turtle Lookout but well worth it as you'll most likely spot the turtles and dolphins swimming in the waters below. From here it's just a short walk to the Ritamata Outlook where you'll have more great views of the Capricorn Coast.
You'll see that there are two entrances for the track. If you want a gentle, but longer climb (2.3km circuit), it is recommended to start the track from the furthest entrance from the beach. For a shorter (600m one way) but steeper climb, take the entrance closest to the beach.
During your walk look out for birds such as kookaburras, bush turkeys and the yellow breasted sunbirds as well as various lizards.
If you're keen, bring a picnic to enjoy at the top. Then when you walk back down, stop off at Kemp Beach for a swim. During low tide, Kemp Beach is a great place for exploring the various marine life in the small rock pools.
My tip is to take loads and loads of super strong mozzie repellent as the mosquitos are fierce here!
The entrance to the Bluff Point Walking Track is located at the southern end of Kemp Beach.
Location: Scenic Highway, Rosslyn.
Emu Park Anzac Court and Memorial Walk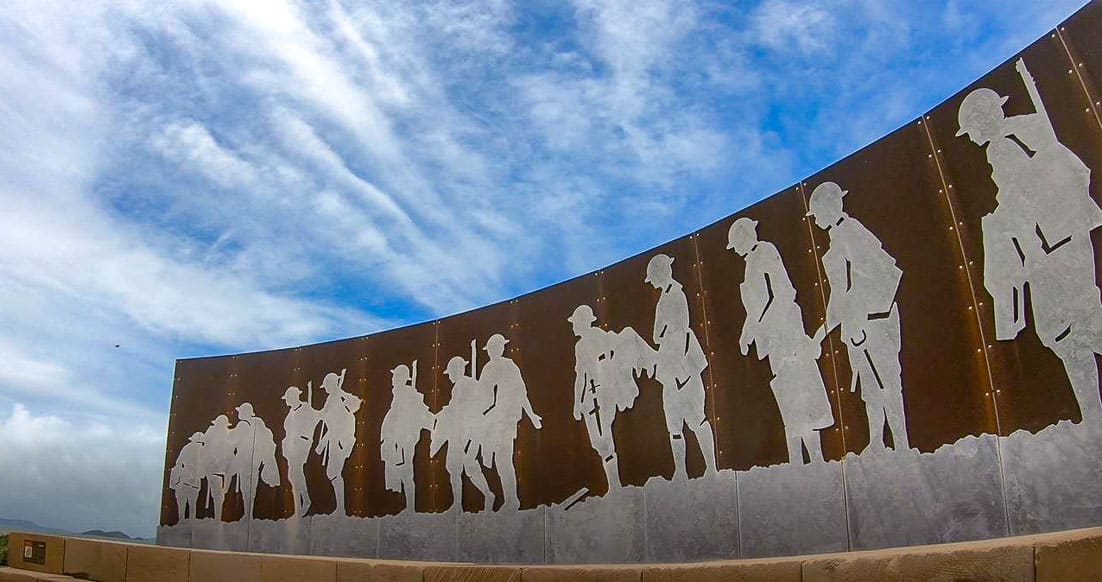 Just a 20 minute drive south of Yeppoon is the sleepy town of Emu Park. As well as a fantastic beach and some great little shops and cafes, one of the main attractions here is the Anzac Court and Memorial Walk. The area has been specifically designed as a memorial and gathering place to recognise local soldiers.
This memorial wraps around the coast, providing some great views. In the courtyard is the brilliant curved pictorial screen featuring the silhouettes of Australian soldiers. From here the path meanders along the rugged foreshore past more artwork – "The Spirit – Gallipoli Landing 1915" which has been erected in such a way so that the horizon in the painting lines up with the Keppel Bay horizon.
The path continues along the foreshore, up to the Gatehouse. Here you will find 26 floor to ceiling WW1 storyboards where you can read stories about the lives of local soldiers.
Keep walking past the Gatehouse onto the Singing Ship – see below.
Location: 1 Emu Street, Emu park
Singing Ship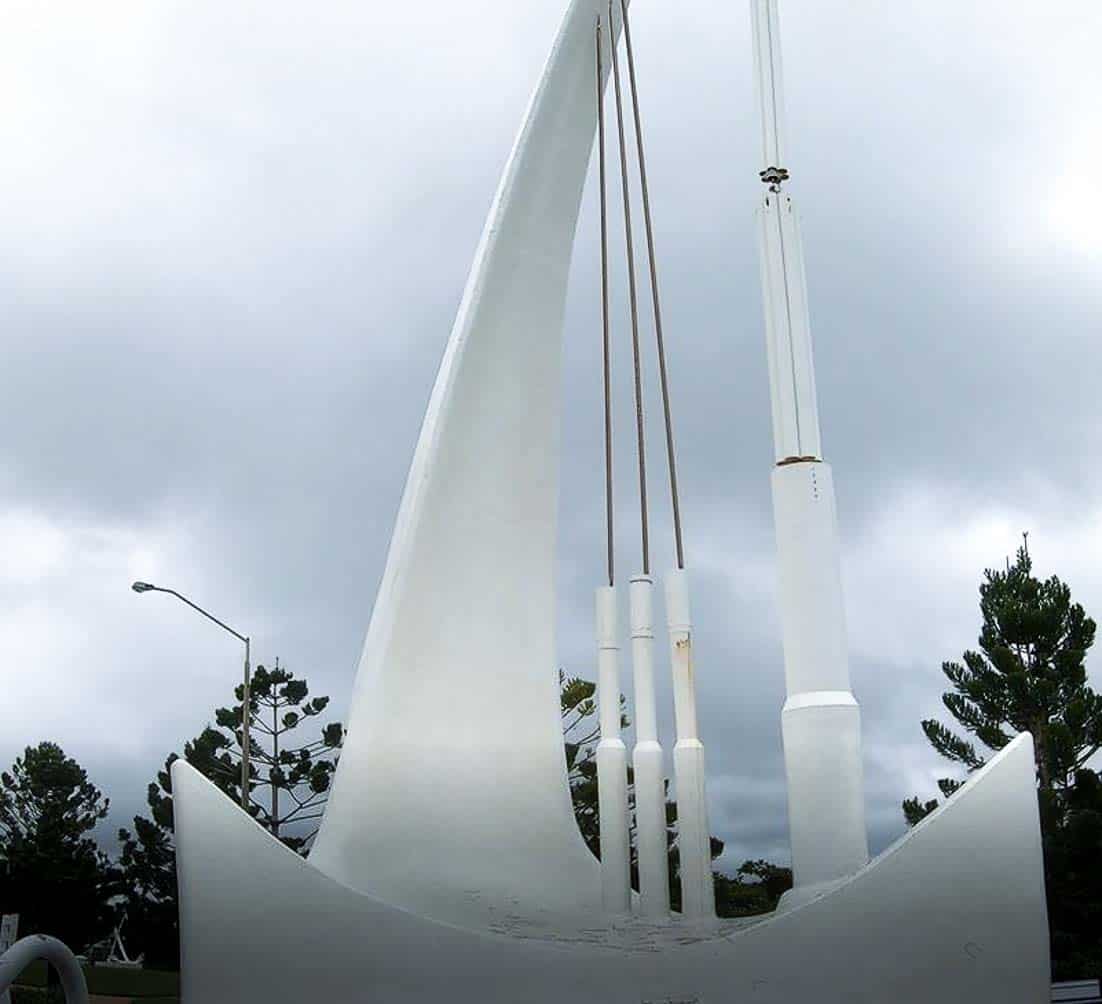 Just past the Anzac Memorial Gatehouse, follow the path which will take you to the Singing Ship. The monument is not part of the Anzac memorial; rather it is here because, in 1770, Captian James Cook became the first European to chart Keppel Bay.
The monument has a sail, mast and rigging and due to the integrated tubes, the monument produces notes when a breeze comes through. To ensure you get to hear the monument in full voice, be sure to visit on a windy day. The day we visited was crazy windy, so we got to hear the ship perfectly.
Location: Tennent Memorial Drive, Emu Park
Koorana Crocodile Farm
Opened in 1981, Koorana Crocodile Farm provides a home for rogue crocodiles that were once a danger to people. If it weren't for the farm owners, many of these crocodiles would have been faced with death. Over 20 years, the owners saved some 100 crocodiles that had turned up in public recreation and residential areas.
Today the farm is home to over 500 crocodiles. Visitors can come and see the crocodiles as well as learn more about these amazing creatures. To visit the farm, you must join one of the 90 minutes tours on at 10 am and 1 pm daily.
Koorana Crocodile Farm also has a restaurant on site which is open from 12 pm to 1 pm.
Kooranna Crocodile Farm is just south of Emu Park, so it's worth combining the two areas into a day trip from Yeppoon.
Address: 65 Savages Road, Coowonga
Opening Hours: Daily from 10 am to 3 pm
Entry Price: $30 Adult | $13 Child (3-16)
Capricorn Caves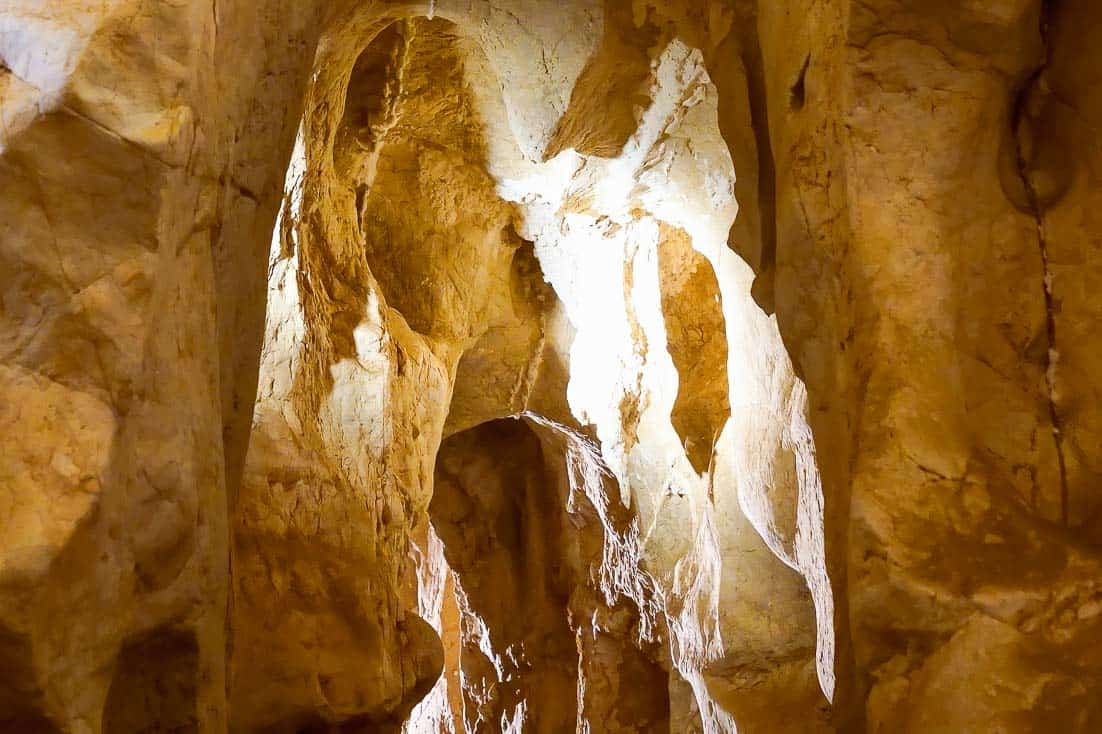 A must do while visiting Yeppoon is going to the Capricorn Caves. These caves first opened in 1884 making them one of Queensland's oldest tourist attractions!
The Capricorn Caves are part of an ancient underground limestone cave system formed some 390 million years ago. While they don't look like much from the outside, as soon as you step inside you'll no doubt be mesmerized by the mammoth size of these caves created by flowing water.
To visit the caves, you must join one of three tours that take visitors through the spectacular caves. As you weave your wave through the caves, your guide will tell you stories about the local landscape, wildlife and special cave acoustics.
If you like you can even spend the night here as on the property, there are a range of cabins and lodges and the option to camp. Click here for more information.
The tours available are as follows:
Cathedral Cave Tour:
This tour is suitable for everyone and is even wheelchair accessible. The tour lasts for 45 minutes and takes visitors on one kilometre walk to the largest and most spectacular caves. You'll even see the Cathedral Cave which has pews and some superlative acoustics.
Adults $30 | Children $15 (4-15) | Family Pass $75
Capricorn Explorer:
On this 90 minute tour (only suitable for children from 5) you'll get to explore some more off the beaten track caves. Caves visited on this tour include the highly decorated Deep Vault Cave and The Flowerpot where you'll learn about some of the incredible geological forces that formed the caves and an opportunity to see some rare wildlife.
This tour requires you to wear helmets and headlights to guide you and there is a chance you may get a little bit dirty.
Adults $50 | Children $25 (4-15) | Family Pass $75
Capricorn Adventurer:
This is a two hour tour (suitable for those aged 10 and over) is for those that want to really step outside their comfort zone. On this tour, you'll get to explore the remote sections of the cave – with some sections being in complete darkness and the only source of light is what is provided for by your headlamp.
As you make your way through the most challenging caves, you'll come out the other side with amazing 360 degree views across Mt Etna National Park and Baga National Park.
$65 per person
Address: 30 Olsens Caves Road, The Caves
Opening Hours: Daily from 8.30 am to 5 pm
Entry Price: Tour prices vary – see above
Cooberrie Park Wildlife Sanctuary
A great place to visit for families who love animals is the Cooberrie Park Wildlife Sanctuary. This park takes care of sick and injured animals which once rehabilitated are returned to the wild. For those animals that cannot return to the wild for whatever reasons, these little guys (or big guys) call the park permanently home.
The 25 acre park is home to a huge range of animals and provides visitors with the opportunity to learn more about the animals and have a close encounter with them. Animals here include koalas, crocodiles, monkeys, birds, snakes, kangaroos and more.
There are daily interactive animal shows and special encounters where you can pat or cuddle one of the animals for an additional fee. During the school holidays, little ones can even take part in a special zookeeper program where they will feed, handle and clean after the animals.
In addition to the animals, the park also has a swimming pool and BBQ facilities so you can really plan to spend the entire day here if you like.
Address: 9 Stones Road Woodbury
Opening Hours: Daily from 10 am to 3 pm
Entry Prices: $30 per adult | $15 per child (3-14) | from $70 for a family pass
Visit Great Keppel Island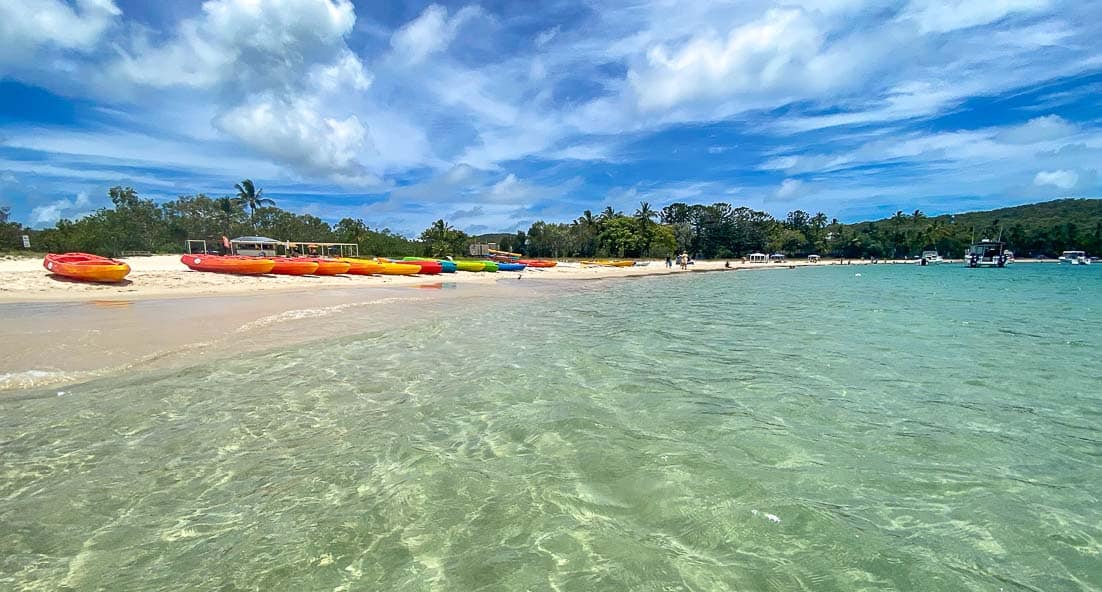 While we highly recommend you spend a few days over at Great Keppel Island, if you just don't have the time, then make sure at the very least you make a day trip there. With just a short 30 minute ferry ride between the mainland and the island, it is super easy to do in a day!
Great Keppel Island is part of the Southern Great Barrier Reef and is the largest of the 18 islands in the Keppel Islands group. The island is not overly big and no roads are on the island, so everything is only accessible either by foot or boat.
The ferry takes you to the island's main tourist part where you'll find a gorgeous beach, a few places to eat, water sports huts, and the start of all the island walks. Spend your day swimming, snorkelling, kayaking or exploring a range of beaches.
I'd recommend you get across to the island as early as you can and plan on taking the last boat back, so you have the full day to experience some of the highlights on the island.
There are two ferry operators that will get you across to Great Keppel Island – either Keppel Konnections Ferry or Freedom Fast Cats. Both leave from the Keppel Bay Marina and arrive at the same point on the island.
Find out more about getting to Great Keppel Island here. For more information about things to do on Great Keppel Island – click here.
Explore the Byfield Parks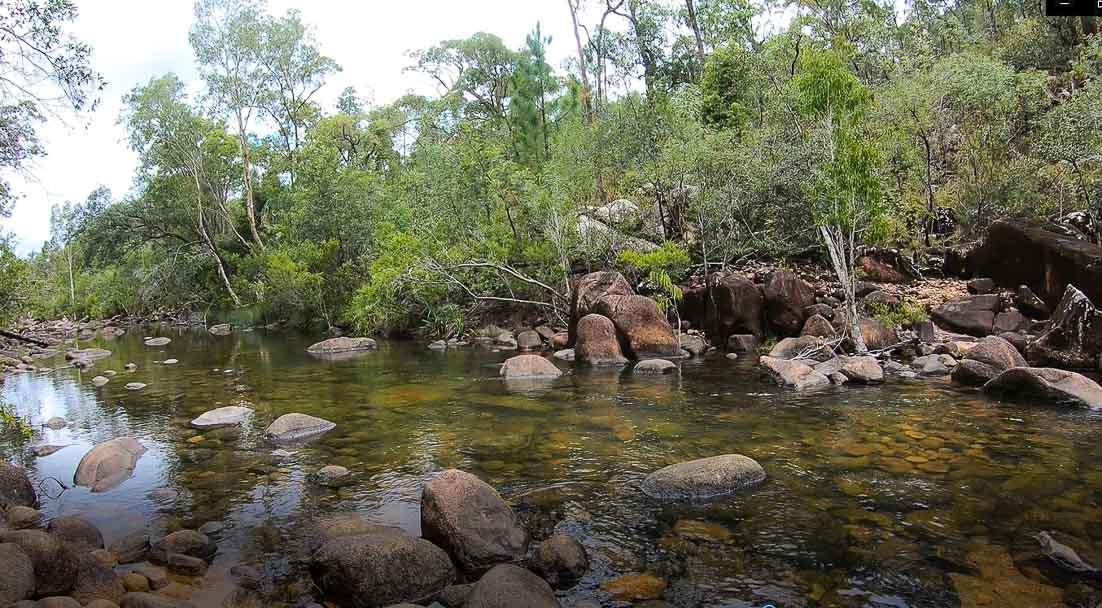 An awesome day trip from Yeppoon is to explore the Byfield Parks, made up of the Byfield National Park, the Byfield State Forest and the Byfield Conservation Park. Even better would be spending a few days in these gorgeous parks which landscape includes lush rainforest, stunning coastline, massive dunes and gorgeous freshwater creeks.
To explore all the parks' attractions (I'll just refer to all three parks as one) you will need a 4WD, but it is not essential to have a fantastic day trip in the area. A 4WD will just get you to some of the more remote areas.
Whether you take a 2WD or 4WD, there are plenty of day use areas with BBQs and toilets, so it's the perfect place to bring a picnic. The various areas have walking tracks, swimming holes, beaches and fishing.
Here is a brief overview of some of the more popular areas to visit in the park.
Upper Stoney
Accessible by 2WD via Sandy Point Road

You can camp here

Stoney Creek is a freshwater creek ideal for swimming – be sure to bring reef shoes though

There is a short 900m return walk along the creek
Red Rock
Accessible by 2WD

You can camp here – dog friendly too

No swimming here due to crocodiles
Water Park Creek
Accessible by 2WD – 30 minute drive from Yeppoon

You can camp here

No swimming here due to crocodiles but you can kayak
Sandy Point
2WD accessible – 30 minute drive from Yeppoon or can drive with 4WD along Farnborough Beach

This is a popular beach for fishing and kayaking.

There is a short 20 minute walk here to Fishing Creek.
Water Park Point Headland
4WD accessible only – 44kms from Water Park Creek

You can camp here at Scouts Camp – a small area with views across Corio Bay to Sandy Point – there are no facilities here and access is only by boat or by walking 30 minutes from the Corio Bay carpark at low tide.
Five Rocks Visitor Area
4WD accessible only – 28kms or 1 hour drive from Water Park Creek

Vehicle free beach – can swim here

Can camp here

Walking tracks: there are two walking tracks here from 1 hour to 4 hours, walks take you along the beach as well as through the wetlands.
Five Rocks Beach Area
4WD accessible only – 34kms from Water Park Creek or can walk from Five Rocks Visitor Area during low tide

This is Byfield's most remote beach

Vehicles only allowed south of the access track – north of the track is vehicle free
Nine Mile Beach
4WD accessible only – 32kms from Water Park Creek

Here you'll find freshwater streams (can swim here), sand blows and miles of surf beach

You can camp here – but there are no facilities

Walking tracks: there are 3 walks here from 30 minutes to 2 hours, along the way you'll pass the freshwater creek which you can swim in and amazing sand blows from which you can enjoy panoramic views across the coast and rainforest.
Corio Bay
2WD accessible

Popular spot for kayaking and fishing – no swimming due to crocodiles and bull sharks

Can take a walk around the headland at low tide – ensure to time your walk right though to have plenty of time to come back.
As you can see from above, there is plenty to see and do in Byfield, so if you have a few days to spare, it is recommended to stay a few days. For more information check out this Qld parks map here and their Byfield Area brochure here.
Nob Creek Pottery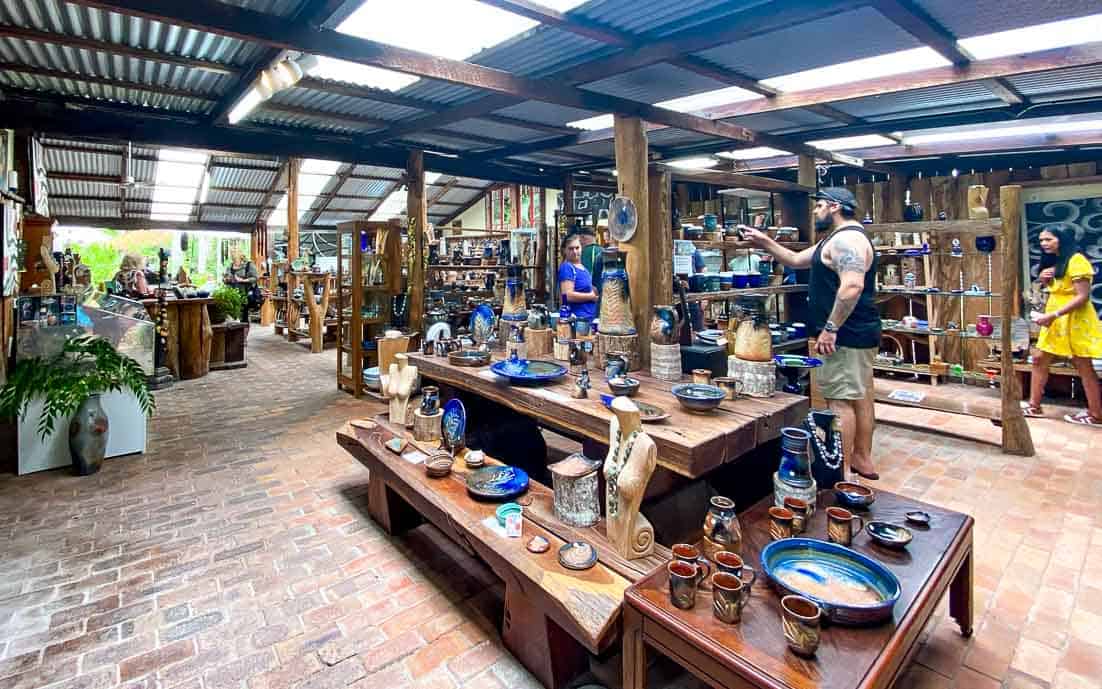 While you're in Byfield's, be sure to stop by Nob Creek Pottery, a great little shop owned and run by two incredibly talented potters. There is a huge range of items on display here, including pottery, jewellery, artwork and more.
I wasn't sure what to expect from Nob Creek Pottery, but it had rave reviews, so we stopped in. It is a gorgeous place and apart from the shop, they have a little video for you to watch which goes through the process they use to make all their pottery. Steve (one of the owners) was in the shop creating some pottery the day we were there, so this is great for the kids to see the pottery in action. Sue, the other owner was also there when we visited, and warmly greeted us on arrival.
There is some beautiful pottery on display in the shop and some gorgeous jewellery that I couldn't pass up.
Location: 216 Arnolds Road, Byfield
Opening Hours: Daily 10 am to 4 pm
Price: Entry is free
Best Holiday Accommodation Yeppoon
You are spoilt for choice when it comes to family accommodation Yeppoon offers. There are some great tourist parks, resorts and some lovely holiday homes on Airbnb. Read our full guide on where to stay in Yeppoon here, or check out our top picks below.
Discovery Parks
Discovery Parks are famous around Australia for providing tourist parks busting at the seams with family friendly facilities. Located just a 15 minute drive from Yeppoon's centre, Discovery Parks Coolwaters is located just north of Kinka Beach. It is a quiet location, surrounded by some stunning beaches and spectacular landscape.
Check our full review of Discovery Parks Coolwaters here.
When it comes to facilities at Discovery Parks – there is no shortage here. There is an awesome water park, complete with two big waterslides and a couple of smaller ones for the little kids. It also has a range of water jets and other interactive water equipment that the little ones will love. Other great kid facilities include a huge lagoon style swimming pool, playground a jumping pillow and pedal karts for hire.
There are loads of accommodation options here from caravan and tent sites, to fully self contained cabins. Here is a brief overview of the accommodation options:
Economy Lodge: For multiple families holidaying together, this is ideal as it sleeps up to 25 people. The lodge comes with 7 bedrooms, 2 bathrooms, lounge, dining room, a fully equipped kitchen and bathroom.
2 and 3 Bedroom Deluxe Cabins: These cabins sleep between 5 to 8 people and come with a kitchenette (with fridge, microwave, stovetop, cooking utensils, crockery and cutlery) dining area, lounge, balcony with outdoor setting, AC and a bathroom.
1, 2 and 3 Bedroom Standard Cabins: These cabins sleep between 4 to 8 people and come with a kitchenette (with fridge, microwave, stovetop, cooking utensils, crockery and cutlery) dining area, lounge, balcony with outdoor setting, AC and a bathroom.
Superior Cabins: These cabins sleep 4 people and come with a kitchenette (with fridge, microwave, stovetop, kettle and toaster) dining area, lounge, balcony with outdoor setting, AC and a bathroom
Other amenities on site include a camp kitchen, laundry and a small kiosk.
Discovery Parks certainly do it best when it comes to tourist parks that are family friendly. We recently stayed here and Myla had a blast. Honestly, for the low price and what you get for it, it is excellent value and well worth it.
Click here to check availability and current pricing on Booking.com.
Yeppoon Surfside Motel
The Yeppoon Surfside Motel is another place offering families extremely great value for money as well as being in a super central location. This motel is situated just across the road from the Keppel Kracken water park and is surrounded by plenty of places to eat. From here it is also just a short walk to the Yeppoon Lagoon.
Family rooms at the Surfside Motel are modernly decorated and feature a large bed and 3 singles. The rooms also have a small kitchenette which includes a microwave, electric frypan, kettle, small fridge and basic cooking utensils and crockery. Each room is air conditioned, has a TV and outdoor furniture on the small patio.
The motel also features a small swimming pool with outdoor seating. There is also a guest laundry on site.
For families, after cheap motels in Yeppoon, you can't go wrong with the Surfside Motel. While it is an older complex, the place has been beautifully renovated and the location is super central to everything in Yeppoon. I highly recommend this place for families on a budget.
Click here to check availability and current pricing on Booking.com.
Bay Vacationer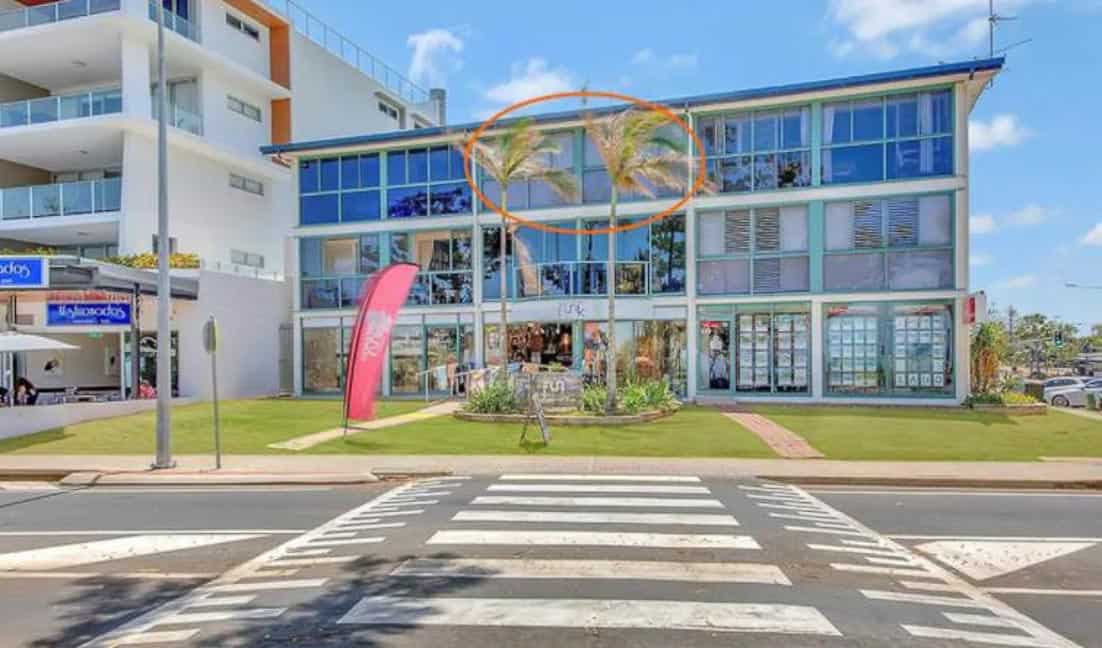 My favourite place to stay with the kids on Airbnb is the Bay Vacationer complex. While it might be an older style building with its gorgeous renovated apartments and located directly across the road from the water park, this is the ideal family holiday apartment. Located at 16 Anzac Parade, Yeppoon, this complex is surrounded by places to eat, and a short walk to the lagoon and the various shops in town.
The Bay Vacationer features two bedroom apartments which are completely self contained. Most apartments come with a queen master bedroom and have two single beds in the second bedroom. Apartments have been renovated in their own unique style and have great views across to Keppel Kracken.
There are a few different apartments available on Airbnb in the Bay Vacationer complex, all with slightly different features and price. Click through the links below to check availability:
___________________________________________________________________
Hopefully, you found this guide to all the great things to do in Yeppoon helpful. You can also check out our guide on where to stay on Great Keppel Island here and things to do on Great Keppel Island here.
Click on one of the images below to save the guide to Pinterest