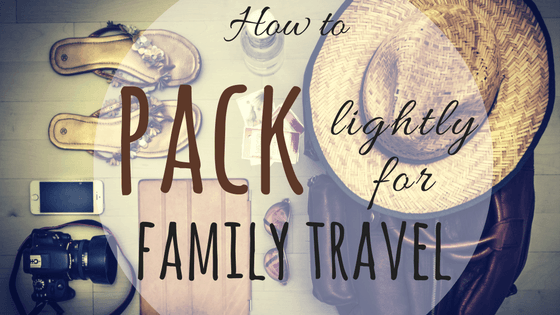 This post may contain affiliate links.
We pack fairly lightly when we travel. For me there is nothing worse than lugging around heavy bags throughout my travels. When you travel as a family you tend to have a little more luggage, but it is still very doable to travel light.
To travel light, you do need to be prepared to wash your clothes as you go. But if you have read my post on how to get the best value accommodation whilst travelling, you will know that generally budget accommodation includes facilities to wash your own clothes – so this is not an issue.
But let's face it, all the experienced travelers know that you have not really traveled until you have worn the same dirty t shirt for 3 days in a row because it is the cleanest item you own. If you come home from travelling still liking some of the clothes you took – well you took too many clothes as you didn't wear them enough!
Anyway, to help you travel light on your next trip – I have included below our packing list for our upcoming trip to Vietnam. The beauty about travelling to Vietnam is the weather is warm so you don't need lots of bulky clothing. The other bonus is there are cheap laundry services on every street corner so you will have ample of opportunity to have your clothes washed.
If you are interested you can read my post about our 3 week itinerary for Vietnam
Southeast Asia Packing List
Make a List
My tip for travelling light is not to just open your drawers and start taking your favourite items of clothing. I guarantee if you do this you will over pack! Think about the climate you are visiting, the activities you will be doing and make a list and stick to it. If your list says 3 tops, then choose 3 tops. Don't think it won't hurt just to add this extra top in – because before you know it you have added loads of extra things in and it does make a difference. If you really want to take that 4th top, work out which other top you can put back.
Remember when writing your list that you are aiming to wash as you go. Aim to wash twice a week, more if you are travelling with more than 1 child. So you only need to take 3- 4 sets of clothes with a few special item clothing, like if you are going out for dinner for example.
When I write our packing a list I make the following headings:
Check in luggage

My clothes
Andy's clothes
Myla's clothes
Toiletries
Other
Carry on luggage

My things
Andy's things
Myla's things
Electronics
Toys
Other
I then just add things under each heading. I start the list a week or so before our trip and keep adding to it. Then when its time to pack I simply print it out and start ticking it off.
So here's whats on my list for our trip to Vietnam.
Check in Luggage
Clothes
4 x tops –a range of tank tops and t shirts. When travelling to Asia you will need to cover your shoulders if going into temples etc. Many tourists don't do this, but we like to be respectful tourists and ensure we follow the local dress requirements. I will also pack 4 tops for Myla. For men, I recommend up to 7 tops, being a range of t shirts, polos, tank tops etc.
1 x shorts – I am not much of a shorts person and will take mainly dresses to wear – but if you like wearing shorts than increase this number but reduce the number of dresses you pack. I will pack 2 pairs of shorts for Myla – as kids tend to get a little dirtier than adults. For men, I recommend 4-5 pairs of shorts.
3 x Dresses – as stated above, I prefer to wear dresses in hot climates, however if you are more of a shorts person, reduce the number of dresses by the additional number of shorts you take. A good thing about dresses is you can dress them up if you want to be a bit dresser at night. I will also pack 3 dresses for Myla.
1 x leggings – I am only taking these as it is a bit cooler in the north of Vietnam at night – I may or may not wear these, but they won't take up much room. I will pack the same for Myla too.
2 x swimmers – as we are spending a few days on the island of Phu Quoc with the plan of lots of swimming each day I will pack 2 pairs of swimmers for both Myla and I. If you aren't swimming consecutive days, 1 pair of swimmers is enough.
3 bras – 1 x black, 1 x white/nude and 1 x strapless.
7 undies – ensure you have a variety of undies to suit the clothing you have packed. I will take the same for Myla.
1 x rain jacket – the rain jackets we wear include a removable jumper – so you can wear the rain jacket and jumper together or separately. I highly recommend you invest in one of these for your travels. I use one similar to the image below. Click on the imagine for more information.
Pyjamas – we take 1 pair of pyjamas each.
Kaftan / Sarong– I am packing 1 kaftan for our stay at Phuc Quoc to wear over swimmers.
Shoes – for our trip in Vietnam we are each taking a good quality pair of walking sandals. If you want to travel really light – you really don't need anything else whilst travelling around Asia unless you are also doing hiking – then you would need hiking shoes. However, I love my thongs too and given they don't take up much room I am packing my thongs too. Click on the image to below to see details of my new Merrells.
Jewellery – this is optional but I love my costume jewellery so I will be taking 2 necklaces and 2 sets of earrings which match the clothes I pack.
Toiletries
Some of these toiletries are optional, you could just buy them when you arrive at your destination. But for me I think given I am going to buy them there, I might as well just take them from home anyway.
I have not included all the toiletries we take with us here; the remainder items are included in the carry-on luggage section below.
Bug spray – you will need a high deet concentrate for travel in Vietnam to prevent malaria
Minimal make up – this is totally optional – I usually just take mascara – you don't need foundation it will melt off anyway.
Hair ties and clips – no need for anything fancy in Vietnam just a few hair bands and bobby pins is all I will take for both Myla and I. No need to take hair straighteners and hair dryers to Vietnam.
Toilet Paper – I always like to have a roll-on hand quite often you find toilets in Asia with no toilet paper.
Medication – any medication you are taking on a daily basis, plus medication for kids – all other medication can be purchased as needed
Shampoo / Conditioner / Body Wash – optional if you prefer to buy it there
Moisturiser – for face and body
Make sure you pack your toiletries in a pack designed for toiletries otherwise you might be in a for a rude shock with all your liquid items all through your clothes!
Other items
Beach Bag – pack a beach bag when you are going to a beach destination or doing a lot of swimming so you can pack your towels and water etc. Beach bags pack quite flat and I usually put this on the bottom of my luggage.
Day Pack – This is a must for sightseeing. You can either use this for your carry-on luggage or pack in your check in luggage.
Rolling Back Pack
We generally use a rolling back pack for our check in luggage. Like the one pictured below. Click on the image for more information:
The rolling backpack is some in between a backpack and suitcase – it basically has the best components of both.
The reasons why I love the rolling back pack are as follows:
Unlike traditional suitcases they are soft so can change shape to fit in various luggage compartments.
Unlike traditional suitcase with hard exteriors, these duffel bags flatten down when they aren't full taking up less space.
They come on wheels so can be wheeled when appropriate.
They have straps to carry on your back and you can fold the wheels are way – so can be carried when not appropriate to wheel.
They open up into two separate compartments so you can pack your things as you would in a traditional suitcase.
They contain multiple other compartments to pack your items separately
Carry-on Luggage
I recommend you take all valuable items or items which are not easily replaced as carry-on luggage. For this reason, we take all our electronics with us as well as all tickets and paperwork required for your travels.
For other items, we take on the plane with us, it depends upon the length of the flight and whether we have any long stop overs. Our flight to Vietnam is quite long and includes a 9-hour stopover in Singapore so for this flight we are taking the following items on the plane as carry-on luggage:
Socks & jumpers– for when it gets cold on the plane
Neck Pillow – for long flights I recommend you take a neck pillow of some sort
Hand bag – when I travel I leave my usual hand bag at home and take a smaller bag which I can easily put across my body – this makes it harder for bag snatchers and allows you to have your bag in the front of your body for easy access to your money.
Pens – take multiple pens for filling out the various paperwork you need to complete in the airports.
Notebook – optional – but I take this to make notes about what I see and do as I never remember the names of places.
Money – see my post about what money to take overseas with you
Empty water bottles – you can't take filled water bottles through customs, so take empty ones and fill them up after clearing customs, then you don't have to worry about waiting for the air hostesses to bring you water during the flight except to refill your bottles. I recommend you buy yourself some good quality no spill drink bottles. I had an incident during our flight to Hawaii where the drink bottle completely emptied into my hand bag completely destroying my 1 month old iPhone. Don't risk it!! I use the drink bottles from the Contigo range – see the image to the left. If you are interested in purchasing these drink bottles you can do so direct by clicking on the image.
Passports and all travel vouchers, tickets etc
Change of clothes – this is optional and depends on the length of the flight. For this trip I will take pyjamas as we have a 9 hour stopover in Singapore and we will be spending it sleeping in one of the airports hotels – see my post about a stopover in Singapore Airport.
Toiletries
The toiletries you take depends upon the length of your flight. Given our long flight and long stopover in Singapore we are taking the following toiletries in our carry-on luggage:
Medication you may need during your flight
Wet wipes – good for cleaning little sticky hands
Electronics
Camera, camera accessories, camera charger and tripod
Headphone – I recommend wireless ones for kids so they can listen to their ipads without annoying everyone either on the airplane, airports or in your hotel room.
Power board with multiple plugs – so you only need one international adopter and all your electronics can then be plugged into the board to be recharged.
I have just purchased this fantastic bag that fits all my electronics in there including my camera, tripod and mac – it's great. It's also great for sightseeing as you can easily carry everything with you in the same pack. The below image is the exact bag I have purchased.
I love this bag because it means I can keep all my electronics including camera and camera accessories in the one bag – no need for a camera bag, then a laptop bag etc. It also has room for your money and phone etc.
Its super compact so great for carry on luggage and easy to carry on your bag when our sight seeing.
Not the cheapest bag – but well worth it in my opinion.
Toys
Kids do not need much when going on holidays in the way of toys. You will all be so busy exploring sights during the day that by the time kids get back to the accommodation at the end of the day they will be tired. So, here's what I do when my daughter is begging me to take all her favourite toys on our trips.
Firstly, I pack what I deem essential toys, this includes a few story books, colouring books, colouring pencils and that's it. I put these essential items in one of my daughter's small back pack that she can carry herself. Then I tell her she can fill up the remainder space in the back pack with whatever toys she likes – but the toys must fit in the bag – if they don't they can't come. She will usually take 1 doll and then a load of random things. She carry's this bag with her whilst we travel and we never check it in so she can play with the items in the bag whilst we are in airports, stopovers and on the airplane.