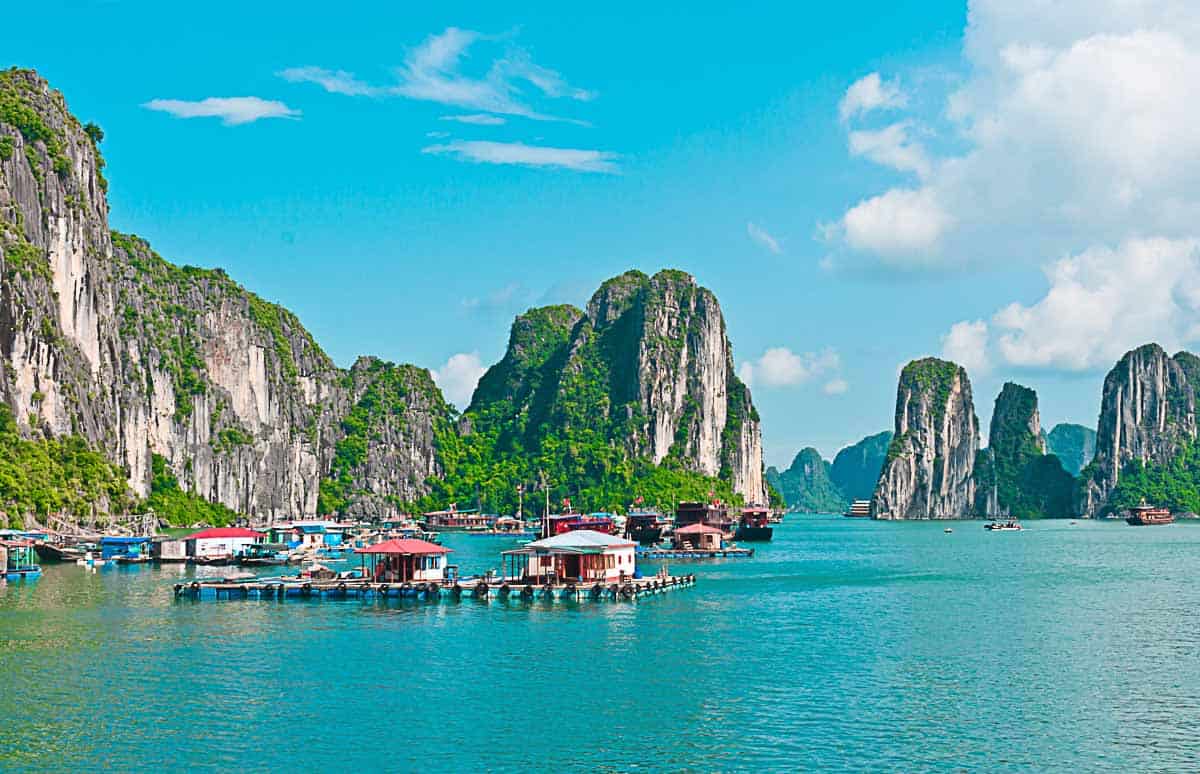 So very soon you will be travelling to Vietnam, your flights and accommodation are booked now you find yourself asking what to pack for 2 weeks in Vietnam?
Whether you are packing for a 2 week trip to Vietnam or even 1 week or 1 month, I recommend you take the same amount of clothing.  It is so much easier if you take less and travel lightly.  Even as a family it is not too difficult to pack lightly and I am going to show you how in this post.  In fact whether you are travelling as a family or as a solo traveller doing a backpacking southeast Asia trip I am sure you will find this guide helpful.
The beauty about travelling to Vietnam or anywhere in SE Asia is the weather is warm so you don't need lots of bulky clothing.  The other bonus is there are cheap laundry services on every street corner so you will have ample of opportunity to have your clothes washed.
Whilst I have written this post specifically for packing for Vietnam, you can use this packing checklist for overseas travel to any warm weather destination.
This post may contain compensated links.  Please refer to my disclaimer here for more information.
Southeast Asia Packing List
Before we get into what to pack for a trip to Vietnam, I want to talk to you about embracing the idea of carry on only baggage.  This will make your entire trip so much easier.  Think about it:
No more wondering what to back in your check in luggage and what to pack in your carry on luggage;
No more having to line up early at the airport to drop of your bags, just check in online, print out your boarding passes and go straight to the gate;
No more having to wait around at the carousel for your baggage, jump off the plane and get on with your travels;
No more having having to worry about the chance of lost baggage;
Less bags in your hotel to worry about; and
Less bags to carry around as you travel.
The advantages just go on and on.
Many say "oh yeah but I travel with kids" – well so do I – in fact if you travel with kids, even more reason to do carry on only as the less bags you have the easy it is to round up the tribe and get to places without being dragged down by numerous bags.
With carry on only luggage, you will pack less, you will need to wear clothes multiple times and you will need to wash clothes as you travel.  This post is going to show you how to pack a carry on bag for 2 weeks of travel.  As I said above whether you are packing for a week of travel or a month of travel – I recommend you take the same amount of clothing.
Back Packs
In order to do carry on only luggage well, you really need to have a great back pack.  Yes thats right I said back pack!  You might think your back packing days are over – but I am not talking about partying in hostels as you travel, I am simply talking about a smarter way to pack.  Everything I mention in this packing Vietnam checklist will fit into a carry on back pack.
Particularly if you have children I can't recommend back packs highly enough.  You put your luggage on your back and your hands are free to hold little ones hands, carry small bags etc.  There are some great back packs on the market these days, in all shapes and sizes and just perfect for traveling as a family.  I recommend you get a pack for every member of the family, even for the kids that can't carry their own packs.
My tips for which pack to get are as follows:
Get the largest bag you are allowed to carry on – which is usually around 45 – 46 litres.  I have the Osprey Packs Porter 46 Travel Backpack – I love absolutely love this bag.  I just ensure it is not jammed packed and that it meets the weight allowance when flying.  However when you are travelling around Vietnam, you can pack it with as much stuff as you like without concerns of plane restrictions.  Andy just got the CabinZero 44l Classic and loves it, although I find the case a little flimsy and prefer my Osprey pack as it's much more robust.
For the kids get a mid size pack.  Myla has a Jammer pack from Kathmandu 28 litre pack.  We love this pack as it has an adjustable harness so it can be adjusted as she grows.  She can carry this herself if it is not jammed packed.  Even if the kids can't carry it themselves you can carry this on your front, while your pack is on your back and your hands are still free to hold little hands.
Once we reach our destination, we usually take the items out of Myla's small pack and distribute the items between Andy's and my bag.  We then use Myla's smaller pack as our day bag.
If you just absolutely can't do carry on baggage – then my recommendation is to get yourself a large duffel bag on wheels.  Before we embraced carry on only luggage this is what we did.  We just used the 1 bag between the 3 of us – so use this as a guide depending upon how many are in your group.  This way you are only lugging around 1 large bag.  I say a duffel bag as being soft it can squeeze into tight compartments – like buses etc – if necessary and it is also easier to carry if you are in an area where you can't wheel it – like going upstairs in narrow hotels – there area heaps of these in Vietnam. 
Everything listed in this Vietnam travel checklist, we fit into our backpacks.
Clothes for Travelling Light
As to the sorts of clothes to wear in Vietnam, this will depend upon your personal preferences as what you like to wear.  Particularly for females – some like to wear dresses / skirts others prefer shorts.  Can I just say that in really hot climates in Asia, I find light weight dresses so much cooler – this is what Myla and I tend to wear.
For those not use to travel light packing, you may find this a struggle and think there is not enough clothing on the list, but I can assure you, your family trips to Vietnam or anywhere else for that matter, will be so much easier with less things!  Whether you are packing for a week trip or packing for 2 weeks – you pack the same amount of clothes.
When packing clothes for travel in SE Asia, I recommend the same clothing for both adults and kids:
3 x tops –a range of tank tops and t shirts. When backpacking SE Asia you will need to cover your shoulders if going into temples etc.  Many tourists don't do this, but we like to be respectful tourists and ensure we follow the local dress requirements. For men I recommend taking 5- 6 tops.  Any kind of tops will do, but I have just started wearing the Divide Merino Wool tops from Kathmandu (click here if you want to get some too) and really love them.  They are ideal for travel as they keep you warm when its cold and cool when its hot.  They also don't smell; so great for multiple wears. 
1 x shorts – I am not much of a shorts person and will take mainly dresses to wear – but if you like wearing shorts than increase this number but reduce the number of dresses you pack.  For males I recommend 3 pairs of shorts.
3 x Dresses – as stated above, I prefer to wear dresses in hot climates, however if you are more of a shorts person, reduce the number of dresses by the additional number of shorts you take. A good thing about dresses is you can dress them up if you want to be a bit dresser at night.
1 x leggings – I am only taking these as it is a bit cooler in the north of Vietnam at night – I may or may not wear these, but they won't take up much room. In most cases I will wear these on the long international flight as it tends to be quite cold at night.  For male consider taking a long paid of relaxed pants.
2 x swimmers /  board shorts – if you are spending a few days at a beach destination where you will be doing lots of swimming each day pack 2 pairs of swimmers.  If you aren't swimming consecutive days, 1 pair of swimmers is enough.
1 x Beach Cover Up / Sarong– at beach destinations, I live in my beach dress.  This is not necessary for young female children. 
3 bras – 1 x black, 1 x white/nude and 1 x strapless.
5 undies – ensure you have a variety of undies to suit the clothing you have packed.
1 x rain jacket – we have 3 in 1 rain jackets which include a removable jumper – so you can wear the rain jacket and jumper together or separately. I highly recommend you invest in one of these for your travels.  I use one similar to the image below.  You can also get similar ones to this from Kathmandu – click here for more information.
1 x Pyjamas – whatever it is you like to sleep in at night.
1 x Socks – you won't be needing socks in Vietnam but I recommend taking a pair for the airplane as it can get cool.
You might even want to consider a travel scarf too.  These can be great for covering shoulders in temples as well as keeping you warm on transport if the air conditioning is a bit high.
You can get tips for pregnancy packing list here.
Packing Cubes
In order to be successful with carry on only luggage you will need to get some good quality packing cubes. Even if you just can't bring yourself to do carry on only – packing cubes are also a great way to keep your families items organised whilst traveling.  In my view packing cubes are an essential item for packing for travel regardless of where you are headed and should be at the top of your Vietnam packing list.
Packing cubes help you stay organised as well as compress your clothing so you can fit more things into your bag.
Packing cubes usually come in 3 sizes – large, medium and small.  I can fit all my clothes in 1 large packing cube and Andy's in another and Myla's things fit easily into a medium cube.
Make sure you invest in a good quality set and don't go and buy the cheapest set you can find.  As you are trying to compress your clothing in the cubes, if you buy cheap quality the zippers and / or bags will easily rip.
Shoes
Ok ladies this is where a few of you might struggle with this whole travel lightly thing.  In order to travel lightly, when packing for a trip to southeast Asia, it is vital to take 2 – 3 pairs of shoes tops!!
For me, I only take 2 pairs of shoes – a good pair of light weight walking shoes and a pair of thongs.  If you want to be super good then just a single pair of walking shoes will do.  Andy only takes the one pair of shoes he wears Teva sandals and swears by them (click here if you want to find out more about these shoes). 
For me I highly recommend a pair of shoes like Merrells. I wear the Merrell Terran Strap II  Sandal and just love them.  You really don't need anything else but I love a pair of thongs (or flip flops depending upon which country you are from) and they really don't take up much room anyway.
If you are planning on doing hikes, then you will hiking shoes as well.
Toiletries
First up you need some toiletry bags.  I use to take one massive large toiletry bag, but now I recommend using multiple smaller bags- this is much easier when doing carry on only luggage as you can squeeze little bags into smaller spaces much easier than a great big bulky toiletry bag.
For us we each have a small personal toiletry bag, plus another 1 which has our shared items in there.
Any kind of bag will do really – just as long as it closes up securely in case of any leakages – you don't want those creams and stuff through your bag.  I also recommend a clear bag – this makes it easy for locating items and also easy for going through security at airports.
Given we are talking carry on only here – you most likely will also need to invest in some 100 ml containers and transfer some of your toiletries into these containers.  The other option is to just purchase toiletries larger than this at your destination. 
So here is my toiletries checklist for going overseas:
Sunscreen – get one with a high SPF – I prefer the spray on sunscreen.
Bug spray – you will need a high deet concentrate for travel in southeast Asia to prevent malaria.
Minimal make up – this is totally optional – I usually just take mascara – you don't need foundation it will melt off anyway.
Hairbrush, hair ties and clips – no need for anything fancy in southeast Asia just a few hair bands and bobby pins is all I take.  No need to take hair straighteners and hair dryers to southeast Asia, certainly not essential for your packing list for Vietnam.
Toothbrush and toothpaste.
Deodorant – a small roll on is better as it takes up less room.
Hand Sanitizer- great for cleaning hands before mealtimes, highly recommended for any Asia packing list.
Razors and shaving cream.
Wet wipes – more so for families – but I love these for all cleaning all sorts of things.
Toilet Paper – I always like to have a roll-on hand quite often you find toilets in Asia with no toilet paper.
Medication – any medication you are taking on a daily basis, plus medication for kids – all other medication can be purchased as needed.
Shampoo & conditioner
Body wash
Moisturizer – for face and body
Electronics 
Camera memory cards (get the biggest you can afford for loads of photos), camera accessories and a camera charger.  Click here if you're after a travel camera bag.
Selfie Stick – ok I know some people think this is self indulgent but there are great for taking happy snaps of the entire group when traveling.  I recommend getting a one with a tripod and remote so you can sit it on a table and take a nice photo of the group rather than the typical close up selfie.  We have the Cygnett selfie stick.
Phone and phone charger – I recommend buying a local sim card with data once you arrive.
Laptop and cords – clearly optional – but if you are a blogger or need to work whilst you are travelling you will need this.
Power Bank – keep all your devices charged.  I recommend getting one with at least 3 outlets so you can charge multiple devices at once.  I also recommend getting one that can be charged as it charges devices at the same time.  We use the Premium Jackery one and find it great.  Click here if you are not sure what Power Bank is right for you.
Headphones – I recommend wireless ones for kids so they can listen to their ipads without annoying everyone either on the airplane, airports or in your hotel room. 
IPad and charger – an essential for the travel with kids packing list – great for keeping the kids (or yourself) entertained on long flights.
International plug adapter – another essential for the SE Asia travel item checklist
Documents
Pens – when packing for a trip take multiple pens for filling out the various paperwork you need to complete in the airports.
Notebook – optional – but I take this to make notes about what I see and do as I never remember the names of places.
Credit cards, ATM card, drivers licence
Flight, hotel, tours and transfer documents
Other
Wallet / purse – I also take a few coin purses with me so I can separate my home currency from the international currency
Hand bag – when I travel I leave my usual handbag at home and take a smaller bag which I can easily put across my body – this makes it harder for bag snatchers and allows you to have your bag in the front of your body for easy access to your money. I also like to ensure it's big enough to carry my camera and various documents.
Click here for my guide on choosing the best cross body bag for travel for both men and women.
Kids toys – don't take too much – there will be some much going on that they don't need much.  We just take a few reading books, colouring in books and pencils and 1 special doll.  We use to take far too much and Myla just didn't play with it all.
Jewellery – certainly not necessary when considering what to pack for Vietnam, but I love my costume jewellery so I usually pop in 2 necklaces and 2 sets of earrings that match the clothes I pack.
Neck Pillows – only for long flights where you are likely to be sleeping – otherwise leave it at home as they are super bulky.  Make sure it can easily attach to your luggage so you don't have to carry it. 
Drink Bottles – you can't take filled water bottles through customs, so take empty ones and fill them up after clearing customs, then you don't have to worry about waiting for the air hostesses to bring you water during the flight except to refill your bottles.  I recommend you buy yourself some good quality no spill drink bottles. We use the drink bottles from the Contigo range.
Stroller- if this is necessary make sure it is light weight and folds up tightly.
Car Seat – only if necessary – often we find it easier purchasing one at our destination rather than lugging one around with us.  You can read about travelling with car seats here.
So there you have it – how we pack and travel light. I have turned this southeast Asia packing list into a printable checklist.  Even we use this checklist whenever we travel.  I love it, print it off and packing is so much easier.   Get your packing checklist here. I am sure this list will be helpful to both single backpackers as well as those looking for a travelling list for family.
The above post contains affiliate links, which means I may get a small commission should you purchase anything from using these links at no extra cost to you whatsoever.  Thank you for supporting our website.
If you want to save this for later, please click on the above image and pin it to Pinterest.
Thrifty Family Travels is a participant in the Amazon Services LLC Associates Program, an affiliate advertising program designed to provide a means for sites to earn advertising fees by advertising and linking to amazon.com, amazon.co.uk, amazon.ca. Amazon and the Amazon logo are trademarks of Amazon.com, Inc. or its affiliates.