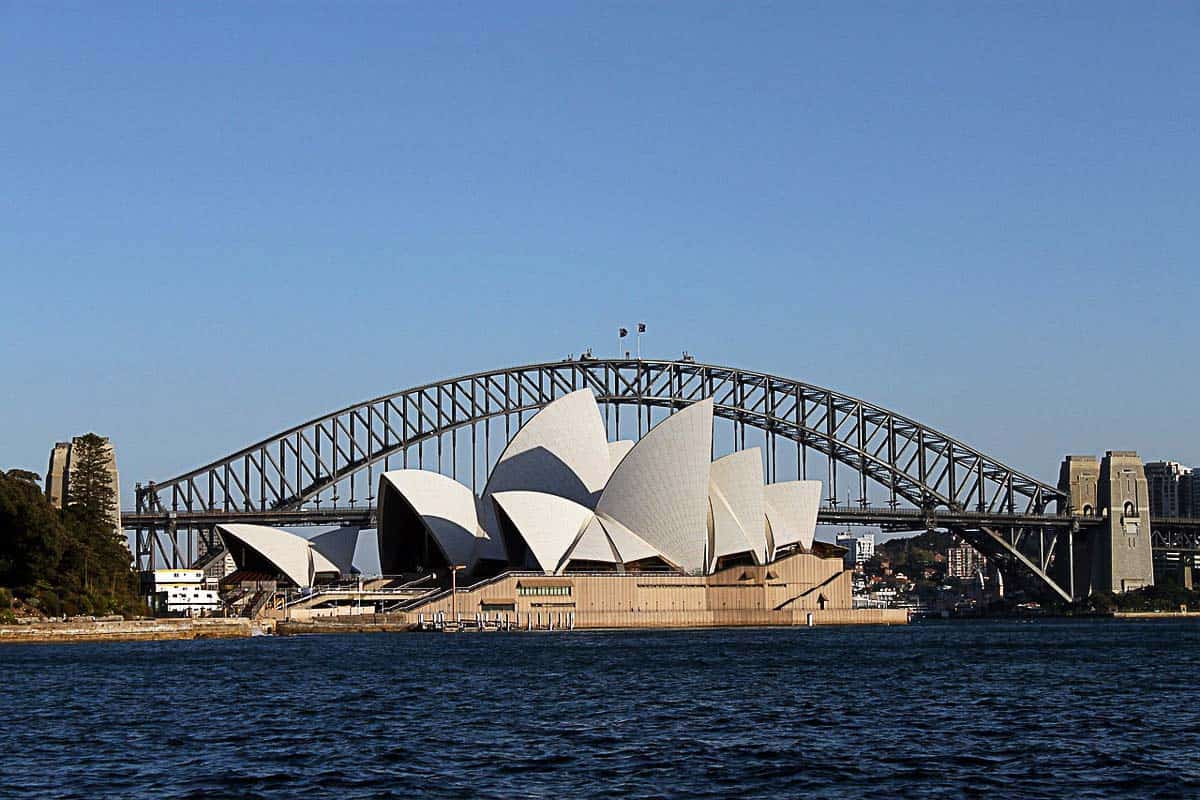 Are you planning a visit to NSW with the kids? Or perhaps you are looking for some of the best short breaks NSW has to offer. In this post I have gathered the help of some of my good travel blogger friends to tell us about some of their favourite New South Wales cities as well as the some of the best things to do in NSW with the kids.
If you're headed to Sydney – Click here to read our Ultimate Guide to Visiting Sydney with Kids
12 Places to Visit in NSW with Kids
Byron Bay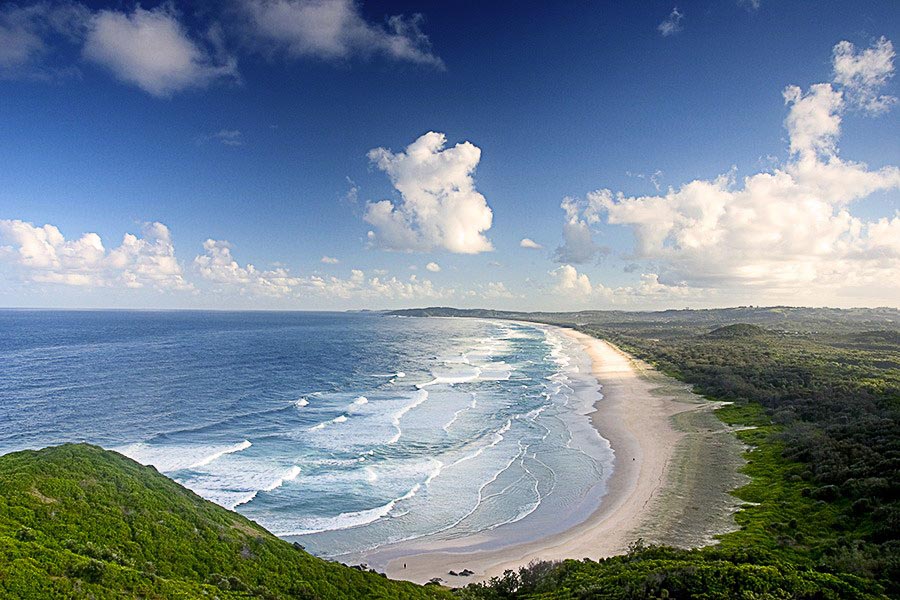 Thanks to Wanderlust Storytellers
There are plenty of things to do in Byron Bay. This small coastal town in the Northern New South Wales is home to very friendly locals and attracts masses of tourists from within Australia and from around the world as well. It is a great place to come on a family holiday and let your kids absorb the relaxing atmosphere of Byron Bay's surroundings.
Byron Bay has some of the best beaches of the New South Wales coast. The bay consists of 5 beautiful beaches. Here is where your little ones will have the most fun. There are plenty of great and safe swimming spots and loads of sand to run around on and build castles of. As for the older kids? There are spectacular walks and great lookouts to check out. Our favourite is the picturesque Cape Byron lighthouse walk! Can't miss out on that one! Check out the stunning Lennox Heads just 25 minutes drive away.
If you are after some yummy food, there is a great selection of delicious local cuisine and heaps of fantastic Byron Bay restaurants to choose from. And you will fill right at home at some of Byron's best accommodation spots. Our favourite choices would be the very popular The Byron at Byron Resort and Spa, Azabu Boutique Accommodation or a super sweet AirBnb Jim's Beach House.
Check out more family friendly Byron Bay accommodation here.
Yamba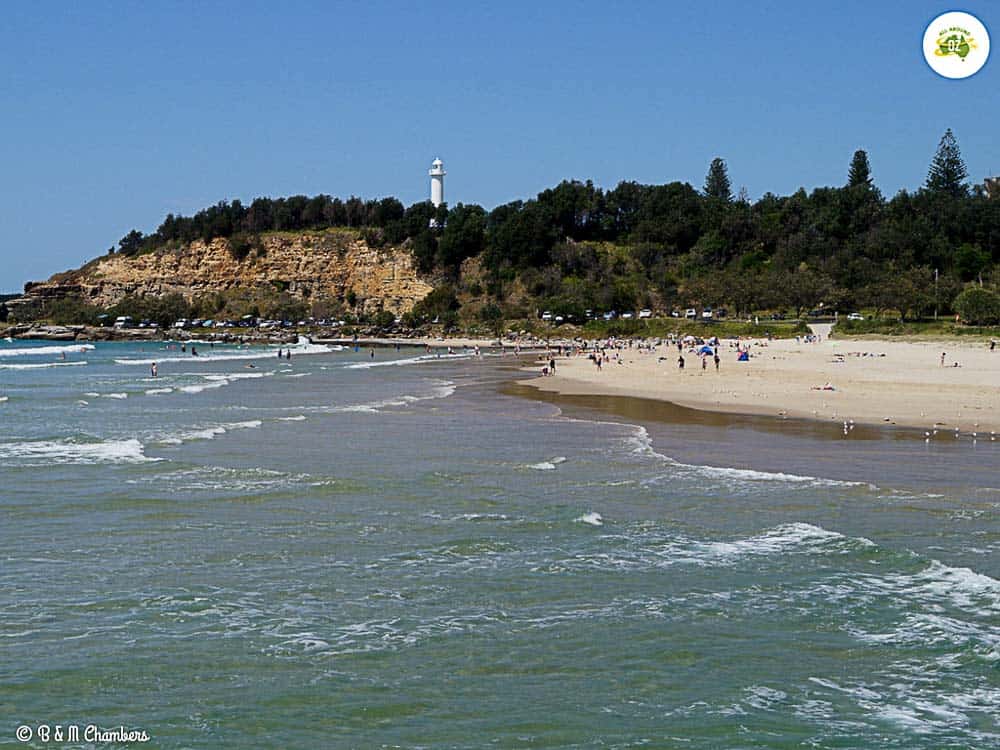 Thanks to All Around Oz
Yamba is a gorgeous coastal town located on the mid- North Coast of NSW. With plenty of things to do in Yamba, it has been a popular spot for family holidays for many years and it's easy to see why.
Yamba has some of the best beaches that I've come across. Sheltered by rocks and break walls these beaches are ideal for family fun. Turners Beach is my pick as it has small waves which are great for younger kids. It also has fantastic views and is within walking distance of town.
Looking out over Yamba is the Clarence Head Lighthouse. It was built in the mid-50's to replace the original 1800's lighthouse. Just near by is a replica of the original.
Just a short drive from Yamba is the tiny village of Angourie. A popular spot for swimming and a spot of rock jumping is the Blue Pools. These two huge pools were formed when a disused quarry filled with water. Both these pools are very deep so only experienced swimmers should give this a go.
If you want to explore a little further afield, you can catch a Clarence River Ferry from Yamba across the river to the smaller town of Iluka. Once again the beaches here are as close to perfect as you can get and the kids will be thrilled by the ferry ride.
There are a variety of Yamba holiday rentals available as well as caravan parks and motels. The most popular spot for families is definitely the Big 4 Yamba Saltwater Holiday Park which comes with its own water park.
Check out more family friendly Yamba holiday rentals and accommodation here.
Coffs Harbour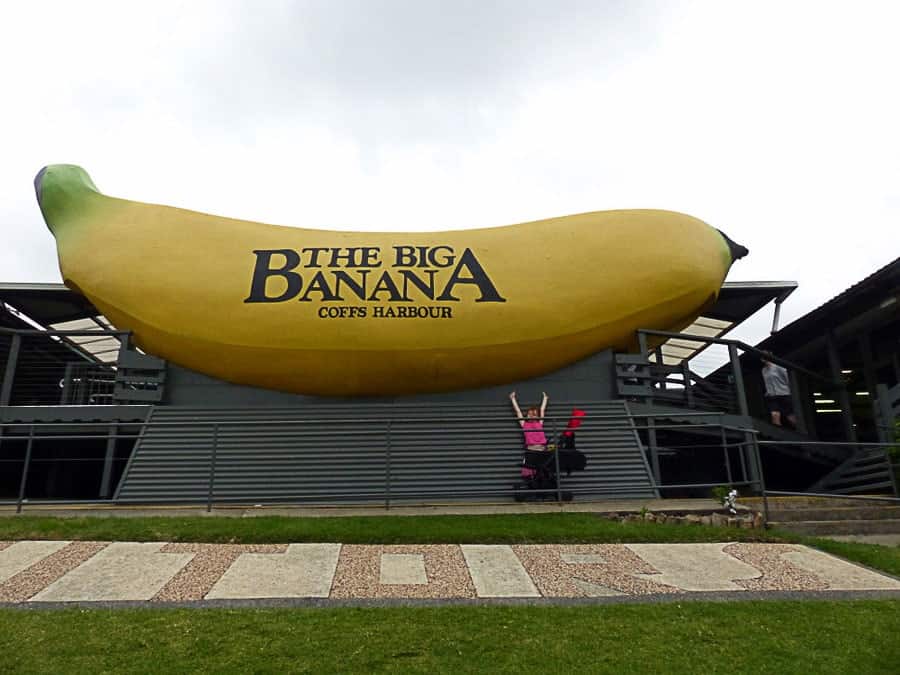 Thanks to Simpler and Smarter
Coffs Harbour is the perfect place for a family holiday. The weather is generally good, there are some great, kid friendly attractions and it's well set up for tourists.
One of the most popular things to do in Coffs Harbour is a visit is the famous Big Banana. Don't miss out on a chance to eat a frozen banana here dipped in chocolate. Delicious!
Other great Coffs Harbour attractions, particularly to see marine life include Dolphin Marine Magic and the Solitary Aquarium. For a small aquarium, the Solitary Aquarium was surprisingly engaging. My kids loved the chance to get up close to dolphins at Dolphin Marine Magic.
There's many playgrounds and great places to play. We enjoyed the Botanic Gardens and Brelsford Park.
And of course, you can't miss the great beaches.
For Coffs Harbour accommodation, we recommend the Coffs Harbour Holiday Apartments which are great value and perfect for families with lovely, self contained apartments and a pool an easy walk from the beach.
Check out more family friendly Coffs Harbour accommodation here.
Click here to read about things to do in Tasmania
Seal Rocks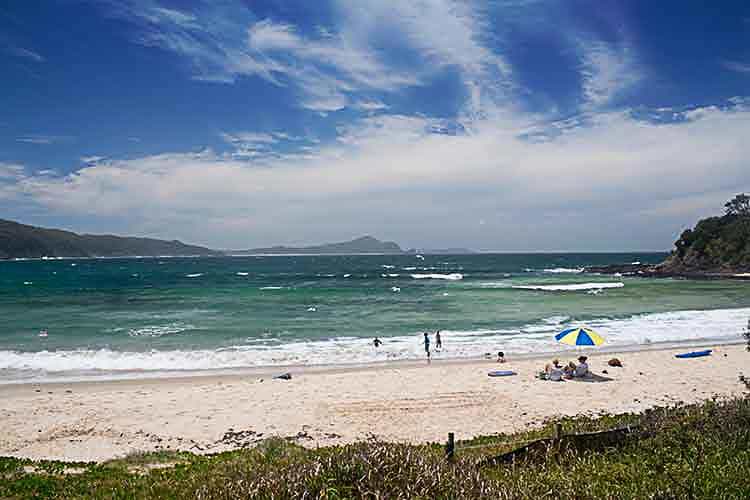 Thanks to Delve into Australia
Seal Rocks is one of the least developed beach villages in New South Wales. It's a great place to take kids because you're taking them on an adventure going back in time to one of the most beautiful, unspoilt stretches of coast in Australia. The only way in – and out – is along a dirt road off the main road through Myall Lakes National Park, of which the village is part of.
It's a quirky, out-of-the-way spot, and the main things to do are to relax or explore. There are walks along the coast, great whale watching vantage points and the nearby Lakes for boat trips. There are three stunning beaches, Number One Beach, Boat Beach and Lighthouse Beach, a single shop and an honesty box stall selling giant shells for $3.
At the summit of the headland is Sugarloaf Point lighthouse – the three keepers' cottages are all available for rental, with outstanding views down the coast. Other Seal Rocks accommodation includes holiday homes for rental down in the village, a couple of campsites and a holiday park.
Check out more family friendly Seal Rocks accommodation here.
Dubbo Western Plains Zoo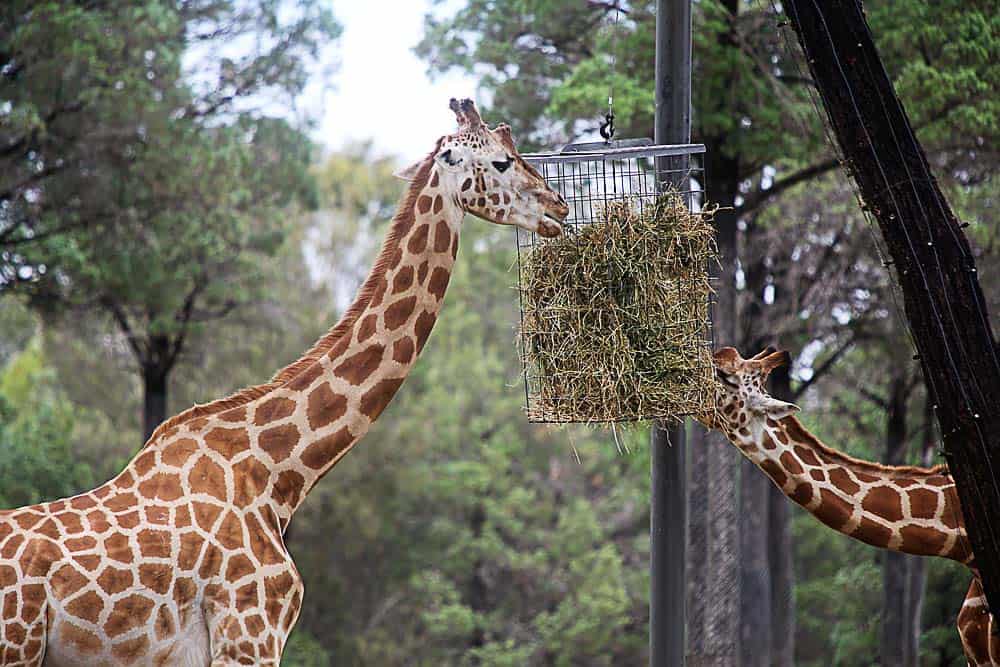 Thanks to Our 3 Kids V the World
We're big fans of any zoo while travelling and when we were living in Sydney, Dubbo Western Plains Zoo was at the top of our bucket list. Dubbo is a good 5 hour drive from Sydney, meaning to do it properly, we would need to make it a long weekend trip. Western Plains Zoo is a big zoo and I didn't want to rush it, going for a long weekend meant that we were able to visit the zoo over 2 days which is good if you have little ones.
There are a number of ways to experience Western Plains Zoo, you can drive around in your car, ride bikes either your own or hired or you can walk but you would be covering some distance on foot. We decided to ride our bikes, now, this was a great idea in theory but I have to admit, at times it was hard work!! All in good fun though!!
When we visited we hired a house, but other Dubbo Zoo accommodation includes the Dubbo caravan parks and cabins. We found the further away you are from the zoo the cheaper the accommodation becomes. There is also a free camp at nearby Terramungamine Reserve too.
Check out more family friendly Dubbo Zoo accommodation here.
Looking for more NSW inspiration? Check out these articles:
Places to visit on NSW's Mid-North Coast
Two Week NSW South Coast Road Trip
Newcastle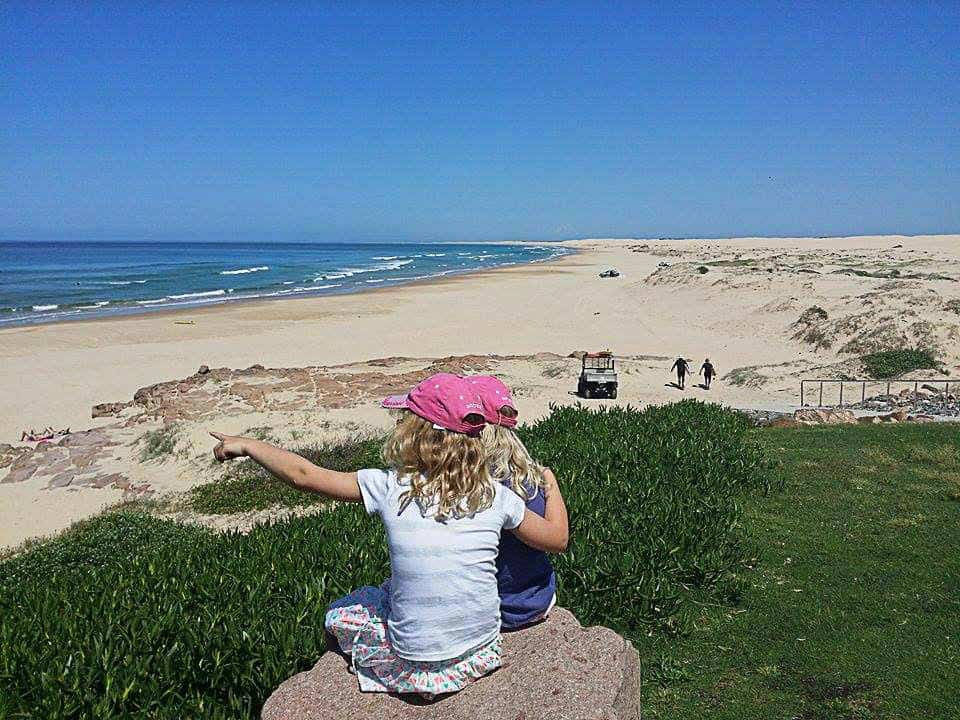 Thanks to Caravanning with Kids
A visit to Newcastle with the family will be an experience that you will relive for years to come. Once you have had a taste, you will be counting down the days until you can visit there again. Newcastle is a gorgeous part of the New South Wales coast line with loads of fun things to do that the whole family will enjoy.
Gorgeous all year round, there are heaps of fun things to do in Newcastle for kids, with our two favourite things being the incredible beaches and lush parks. You will never be stuck for things to do when an area has an abundance of these. Stockton Beach is just around the corner and boasts the largest sand dunes in the southern hemisphere, a sight that will blow your mind. Newcastle Ocean Baths are another must see, an experience that was a real treat for our family as we do not live anywhere near the ocean.
We stayed at the Stockton Beach Holiday Park, which was nestled in the quiet town of Stockton on the outskirts of Newcastle and only a 5 minute fun ferry ride across to the CBD.
Click here for our full guide on things to do in Newcastle with kids.
Click here for our full guide on family friendly Newcastle accommodation.
Bathurst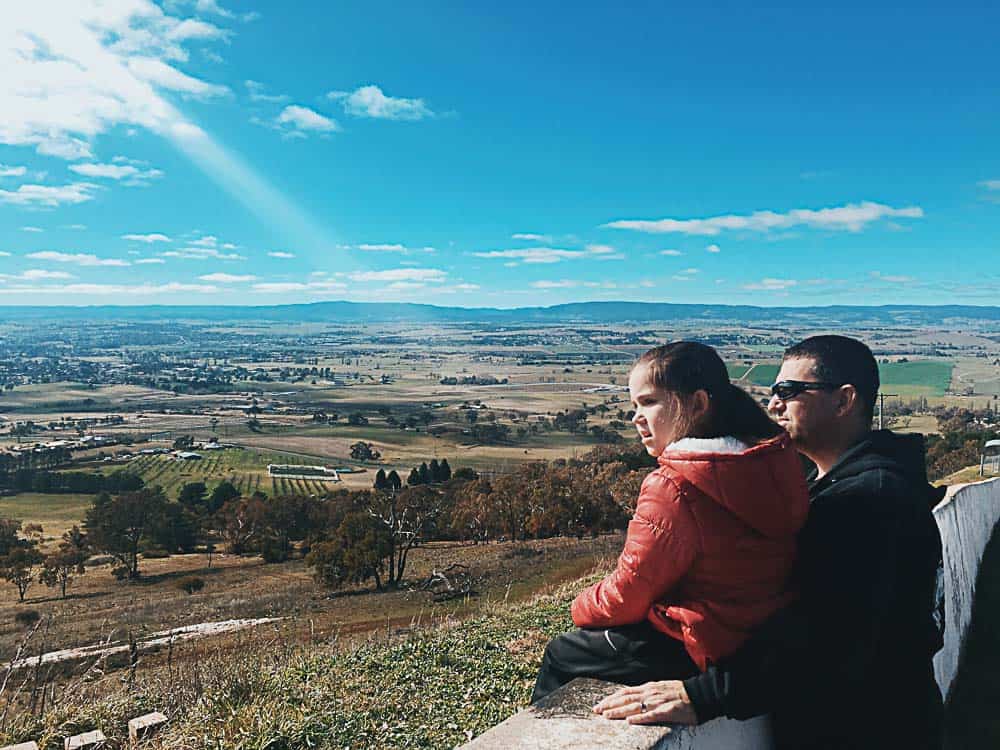 Thanks to Kid Bucket List
As Australia's oldest regional city, Bathurst boasts both a rich European and Aboriginal history as well as a plethora of attractions and foodie haunts to explore with the kids. It's also a Mecca for serious petrol heads, with Mount Panorama and the National Motor Racing Museum overlooking the township.
For families who love an adventure Bathurst is the perfect base. From here you can head to Abercrombie Caves where you can learn exactly what a stalagmite and stalactite looks like in real life. Or perhaps you would love to try your hand at gold panning at nearby Hill End where the gold rush started in NSW.
For those who prefer to stick to the township, make sure you do a lap around Mount Panorama before exploring the Australian Fossil and Mineral Museum where you will come face to face with a gigantic Tyrannosaurus Rex skeleton! Then there's the dinosaur themed Victoria Park where the kids can actually channel Indiana Jones and do a little digging before outrunning those pesky raptors!
When it comes to eating out in Bathurst you're spoiled for choice with a thriving cafe scene. Our top pick would be The Hub Expresso Bar and Eatery.
Check here for family friendly Bathurst accommodation.
Click here to read about things to do in South Australia
Blue Mountains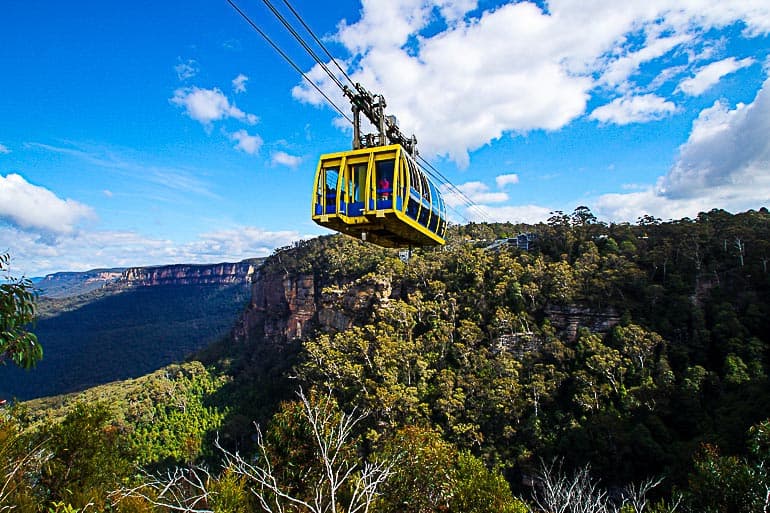 Thanks to Travellers Archive.
Did you know that it only takes a short drive out of Sydney and you'll end up in the picturesque Blue Mountains? An area, that is so beautiful, it could be the setting for a proper fairy-tale. With tree-lined, cobblestoned streets and small houses with steam coming out of their chimneys, this region is anything but a mass-tourist escape.
If you are looking for things to do in the Blue Mountains with kids, make sure to spend enough time in the Scenic World. This complex offers various ways of indulging the beauty of the Blue Mountains and having fun at the same time. Let your kids choose between taking the Skyway, the Walkway, the Cableway or the Railway. More of a nature lover? Well then head into the bush for some lovely blue mountain walks that will take you to waterfalls, through the forest and will get you really close to Australian wildlife.
Click here for a full list of organised Blue Mountain day tours from Sydney
Blue Mountains Accommodation: The Buttercup Barn in Leura is a true gem. This old house is hidden in a small alley and offers everything that you can think of when spending the holidays in the mountains: a fire place, a kitchen, a hot bath outside and a beautiful surrounding that offers enough space for the kids to run around and play. The best of all? The owners will provide a basket full of everything you need for your breakfast. This is just perfect!
Check out more family friendly Blue Mountains accommodation here.
Sydney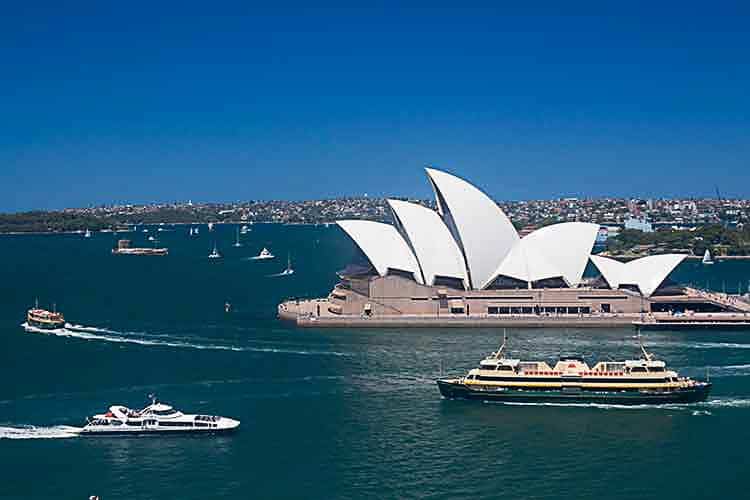 Thanks to Delve into Australia
You could take your kids for a weekend, or you could take them there for a week – there is so many things to do in Sydney with kids, that there would still be plenty more to look forward to on a return trip. The novelty of travelling on ferries around the harbour is great for them, and gives them the chance to see the famous sights like the Opera House, Harbour Bridge and city skyline.
There are also many outstanding Sydney attractions geared towards kids, and several of these are clustered around Darling Harbour, just to the west of the CBD, from the Powerhouse Museum with its Wiggles exhibition to the Sea World Aquarium, where they can walk in a tunnel below sharks.
Out on the Harbour, there's the wonderful Luna Park funfair and, the other side of the Bridge, Taronga Zoo, which enjoys a spectacular setting on a hill with wonderful views back to the city. The city's parks are also great for a run-around (you may even spot some wildlife), and it's worth seeking out some of the sheltered harbour beaches like Balmoral to give them some time in the water.
Click here for a full list of organised day tours within Sydney
Darling Harbour is the obvious place for families to stay, but there are options all over the city, including camping out on Cockatoo Island or a Roar and Snore sleepover back at Taronga Zoo.
Check out family friendly Sydney accommodation here.
Here are some great articles on visiting Sydney:
1. A Guide to Sydney for Every Type of Traveler – by Wander Must Family
2. What to do in Sydney – by Girl Tweets World
3. A Road Trip from Sydney to Melbourne – by The Family Voyage
4. The Best Sydney Beaches – by Christine Knight
5. Average Costs to Travel to Sydney – by Budget Your Trip
6. The Sydney Bridge Climb – by The Accidental Australian
Kiama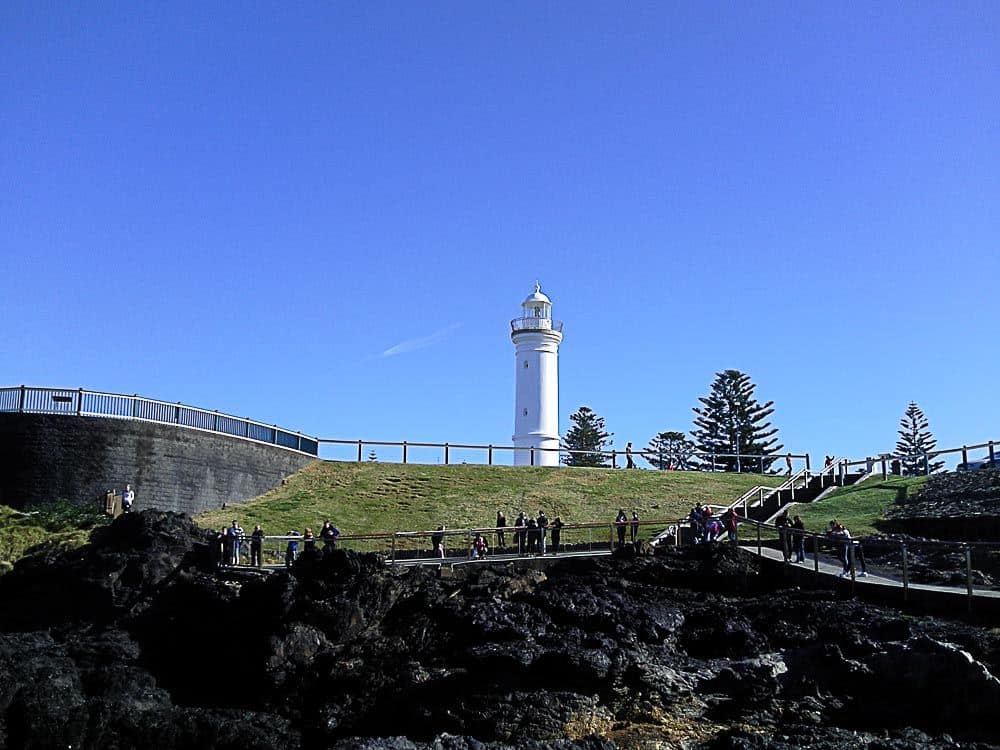 Thanks to Wyld Family Travel
We had friends living up in Kiama and they asked if we would like to go up and visit them, so we packed up the car and off we went. The kids absolutely loved it up there. With the weather up there nice and warm, things to do in Kiama include spending time at the beach having a paddle and then enjoying an ice-cream afterwards. We spent on day that was not so warm wandering the beachfront looking in the shops and visiting the light house. While we were there we watched the blowhole spray water into the sky which the girls thought it was great!
During our visit we also took the time to do a couple of daytrips around the area. We spent one really hot day out at the amazing water park called Jambaroo and then another day we went to Bowral to see where Sir Donald Bradman played cricket. We also had a look in the Bradman Museum and International Cricket Hall of Fame. They were both fantastic.
There are a variety of accommodation options include the Big 4 Kiama Caravan Park and various other holiday rentals and hotels.
There is so much to do in and around Kiama that you will always have a great time there.
Check out family friendly Kiama accommodation here.
Thredbo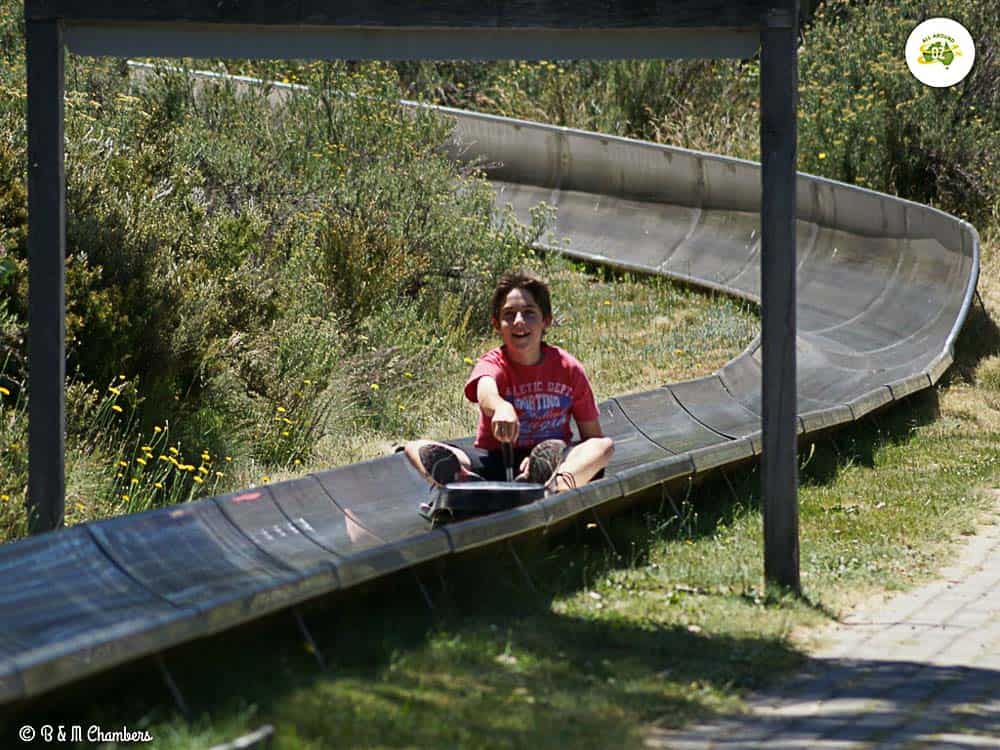 Thanks to All Around Oz
Thredbo is a small village in the NSW Snowy Mountains and it would have to be one of our favourite discoveries for family fun in SUMMERTIME.
In the middle of winter Thredbo is a skier's delight, but come summer when all the snow has melted away it is an awesome spot for families.
First off, you must catch the chair lift that operates year-round from the bottom of Thredbo village up to Eagles Nest Mountain Hut. From there you can undertake the 6.5 kilometre walk to Mount Kosciuszko, Australia's highest peak.
If you don't feel like undertaking the walk then a spot of mountain biking might be in order. From the top of Eagles Nest back to the bottom are several kilometres of mountain bike trails. These range from easy to hard. You can bring your own bikes or hire them from Thredbo village.
If that's not enough, take the kids tobogganing at Alpine Bobsled. The track is 700 metres long and you can reach some heart-stopping speeds if you're game to let the brake go.
After all that you can hit the Thredbo Leisure Centre for a swim and a bounce around on the inflatable water slides or blow up obstacle course. So much fun!
Check out family friendly Thredbo accommodation here.
If you need more inspiration for things to do in New South Wales, click here for a full list of family friendly organised tours.
Do you need more inspiration for places to visit in Australia? Go to our Australia page with more great tips on places to visit with the kids.
The above posts contain affiliate links which means that if you book accommodation through any of the links I will receive a small commission. This enables me to continue to bring this information completely free to you. Thanks for supporting our website.