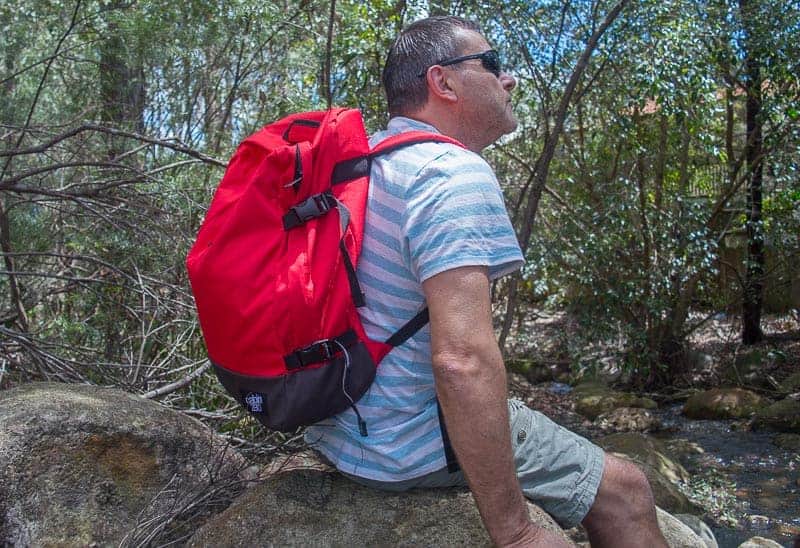 Please note that this post contains referral links, which means if you make a purchase using the links I may make a small commission at no extra cost to you.
Are you considering converting to carry on only luggage?  After years of travelling lightly, we have recently fully converted to carry on only luggage and I cannot recommend it enough.  If you are not fully on board with just packing a carry on luggage bags for your next family adventure, let me tell you why I love it so much:
No more wondering what to back in your check-in luggage and what to pack in your carry on backpack;
No more having to line up early at the airport to drop of your bags, just check in online, print out your boarding passes and go straight to the gate;
No more extra expenses with purchasing baggage allowance;
No more having to wait around at the carousel for your baggage, jump off the plane and get on with your travels;
No more having to worry about the chance of lost baggage;
Less bags in your hotel to worry about; and
Less bags to carry around as you travel.
The advantages just go on and on.
Looking for the best backpack for travelling carry on?  Click here to see our full guide for the best backpacks for travelling carry on.
Many say "oh yeah but I travel with kids" – well so do I – in fact if you travel with kids, even more reason to just take a cabin size backpack as the less bags you have the easier it is to round up the tribe and get to places without being dragged down by numerous bags.
If you are considering converting to carry on only baggage, in search of the best lightweight backpack or looking for the best carry on backpack, then you have come to the right place, as in this post I review the CabinZero Classic 44 litre a fantastic front loading backpack and currently one of the top travel backpacks on the market today.
Do you struggle with packing lightly?  Read out light travel packing tips here and download your very own printable checklist.
Classic CabinZero Review – Best Lightweight Backpack
CabinZero have 4 different styles of bags, the classic, vintage, military and the urban.  They sent us the classic bag to try out, which as I understand it is pretty similar to the vintage bag.   As far as I can tell all the bags are fairly similar with a few subtle differences. Whilst I have not personally seen the military and urban bags, I have done some research on them and will note where each bag differs throughout this review.
If you don't want to read my CabinZero Review, you can check out the video of me packing the bag with everything from our carry on printable checklist into the bag as well as checking out it's features below:
Weight and Size
When I first got my hands on the CabinZero backpack, I was immediately impressed with how light it was.  At 760 grams, the pack weighs next to nothing so is not going to be taking up any of your precious carry on weight allowance, making it a fantastic lightweight travel backpack.  If you intend to do carry on only luggage, then it is essential to get the best lightweight luggage you can find as 7 kg (the usual standard carry on allowance) can quickly disappear if your bag itself is heavy.
Even if you don't do carry on only, this small backpack would be great to roll up and stuff in your suitcase, as not only is it light weight but it also rolls up super small and compact.  Perfect if you are going on a shopping holiday and need to bring an empty bag to fill up with all your goodies.
The military bag weighs 950 g whilst the urban is 1300 g, and all bags have dimensions of 55cm x 40 cm x 20 cm.  The classic that I reviewed was the 44 litres but this bag also comes in a 36 and 28 litre option.  Whereas the urban is 42 litres and the military is 44 litres.
If you are looking for the best small backpack for your child I highly recommend getting the 28 litre Classic.  We have a 28 litre backpack for Myla (a different brand) and she can easily fit all her things in her bag (see what Myla takes in her carry on only backpack here) and carry it herself.  Sometimes she does get tired and we have to carry it for her, but given the size I can easily carry her 28 litre pack on my front and my own 46 litre pack on my back.  The 28 litre pack would make a great present for the kids.
Compartments
Next I checked out the Classic's various compartments.  I used to think that I wanted a backpack with loads of different compartments, but now that we use packing cubes I find that it's not necessary at all.  For me I want the biggest compartment possible; which this bag has.
Another essential feature that in my view all good travel backpacks must have is to be a front loading backpack.  So it is awesome that the CabinZero Classic is a front loading travel backpack which basically means its a backpack that opens like a suitcase.  Combined with the backpack's rectangle shape, this bag makes use of every single inch of its 44 litres.  This makes it super easy to pack as well as to access your belongings.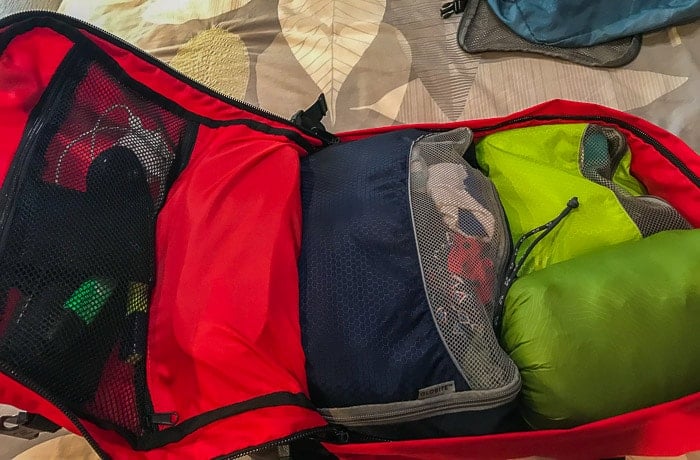 In addition to the main compartment, the pack has the following compartments:
At the back of the inside of the main compartment there is a large pocket which is ideal for a laptop or tablet as well as all your other devices and cords.  As you can see from the video above I easily packed a full size laptop in here as well as all its cords, notepad and pens.
On the other side of the inside compartment there is a smaller mesh compartment which is ideal for your smaller items such as your purse / wallet, passport, other travel documents, pens, notebook etc. The mesh pocket on the urban style is much larger.
Under the mesh compartment there is another pocket around about the same size – I was able to fit a pair of shoes in this pocket.
On the outside of the bag there is a large sleeve like compartment which is great for carrying belongings that you need quick access too. There is no front sleeve on the Urban bag.
Straps
The bag has 4 compression straps, 2 on each side of the main compartment.  It is vital for the best travel backpack to have compression straps, particularly to be the best backpack for carry on only luggage.  Compression straps allow you to pack the bag and then reduce the physical size of the bag, making it easier to carry and much easier to pack away either under your seat on the plane, train or bus or in the overhead locker compartments.  The urban bag does not come with the compression straps.
The bag also contains 2 sturdy handles for hand holding the bag.  One of the top and one on the side.  On the back, of course is the adjustable padded back straps/  For some reason the military bag doesn't come with a side handle.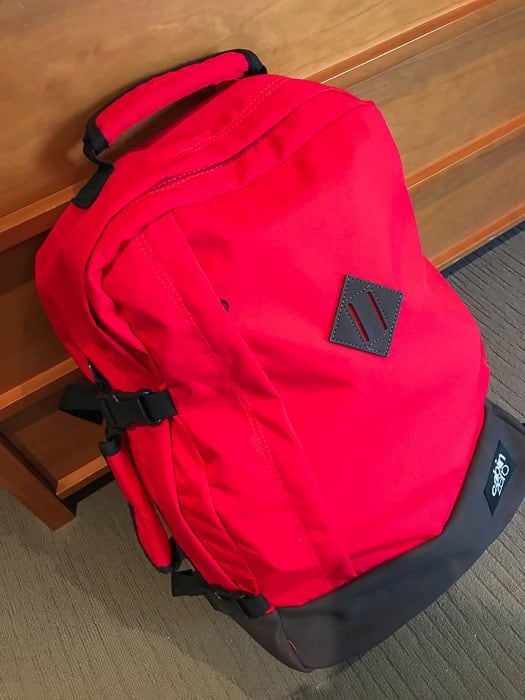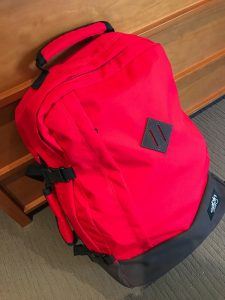 It's a bit disappointing that the classic version doesn't come with a waist and / or chest strap.  We don't walk too far with our packs these days, so not a huge issue for us.  However if this is important to you than I recommend the military version as it comes with these additional straps.
The urban backpack comes with detachable straps and a pocket for storing the straps when not in use.  This pack also has the ability to convert from a backpack to a messenger style bag.
Security Features
Many top rated backpacks these days have built in security features and the CabinZero is no different.  Their packs have built in security features including lockable zippers as well as Okoban tracking tags.  I'd never heard of Okoban before but basically there is a special tag on the bag which you can jump online and register your bag and details so if your bag gets lost it can be returned to you.  Great idea in theory, however I am not sure if anyone would know that there is a special tracking tag on the bag as it looks nothing more than a piece of plastic.
Oh and the classic is also a waterproof backpack protecting all your belongings in rainy weather.
Warranty
Can you believe this bag comes with a whopping 10 years warranty!  CabinZero clearly backs themselves as producing the best travel backpack; as this is a huge warranty.  Did you say 10 years wasn't enough?  Well if you jump online and like their Facebook page, you will automatically receive a total of 25 years warranty.
Colours & Pricing
The Classic bag comes in a stack of different colours too, so no matter if you want to blend in with the crowd or completely stand out there is a colour just for you.  Colours include hot pint, black, white, lime, sky blue, red, maroon, hot orange, navy, mustard, grey, bright purple, bright blue, aqua, green camo, blue camo, jungle camo, apple green, pink and blue, dark purple, light grey and denim.  The urban bag just comes in black, whereas the military comes in sand, black or green.
Ok so as they say, I have saved the best to last!  The price may very well be the best part, making the CabinZero packs not only one of the best travel bags available today but the best budget travel backpack as well.  At $101 AUD the Classic 44 litre is extremely affordable, whilst the 36 litre is priced at $93 AUD and the smaller 28 litre (perfect for kids) is $85 AUD.  I can tell you that our existing carry on backpacks cost far more than this.
Do you want to keep this handy for later? 
Click on one of the images below to and save it to Pinterest.