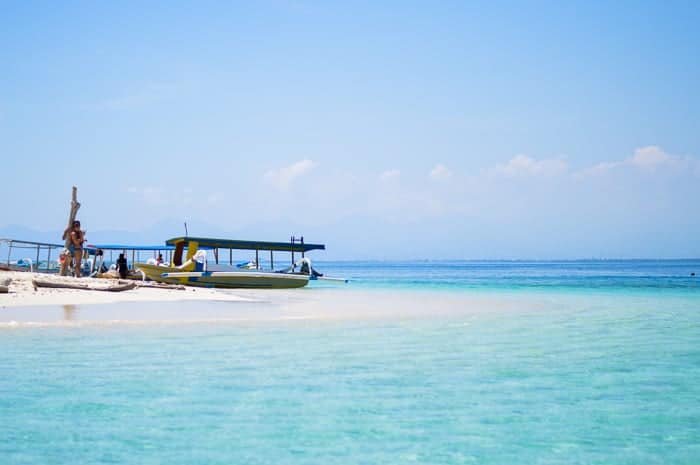 With its undeveloped landscape, Lombok is absolutely stunning!  With its gorgeous turquoise beaches, fringed with coconut palms, lush tropical mountains – you will be forgiven for thinking you just walked on the set of the US TV series Lost.
With the help of some travel blogger friends, this post covers off on where to stay in Lombok.  We give you all you need to know about each of the main areas where you might base yourself, including what to do there, where to eat, and how to get around so you can choose the best place to stay in Lombok for your Lombok holidays.
Want to know what things to do in Lombok?  Click here to find out.
Click here to read our post on the best 23 hotels, resorts and villas in Lombok for all budgets
The Gili Islands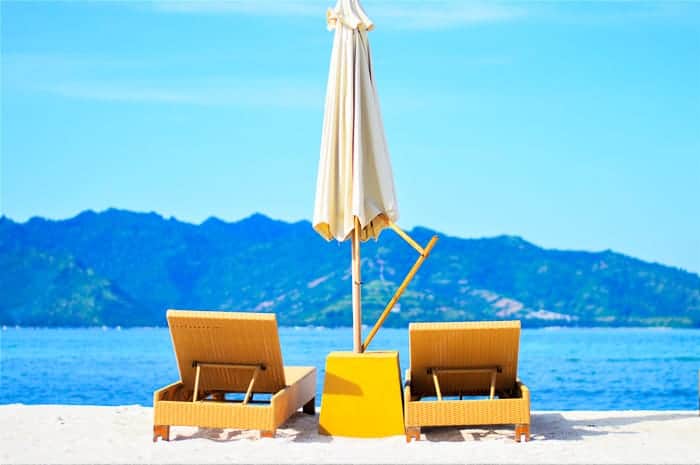 Whilst the word "gili" simply means small island in Indonesian, when people say "the Gili Islands" they are generally referring to the three islands being Gili Trawangan, Gili Meno and Gili Air.  This is the despite the fact that there are many gili's (small islands) around the main island of Lombok.
The Gili Islands are easily accessible by boat from both Lombok and Bali.  From Lombok, you can catch the public boat from Bangsal Harbour an from Bali a fast boat operator such as Gili Gili Fast Boat.  The different islands – are so close to each other, not more than a 5 minutes boat ride away from each other.
As to which is the best Gili Island, well that really depends on you.  Keep reading below to work out which Gili Island is perfect for your island paradise holiday.
Gili Air Island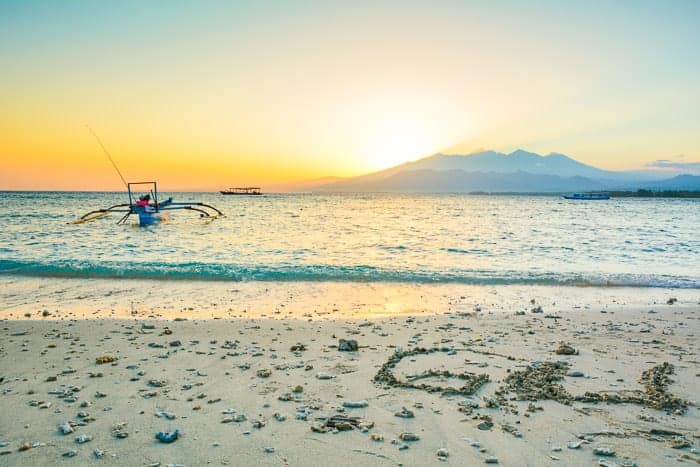 By David
Gili Air Island is the perfect choice if you are looking for a family friendly island with plenty of restaurants and people, but without the craziness of the much busier Gili Trawangan.
There are plenty of things to do in Gili Air and much of it revolving around the water. You can go for a swim, kayak, dive or snorkel. There's multiple diving schools on the island. Freediving is also popular here. Something great to do with kids is to take a glass bottom boat cruise, and there's aslo cooking school, yoga classes, day spas and lots of boat trips.
Our favourite activity, when we weren't eating on the beach, was island hopping to the other Gili Islands. It's easy to do this with regular scheduled boats. There are many eating options and we found them to be very good.
To take advantage of the scenery, a must do is watching a movie right on the beach at the Beach Club.
There are no cars on the island so getting around involves two options. You can hire a bike or take a cidomo. A cidomo is a horse and cart which is a fun option with kids option but make sure you bargain hard before hopping in!
Consider Gili Air next time your in Bali – it is super easy to get from Bali to Gili Air by a fast boat.
Gili Air really is the best Gili island for a relaxing break for families where you still have plenty to do.
Click here for a full list of hotels available in Gili Air.
Click here for information on things to do on Gili Air and Gili Air accommodation
Gili Meno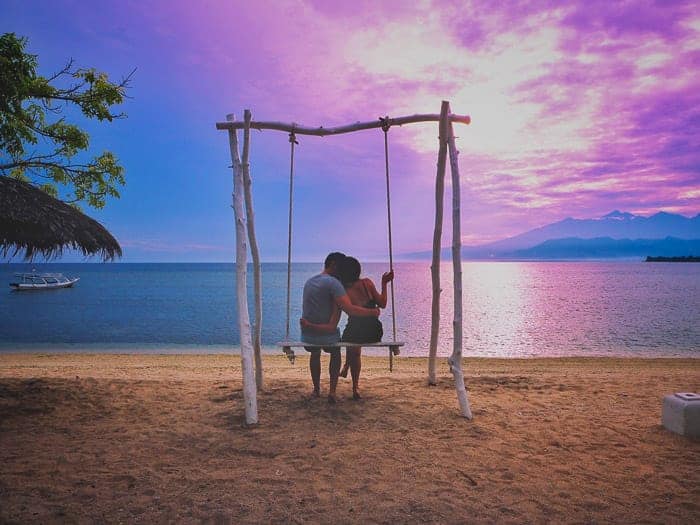 By Miss Tourist, check her out on Instagram
Out of the three Gili Islands, I think Gili Meno is the best Gili Island. Why?  Well, all of the Gilis have fantastic turquoise water and white sand beaches, just that Trawangan is waaaaaay more touristy and, thus, more crowded.
Gili Meno is a bit less promoted, and that is the reason why the atmosphere is more serene over there.
If you wake up in the morning and simply walk along the sea shore, you can feel like the whole place is just for yourself!
The place is a perfect fit for a romantic getaway or families with kids. I visited with friends, but we love nature and we were tired from the long bike ride across Bali, so the destination was perfect for us!
Gili Meno snorkeling is not that spectacular as in say, Egypt, but it was a lot of fun and I recommend you do it! You can rent snorkeling gear pretty much everywhere, or you can bring your own. Don't forget to use sunblock, the sun can be strong!
If you are a party animal, you might like Trawangan better then! But even in this case, do take a boat to Gili Meno (seriously, it is 5-7 minutes ride) and just enjoy the atmosphere there without hustle and bustle of the neighbour island.
My last tip for travellers going to Gili would be to try some sea food, it is extremely fresh and not overpriced as they catch it right there!
Click here for a full list of hotels available in Gili Meno.
Gili Trawangan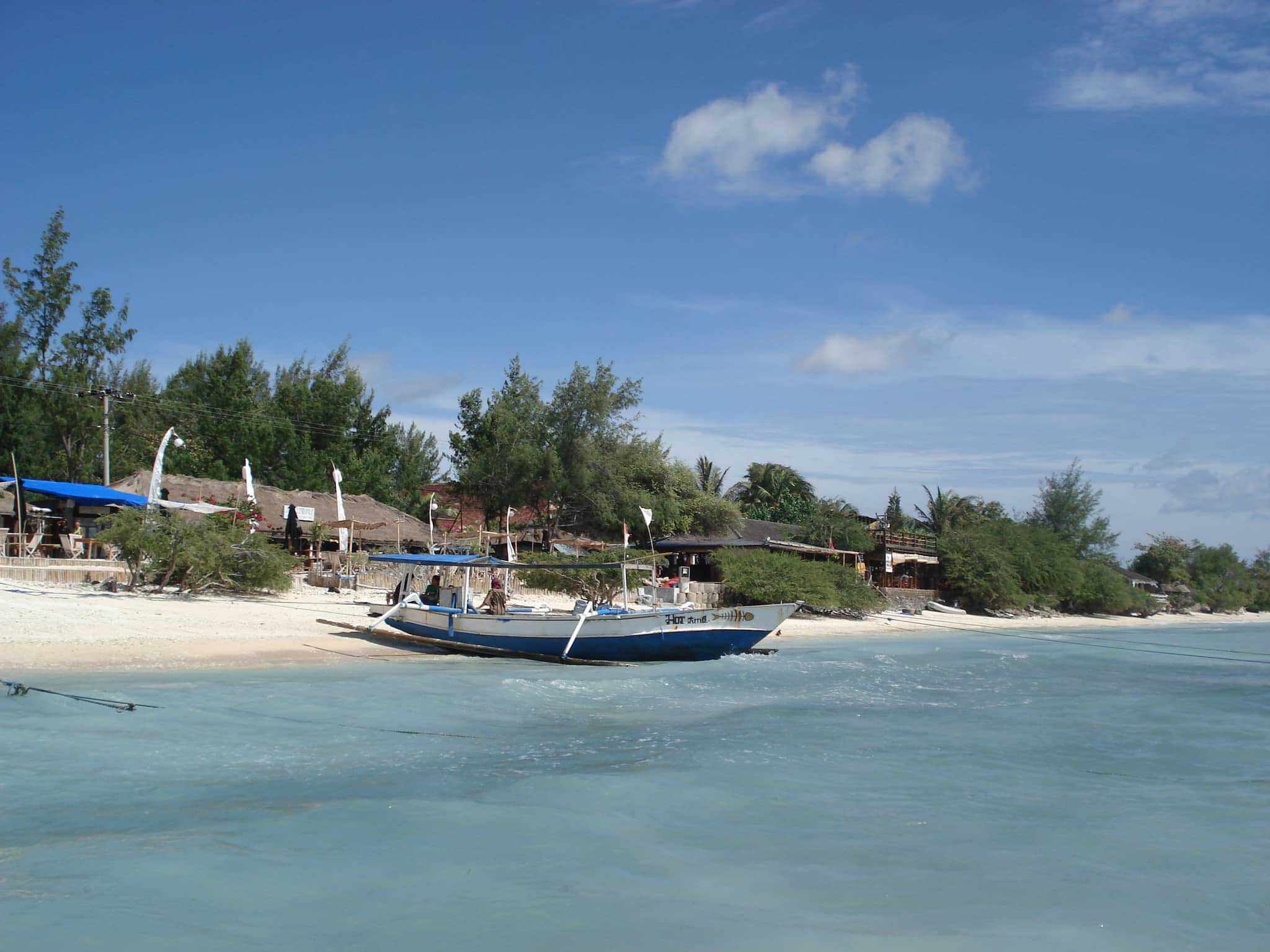 The most popular and most developed island out of the 3 Gili's is Gili Trawangan (or Gili T as it is also affectionately known as).  This island is jammed packed full of international tourists and is well known for being a party island, but as with all the Gili islands it also is home to stunning beaches.
The island is tiny and you could easily walk around it in a few hours, which means everything on the island is easily accessible – which is lucky given there is no means of transportation on the island apart from bicycle, foot or cidomo (donkey and cart).
You will find the majority of the Gili Trawangan accommodation, diving schools, restaurants and bars on one side of the island,  whilst on the other side it is much less developed and has luxury resorts.
The main things to do in Gili Trawangan is swimming, snorkeling, scuba diving, kayaking, paddle boarding, island hoping and lazing on the beach.
It is super easy to get from Bali to Gili Trawangan by fast boat, so it is highly recommend you take a few days to visit during your stay in Bali – or just skip Bali altogether!
Click here for a full list of hotels available in Gili Trawangan.
Heading to Bali too? Check out our post on the best locations to stay In Bali.  
Senggigi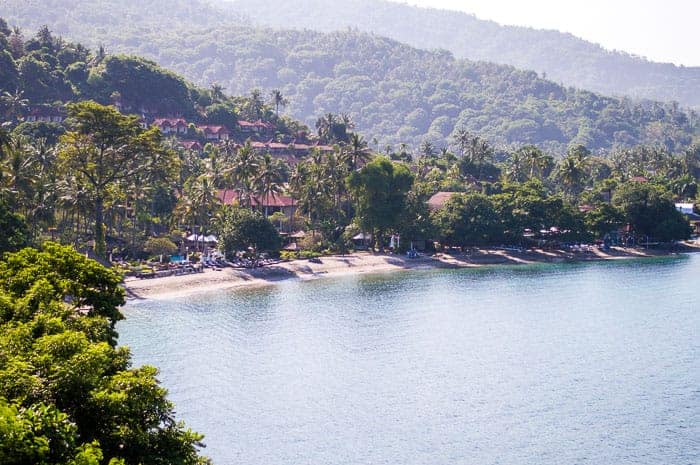 Senggigi is the main tourist area on the mainland of Lombok which is located on the island's west coast.  This is where most the islands accommodation is found, and you can find accommodation for all budgets, from backpacker to good value mid-range to luxurious resorts.
Senggigi also has a great variety of places to eat, bars and a few shops for the typical tourist souvenir.
Just keep in mind that although Senggigi is the main tourist hub for Lombok, this is not like a tourist hub in neighbouring Bali.  Senggigi is still very much a quiet sleepy town and you will most certainly not be swamped by fellow tourists.
There is not a lot of things to do in Senggigi, the main activity is to enjoy the facilities in your resort, snorkel from the beach and relax.  However Senggigi is a great place to base yourself whilst you go exploring all the wonderful things to do in Lombok.   Some of the best beaches in Lombok, include Kuta Beach Lombok, Mawun Beach and Tanjung Aan and the best waterfalls in Lombok include Tiu Teja, Tiu Kelep or Sendang Gile.
One of the must things to do in Lombok is a day trip snorkeling around Gili Nanggu.  This island is absolute paradise and I have to say Gili Nanggu snoreklling is the best I have ever done!  You can organize this day trip with one of the many tour operators in the street or with your hotel.
The best way to get around Senggigi is by scooter or you are not comfortable with this you can easily and cheaply take a taxi to anywhere you want to go.
During our recent stay to Senggigi we split our time among 2 different places.  We stayed at the Holiday Resort which is a fantastic family resort in a gorgeous setting right on the beach as well as the more secluded Coconut Boutique Resort which is home to 16 individual bungalows just outside the town.  You can read our review for the Coconut Boutique here or the Holiday Resort here.
Click here for a full list of hotels available in Senggigi.
Kuta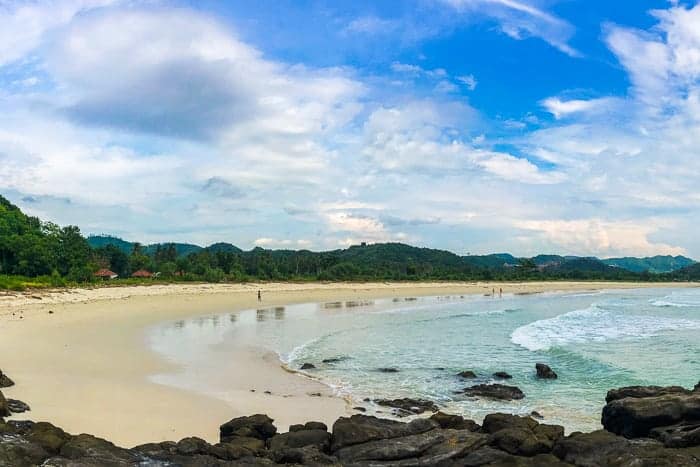 By Brogan Abroad, check her out on Facebook
Kuta Lombok (not be confused with Kuta Bali) was for me the epitome of what I had in mind when I thought of beach life in Indonesia. Spectacular scenery, pristine white sand beaches with clear blue-green waters, and a very relaxed and cool vibe.  Spend some time here, and you will never want to leave.
Kuta has some of the best surfing spots in the world, but surfing here is not just for the pros. Selong Belanak beach is ideal for beginners. You can hire a surfing instructor very cheaply or just a surfing board if you want to give it a go yourself.
Hire a scooter and ride along the coastal road either east or west of Kuta. Whichever direction you take, you are guaranteed to find a spectacular Lombok beach which you will mostly have to yourself.
If you visit the headland by Pantai Seger at low tide, you will see thousands of red and blue-clawed crabs coming out of their holes. It's a sight to behold, and a lot of fun trying to get a photo of them. They move fast!
Places to eat
Walk up to Sonya Fish Restaurant and you will see a grill with a table with a huge selection of fresh fish caught locally. Choose the one you want, take a seat and enjoy. I recommend trying the parrot fish. Deliciously fresh!
Ashtari Restaurant, sits at the top of the hill, and has the best view in the area. Go there for breakfast and start the day with one of the best smoothies in town.
Nana's Warung is a simple little shack on the main road, Nana's serves proper homemade Indonesian food. Her nasi campur is said to be some of the best you will find in the country. It was for sure they best I tried.
Kuta Lombok Accommodation
About a 10-minute walk to the centre of town and the beach, Same Same Bungalows is a little oasis of calm. Nothing too fancy but real Indonesian beach accommodation. The team working there is really helpful and they will assist you with arranging any activities you'd like. You can also hire scooters from them.
Heading to Bali too? Check out our post on the best locations to stay In Bali.  
The Spot Bungalows is a group of lovely bamboo bungalows arranged around a sandy courtyard, this place feels like you are already on the beach. Located in the centre of town, you're right in the middle of it. Although with the relaxed atmosphere, being in the middle of it doesn't mean being in the hustle and bustle. It's Kuta Lombok after all.
Click here for a full list of hotels available in Kuta.
Want to know what things to do in Lombok?  Click here to find out.
Want to visit another Indonesia Island paradise? Then check out Raja Ampat.
Want to keep this handy for later?  
Click on one of the below images and save to Pinterest.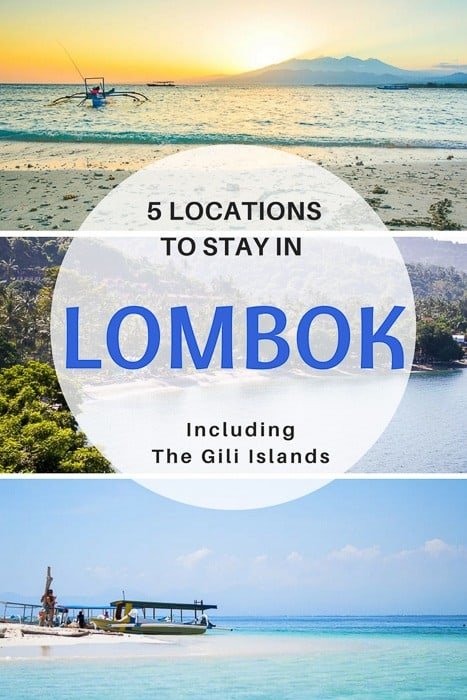 Please note that the above post contains affiliate links, which means if you book accommodation via the links I will receive a small commission.  This allows me to continue to bring this information to you for free.  Thank you for supporting our website.