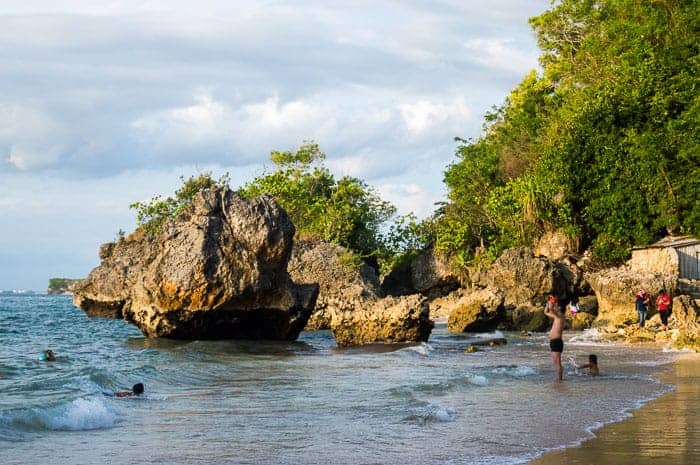 Whilst many would have you believe that Bali is a place full of party goers and a place to buy boot leg t-shirts, Bali is also a place of gorgeous beaches, stunning rice paddy terraces and fields, delicious food, and the smiling Balinese people.
With the huge variety of accommodation from budget backpackers, good value mid-range hotels to the extravagant resorts, Bali has something for everyone's budget.
Whether you want to be in the heart of the hustle and bustle, among the rice paddies or on a quiet beach – Bali has the ideal location for you.
With the help of my fellow travel blogger friends, I have put together this overview of the various tourist hubs in Bali to help you decide where the best area to stay in Bali is. Whether you are after the best beaches in Bali, the best places to visit in Bali or just the best beach resorts in Bali – we will help choose the ideal location for your upcoming Bali holidays.
Heading to Bali? Click here for 37 Awesome Things to do In Bali, including how to get there and where to get the best prices.
Best Place to stay in Bali
Kuta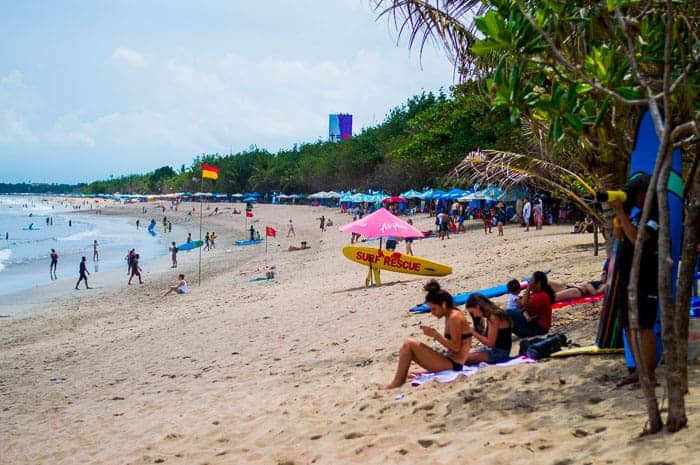 Whilst Kuta may have earned itself a bad reputation over the years for being chaotic, full of tourists and party central; and whilst this may be true to some degree it is still a good location for first time visitors to Bali who want to be in the thick of it all.
Kuta is famous for its popular surf beach, in fact the beach is a magnetic for all sorts of tourists due to its laid back beachy vibe. On the beach not only will you find surfy types, but there is also pop up bars with locals selling drinks from eskys, serving them to tourists sitting on plastic chairs, ladies offering beach massages and hair braiding as well as local selling various items such as sarongs and kids toys.
There are numerous huge shopping malls, as well as lane ways with local shops selling everything boot leg to some gorgeous home wares. There is also an endless supply of places to eat in Kuta – probably my favourite thing to do is to find a rustic restaurant in a quaint lane way and just watch the people go buy.
I certainly don't think tourists coming to Bali should spend all their time in Kuta, as Bali is so much more than this. For those in search of great accommodation, shopping, entertainment and eating though this is perfect for a few days. Kuta is also in a great central location for various day trips around Bali.
In Kuta accommodation is plentiful, from flashy resorts, budget style, luxurious and everything in between. Whatever your budget there is the ideal place for you in Kuta. Kuta is also home to some of the best family resorts Bali has with kids club. We recently stayed at the Holiday Inn Bali and it is fantastic for families and has a well-run kids club (check out our review here). The Bali Dynasty Resort is another great family favourite.
Click here for a full list of hotels available in Kuta.
READ: 5 Reasons to Visit Bali
Legian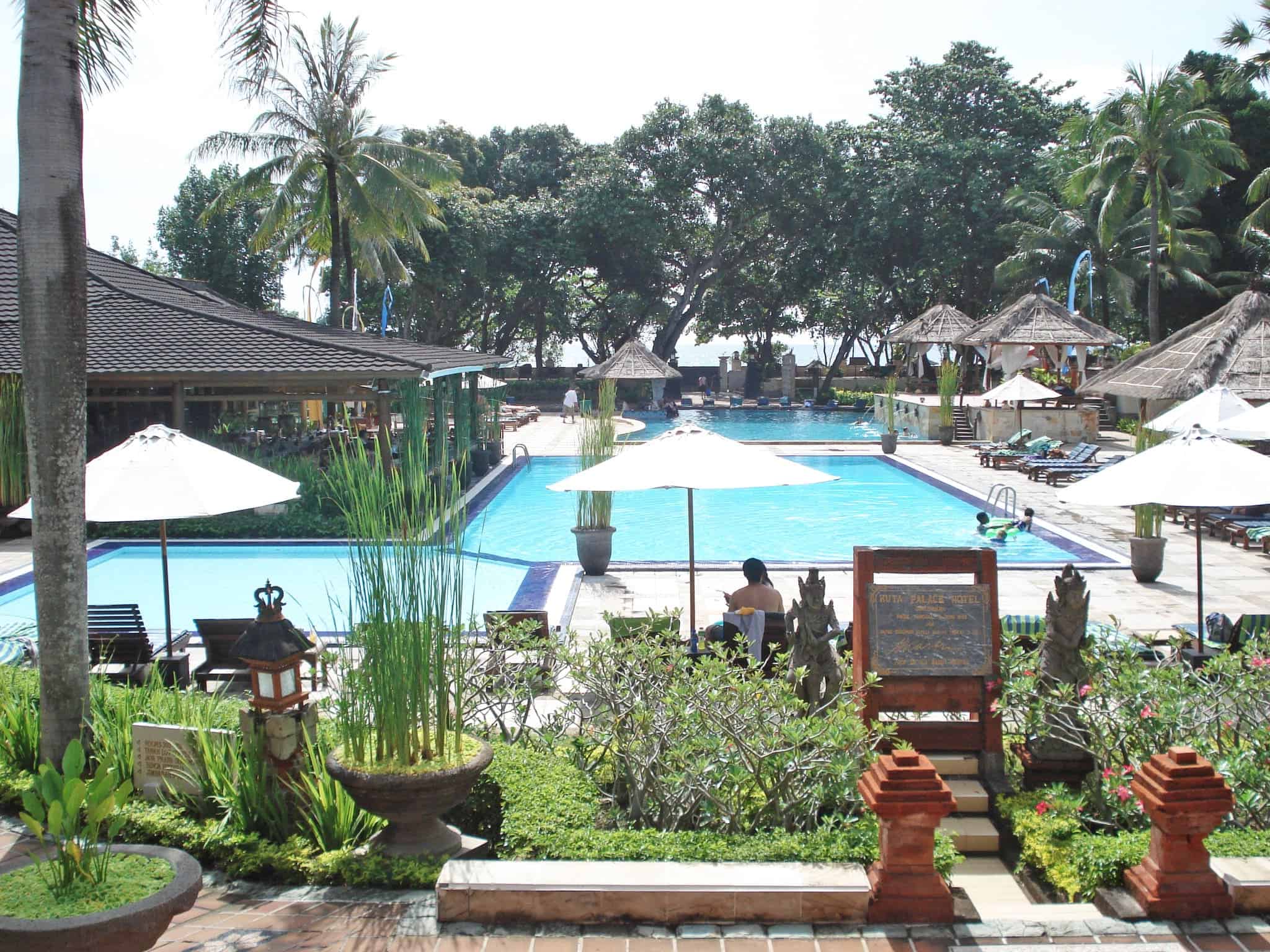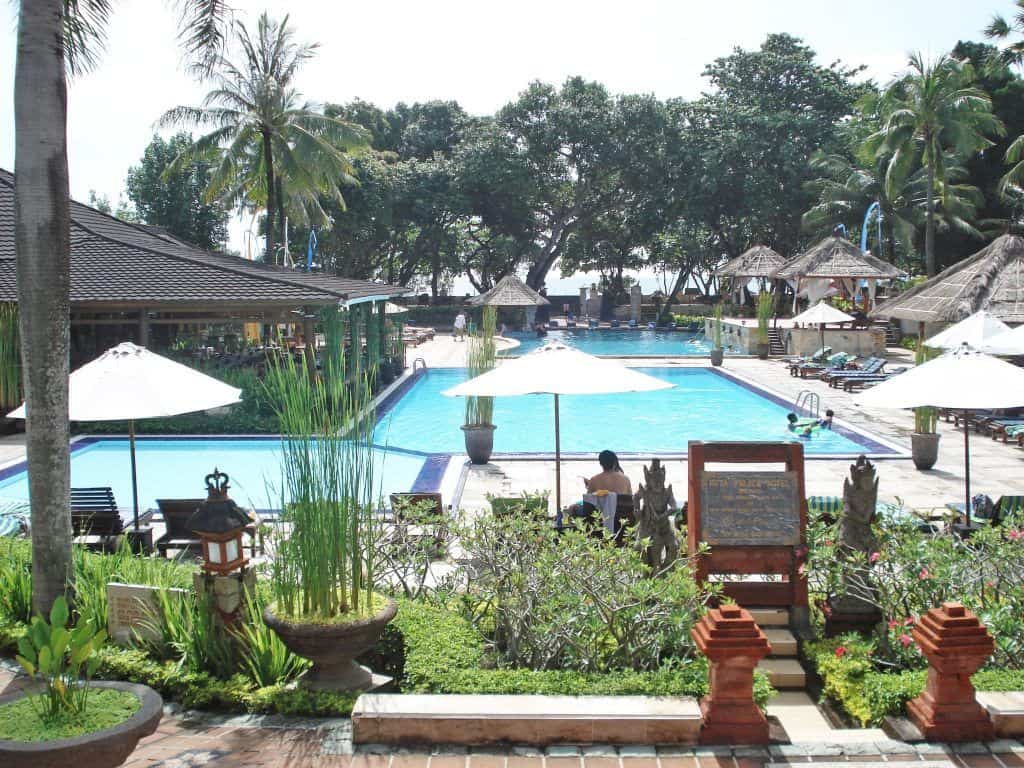 For those want to be in the main tourist hub, but not right in the chaos of Kuta, Legian is a good alternative.
In Legian you will find all the usual tourist conveniences as Kuta. There are numerous resorts, from budget right through to luxurious, plenty of shops with your usual tourist souvenirs, various places to eat and there is also a great surf beach.
Depending upon where you stay in Legian you can easily walk into Kuta, or it is only a short cab ride away.
Legian is still very central like Kuta and a great location for various day trips.
As with Kuta, Legian is a great choice for first time travellers or those wanting to be in the heart of it all. However, Bali has much more to offer than this, so make sure you spend a few days elsewhere or get out on lots of day trips.
Like Kuta, some of the best family hotels in Bali are located in Legian, when visiting we stayed at the Jayakarta (pictured above), a great value for money resort.
Click here for a full list of hotels available in Legian.
Do you want to learn how to pack lighter? Check out our tips here.
Seminyak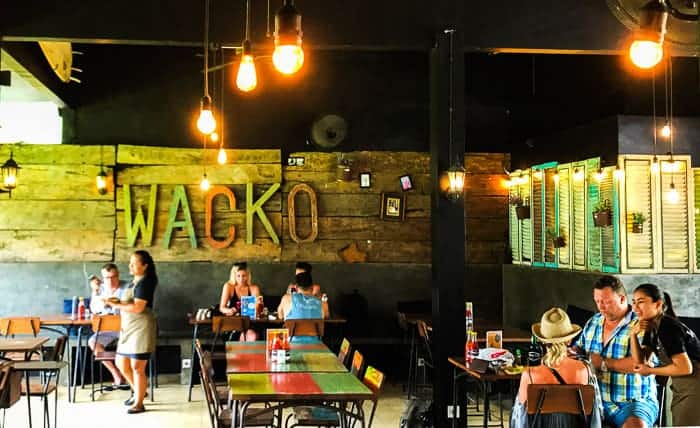 By Make Time to See the World, check her out on Facebook
Whilst still in a central location, Seminyak is a little quieter than its neighbours Legian and Kuta. Whilst there is still plenty of mid-range to luxurious resorts in Seminyak, there are heaps of great affordable villas for rent here which is a great alternative to a resort.
There are a huge variety of shops in Seminyak including some great boutique clothing stores, furniture stores and art galleries.
One of the best things to do in Seminyak is to eat!! Seminyak has recently become known as being a foodie paradise, with multiple amazing restaurants (at half the price of their Western counterparts!) and cafes springing up throughout the town and wowing diners with incredible and diverse range of dishes.
Perfect for families, Bo & Bun is an incredible Asian-fusion restaurant who offer a virgin cocktail list, fresh juice combinations and hands on meals – such as roll your own spring rolls – to get the kids involved. And for those that need a burger fix, Wacko Burger – where you can design your own burgers – gives you a taste of home in a beautiful tropical setting. Just be careful how many toppings you add – the burgers can get HUGE very quickly!
Intrigued about where else to eat in Bali? Read all about the best Seminyak Restaurants and indulge your inner foodie!
Click here for a full list of hotels available in Seminyak.
Canggu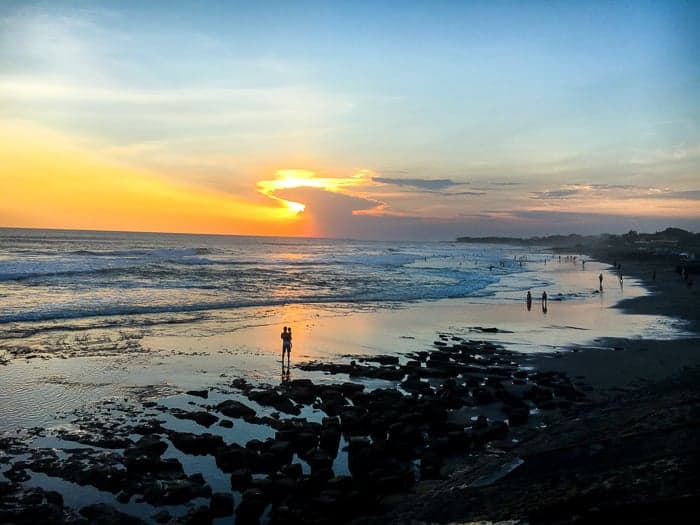 By Our Overseas Adventures, check them out on Instagram
Canggu is the perfect place to base yourself for a Bali family holiday. It's a great mix of traditional Bali with local villages, lush vegetation and beautiful rice paddies, coupled with a great cafe and foodie scene with a laid back vibe.
Top of the things to do in Canggu list has to be Finns Recreation Club (formerly the Canggu Club) with its fabulous water splash park, ten pin bowling, trampoline centre and kids club. It's a great day out! Another favourite is the Bali Equestrian Centre which offers pony ride and grooming lessons with immaculate horses that are very well taken care of. They even run school holiday pony camps, which would be fabulous for any horse-mad tween.
Canggu is a foodie's paradise, with a wide variety of cafes, bars and restaurants all serving a range of fabulous food. Our favourite breakfast cafe is Milk and Madu – complete with a stunning breakfast meal and the best coffee in town, they actually get their milk from ex-pat Australian cows! The kids menu is comprehensive and they've got a toybox and colouring sheets. Monsieur Spoon is another great place to get a coffee fix and indulge in the delicious French pastries.
If traditional Balinese cuisine is more your style, then don't miss Warung Dandelion on the main road into Canggu. The food is absolutely delicious, and the garden setting is stunning. They even have cute rabbits hopping around! We also enjoy getting some cheap eats from the various roadside warungs and fresh fruit stalls that line the roadside. Look for one that's busy and you can't go wrong.
When night time rolls around, head out to Echo Beach to view the legendary Bali sunset. You can pull up a beanbag at Echo Beach House and enjoy watching the surfers hit their last breaks of the day while sipping on a cool drink or enjoying a fantastic barbecue complete with beautiful fresh fish, seafood and steaks.
Click here for a full list of hotels available in Canggu.
Sanur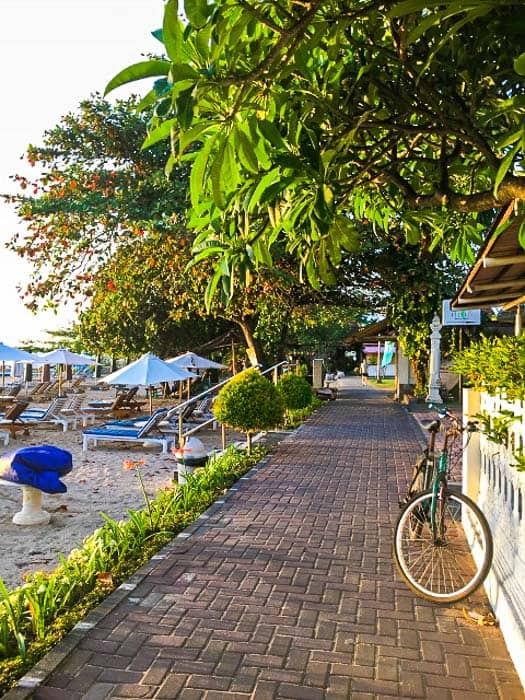 By Rolling Along with Kids, check them out on Facebook
Sanur is one of our favourite places to take the kids when we travel to Bali. The quieter streets, yummy food and paths that you can actually push a stroller along! It's also in a great location to explore the rest of Bali as the traffic is better than the Kuta side.
I recommend staying beach side of the main Bypass road as it can be quite tricky to cross the 6 landed road. Along the beach check out The Fairmont, The Prama and Mercure Resort, they all have kids clubs. Another great option for the ultimate kids stay with larger families is Sanur Paradise Plaza Suites. Set on the main bypass road, the location may not suit if you prefer to be on the beach but during the day the back gate is open for a shortcut to the shops. Great accommodation for a reasonable price.
There are plenty of things to do in Sanur with the family. The beach path in Sanur is a perfect spot to hire a bike and go for a ride with the kids. There are many places to hire bikes and some even include baby seats for the back. Check with your hotel or villa with places they recommend or if they have bikes to use. Peekaboo is a play centre on the bypass road that our kids love to visit and the free Wifi and good coffee is a definite perk! On our list to check out is Cheeky Monkeys Learning Centre. They have the option to drop the kids off for a couple of hours or all day if you need. The outdoor playground looks great for the kids to explore. Sundays in Sanur are a great time to visit the beach as local families also visit so there is lots to see and other kids to play with.
Eating in Sanur has improved so much since our first visit in 2012. Most of the restaurants are kid friendly and the night markets in northern Sanur look like a great night out for all the family. One of our favourite places with the kids to visit is La Playa on the beach. They have the most delicious Indonesian Rijsttafel and the kids have fun playing in the sand. Also The Porch Cafe have the most wonderful breakfasts and juices, we always return each trip. A few of our other faves are Grocer and Grind, Soul In a Bowl, Mona Lisa, Three Monkeys and the Fire Station.
Click here for a full list of hotels available in Sanur.
Nusa Dua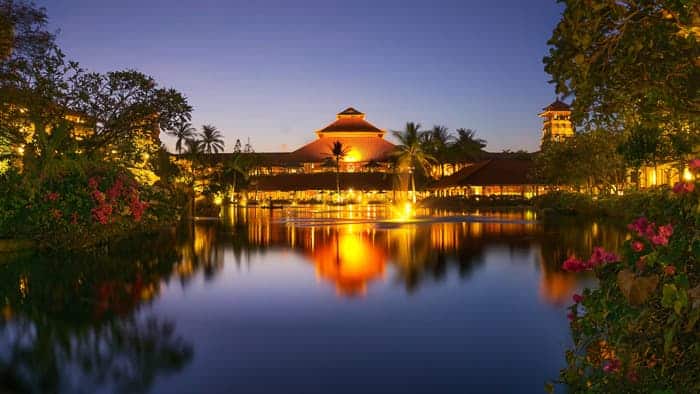 Well known for its luxurious resorts, over the top manicured gardens in a gated community, Nusa Dua is a fantastic location for those who want a holiday full of pampering away from the rest of the world.
I'll be honest, Nusa Dua is not my thing, mainly due to it being a gated community and completely missing everything that makes Bali, well Bali. There are no local communities here, so no local people, expect of course the staff in the resorts, so there is no opportunity to experience the local culture (expect for staged shows). To me the whole place just felt superficial.
There are not alot of things to do in Nusa Dua outside of the resorts. Although there is a flash shopping mall with a few markets and restaurants.
Having said all that, Nusa Dua is great for people who are looking for a resort holiday. Nusa Dua has fantastic kids clubs, where your kids will be entertained all day and the adults can completely relax. The beaches here are well looked after by the resorts and the water is calm making it ideal for small children.
Whilst not a central location, you can still easily visit other areas of Bali from here and it is only a 30 minute to 1 hour drive from Nusa dua to Kuta, depending upon the traffic.
Click here for a full list of hotels available in Nusa Dua.
Jimbaran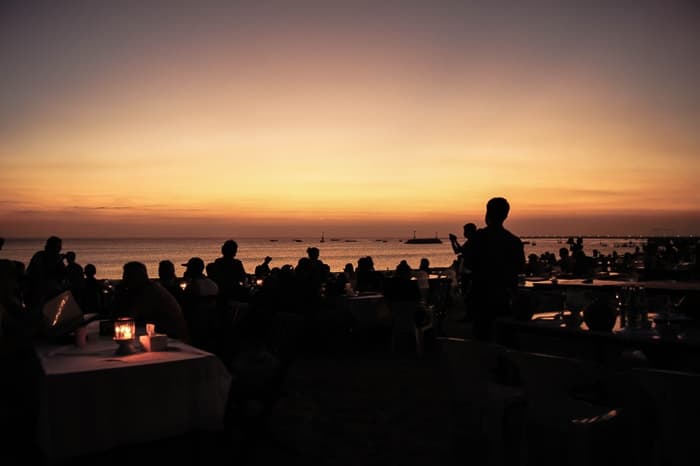 Jimbaran is located just south of Kuta and is well known for its famous seafood dinners on the beach.
If you are looking for a quiet spot to base yourself, in a luxurious resort whilst still experiencing a local Balinese community, than Jimbaran may be perfect for you.
Like Nusa Dua, there is still not a lot to do here but enjoy the gorgeous beaches and the luxuries of your resort, but at least here you are not tucked away from the local Balinese community.
Jimbaran is also a fantastic central location to experience the rest of Bali and is close to Kuta if you want to be close to the action from time to time.
The number one must do experience in Jimbaran is enjoying a seafood dinner on the beach. You can choose your own seafood, have it cooked and served to you on the beach all while you are serenaded by roving musicians as you watch the sunset. Even for people who don't eat seafood (like me!) this is a must do experience.
Click here for a full list of hotels available in Jimbaran.
Uluwatu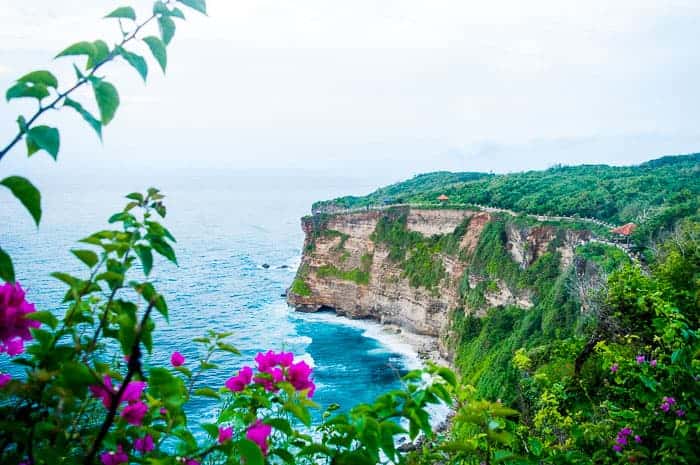 Uluwatu has long been a super cool surfer destination, but is fast becoming a popular destination for everyday travelers wanting to escape the hordes of tourists in Kuta.
The landscape in Uluwatu is stunning, with most of it set high on the cliff tops, with steep paths leading down to the gorgeous beaches below. Whilst Uluwatu is famous for its surfing beaches, it also has fantastic beaches for swimming.
Uluwatu is not an easy place to get around, accommodation, shops, places to eat and the beaches are spread out – which in the main part keeps the crowds away. So you will need a motorbike or hire taxis to get around.
Uluwatu is also home to the Uluwatu Temple which is a gorgeous Balinese temple set high on the cliff tops where you can view some stunning sunsets. Each evening at sunset you can also see the Kecack Fire Dance.
Personally I think Uluwatu is great for a day trip, but for those who love to surf or want to relax without the crowds, then Uluwatu may be a perfect location for you.
Click here for a full list of hotels available in Uluwatu.
Ubud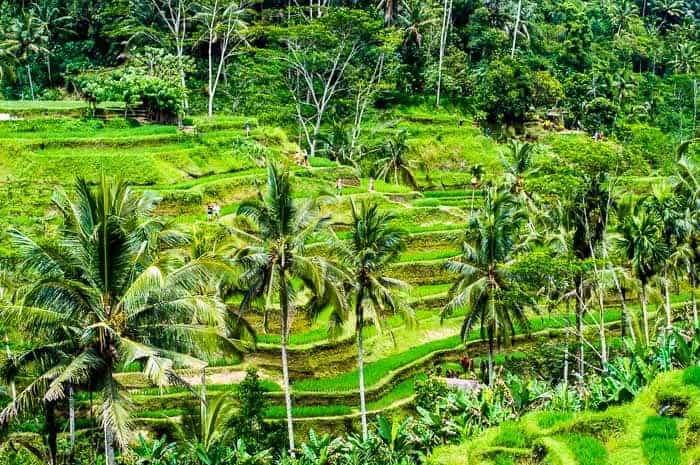 By Seven Wanderers, check them out on Facebook
Around an hour's drive from the fast paced city streets of Kuta, lies Ubud, often referred to as the 'cultural centre of Bali'. Surrounded by rainforests, temples and rice terraces, this tranquil and spiritual place is awash with arts and crafts, bars and restaurants and more spa, massage and yoga centres than you can imagine in one small town.
Ubud has a real laid back, relaxed feel to it, yet still an exciting and electric vibe. The town centre is buzzing with restaurants and bars, intoxicating smells and live music spilling out onto the streets, paired with bright and colourful craft and souvenir shops and galleries.
One of the top things to do in Ubud would have to be the Sacred Monkey Forest. Such a unique experience walking through the lush forest, surrounded by cheeky monkeys watching you watching them.
On our most recent visit we stayed at the Champlung Sari Hotel which is right in the heart of Ubud and just across from the Monkey Forest. With monkeys roaming around the grounds with us, it's definitely one of the most unique hotels we've ever stayed in.
There are some great things to do around Ubud and it's a great idea to organise a day trip visiting some of the top nearby attractions. A local driver and car/minivan will set you back around 5-600,000 IDR ($50-$60 AUD) for the whole day.
Some of the best things to do in Ubud include:
Tirta Empul (Holy Water Temple) and Goa Gajah (Elephant Cave), two extremely beautiful and unique temples, rich in history, culture and religion.
Tegalalang Rice Terrace (pictured above) and Mount Batur (Kintamani Volcano), offering some incredible views and photo opportunities.
Tegenungan Waterfall, a gorgeous waterfall in an idyllic, tropical setting, where in the dry season the water is clear and perfect for swimming in.
There are also many nearby coffee plantations, museums and markets worth allowing time for. Follow this up with several days of relaxation with a good massage (or 5), some yoga, a bike ride through the rice fields and a whole lot of amazing food, and you have the perfect inland Bali escape.
Click here for our full guide on where to stay Ubud with kids.
Heading to Bali? Click here for 37 Awesome Things to do In Bali, including how to get there and where to get the best prices.
Amed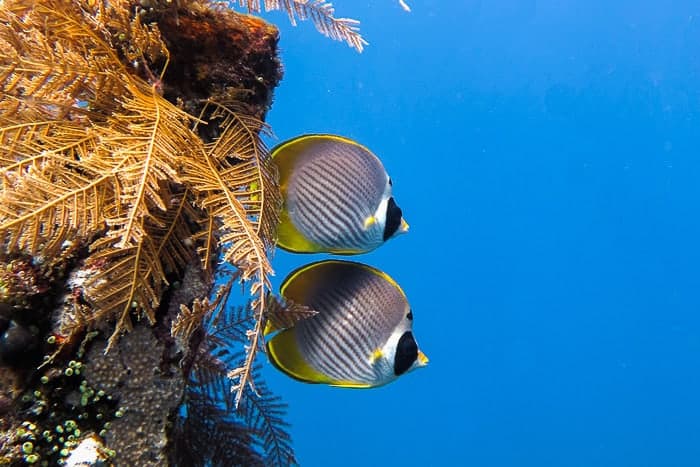 By Flip Flop Globetrotters, check them out on Facebook
For those looking for things to do in the North Bali, Amed is a great place visited mainly to relax, swim and dive.
While Amed is also the name of a village, when speaking of Amed the Balinese usually refer to any one of the seven fishing villages that line this part of Bali's East coast (Amed, Jemeluk, Bunutan, Lipah, Selang, Banyuning and Aas). On all the beaches here you see the traditional jukung outriggers used by the fishermen.
We stayed in Bunutan and had to get used to the fact that there's next to no public transport and no real town center. Each small village has it's highlights though and after two weeks Amed really started to grow on us.
For food we especially enjoyed Warung Wayan near Lipah Beach. Renting a scooter is the best option to explore this part of Bali (and great fun with your toddler in a back carrier :-)).
Live is generally pretty slow and laid back here. We came to Amed for diving and were not disappointed. Abundant fish life and healthy, colourful corals. Most dives are shore dives, which makes it a perfect family destination. You can relax on the beach or at a nearby restaurant with your kids, while your partner goes diving. And in between dives you can all have lunch together. Best of both worlds!
Nearby Tulemben's USAT Liberty wreck (about 30 minutes away) is a dive site you definitely shouldn't miss. Our favourite local dive sites were Indah Beach and Pyramids.
Click here for a full list of hotels available in Amed.
For information about even more places to stay in Bali, check out this post from our friends at Our Globetrotters.
You thought Bali was gorgeous – wait til you see neighbouring island Lombok!! Check out our post on things to do and where to stay in this absolute island paradise!
The above posts contain affiliate links which means that if you book accommodation through any of the links I will receive a small commission. This enables me to continue to bring this information completely free to you. Thanks for supporting our website.