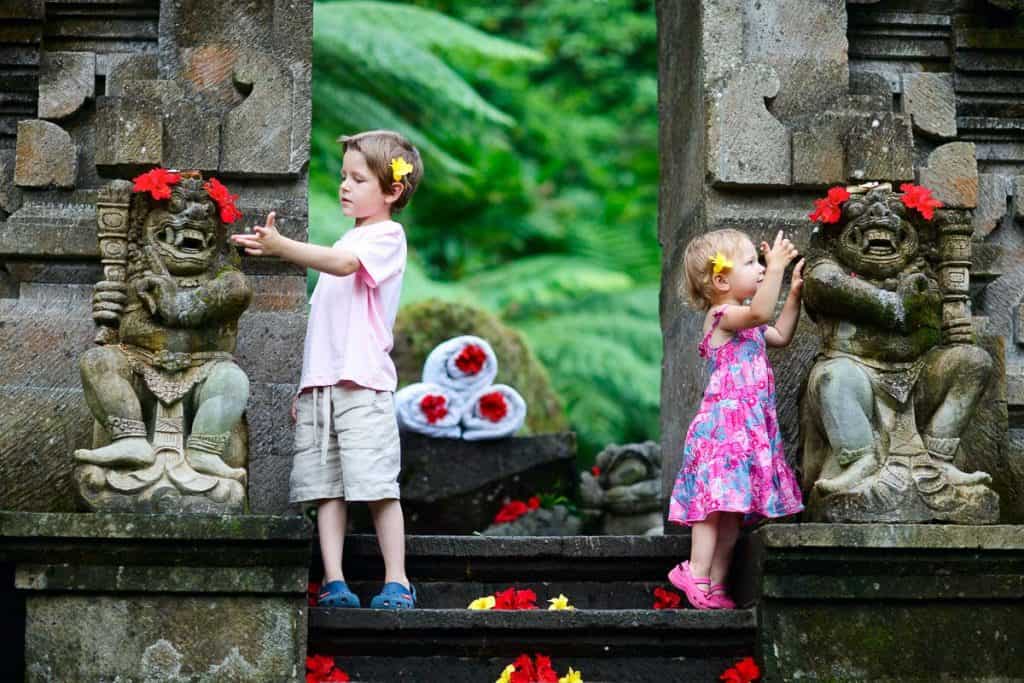 Bali family holidays can be as busy or as relaxing as you like – but one thing is for sure, there are plenty of things to do in Bali with kids!
From making new friends in kids clubs, exploring local villages, experiencing traditional temples, getting up close and personal with a variety of animals, enjoying first-class facilities at fantastic Bali family resorts, shopping and eating delicious foods – there is plenty of things to do in Bali for kids. Whether you are travelling to Bali with toddlers, teens or any age in between, you're sure to find plenty of family activities in Bali to keep the kids entertained.
In this post, we cover off on over 30 of the best family things to do in Bali. So if you're after the very best things to do in Bali with kids you need to read this post. Which activities will you add to your shortlist?
This post may contain compensated links. Please refer to my disclaimer here for more information.
Talk to other families about their tips on visiting Bali and join our Thrifty Family Travel Facebook Group or be inspired on our Thrifty Family Travel Instagram Feed.
Best Things to do in Bali with Kids
Throughout this guide, I have tried to provide as much information as possible to make your planning easier, including Bali activities, locations, opening hours and ticket prices. Below I've also provided a map of all the attractions listed in this guide to make planning your itinerary easier.
So without further ado, here's our guide on the top things to do in Bali with family!
Please note that all prices mentioned were correct at the time of writing and are in local currency. To check the rate in your currency, click here.
Markets and Shopping Malls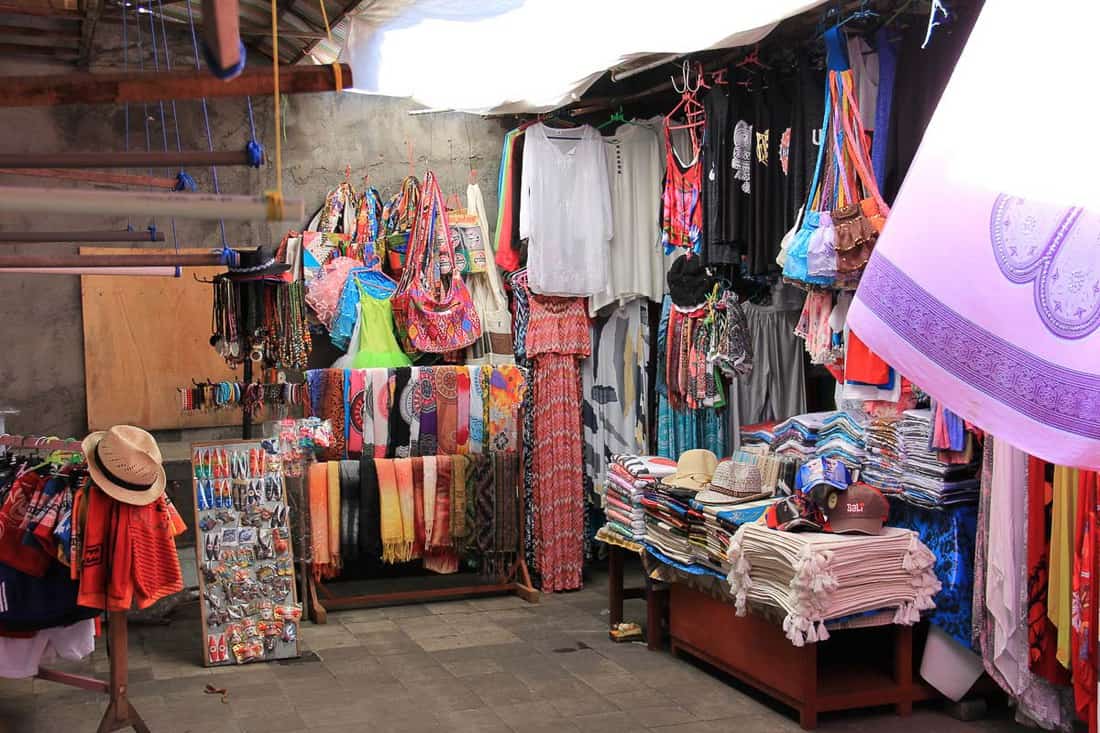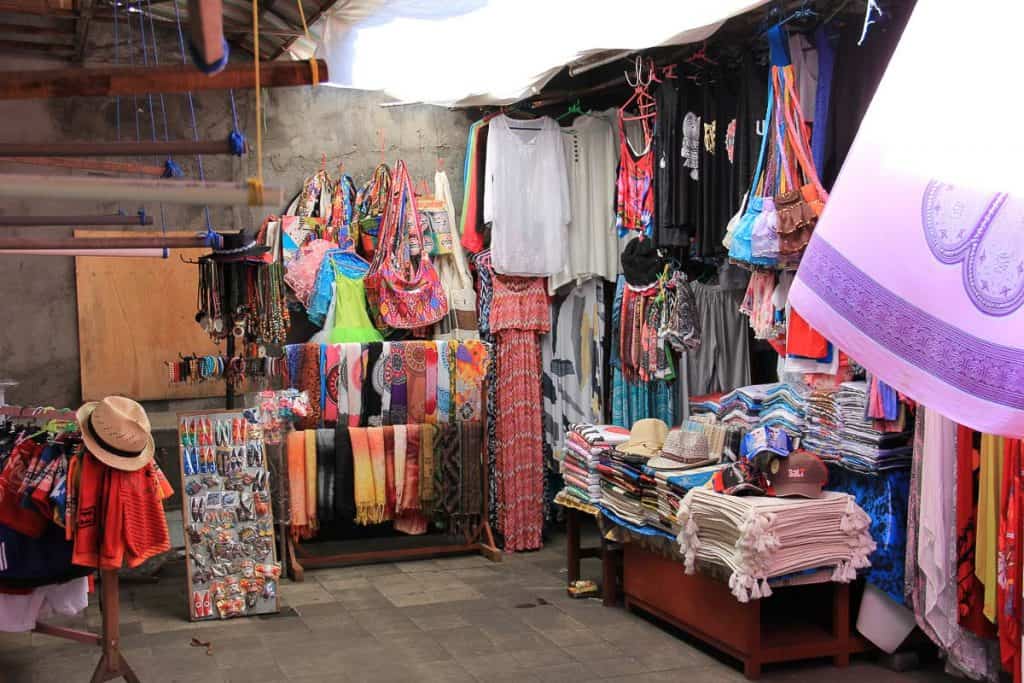 Children of all ages will love taking their hard-earned cash to the markets and spending up big… shopping for souvenirs is a must-do in Bali with kids of all ages.
No matter where you stay in Bali you will find plenty of shops, stalls, and markets to bargain with the locals for t-shirts, homewares, artwork, watches and jewellery or pick up a bargain at one of the several shopping malls. There's the usual Bintang singlets and loads of surf gear, which teens will love haggling for.
However, Bali have really stepped it up a notch in recent times, with premium quality goods from designers available (also at a premium price). So family holidays in Bali now have something for everyone when it comes to shopping.
Resort Facilities & Resort Hop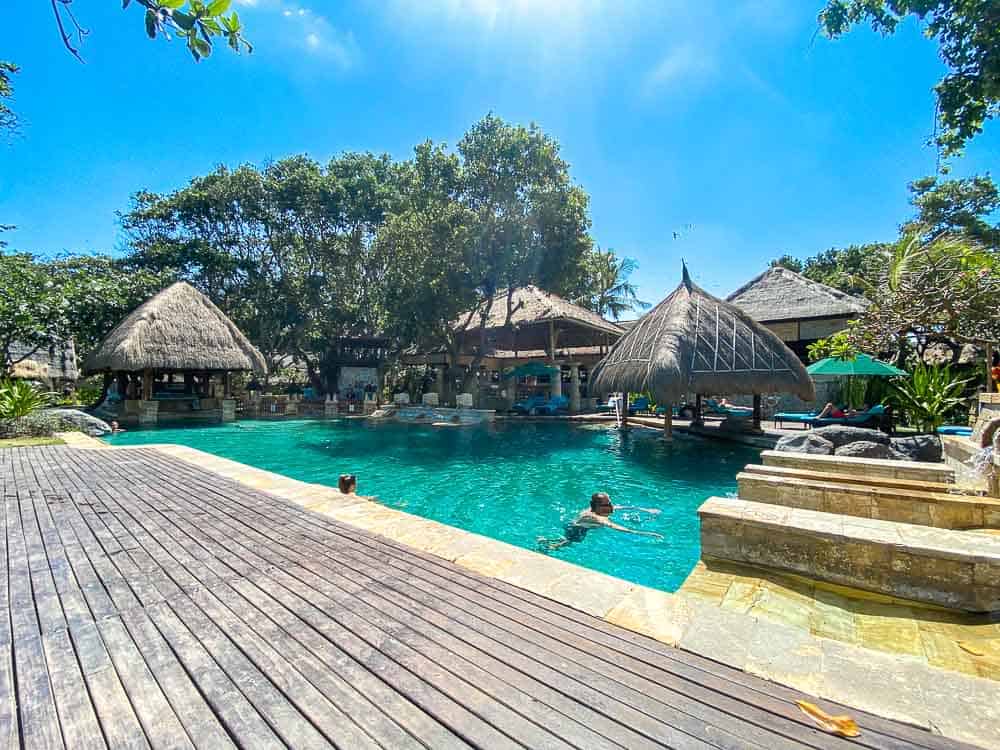 Family resorts! Bali is filled with them! In saying this, you probably don't have to go far for things for kids to do in Bali – most likely where you are staying has some fantastic facilities. Many family resorts in Bali have gorgeous swimming pools, playgrounds, kids clubs, restaurants and bars. Be sure to spend some time hanging around your hotel making use of these facilities. We have a whole guide on which Bali resorts have the best facilities for kids.
If you have the time; go and check out other hotels facilities, which is absolutely fine to do provided you purchase food and drinks from the hotel's restaurants. In fact, some of the best things to do in Bali with toddlers or other young children is simply to check out the various resorts and try out their facilities.
If you are staying at one of the Bali hotels with kids club, no doubt your little ones are going to want to spend some time there too. We've stayed at the Holiday Inn (read our review here) and the Novotel Bali Benoa (read our review here) before which are both great for kids.
Massage and Spa Treatments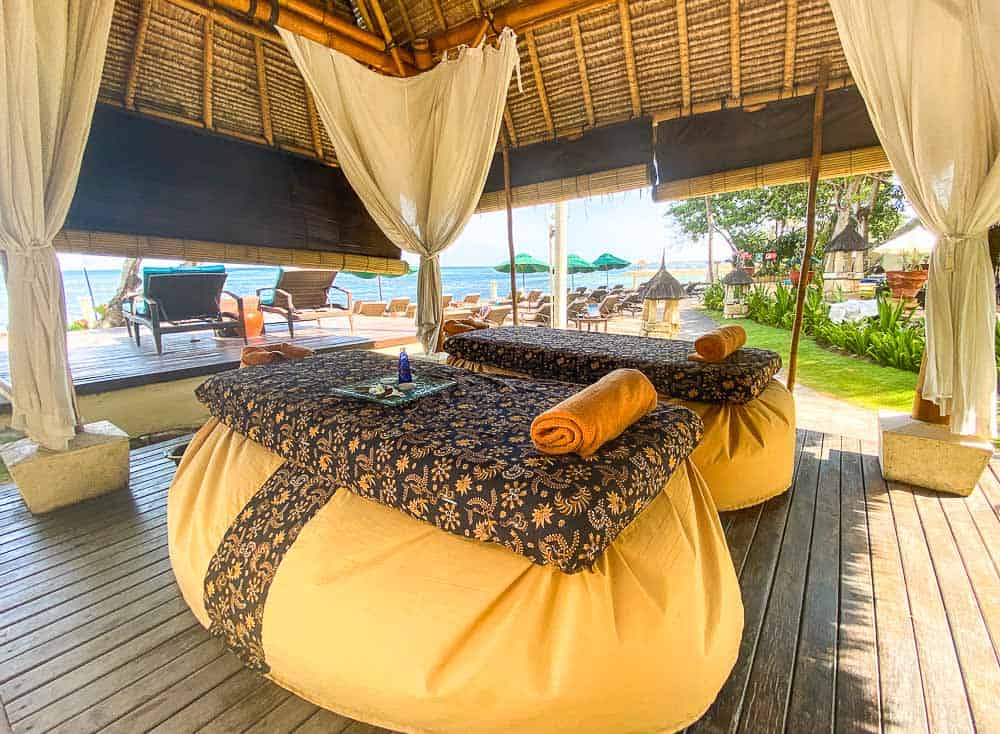 Treat the entire family to some pampering. There are multiple places in Bali where you can be pampered with a massage or various spa treatments such as manicures, facials, body scrubs and pedicures… both regular and one where little fish nibble the dead skin off your feet – one of the Bali activities for families who like to try new things! You can enjoy these treatments on the beach, in a day spa or massage parlour.
Prices can range depending upon the venue, but generally, a 1-hour body massage starts at 70,000 IDR (approximately $7 AUD).
Waterbom Bali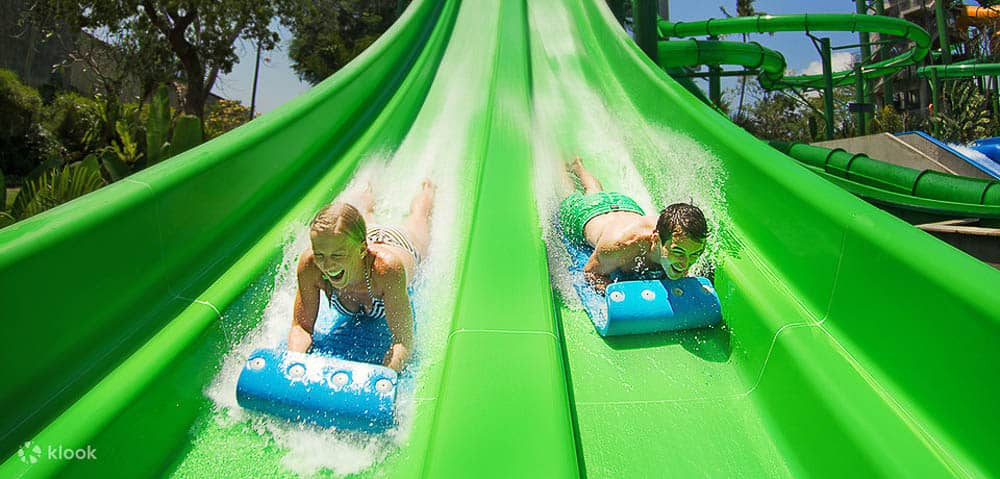 One of the best things to do in Bali with family would have to be a visit to Waterbom park in Kuta. Said to be the best water park in Asia, both kids and adults will love this place spread out over 3.8 hectares with experiences for everyone! For the thrill seekers there is Asia's steepest slide – The Climax, families with littlies will love the expansive kids area and for those who want some 'adult time' there is a pool with a swim up bar.
Rides and attractions are graded, Mellow, Moderate and Extreme – so you know what you're in for! And the services and facilities are first class and are a highlight for many families travelling to Bali with children – including private gazebo's with waiter service. If you're headed on a family holiday to Bali with kids of all ages, Waterbom Bali will cater to you all.
Location: Jl. Kartika Plaza Tuban, Kuta
Opening Hours: Daily 9am to 6pm
Price: IDR 535,000 (approx. AUD $53) per adult | IDR 385,000 (approx. AUD $38) per child (2-11) | IDR 1,690,000 (approx. AUD $168) per family (2A+2C) – Click here to book discounted tickets online.
Kuta Beach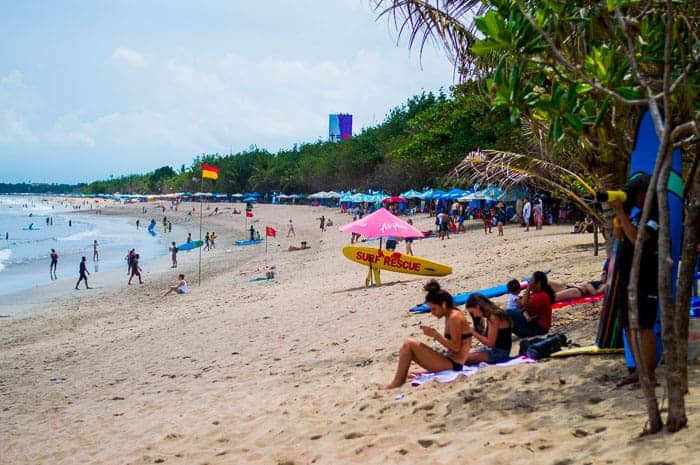 One of the top things to do in Kuta is to hang out at Kuta Beach, and people watch. Kuta is the most popular place for tourists to stay in Bali and the beach is jam-packed every day with tourists, surfers, swimmers and hawkers selling a variety of food and souvenirs. Don't come here if you're looking for some peace and quiet!
Just off the beach, there are plenty of hotels, bars, restaurants and shops – venture a little further to the tiny little quaint laneways for more intimate bars, guesthouses and shops.
Kuta Beach is one of the places to visit in Bali with family when travelling – it's like travelling to Sydney… you have to visit Bondi!
Bali Bombing Memorial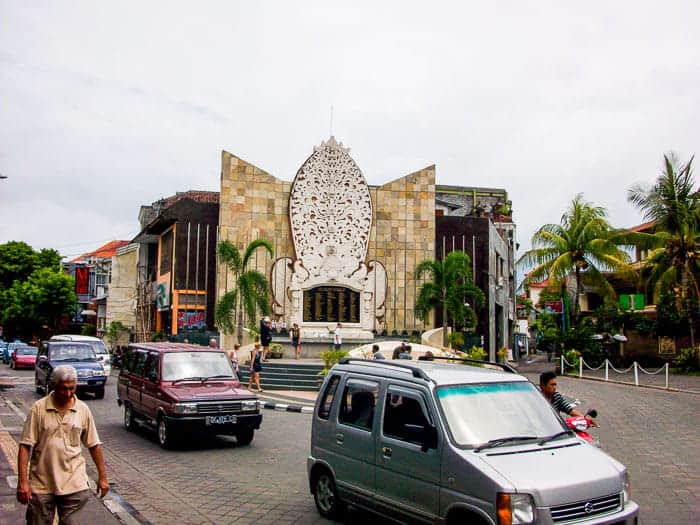 While a visit to the Bali Bombing Memorial may not be on the top of everyone's list of must-see sights, for me as an Australian, it is important to pay my respects to the 202 innocent people that lost their lives in 2002 – 88 of whom were Australian. The memorial site is located in the heart of Kuta and can best be reached on foot, by taxi or with a private car and driver.
Potato Head Beach Club
This one is for the parents, but kids will enjoy chilling out at Seminyak's ultra-cool Potato Head Beach Club too. You will love the club's infinity pool, beachfront, cocktails, and cool tunes. Entry is free, but we're sure sitting back with a beverage as the sun sets would be worth the price. Whilst there's loads of things to do in Seminyak, this is one of the most chilled out activities for all the family.
Location: Jalan Petitenget No.51B, Seminyak
Opening Hours: Sunday to Thursday 9am to 12am | Friday & Saturday 9am to 2am
Price: No entry fee
Instagram Tour with Photographer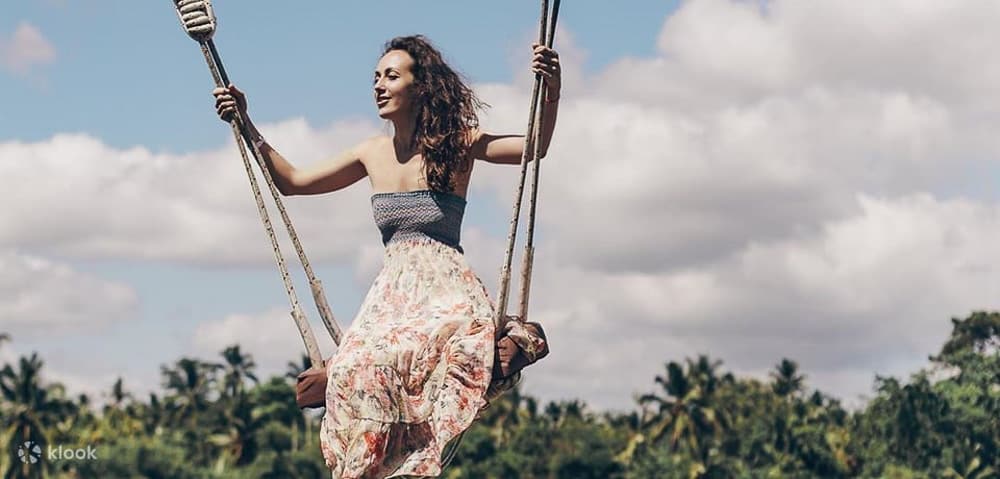 Want to spruce up your Insta feed? Or just want to visit stunning locations with the family and have them captured by a professional photographer? Whatever the case, if you're on a Bali holiday with kids, don't miss the opportunity to have your memories photographed!
This private tour will visit some of the most picturesque locations in Bali including the Gate of Heaven, sunrise at Candidasa Beach, Tirta Gangga water palace, jungle swing and so many more… to capture that perfect family photo, by your professional photographer.
You will also learn about Bali's culture and history from your English speaking tour guide.
Location: Round trip hotel transfers included
Opening Hours: Tour runs from 5am to 5pm
Price: IDR 725,000 (approx. AUD $72) per person for a group – Click here to book discounted tickets online.
Frankenstein's Laboratory
If you're wondering what to do in Bali with kids that are a bit older – take them to Frankenstein's Laboratory. The kids will love dining at this uniquely themed dinner and cabaret in Seminyak. The young ones can get their face painted like a zombie, those who dare can have a meet and greet with the zombies and parents can enjoy cocktails from IV bags. All whilst being entertained by zombie cabaret shows and live band set by the monsters band.
The amazing thing is, the entry and shows are FREE, yep, that's right – your family entertainment for the evening is covered, just purchase your food and drinks. Frankenstein's Laboratory is very popular, and bookings are a must!
Keep in mind this is one of the kids activities in Bali that is geared for slightly older kids… as some of the littlies may be frightened by the zombies.
Location: Jl. Camplung Tanduk No.6, Seminyak
Opening Hours: Monday – Saturday 5pm to 12am
Price: Entry is FREE, you just pay for food and drinks.
Finn's Beach Club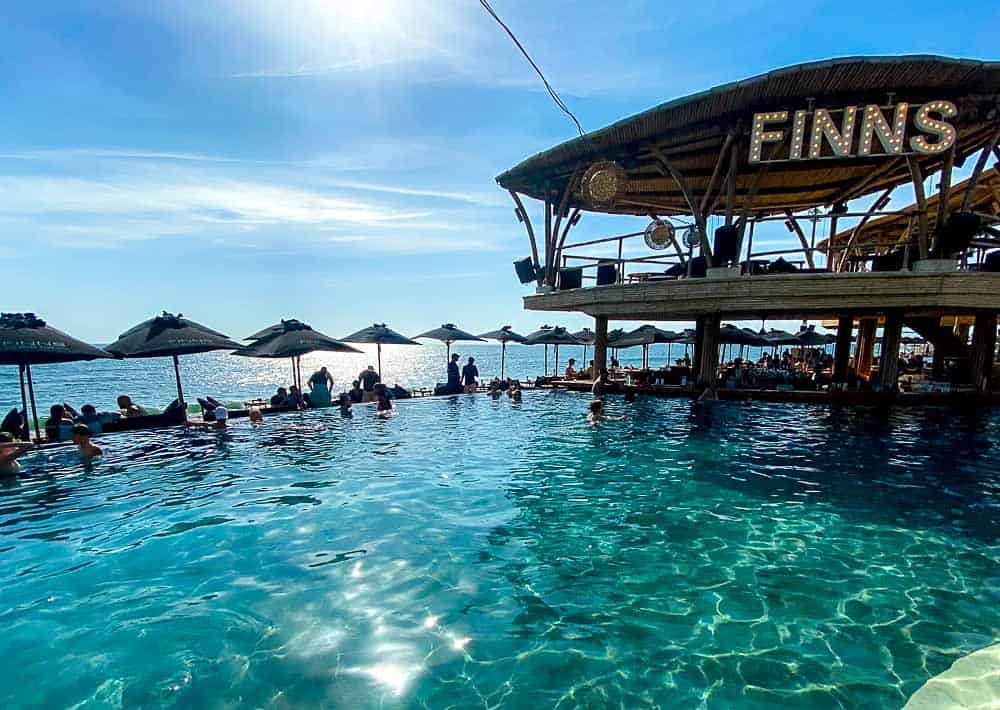 One of the best things to do in Bali with children is to spend the day at Finn's Recreation Club and their Beach Club. The recreation club has a huge range of fabulous attractions for families. There is the Splash Water Park, Bounce Trampoline Centre, Strike Ten Pin Bowling and the Cubby House Kids Club. A visit here would have to be one of the top 10 things to do in Bali with kids!
Plus families will also love just spending some time lazing around by the Finn's Beach Club infinity pool as well as making use of the swim-up pool bar and listening to some cool tunes from the resident DJ. I think for families it's best to visit during the day or early evening. After sunset, its more of a bar / nightclub and probably not the best place for kids.
We recently visited and pretty much spent the entire day here and that was while the water park was closed for renovations. I think you'd really need to put a full day a side if you wanted to visit the water park too.
Read our full guide on visiting Finn's with kids here.
However, to make the most of all the facilities at Finns', why not spend 7 days there! The pass we are recommending below is valid for 7 consecutive days with LOADS of inclusions, such as: entry to activities at the Recreation Club, adult beds at Splash Water Park and Finns Beach Club and IDR 100,000 Spa Gift Voucher… this is one of the Bali attractions that just keeps on giving, check out the full details and conditions in the link below.
Location: Jalan Pantai Berawa, Canggu
Opening Hours: Daily 6am to 9pm (Recreation Club) and Daily 7am to 12pm (Beach Club)
Price: IDR 600,000 (approx. AUD $59) per adult | IDR 480,000 (approx. AUD $47) per child (3-12) | Under 3s are free – Click here to book your discounted 7 Day Super Fun Pass
Surfing Lesson at Legian Beach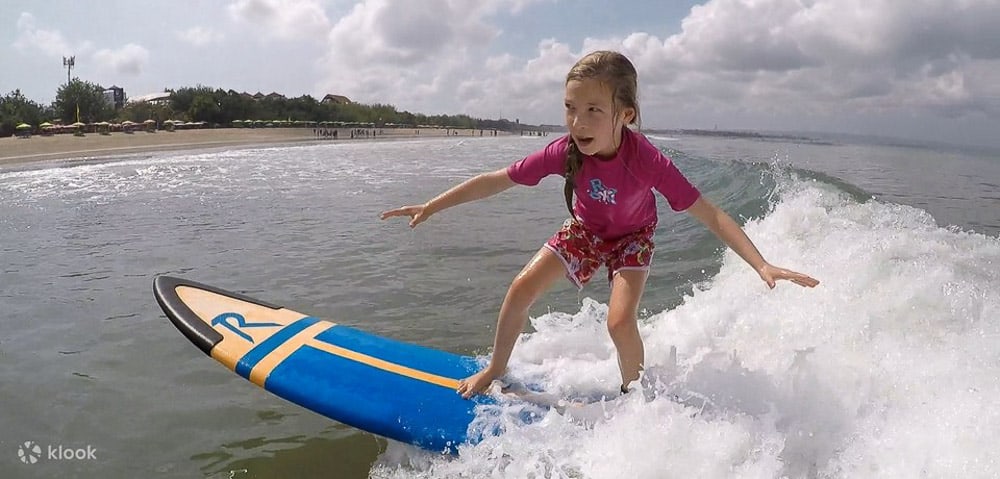 Hang Ten on your family trip to Bali by joining a fun surfing lesson at Legian Beach! Experienced local surfers will have you riding waves… or at least giving it a go by the end of the lesson.
Lessons can be solo, in pairs or a group of three (with surfers being 7 years or older). This is a great family activity where you will all be out in the water encouraging one another to paddle, jump up and ride the waves.
And to add to the fun, you are picked up for your lesson on scooters… you can start practicing your balancing skills from the get go!
Location: Legian Beach
Opening Hours: Daily
Price: IDR 172,000 (approx. AUD $17) per person for a group of 3 – Click here to book tickets online.
Tanah Lot Temple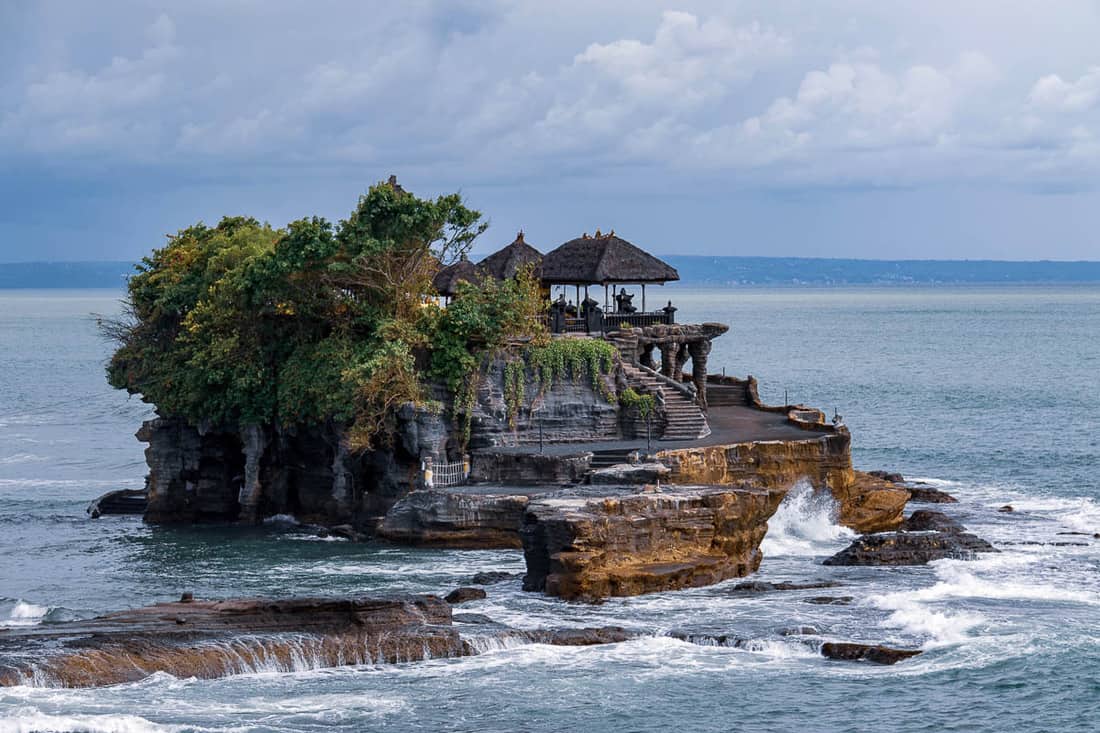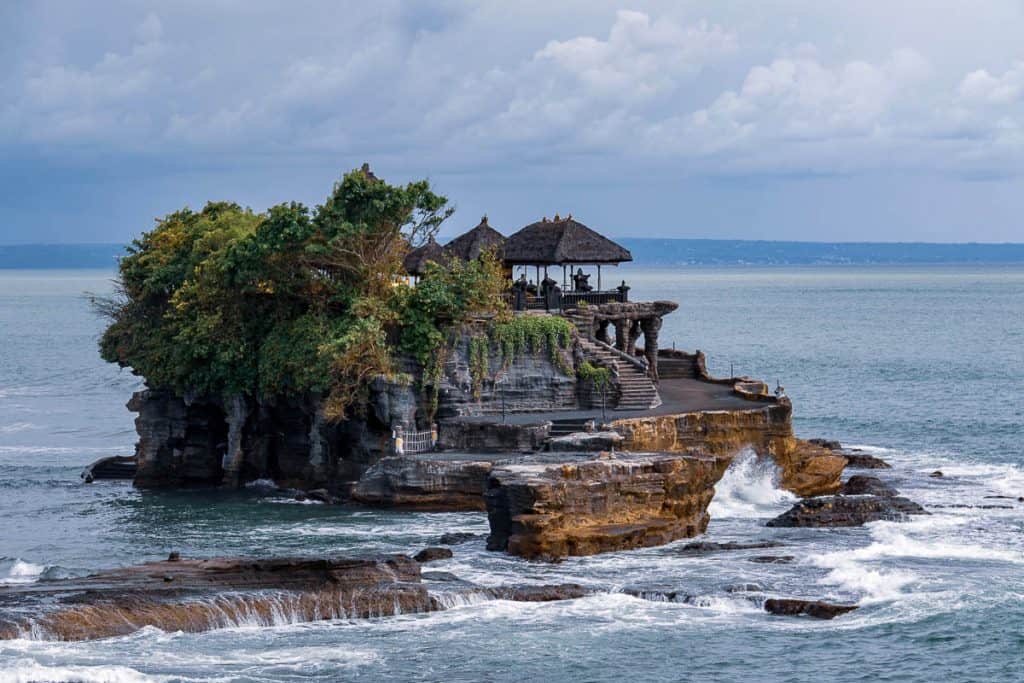 Another one of the most popular Bali tourist places is Tanah Lot Temple. Located 20 km from Kuta, Tanah Lot Temple is popular due to its offshore setting and spectacular sunset backdrops. At low tide, visitors can walk across to view the temple from the rock base. Although you cannot enter the temple grounds, the panoramic views are stunning.
Be sure to visit close to sunset so you can take the kids to see the Kecak dance performance which is on at 6pm (please check direct with operators re Kecak dance, as it does get temporarily suspended from time to time).
The best way to get to Tanah Lot temple is by taxi or to hire a car and driver. We've included pricing and a link below to book a private trip to Tanah Lot, with the option to book an English speaking guide. This is one of the attractions in Bali the whole family will enjoy!
You can find more great temples to visit in Bali here.
Location: Jalan Raya Tanah Lot, Beraban, Kediri, Tabanan
Opening Hours: 7am to 7pm
Price: IDR 452,000 (approx. AUD $45) per person (private trip 6 – 9 people, pricing increases slightly for smaller groups) – Click here to book discounted tickets online.
See the Sunset at Rock Bar Bali
If you're looking for things to do in Bali for families with older children, go check out the sunset at the Rock Bar – which is located in Jimbaran Bay at the AYANA Resort and Spa Bali.
The bar sits 14 meters above the ocean with fantastic views across the Indian ocean. Unlike most of Bali's restaurants and bars, The Rock Bar has a dress code and does not allow singlets and board shorts, so come dressed appropriately to experience this popular bar which hosts international bands and DJs.
While children are welcome here, it is probably not suitable for small children unable to sit quietly with their parents. The Rock Bar is one of the things to do in Bali with teenager – whilst liquor laws still apply, they'll enjoy the grown up atmosphere and 'adult time'.
Opening Hours: Daily 4pm to 12pm
Location: The Ayana Resort, Jimbaran Bay
Price: FREE to enter – food and drinks additional
Have a Seafood Dinner on Jimbaran Beach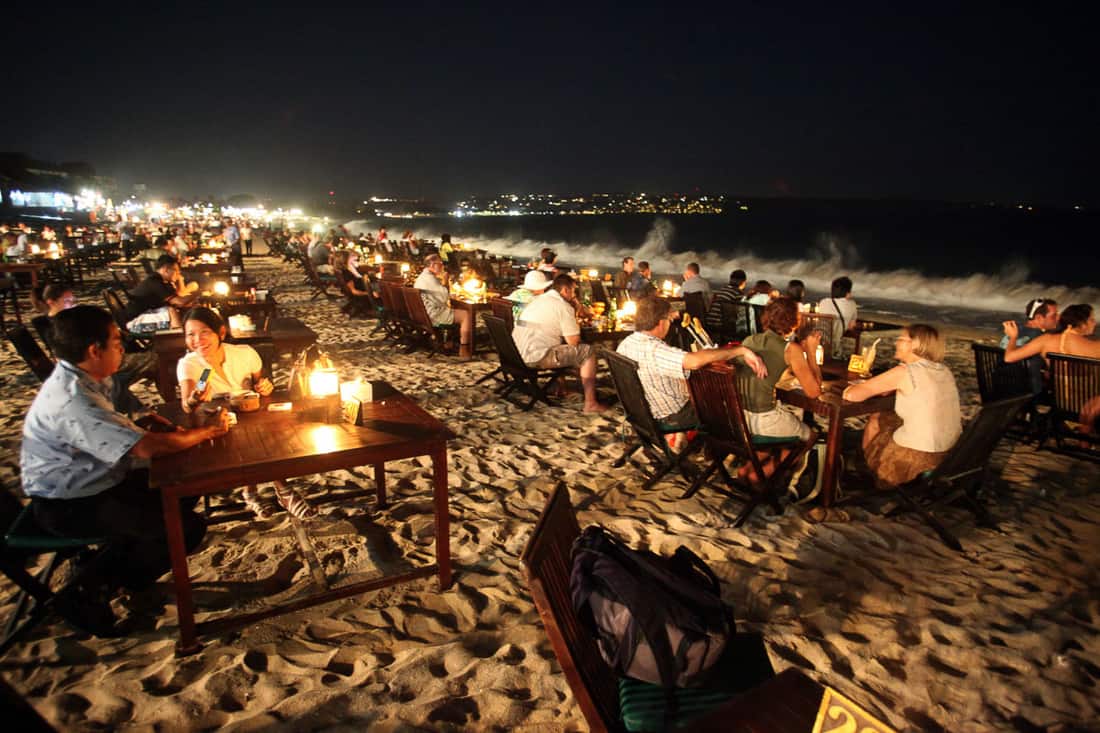 Jimbaran Beach is famous for its seafood dinners directly on the beach as the sunsets. Diners choose their seafood and pay per the kilo. From the restaurant, diners head down to the beach and wait for fresh seafood to be served. Mum and Dad will love the fresh seafood, while the kids will love being able to run around in the sand.
Many many restaurants offer seafood dinners on the beach. Simply find a restaurant you like – best to enter from the street. Then choose your seafood before going down on the beach. Even if you don't eat seafood, there is bound to be something on the menu you like, and the experience is worth it alone.
Definitely one of the most kid friendly Bali 'restaurants' around! Not a problem if a kid spills their drink, drops their food or falls off their chair… you're sitting on a beach!
Devdan Show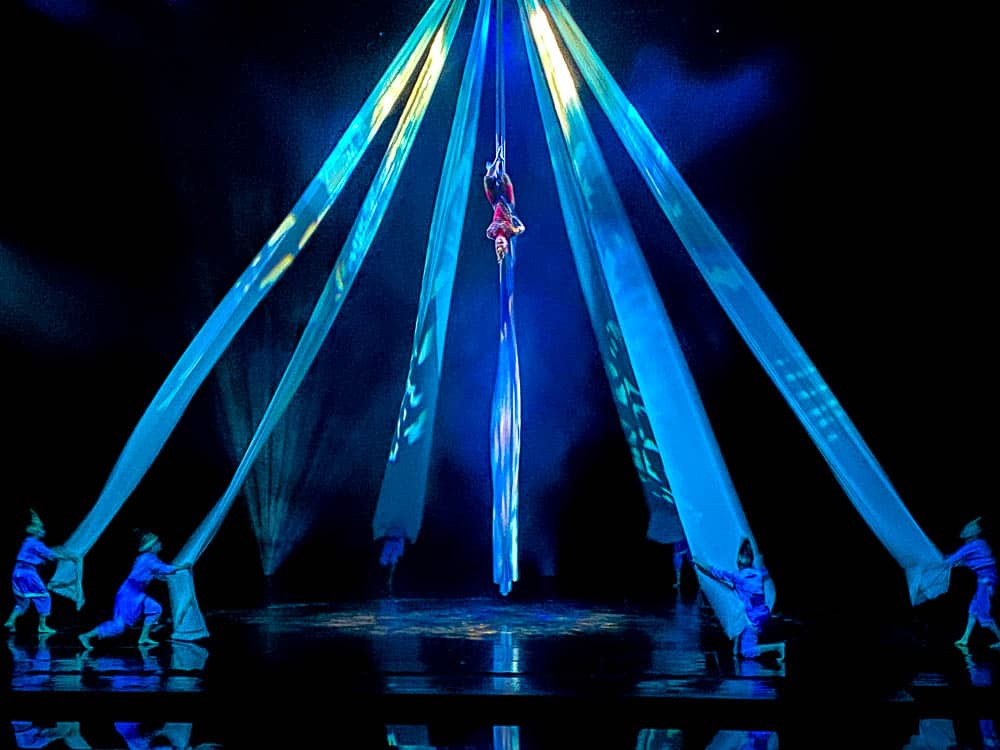 One of the fabulous things to do in Bali with the kids is to go and see the award winning Devdan Show. The show is on at the Bali Theatre in Nusa Dua and is a great way to learn more about the Balinese and Indonesian culture.
The show follows two young children who discover a treasure chest full of Indonesian artefacts from each of the regions including Bali, Sumatra, Java, Kalimantan and Papua. As the children discover each item, a dance performance occurs which showcases the regions traditions and culture. What I really like is there are several TV screens under the stage and they explain some of the local traditions so you have a deeper understanding as to what is going on.
The show is the perfect combination of traditional dance as well as modern special effects, aerial performances, acrobatics, modern dance and illusions. There are over 40 performers in the show and many more gorgeous and colourful costumes. The performers even come out in the audience a few times and get a few audience members up to dance.
The theatre isn't overly big, so you can really sit anywhere and be able to see perfectly. Seats are comfortable and there is air conditioning so you can escape the Bali heat for a while.
If you're looking for kids activities Bali has on offer that provide culture in a fun and entertaining way – that the whole family will enjoy, the Devdan Show is it!
We visited with another family and between us we had three children aged 8, 9 and 10 and all children and adults thoroughly enjoyed the show. It's well worth going while you're in Bali. Make a night out of it and eat beforehand at one of the beachfront restaurants in Nusa Dua.
Location: Komplek ITDC Nusa Dua
Opening Hours: Shows are 7.30pm to 9pm on Monday, Wednesday, Friday and Saturday
Price: From IDR 450,000 per person (approx. AUD $45) | Under 3s are free (when sitting on parents laps) – Click here to book tickets online
Watersports in Tanjung Benoa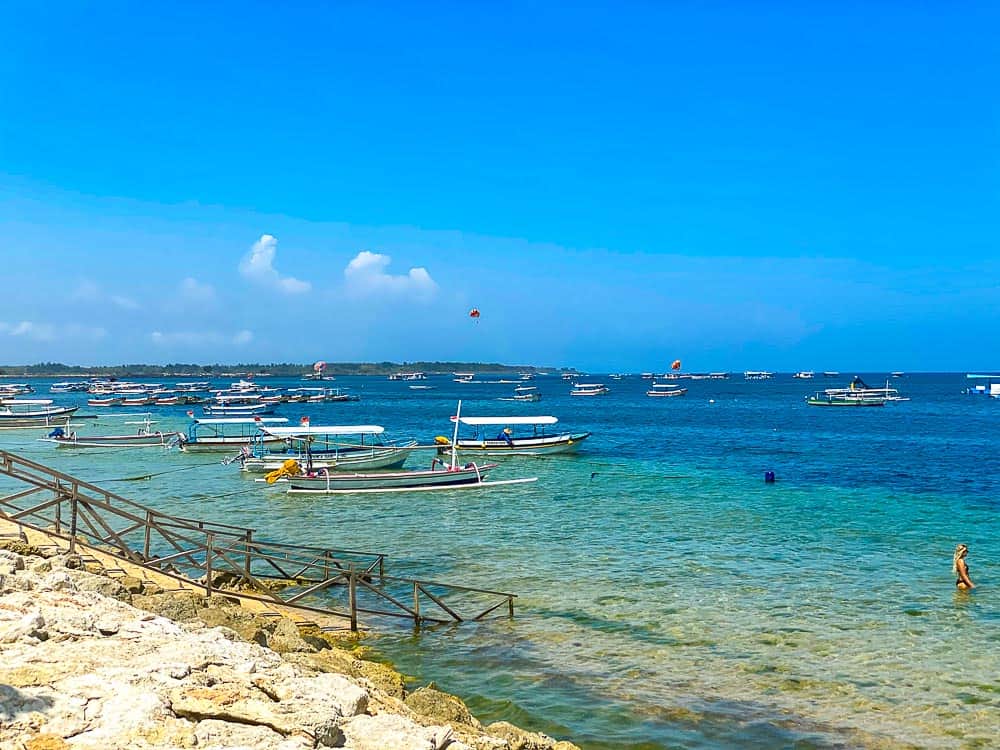 Families with older children will love trying out the different water sports in Tanjung Benoa. Water sports available include jet skiing, parasailing, seawalker, banana boat rides, flyfishing and plenty more.
If you have an adrenaline junkie family, watersports is one of the things to do Bali does really well! Your family will love the thrills and spills as the Balinese operators laugh along with you!
If you are not staying in the area, Tanjung Benoa is around 45 minutes from Kuta, so best reached by transfer. The link below includes a variety of watersports and round trip transfers to take the hassle out of getting there and back.
Location: Tanjung Benoa Beach
Opening Hours: Transfers depart from hotels daily between 9am and 11am
Price: IDR 460,000 (approx. AUD $45) per person – check conditions for age restrictions – Click here to book tickets online.
Uluwatu Temple and Kecak Dance Performance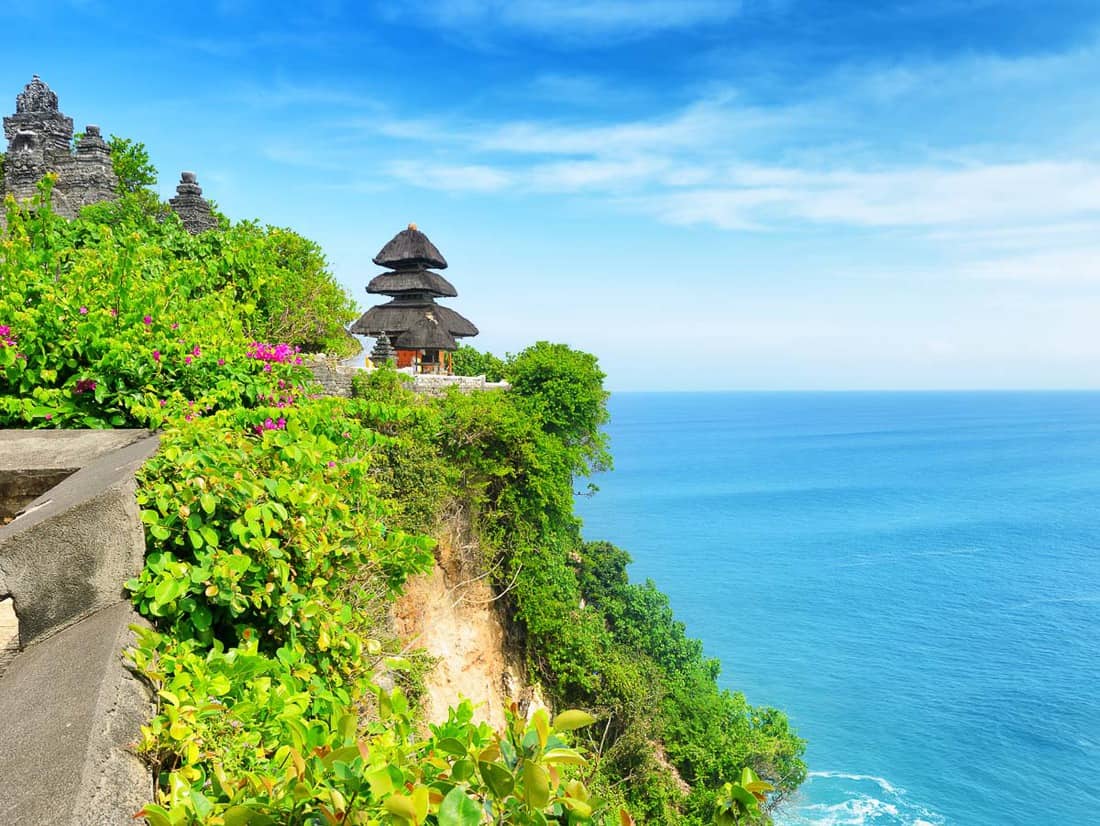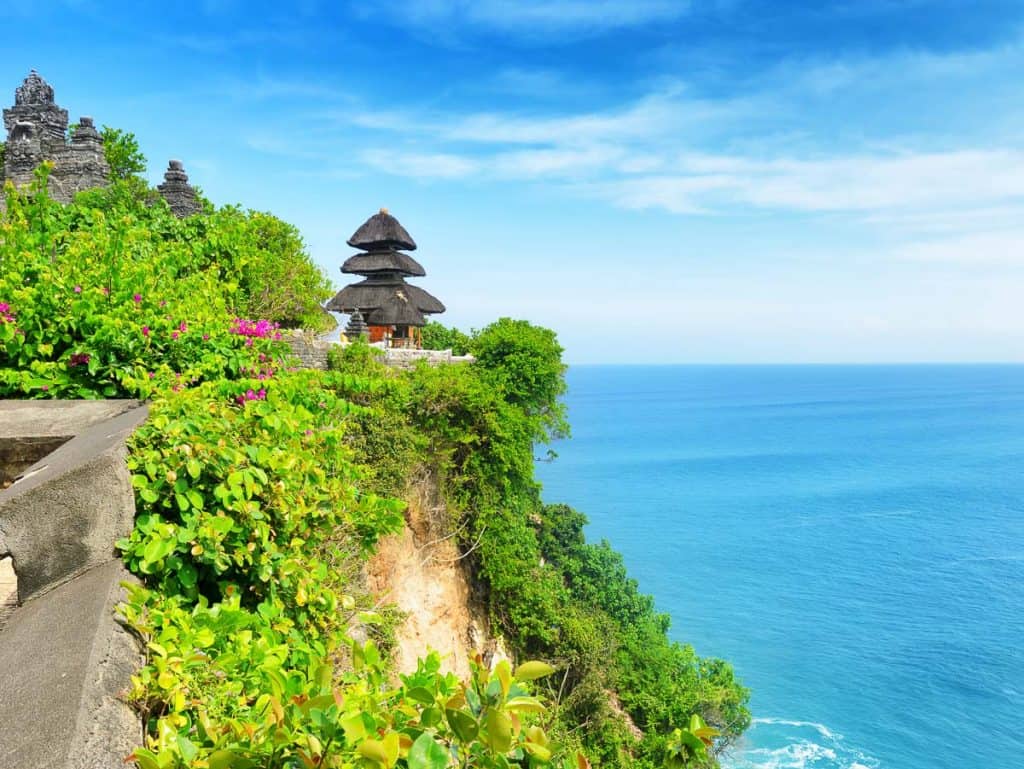 One of the most popular Bali tourist attractions is the Uluwatu Temple. The temple is perched on top of a steep cliff approximately 70 metres above sea level and has stunning sunsets. Each day upon sunset, visitors can watch the Kecak dance performances.
A small forest lies in the front of the temple where hundreds of monkeys live. Kids and adults alike will be amused watching the monkeys get into mischief around the temple.
Uluwatu Temple is best reached by either taxi or hire a car and driver, we have provided a link below which includes round trip transfers, admission to Padang-Padang beach, admission to Uluwatu Temple and the Kecak Dance performance.
Location: Jalan Raya Uluwatu, Pecatu Village
Opening Hours: Tours run daily. Pick up from hotel 3pm, drop back to hotel at 8.00pm
Price: IDR 432,000 (approx. AUD $42) per person – Click here to book tickets online.
Sundays Beach Club Uluwatu
Another one for Mum and Dad, which the kids will be happy to tag along. Chill out at the cool Sundays beach club; make use of the kayaks or stand up paddleboards, swim or snorkel before enjoying a delicious meal by the beach. Once the sun goes down, enjoy the beach bonfires on bean bags and toast marshmallows whilst being entertained by live music! Definitely one of the Bali things to do with family if you love water, music and chilling out!
Location:Jalan Pantai Selatan Gau Wijaya Kusuma, Ungasan, Kec. Kuta Sel., Kabupaten Badung
Opening Hours: Daily 10am to 8pm
Price: Entry is IDR 200k for adults (approx. AUD $20) and IDR 100k (approx. AUD $10) for kids. There is a minimum spend on food and beverage of IDR 300k for adults and 200k for kids. Kids under 5 are FREE. Your entry fee includes a towel, WiFi, use of kayaks, snorkelling gear and stand up paddleboards.
Bali Bird Park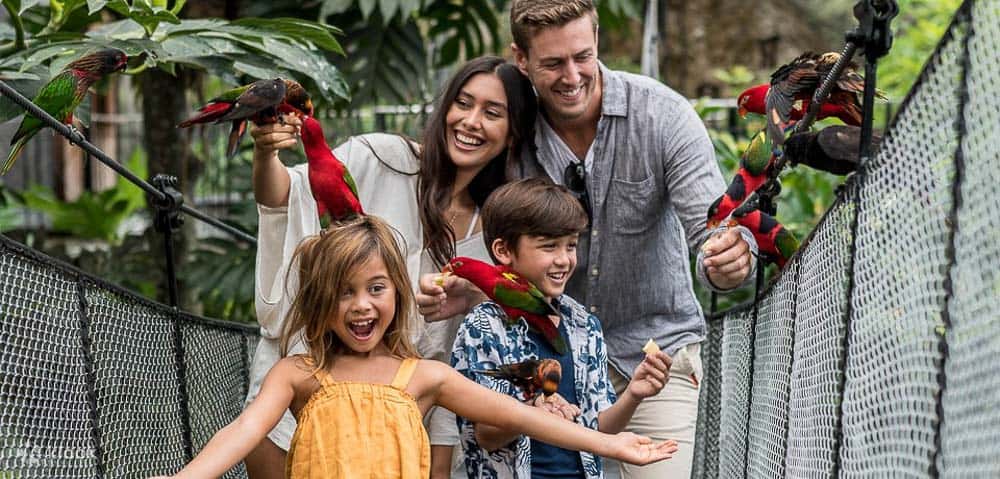 Kids will love getting up close and personal with more than 1000 birds across 250 species. Check out the daily bird shows where you can see macaws, storks, cockatoos and birds soar through the sky. For those who like to get involved, you can feed birds from the palm of your hand at an interactive feeding session!
Location: Jl. Serma Cok Ngurah Gambir, Singapadu, Batubulan
Opening Hours: The park is open daily from 8.30am to 6pm
Price: IDR 385,000 (approx. AUD $37) per adult | IDR 192,500 (approx. AUD $19 ) per child (2-12) | Under 2s are free – Click here to book tickets online.
Bali Butterfly Park
One of the lovely Bali things to do with kids is to visit the Bali Butterfly house. The Bali Butterfly House is a butterfly and insect conservation facility where families can see hundreds of butterflies from 15 species from Indonesia as well as various other insects in informative displays. Children will love learning the transformation process from caterpillar to cocoon to wings.
The Butterfly House is one of the Bali kids activities where they will be learning about the research, breeding and preservation of butterflies in a fun and entertaining way.
The best way to get there is to hire a car and driver which you can do once you arrive in Bali or you can arrange online with Klook.
Location: Jl. Batukaru, Banjar Sandan Lebah, Wanasari Village, Tabanan
Opening Hours: Daily 8am to 5pm
Price: 50,000 IDR (approx. AUD $5) per adult and children are free.
Bali Safari & Marine Park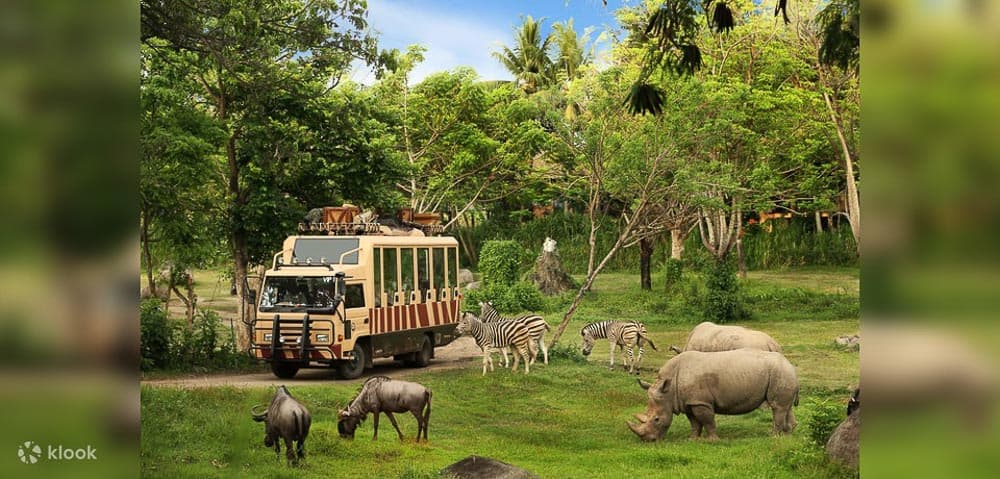 One of the best family activities Bali offers is the Bali Safari and Marine Park. The park covers 40 hectares of land and is home to over 120 species of animals, all of which roam free in large enclosures similar to their natural habitats. Animals are from three regions – Indonesia, India and Africa and include spotted deer, Himalayan bears, Indian white tigers, nilgai, blackbucks, African hippos, zebras, camels, ostriches, baboons, blue wildebeests, and lions.
There are different Bali family packages available to visit the park. The most popular package is the Jungle Hopper which gives you entry to the park, animal encounters, afternoon team, admission to shows and more.
However, if you would like to really get up close with the animals you can book the 'Breakfast with the Lions' tickets – which, as you guessed it, gives you breakfast up close with the Lions, there are also lunch packages and a night safari. If you click on the link below in the price section you can choose from there.
There is a free shuttle included with your ticket, but it's probably much easier with the kids to take a taxi or private driver, which you can arrange online with Klook.
Location: Jl. Profesor Ida Bagus Mantra
Opening Hours: The park is open daily 9am to 5.30pm and again between 6pm to 9pm for the night safari. It is best to allow a full day to see the entire park.
Price: IDR 650,000 (approx. AUD $65 ) per adult | IDR 520,000 (approx. AUD $52) per child | Under 3s are free – Click here to book discounted tickets online.
Tegalalang Rice Terraces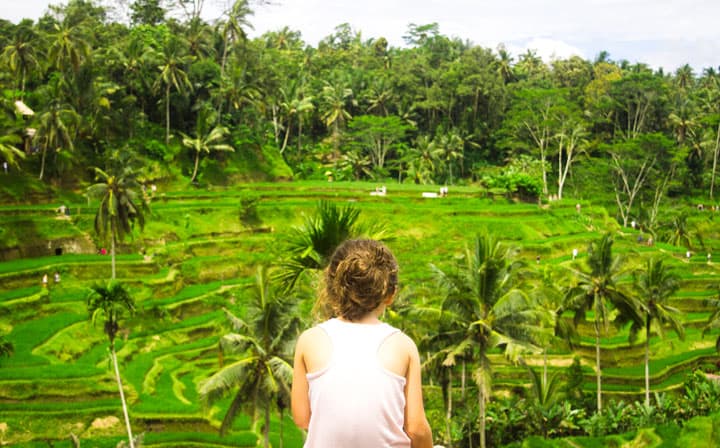 One of most popular Bali tourist attractions would have to be Tegalalang Rice Terraces. Tegalalang Rice Terraces is located a 25 minute drive from Ubud and is famous for its beautiful scenes of rice paddies as far as your eyes can see. Visitors can either sit and admire their beauty or climb down and trek through the fields.
Shops and restaurants line the main road next to the terraces, and some offer fantastic views across the terraces.
The best way to get there is to hire a car and driver which you can do once you arrive in Bali or you can arrange online with Klook. Alternatively, you can book a day tour to Ubud which will also include other sites such as the Sacred Monkey Forest.
Location: Jl. Raya Tegallalang
Opening Hours: 8am to 6pm
Price: There is no entry fee to the rice terraces, but parking costs IDR 20,000 (approx. AUD $2).
Bicycle Tour through Local Villages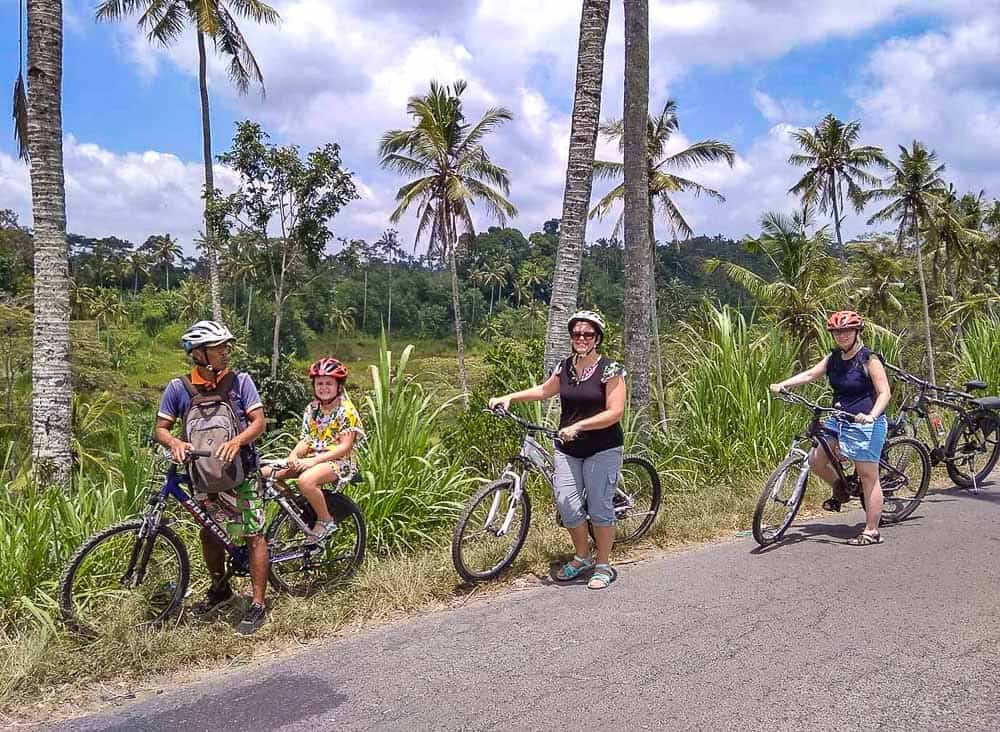 For families with kids able to ride bikes, joining a bicycle tour is a fantastic way to explore the gorgeous surroundings of rural Bali. We recently did this with Awesome Bali Cycling Tours and had an absolutely wonderful time.
Awesome Bali Cycling runs a range of tours – we did the Water Temple Tour which I highly recommend. We were picked up from our hotel at 6.30 and returned at 4 pm – so it's a full day trip. From the minute we were picked up to the moment we were dropped off, we were thoroughly taken care off.
We first went to the Water Temple and then stopped for some brunch which consisted of yummy banana pancakes at a café looking over the rice fields. Next up we chose our bikes for the tour. These guys have a huge range of bikes – so no matter how young or old you are or tall or short – there is the perfect bike for you. Our little Myla can't even ride a bike – but that doesn't matter as they just doubled her on the back – which she absolutely loved!!!
The effort these guys go to, to ensure your safety is amazing!
On our trip, there were 2 adults and 2 kids and we had one guide up the front, one guide at the back and a driver following us in a van. Each time we came to an intersection the guide at the back, would cycle ahead and actually stop the traffic for us so we could safely cross. Plus one of the kids on our trip felt sick during the ride, so she was able to put her bike in the van and jump in the van while we continued the ride.
The bike ride we did was 22kms and was 99% down hill – seriously the ride was pretty easy and not hard at all. It was really great cruising along through the villages, passing the local Balinese people working in the rice fields, or the school kids walking home who always said 'hi' to us.
Our ride ended at Kanto Lampo Waterfall which is just outside the town of Ubud and one of Bali's hidden gems. We had a well deserved dip in the pools surrounding the waterfall. It's one of the best waterfalls near Ubud.
We were then taken for a delicious 3 course lunch before making the long journey back to our hotel.
Awesome Bali Cycling Tours are seriously… well, awesome! And I highly recommend them for families with young kids who are wanting to do a cycling tour – its a great way to see the Bali Countryside.
Click here to view a range of different bike tours available in Bali.
Cooking Class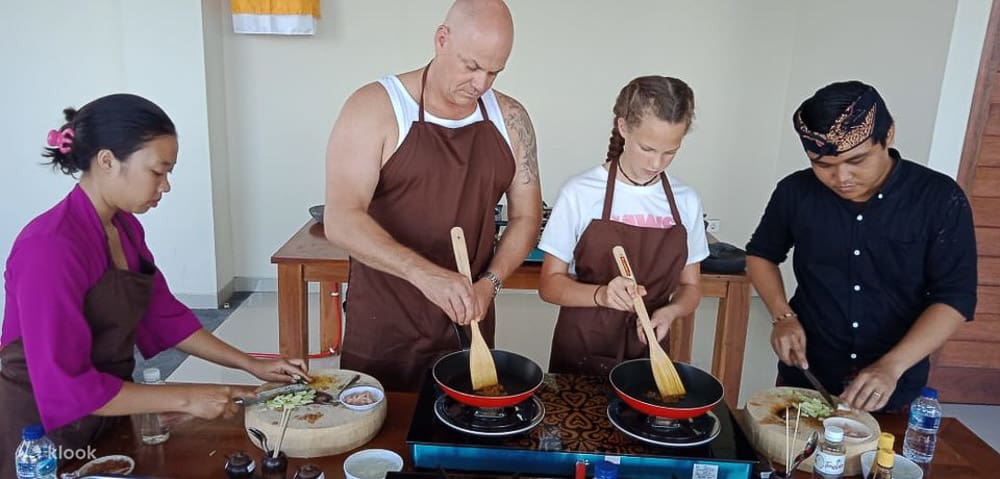 If you've swum at the beach, haggled at the markets, enjoyed some culture and are now wondering… what to do with kids in Bali?! How about cooking?!
Now, this won't be like at home where the kids whinge and complain over domestic duties… nope, they will love this hands on culinary journey into Indonesia's tasty dishes. There are loads of classes to choose from, from local market visits, to home cooking schools, to restaurant experiences – Click here to view a range of classes and pick one the whole family will enjoy!
This family friendly Bali activity will get you all bonding over cooking… and the best part is, enjoying the meal you have cooked with your very own hands!
Holy Spring Water Temple (Tirta Empul Temple)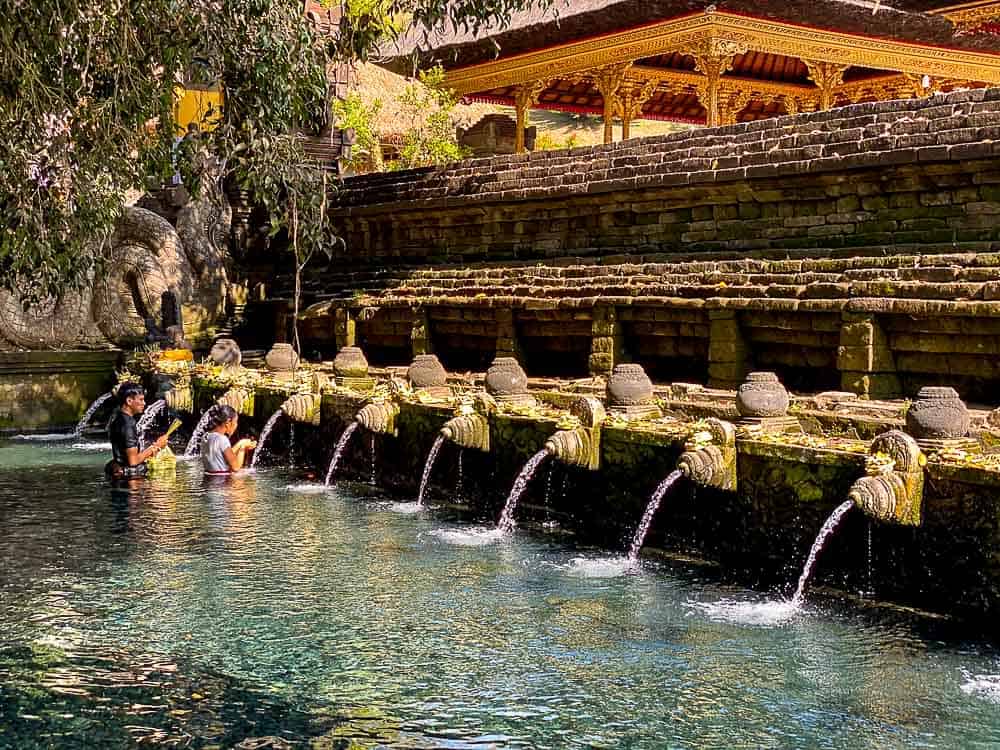 The Holy Spring Water Temple was built in 962 AD and is a Hindu Balinese water temple located in the town of Tampaksiring. This water temple is where the local Hindu people come to participate in the ritual of purification and tourists are more than welcome to participate in the ritual too – even the Obamas have done it!
In order to enter the pools you will be required to put on a sarong. You then wade into the cool water to the first of the many waterspouts that gush into the two pools. You pray and then "cleanse" under the first waterspout and then line up for the next one. There are two spouts that are used only for cleansing the dead – so be sure to watch for the two that the local people are skipping.
I found the entire ritual extremely calming and relaxing and really enjoyed it. I would recommend getting here early though, as towards the end a line started to form. I've seen photos with huge line ups and I'd imagine it would take hours to get through all the waterspouts during busy times. If you would like to book ahead, click on the link below to secure your spot, which includes transfers, admission, sarong hire.
Location: The village of Manukaya in the town of Tampaksiring
Opening Hours: Daily 8am to 6pm
Price: IDR 50,000 entry per adult (approx. AUD $5) and IDR 25,000 per child (approx. AUD $2.50) – does not include transfers, skip the line, sarong hire. Click here to book with all inclusions tickets online.
Ubud Monkey Forest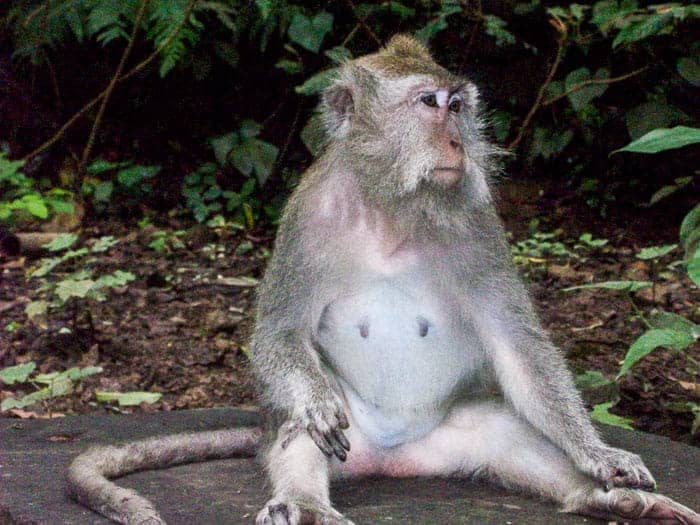 Ubud Monkey Forest, also known as the Sacred Monkey Forest, is one of the best things to do in Ubud. The forest is home to the grey long-tailed macaques. The whole family will love watching these playful, mischievous monkeys in their natural habitat, swinging through canopies, lazing along pathways or feeding on bananas.
Just be warned the Monkey Forest may not be ideal for little children. These monkeys are very mischievous and quick, so you really need to have your wits about you. Young children may be frightened – so use your own discretion whether or not to visit… same goes for adults… these monkeys will literally steal the sunglasses off the top of your head. So make sure everything is put away and tucked in so you don't get pick-pocketed by a monkey!
The best way to get here is by hiring yourself a car and driver or as part of a tour. – Click here to view a range of different tours which include the Monkey Forest.
Location: The Monkey Forest is located at Jl. Monkey Forest, Ubud, Kabupaten Gianyar – which is in the centre of Ubud
Opening Hours: Daily 9am to 6pm
Price: Admission is IDR 80,000 (approx. AUD $8) for adults and IDR 60,000 (approx. AUD $6) for kids
Ubud Market
Visit the Ubud Market, locally referred to as "Pasar Seni Ubud", that sells everything from clothes, sarongs, souvenirs, and handicrafts.
The market is divided into two main allotments. The western block is the main art market, and an eastern block is a traditional market serving daily groceries and necessities.
Location: Jalan Raya Ubud, Ubud, Gianyar
Opening Hours: Daily 8am to 5pm with some of the stalls even open until late at night
Price: No entry fee
Are you heading to Bali? Read our guide on the best places to stay in Bali.
Ayung River Rafting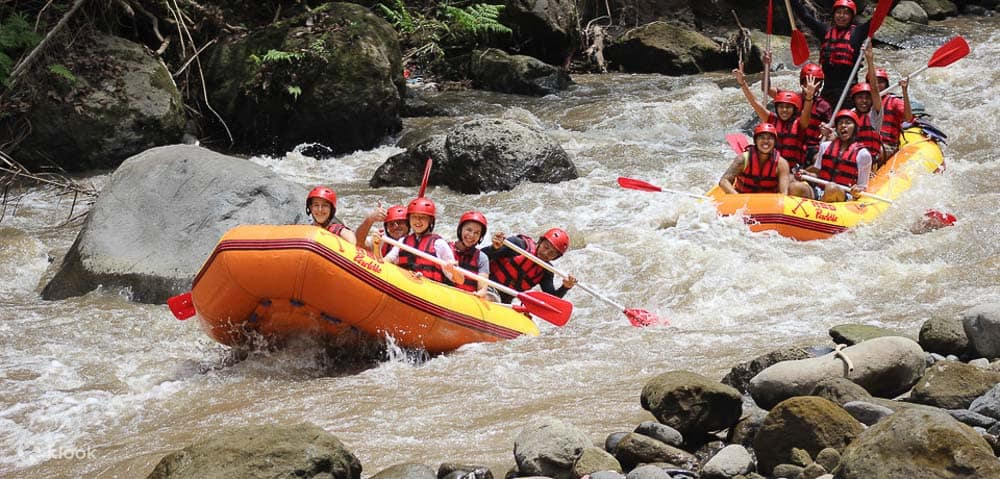 If you're looking for Bali teenager activities… why not try river rafting! Whilst adventurous and exciting navigating the thrills and spill, the Ayung River is also gentle enough to be ideal for beginner rafters and is suitable for kids from age 7. You will raft through lush rain forests navigating your away through 33 class II and III rapids for around 2.5 hours and then enjoy a delicious lunch.
You will need to join a tour to join in the rafting. Tours can be booked in Bali or click here to book tours in advance.
Bali Coffee Plantation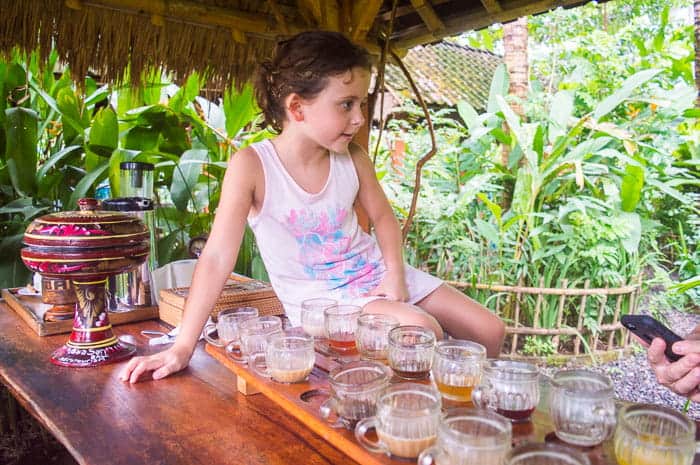 A Bali coffee plantation is a great place to try a variety of teas, coffees and chocolates. Most plantations will give you a free guided tour of the plantation detailing how the products are made and give you oodles and oodles of free products to try… keep an eye on how much caffeine you have so you don't end up with the jitters!
You can also try the famous Kopi Luwak coffee which is made from the civet's (a racoon-like animal) droppings. Although I don't recommend this as the civets are usually kept in cruel conditions.
After the free tour, you will be taken to the gift shop where you can purchase any of the products you tried.
The best way to get there is to hire a car and driver which you can do once you arrive in Bali or you can arrange online with Klook. Alternatively, if you would like to book in a full day tour taking in the rice paddies and markets – along with the coffee plantation, Klook have a great tour you can check out here.
Canyoning in Waterfalls
Canyoning is one of the fun Bali family activities with older children. Although children from as young as 8 years of age can join in the fun. Canyoning basically involves swimming and sliding in gorgeous waterfalls.
To do canyoning, you will need to join a tour. Klook has a Canyon day tour to a hidden canyon Click here to check it out.
ATV & Quad Tour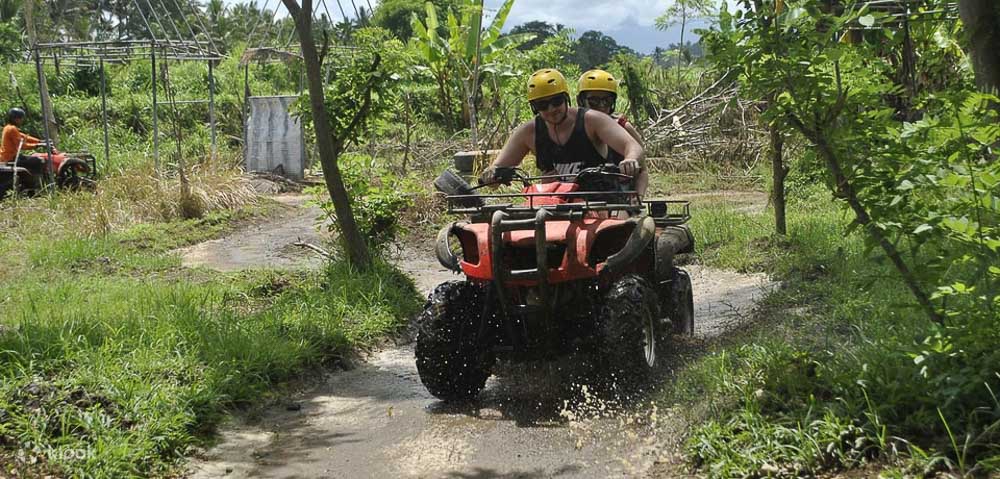 The bigger kids will love getting dirty and muddy as you drive an ATV through rice terraces, plantations, jungle, mud tracks and local villages. Tours vary on the minimum age requirement, so be sure to check this out before making a booking.
For quad bike riding you will need to join a tour. Tours can be booked in Bali or click here to book in advance.
Kintamani Volcano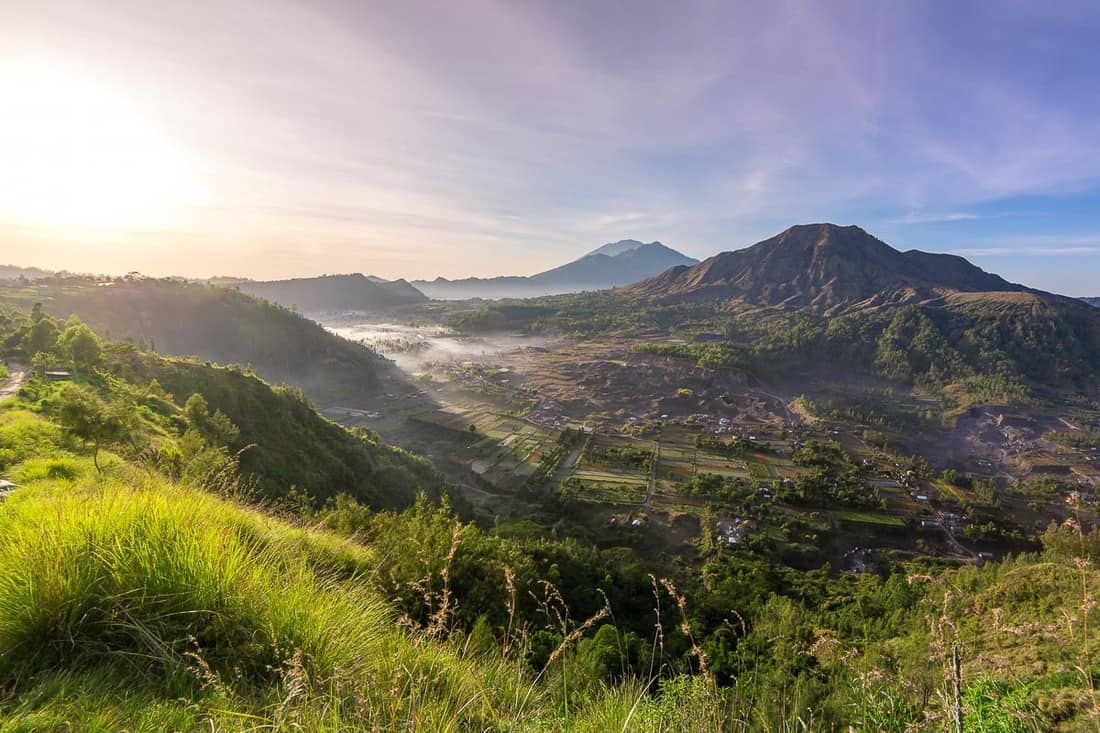 Kids will love being able to say they saw an active volcano! The best location to view the Kintamani volcano is to visit the villages that lie at the rim. Villages such as Penelokan, Batur and Kitamani have impressive views of the active volcano as well as the crater lake – Lake Batur. These villages are accessible by road – about 2 hours from Denpasar.
For those with older more adventurous kids, trekking and hiking are available in Mount Batur with the best panoramic views found between 10am and 3pm. Hikes vary in lengths but usually take at least 3 hours.
To view the volcano, it is best to hire a car with a driver or click here for a tour. You can hire a car and driver once you arrive in Bali or you can arrange online with Klook.
Banjar Hot Springs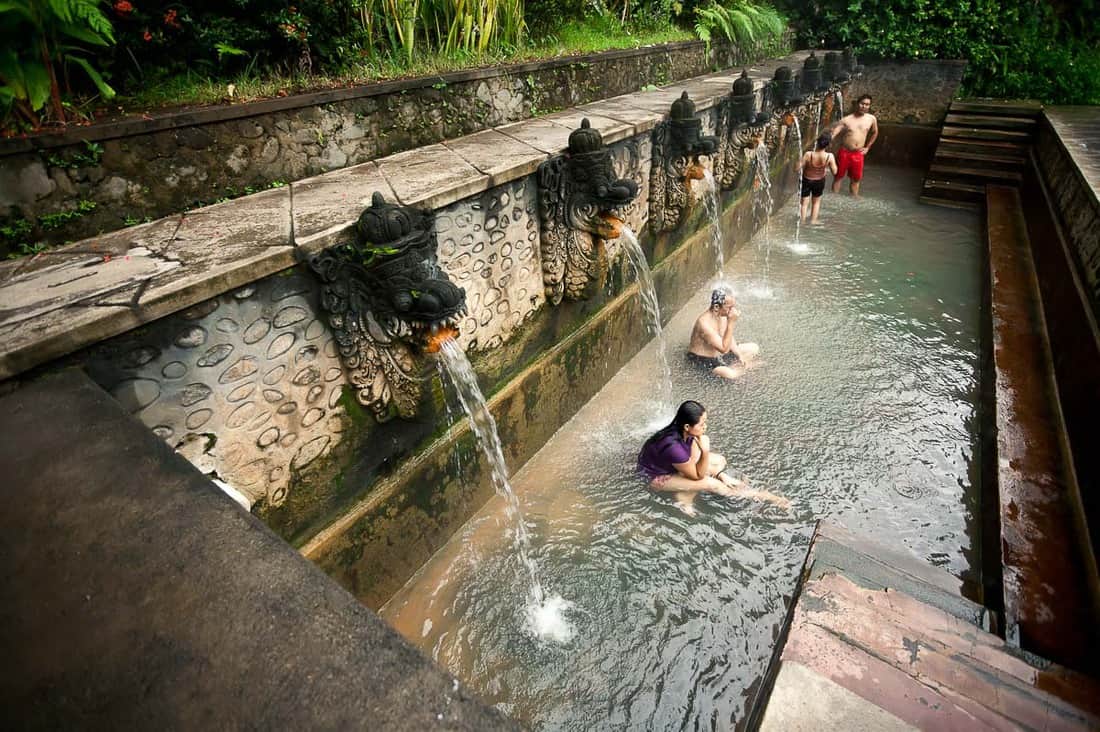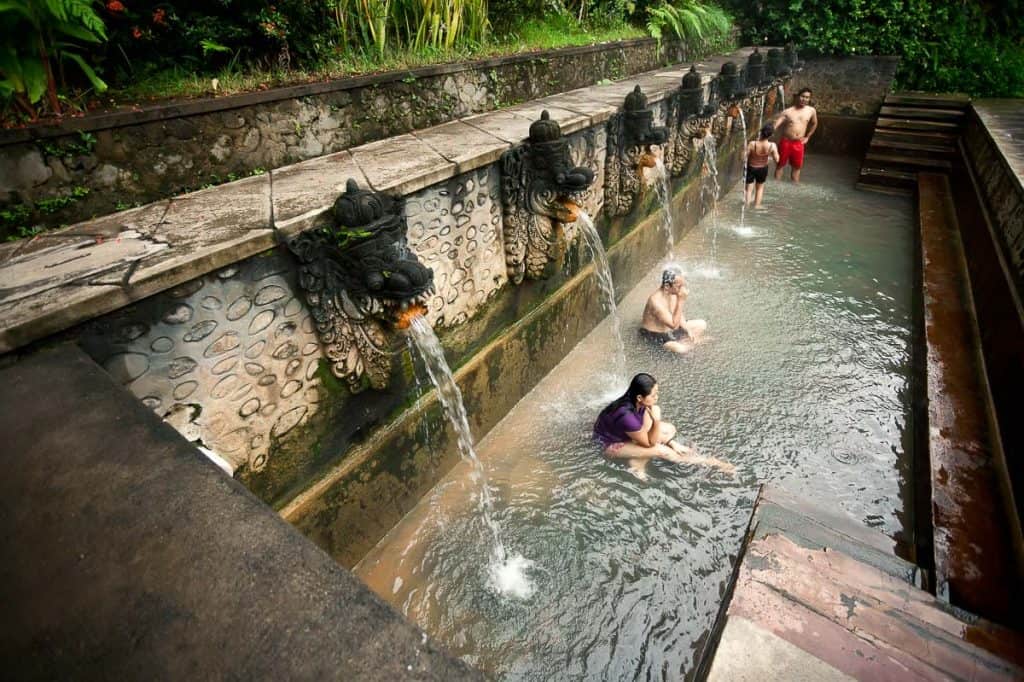 If you're looking for family-friendly things to do in Bali that are a little different, take a day trip to the sacred hot springs 'Air Panas' of Banjar which is set in the midst of the jungle in a beautifully landscaped tropical garden. The hot springs are located close to Lovina Beach in the north of Bali and includes 3 public and 1 private pool. The pools are fed by a hot, sulphur-rich water source which supposedly has many healing properties.
This is one of the Bali places to visit with family that is relaxing, yet enjoyable for all ages.
The best way to get there is to hire a car and driver which you can do once you arrive in Bali or you can arrange online with Klook. Alternatively, click here to book a tour. Tours usually include a few other stops as well such as local villages, waterfalls and plantation terraces.
Location: Banjar Village, Banjar District
Opening Hours: Monday to Saturday 8.30am to 5.30pm
Price: Admission is IDR 20,000 per adult (approx. AUD $2) | IDR 10,000 IDR per child (approx. AUD $1)
Dolphin Cruise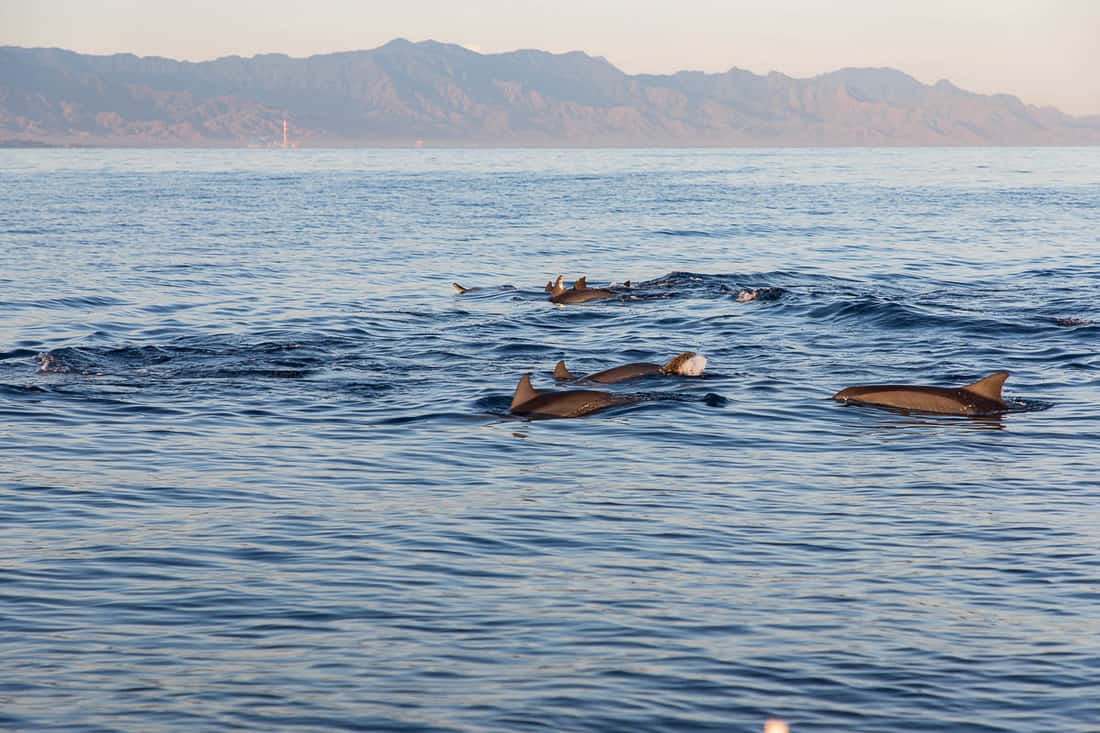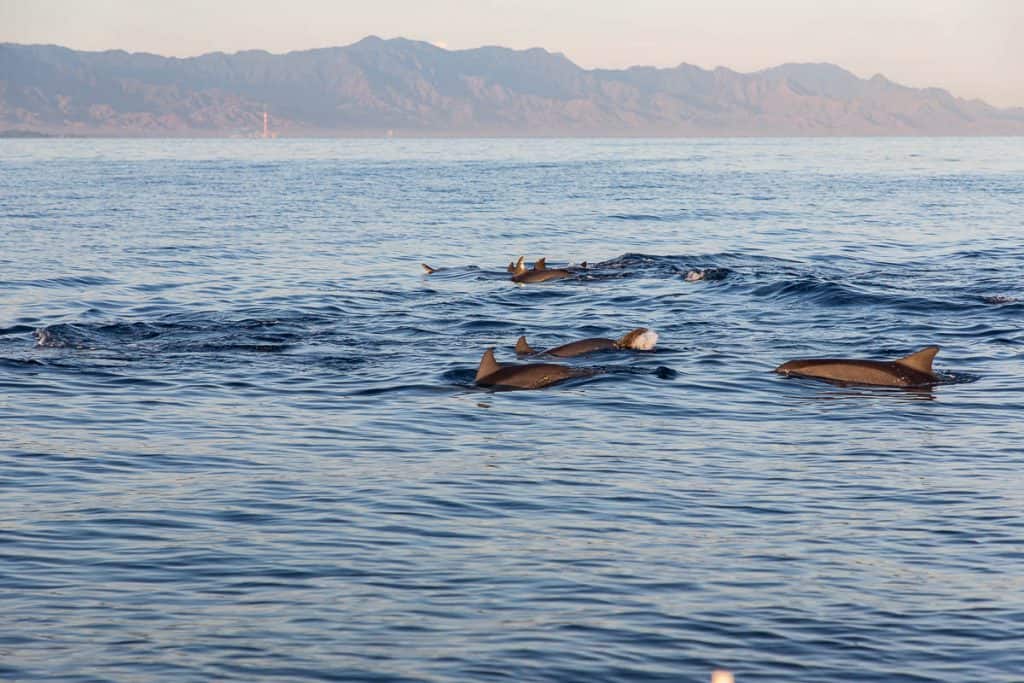 Taking a cruise to see dolphins is one of the great Bali family tours available. Kids will love seeing the dolphins up close in their natural habitat and hopefully even see a few of them leap through the air. You can book a tour to see the dolphins along with some other tourist stops in the north – Click here to book tickets online.
Hire a Driver and Explore the Island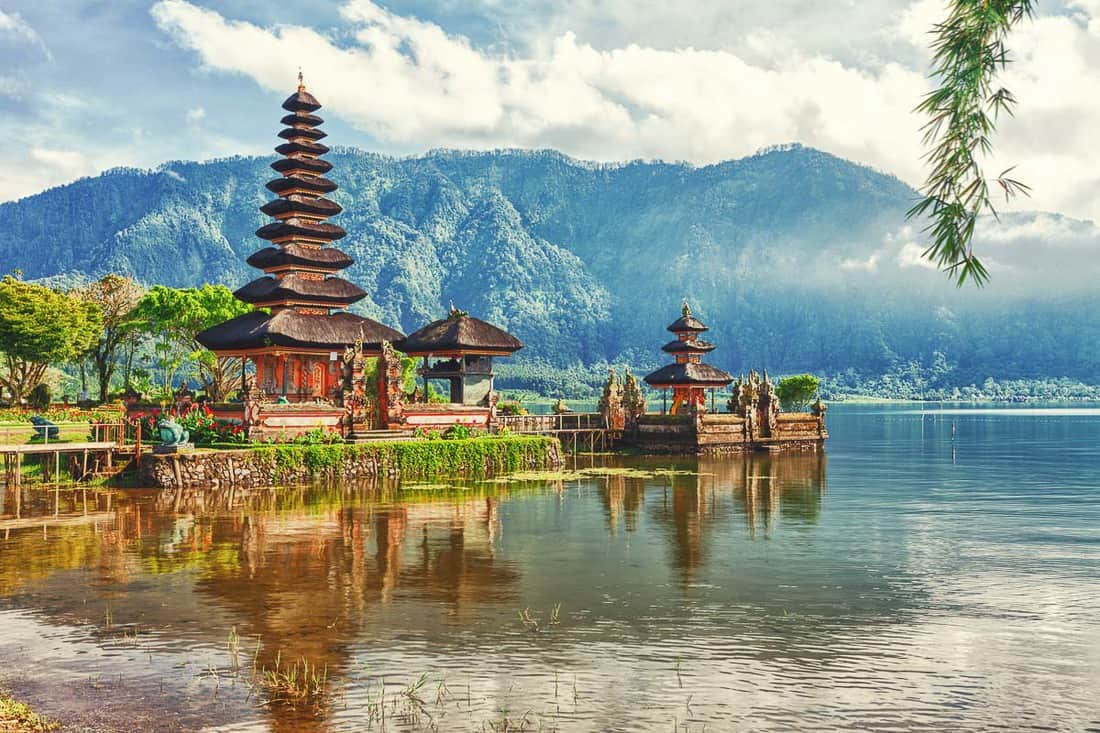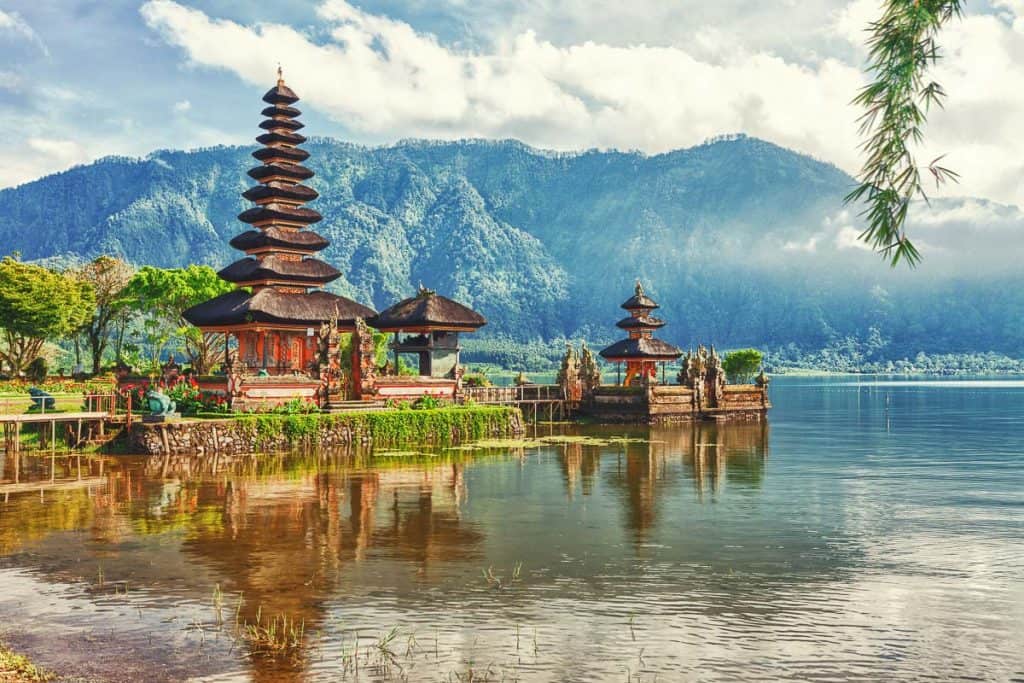 After reading all these great things to do in Bali with kids, I'm sure you have a bit of a short list of all your must-see Bali tourist attractions. I recommend for the attractions that are 30-45 minutes away from your accommodation that you hire yourself a car with driver and go explore the island. In Bali, you can arrange a driver and car for around $55 USD for 10 hours or save some money and book a driver and car in advance with Klook for under $50 AUD.
Nusa Lembongan Island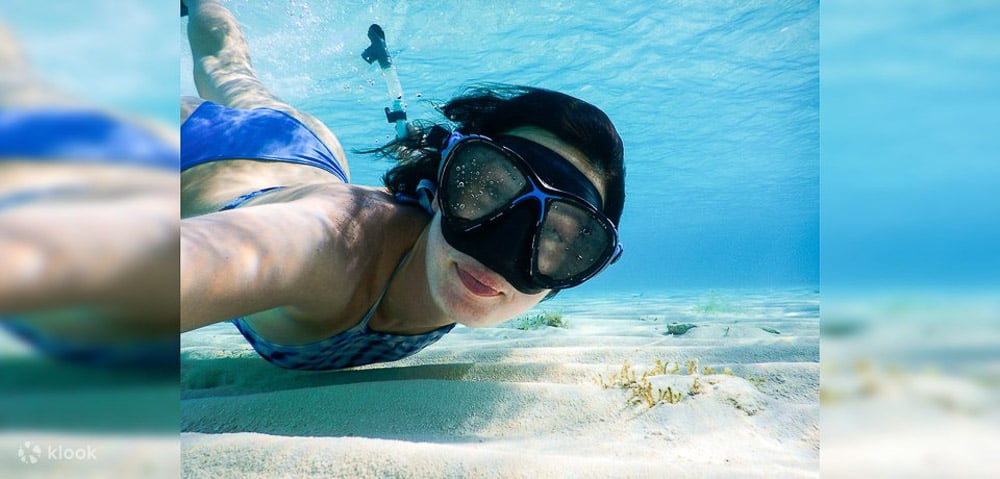 One of the top things to do in Bali with kids is to spend the day exploring the gorgeous island of Nusa Lembongan, home to some fantastic marine life and beautiful beaches. Activities include snorkelling, submarine coral viewing, island cultural walk, banana boat rides and delicious food.
A day trip to Nusa Lembongan Island is best done with a tour. Click here for a range of tours and prices.
Gili Islands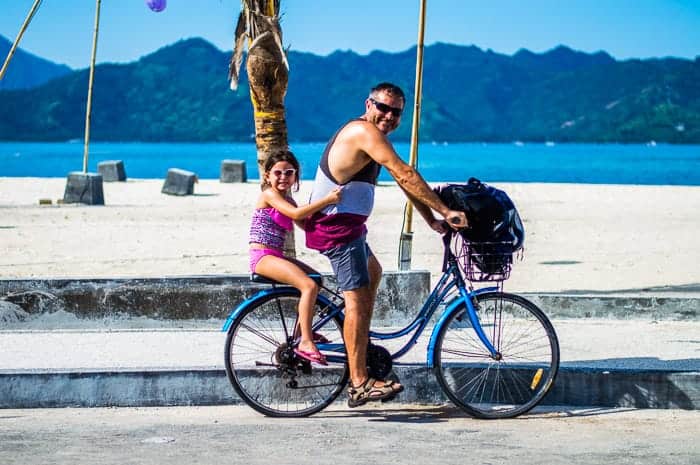 The Gili Islands is only a 90-minute fast boat ride from Bali, and these 3 islands are absolutely stunning and well worth a visit. I personally do not recommend you squeeze in a day trip to the Gili Islands – too much to see, not enough time, instead, I would recommend you spend at least a few days here. You can read our guide here on visiting the Gili Islands.
Best Places to Stay in Bali
for Families
Looking for the best places to stay in Bali for families? Below, we've covered our top three recommendations. These accommodation options offer great value for money and are in excellent locations.
The Bali Dynasty is a popular choice among families when it comes to where to stay in Bali with kids. While not beachfront, this property is located in the heart of Kuta; close to a range of activities such as the Discovery and Lippo malls and Waterbom Park. The Bali Dynasty is considered by many as being one of the best kids hotels Bali has on offer.
When it comes to hotels for kids in Bali, you want one with plenty of great family friendly facilities, and the Bali Dynasty certainly does not disappoint. Hotel facilities include six restaurants, five bars, three swimming pools (including a swim-up bar), a kid's pool, spa, exercise room, volleyball courts, beach club, kids' playground and a complimentary hospitality lounge for those early arrivals and late departures.
Family rooms can accommodate up to two adults and three children and include a bunkbed, futon bed and one large double bed. The master bedroom opens up to a private veranda with views to the garden and pond. Other room features include tea and coffee making facilities, air-conditioning, DVD player, flat-screen TV with satellite channels and free WiFi.
Click here for more information and to check the current price.
The Patra Bali Resort and Villas is a stunning 5-star resort is set amongst 11 hectares of tropical gardens along South Kuta Beach.
Hotel facilities include a day spa, large lagoon-style pool as well as a beachside pool, free shuttle to Kuta Square and fitness centre. There are also four restaurants onsite providing a mix of cuisines to suit all tastes, a drug store and a children's playground.
Families will need to book either two double or twin interconnecting rooms, which gives you plenty of space. And if you have tweens or teens the additional privacy separate rooms offers makes this one of the great kid friendly Bali resorts.
Each room with its own private balcony facing the lush gardens are air-conditioned and include a minbar, refrigerator, tea and coffee making facilities, flat-screen-TV with cable channels and free WiFi.
Click here for more information and to check the current price.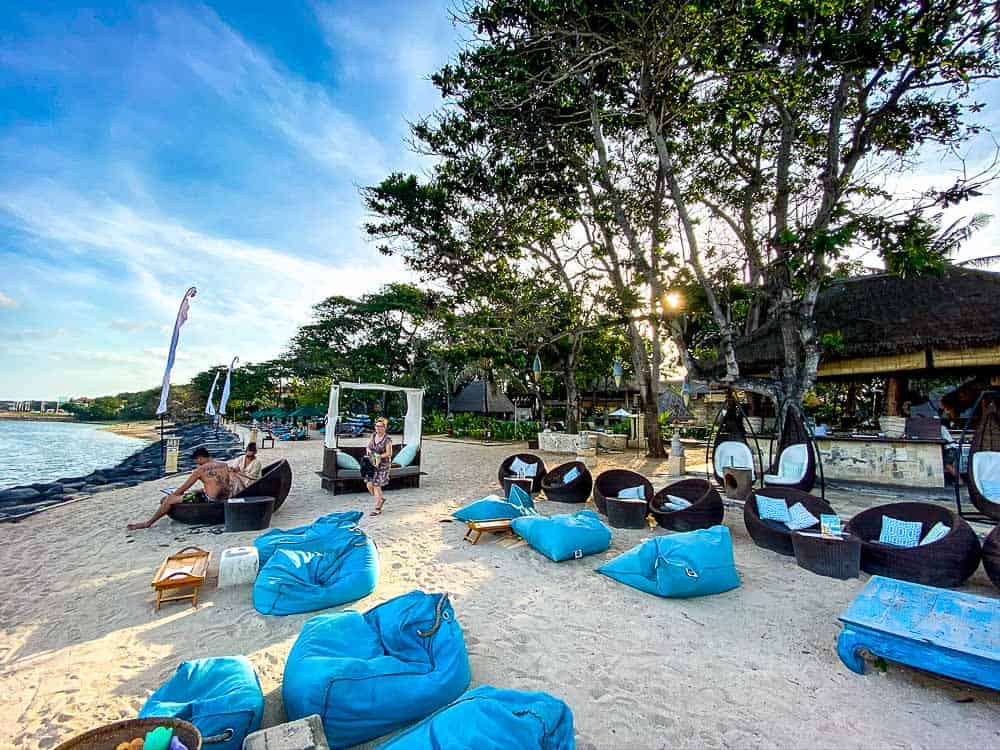 The Novotel Bali Benoa Resort is located on the Tanjung Benoa beachfront and set among tropical gardens and ponds. The hotel is around 6km from Nusa Beach, 20km from Kuta and about 18km from the Ngurah Rai International Airport.
The hotel's facilities include three swimming pools, a tennis court, three restaurants, two bars, gym, day spa and live daily entertainment.
Family rooms include one large double bed and one bunk bed in their own separate areas. The family room features tea and coffee making facilities, air-conditioning, refrigerator, video games for the kids, free Wi-Fi, a flat-screen TV with cable channels and seating area.
We've personally stayed at the Novotel Bali Benoa and highly recommend it – you can read our full review here.
Click here for more information and to check the current price.
______________________________________________________________________
Hopefully, you found this guide on all the amazing things to do in Bali helpful. You can also read our guide on the best places to stay in Bali here and the best Bali resorts with a kids club here.
If you love to holiday in South East Asia, we have plenty of more guides to help plan your trip including guides on Thailand, Vietnam and Malaysia.
Need even more ideas on things to do with kids in Bali?