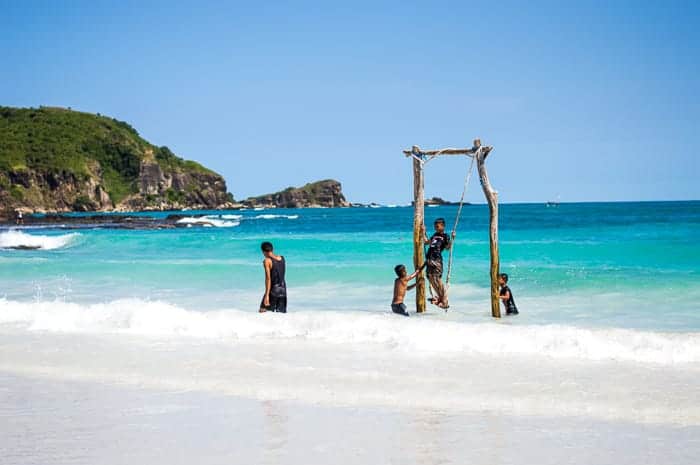 Lombok is stunning, an untouched paradise. Driving into Senggigi from the harbour I couldn't believe my eyes on how breathtakingly beautiful it was. Around every corner, there are millions of palm trees cascading down the tropical mountains to meet the ocean. Many of the beaches are completely undeveloped without a soul on them.
I definitely recommend visiting Lombok with kids. Families who love lazing about on the beach, snorkelling, and exploring are going to love it here.
This guide is all you need for your Lombok holidays – it includes things to do in Lombok, how to get from Bali to Lombok, the best place to stay in Lombok and a look at some of the best family friendly Lombok accommodation.
Read our post on the best 23 hotels, resorts & villas in Lombok for all budgets
Things to do in Lombok
Hire a motorbike and go exploring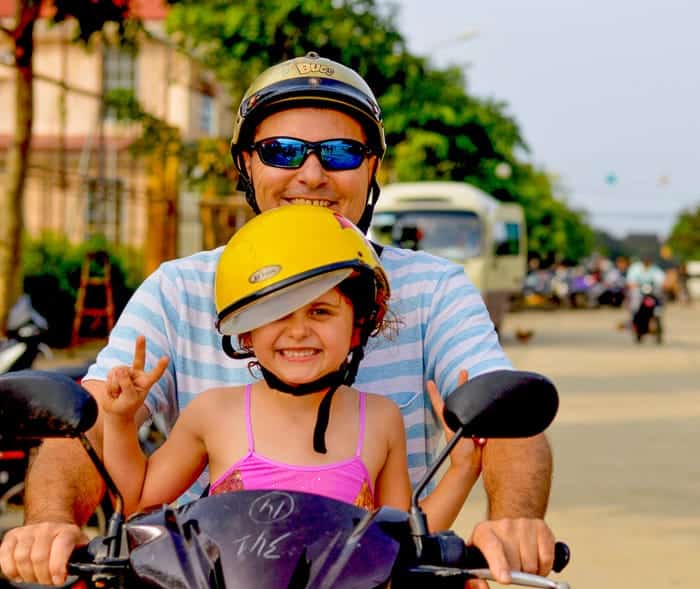 Hiring a motorbike is a great way to get out and explore Lombok – if you see something you like, stop and check it out. This is an easy way to see all the main Lombok attractions and is a cheap way of getting around Lombok.
For one day, we hired a motorbike for 50,000 IRD (approximately $5 AUD) and spent an additional 30,000 IRD (approximately $3 AUD) for 3 litres of petrol.
If you aren't keen on riding a bike or you have a few more kids than us – other transport in Lombok options include hiring a car, or a car and driver for the day.
We spent out day exploring the best beaches in Lombok.
Visit Kuta Beach – Lombok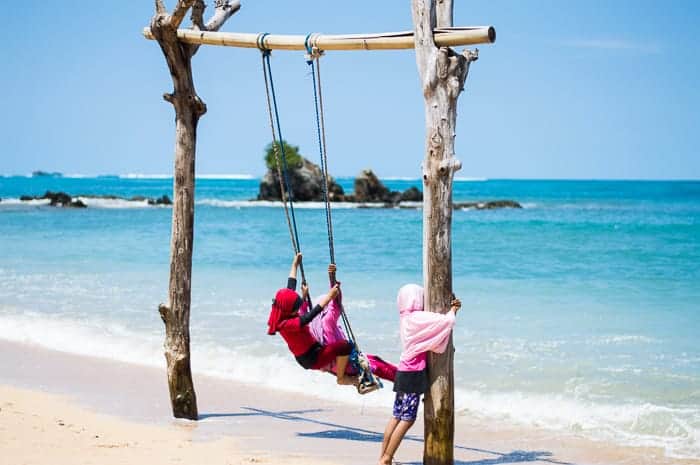 Not be confused with Kuta beach Bali, Kuta Lombok, is located in south Lombok at the foot of lush tropical mountain ranges.
Kuta beach is an under developed beach town with no major resorts here. You will find small homestays and simple warongs.
The beach is wide and long and fairly clean for a South East Asian beach. I was quite impressed that despite there being quite a few beach vendors there is no rubbish on the beach.
Whilst Kuta is famous for being a surf beach – the surf is quite a long way out and the water close to the shore makes for a perfect swimming beach. The waves along the shore are gentle and the water is a gorgeous blueish green colour.
We found the locals here super friendly and everyone wanted to chat with us, and practice their English they said. There were some kids selling bracelets but once we said no they just sat with us and asked us lots of questions about Australia.
You could easily spend a few hours in Kuta, sun bathing, swimming, having lunch and looking in the few shops here.
Visit Senggigi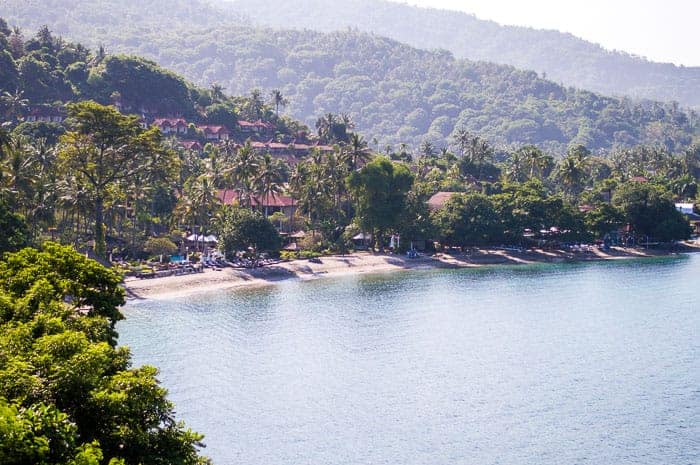 Senggigi is located on Lombok's west coast and is where you will find the majority of resorts and restaurants in Lombok.
Senggigi beach itself is nothing too exciting and unfortunately too much rubbish for my liking. However, some of the surrounding beaches and scenery are gorgeous. The area is quite mountainous and as you come around each bend you are rewarded with fantastic views of lush fields of palm trees that reach wide stretches of sandy beaches.
Senggigi is home to some fantastic affordable 5 star resorts with all the facilities you would expect.
We stayed at the Holiday Resort and loved just hanging by the gorgeous pools, drinking cocktails in the pool bar, couple massage in the day spa, dining by the beach as the sunset and Myla loved spending time in the kid's club.
Things to do in Senggigi include having a good meal at a beachside restaurant, a massage, having drinks at a beach bar as the sunsets and perhaps spend a few hours enjoying the facilities at one of the resorts here.
Visit Tanjung Aan Beach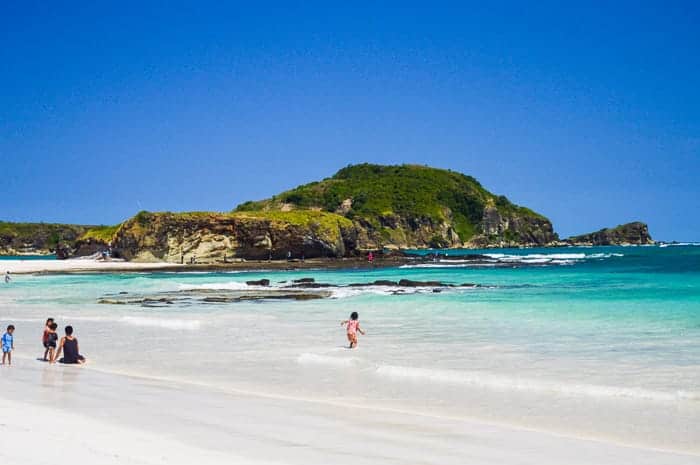 Tanjung Aan Beach is stunning!! And that is an understatement. This is definitely on the best beaches in Lombok list.
Located 7 kms east of Kuta Beach, Tanjung Aan Beach is my idea of heaven on earth! The beach is actually two sandy bays that are separated by rocks.
Driving into the area is nothing but lush mountains and palm trees – I kept saying to Andy I felt like we were on the set of the TV series Lost. The scenery was spectacular. However, it does appear that they are clearing land for roads, so it appears development is coming.
On the beach, itself there is absolutely no development here except for a few rustic warongs. The beach is pure white soft sand and the water is a stunning turquoise green. The waves are gentle and beautiful for swimming.
Further out in the bay is great for surfing, so you will spot quite a few surfers here as well.
The only downside for me is there is a lot of seaweed here that wraps around your feet as you swim.
When we visited Tanjung Aan we stopped for lunch at Warung Turtle. They provide rustic lounges and sun beds for guests to relax as they listen to reggae tunes. Warung Turtle serves local Indonesian food with prices around 55,000 IRD (approximately $5.50 AUD).
Just a word of warning there are no western toilets here only local squat toilets. Myla had her first squat toilet experience here, much to her dislike!
Along the beach there are various places to park, a word of warning – make sure you choose which part of the beach you want to base yourself before you enter a parking lot – otherwise like us you will enter multiple areas and pay multiple times. Although the cost is only 10000 IRD (approximately $1 AUD).
In the centre of the bay is a large rock which you can easily climb for some fantastic photo opportunities of the stunning landscape.
Visit Mawun Beach
Mawun beach is located 8kms west of Kuta Beach and as the guide books say it is a secluded half moon bay with crystal clear water and pristine sand. The beach is ideal for relaxing, swimming and surfing. There is no development here except for a few drink stalls.
Sun lingers can be hired here for 50,000 IDR (approximately $5 AUD) per day.
Ashtari Restaurant and Lounge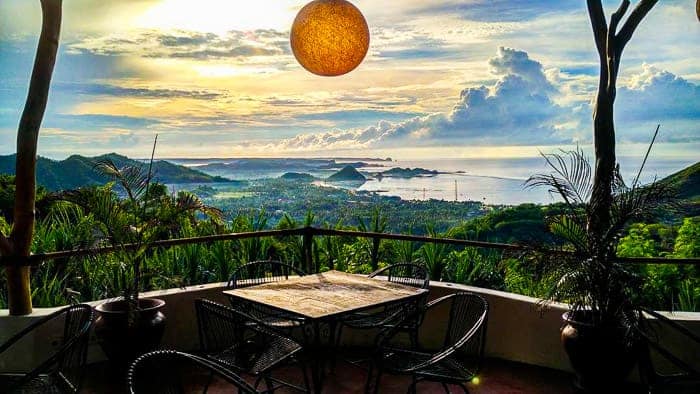 Image Credit: Ashtari
Ashtari is very popular restaurant and also holds yoga classes. Ashtari is located inland from Kuta, high up in the mountains with views to die for!! The vibe is cool and laid back making for a great place for lunch for some drinks as you lounge about on bean bags.
So grab your yoga mat and afterwards enjoy a delicious meal with a gorgeous view!
Visit Selong Belanak Beach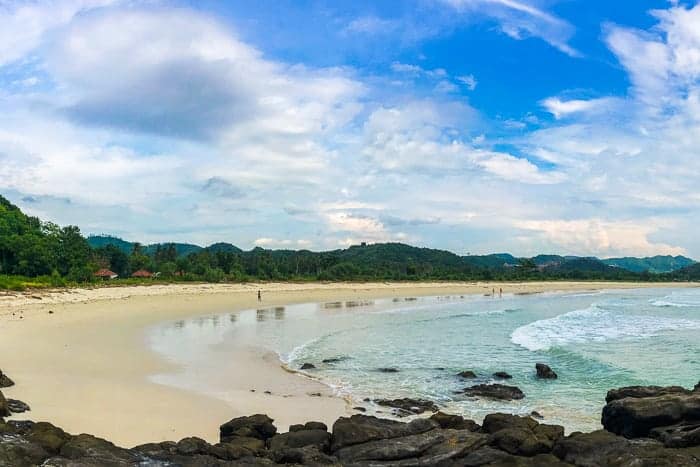 Image Credit: Brogan Abroad
Located only a few kilometres west of Kuta, many say that Selong Belanak Beach is the best Lombok Beach. The beach itself has gorgeous white sand and is free of rubbish thanks to the locals who do a great job of keeping it clean. The water is bright blue and calm – perfect for little ones and the beach is surrounded by a hilly vista
Like most beaches in Lombok you will have to pay to park your motorbike at the cost of 10,000 IRD (approximately $1 AUD).
You can rent beach chairs here from around 50,000 IRD (approximately $5 AUD) per day, take some surf lessons and there are plenty of places for food and drinks too.
Visit Sasak Village
Sasak are the indigenous people on the island and you can visit a Traditional Sasak Village, which is in Kuta, and see how the indigenous people live.
We found the village quite touristy and just an opportunity to sell tourist souvenirs. However, I did notice some guided tours going whilst we were there and the guide was explaining various things which may have been more informative than just aimlessly walking around the village yourself. So, if you do visit here I recommend getting a tour guide.
You can book day trips that also visit the Sasak Village and other places around Lombok. Click here to check out some tours.
Visit a Lombok Waterfall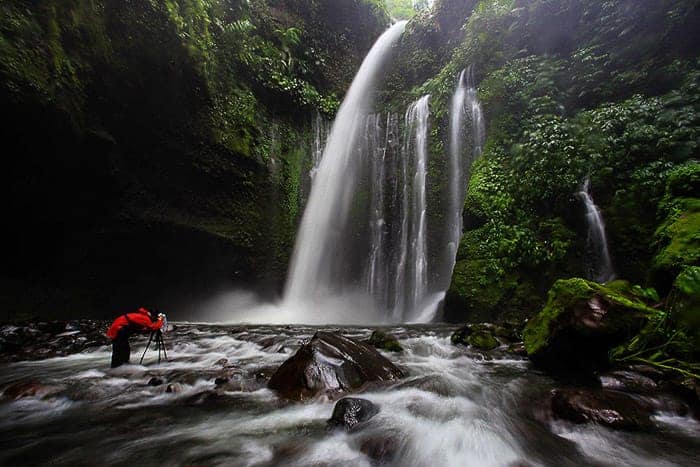 Image Credit: Trekking Rinjani
As well as gorgeous beaches, Lombok has some wonderful waterfalls to explore in the north of the island. The most popular waterfalls to visit are Tiu Kelep Waterfall and Sendang Gile Waterfall.
These waterfalls aren't just for admiring, so take your swimmers and jump in for a closer look!
If you don't have your own transport, you can book day trips to visit the various waterfalls around Lombok. Click here to check out some tours or book with Trekking Rinjani.
Trek Mount Rinjani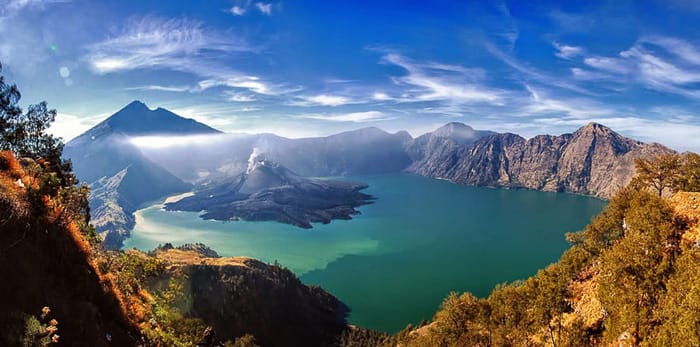 Image Credit: Trekking Rinjani
Many people come to Lombok to hike up to Mount Rinjani. Mount Rinjani is an active volcano and once you reach the top you are rewarded with a view of a gorgeous crater lake.
It takes a few days to complete the hike and so with little Myla in toe, it was not possible for us to do this – however I think it would be well worth it. This is definitely on my list of things to do once Myla gets a bit bigger.
To do the trek you will need to sign up to one of the guided tours – they are either 2 or 3 nights. Click here to check out some options or book with Trekking Rinjani.
Visit the Gili Islands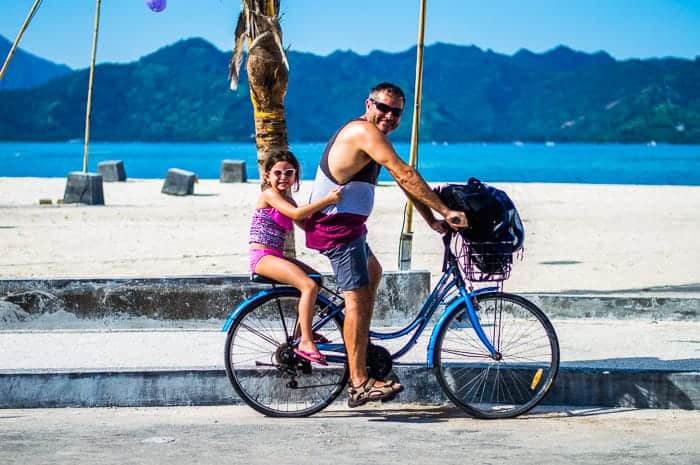 If you aren't spending any of your trip over at the Gili Islands, you should definitely do a Gili Islands day trip from Lombok – but if time permits I definitely recommend spending a few days here. We stayed at the Turtle Beach Hotel – you can read our review here.
The Gili Islands are gorgeous and it is super easy to get to Lombok to Gili Islands via a fast boat from Bangsal Harbour. Just turn up and find yourself a fast boat which leave regularly throughout the day. Or alternatively you can do an organised day trip. Click here to see tours available, or book one from the various tour operators in Senggigi or Kuta.
During your trip to the Gili Islands you can spend the day snorkelling, swimming, sunbathing or eating at one of the many beach side warungs. I recommend hiring a bicycle and go exploring, stopping off at various swimming spots along the way.
Read more about visiting the Gili Islands here.
Snorkelling at Gili Nanggu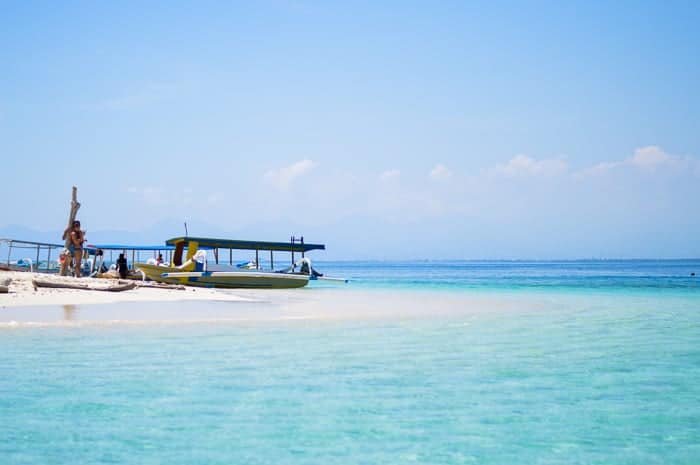 My favourite day in Lombok was our private tour to Gili Nanggu – this place is absolute paradise and yeah, I know I keep saying that about Lombok – but this place is it!!
The water surrounding Gili Nanggu is so clear you can see your feet even when the water is up to your shoulders. The sand is so soft, the water so warm and the fish are colourful and friendly!! We were absolutely surrounded by fish keen to come and say hi! Seriously it was like swimming in an aquarium.
We organised the day trip through our hotel and were driven out the Tawun Harbour where we jumped on a small fishing boat and took the quick ride out to Gili Nanggu. As you start to come into the shore you notice the ocean starts getting clearer and clearer and you can see the ocean floor – we knew at this stage that the island was going to be incredible.
One side of the island is a little rocky with dead coral but not too bad, but a few metres away there is white soft sand straight out of a postcard for paradise!
You can stay at Gili Nanggu at the Gili Nanggu Cottages.
After a few hours of snorkelling and swimming on Gili Nanggu we moved on to Gili Sudak. This island was also breathtakingly stunning – yep another paradise! The water was crystal clear here too and great for swimming – there were also stacks of starfish which is great for the kids.
This is where we had lunch. 3 meal and 3 drinks on the beach here cost us 210,000 IRD (approximately $21 AUD).
You can stay at Gili Sudak at the Nirvana Gili Sudak Guesthouse.
Our final stop for the day was at Gili Kedis. This island is so tiny you could walk around it in minutes! Here we did, more snorkelling and saw heaps more star fish. There is not much on this island apart from a few sun lounges and a tiny shack selling snacks.
You must do a day trip to Gili Nanggu and the surrounding islands during your time at Lombok. This was easily my most favourite day during our entire trip.
You can do this trip super cheap and ride a motorbike out to the harbour and find yourself a boat out to the islands or if you prefer you can book an organised tour through your hotel or from one of the many tour operators in Senggigi and Kuta. Click here to see what tours are available.
Where to Stay in Lombok
The main places in Lombok where tourists stay at are either Kuta or Senggigi. Where to stay in Lombok or which is the best area to stay in Lombok really depends on your likes and what you want to do. If you like gorgeous resorts with first class facilities then Senggigi it is. If you want more local accommodation close to gorgeous unspoilt beaches then I would recommend Kuta.
Accommodation Kuta Lombok
My recommendation would be to in fact stay here in Kuta as it is well positioned to all the other attractions in Lombok. All the best beaches in Lombok are also easily accessible from Kuta on either motorbike or by taxi.
Click here for a full list of accommodation in Kuta, in the meantime, check out these places for Kuta Lombok accommodation:
Yuli's Homestay
Beautiful resort only 600 m from Kuta Beach and close to the main part of town, this gorgeous little homestay has 3 swimming pools on site. Rooms include AC and free Wi-Fi.
Click here for the latest prices for Yuli's Homestay.
Villa Bau Nyale
Do you want your own private villa with swimming pool?? Then Villa Bau Nyale is worth a look. Located a little out of town, but still only a 10-minute walk to the beach. The Villas also have an onsite restaurant.
Click here for the latest prices for Villa Bau Nyale.
Novotel Kuta Lombok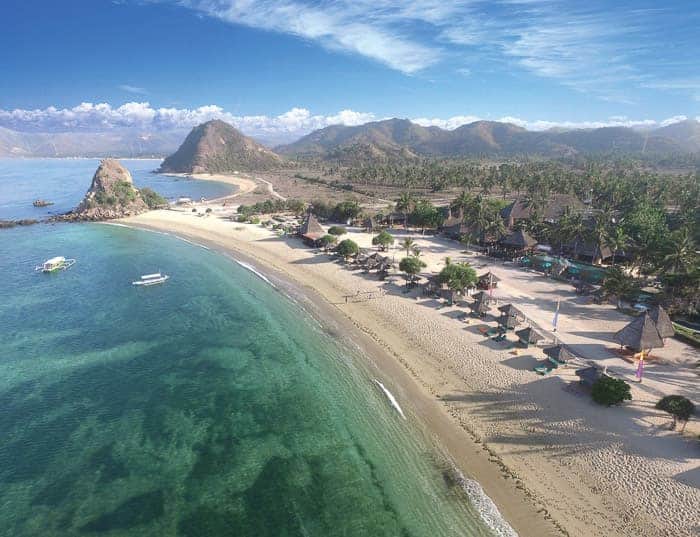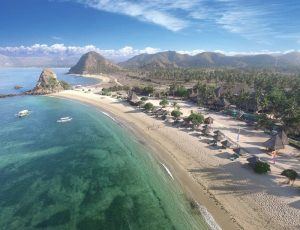 Image Credit: Novotel Lombok
If you are looking for something a little more up market and more like those first class resorts I was talking about from Senggigi then this is a great choice. The resort is close to Kuta beach, has 3 great pools, 2 restaurants, day spa, kids club and daily group activities. Seriously one of the best – possibly the best resort in Lombok.
Click here for the latest prices for Novotel Kuta Lombok.
Senggigi Accommodation
If you prefer to stay in resort style accommodation then this is the place for you. Hotels in Senggigi are some of the best on the island with some great restaurants, chill out beach bars and the odd tourist shop in close vicinity.
However in my opinion the beach is not great. Although we stayed at Holiday Resort which is just outside of Senggigi on Mangsit Beach and the beach here is lovely. I even heard from some fellow tourists that the snorkelling right off Mangsit Beach is fantastic.
Click here for a full list of accommodation in Senggigi, however in the meantime, check out these places in Senggigi:
Alam Mimpi Boutique Hotel
Located close to the heart of Senggigi this hotel offers great value for money. The hotel has a small pool and onsite bar. This hotel has also been recognised by TripAdvisor as a Traveller's Choice for 2017.
Click here for the latest prices for Alam Mimpi Boutique Hotel.
Holiday Resort Lombok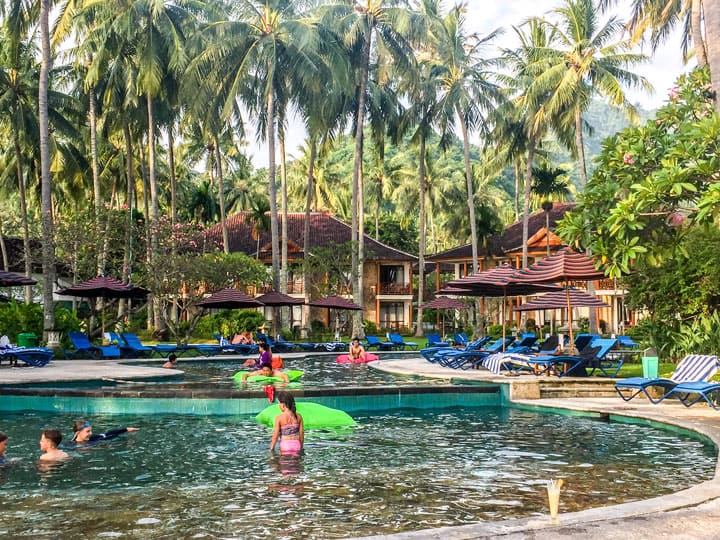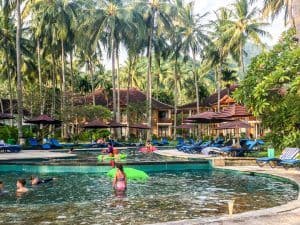 We stayed at the Holiday Resort for a few nights when we visited Senggigi and absolutely loved it! The facilities here are first class – gorgeous lagoon style swimming pools, pool bar, multiple restaurants, kids club and various daily group activities. You can even participate in their turtle conservation program each day.
The Holiday Resort is located a little out of Senggigi on the gorgeous Mangsit beach.
Click here for the latest prices for Holiday Resort.
Coconut Boutique Resort Lombok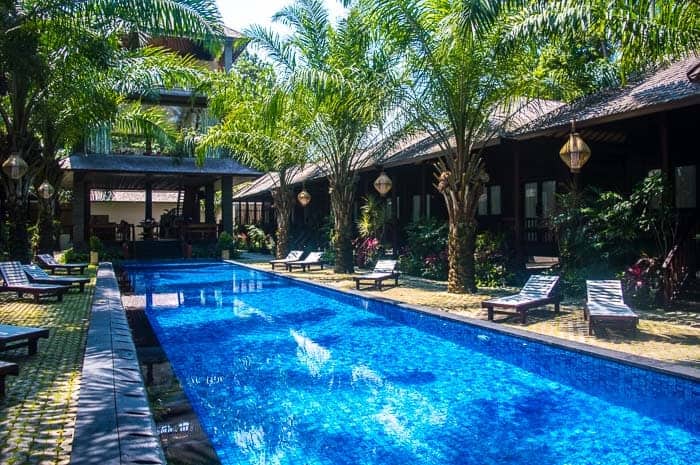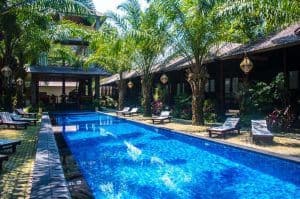 If you want to be in a gorgeous oasis away from the crowds but just a quick cab ride away from the action then the Coconut Boutique Resort is the place for you. There are only 16 bungalows here and you may well be the only one there a lot of the time as we were during our recent stay. The resort has an onsite restaurant, bar, day spa and swimming pool.
Click here for the latest prices for Coconut Boutique Resort.
Sheraton Senggigi Beach Resort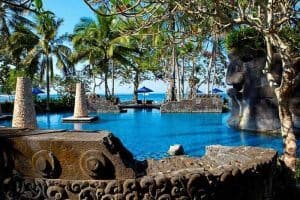 The luxurious Sheraton Senggigi Beach Resort is located right on the beach in Senggigi with 4 restaurants, pools, day spa, tennis courts and fitness centre and a kid's club.
Click here for the latest prices for Sheraton Senggigi Beach Resort.
Getting there
Gili Islands to Lombok
We arrived at Lombok from Gili Air. It is only a 10 – 15-minute boat ride from Gili to Lombok and you can do this via one of the many fast boat operators or the cheaper public boat.
We took the cheaper option and took the public boat which only leaves twice a day, early in the morning and midafternoon. Unfortunately, the public boat does not leave until the boat is full, so you may have to wait a while. We probably waited about 20 minutes to leave. A word of warning they fill this boat to the brim! Myla had to sit on my lap as there was no room for her at all.
A ticket on the public boat costs 100,000 IRD (approximately $10 AUD) per person and included transfers to Senggigi. However, we chose to hire a taxi once we got to Lombok which only cost 100,000 IRD (approximately $10 AUD) – we just couldn't be bothered waiting around in the heat for the bus.
Obviously, you can do the same trip in reverse if you go from Lombok to the Gili Islands.
Bali to Lombok
Getting to Lombok from Bali you have 2 options – a fast boat or fly.
Flying
Surprisingly flying is going to be the cheaper option and obviously, the quicker option. We flew back to Bali from Lombok and tickets were approximately $40 AUD each for a 30-minute flight. So, if you are not stopping anywhere in Gili, I would recommend this over the fast boat.
Lombok airport to Senggigi, or in reverse takes about an hour or so and cost us 170,000 IDR (approximately $17 AUD). The airport is much closer to Kuta.
Fast Boat
We took the Gili Gili Fast boat from Bali to Gili Islands and the boat then continues to Lombok from Gili. There are many other fast boat operators all more or less offering the same thing. Tickets include transportation from your hotel in Bali to the harbour.
We were picked up by a mini bus from our hotel in Kuta around 6.30 am and then arrived at the Padangbai around 8.30 am for our 9 am departure. We arrived at Gili Air at 10.45 am. The boat then goes onto Lombok arriving at 10 am. There is also an afternoon departure leaving Padangbai at 1 pm.
If you are coming from Lombok to Bali the boat leaves the Bangsal harbour at 3 pm arriving in Bali at 4.50 pm.
The ticket price is 690,000 IDR (approximately $69 AUD) for adults and 90,000 IDR (approximately $59 AUD).
I have heard some horror stories about the ride over being rough, scary and dangerous – and maybe it is sometimes, but we found the trip very smooth.
Want to save this for later?
Click on one of the images below and save to Pinterest.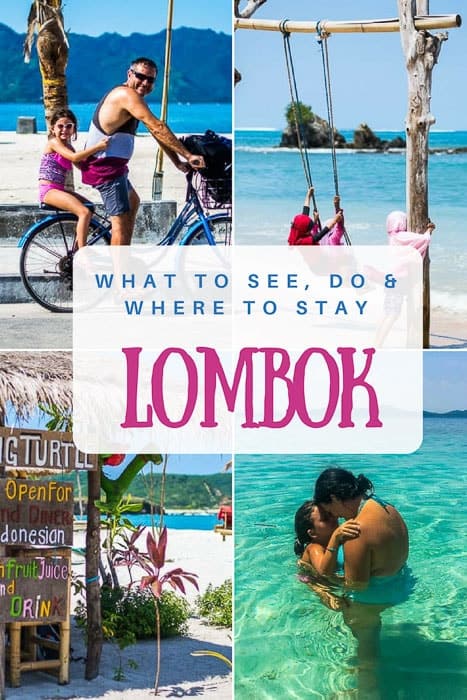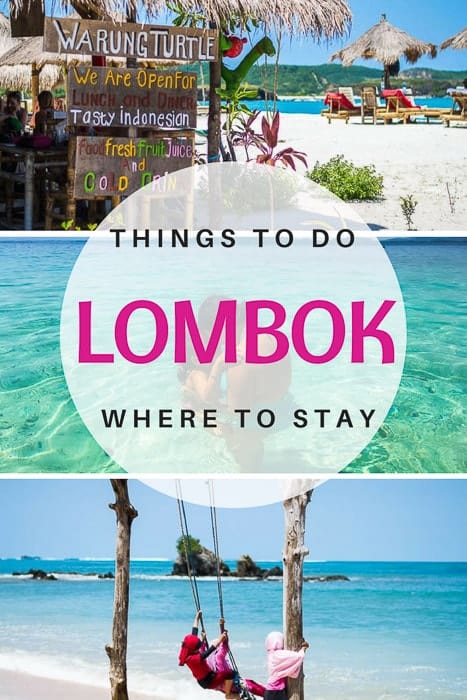 Please note that the above post contains affiliate links which means if you book accommodation using any of the links I will receive a small commission. This helps me bring all of this great information to you free of charge – thanks for supporting our website 🙂