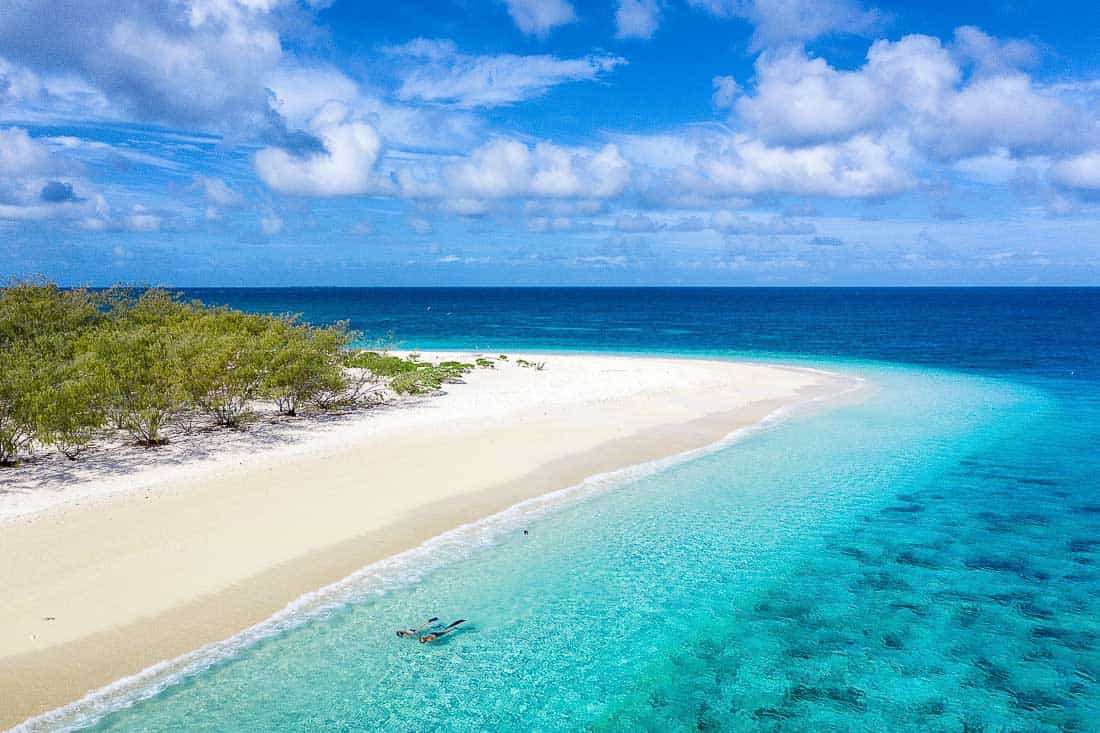 Image Credit – Tourism and Events Queensland
When I first saw the photographs of Wilson Island – I was like, I have to go there!
As a tropical island junkie, I usually spend at least a week or two per year on a tropical island – usually somewhere in Southeast Asia. But with borders shut, I've spent the last few years exploring the gorgeous Queensland islands.
I have to admit I'd never heard of Wilson Island until a friend of mine stayed there. Her photos looked amazing and her stories had me wanting to book immediately. The only problem is Wilson Island is a 5 star luxury adults only island. So there's nothing "thrifty" or "family" like about Wilson Island.
However, as a blended family, I took the opportunity to book a few days just for Andy and I when I knew Myla would be spending some time with her father. I also decided to throw caution to the wind and splurge a little and book us in for a two night stay at the stunning, magical, breathtakingly beautiful – Wilson Island.
So if you've ever wondered whether Wilson Island is worth the money, or even if you've never heard of Wilson Island but love the idea of glamping in paradise in the middle of the Southern Great Barrier Reef – then this Wilson Island review is for you.
Are you planning a trip to Queensland? Have any questions? Join our Queensland Travel Planning Facebook group here now! It's the perfect place to ask any questions and to be inspired!
This post may contain compensated links. Please refer to my disclaimer here for more information.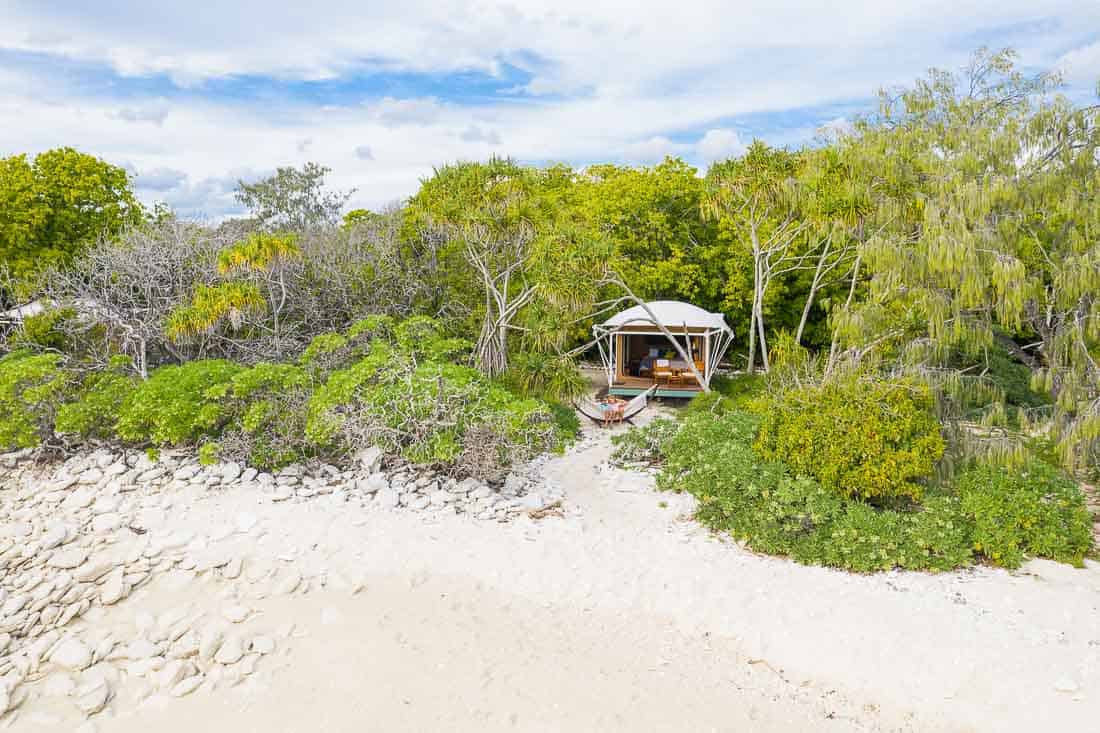 Image Credit – Tourism and Events Queensland
An introduction to Wilson Island
Located in the southern part of the Great Barrier Reef (one of the world's seven wonders), Wilson Island is a secluded coral cay in a Marine National Park and is hands down one of the best Queensland island resorts.
Being a coral cay, rather than just being surrounded by the Great Barrier Reef, here you're technically staying right on the Great Barrier Reef. This means you'll have amazing coral and marine life right at your fingertips. And being a Marine National Park, fishing is prohibited as are any activities that will damage the natural surroundings – so you're guaranteed an unspoiled natural environment with incredible marine life, flora and fauna.
If that's not enough, a stay at Wilson Island is like being on a deserted island in the middle of paradise. With no more than six couples on the Island at a time (9 couples pre covid) – you'll rarely see another person as you wander around. Your accommodation is in an unassuming glamping tent which is strategically placed along the beach and among the trees to provide your own secluded little piece of paradise – you won't need to worry about seeing any other guests. Plus, you'll have your own personal chef to prepare the most amazing meals and unlimited access to some of Australia's best wines and spirits. It sounds like heaven, doesn't it!
At 5 acres, the Island is not overly big, however it is big enough to easily find your own slice of paradise where you can completely escape from the other guests. With no internet or phone reception, and no televisions, Wilson Island is a place to unplug from the rest of the world.
Wilson Island Review
If the above has you intrigued – then you'll want to read this next section as it covers everything you need to know about a stay on the gorgeous Wilson Island. It includes all the practical information about how to get there, accommodation, things to do as well as a few tips and hints to make your glamping Great Barrier Reef experience even more amazing.
Where is Wilson Island?
Wilson Island is situated in the southern part of the Great Barrier Reef, around 80kms northeast off the coast from Gladstone and just 15km from Heron Island – which is the closest neighbouring Island.
Gladstone is an hour flight away from Brisbane or about a 6-7 hour drive. From Gladstone, you reach Wilson Island via Heron Island. More on how to get to Wilson Island below.
Wilson Island Accommodation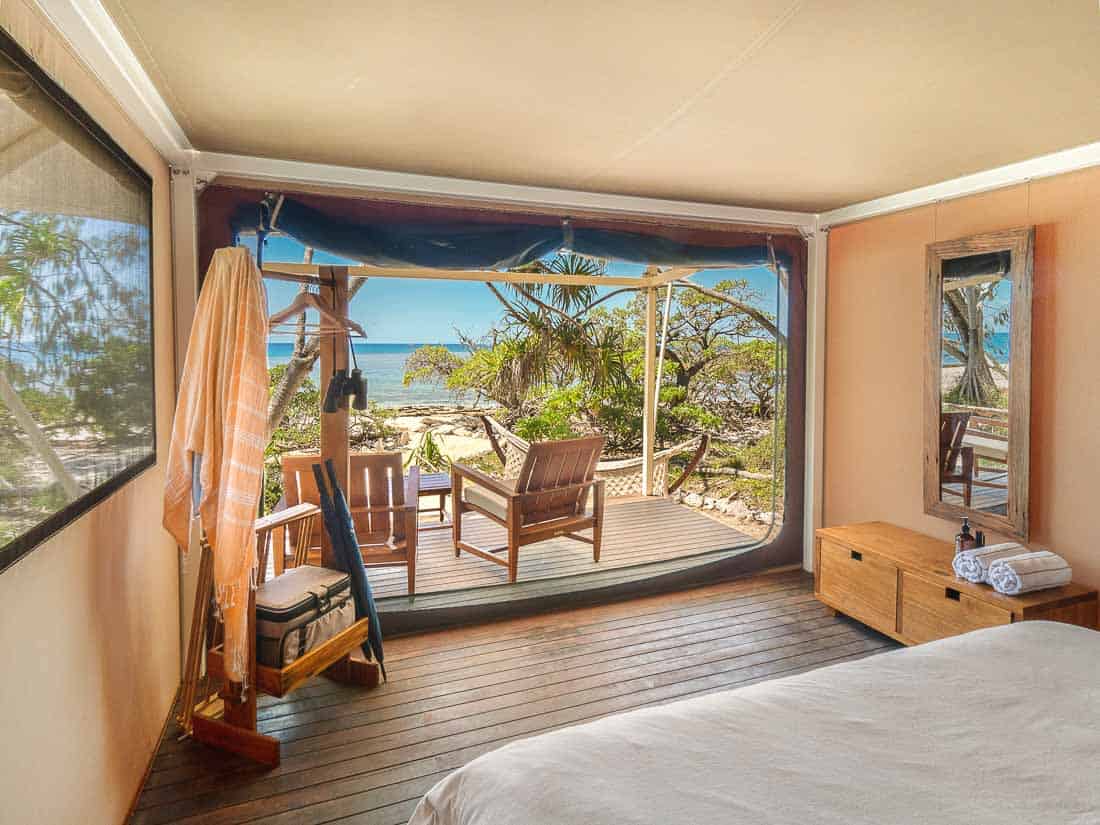 Image Credit – Tourism and Events Queensland
Unlike most other Great Barrier Reef resorts, at Wilson Island, there are only nine glamping tents, allowing only 18 people on the Island at any one time – although since covid, they only allow 12 people to comply with social distancing rules. Each of the glamping tents are strategically placed among the natural environment to provide a private setting where guests can sit back and enjoy the sounds of the ocean and birds. And during turtle nesting season – you'll hear the turtles too!
Don't be fooled into thinking these glamping tents are anything like your standard camping tent. This camping Great Barrier Reef experience is actually in luxurious safari tents with king beds, linen, USB chargers, umbrellas and a torch for walking between the dining room and tent at night. The tents are on an elevated deck with a table and chairs where you can take in the fantastic views across the Great Barrier Reef. There is also a hammock – perfect for those daytime nana naps.
The glamping tents don't come with a bathroom; this reduces the impact on the Island's ecosystem. However, the amenity block is close by, where you're allocated your own private shower. Within your private shower, you'll find toiletries, including body wash, shampoo and conditioner. You'll also find an unlimited supply of bath and beach towels and even reef safe sunscreen in the communal area. There are also four toilets which are shared among the guests.
Dining at Wilson Island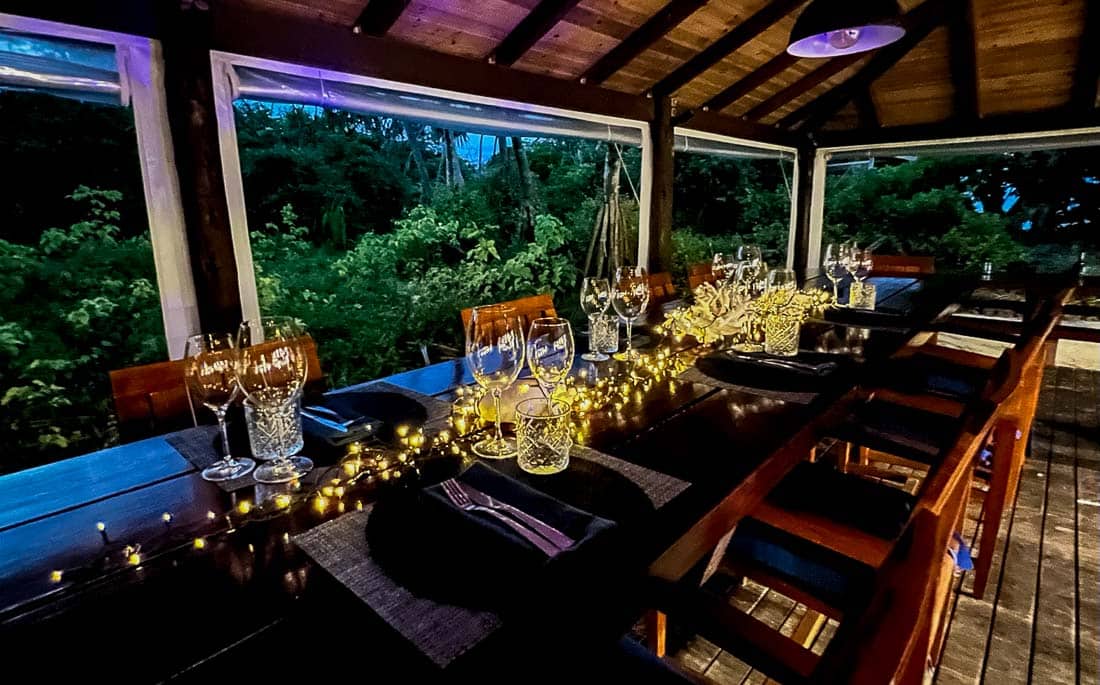 Like most of the best Qld island resorts, one of the great things about Wilson Island is the food! I mean, how many Great Barrier Reef Island resorts are there where you have your very own personal chef preparing all your meals all day, every day. And it's not just main meals that are provided; each afternoon, you're provided with a delicious grazing platter, plus there are a range of snacks offered throughout the day (if you can fit them in) and an unlimited bar available at any time of the day or night.
Meals are served in the communal dining pavilion, where guests sit together. Although if you're feeling like some alone time, your chef can prepare you a picnic basket for breakfast, lunch or dinner. Although I wouldn't worry about spending time with other guests, everyone we met was like minded and it felt like spending time with old friends.
In terms of mealtimes, it may change by 30 minutes or so – but meals are served around 8 am for breakfast, 12 pm for lunch and 7 pm for dinner. Plus, the grazing platter at around 5 pm each day.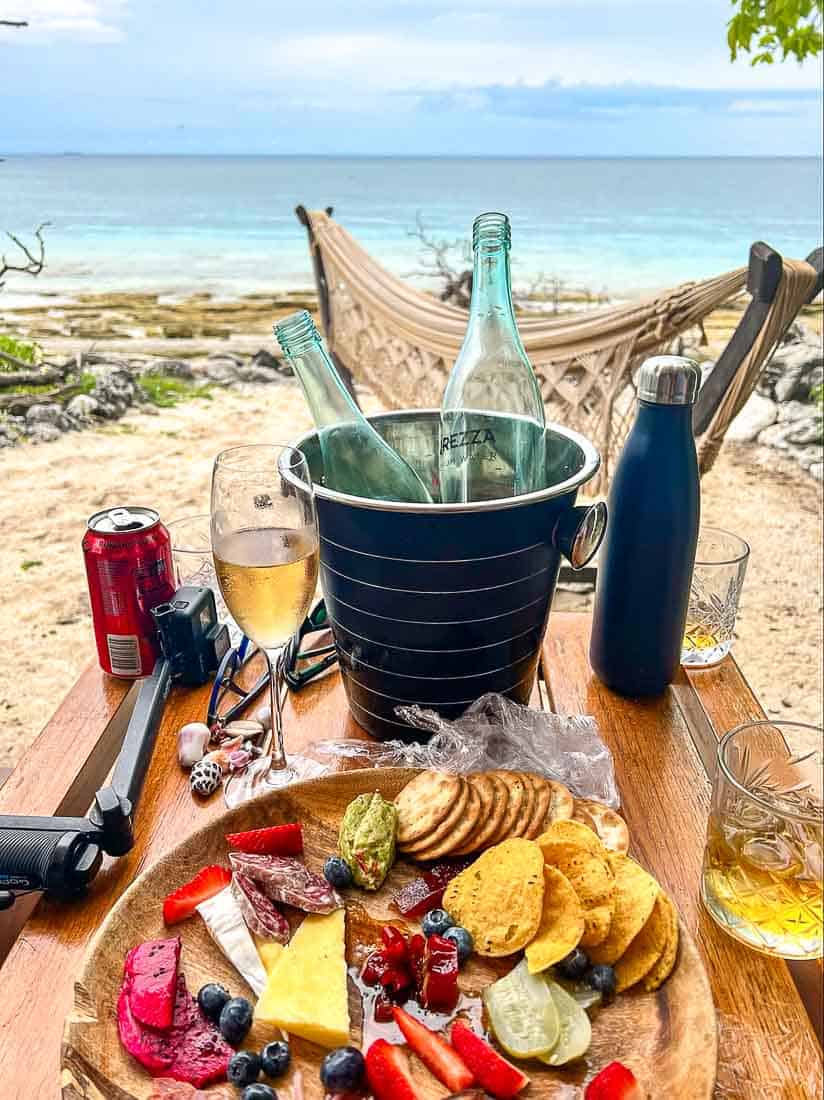 You're also welcome to grab a cooler bag anytime you like and pack it full of food and drinks to enjoy anywhere you like on the Island or even in your own safari tent if you prefer.
In terms of drinks – there is an excellent range on offer. There is wine, bubbles, beer, spirits, soft drinks and even a DIY cocktail bar. There is also coffee and tea and a wide range of milk options.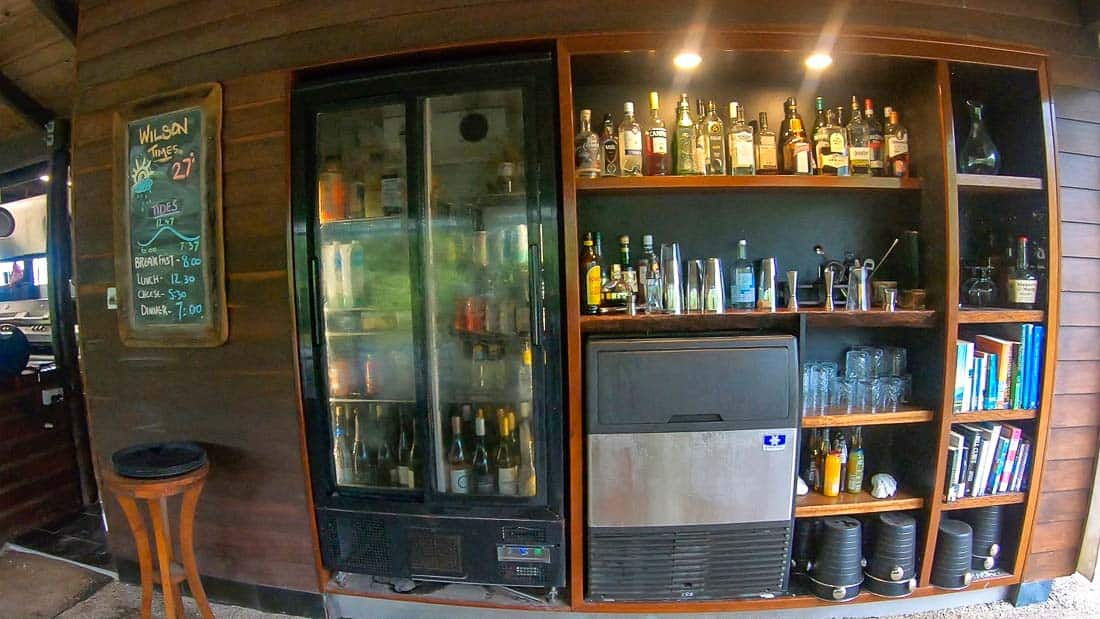 In terms of food, no two days are the same at Wilson Island. But to give you an idea of what's on offer, here is what we enjoyed during our stay:
Day 1 Dinner: Rib eye fillet with pumpkin puree, chargrilled broccoli and salad. For dessert, we had hoki poki ice cream, chocolate and ferry floss
Day 2 Breakfast: Scrambled eggs on sourdough with fried halloumi and a side of fruit salad
Day 2 Lunch: A seafood smorgasbord was served – but as we don't eat seafood, we had a delicious pork belly Thai salad
Day 2 Dinner: Duck with vegetables was served, but I had chicken instead as I don't eat duck. For dessert, we had a delicious deconstructed cheesecake
Day 3 Breakfast: Bacon and eggs, served with sourdough and tomato puree and a side of fruit salad
Day 3 Lunch: Thai curry with jasmine rice
Lunch and dinner were served with matching wines (or you could choose whatever else you wanted to drink) and breakfast was served with juice, tea and coffee.
We were asked if we had any dietary requirements upon booking our stay. However, I'd recommend chatting with the chef on arrival about the menu and discussing any changes you might like. Plenty of guests were doing during our stay and the chef was only too happy to accommodate.
Things to do at Wilson Island
At Wilson Island, you can do as much or as little as you like. You can spend your days active with snorkelling, kayaking or walking around the Island, or relax while swinging from a hammock and enjoying the majestic surroundings.
Here are some tips on things to do while on Wilson Island.
Observe the Turtles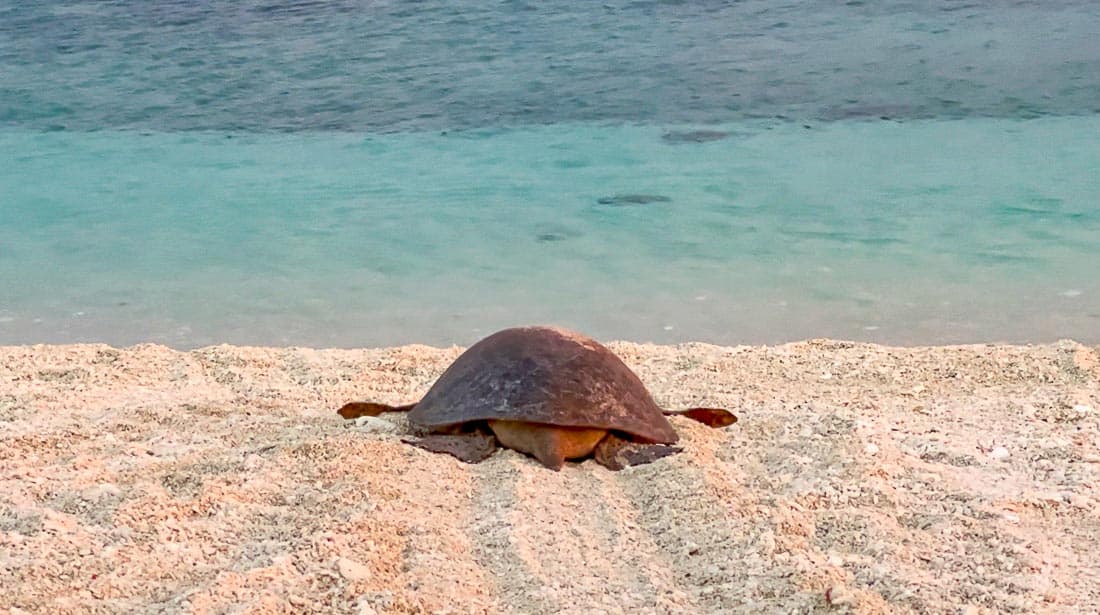 The turtles are one of the main things that sets Wilson Island apart from many other luxury island resorts Queensland has. The Island is a nesting location for the Green Turtle and the Loggerhead Turtle and each year, between November and May, you have the opportunity to watch the turtles lay their eggs and the babies emerge. It is without a doubt one of the most magical things you'll see on the Island.
Nesting season is November through to March and the best time to see the turtles come up onto the beach is during high tide at night. From January until around May, is when the tiny turtles start to hatch from their eggs and waddle down to the ocean. The best time of day to see the hatchlings is around sunset or sunrise.
During our two night stay – the high tide was fairly early in the morning, which meant that there were still plenty of turtles on the Island around sunrise. This made it super easy to see them and not have to fumble our way around in the dark. Each morning we easily saw 20 to 30 turtles either laying eggs, covering up eggs or making their way down to the beach. Even by breakfast time, there was still a couple of turtles around the beach.
We actually had an amazing encounter with a turtle, who decided to nest right under the deck of our tent. I woke to a hell of a slapping sound, as well as feeling the tent shake now and again. The slap was the turtle digging up the sand, while I'm guessing the shaking was her shell hitting the underside of our deck. This started early in the morning and was still going after sunrise. After walking down the beach around 5 am, when we came back, she was slowly making her way out from under our deck – but it appeared she was stuck, or perhaps just disoriented – because she tried several different paths over the course of around an hour before actually getting out.
Then as we were walking to breakfast, we saw another turtle a long way from the beach – wandering down the path through the resort – now when I say wandering – I mean going at a .. well, a turtle's pace.
Eventually, the turtle from under our deck also started walking the paths through the resort, in the opposite direction, away from the beach. We were all worried about where she was going and eventually, she decided to go down a very rocky descent to the beach. From the top to the time she entered the water, took around 2 hours. It was a very stressful experience for us all watching her, as we just all wanted to get in and help her. There was a big cheer and round of applause as she finally entered the water and swam away.
During one of my walks along the beach in the early hours of the morning, I also had the privilege of watching a turtle actually lay her eggs – it was absolutely amazing.
Although some guests did, we didn't see any hatchlings during our stay, as it was early in the season, being late December. However, we did see a few hatchlings come out of the eggs prematurely when other turtles accidentally dug the eggs out of the sand while nesting. The little tiny hatchlings were wriggling about – but so tiny there is just no way they can make it and unfortunately, they make a tasty treat for the birds.
Snorkelling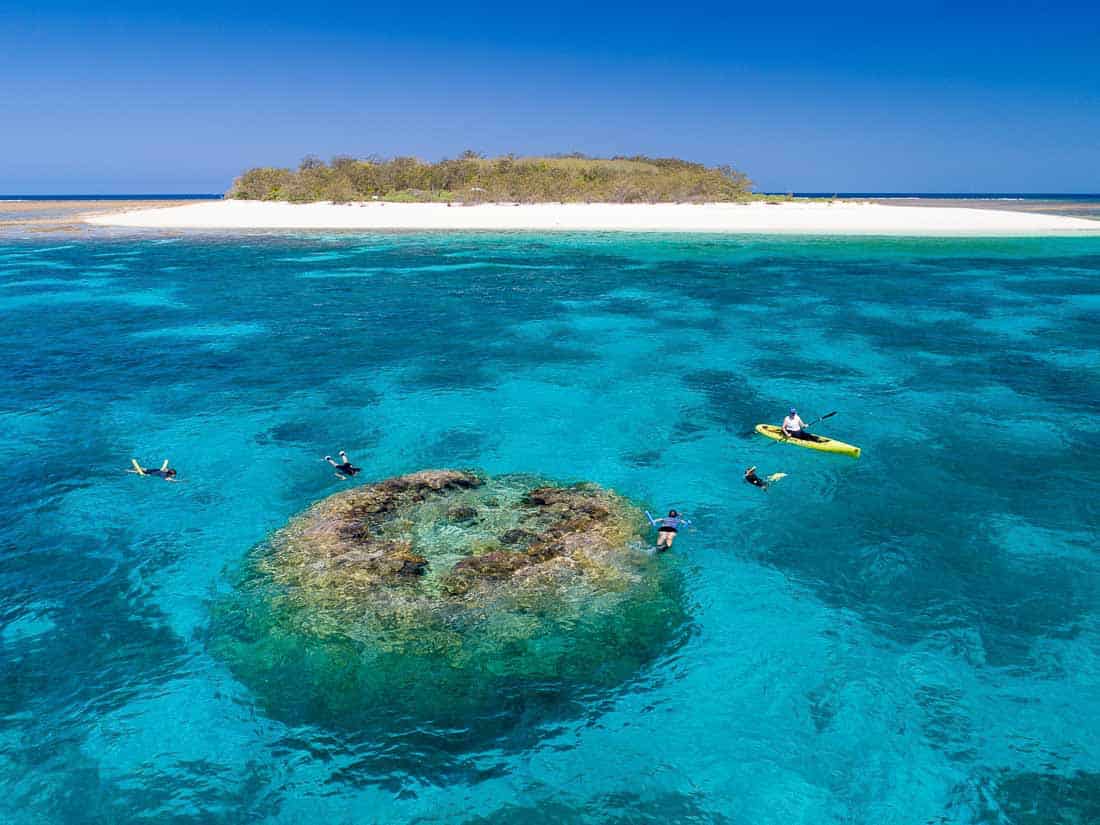 Image Credit – Tourism and Events Queensland
While many other luxury islands Queensland has will whisk you away for snorkelling via a speed boat, at Wilson Island, there is incredible snorkelling right off the beach. Here you'll be snorkelling with turtles, reef sharks, rays and a ridiculous amount of fish. We saw plenty of turtles, reef sharks and rays just walking along the beach – but unfortunately none while we were actually in the water. Mind you; other guests saw them while snorkelling – so it's definitely possible.
While you're at Wilson, a must is to snorkel over the Wilson Bommie – this is a huge mountain of coral, around 5 metres in diameter and is considered to be around 900 years old. Although reading other Wilson Island reviews, some guests have difficulty finding it, so ask for directions before heading out. We were told to line ourselves up with the kayak rack on the beach and swim straight from there. You will see a huge yellow tinge to the water, which is the Bommie. The ideal time is to go at low tide – as you won't have to swim as far off the beach, and part of the Bommie may even be sticking out of the water, making it easy to locate. If you're not a confident swimmer – like us – then take the kayaks out for a look – which is what we did.
Kayaking and Stand Up Paddleboarding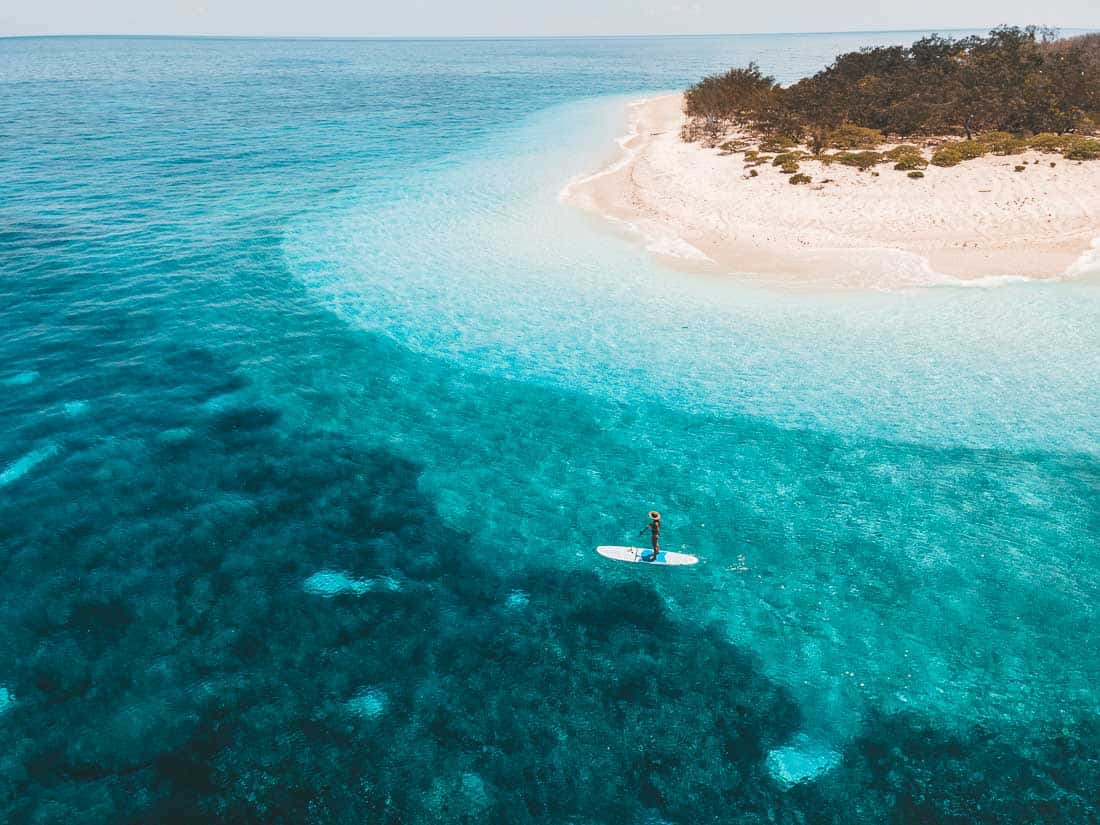 Image Credit – Tourism and Events Queensland
As well as snorkelling around the Island, you can go exploring by kayak or SUP. There are both single and double kayaks available, with all equipment being free to use.
Time with the Chef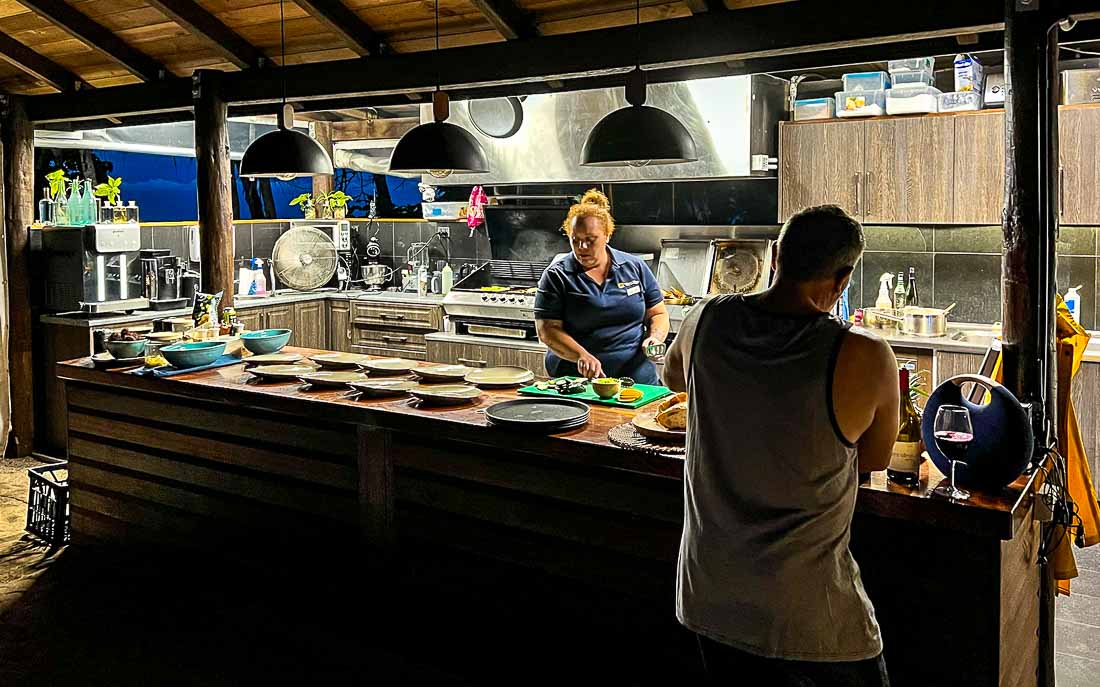 If you want to learn a little more about the wonderful meals being prepared for you, why not pull up a chair and watch the chef as they cook up a storm. The chefs are only too happy to share their secrets with you. And if you're keen, they always appreciate a few extra hands in the kitchen. Now, what other luxury Queensland islands are there where you can personally chat and help the resort's head chef?
During our stay, the chef on duty was Sarah, and she was absolutely fantastic. With Andy loving his cooking, he spent quite a bit of time with her, learning all her secrets and even sharing a few of his own.
Drinks at Sunset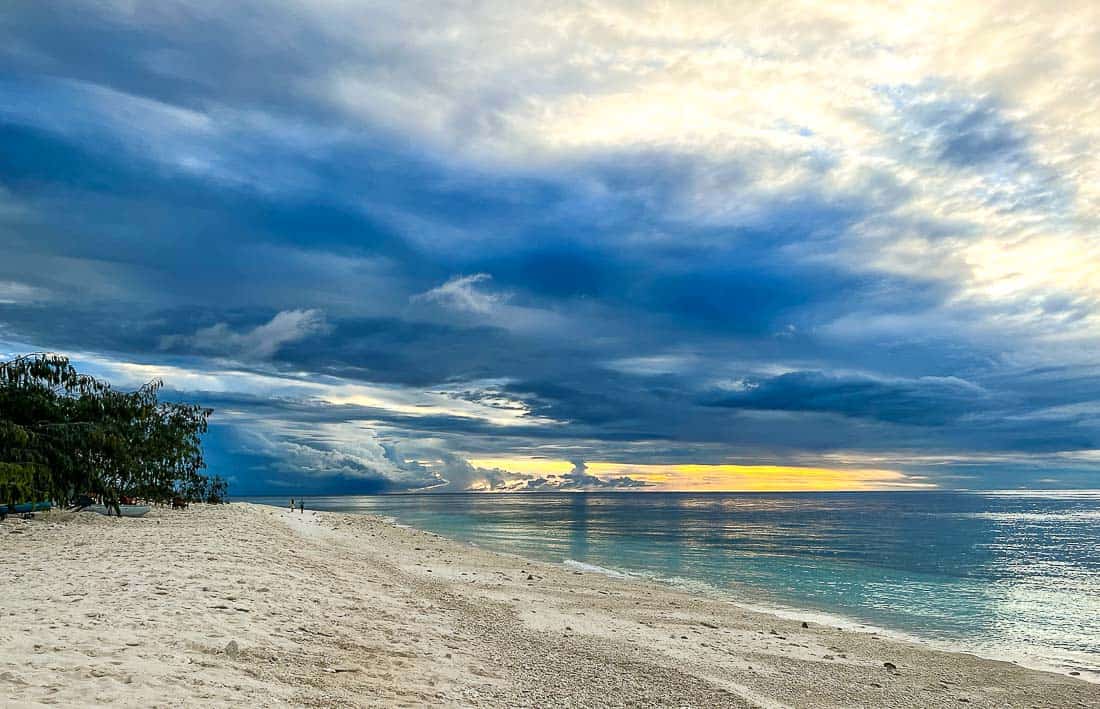 Of course, the best island resorts Queensland has are well known for their incredible sunsets. But Wilson Island offers something just a little bit special. As mentioned above, each day at around 5 pm, you'll be able to pick up a grazing platter, which the chef has specially prepared for each couple. You can then grab a cooler bag and pack it with your favourite alcoholic drinks to take to your own private part of the Island to watch the sunset.
Around the Island are some very well placed tables and chairs, offering a private and very romantic spot for taking in the sunset. This is certainly a unique experience you'll find at no other luxury accommodation Great Barrier Reef has.
Private Picnic
While many luxury resorts Great Barrier Reef has offer the optional extra of purchasing a picnic hamper to take to a private location on Wilson Island, this is a standard inclusion. Just ask and the chef will prepare a picnic hamper just for you to enjoy somewhere secluded on the Island.
Bird Watching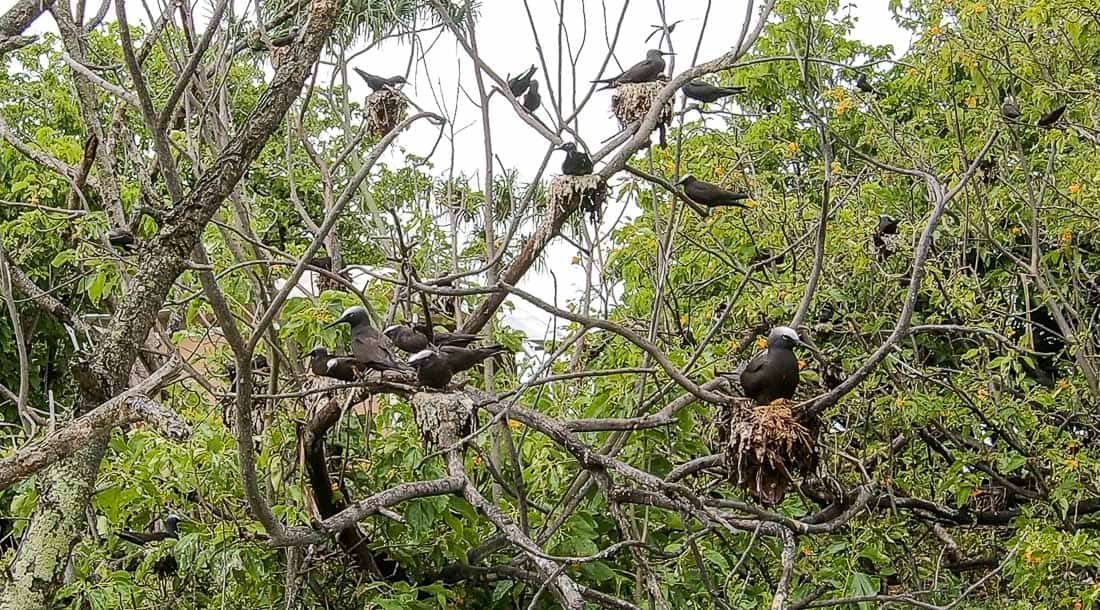 The Island is home to thousands of birds and is the perfect place for those who enjoy bird watching. Bird nesting starts from around November to March and so during the period, expect to see a plethora of birds. During this time, you'll see birds nests everywhere, with the main bird on the Island being the noddies.
Now I don't really consider myself a bird person – but these guys are absolutely everywhere and you can't help but be intrigued and entertained by them. Andy and I would sit outside our tent for hours, watching the birds interact with each other. Seeing some birds building nests, others feeding their babies, some birds fighting with each other – it's better than any soap opera.
Our two day Wilson Island Itinerary
So above, I've described what you can expect from your stay on Wilson Island, but if you need even more of an idea of what your stay might look like – here is a brief overview of our time on Wilson Island.
Day One
Our boat for Wilson Island left Heron Island at 2 pm and it took around 30 minutes to reach Wilson. Our host, Sam, was already waiting for us on the beach. We only had a backpack each, but if you have larger luggage, the caretaker Marco will take your bags in the buggy to your tent. Sam then took us on a tour of the resort, showed us our tent and took us to the dining area, where we were given welcome drinks.
Andy and I then filled a cooler bag with ice and cold drinks and went to our tent. We then pretty much spent the rest of the afternoon relaxing on our deck with cold drinks while watching the birds and taking in our beautiful surroundings. It really felt like someone had pressed my reset button – I instantly felt relaxed.
We took a few short walks along the beach and then headed back to the dining pavilion to pick up our grazing platter at 5 pm. We took a bottle of wine and some bourbon and headed back to the deck of our tent for a great sunset.
Dinner was served at 7 pm, where we met the other guests on the Island – would you believe one of the couples was from our neighbourhood! After some lovely dinner conversation, it was back to our tent for an early night.
Day Two
After an early walk along the beach, watching all the nesting turtles, we headed for breakfast. Then it was time to hit the water – which we started by kayaking out to the Bommie, followed by a morning of snorkelling.
We had worked up a healthy appetite for lunch and while we ate, we swapped stories with the other couples about what we had seen during our morning. Afterwards, we went back in the water for some more snorkelling.
Mid afternoon was spent relaxing on our deck, watching the birds. At 5 pm, we picked up our grazing platter and had a few drinks with some of the other couples in the dining pavilion. Then close to sunset, we took a few drinks down to the beach to watch the last rays of light fade over the ocean.
Dinner was once again spent chatting with the other guests about the various things they had done during the day – all getting tips from each other as to what to do the following day.
Day Three
During the night, we were woken by a turtle nesting under our tent, which meant we had broken sleep until we finally decided to get out of bed around 4 am. While the turtle was under our deck, we wandered the beach, in awe of all the turtles playing their part in the life cycle of a turtle.
After breakfast, we got straight back into the water for one last snorkel before leaving the Island. We showered and packed our things before lunch and then had one last fantastic meal prepared by chef Sarah.
Just before 2 pm, we headed down the beach where while waiting for the boat, we had the obligatory photo with "Wilson", the soccer ball – better known for the part he played in the Tom Hanks movie "Castaway". Our boat soon arrived and we waved farewell to our host and Wilson Island and returned to Heron Island.
Getting to Wilson Island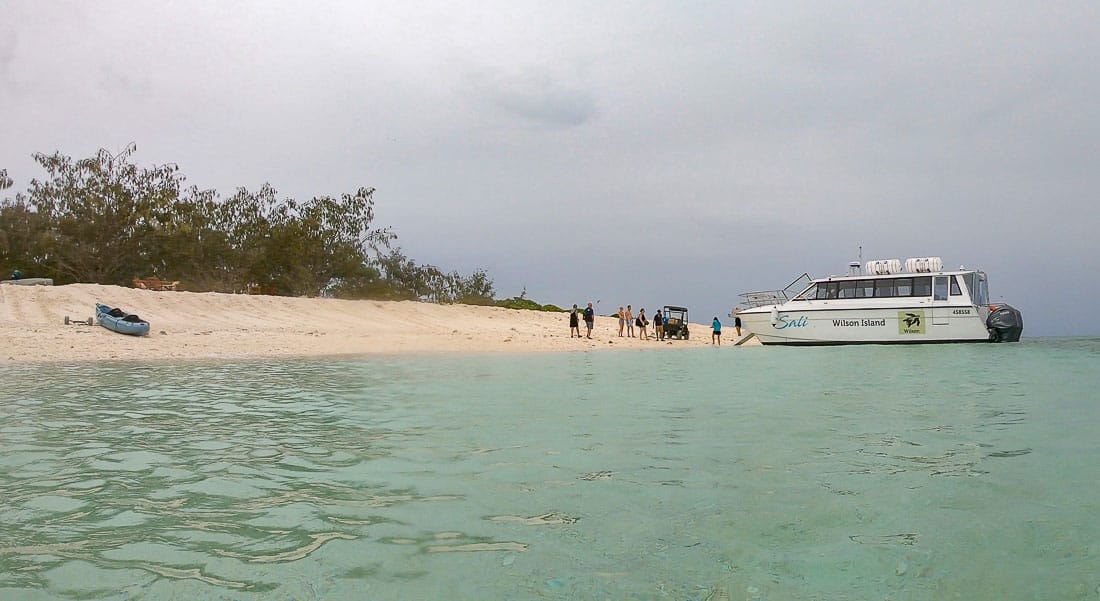 Wilson Island is around 80kms northeast off the coast of Gladstone and is only accessible via Heron Island. This means to reach Wilson Island; you'll first need to make your way to Gladstone.
Getting to Gladstone
Gladstone is 534 km north of Brisbane and 1183km south of Cairns. If coming from Brisbane, it's only a 6-7 hour drive, or you can fly there with Qantas or Virgin Airlines. However, there are no direct flights from Cairns, so you need to connect in Brisbane.
Given the ferry to Heron Island leaves at 9.30 am, you'll likely need to spend the night before in Gladstone. Although there are some early flights from Brisbane on some days of the week, which means you can bypass a stay in Gladstone – if I had my time again, I'd try and line this up to avoid staying in town. We stayed at the Mid City Motor Inn, a budget hotel only a 15 minute walk from the Gladstone Marina.
You can park for free at the Gladstone Marina car park if driving.
Getting to and from Heron Island
The Heron Island ferry leaves at 9.30 am, and the return ferry to Gladstone is at 12.45 pm, arriving at 3.15 pm. The ferry operates daily except for Tuesdays, Thursdays and Christmas Day. The boat trip takes 2 hours each way and costs $75 per person each way.
Getting to Heron Island by boat can be rough and it is recommended to take seasickness tablets beforehand. However, our trip to Heron Island wasn't rough at all and was a very pleasant trip.
If you really want a splurge, you can take a 30 minute helicopter ride from Gladstone Airport to Heron Island. And then connect with your boat to Wilson Island. Helicopter transfers cost $560 one way per person or $940 return.
I really wanted to take a helicopter one way but just couldn't justify the cost. However, the day we left Heron Island, the ferry was cancelled due to poor weather. So our choice was to either stay another night and hope the ferry would leave the following day or take the helicopter. We decided to take the helicopter and it was amazing!!! If you can stretch the budget – do it!!! The helicopter only fits four people, including the pilot and the views of the reef are absolutely brilliant!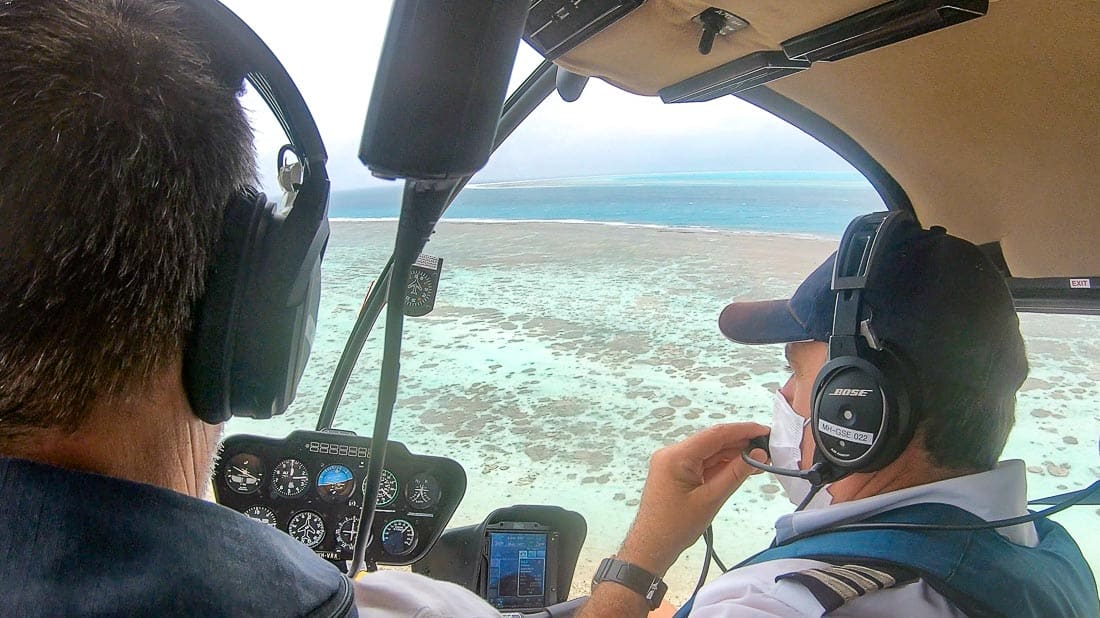 You'll likely have a few hours to kill on Heron Island before your boat to Wilson Island. So ensure you have a bag packed with easy access to your swimmers and beach towel so you can make the most of your time on Heron Island. You may also want to get a light lunch there before heading on over the Wilson – but don't eat too much – do yourself a favour and save your appetite. We shared a sandwich for lunch and then did some snorkelling before heading over to Wilson.
When you visit Heron Island on the way back, you'll also have a few hours to kill, so again, ensure you have access to some gear to enjoy the beach. And if you want to head straight back to Brisbane, ensure you have a flight no earlier than 5 pm, to avoid staying a night in Gladstone.
Getting to and from Wilson Island
From Heron Island to Wilson Island, it's just a short 30 minute boat ride. There is no jetty on Wilson Island, so the boat will land directly on the beach and you'll need to step down from the boat via a ladder. So ensure you have appropriate footwear on and no heavy luggage.
Given the beach landing, ferry times to Wilson Island from Heron Island are dependent on the tides. For us, the boat left Heron Island at 2 pm.
The boat leaves Wilson Island at 10 am on the way back, arriving at Heron Island at 10.30 am. However, you can pay an additional $100 per person and leave the Island at 2 pm – which is what we chose to do.
Best time to visit Wilson Island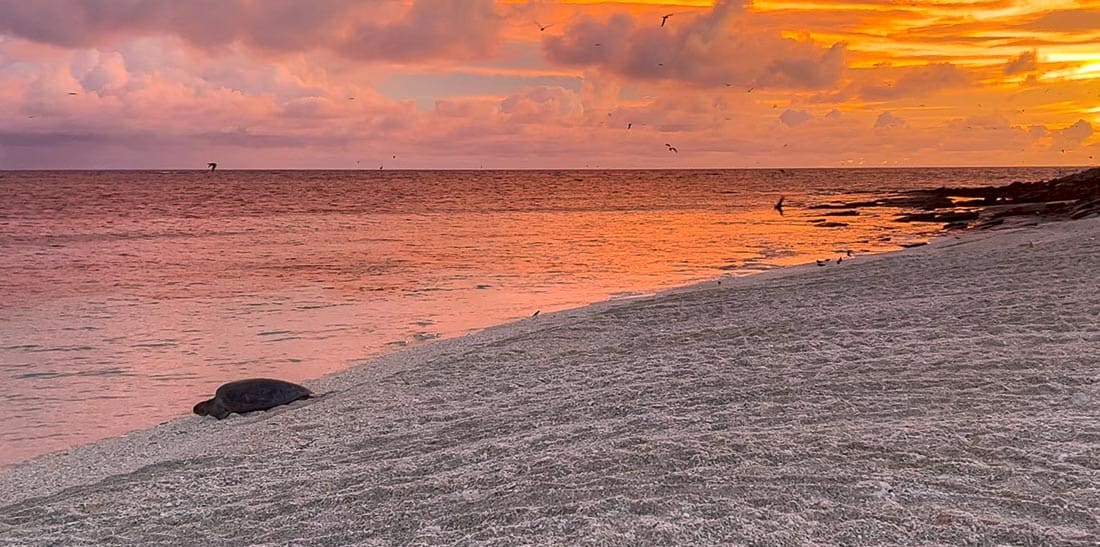 The best time to visit Wilson Island really depends on the individual and what you're coming to see and do on the Island. Although first up, it's important to know that Wilson Island is closed from 1 February to 1 April for the bird breeding season.
For warmer weather and a chance to see the turtles either nesting or hatching, then come between November and May (excluding the closed period of course). However, keep in mind that the summer months (December to February) will be when the weather is the hottest and when the worst storms come in. Mind you; the Island rarely has the tropical storms that you often associate with further north. Although, we visited at the end of December and there was a cyclone up north that impacted the weather. We had some quite windy periods and a bit of rain here and there – but nothing too major. Although on the last day of our stay, they decided to close the resort due to the potential for the weather to worsen and all the remaining guests had to leave. Lucky for us, we were going that day anyway – but it was sad for the other guests that they had to cut their stay short.
If coming during the winter months (June to August), expect warm days but cool nights. You will need warm clothes for the night. Also, if you're a sooky Queenslander like me – you may very well find the water temperature a bit cold for much swimming. If this is you, do yourself a favour and hire a wetsuit before leaving Heron Island.
What to Bring to Wilson Island
You won't need a lot on Wilson Island – swimmers, light casual clothing, footwear and other personal necessities is all you really need. Towels and toiletries are provided on the Island, as is all the food and drink you need. We just had a small backpack each and given we were mostly in our swimwear all day – I think we even overpacked! Likewise, you don't need anything fancy for eating in the dining area; whatever casual beachwear you feel comfortable in will be just fine.
There is no internet or phone reception, so you won't need any devices, except for whatever you need for recording all those precious memories.
In terms of snorkelling gear, when you check in at Heron Island, you can pick up all the snorkelling gear you need, so no need to bring your own. Wet suits are also available for hire.
An absolute must to bring is a good pair of reef or water shoes. The coral along the beach can be sharp to walk on.
Sustainability on Wilson Island
Wilson Island is committed to sustainable tourism and has adopted some great initiatives to reduce its footprint on the environment. Here are a few initiatives the resort has in place to ensure it remains an environmentally friendly existence:
Power

: The Island is 100% powered by solar and provides a 12V source in the dining pavilion for guests to charge their cameras and a USB charging station in the glamping tents.
Australian Made

: Where possible, all products used on the Island are 100% Australian products.
Organic Materials

: Where possible, all materials are eco friendly such as bed and linen made from organic bamboo and cotton, upcycled wine water bottles, light fixtures and furnishings. All toiletries are 100% biodegradable and guests as asked to refrain from using their own toiletries during their stay to protect the environment.
Single Use Plastics

: There are zero single use plastics on the Island.
Chemicals

: Only environmentally friendly cleaning products are used on the Island.
Where to book your Wilson Island stay
I recommend booking through Booking.com for the best flexibility (generally you can always cancel and book elsewhere if you find a better deal). Rooms start at around $1000 per night per couple and include absolutely everything once you step foot on the Island – there is nothing extra to pay.
Wilson Island – Our Verdict
With a price tag of around $1000 a night per couple, there is no denying it, a stay at Wilson Island isn't cheap, however considering the amazing hospitality, incredible experiences, spectacular views and delicious meals – not to mention unlimited top shelf alcohol, overall it really does offer good value for money.
While a week-long stay on Wilson Island is probably financially impossible for most of us, if you can save your pennies enough for a 2 -3 night stay, I highly recommend it. Particularly for parents who have earned a well deserved break away from their kids. I wouldn't recommend a one night stay – you just won't get to experience all the Island has to offer. Although if one night is all you can afford, then be sure to pay the extra and stay until the 2 pm boat on your departure day.
We are pretty casual, budget type travellers who don't feel all that comfortable in your typical fancy 5 star resorts. However, despite being one of the luxury hotels Great Barrier Reef offers, on Wilson Island, we felt completely at home from the moment we arrived. It's like a luxury camping experience, where everything is done for you. It's nothing short of heaven on earth, your own slice of paradise with just enough modern conveniences to be super comfortable. I, for one, absolutely loved it and can't wait to return.
______________________________________________________________________________
Hopefully you found this guide on staying at Wilson Island helpful. We have reviews on other Queensland islands, including Heron Island, Great Keppel Island, K'gari (Fraser Island), North Stradbroke Island and Moreton Island.