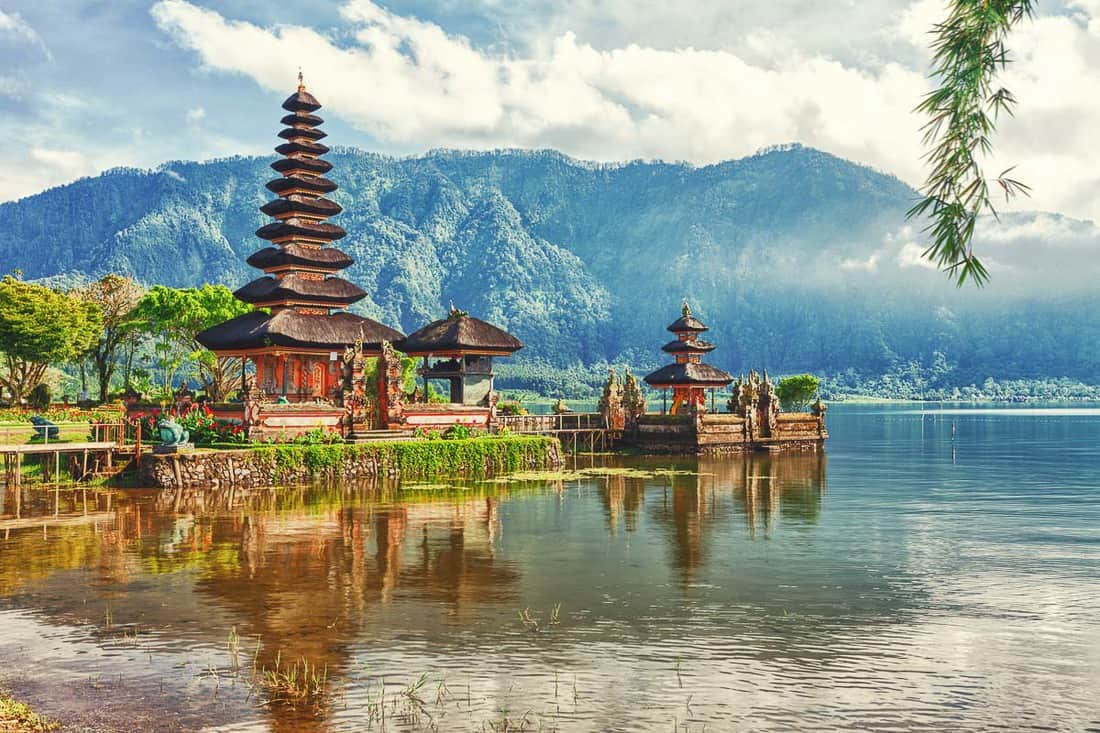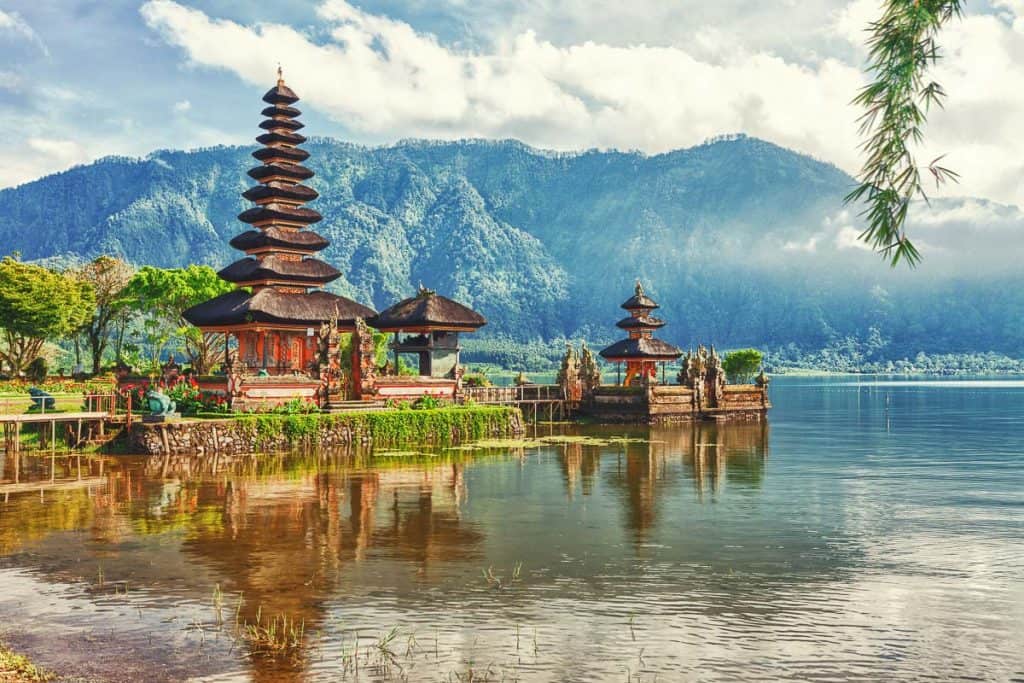 So you're planning a trip to Bali hey? Well when planning a trip to Bali, the first thing you need to decide is what kind of holiday in Bali you after? Are you going to Bali:
lie on the beach, shop and eat good food;

experience the local Balinese culture;

surf, swim and relax;

relax among the peaceful rice paddies;

put the kids in a great kids club, while mum and dad get some r and r time; or

all of the above!
If you know the sort of holiday you want, but have no idea which is the best area to stay in Bali – this article is going to help you work it out.
Best Area to Stay in Bali based on your Holiday Style
You have probably read my article on the most popular places to stay in Bali – if not head on over and check it out. That article should give you a bit more of an idea of what place or places you want to base yourself in. However if you're still not sure, then keeping reading below.
Central location with heaps of shopping, food and nightlife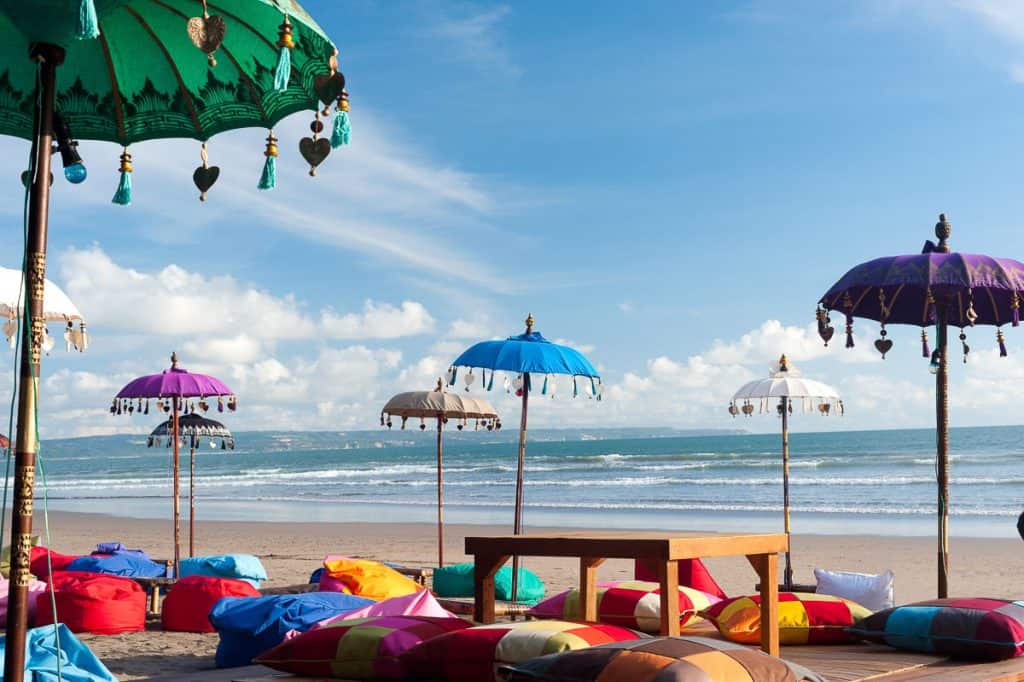 Kuta, Legian and Seminyak are ideal locations for those that want a central location with all the conveniences of home. In all of these locations, there are heaps of resorts, shopping malls, restaurants and markets. The beach is pretty good in all these locations, but certainly not the best in Bali.
Kuta, Legian and Seminyak are located right next to each other – with Kuta being the most visited location among tourists. Legian is slightly less chaotic than Kuta and Seminyak a little less chaotic again.
While Kuta and Legian is home to some massive resorts, Seminyak tends to have smaller boutique resorts and is where you will find the biggest concentration of private villas. Seminyak is also well known for having some great restaurants too.
These areas are all located very close to the Denpasar International airport and an easy location for getting out and exploring the rest of Bali.
Check out this 10 day Bali itinerary which includes Seminyak and more.
Lie on the beach and eat good food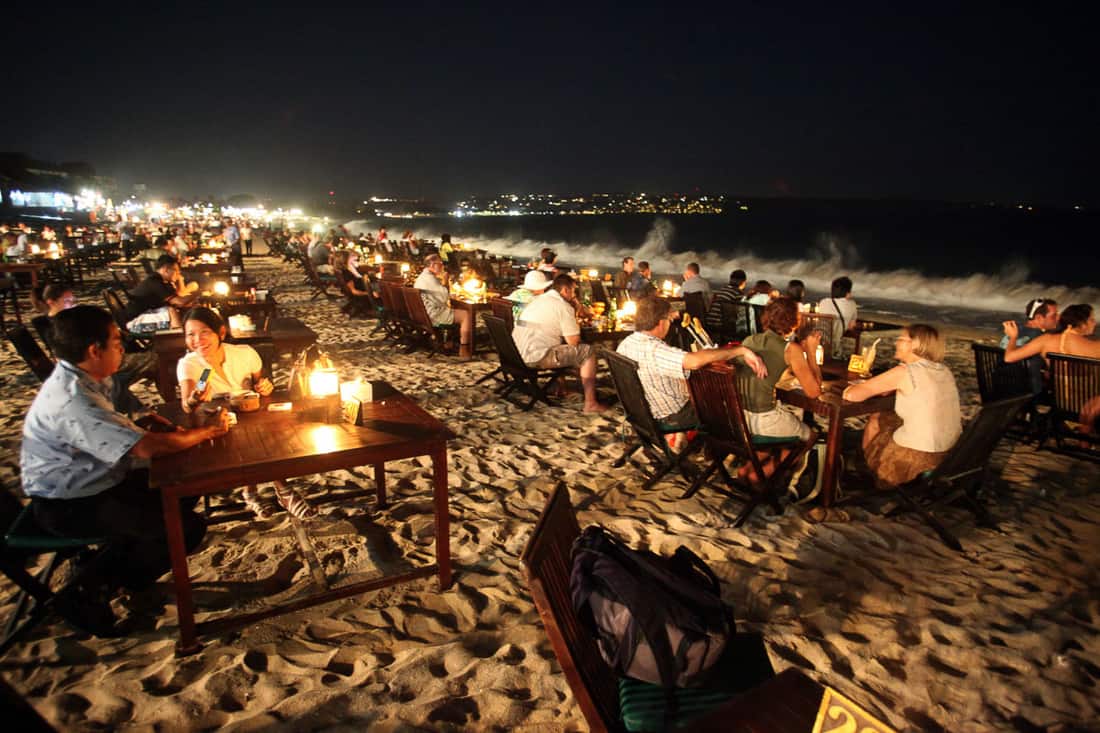 If you have come to Bali for a nice beach but still want to have plenty of food options; then Sanur, Seminyak, Uluwatu and Jimbaran Bay may be ideal for you.
Despite all the popular Instagram pictures, all the main tourist hubs of Bali don't have gorgeous beaches – if this is a priority for you head elsewhere like the Gili Islands or Lombok which is easy to get to from Bali. However, if your trip to Bali isn't all about perfect beaches, the better tourist beaches can be found in Sanur, Seminyak, Uluwatu and Jimbaran Bay.
In Sanur and Seminyak you will find a bigger concentration of restaurants and shops, so stay here if that's a priority to you. Jimbaran Bay and Uluwatu are a little more isolated. Jimbaran Bay is famous for its awesome seafood dinners right on the beach whereas Uluwatu has a cool surfie vibe going on.
Enjoy local Balinese Culture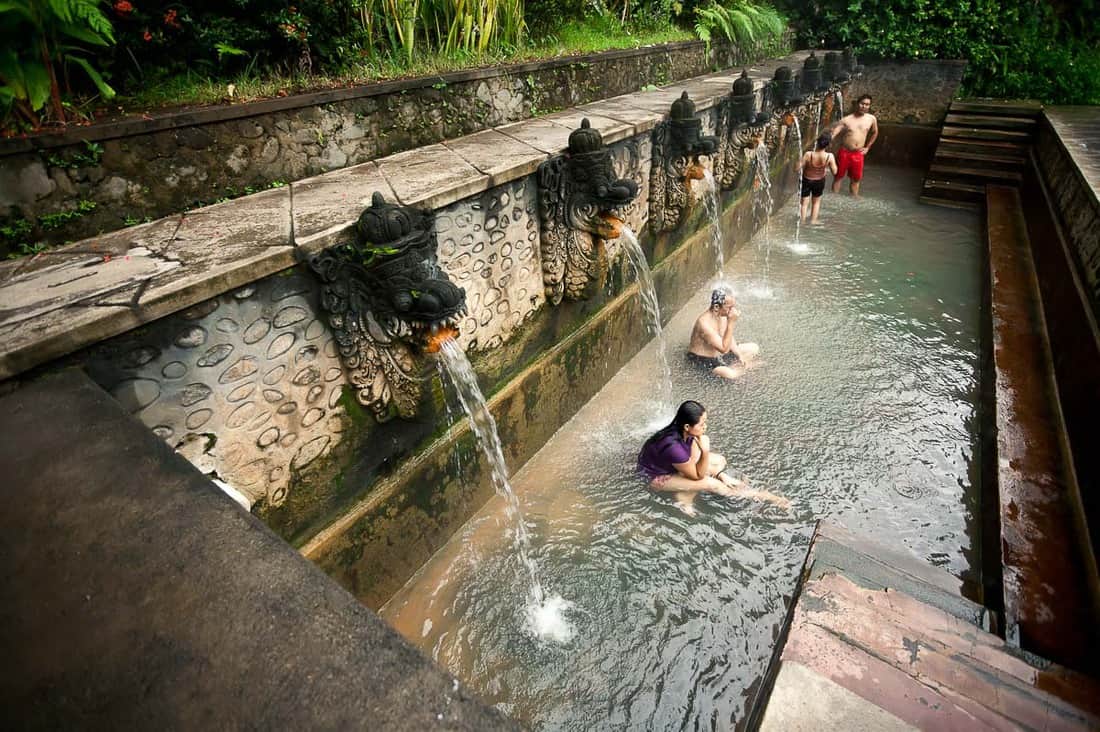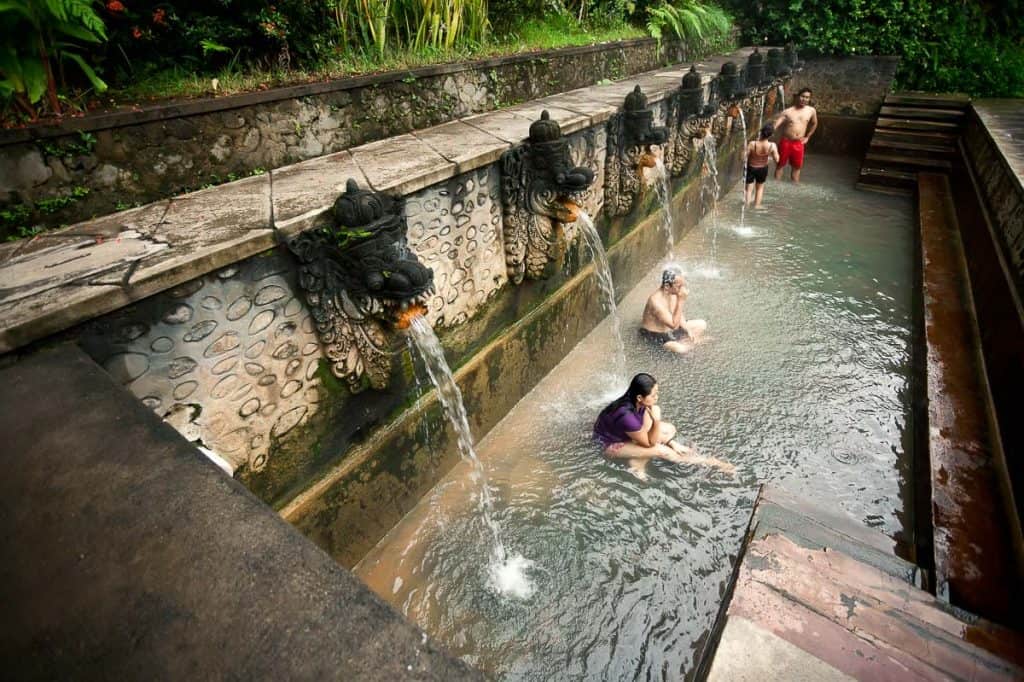 Ubud and Jimbaran Bay are ideal locations to be surrounded by Balinese culture. While Jimbaran Bay is by the beach, and close to the airport, Ubud is high in the hills surrounded by gorgeous rice terraces in a more remote part of Bali.
The centre of town in Ubud can still be quiet hectic and touristy but has a more hippy, alternative vibe than areas like Kuta. It is on the outskirts of town that people go for complete relaxation – there are some gorgeous resorts, and homestays with stunning views of terraced rice paddies.
Jimbaran Bay, as mentioned, is by the ocean, but is far less touristy than any of the other mainstream beach areas.
Great kids club
Many families come to Bali to experience Bali's famous kid's clubs. There are so many resorts here with fantastic kids club that your children will be entertained for hours.
While all areas of Bali tend to have at least one hotel with a kids club, all the best kids club seem to be around Kuta, Sanur and Nusa Dua. These 3 locations are very different from each other and located in entirely different areas of Bali – so choose your location wisely.
Kuta, as stated above, is the central tourist hub for Bali, whereas Sanur is somewhat similar but on a much smaller, quieter scale. Nusa Dusa is where families go to get away from the crowds and live it up in fancy resorts without experiencing any local Balinese culture whatsoever.
We've stayed at the Holiday Inn (read our review here) in Kuta before which we recommend, as well as the Novotel Bali Benoa in Tanjung Benoa (read our review here).
Live it up on the beach away from the crowds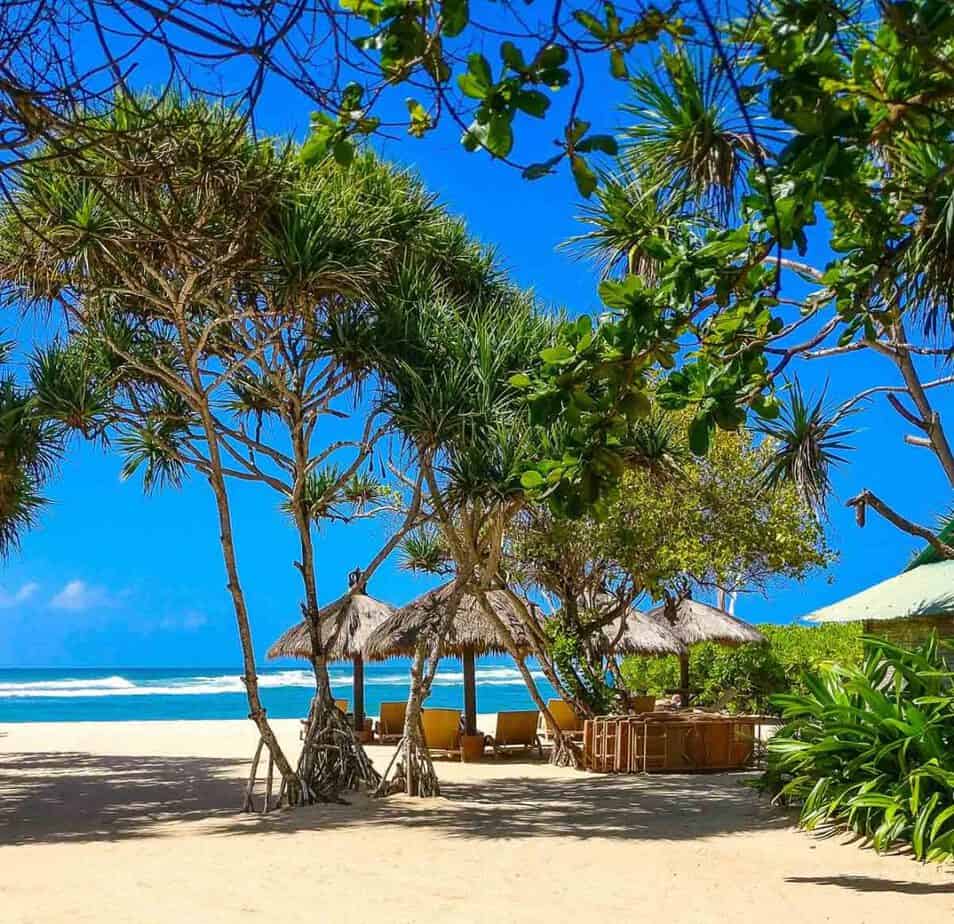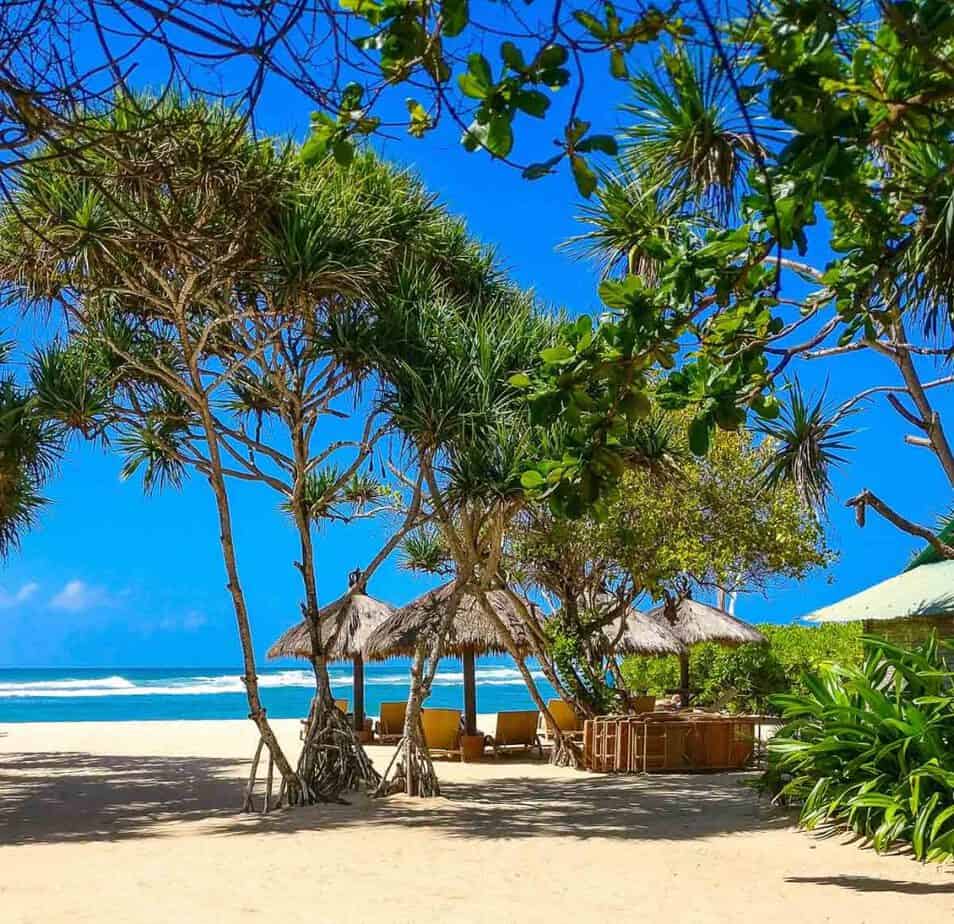 If you want to stay in the flashiest resorts away from the busy tourist hubs then Nusa Dusa, Tanjung Benoa or Jimbaran Bay is ideal for you. The 3 locations are quite different from each other though so choose wisely.
Nusa Dua is located within a gated community, completely stripped of Balinese culture. The area only contains fancy resorts and a fancy shopping mall. The beach here is rather lovely, and well looked after by the various resorts. Nusa Dua is also a little remote from the rest of Bali as it is located at the bottom of the island, so it does take a while to visit other parts of Bali from here. This is where you come to be in complete luxury and away from the crowds.
Tanjung Benoa is close to Nusa Dua and also has some great resorts, many with great kids club, however, the area is not gated like Nusa Dua, so there are still local restaurants and shops. Like Nusa Dua, the area is still a little remote from the rest of Bali.
Jimbaran Bay has some super fancy resorts but is still surrounded by local restaurants and shops. Jimbaran Bay is located in a great area close to the airport and is a good location to explore the rest of Bali from.
Surfing
Many people come to Bali to catch the ideal wave – if this is you and you're wanting to find the best surf spots in Bali, then stay close to Kuta, Uluwatu or Canggu. These areas are very different from each other. Kuta is the chaotic central tourist hub, while Uluwatu is super quiet and apart from day-trippers generally only attracts surfers to the area, whereas Canggu is a super trendy little town.
Uluwatu is located high on the cliff tops, so the beach is only accessible by walking down steep staircases – not really ideal if you have kids with you. The area is also spread out so you will need transport or catch a taxi to get between beaches, accommodation and restaurants.
Canggu is super cool, and I really love this area of Bali, but I was so disappointed with the amount rubbish on the beach that I would certainly not recommend it for anything but surfing – so again not ideal for families wanting to swim or laze on the beach.
---
Hopefully, the above information has helped you to narrow down the areas of Bali that you may want to base yourself – if you have the time, I would probably recommend that you choose two different areas so you can experience two different areas of Bali.
To continue planning your Bali trip – read our other Bali content here.